Papers are such a difficult topic to talk about when it comes to organizing because everyone has a different valuation on what papers are important to them to keep! I personally hate keeping papers around but I have found a couple of secrets that I want to share with you that will hopefully help you to keep your paper stacks to a minimum.
*This post may contain affiliate links, which means I may receive a small commission, at no cost to you, if you make a purchase through a link!*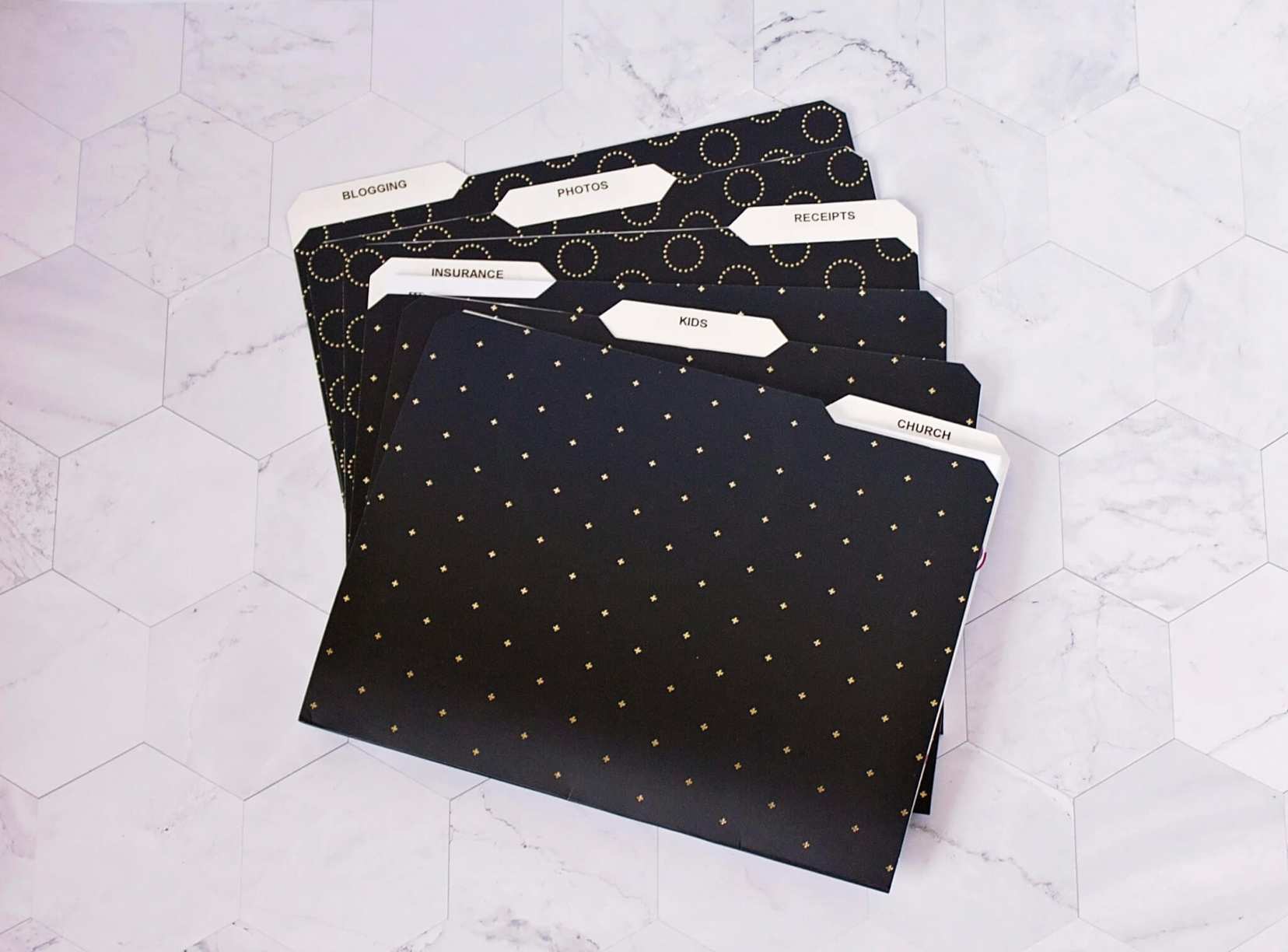 When I was in college, I used to clean people's homes for my job. I cleaned for one of the sweetest ladies on the planet and we truly became great friends and I consider her my friend to this day despite going years without seeing or talking to each other anymore. But this sweet lady had a problem. A paper problem. She had stacks and stacks of papers all around her house, she had filing cabinets filled with papers and she always had a huge stack of unopened mail on the kitchen counter. Does this sound familiar? Well if it does, I have a tip for you that will hopefully stick with you and help you achieve all of your paperless dreams!
My first suggestion to you is to buy some file folders. They don't have to be fancy to be functional. They even sell them at the dollar store! Label each folder on the top tab and find a place where you can easily access your folders when you need them. Maybe even create a command center in your home! I purchased these cute file folders at Target and I have had this cute white basket wall decoration for a few years now.
My second suggestion to you is to sign up for paperless bills and documents wherever you can. This is by far the easiest way to keep the paper clutter down – because there isn't any! 🙂 But there are a few things that we just have to have papers for, and for those situations, I will give you my final and best tip.
My tip to you is this: Never touch it twice! It sounds a little strange but here is an example: when you go out to get the mailbox, don't bring it in the house and just throw it in a pile. GO THROUGH IT IMMEDIATELY. Do whatever you need to do with those papers the first time that you touch them. Clip the coupon that you will need and throw out the rest of the booklet, file away bills in a folder for the day you pay bills, deposit a check immediately into your bank account via your mobile banking app. Does that concept make sense? Although this concept isn't always feasible every single day, give it a try! You'll be amazed at how that simple concept will transform your home and in turn, your mental clarity! You will no longer be searching aimlessly for coupons, bills or school papers. Everything will be neatly tucked away in its appropriate labeled folder. Hope that helps!
If you are looking for a great guide on how to organize your papers, here is an awesome infographic that will help guide you!