Essential Organization Tips for a Hassle-Free Move
Moving house requires careful planning and organization. Failure to have and follow a plan will
mean an unnecessarily stressful experience for everyone involved. Here are some essential
organization tips to help make your move hassle-free.
Make a timeline
Sit down and list the tasks that need to be done in order of priority. Estimate each task's length, then create a timeline with dates and deadlines. Make sure to leave plenty of time for unexpected events and delays.
Pack smart
Start packing early, but be careful not to get overwhelmed by the task. Start with one room at a time, focusing on the things you use least often first. Organize everything into labeled boxes
according to size, weight, and purpose – tools in one box, books in another, etc.
Get moving help
This is a huge task, and you don't have to do it all yourself. In fact, Harrison Gough, a residential moving specialist at MovingAPT.com, notes, "Hiring residential moving companies is the best way to make sure you move an apartment or home stress-free. Professional movers can help with packing, transportation, and even storage needs."
Get rid of clutter
Moving a bedroom or house is a great time to go through your possessions, so get rid of anything you don't need or want anymore. This will save on packing materials, costs, and storage space.
Pro Tip: Consider selling unwanted items in a garage sale or online to save up extra money for your move.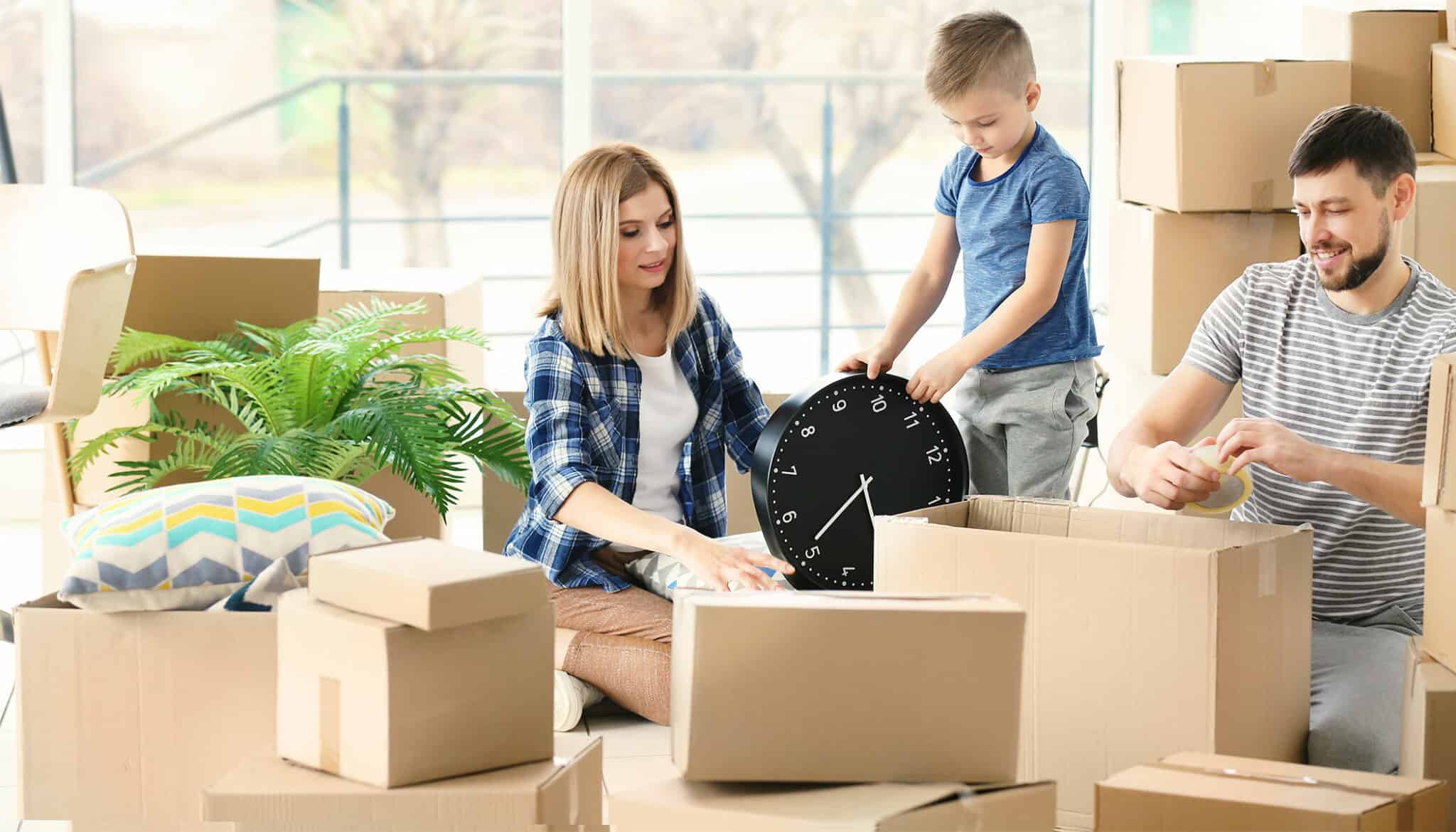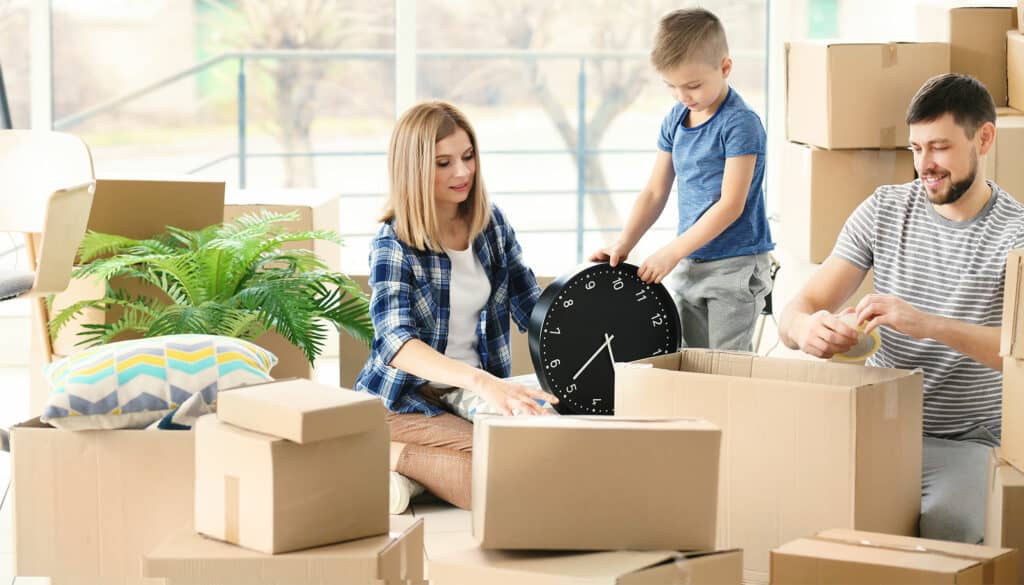 The Best Materials for an Organized Move
While knowing what and how to organize can go a long way to ensuring a successful move, having the right materials on hand can be just as important. Here are some essential supplies to help keep your belongings organized and safe during transport.
Moving Boxes
Any move needs moving boxes, but choosing the right kind of organizational packing boxes can
make the difference between a messy move and a smooth one.
For example, kitchenware moving boxes with individual dividers for glassware, plates, and cutlery
will ensure that everything is kept safe, organized, and secure.
Jewelry is always a tough thing to keep organized but there are some great jewelry packing ideas here!
Special wardrobe boxes with racks for hang-up clothing will help to keep your clothes wrinkle-free
during transport.
And locking plastic storage boxes make the perfect solution for non-perishable kitchen stock such as cans, jars, and packets – keeping them safe from dust and dirt during transit.
Packing Supplies

Packing peanuts aren't just bad for the environment, they can also slow down organization and
make it difficult to find items once in the new location.
Instead, opt for bubble wrap, moving paper, or even packing blankets as an alternative. These are a great way to keep valuable items safe and organized during the move.
Additionally, a labeling system that uses clear and detailed markings can be used to designate each box's contents and final destination. This will save you time unpacking and ensure that every item ends up in the right place.
Unpacking and Organizing Tips When You Arrive
Organization in the unpacking process is just as important as in the packing process. The only
difference will be that the priority is now to get settled into your new home as quickly and easily as possible.
Start with getting the furniture set up. Moving experts agree that furniture should be the first thing to be unpacked and set up, as it makes the process of unloading boxes easier and faster.
Once the furniture is in place, start unpacking essential items like bedding, clothing, and toiletries. This will ensure that these items are available immediately should you need them without having to search through multiple boxes to find them.
Finally, before you start unpacking the rest of your items, it may take a few moments to decide
where everything should go – and even make temporary or permanent labels to help you remember. This will save you time and effort in the long run, as you won't have to move items around several times before finally finding their proper home.
Once everything is out of the boxes and in its place, you should start to break down and clean up
packing supplies. This way, you won't be trying to put the finishing touches on things with tons of
clutter or unnecessary items lying around.
What is the Best Way to Organize a Move?
When moving house, it is often best to hire professional movers who can help plan and organize all of the details for you. Professional movers are experienced in packing, loading, and transporting items safely from one destination to another.
Many reputable moving companies also offer expert packing and organizational services for an extra fee, saving valuable time and energy that can be put towards more pressing tasks like setting up utilities and services.
In addition to hiring professional movers, having the right supplies on hand is essential for any move. Having a variety of moving boxes to keep items organized, as well as packing supplies that protect against damage, can make the difference between a smooth and successful move or one filled with chaos and stress.
Those who opt not to hire professional movers will have more work on their hands come moving
day, but with the right organizational strategies and supplies, a DIY move can be done efficiently.
Where Can I Find Organizational Moving Supplies?
The best places to find organizational moving supplies are local hardware and office stores, as well
as online retailers. Many of these stores offer a variety of boxes in different sizes and materials, packing paper, bubble wrap, and other protective packaging materials to make sure your items stay safe during the move.
Organizational moving supplies can also be found at a much lower cost on second-hand community forums dedicated to buying and selling used items.
Stay Organized and Move Hassle-Free
Organizing ahead of time, labeling boxes clearly and concisely, hiring professional movers, and
having the right supplies on hand will all make the move easier – allowing you to quickly settle into your new home without feeling overwhelmed by clutter or confusion.