Easy Ways to Convert a Spare Room into a Walk-in Closet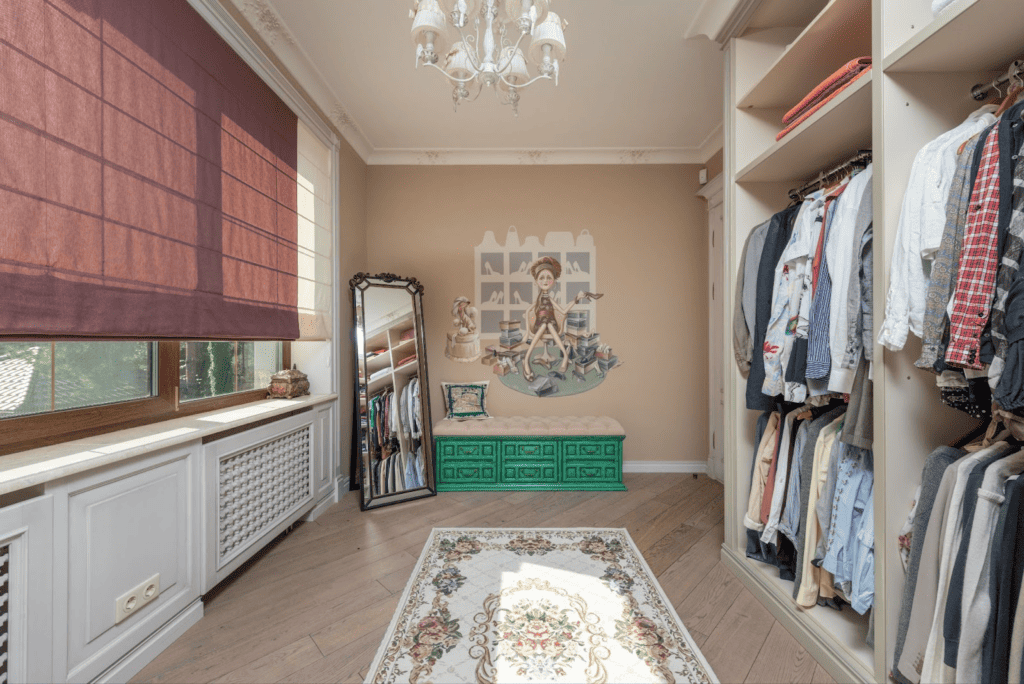 Turning an unused bedroom into a walk-in closet can improve your lifestyle. Creativity and careful planning can transform your spare room into something useful. You can perfectly organize your clothes, accessories, and shoes.
You can freely organize your things depending on how and when you use them. Transforming your room into a dressing room can be a challenging task. Still, with creativity, you can easily replace your cramped closet with a more spacious walk-in closet.
Cool Tricks To Convert Your Spare Room Into A Walk-in Closet
Clear The Room From Clutters
Before converting your spare room into a dressing room:
Clear out any objects and measure available space.
Remove furniture, decorations, and unnecessary clutter.
Take measurements of the room to plan the layout correctly.
Consider the room's shape, storage options, and natural light to maximize the design.
Everybody dreams of having a big and organized closet. You have the freedom to design it as you like. Consider renovating if you lack the space for your dream wardrobe. You can check online for HELOC eligibility requirements and see if you're eligible for a loan. This could help you achieve that dream wardrobe you are hoping for.
Adequate Storage Space
Any fashion enthusiast knows the importance of extra storage space when converting spare bedrooms into walk-in closets. It may be a haven for someone who likes clothes, with room to hang dresses, blouses, and other clothing items.
Installing cabinets is an excellent technique to increase storage space. You can add shelves to your cabinets so you can organize your belongings. Put some compartments below where you can put your shoes or socks. Organize your socks properly to save space.
Most of the wall space in a wardrobe is occupied by hanging clothes and shelves. Still, a blank wall might occasionally be turned into storage. Find attractive hooks and use them to hang your most-worn accessories like hats, purses, and scarves.
Add Proper Lighting
You may add lighting to your new wardrobe. It could brighten your room and make sorting much more accessible. Choose led lights for your closet because they are more energy efficient. They could also add a dramatic effect to your bag and shoe collections.
Another excellent closet lighting suggestion is to use an LED strip. LED strip lights have adhesive support, making installation in your closet simple. You may put them wherever in your closet: the top, the bottom, within storage areas; the possibilities are endless.
A room window is also an excellent source of light. You can place your wardrobe where it can get adequate light from your window. Make sure to remove objects that could block the light from entering. If you must use a window treatment, keep it light and airy.
Make It Look Classy
Turn your wardrobe into a classy-looking space. Choose a design that best reflects your style and personality. Paint the walls to make them look elegant and luxurious. Use decorative handles and knobs to show your personality and unique style.
Create an area where you can sit, like a small bench. You can use it while trying on your shoes and outfits. Add artwork, mirrors, and other decorations to improve your closet design.
The Bottom Line
Turning your spare room into a walk-in closet can improve your lifestyle. Providing an organized space for your clothes and accessories can also reduce clutter in your home. You can easily replace a cramped closet with a spacious one through creativity and careful planning.
Following the steps above, quickly transform your spare room into a luxurious closet. It could help you organize your belongings in a classy and expensive way. Surely, sorting out your clothes will be your favorite task in the future.