5 Tips For Organizing Your Home Office With A Murphy Bed
When you work from home, your office often becomes a well-frequented place. Especially so if it also doubles as your bedroom. Or spare room. Or your kid's room.
Naturally, this space can feel cramped when you start adding furniture; and it isn't long before you're bumping into desk corners and stubbing your toes on various objects scattered about the room.
This is where Murphy beds come in.
Murphy beds fold up and stow away when not in use, making them especially helpful if you are short on square footage but still want an office space in your home.
So if you want to see what a Murphy bed can bring to your home office organizing solution, read on!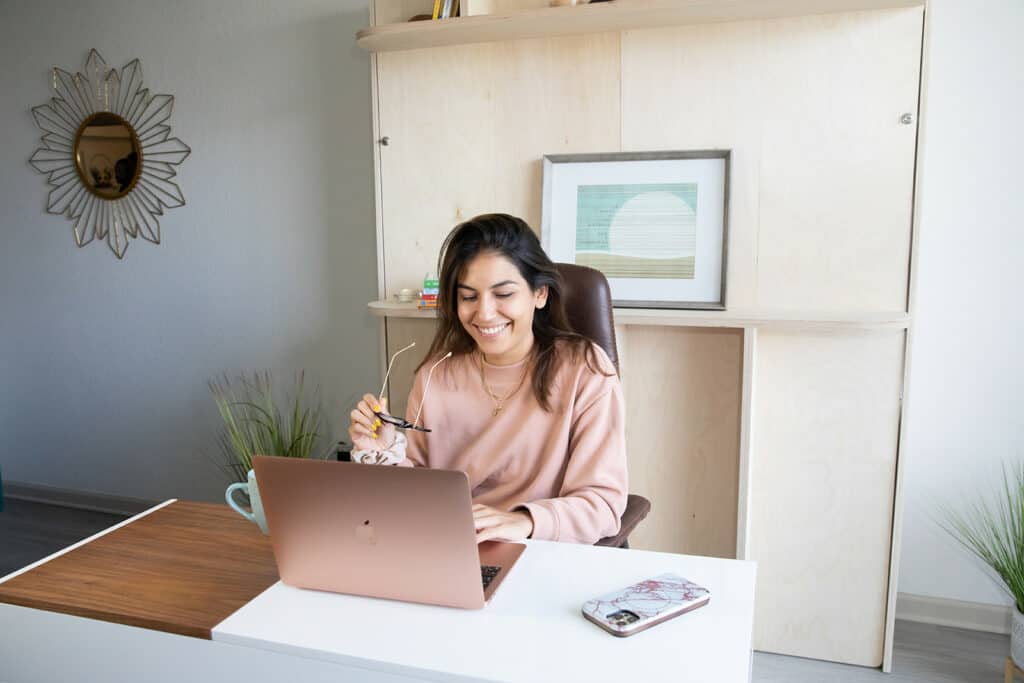 The Importance of Keeping Your Home Office Organized
Mental Health
Studies show that the state of your environment significantly impacts your mood. When that environment is disorganized, it's easy to get caught up in the clutter and feel the negative effects of the mess. And with an unkempt workspace comes an unavoidable source of stress.
It's much easier to immerse yourself in your work when you feel motivated and have a system in place to organize and maintain your workspace.
Productivity
Whether you're a student, freelancer, or employee working remotely, having a home office can be incredibly beneficial for productivity. It gives you a designated place to streamline your work, improving your workflow and giving you peace of mind.
That said, it's important to keep your workspace clean and clutter-free so that you can get work done.
Here are five tips for organizing your home office with a Murphy bed:
How To Organize Your Home Office
Maximize Your Space with a Murphy Bed
If you want a designated place to work at home but don't have the square footage to spare, you need to use every inch at your disposal strategically.
However, you must remember that your office space needs to be functional if you hope to get anything done — so you can't just cram your desk, chair, and filing cabinets into your bedroom or spare room and call it a day.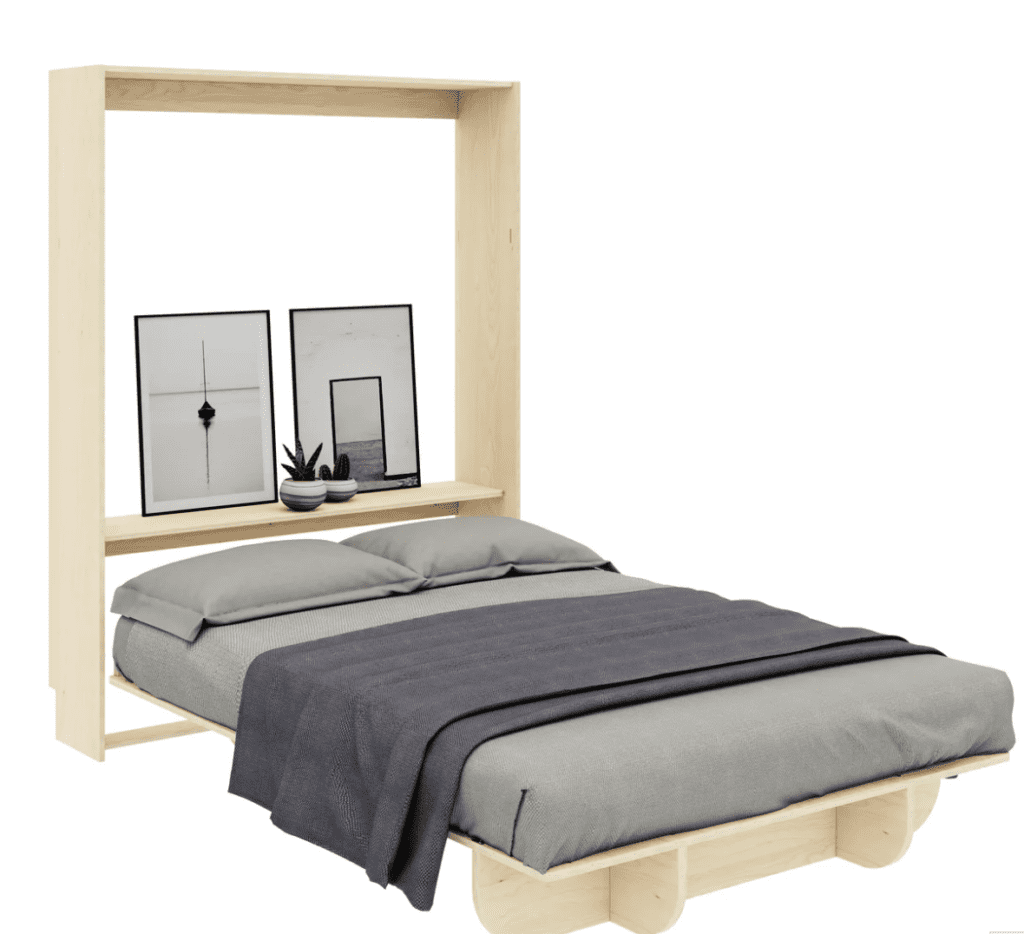 Installing a Murphy bed is an excellent way to maximize this limited space. The bed can transform your office into a sleeping space when needed and fold up when not in use. This frees up valuable square footage in your home office and makes it look more spacious.
Create an Environment Conducive to Work and Relaxation
In many cases, multipurpose rooms aren't actually conducive to multiple different uses. Think of it this way: a storage room with a stationary bike only masquerades as a home gym. Sure, you might use the space for both storage and exercise purposes, but rarely does it feel like both a storage room and a gym.
The same applies to a room that doubles as an office. Finding the right balance between creating a professional environment and making your office comfortable and relaxing like a bedroom is challenging when space is at a premium.
A Murphy bed provides you with more space when you need it most, and it also makes your home office feel like an actual room — not just an afterthought in the corner of one.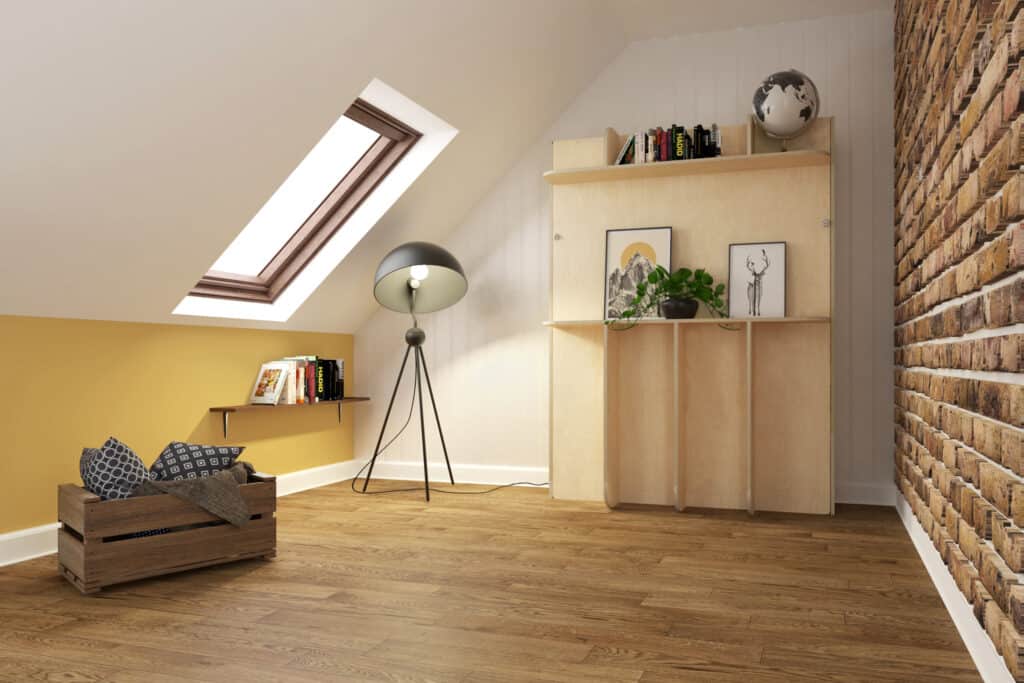 Create Separate Spaces for Separate Tasks
When you work from home, your office is most likely a space used for other things besides work. As such, organization is essential if you want your office to be functional and efficient.
We recommend using your Murphy bed to create designated spaces for your different tasks. For instance, create a 'work mode' in your room by keeping your Murphy bed stowed away during the day. This will ensure you're not distracted by your comfy, cozy bed beckoning you in for a nap when you're in the middle of a work session.
Additionally, you can accentuate your 'work mode' by displaying your office supplies and favorite motivational quotes on your wall to inspire you during your work sessions.
Use Your Wall Space Wisely
If your work environment is small or serves multiple purposes, your usable wall space is likely limited. As such, it's essential that you use this space wisely.
This is why we recommend investing in a Murphy bed with built-in shelving. Without this shelving, the Murphy bed would use up most — if not all — of an entire wall worth of space.
A Murphy bed with built-in shelving lets you store or display your knick-knacks and office supplies — without taking up any additional space. Additionally, a Murphy bed with functional shelving will free your desk from clutter, so you can have room to work while keeping your frequently-used items close. It also allows you to personalize your space with your personal flair as well.
Host Guests On a Murphy Bed When You Need It
A Murphy bed makes it easy to transform your home office into a sleeping area. The bed raises and lowers easily, so you can have the extra space you want when you want it. This makes it an ideal solution for renters or homeowners who want a space to accommodate overnight guests — or want a private workspace without taking over another room in their house or apartment.
That said, a Murphy bed has many other benefits beyond just giving someone a place to sleep.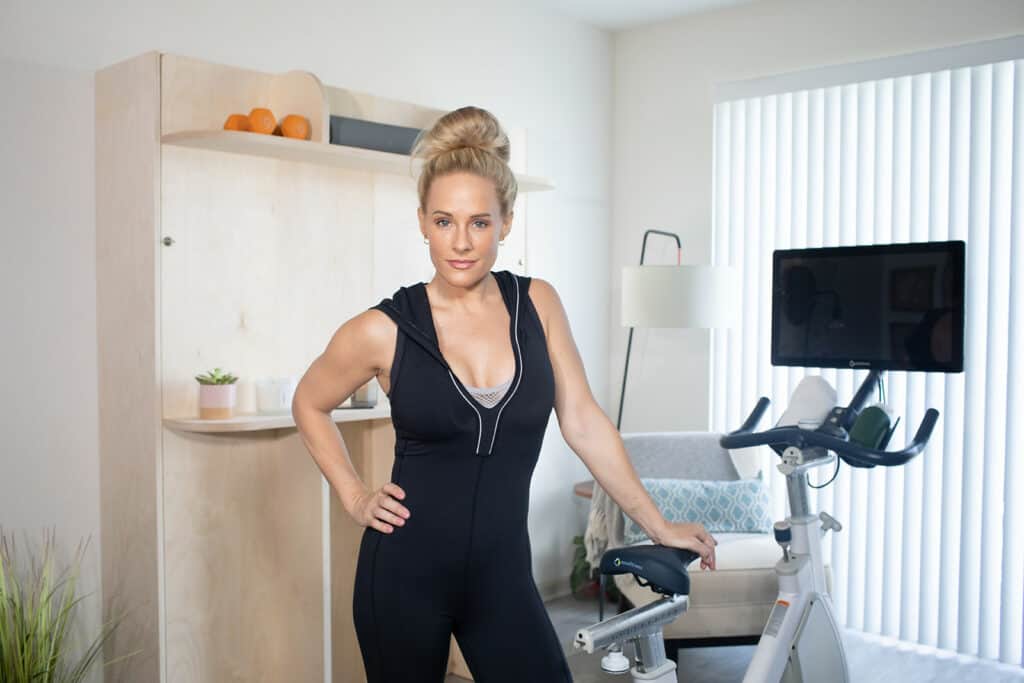 Murphy Beds Aren't Just For Sleeping
Despite what some people may think, Murphy beds are for more than just slumber. You can use your Murphy bed in various ways to create an organized, productive home office space.
Additional Storage
First and foremost, you can use a Murphy bed to store items you don't want cluttering up your desk or other rooms in your home. If you buy a Murphy bed that features shelving, you increase the amount of available space you have to store things. For instance, if you have no extra space on your desk or in your living room but need somewhere to put all your books and office necessities, you can use the shelving on the back of the Murphy bed as an extra storage space!
Extra Floor Space
Extra floor space is another one of the many benefits of having a Murphy bed. If there is limited floor space to work with and you don't have enough room to fit everything you need, a Murphy bed is a great solution. The bed folds up when not in use, so there's no need to worry about taking up too much room when you're not using it as a bed. On top of that, you'll have more room to work with when it's time to get down to business.
Closing Considerations
Your home office is where you spend a lot of your time.
For some of you, it is a place just for work. For others, it's a place to rest at the end of a long day, too.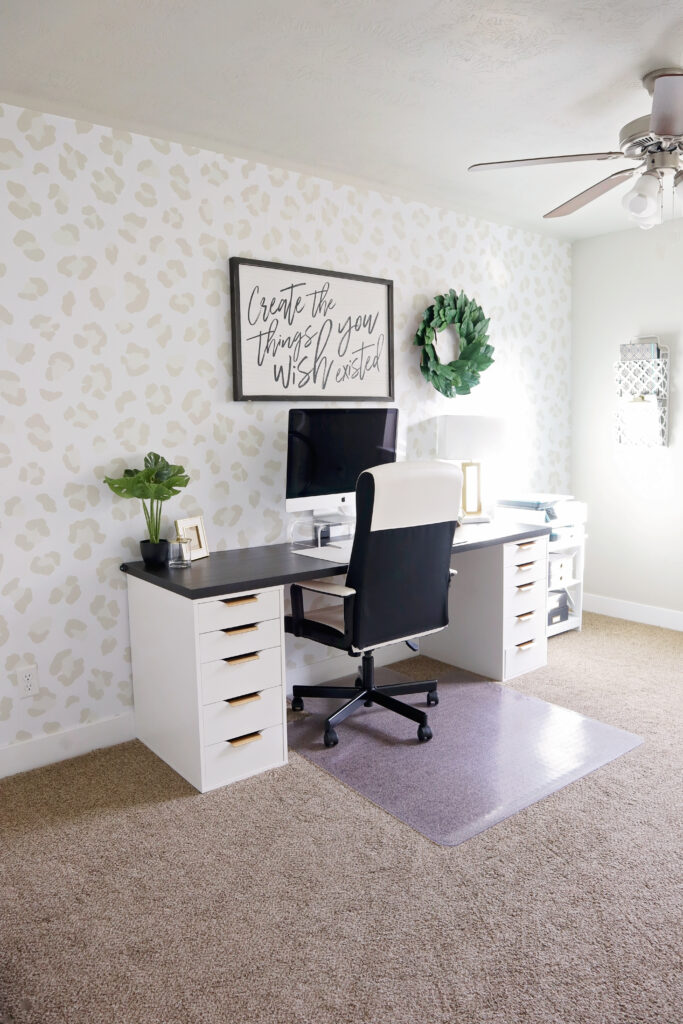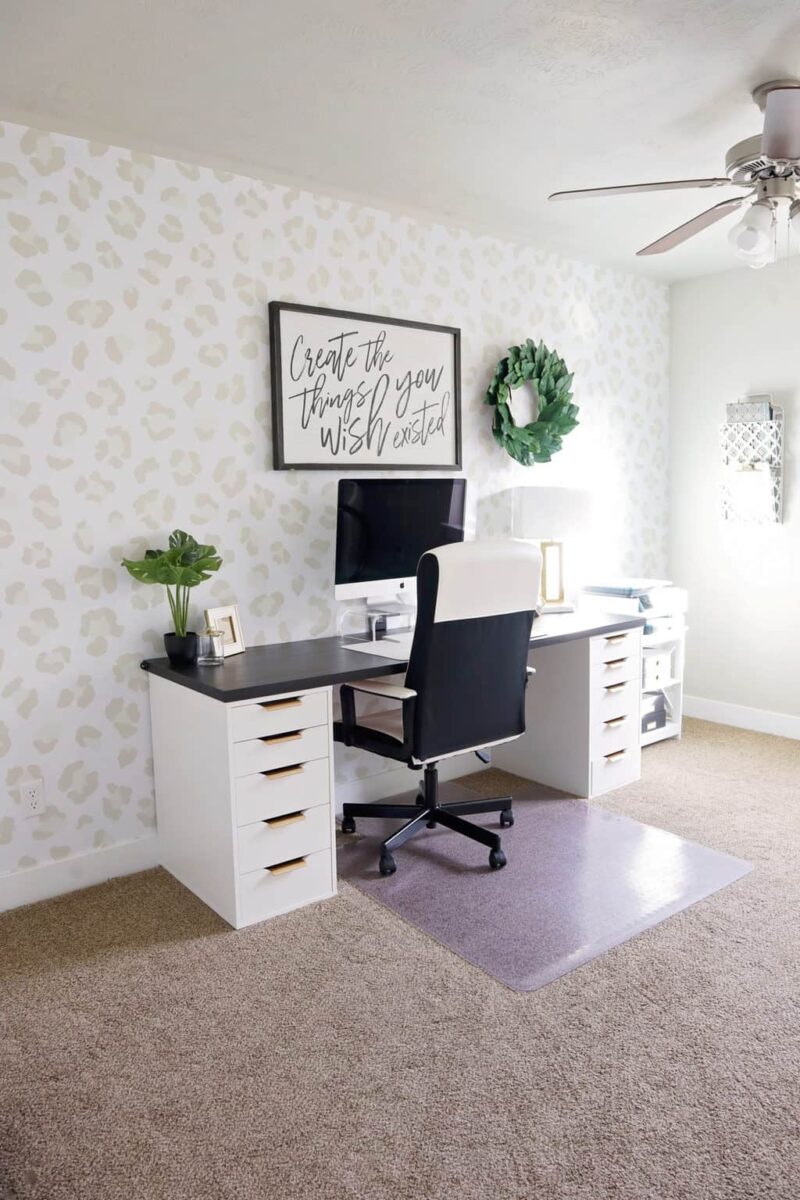 While it's tempting to throw all of your office supplies into a bin and call it a day, this is not the best way to keep your mind clear or increase your output. When you have an organized workspace, the work that goes into it becomes more enjoyable and rewarding. This means that having an organized workspace can — and likely will — improve your mental health and productivity.
Installing a Murphy bed is an excellent way to create an organized, functional, and multipurpose home office.
The Murphy bed is a classic piece of furniture that has been around for a long time — and for a good reason. Namely, it is practical and versatile, so you can save space and maximize every square inch. It can be set up quickly when needed and hidden away just as easily when not in use. This makes it ideal for those who have limited space available — or don't want their guests to see their mess.
At the end of the day, if you live in a space where every square inch counts and want to create an office fit for function, then a Murphy bed is the solution for you.