How to Create a System for Organizing Your Nail Supplies
Do you love doing your nails at home but feel like your bathroom is constantly taken over by nail polish and supplies? It's easy to let it get out of control, but with a little bit of organization, you can keep everything clean and tidy. In this blog post, we will discuss some tips for creating a system for organizing your nail supplies. By following these tips, you'll be able to find everything you need quickly and easily!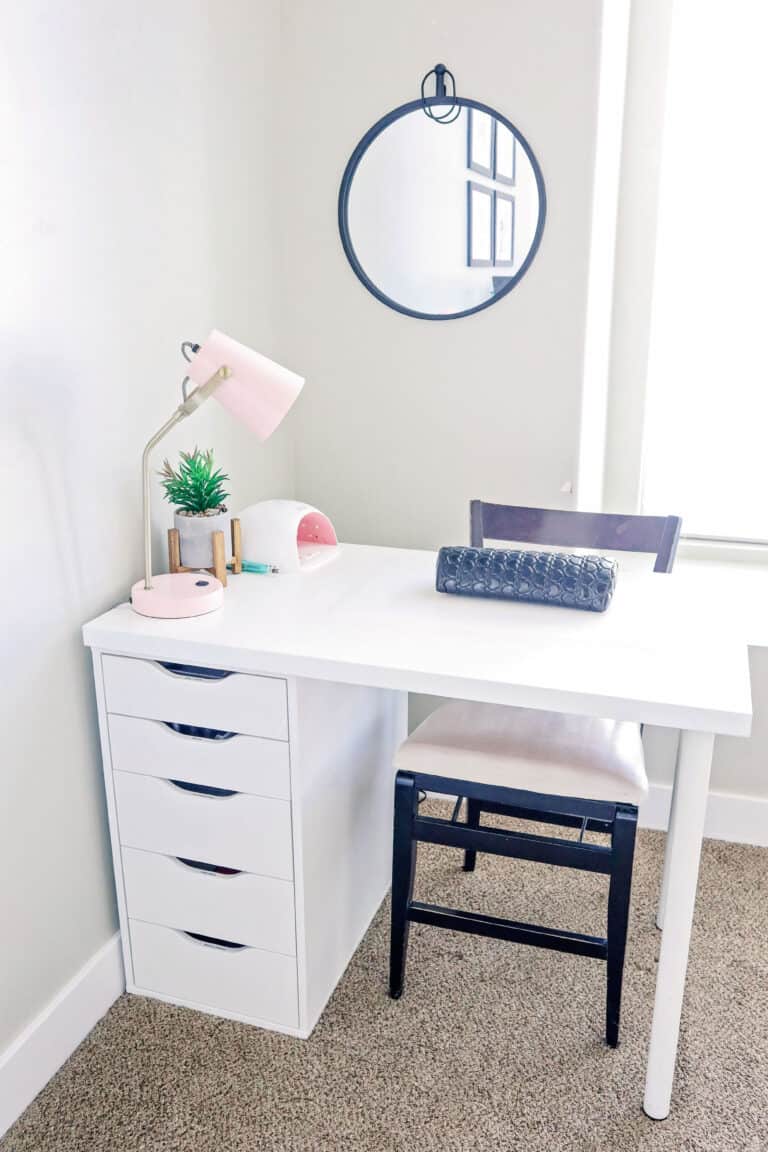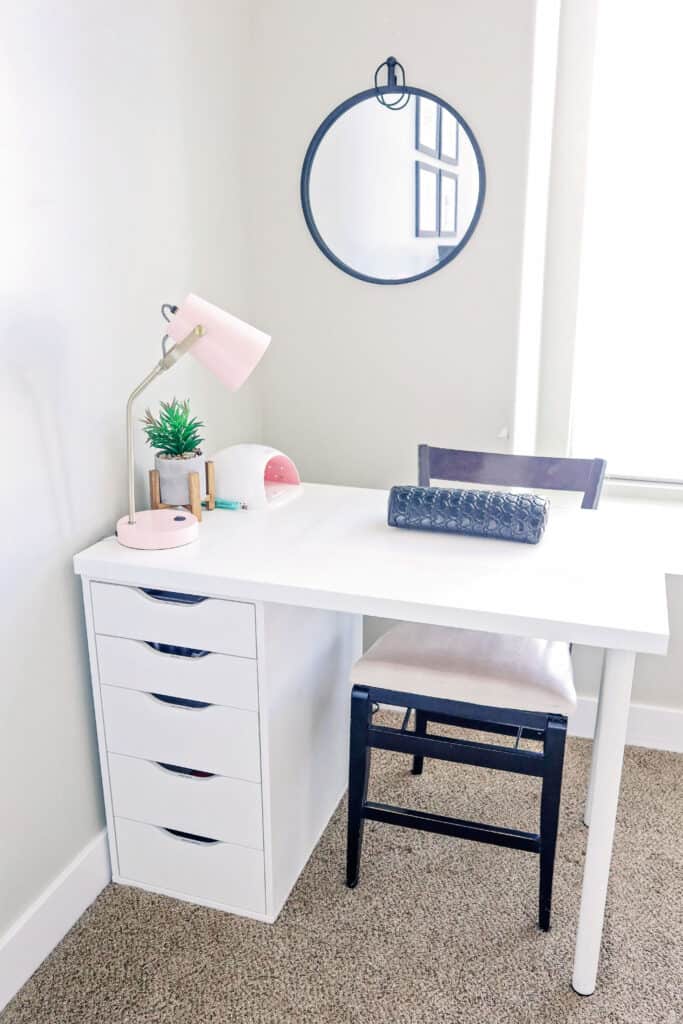 What is the Best Way to Organize Nail Polish?
Nail polish can be tricky to organize because there are so many different colors and finishes. One way to keep everything organized is to create a color-coded system. For example, you could have all of your reds in one area, all of your pinks in another, and so on. This will make it easy to find the color that you need.
It's super helpful to purchase Plastic Nail Swatch Sticks to paint your nail colors onto. Then you can easily put them in rainbow order and put them all on a metal ring so everything stays nice and organized. If you go to a nail salon, this is often how they let you pick your nail polish color.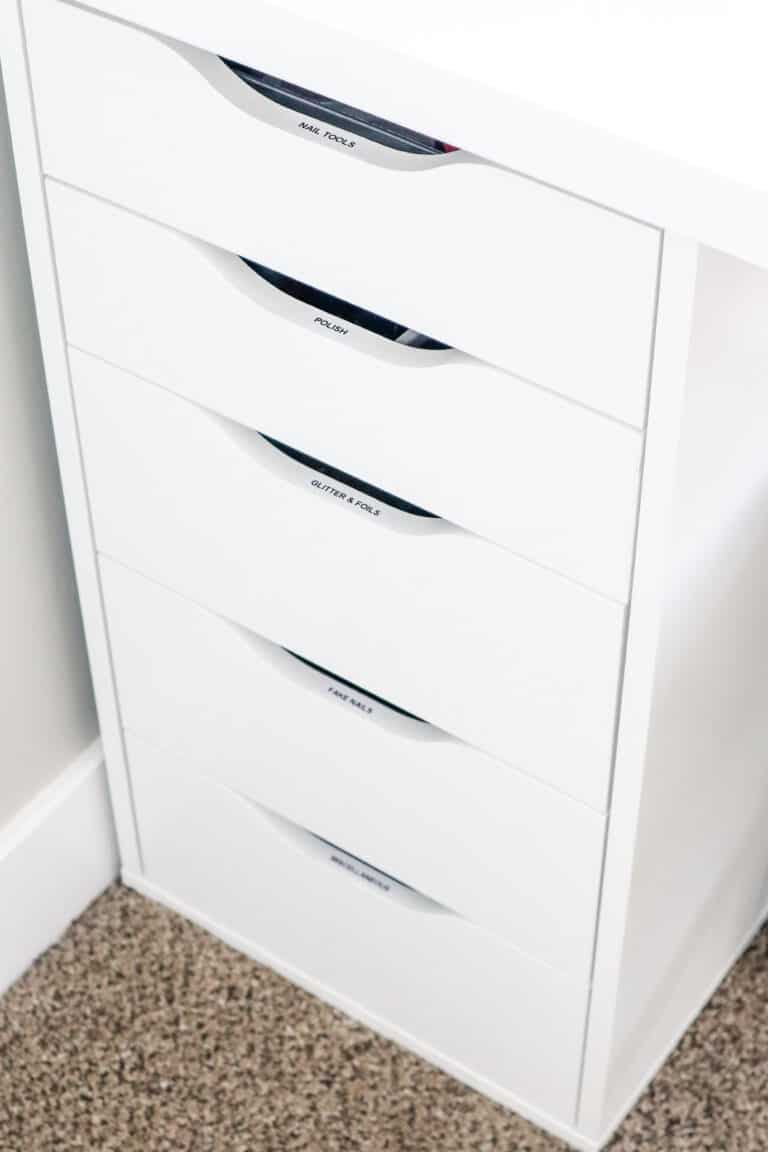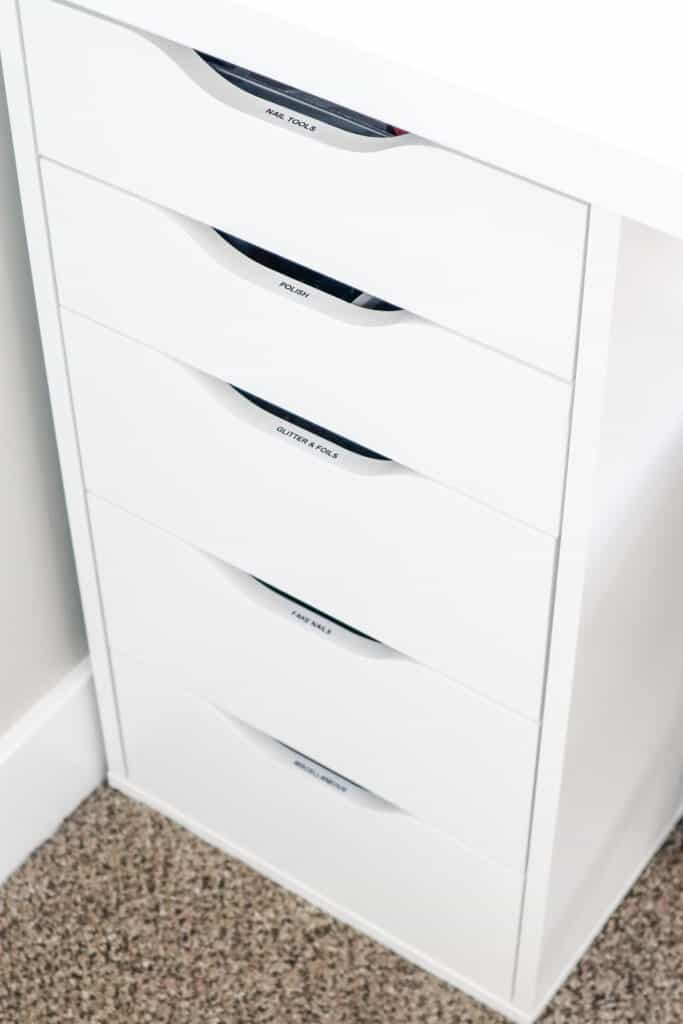 Make sure to label the swatch sticks (and the nail polish bottles) with sticker numbers so you can easily find the polish you need once you've picked your favorite color from your swatch stick.
The swatch sticks also help things to stay more organized because you don't need to sift through your nail polish colors unnecessarily. You can just look for the exact color you need and leave the others alone. This really keeps your nail polish storage neat and tidy.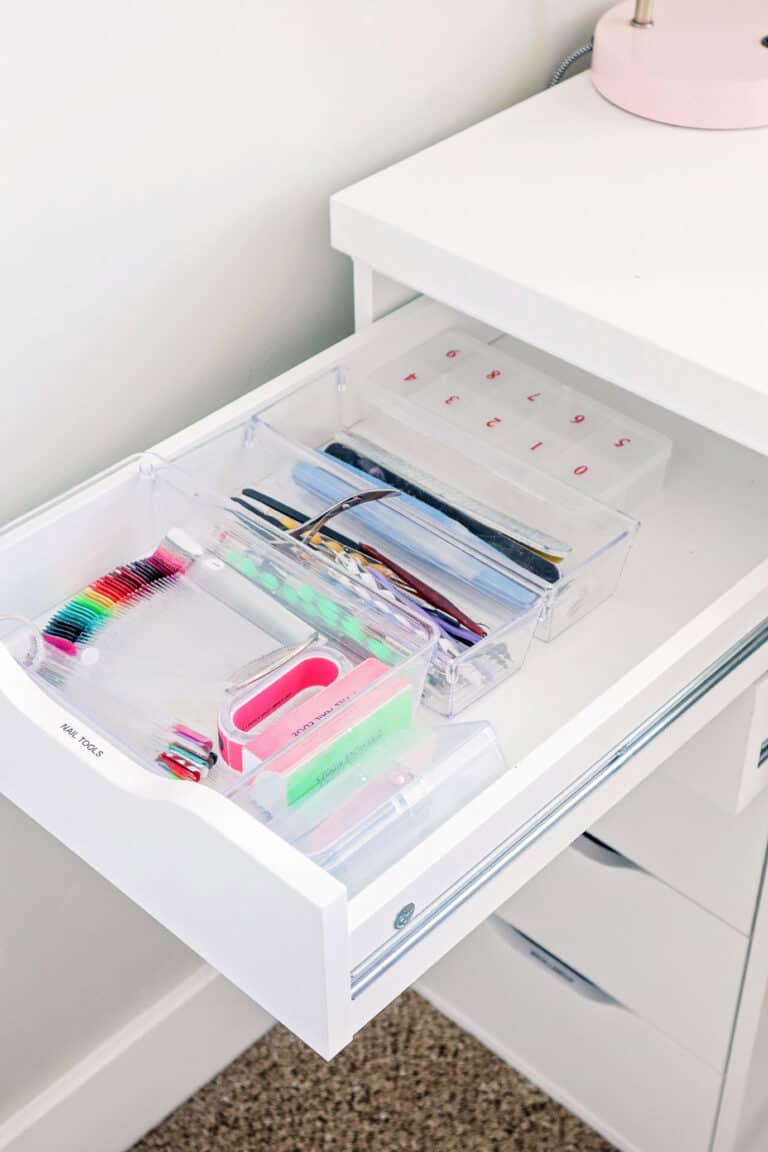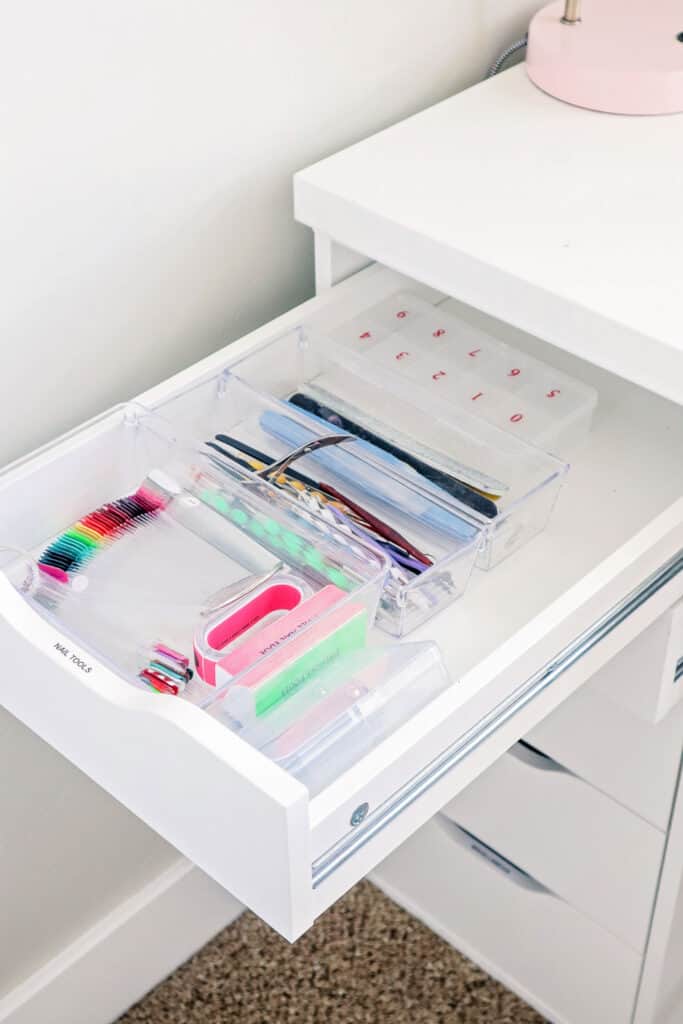 Before you decide what is best for you, declutter the nail polish that is thick, old, or goopy so you can accurately count how many bottles of nail polish you actually have. This will help you determine which organization ideas are the best for you.
How to Organize your Nail Polish By Color
Do you have a ton of nail polish and find it hard to organize? Do you want an easier way to see all the colors you own? You can do this by organizing your nail polish by color. You can store nail polish in many ways, but the best way to organize it is by color. This will help you find the colors you want faster and make your collection look great!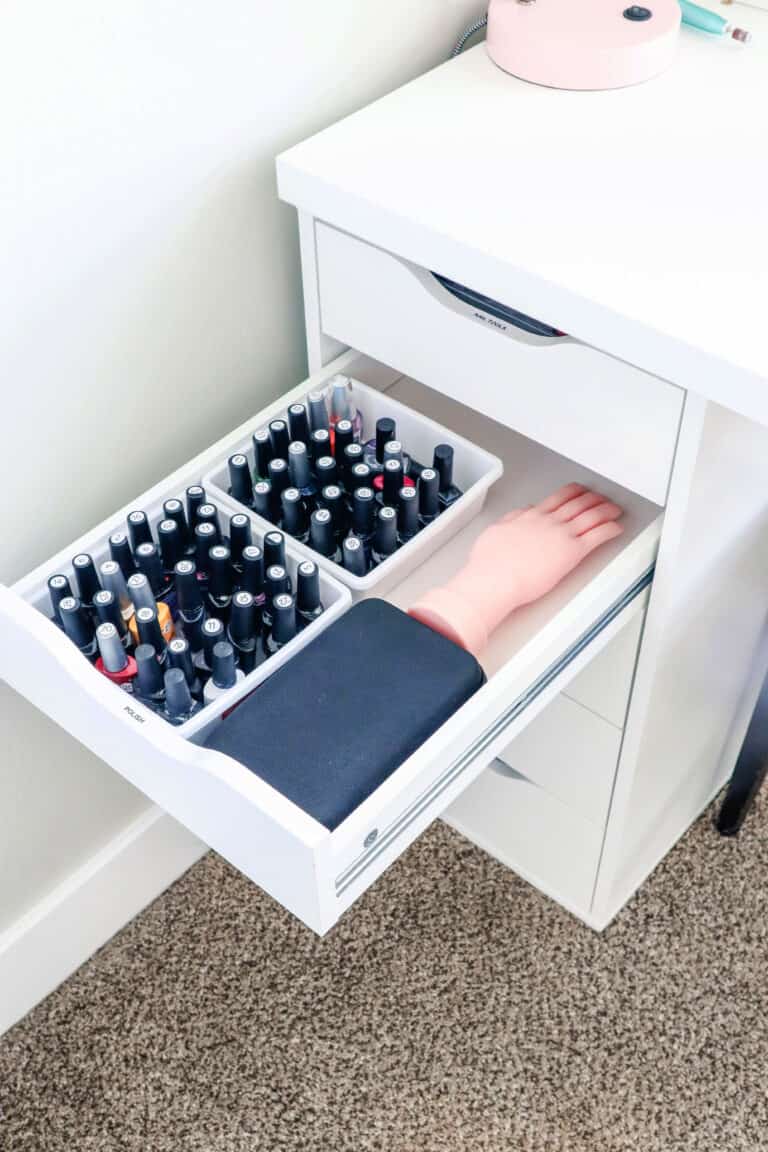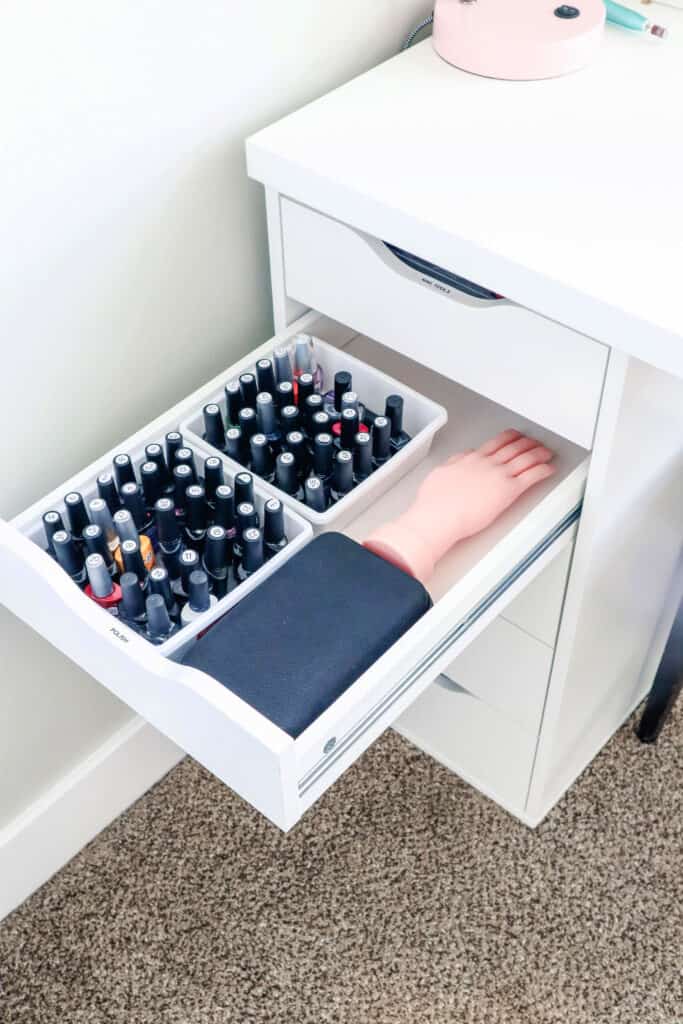 To start organizing your nail polish by color, you will need a few things:
Have a Wall Shelf for Nail Polish
If you have enough space to designate some wall space for your nail polish collection, this is a great option! You can buy a wall shelf specifically for this purpose or get creative and use something else.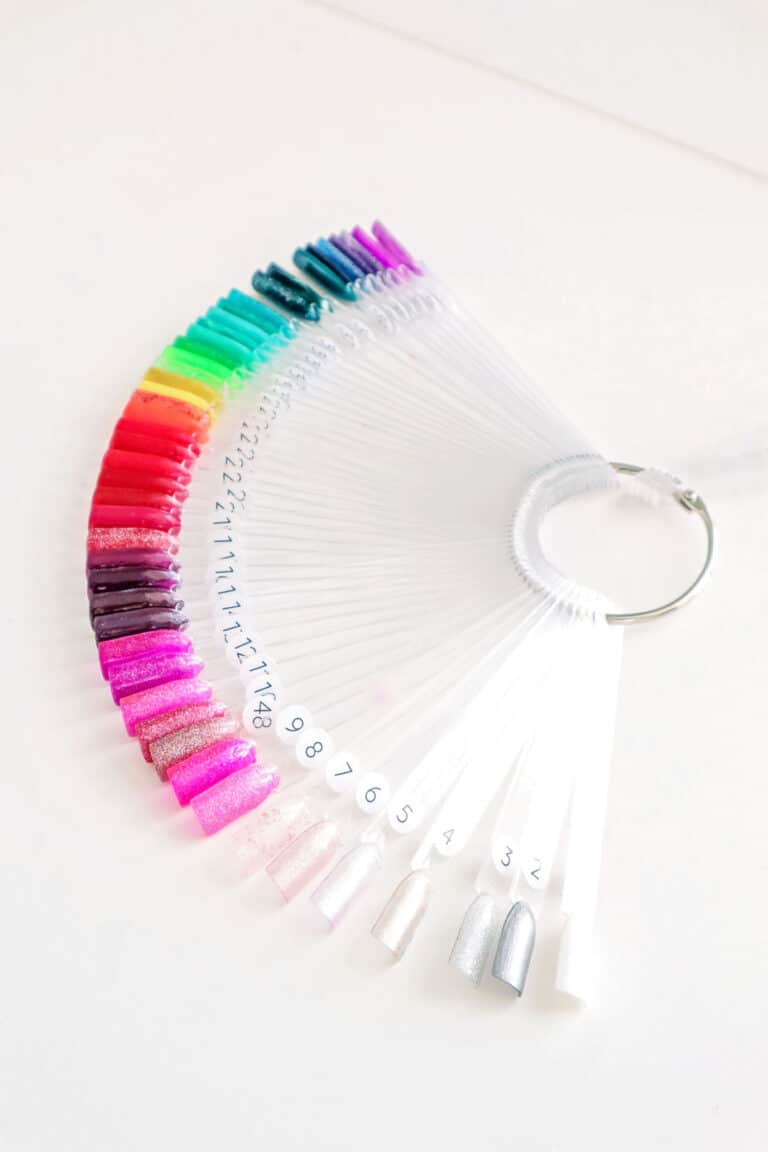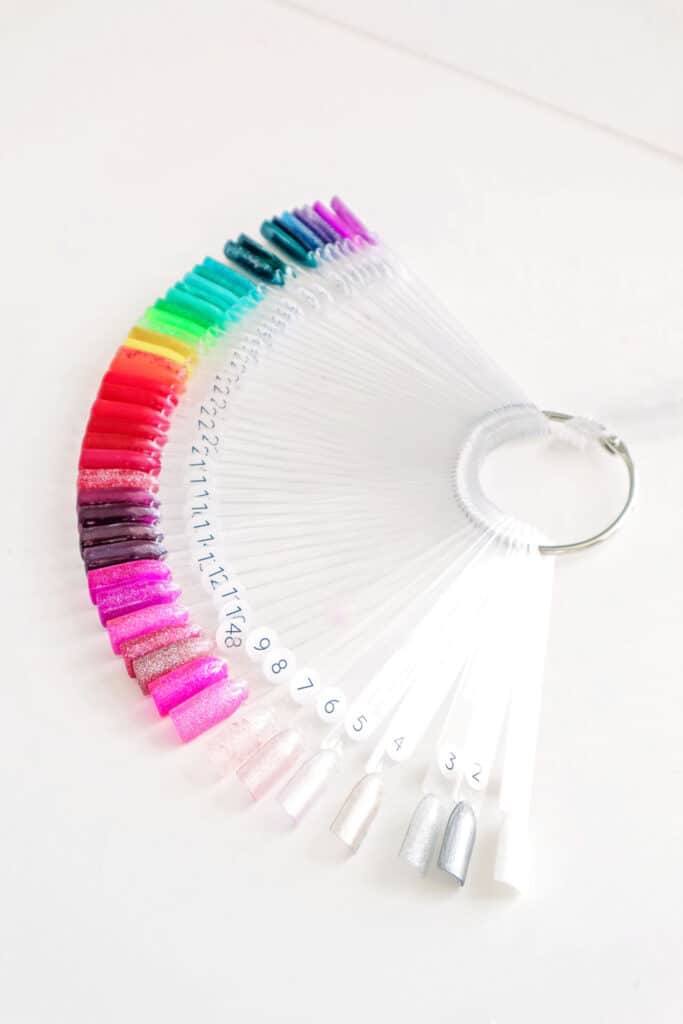 You can even get some adjustable shelves that adhere to the wall and you can place them at different heights if needed – different brands of nail polishes have different-sized jars. So having the ability to adjust things as needed is a big benefit.
Many nail techs choose this method for their nail polish storage. This is a great option if you have the space and if you are looking for nail polish storage that has a display feature to it.
Alternatively, you can also use a spice rack to store nail polish if you have an extra one lying around the house. Spice racks may even be easy to find at a local thrift store.

Have a Tiered Counter Shelf for Polish
If you don't have wall space but you have some space to store nail polish on a counter or a table, then a tiered shelf could be a great option for you! These can also be stored in a bathroom closet, or on your bathroom counter.
This clear acrylic display allows you to make good use of your space and allows you to see all of your colors at a glance if you decide not to use plastic color swatches.

Use a Plastic Travel Container
If you have a moderate amount of nail supplies, then a great way to organize nail supplies is to use a travel container. Each nail polish has its own home and can really help you save space. This is great for storing nail polish out of the way or in a bathroom cabinet or a closet.
This is also a great solution if you find yourself needing to take your nail supplies to different places. They give each nail polish their own designated space and protect them during travel. Some organizers even have storage for your gel nail light if you do gel nails.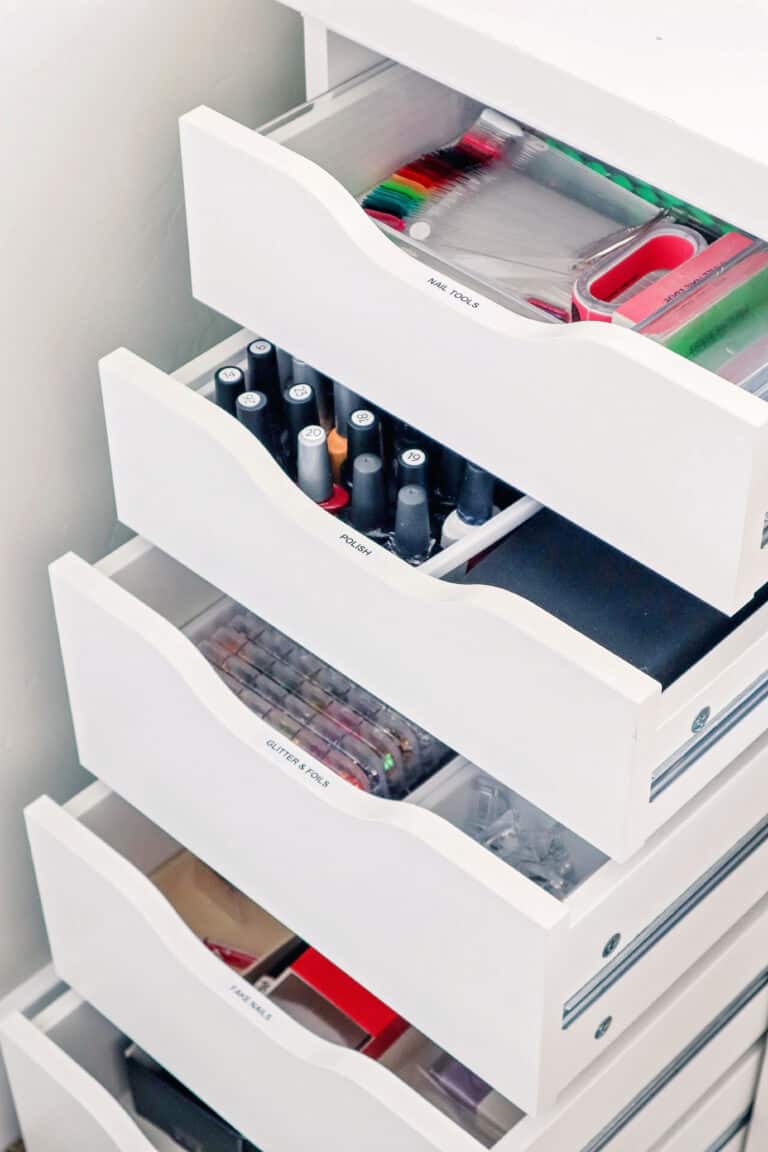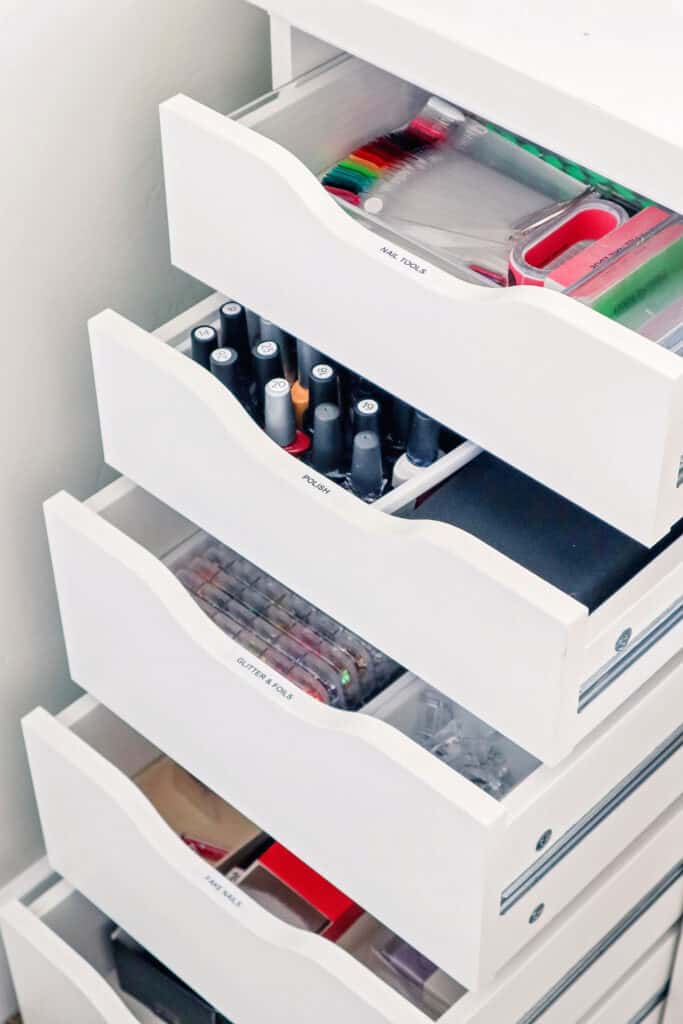 This was my first attempt at organizing our nail polishes but then I quickly realized how much we needed a larger solution to store all of our nail polish when my daughter became obsessed with doing her own nails.

Clear Jars Double as Storage and Decor
If you aren't a nail tech or one of those nail fanatics (like my daughter) then you may be looking for a smaller way of storing your nail supplies and nail polish. One way that you can do that is by making your nail polish a part of your decor.
All you need to do is put a few bottles of nail polish in a clear jar and set it out on your bathroom counter. It's an easy way to add a splash of color to your decor and you can easily grab the nail color you want when you need it.
Organizing your Nail Supplies in a Drawer
We started out organizing our nail polishes in a plastic travel container. But when my daughter was about 10, we quickly realized that she was obsessed!
We purchased an Ikea Alex Drawer set (as well as a small desktop and legs) for her for Christmas and it was a huge hit! Who knows, maybe she'll become a nail technician one day. She doesn't work at a salon yet, but one small corner in her room looks like it!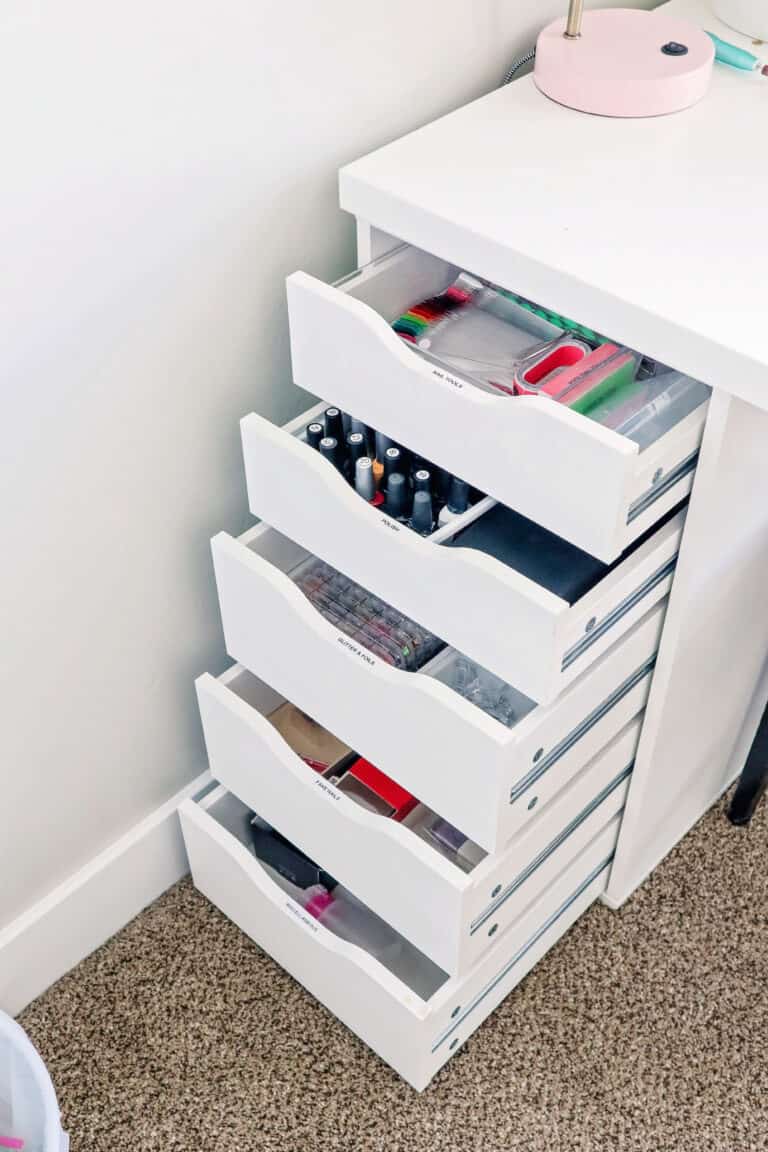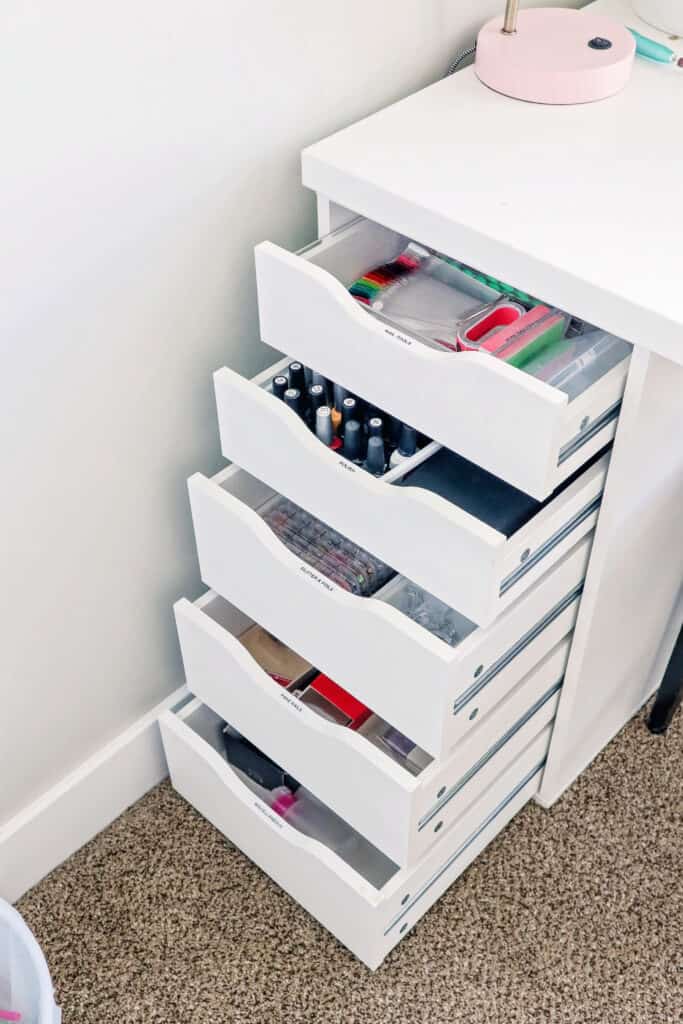 Ikea Alex Drawers are the Perfect Solutions for Organizing Nail Supplies
I was looking to create a manicure station for her and I wanted to be able to store her nail polishes, glitter, manicure tools, UV light, cotton swabs, and embellishments in one location.
Drawers are always a great solution to help organize nail supplies and this was my favorite option that I found. This would also be great for a salon!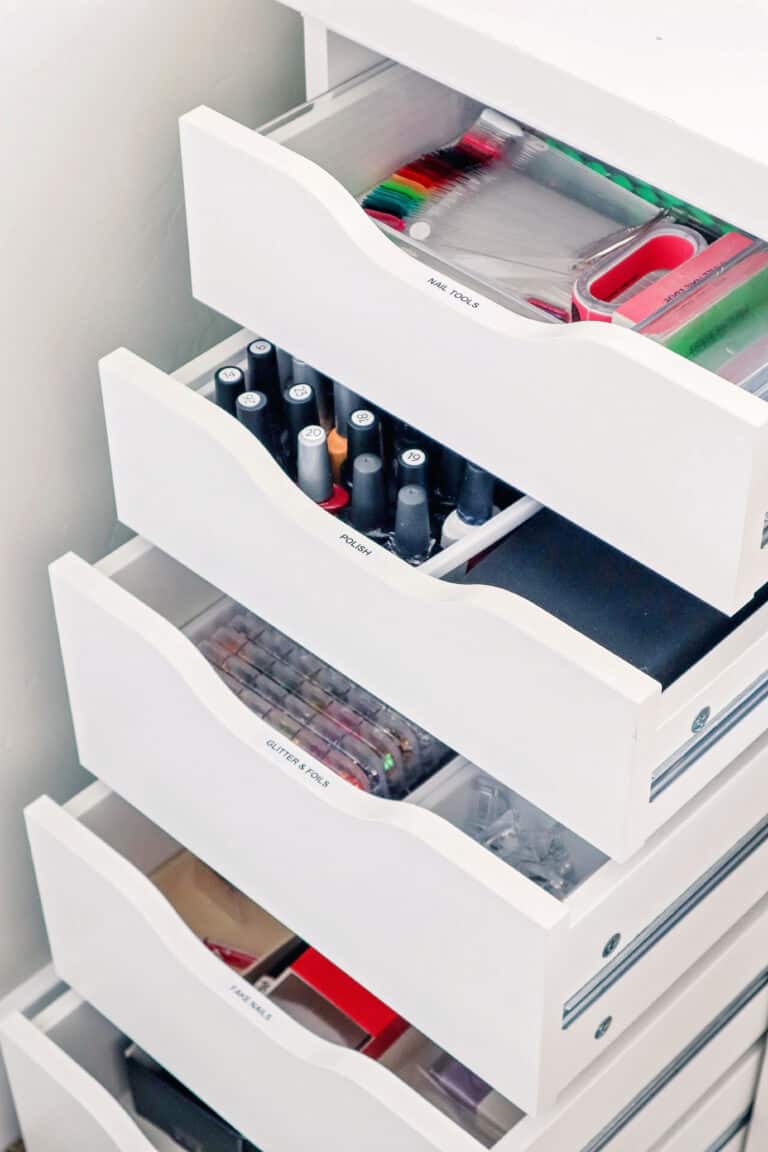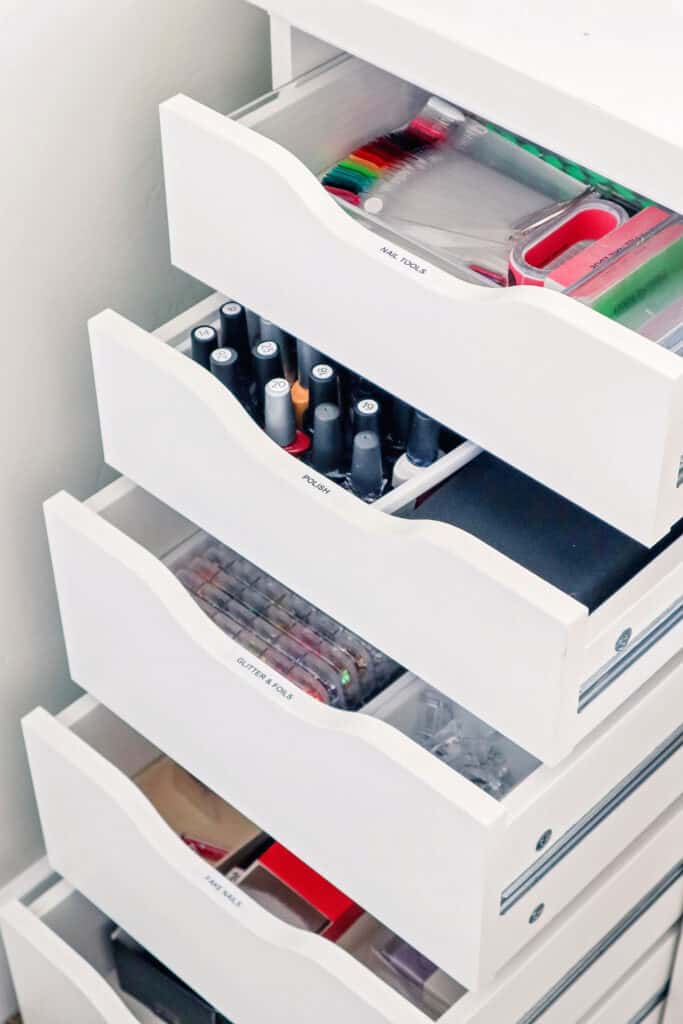 It allowed me to store everything in its own drawer and give each type of item a home so we could label it and keep everything organized. There is plenty of room to store all your bottles!
I used drawer dividers to organize each type of item so things don't slide around in the drawer and get disorganized. Here is how we organized her supplies:
Top drawer: Nail tools, Plastic Nail Swatches, Nail files
Second Drawer: Nail polish (and there is room to grow our collection!)
Third Drawer: Glitter, foils, glitter powders, foil tape, nail wraps, etc.
Fourth Drawer: Fake nail sets
Fifth Drawer: UV Lamp, electric file, etc.
How to Organize Nail Embellishments
Organizing your nail embellishments can be a little bit trickier because there are so many tiny pieces. But using small containers, like pill organizers, can help to keep everything sorted and organized. We used this method to organize all of the rhinestones, gems, and other embellishments.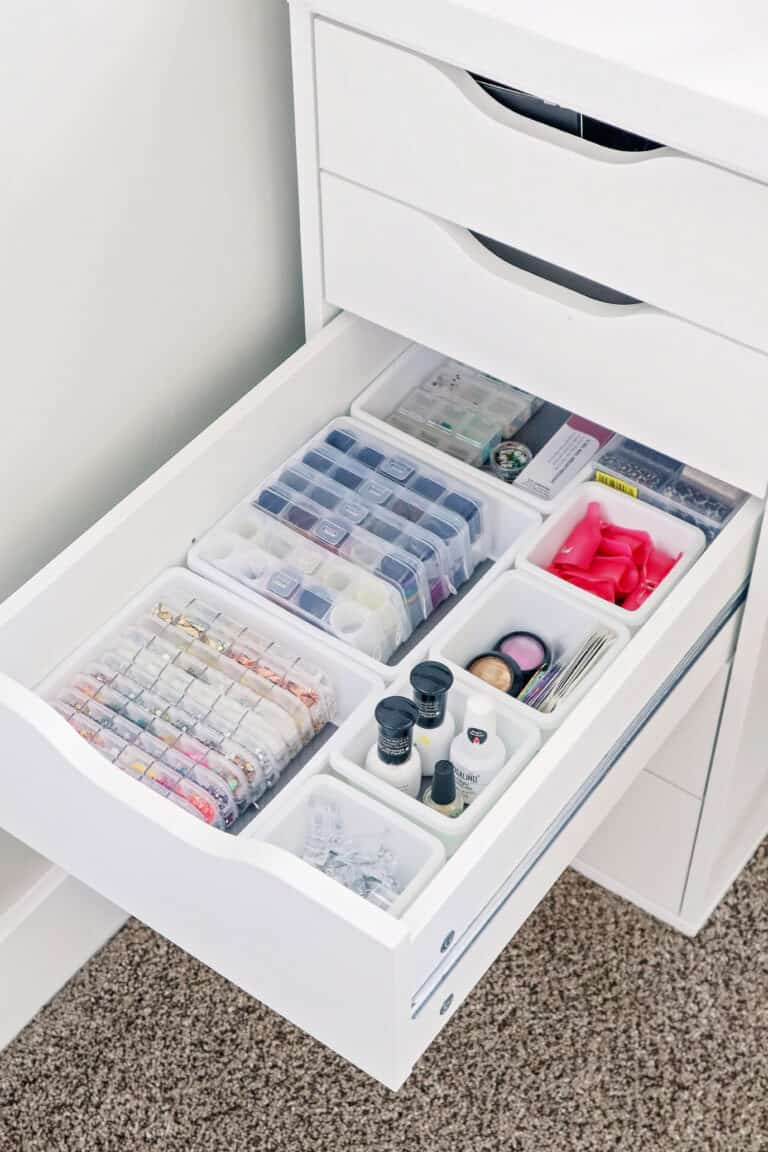 We repurposed small containers that we had from other projects. You could also use something like a pill organizer or even small Ziploc bags.
Next, we sorted all of the embellishments by color. This made it easier to find what we were looking for when we were doing our nails.
Then, we labeled each container with the name of the polish or decoration.
This step is optional, but it definitely helps if you have a lot of different colors and types of embellishments.
And that's it! A simple way to organize all of your nail supplies so you can find everything you need quickly and easily. What are some of the ways that you organize your nail supplies?