13 Creative Ways to Store Your Sunglasses to Keep Them In Good Condition
Sunglasses are a summer essential, but they can be a pain to store properly. If you're not careful, the lenses can get scratched and the frames can become bent. Not to mention, it can be difficult to find them in a cluttered sunglasses drawer! That's why we've put together a list of 10 creative ways to store your sunglasses. From DIY projects to using everyday objects, we've got you covered. Keep reading for some helpful storage tips that will keep your sunglasses in good condition all season long!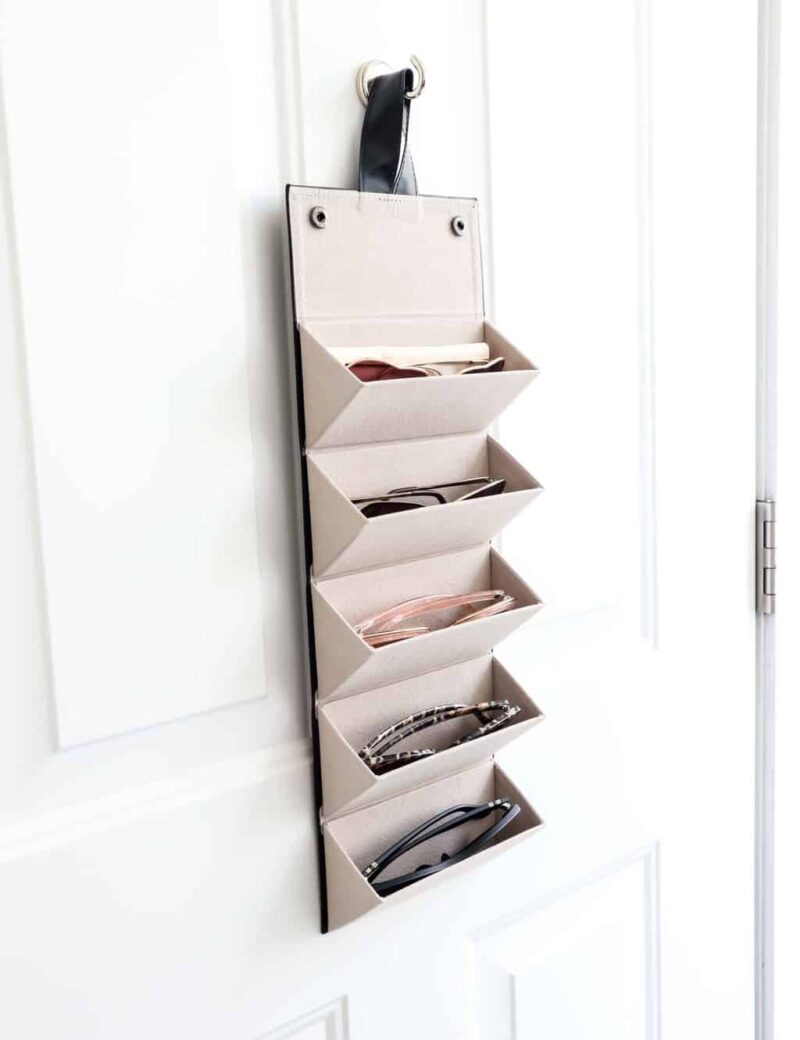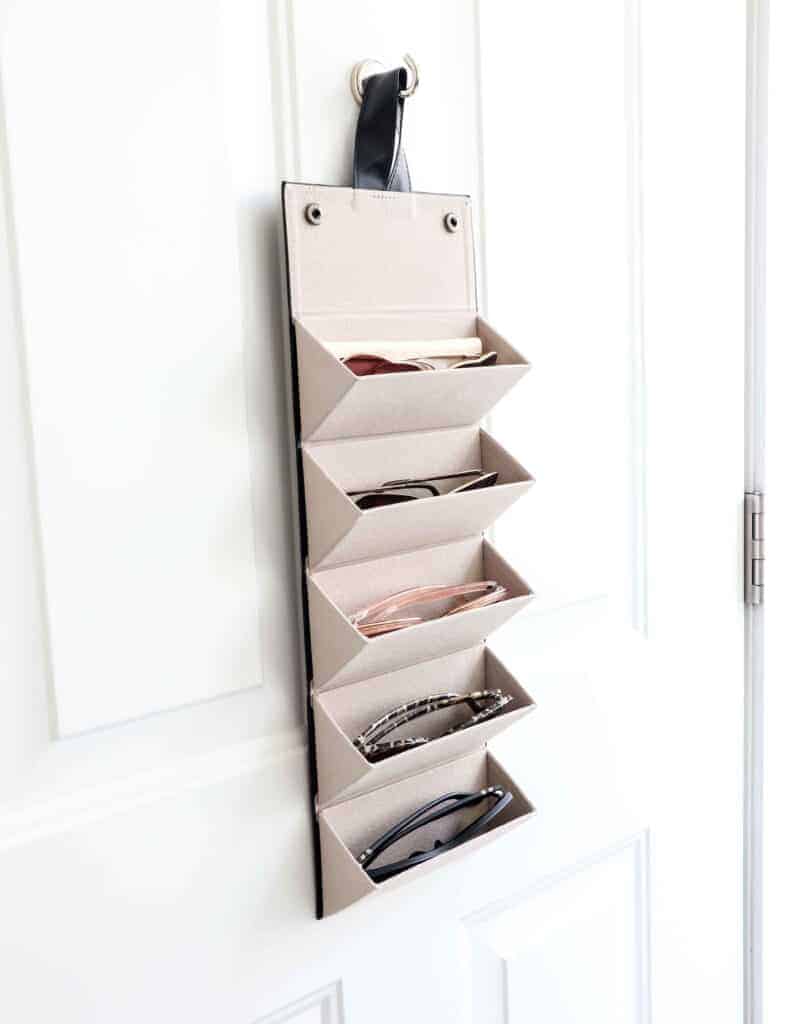 How to Organize Sunglasses
It can be hard to decide how to store sunglasses because you need them in a variety of situations and ways. It's important to choose a method that not only helps you keep all your sunglasses orderly, but that is also aesthetically pleasing.
You can choose to organize your sunglasses in a variety of ways:
by color
by style
by occasion or purpose
by value
Most people like to color code their sunglasses to make it easier to pick which pair they'd like to wear with any given outfit but you can organize yours however works best for you!
Store your Sunglasses Collection With These Helpful Tips
Sunglasses are an essential accessory, so why not make storing them fun? Here are 12 creative ways to store your sunglasses:
Hanging Eyewear Solutions
If you're short on space, you can keep your sunglasses organized by hanging your glasses on a wall. I love this eyeglass storage solution because it's really simple to install on a wall and you can also hang other accessories on it!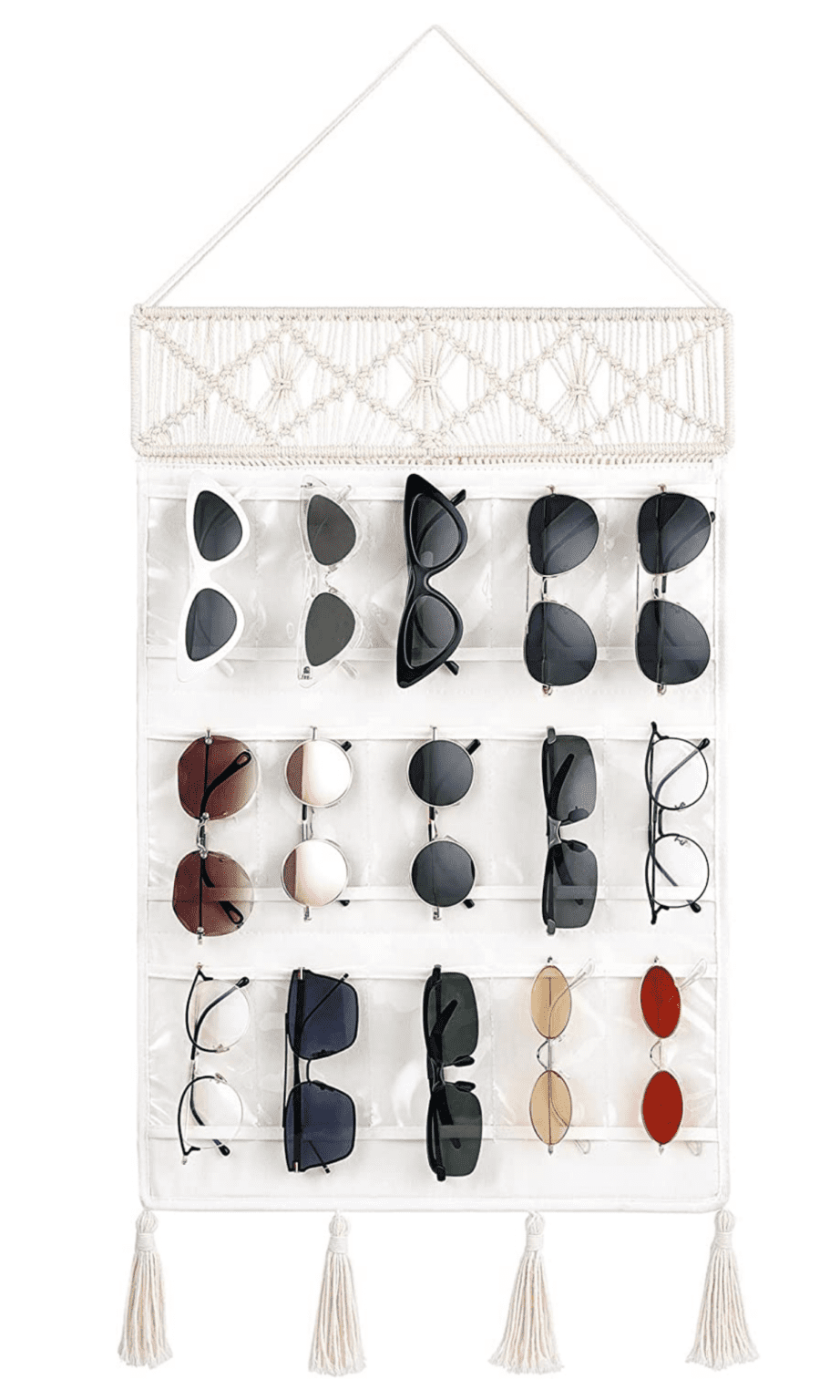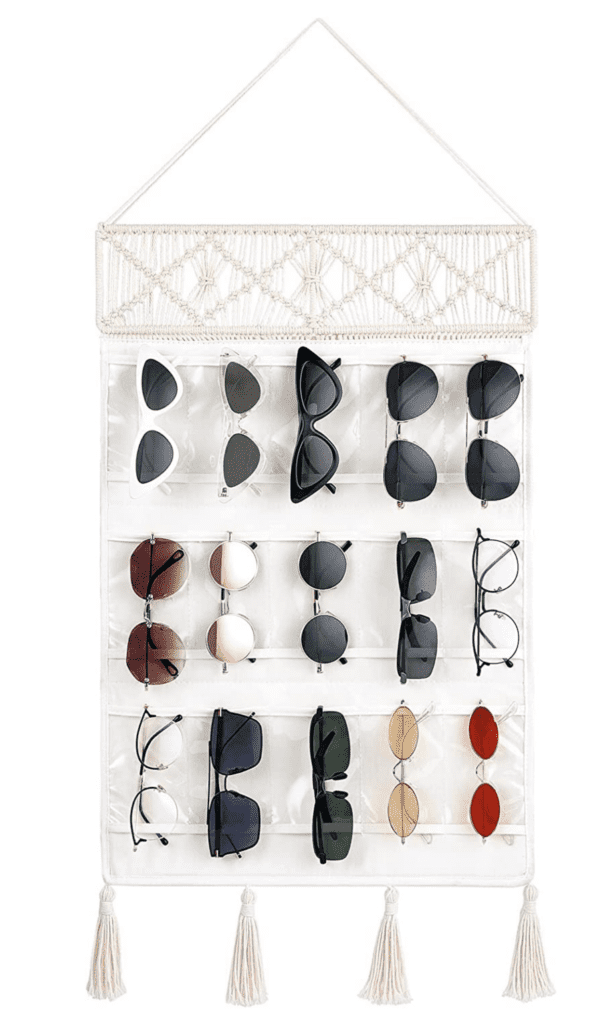 Another great hanging sunglass organizer is this felt organizer which has a clear plastic section that allows you to see the sunglasses clearly but still protects the frames and lenses. This is a really great space saver for someone with a lot of sunglasses. I also really love this stylish boho sunglass organizer.
Use the Back of a Door
You can hang eyewear from the back of a door with an over-the-door hanger. This is great for sunglasses that don't fit in your typical drawers or cabinets.
Drawer Dividers
Drawer dividers are super simple to install and they can be a really great solution for a sunglasses organizer. Simply open the drawer you want to put the sunglasses into and insert the spring-loaded drawer divider. This will help you create sections in your drawer that you didn't have before!
Display Sunglasses on a Wooden Rack
If you want your closet to have a boutique look, you can try displaying your sunglasses on a vertical wooden rack. This option might be best if you want to keep all of your sunglasses together and visible. Plus, it will add an interesting decoration to your closet!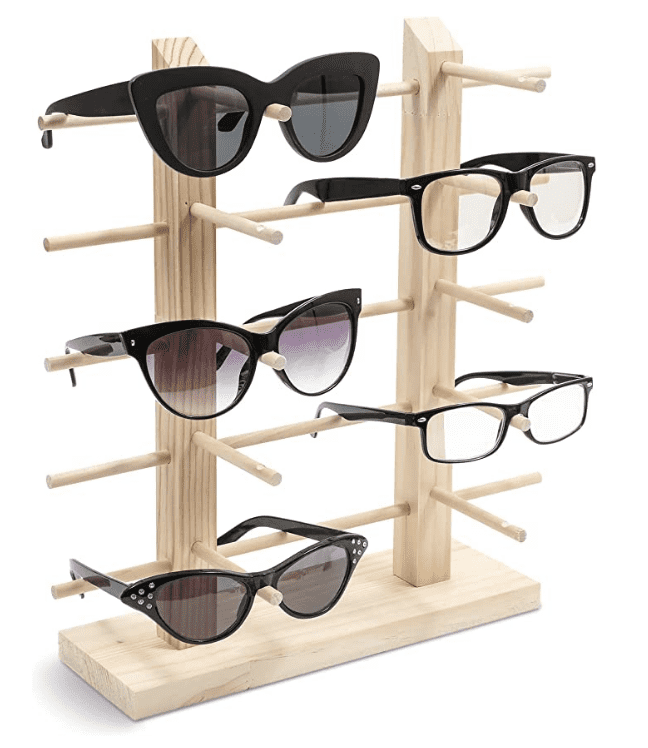 Use a Tiered Sunglass Organizer
If you love space-saving solutions, this acrylic sunglass organizer is great for keeping everything on a beautiful display on a shelf. Using a tiered organizer helps you see everything at a glance! This would also be great if you have several eyewear collections to organize and you want to keep them separate.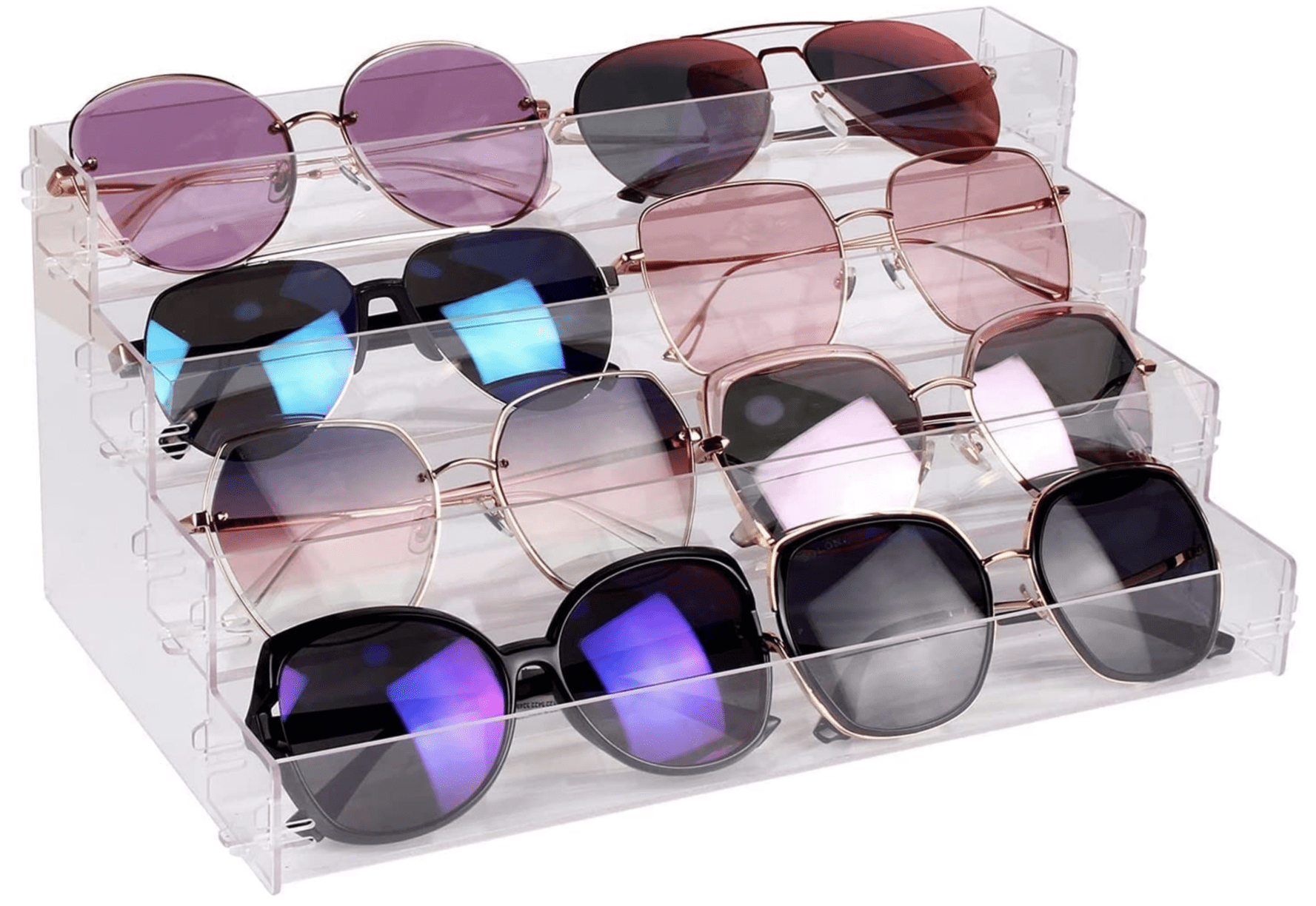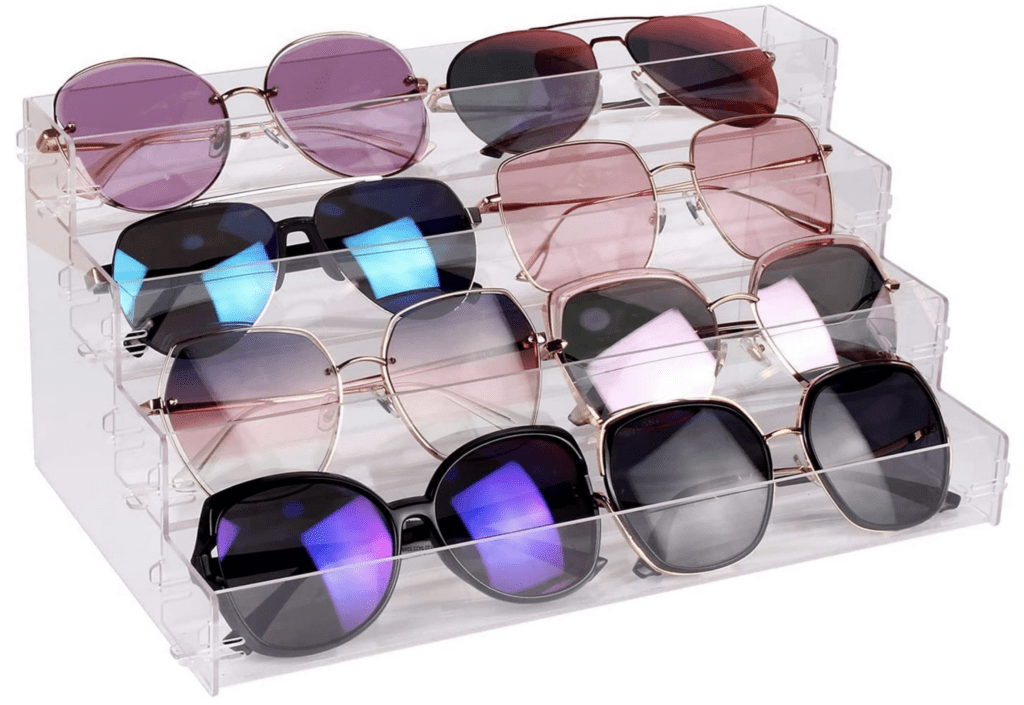 Plastic Stackable Sunglasses Storage
You can store glasses on shelves using these clear stacking eyeglass storage bins. Because these are clear, you can easily see what's in each of them while still protecting the lenses and frames! You don't need to worry about them getting damaged!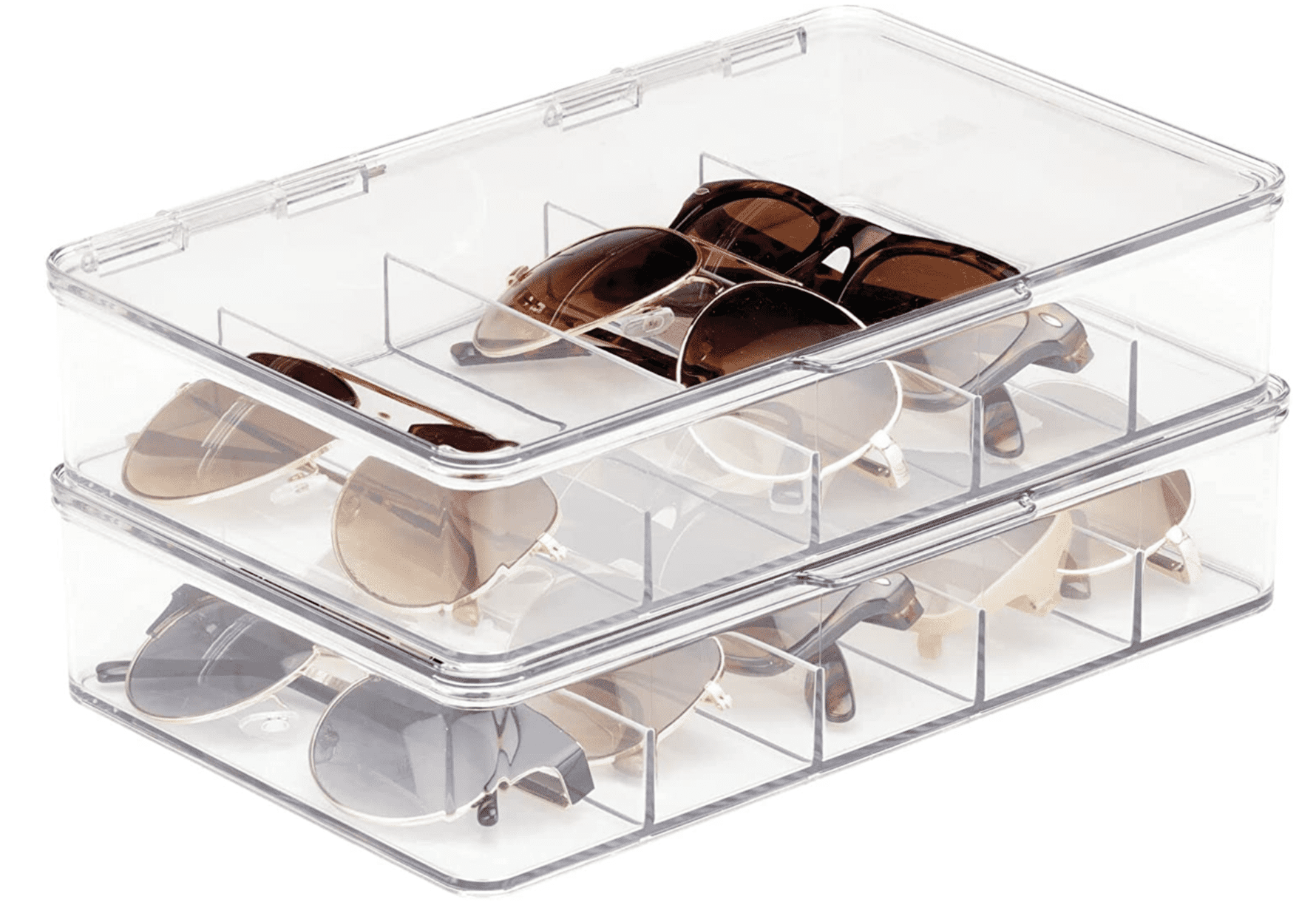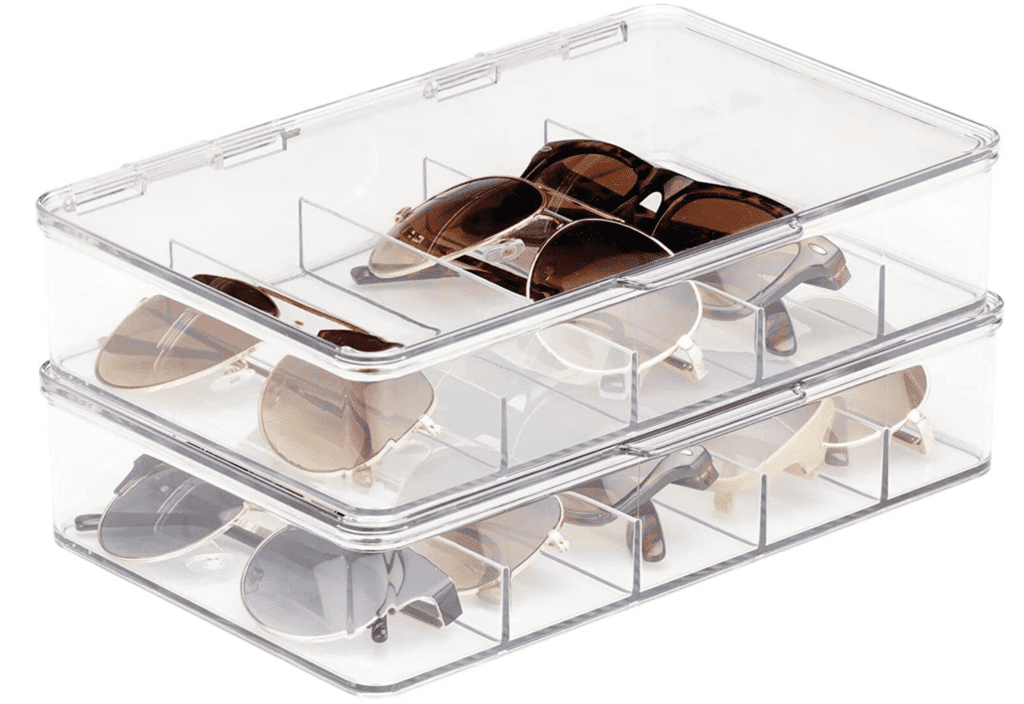 In-Drawer Sunglass Organizer
If you don't want to hang your sunglasses, the most common sunglass organizer is to buy a divided storage solution for your dresser drawer.
You can even create your own drawer dividers using small pieces of wood from the local hardware store. Line the drawers with velvet for an elevated look. This is one of the best methods for high-end eyewear.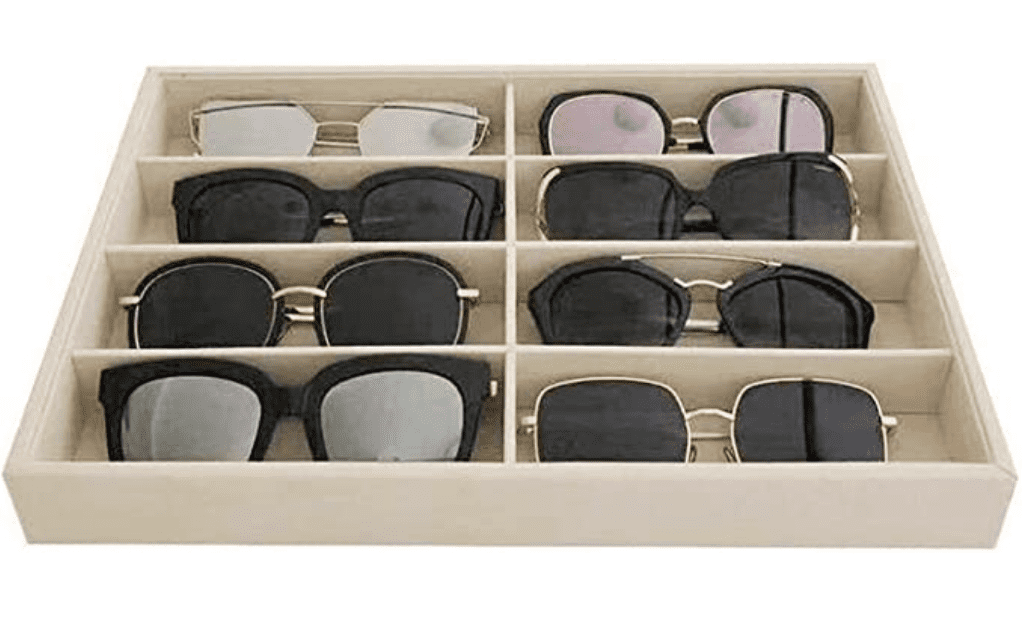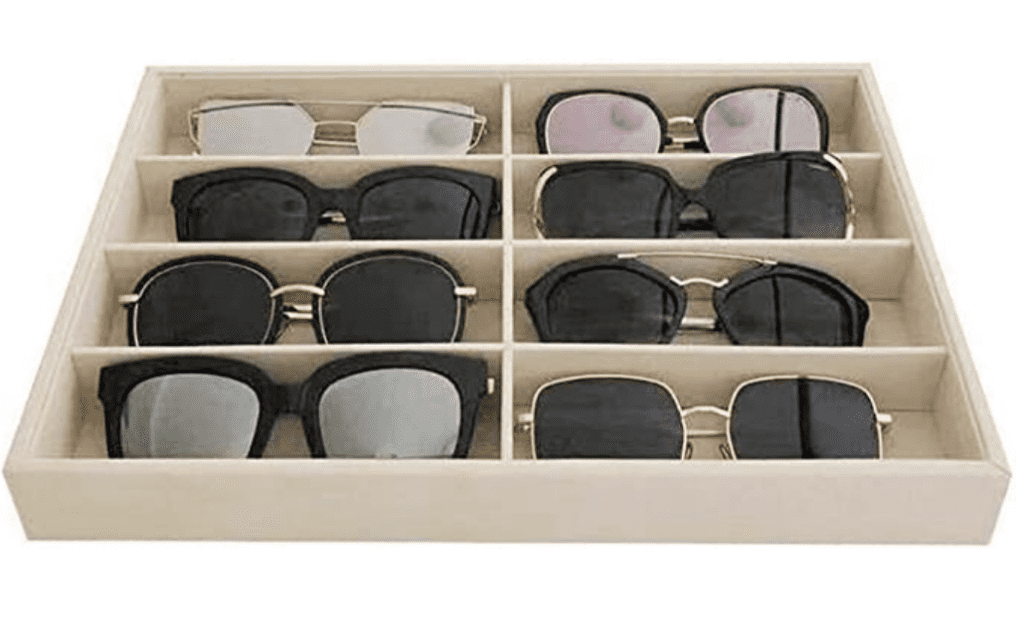 If you don't want to make your own, I highly recommend the dividers that you can place inside of a drawer! I love this set of lined dividers. Here is another high-quality bamboo organizer as well.
Hanging Sunglasses with a Ribbon with Zero Budget
If you're looking for a budget-friendly sunglasses organizer, you can simply nail two nails into your closet wall (or anywhere else) and tie a ribbon (or string) between the 2 nails. This will give you eyeglass storage for almost no cost at all!
Travel Sunglass Organizer
If you travel a lot, you might want to consider purchasing a travel organizer for your sunglasses. This is a great temporary storage solution that is really sturdy and keeps your glasses safe and your lenses scratch-free while you're away. You can also hang the organizer on a hotel door using these magnetic hooks. This combo worked fantastic for our cruise!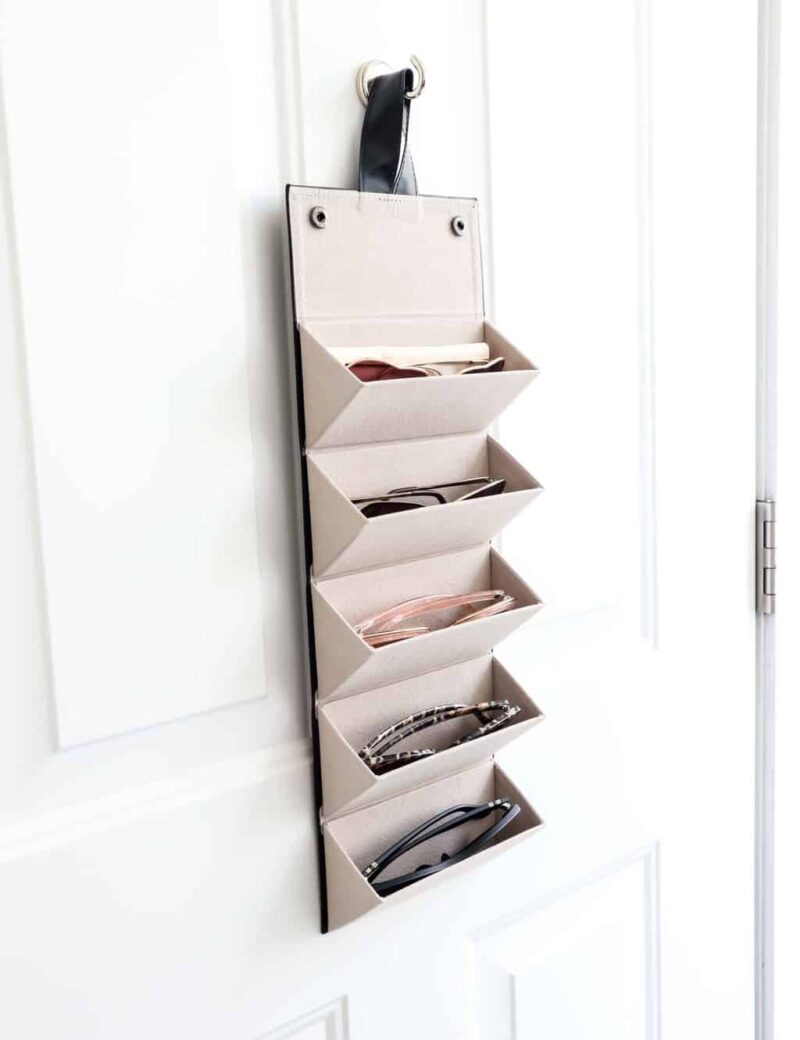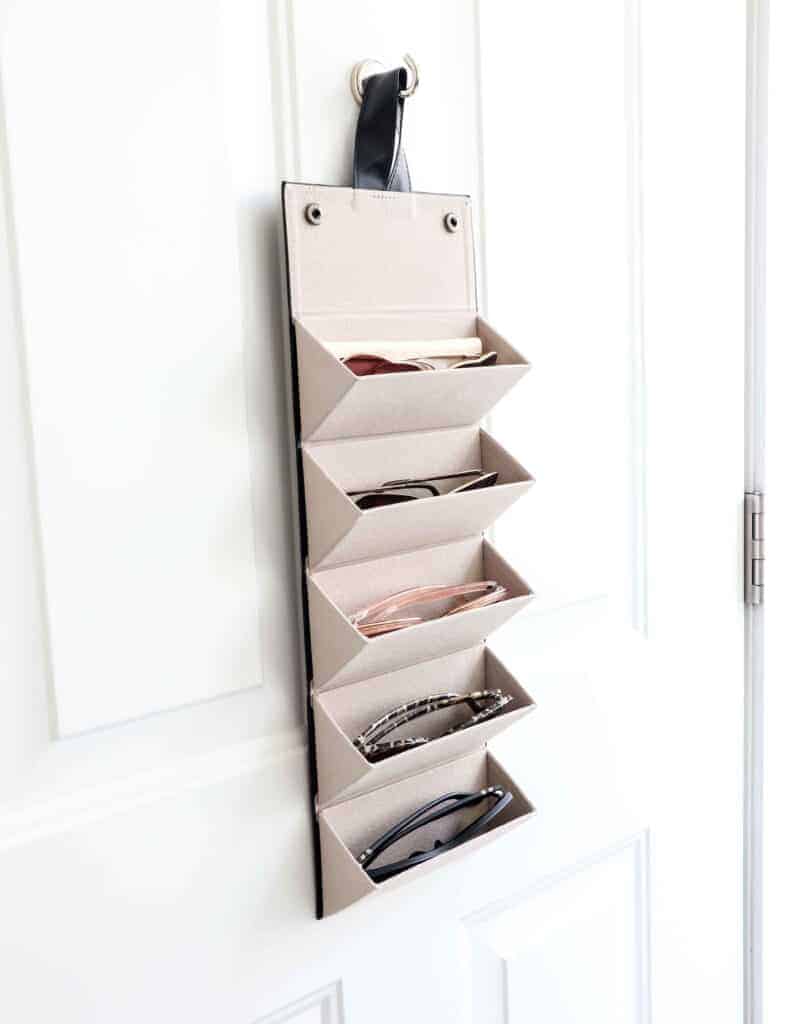 Jewelry Box Sunglass Organizer
For a more permanent solution, consider using a jewelry box for your eyeglasses. Most jewelry boxes are designed to have compartments that can hold multiple pairs of glasses and keep them safe from dust and scratches. Plus, the lid keeps everything hidden away and out of sight when you don't need it.
Wall-Mounted Sunglasses Storage Solution
This is a really great simple solution to help you organize the sunglasses in your home! You can mount these rack near the door so you can grab them as you head out, or you can mount them in your closet!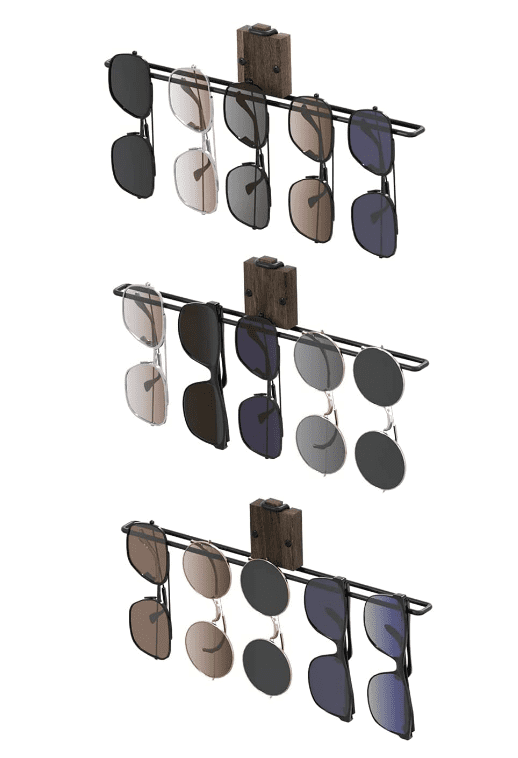 Use Chicken Wire to Keep Sunglasses Organized
Take an old picture frame and remove the glass. Take some chicken wire and attach it to all 4 sides of the repurposed frame with a staple gun or hand stapler. Sunglasses will easily hang on the wire to create a functional, repurposed piece of art.
If you love to show off your style with a variety of sunglasses, then I hope you find this article helpful to give you ideas for a sunglass organizer that will fit your needs.