The Best Way to Organize Your Socks and How to Save Space
If you're like most people, your sock drawer is probably a mess. Socks can easily become tangled and disorganized, which makes it difficult to find the pair you're looking for. In this blog post, we will teach you how to fold socks so that they take up less space and are easier to organize. We'll also show you a few different ways that you can organize your sock drawer based on the way that you fold your socks!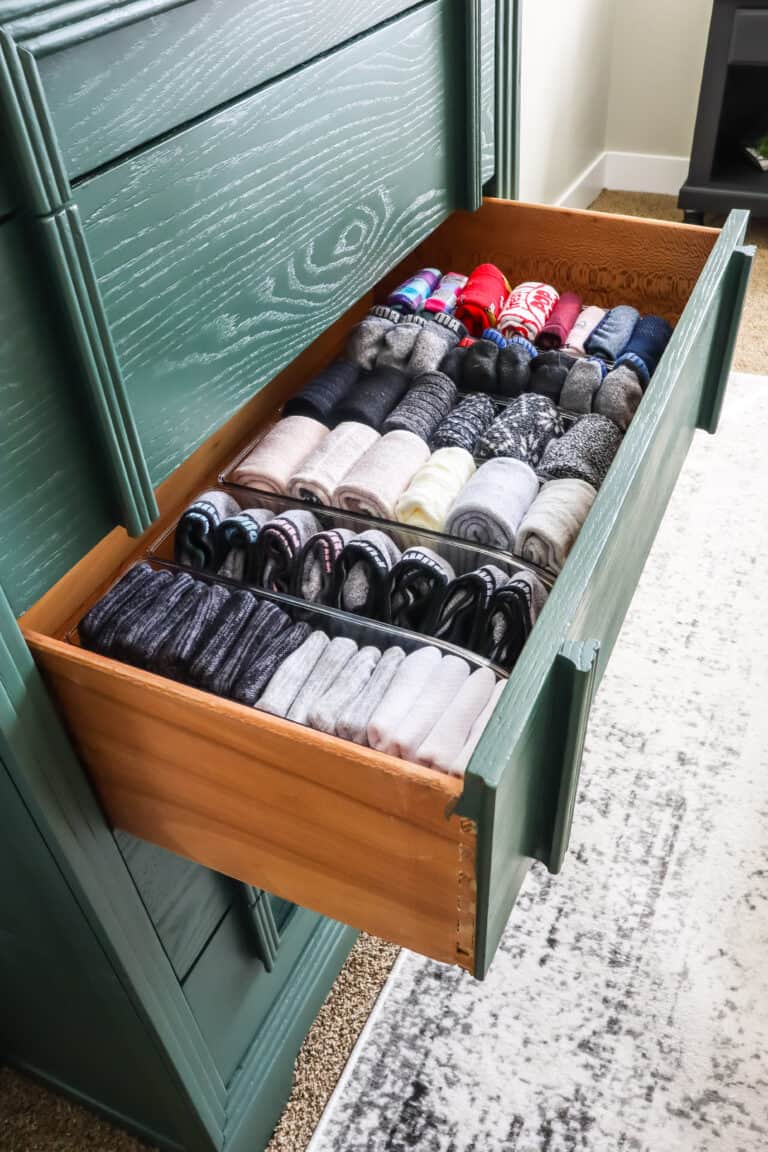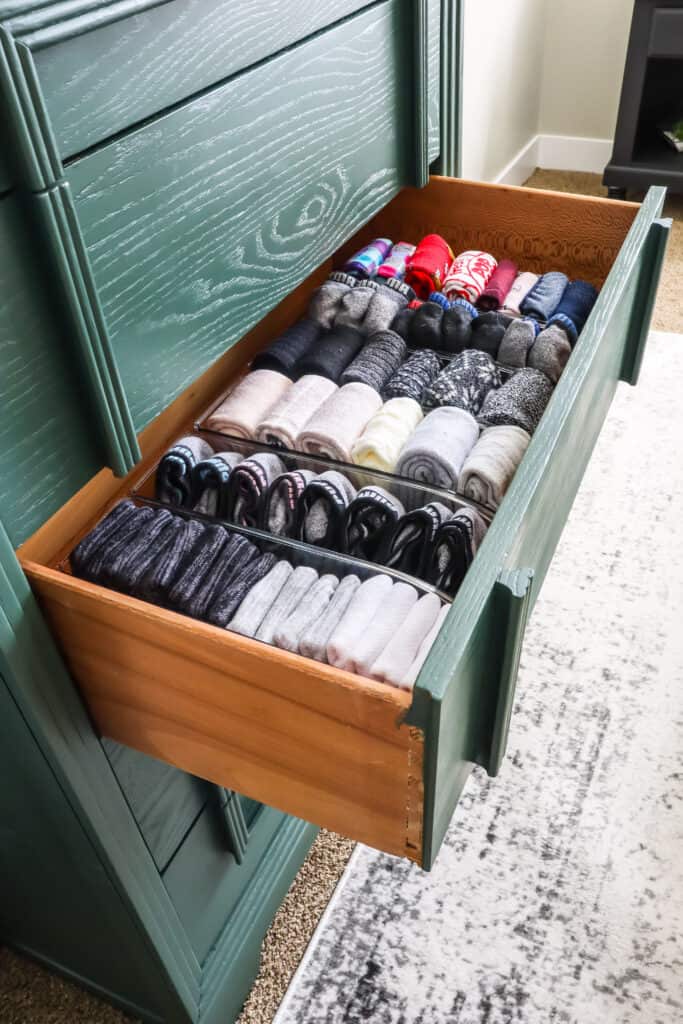 How do You Store Socks in a Drawer?
The way that you store your socks in a drawer can make a big difference in how tidy and organized it looks. If you simply throw all of your socks into the drawer, they are likely to become messy and difficult to find.
However, if you take the time to fold your socks properly, they will take up less space and be much easier to find when you need them.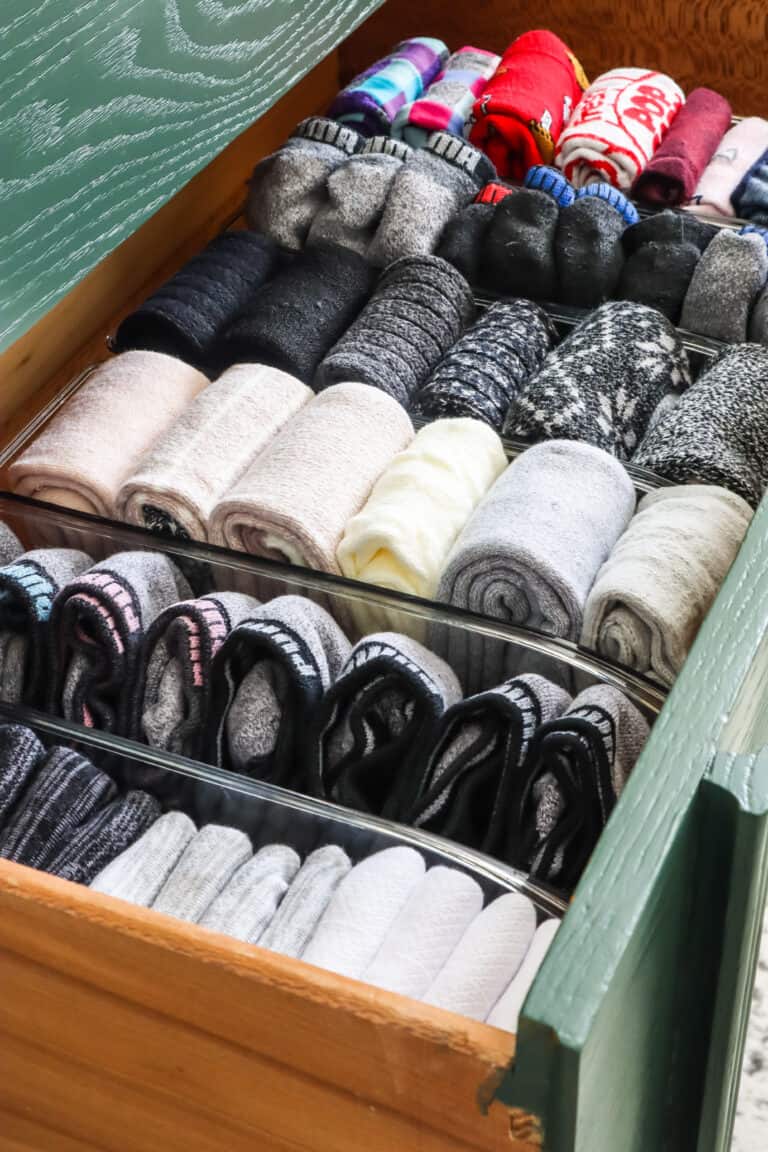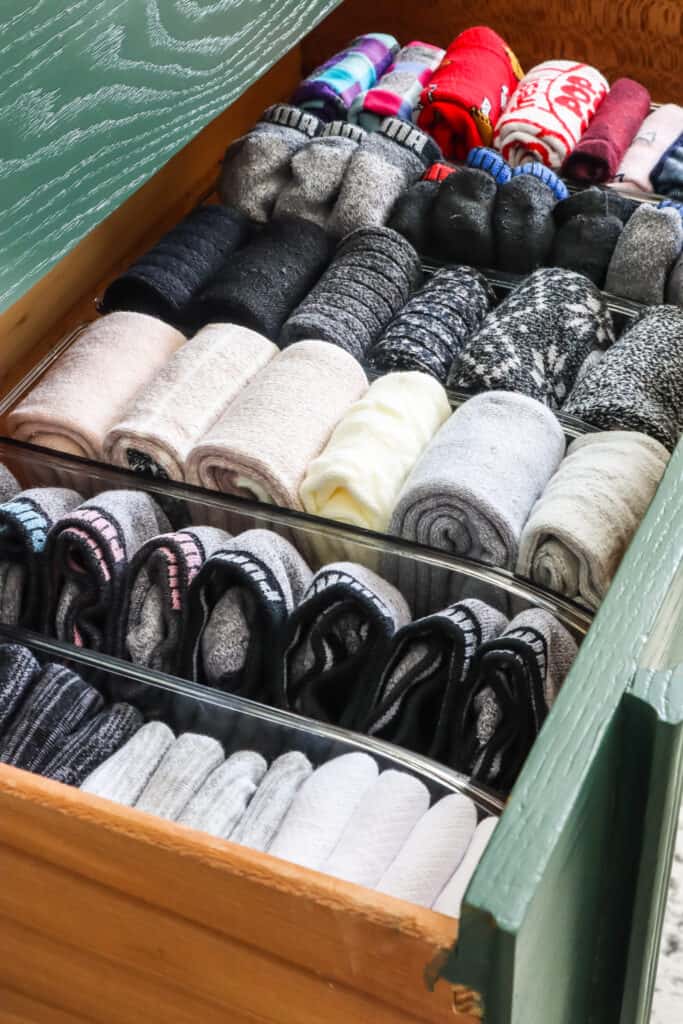 How Folding Your Socks Can Help You Save Space
One of the best ways to fold socks to keep your socks organized is by folding them in thirds for crew socks and folding ankle socks in half. This is a file-fold sort of method. This leaves a nice clean visible edge that makes everything look streamlined.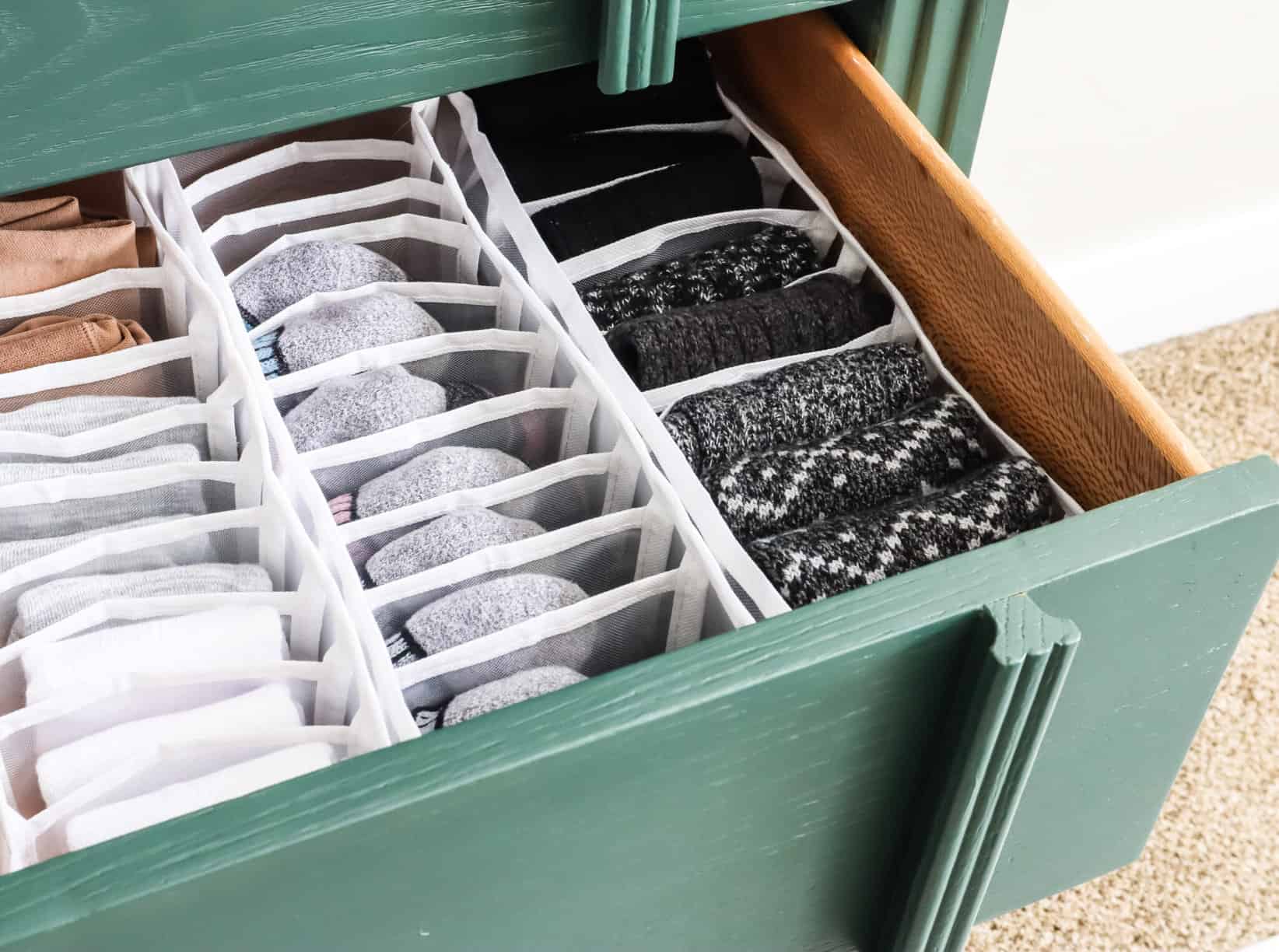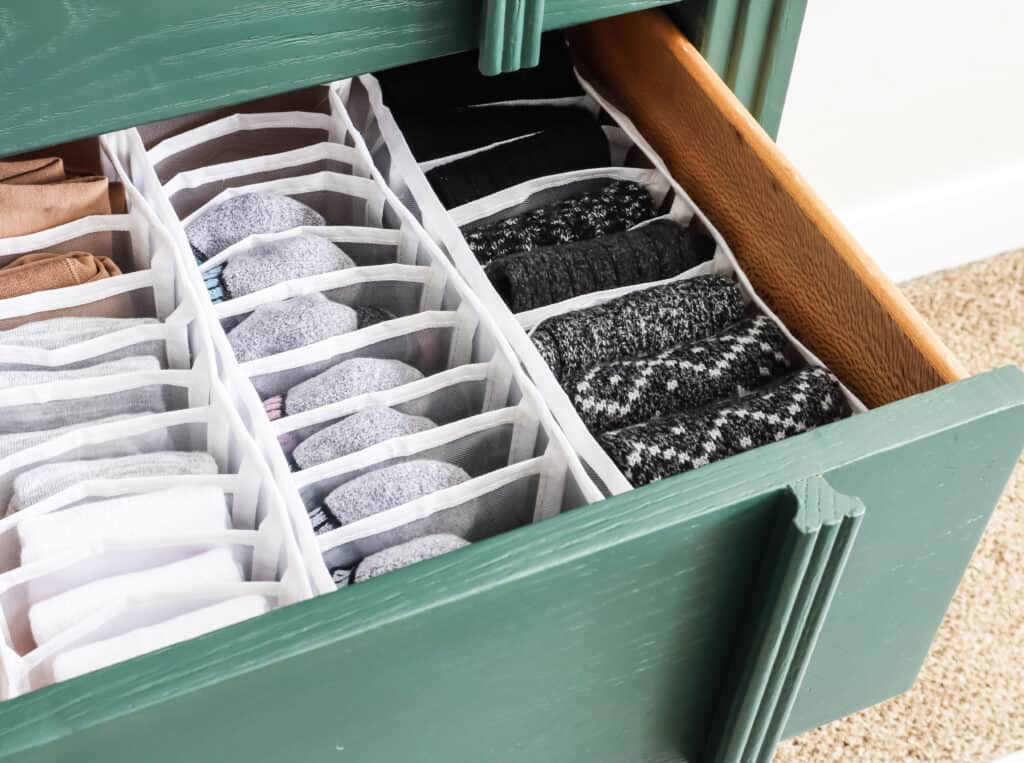 This method is great because it doesn't take up a lot of space and it's easy to grab the socks you need without having to search through a pile.
What is the Best Way to Store Socks?
The first thing you need to do to determine the best sock organizer for you is to decide where you want to store your socks. If you need to put them in a drawer then there are a lot of drawer organizer options.
If you need to store them in the closet, there aren't as many options out there but read below for my suggestions!
The second thing you need to consider is how you like to fold your socks. If you just fold into a ball and stuff them into a drawer, then you might want a larger bin to throw them into. If it's important to you to make everything look tidy, then it would be best to tri-fold your socks and file-fold them.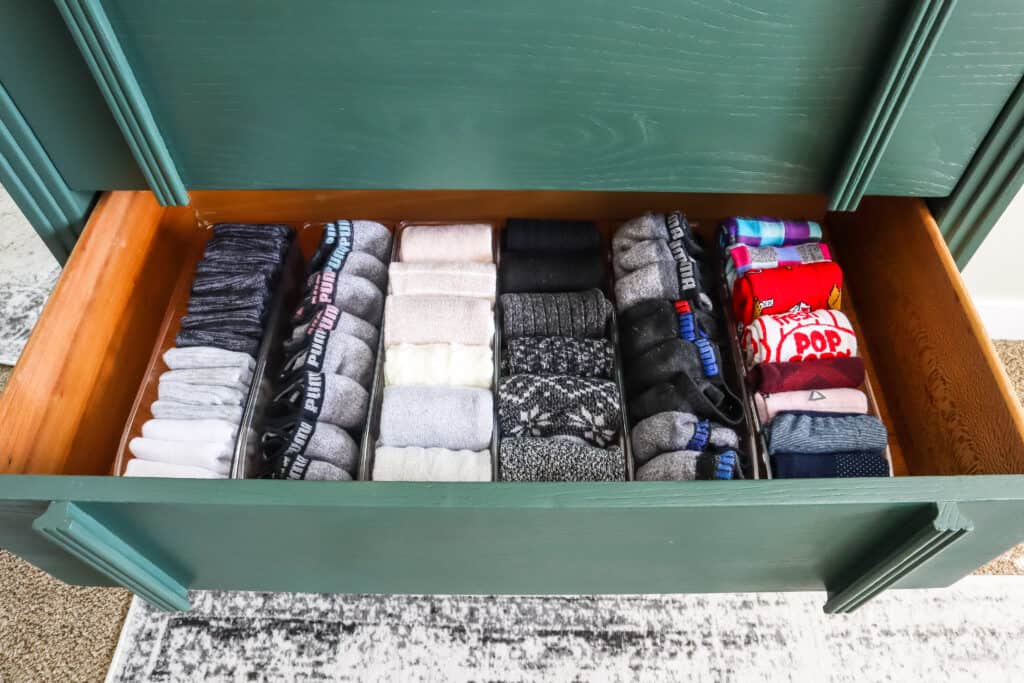 The most important thing is that you find a way to organize your socks that works for you. With a little bit of effort
The third thing to think about is how old the person is and to who the socks belong. Neatly tri-folded socks that are file folded in a slim organizer probably isn't a sustainable method for a 3-year-old. You'll just end up being frustrated at your wasted effort.
For my younger boys, I fold their socks into a ball and have fabric drawer organizers that are great for storing socks. They simply throw their socks into the organizer and I don't worry about them keeping it tidy. I'll teach that when they're a bit older.

Types of Drawer Organizers to Keep Socks Tidy
There are a ton of different drawer organizers that can work for storing socks. There are products out there ranging from $7-$30 depending on where you shop. But here are a few of the best sock drawer organizers to help you keep your socks tidy.
Slim Plastic Drawer Organizers
I've tried organizing my socks many different ways over the years and this is my favorite sock organizer. This is a well-designed solution that allows for a large variety of sock thicknesses. Some drawer organizers have a difficult time fitting those socks that are big and bulky.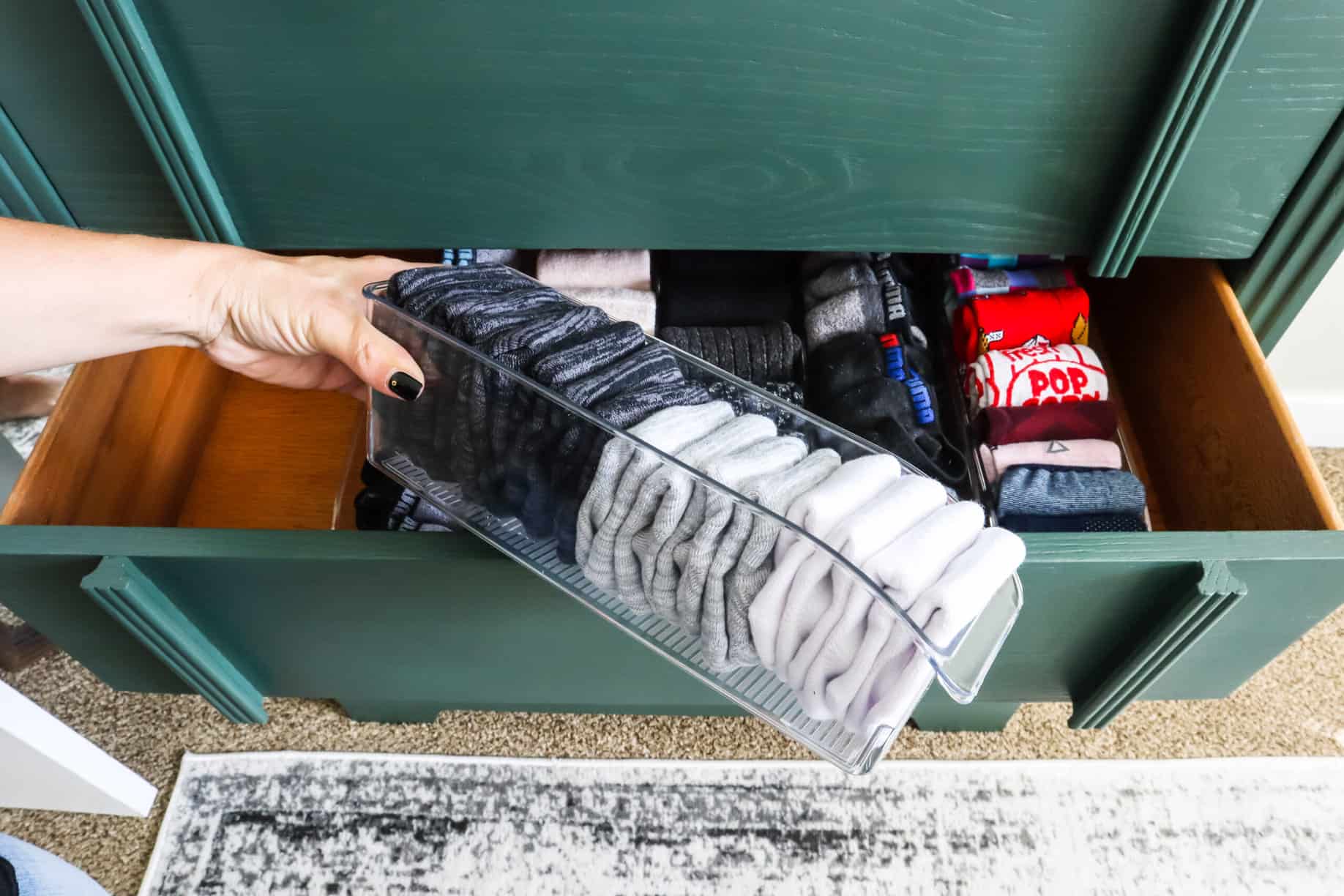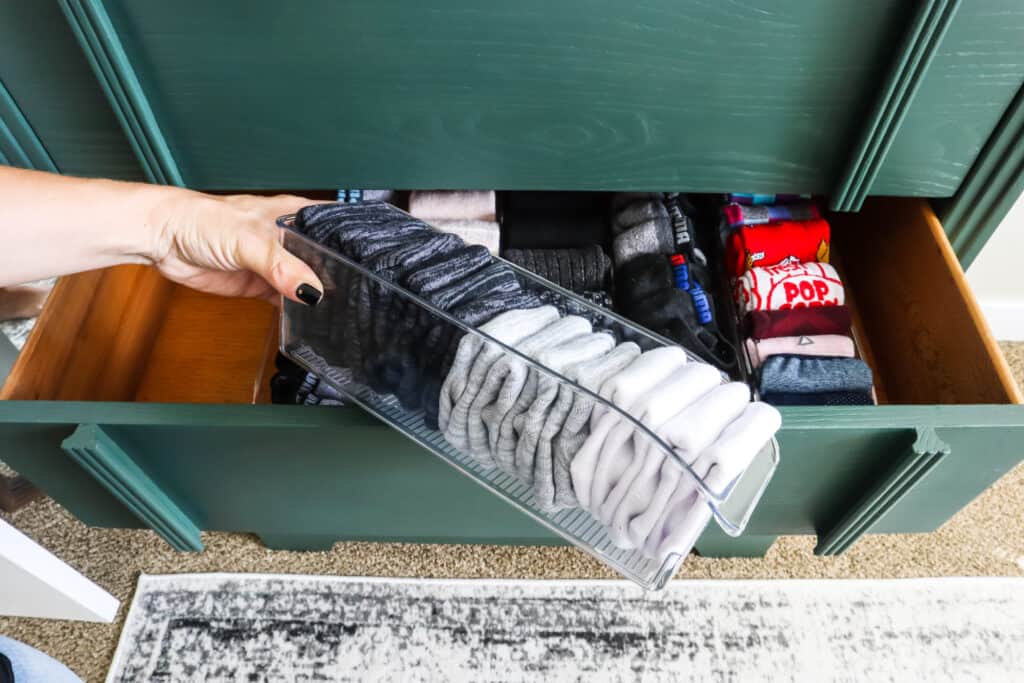 Because fold my crew socks in thirds (and don't turn them into each other) the socks display really nicely and stay looking neat and tidy. I love how you can see every sock in plain sight and you don't have to waste time looking for a particular pair of socks in your dresser drawers.
If you're looking for a really budget-friendly version, this is a great option.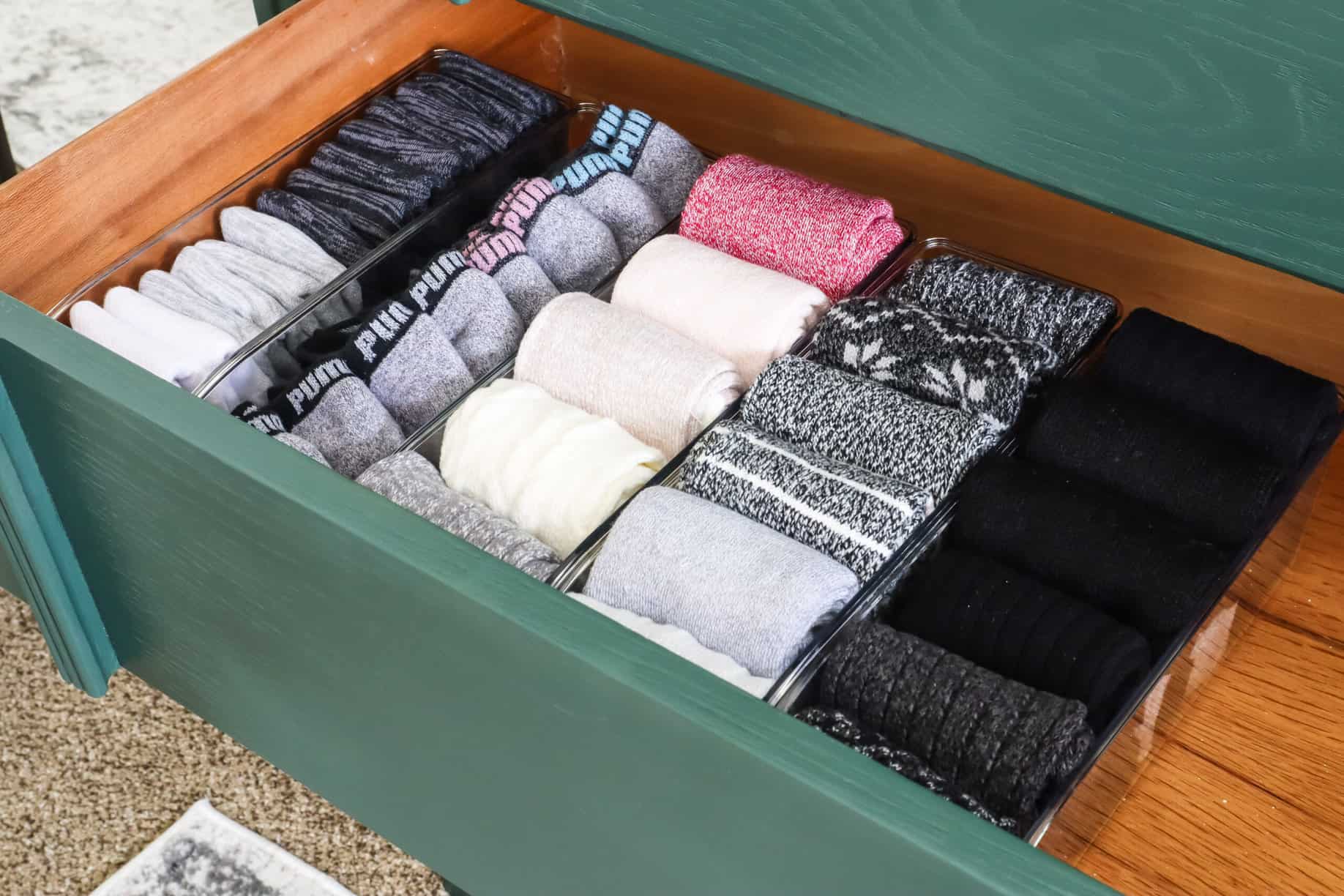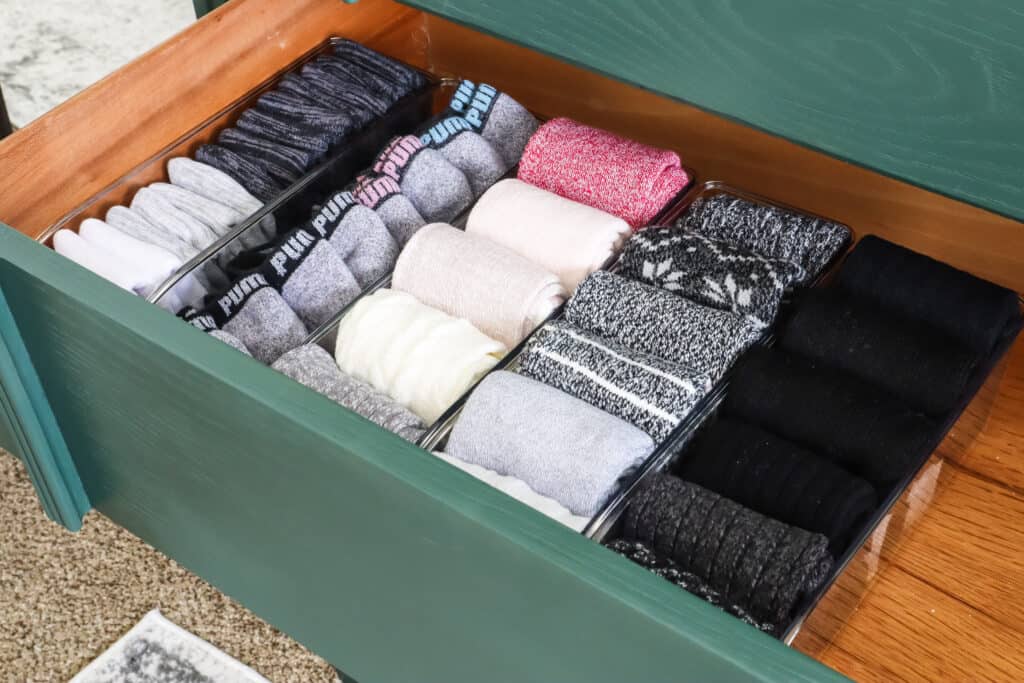 Divided Drawer Organizers
Plastic divided drawer organizers can work for more than just socks! They work great for ties, undies, or even belts. However, if you have extra small items you may want to put several socks (or other items like undies) in each compartment to make the most of the space.
This is not one of my personal favorite methods, but a lot of people love this type of sock organizer.
A lot of people prefer the soft-sided drawer organizers because it's a bit more forgiving when the sizes of your socks vary.
This is also a great way to keep accessories organized in your drawer.

Sock Organizer with Mesh Pockets
I've used the mesh sock drawer organizers for years now. The great part about this sock organizer is that it keeps your sock neat and tidy, even when you remove socks throughout the week. Because each pair of socks has its own compartment, the other socks remain untouched.
This is an easier method for storing socks in your drawers.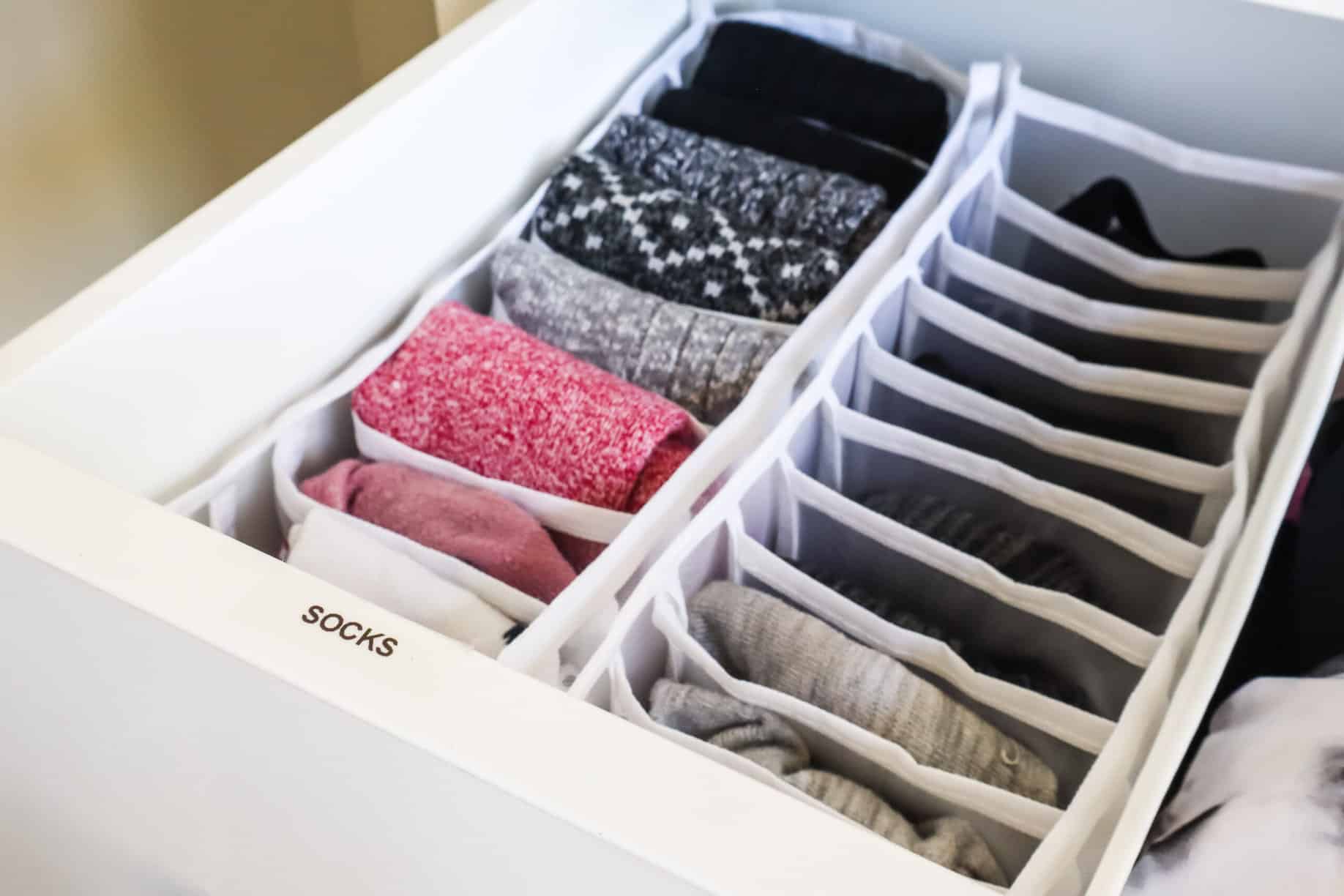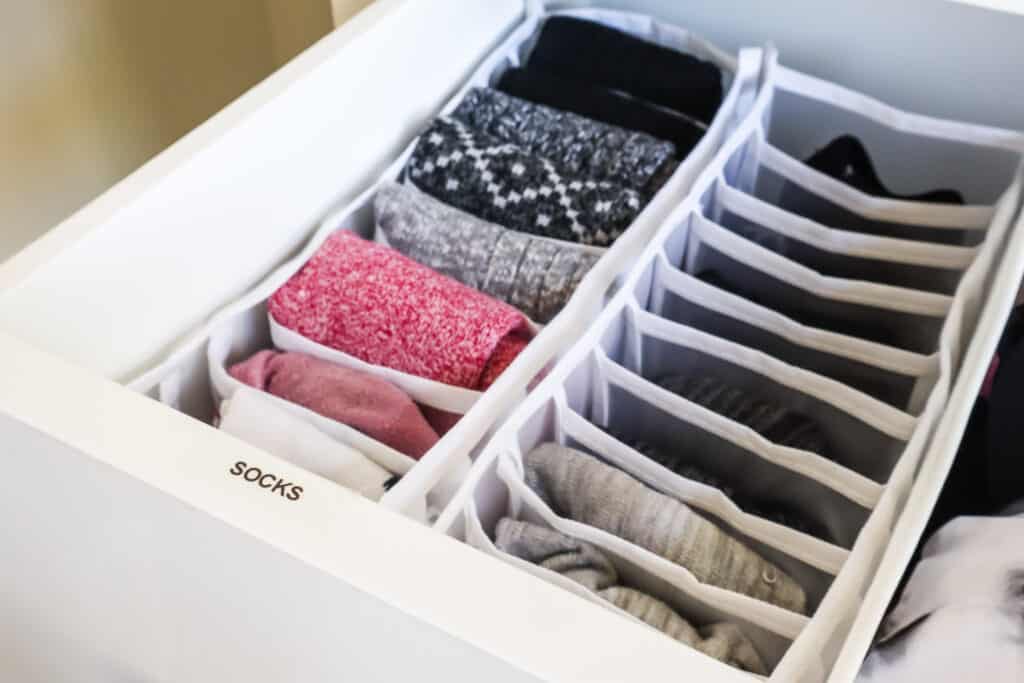 While they do have the benefit of keeping each individual sock in its own place, this is another drawer organizer that may not allow you to store many thick socks.
Drawer Dividers Well as a Sock Organizer
Drawer dividers are an excellent option as well because you can adjust the width of the drawer divider according to the size of the socks. If you have lots of large, thick socks for winter it's super simple to adjust the drawer divider left or right to accommodate the socks.
This type of drawer organizer can keep your sock organized and utilize the entire depth of your drawer. You'll find that most organizers don't fit your drawer exactly so a drawer divider (or many!) really makes great use of the space.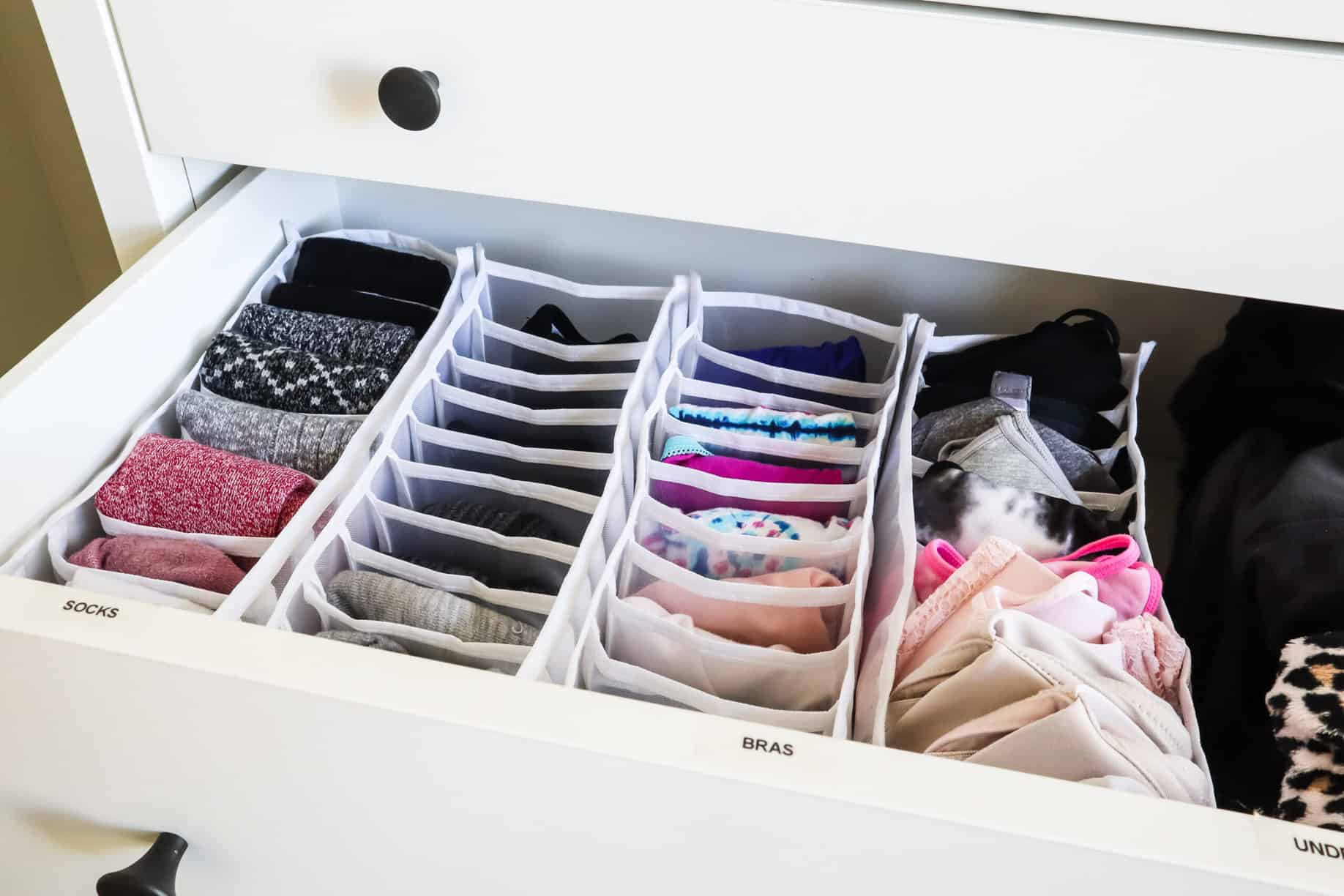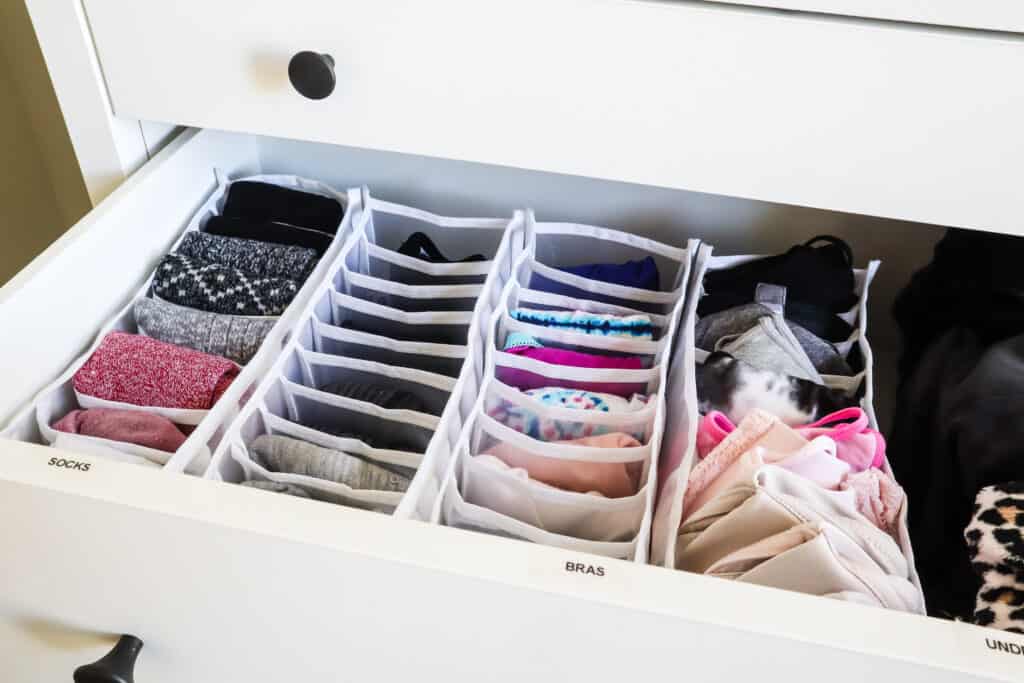 Hanging Sock Organizer
A hanging sock organizer hangs over the door or on a closet rod. It typically has several different compartments that you can use to store socks. This is a great option if you have a lot of socks or if you want to be able to see all of your at a glance in your closet.
If you don't have any sort of dresser or drawer to organize socks, then this is the perfect solution for you! It doesn't take up much storage space in your closet, either.
Honeycomb Sock Organizer
Another method to store socks in a drawer is to use a honeycomb sock organizer. This is a great solution if you have a lot of socks because it allows you to see all of your options at once. Plus, it's super easy to grab a pair of socks without having to dig through a pile.
This isn't my personal favorite method but it's a really affordable option!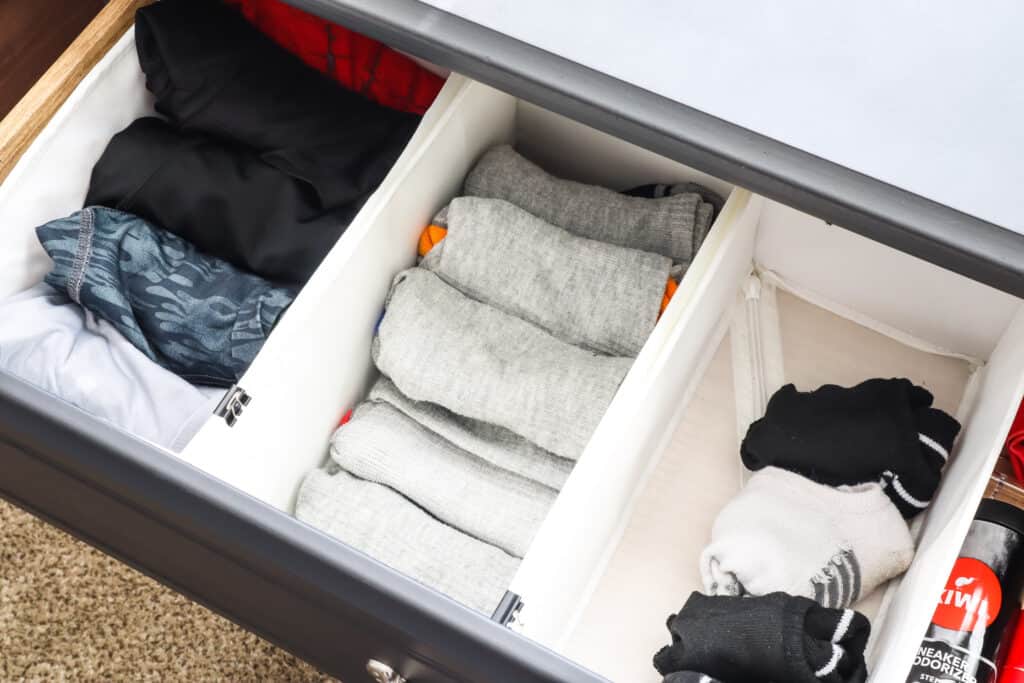 Use Old Shoe Boxes or Amazon Boxes for Storing Socks
You don't have to spend money to get organized. You can use boxes from around the house that are just taking up space. Old shoe boxes or Amazon boxes work perfectly for storing socks. Simply cut the box to the desired height and voila! You have a sock organizer that didn't cost you a thing.
Over the Door Organizer to Store Socks
This is a great organizer if you don't have a dresser or are short on drawer space. These types of organizers create space that you didn't have before! It hangs nicely on the back of a closet door for easy access.
This seems to be one of the best options for this type of closet organizer. The clear windows allow you more visibility to see what's inside for the shelves that aren't as easily accessible.
This also works great for accessories such as ties, underwear, bras, and lingerie.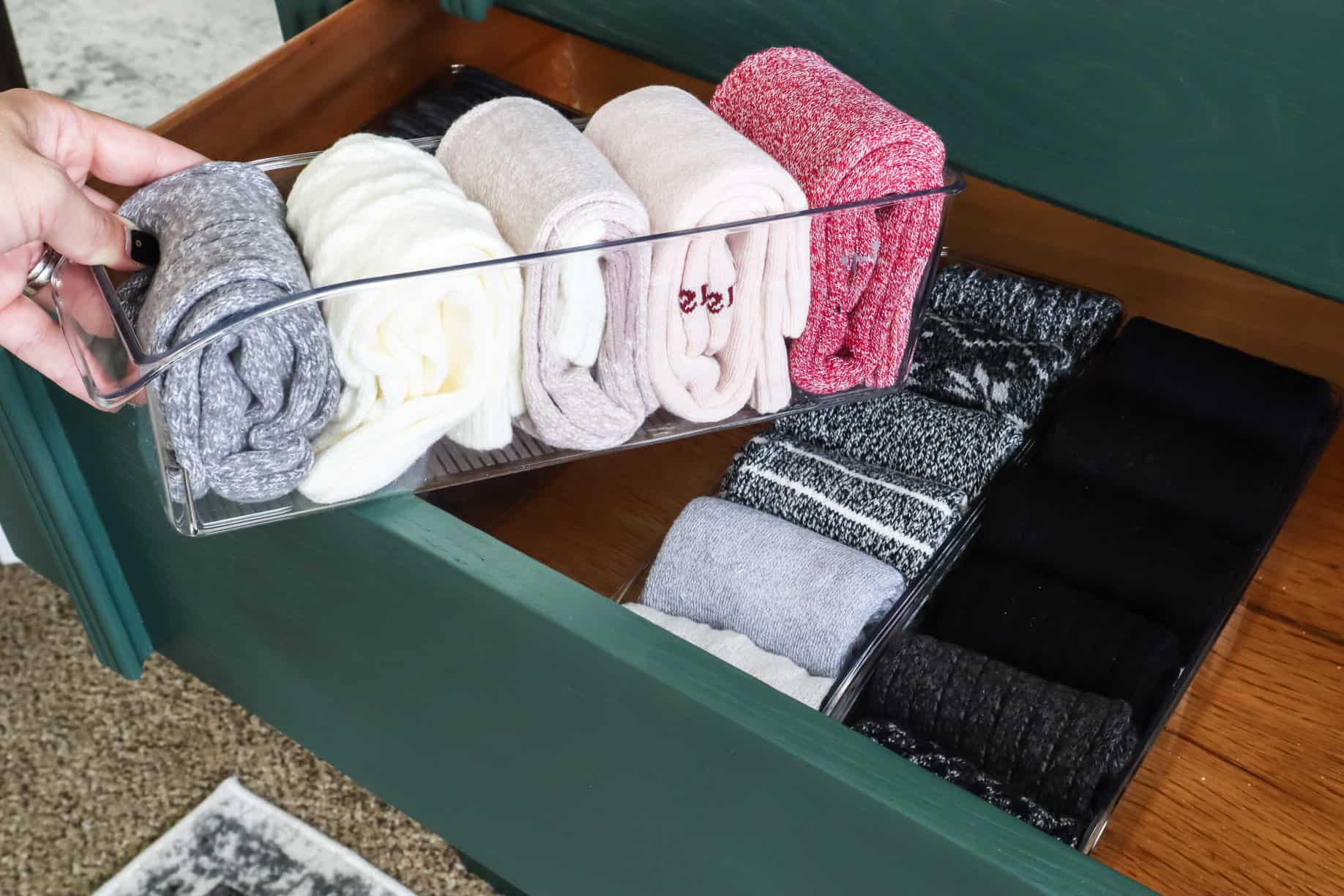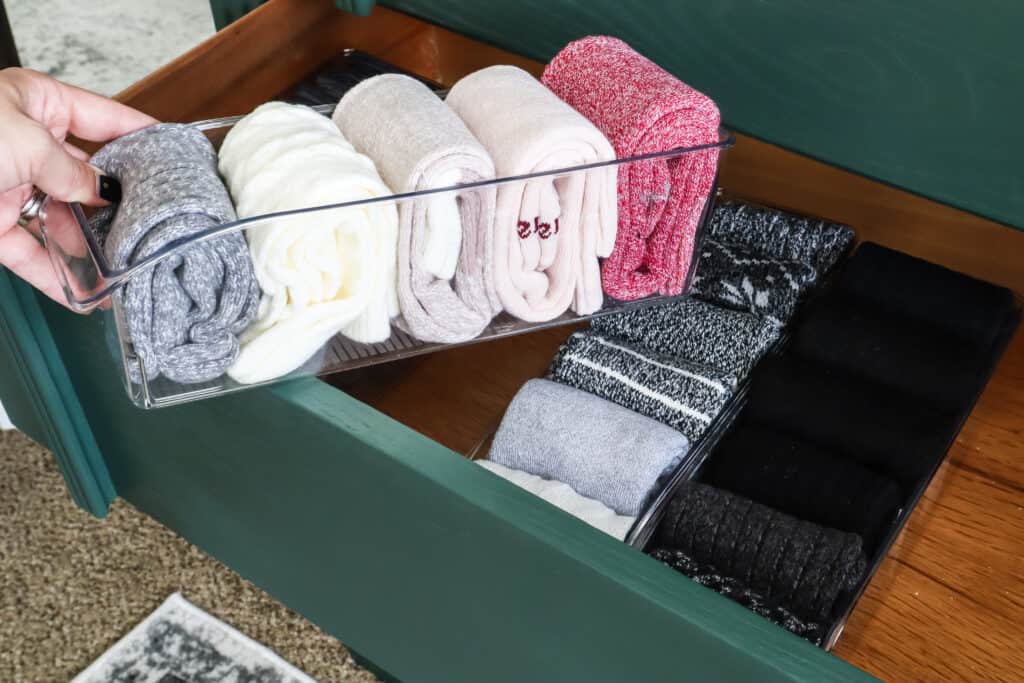 Fabric Closet Bins for Organizing Socks
Using fabric bins to store socks can be used on a shelf in the closet or even in a dresser drawer. This method is great because you can easily see what color socks are in each bin. I recommend having a couple of bins and storing socks according to type to help you find them easier.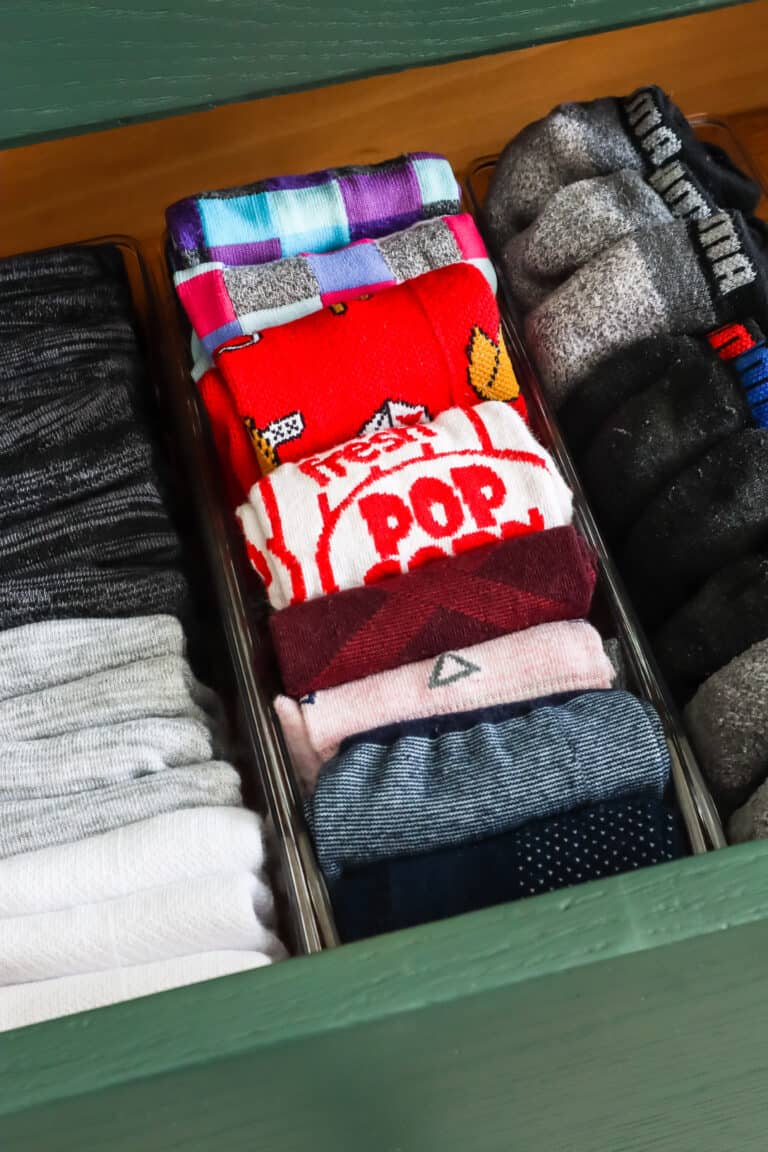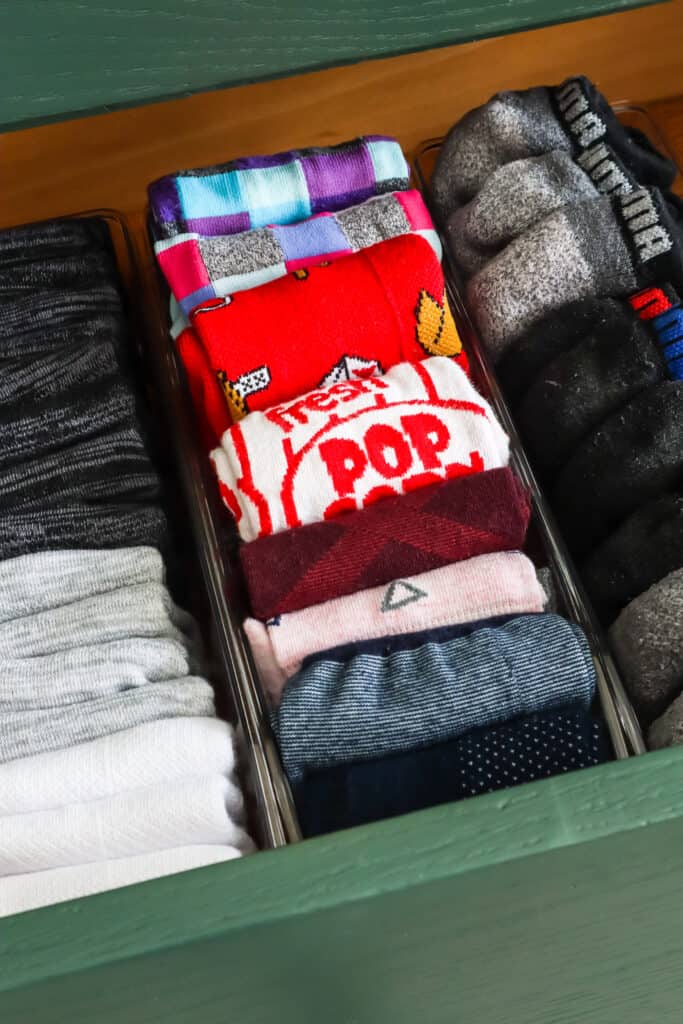 Storage Boxes work as Great Sock Drawer Organizers
Last but not least, photo storage boxes also work as great drawer organizers for socks. You can find these at any home store and they come in a variety of sizes and colors. Simply measure your drawer and find a storage box that will fit perfectly.
I love these inexpensive photo boxes for a variety of storage solutions in my home and they would be a great sock organizer.
If you have multiple drawers, you can even use them for other items such as panties, ties, lingerie, and bras.