How to Store Hats: Ideas for Displaying, Hanging, and Saving Space
Do you have a lot of hats and nowhere to put them? Or maybe your hat collection is taking up too much space in your closet and hats are overflowing into your bedroom.
In this blog post, we will give you some ideas for how to store hats easily and efficiently when they aren't on your head. We will tell you how to display them, hide them away on shelves, or even hang them in your closet!
With these tips, you'll be able to save space and keep your hats looking great.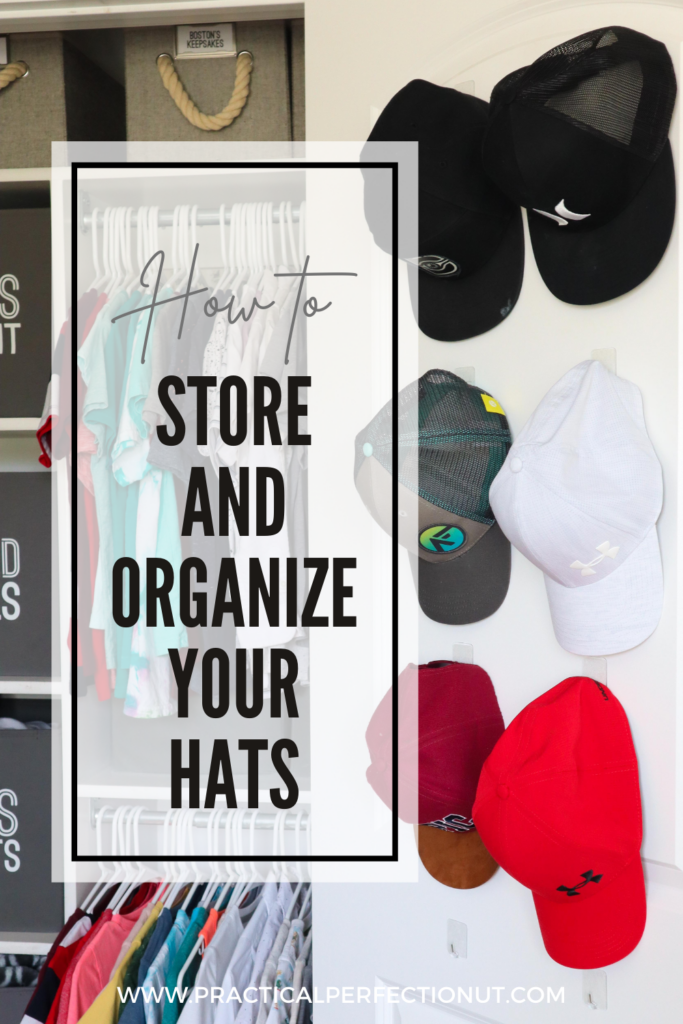 Organizing Hats throughout Your Home
If you love hats, you probably have a lot of them in your house. And if you have a lot of hats, you probably know how hard it is to store them.
Hats are the hardest accessories to store because of their size and shape. They can take up a lot of room, and it's hard to find a place for them where they won't get squished or damaged.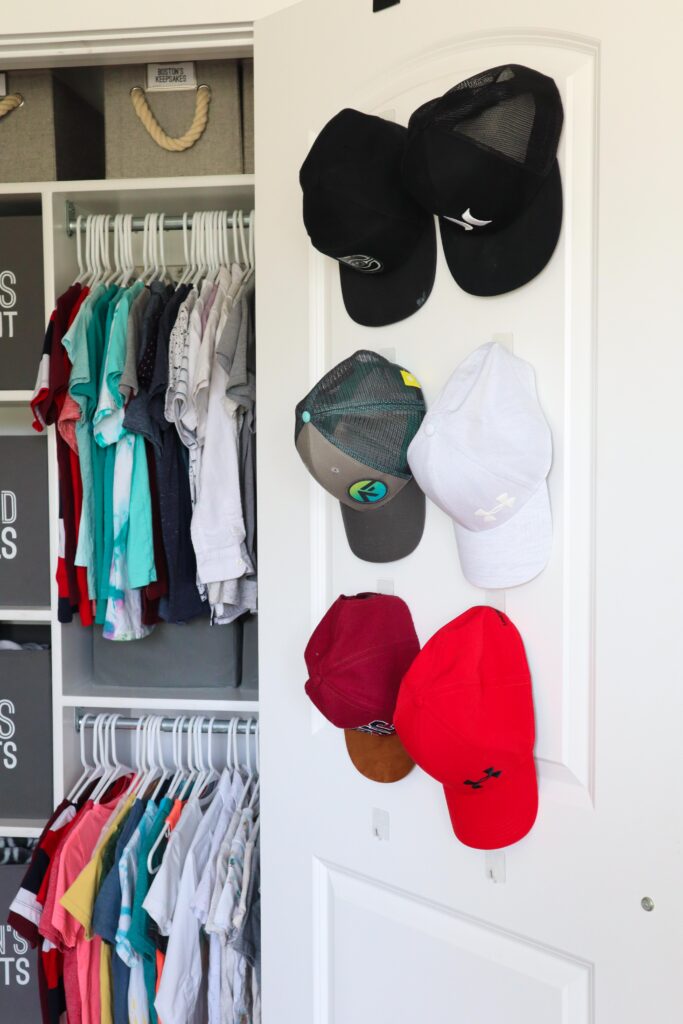 But don't worry, we have some solutions for you! Here are some ideas for organizing hats throughout your home:
Hanging Hats
One good solution to organize hats is to hang them up. This works especially well for baseball cap storage because even though they are shaped in a way that makes them hard to store, you can actually hang caps!
Hanging Baseball Caps
For hanging up baseball hats, you want to get a set of shower curtain holders or s-hooks. Slide those onto a hanger, and then you just slip the caps onto a hook!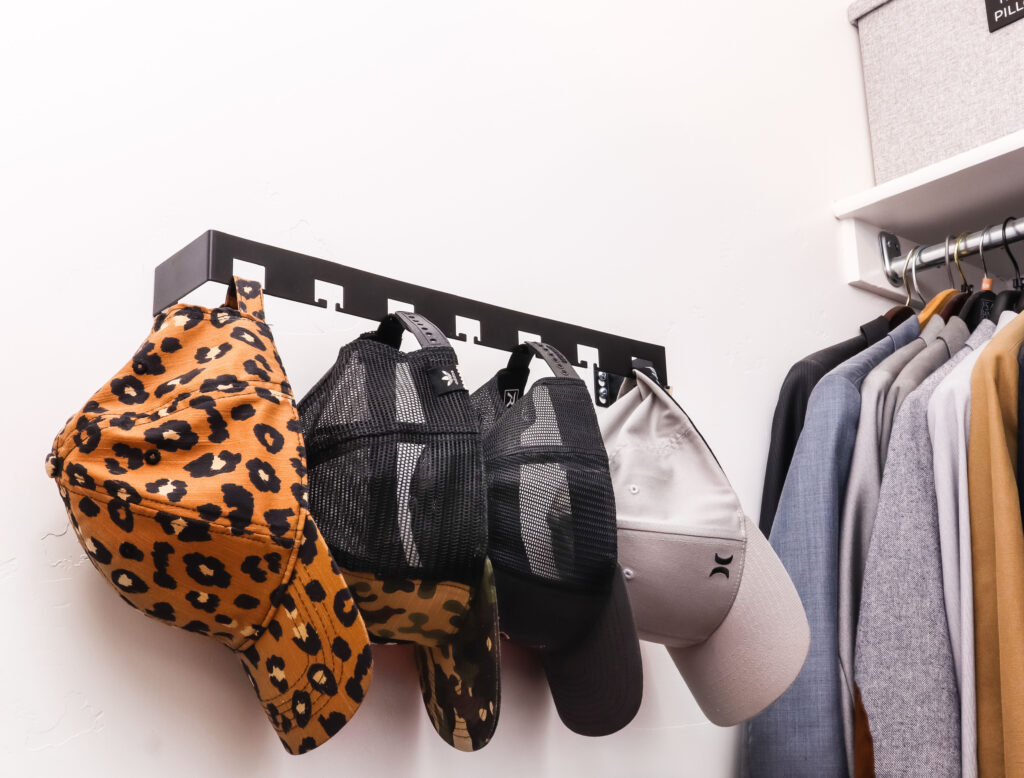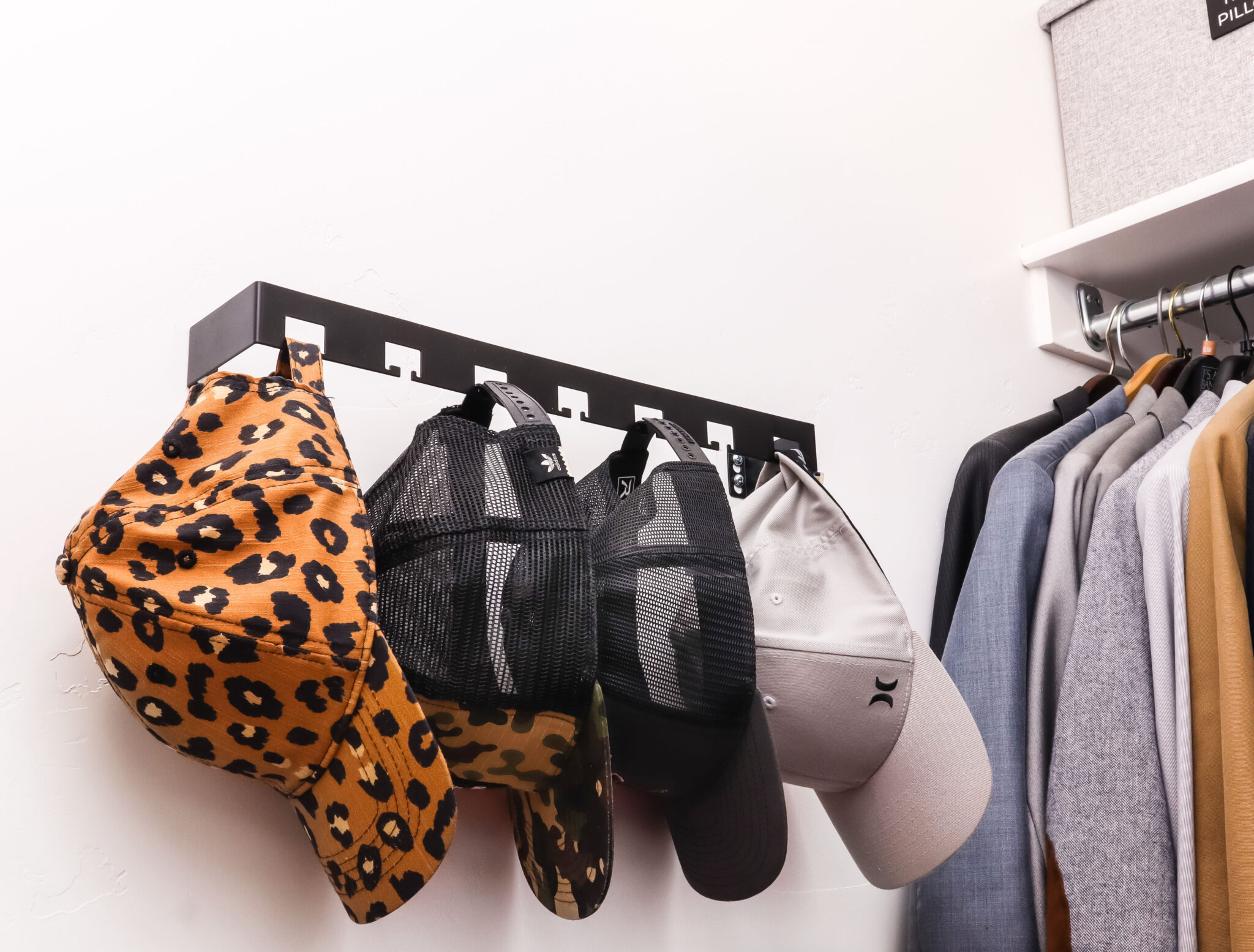 This works better for baseball hats that have a hole in the back because those fit well through the shower curtain hanger or the s-hook. They'll stay secure even when you put several hooks and caps on a hanger.
Ways to Hang YOur Hats

When hung on hooks, even when you're moving the hanger around, they should stay nice and organized! You could even use push pins or nails if you don't mind putting a hole in the wall.
Purchase a Hanger
So that's more of a DIY way for hanging your hats, but if you don't want to create your own, you can definitely find some to purchase online. This one uses the same materials as the one you can create at home, but it's a super reasonable price if you don't have the time to make your own!
If you have a lot of boho hats, it can be a bit trickier to find ways to store them. But there are still a few options out there for you!
If you don't have a big walk-in closet or want to save on space, here is one that might work for you.
Displaying Hats
This idea is great if you have a lot of cowboy hats or sunhats that can't be hung on hooks easily. It can also work well if you have a lot of team baseball caps that you'd like to display, but this method is perfect for hats that have no hole in the back to use for hanging.
If you have a lot of beautiful hats in your hat storage, displaying them is a great idea!
Get a hat rack
There are a few ways you can display your hat collection. One way is to buy a hat rack from your local store or online. They usually come in different shapes and sizes, so you can find the perfect one for your home.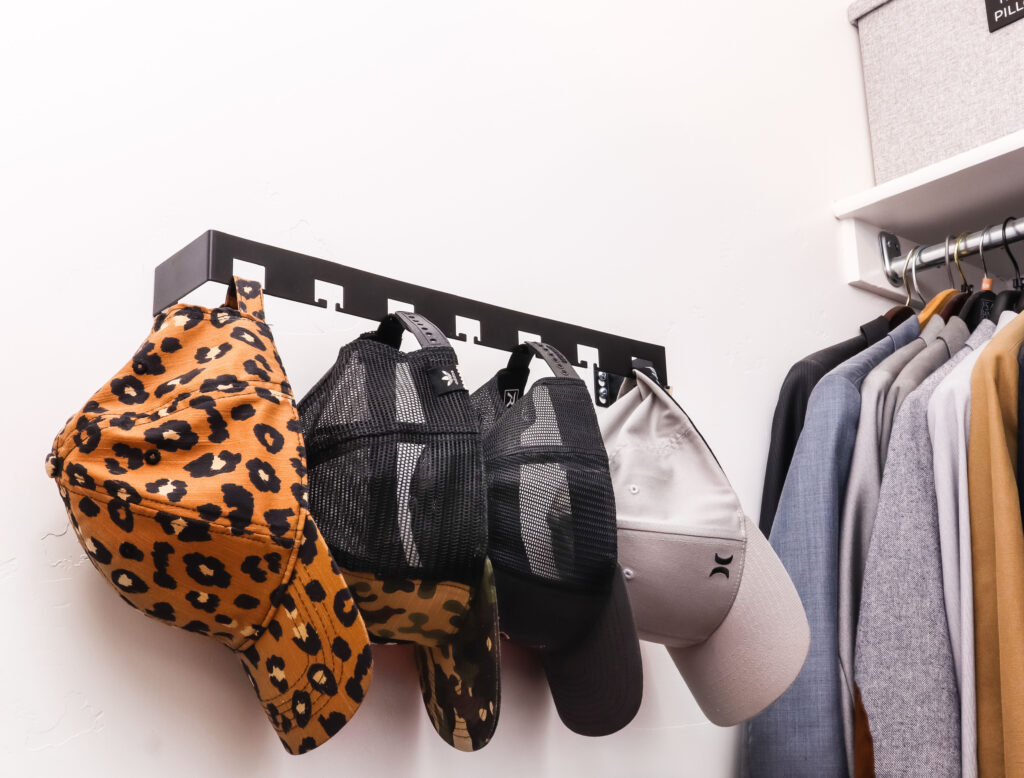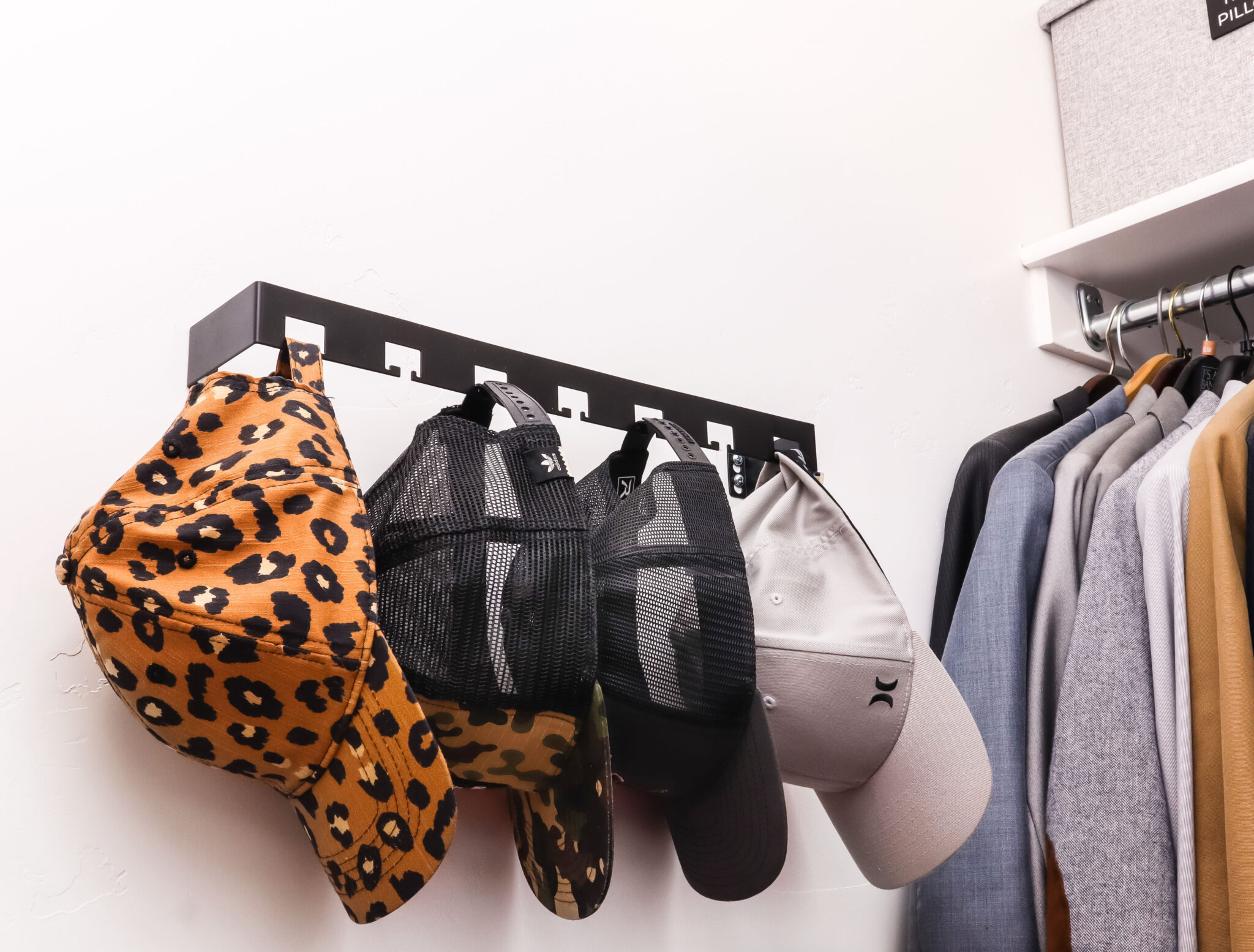 Once you have your hat rack, all you need to do is set it up in a corner (if it's a standing hat rack) or nail it to the wall and put your baseball caps and stylish hats on the pegs.
Make a display hanger
Another option is to use the tip we gave earlier (for hanging your hat storage) but now you're hanging all of your hats on a curtain rod. The curtain rod will basically act as a hat rack, and it's super easy to make!
This is great if you have limited space because the curtain rod will hang on the wall taking up no space on floors, in drawers, or in closets. Put your display hanger on a bedroom wall or even out in the main area if you really want to show off that hat storage.
There are some really cool organizing display hangers online – some of which end up making your hats into a cool collage on the wall. So take a look around and see which display can organize any mess of hats you might have.
I really like these hooks because you can organize your hats however you like!
Shop Budget Friendly Finds

Put them inside display furniture
This is a very specific way to display your hat storage that won't work in a lot of homes. But it's a cool idea, so we want to share it anyway.
If you have lots of stylish hats that would look beautiful as decorations, and you have the extra space, get an armoire or similar piece of furniture that has glass or clear doors.
You can organize your hat storage on those shelves, and it's an easy way to make your hats visually appealing. If your whole family wears hats, then displaying them through decorative storage can personalize your home.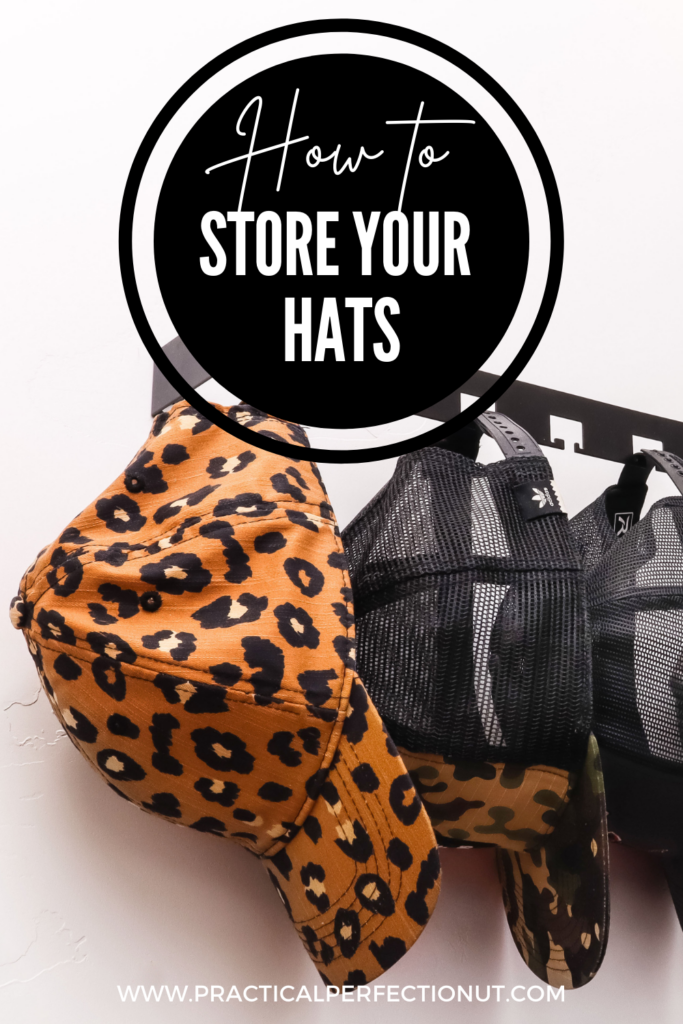 Hiding Hats
If you're super proud of your hat collection, hiding your hat storage away probably isn't the best idea. But if you're trying to organize hats and keep them out of the way, then there are a few ways you can hide them away.
Use a hidden shelf
If you have any hidden shelves, like inside a closet or behind a door, this is the perfect place to put your hats. You can use all sorts of different shelves for this, like a bookshelf with extra space or even a cabinet that has doors that close.
If you're feeling crafty, you can also build your own hidden top shelf in your closet or in a space that isn't used often.
Get hat boxes
Hat boxes can also be a great way to hide away a hat when you don't want to wear it. There are some really pretty hat boxes out there – check here – and you can pick what size and shape you like. Hat boxes help keep any dust off of them when you're not using them, and they look pretty classy.
Hat Boxes
Click the pictures above to see them on Amazon!
Then you can just put those boxes up in the corner of the closet or under the bed. Wherever you have a bit of extra space.
Picking the Right Hat Storage Ideas
Where do hats go when you're not wearing them? Whether you've got a bunch of baseball caps or fedoras or sunhats for the summer, you now have the tools now for storing all of those hats!
Hopefully, some of these great ideas will be an awesome solution and an easy way for you to get your hat storage under control.
It really depends on how much room you have in your home and how many hats you have. Plus, what's your style? Do you want to show off your favorite hat? Or do you prefer to keep it in your closet when you're not wearing it? That will change what storage ideas work best for you!
Put them away each day!
Organizing hats can be really fun, but make sure when you're organizing that you don't just throw your hat off to the side when you're done wearing it. Put your hat away each time you wear it. This will help keep your favorite hat from getting lost or ruined.
Now get started on organizing that hat collection!