Organizing Your Bathroom Drawers: How to Wrangle Those Small Items
If you're like most people, your bathroom drawer is a cluttered mess. All of those small items like hair ties, bobby pins, floss, toothbrushes, and whatever else you store in your bathroom tend to get lost in the shuffle. This can make getting ready really frustrating.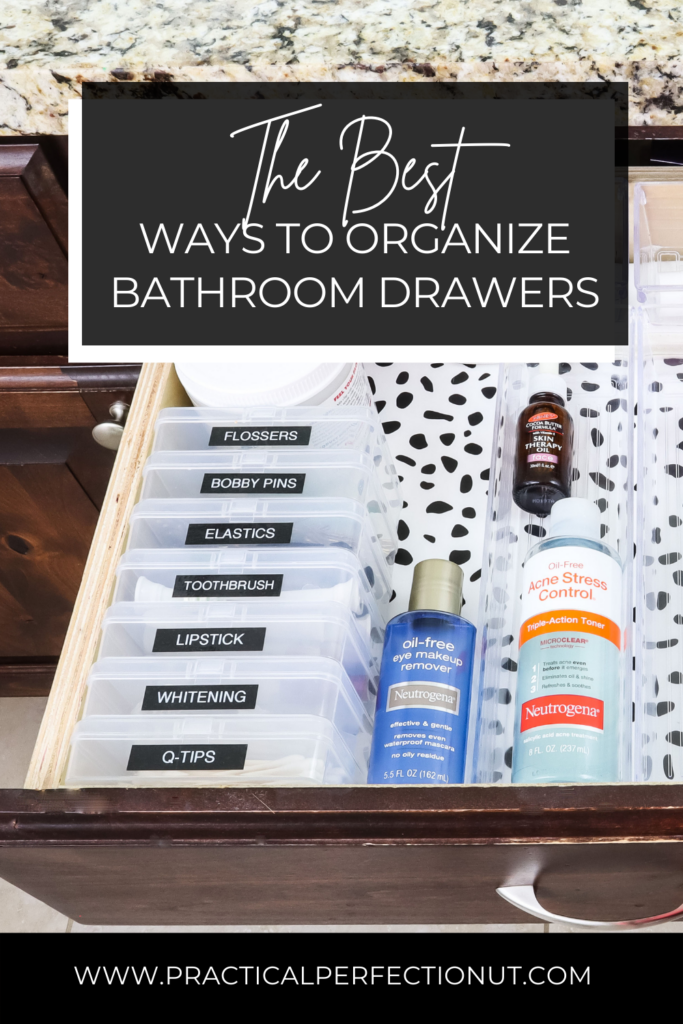 But it doesn't have to be that way! There are plenty of ways to organize your bathroom drawer so that everything has its own place and you can find what you need when you need it.
In this post, we will give you some bathroom drawer organization ideas so you can do just that! Getting ready in the morning – or getting ready for bed (which is what really matters, right?) – will be a breeze with your newly organized bathroom drawers!
Organizing Tips for Your Bathroom Drawer
There are a lot of ways to organize bathroom drawers, but here are some of our favorite tips, tricks, and ideas when it comes to those finicky, little items we all have scattered throughout our bathrooms. (I'm looking at you, bobby pins!)
Get rid of duplicate or rarely used items
When organizing bathroom drawers, you should always begin by going through your things and getting rid of any duplicates or items you rarely use. This will help declutter your drawer and give you more space to work with.
I know I'm a huge culprit of getting a new fun tool or item for my hair or skin, and then I just shove it in a drawer and it never sees the light of day. When you find something like that, you can either 1) start incorporating it into your routine so it gets some use or 2) donate it or give it away. If it's in good condition, you can even try selling it!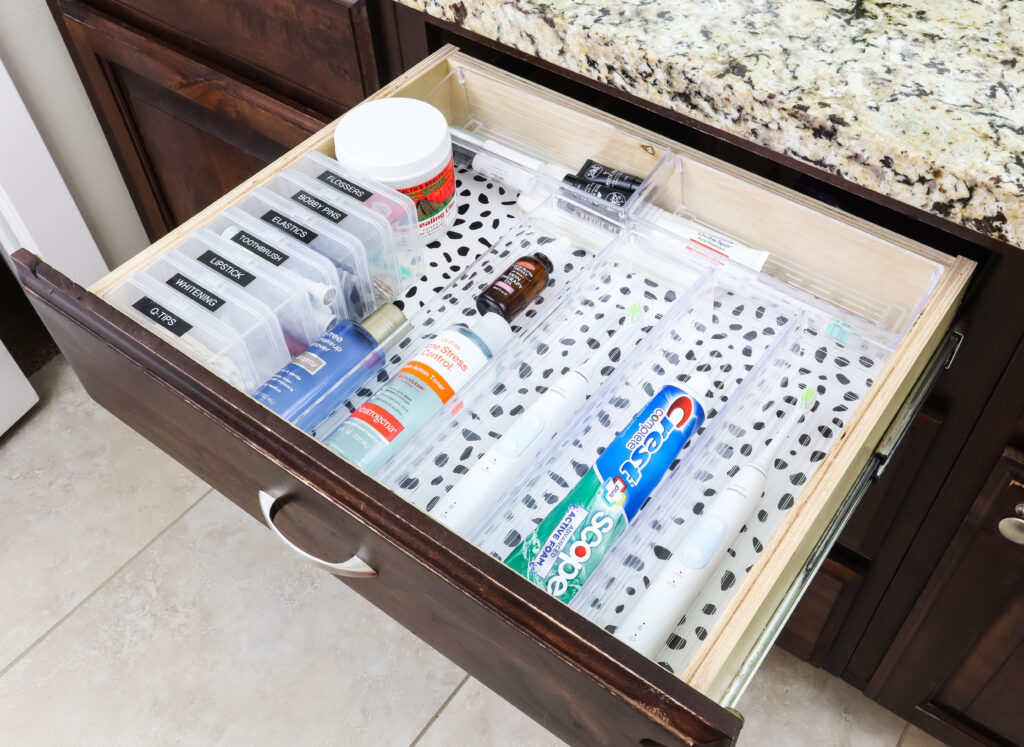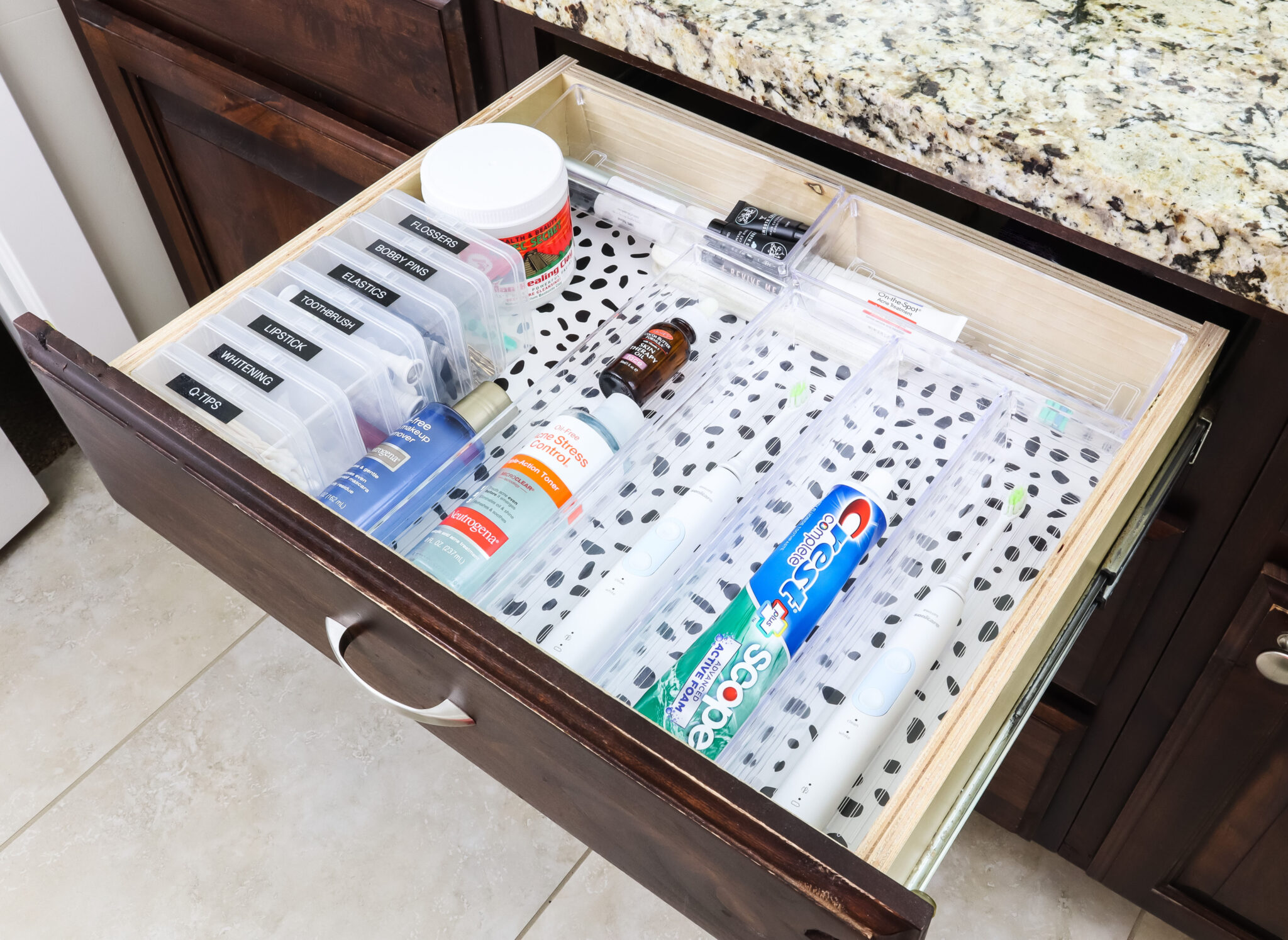 But if there are any items that you only use a couple of times a year, or not at all, ask yourself if you really need to hold on to them. This is especially important if you have a small bathroom or one without much drawer space. You don't want to waste any of that precious space! This is a key component when you organize bathroom drawers, so be brutally honest with yourself.
Also, go through any makeup or hair products and see what's old, used up, or expired. (Yes, makeup does expire and shampoo does have a shelf life.) Throw out anything old and any products or supplies that are broken!
Add wallpaper to the bottom of your drawers
Okay, so this isn't technically an idea for organizing bathroom drawers, but I just need to throw this in here because it really elevates your bathroom.
Adding wallpaper or drawer liner to your bathroom drawers is a really easy way to dress them up and make them look more polished. You can find some fun, patterned drawer liners at most stores or online, or you could even use leftover wallpaper from a previous project.
My Favorite Drawer Liners

Speckled Dot Peel and Stick Wallpaper
This is the dotted paper that I use in my own drawers. I love how you can easily remove it when needed.

Scallop Peel and Stick Wallpaper
You will only find me traveling with leggings on! They are the perfect combinationsof comfortable and versatile when I'm traveling between hot and cold places.

Diamond Peel and Stick wallpaper
These are my favorite shoes of all time! Yes, they are a little pricey, but I promise they are worth every single penny! Cute and fashionable but ohhh so comfy!
It's an affordable way to add personality to your bathroom! It's definitely not necessary but it can be really helpful in creating a streamlined look when you organize bathroom drawers. Especially if you have damaged drawers.
Get magnetic strips for the inside walls of your drawers
This is one of our favorite ideas! Getting a magnetic strip for your bathroom drawers is a total game-changer.
You can buy magnetic strips at most hardware stores or online. There are some that are meant for drawers so they are embedded in wood or something else, but you can really use any kind of magnetic strip you'd like.
They're really easy to install – you just peel and stick! They make your bathroom look so much more organized. You can use them to hold things like bobby pins, hair ties, tweezers, and more.
If you have a lot of small items that tend to get messy and mixed up, just slap them on that magnetic strip and you can easily find them later on. I highly recommend using a magnetic strip in your vanity drawers! You'll notice there is a lot less clutter when you use one.
You can get a whole roll like this and then just cut it to size!
Use drawer dividers
One of the best ways to keep your bathroom drawers organized is with dividers. Using drawer dividers will help to section off different areas for each type of item. This makes it easier to find what you're looking for and prevents items from rattling around and getting mixed up.
For the rest of this post, we are going to focus on drawer dividers and how you can use them to organize your bathroom drawers no matter what size your drawers are. Don't worry, there are options on this list for every budget!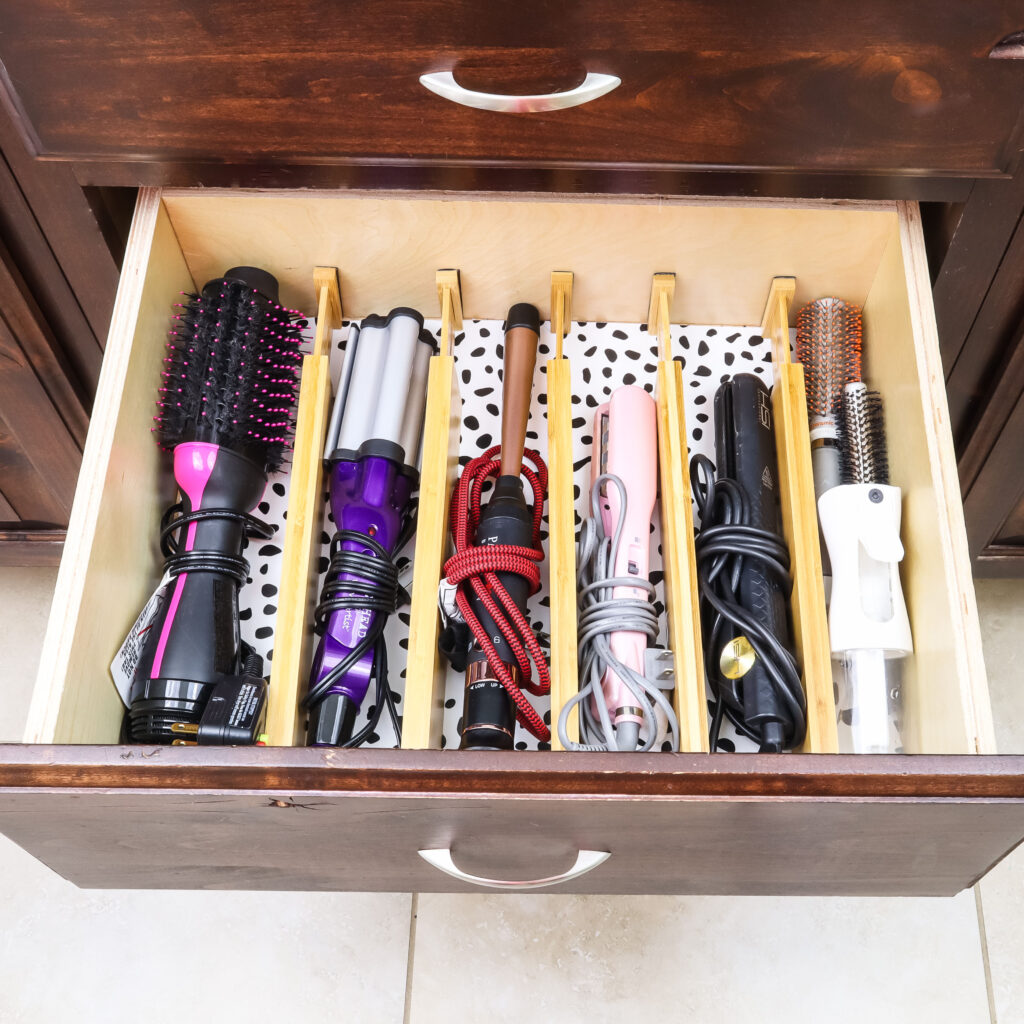 So, what kind of drawer dividers or organizers should you use?
There are tons of different drawer dividers out there, and what you use will depend on how big and deep your drawers actually are! You can buy drawer dividers at most stores, or if you have a little bit of DIY skill, you could make your own out of some scrap wood or cardboard.
Here are our ideas for what kind of drawer dividers you can use in your bathroom drawers.
Best Dividers to Use in a Bathroom Drawer
Dividers are the perfect solution for bathroom organization. Make sure you measure your drawers (how long and wide they are, as well as how deep they are) so you can make sure any dividers you buy or make fit perfectly.
I suggest getting a different container for each item you need. If you don't have tons of storage space in your drawers, you might need to merge "zones" of supplies, but if you can, it's great for each item (or group of items) to have its own space or container. This will make it easier to find things later on.
MY FAVE CLEAR DRAWER DIVIDERS

Clear Containers
The first idea for dividers is probably the most popular one. When buying containers, you can get a set of clear containers that can go in any drawer. You can move them around as needed and get multiple sizes.
For example, you can get some long, skinny ones for toothbrushes, toothpaste, and combs, big ones for larger items like brushes, and small square containers for q tips, hair elastics, and makeup products.
Clear acrylic or plastic containers look really nice in drawers, and it's a pretty simple way to organize. Get ones without a lid so you can easily grab the toiletries you need when you need them.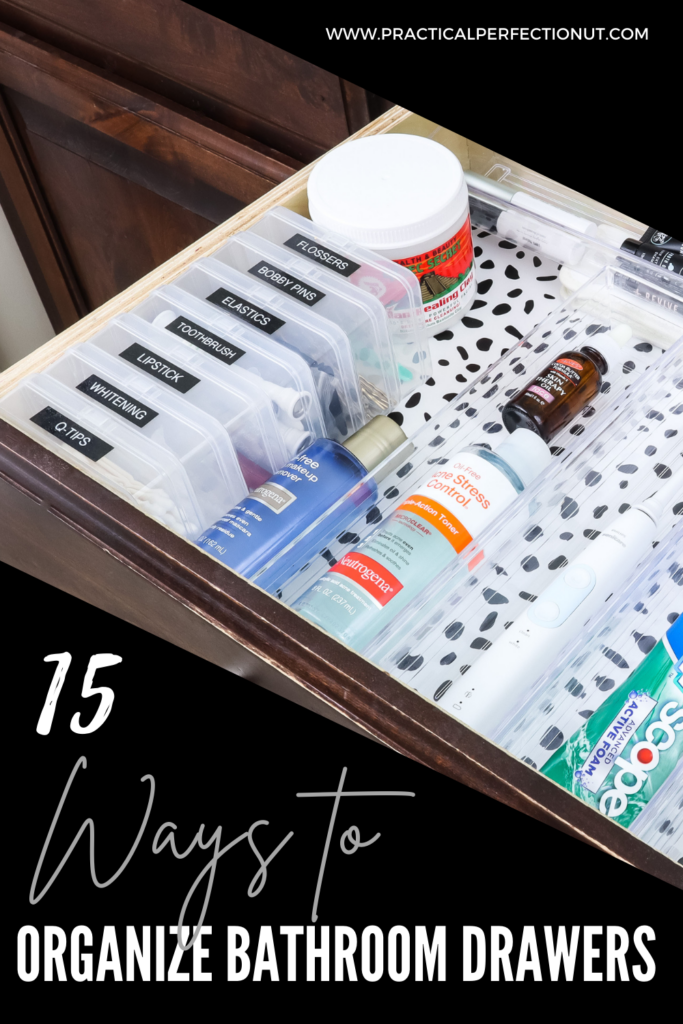 Sort out your toiletries and figure out what categories each item goes in. Keep in mind how much space you have so you know how many categories you can create and organize. Then you will have an idea of how many containers you need and the approximate size they should be.
When you go to the store to shop, I suggest buying several different sizes and then just playing around with them to see what works. Return the ones that don't, or keep them for a future project!
Drawer Organizers
You can also use a drawer organizer, which is a piece of plastic, metal, or wood that goes in your bathroom drawers and helps to section them off.
In the case of drawer organizers, they are usually meant to fit your drawer perfectly – it's almost like a built-in system. You may be able to find some customizable ones, but make sure you really know the measurements of your drawers and how many zones you want to create before you buy one.
Organizers are still really helpful and look really nice, just keep in mind that they are typically harder to change around later on than if you get a few containers and swap them out as you need to.
Clear Bead Containers
This is my absolute favorite way to organize lots of small items in your bathroom drawer. This is the best use of space because you can store the plastic containers vertically instead of horizontally, allowing you to store way more things than you otherwise would have.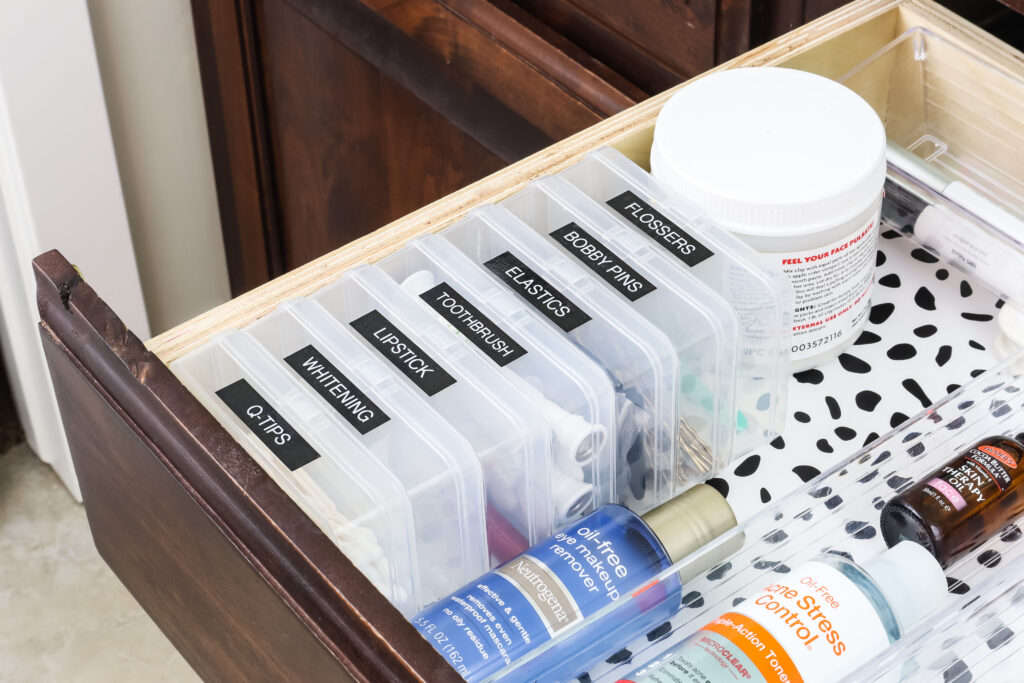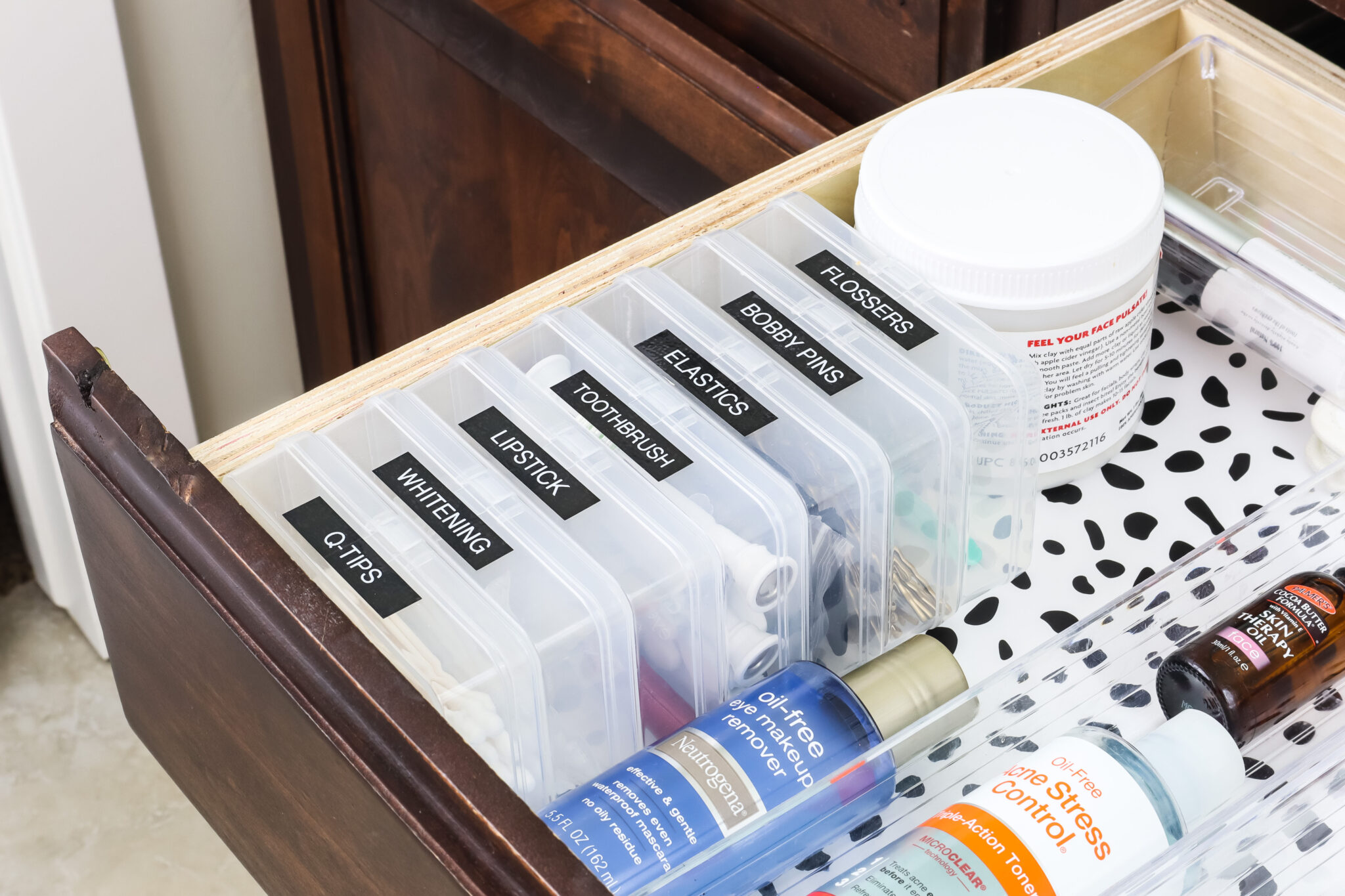 Then you can just label the tops of the containers so you know exactly what is in each one. This is a system that actually STAYS organized!
Shop Clear Plastic Organizers

Utensil Container
You can also buy a utensil container from the store. This is a great option because it has multiple compartments that are all different sizes. Using a utensil container to organize bathroom drawers can be really helpful because it can house a lot of different items.
Utensil containers come in all shapes and sizes. This means that you can find one to fit perfectly into your bathroom drawers, no matter what size it is.
The one drawback is that you can't organize the sections, though you can be picky with what container you get and how many sections that utensil container has.
It can be a great way to help organize your bathroom drawers, but you might have to search to find the perfect utensil container for storing your bathroom supplies. Or if you have deep drawers, you can also use them to store cleaning supplies. Because cleaning supplies can leak, I don't recommend storing them laying down. So a utensil container can be useful when trying to keep cleaning supplies organized if your cleaning supplies are small.
Plastic Tubs
These are basically the same as the clear acrylic containers, but these work for storing supplies in deep drawers. If you have a super deep drawer where you can stand up items, then you can easily store hair products like bottles of hairspray, dry shampoo, or hair gel.
Getting larger plastic tubs will help those products not fall over as you are opening and shutting your bathroom drawers and it will just help will your overall bathroom organization. Your bathroom drawers will look much tidier and contained when you store bottles and supplies into tubs.
Stackable Containers
One other option for deeper bathroom drawers is to get stackable containers. Stackable containers can help you fit a lot more items into your drawers and can make it easier to see what is inside.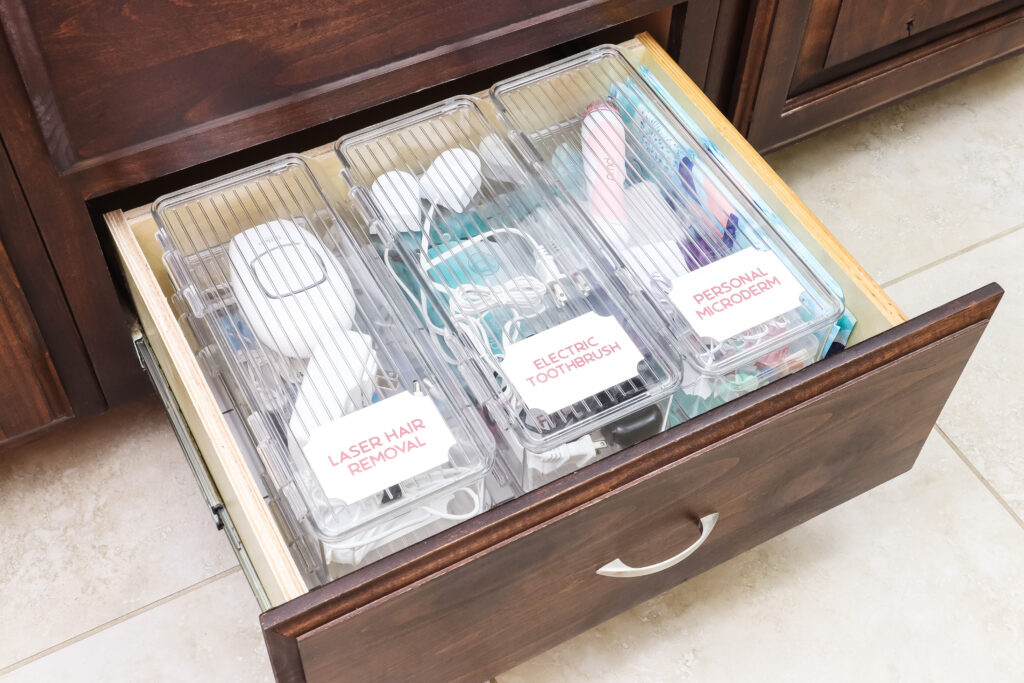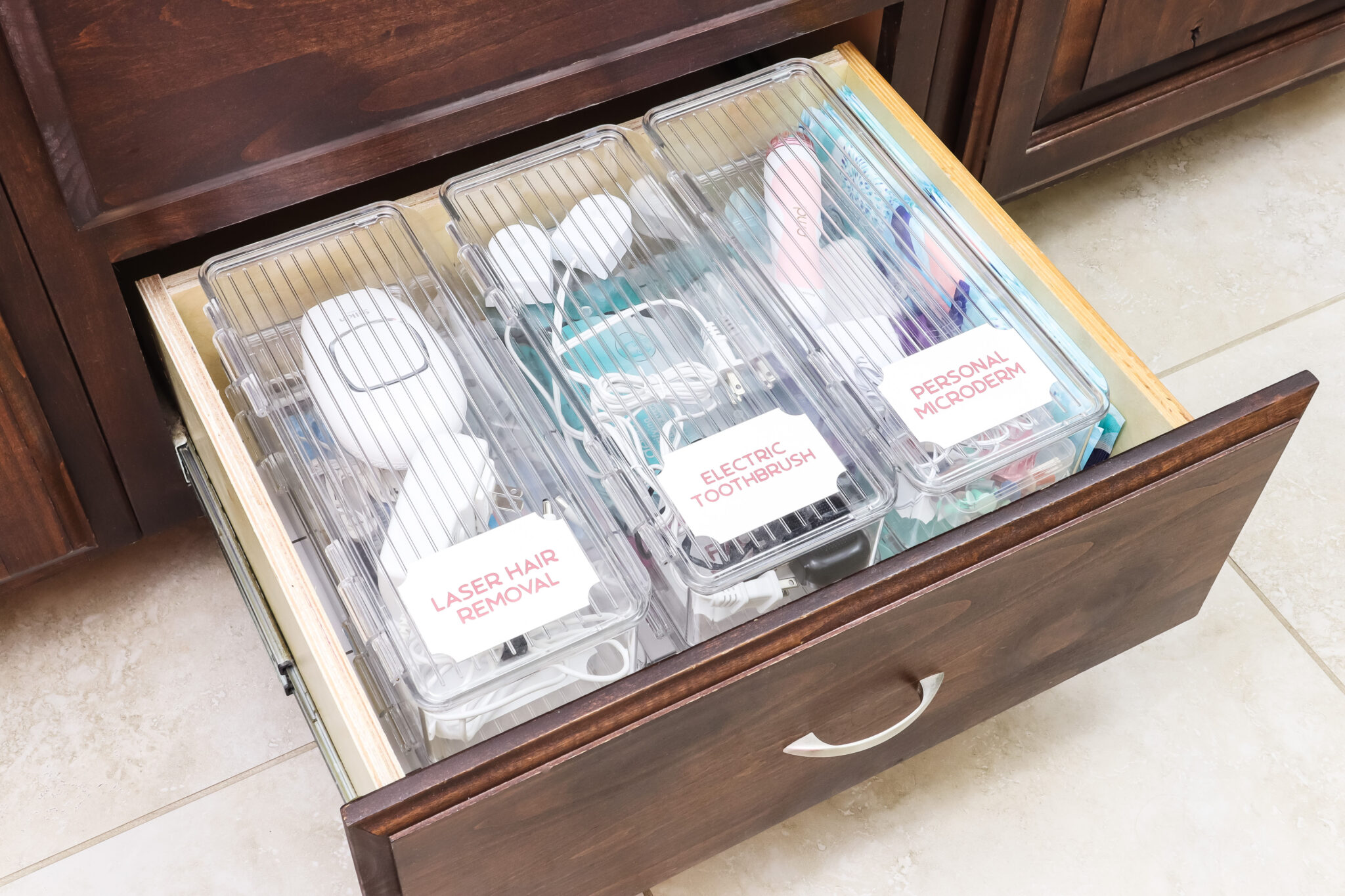 Stackable Containers to Organize Drawers

There are many different types of stackable containers on the market, but I like the ones that have a lid because then you can just easily place a new container on top.
If you have a shallower top drawer, then you might want to look for a smaller stack, or just not use stackable containers in that space. I prefer using them in deeper drawers!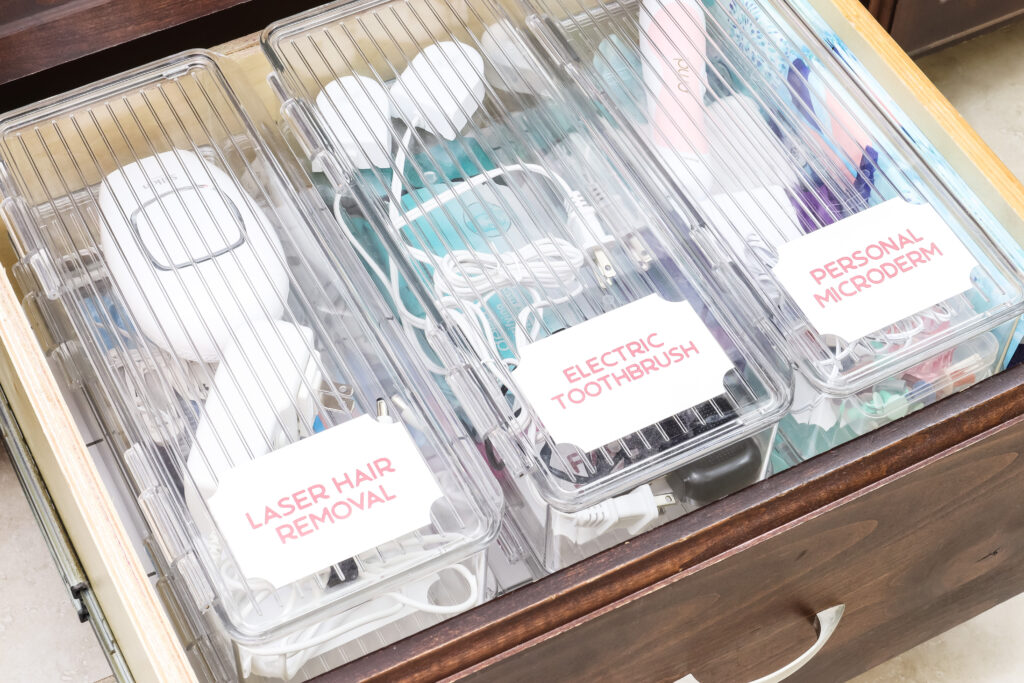 Expandable Drawer Dividers
Expandable drawer dividers create the look of custom cabinetry without the cost! They are spring-loaded so they fit a variety of drawer depths (make sure to measure first before you order).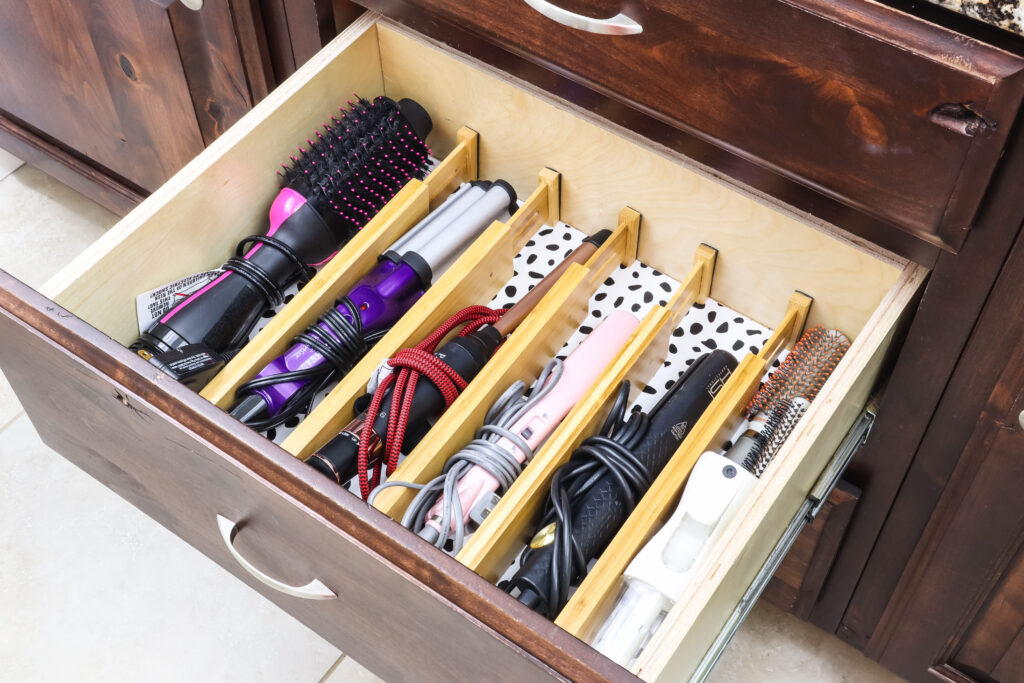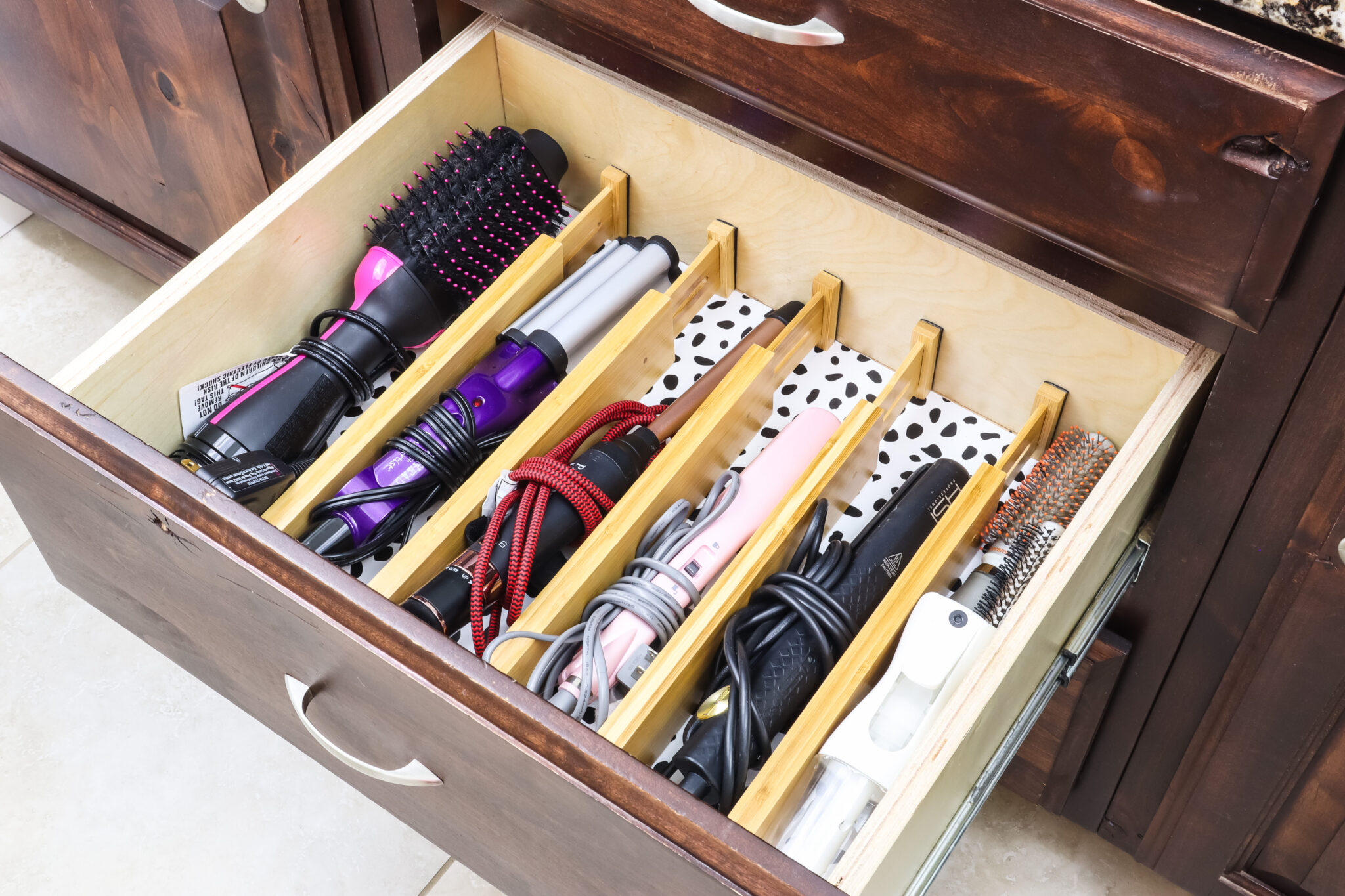 You can use dividers for bathroom drawers to separate different bathroom items. For example, you could keep all of your hair tools in one section of the drawer, and then have another section with brushes, combs, or spray bottles.
I like that this helps compartmentalize the space so everything has its own home.
Shop Expandable Drawer Dividers

DIY Container
If you want to get really creative, you could also make bathroom dividers. There are a few ways you can go about that.
To make a bathroom organizer, find wood or cardboard that is about the same height as your drawer. You can use a saw to cut the wood or cardboard into thin strips that are the correct width. Then, you can either hot glue them together or use a stapler (in the case of cardboard) to attach them in place.
You can also repurpose old Tupperware or small boxes to use for your containers and dividers. No matter what your budget is, you can find something that will work to organize bathroom drawers!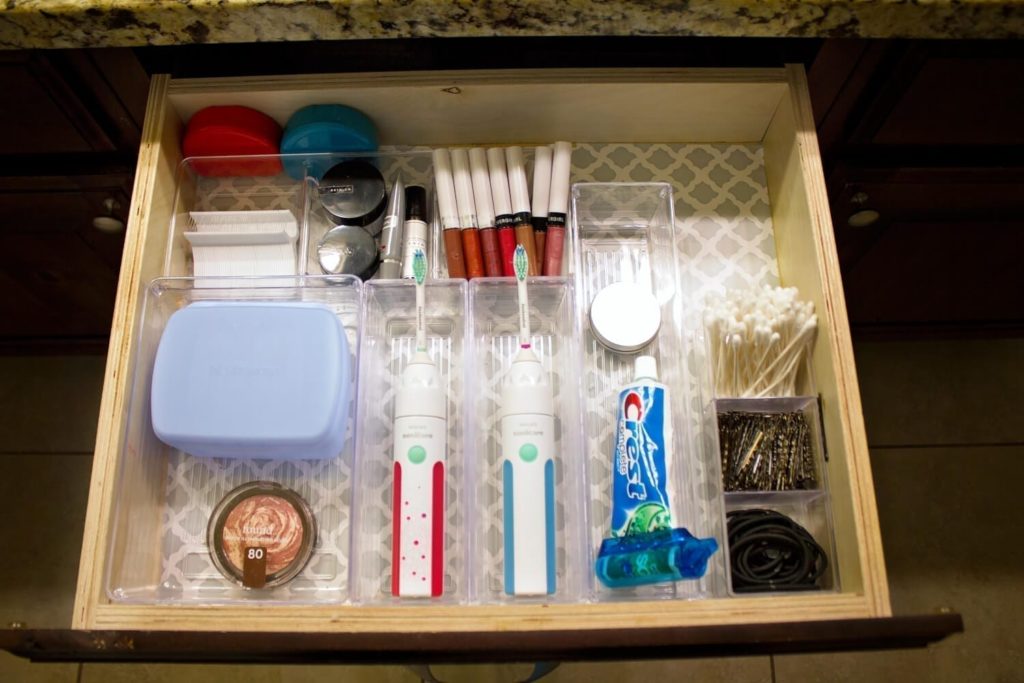 Creating your own organizer or divider is super helpful in organizing because you can tailor it perfectly to fit your stuff. It might take a lot more time and effort than buying containers, but if you're handy and creative, it could be the perfect project for you!
What if my containers don't fit perfectly?
Look, we'd all love to live in a world where containers fit exactly right, our bathroom drawers are always organized, and our house always looks perfect. But chances are, none of that will happen. It's okay!
If your containers aren't fitting right and you have space between them or at the end of your drawers, that is kind of to be expected. Don't drive yourself crazy trying to put together a puzzle in your bathroom drawers. There are a couple of ways to organize those containers and make them not slide around.
First, use a non-skid grip liner in your drawers. Liners don't just have to be for looks! Grip liner can totally help your containers from moving around.
You can also put velcro down on the bottom of your drawers as well as the bottom of your containers. Then they just stick together!
The last solution is the easiest. Just stick some paper towels in the back of your drawers! Most likely, no one will see them, and it'll give you that cushion you need to keep your container in place!
Organizing doesn't have to be hard or painful, just allow yourself enough time to play around with the things you have and find what works for you. Be patient and keep trying new methods of organizing until you find one that you love!
Keep your bathroom drawers organized moving forward
I always say this, but maintenance is a super important step to organizing. After doing all of that work, you don't want to have your stuff go back to disorganized cluttered chaos just a few weeks later! Don't let all of your efforts go to waste, commit to yourself to organize bathroom drawers and keep them that way!
When you're putting things away, just take a couple of extra seconds to think about where it will go in the drawer. If everything has a designated spot and you're putting those grooming tools or toiletries in their designated spots, then it'll be a lot harder for things to get messy again.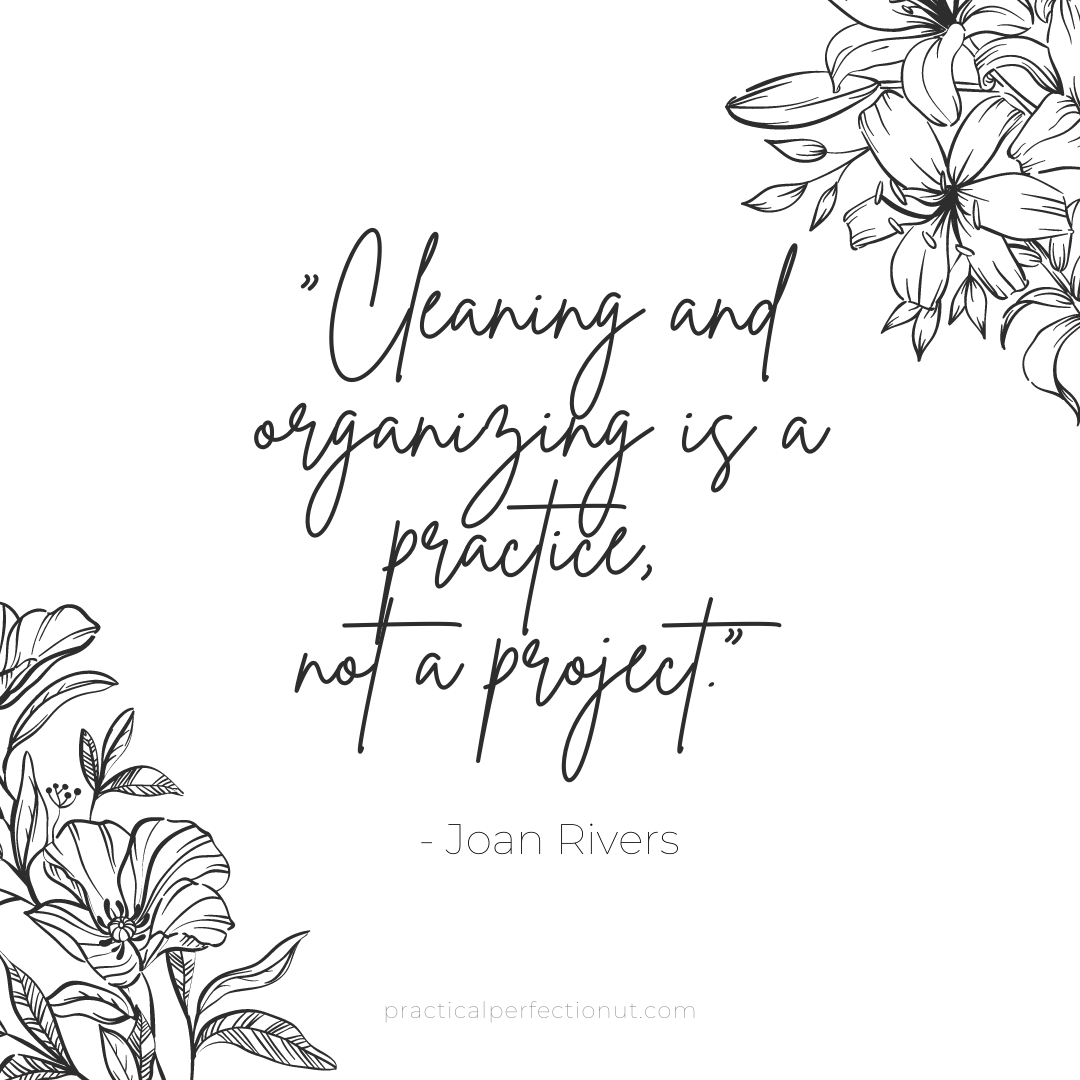 Once you get in the habit of putting things back correctly in your bathroom vanity (and your kids do too, since they might be the bigger culprits), your bathroom drawers will thank you. And the next time you have to quickly get ready in the morning and you can find everything right away, you'll thank yourself too! That's the magic that happens when you organize bathroom drawers!
One quick tip to help your kids stay organized – try not to switch things around too much. It can be tempting to just do a total rehaul of your bathroom and try something completely new, but that can make it easy to forget where things are supposed to go now.
Keep things in the same drawer they were before (if that's possible, that is) but just use organizers and magnetic strips and an actual organization system now.
If you do that, your kids will know where it's supposed to go, since it's in the same drawer it always was, but now they just have to take one extra step and stick it in the right container or spot in the drawer.
Hopefully, these organizing ideas helped spark some inspiration for the next steps as you organize bathroom drawers in your home. Good luck, and happy organizing!