10 Tips to Organize Your Garage for the Winter
It's that time of year again when the leaves start to change color and the temperature starts to drop. For many people, this means it's time to start preparing for winter. One task that is often overlooked is garage organization. It can be tough to keep your garage clean when you have all of your winter gear taking up space. In this blog post, we will give you 10 tips on how to organize your garage for the winter!
Create a System to Keep Things Off the Ground
When you are getting ready for the colder temps, it's important to remember that making the most of your garage storage space can make all the difference in the world. Utilizing your garage walls helps to eliminate floor clutter.
Winter often brings rain and snow, so keeping your floor space clean and clear will help the snow that's melting off of your car stay off of your valuable items.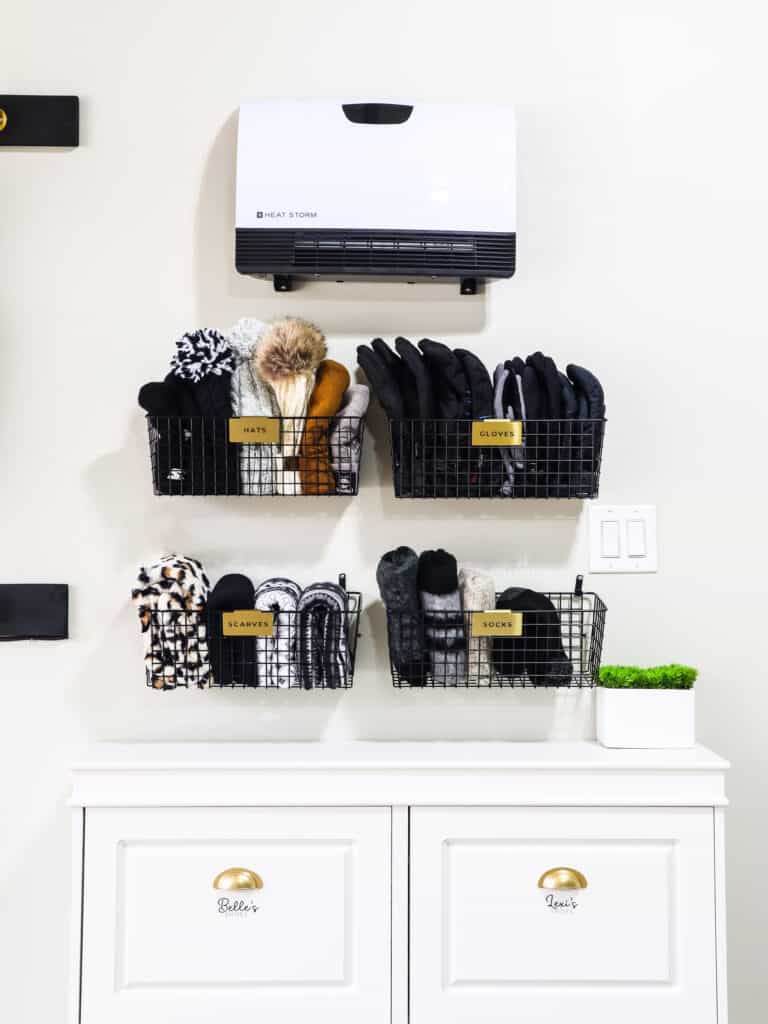 Using overhead racks is extremely useful if you need to store items in totes such as seasonal items that you only need to access occasionally.
Install a Wall System to Organize and Store Gear
You can install a garage wall system that covers your entire wall, or you can keep it simple and add some hooks to your wall studs to store items like sports equipment, garden tools, power tools, or seasonal items.
Take note of all of the items that you need wall space for to determine how much space you're going to need for a wall system. The best part about using a wall system is that it gives you easy access to all of your tools and equipment, saving you valuable time.
We have this basket set to keep everything organized!
Use the code PERFECT10 for 10% off of your entire order (including sale items!) on the StoreWall website.
My StoreWall garage system was insanely easy to install and it's going to serve my needs for years to come! I love how I can adjust the height or width of the items extremely easily and how I can store a huge variety of items such as winter sports gear, sports equipment, gardening tools, etc. It's definitely one of my favorite garage storage ideas that I've implemented.
A wall system also allows you to move hooks and baskets as needed. No need to make new holes in the walls every time your needs change. Just start organizing and adjust as you go!
A Good Shoe Organizer Makes All the Difference
Most people take their shoes off before coming into the house, especially with cold weather that brings rain and snow. So it's important to have a place to store shoes so they don't clutter up the garage floor.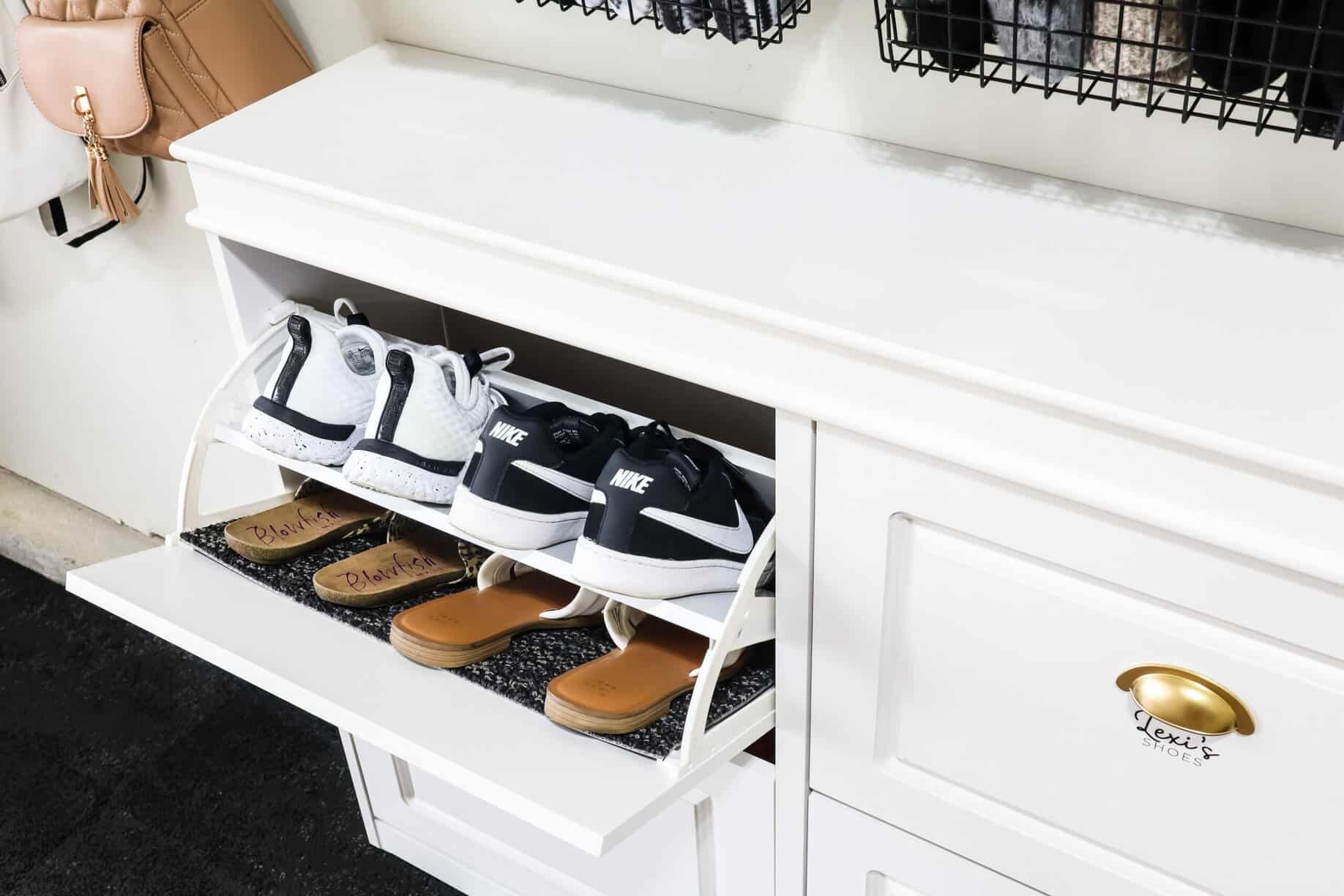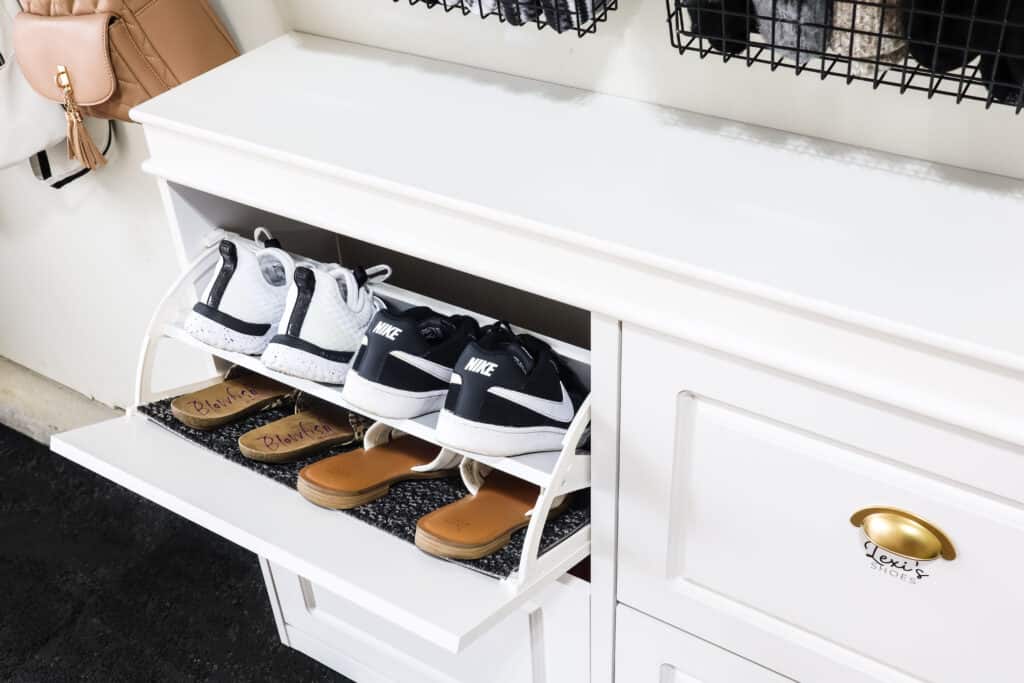 In order to maximize space, we bought this slim shoe storage piece that is amazing for keeping the shoes off the ground. I have assigned each family member (minus my husband because he wears a size 12 and his shoes don't fit) their own shoe cabinet. When their cabinet is full, they need to put excess shoes up in their room.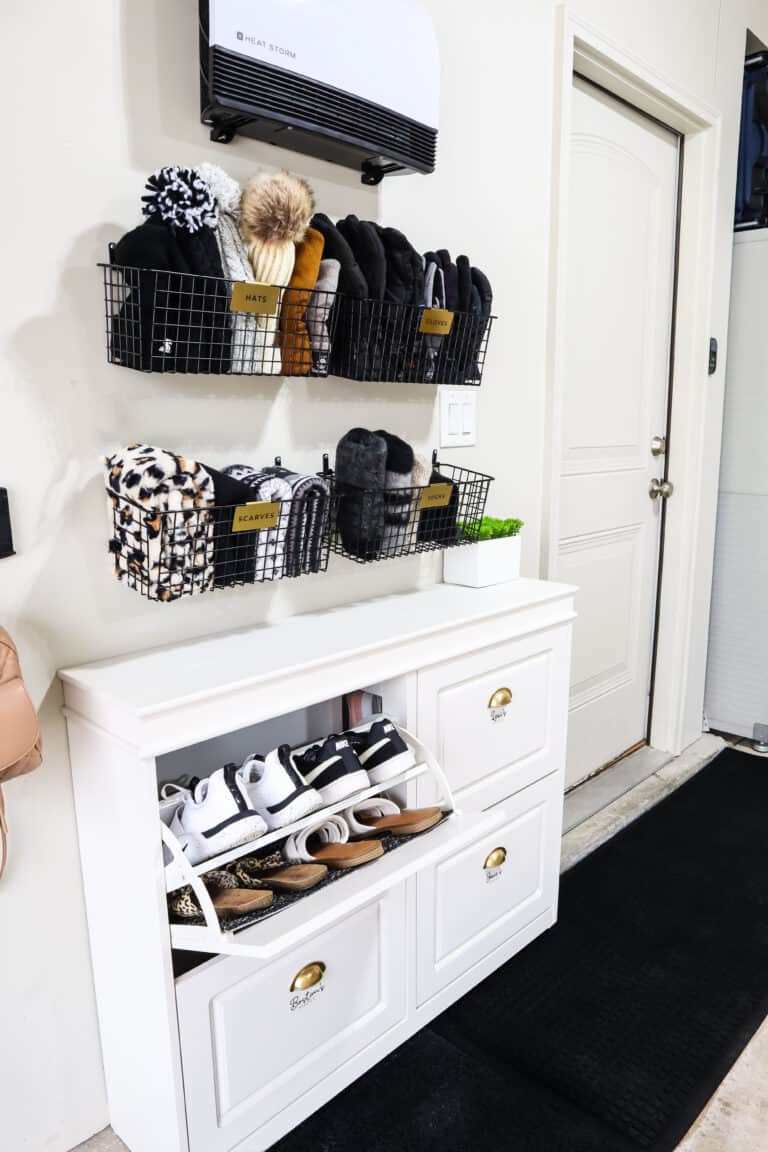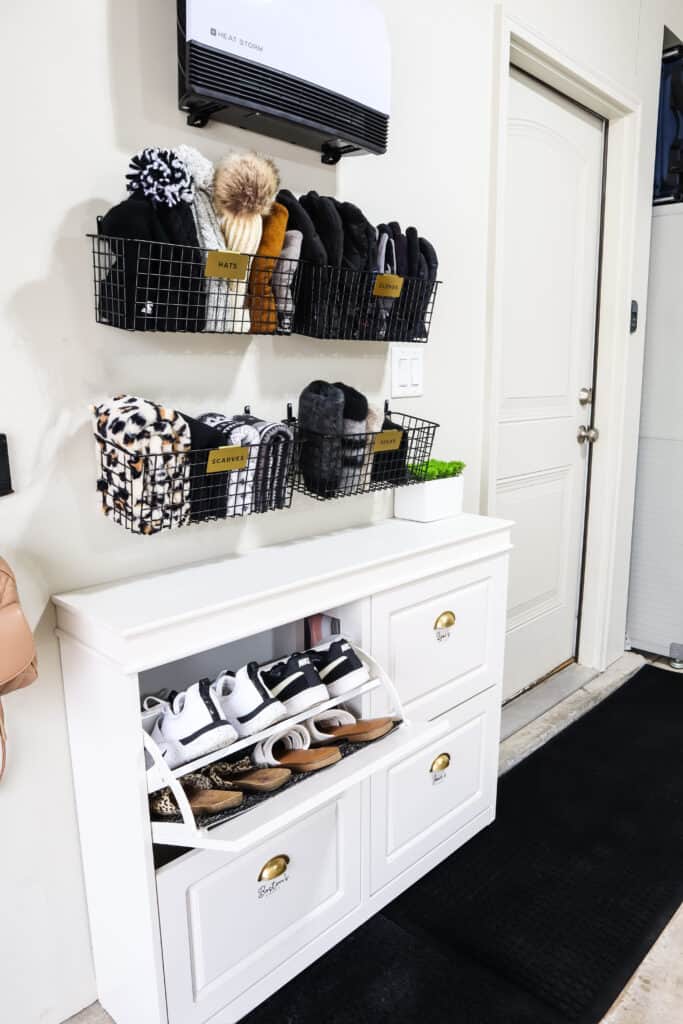 I love how stylish this makes our garage storage space and how there is a clear system to keep shoes fully organized. It's one of my very favorite garage storage ideas!
CREATE A WINTER CLOTHES STATION

Have a Way to Heat up Wet Winter Gear
Nothing smells worse than soggy wet shoes and boots that can't fully dry in a cold garage. One of my favorite garage storage ideas is to install a boot dryer and a wall-mounted garage heater to combat freezing temperatures.
Boot Dryer with Ozone Technology
I opted for the Ozone Boot Dryer because the ozone is fantastic for killing odor-causing bacteria (think stinky, sweaty shoes) AND drying the shoes out with a heater at the same time. There are a lot of boot dryers out there but not many of them have the ozone feature. And let me tell you, this works amazingly!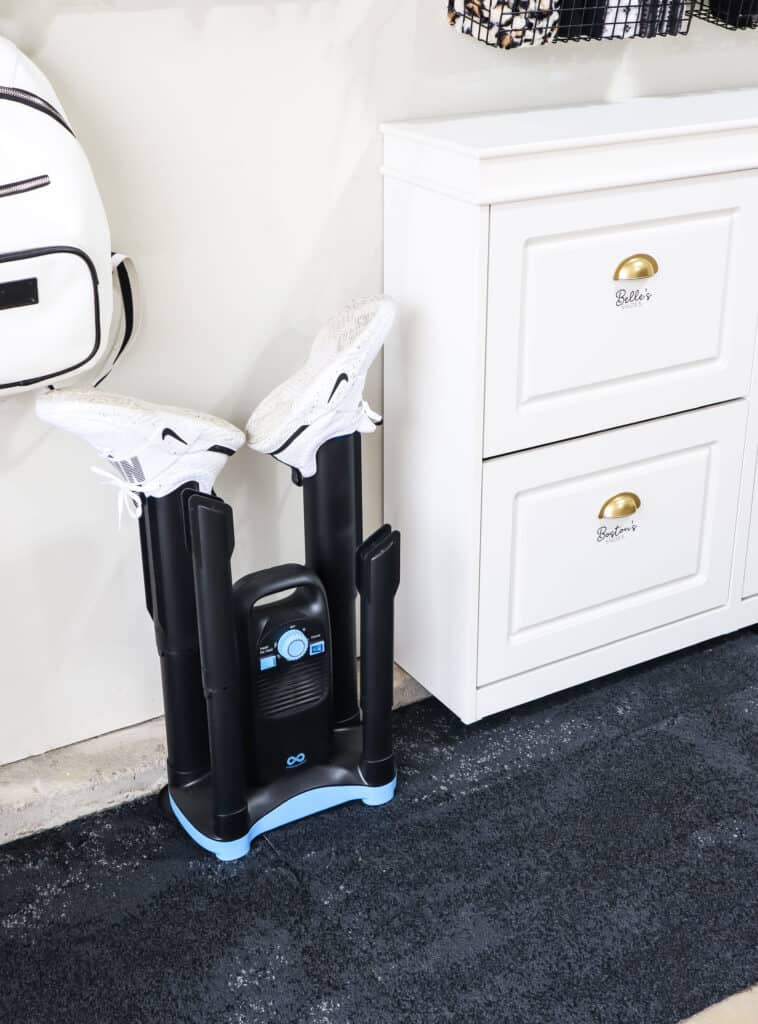 The Boot dryer can be used to dry out boots, gloves, and even helmets! It has a convenient timer so you can set it and forget it knowing that your shoes will be fresh and dry the next time you go to use them. It doesn't take up much garage space, either!
Wall Mounted Heater
Another great idea for garage storage is to install a wall-mounted heater. This will help keep your garage warm and comfortable during the cold winter months. It will also help keep the moisture out which can really help with dampness and condensation that can form in an unheated garage.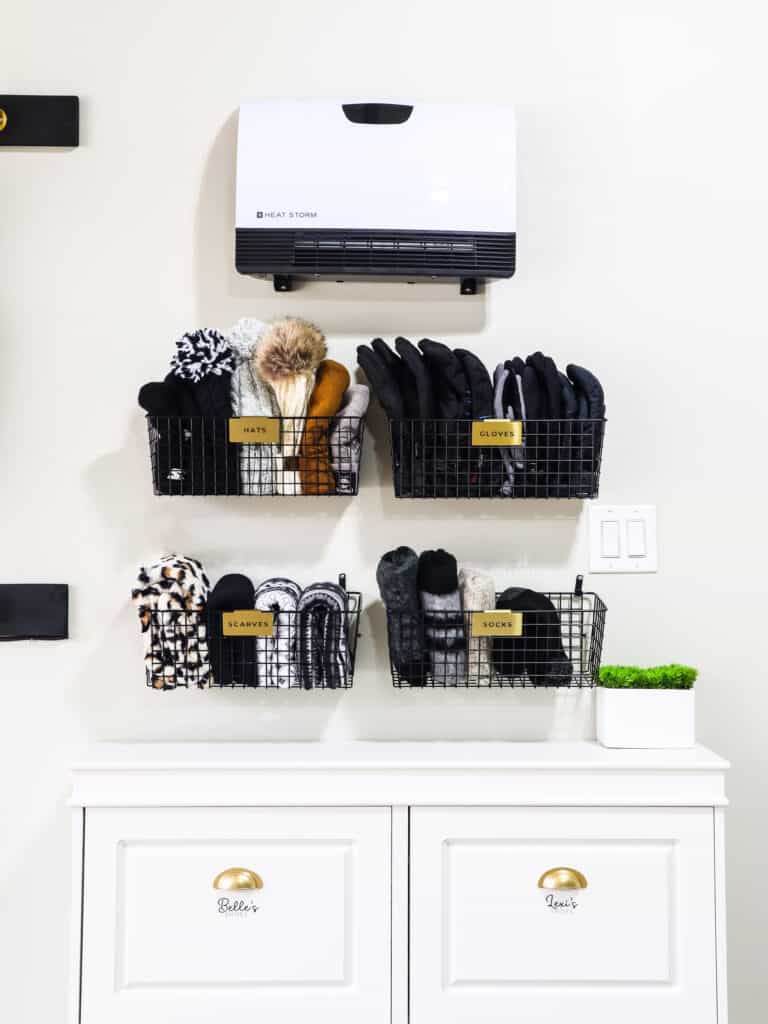 I also love how it can be mounted on the wall so it doesn't take up much garage storage or wall space.
A heater is also amazing for when you want to work on a mid-winter DIY project! Cold weather can't stop you anymore!
Store Hats, Scarves, Gloves, and Coats in the Garage
It's inevitable that you'll be needing your hats and gloves this winter so it's important to create a storage space for them in the garage. These baskets are one of my favorite winter garage storage ideas.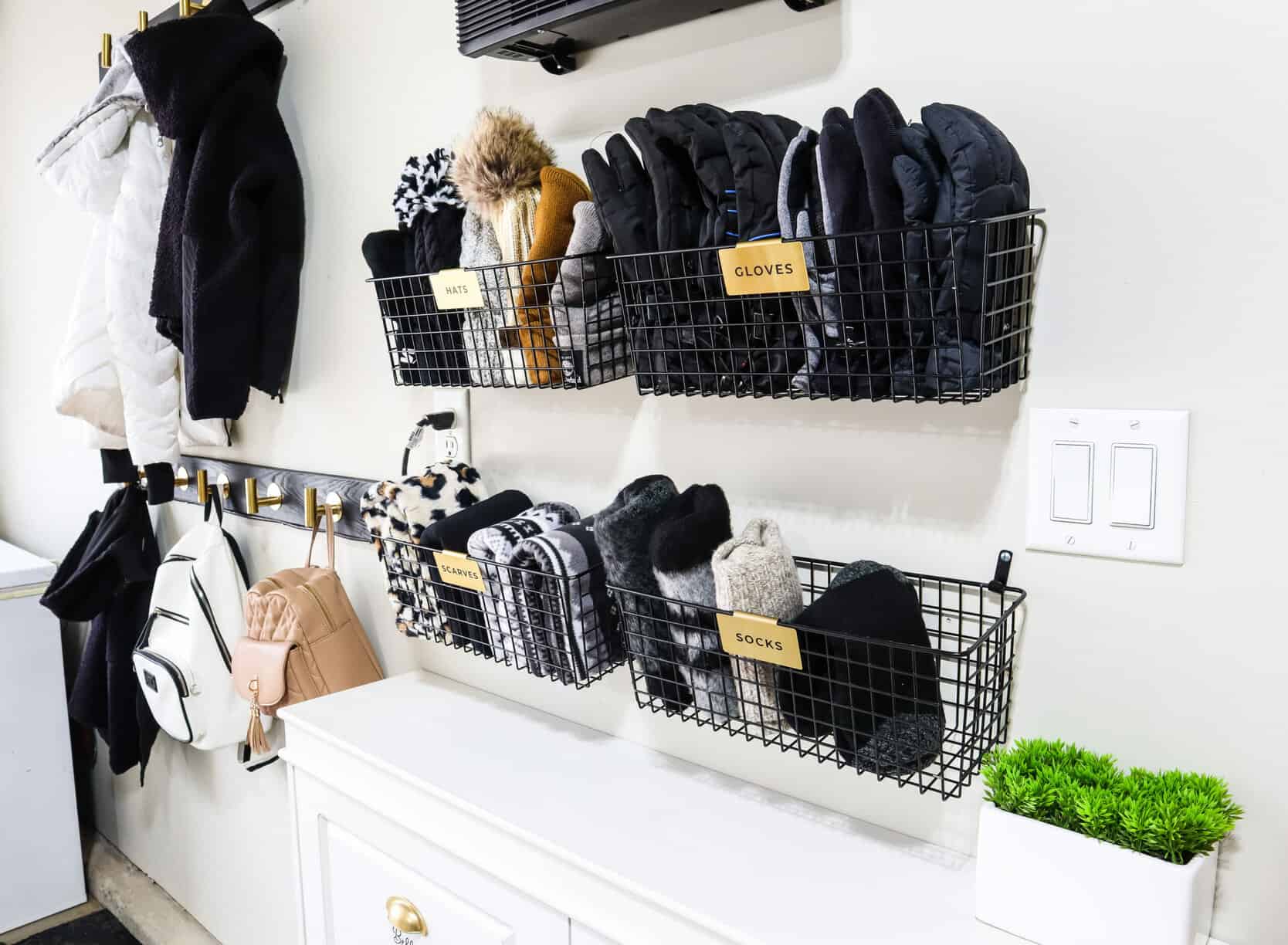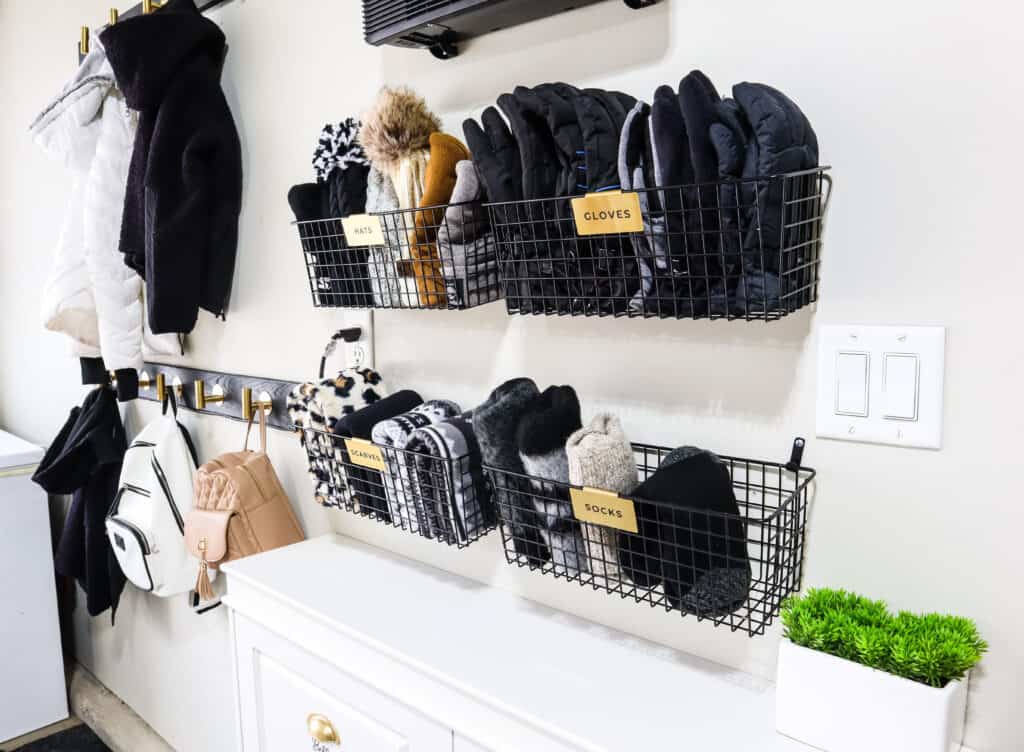 The baskets allow the wet gloves to breathe and dry easier. Make sure to label the baskets so you know where each type of item is instead of spending valuable time looking for what you need.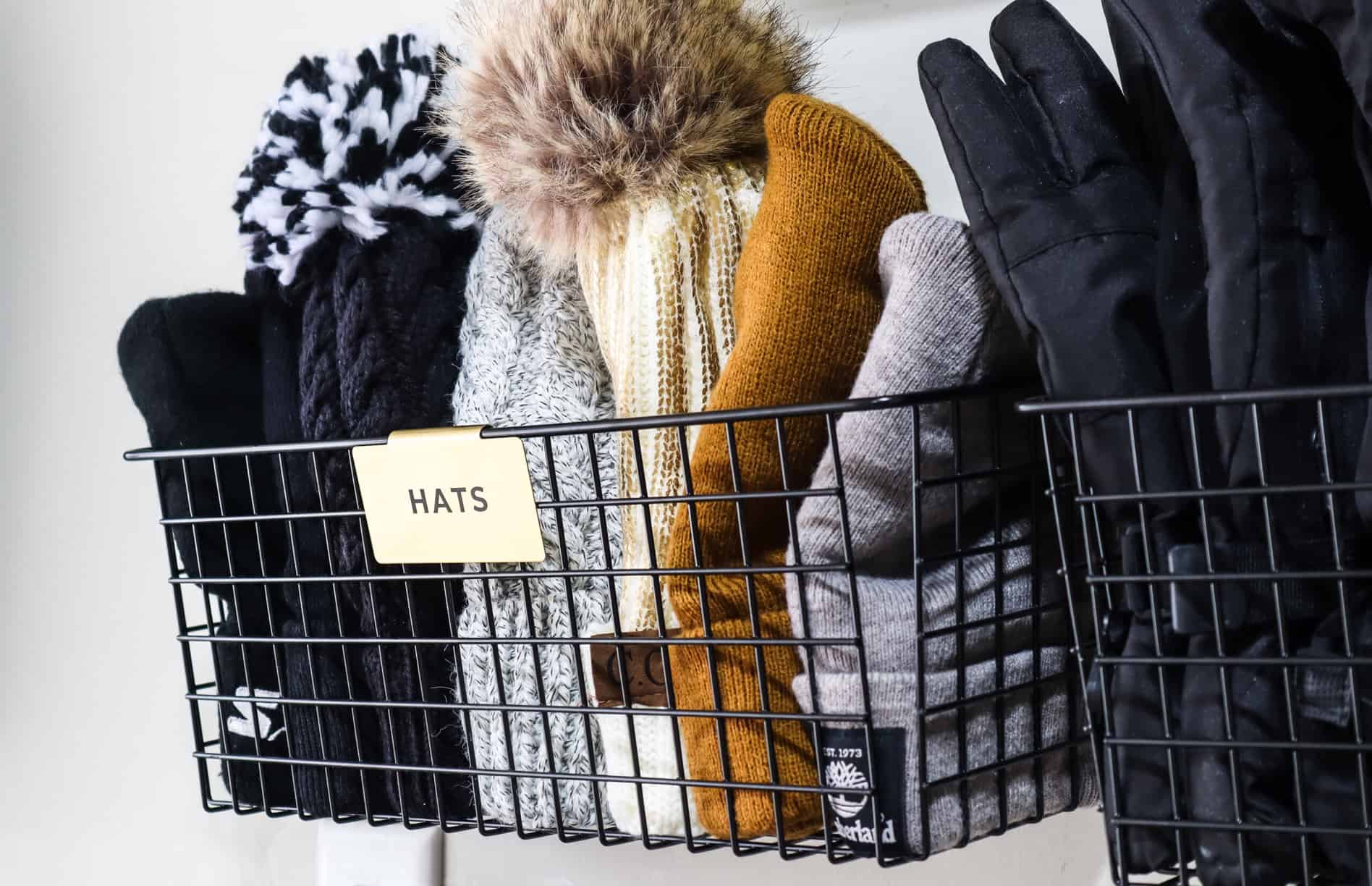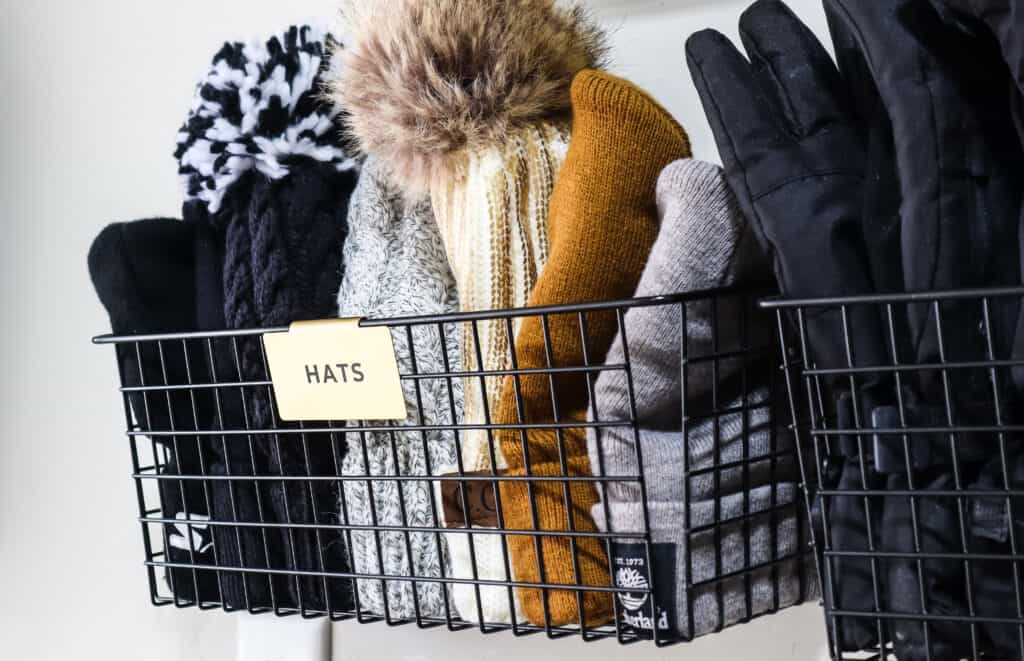 Insulate the Garage Door
Cold air is inevitable in the winter but you can do something to keep it out of your garage. Insulating your garage door with a special insulation kit can help reduce the amount of cold air coming in and save energy costs.
It's a relatively easy project that won't take more than an hour or two. Plus, you don't need any additional tools or materials.
Assign Each Person a Specific Area
A great way to keep an organized garage space is to assign each person a specific area to keep their belongings. This will help prevent items from getting disorganized and scattered throughout the whole garage.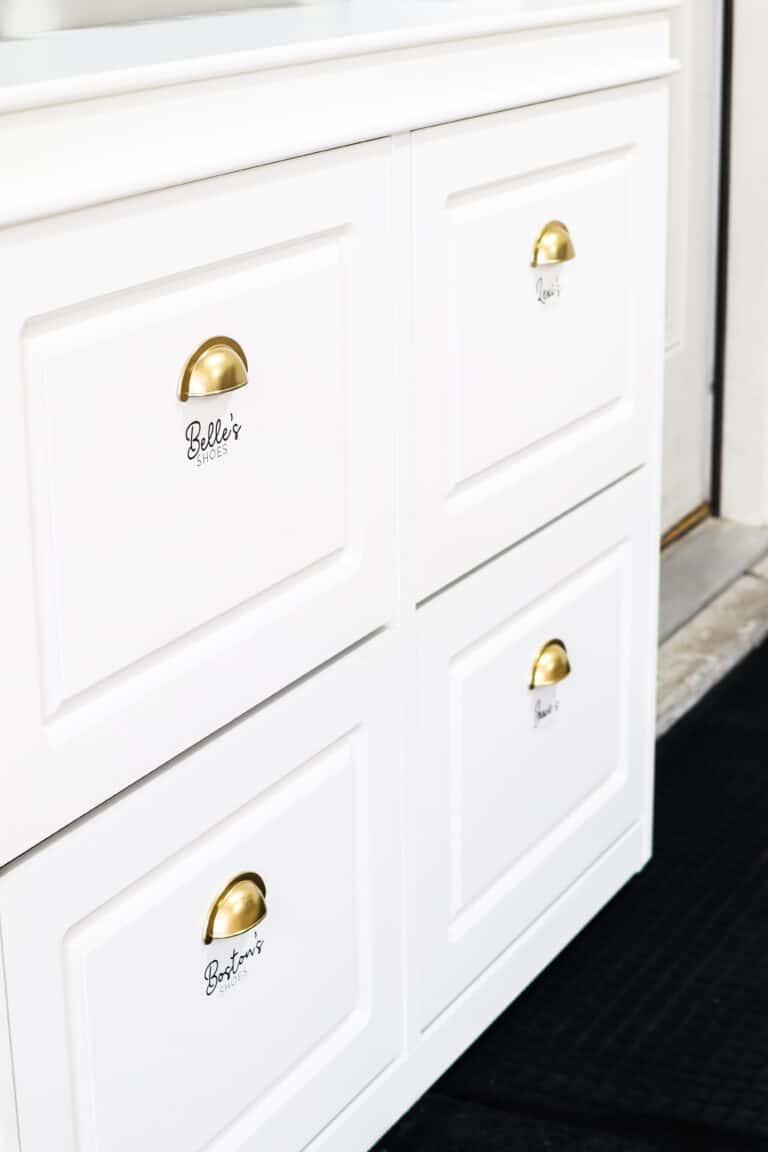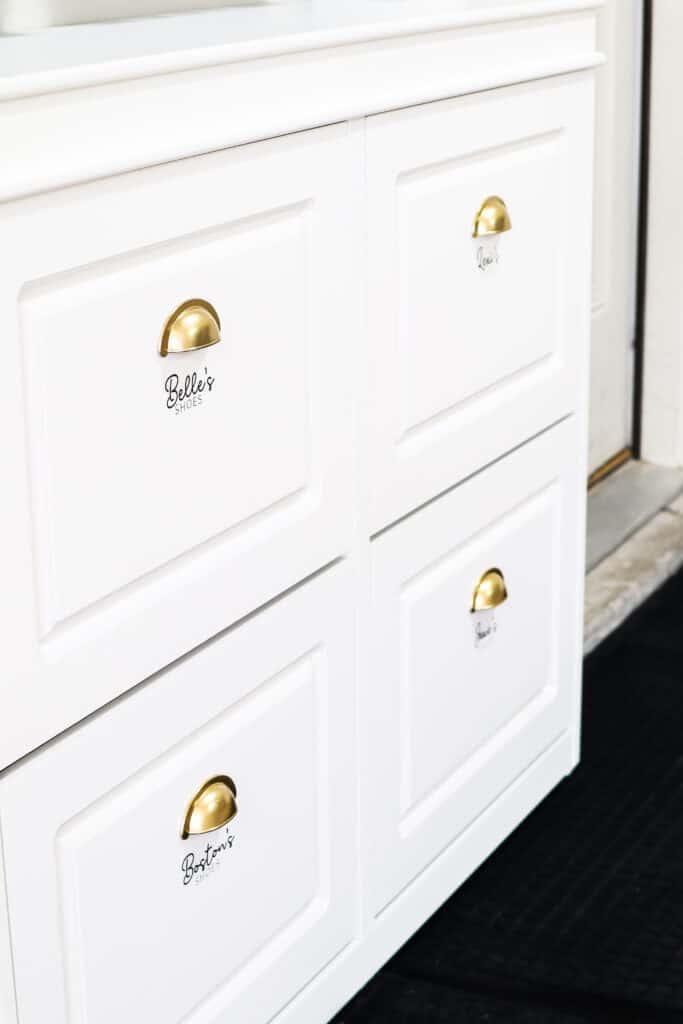 You can also designate separate storage spaces for tools, lawn care products, sports equipment, or any other type of items that are used frequently. Don't forget to label each garage space so everyone knows where their stuff goes.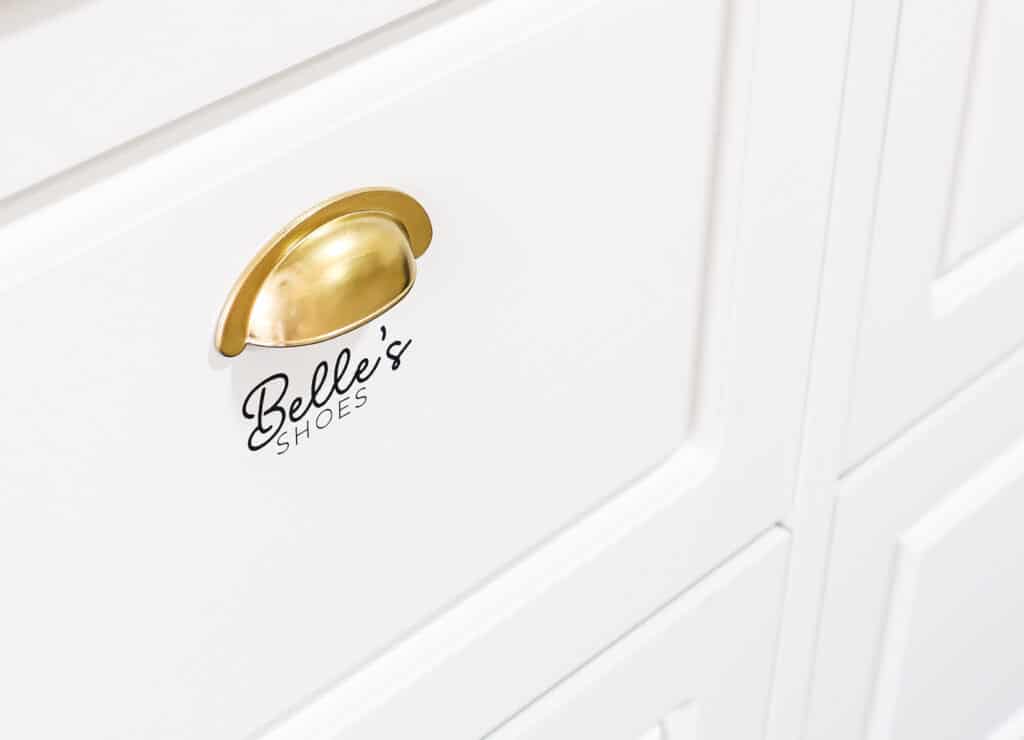 Make Winter Snow Tools Easily Accessible
The garage floor is also a great place to store winter snow tools such as shovels, snow blowers, and salt. Keep them in an easily-accessible spot near the door so you don't have to go digging for them when the first flakes fall!
I love to spread salt over my driveway and walkway using a fertilizer spreader.
Install Quality Garage Lighting
Because winter months tend to be much darker than other times of the year, installing garage lights is a complete game-changer. I bought these lights and was completely blown away by how much of a difference they made in my garage.
Have a Good Quality Rug
We were in desperate need of a quality garage rug for our garage floor. The rug we had before was constantly soaking through (from melted snow from the car) and we were always getting wet socks. It drove me crazy! I love how this one is raised to keep feet dry.
They have a variety of sizes so you can choose one to fit your needed space.
Shop my Garage: