30 Shoe Organizer Ideas: Make Storage Easier at Home
Have you ever felt overwhelmed by the chaos that comes with keeping track of everyone's shoes? Maybe you have a pile of shoes in your entryway or a sea of sneakers that never seem to find a home. With so many different styles, sizes, and types of shoes to organize, it's no wonder that many parents find themselves at their wits' end. That's why I'm going to share some of my favorite shoe organizer ideas and products with you.
From DIY options to store-bought solutions, you'll find something that works for you.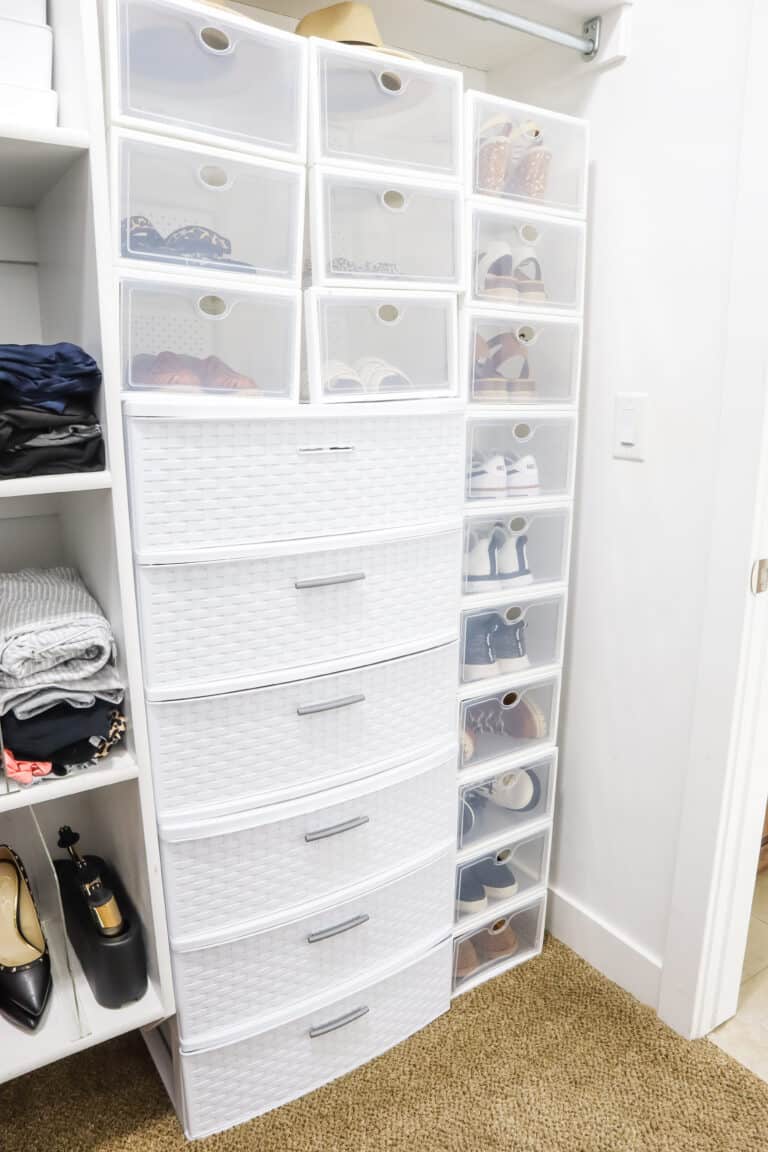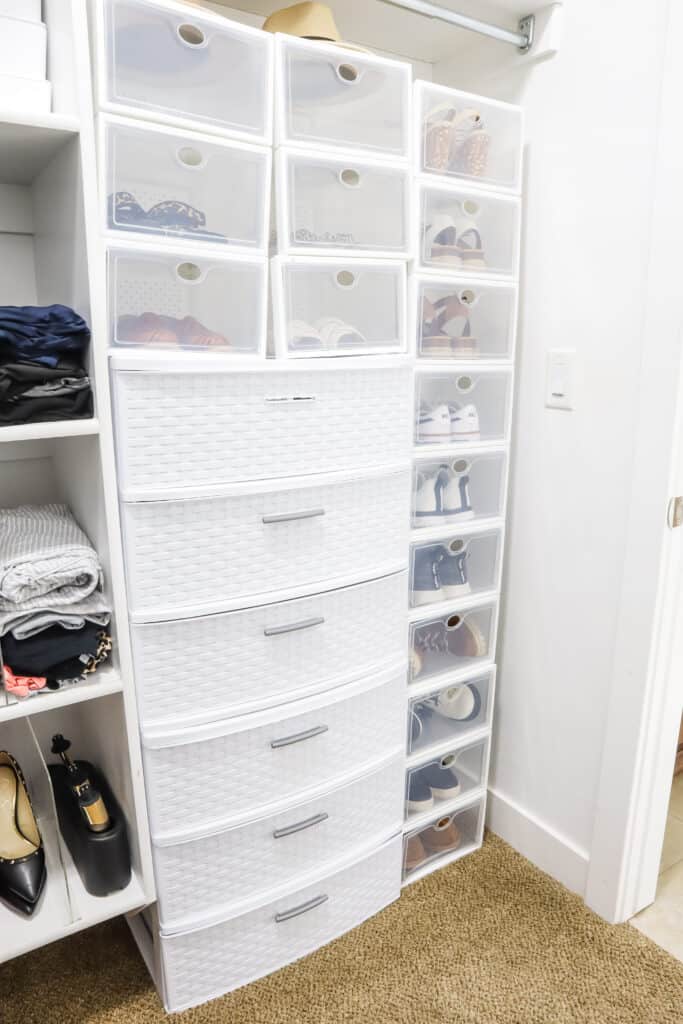 Organizing Your Shoe Collection
If you're a shoe lover, you know how hard it can be to organize all the shoes you've collected. But even if you don't buy shoes often or think you have a small collection, you probably have multiple pairs of shoes in all different types, like sandals, boots, sneakers, and more.
Organizing all of the different kinds of shoes can be quite a daunting task. Different types of shoes demand different types of storage. For instance, boots require more vertical space, while flat sandals or flip-flops can be stacked or stored in narrow spaces. Additionally, athletic shoes, with their bulkier shapes, may not fit into standard storage solutions.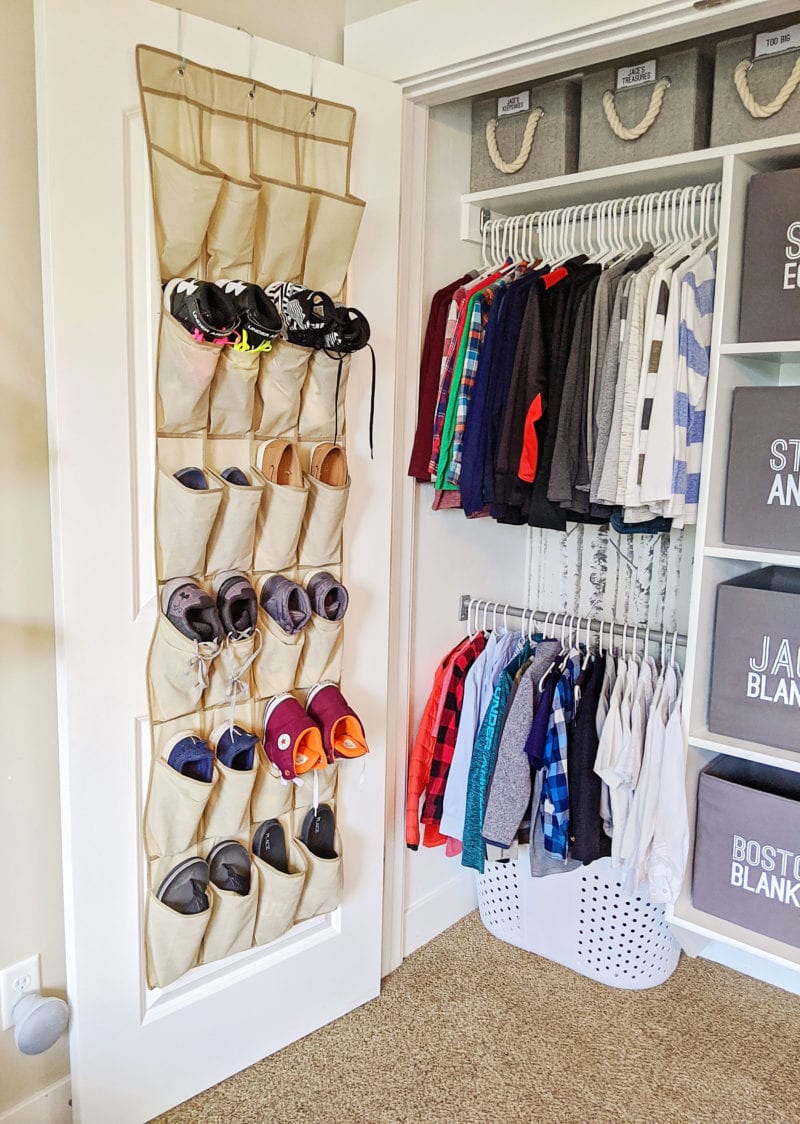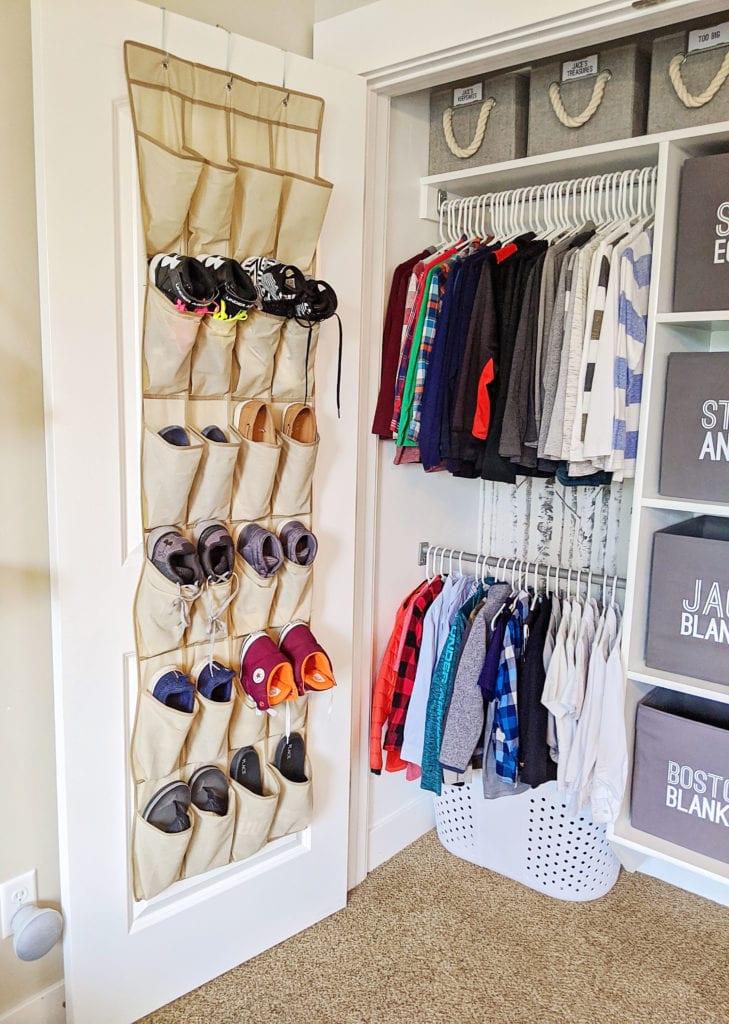 This can lead to shoes overflowing from closets, cluttering up your entryway, or being scattered around the house, causing both a mess and a potential tripping hazard. Plus some shoes may be damaged if not stored properly. Not to mention the problems if you share a closet with another family member or have limited closet floor space.
All these factors can make shoe organization a complex and space-consuming challenge.
So to help you maximize space for your footwear, here are some shoe storage ideas to help you keep your house tidy!
Keeping Shoes Tidy with Shoe Organizer Ideas
When it comes to shoe storage ideas, you need to implement a storage system that fits in your closet (or designated shoe storage location) while keeping your different pairs of shoes easily accessible.
Pick Your Shoe Storage Location
One of the best ways to make sure your shoes stay organized is to have a designated spot for them. This can be as simple as an over-the-door shoe organizer or a more elaborate cubby system in your closet. Having dedicated spots for all of the shoes in your house makes it easier to find what you need when you need it.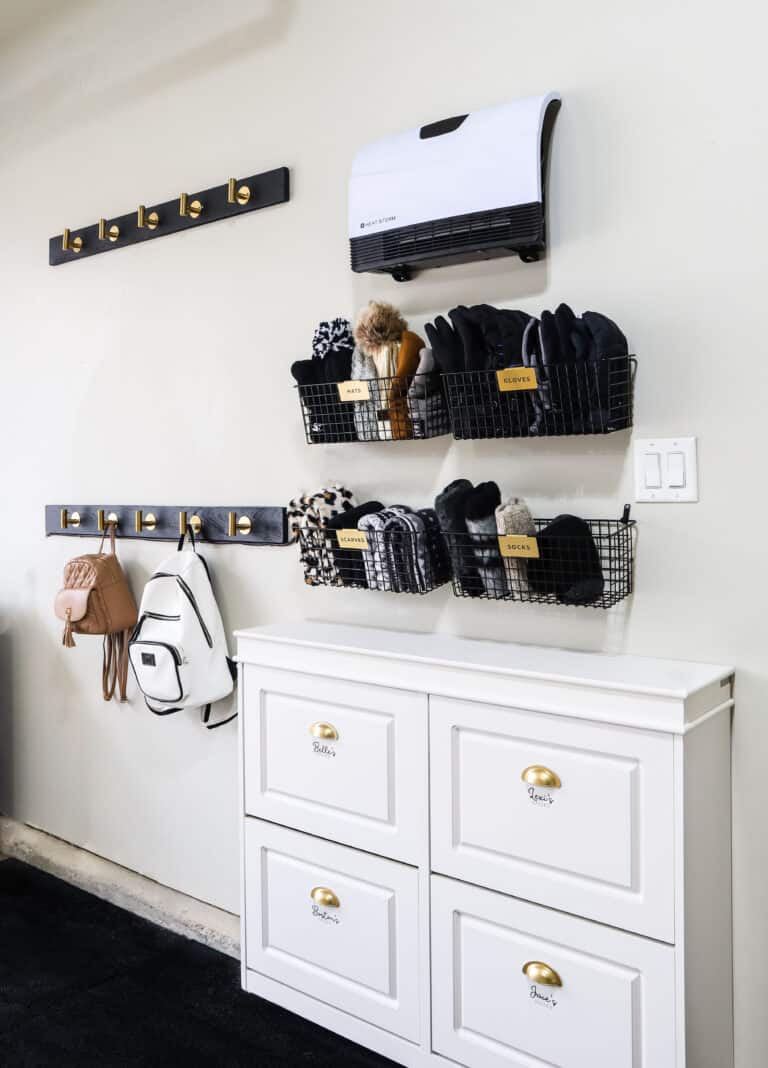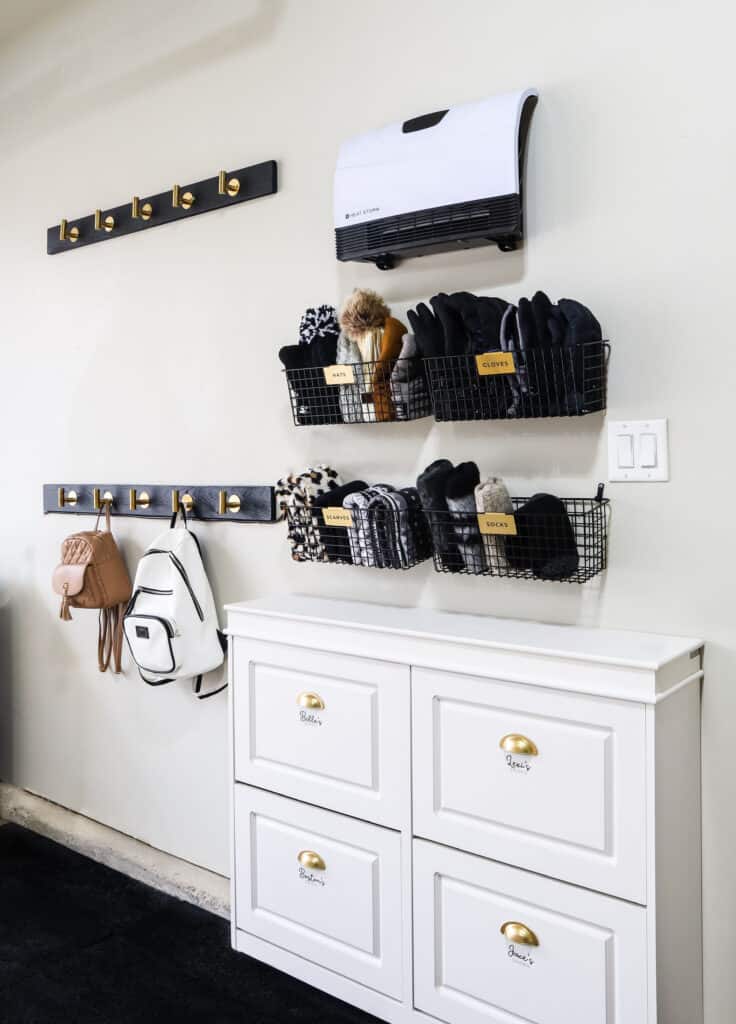 You might have a large walk-in closet with plenty of built-in shelves that can fit as many pairs of shoes as you'd like. Unfortunately, for most of us, that is not our interior design reality, so we have to get creative when we store shoes. Fortunately, there are quite a few shoe organizer ideas out there. Scroll towards the bottom to see my top picks!
Take a look around your house. Where can you store shoes? Ideally, it would be in your room, closet, or near the front door for easy access. But if you have more space for storage in a different room, that could be your storage solution! Even if it's the laundry room!
Before you look through the best shoe organizers or buy a new shoe cabinet, you need to locate a place to put your shoe collection.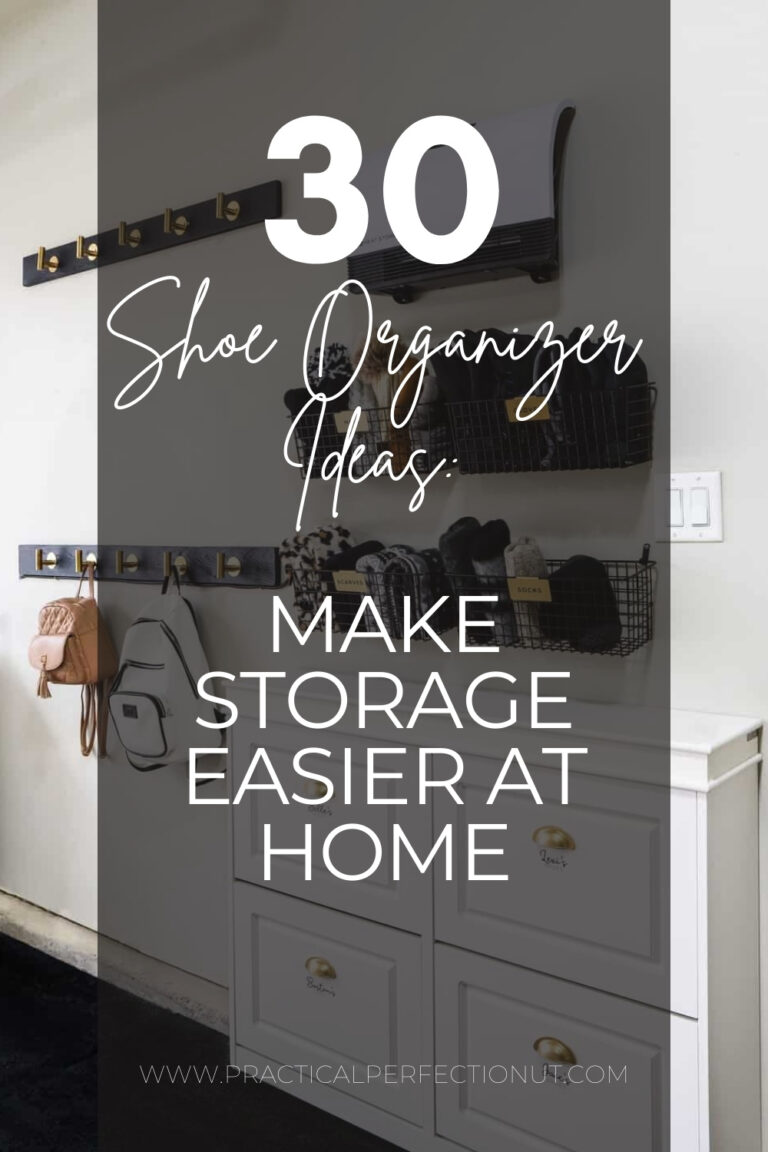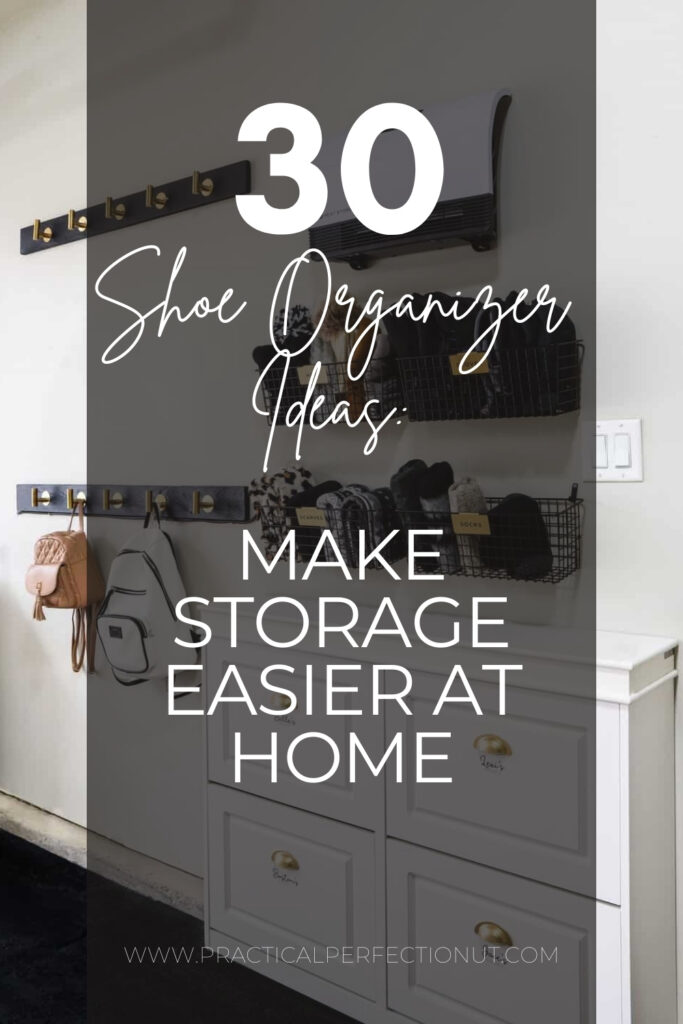 You might need to separate the shoe collection!
While it would be ideal to keep your shoes together, you might need to put different types of shoes in different places.
For example, you might only have the floor space in your closet for everyday shoes. Your dress shoes and boots, or other special pairs, might need to go in a storage bench by the back door or on the top shelf of a linen closet.
Get creative to rid yourself of shoe clutter!
Put Out-of-Season Shoes Out of Sight
One practical approach to managing your collection is to store shoes according to the season. For instance, during summer, you can store away your heavy winter boots and bring out your collection of sandals and flat shoes. Then when winter comes, you can secure your casual shoes from summer in storage, and have your boots, warm shoes, and rain-resistant footwear available.
This method not only helps keep your collection organized but also maximizes your available storage space. It's kind of like getting extra storage space!
Consider storage options like under-bed storage boxes, storage bags, or vacuum-sealed bags for storing out-of-season shoes. These options protect your shoes from dust and degradation, keeping them in good condition for when you need them next.
Remember to clean and dry your shoes thoroughly before storing them away to prevent any potential damage from moisture or dirt. With a season-based storage system, you can enjoy tidy shoes and an organized home all year round.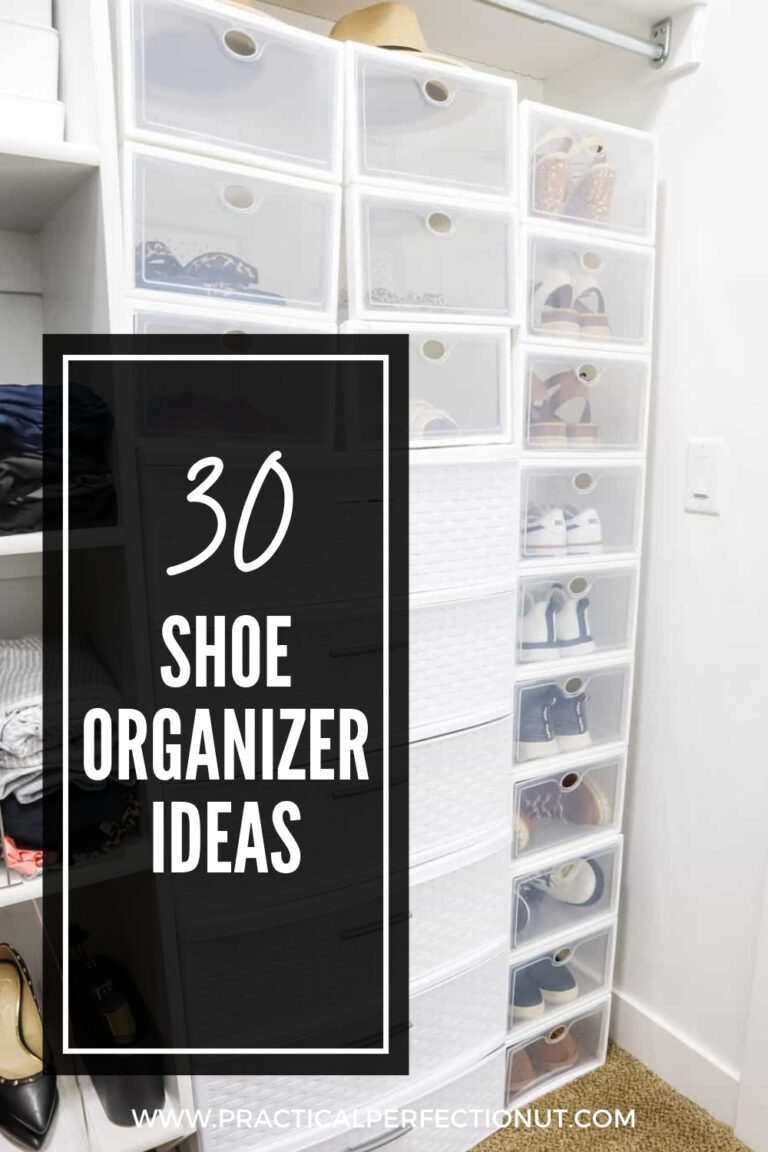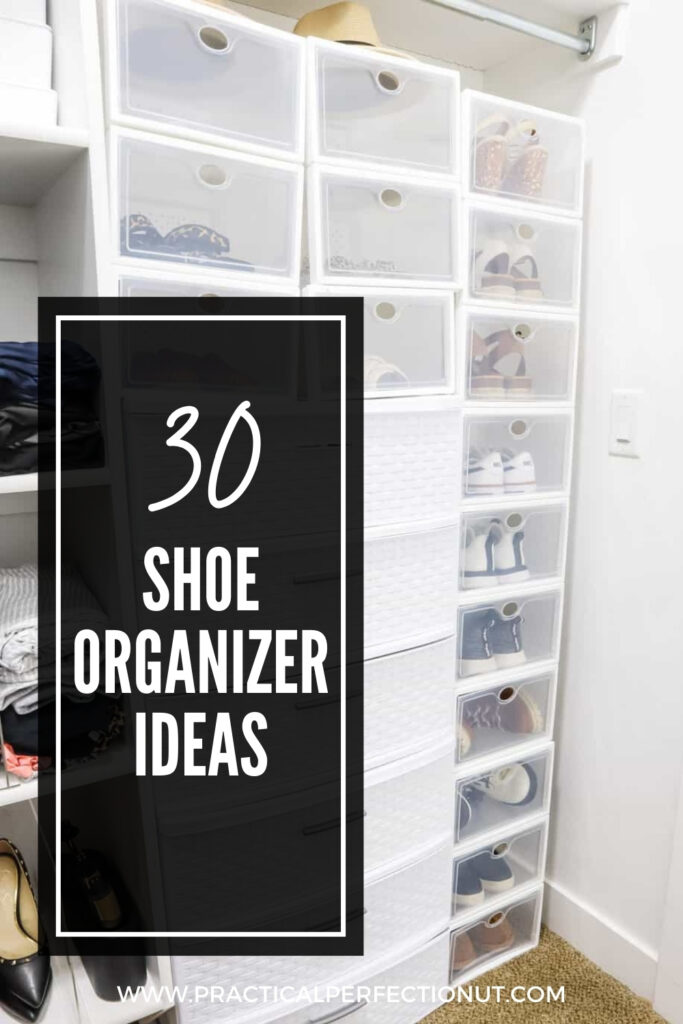 Storing Shoes for a Different Season
When it comes to storing shoes, there are a few things to consider. First, make sure you're storing your shoes in a cool, dry place to prevent any damage or mold growth. For smaller shoes like flip-flops or ballet flats, an acrylic drawer or bin works perfectly. If you have larger shoes, like tall boots, invest in a boot shaper or insert to help them keep their shape. There are quite a few shoe organizer ideas for storing shoes in the off-season.
Shoe Organizer Ideas for Large and Small Spaces
You may have a small space to work with or you may have tons of extra space in your closet for tons of shoes! Here are several different ideas and hopefully you can find a storage solution that works for your space!
Shoe organizer idea: Utilizing Your Closet Doors
Storing shoes behind the closet door is wildly underrated. If you have only a small space to use, don't overlook the closet door! It's free real estate.
To make the most of this space, add an over-the-door organizer that has pockets for each pair of shoes. This way, you can quickly grab shoes as they head out the door, and nobody has to worry about tripping over a random shoe left in the way.
If you don't have a lot of vertical space behind your door, don't worry – there are lots of different shoe organizer ideas for the back of your door in all different sizes that hang over the top and lay flat against it.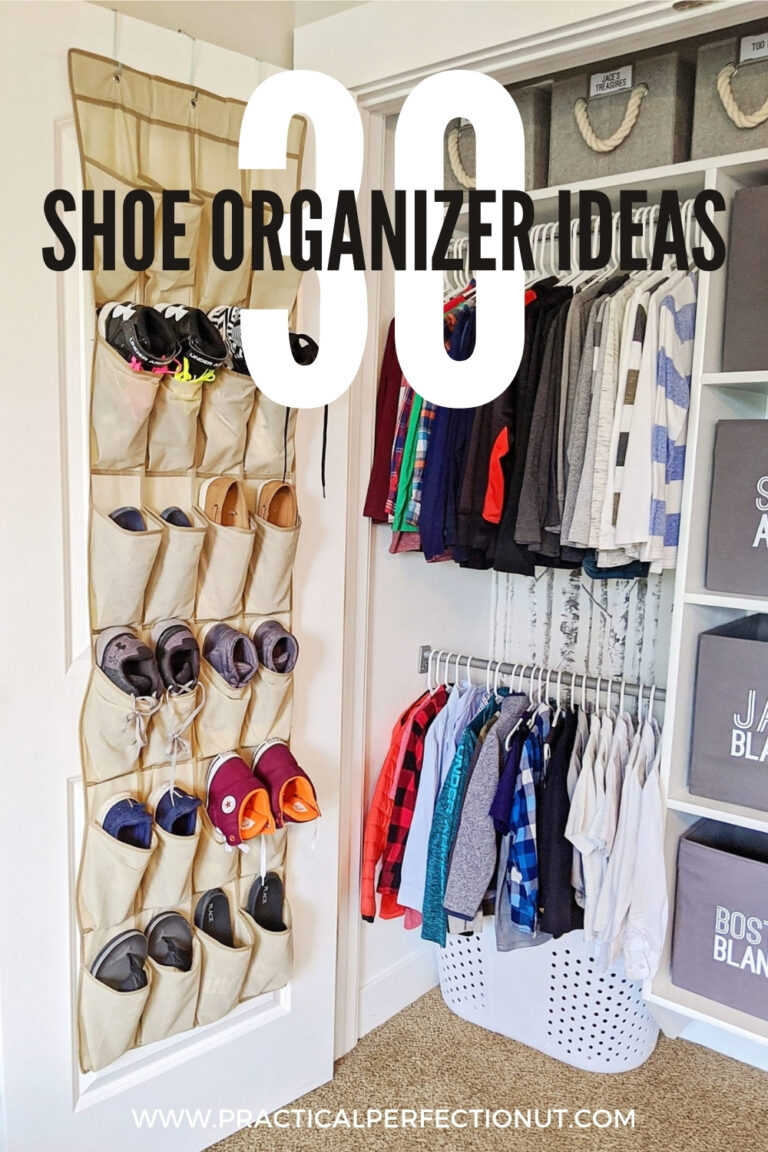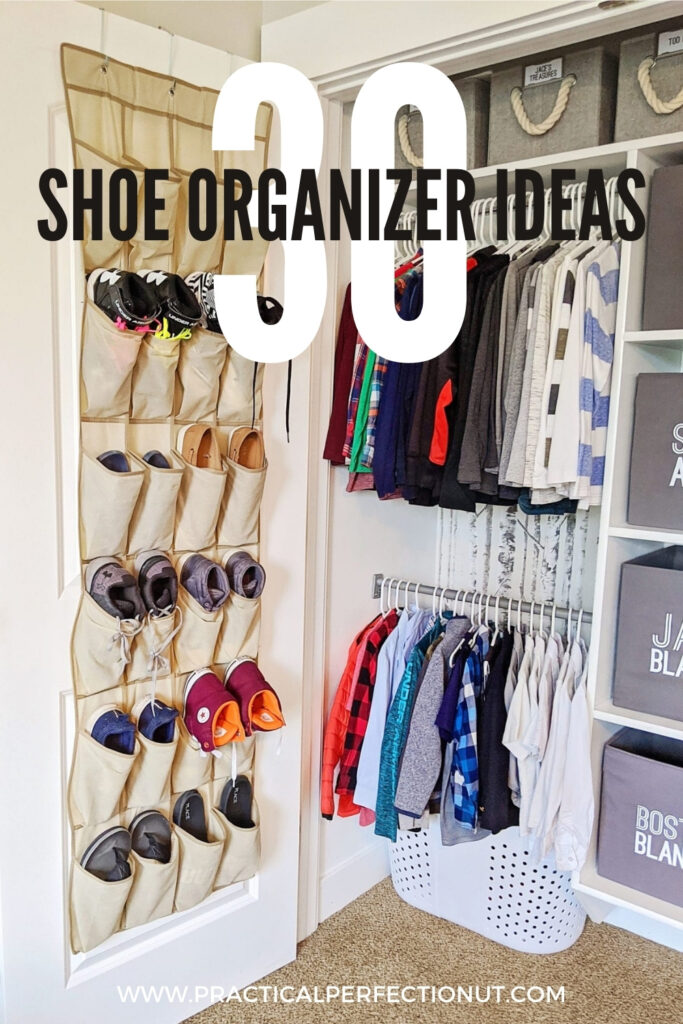 Store Shoes Under Your Bed
Another space-saving idea is to use under-bed storage for shoes that aren't worn as frequently. By using shallow, plastic containers with lids, you can keep dust and dirt off your shoes while still being able to easily access them.
If you're feeling crafty, you can even make your own under-bed shoe storage with wooden crates or boxes. Simply attach wheels to the bottom and slide them in and out as needed.

Use Shelves in Your Coat Closet
Shelves are an excellent solution that works for a variety of spaces. Shelving allows you to display your footwear visually, making it easier to locate a pair when needed. If you have any spare shelves, let them act as storage for shoes.
Remember, the key to effective shoe storage on shelves is organization. Group your shoes by type or season to make them easy to locate. Ensure you leave enough space between the pairs for proper ventilation and to prevent them from scratching or damaging each other.
You can also use shelves or bookcases in open spaces for your shoes. Shelves not only provide a practical space to store shoes but also act as home decor in your room. You can further enhance this by adding lighting or using stylish storage boxes.
Put a Tiered Shoe Rack by the Front Door
A tiered shoe rack by the front door can be a game-changer. This smart storage solution is not only functional but also adds a touch of elegance to your home's entryway.
Tiered shoe racks come in a variety of sizes and designs, allowing you to choose one that fits your space and aesthetic preferences. They offer multiple levels of storage, maximizing vertical space that would otherwise go unused.
This simple idea keeps your shoes easily accessible so you to quickly grab the pair you need when heading out.
Remember to organize your shoe rack by frequency of use; keep your favorite pairs on the top tiers for easy access and the ones you wear less frequently on the bottom tiers. This may be one of the easiest shoe organizer ideas that is easy to maintain and keep it looking tidy.

Buy a Storage Bench
Storage benches are an incredibly versatile option for shoe storage. Not only do they provide a designated area to store your shoes, but they also offer a convenient place to sit while putting on or taking off your shoes. The bench can be used to store less frequently worn shoes, keeping them out of sight but within easy reach.
Storage benches come in lots of styles and sizes, allowing you to pick one that complements your interior decor and fits your space. Some storage benches also feature pull-out drawers or compartments for additional organization (like keeping extra laces for your sneakers).
Consider placing the bench in your entryway or mudroom, where it will be most functional. With a storage bench, you get a two-in-one solution – a seating area and a neat, organized storage system for your shoes. This is a great shoe organizer idea because it hides the shoes and doubles as seating.
Use a Shoe Cabinet
Shoe cabinets are one of my favorite shoe organizer ideas, especially when placed in the entryway of your home. These cabinets not only provide ample storage space but also help maintain a clean, organized look in your entry room.
Shoe cabinets have specially designed compartments to keep your shoes tidy, preventing them from being scattered around. The doors of these cabinets keep shoes hidden from sight, which is especially nice in the entry room.
Remember to consider the size of your shoe collection and the available space in your entry room when choosing a shoe cabinet. With a well-selected shoe cabinet, you can ensure that your entryway remains inviting, organized, and free from shoe clutter.
Budget-friendly Shoe Organizer idea: Make a Your Own
Making your own shoe organizer can be a fun and creative project. You can use a variety of materials to create your own shoe organizer.
For instance, an old ladder can be re-painted and used as a unique vertical shoe rack. Wooden crates can be stacked and secured together to form a creative shoe cubby. PVC pipes cut into lengths can be glued together to form a fun, modern shoe rack. If you have an old bookcase that's not in use, consider converting it into a shoe organizer by adding adjustable shelves.
You can also hang crown molding on the wall to create a chic heel shoe display. Lastly, a peg board with adjustable pegs can be mounted on the wall to create flexible and easy-to-change storage. It can be really fun to think outside of the box when trying to come up with shoe organizer ideas.
Remember, the key is to think outside the box and get creative with the materials you have around you.
Buy a Shoe Organizer
If you want to buy a shoe rack or organizer for all your pairs of shoes, here are some ideas of what to look for, as well as some of my favorite products!
30 Shoe Organizer Ideas for Any Size Shoe Storage
Here are 30 different ideas for you to organize your shoe collection.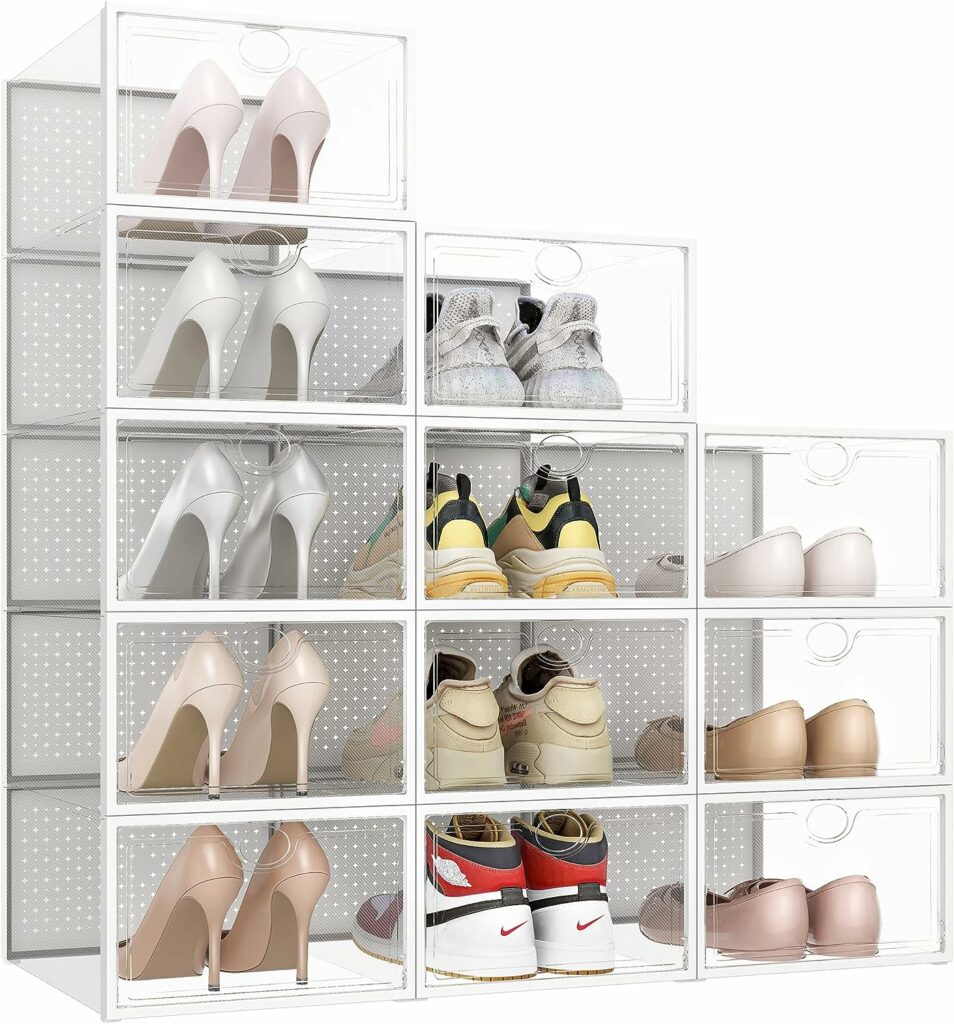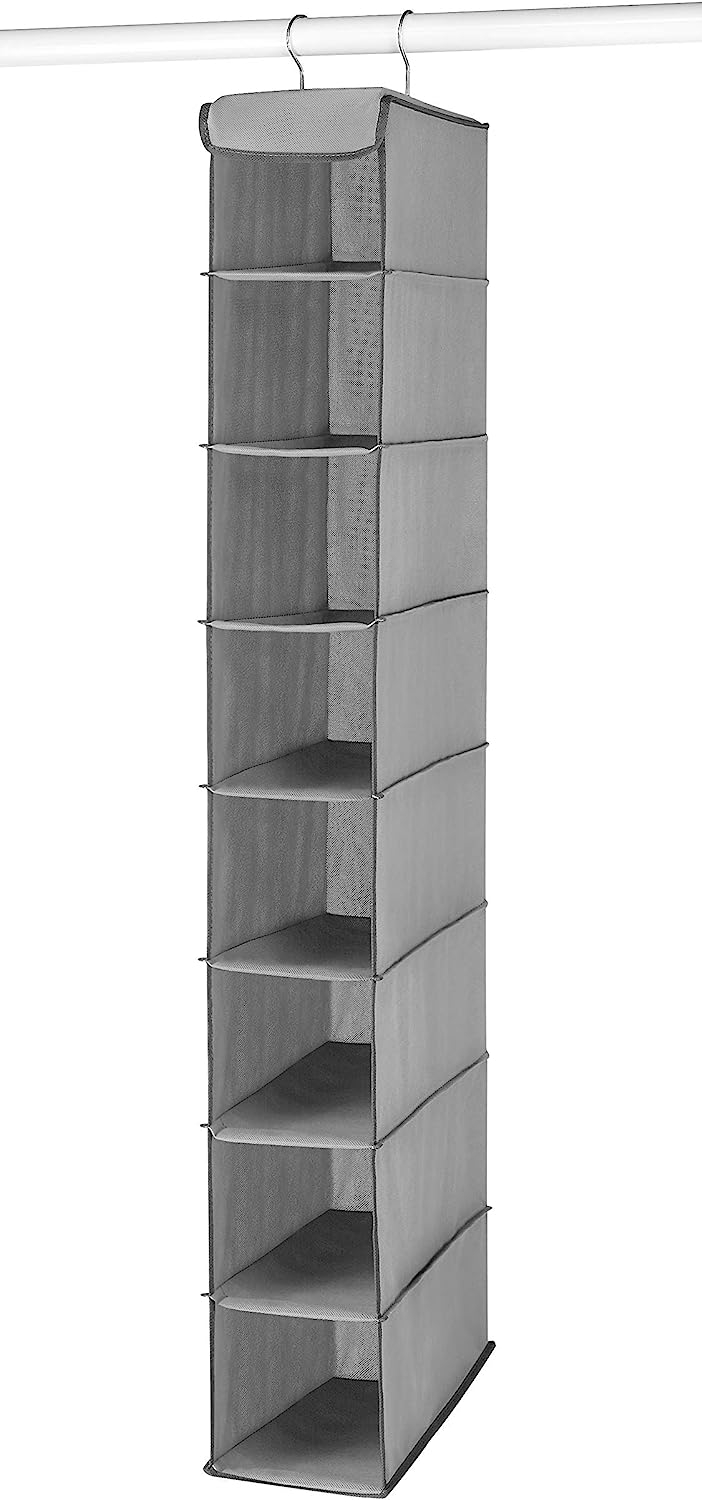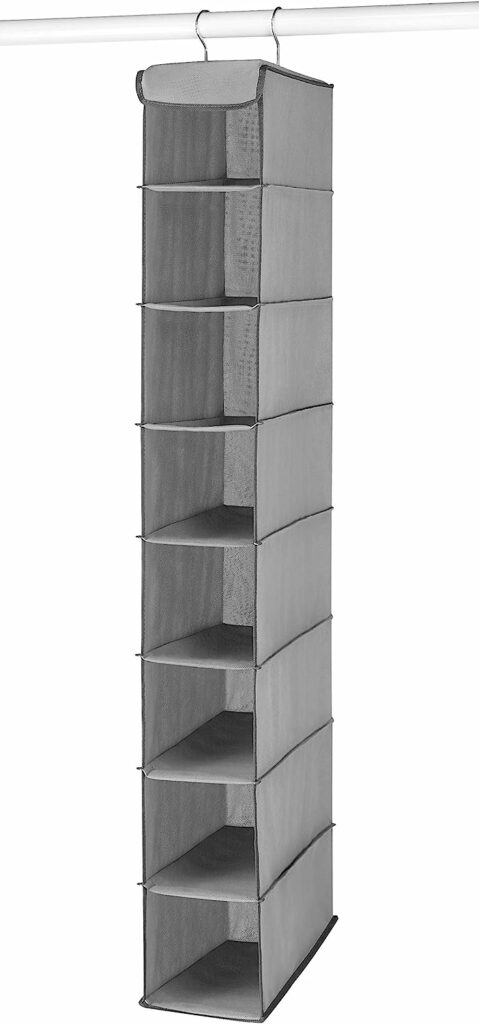 3. Under-the-Bed Box with Clear Top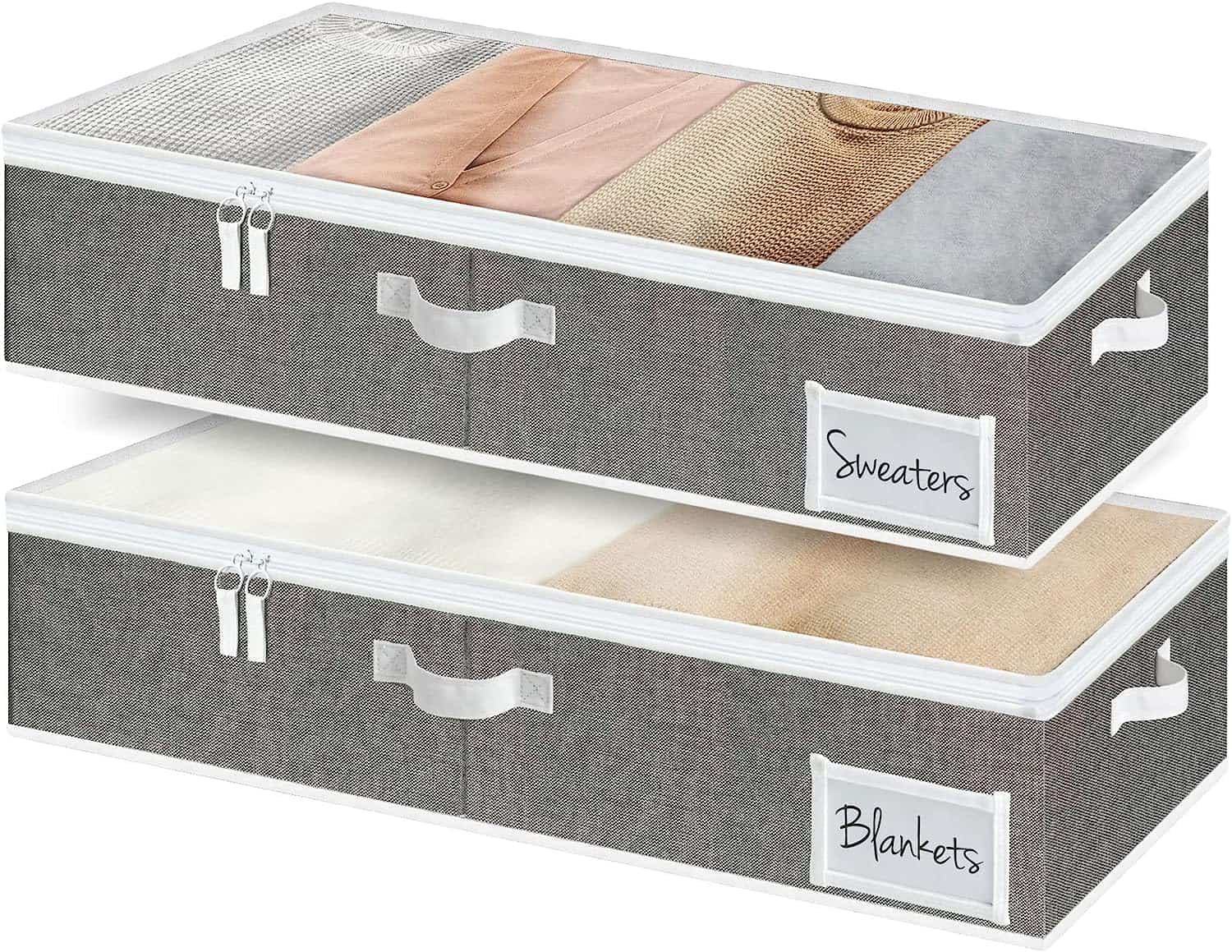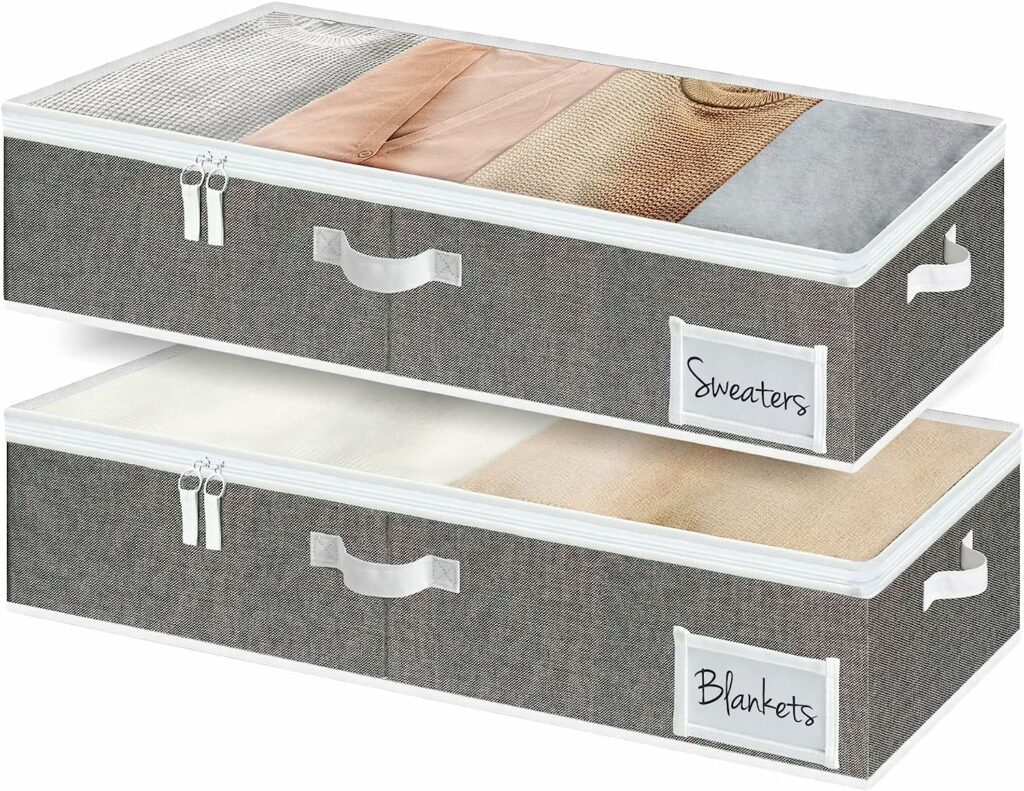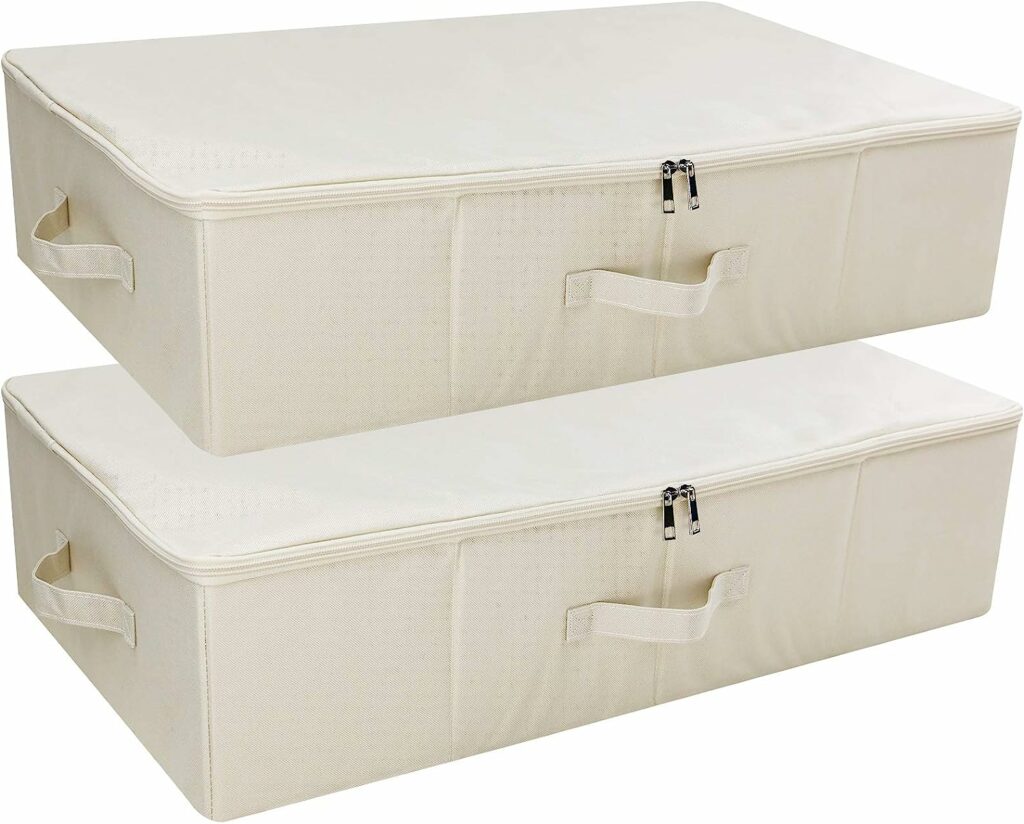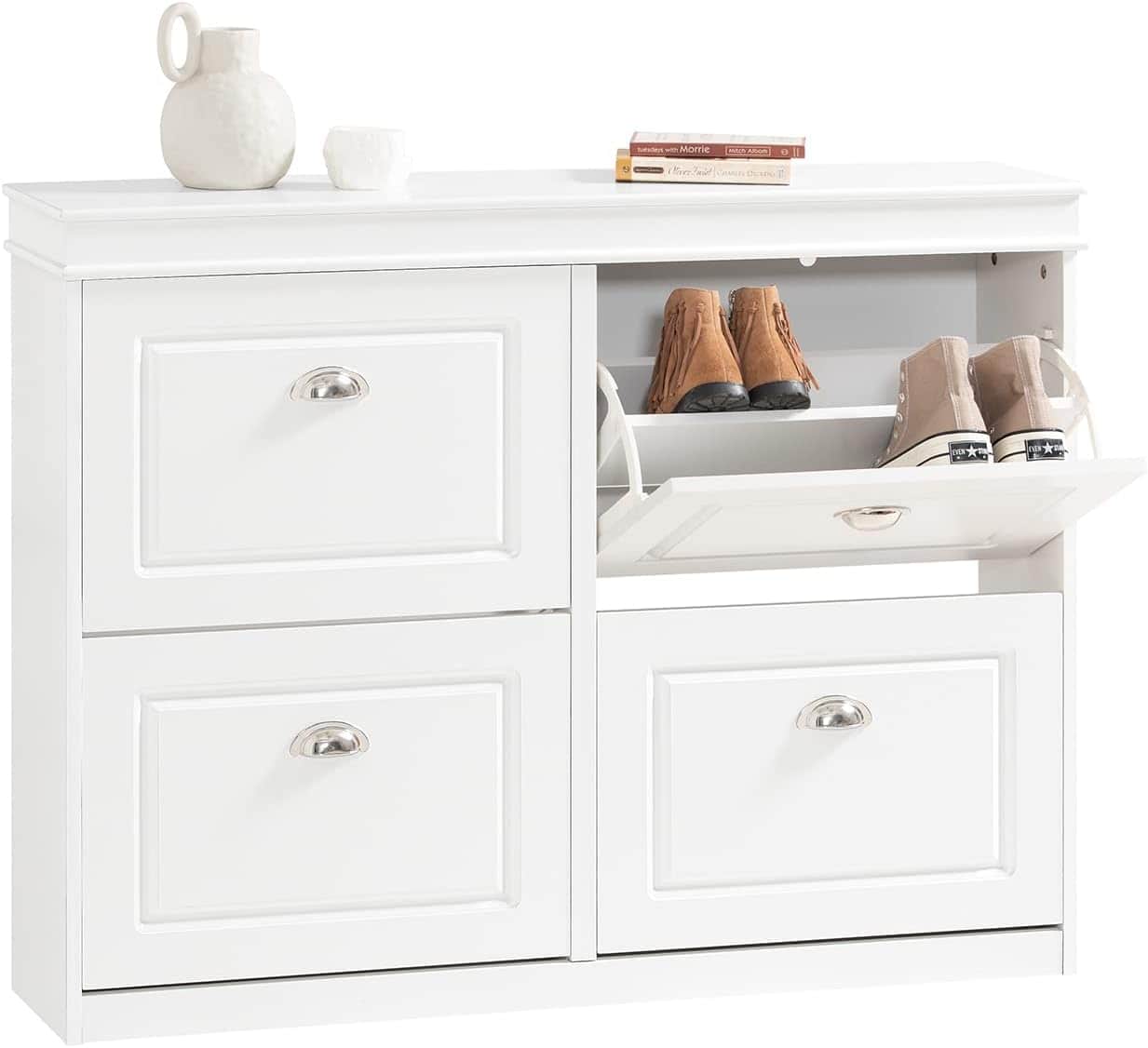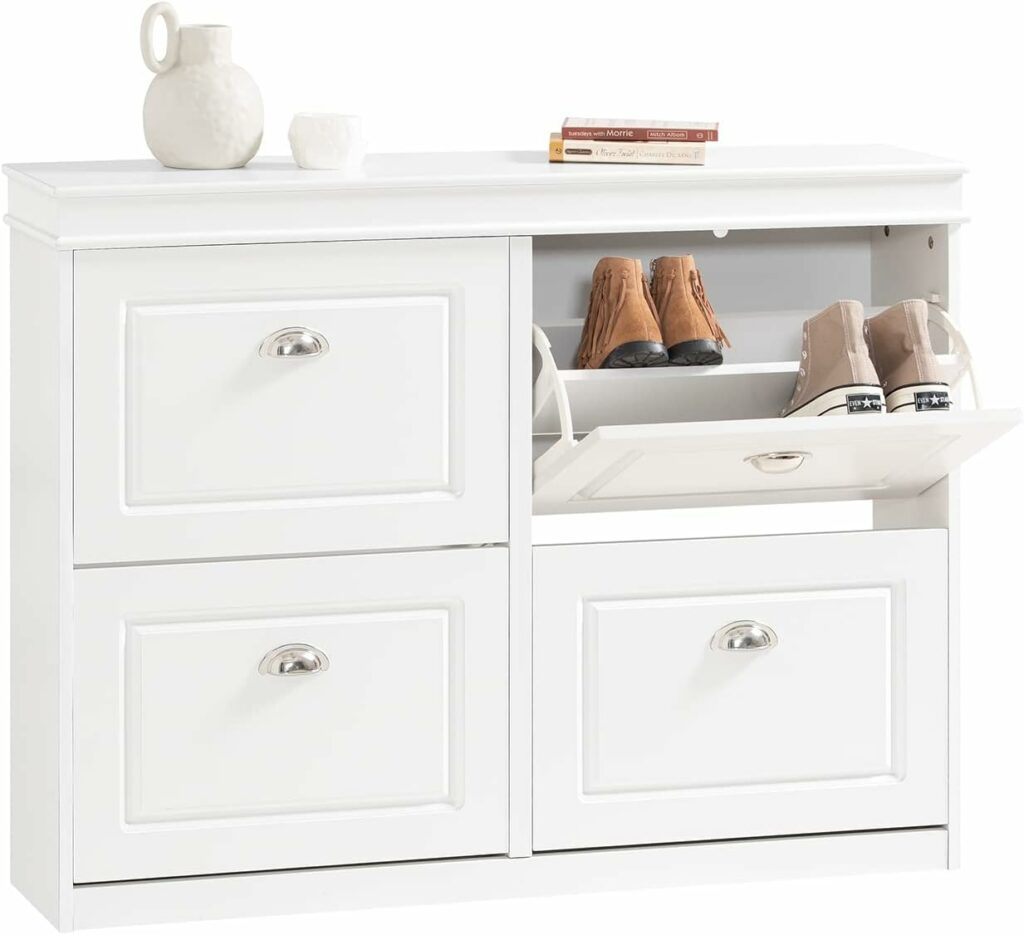 6. Over-the-Door Shoe Organizer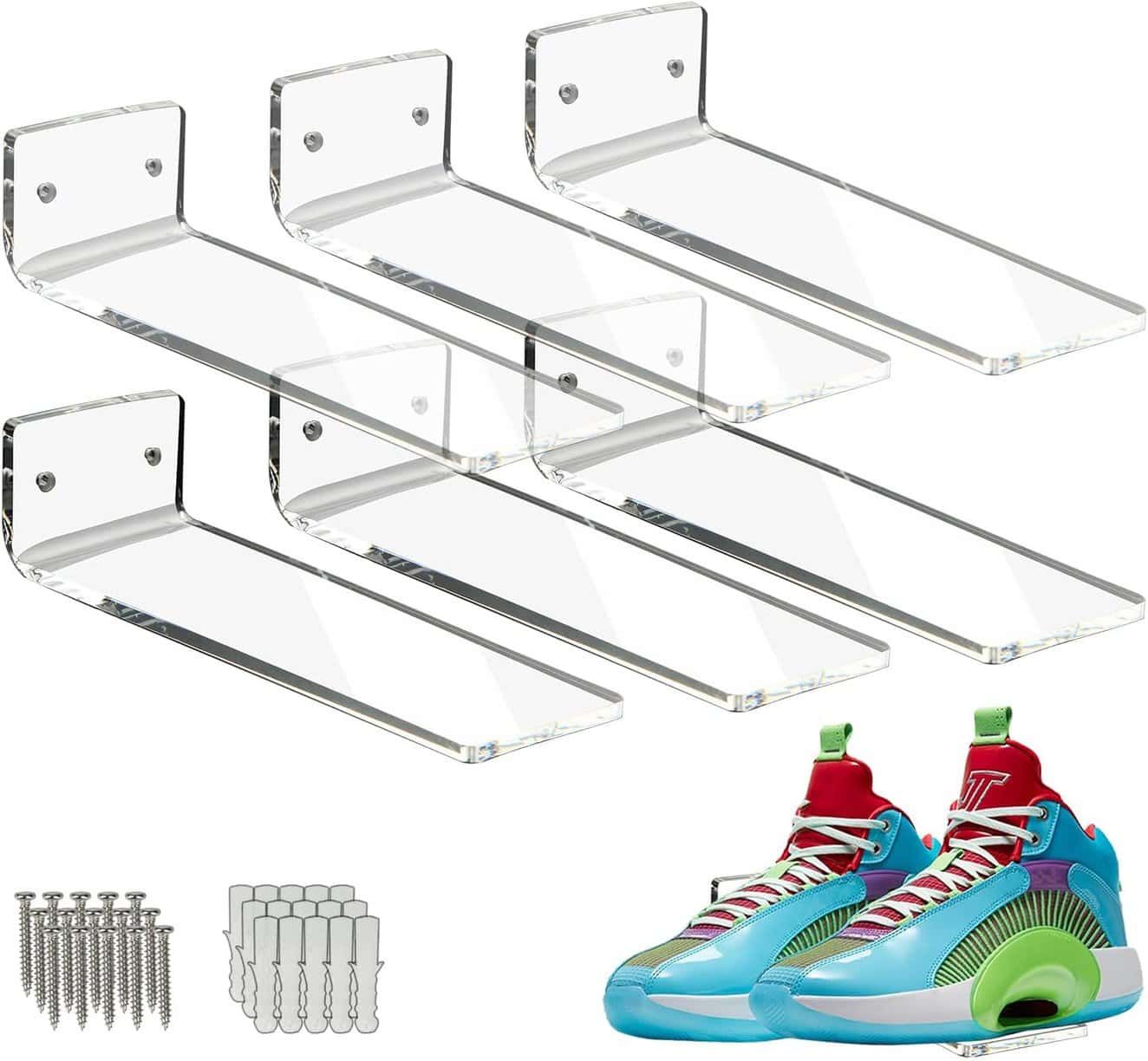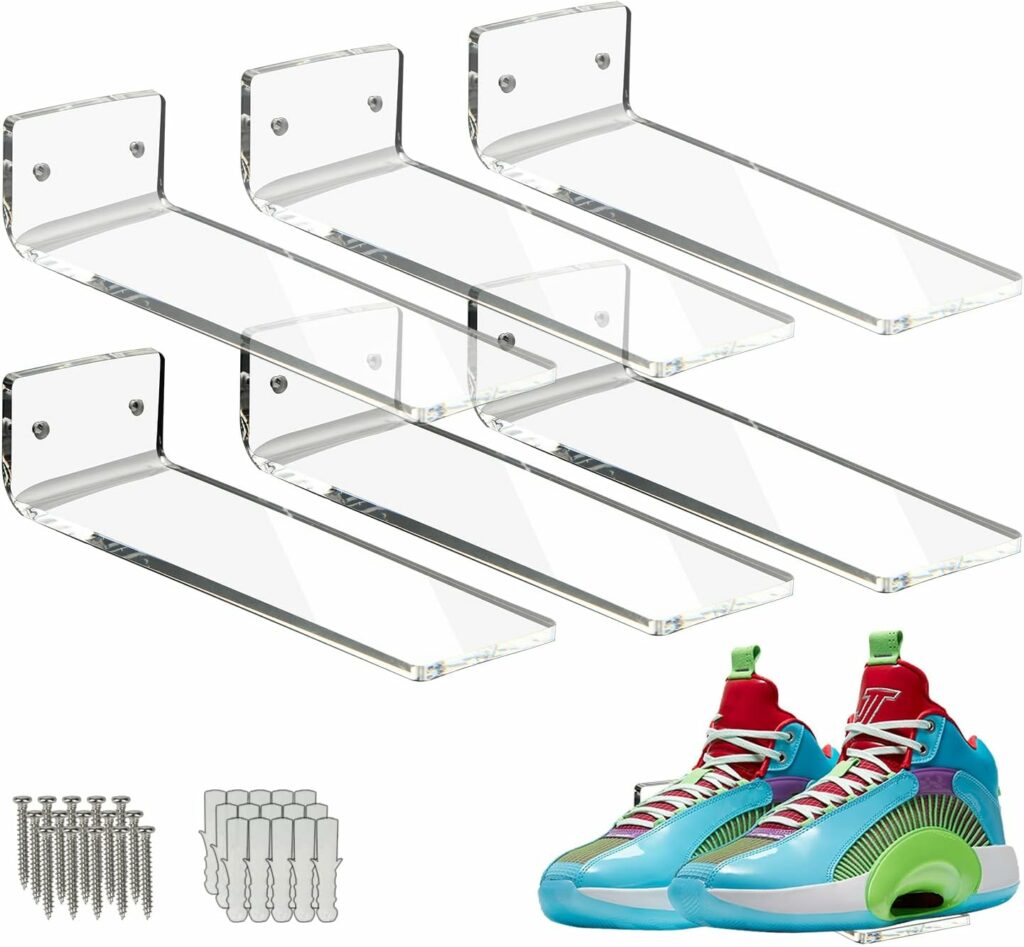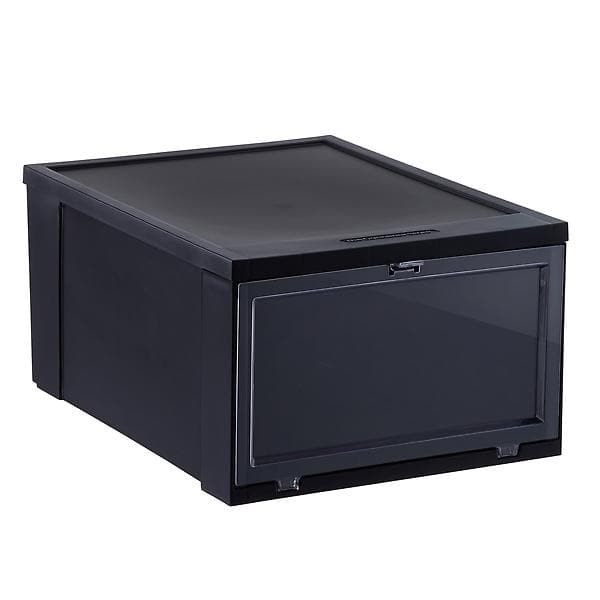 9. Clear Stackable Large Shoe Drawer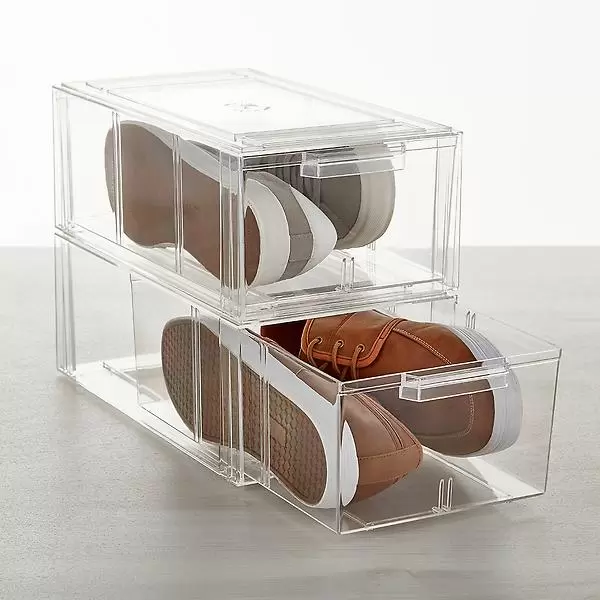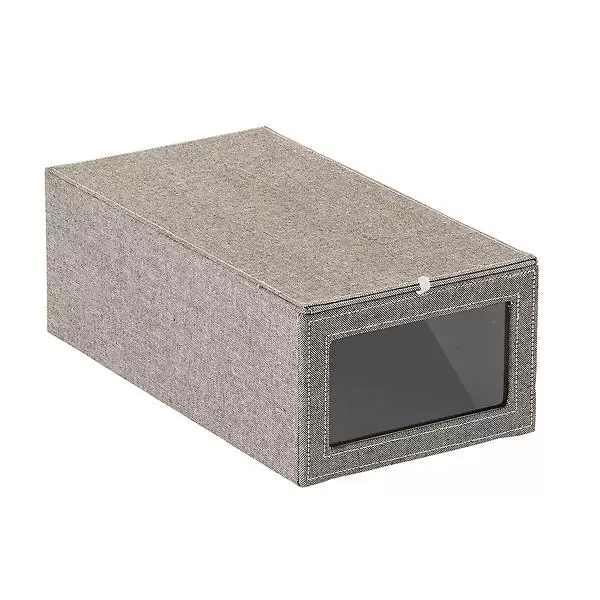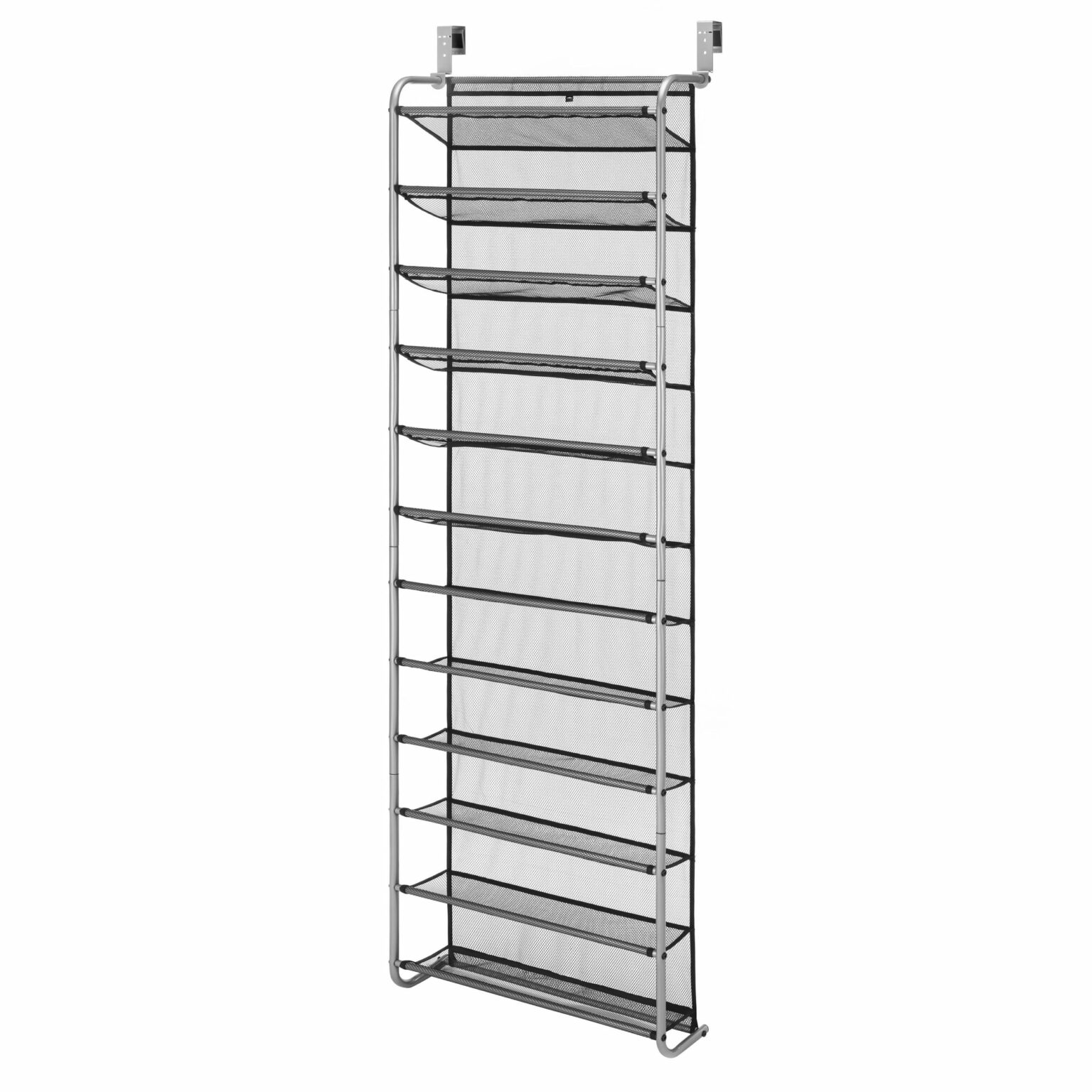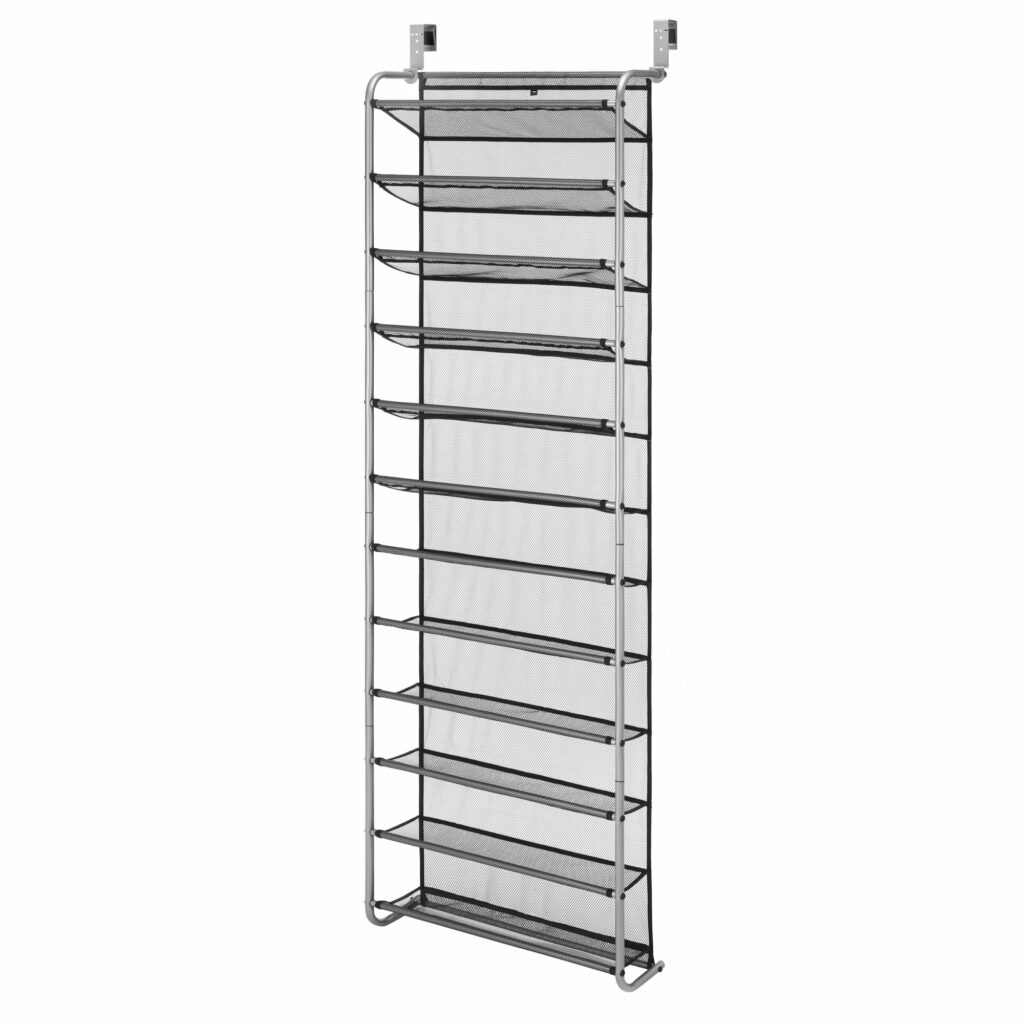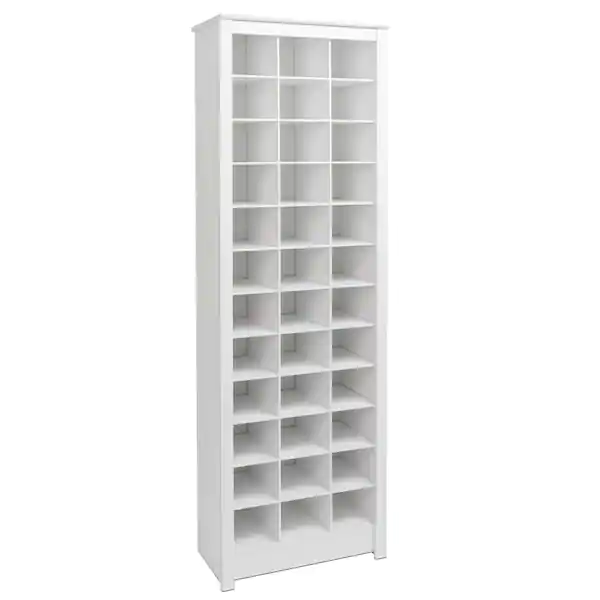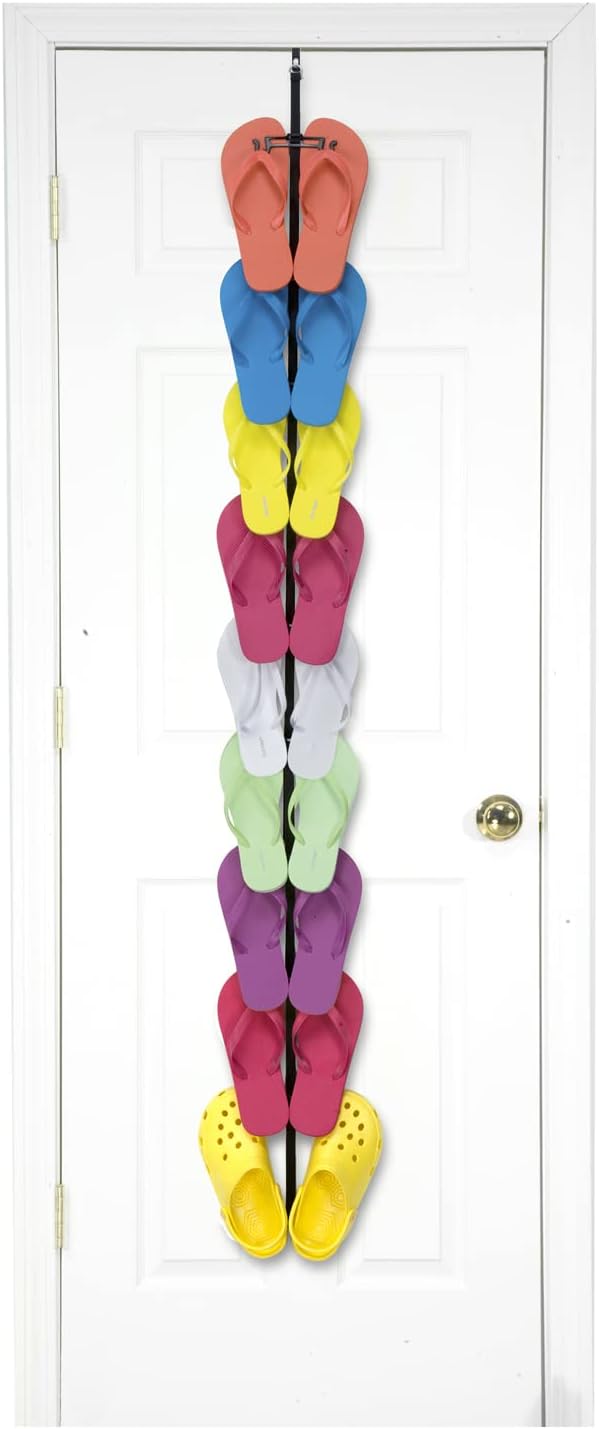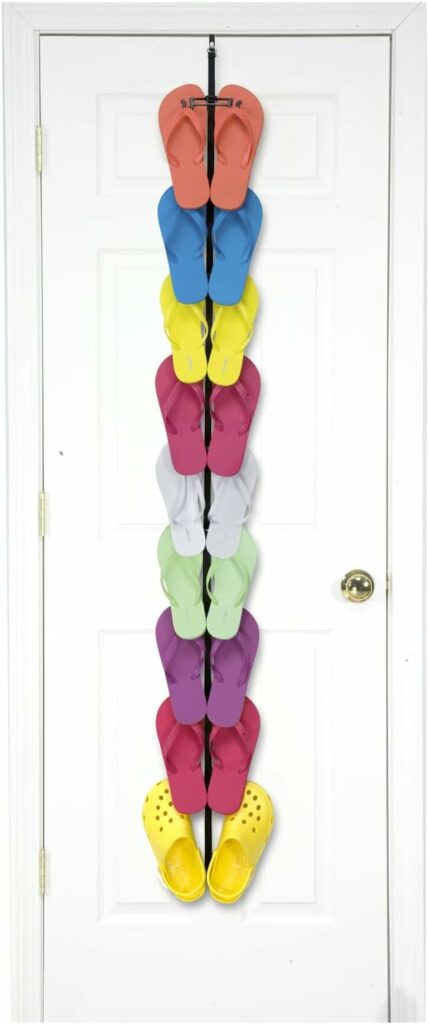 14. Stainless Steel Shoe Hangers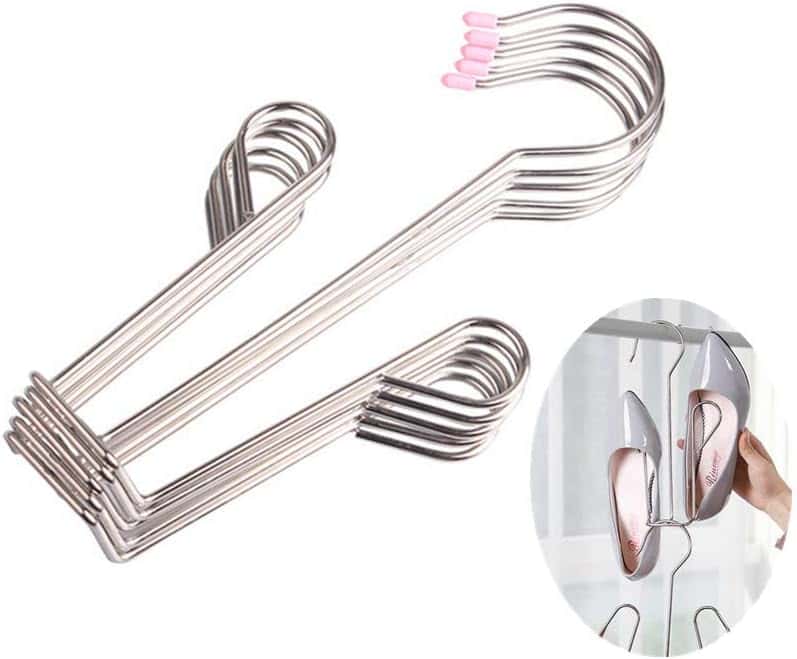 15. Boot Hangers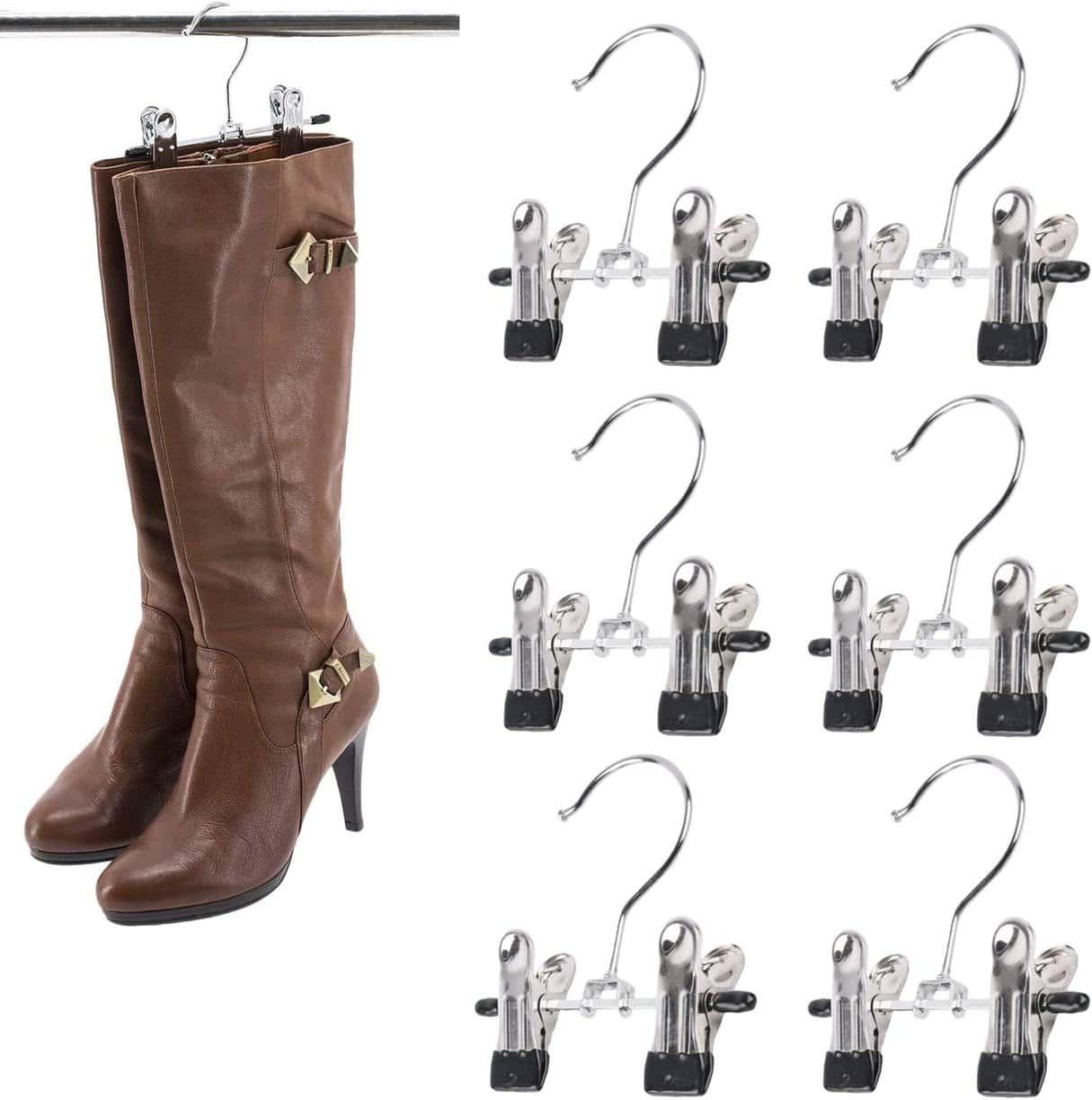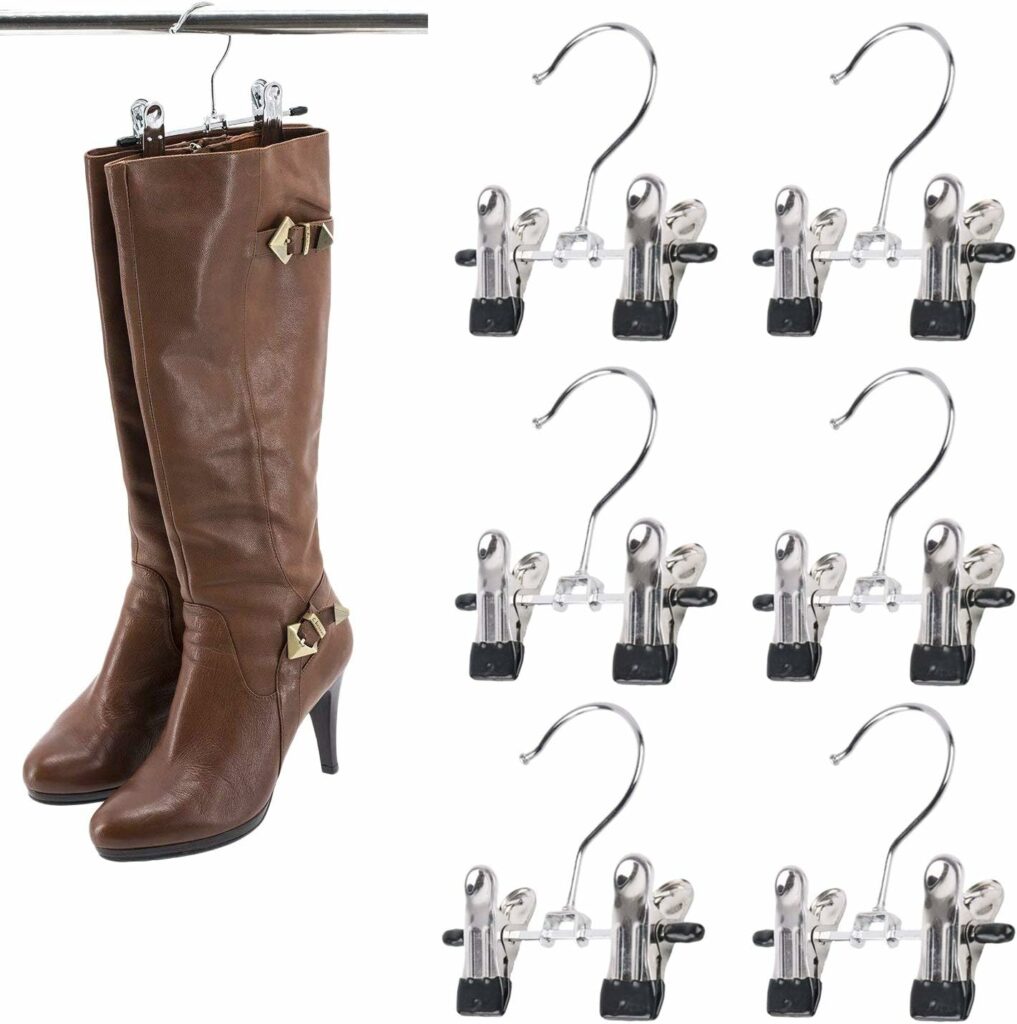 16. Lazy Susan shoe rack organizer for small spaces.
17. Repurpose old shoe boxes by cutting off the front and making cubbies.
18. Add dividers to dresser drawers.
19. Use cylindrical storage containers from the container store for unique storage.
20. Repurpose old clothing rack and add shelves to make into shoe rack.
21. Get a full-length mirror with shelves inside and add flats.
22. Put a basket near the garage for daily-wear shoes.
23. Install a floating shelf for everyday shoes.
24. Buy a shoe ottoman for double-duty storage and seating.
25. Create a shoe cubby under your staircase to utilize unused space.
26. Use a stylish vintage trunk or decor to store seasonal shoes.
27. Install a shoe carousel.
28. Convert a bookshelf in your home office into a shoe storage area.
29. Put seasonal pairs of footwear in boxes in the garage.
30. Here are some more ideas on Pinterest that you can look at for inspiration!
Also, remember that your storage boxes should have ventilation holes or some open spaces around the footwear to keep them fresh!
Organize Your Entire Footwear Collection with These Shoe Organizer Ideas!
Keeping your family's shoe collection organized doesn't have to be super hard. With a bit of creativity, you can find shoe organizers that work for your space and your family's needs.
Whether you make your own with old shoe boxes or purchase a shoe rack, find a functional and aesthetically pleasing solution. So, go ahead and tackle that pile of shoes with confidence – you've got this! I hope you've found these shoe organizer ideas helpful!