The Incredible Benefits of Using Perk Energy
If you're looking for a healthy alternative to hot chocolate, coffee, or other drinks, then you need to check out Perk Energy! Their flavors are incredible and they have amazing ingredients such as collagen, BCAA's, grape seed extract, and more! Not only are their products delicious and healthy, but they also provide a ton of benefits for your body and mind, they're not just empty calories!
**I want to mention that I am an affiliate of Perk but my opinions are all my own and I genuinely LOVE this company and its products. They do not sponsor this post and all of the products that you see in my photos, I purchased myself.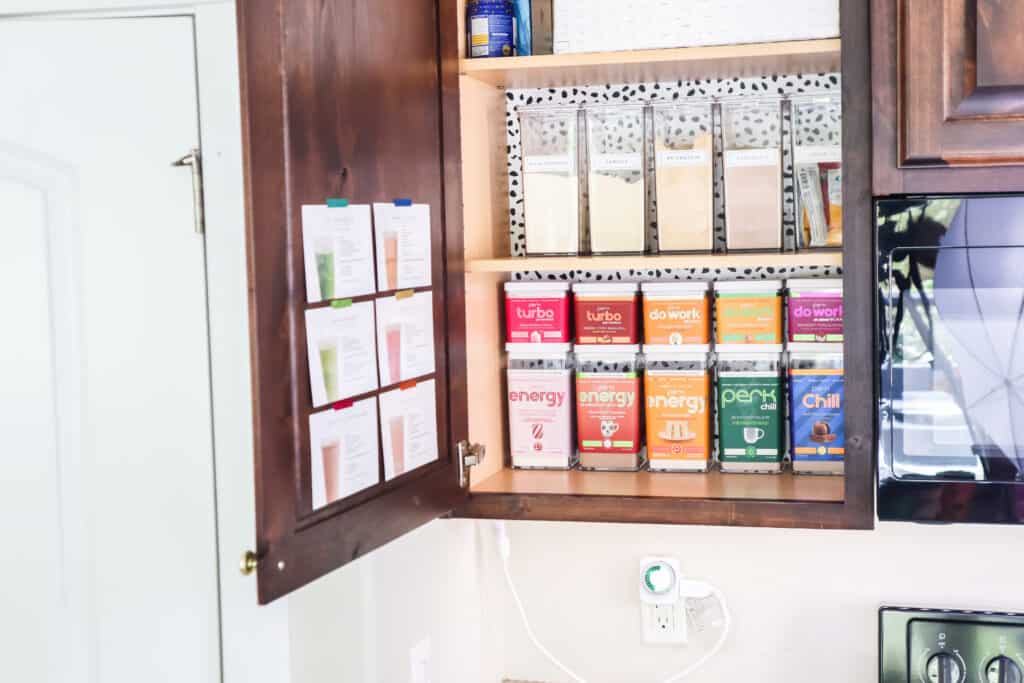 How to does Perk taste?
There are a lot of drink mixes out there that claim to be healthy but don't taste great. This is not the case with Perk! Their products are absolutely delicious and come in a variety of amazing flavors. It's like a party in your mouth! I honestly look forward to drinking Perk every single day!
I personally love how Perk has zero added sugar and it really helps to curb my sugar cravings when I'm trying to eat healthier!
Pro Tip: Buy from the perk website
Generally, the Perk website is going to have the best deal on pricing. Amazon is always priced higher than the Perk website.
If you use my coupon code: MICHELLE HANSEN you can get 15% off anytime!
How do you Make Perk Energy?
There are a few different ways to make Perk Energy. But generally, I mix the Energy and the Chill varieties with hot water and drink it from a mug. If I'm really trying to pack in the protein and collagen, sometimes I gradually pour in a scoop of Vital Proteins.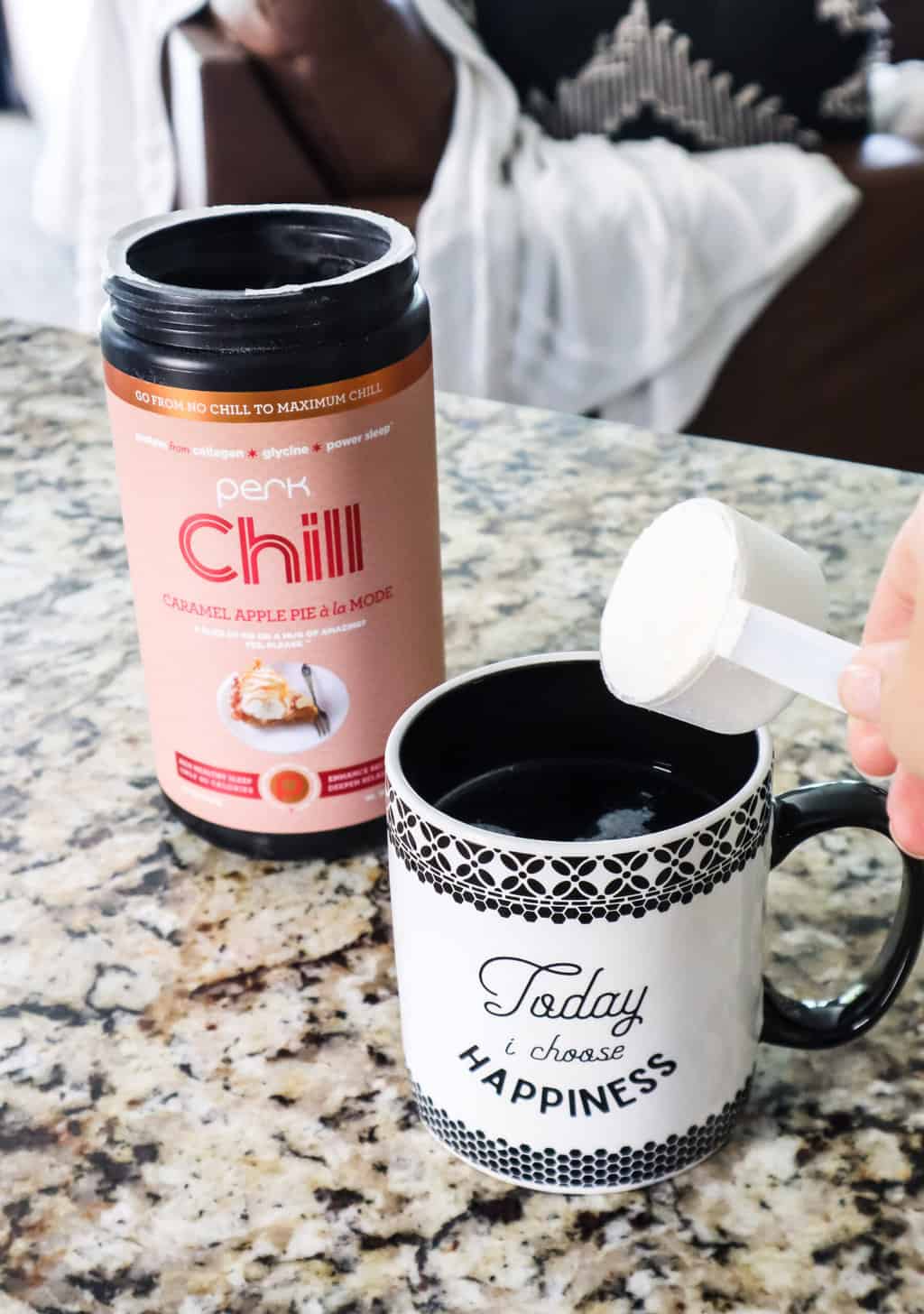 If you are drinking the Turbo or the Do Work varieties, it's best to usually drink them with cold water and blend it up in a Blender Bottle.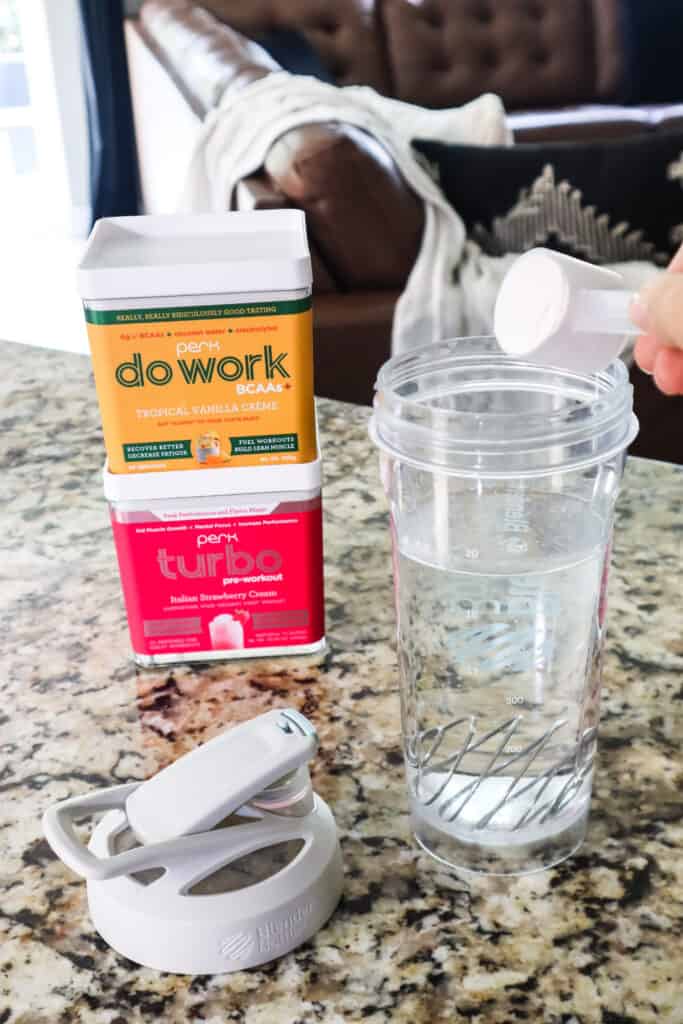 I will mention that I use my frother every time that I drink the Energy or the Chill. It seems to mix much smoother when I do.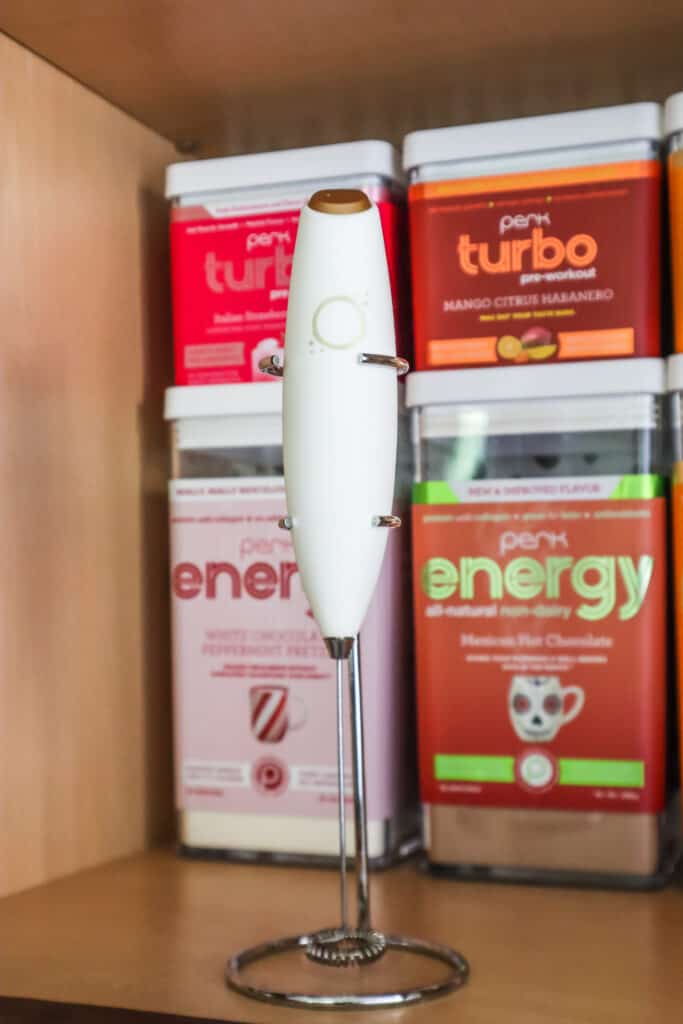 What Types of Drinks Does Perk Have?
Perk has a great variety of delicious drinks that serve various purposes. But no matter what type of product you are looking for, perk tastes pretty incredible and I look forward to drinking mine at least once a day, depending on what I need at the time.
They often refer to their beverages as "emotional support beverages" and this really rings true to me! This has often served as a pick-me-up for me when I've been having a hard day!
Perk Energy has 4 different areas of types of drinks:
Energy
Chill (helps relax and calm)
Turbo (pre-workout)
Do Work BCAA's
Perk Energy
The Perk Energy drinks have caffeine, collagen (to support healthy hair, skin, and joints), no added sugar, Vitamin D, Quercetin (which helps improve cardiovascular and athletic performance), and more!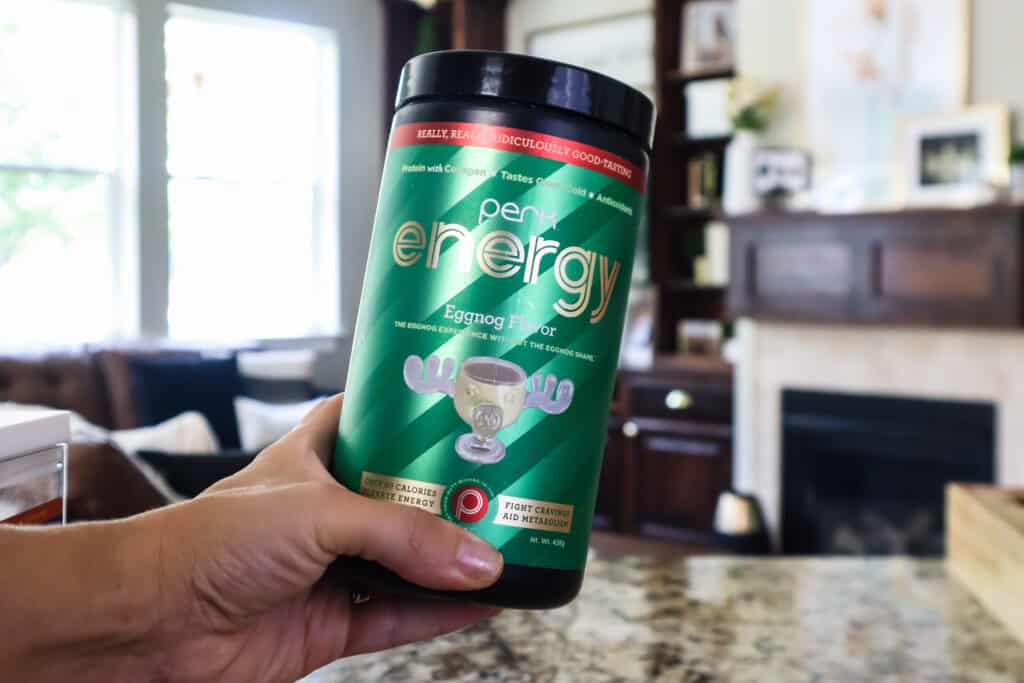 With Perk Energy, you simply add one scoop of powder into warm (but not boiling) water (preferably in a mug or insulated cup) and stir with their perk frother. This makes the drink perfectly smooth! Add this to an insulated cup and take it with you when you're on the go!
Their chai-flavored beverage mix is their most popular flavor!
Current Perk Energy Flavors (they add more all the time!):
Peach Crisp Cake (MY FAVORITE)
White Chocolate Peppermint Pretzel (Really good!)
Chai Latte (their most popular drink!)
Dutch Hot Cocoa
Mexican Hot Chocolate (this is yummy, too!)
Eggnog (LOVE this one!)
Perk Chill
Perk Chill is a great way to relax and recharge. It has a "slow absorbing protein blend", collagen, glycine to promote relaxation and sleep quality, Vitamin B6, and more!
I LOVE the Chill because I love watching a movie at night with a drink of hot chocolate. But the last few years,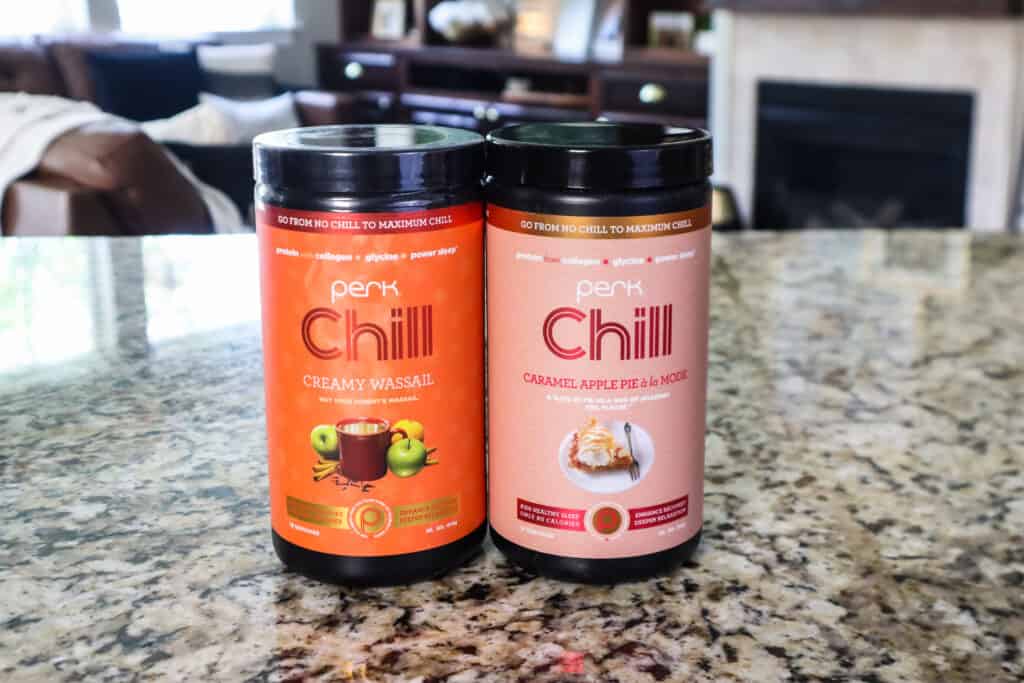 Perk Chill has a variety of flavors such as:
Chai Latte (also available in Chill)
Mexican Hot Chocolate (also available in Chill)
Apple Pie A la Mode
Mint Chocolate (SO good!)
Chocolate Salted Caramel Pretzel (really good!)
Dark Chocolate Orange (one of my top favorites!)
Perk Turbo
The Perk Energy Turbo drink mixes are the perfect pre-workout formula for giving you the energy you need for a great workout! The powder is packed with tons of healthy ingredients like calcium, it has zero sugar, and helps you build lean muscle. It's also low in calories, which is great in my book!
Perk Turbo flavors:
Italian Strawberry Cream (DELICIOUS!)
Mango Citrus Habanero (I loved the mango flavor the spicy aftertaste wasn't my favorite)
Blueberry Tangerine (This was pretty tart)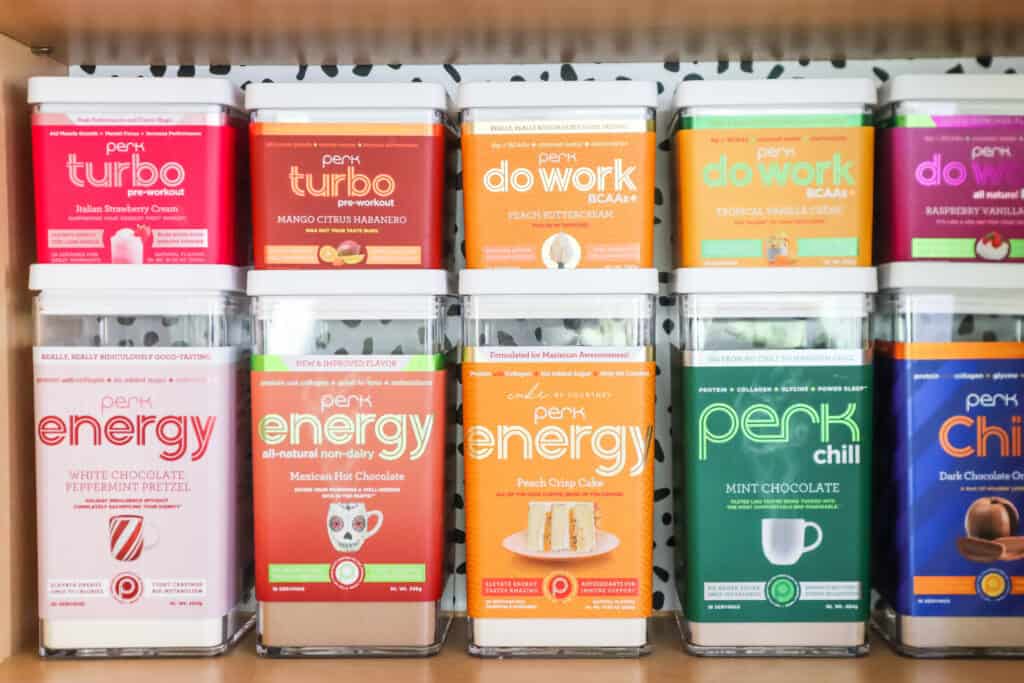 Perk Do Work BCAA's
Do Work BCAA's have some great flavors as well! These drinks are great for "supporting intra-workout energy and post workout muscular recovery". It's also low in calories. They have tons of other great ingredients to support a great workout.
Perk Do Work BCAA flavors:
Tropical Vanilla Creme (this one is delicious!)
Raspberry Vanilla Creme (this one was pretty good)
Mojito Lime Creme (I didn't like this one)
Peach Buttercream (my FAVORITE!!)
Want 15% off?
You can get 15% off your order if you use my code:
MICHELLEHANSEN

What are some of the benefits of using Perk Energy?
Some of the incredible benefits of using Perk Energy include:
Improved mental clarity and focus
Reduced stress and anxiety
Increased energy levels (when drinking Energy or Turbo)
Better sleep (when drinking Chill)
Improved skin, hair, and nails (the collagen helps with this!)
If you are looking for a healthy alternative to hot chocolate, coffee, or other sugary drinks, then Perk Energy is a great option! Their flavors are incredible and they have amazing ingredients with low sugar…especially compared to a mug of hot chocolate.
How Much Caffeine is in Perk Energy?
While the amount of caffeine in Perk Energy varies by flavor, all of them have around 100mg of caffeine for each scoop of powder. So, if you are looking for a natural boost, then Perk Energy is a great choice! And many people say that Perk tastes way better than coffee!
The Perk Energy drinks give you just enough caffeine to get you through the day. On average, an 8 oz. cup of coffee has about 80-100 mg of caffeine.
What Ingredients are in Perk Energy?
Because there are a variety of drinks that Perk sells, there isn't a specific set of ingredients that each one has. But generally, all of the drinks have some form of protein (usually around seven grams). In addition, many of the drinks also have vitamins and minerals to help you reach your daily needs.
One unique ingredient that is in some of the Perk Energy drinks is collagen. Collagen is very good for your hair, skin, and nails. It is also known to help with joint pain and can increase muscle mass.
Another great ingredient that is in some of the drinks is BCAA's. BCAA's are branch chain amino acids and they are essential for building muscle. They also help with recovery after a workout and can reduce fatigue.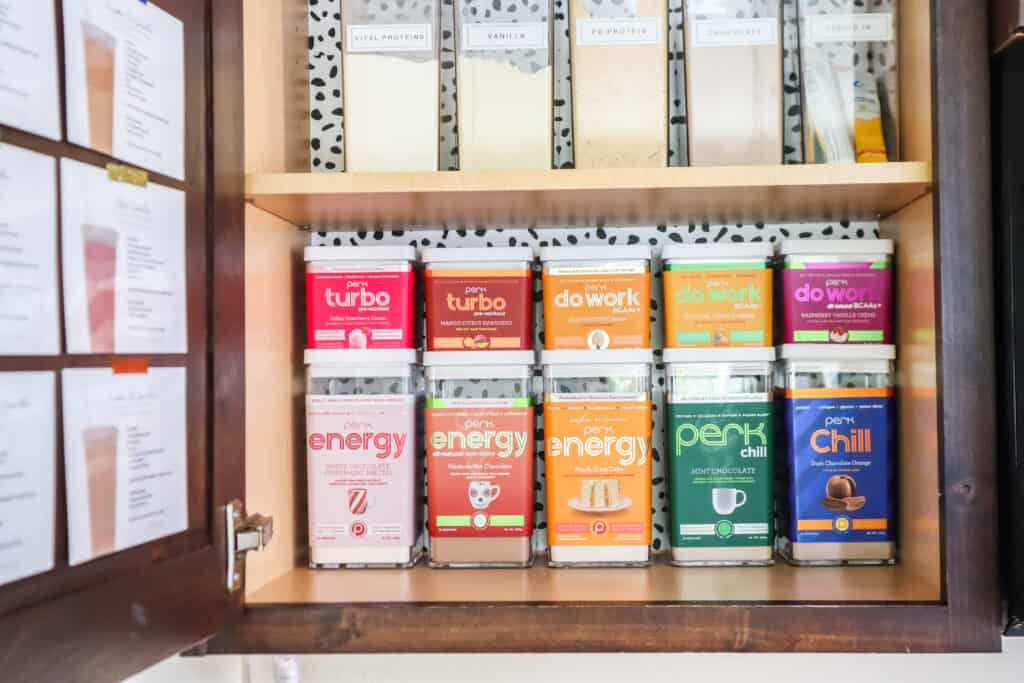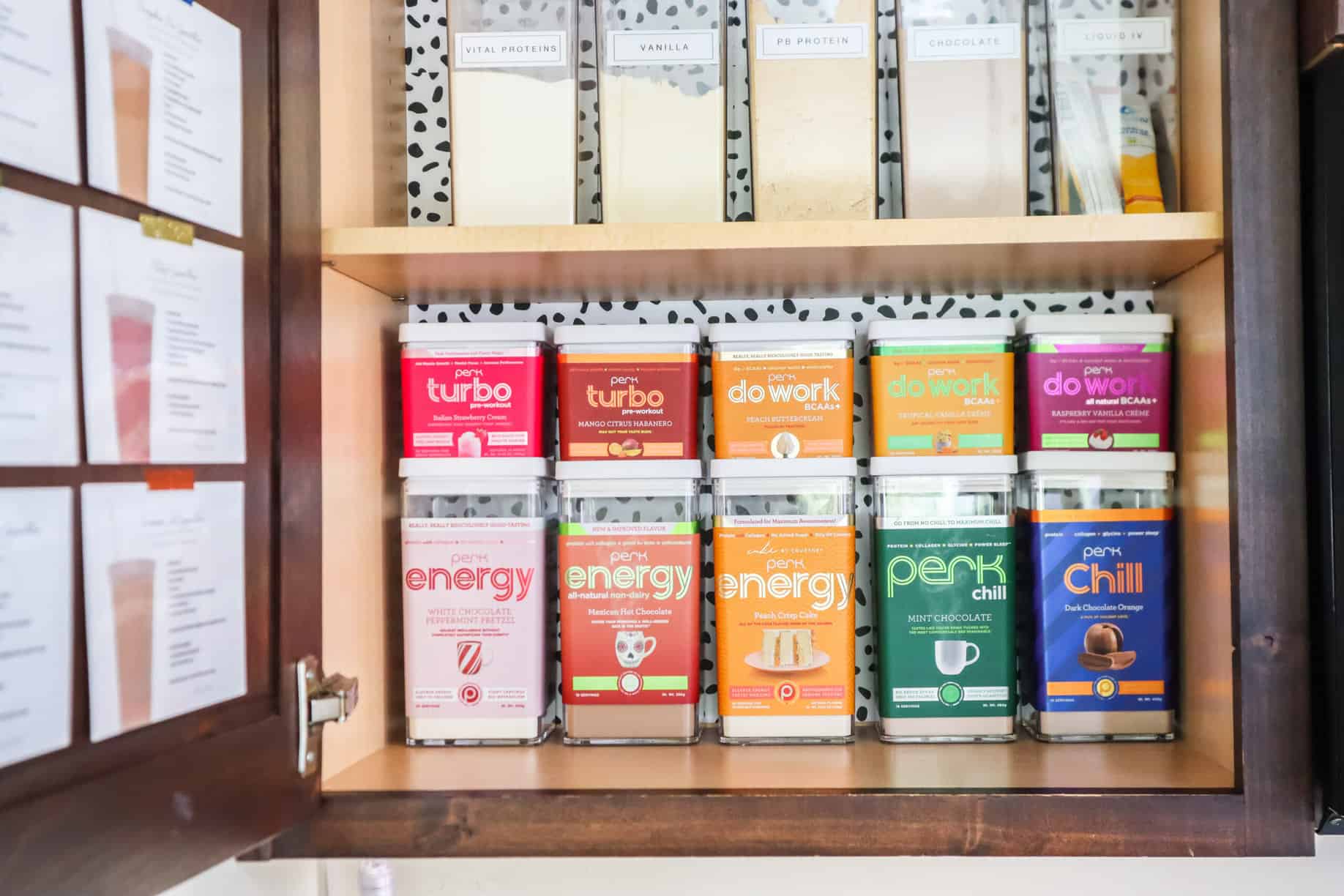 Is Perk Energy a Pre-Workout?
Most varieties of Perk Energy are not a pre-workout. It is an all-natural energy drink mix that can be enjoyed any time of day. BUT, if you drink the Turbo drinks…they are a pre-workout.
Perk Energy is the perfect alternative to sugary drinks, coffee, and other unhealthy beverages. It is packed with nutrients and antioxidants that help improve your overall health! I love how the Turbo drinks have low calories (around 35) but it's super flavorful and delicious!
I hope this article has been helpful for you! I personally LOVE Perk and highly recommend it. I am a lifetime customer!