24 Incredible Ideas for A Fun and Organized Summer Break!
Summer break is a time for fun and relaxation! But it can also be overwhelming if we're not prepared. This blog post will give you some incredible ideas to make the most of your summer with kids at home! You can create a snack station, deep clean the playroom, stock up on craft kits, and more!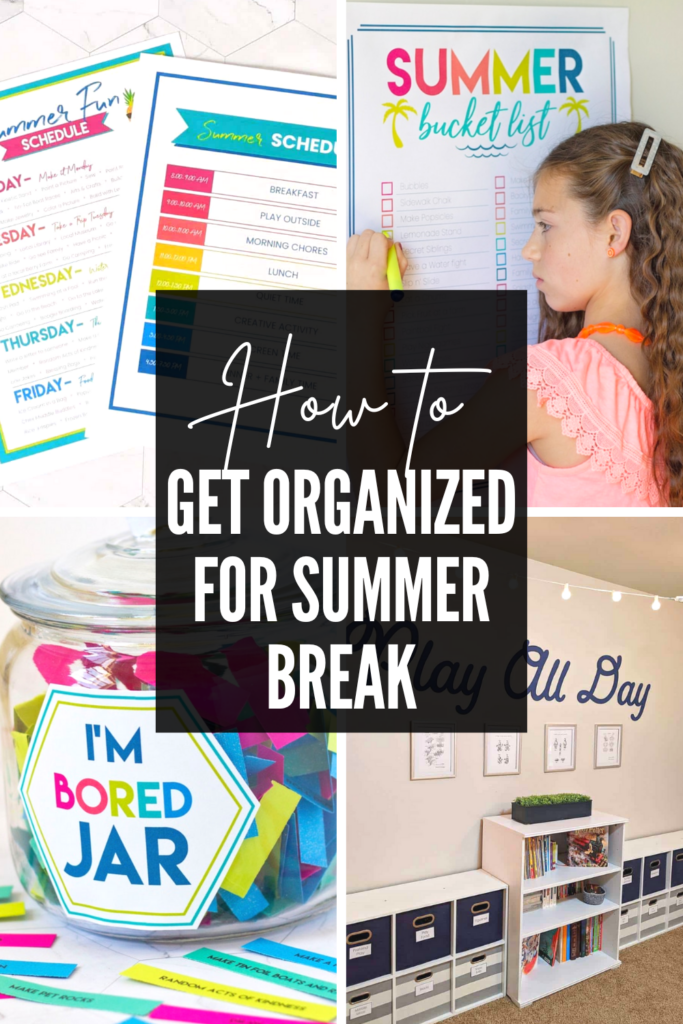 This is your ultimate summer organization guide that is going to help you have a great summer with your kids. Because you only have 18 summers with your kids before they are gone! So take some extra time to be prepared to ensure that you have an organized, great time this summer.
How to Prep for Summer Vacation
1. Deep Clean the Playroom
Your kids are going to be spending a lot of time in the playroom so one of the first things you can do to prep for summer break is to deep clean and organize the playroom. This will help to keep the space tidy and organized so that your kids can easily find things to play with.
Declutter broken or lost toys and consider donating toys that your kids have grown out of. This way you can make sure that the playroom is filled with the toys that they love!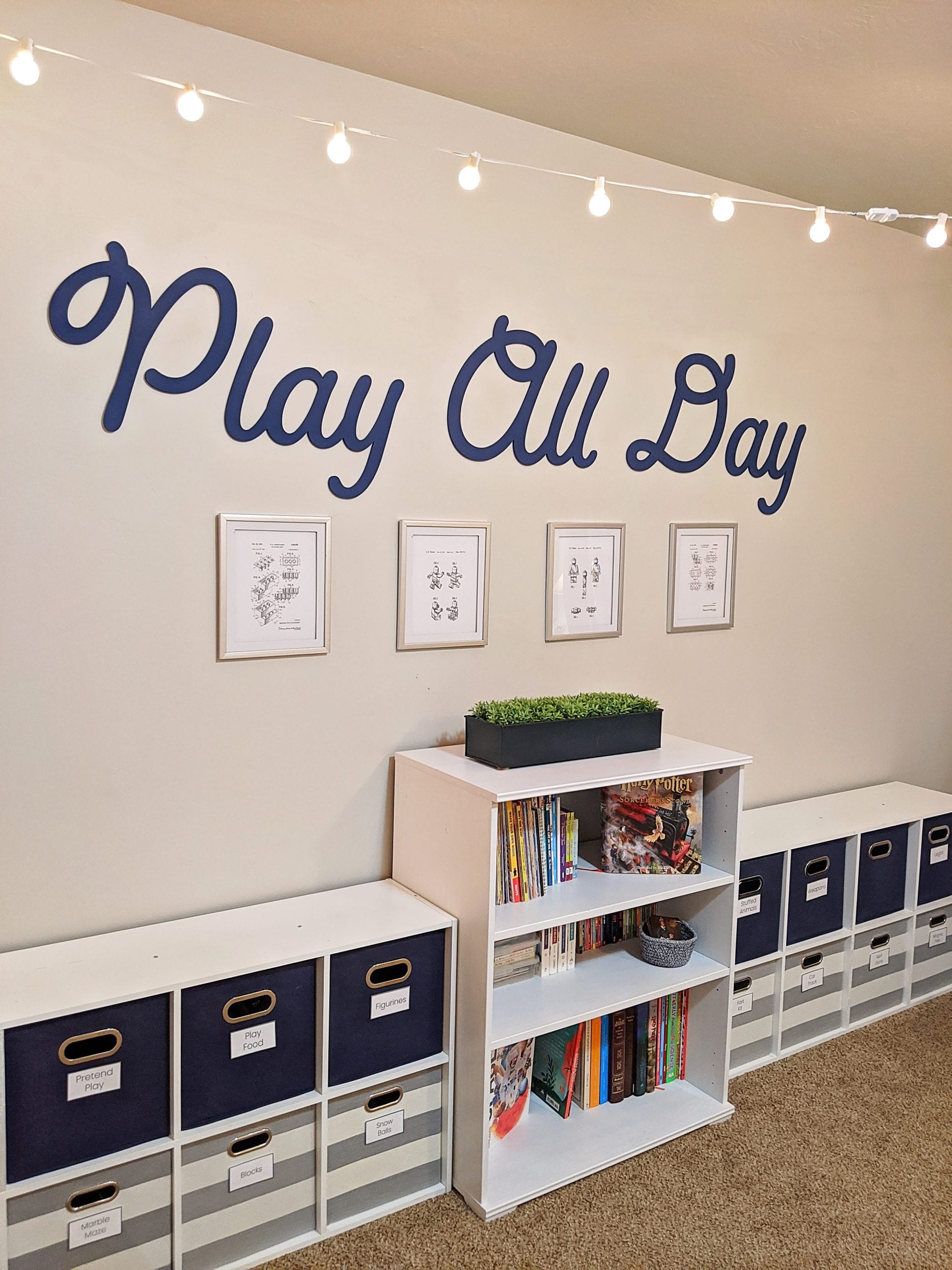 If you don't have a playroom, now is the time to create one! You can use an unused room in your house or even set up a space in your living room. Just make sure that there is plenty of storage.
This is a great way to fill up free time! And if you want you can even plan ahead and help involve your kids in the process. Here is a blog post with my playroom organization tips.

2. Create a Summer Bucket List
Creating a summer bucket list is one of the best things you can do to make sure your whole family enjoys every minute of summer vacation! Brainstorm a list of activities with your kids and then post it somewhere visible so everyone can help plan and check things off as you go.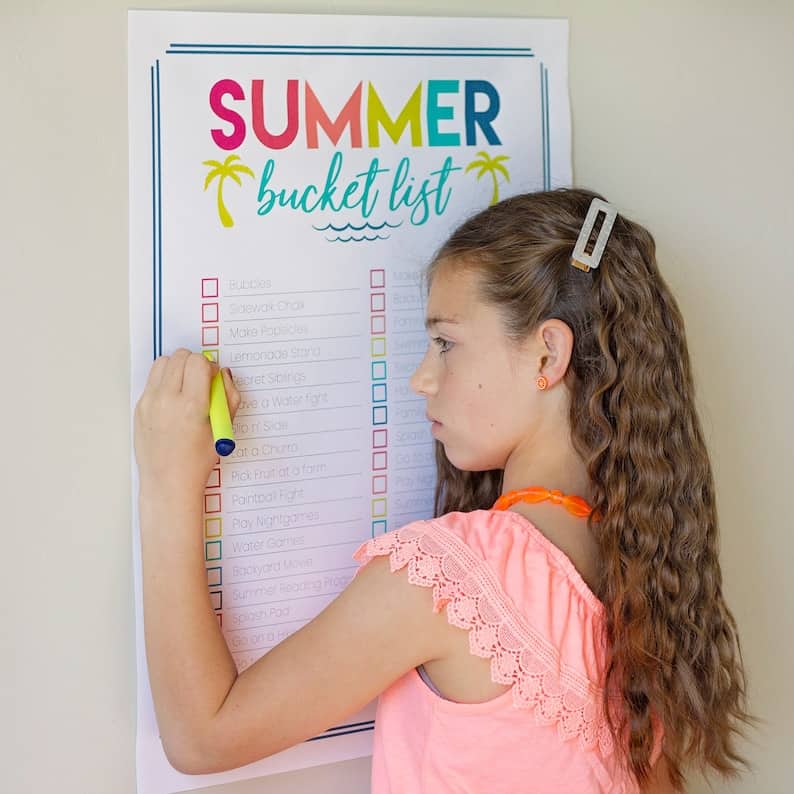 Some summer ideas to get you started:
Have a picnic in the park
Visit a local pool or waterpark
Go camping
Visit a splash pad or water parks
Create Aluminum foil boats and race them down a stream
Have a weekly cooking class
Check out this post for access to my free bucket list printable to help keep your summer organization easier!
3. Plan Family Outings
Another great way to make the most of your summer is to plan some family outings. This can give everyone in the family something to look forward to throughout the week. You can visit a nearby amusement park, go on a nature hike, or even just have a picnic in your own backyard!
There are so many great ways to make the most of your summer with kids at home. By taking the time to prepare yourself and your home, you can ensure that everyone has an incredible and memorable break!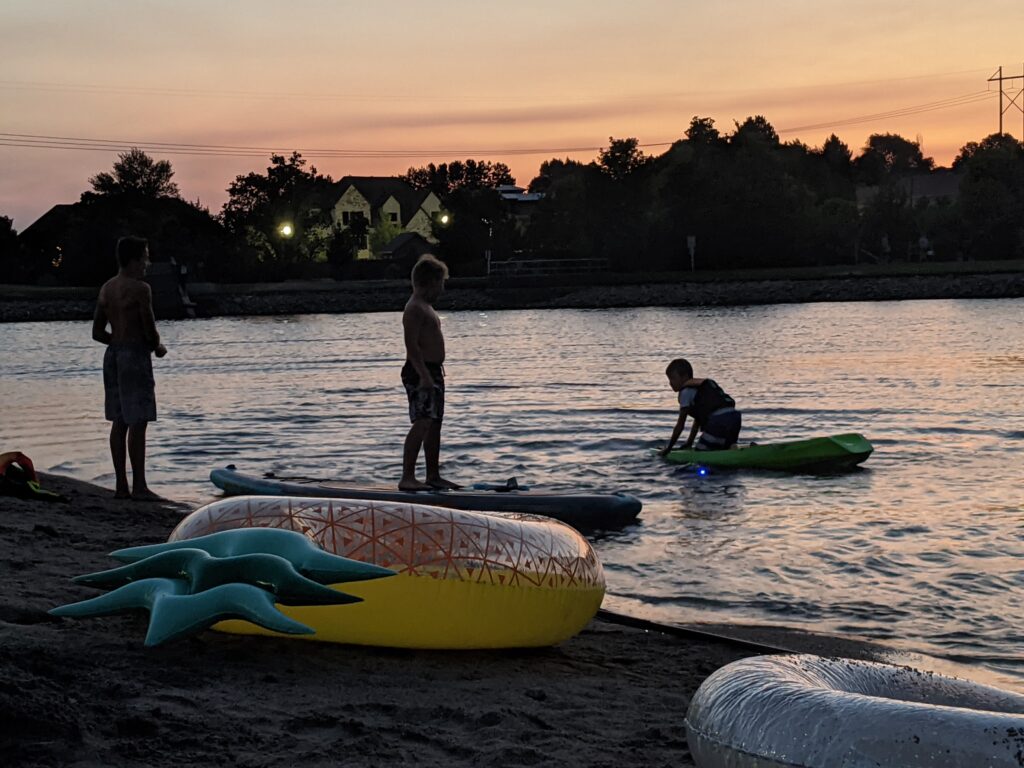 I highly recommend getting on your local city or county website to look for free summer activities that are going on in your area. County fairs, library programs, and concerts in the park are just a few examples of the wonderful things that you and your family can enjoy together!
The best thing to do is to make a summer calendar that your kids can see and reference. That way they can see when the next summer vacation is coming up, or when their sports camps or summer camps are. This is one of my best tips for summer organization and creating a memorable summer break. Your family will thank you for this one!
4. Plan Downtime
No matter how much fun you have planned for your summer break, there are going to be moments when everyone needs a little downtime. Make sure to schedule in some daily "quiet time" or "screen-free time" into your summer routine. This will give everyone a chance to recharge and enjoy some peace and quiet. We do our quiet time after the kids are done with chores and before they go off to play with friends.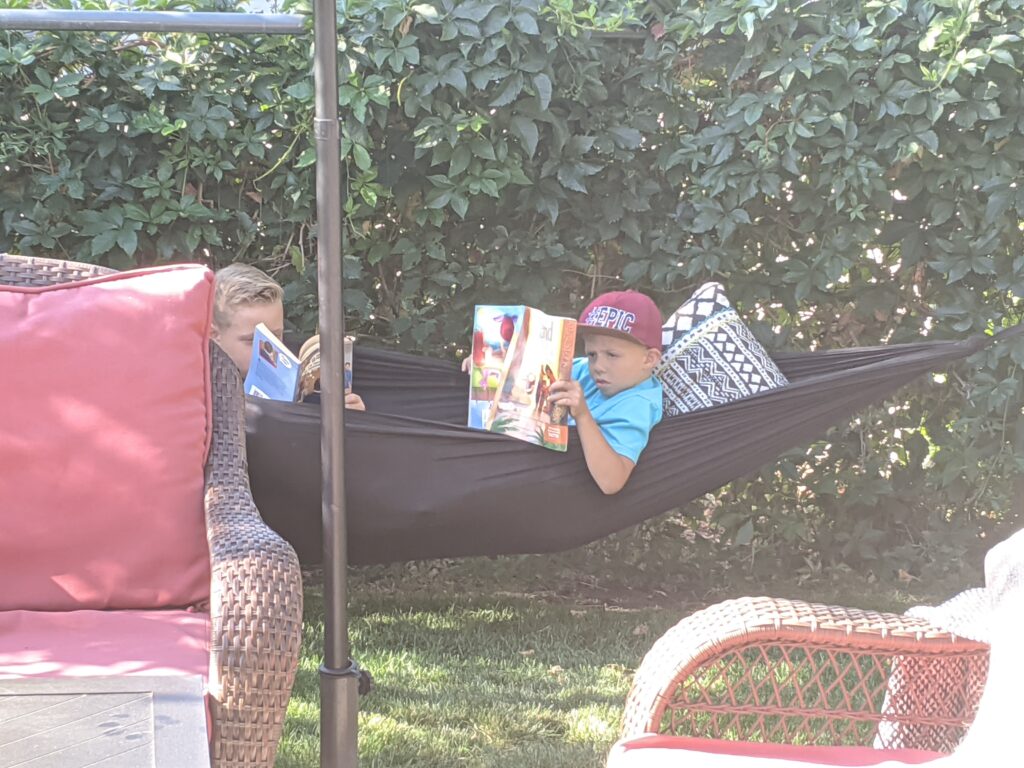 I've found that this also really resets our home when my kids are fighting. If you add this to your summer calendar, it makes it easier to implement without a fight.
5. Create a Snack Station
One of the things that can really help to make your summer run smoothly is to create a snack station. This can be a simple shelf or basket stocked with easy-to-grab snacks and drinks. I like to keep things like granola bars, fresh fruit, juice boxes, and popcorn on hand. This way, when your kids get hungry, they aren't tearing apart the entire pantry.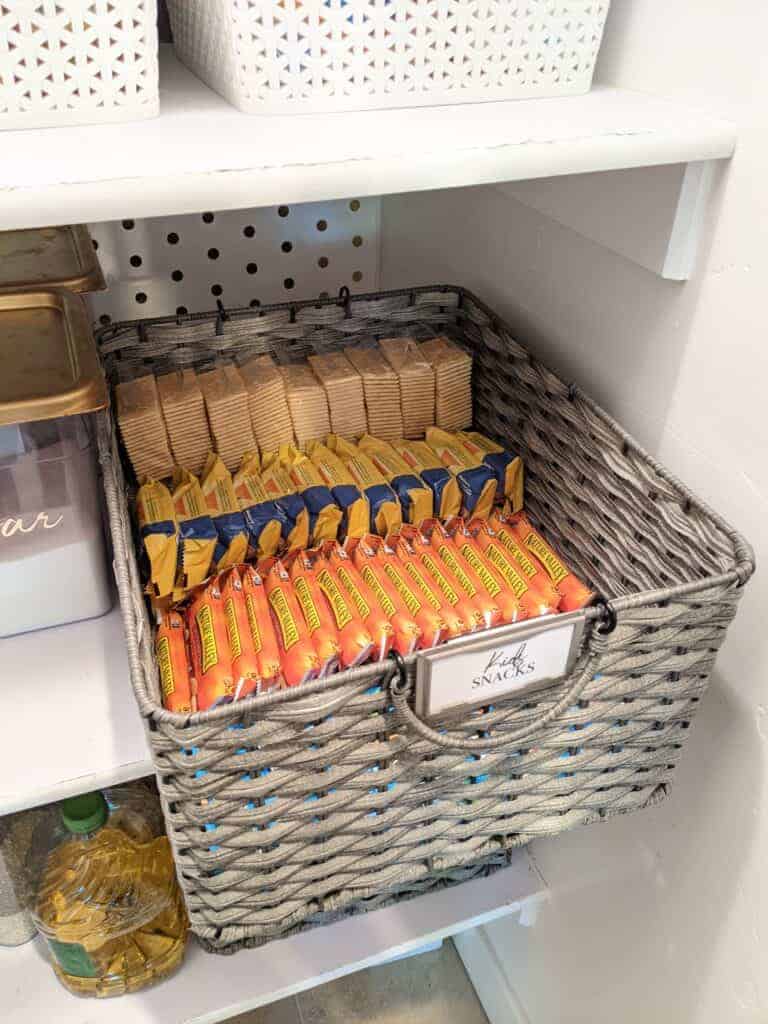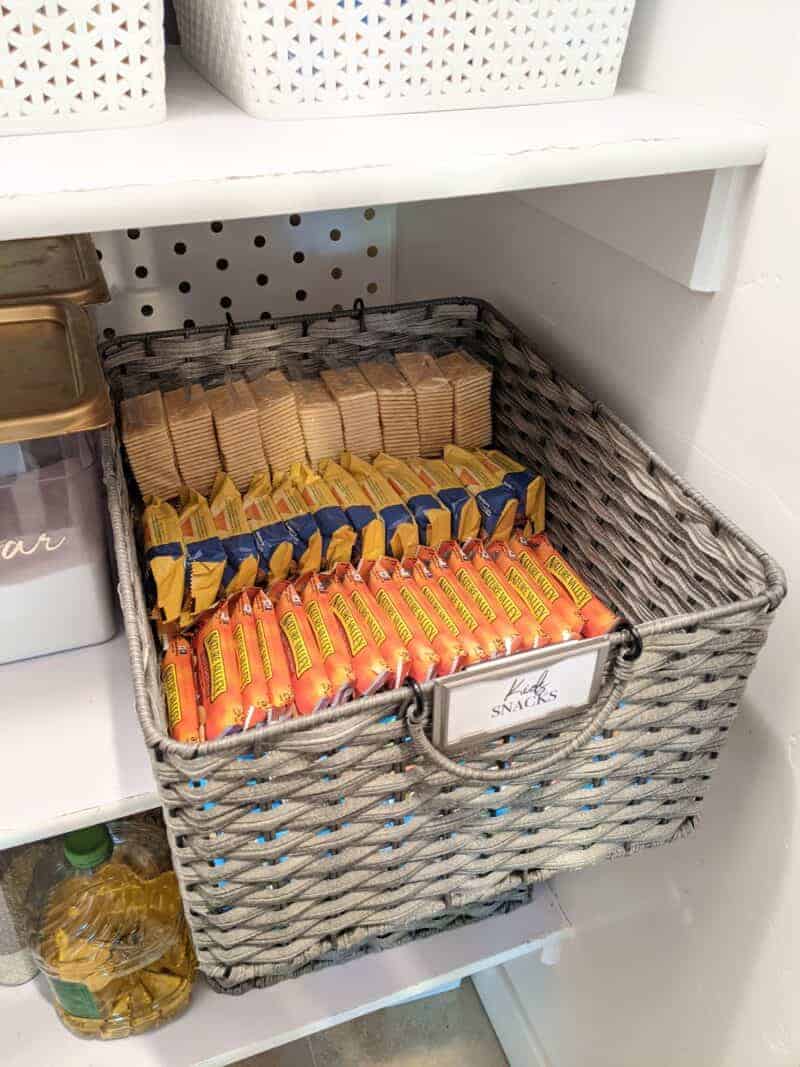 I also have particular 'snack times' where my kids are allowed to eat snacks (10:00 and 2:00 for us). Otherwise, they think they have free reign in the kitchen and they are eating constantly all day long.
You can even create a snack box to make your life easier!

6. Create a Loose Daily Schedule
One of the best parts about summer is that there's no school and no homework! However, without a set daily routine, it can be easy for kids (and adults) to become bored and restless. To avoid this, create a loose daily schedule that includes time for breakfast/lunch/dinner, playtime, etc. Don't forget to plan play dates because it's easy to go all summer long without playing with some friends if your schedules don't match up exactly.
It's no fun if you feel like you have a rigid time schedule that you need to stick to, so make the times general. This will help you create structure in your home while still leaving lots of room for fun, all summer long.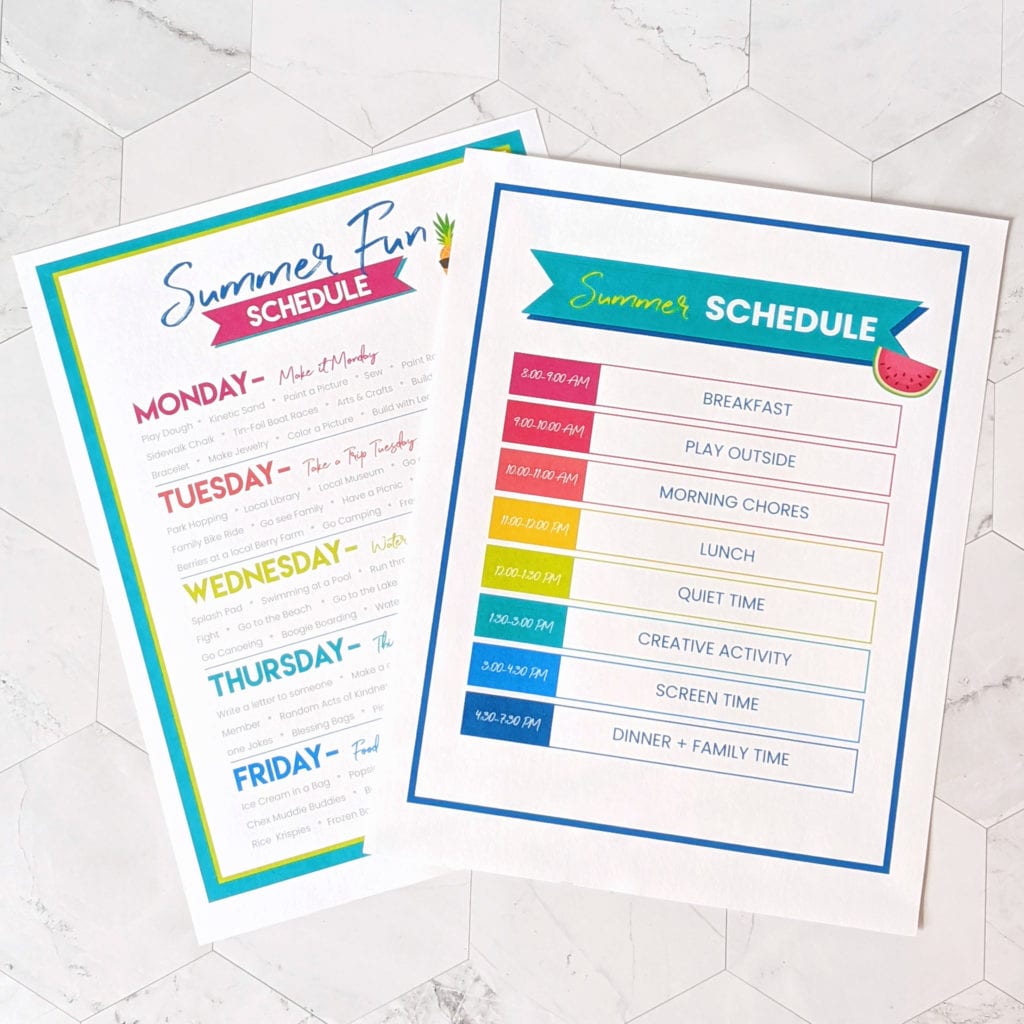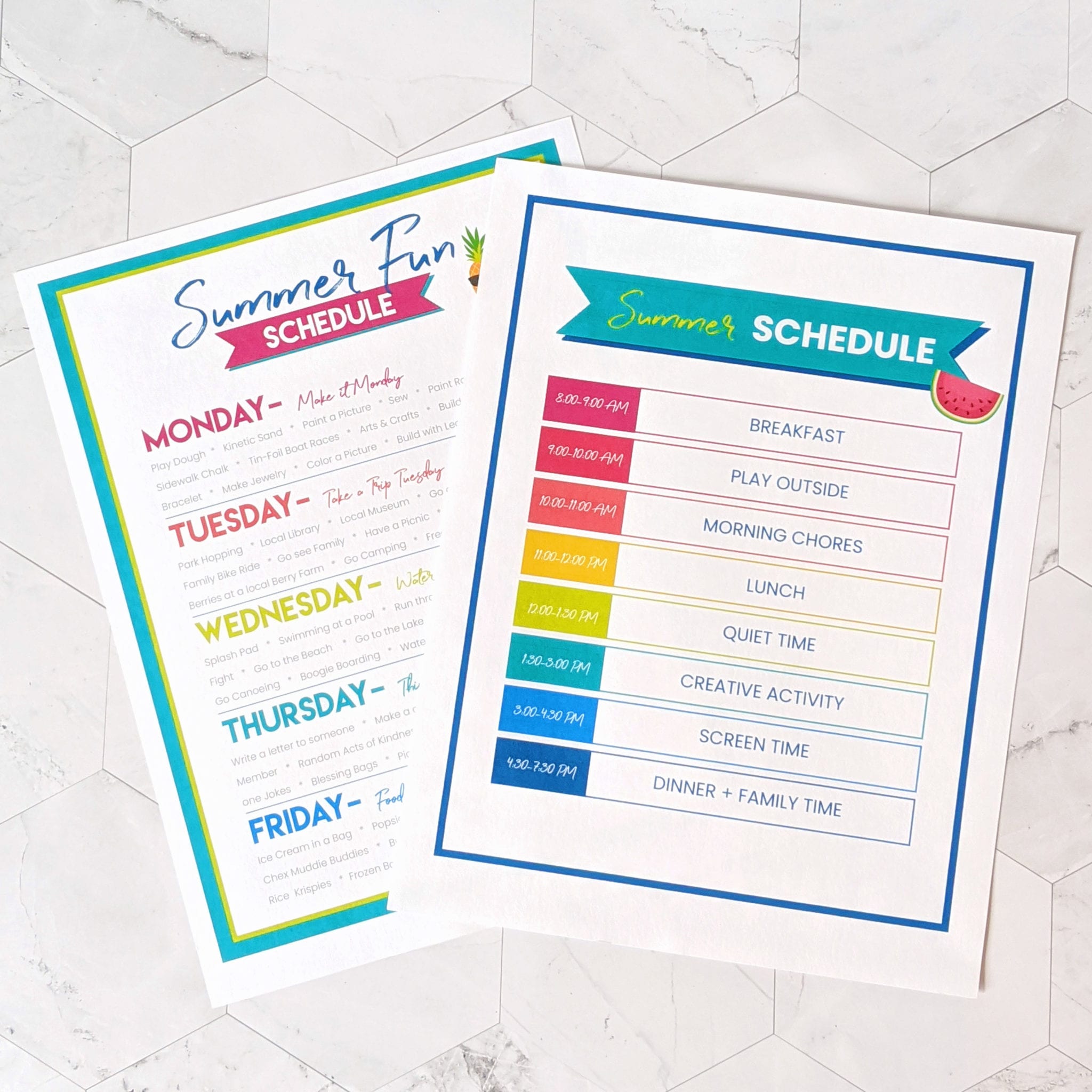 You can check out my post here with tons of details and great ideas on how to create a fun, meaningful summer schedule to fill your summer days. BONUS: You can get a free printable summer schedule over on that page.
7. Stock up on Craft Kits
With summer vacation just around the corner, now is the time to start thinking about how you're going to make the most of it! If you have kids at home, it can be a challenge to keep them entertained while also getting some much-needed rest and relaxation yourself. But with a little bit of planning, you can make this summer the best one yet!
If you have kids that enjoy doing crafts, this is your secret weapon! Having a few craft kits on hand will save you from many summertime meltdowns. Stock up on things like coloring books, play-doh, modeling clay, and other craft supplies so that your kids can unleash their creativity when boredom strikes.
If you're overwhelmed with all of your kid's arts and craft supplies, check out my post here and here for tons of awesome ideas on how to organize it all!

8. Create Boredom Activity Boxes
It's inevitable that your kids are going to get bored this summer. So why not prepare for it ahead of time to give them something to do? These are also perfect for free days or if you have daily quiet time for your kids (which I highly recommend).
This post by Brittney at Home and Kind shows how she does her boredom boxes…super simple and easy to access.
9. Create a Summer Reading Program or Challenge
Did you know that kids regress in their learning over the summer?
"A more recent study of children in 3rd to 5th grades also showed that students lost, on average, about 20 percent of their school-year gains in reading and 27 percent of their school-year gains in math during summer break." – Scholastic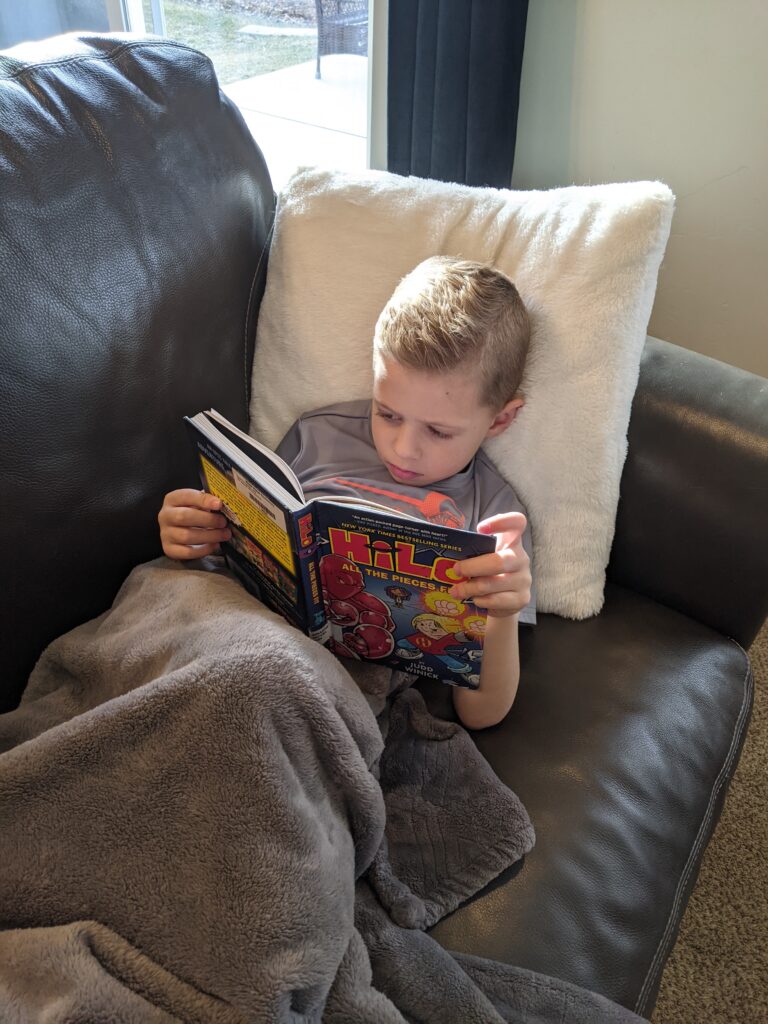 So implementing a simple routine to keep up learning habits is essential! Perhaps you can make it a fun event to go to the library every week or every couple of weeks. And you can also set a daily reading time (20 minutes or so, depending on their age) as a part of their chores!
You can also create a summer reading challenge…complete with prizes to give them an incentive!

10. Create a Boredom Jar
Because your kids are bound to get bored over the summer, you can create an "I am bored jar" to help give them great ideas for fun things to do to help them use their imagination. I have a ton of really good ideas (and a free printable) that you're sure to love.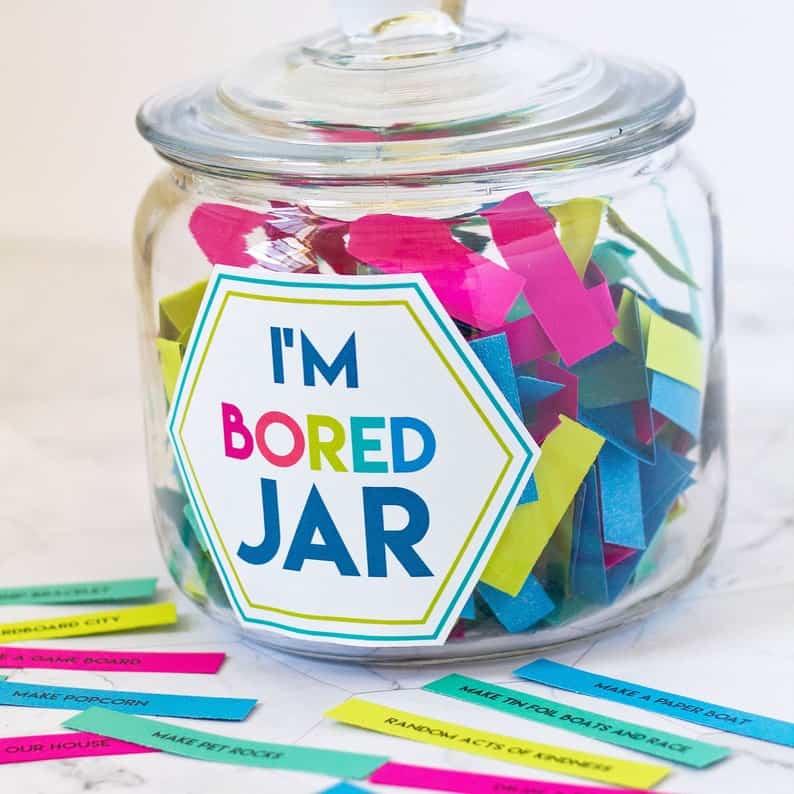 Place the jar in a prominent place in your house so your kids can go pick out a slip of paper whenever you are having one of those lazy days.
SHOP SUPPLIES FOR YOUR OWN JAR

11. Stock up on Pool toys
If you have a pool, make sure you have enough pool toys to keep your kiddos entertained all summer long! My kids are always asking to go to the pool so I try to make it as fun and easy as possible for them. And don't forget to stock up on sunscreen, too!

12. Set up a Summer Camp at Home
This is one of my favorite ideas! I have a few weeks out of the summer break where I planned themed weeks full of fun activities revolving around the theme for the week. It isn't anything extravagant but my kids love it! It gives all of us something to look forward to.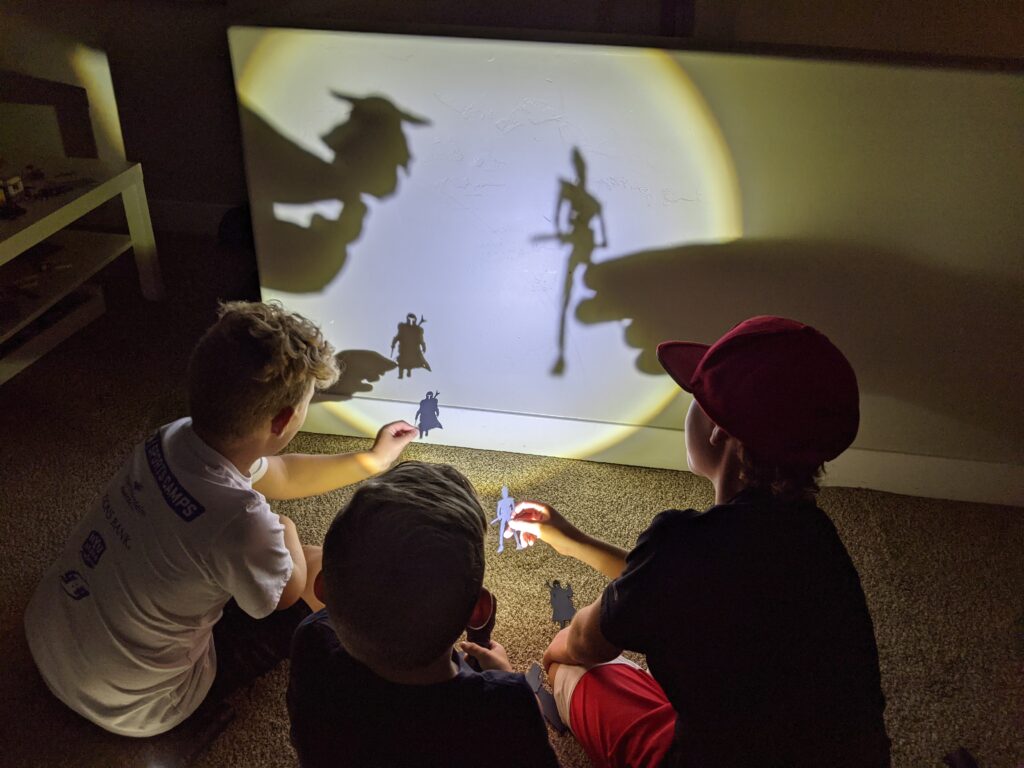 If your kids are old enough, you can even help involve them in all the fun and let them choose a theme that they are in charge of. Some of the themes we've done are:
Tie-Dye Week
Star Wars Week
Lego Week
Baking Week
Art Week
Descendants Week
There are so many possibilities! And if you don't want to do a whole week, you can choose a day or two for each theme. The important part is that everyone is having fun and making memories!
13. Create a Chore and Goal System
One way to help make your summer more organized is to create a chore and goal system for your kids. You can use a whiteboard, chalkboard, or even print off a chore chart or chore system that will be easy to follow but your kids can also help out around the house.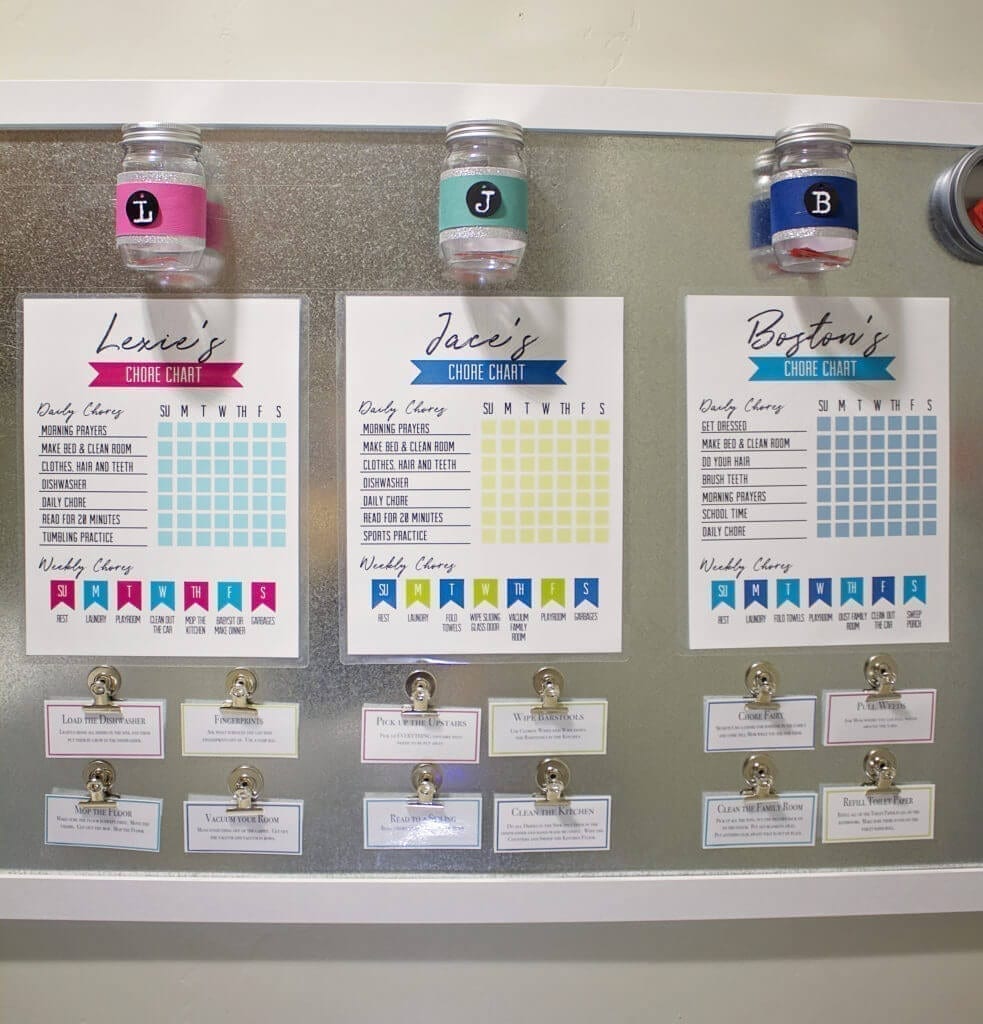 One of my favorite organization tips is to get your kids involved with cleaning and organizing. Creating to-do lists for the kids gives them purpose and structure to their day.
And this can also be a helpful way to let your kids earn some money to spend on summer activities. Instead of you forking out money constantly to take your kids to the pool, they have to earn the money!

14. Organize Sports Equipment and Outdoor Toys
If your kids are into sports, chances are you have a lot of equipment. from baseball bats and balls to tennis rackets and basketballs, these items can take up a lot of space in your garage or basement.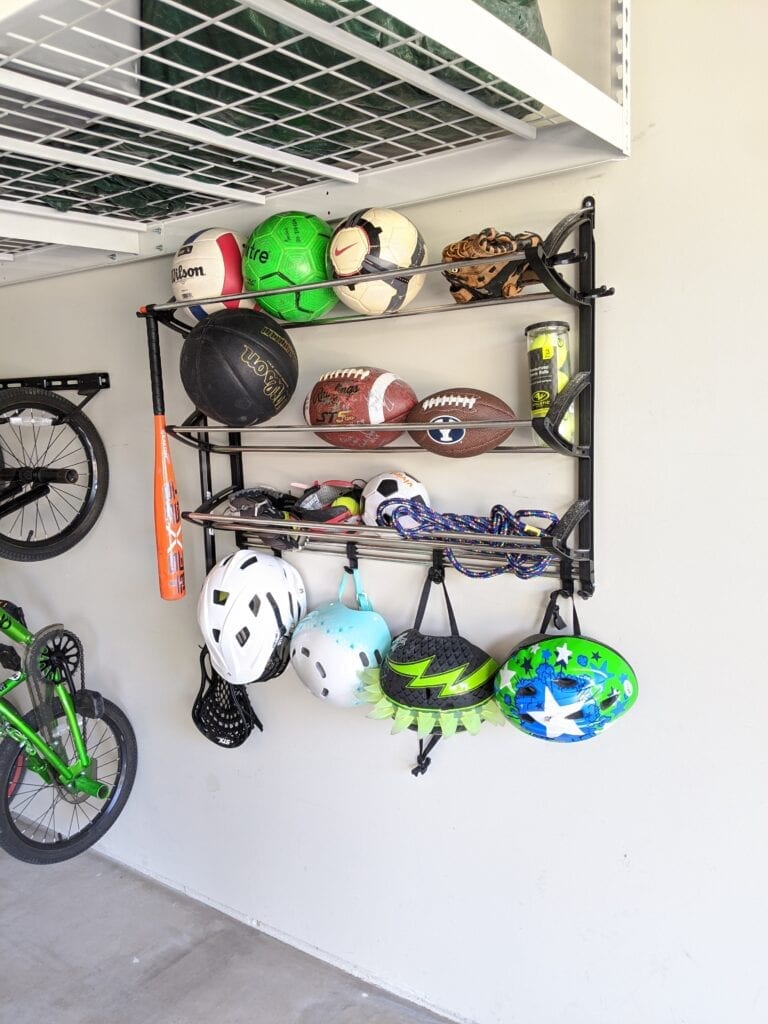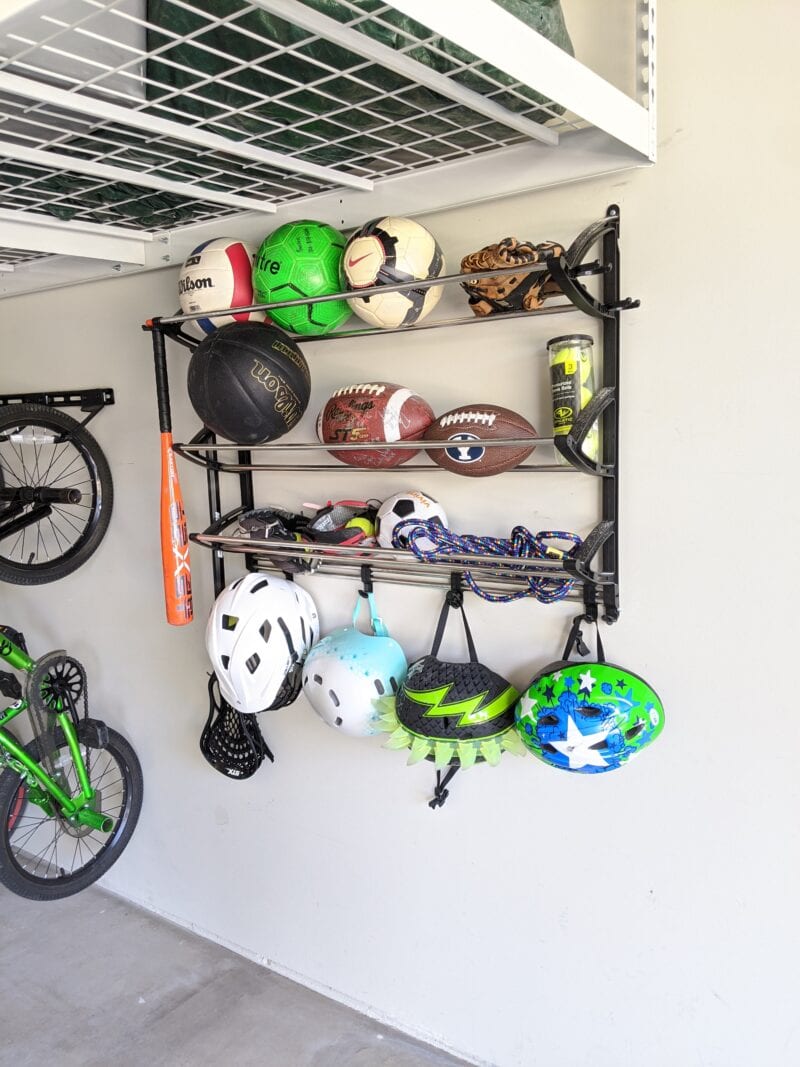 One way to keep the space organized is to use a large storage bin on wheels. This will make it easy to access your sports equipment when you need it throughout the summer. This is one of the simplest ways to keep your house organized.
ORGANIZE SPORTS EQUIPMENT

How do you Stay Organized in the Summer?
Summer is a great time to get out and enjoy all that the world has to offer. So get organized and create a family calendar and create some incredible summer memories together. And don't forget the sunscreen!
Organizing your home and life can be a daunting task, but it doesn't have to be! These tips will help you get started on making the most of your summer with kids at home.
Organize your Picnic Basket
Create a Car Activity Bucket for Road Trips
Organize your Car for a Roadtrip
I would love to hear your tips and tricks for staying organized during the summer months! What are some of your favorite summer activities? Let me know in the comments below!