How To Make The Best Kids Summer Activity Jar
Summer is without a doubt the most glorious activity-filled time of the year. That is…until your kids are whining about how bored they are despite the extensive pile of toys they have. How could they possibly be bored?! Well I am here to help you make the best kids summer activity jar that is filled with EASY activities that require little or no supplies!
Looking for more summer fun ideas? Check out my other posts: Free Printable Summer Bucket List Poster and Easy to Follow Kids Summer Schedule Printable
The best part about this Kids Summer Activity Jar is that you are going to create fun, lasting memories with your kids. Sometimes you'll send them to do an activity on their own when you need some peace and quiet. Other times, you'll find an activity in there that you can do together!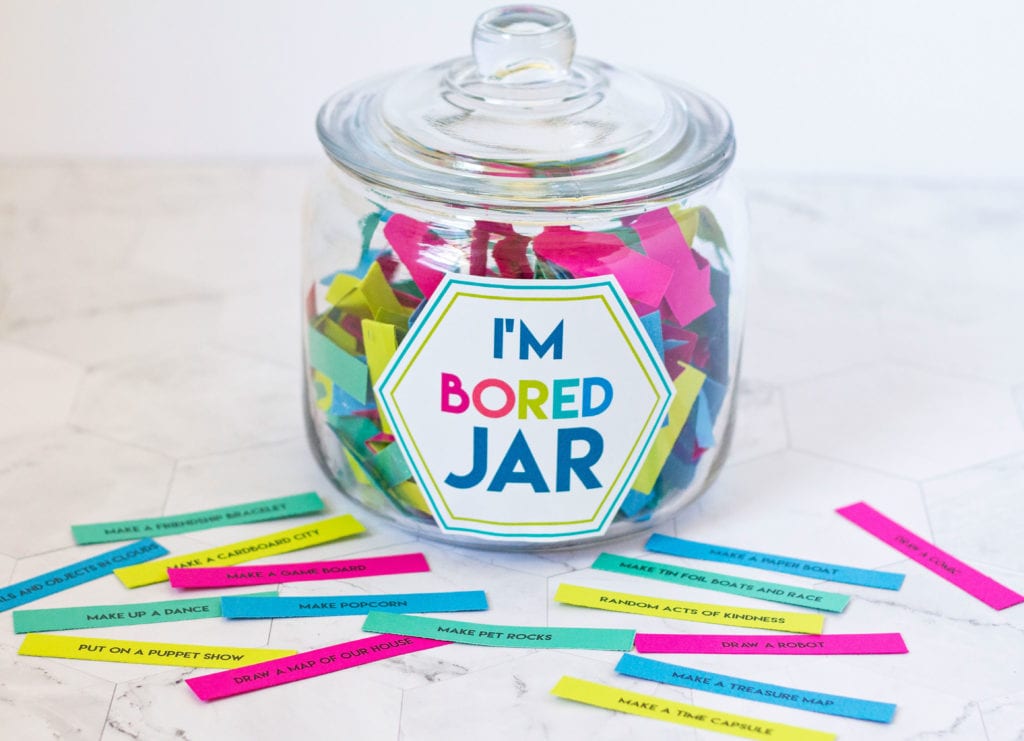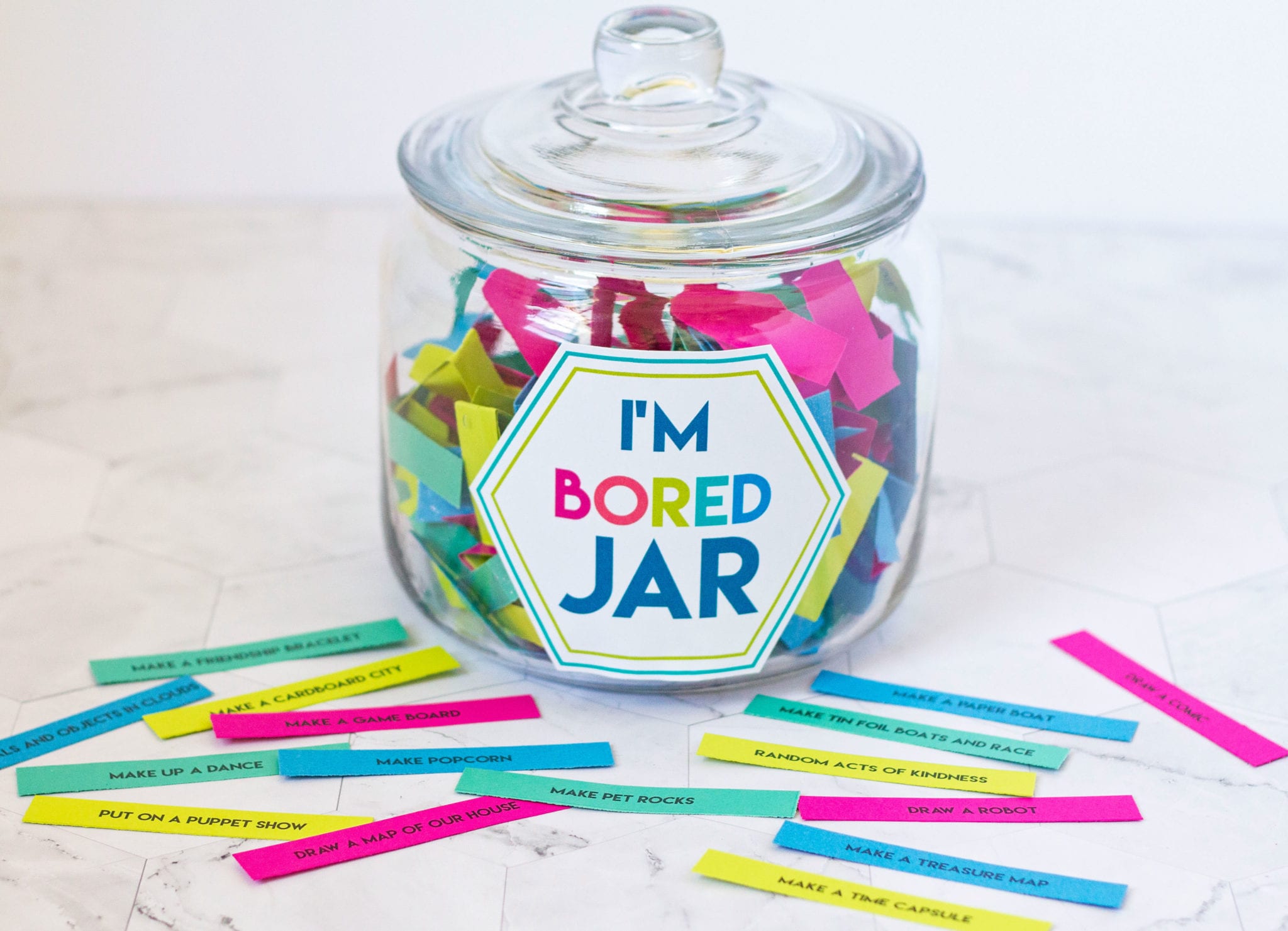 Don't forget to scroll down to download your FREE Jar Label and 4 pages (144 total ideas) of EASY activities for your kids to do when they're bored.
Why You're Going to Love This Jar
My goal with this jar wasn't to create MORE work for you….but less. I carefully selected activities that your kids can generally carry out on their own. Activities that get them playing outside, or simple crafts using things you already have around the house. I wanted things that were E-A-S-Y. Why? Because that's what I want for myself! As a work-from-home Mom, it can sometimes be really difficult to get anything done, so this was a solution as much for me as it was for you.
My youngest is 5 and he can easily do most of these activities with a bit of help from his siblings, or all by himself.
My kids were SO excited about this jar, I could hardly keep their hands off of it so I could take the photos! They have been making their own comic strips, creating tin-foil boats and racing them, making cardboard cities and tons more!
Kids Activity Jar Supply List
This list is going to be mighty short people. This is going to be one of the easiest projects that you've done in a while. It does require a bit of cutting (please do yourself a favor and use a paper cutter, you'll thank me) but it goes by pretty fast and the payoff is going to be huge!
The first thing you're going to need is a sturdy glass jar. There are many different sizes that you can use. And my printable comes with two different sizes of labels that you can put on the front side of the jar. You can choose to do a small mason jar, or you can make it into more of a cute decoration and do a bigger jar.
The jar that I chose to use is a 1/2 gallon glass jar.
The next item on the list is a pack of full-sheet shipping labels. That way when you print out the label, it is basically just a sticker and it sticks really nicely to the jar. You can also choose to just print it out on white card stock and tape it on if you choose.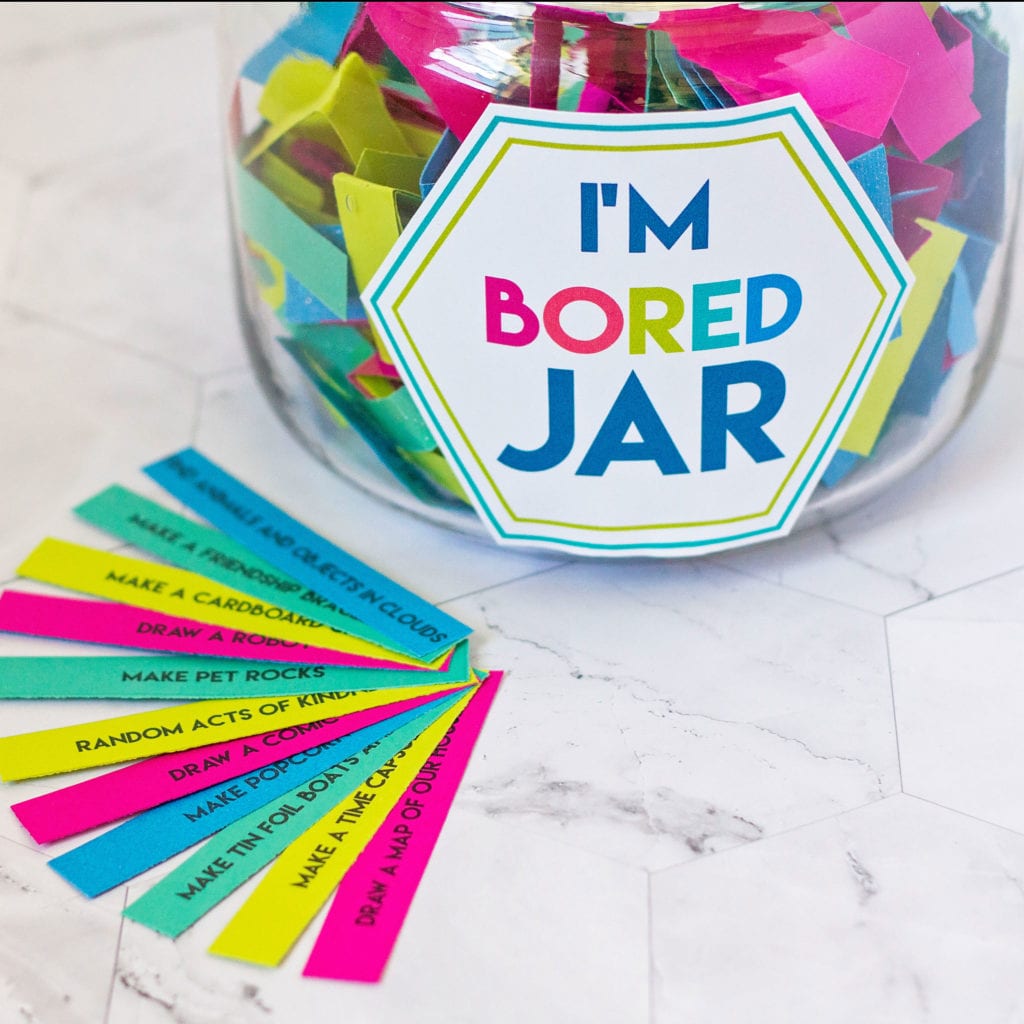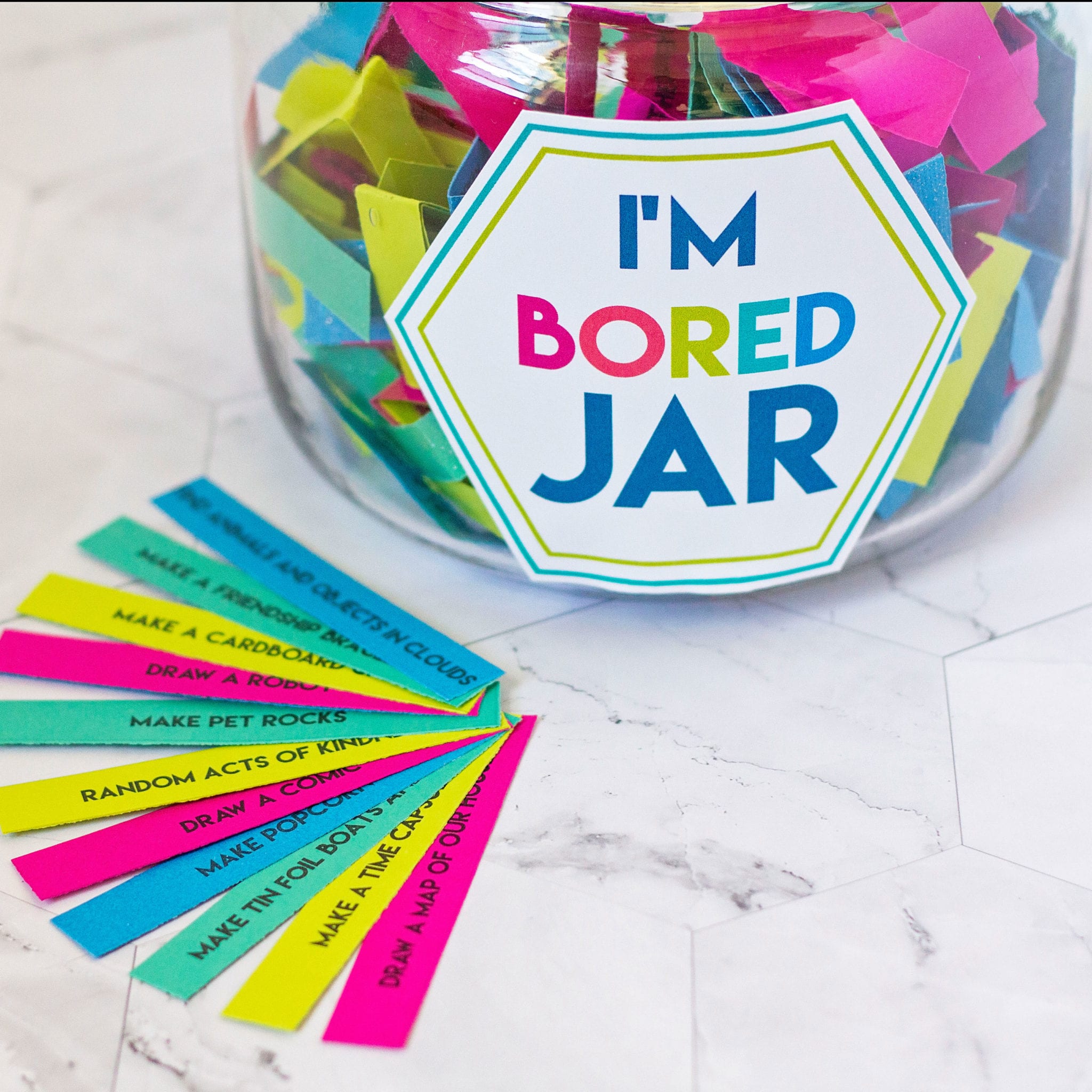 The third item is card stock. You can choose to print these off on regular printer paper but I really recommend that you use cardstock so that they last longer. If you use cardstock, it can be used again and again! And depending on how creative you want to be, you can use some colored cardstock to make it extra fun.
That's it! Talk about an easy supply list! 🤣
Here are the supplies I used for this project:

Don't forget to download your FREE Jar Label and 4 pages (144 total ideas) of EASY activities for your kids to do when they're bored.
Kids Summer Activity List
Here is a small sample of the summer activity ideas that are included in my free printable. Again, I was shooting for EASY activities that requires no supplies, cheap supplies or supplies that you already have on hand. Sounds dreamy, right?!
Make a card for someone
Play in the bath
Draw a map of our house
Draw a robot
Pretend you are a knight
Make paper airplanes
Have a tea party
Jump up and down 30 times
Water the plants
Blow Bubbles
Draw a comic
Make a bird feeder
Build a Fort
Make a rainwater collector
Climb a tree
Make plastic spoon people
Learn how to skip
Paint rocks
Make a Scavenger Hunt
Make up a Game
Stamp Fingerprint Animals
How to Make a Kids Summer Activity Jar
After you have gathered all of the supplies as mentioned above, then we get to the fun part! In my printable, I include two different sizes of jar labels and four pages of activity ideas. Print out the jar label and use your paper cutter to cut out the label. Next, place the label on the outside of the jar.
Then print out the activity ideas. If you are using different colors of paper, then just print one page at a time and put the different colors of paper that you are going to be using in the printer. That way you get a nice color variety like in my photo.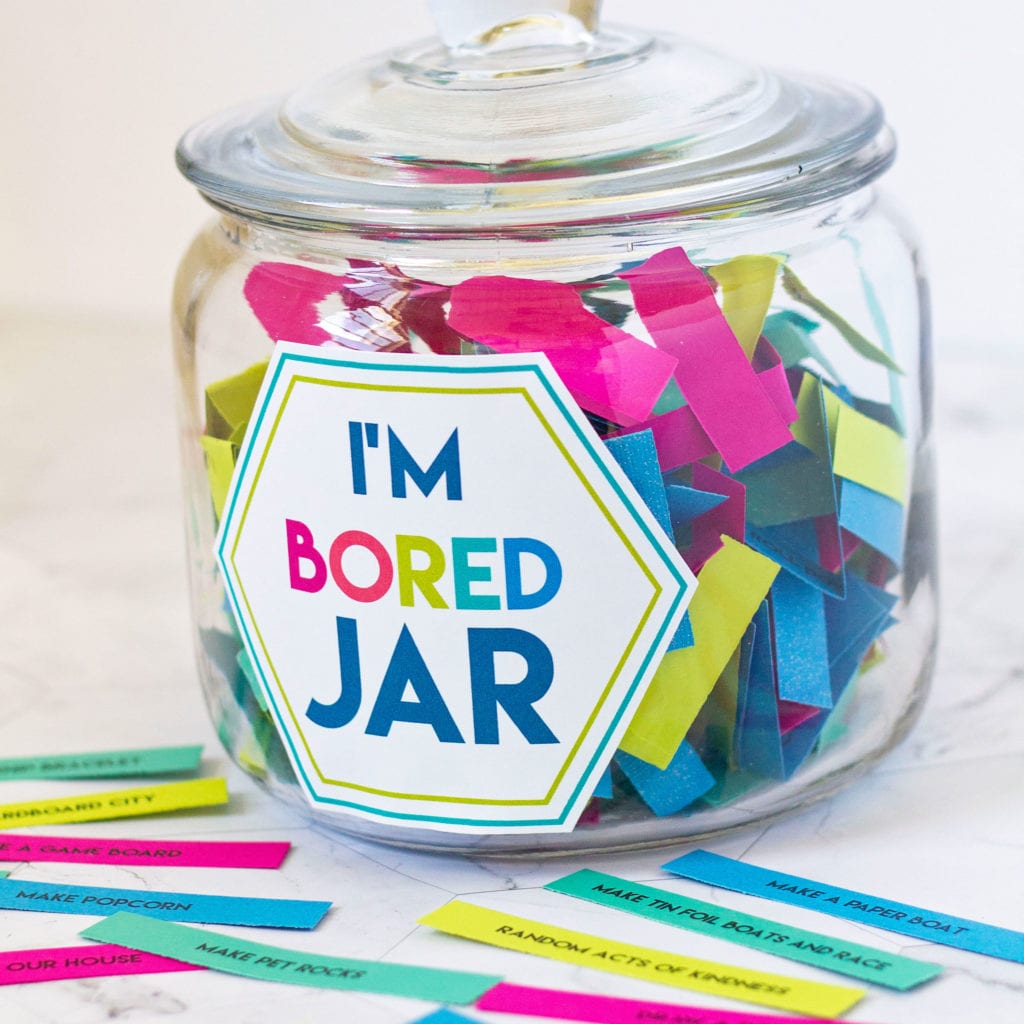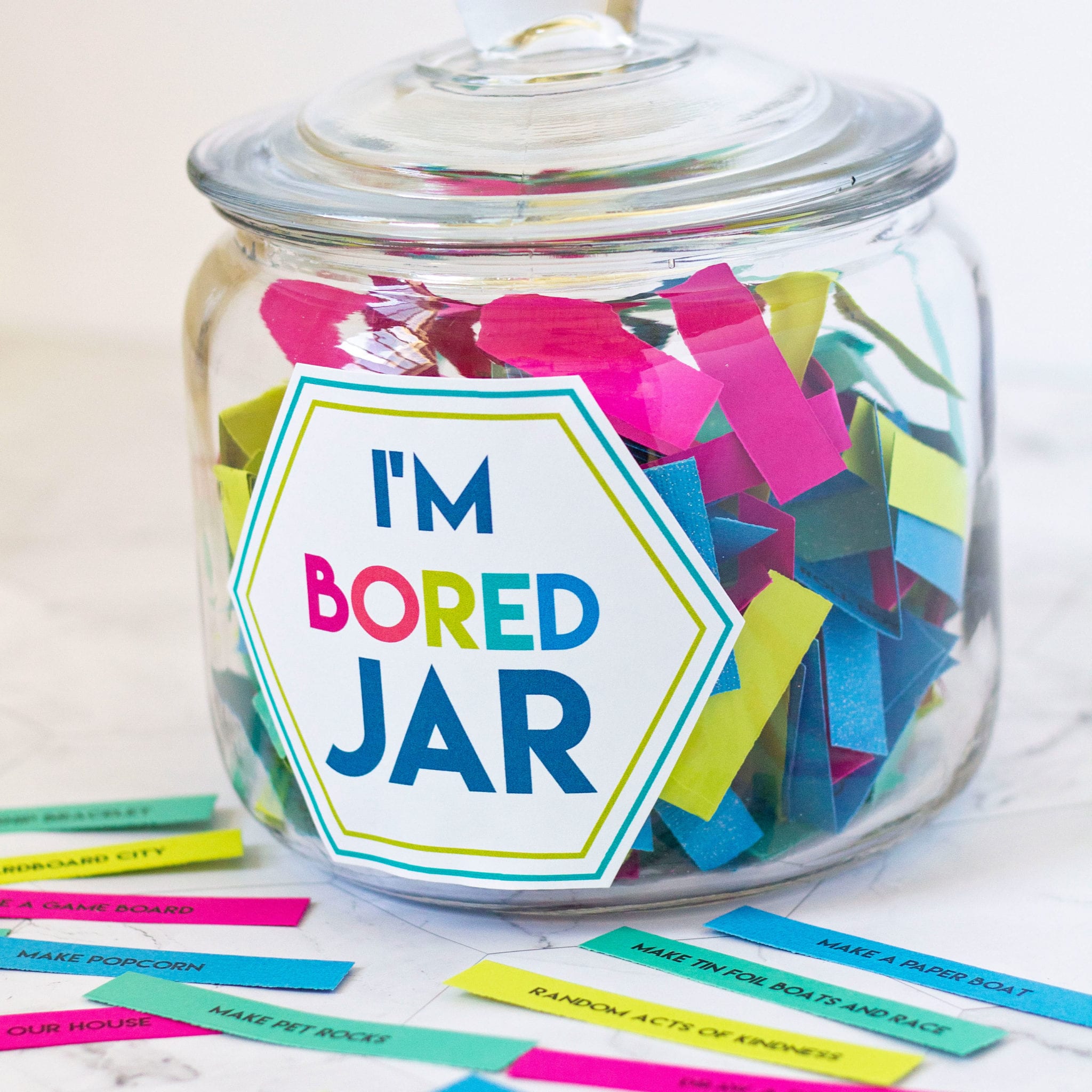 After you print out the ideas, use a paper cutter (or scissors if you don't have one) and cut out the activity ideas. Some of the ideas might be things that you either don't have access to or things that might not be age-appropriate for your kids. So I suggest going through all of the activities after you print and cut them out, and take out the ones that don't apply to your family.
Then I folded mine in half so that it's easier for the kids to grab them out of the jar. Otherwise they kind of get stuck together if you just leave them unfolded.
One Thing I've Learned About Summer
While summer is generally jam-packed with activities, crafts, and tons of things to keep kids occupied…I have learned something about summer. Summer doesn't have to be extravagant. Summer doesn't have to be expensive. And even more, you aren't a bad parent if you don't have every single moment planned out for your kids. Sometimes the simpler, the better.
I hope you have a fantastic summer with your kids, and I hope that my Kids Summer Activity Jar is something that will bring you many quiet moments where you kids are able to be creative and use their imaginations.
Did you enjoy this post? PLEASE SHARE IT or pin it to Pinterest for later!
Here is another great Boredom Buster article by Stephanie at Somewhat Simple.