How to Have the Best Summer Ever + a Free Printable Summer Bucket List
Summer is such an incredible time of year! There are so many fun activities and things to do. But between the fun activities, there is lots of time still left to fill with our kids at home. Here I will share with you my best advice on how to have the best summer ever plus I include a free printable summer bucket list to help you remember all the things you want to do!
Looking for MORE summer fun ideas that are EASY to do around the house? Check out my post HOW TO MAKE THE BEST KIDS SUMMER ACTIVITY JAR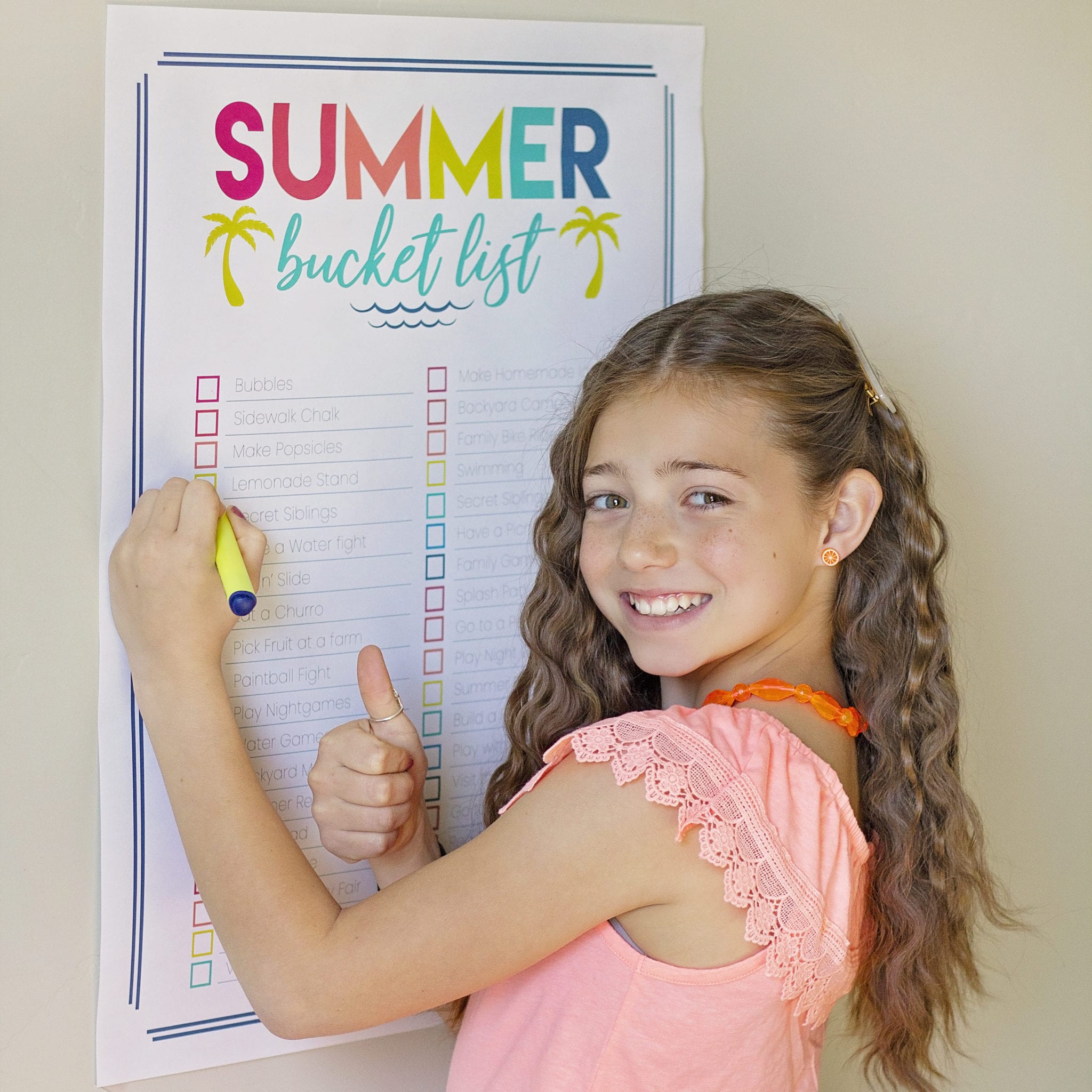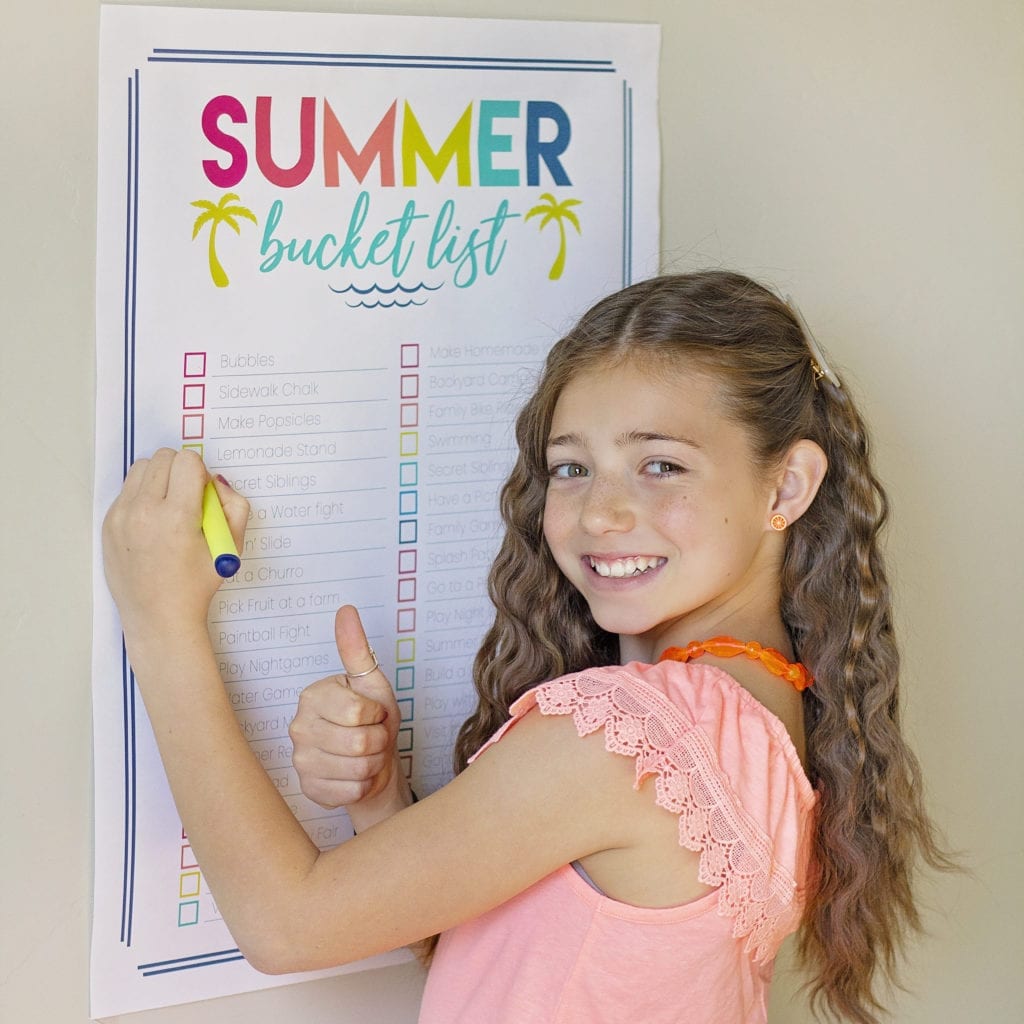 Set Realistic Expectations
The first step to having a fun summer is to set realistic expectations. For you to think that you are going to be able to visit every theme park or do every single craft that you fall in love with on Pinterest is not very realistic. Realize that most days are going to be spent at home.
I have had certain seasons where I set lofty bucket lists for us to do. Only to realize at the end of the summer that I felt like a failure when we didn't get to most of it. On the other hand, when I set realistic expectations for myself, I was able to look back at my summer bucket list and remember all the fun activities that we did.
I was proud of myself for making an effort to have some incredible summer memories with my kids, even if most of them were quite simple.
Summer is not about spending tons of money, it's about doing fun things together. My kids get excited about making cotton candy from the cotton candy machine that their grandma gave them! So think of things around the house that you already have that you wish to you used more often and incorporate those into your summer bucket list.
Do you have a donut cake pan that you wish to use more often? Put making homemade cake donuts on your bucket list. Do a lego-building competition or have a big playdough day. Even running through the sprinklers as a kid is thrilling!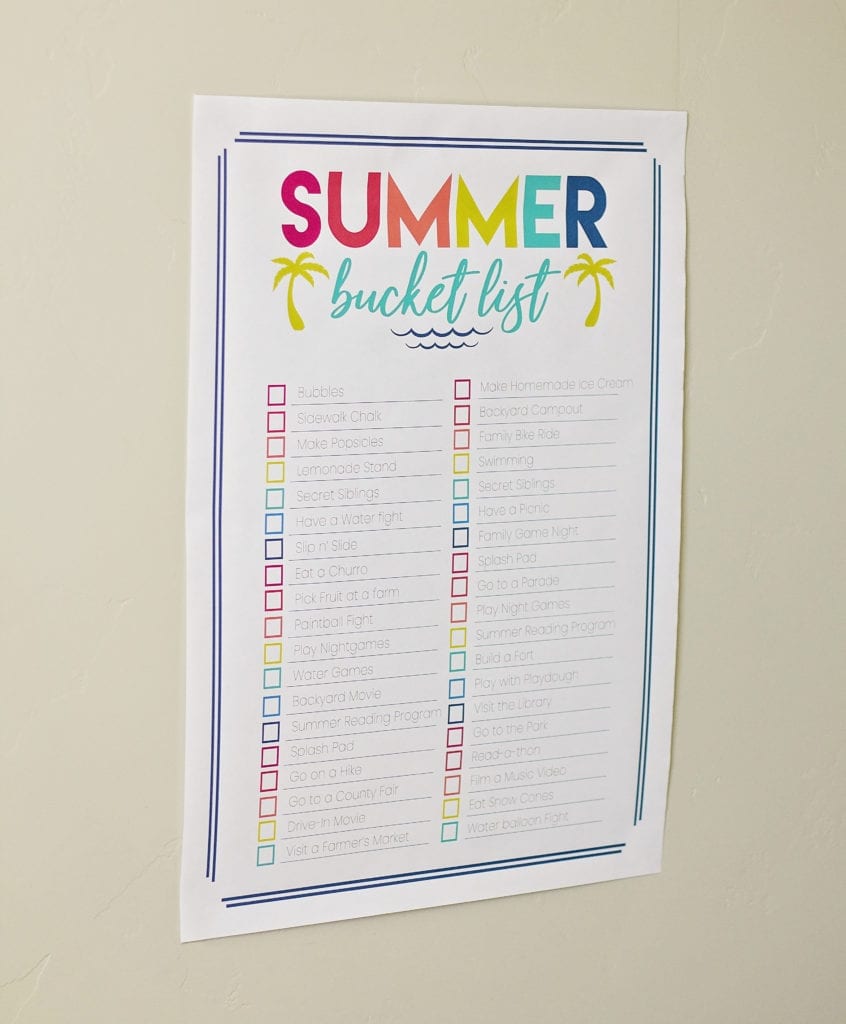 Get Input from the All Family Members for your Summer Bucket List
Depending on the ages of your kids, you may want to consider involving them in the decision process of forming your family bucket list. Sit down for a family meeting and talk about what things they want to do this summer. I suggest coming prepared with a list of ideas that may spur their imagination of things that they have been wanting to do.
Getting your kids involved with this process will make it even more exciting to them! You may even consider making themed days of the week to keep things organized. For example, I was getting really tired of my kids asking me to go to their cousin's pool every single day. So I created Water Wednesday! So from then on, they knew that any of the water activities that they wanted to do throughout the summer were going to be on Wednesday.
Enjoying this post? Pin it for later or share it on social media!
Check Local Activities
The next part is to check local activities on their event calendars to see what types of things you can do to help you get out of the house and have fun! This is actually something that I do every single month of the year. I even set a reminder on my calendar to lookup local activities. You would be surprised how many fun activities that you can do for free in your local area that are a great way to provide variety and fun to your life with your kids!
You can do things such as free building workshops at home Depot, free festivals, parades, and tons of other ideas!
As I am writing this, we are in the middle of the COVID-19 pandemic. So this summer is going to be significantly different than any other summer we've experienced. Your public pools may be closed, parades may be canceled, and city festivals may not happen at all. So depending on your area will depend on what activities you will have access to. But that doesn't mean that you can't have TONS of fun this summer!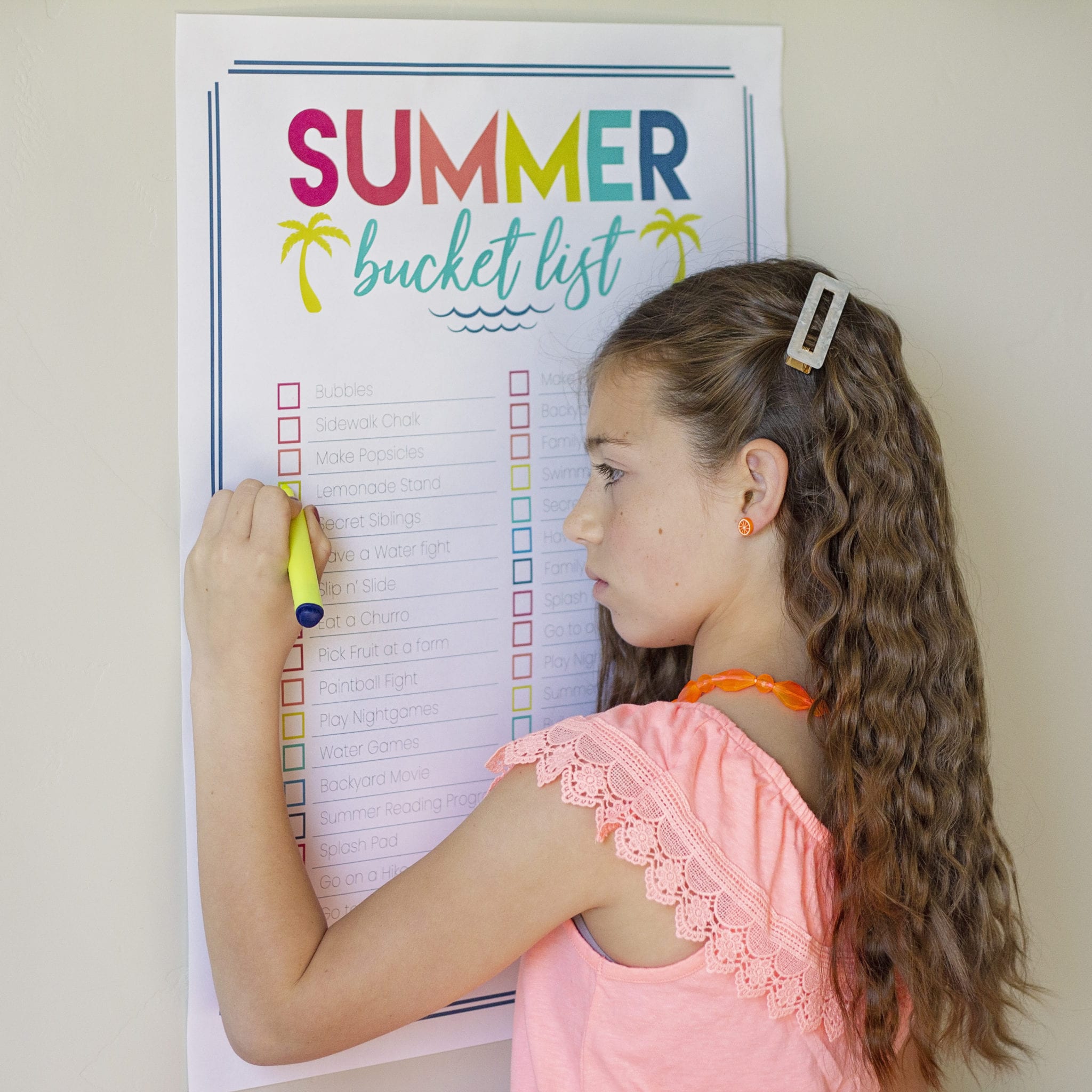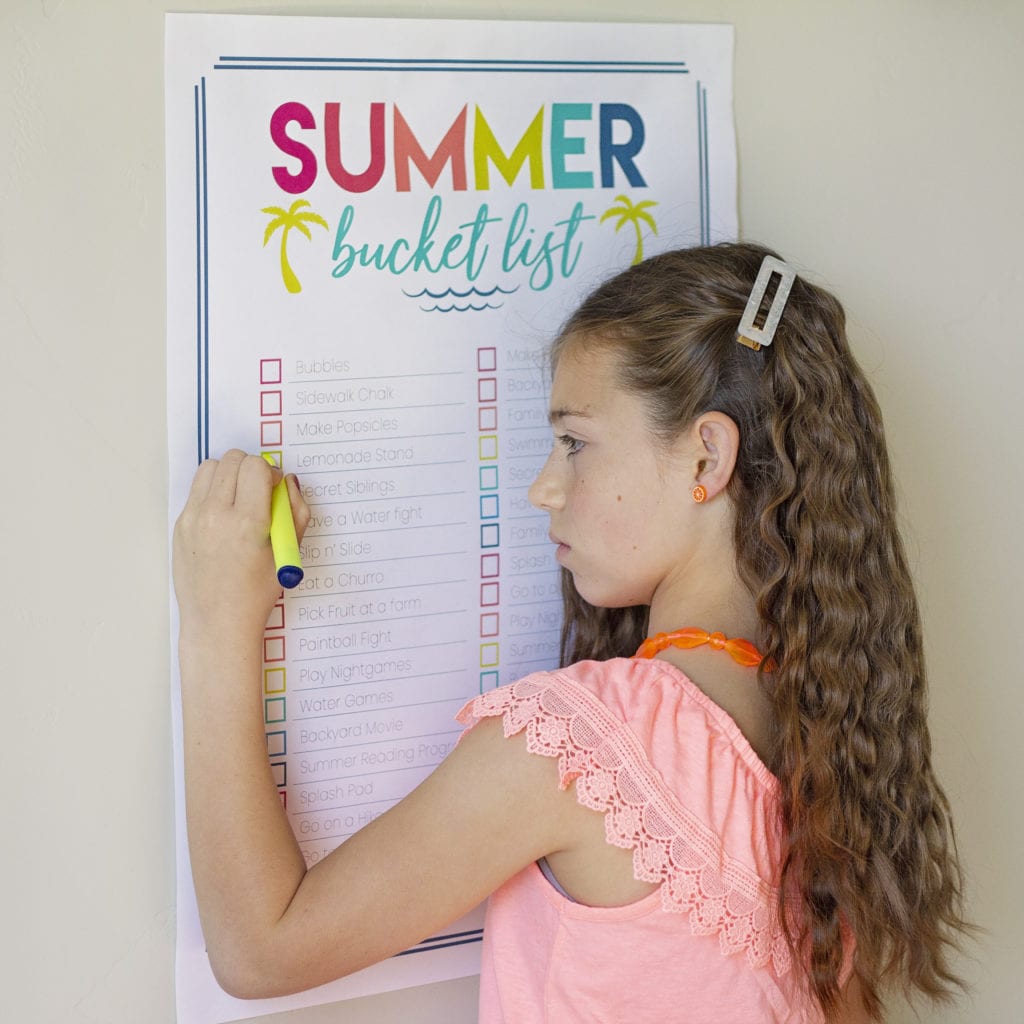 How to Create a Summer Bucket List + A Free Summer Bucket List Printable
The next part is the fun part! Creating a fun summer bucket list that you can hang up on the wall is really exciting! Kids especially love reading over and over all of the fun things that they are going to do for the summer. That's why I've created this free summer bucket list you can download on this blog post.
I have one that is already filled out for you that can give you ideas, or you can completely edit it to add in the things that your family is excited about! You can choose to print it on a regular size of paper, or you can choose to have it printed at your local copy centers such as Staples or FedEx.
I printed off my poster for $2.99. It was even a color copy! Just make sure that you tell them to do an engineer print (also used to make blueprint copies). Otherwise, it will be very expensive to print a poster.
One Last Thing to Remember
Make sure to mix up the types of activities that you want to do. Have tons of easy to do activities that you can do at home without any prep. Take a hard look around the toys that your kids have, the activity kits sitting in the closet, or the treats you want to make and add those to your bucket list. This year especially, (because of COVID-19) you're going to have to get really creative with your bucket list. And that's okay! If you are struggling for ideas, check out my other post on HOW TO MAKE THE BEST KIDS SUMMER ACTIVITY JAR
One last thing. We only have 18 summers with our kids. The days are long, but the years are short. Make every single summer COUNT. AND TAKE LOTS OF PICTURES AND VIDEOS! You won't regret it, I promise.