How to Organize the playroom so it looks beautiful
Have you ever wondered why we designate an entire room to our kids' toys? Keep reading so you can find out the benefits of having a playroom for your kids and get some organization ideas for your playroom. Don't forget to scroll down and download my free toy bin labels!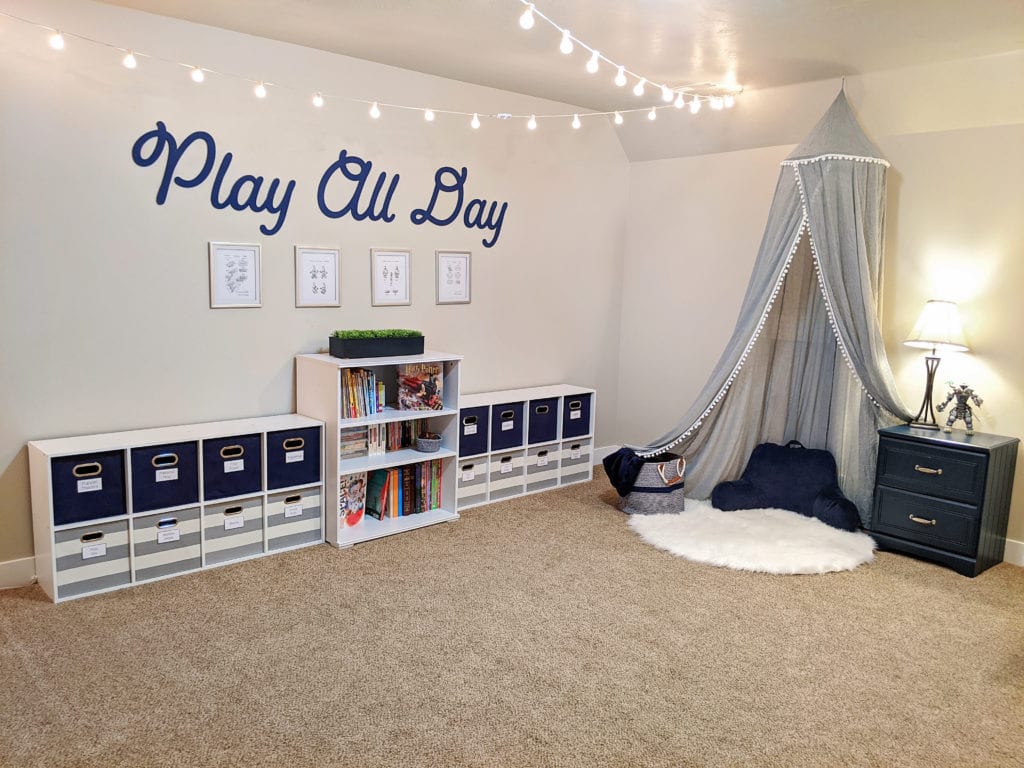 Looking for more ideas? Check out these other posts: Easy Kids Closet Organization, Kids Art Closet Organization and The Best Mess-free, Screen-free Road Trip Activities for Kids!
Why You Should Create a Designated Place For Toys
A few years ago, I had a friend ask me how in the world my kids' bedrooms stayed so clean! At first, I didn't really know why, but after a bit of thinking, I realized that it is because my kids do not keep their toys in their room.
Instead of having each kid have their toys all over each of their rooms, I designated the mess to be in one place. The playroom!
Want to remember this? Pin this to your favorite Pinterest Board!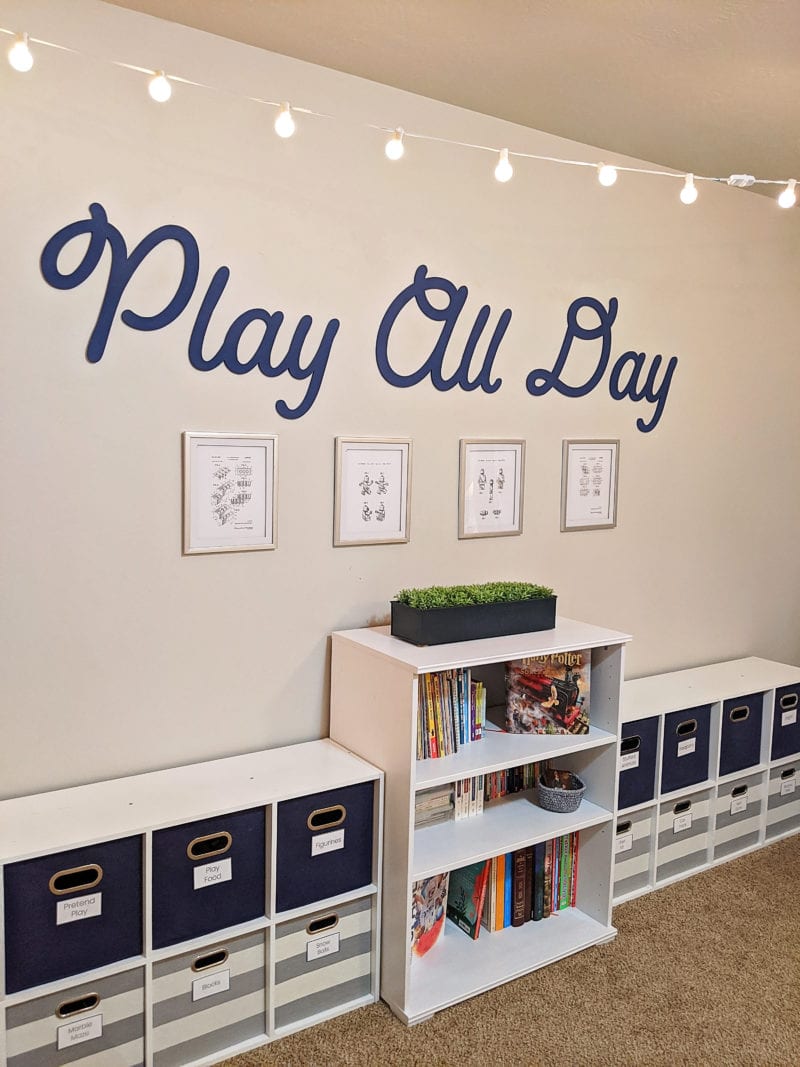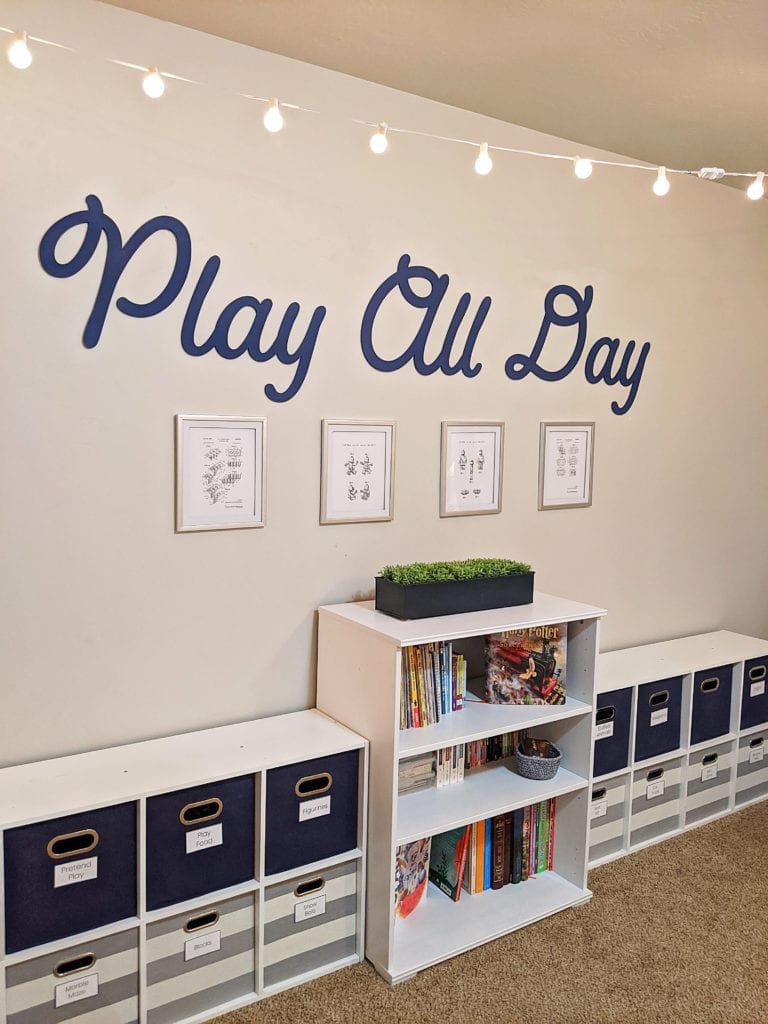 Not everyone has the luxury of having the extra space for a playroom. If this is the case for you, then it's okay! It will still be beneficial to you to designate one part of your home where most of your kids' toys stay.
If you have very small children, it's harder to keep their toys in one place because we often cart their toys around with us around the house wherever we are. But if you have space, making room for a playroom in your house can really help keep the clutter away from other areas.
Declutter and Organize Your Toys
Before you begin, one of the best things that you can do is to go through all of your toys and declutter them. Set out three laundry baskets or garbage bags and designate each one as the throwaway pile, the donate pile and the keep pile.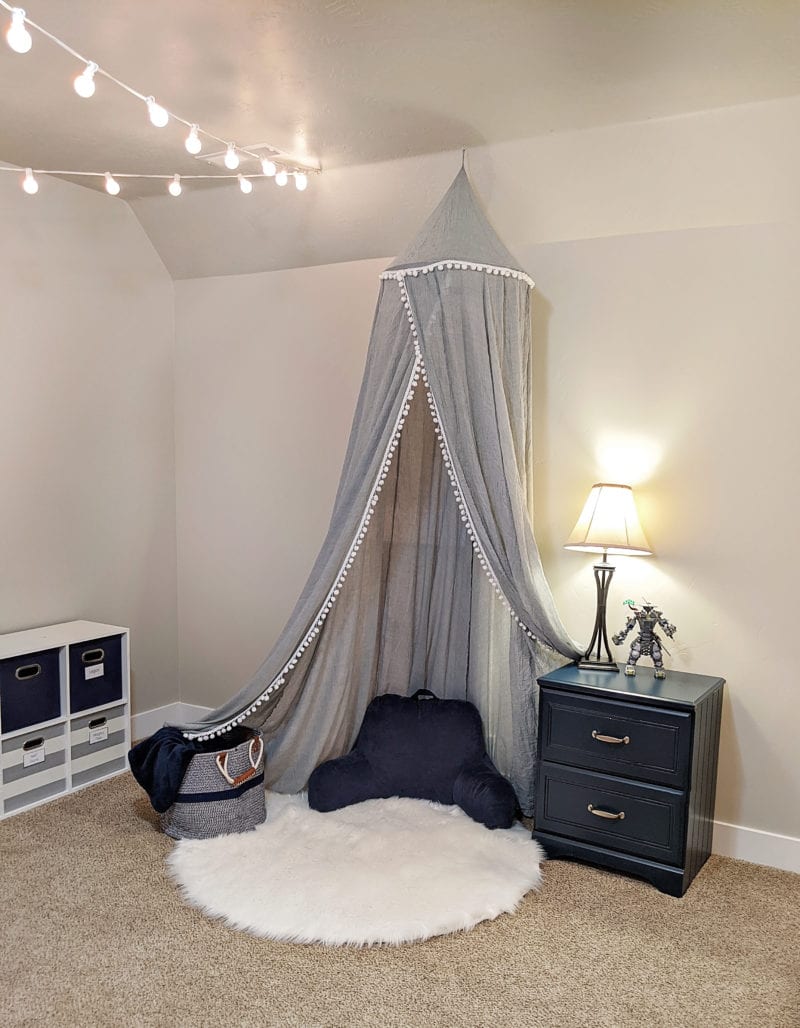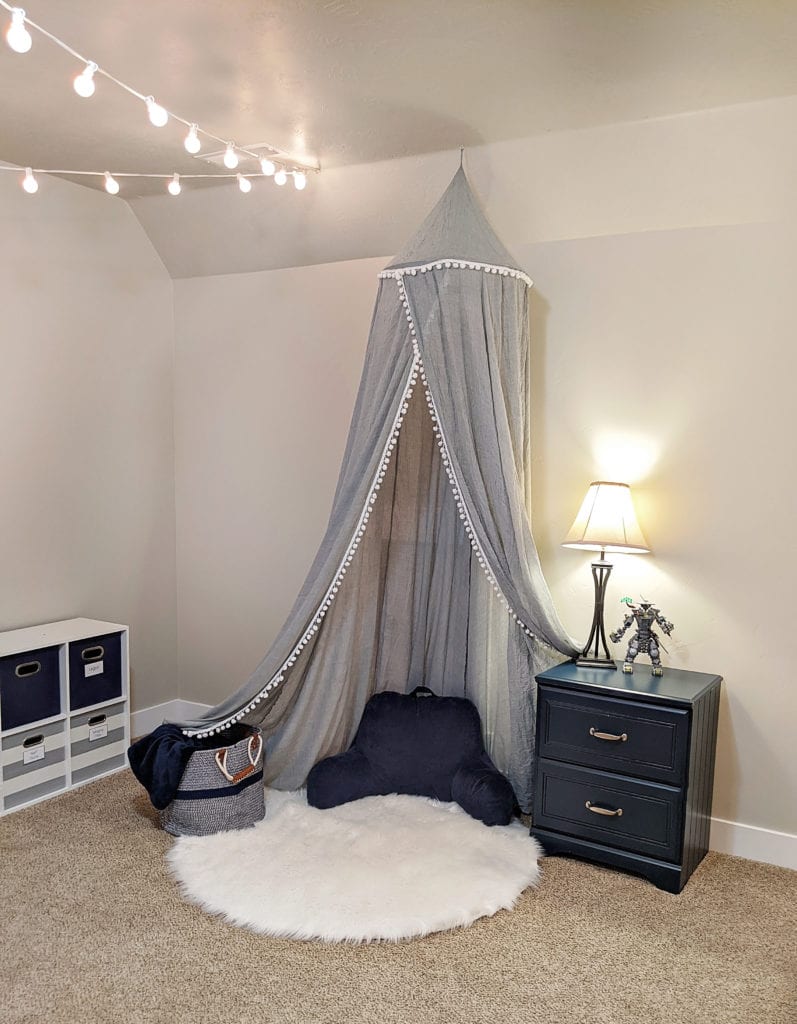 Throw away toys that have missing parts, that are broken, or that your kids have outgrown. If they are still usable, then donate them to a local thrift shop or to another child.
After you have gotten rid of the toys that you will not be keeping, look around, and figure out your storage needs. Do you have tons of toys left? Or were you able to get rid of a bunch? This will help to determine your storage needs for your playroom. This is why decluttering is the first step. You wouldn't want to buy storage bins or bags for toys that you don't want or need.
Designate Your Spaces
After you declutter, you need to look at the toys that you have left and decide if you need to designate certain areas to certain types of toys. For example, my boys are obsessed with Legos so we have a specific area of the playroom set aside just for Legos. That way they have the freedom to build and create without having to mess up the entire playroom.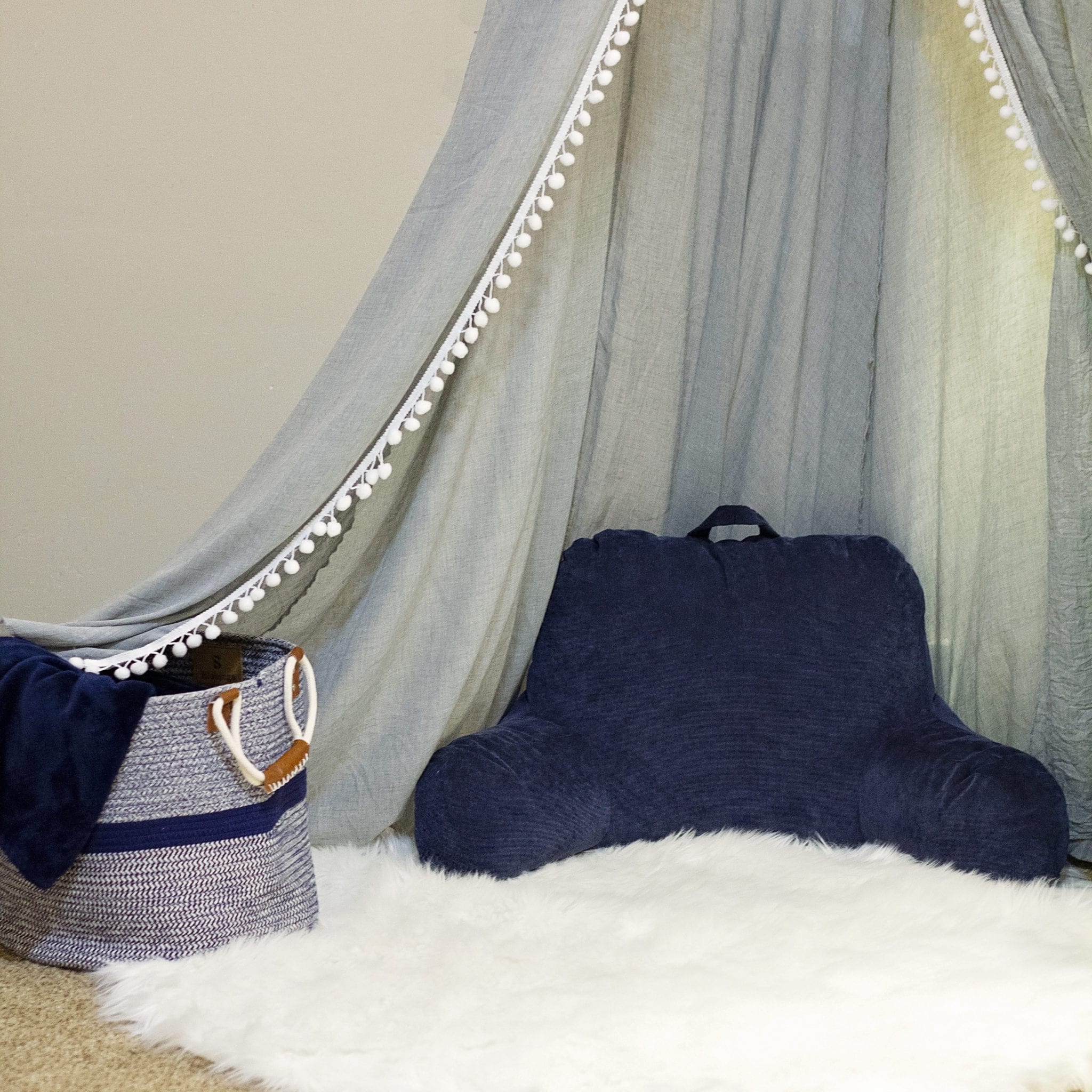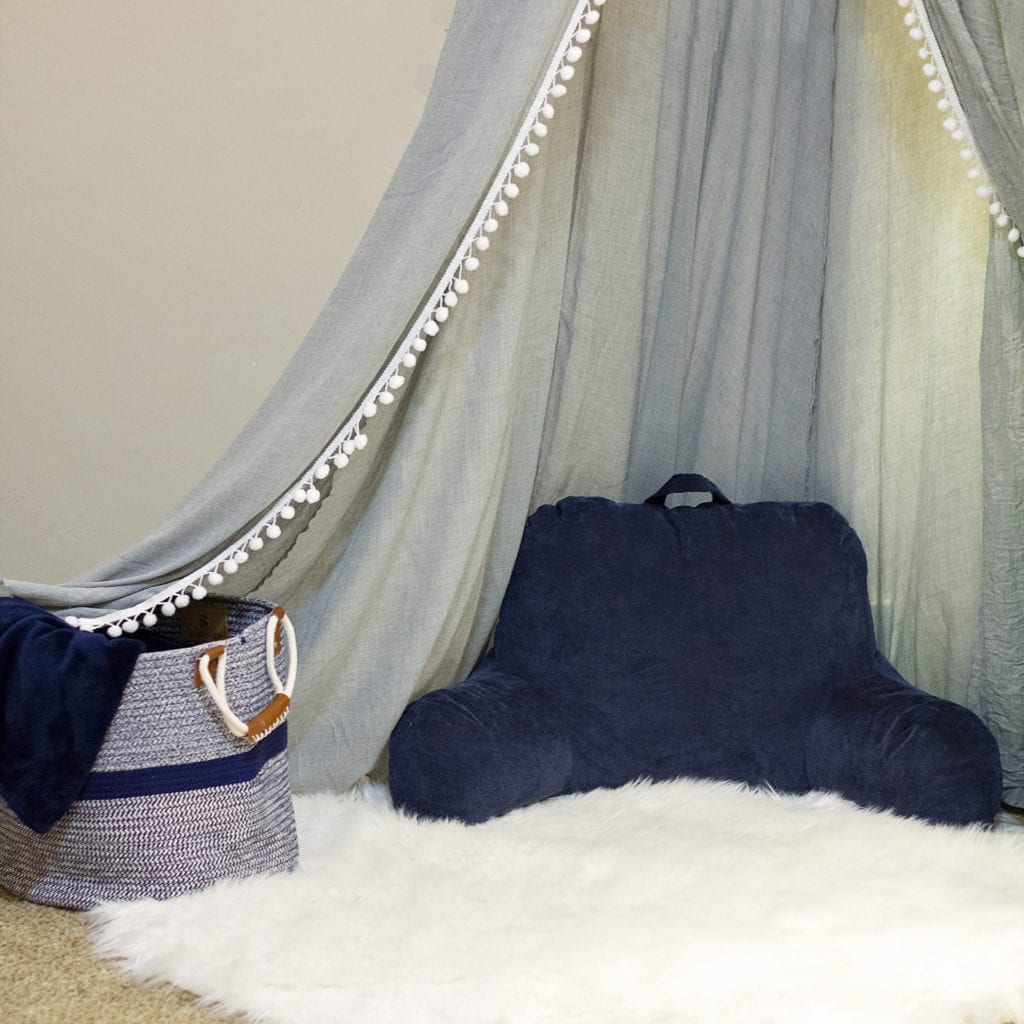 Do your kids love to read? Maybe consider creating a reading nook. Do your kids love arts and crafts? Consider making a small art area for them. Creating designated areas will help the playroom look nicer and stay more organized!
Make a Plan
After you have decluttered, designated your space, now you get to make a plan! Decide on a color scheme if you were wanting to be extra fancy. If you are going to create a reading nook, start from the ground up! Do you need a bookshelf? A rug? A reading pillow? It really helps if you think about one designated area at one time.
Make a list of all of the items that you want to purchase. Now go online and find products that fit your style and your budget. Creating a playroom space can get pricey really fast, so make sure to look out for good deals and do it one area at a time if necessary.
Playroom Accessories: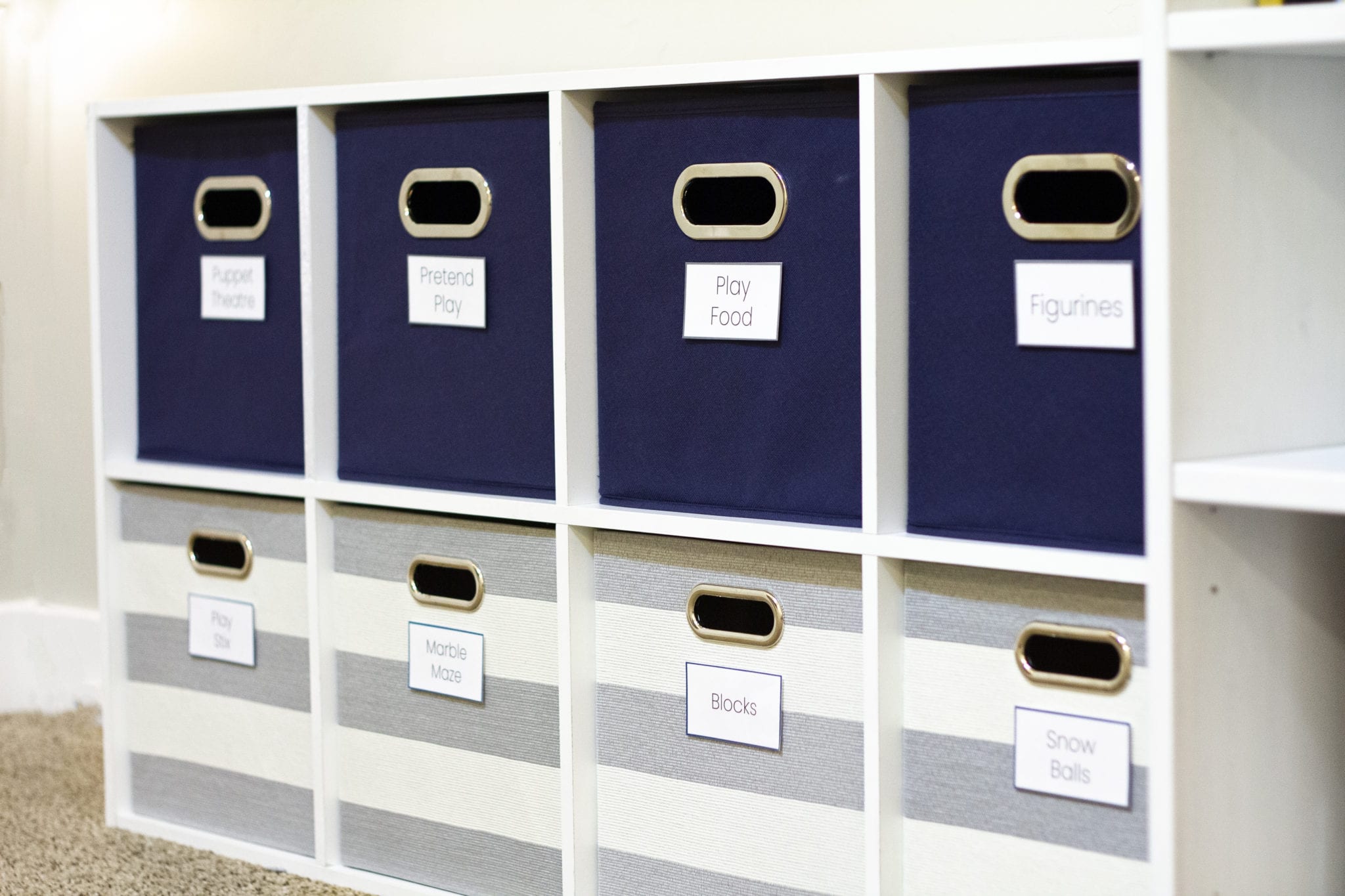 Label Your Toys
After you have purchased all of your storage bins and whatever else supplies that you need, now we get to put everything together! This is where the magic really happens! Organize the toys in bins and label them! I have free toy bin labels for anyone who is interested.
I really recommend laminating the labels so they stay nice for a long time.
For my fabric bins, I laminated my labels at attached them with Velcro Dots. At first, the velcro dots kept falling off the bins so I turned my blow dryer onto the adhesive part of the velcro dot to soften the glue. Then I pressed it onto the bins while it was still hot. They haven't fallen off since!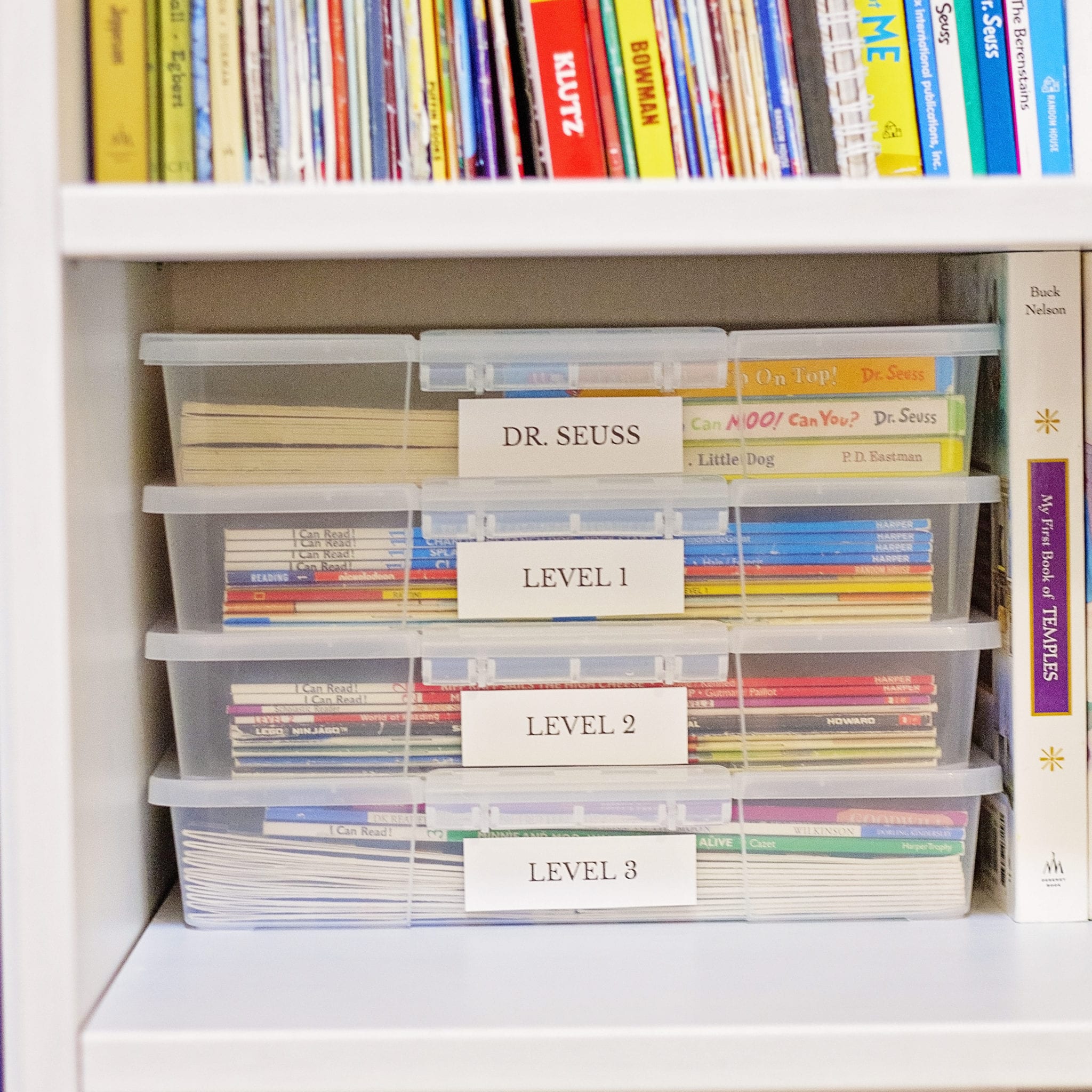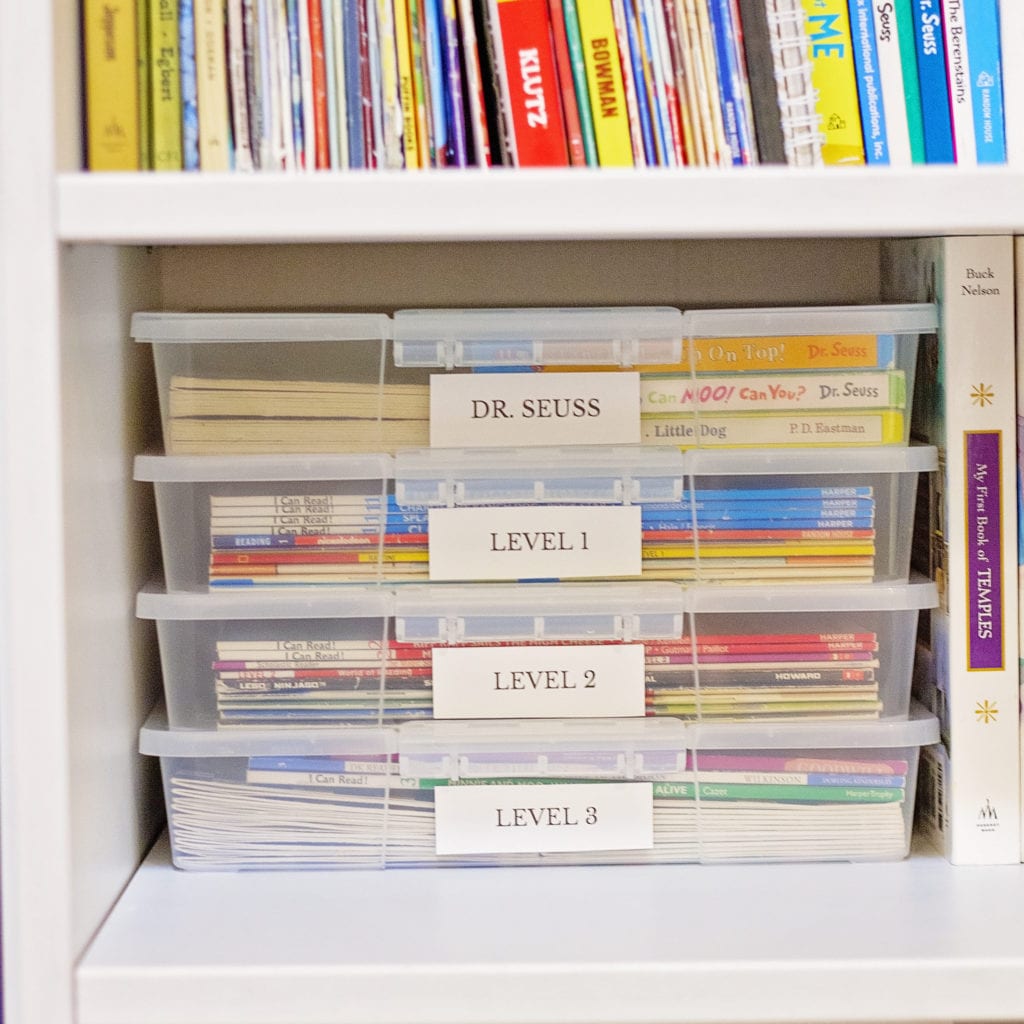 This is what I use to Laminate my Labels:

Keeping it Organized
Now that the playroom is nice and beautiful you might be tempted to ban your kids from even going into the playroom! Keeping the playroom organized can be an overwhelming task for one person. That's why I really recommend that you involve your kids at least a couple of times a week. Each of my kids have a day of the week that they are in charge of cleaning the playroom. It really helps a lot!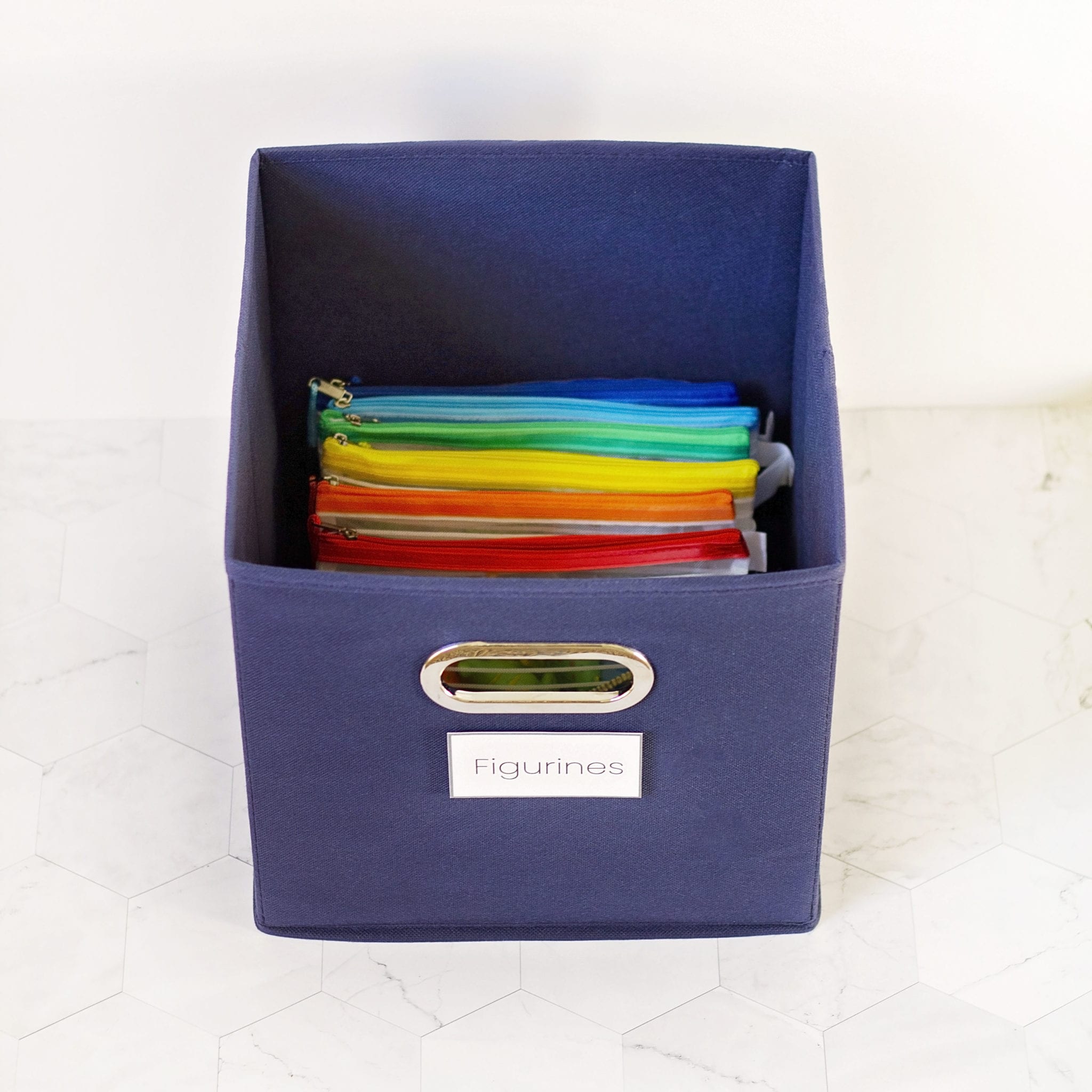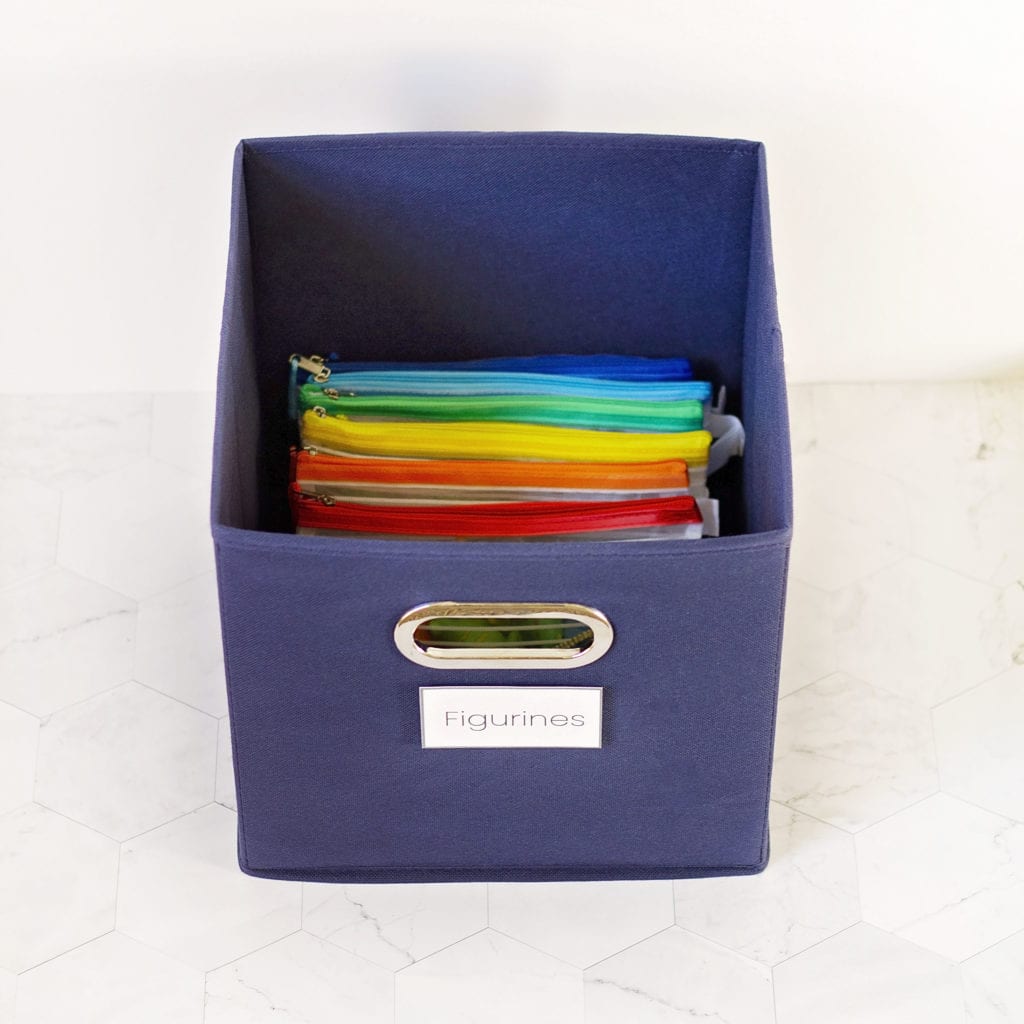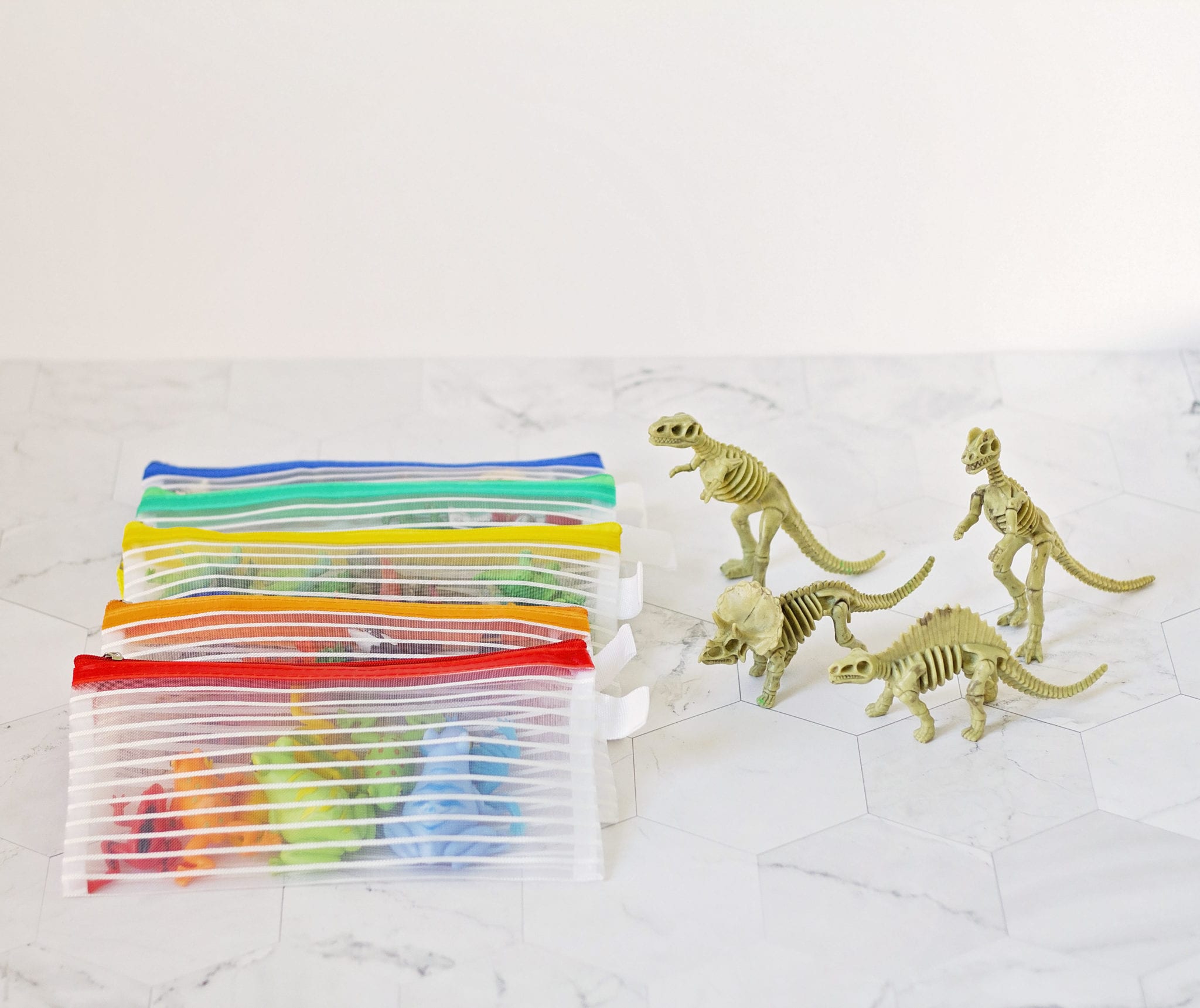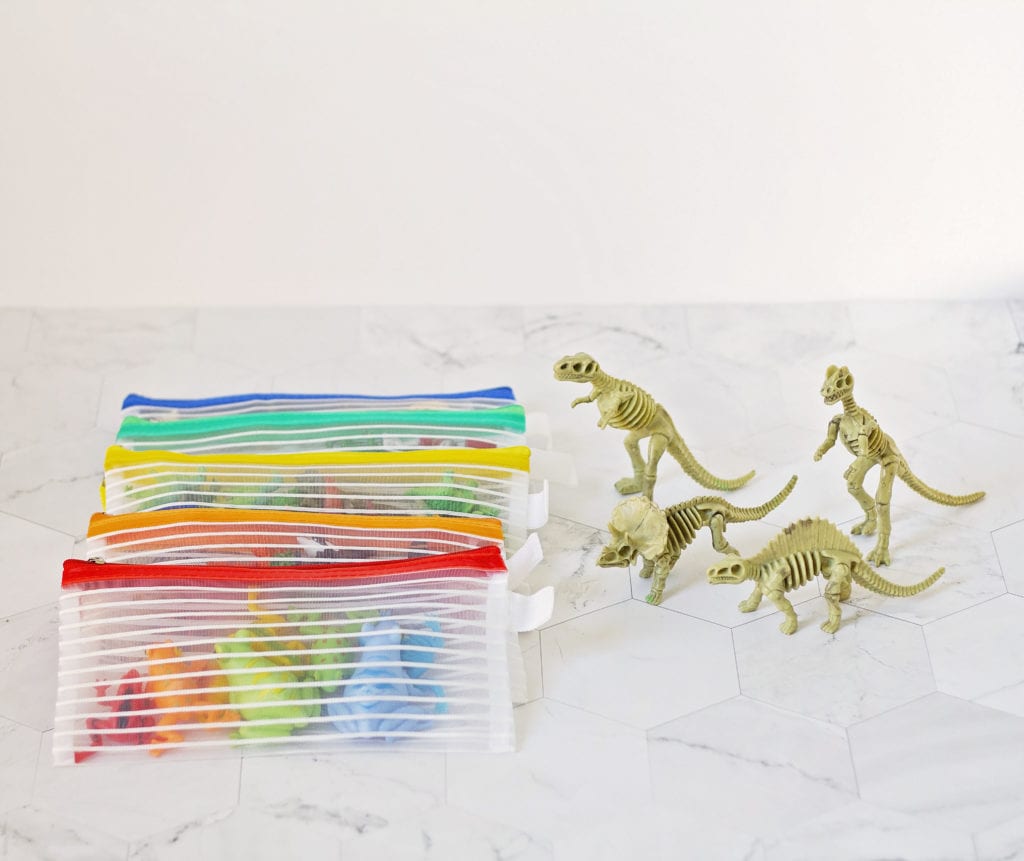 If you keep up on it and do it a few times a week, it makes it much easier to keep things clean. If you wait for a few weeks before you organize and clean your playroom, it's sure to look like a bomb went off and it is really overwhelming to clean and organize. But if you do it two to three times a week, it only takes a few minutes!
My Favorite Organizing Pouches: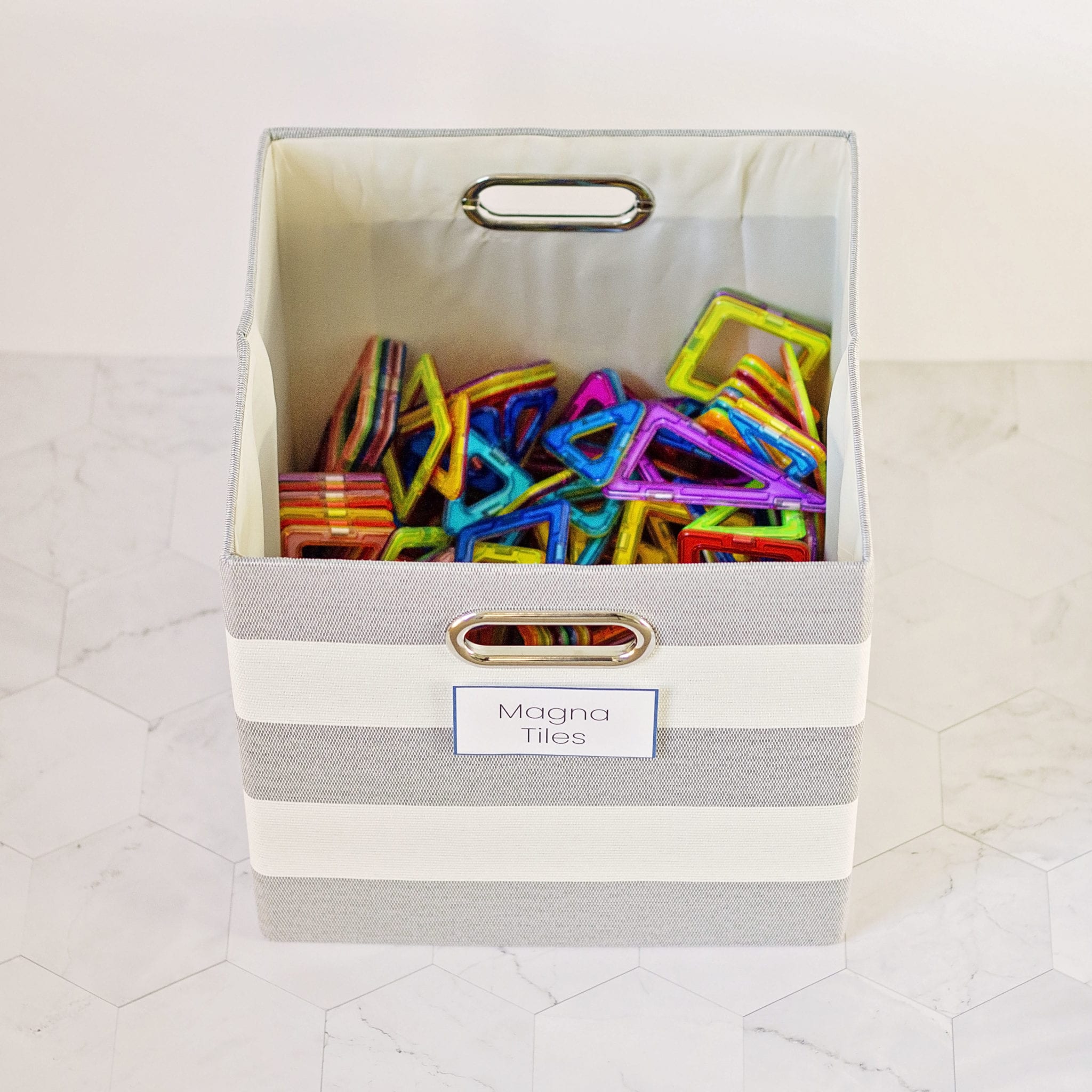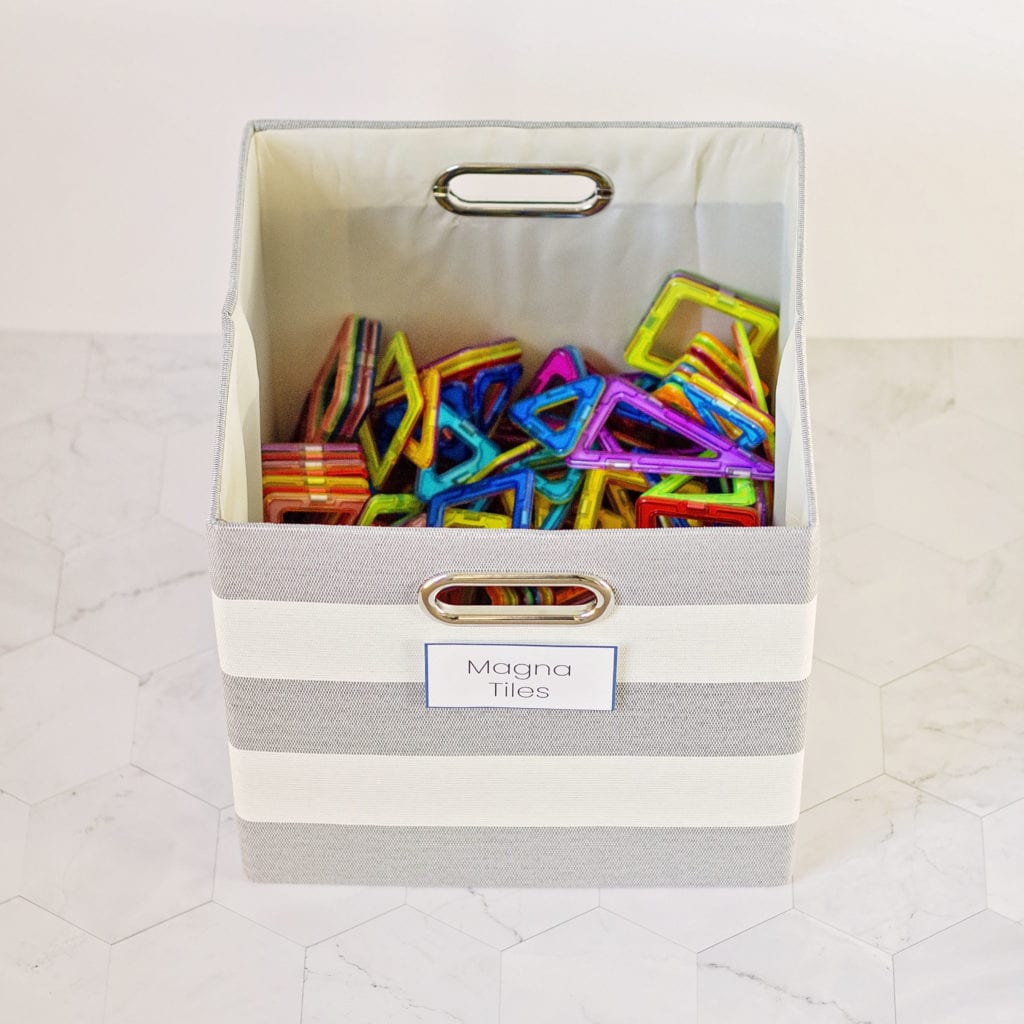 Organization Ideas for Playroom
There are tons of different ways you can organize your playroom but I like to keep things SIMPLE. Things that kids can upkeep on their own (depending on their age, of course). That's why bins are SO popular. Kids can easily toss things into the correct bins (if they're labeled!) and actually HELP clean up the playroom.
Some people want to go a step further in organizing. And for some, organizing within the storage bins is ideal. So I have some pictures that will hopefully show you some inspiring organization ideas for your playroom. I really try to teach my kids to put one toy away before getting out another one. Does this always stick and do they actually do it? Sometimes, but not always. But it doesn't hurt to try!
But the reason I like to organize SOME toys in bags WITHIN each bin is because kids are usually looking for a particular toy. For example, if I have a kid who is looking for the 'Frog' figurines, then all they have to do is look through the mesh pouches and find the frogs.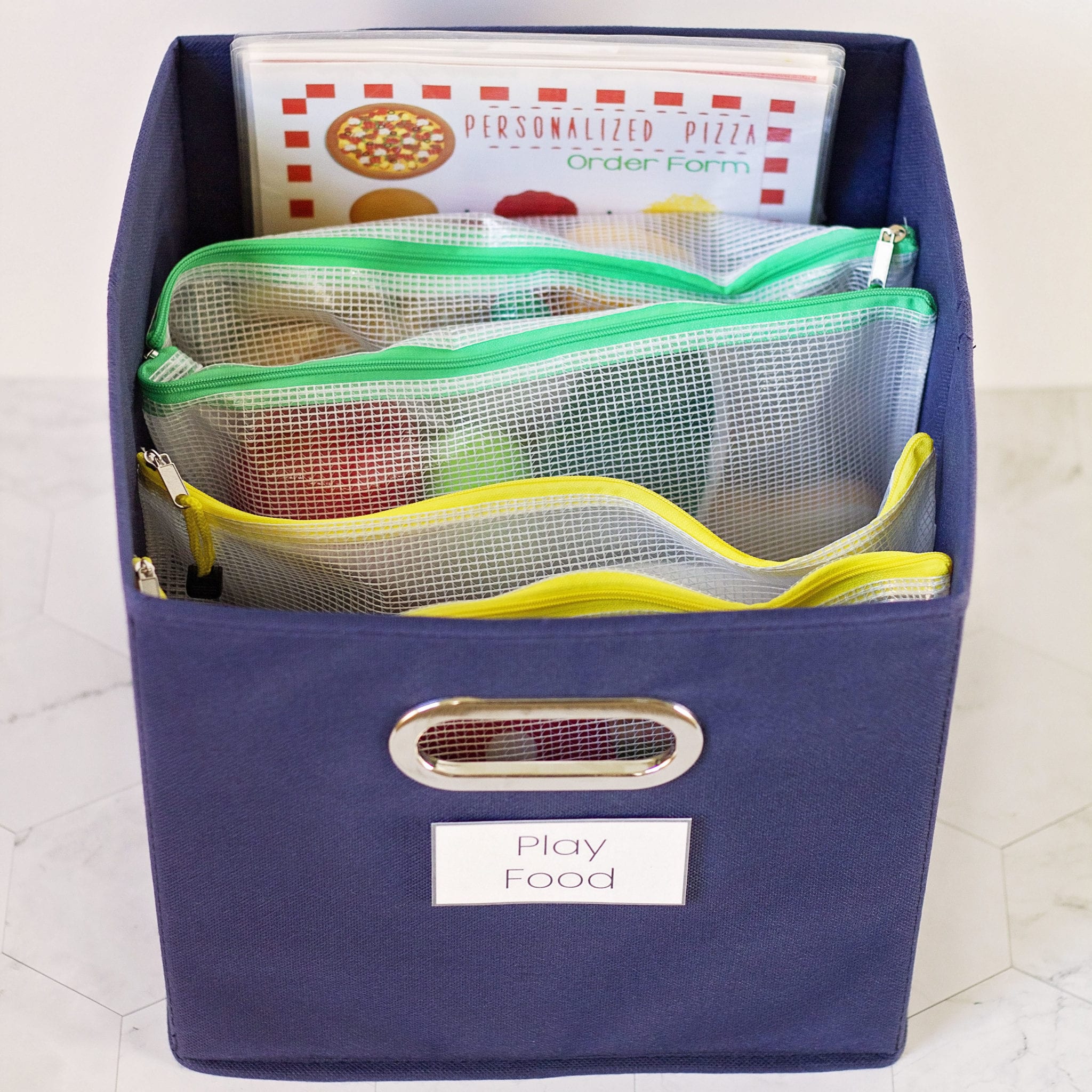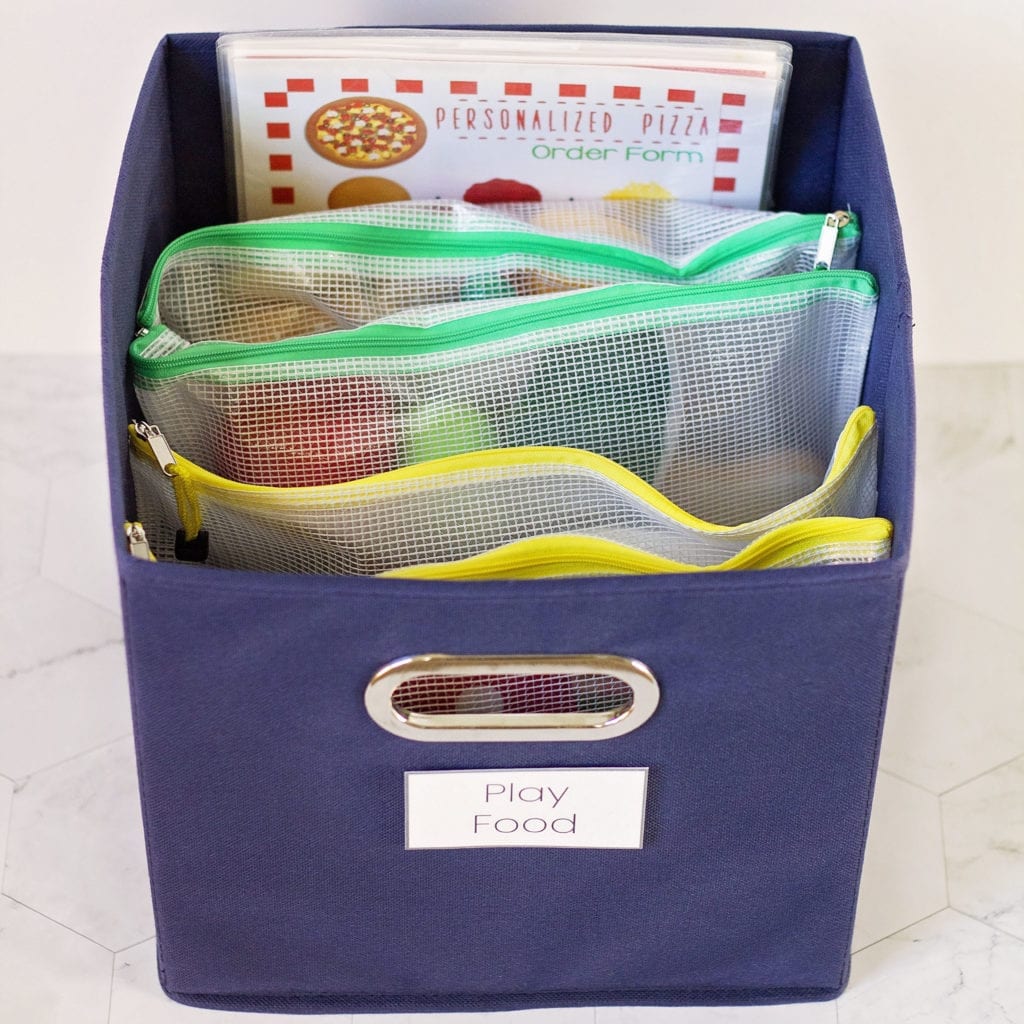 The alternative is that kids will usually dump out the entire contents of the bin all over the floor…just to find the frogs. Does that make sense? So keeping things just a bit more organized gives kids the ability to find what they are looking for quicker and hopefully leave less of a mess.
I hope that this post has inspired you with some organization ideas for your playroom. It can be really overwhelming, but take it one step at a time and make sure to only keep the toys around that your kids LOVE.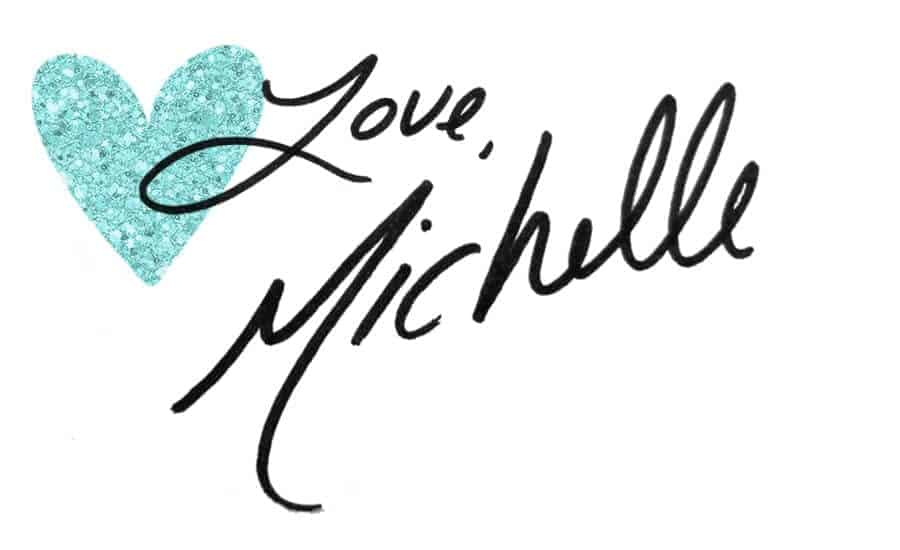 Looking for even more ideas? Check out this post by my fellow blogging friend Abby where she talks more about the process of decluttering kids' toys!
Shop this Post
Navy Blue Storage Bins with Metal Handle
Bulbinga Navy Cotton Blanket Basket
Posprica Gray and White Striped Storage Bins with Metal Handle
Gray Castle Cotton Canopy Reading Tent
"Play All Day" Wooden Cutout Sign
4 Ft. White Fur Floor Rug (round)