How to Decorate Your Front Porch for Halloween on a Budget: 21 Easy and Inexpensive Ideas
If you're looking to add some spooky fun to your front porch this Halloween but don't want to spend a lot of money, we've got you covered! In this blog post, we will share some easy and inexpensive ideas for decorating your porch that will make it look amazing. From hanging witch hats to adding spooky lighting, these decorations are sure to impress your guests!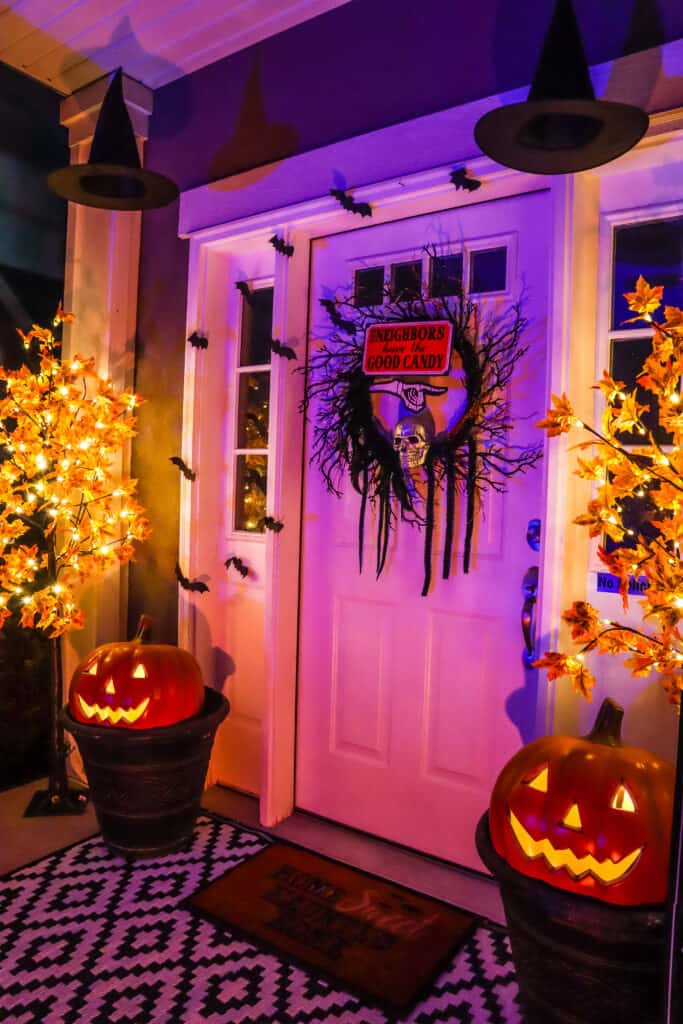 Every October, it's fun to see all of the fun Halloween porch decor ideas that neighbors come up with and inspire me with.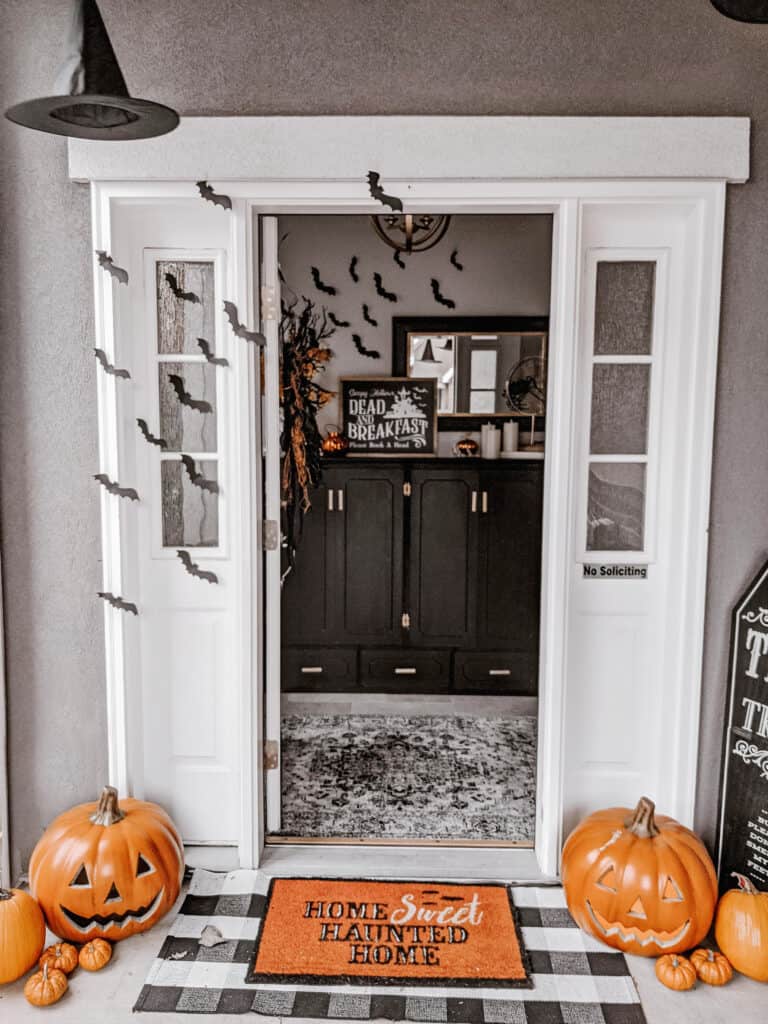 Important Things to Remember when Sticking to a Decorating Budget
If you love Halloween, then you know how easy it is to get carried away with all of the fun decorations that are available. But if you're trying to stick to a budget, there are a few things you should keep in mind.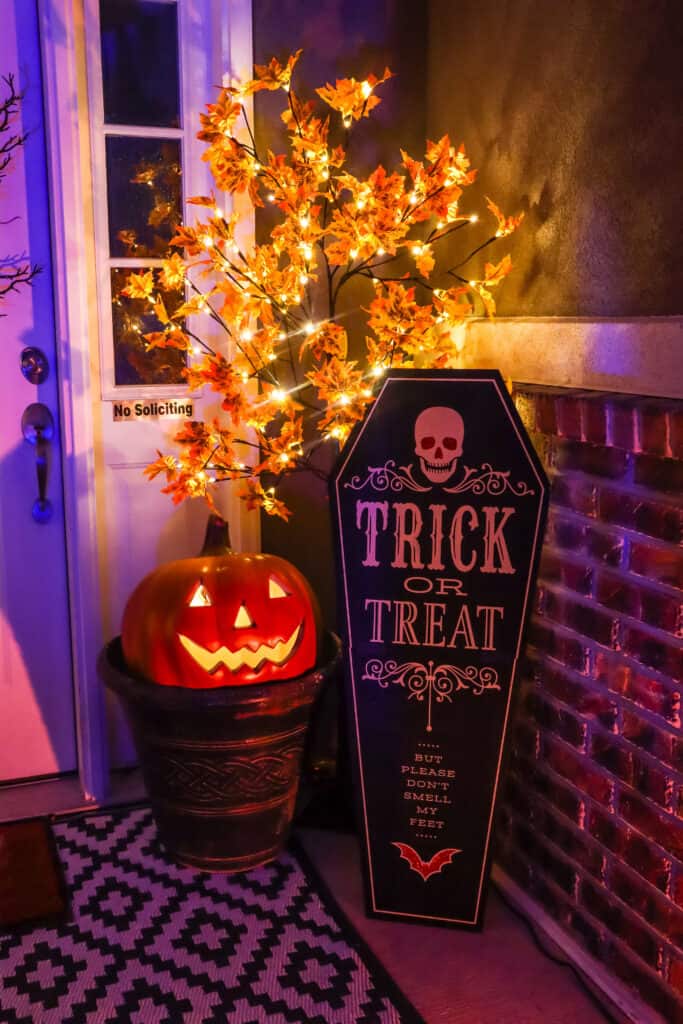 First, remember that less is more. You don't need a lot of decorations to make your Halloween porch look great. A few well-chosen front porch pieces will go a long way, especially if you choose well.
Second, think outside the box. There are a lot of ways to decorate your front porch without spending a lot of money. For example, you can use items you already have around the house, like old lamps or vases. You can also get creative with how you use light. Black cardstock can be used to cut out a variety of spooky silhouettes.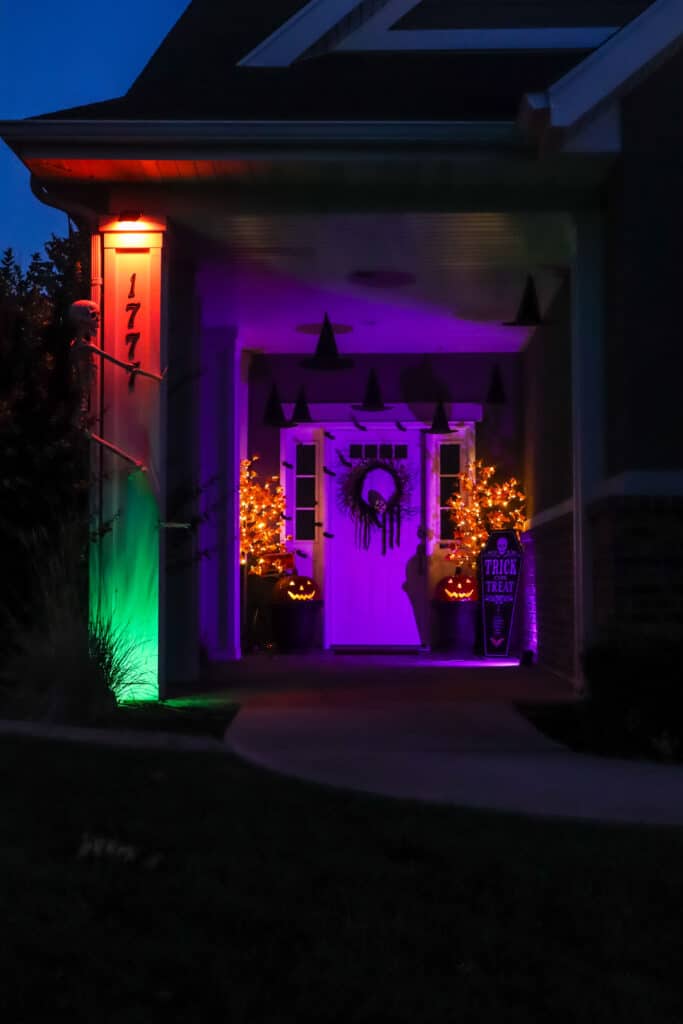 Third, don't forget to use spooky lighting. Lighting can take your front porch from good to great with the flip of a switch and I'm super excited to share my favorite products with you. You can use anything from colored floodlights, lighted trees, to battery-powered candles! The candles would have an extra eery effect if you put them into black lanterns!
One of my favorite things I've seen is hanging candles from the ceiling, just like in Harry Potter! This is a really easy Halloween porch decor item that stores well and adds a fun touch to any Halloween party or event.

How to Find Halloween Decor for your Porch that Stores Well
These Halloween porch decor ideas are all fun and games until it comes time to put it all away. It's hard to find the space to store all of those pumpkins, ghosts, and witches! Here are some tips for finding decor that stores well.
First, try to find things that can be taken apart. This will make them much easier to store.
You can also look for things that can be used for other purposes, like using battery-powered candles in your front porch Halloween decor as well as for your everyday decor.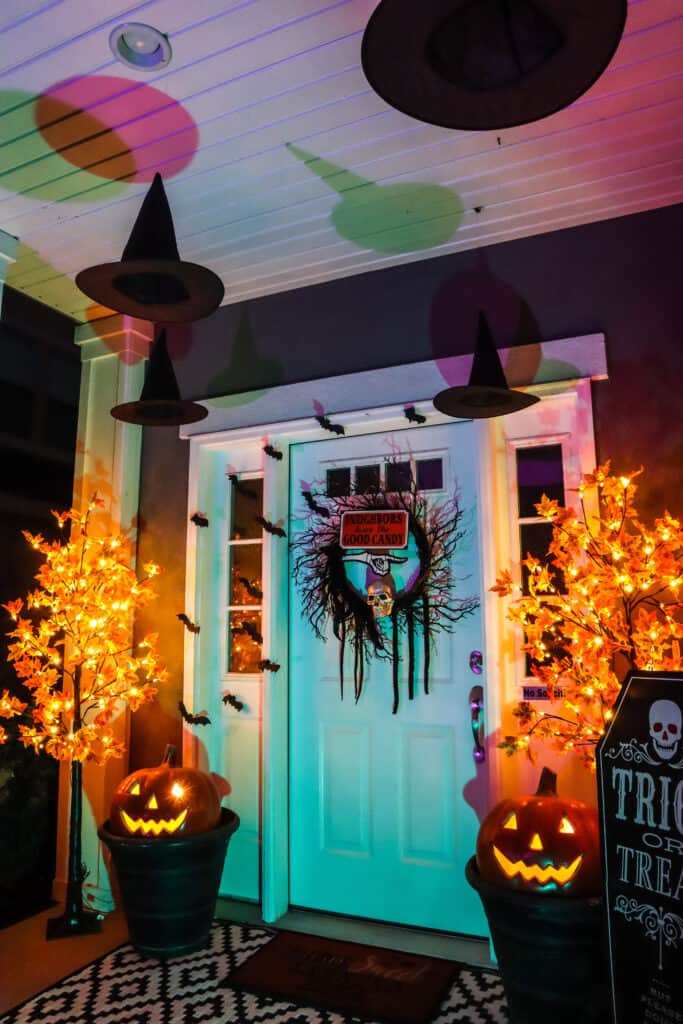 Next, look for things that are flat, to begin with (or store small). You can use things like silhouette window clings, paper bat silhouettes, black spider window (or wall) clings or even spread spider webs all over your bushes!
There are even Halloween decorations that fold up to make storage easy and convenient!
They even have black cat silhouettes that stake into your grass! This could be a really fun decor piece, especially if you add some colorful backlighting!
My favorite Halloween porch decorations that store extremely well are my collapsible witches hats and my paper bat silhouettes.
Don't let lack of storage deter you from creating an amazing Halloween front porch, because you can accomplish both with some of these really fun Halloween porch decor ideas!

Types of Halloween Decor for your Front Porch
There are many different types of Halloween porch decorations. You can choose to have a theme for your Halloween front porch or you can use a variety of spooky elements in your decor.
Add Faux Pumpkins (but these don't usually store compactly)
Faux pumpkins are a great way to add some color and dimension to your porch without having to worry about them rotting. You can find these at most craft stores or online.
It's pretty standard to add a few pumpkins to your porch decor but you can have some fun with it by creating some pumpkin topiaries! This is one of my favorite Halloween porch decor ideas that I've seen through the years but I've never done it myself.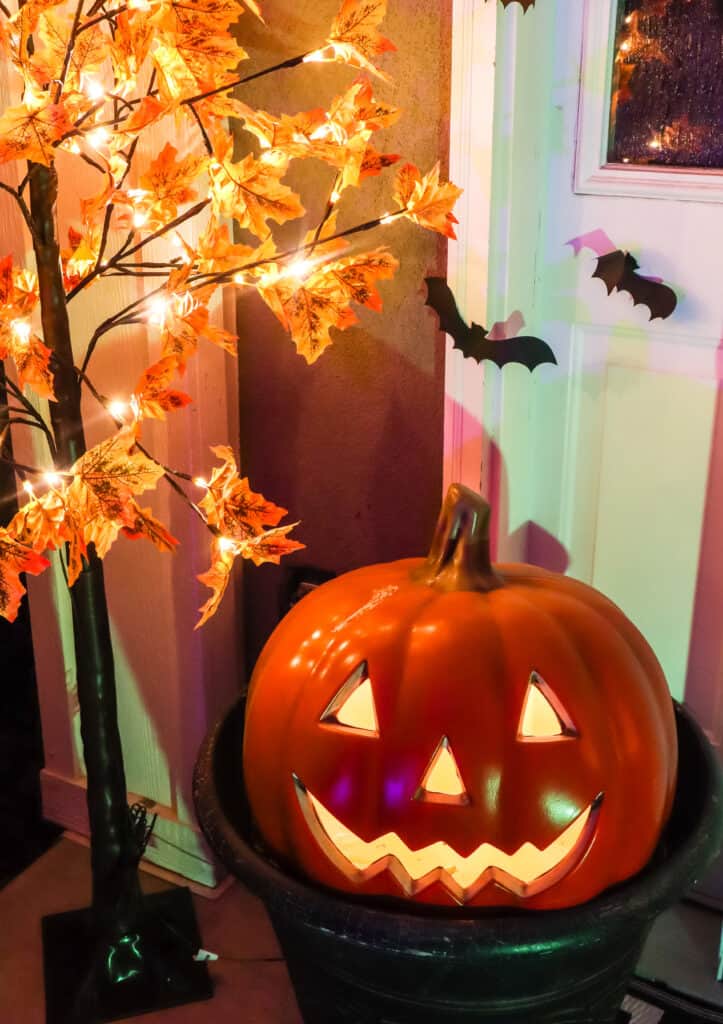 If you have a tradition of carving pumpkins then you can pre-plan where you will put your carved pumpkins when it's closer to Halloween. It's also fun to add some mini pumpkins next to the larger ones to add some depth to the porch. Mini pumpkins are great for layering.
Light Up Trees
Adding some light-up trees is one of my favorite ways to add some spooky drama to my front porch. It's fun to be able to add some moody Halloween lighting to the porch that adds some height to your porch decor.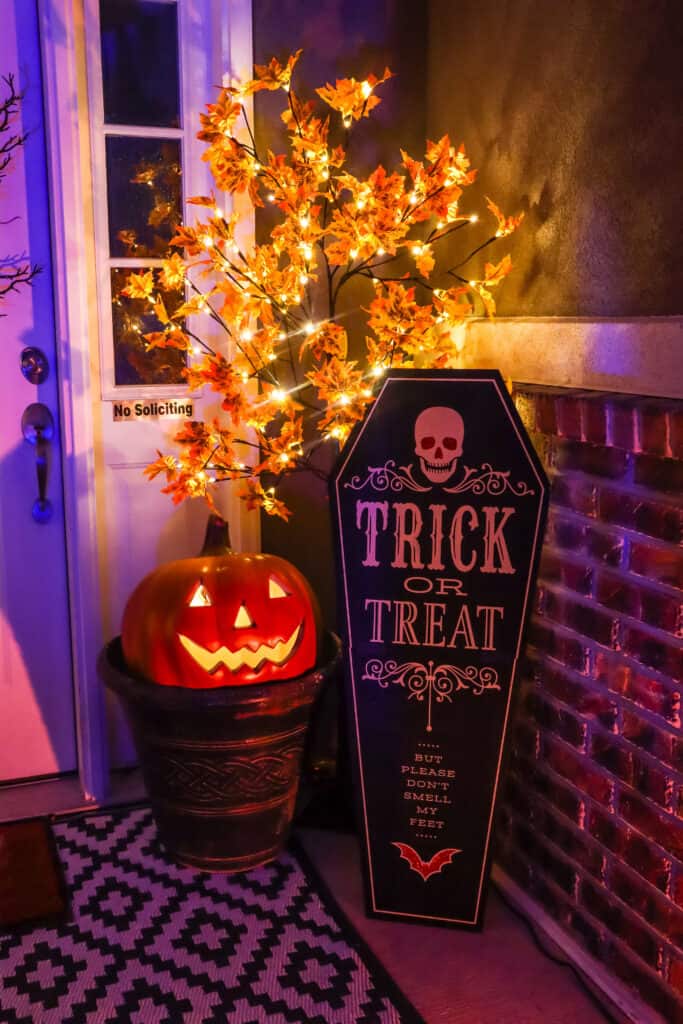 These trees store away really nicely and are super simple to put together and fluff the branches to make them look more full. These are one of those pieces that are worth investing in because you can use them for years and years to come.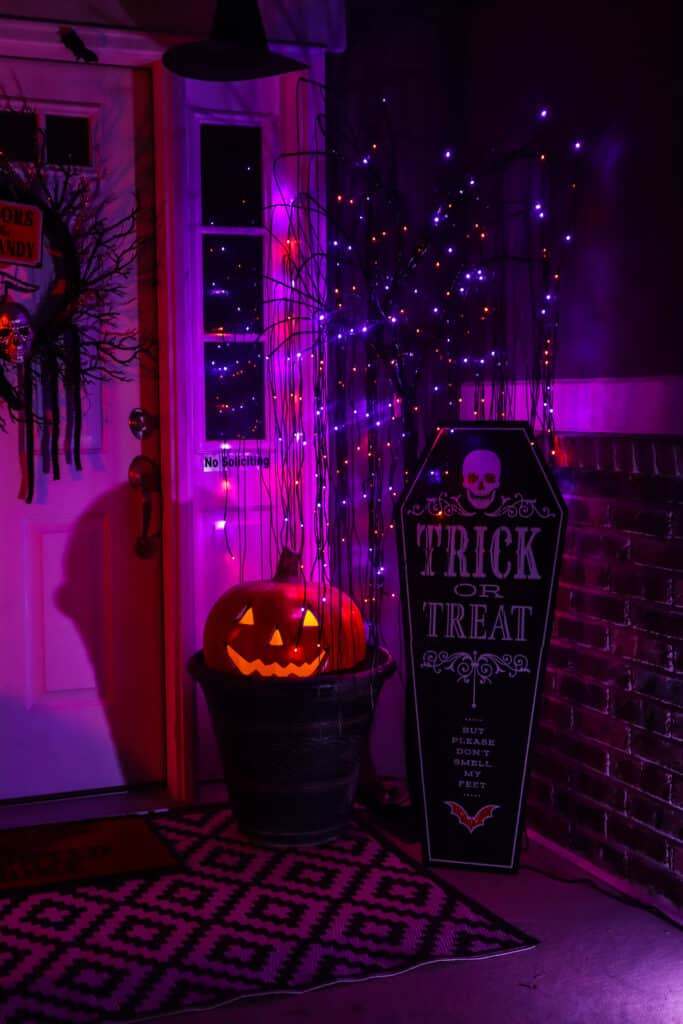 I use these lighted maple trees on my back patio for parties or outdoor movie nights. I LOVE the fall leaves on these and the fun pop of orange color that they bring to my spaces. I use them mainly on my front porch though.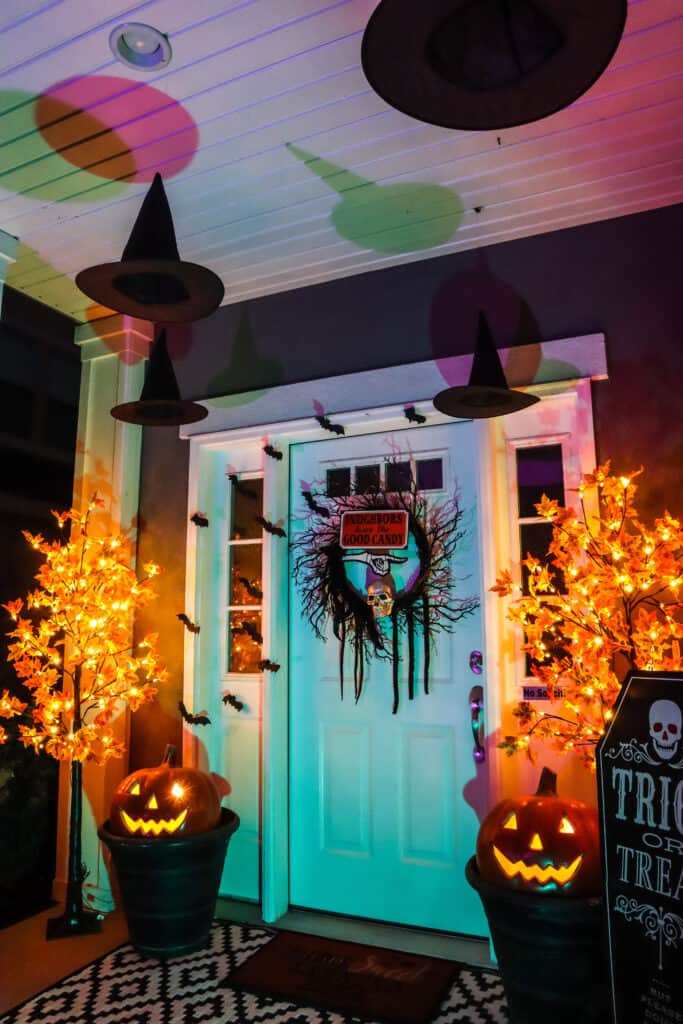 Find a Halloween Sign for your Halloween Porch Decor
A Halloween sign is a really simple way to add some Halloween cheer to your front porch. You can find a variety of Halloween signs at your local dollar store or party supply store. If you want something a little more unique, try looking for a vintage Halloween sign on Etsy or eBay.
A Halloween sign can be one of those porch decor ideas that really set the tone for the theme of your front porch. Trick or treaters love reading the signs that you have up!
Have an awesome Halloween Wreath
Having a really cool wreath can be a really great way to create an awesome Halloween Porch. Because this is often a focal point of your Halloween porch decor, it's important to get one that makes a statement!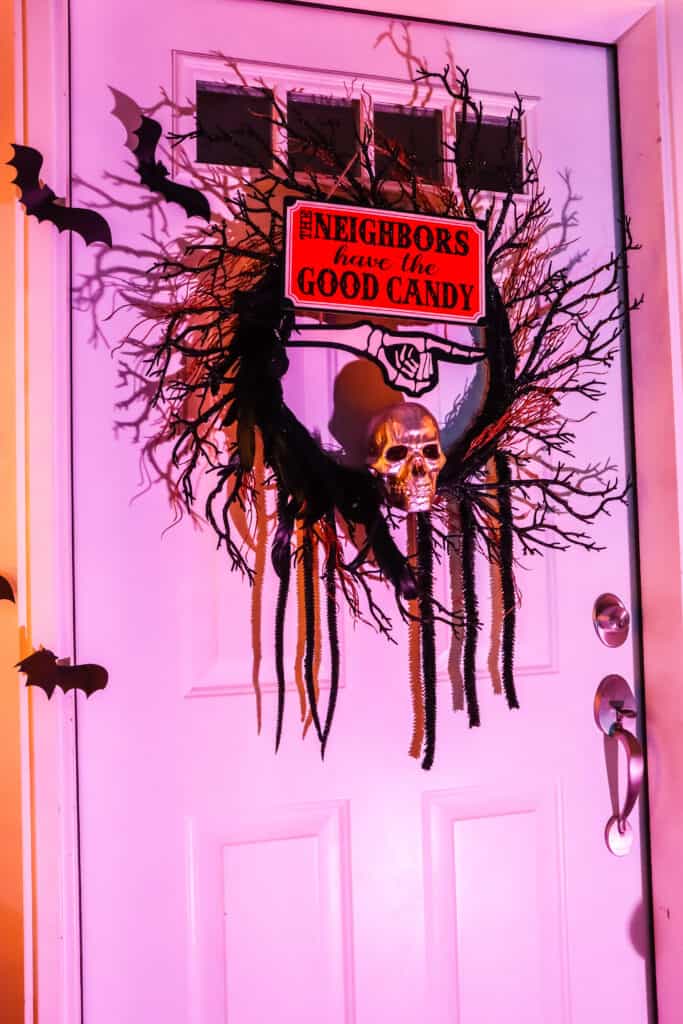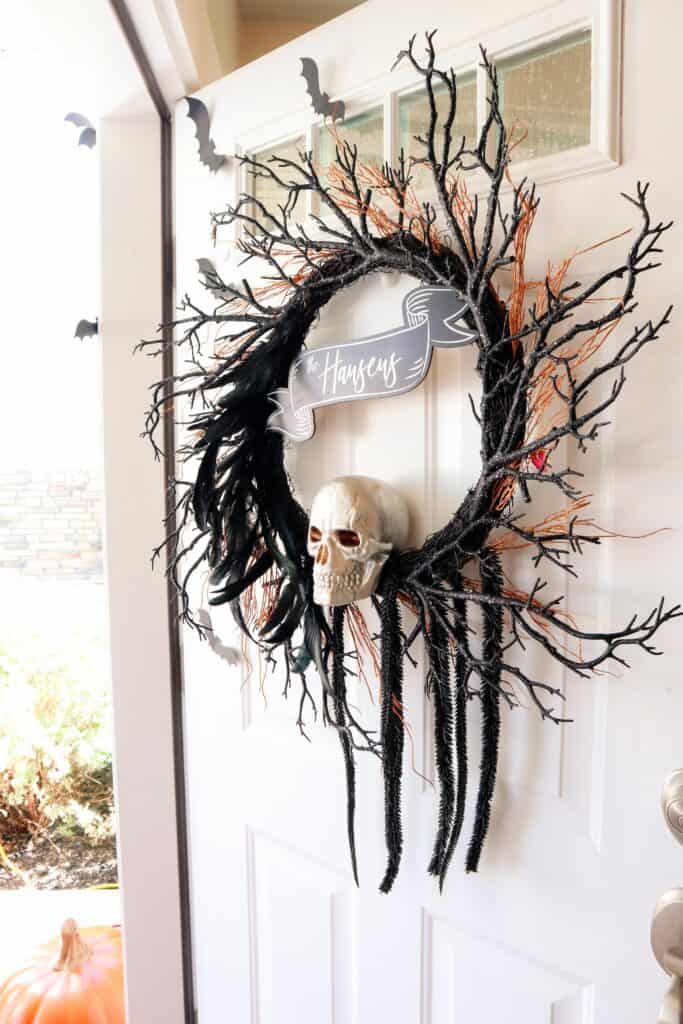 Spooky Halloween Lighting
Halloween can add just the right amount of spooky drama to your home. You don't need a lot of expensive equipment or a professional installation to get great results. A few well-placed Halloween lights can make all the difference.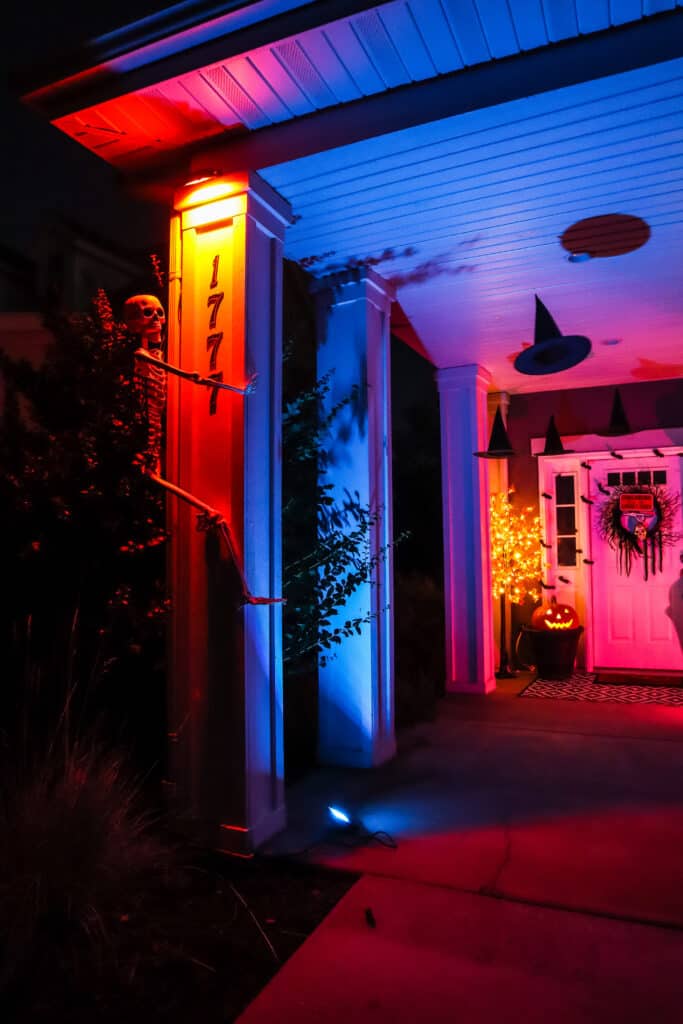 We add a floodlight to the top of our front porch pillar and a floodlight to the bottom of the pillar and set them in different colors. The orange lights (combined with whatever color it rotates through) are one of the most impactful Halloween porch decor ideas that I've used.

Hanging Witch Hats
The combination of black witches' hats and some fishing line make for a very spooky effect when hung from your porch ceiling! You can also park a few witches' brooms or witch shoes on the porch to amp up the witch theme.
I added these witch hats to my Halloween front porch last year and it's one of my favorite porch ideas ever!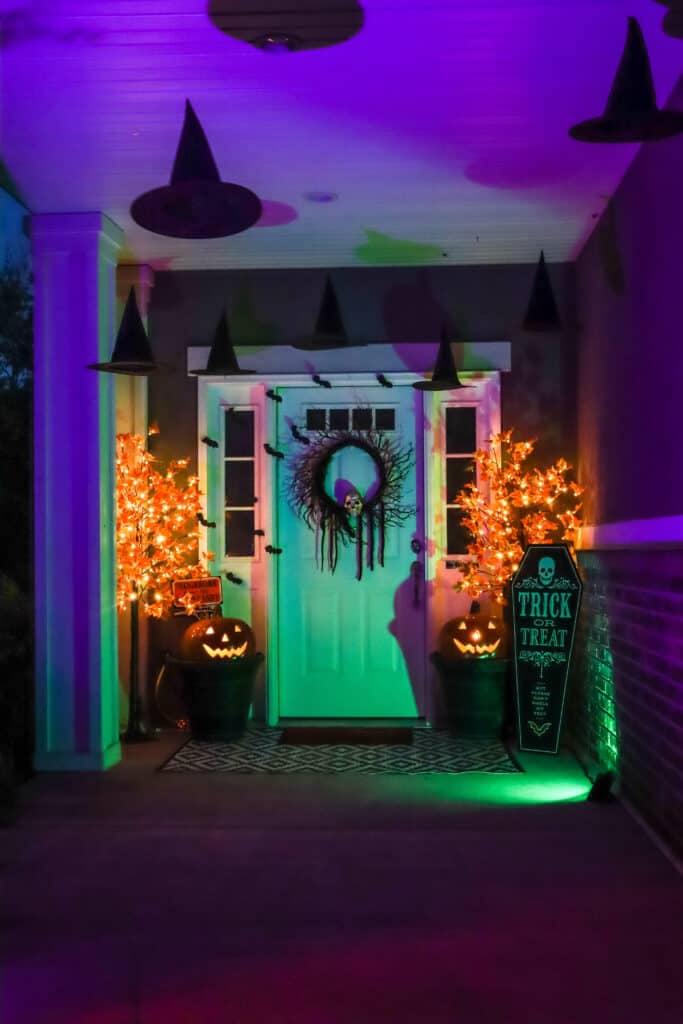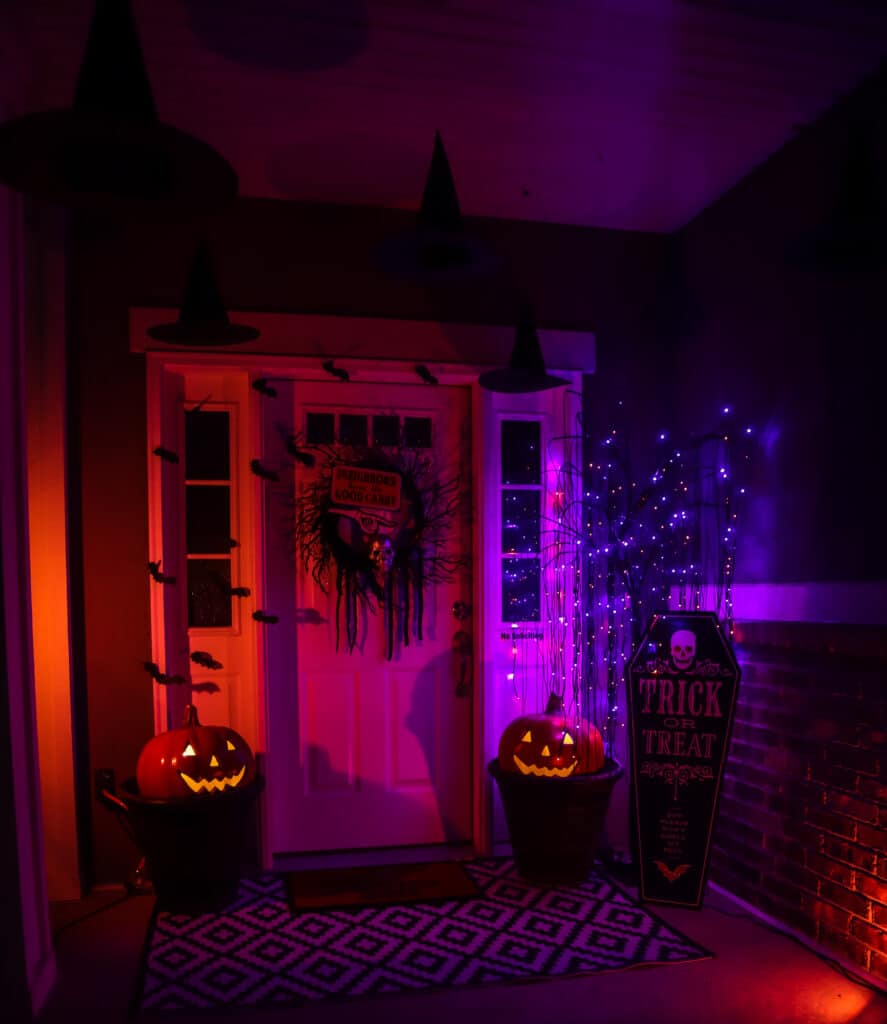 Paper Bat Silhouettes
These are one of my very favorite porch decor ideas for Halloween! All you need is black construction paper, scissors, and tape. Just cut out bat shapes and tape them to your windows or doors.
It may be worth your while to just purchase some instead though. They are really easy to find!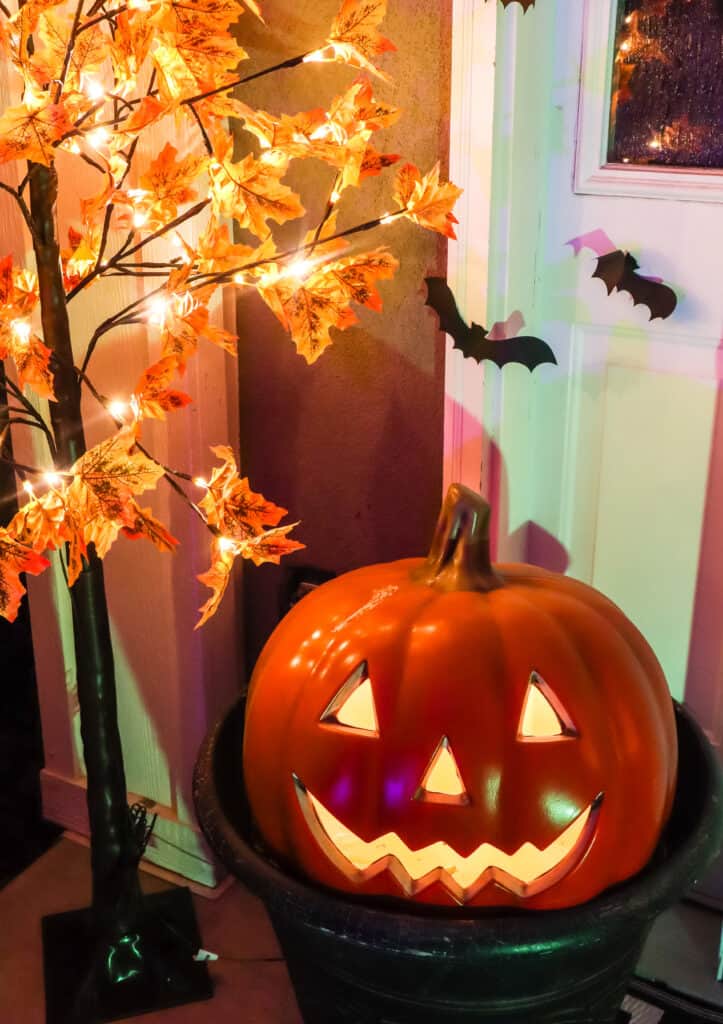 Life Size Spider Webs
Giant spider webs are not a new concept for Halloween front porch decor, but they're a classic porch idea for a reason! They are relatively easy to set up, they are just the right amount of spooky, and they store really small.
Add a giant spider to your spider webs and it will be a spooky decor that the kids will love. It's especially fun if you can add spiders to various parts of your yard making it look like they are crawling all over your house. You can do just one spider or many spiders!
Front Yard Holograms
This is one of my favorite porch decor ideas that can be a bit of an investment but it stores really small and you'll be guaranteed to be the coolest house in the neighborhood.
A Halloween hologram is created by placing a small projector in your front yard that projects an image onto a screen or wall. In my opinion the only place you can find quality Halloween hologram scenes are at AtmosFX.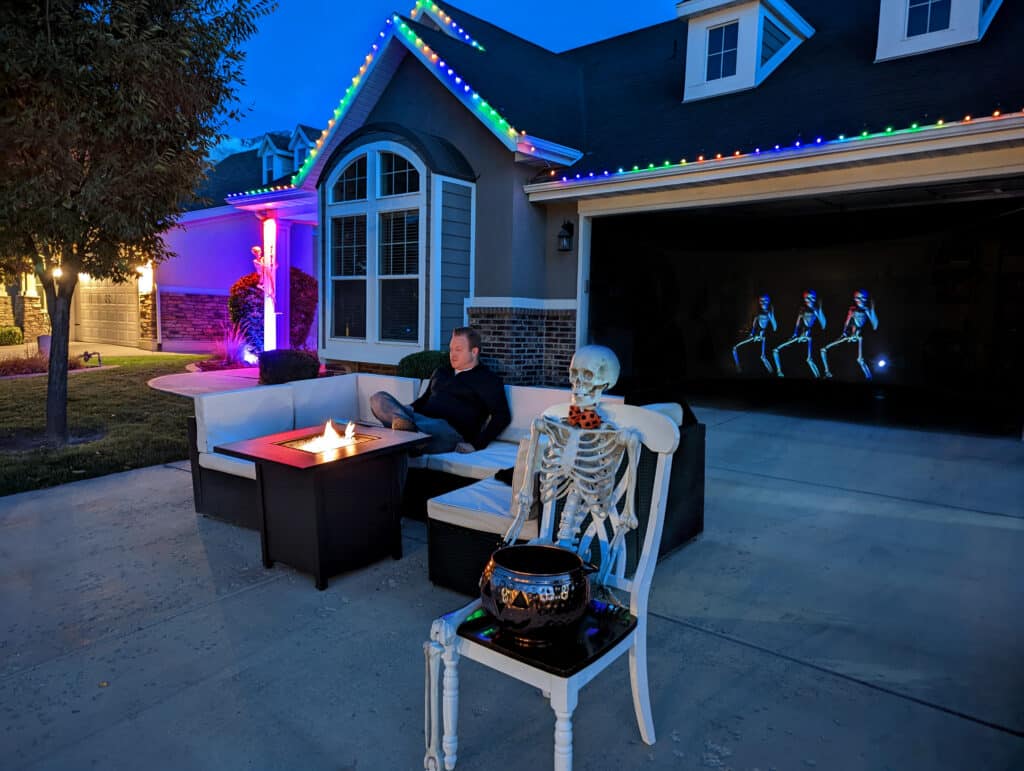 I don't like the scary scenes because I don't want all of the neighbor kids to be afraid of my house! But they have a ton of really fun ones that even the kids enjoy. I really love Ghostly Pets, Witching Hour, Monster Bash, Jackolantern Jamboree 3, and Halloween Window for a really classy look.

Leaf Garlands
A really fun and easy way to decorate your front door is to add some leaf garlands to the frame of your front door. You can even drape the garlands around some command strips for easy put up and take down. They add more of a fall feeling to your Halloween porch if you are going for something more seasonal instead of just one holiday.
Life-Sized Skeletons
You can find these at any Halloween store, but I like to buy mine at Walmart. They have a great selection and you can usually find them a little cheaper than in many other stores.
If you want to add your own fun twist to your skeleton, you can buy some spray paint from any home improvement store and spray paint your skeletons! I've seen people over the internet using spray paint to paint their skeletons gold, pink, black, or even silver!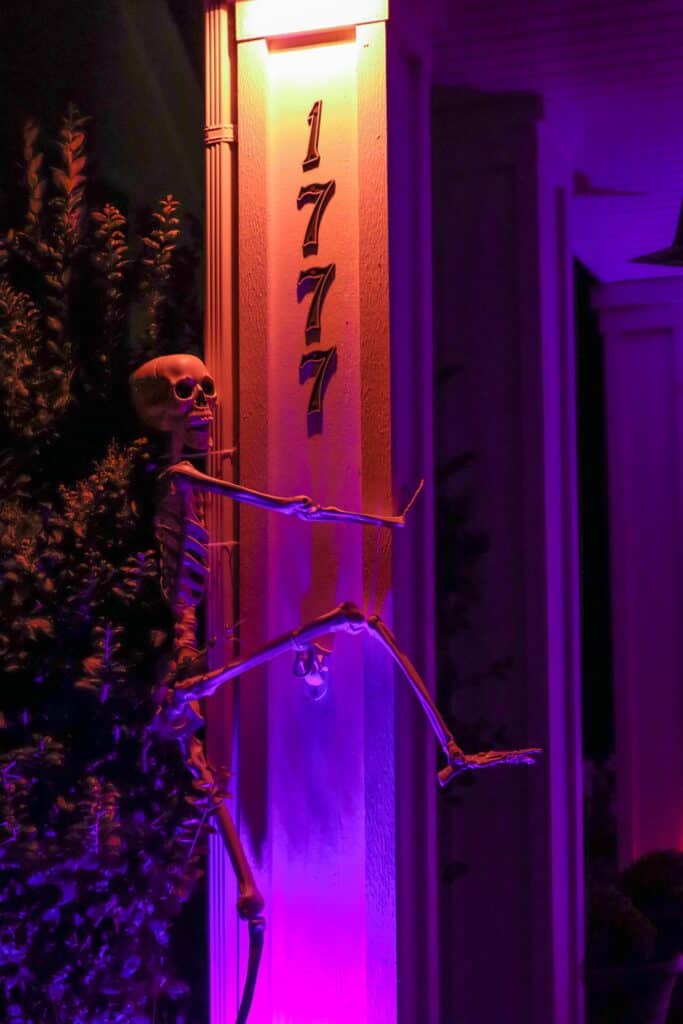 We use zip ties to hang our skeleton off of our front porch pillar and make it look like he's climbing up the house! This is one of my favorite Halloween front porch ideas that we've done. Trick or treaters love to walk by our house and they get a big kick out of our skeleton climbing the house.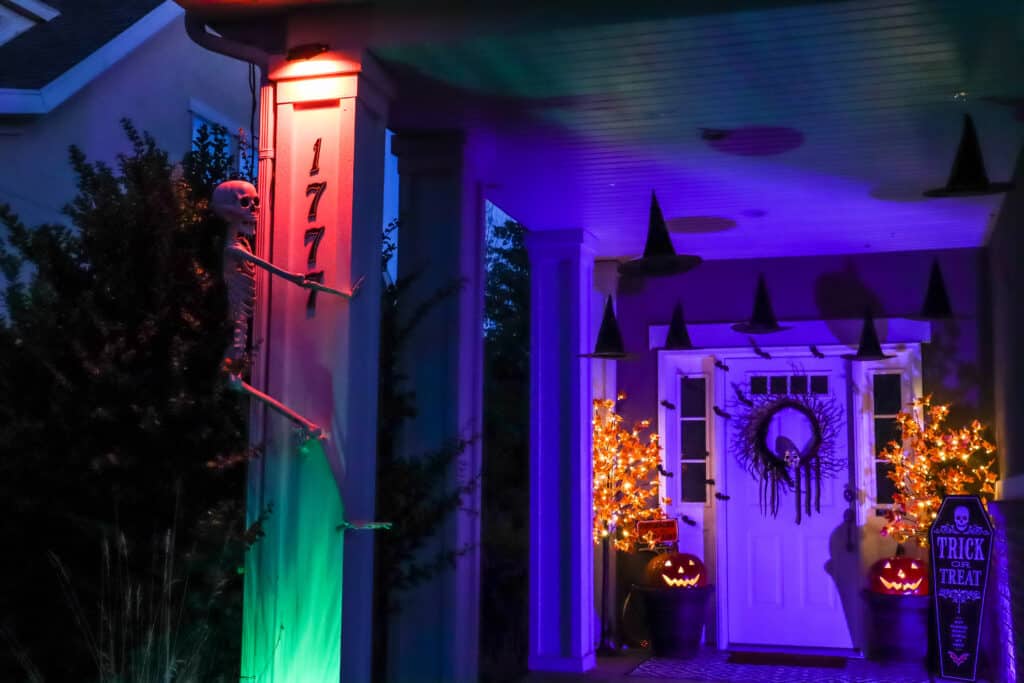 Hanging Ghosts
Hanging ghosts are a Halloween classic that you can never go wrong with. You can buy some cheap white sheets from any store and cut them into ghost shapes. Then, all you need to do is put a little bit of stuffing in the ghosts and tie them off at the neck. Or you can use white paper lanterns to form the shape of their head!
To hang your ghosts, we like to use a fishing line because it's clear and it makes it look like the ghosts are actually flying! These are great Halloween porch decorations when they are hung from the ceiling or between pillars.
Trick or treaters will get a kick out of seeing your Halloween ghosts the night of Halloween.
I hope these Halloween Porch ideas have been helpful to help give you some great Halloween porch decor ideas that all of the trick-or-treaters are going to love!