Budget Friendly Halloween Bedroom Decor: Spooky and Affordable Ideas
If you want to add a bit of spookiness to your bedroom this Halloween but don't want to break the bank, then you're in luck. There are lots of ways that you can decorate your bedroom on a budget. In this blog post, we will discuss some affordable ideas for Halloween bedroom decor. From witches hats to bat silhouettes, we have got you covered! So read on for some inspiration and get ready to transform your bedroom into a Halloween haven!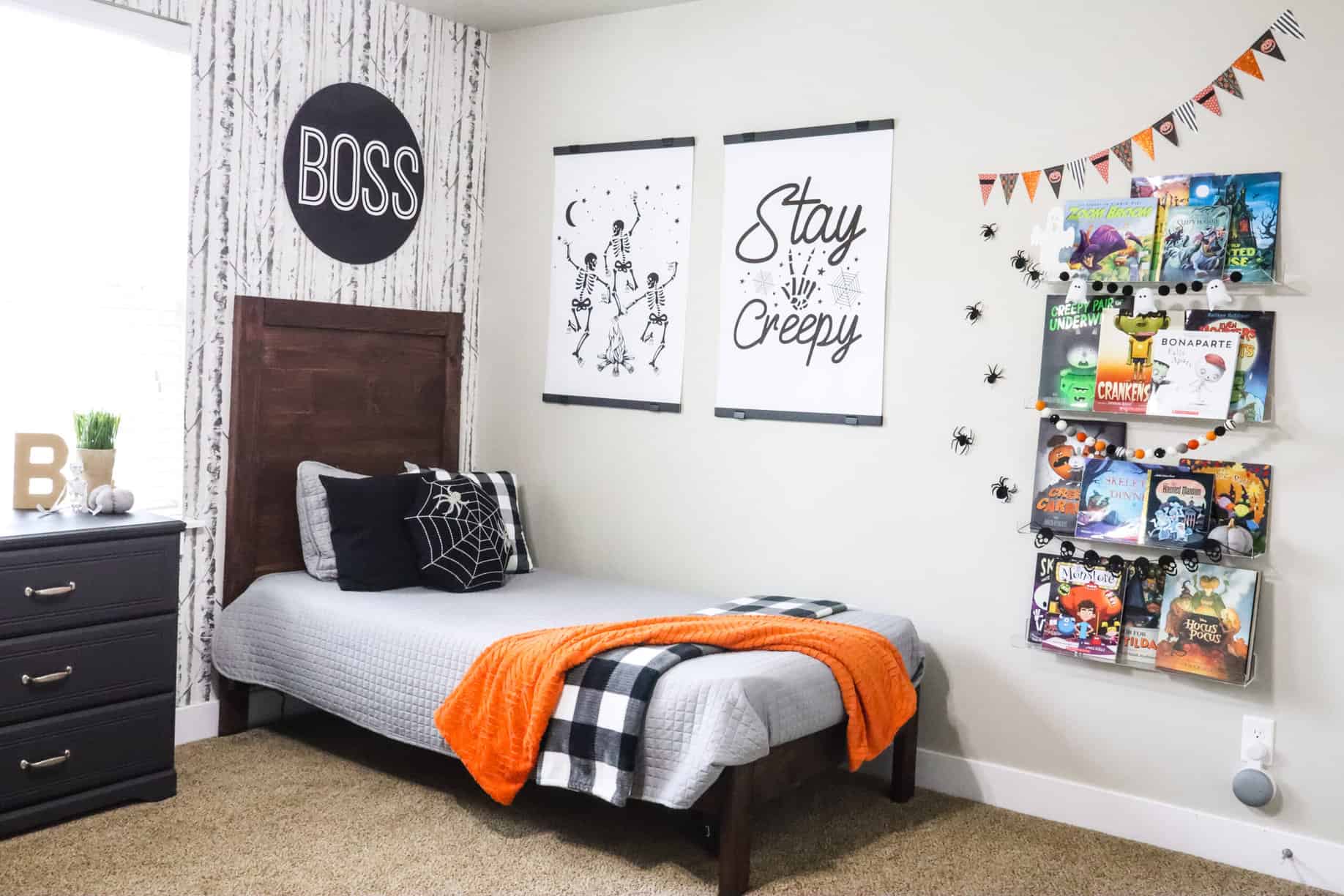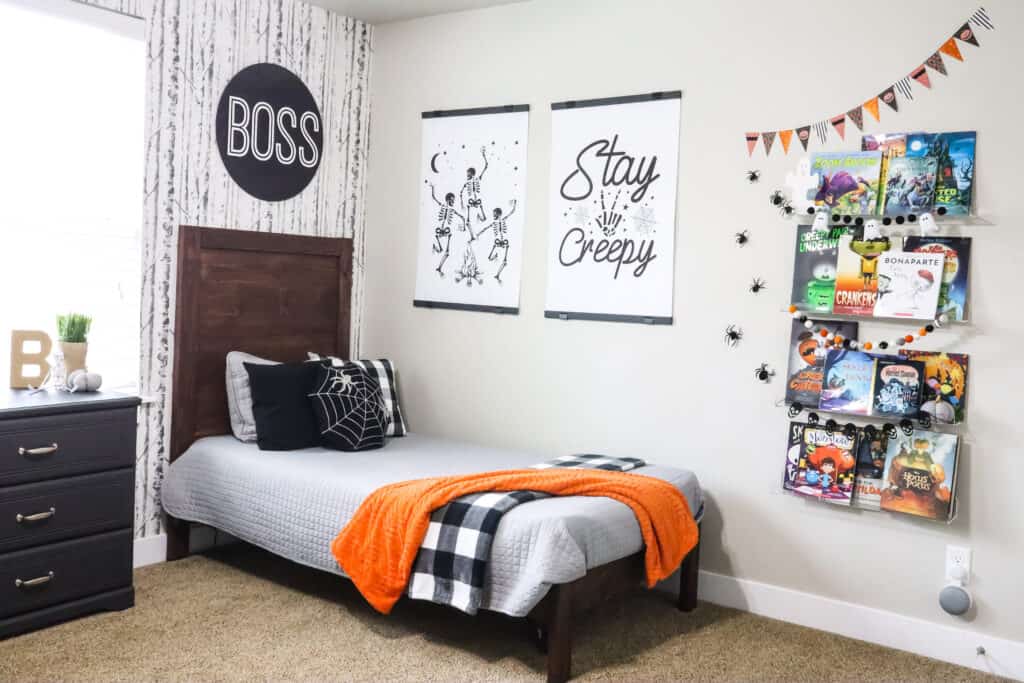 Easy Halloween Bedroom Decor
There are a few different ways you can incorporate Halloween bedroom decor into your bedroom. The first thing you need to do is to decide on a theme for the room. You may decide to have a traditional spooky element (such as orange and black) in your Halloween bedroom, or you may decide to add in some pink to create a more whimsical Halloween bedroom.
You can even decide on a dedicated theme for your Halloween bedrooms such as pumpkins, jack o lanterns, ghosts, skulls, witches, or even spiders.
Here is a list of different elements that you can add to your foom for a spooky look:
Halloween bedding
Throw pillows
Throw blankets
Pumpkin, bat or ghost decor
Hanging decorations from the ceiling
Spooky silhouettes on the walls
Set up life-size skeletons in your room doing everyday things
Add some spooky orange lights
Fabric pumpkins to shelving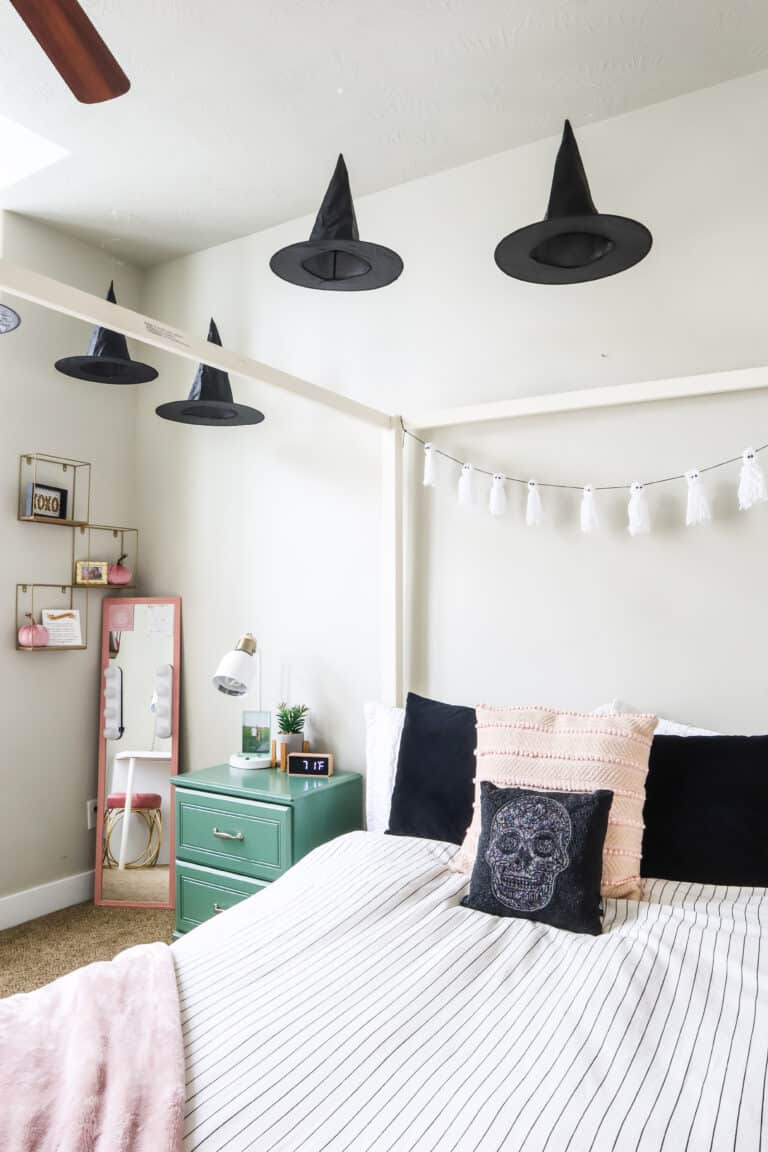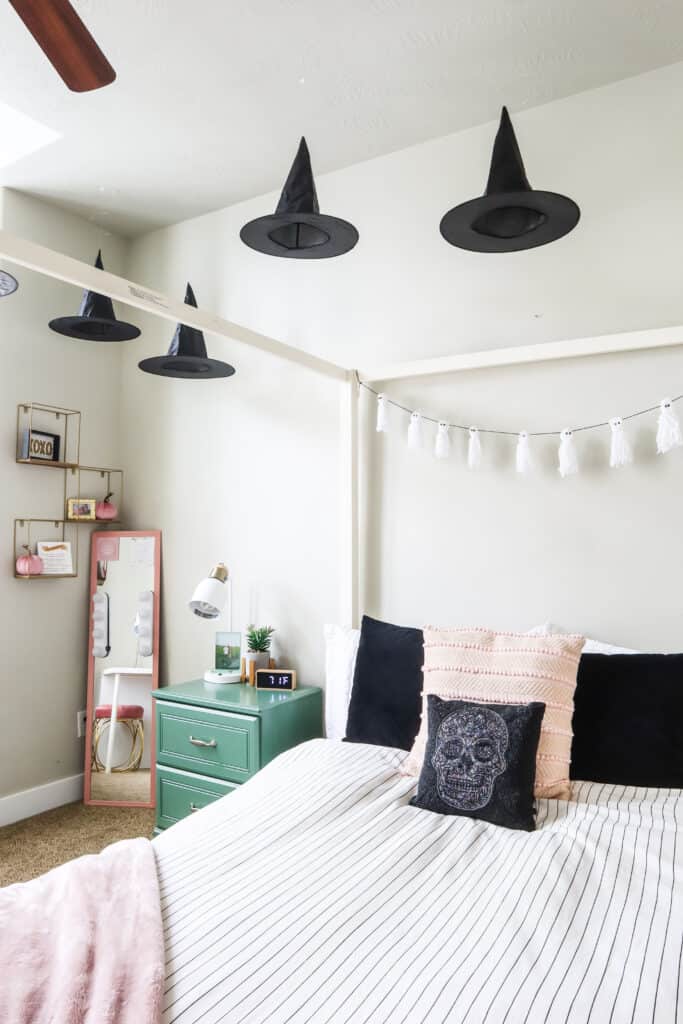 Involve your Kids in Deciding on Halloween Bedroom Decor
Get your kids involved in the process of decorating their bedrooms for Halloween. This will not only make it more fun but it can also help to keep costs down. Ask them what kind of theme they would like or what their favorite scary movie is and go from there. You can even have them help you make some of the decorations.
I even purchased unfinished wood decorations and had my daughter help me paint them. Then we added them to her bedroom!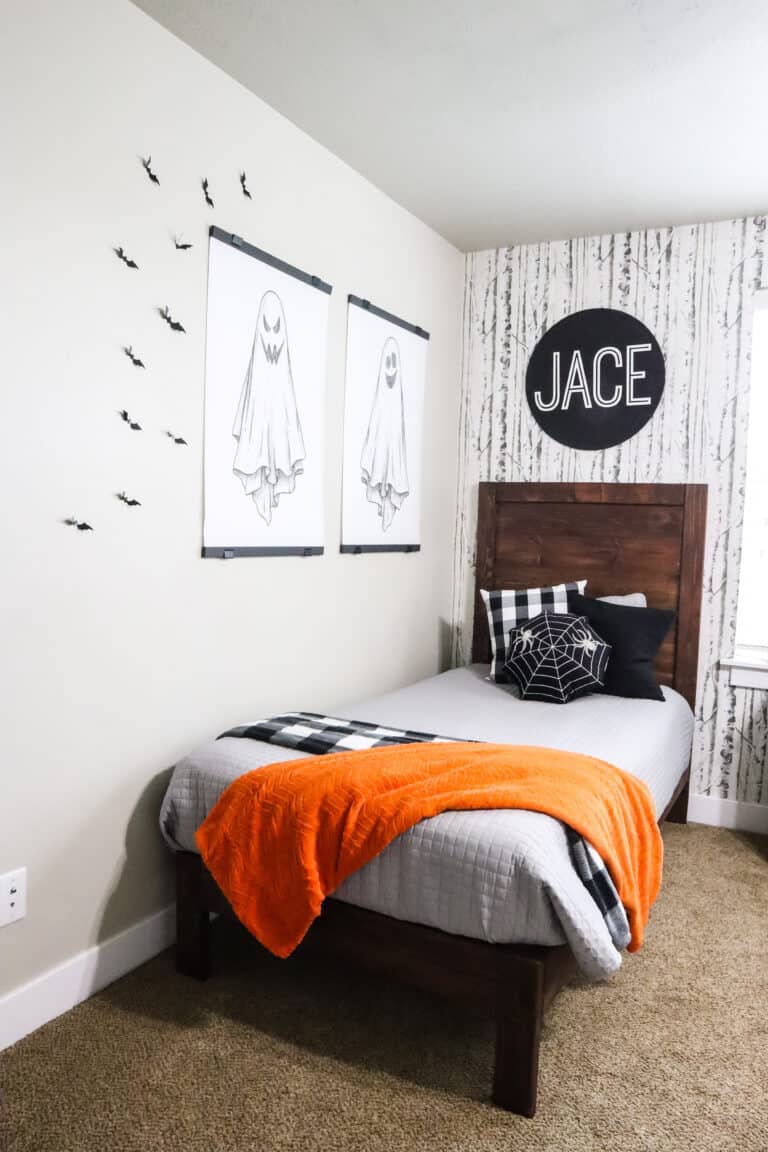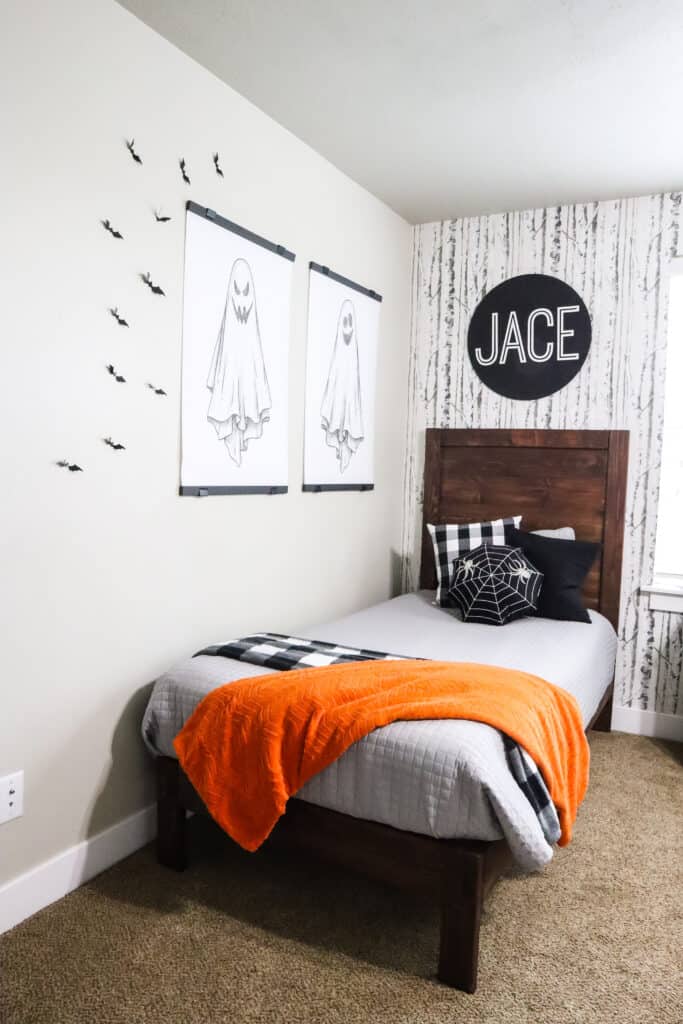 Halloween Bedroom Bedding
If you want to go all out for Halloween, then adding some Halloween bedding is a great way to do it. You can find Halloween bedding in just about any style that you want. If you want something more subtle, then you can find bedding with Halloween patterns such as pumpkins or bats.
You can add in some jack o lantern sheets with some basic colored bedding such as a white or gray quilt. Some people may prefer black bedding but I prefer lighter colors for the main bedding and to add in Halloween spirit through pillows, blankets, and sheets.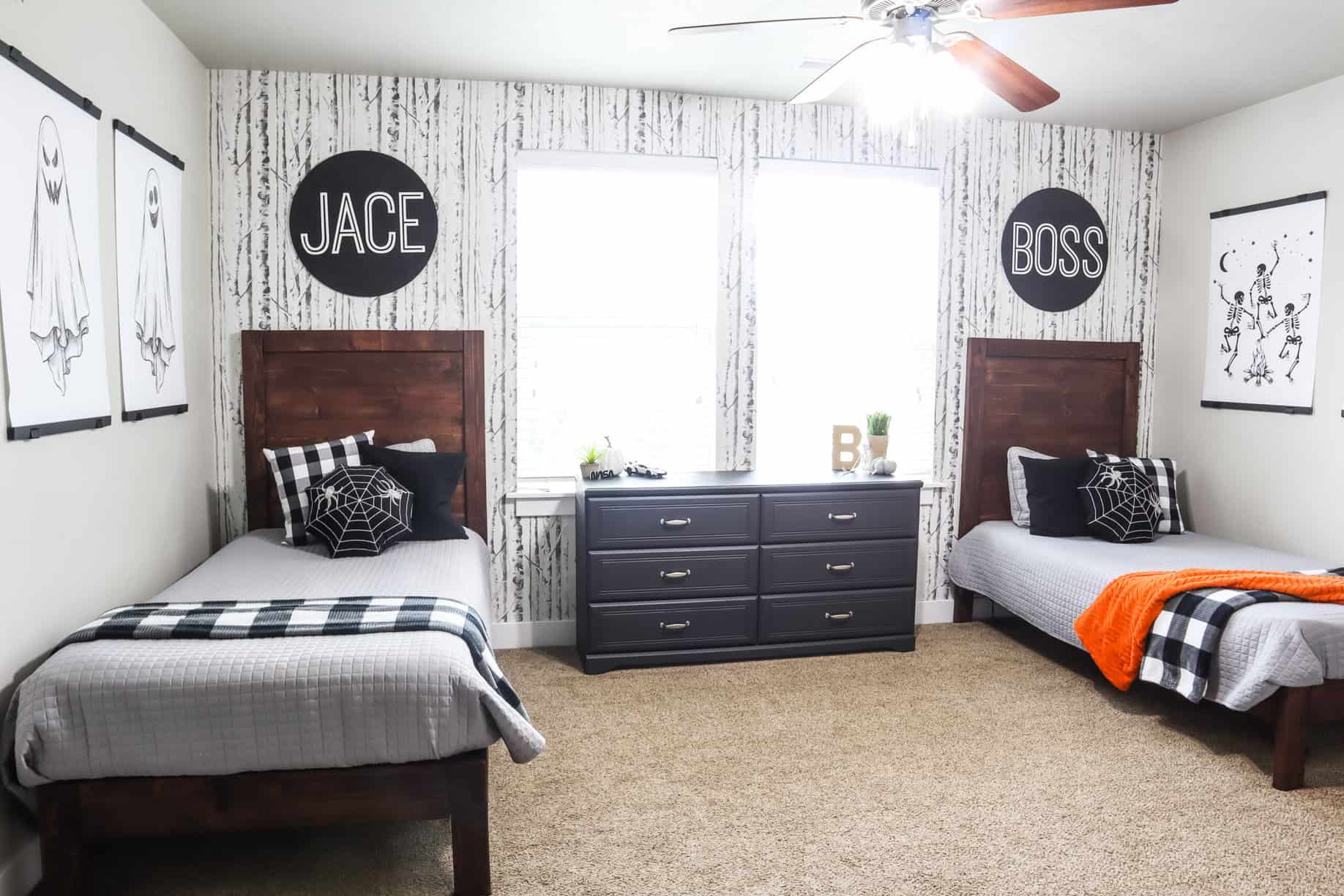 Then you can simply add some Halloween throw pillows (I just added one!) and a throw blanket to add in some festive Halloween color (I added an orange blanket!).
Halloween Bedroom Lighting
One of the easiest ways to change the feel of your room is to change the lighting. You can do this by adding in some Halloween string lights or even Halloween candles.
I prefer to get battery-powered candles that can be set on a timer. It's nice to not have to worry about fires with these candles and I love that you can use rechargeable batteries for them too!
This is one of the easiest Halloween Bedroom Décor ideas that you can do! I love how these can be used for any holiday. The candles are a great decoration that can be placed by your bed, on a shelf, or even on a dresser.

Cute Halloween Bedroom Décor
For my daughter's room, we wanted her decor to be a bit cuter and less spooky. So we purchased some pink bedroom decorations that brought the Halloween spirit in a different way.
Pink is one of the most prominent colors for Halloween decorations lately whether you're decorating the main areas of your home or your bedrooms. You can't go wrong adding pink.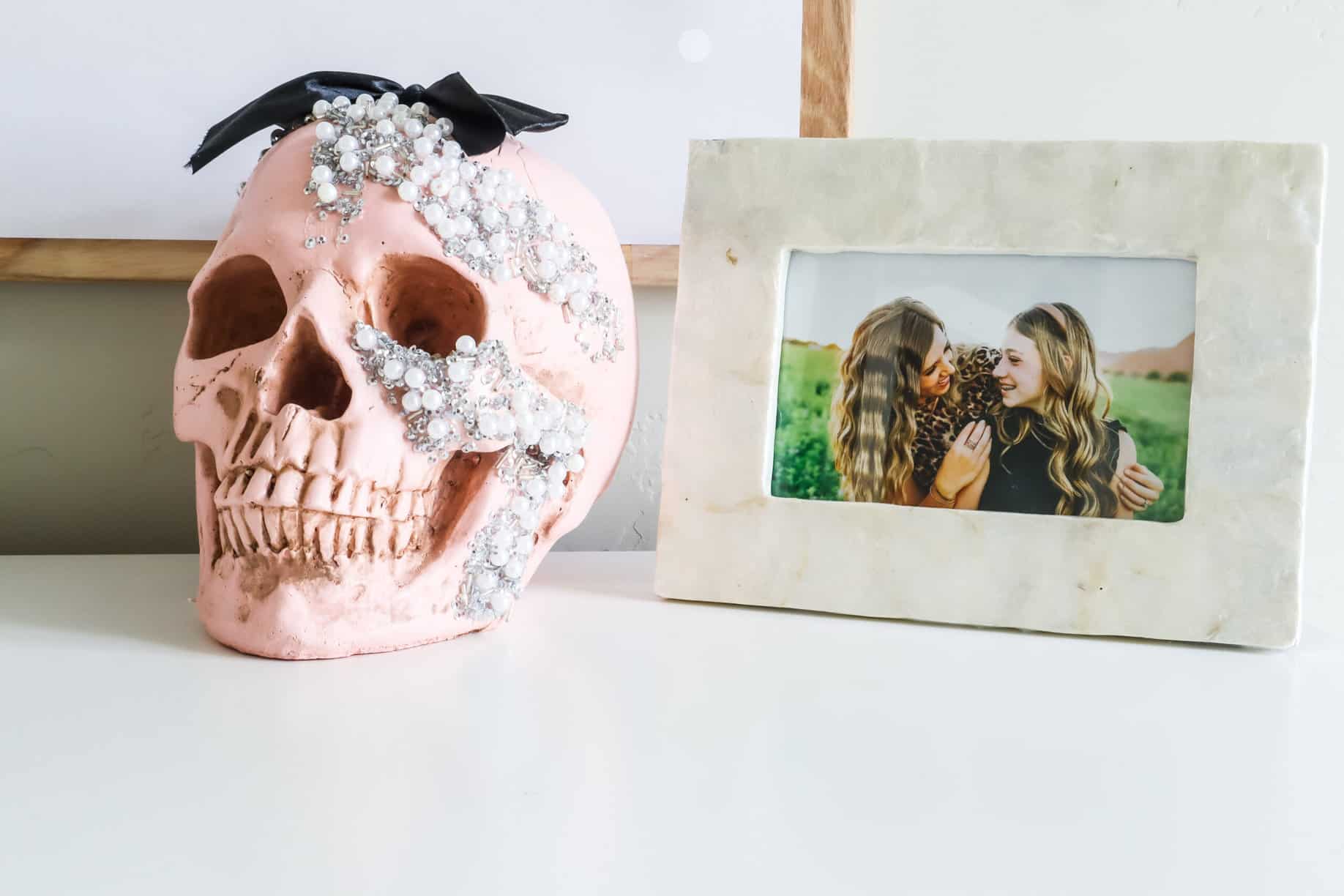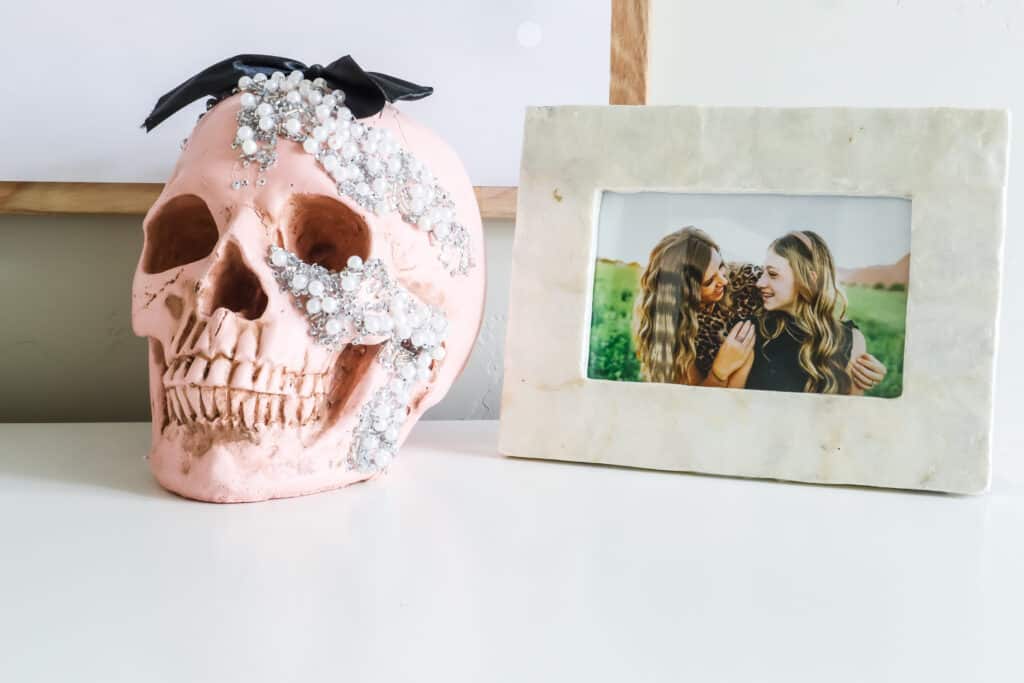 We also added a beaded skull pillow to her bed. But my favorite thing (and cheapest!) was to have a bunch of hanging witches' hats from the ceiling. This really helped create that Halloween atmosphere – it was a really high-impact decoration for really cheap!
She is head over heels for the pink skull with gems and glitter!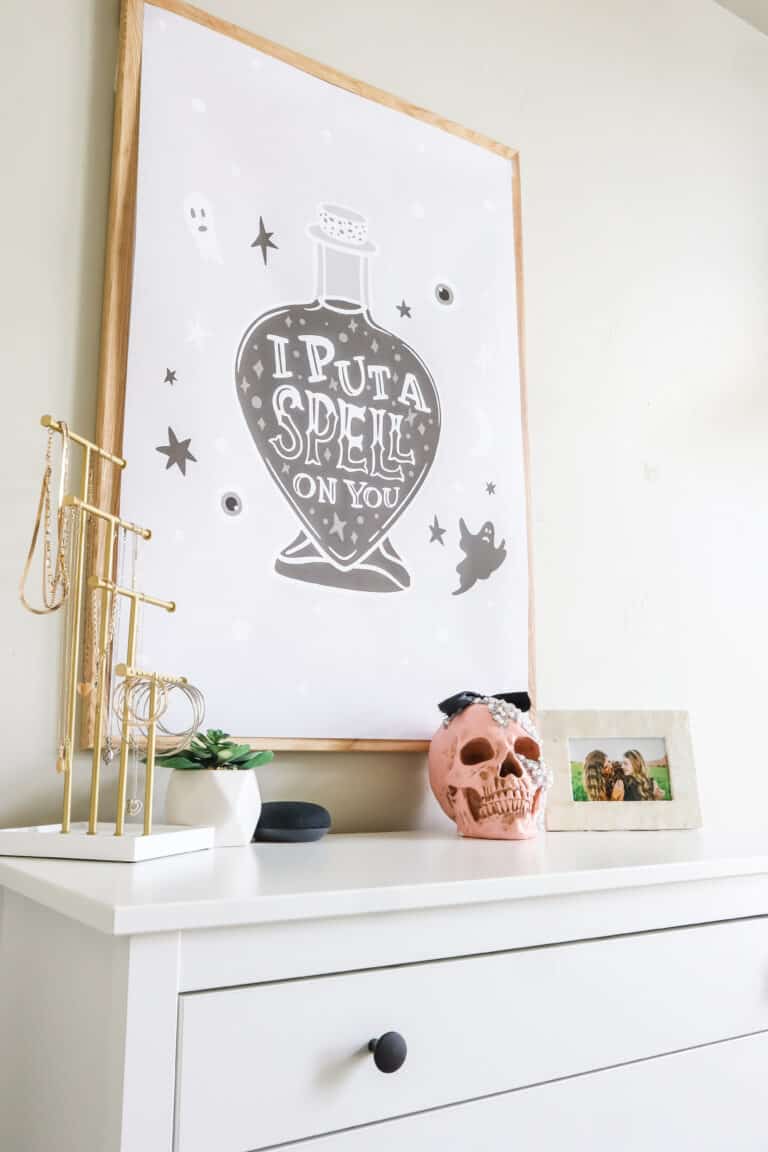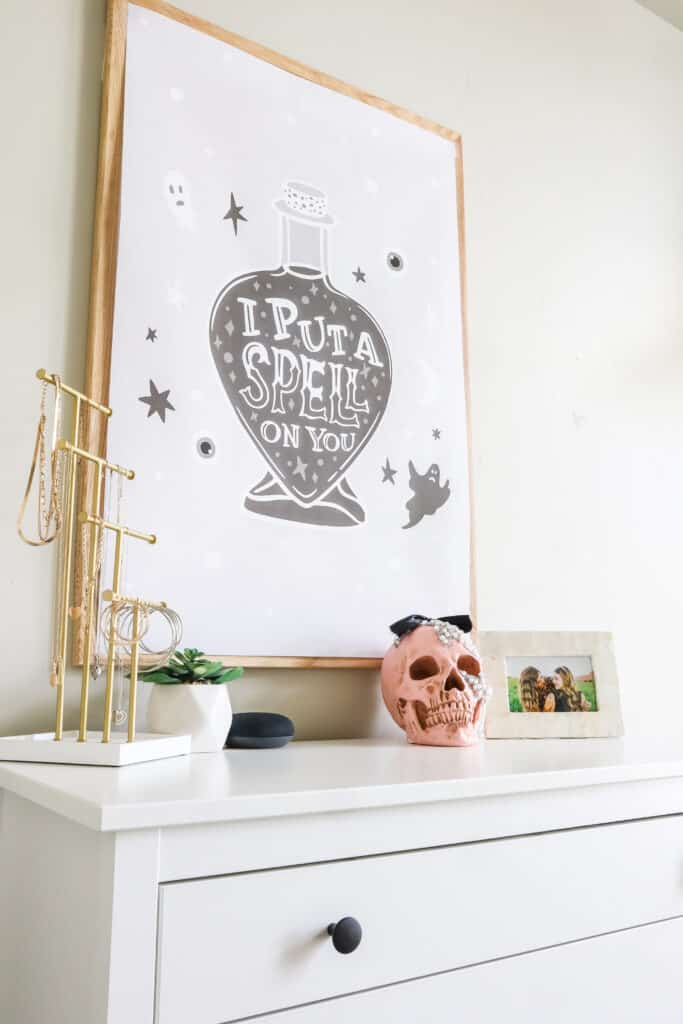 Dirt Cheap Halloween Bedroom Décor
There are some really great options out there for high-impact decorations with a really small price tag. These types of decorations are really easy to install, and hardly take up any space in storage when Halloween is over. These Halloween decorations have quickly become my favorite!
Print Halloween-Themed Engineer Prints
I found some really great black and white Halloween prints from Freepik and hand them printed at my local print shop for only a few dollars!
So for around $15 I was able to print four 2'x3′ paper prints for my boy's bedroom to make their bedroom feel extra fun and festive.
I hung these using some magnetic poster frames. They are really inexpensive and I love how I can easily change out the prints for any holiday. It makes decorating for the changing seasons really easy!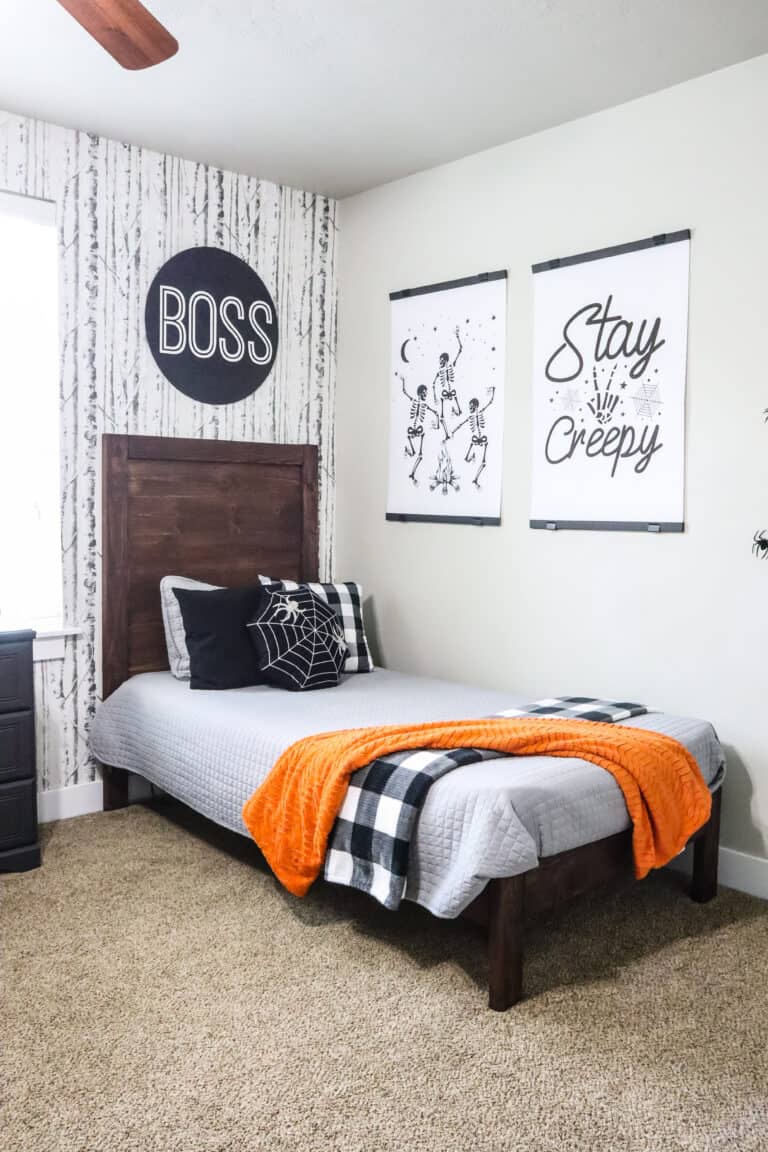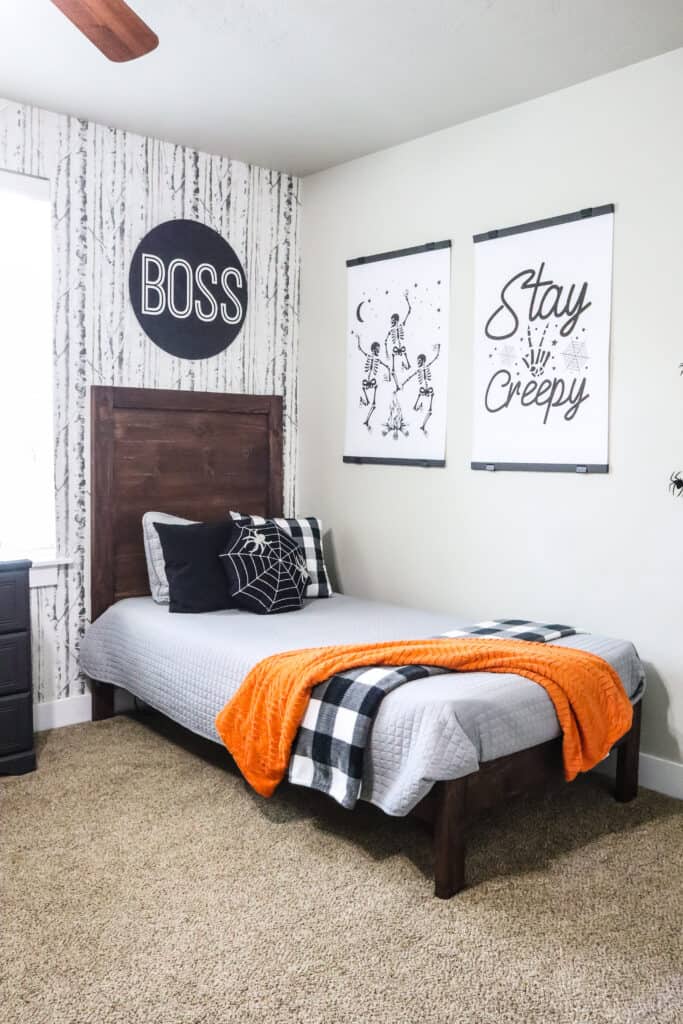 Hang Witches Hats from the Bedroom Ceiling
Purchase fabric witch hats and hang them from the ceiling using fishing line or clear thread. This is a really great way to add some height to your Halloween decorations, and it looks really impressive! It really made my daughter's bedroom
You could also try making your own witches hats out of black construction paper. This would be a great activity to do with kids!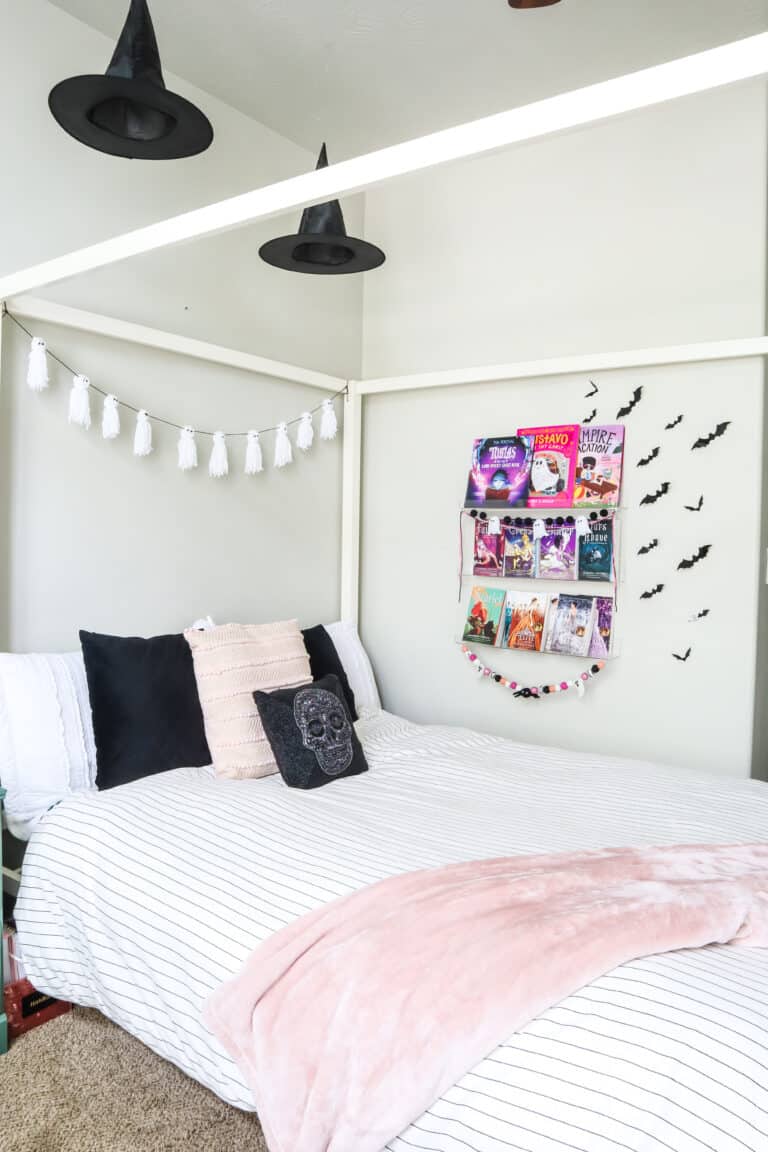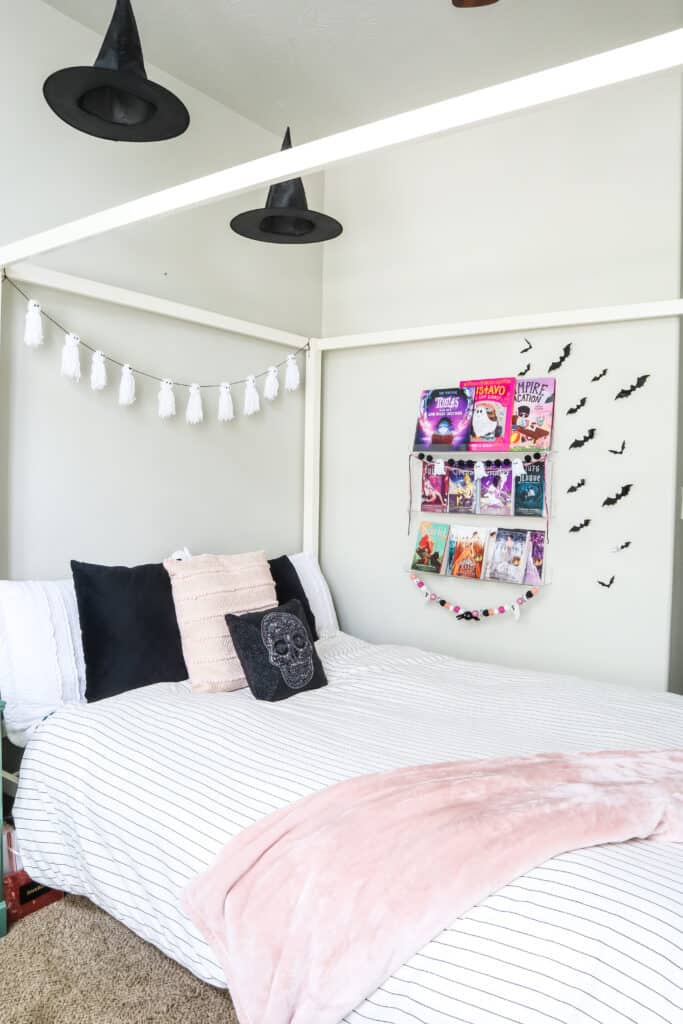 Tape Bat Silhouettes to the Bedroom Walls
I've been using bat silhouettes as a part of my Halloween decorations for years. You can simply buy some bat silhouettes and tape them to the walls. If you want to get really creative, you could cut bats out of black construction paper.
Tape the bats in a grouping in an upward motion. Bats fly in a similar pattern in real life so this makes the bats look more realistic!
Make a Garland of Ghosts out of White Yarn
Purchase some white yarn and wrap the yarn around a book several times. Then gently slide the yarn off of the book and tie the top portion with a separate piece of yarn to form the ghost head. Then trim the ends to the desired length.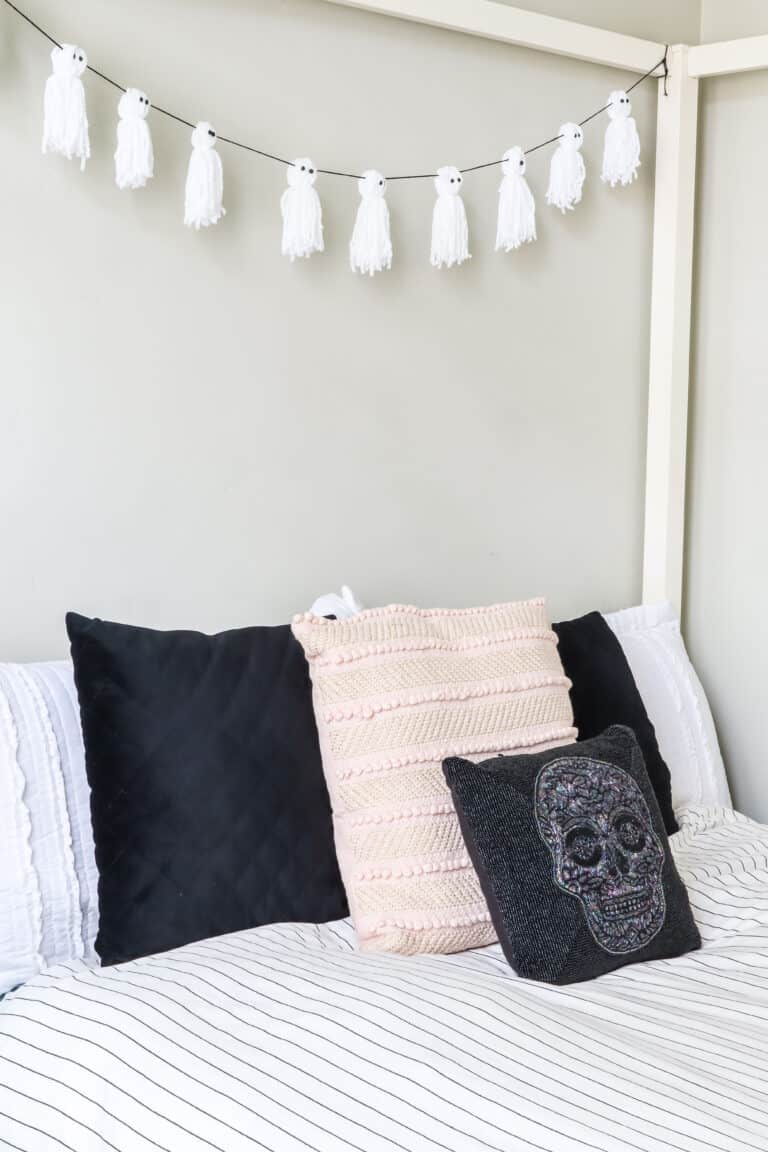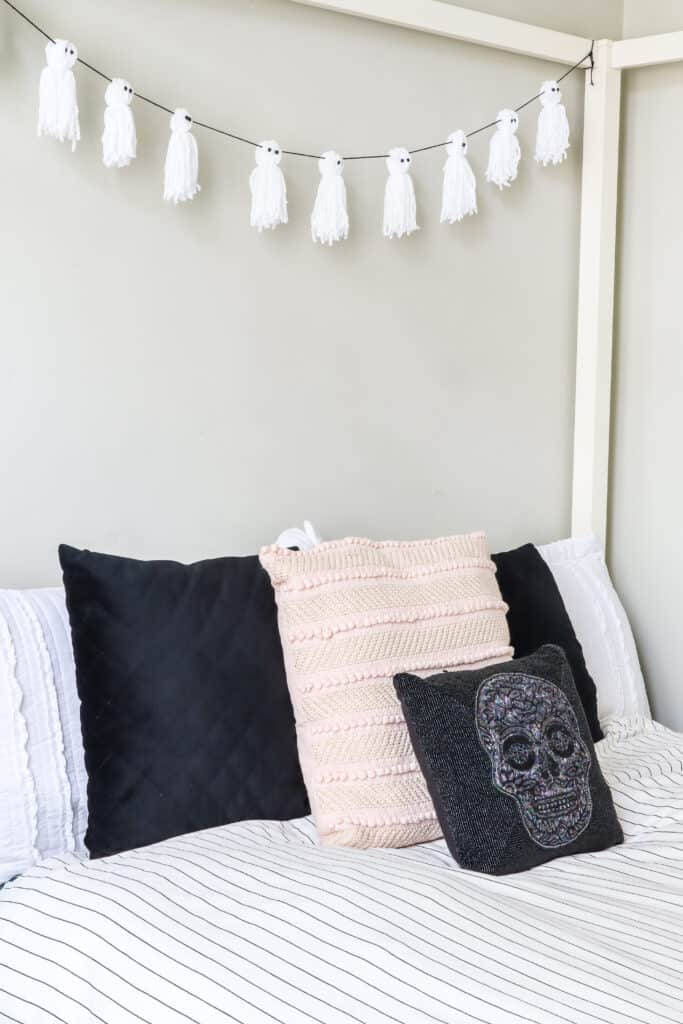 We hung our ghosts from my daughter's bed frame. I love walking into her room and seeing the cute ghosts above her bed.
Decorate your Bedroom with Spiderwebs
Spider webs are one of the most inexpensive ways to decorate for Halloween on a budget. Simply purchase some fake spider webs and drape them around your room. You can also add some spiders to the web for an extra creepy touch!
Stick Window Clings to your Windows
Stick some silhouette window clings to your bedroom window! This will not only create a spooky effect on the inside of the windows but it will look cool from the outside, too! This will be perfect for when everyone is out trick or treating.
Halloween Throw pillows are a No Brainer for a Bedroom
An easy way to add some Halloween spirit to your bedroom is with Halloween throw pillows. You can find these pillows anywhere! I love to find Halloween throw pillows at TJ Maxx, Walmart, or Amazon.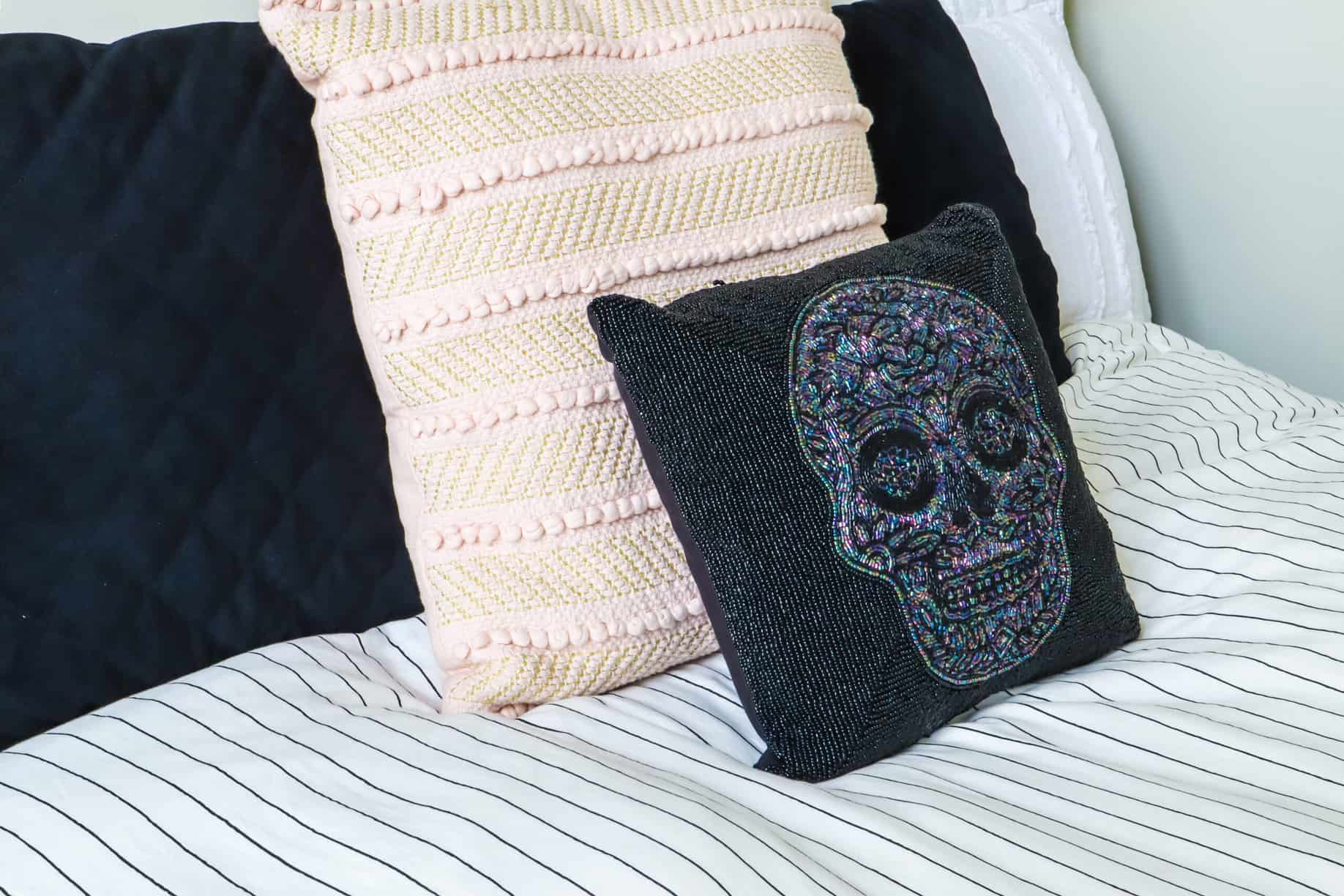 They are perfect to add to your bed, an accent chair, or a window seat.
Use Scrapbook Paper to Make a Halloween Garland
I purchase Halloween scrapbook paper from the craft store and cut them into triangles. Then I sewed them across the top to create a black and orange banner to hang on the wall of my boy's room above their book wall.
Or if you don't have the tools to make one yourself, you can always buy one from Etsy! They have the most incredible sellers that make decorating a breeze.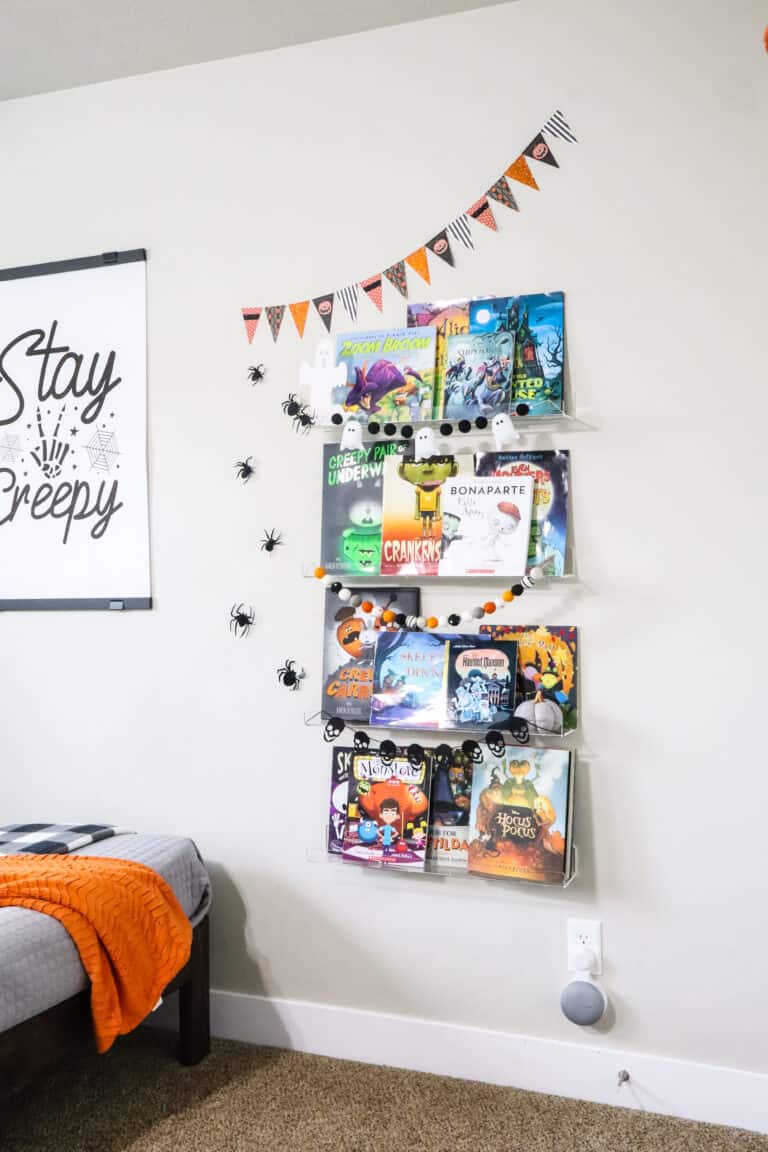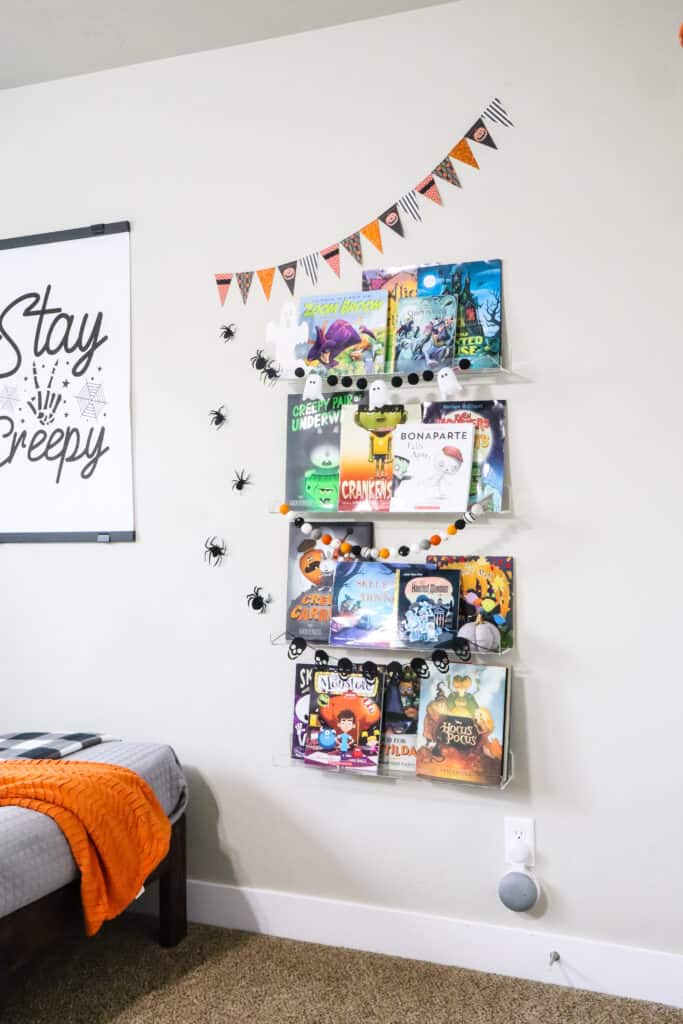 Decorating your bedroom for Halloween doesn't have to be difficult or expensive. By using some of these budget-friendly ideas, you can easily create a spooky and fun Halloween retreat for your family!
Do you have any other tips for decorating your bedroom on a budget? I'd love to hear them in the comments below!
Happy Halloween!