How to Create a Kids Halloween Book Wall
If you're looking for a fun and easy way to decorate your kid's room for Halloween, look no further! Creating a book wall is a great way to do it. Not only will it make their room more festive, but it will also encourage them to read more.
In this post, we'll show you how to create an adorable Halloween book wall in just a few simple steps. This is a really easy project that anyone can do, and it's a lot of fun for the whole family. So gather up your supplies and let's get started!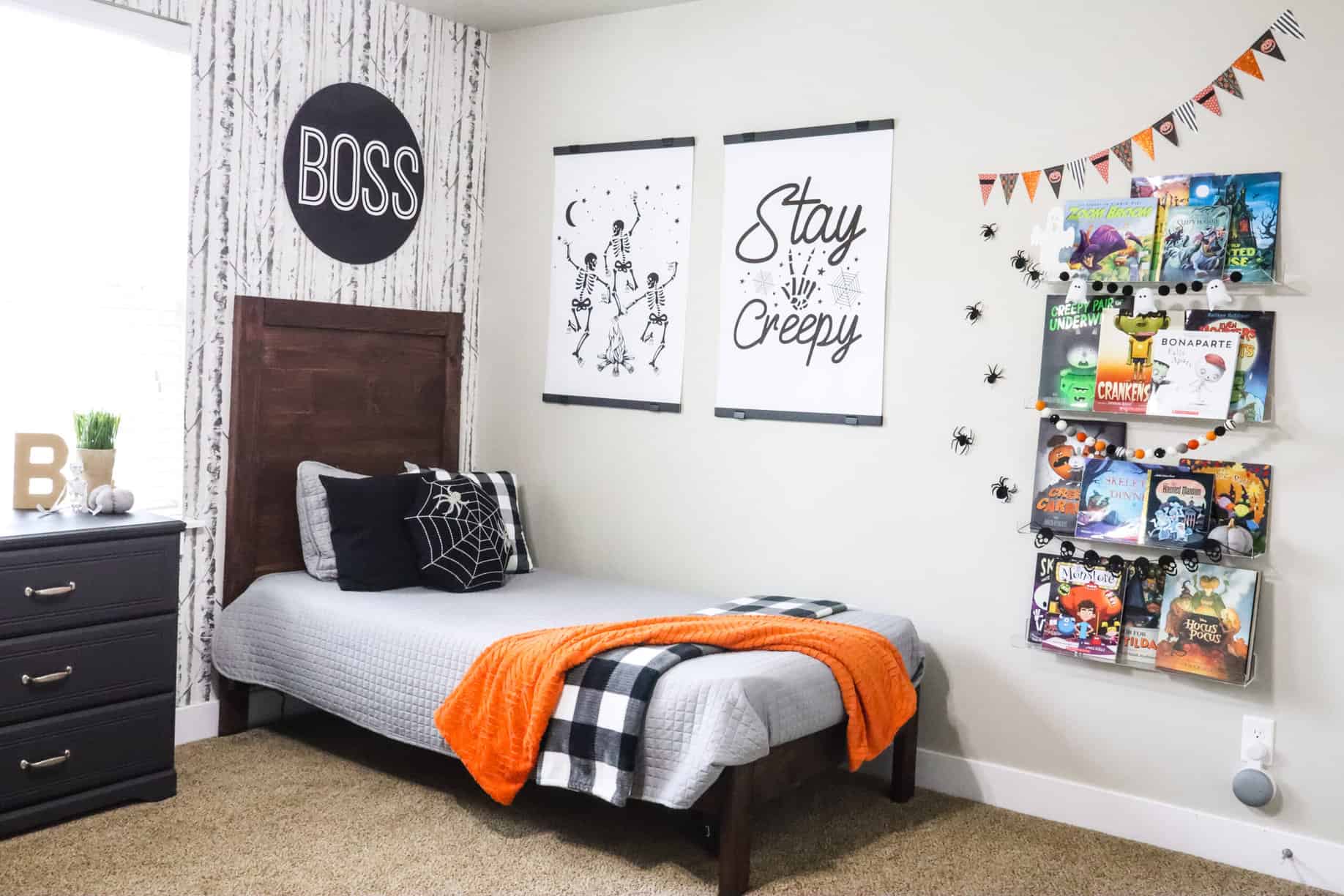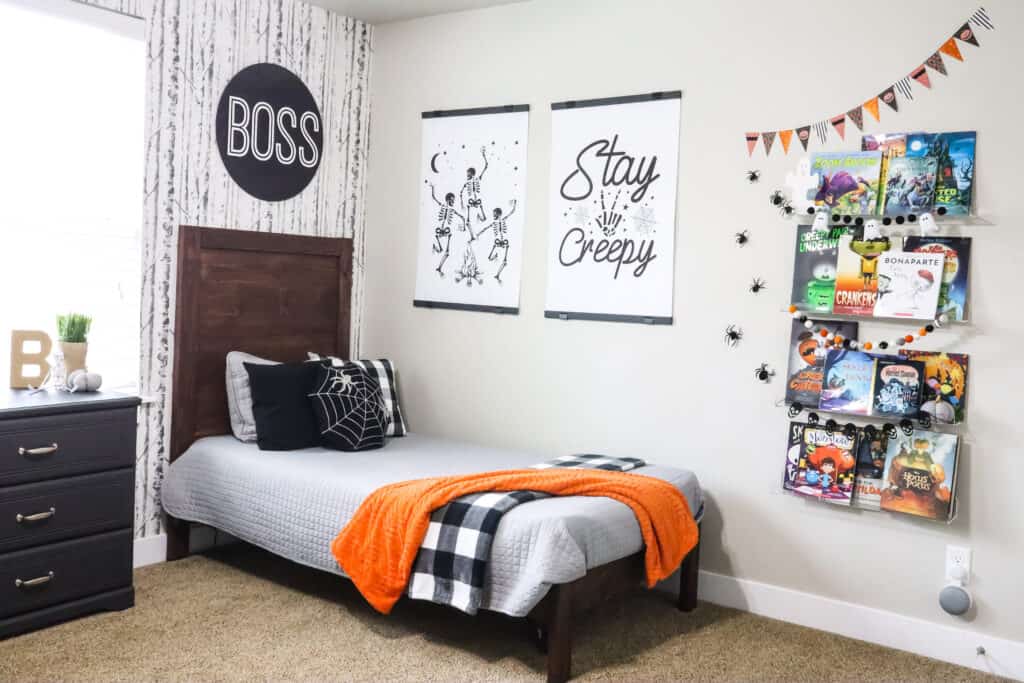 How to Create a Kids Halloween Book Wall
Creating a book wall for your kids is a cute way to decorate their rooms and get them even more interested in reading. Or, if they already love reading, it's a perfect way to show off their collection of books!
It's also fun to switch out the books and theme them around the holidays. There are so many adorable Halloween books for kids, and showing them off on a book wall is the perfect way to bring a little Halloween spirit into your kid's room!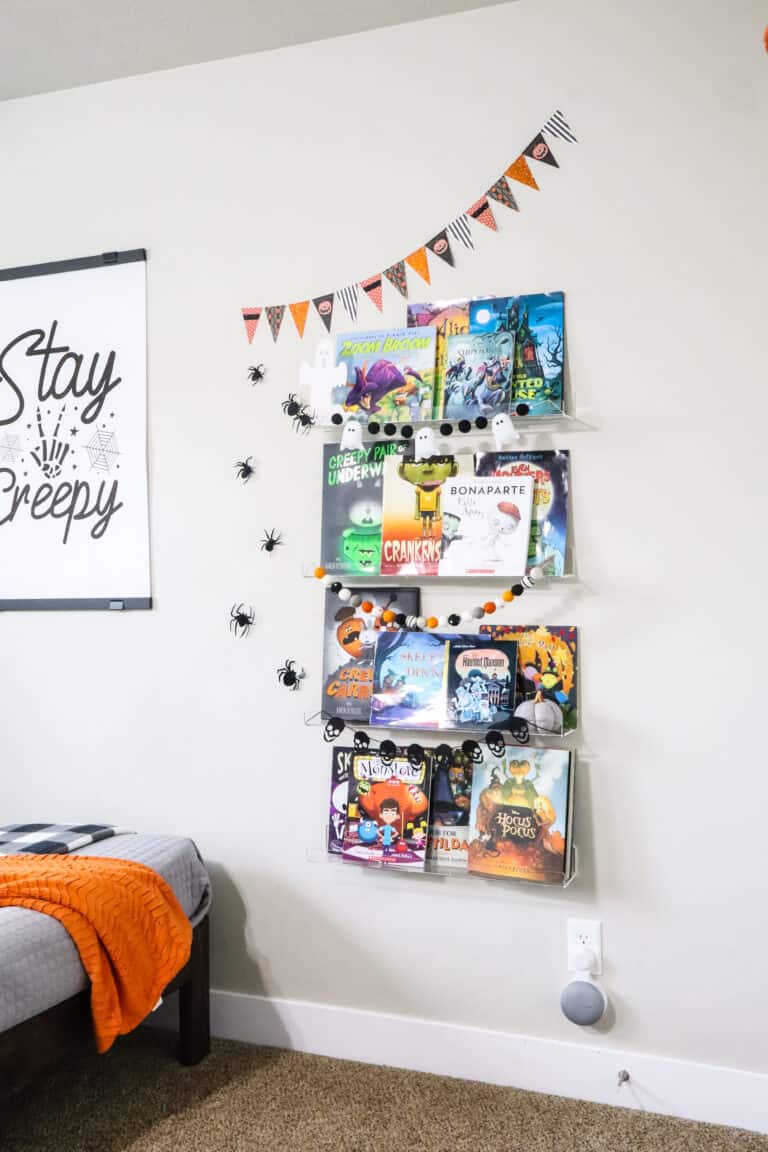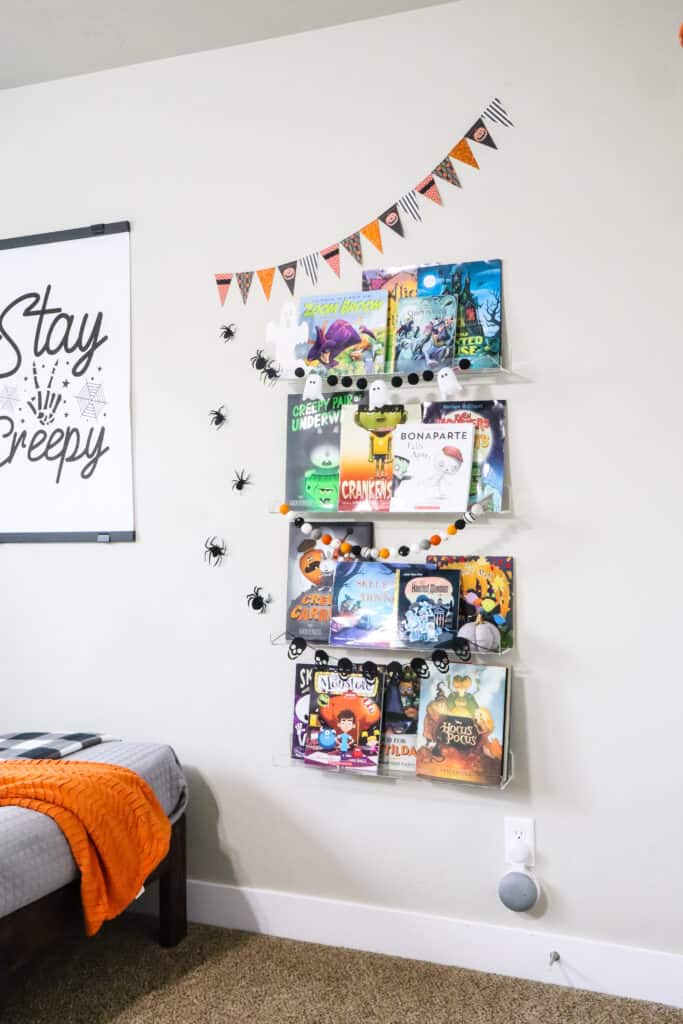 Creating a book wall for your kids is pretty simple, but here's a quick step-by-step guide and tips to help you set up a book wall for any Halloween kids in your house.
Shelving
The first thing you need to do when creating a book wall is to get shelving up on the wall! You can use a bookshelf or even some simple wall shelves. Just make sure that the shelving is sturdy and won't fall down with too many books on it.
Using a Bookshelf
If you're using a bookshelf, you can leave it as-is or paint it to match your child's room decor. Using a bookshelf can be a little trickier since it sometimes limits the books you can put on the shelves (especially when it comes to oversized kids' books).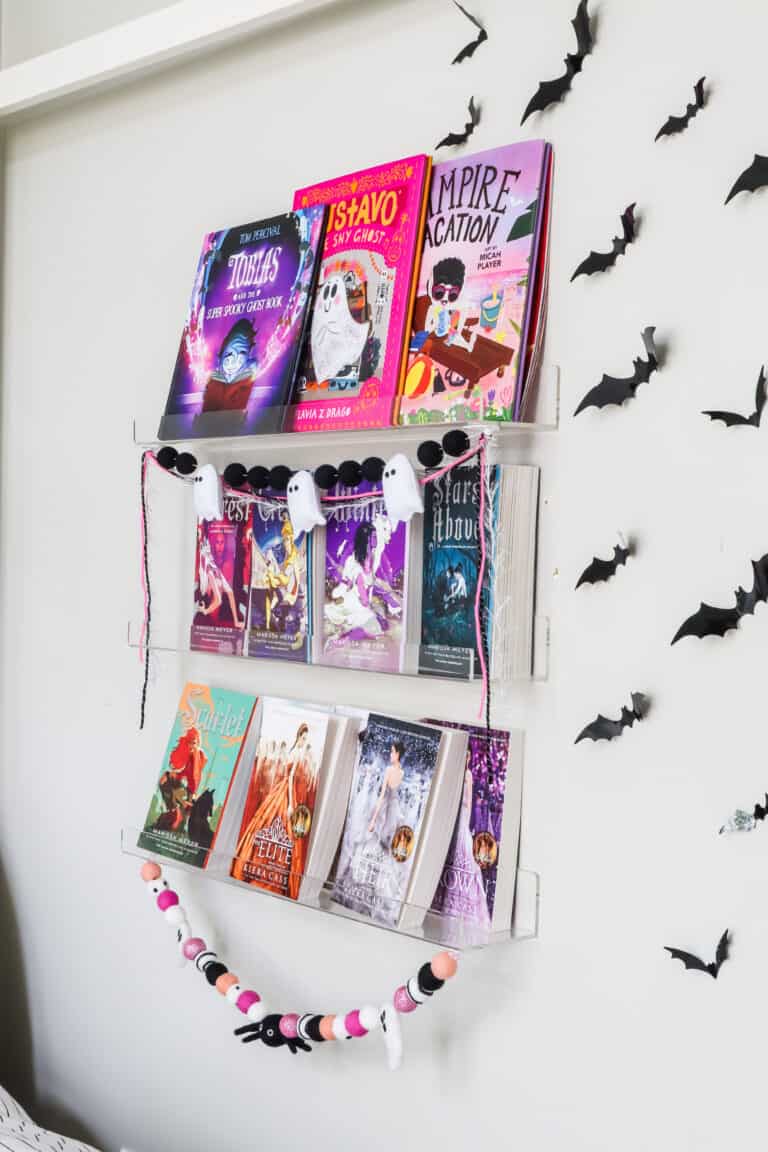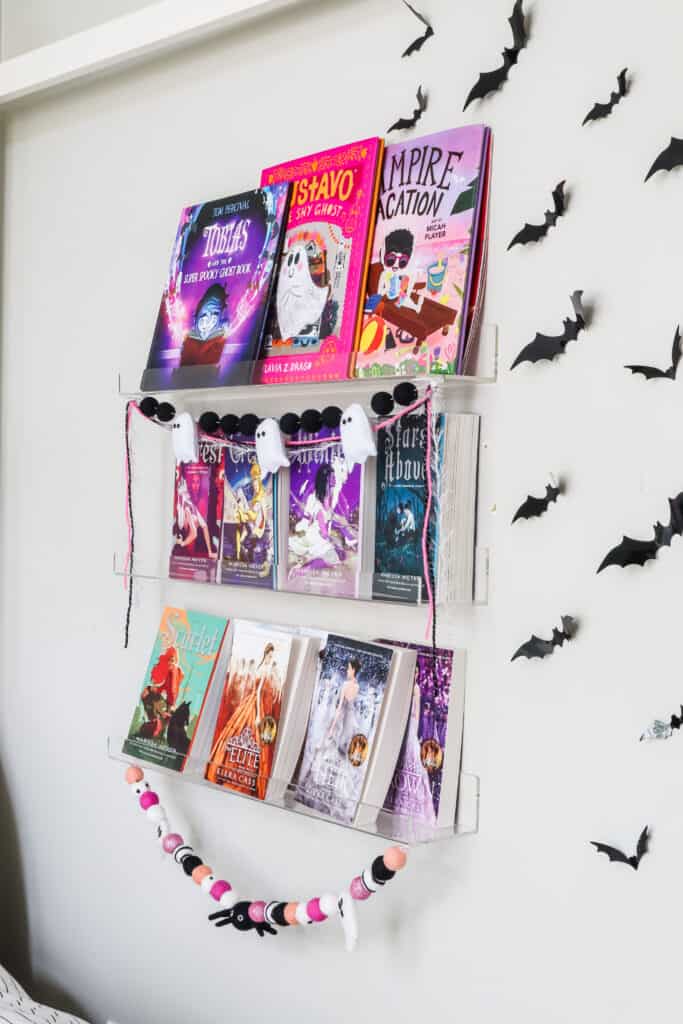 Using Floating Shelves
I prefer using floating shelves with a ledge on the end. Using floating shelves with a lip on the end prevents books from falling off and makes it easy to switch out the books as often as you want. You can also use different sizes of shelves to create a more interesting look.
Another benefit to floating shelves is you can choose how much space to leave between them, so you can leave plenty of extra room between the shelves so there's space for tall books!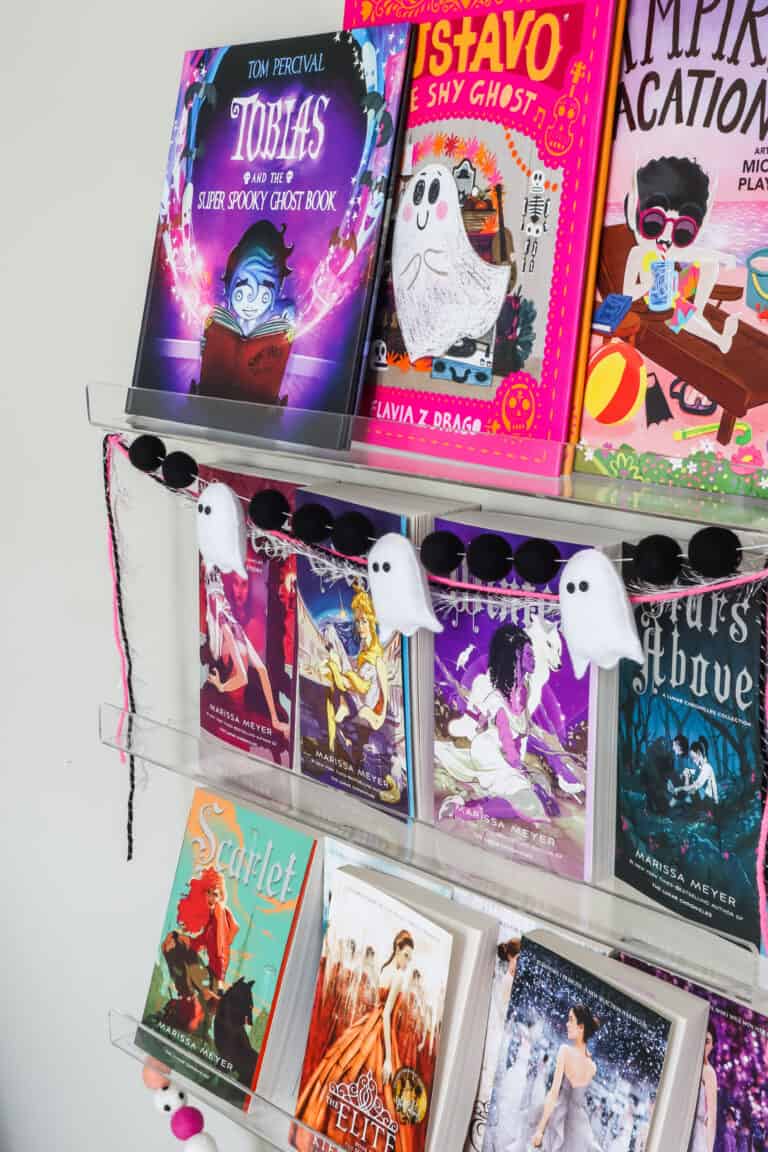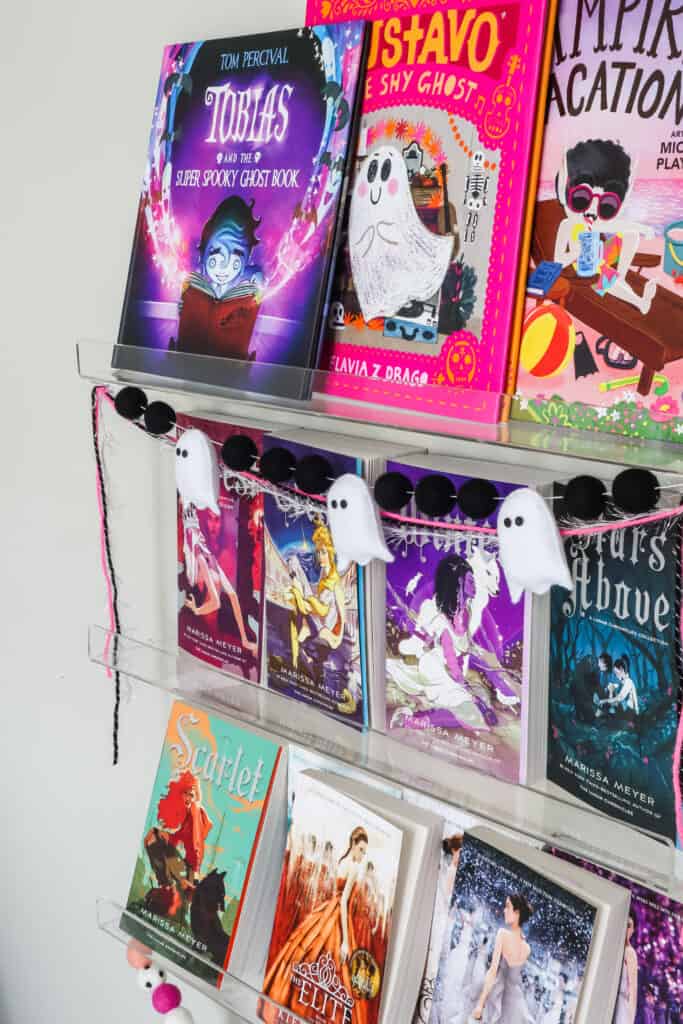 You can always go with a festive color for your shelves (like black or orange) but you'll probably want to keep the shelves up year-round and change out the books after Halloween. So I'd suggest going with something neutral like clear, white, or black. (But you can also go for a color to match their bedroom like pink or green! It just might clash with different home decor items.)
I bought these clear acrylic shelves for my kid's bedrooms!
Books
Now that you've got your book wall up, it's time to fill those shelves! Obviously, you can choose any books in your house for this part, but since this post is mainly about Halloween, I'm going to list some of the best Halloween books my kids have read.
There are tons of amazing Halloween books for kids out there, but here are a few of my favorites.
There are tons more Halloween books than just these three, but these are some favorite stories in our house! I hope you and your kids enjoy reading them as much as we do.
To get into the spooky Halloween theme, you'll want to look for books that feature witches, a ghost or two, vampires, a monster, skeletons, or any other scary characters that will get your kid in the holiday spirit! Of course, make sure to keep it age-appropriate and don't leave out Halloween books that are too scary. You don't want to scare your kids and give them nightmares!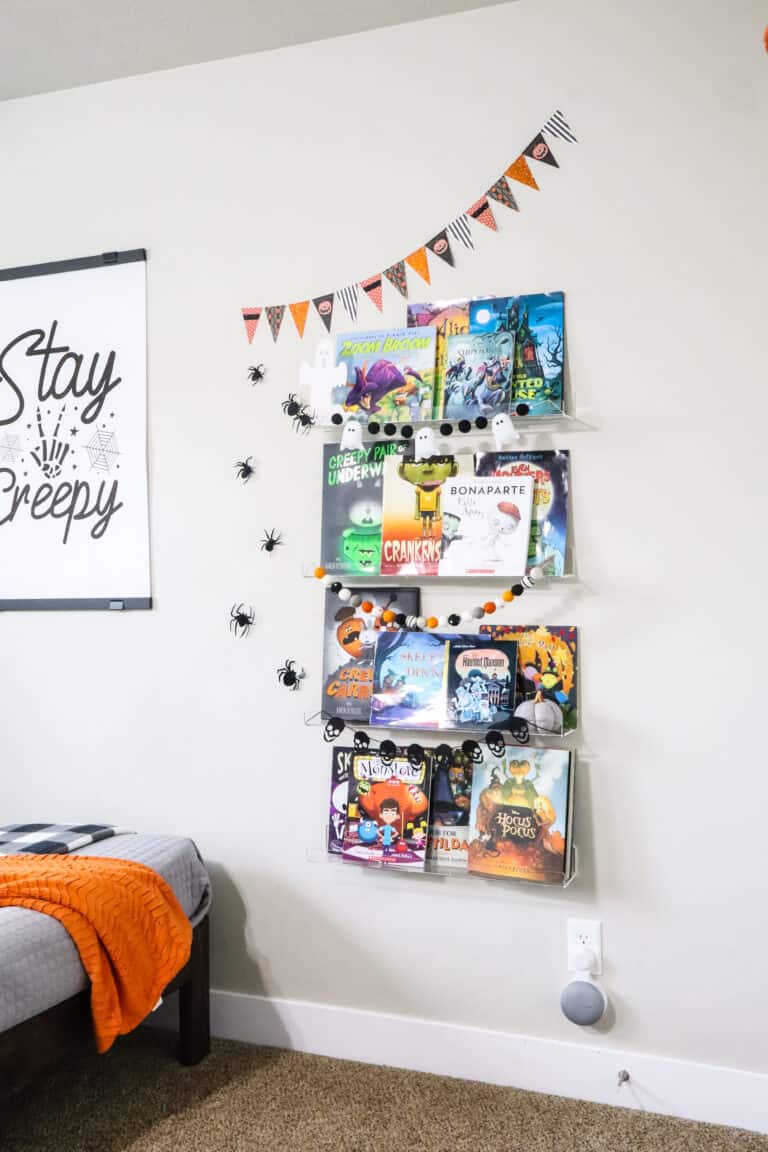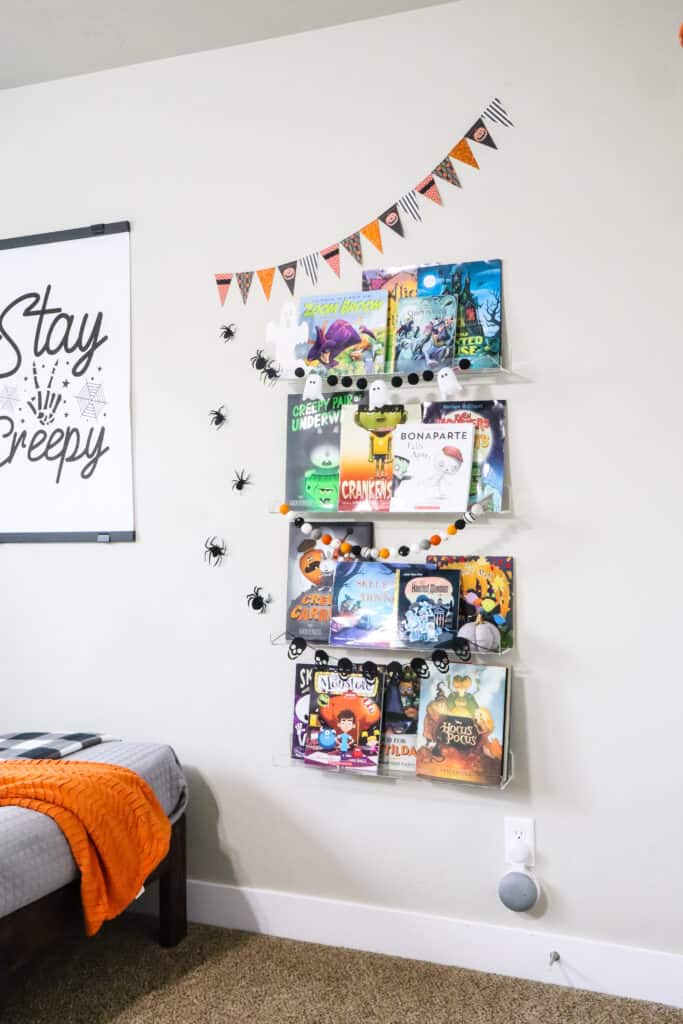 Arrange Your Halloween Books
Once you've selected the best Halloween books for your shelves, it's time to arrange them on the wall! I like to put the biggest books in the back and then arrange the smaller ones around them so you can see all the titles.
I also try to keep some balanced symmetry by positioning books intentionally and making sure there's an equal amount of big, medium, and small books on each shelf (when possible).
You don't need tons of Halloween books for a cute book wall. Depending on how many shelves you've installed, you might only need 5 or 6 Halloween books, but if you have a lot of shelves, then you might want more!
You don't want to overcrowd the shelves, so try to stay between 2-4 books per shelf depending on how long your shelves are and how big each Halloween book is.

Garlands
After you've got all your Halloween books for kids arranged on the shelves, it's time to decorate your book wall! A super easy way to do this is by adding some garlands. You can find cute Halloween garlands at most stores that sell Halloween decorations.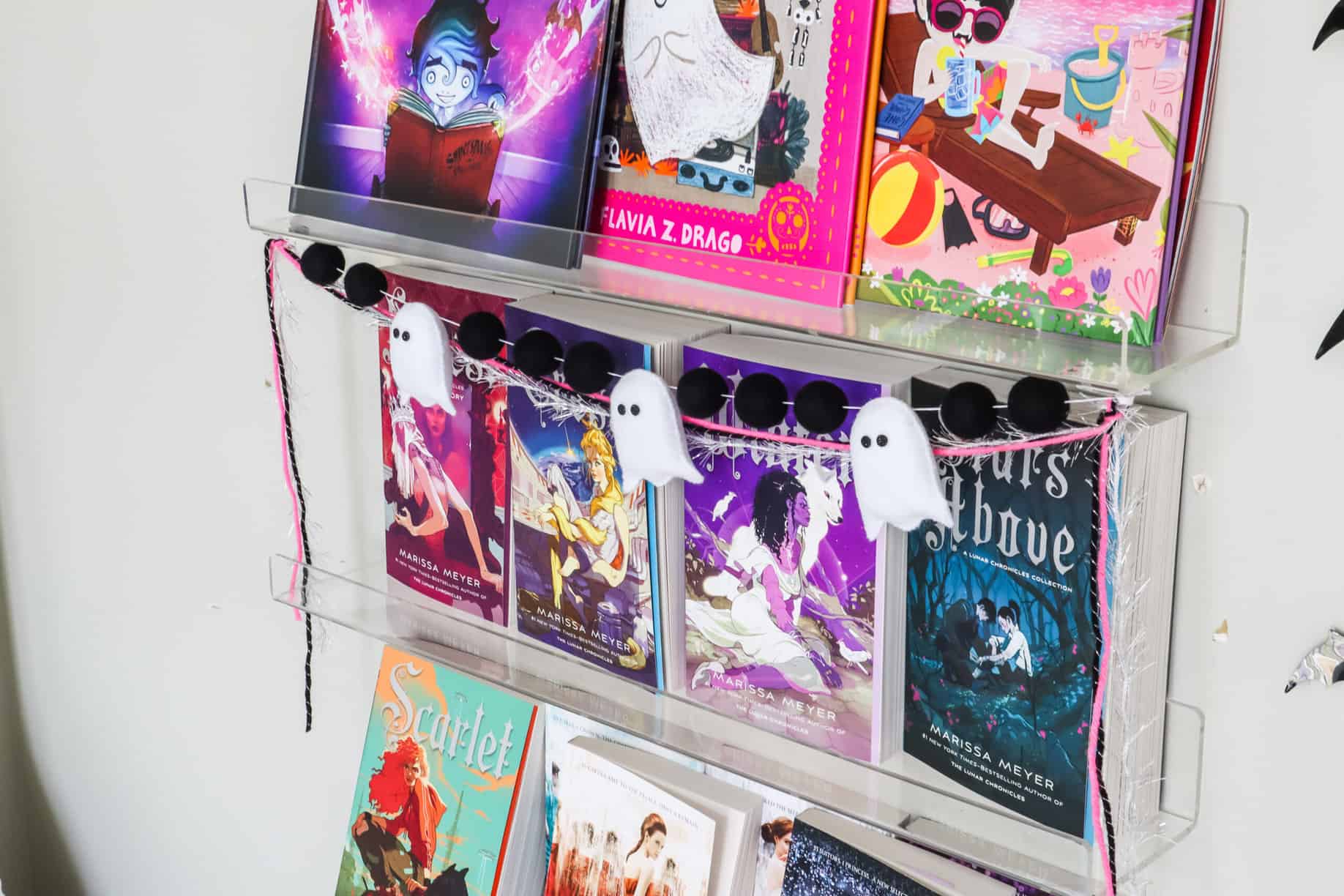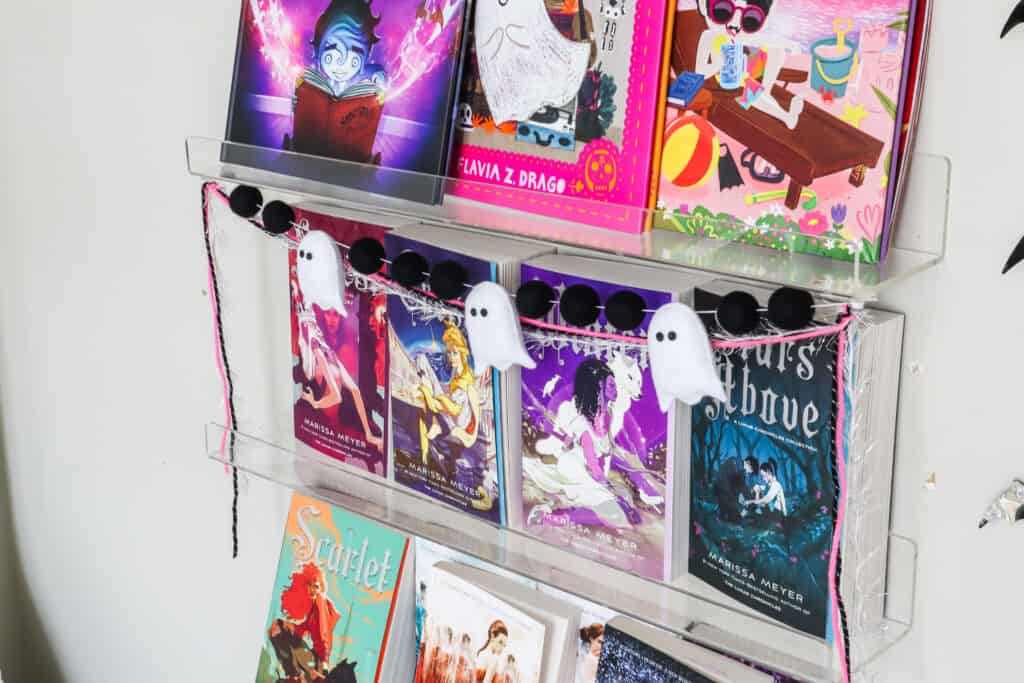 You can also make a cute garland for the holiday by cutting Halloween shapes out of construction paper like a monster, skeleton, ghost, or pumpkin. Or even the letters to spell out the word "Boo." Then, add a little hole punch on the shape and string them up on yarn. Now you have a Halloween garland.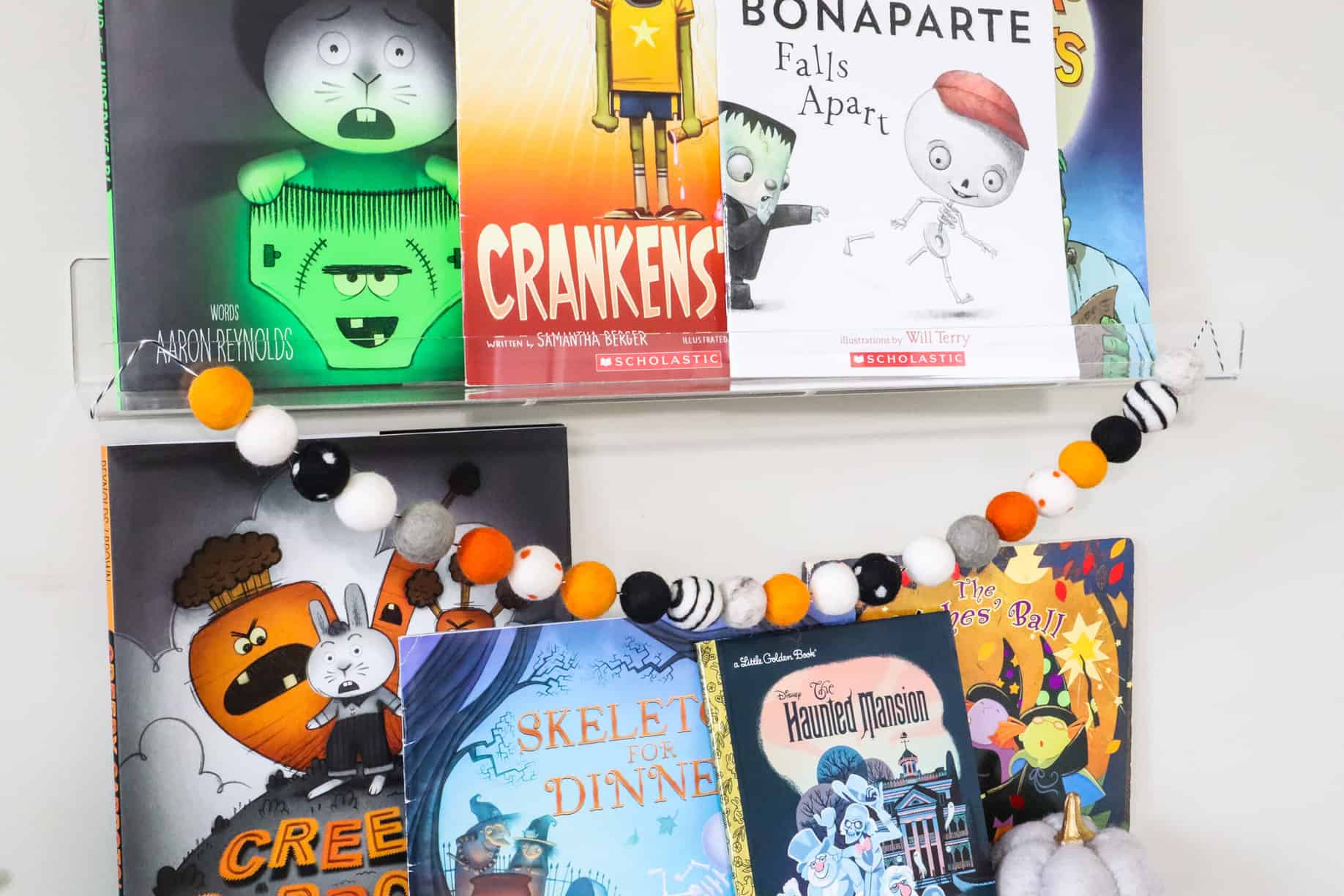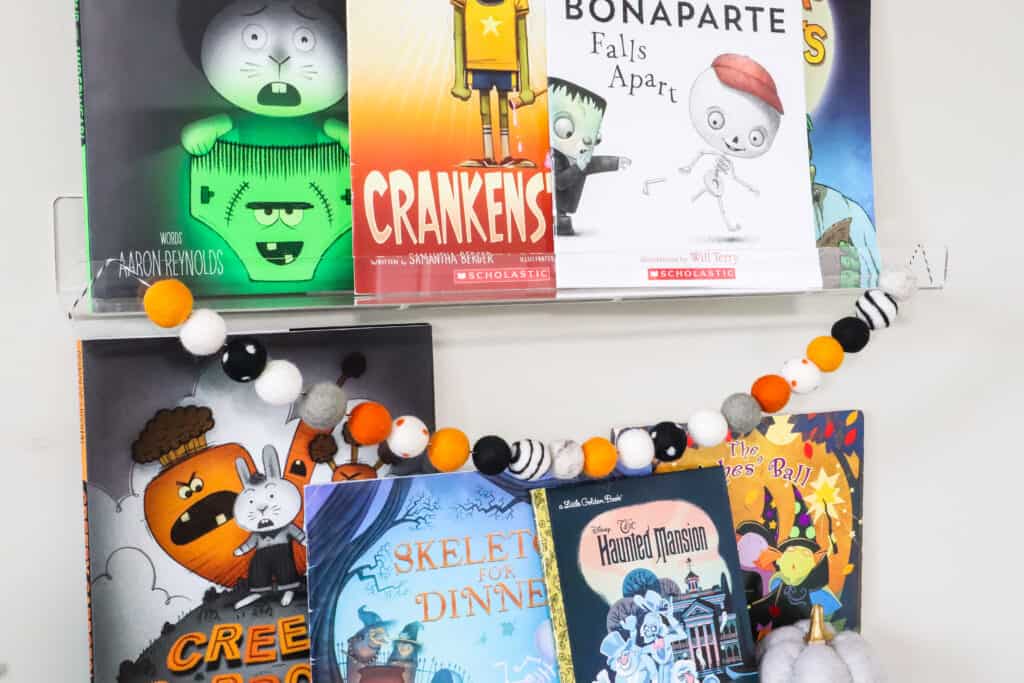 You can also make a simple garland with pom-poms with fall colors on it if you don't want to do specific Halloween shapes or a Boo garland.
You don't have to use garlands, but they're an easy way to add a touch of holiday spirit to your book wall without making it too busy or cluttered! Personally, I think they add the perfect touch to a Halloween book wall!

Letterboard
One other great addition to a book wall is a letterboard sign! Adding a letterboard sign to your kids' book wall will make it look even more festive and put together.
Plus, it's fun for kids because they can write out any Halloween message they want on their letterboard sign.
If you can't think of any funny or spooky phrases to put on your sign for Halloween, here are a few ideas to get you started:
BOO!
HAPPY HALLOWEEN!
TRICK OR TREAT!
WITCHES, GO AWAY!
ENTER IF YOU DARE…
There are tons of others as well! Search for Halloween kids letterboard sayings online and you should find lots of great ideas.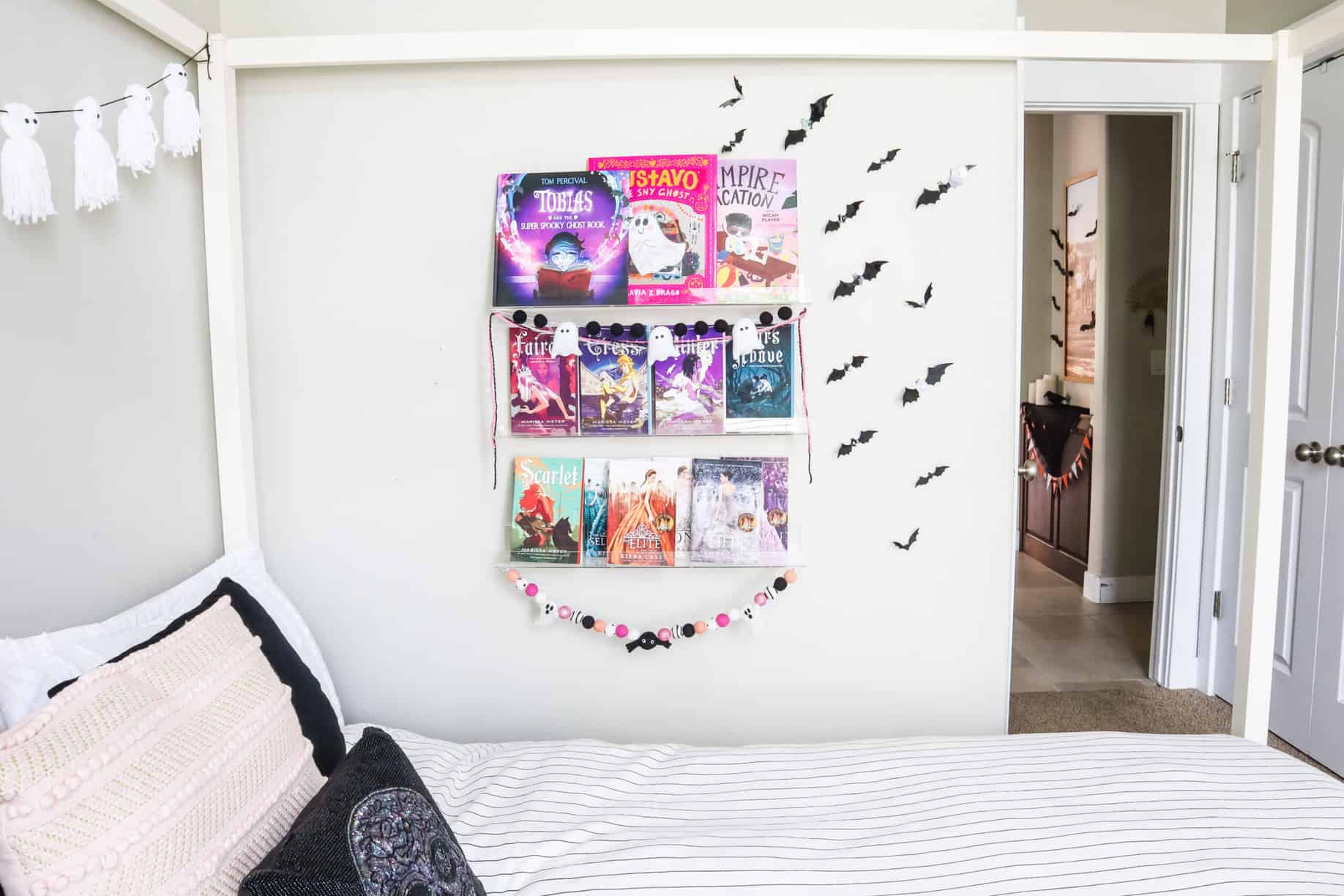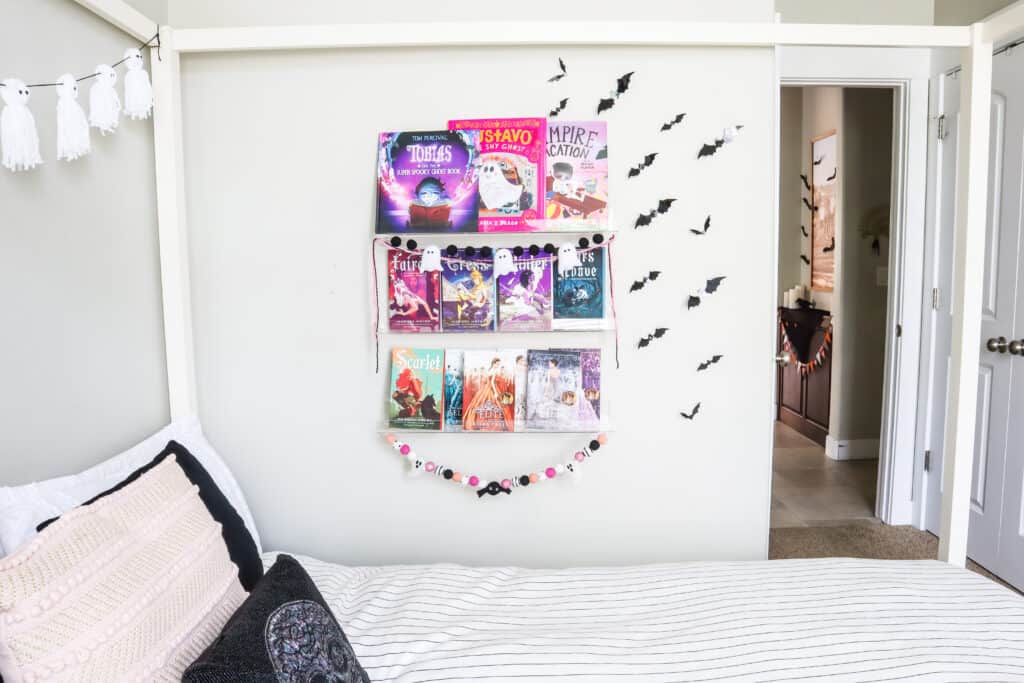 Other Things You Can Add to Your Wall
You don't need to overflow your book wall, but if you want a few other items to add, here are some ideas for knick-knacks to fill the rest of the space on your shelves or to embellish them a bit!
Halloween themed bookends
A little pumpkin or ghost figurine
A black cat stuffed animal
Halloween candy in a bowl
A spider web table runner or tapestry
Halloween art pieces (you can find lots of great options on Etsy)
Check out the dollar store or the dollar bins at Target for small festive items you can use to take your book wall to the next level!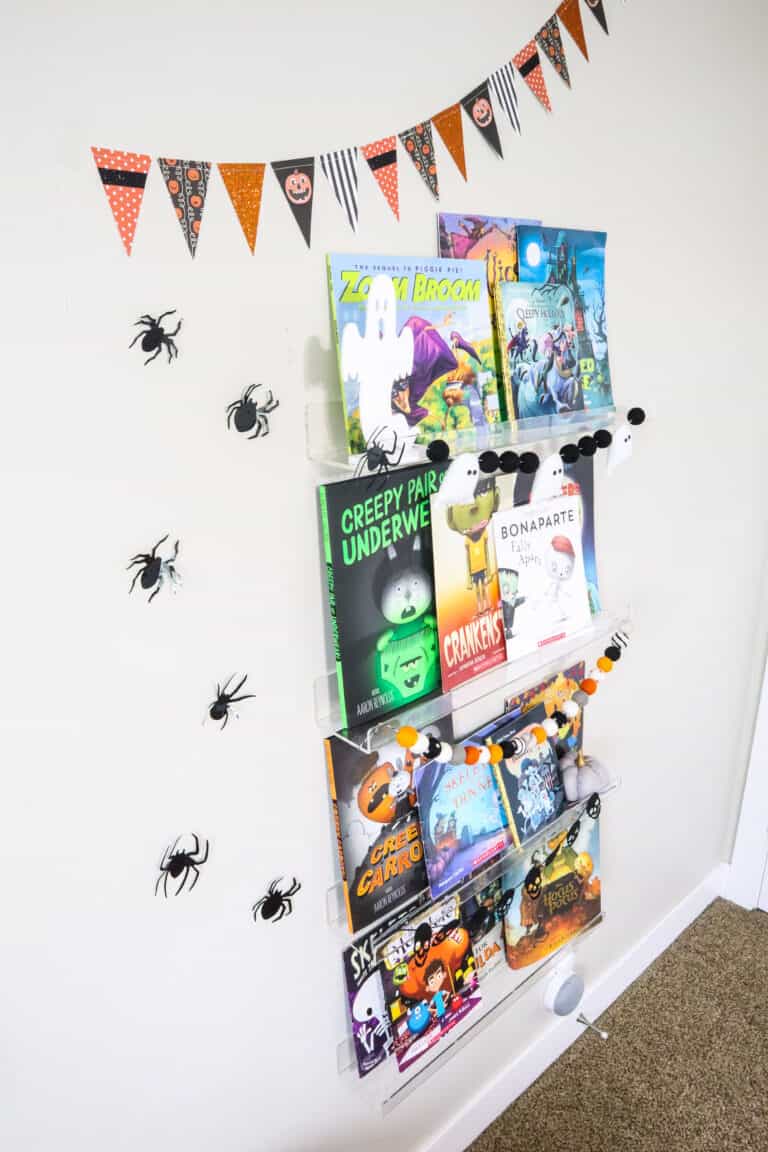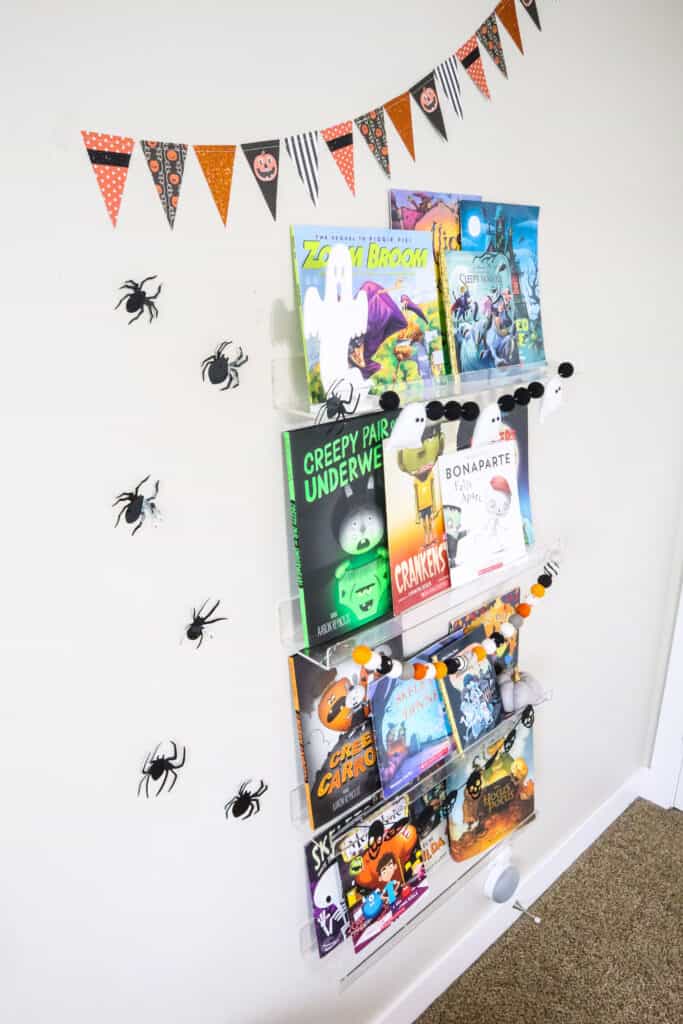 I love my kids' Halloween book wall!
Showing off cute Halloween books with spooky Halloween decorations is such a clever way to get kids into the Halloween spirit! There's nothing better to get you inspired for your Halloween costume than to see an adorable ghost or skeleton on your wall every time you get home from school.
For any Halloween kids out there, I definitely recommend trying this out! It's like a mini haunted house display for your kids to build the excitement for trick-or-treating. Hopefully, this post will help you get started on creating a book wall full of Halloween books for kids.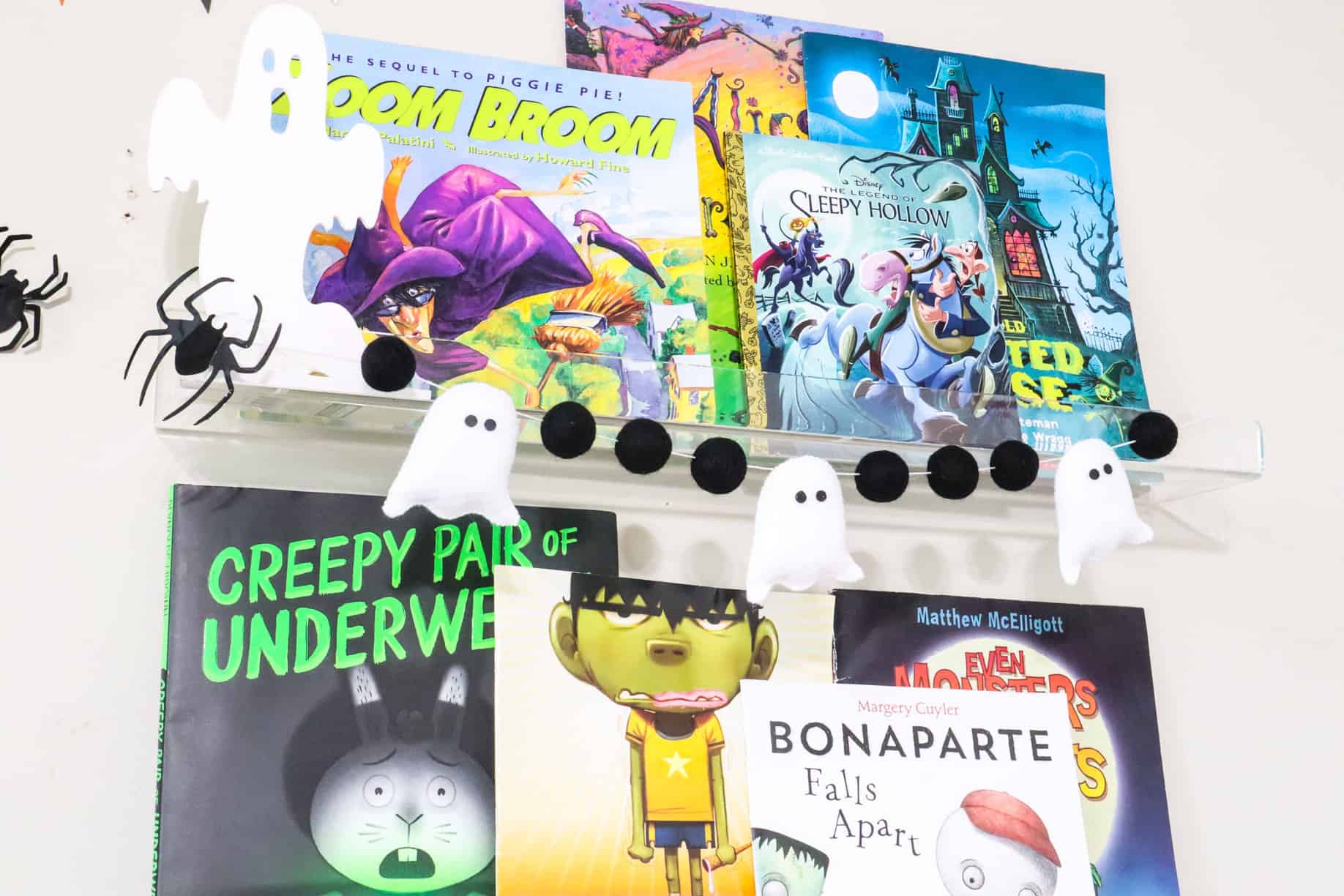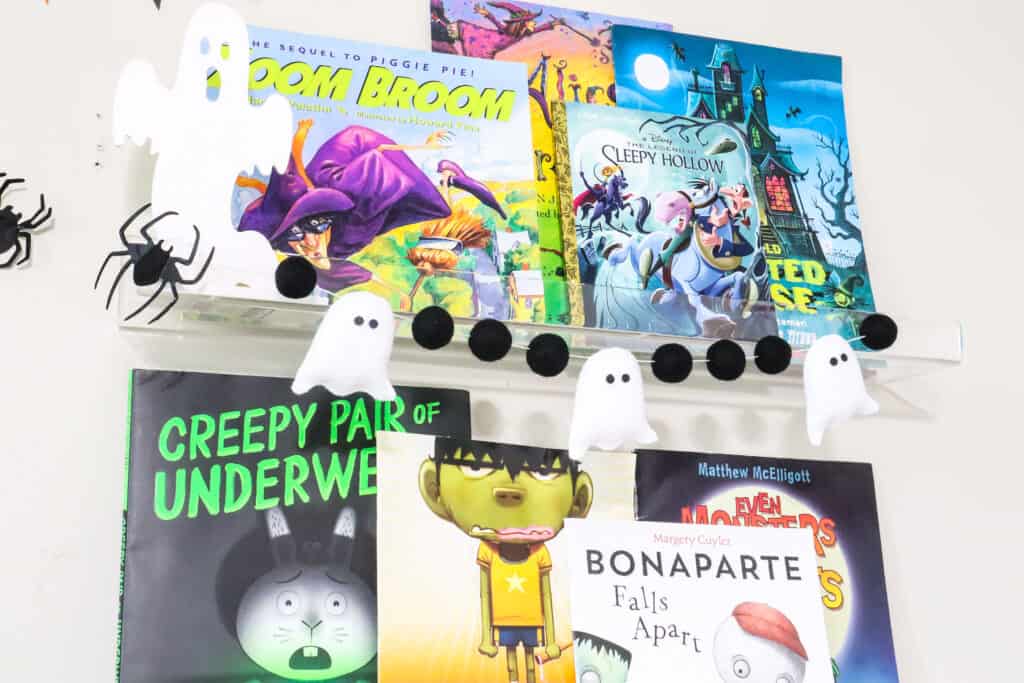 And if you're not a fan of Halloween, why not try it for another holiday? There are so many fun ways to switch up your book wall depending on the season. Whatever you do, have fun with it and let your kids get involved in the process! They'll love seeing their very own special book displayed in their bedroom!
Do you have a favorite Halloween book that you'd want to put in your kids' bedrooms? Comment below with a book title you think I need to read. I'm always looking for a good Halloween book for my kids!