10 OF THE BEST IDEAS FOR PATIO DESIGN FOR COZY SUMMER NIGHTS
Summer is finally here! There is something magical about spending time outside with those you love on warm summer nights. Sometimes I forget how wonderful they are because I am so used to being in the house early so I can put my kids to bed! But that's why I'm here! I want help give you some ideas for patio design so you can create your own cozy outdoor space that you and your family will love.
Don't forget to scroll down to download your FREE Patio Design Guide!
Looking for more outdoor ideas? Check out this post about creating and Organized Grilling Station and How to Make Gourmet S'mores and the Perfect S'mores Caddy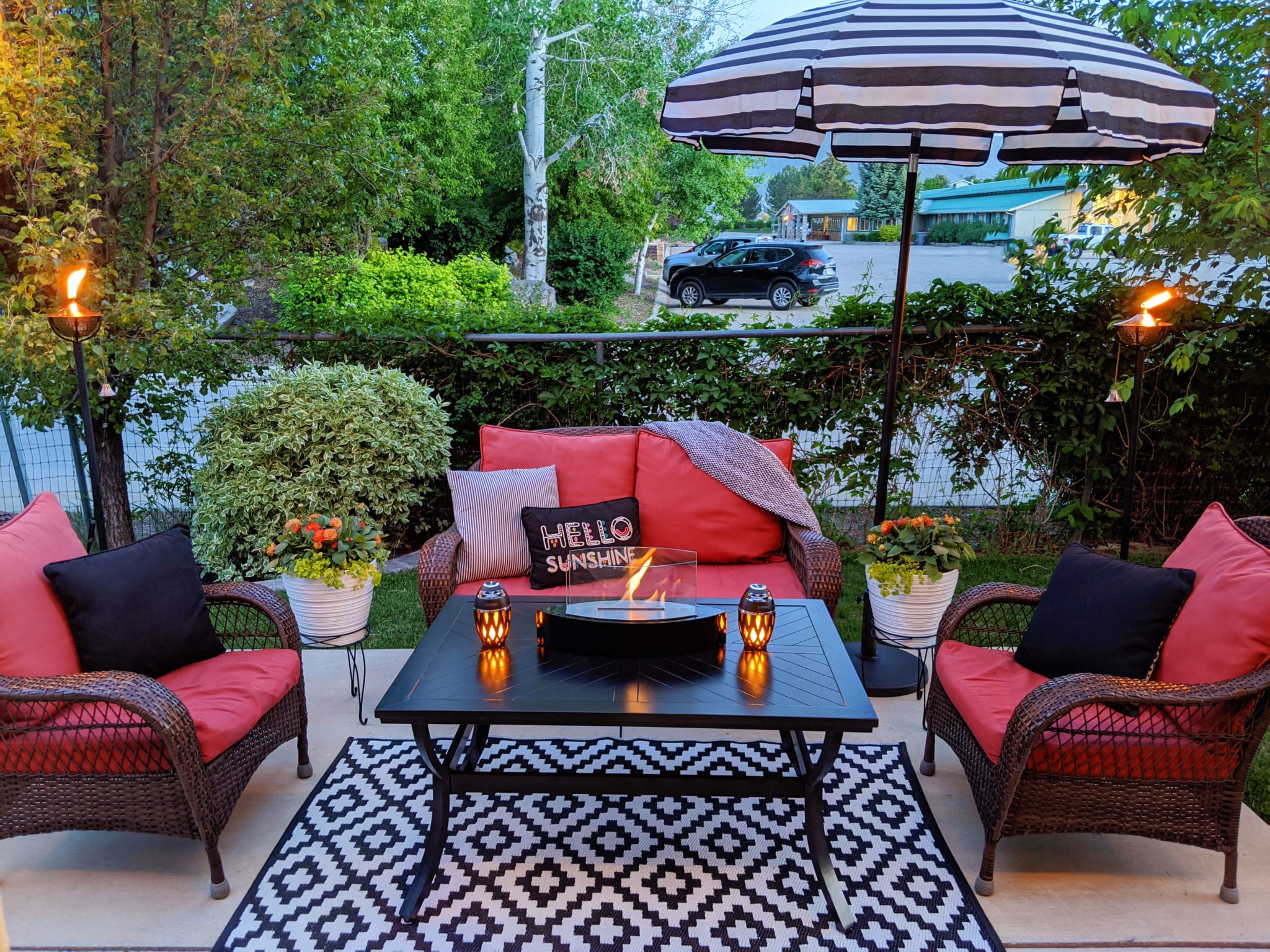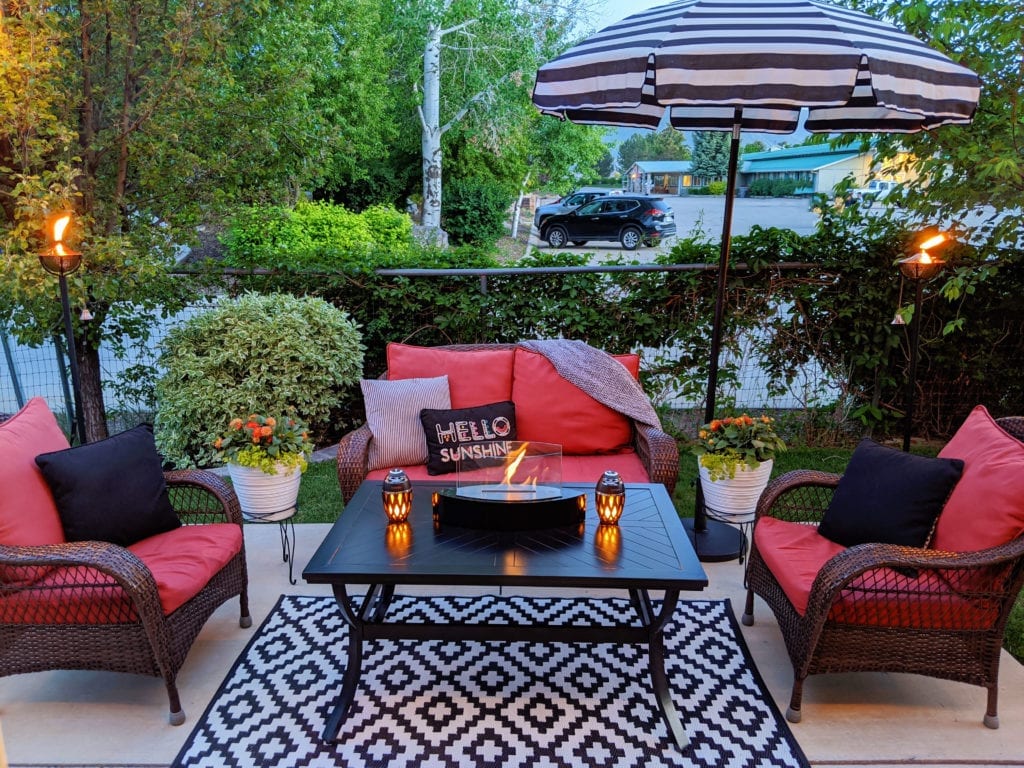 Creating a Seating Arrangement
The most basic and most important part of creating a cozy patio space is seating. If we didn't have anywhere to sit it certainly wouldn't be very fun to be outside! So I suggest finding a patio set that fits into your budget.
If a new patio set is out of your budget, I highly recommend checking the Facebook Marketplace, Craigslist, or local classifieds page. You would be shocked at what awesome treasures you can find there. You might have to check often, but you're pretty much guaranteed to find something you'll love!
I was in search a new coffee table for our patio and I found this one for only $10!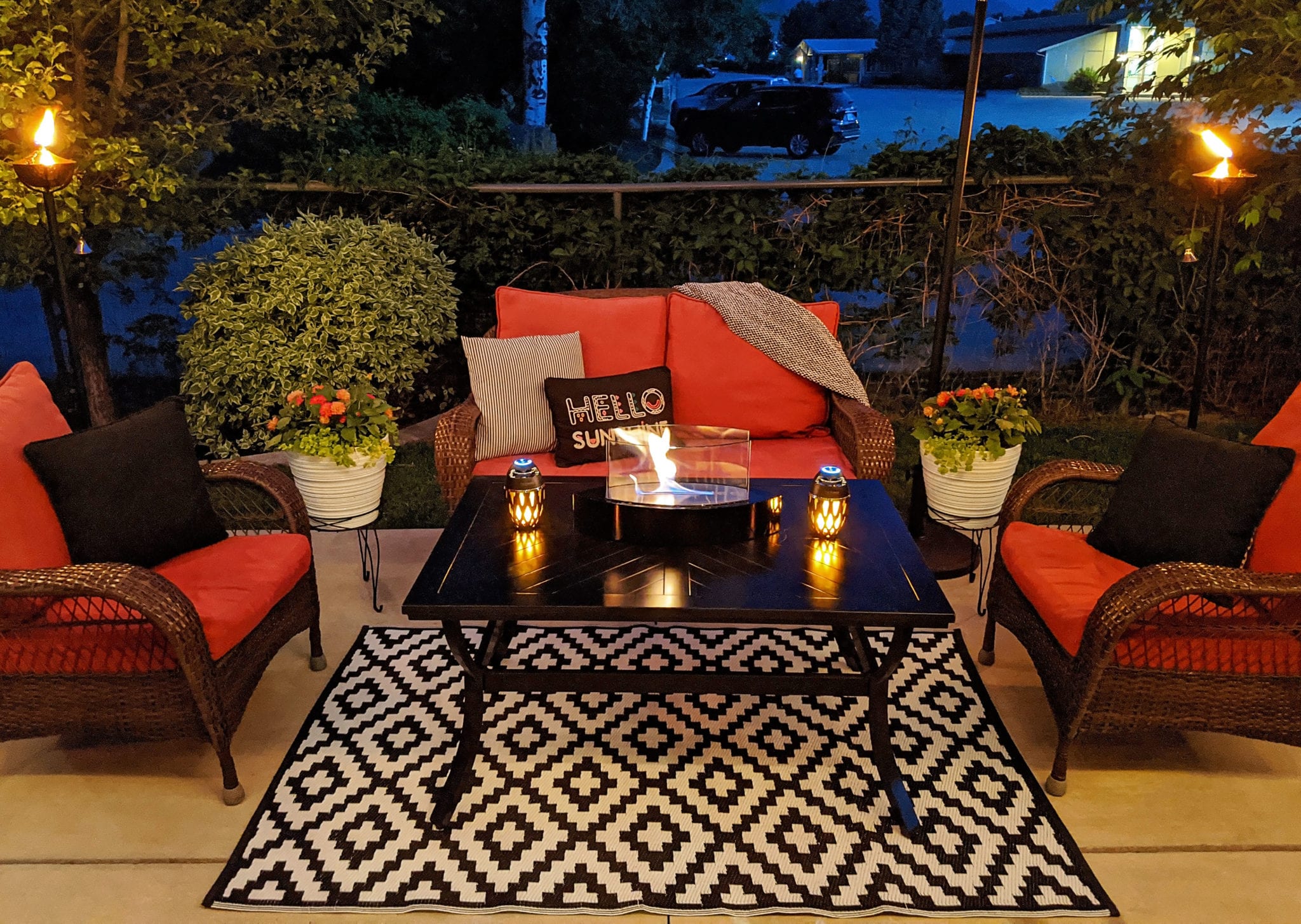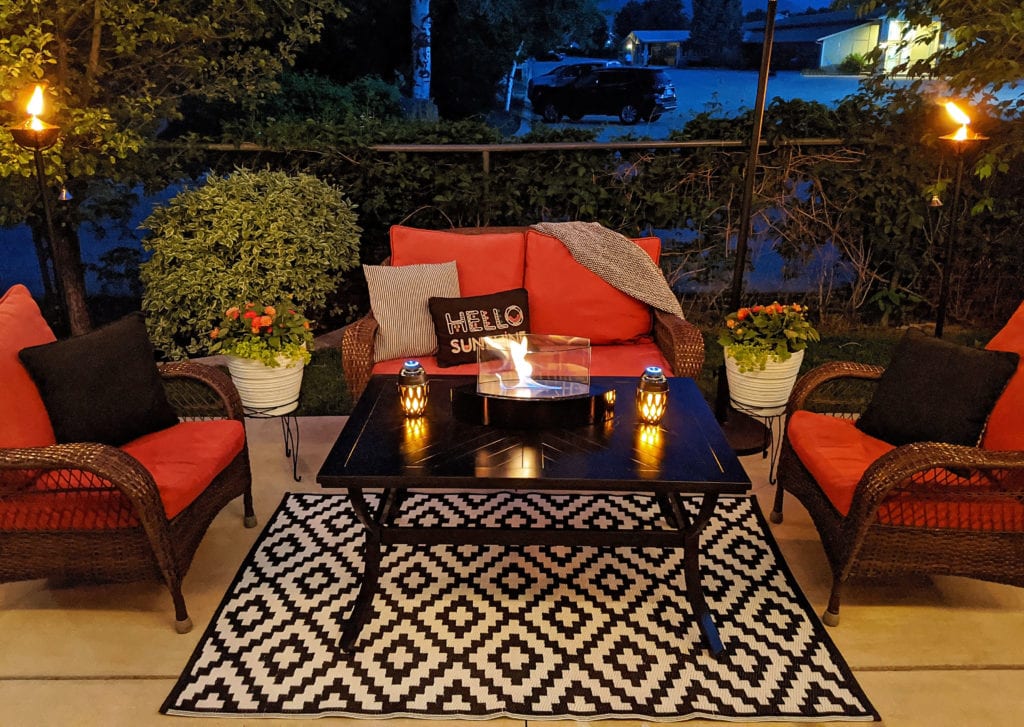 I also suggest being open to giving used pieces a little bit of TLC. Some patio sets have great sturdy bones, but they just need a new coat of paint! So keep that in mind when you are looking around.
Before you buy a patio set, make sure to test it out. Is it comfortable? Do the cushions come off too easy? Try and imagine your summer nights in that exact seat. Doesn't make you happy? If so, then get it!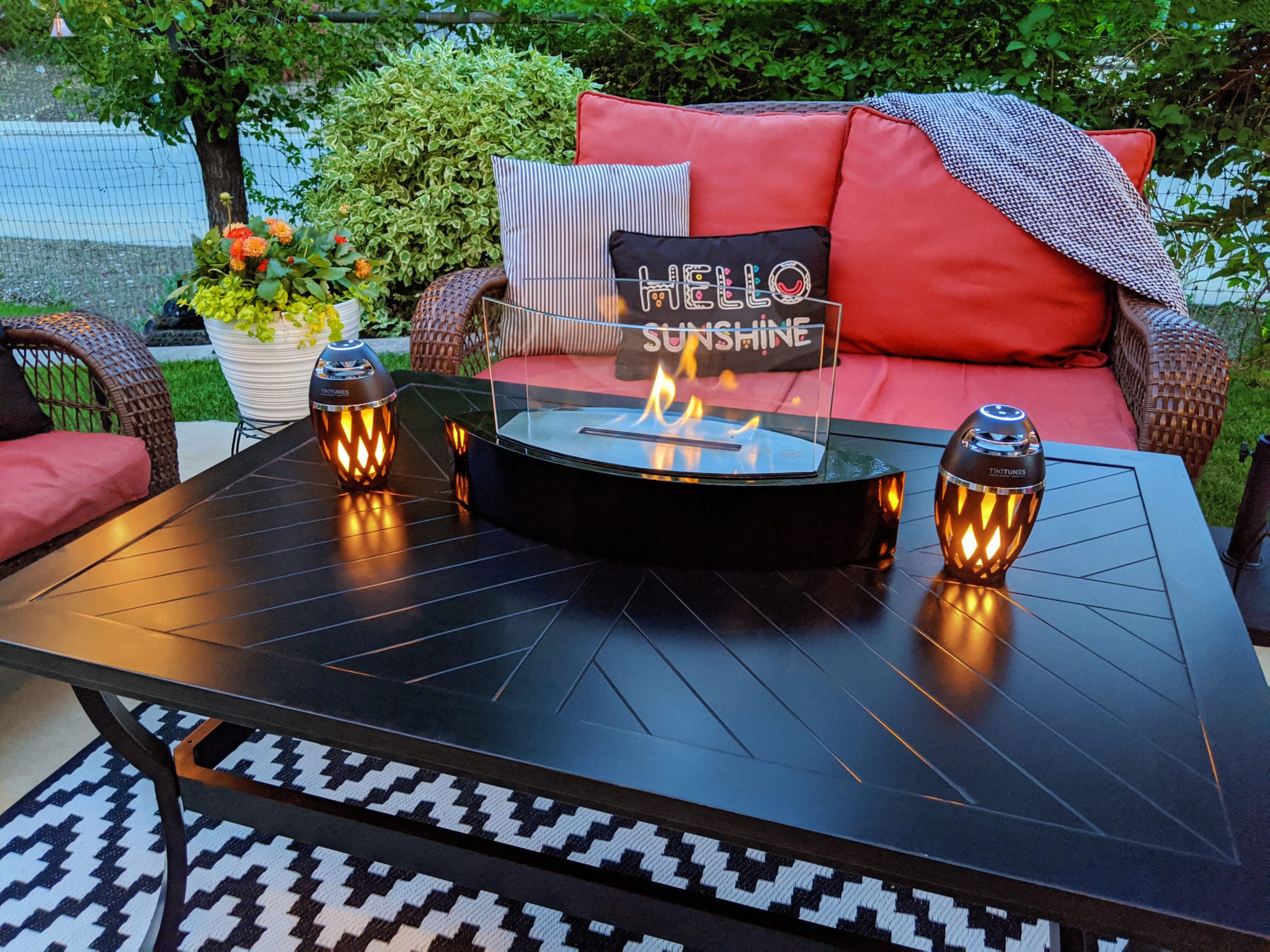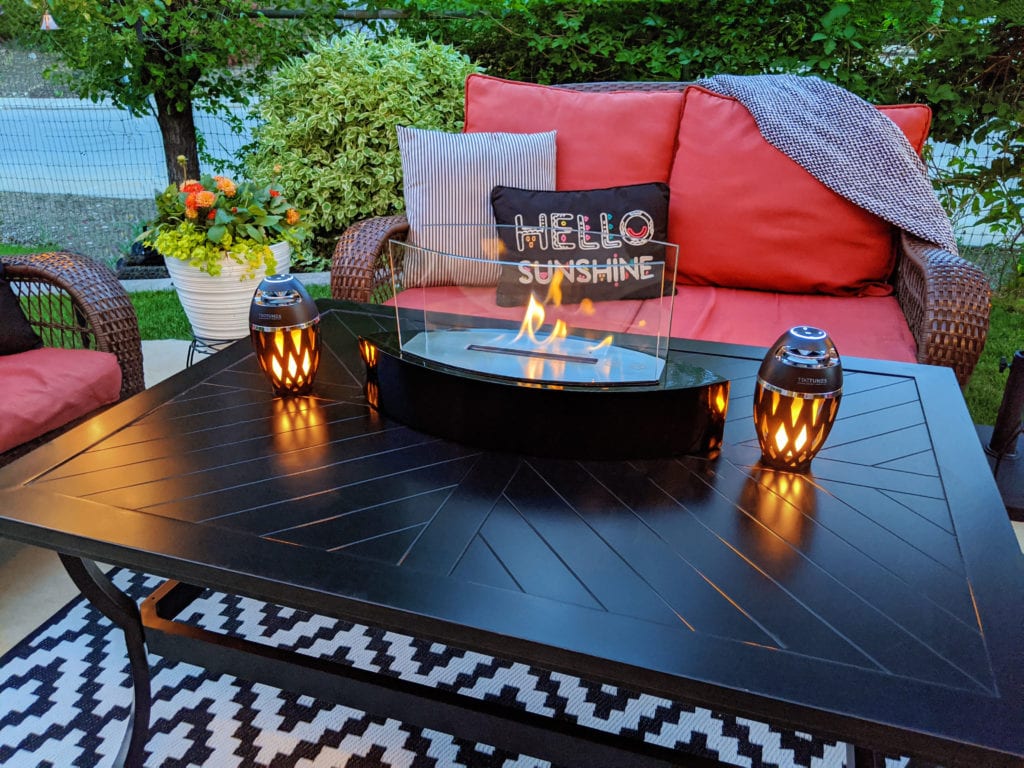 Update: Since this original post we have updated our patio set! We all went outside to eat dinner out on the patio when I realized that we don't have enough seats for us to all fit anymore! We've had this patio set for about 7 years now and it's been amazing but my youngest is 6 and we used to just hold him on our lap.
I knew I wanted something that could fit quite a few people but our back yard is SUPER TINY. We have a concrete pad and about 4 feet of grass behind us. So I had to pick something that would fit in that space but would be able to fit the most people as possible.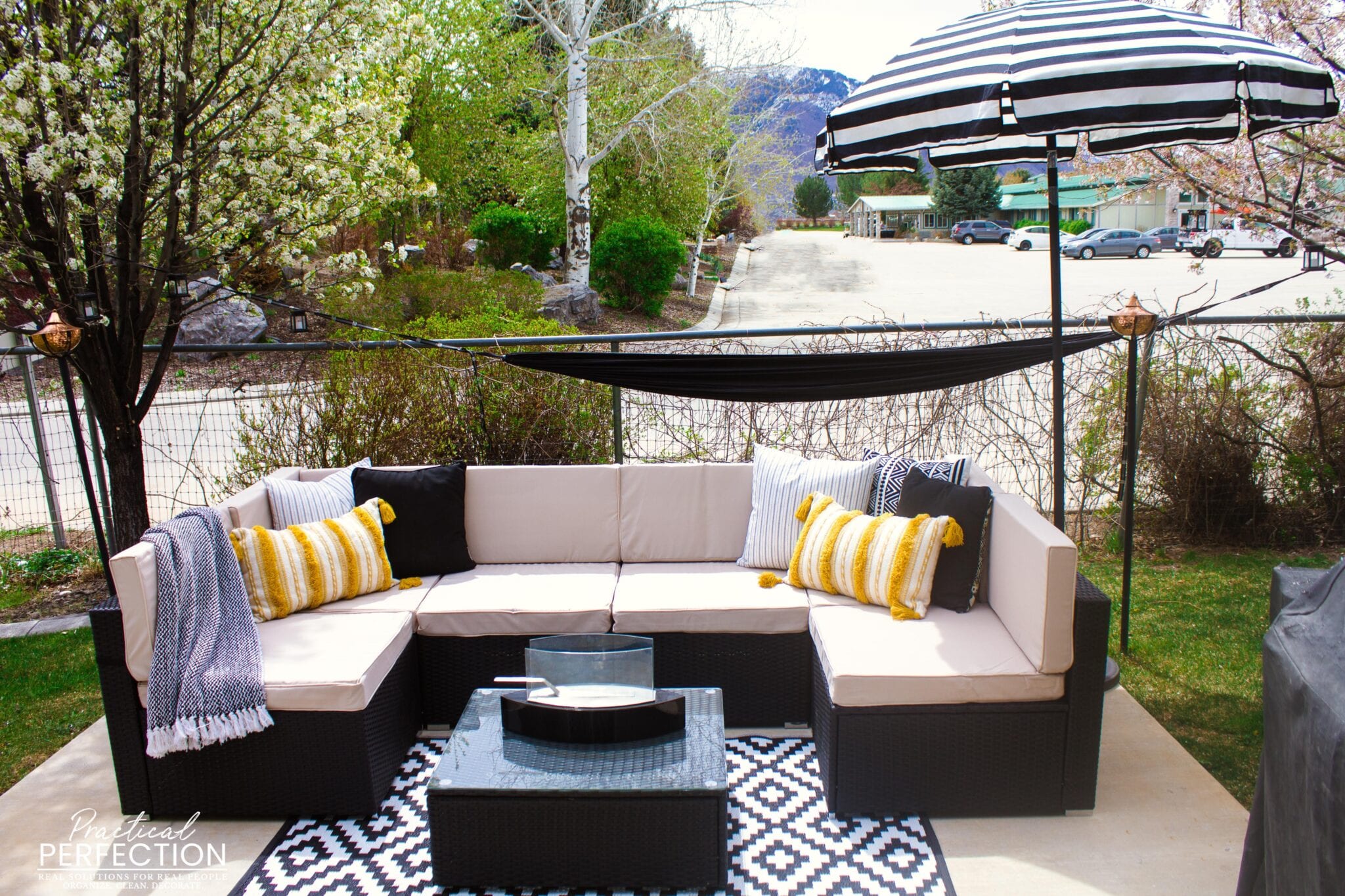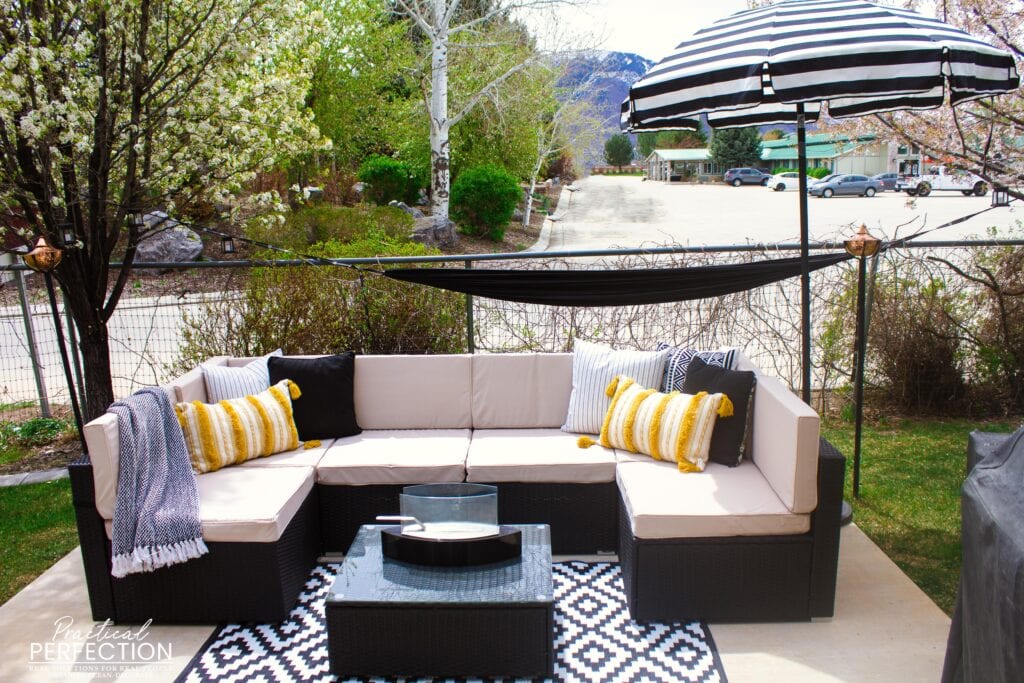 The obvious choice was a sectional. I found this darling set from Pamapic on Amazon that fits perfectly and we couldn't be more in love! I wish the plants were as beautiful as they were in my original photos but I think it looks beautiful nonetheless!

Enjoying this post? Pin it to Pinterest to save for later!
Adding Textiles to Seating
The next step to creating a cozy patio space is to bring in some textiles. In other words, pillows, blankets, cushions and rugs!
Adding textiles to your patio set can really take it from boring to beautiful! There's something magical about pillows, blankets, and rugs that really take our space to the next level. It helps them feel much homier and less sterile. So if you are looking for ways to personalize your patio space and make it feel more comfortable and homey, then pillows, blankets, cushions, and rugs are super important!
For my blanket, I chose one that was made for the outdoors. It doesn't pick up dirt and sticks and dead leaves as easily as other fabrics would. I don't usually leave it outside but it's one of those items that I don't get too worried about if I forget and leave it outside for a couple of nights.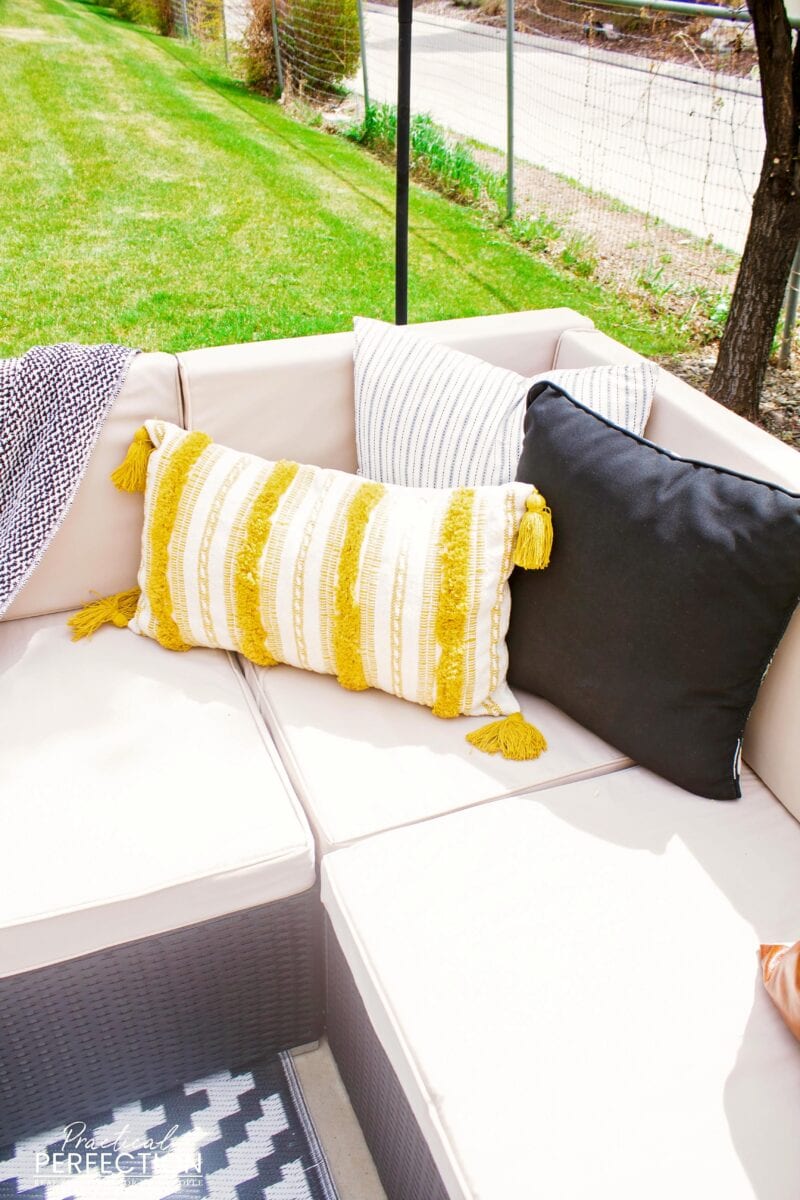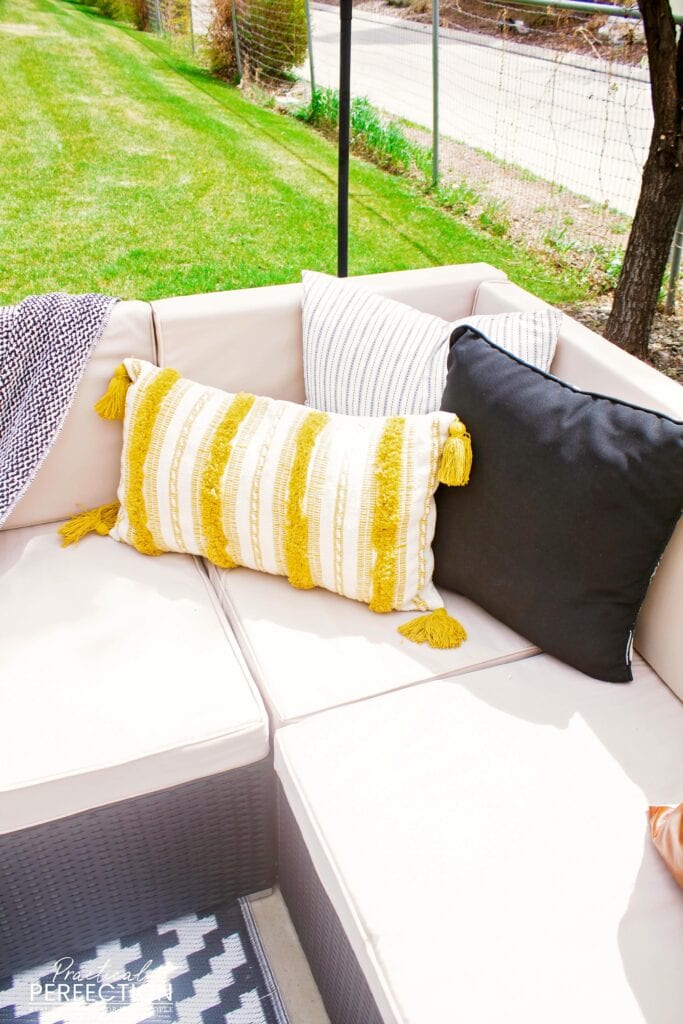 For pillows, I really recommend getting pillows that are made for the outdoors. You'll be alarmingly surprised at how fast regular types of materials can deteriorate outside. The temperature changes and weather patterns really take a toll on fabrics that are not pre-treated for outdoor use. Colors fade really fast and things look trashy real quick. So although outdoor pillows and cushions are a bit more expensive, they are definitely worth the cost since they will last much longer than your typical fabrics.
Shop This Post:

Adding a rug to the space makes your patio space extra fun! Again, I really recommend purchasing an outdoor rug. Land of rugs offers a huge selection of rugs where you can surely find a perfect rug for your space. If you purchase a rug that is made for the indoors, I doubt it would even last one season. The colors will fade within a couple of months and it'll look terrible.
The rug that I have for my patio is so incredible! It's actually a plastic rug that is made out of recycled plastic straws! I don't worry about this rug for a single second and how long it's going to last me. It is actually really comfortable to walk on too! And because it's plastic, it's extremely easy to clean up spills or hose it off.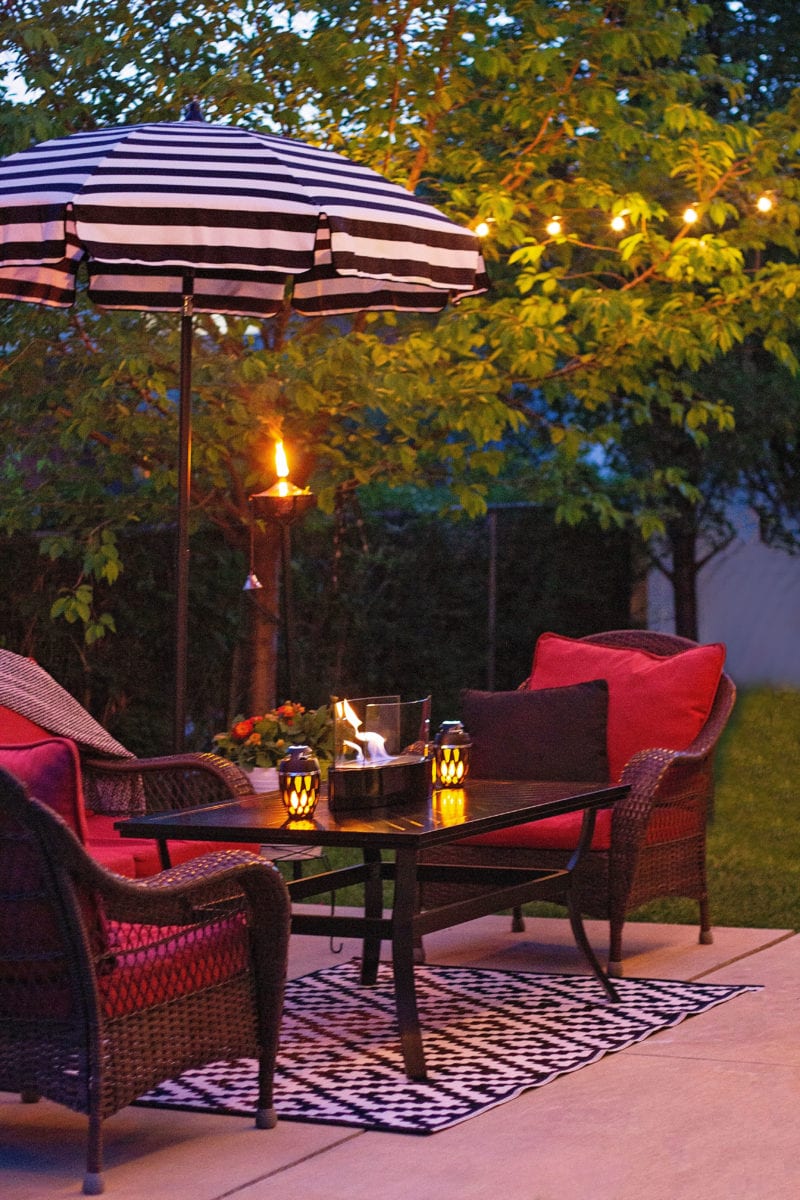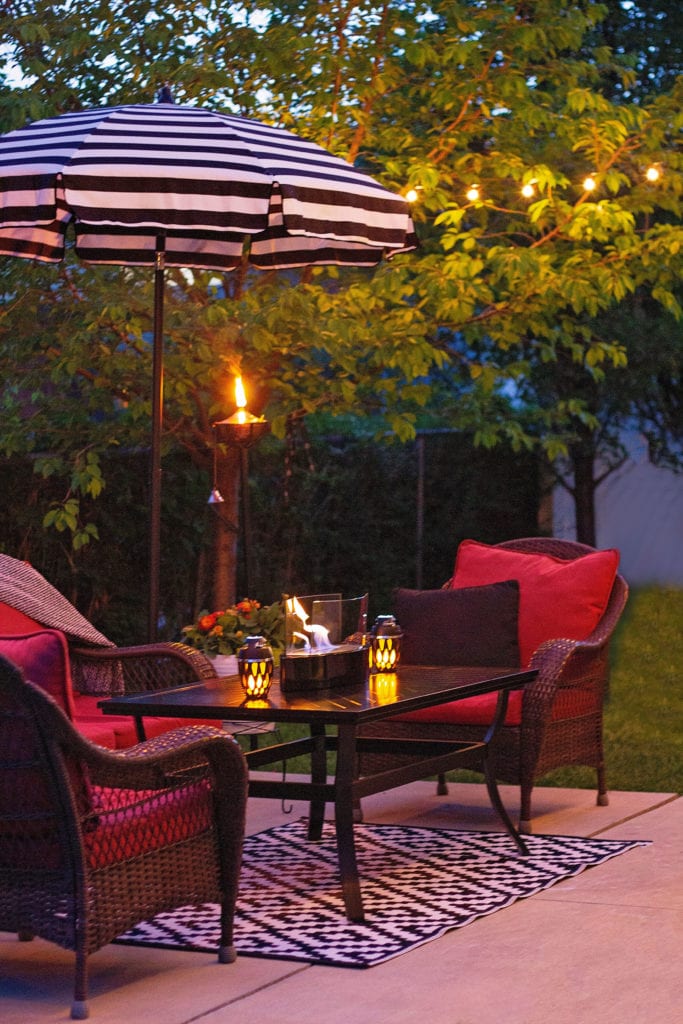 Outdoor Lighting
A really popular trend right now is outdoor lighting. There is something magical about those clear globe lights that just transform an outdoor space! We are still able to easily see outside but it is still dark enough to create a really fun ambiance.
We love to go outside at night as a family and snuggle together on the couch. And on weekends we will even set up a laptop on the table and watch a family movie together. The lights make it extra fun.
Solar Lights
Solar lights are a fantastic option for outdoor lighting. It's awesome because you aren't constantly having to change out batteries or fuel and they turn on automatically!
These darling lanterns by Gigalumi are solar-powered and they hang in my trees. They come on automatically every night and they add such a fun, beautiful atmosphere to our back patio space.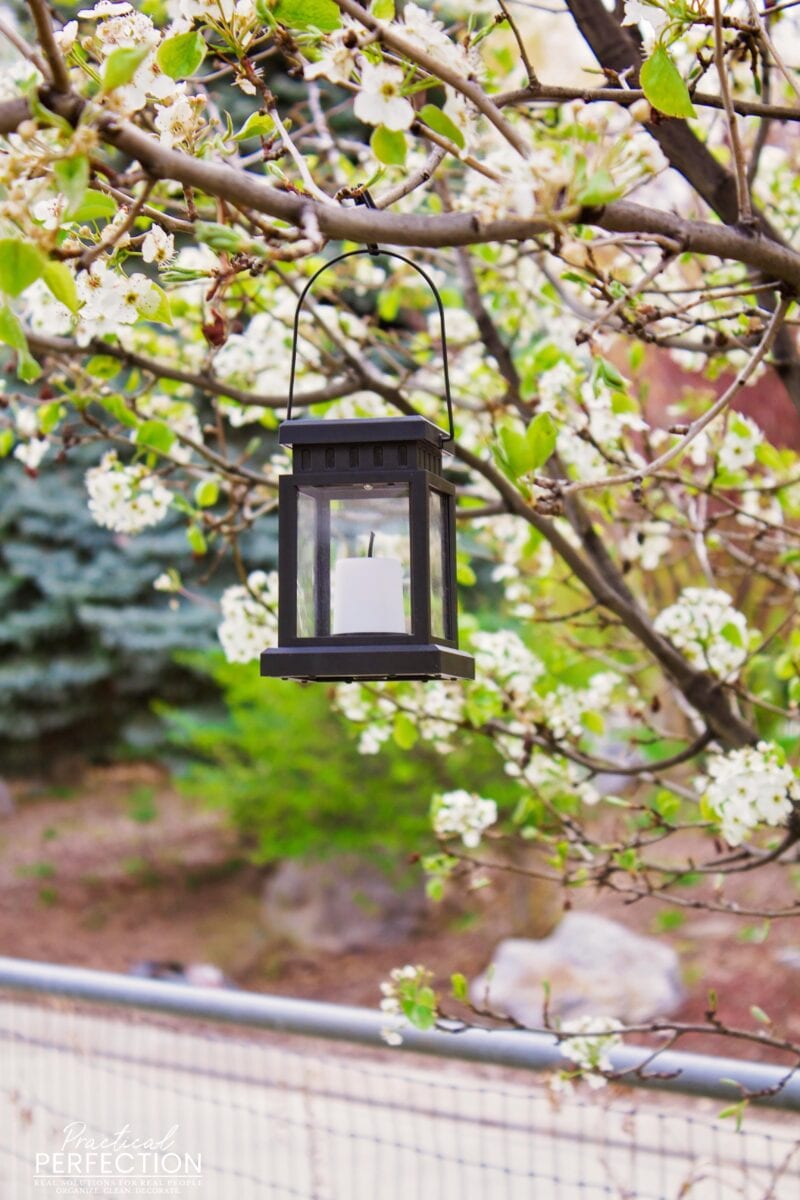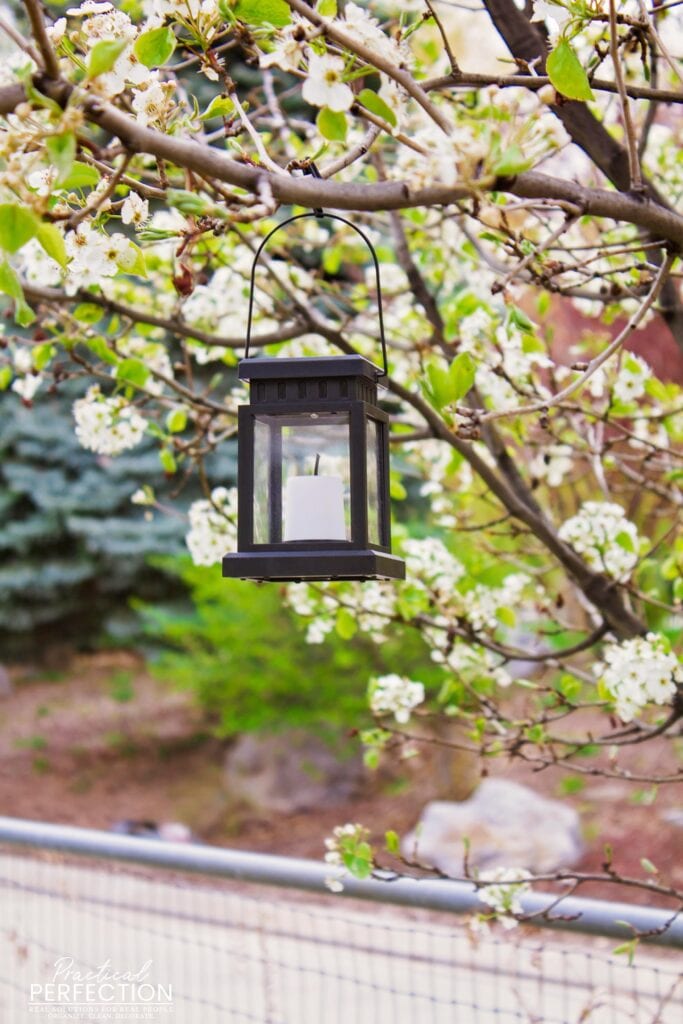 Add a Little Fire
Some other ideas for your outdoor patio design are to add fire! There are so many different products out there that can easily add an element of fire to your patio. Fire pits are great but they usually take up a lot of space where you otherwise would need a table. That's why I chose a tabletop fireplace!
If you want something that will bring a bit more heat, then an electric fireplace is perfect for you! They may cost you a bit more money initially but it will last for years to come.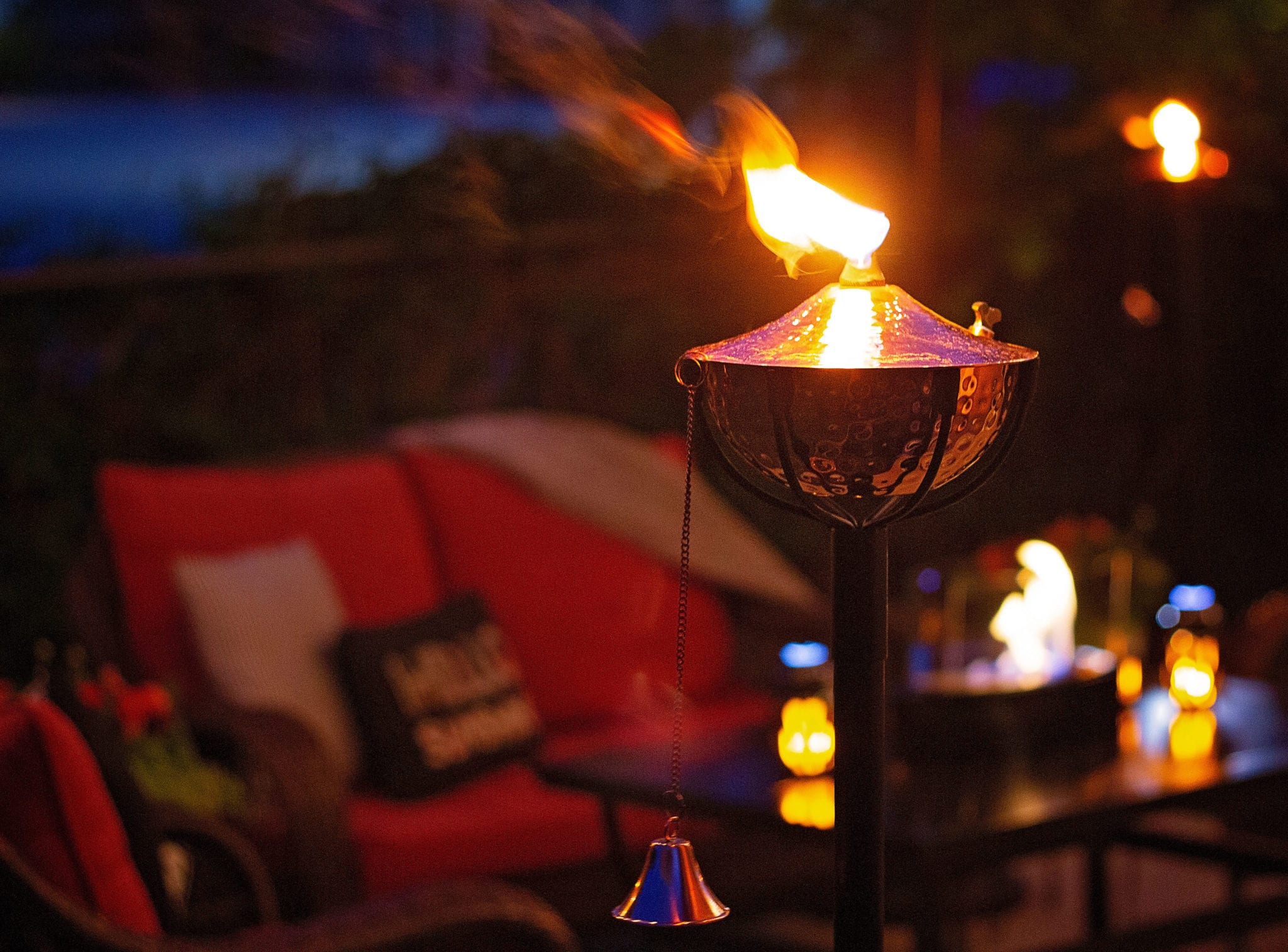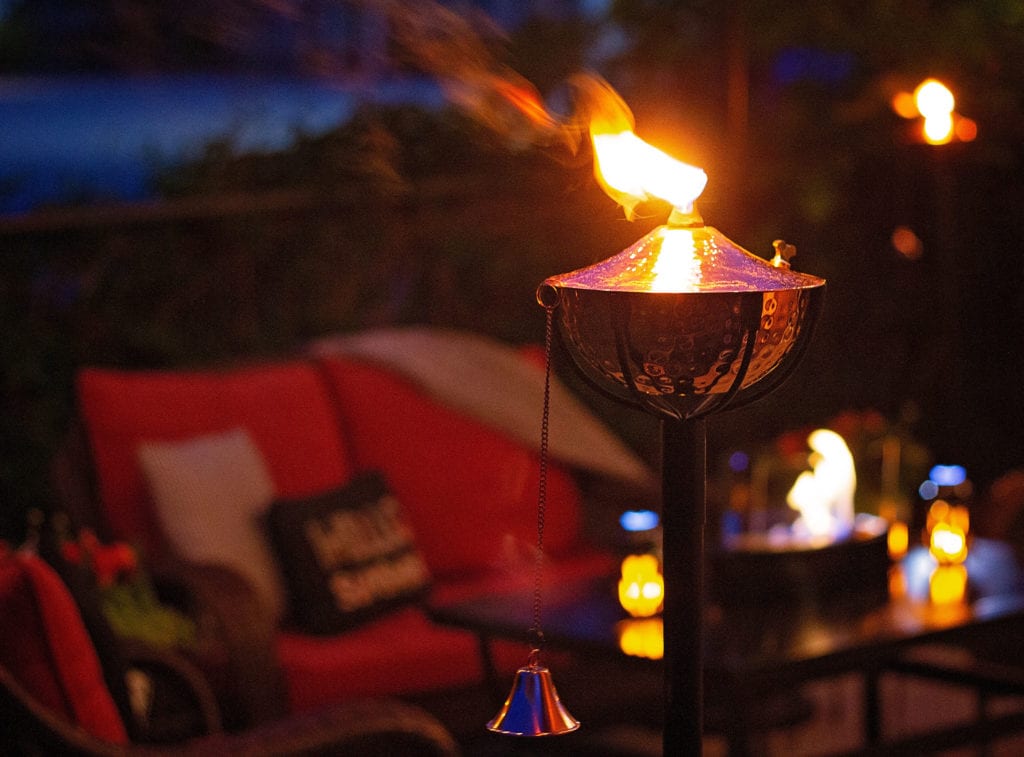 It's really great for bringing a fun outdoor mood to your patio and really adds an extra element of comfort. And the tabletop fireplace that I have is clean burning and non-toxic so you can even use it indoors if you want!
The classic option of adding fire to your outdoor space is to use tiki torches! Tiki torches are so much fun! They really help add ambient lighting that is perfect for parties and outdoor gatherings. Or even better, a quiet evening outside with your husband!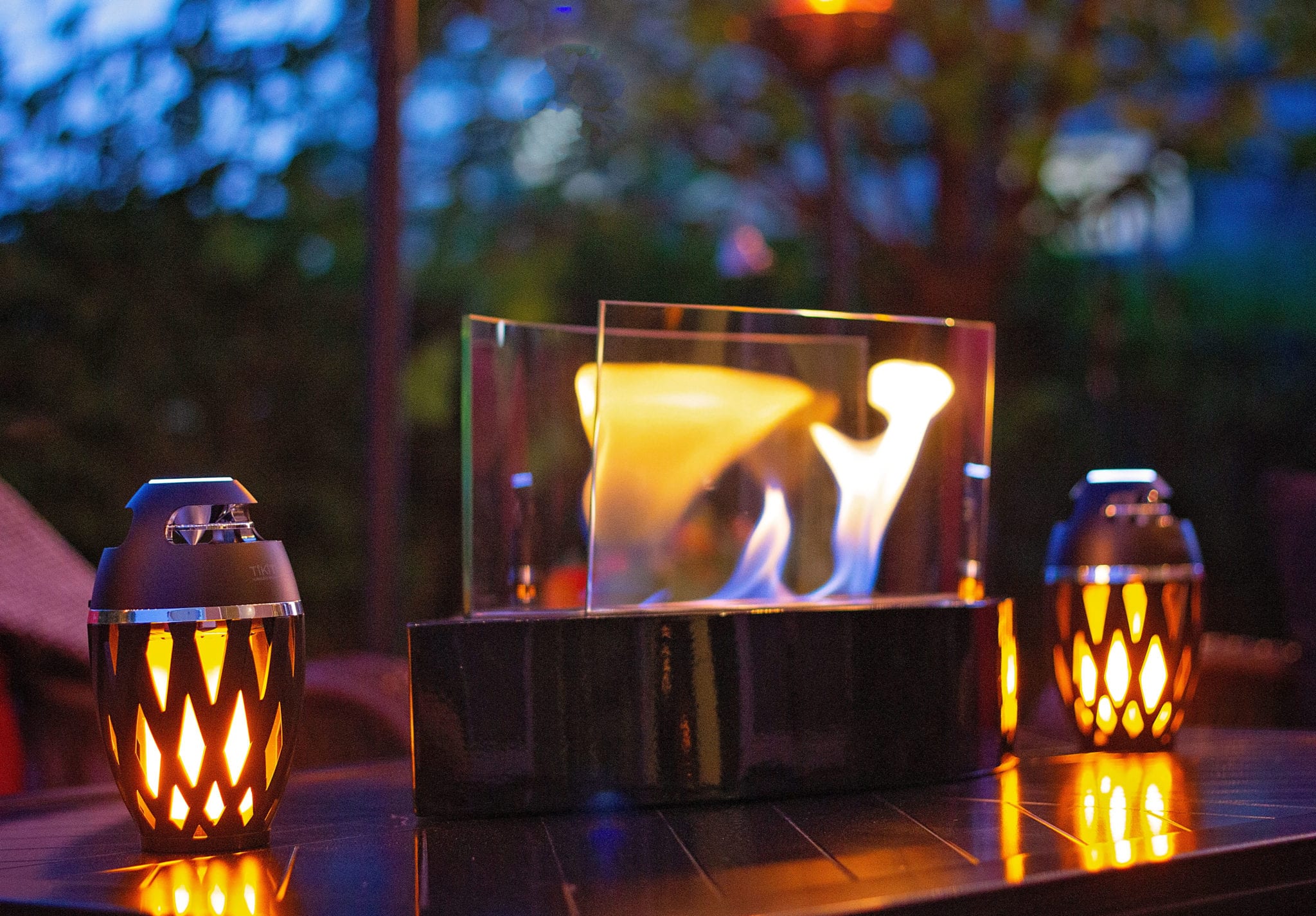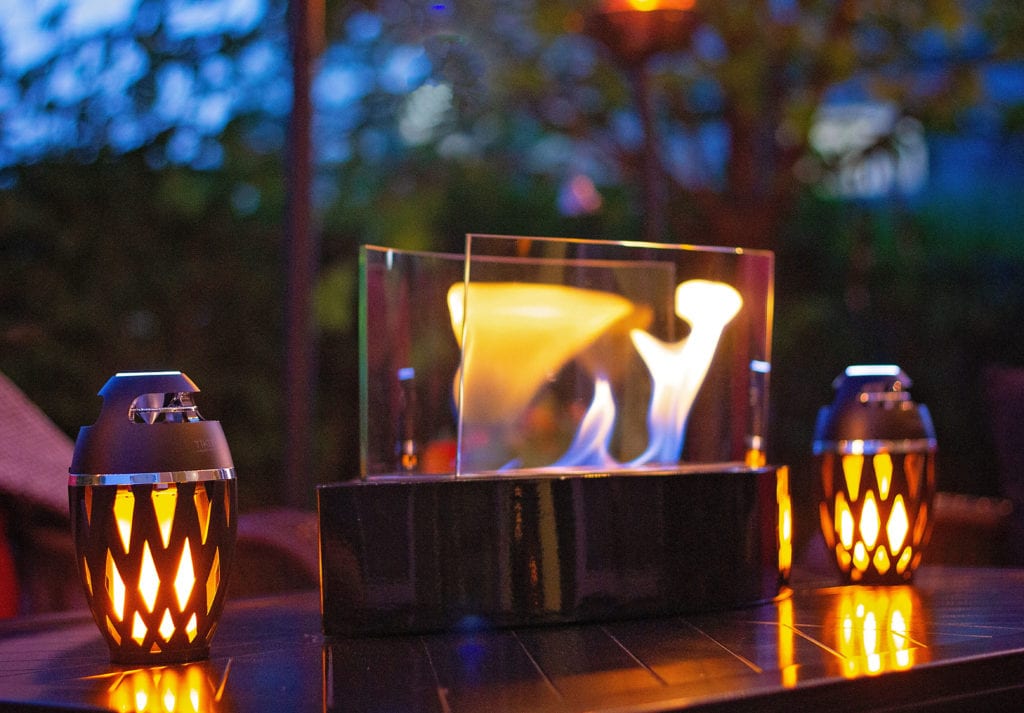 I really like using the tiki torch fuel that helps keep bugs away too! I love the natural element of fire that adds so much comfort to an outdoor space. The torches that I chose are also awesome because they can also be used on a table when you take them off of the stand.
Pathway Lighting
Another way to add lighting to your back patio is to add pathway lighting. And the best form of pathway lighting is solar lighting! Solar lights are an excellent way to have automatic lights turn on when it starts to get dark. Another great thing about solar lights is that you aren't limited to where you put them because of the location of a power outlet.
Please note that these types of lights will only work where they have direct access to sunlight, otherwise they won't have the ability to charge. They charge all day via sunlight and the solar panels reserve the energy in a battery cell so they can have the power to light up at night!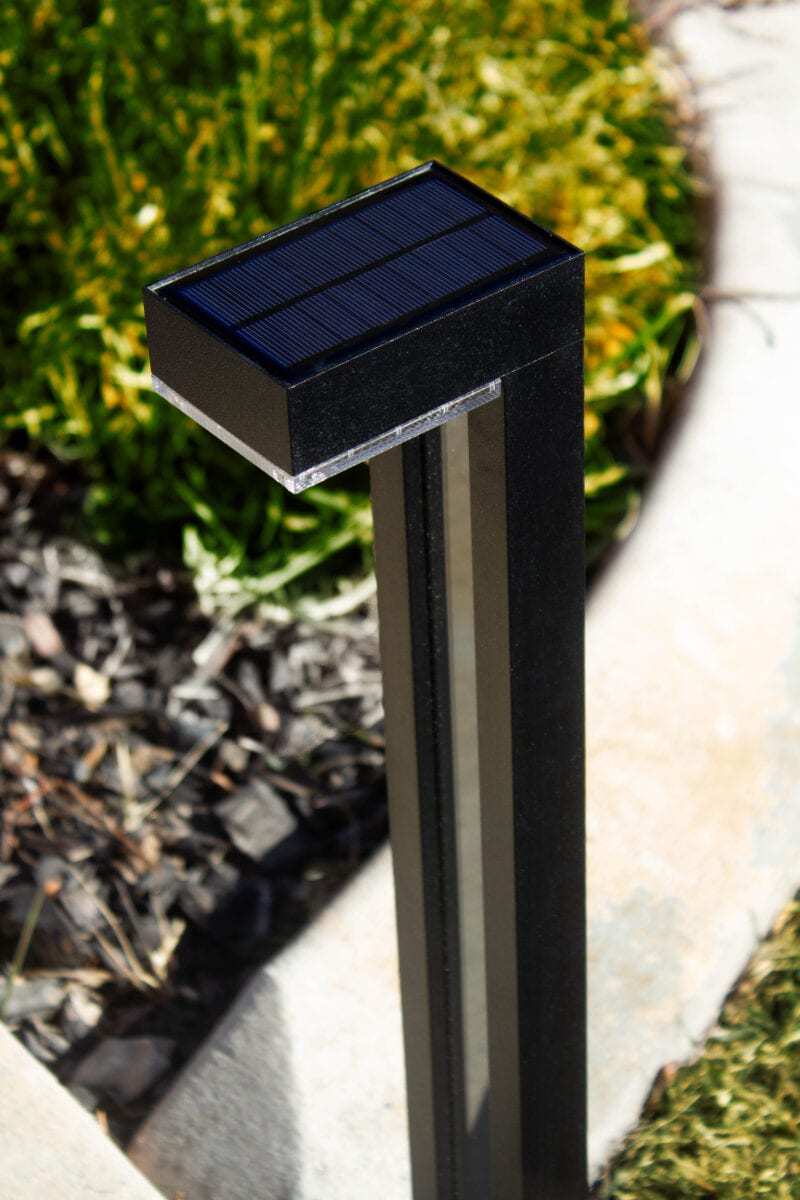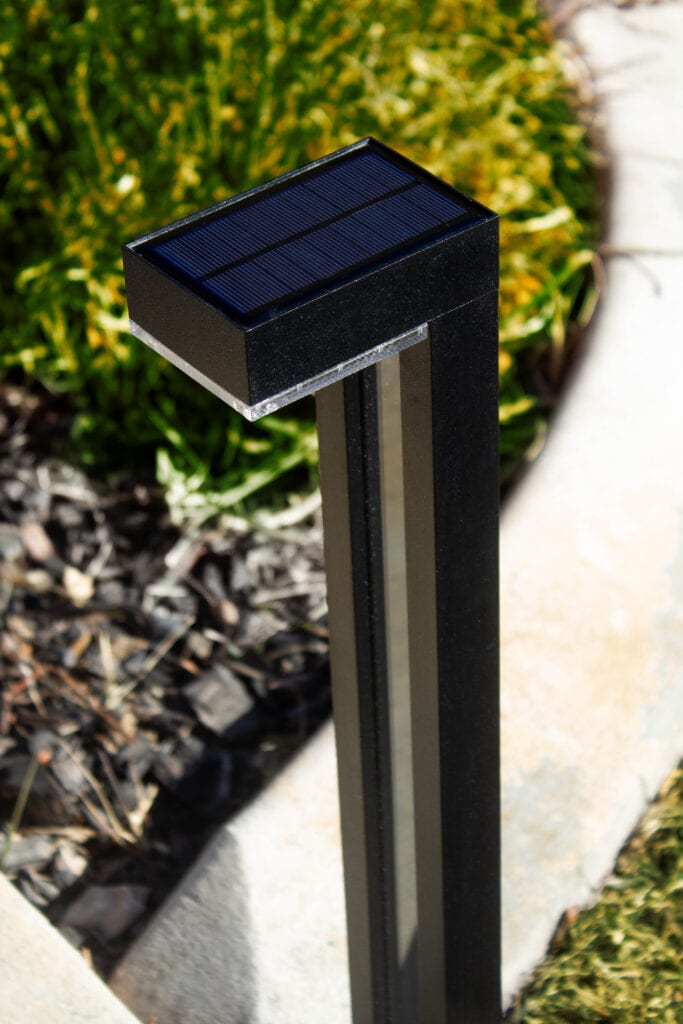 I am really impressed with the quality of these lights…they aren't your average Walmart solar lights. Right from opening up the box, you can tell that the quality is excellent – they are going to last me for years to come.
Turn Up the Music
My fifth suggestion for ideas for your patio design is to turn up the music! Music can really make or break an outdoor gathering. So make sure that you have music that is relaxing so that people can enjoy a good conversation while still listening to music in the background.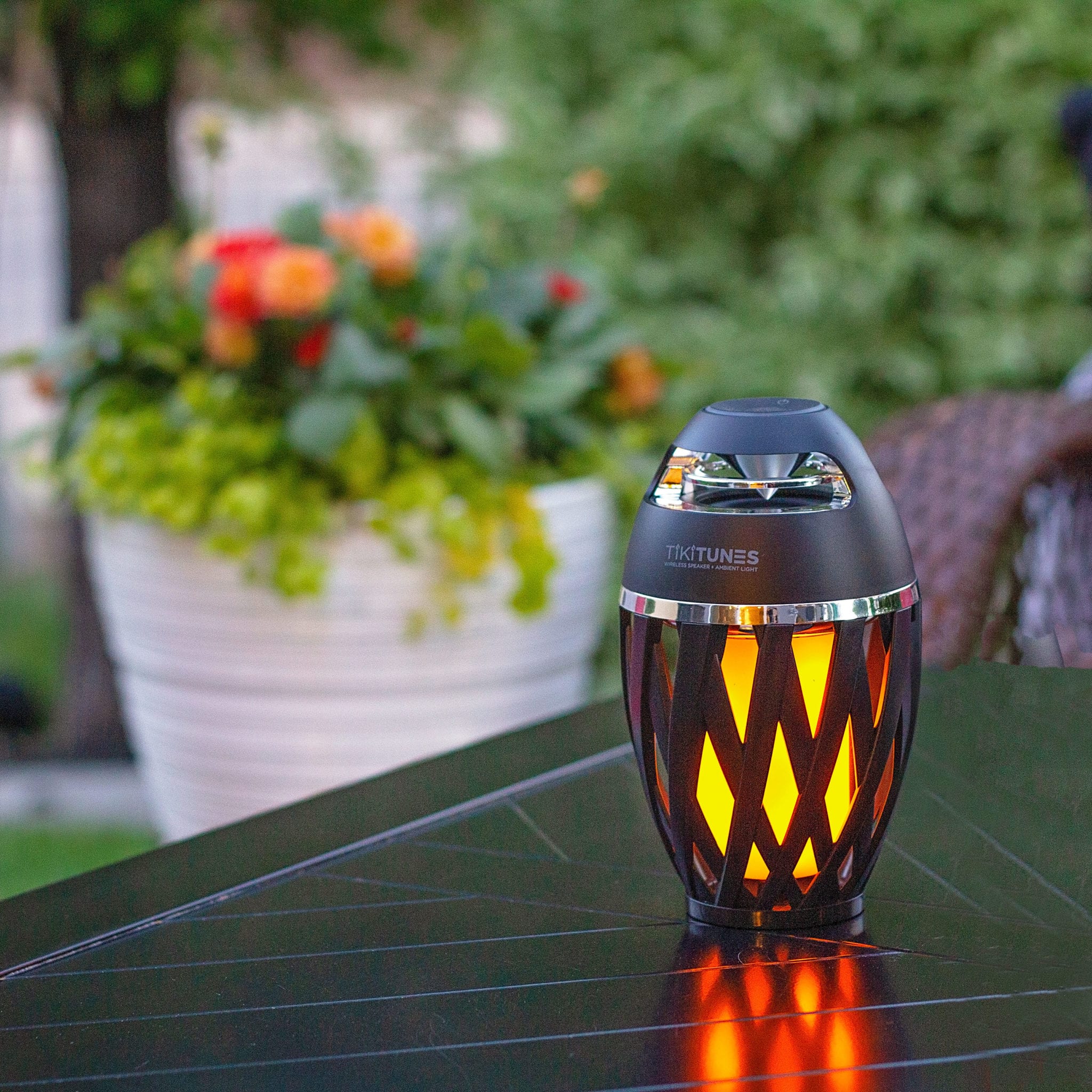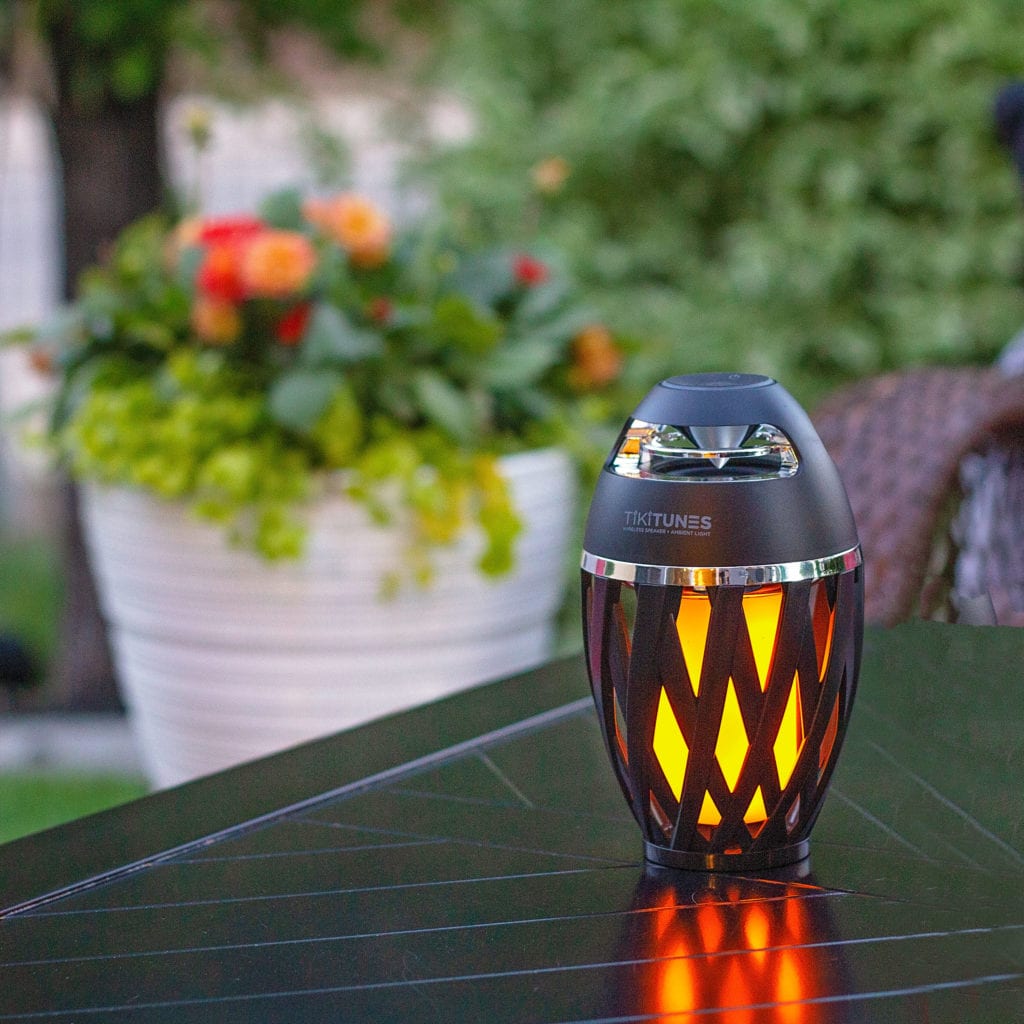 We don't have a built-in outdoor surround system like some people, so I was in search for some outdoor speakers that could produce some really great sound while we spend time outdoors. That's why I chose these speakers that connect to each other and create surround sound! And even better, they have atmospheric lighting at the bottom that resembles a tiki torch flame!
They are battery powered but the batteries are rechargeable so you don't have to waste money constantly replacing batteries. My husband was blown away by these speakers and we are super excited to use them all throughout this summer!
Shop my fave Textiles:

You Need Some Shade!
A lot of the elements that I have talked about so far revolve around being out on your patio at night. But you want to be out on your patio more than just at night time! These ideas for patio design are for more than just in the daytime.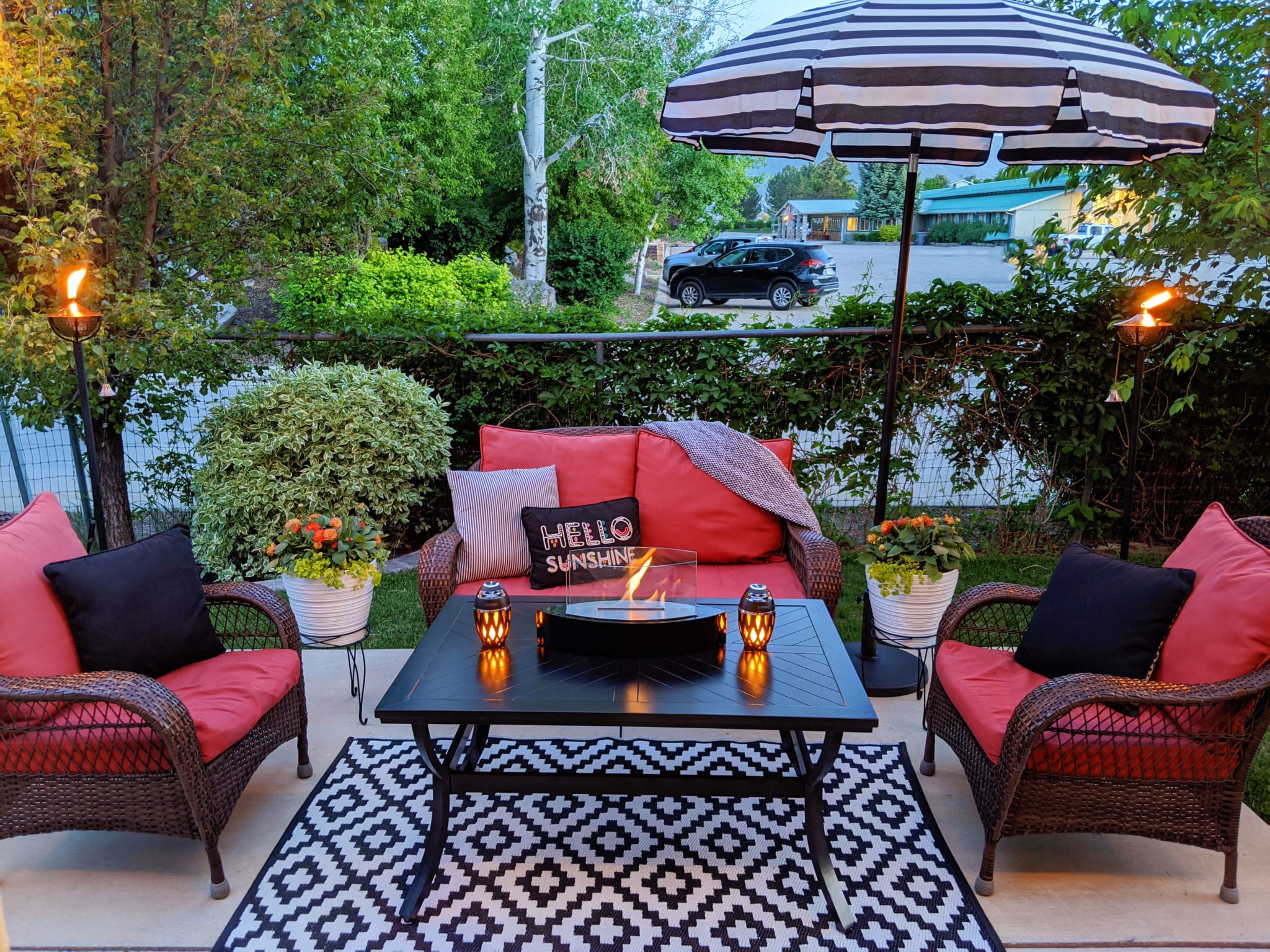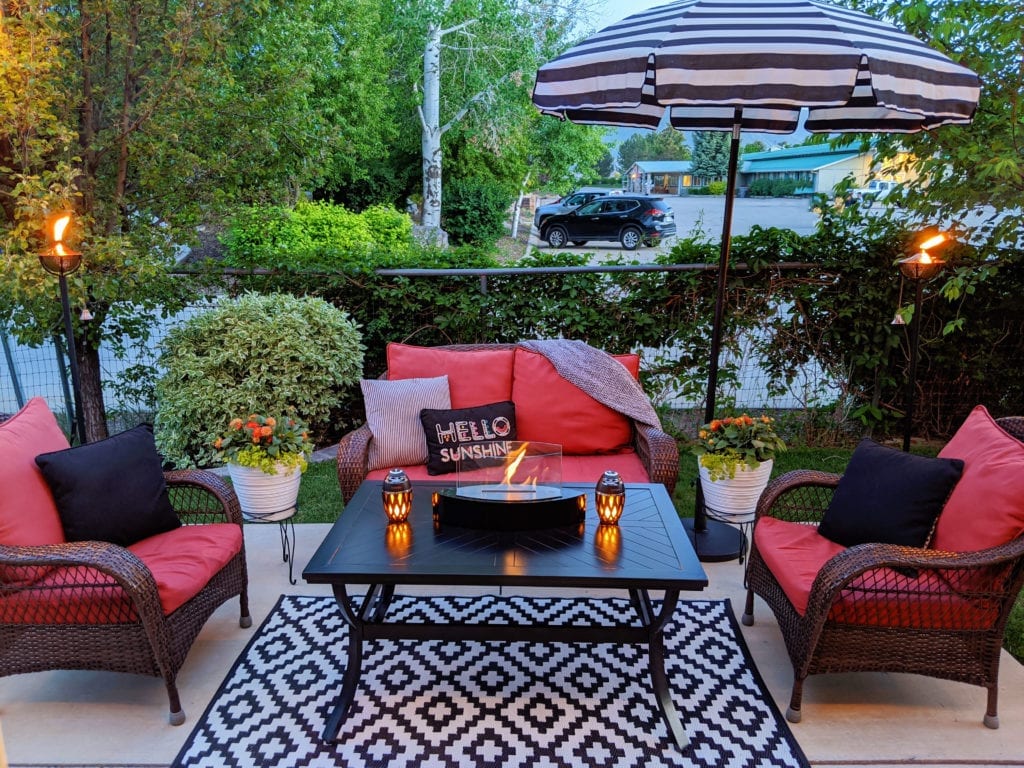 My kids and I love to go outside and eat our lunches out there during the summer. But in the summer, it can get super hot, and sometimes the last thing we want to do is go out and bake in the sun. That's why a patio umbrella can come in really handy!
We love our umbrella because we can still go outside enjoy the warm weather but we don't feel like we're getting a sunburn after 5 minutes. I also recommend getting a high-quality umbrella.
Umbrellas are one of those items that can be taken down and destroyed with one small wind storm. But if you make a little bit of extra investment, they can last you for years and years to come! I'm absolutely in love with my black and white striped umbrella. It adds so much style to my patio space.
Turn up the Heat
Let's be honest, there are definitely times of the year that we want to enjoy our patio but it's just TOO COLD! I like to start enjoying the outdoors when its around 60 degrees, but I still end up getting cold. That's why I've taken some measures to make sure that I can still enjoy my beautiful patio despite cooler temps.
My favorite way to warm up on cool evening nights is to use my patio heater from Pamapic! I love how much heat it puts out and it makes cool temperatures so much more enjoyable. My husband and I LOVE to go out on the back patio and watch a movie together.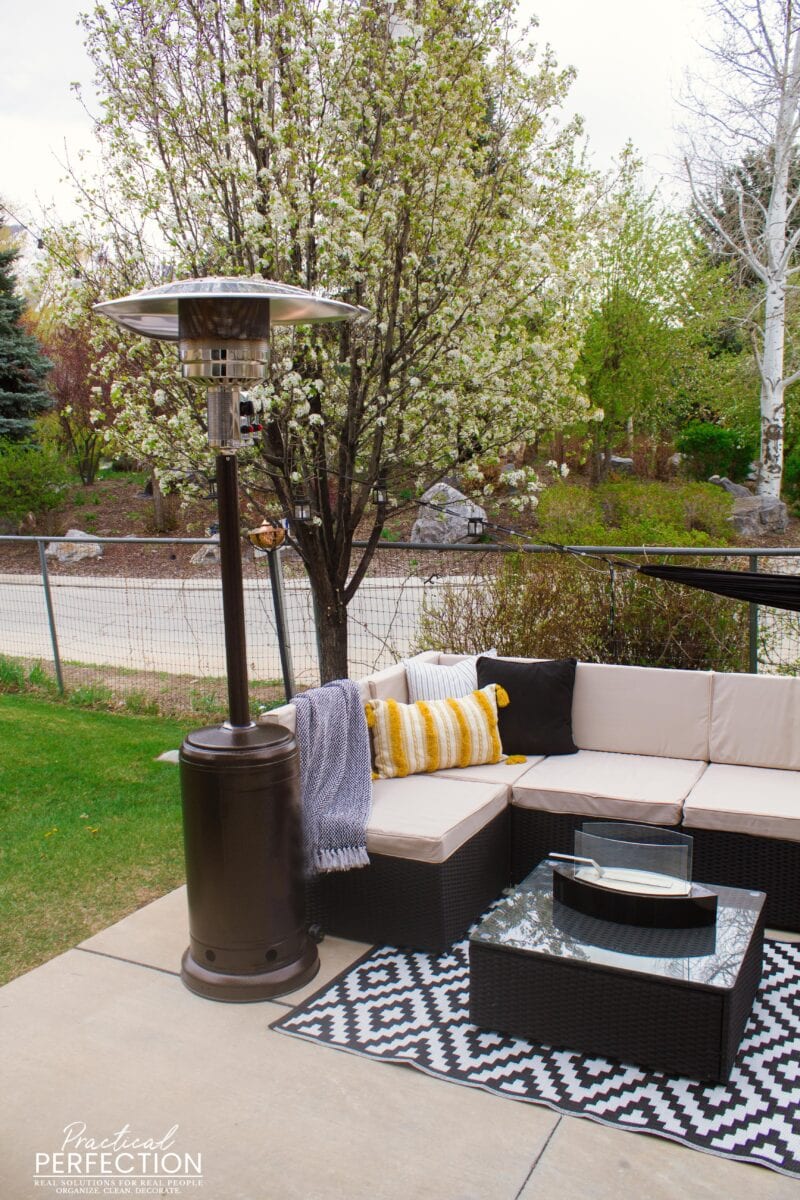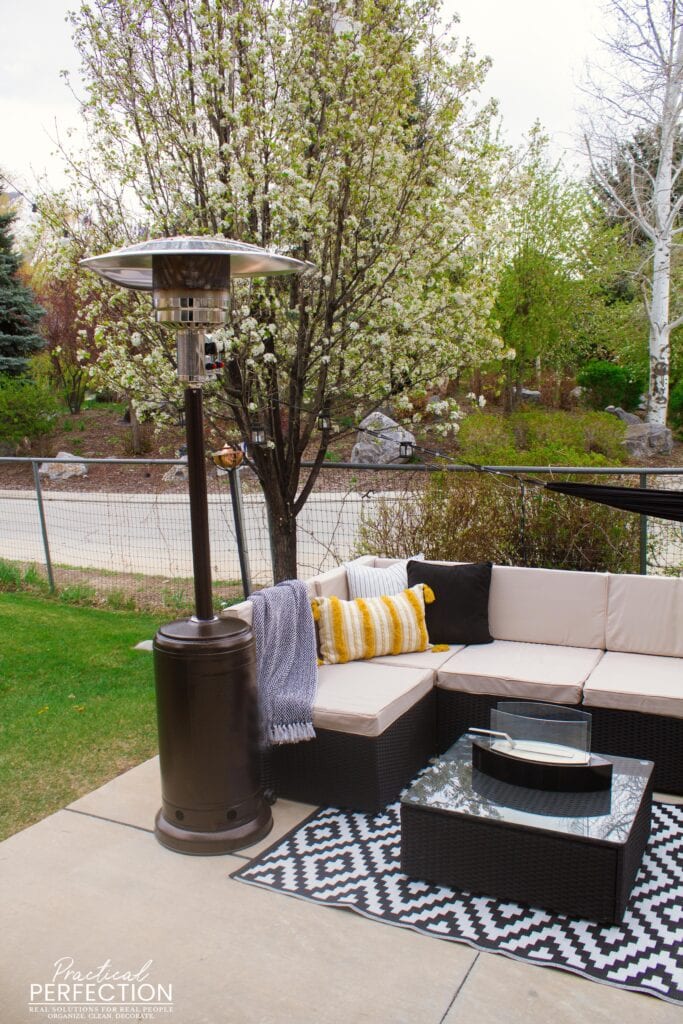 Another obvious choice is to bring a blanket with you outside. I like to keep my indoor and outdoor blankets separate so that I don't have to constantly wash my indoor blankets.
The blanket that I keep outside is more of a light blanket but I love how I can leave it outside and not feel bad about it. I do wash it occasionally when it seems dirty but overall, it's less maintenance because it doesn't pick up every blade of grass like other blankets.
Add LIFE With Plants!
The last element to creating a cozy patio space is of course, plants! Even inside my home when I am decorating, if I feel like there is just something missing but I can't seem to figure it out…99% of the time it is always plants!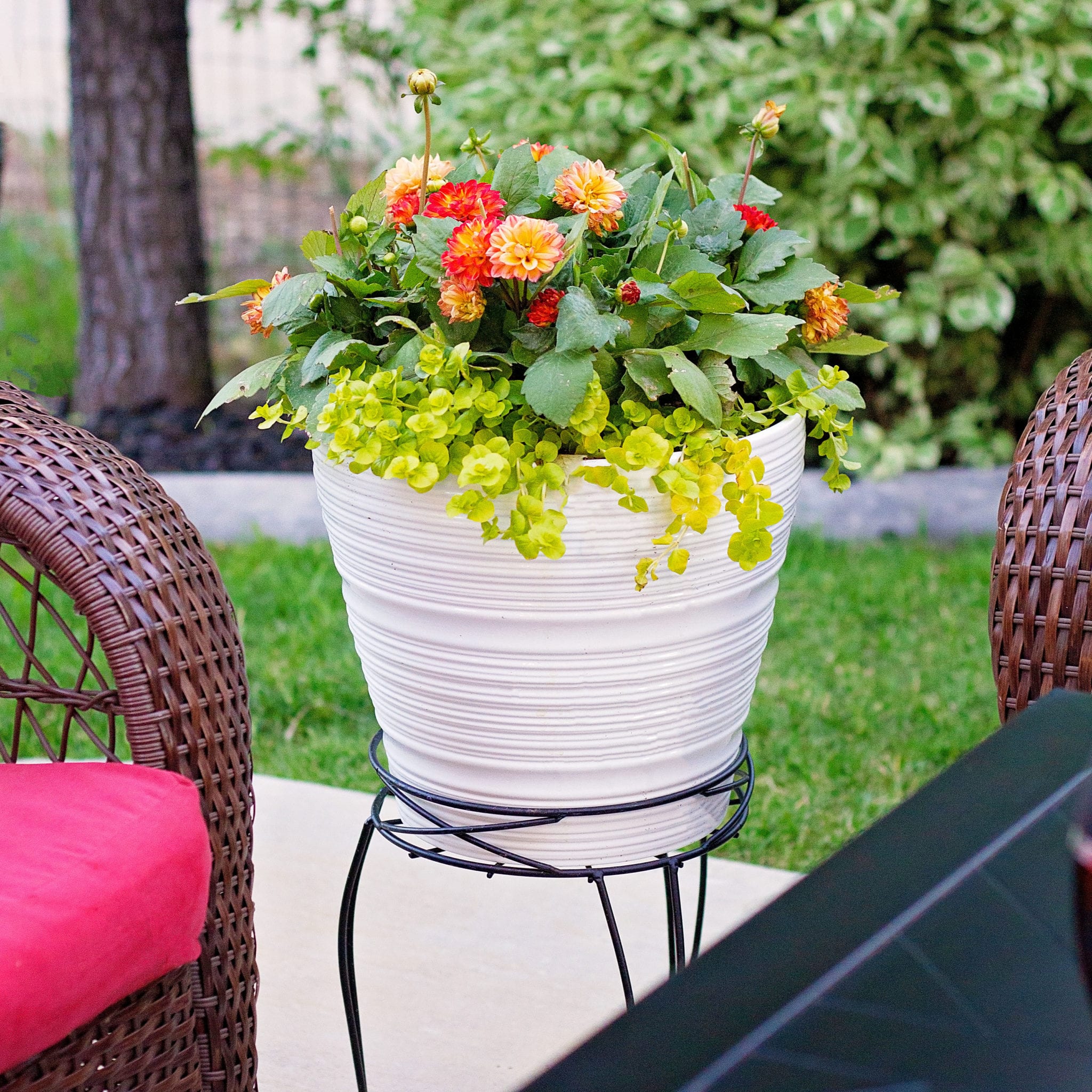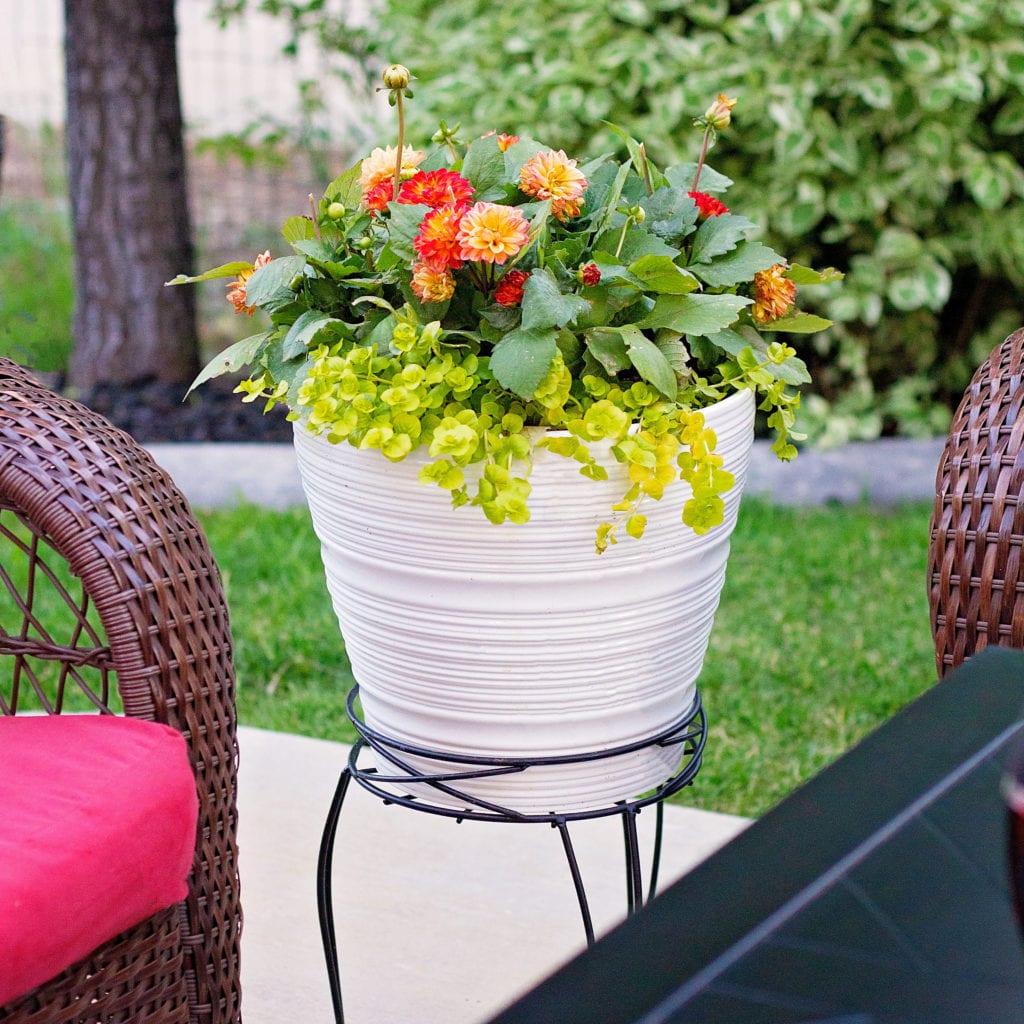 I have a black thumb but I am trying my best this year to keep these cute potted plants alive. Wish me luck! I have even set reminders on my phone to help me remember to water them! As you can see, our yard is extremely small. Behind our fence, we have some beautiful green foliage and we also have a parking lot! It's not my favorite but we love our neighborhood so we put up with it. One of our favorite things about our backyard is our plants that grow along our wire fence. It's a beautiful way of creating a private space but really adds style!
I hope that I have given you some ideas for patio design that will help you design in your own style, and in your own budget! Don't forget to check the classifieds. A little bit of spray paint can do wonders!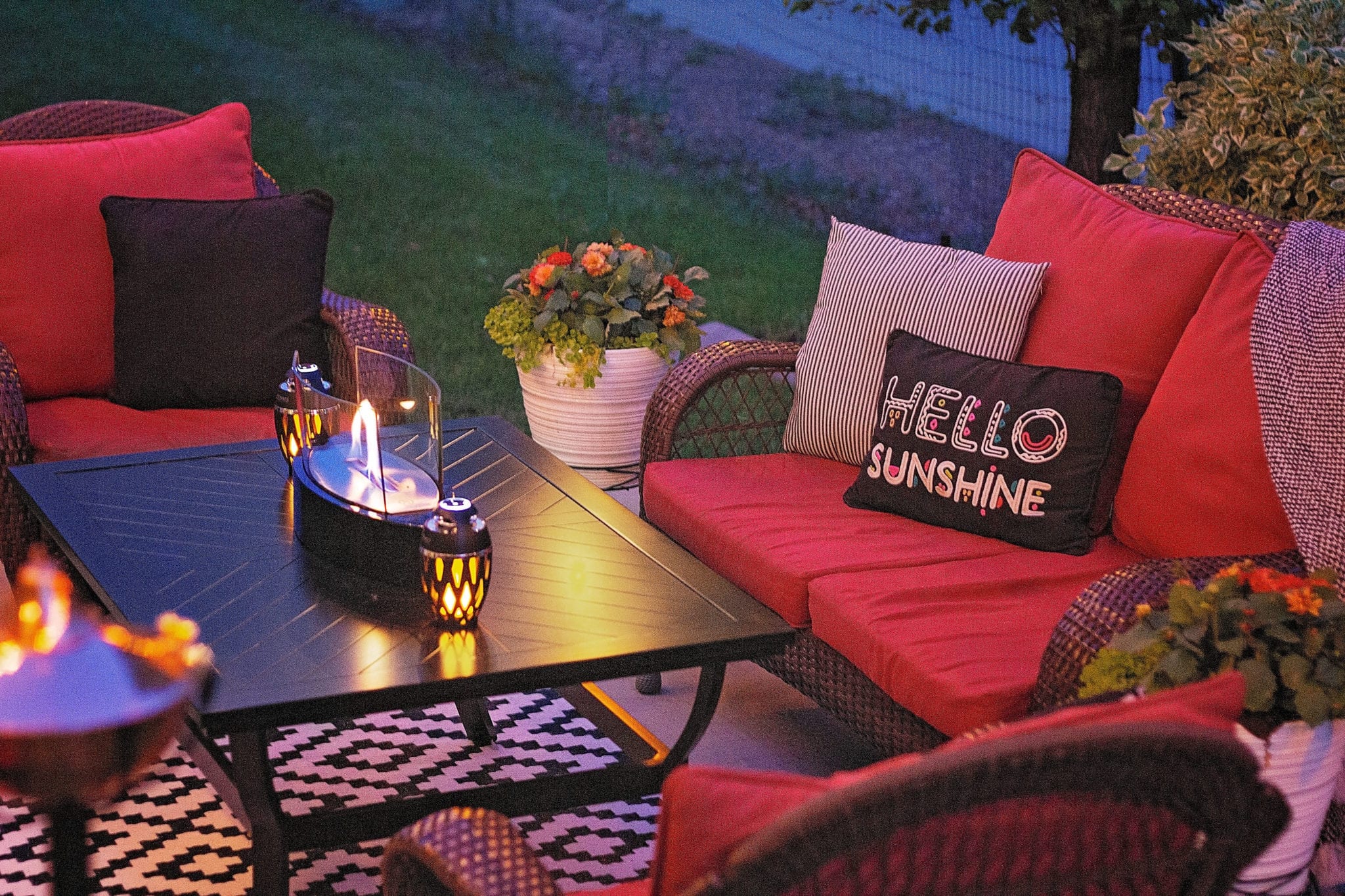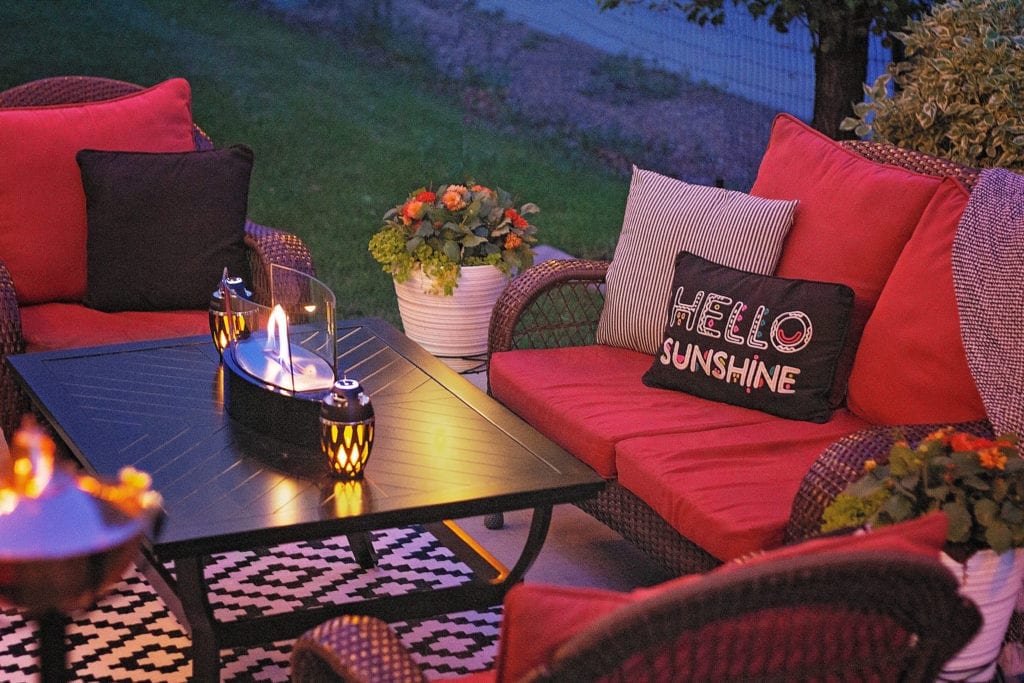 Did you enjoy this post? Share it on social media with your friends!