14 Genius Ways to Store and Organize Blankets
It's getting colder outside, and for me, that means hauling out all of my many blankets! I must have some crazy obsessive fetish with blankets because I have a ridiculous amount of them that I have collected over the years.
But sometimes, having all of those blankets can be a pain. A lot of thick, nice blankets can take up too much space in your home. But I don't think it's possible to own too many blankets (I'm definitely not getting rid of any!), which means I need to be creative when storing blankets so I don't reach storage capacity in my home with nice, soft blankets alone!
If you have tons of blankets – from thick blankets to thin blankets – I've got you covered with blanket storage ideas.
Here are 14 of the best ways to store and organize blankets.
Need more ideas? Check out 9 Ways to Make Your House Feel Like Home and How to Naturally Make Your House Smell Like Fresh Baked Cookies – No Baking Required!
Blanket Storage Ideas: WHERE TO STORE BLANKETS
There are so many different possibilities of where you can store your blankets. Sometimes all it takes is to think outside of the box.
The first thing you need to do is to think about how often you use certain blankets and how often you need to access them. If you have blankets that you use on a daily basis for your nightly Netflix binging, then it would probably be smart to store blankets in an easily accessible area.
Here are a few places where you could store blankets that you use often:
In a large blanket basket next to the couch
In a cupboard under the TV if you have built-in cabinetry
Create bins or storage trunks in your kid's closets specifically for their blankets
Draped over the end of a bed
Folded over the armrest of a couch or draped over the back of a couch
Inside of storage ottomans at the foot of a bed or by a couch
Inside of a window seat compartment
If you have heirloom quilts or throw blankets that you don't want to part with but you want to keep them in a highly visible area, consider putting them somewhere you won't see them often.
Here are a few blanket storage ideas for blankets (and quilts) you don't use often:
Under the bed (I highly recommend putting them in a storage bag to keep bugs or dust off of them)
At the top of a closet
In a spare bedroom closet
At the bottom of your linen closet (put it in a storage bag if you're going to put it on the floor)
Use an over-the-door towel rack or towel bars in a closet
On a wooden blanket ladder as a part of the decor
Use vacuum seal bags to save space!
Keep Blankets Smelling Fresh
After a while, blankets can really start to smell stale and downright stinky. The worst part is that the only person that might notice it is your friends! That's why it's important to get your blankets into your regular laundry schedule.
My favorite way to schedule my various chores is to put a reminder in my Google Calendar. I typically wash our daily-use quilts every few weeks…or more if they need it!
You can also get rid of stinky-smelling blankets by adding 1 cup of vinegar into your wash load. But don't worry! They don't smell like vinegar forever! As soon as you pull them out of the dryer, it's like the stench never happened… vinegar or otherwise!
Over the Door
I was looking for a way to store my blankets where I didn't have to use floor space. This over-the-door blanket ladder of sorts is originally meant for towels on the back of a bathroom door, but it works fantastic for blankets as well! Who doesn't love a blanket rack?
This is a great way to keep blankets folded nicely and semi-out of reach from kids! So if you have blankets that you only use on special occasions, this is a great solution for that as well as everyday use.
It comes in a variety of colors to choose from so you can match it to your house. You do have to assemble it yourself, but it was pretty straightforward.
You can also use wall hooks and hang extra blankets as if you'd hang towels! It might not be common, but I have seen wall hooks work for people before.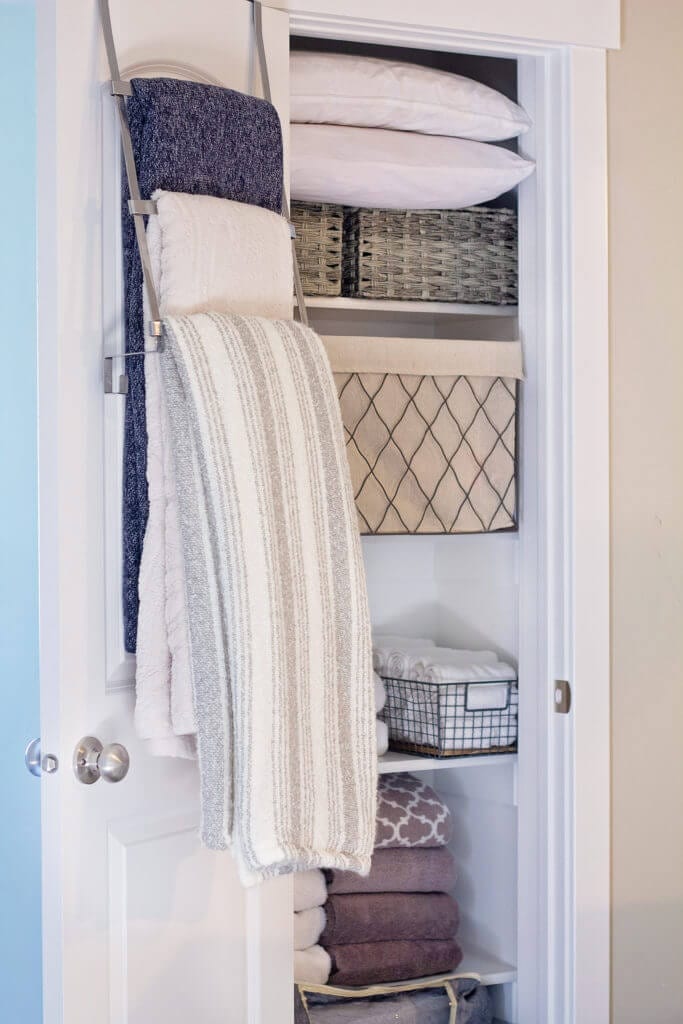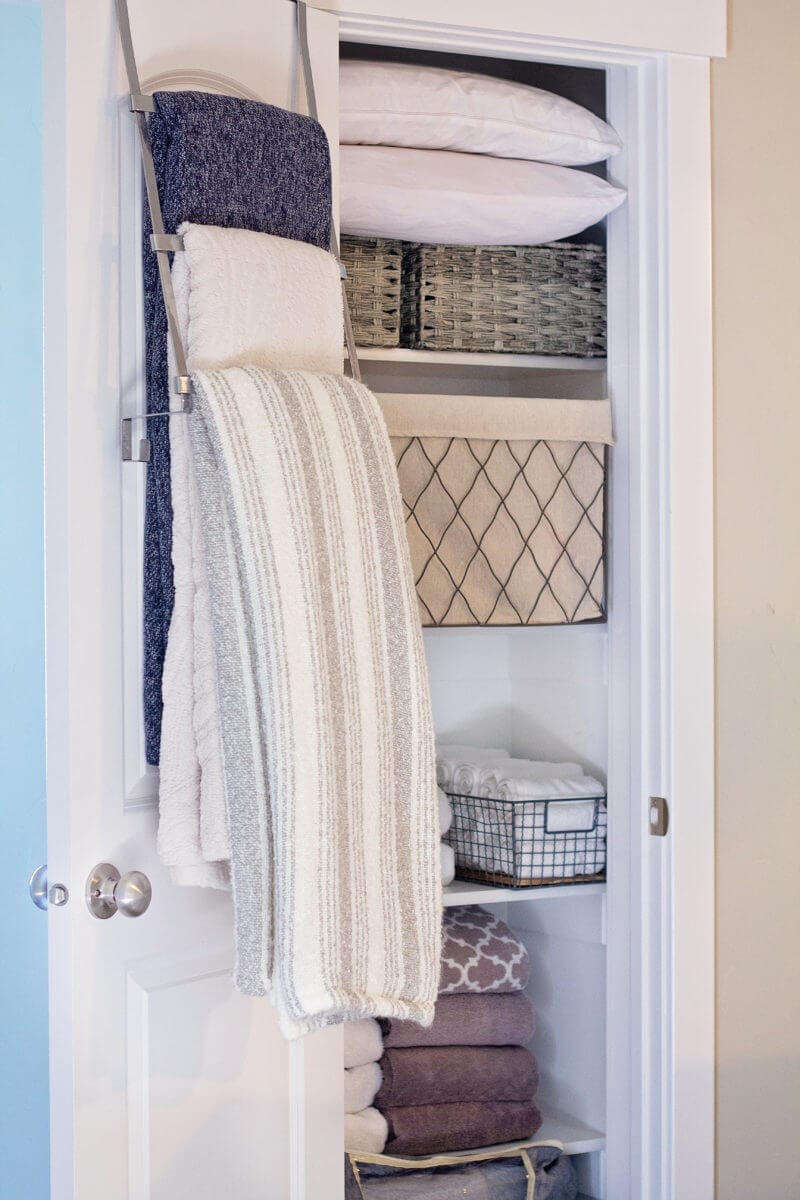 In a Large Basket
Don't let this picture fool you. The blankets in this basket are NEVER folded. This is what I call the "Lazy Method" to 'folding' blankets and, is also my kids' personal favorite. After all, we don't always have time for folded blankets.
This is one of my favorite ways to store and organize blankets. I put this basket on the far end of the couch and these are the blankets that we use most often when watching TV.
I love it because we can quickly curl up to a good Netflix show with a soft cozy blanket. And when I ask my kids to clean up the Family Room when they are finished, all they have to do is straighten the pillows and throw the blankets in the huge basket.
It's a great compromise between the kids and me because they can easily clean up their blanket mess while also keeping mom happy!
I bought my blanket basket years ago so I don't have a link for it, but here is a similar XL blanket basket that is super cute! You can use any kind of large basket you like, so a wicker basket, metal basket, woven basket… they all work as perfect storage containers!
A blanket basket is one of the best blanket storage ideas out there (plus it's one of the easier storage solutions to use) because all you need is a cute basket!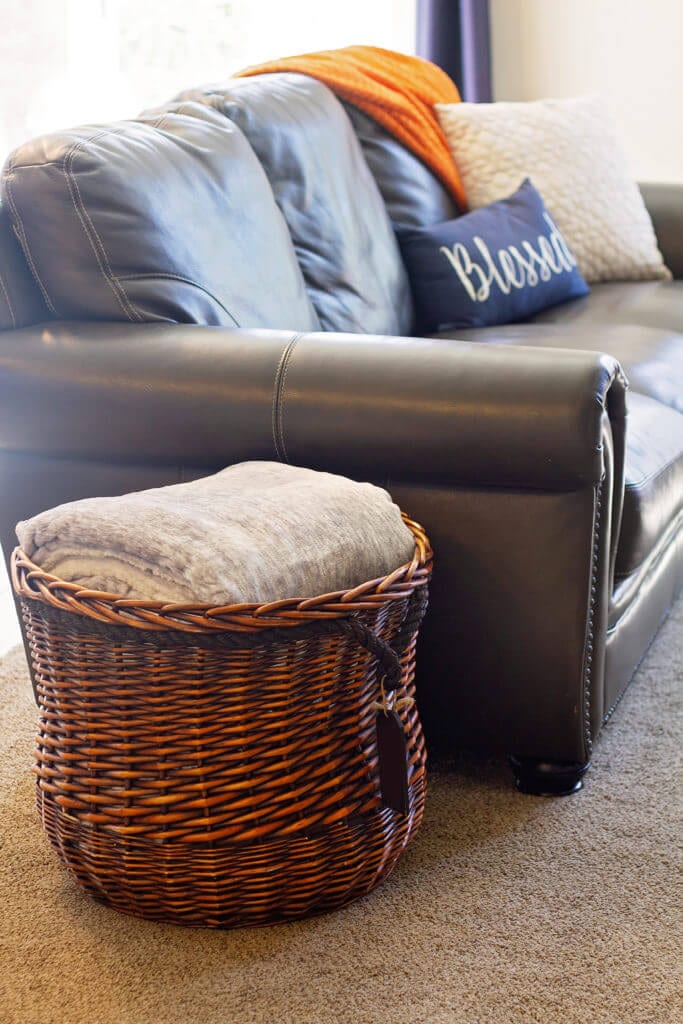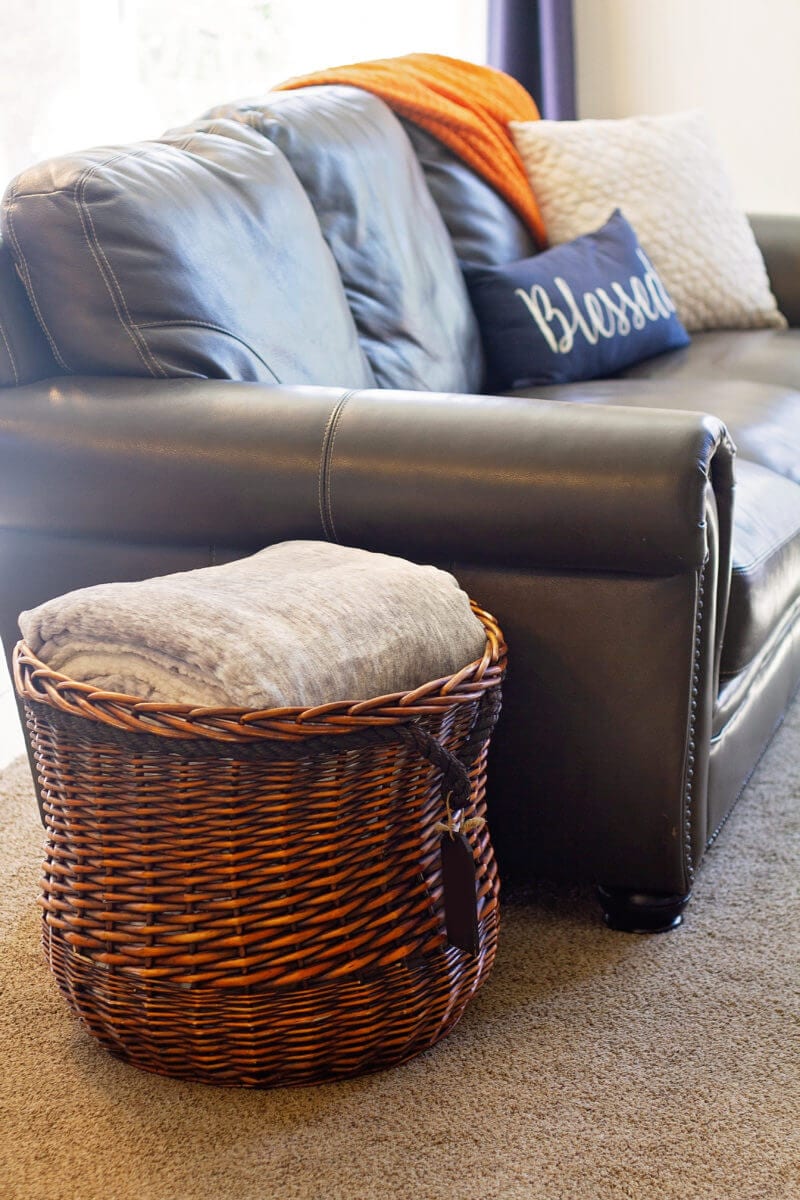 your shortcode here
Blanket Ladder
There are some blankets that are maybe more delicate or just for looks rather than daily Netflix use. I tend to put these types of blankets on my blanket ladder. It's a perfect way to store and organize blankets and put them on display!
The thing that I love most about this blanket ladder is that it is more of a decoration and not just for utility. This is even a great way to showcase quilts if you are a quilter or if you have family heirloom quilts.
Even if you are a plush blanket kind of person, this works great for those as well. Adding blankets as a part of your decor adds a layer of warmth and comfort to your decor, which is especially appreciated in the fall and winter months even if those particular blankets aren't used on a daily basis.
I got my amazing blanket ladder from Deb with Beaver Wood Crafts on Etsy. She has excellent customer service and I am really happy with my purchase. For my blanket ladder, I chose the 5 ft ladder in weathered gray. She has different finishes as well as different sizes.
This works well if you don't have tons of floor space for larger storage bins since a blanket ladder or blanket hanger will be using vertical space instead of too much of the floor.
If you're handy, you can even make one yourself out of wood or metal pipes. I see wooden blanket ladders more often, but I have seen a cute pipe blanket ladder before as well! Blanket ladders are great for blanket storage or to display pretty throw blankets.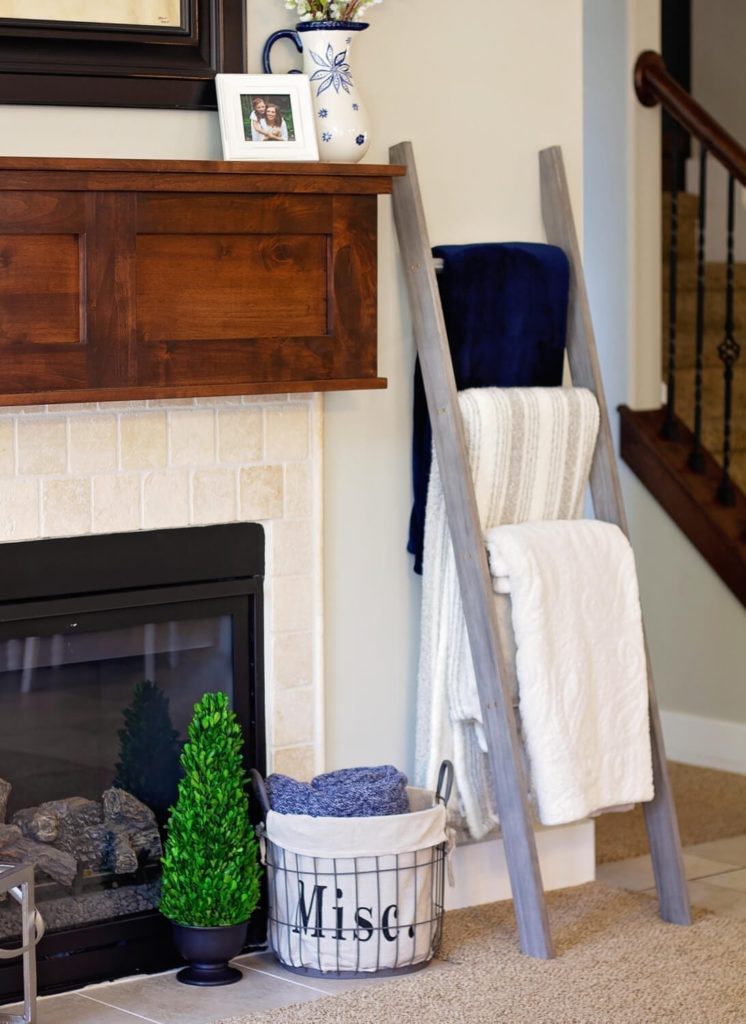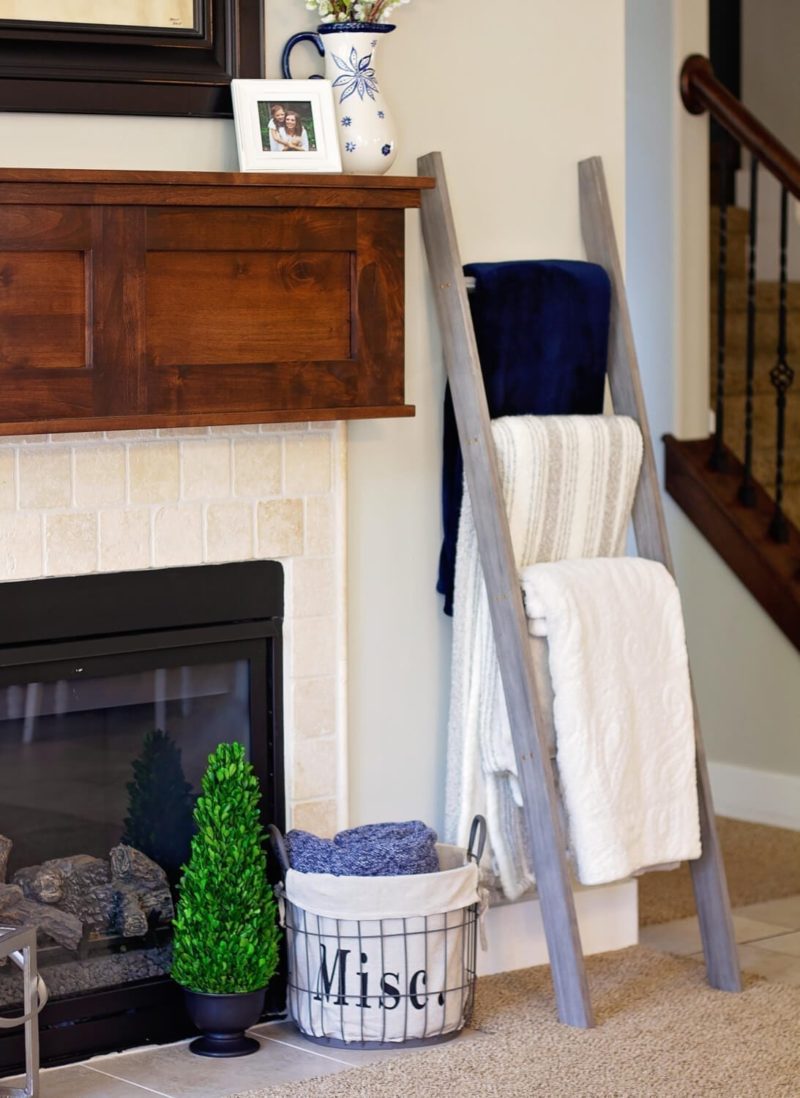 STORAGE OTTOMAN
I forgot to get pictures of my ottoman, but I have a leather ottoman at the end of my bed that I have had for years that has a hinged lid where I store seasonal blankets and pillows. It has always been the perfect place to put our blanket that goes on our bed when it's summer.
It's getting cold outside so I am just about ready to get out my big thick king-size blanket that keeps us warm all winter long! I love my ottoman because it is a super convenient place to put body pillows, weighted blankets, knee pillows, or whatever you use at night to help you sleep.
You can also use a storage bench the same way. If you want to store several blankets, getting a long storage bench for the end of your bed would work nicely! Or consider getting an end table with built-in storage.

Under the Bed
Like I said, I have a ton of blankets. And it seems that people love to give them as gifts, too! So we really have quite the collection of handmade quilts from amazing family members. We have some talented people in our family that have quite the sewing talent and they have sewed us some beautiful quilts over the years.
As our needs have changed as a family or as my kids have outgrown them, I needed to find a place to store them. These blankets are special enough that I want to keep them but I don't want them taking up space in a heavily used space like my linen closet.
So I found this awesome blanket storage bag that stores easily under your bed! They are very durable and my very favorite thing about them are the windows so you can see exactly what is inside!
This works for folded or rolled blankets and just slips right underneath your bed. If you're looking for a blanket storage idea for beloved blankets you don't use or for the summer months, this will keep your blankets organized and out of the way.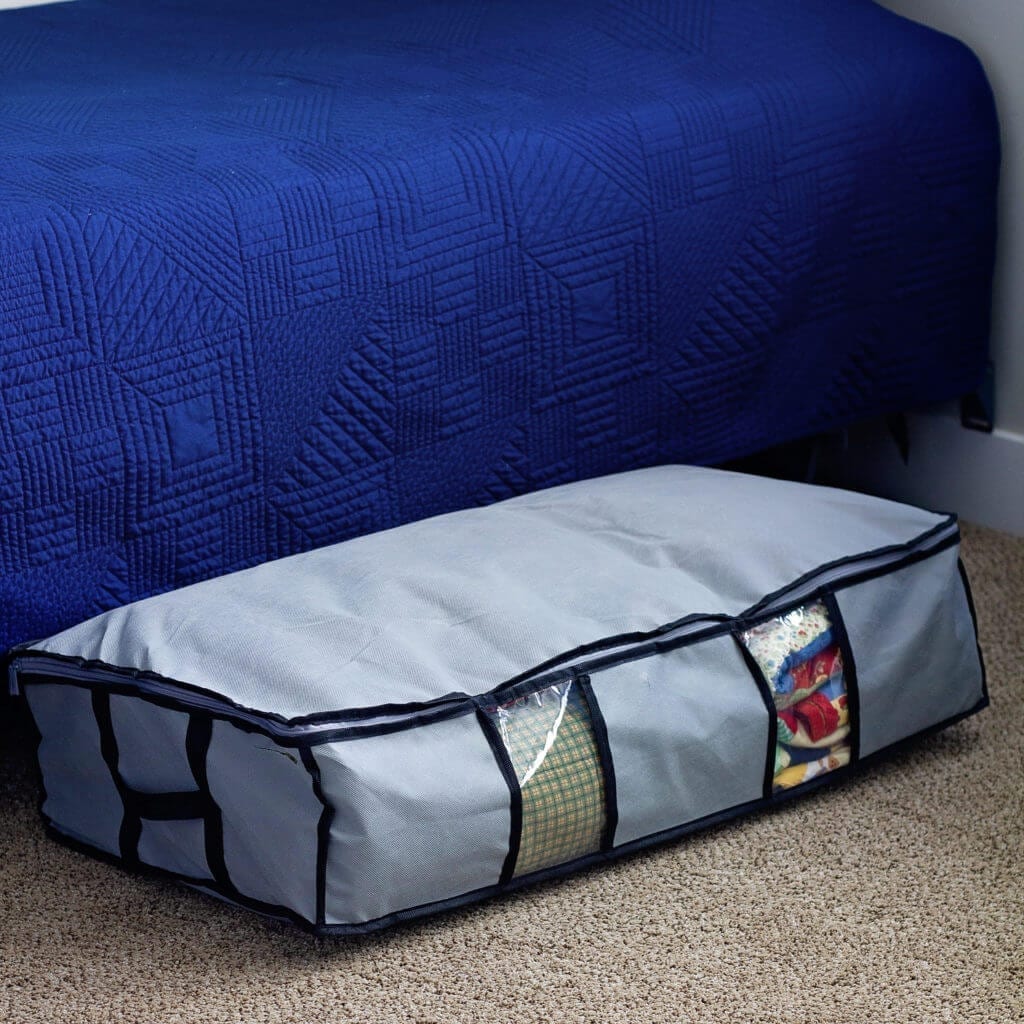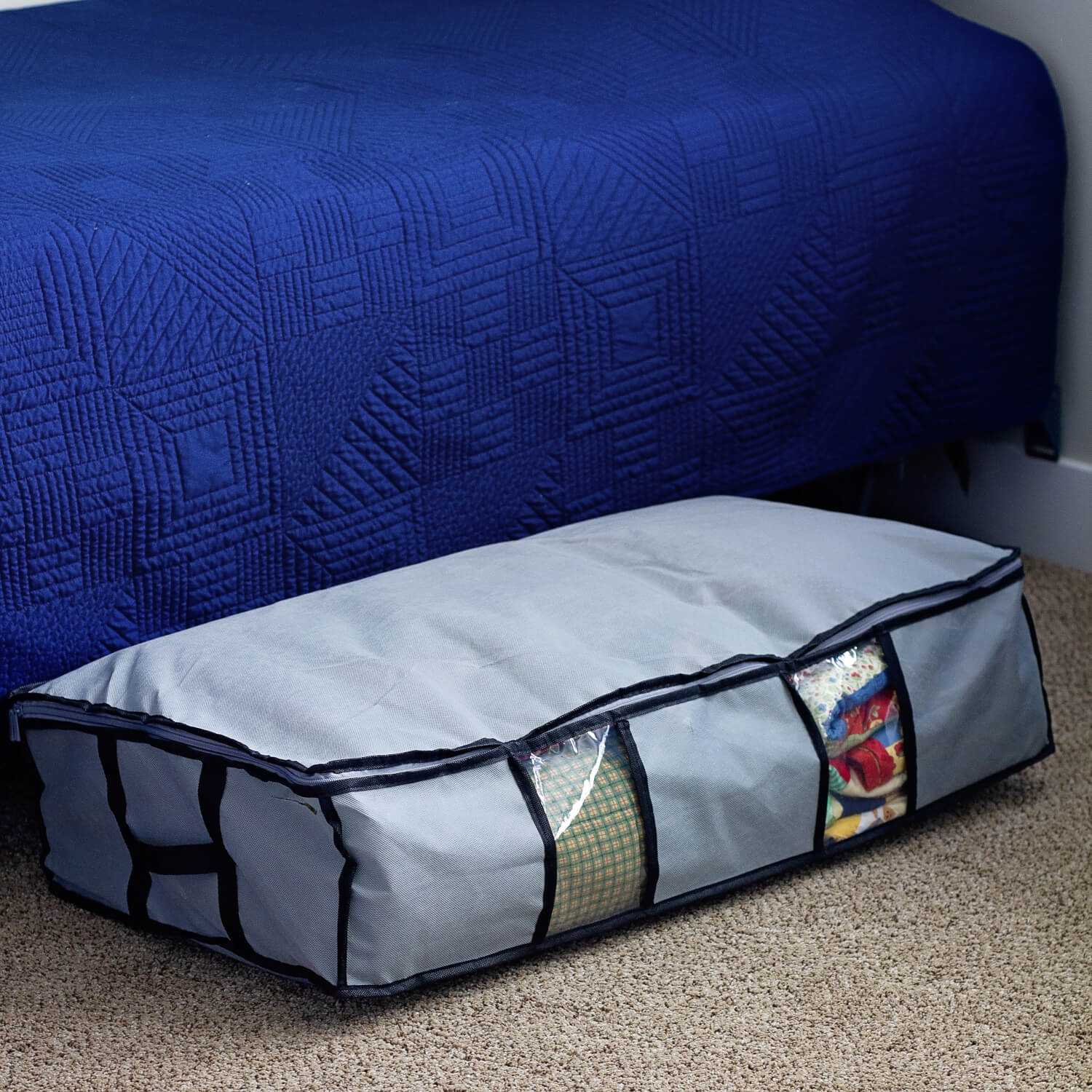 Closet Storage Bins
I bought these Drona storage bins at Ikea about a year ago to wrangle the mess in my boys' closet. We ended up using them for their stuffed animals and blankets that we use on a daily basis.
I like that my boys could make their beds and toss their blankets into the bins without having to fold them (again, don't let the picture fool you) and nobody knows the difference. Including me. It's a win-win!
You could also get plastic bins, but you'd probably have to fold the blankets when storing them since you would be able to see the blankets through the plastic.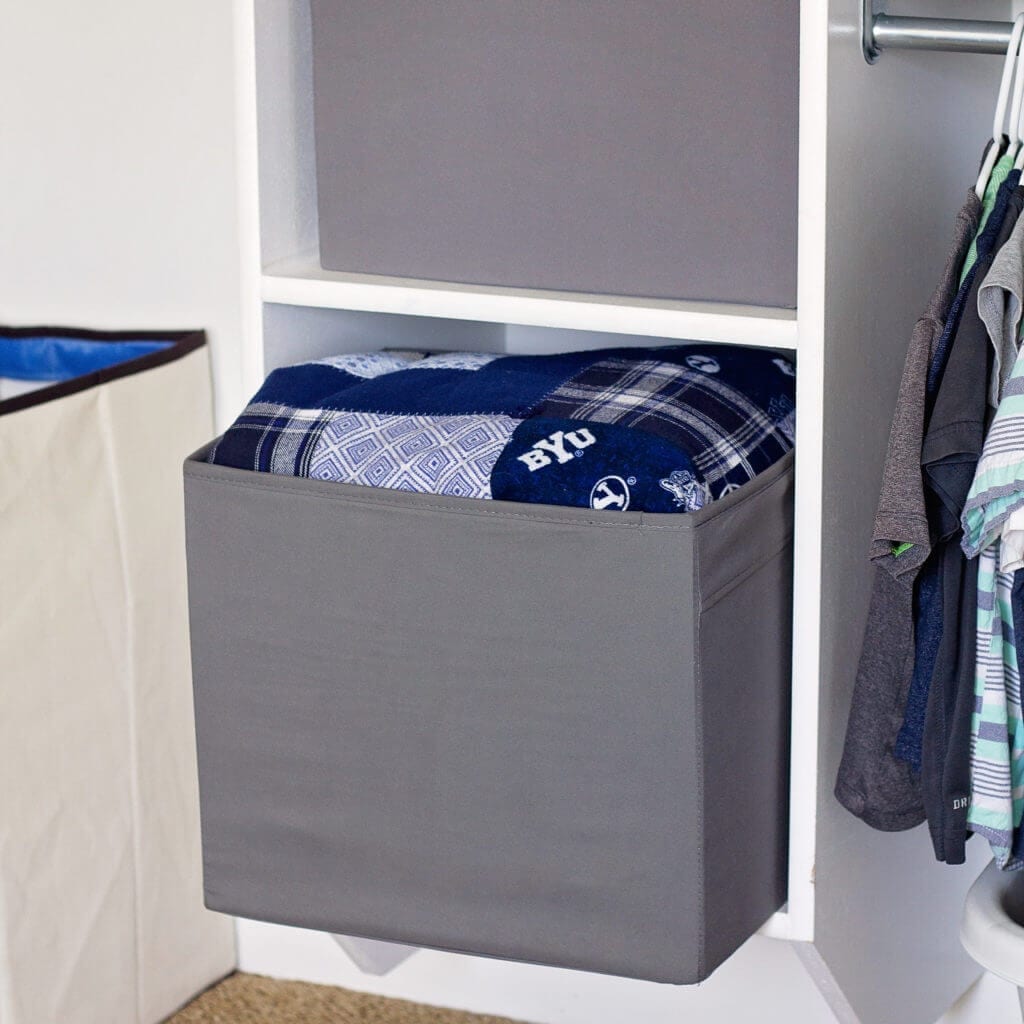 Blanket Bag
This is a great method to organize and store blankets that are really big, such as comforters.
This blanket bag is HUGE! I was super surprised by its size when I opened up the box. I can easily fit a full-size down comforter PLUS 2-4 additional blankets inside depending on the size of the blankets. Again, I love the window portion of the bag so I can see exactly what is inside without pulling everything out of the bag.
The bag is of great quality with sturdy handles for carrying. This is something that I would use to store blankets in a closet. It's a great solution for keeping big bulky blankets or large comforters organized and for keeping things clean and dry.
If you're looking for blanket storage ideas for blankets that you don't use on a regular basis, consider getting a big blanket bag. You definitely need the space for a big bag in your closet though!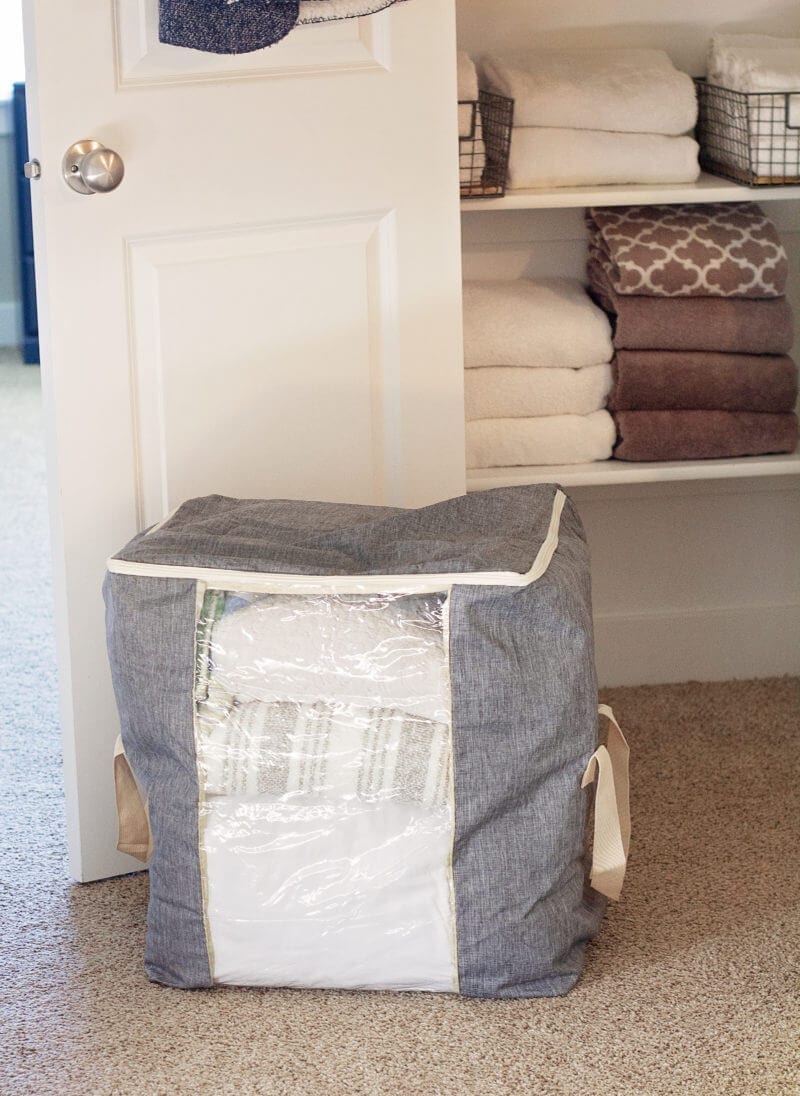 Blanket Storage Ideas
I hope that I have found a few useful tips and products for you to use around your house this fall and winter to store and organize your blankets! After all, I don't think anyone can have too many blankets. You just need to make sure you don't overflow your storage capacity.
Hopefully, with these blanket storage ideas, you're able to store blankets and keep them organized.
Remember, if you don't have enough room in the hall closet, you have other storage options like a blanket chest, end table, or ottoman to use to store blankets. For long-term storage, use blanket bags that you can store blankets out of the way.
Keep your living room tidy by implementing these great storage tips!