And Easy Step by Step Guide for creating a Kids Art Closet
We love to do arts and crafts in our home – and I passed my love for it down to my kids! My kids love anything from Perler beads to painting to drawing tutorials on YouTube. But to say that our Art Closet was getting out of control is an understatement. And I am just as guilty as the kids of throwing things in the closet and shutting the door as fast as I can so that things didn't fall out! Organizing the Art closet had been on my to-do list for quite a while.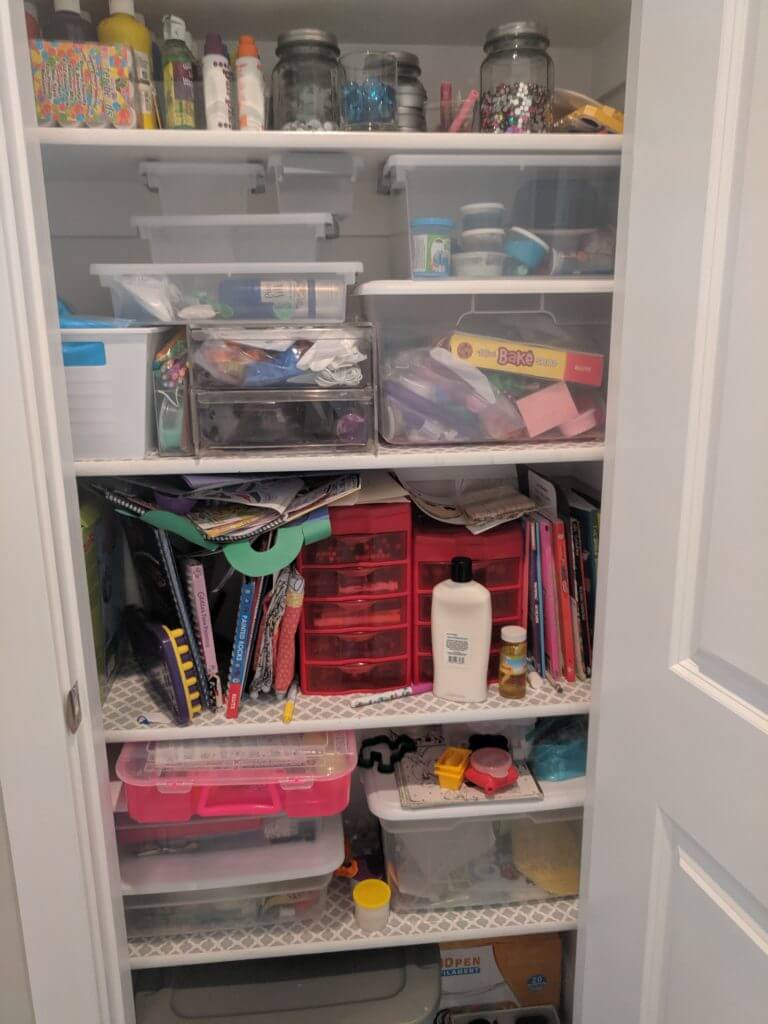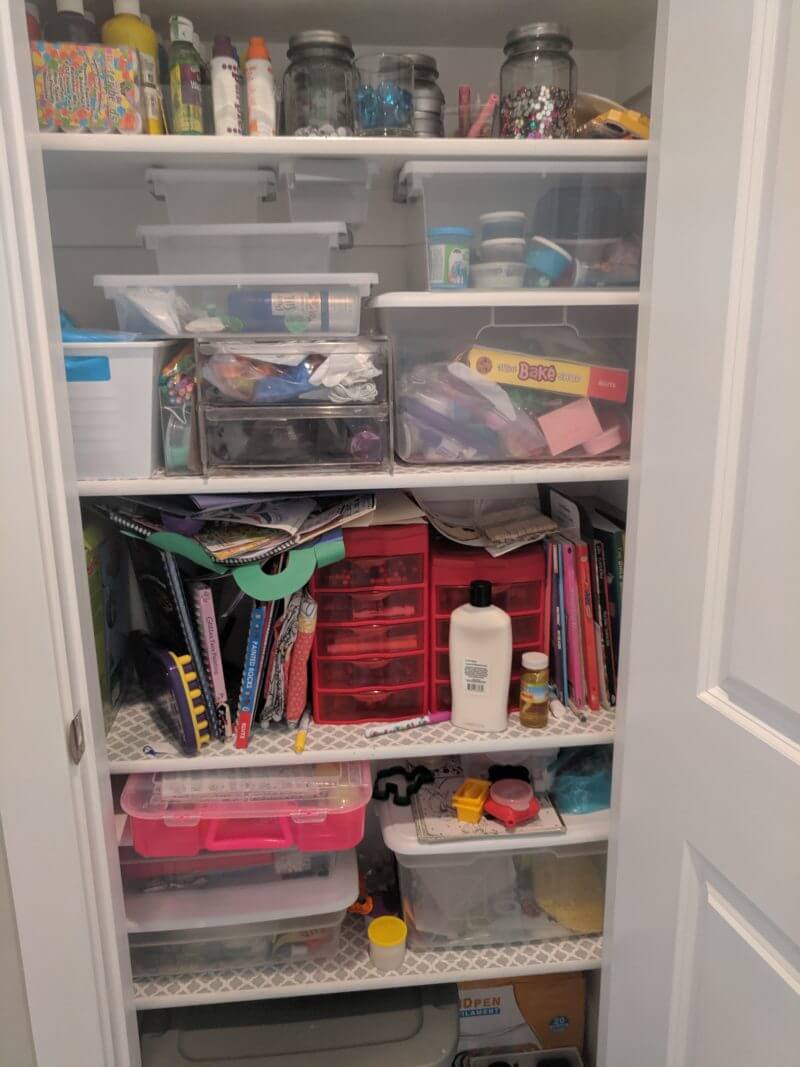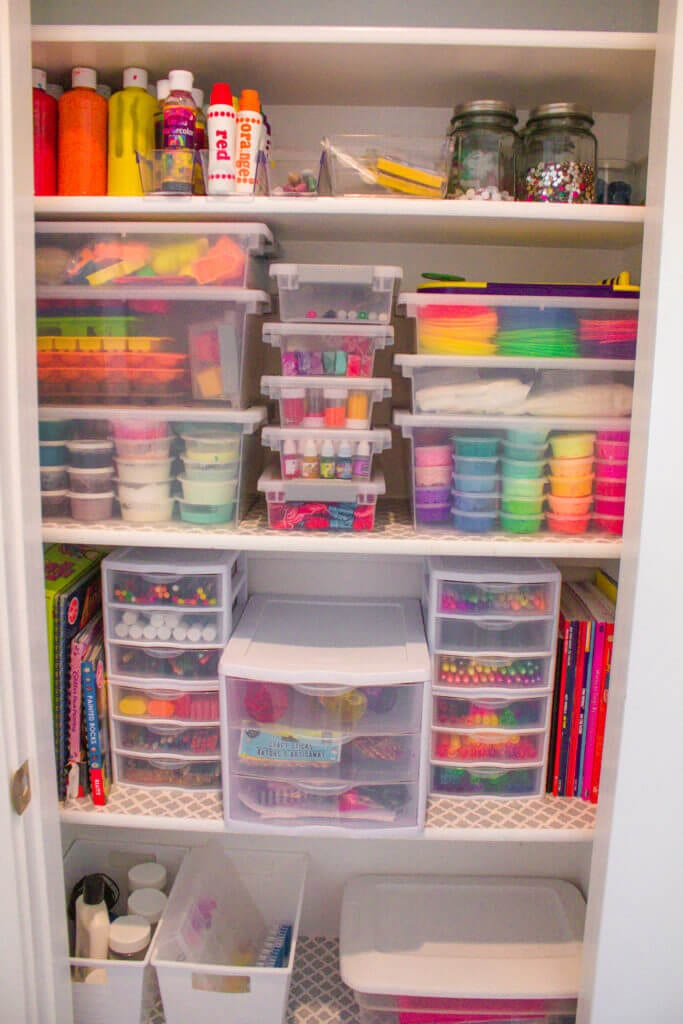 Now that my kids are in school, I thought that it would be a great time to re-vamp the Art Closet. Not only that, but it's going to stay organized significantly longer for 2 reasons. Reason #1: the kids are now in school and they won't be home as often to use the craft supplies. Reason #2: I have better systems in place that will allow things to stay organized!
The Process
First, I emptied all of the shelves. It can sometimes get overwhelming so you can also organize things one shelf at a time if that would be better for you. But just make sure everything is taken off the shelf so you can wipe it down (and put down contact paper on the shelf if you want to make it look cuter).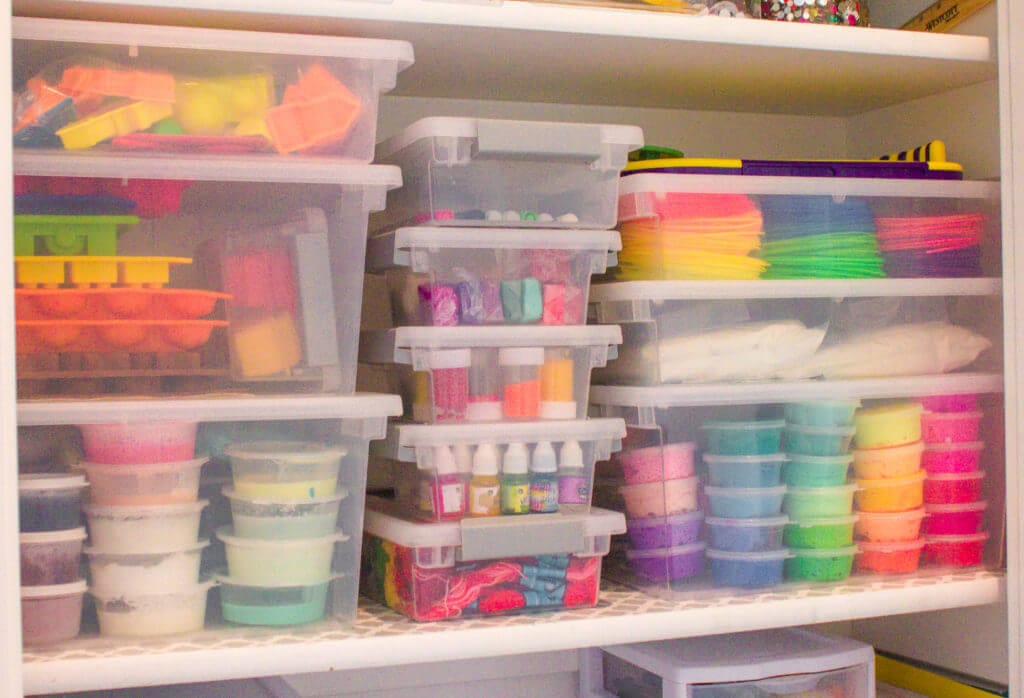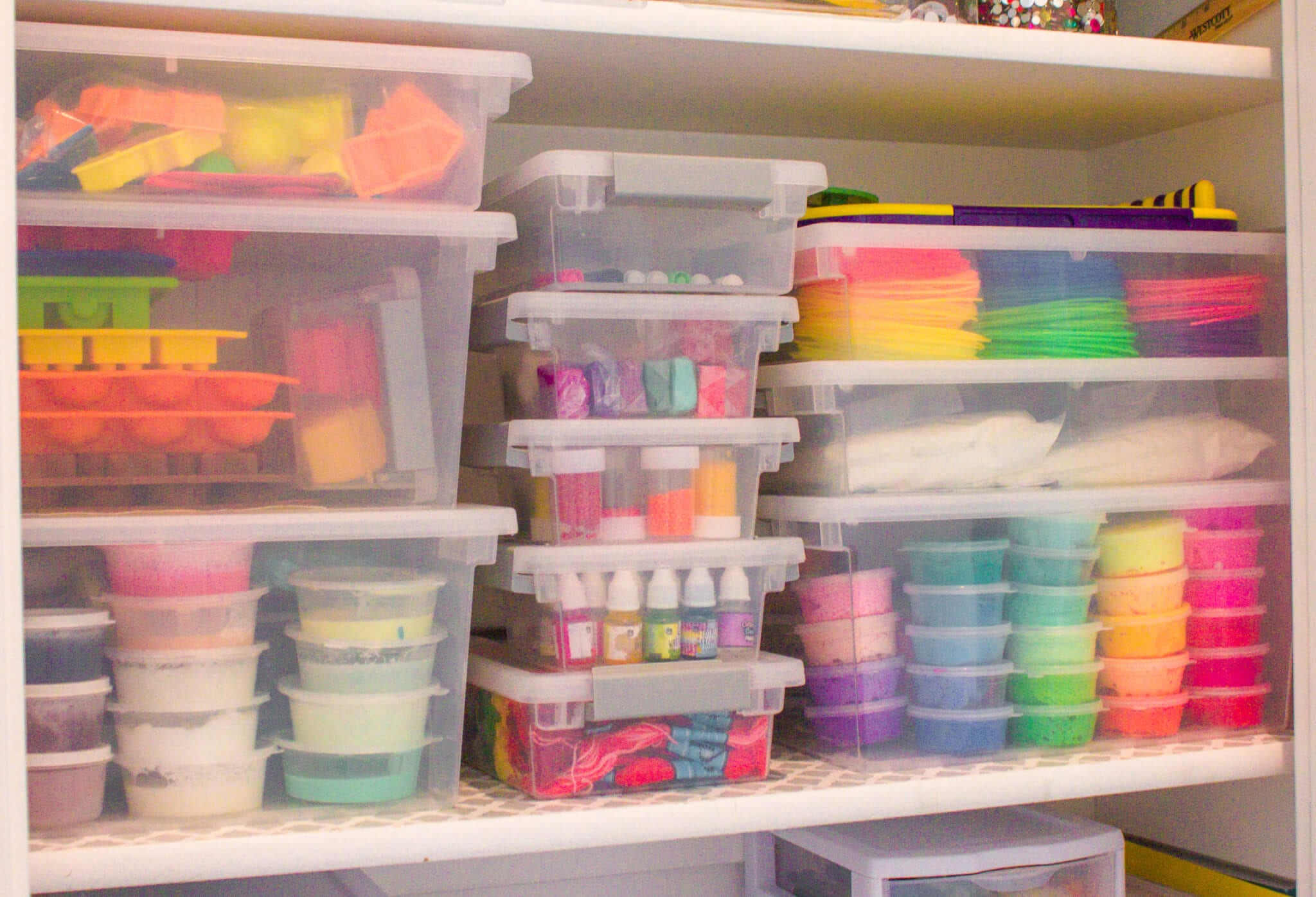 Second, I took pictures of all of their art projects (so I can put the pictures in our scrapbook) and then I threw them away. Gasp! I know. But I can't even imagine the amount of space it would take up to keep every single craft that my kids did. Somehow, I have convinced my kids that it is just as good to take a picture of it and put it in the scrapbook.
Third, I organized all like items together. Meaning, I put all of the Perler Bead supplies in one area, and all of the bath bomb supplies in another area, etc. This way you can get a good visual of what size bin you need. Then put the items in the bins.
Fourth, start stacking bins and use the most of your space. Because the bins I used stack so well, they were perfect for this space and this project. Now my kids can easily see what is in each bin and they can get it out on their own.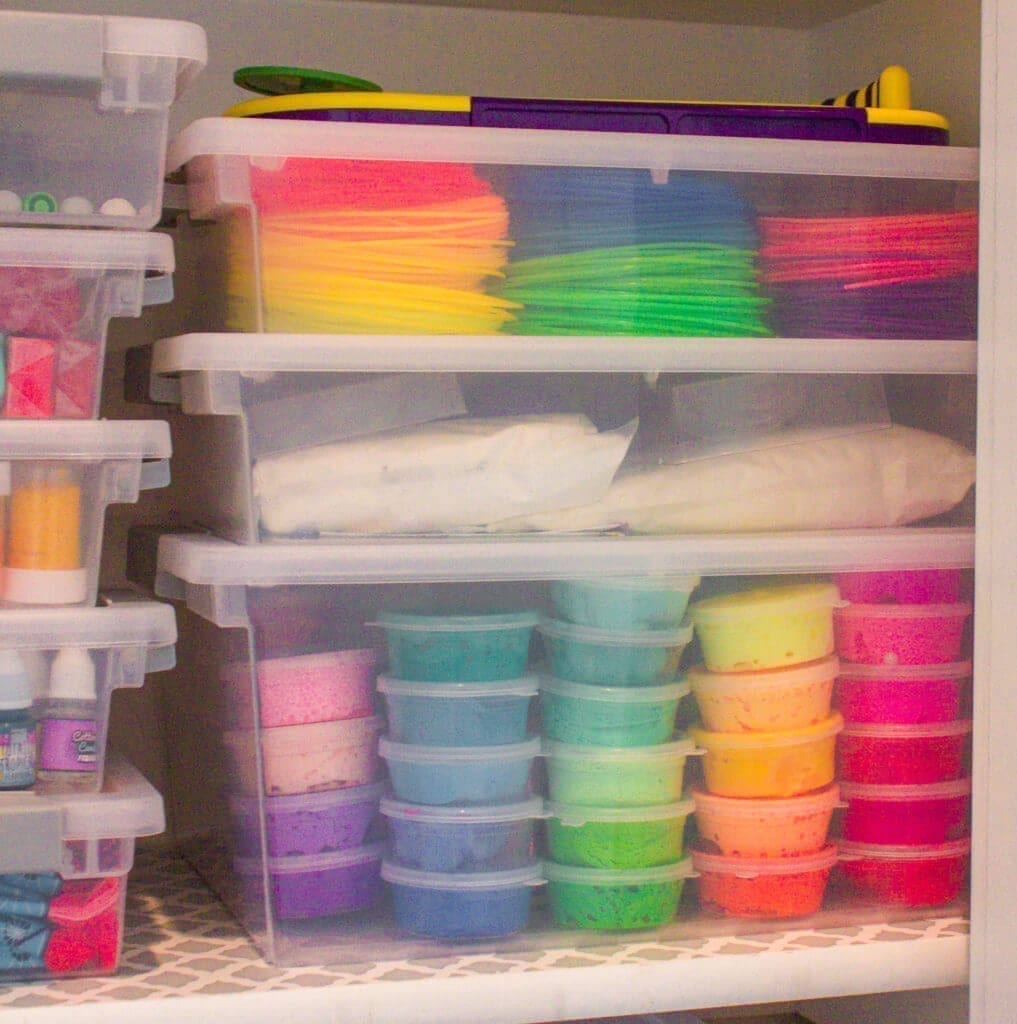 Storage Bins
I honestly can't recommend these Clip-top Sterilite containers enough. Mine were purchased at Big Lots as a 5-pack when they had all of their dorm room supplies on sale. I got a 5 pack of bins for under $11. That is seriously UNHEARD OF. So of course, I snatched up 3 sets! 🙂 I don't think they carry them all year so you can get them on Amazon. They carry them in Small, Medium, and Large. The best part is that they stack and there isn't any wasted space at the top of the shelf like there would be if I had continued to use open-top bins as I did before.
I got my next idea from my Sister in law a million years ago. These 3-drawer Sterilite drawers are the absolute best solution for markers, pencils, gel pens, crayons or colored pencils. The possibilities are endless! The best thing about them is that you can just take out the entire drawer when you are ready to do some coloring!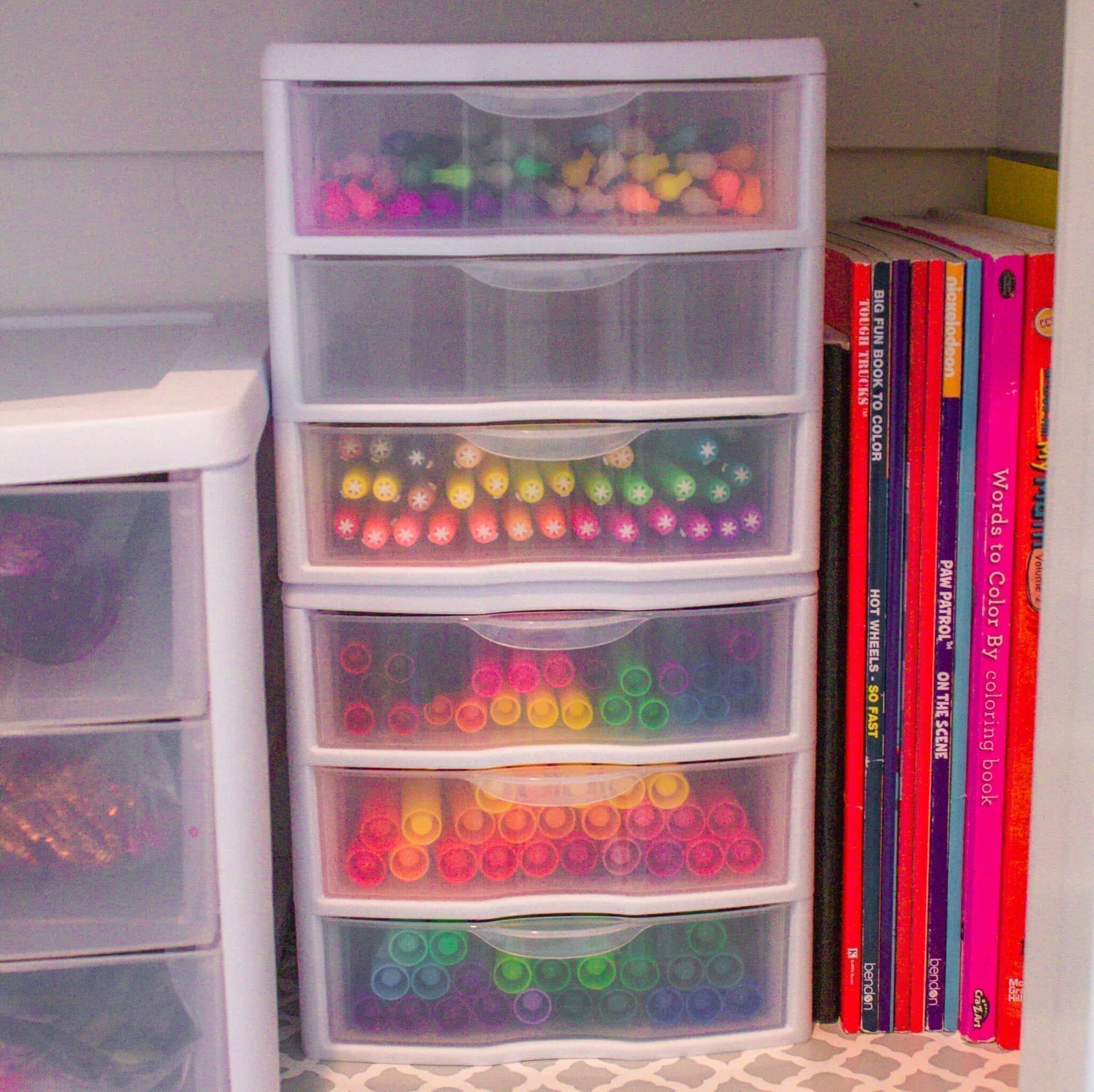 My favorite part about organizing this closet was that every kind of art or craft supply comes in rainbow colors! So I really played up the rainbow colors and it really made everything pop! Remember what I always say, Organization isn't just about creating order, it's about creating beauty! I get so much satisfaction when I open this closet now.
Kids Art Cart
So what if you don't have the space to dedicate an entire closet to your kid's art supplies? The next best option would be to create a kids art cart! You can organize all of the art supplies according to type. If you have a kiddo who's a big playdough fan, consider dedicating a shelf to that. If your kids are really into drawing, dedicate a section of the art cart to their drawing supplies!
The key to keeping it organized is to have the kids clean up the supplies every day after they are finished. It's an important life skill for them to learn and it will help you keep your sanity!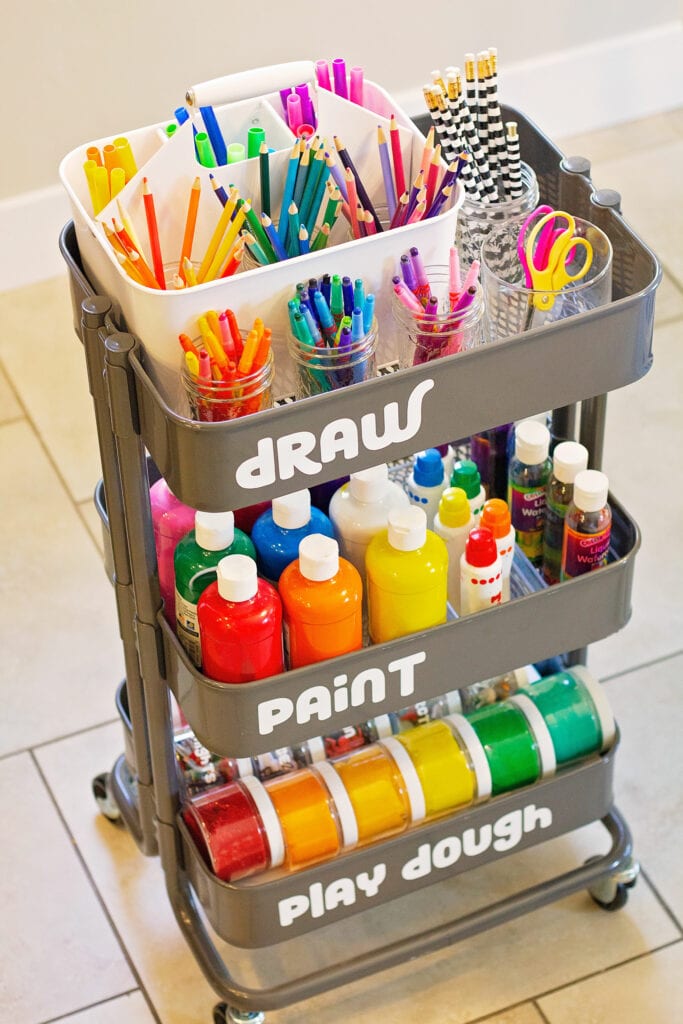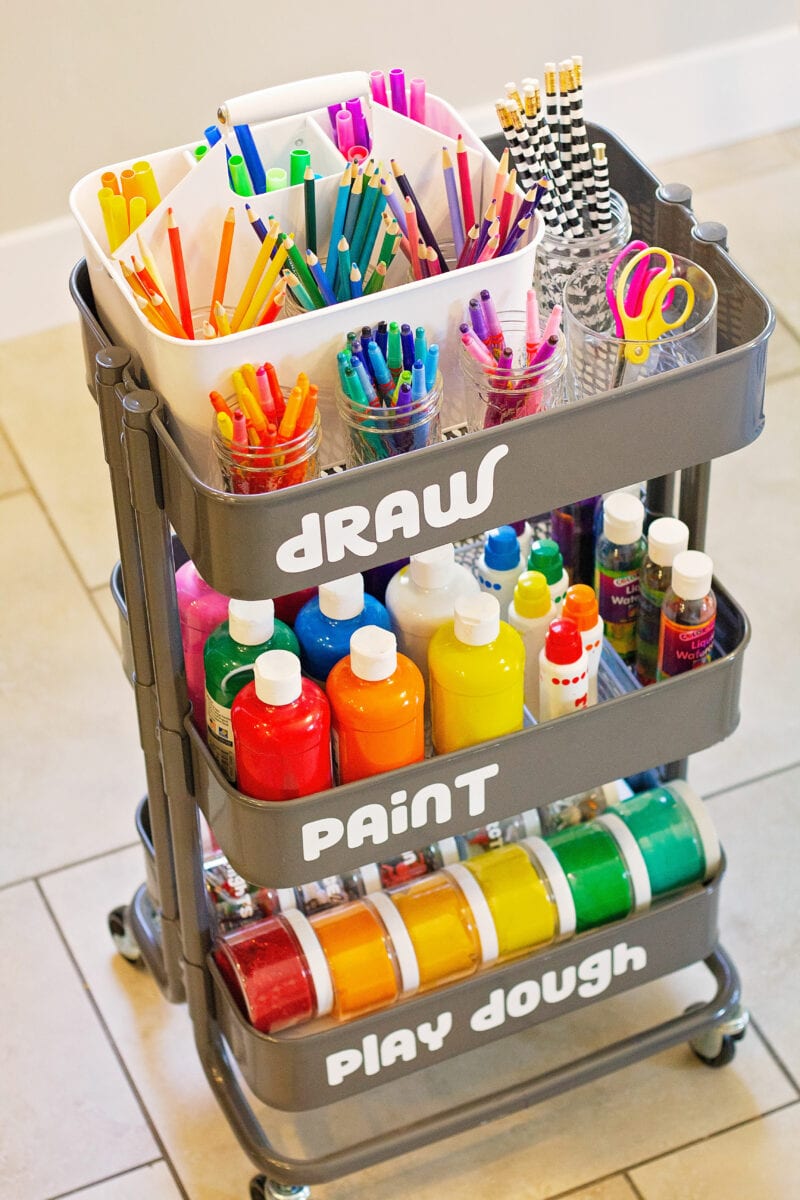 Shop This Post
Our Favorite Craft Supplies
I also thought it would be fun if I listed some of our very favorite craft kits and art supplies! Thanks for reading and I hope you have a great day!