Create the Ultimate Sports-Themed Bedroom for Your Athlete
If your child is crazy about sports, you may be looking for ways to create the ultimate sports-themed bedroom for them. This can be a lot of fun, and there are many different ways to go about it.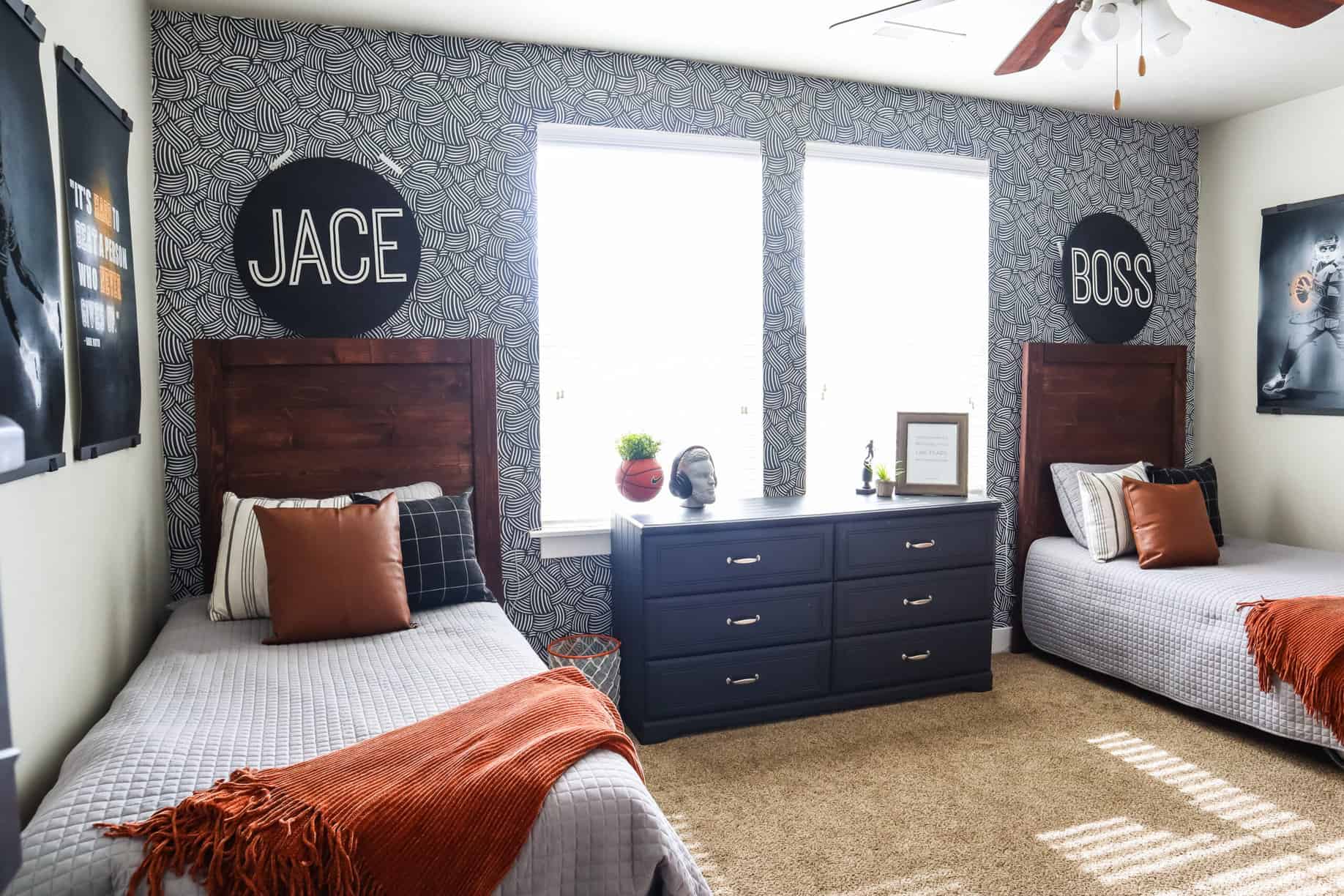 In this post, we will give you ideas on how to decorate your child's bedroom with a sports theme. I wrote a post earlier about how to make a subtle, budget-friendly bedroom with a sports theme, but this post is all about going above and beyond.
If you want to make the room feel like an actual sports arena or fill up the room with your kids' favorite sports, this is the post for you!
How to Make a Bedroom with a Sports Theme
Adding a sports theme to your kids' space can seem like a daunting task, especially if you want to really go crazy with it, but with these steps, you'll be able to easily create the perfect atmosphere.
Step 1: Pick the Right Sports Theme
The first thing you need to do is decide which sports theme you want in your child's bedroom. This could be one sport or multiple sports depending on what your kids love.
One of the main things you need to keep in mind when decorating rooms for children is that they should love it! Surprising your child with a new room can be fun, but if you aren't sure what kind of room they want, go to them for inspiration and help!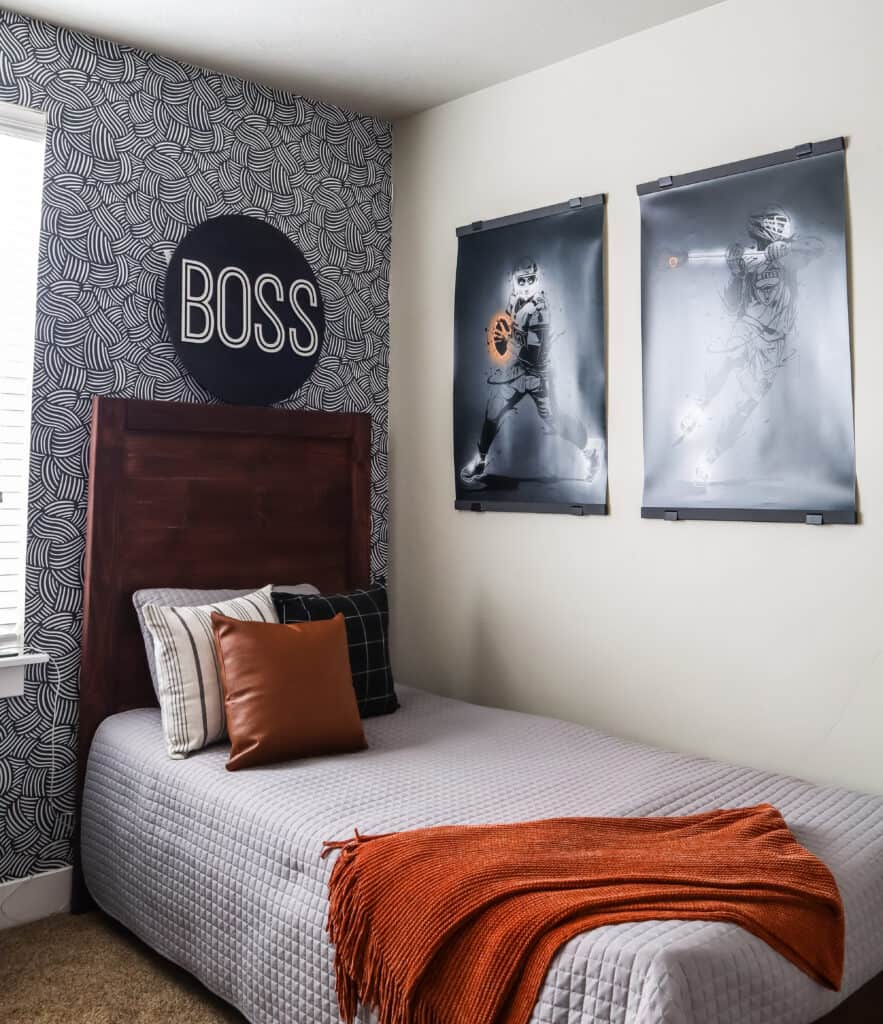 Letting them help you find and pick items for their room can be a really good bonding experience. It can also let your boys and girls use their creativity and make decisions. Do they want their wall painted white? Or would they prefer fun colors? Ask them for input throughout the process.
You don't have to make the wall super sporty if you don't want. You can always paint it or add wallpaper with the sport your child loves, but if you're planning on adding lots of other decorations, you can go with a fun pattern. This is the wallpaper I used for my boy's bedroom!

Step 2: Pick Out Furniture
Once you've chosen the theme for the room, it's time to get the bigger pieces into the space. The price you set for your budget will really determine what furniture you use for the bedroom.
Start with the bed. That's often the center of a child's room and can start off their room design. You don't need to buy a new bed if you don't want to! Use the bed they have now and paint the frame black and white for a soccer-themed room, white and red for baseball – you get the idea!
Another fun way to decorate the bed is to get sports-themed bedding! You can find tons of bedding online or in stores with the exact sport you like, so check online or in any local home goods stores near you. You can also find great decorative pillows like this one to add to their bed.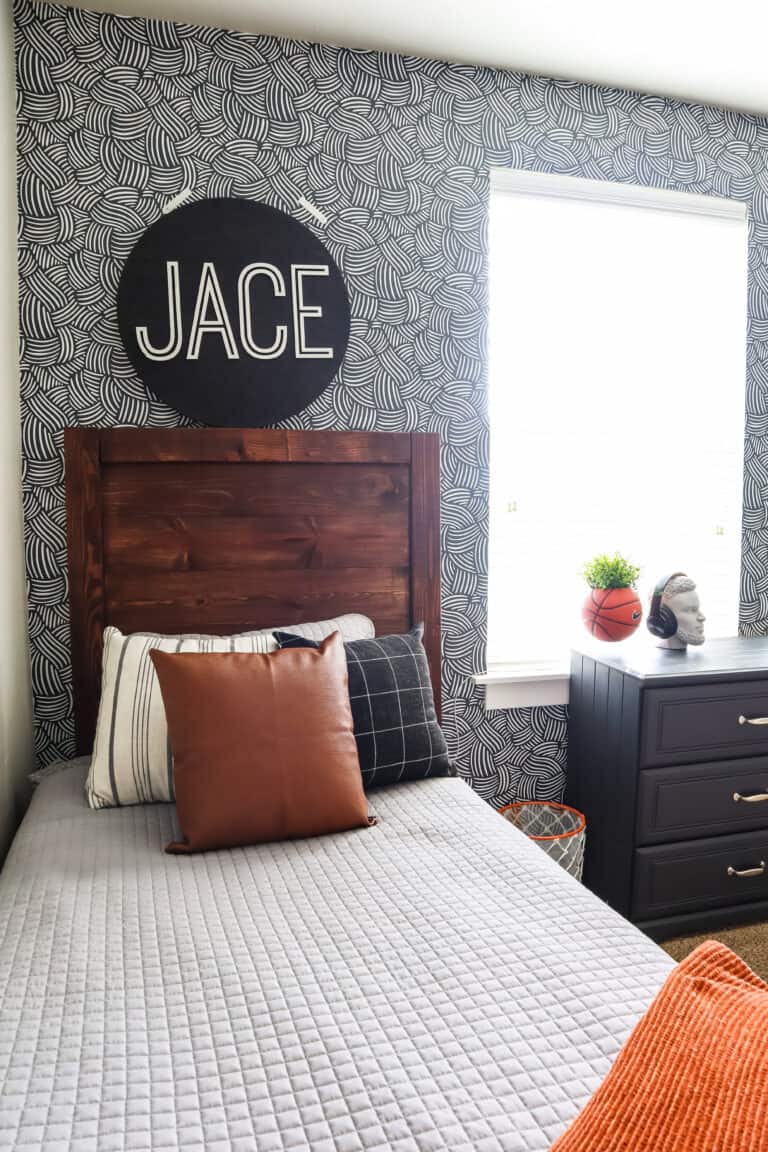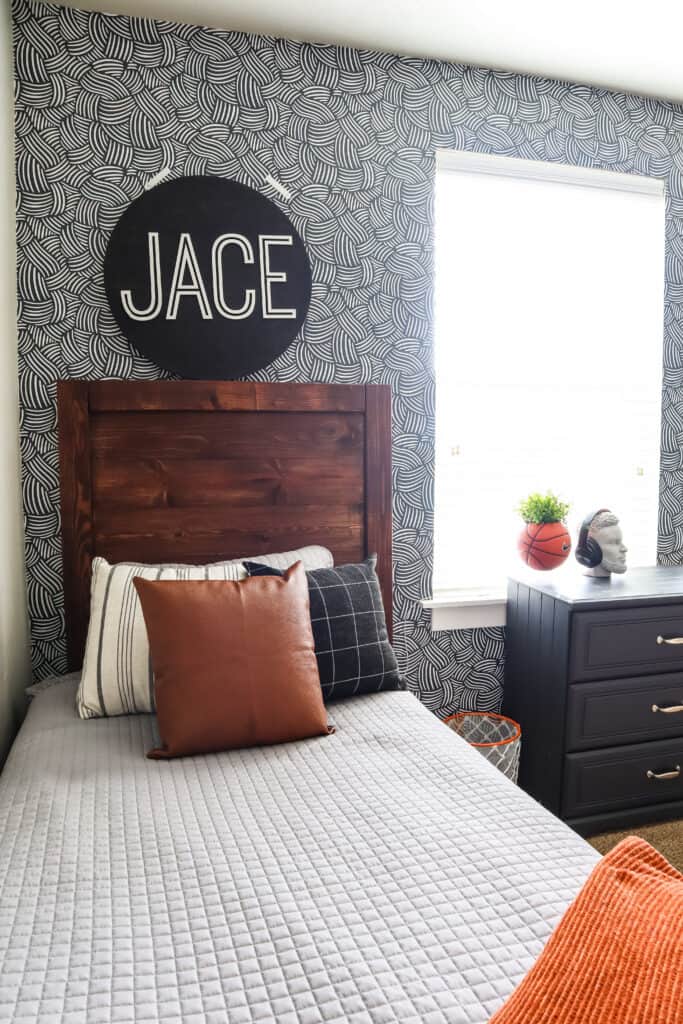 From there, consider what other furniture your kids might need in their room. A desk for them to do homework? A storage unit for toys? Get creative but make sure you don't overstuff the space with too much furniture!
Again, with the other furniture in the bedroom, you can get a new item or just refurbish old items to fit the theme! For example, I love this trash can that I saw online. Find fun DIY projects to bring an old item to life again.

Step 3: Add Some Decorations!
The decorations in your kid's bedroom should reflect their interests, hobbies, and style. Hang posters of sports teams or players they love. This store has some great ones, so you can check for any of your boys' or girls' favorite players. The neon posters can add a fun pop of color to your child's bedroom wall!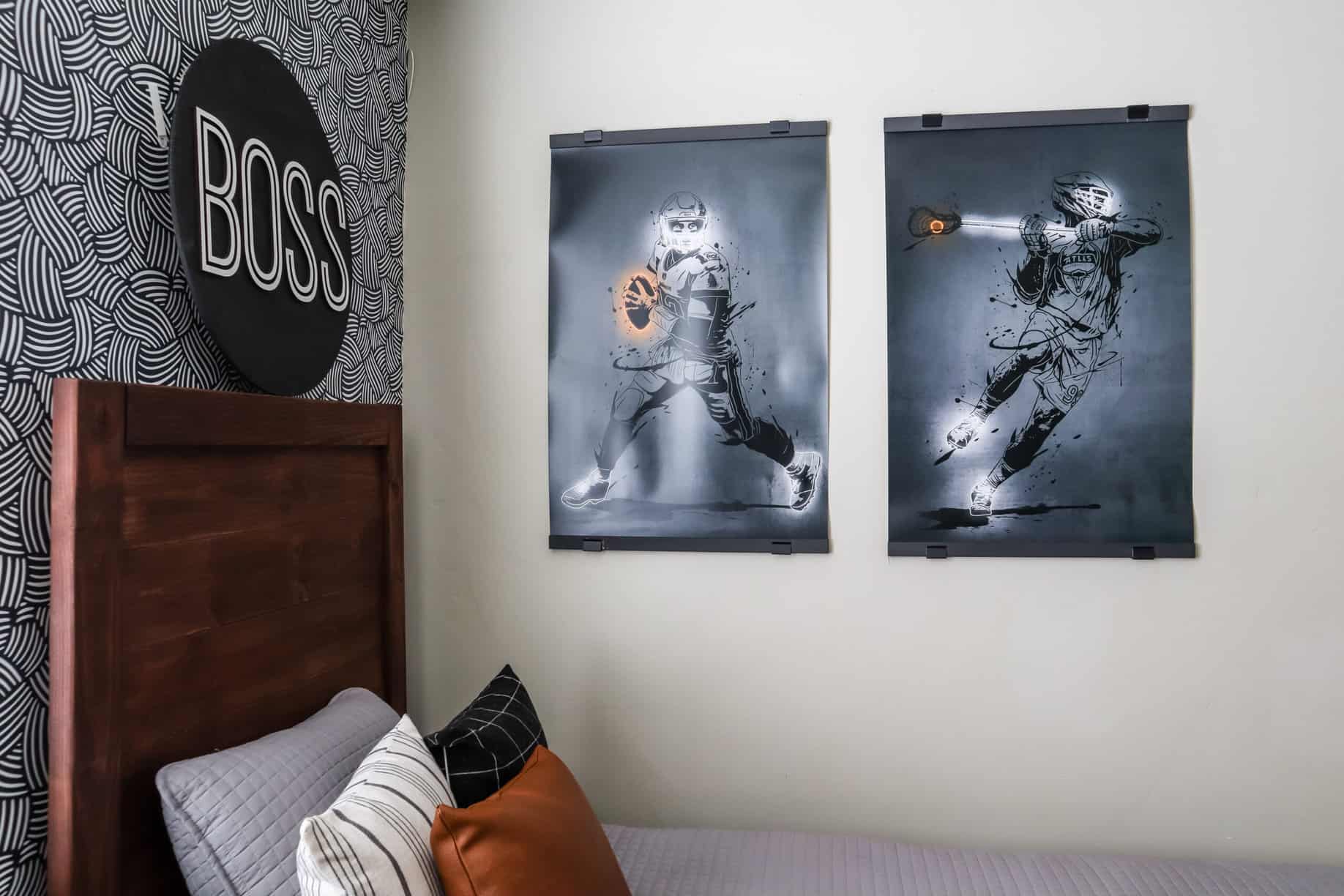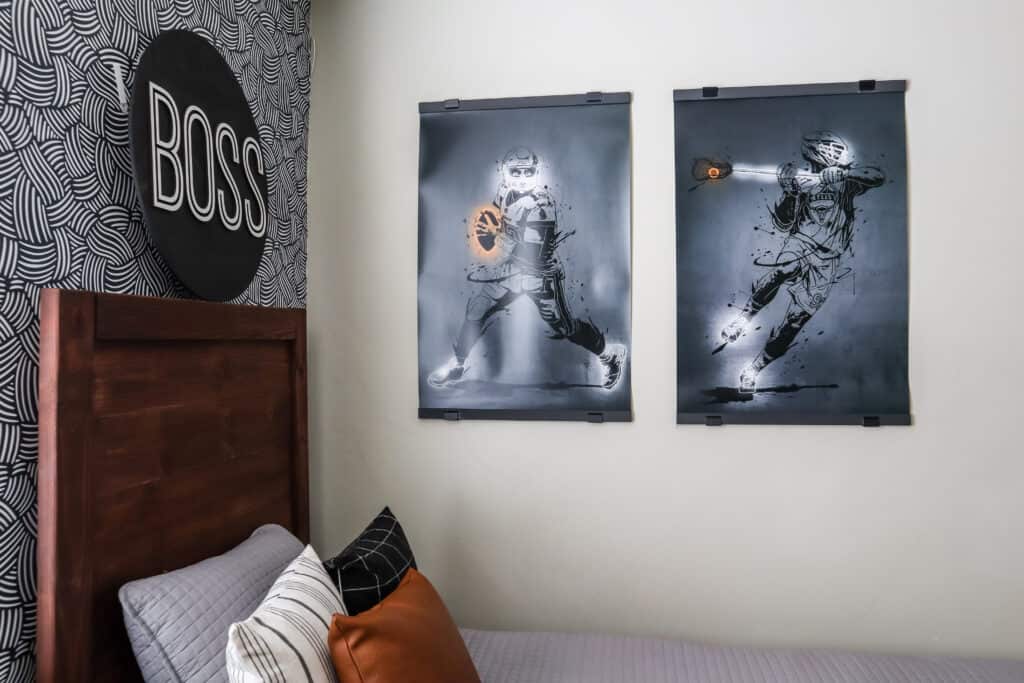 Look for great pieces to hang on the wall, trinkets to add to bookshelves or any other item that your child will love. If you boys or girls like basketball, consider getting them a basketball planter like any of these. Not only is a sports-related planter cute, but it also functions as a way to bring fresh air and greenery into the bedroom.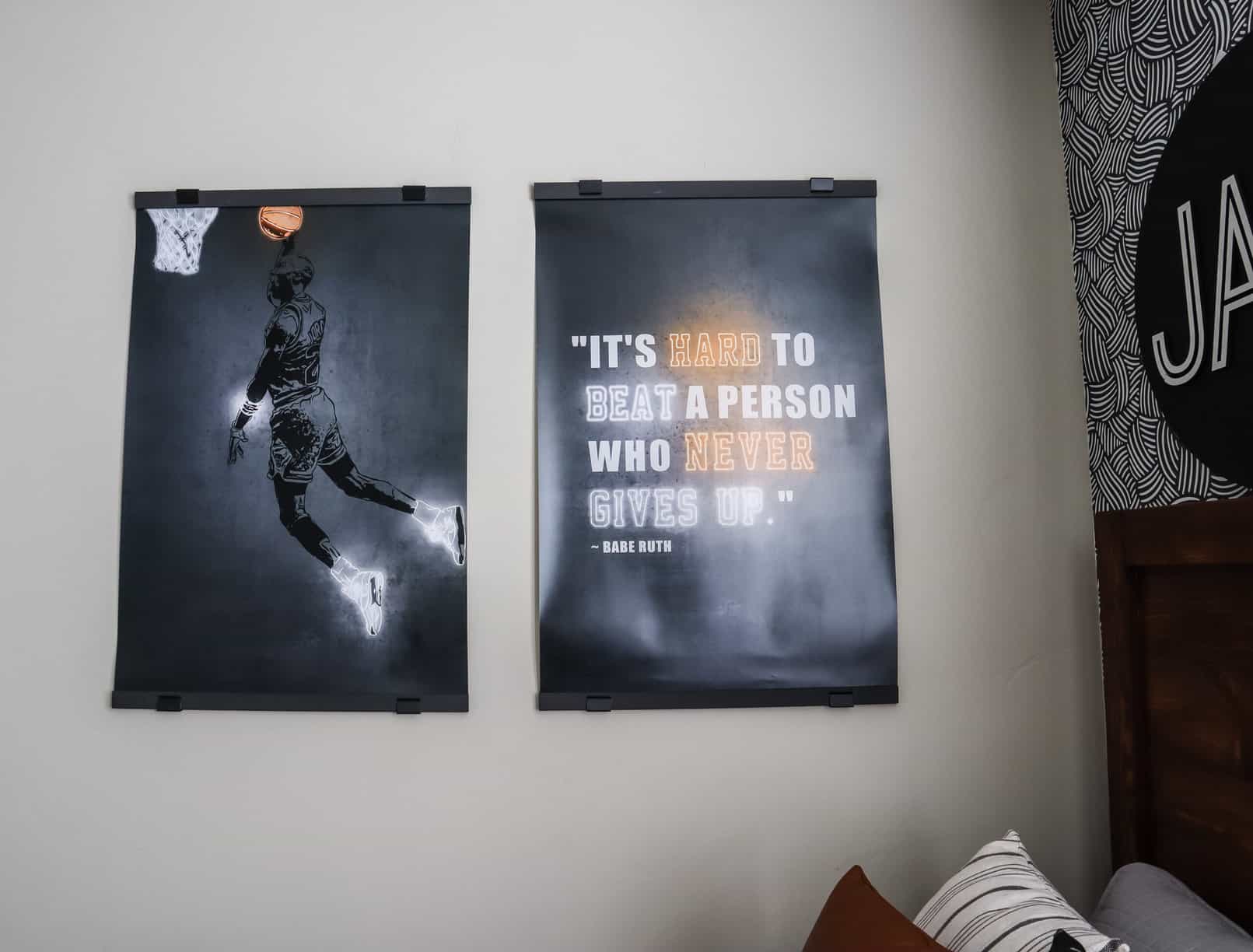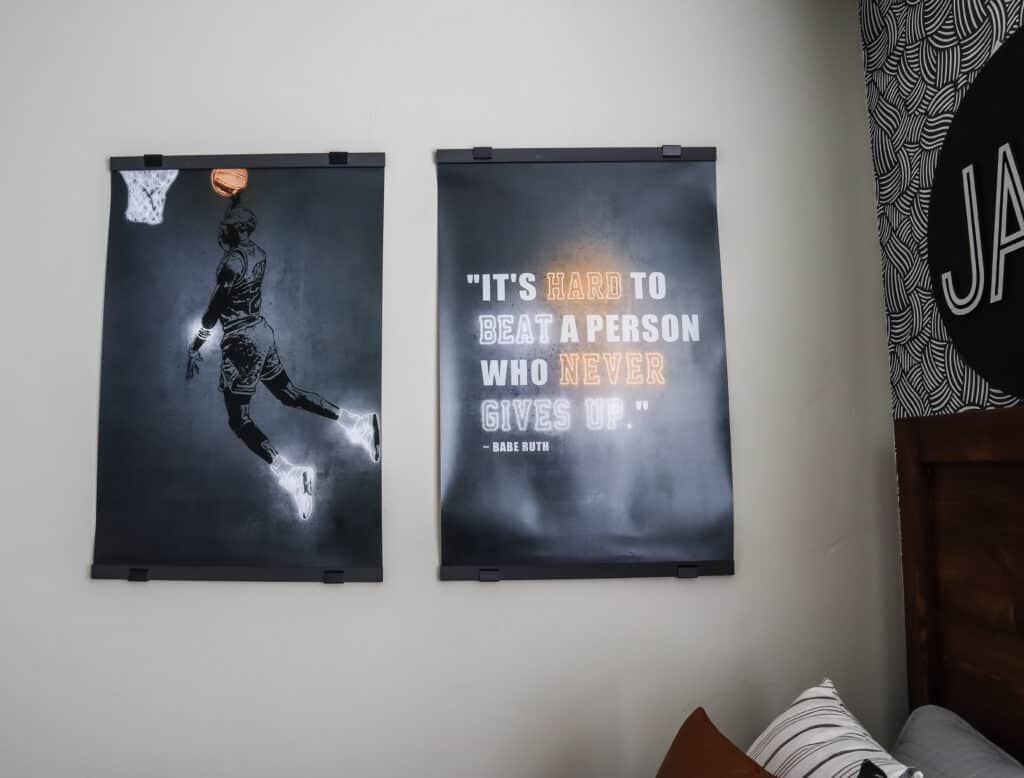 Step 4: Store Their Sporting Equipment like Decor
One thing I love to do in my home is to find a way to store and organize items that aren't necessarily meant for storage. For example, rather than having a pile of absolutely-necessary sporting goods lying around or tucked away in cupboards, I display them. It adds a unique touch to the bedroom and adds something special to it that your kiddos will love.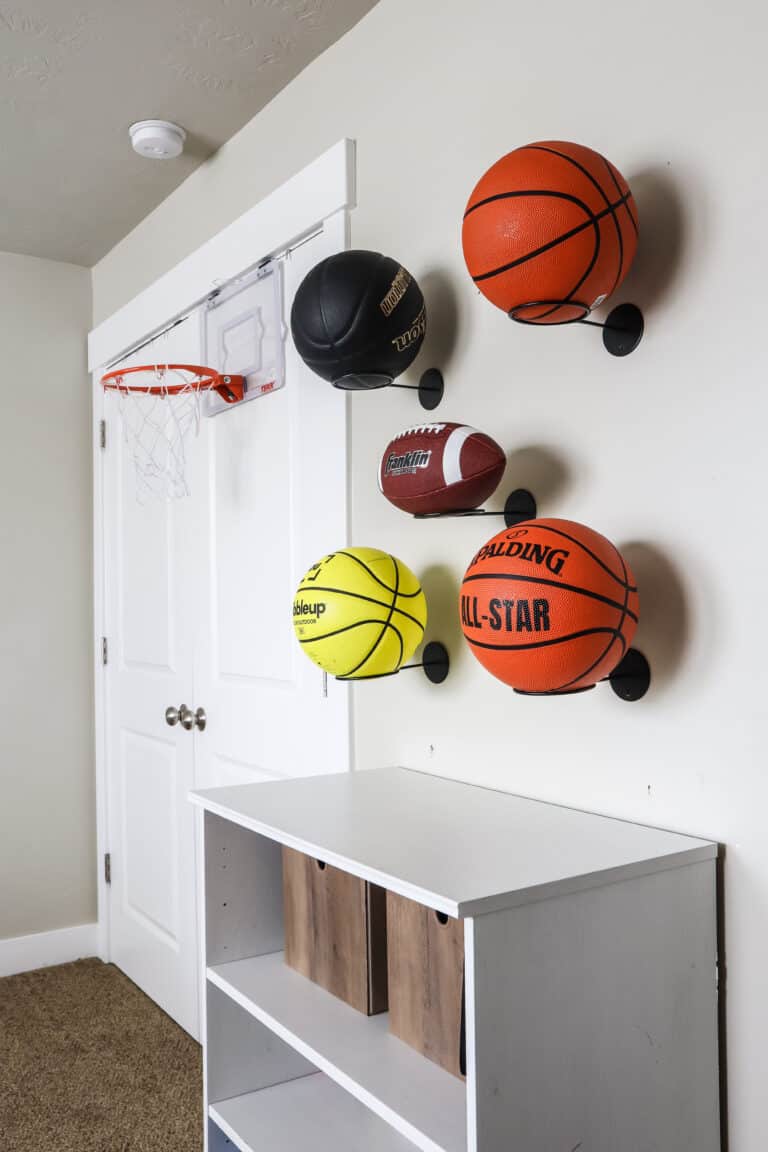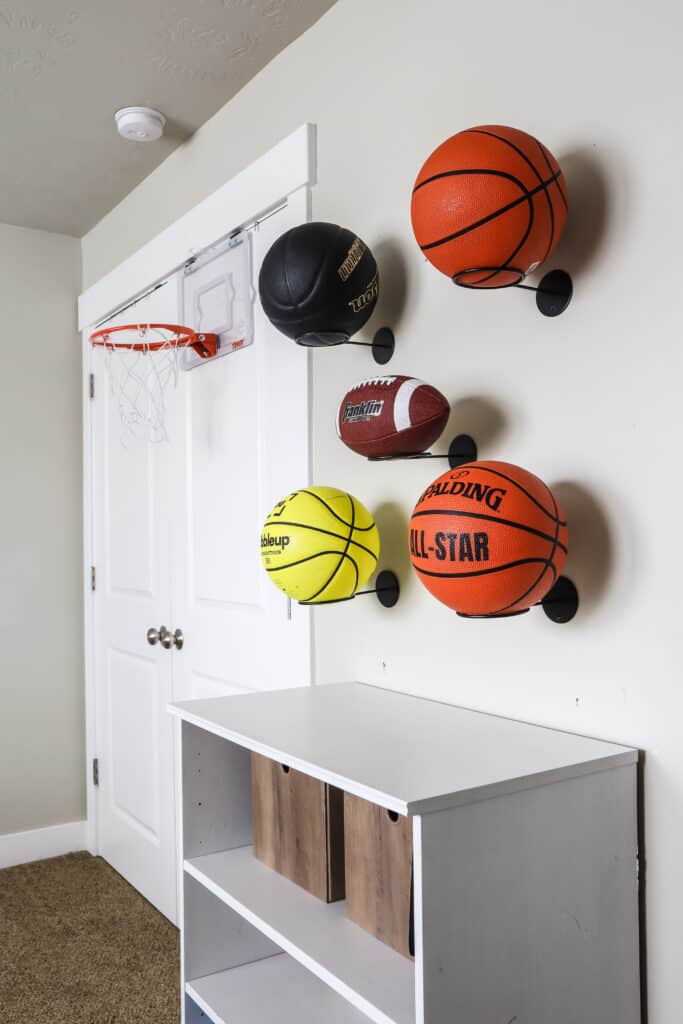 If you have space on the wall, you can add wall mounts like this. If you want to display them on a shelf rather than on the wall, you can get a pedestal like this. If you have smaller items that don't need to be hung on walls or shelves, baskets are also a wonderful way to store them!
Sporting equipment can take up a lot of space, so turning the equipment into decor in your boys and girls' rooms can be an attractive and practical solution. Not only will it make the bedroom look more organized, but it'll give you a place to store your equipment without making the bedroom feel cluttered.
(Also, while this isn't really sporting equipment, consider adding fun things like this over-the-door basketball hoop. It can bring hours of fun to your child and their friends!)

Step 5: Focus on the details!
As will any part of your home, the details matter! When it comes to adding details to a bedroom that is sports-themed, think about adding little things like an autographed baseball or basketball, framed newspaper clippings, and so on.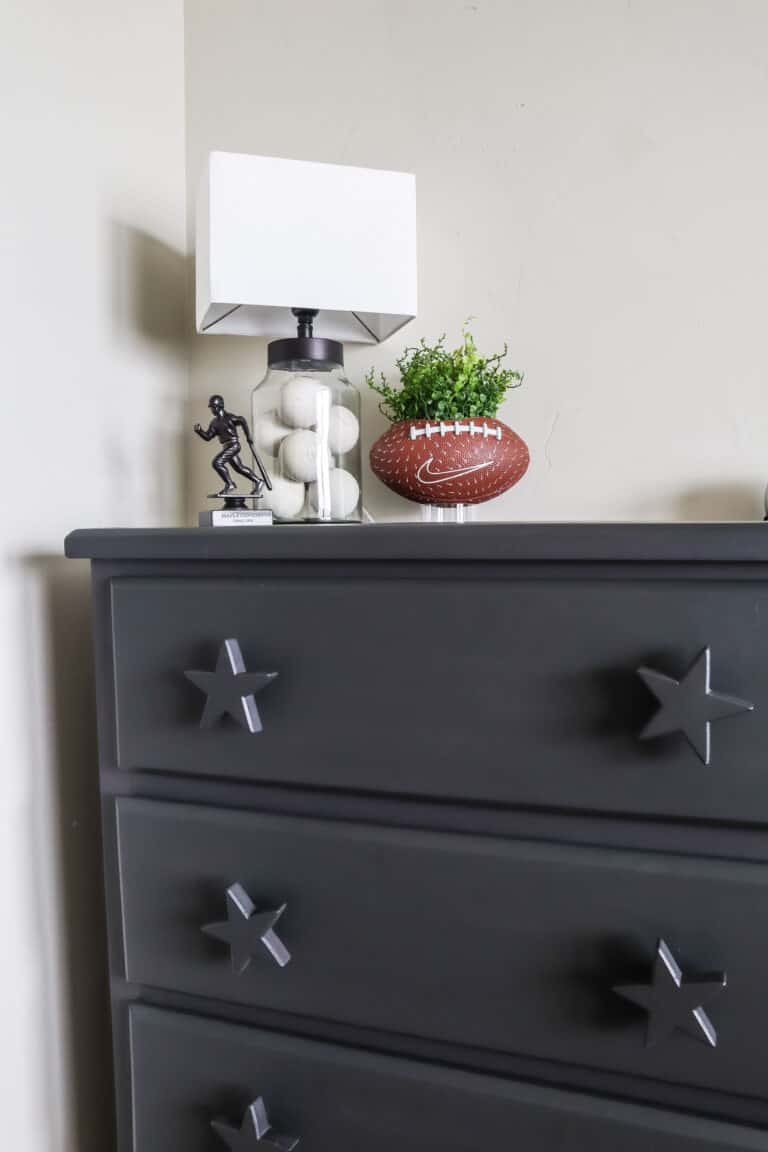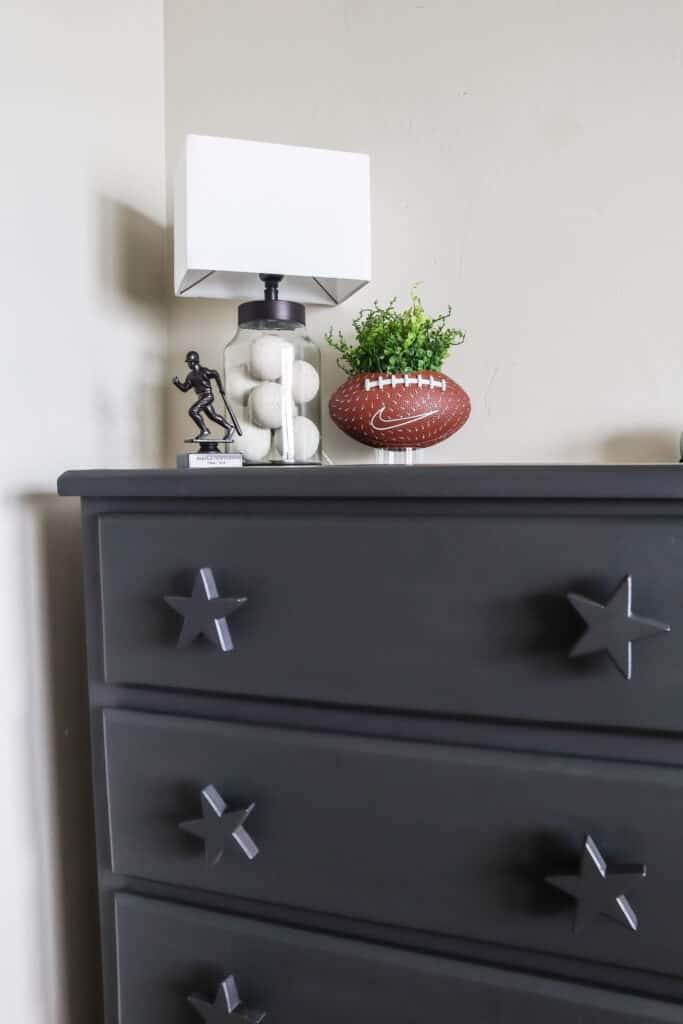 If you're okay with spending more money, you can even get custom-made linens with the team logo embroidered into them. All these details will really ensure your child loves the results of your time and energy when you're done!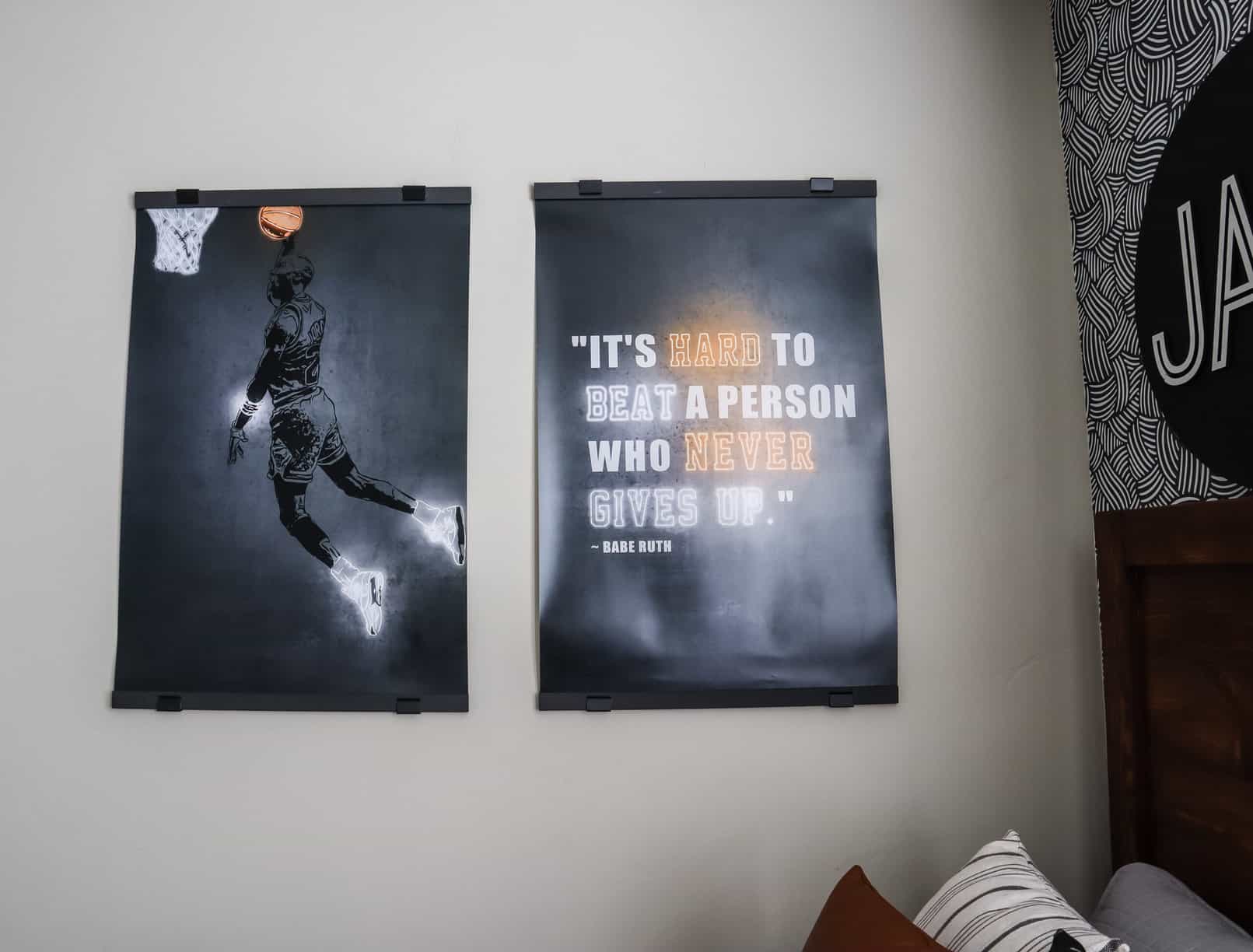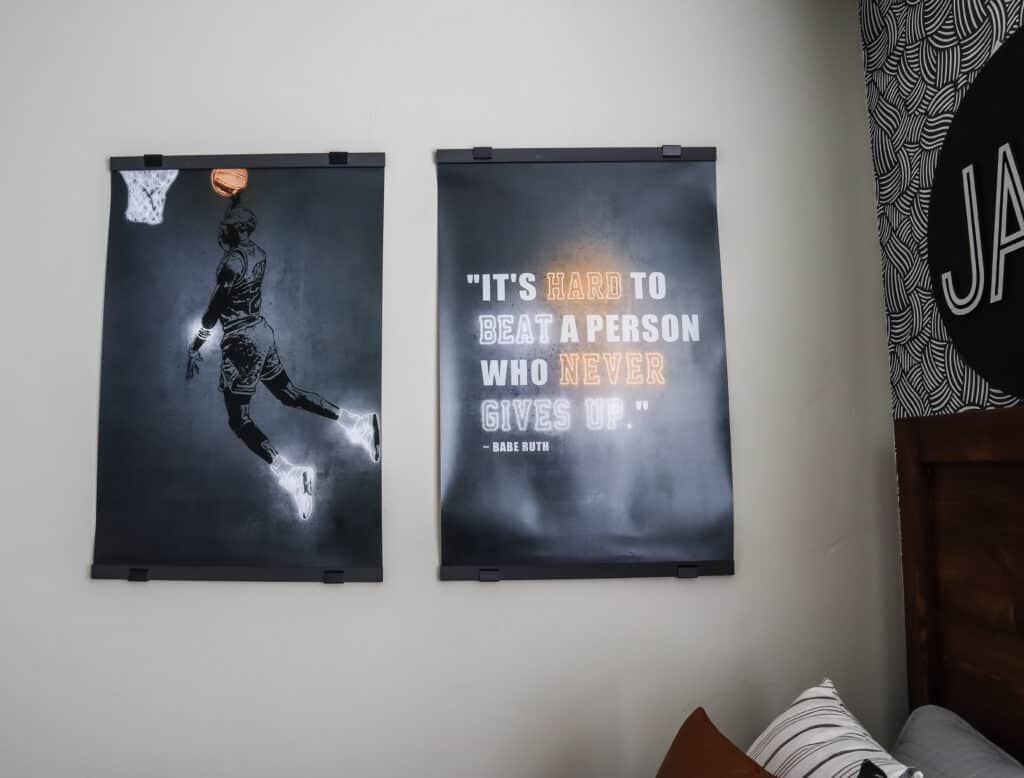 If you really want to load their bedroom with sports items, stock it up with any sports memorabilia your child will love! There are tons of options at any price point that are perfect for any sports enthusiast. From pennants to autographed jerseys and much more, these items will instantly up the ante in the bedroom and make it the envy of all your friends and family.
Ideas of Items to Add to a Sports Bedroom
If you want to really stock up your child's bedroom with sports items, here is some inspiration that can help!
Sports-themed wall art
Autographed memorabilia
Framed newspaper clippings or magazine articles
Team logo bed linens
Throw pillows with team logos
A sports rug for the floor
Bookshelves filled with books about your favorite teams and players
Team banners
SHOP PILLOWS AND BLANKETS

The Ultimate Bedroom for Sports-Loving Kids
If you think creating the perfect bedroom for your child might seem daunting then, well… honestly, I agree. It can be hard and it might take some time to get it all ready. But it will be worth it! Even if your child doesn't say thanks, I know they will love the results of your hard work.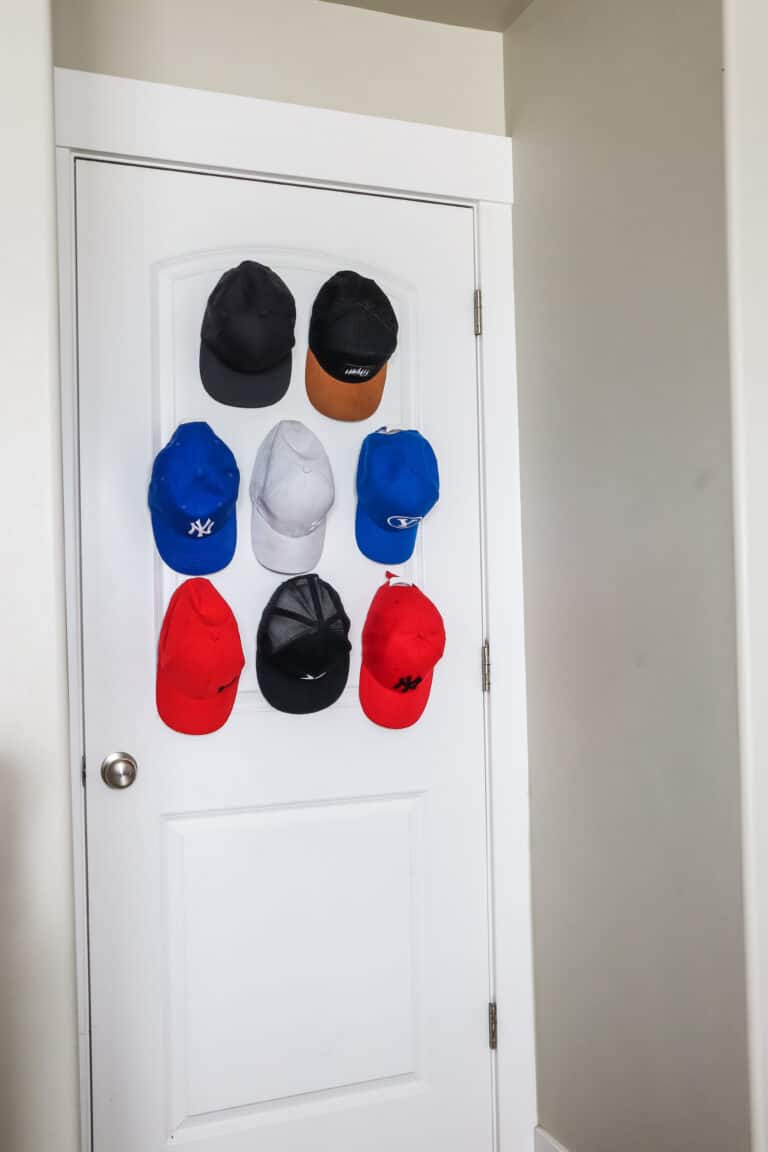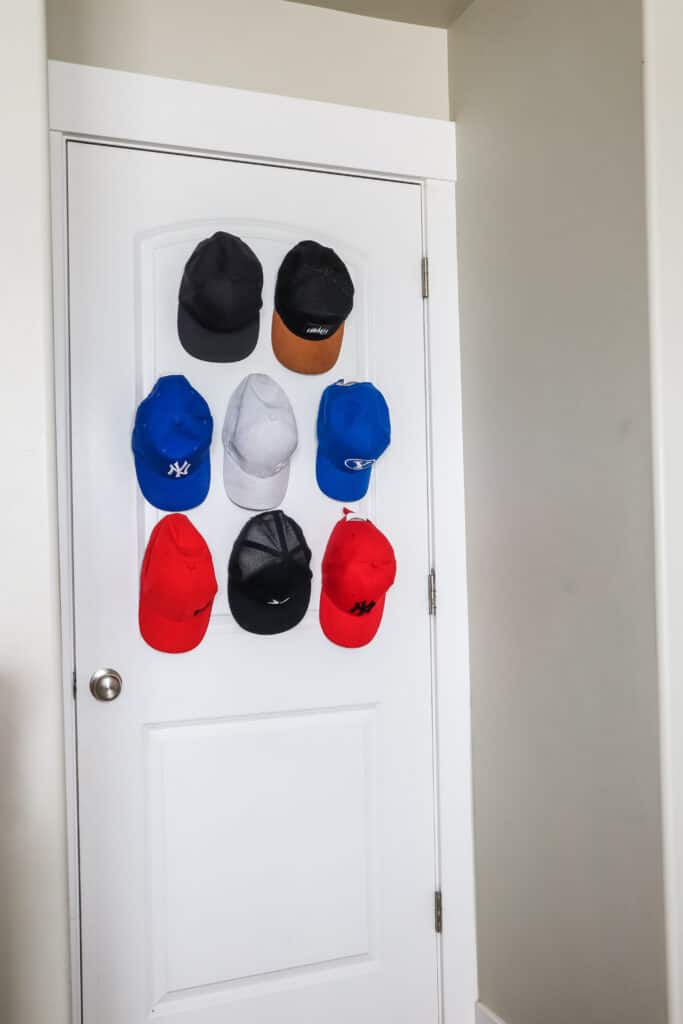 Involve them in the process whenever you can! Offer to let them help and share the progress of the bedroom as you go! Talk about what they want their bedroom to look like and be open to their suggestions and input. If they are involved in the process, they are more likely to keep the bedroom clean and organized!
Do you have an item you got for your sports-themed kid bedroom? Let me know in the comments!