How to Organize Your Shower: Tips for a Tidy Space
If you're like most people, your shower can quickly become a cluttered and chaotic space. Between the shampoo, conditioner, soap, razors, and other products, it's hard to keep everything in its place. This can lead to a lot of frustration when trying to get clean! In this blog post, we will discuss some tips and tricks for organizing your shower. We will also recommend some great products that can help make this process easier for you. Let's get started!
How Can I Organize My Shower?
One of the best ways to organize your shower is to use shower caddies. These are great for holding all of your products in one place. It's no secret that your shampoo, conditioner, and body wash bottles can easily fall off tub ledges or clutter up your shower.
Organizing your shower can really help you to make awesome use of your shower storage space and even gives you more space to store your bottles. There are many different sizes of shower caddies to choose from, too!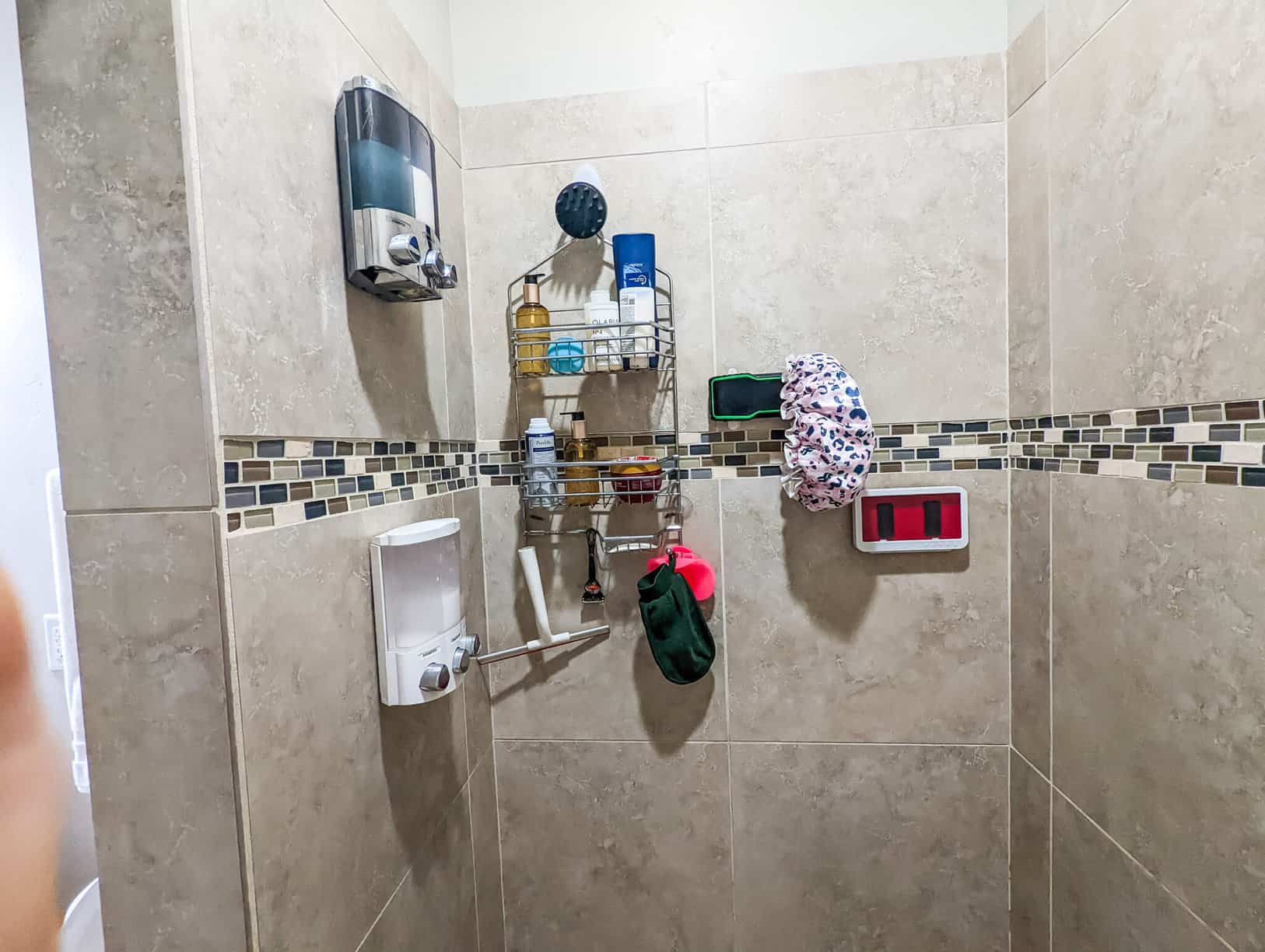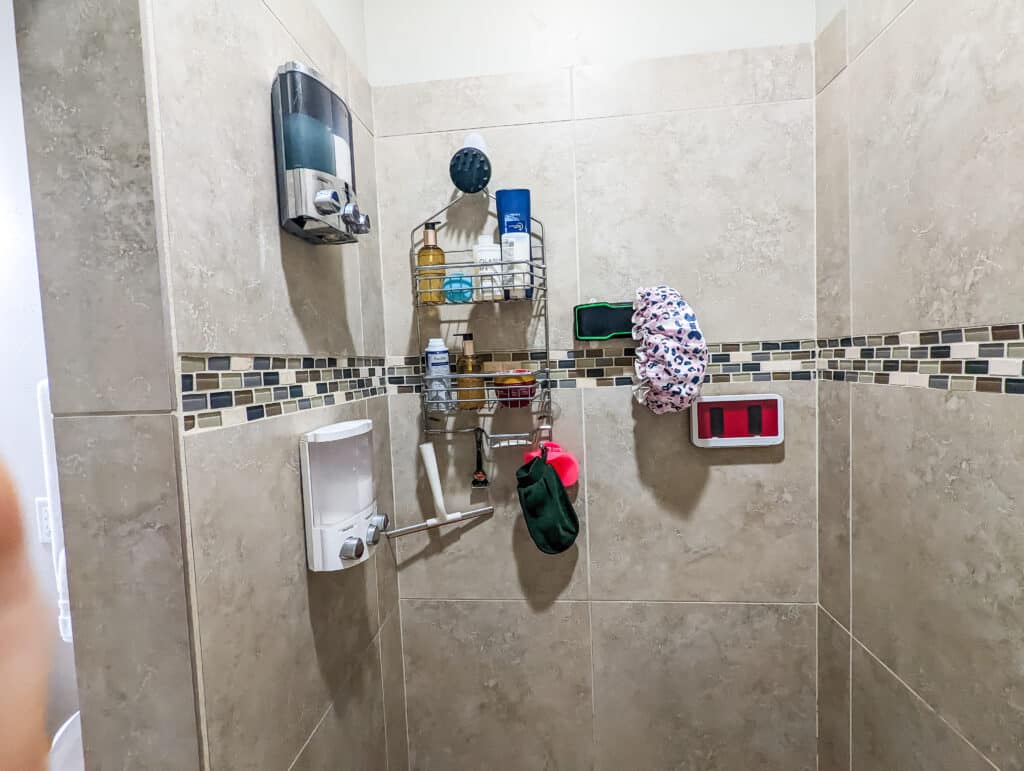 There are a variety of shower organization products that you can choose from, so be sure to find one that will fit well in your space. Here are a few different types of products:
Shower Caddy (similar to a basket with a handle…great for college students!)
Wall-mounted Baskets
Caddies that hang from the Showerhead
Wall-mounted shelves
Soap, Shampoo, and Conditioner Dispensers
The first thing you need to do is declutter what shower bottles, soaps, and products you no longer use or need. This will help you determine what size of shower caddy you need to fit your space. I would always allow a bit more space for extra products you decide to add.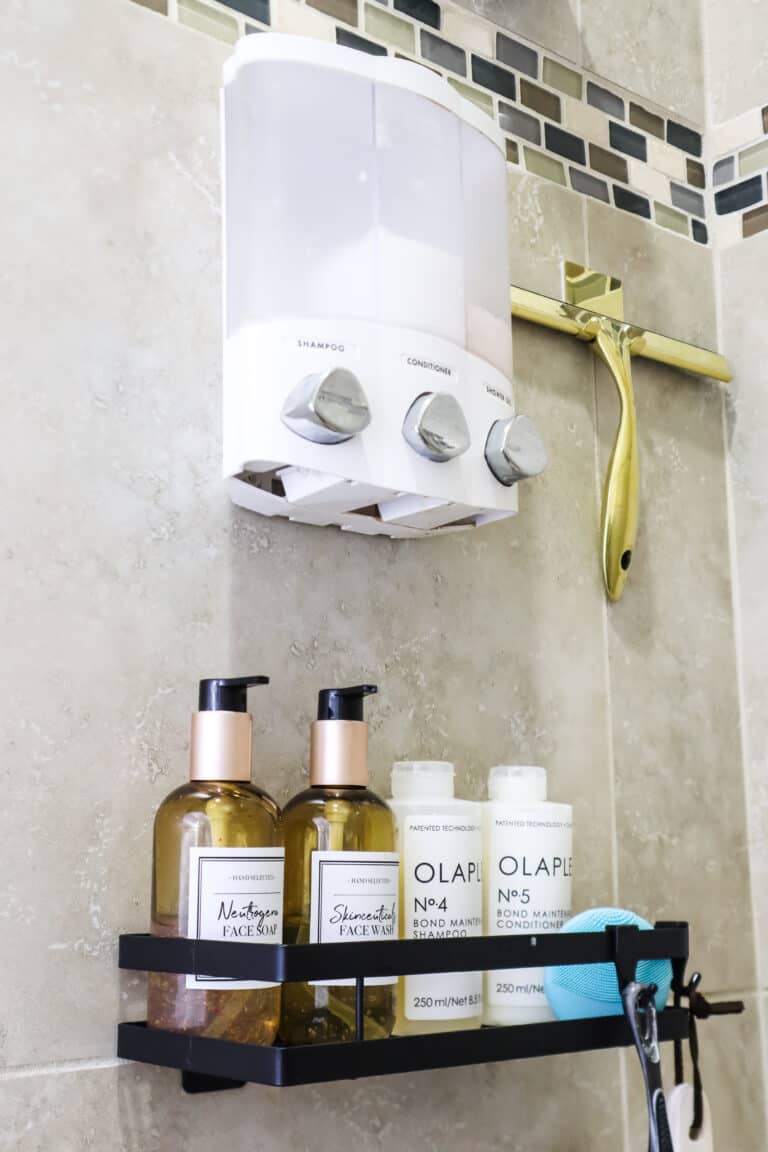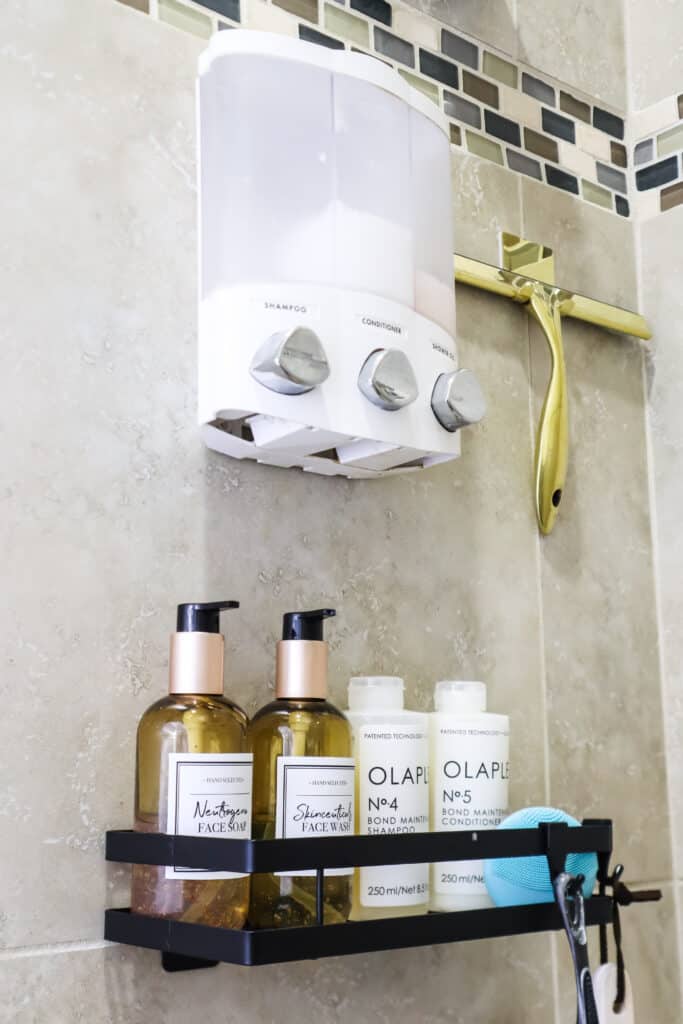 My favorite Shower essentials:

What things do I look for when shopping for shower organizers?
Whatever you choose, I personally recommend products that you don't need to drill into the tile. Many products adhere to walls without any issues! Drilling into the tile of your shower can compromise the integrity of your shower and can possibly lead to mold behind the tile, causing a potential health hazard.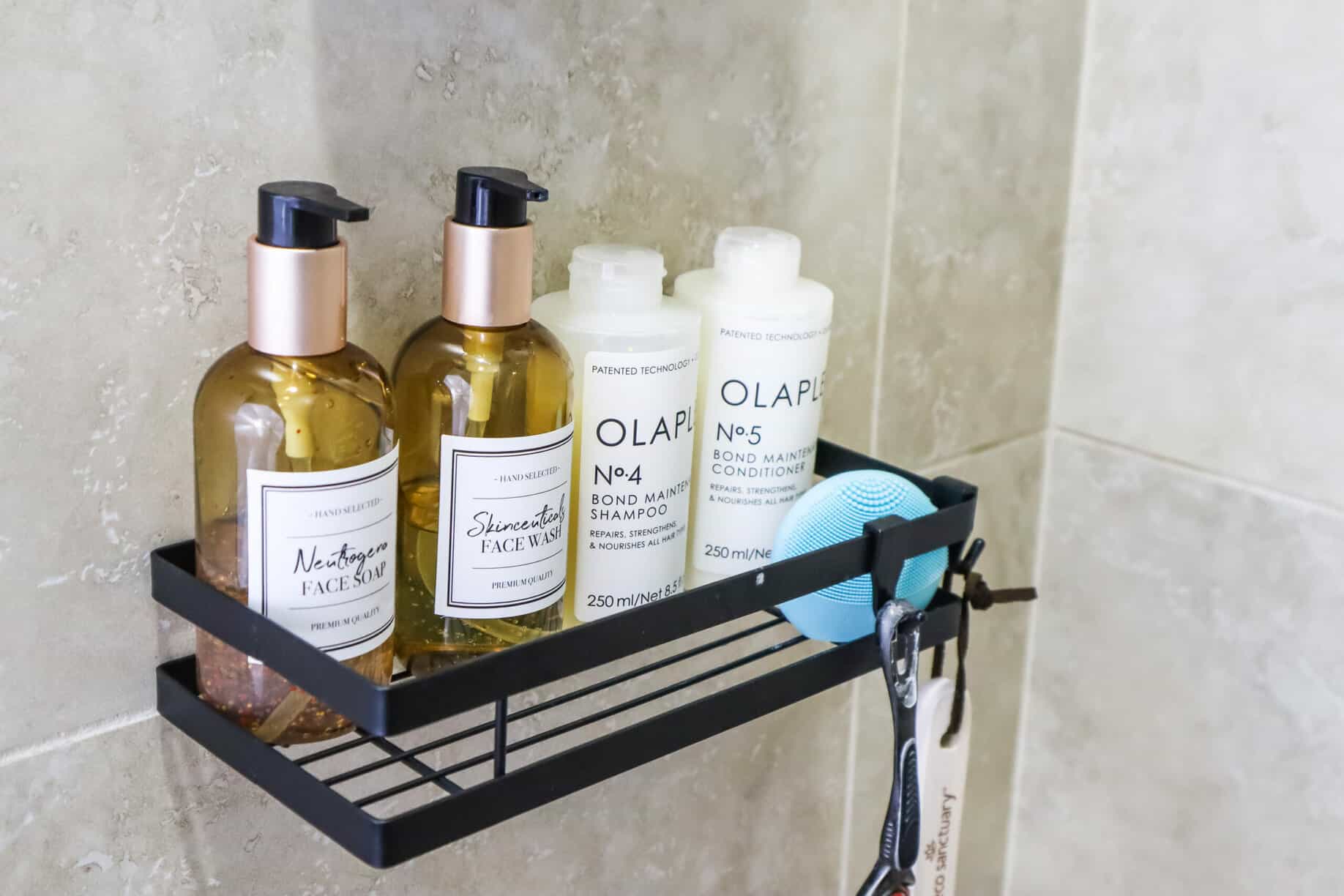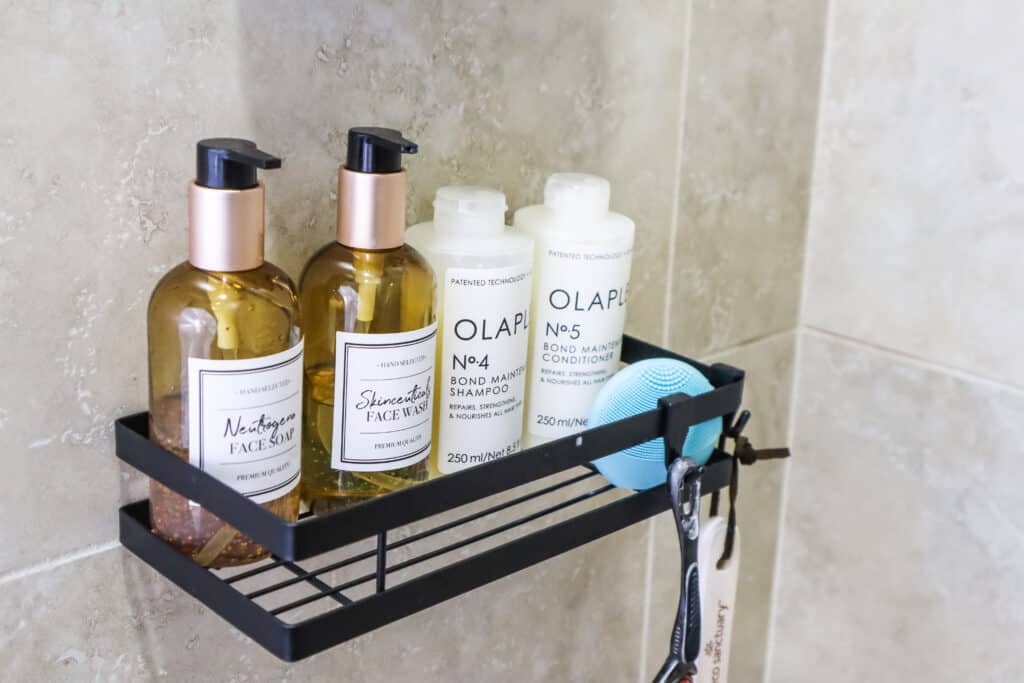 Most shower organizers come with the option to install with glue that adheres to the wall. In my experience, this hasn't been a problem at all!
It's also important that you choose a shower organizer that has a rust-resistant finish. Your organizer will be getting wet frequently (not to mention body wash and soap all over it) and if you choose an organizer that isn't rust-proof, it will be ruined in a matter of months. Rustproof stainless steel is always a great option.
What is the Best Shower Storage?
There are a lot of options for shower organizers but let's talk about a few of the most popular.
Wall-Mounted Soap Dispenser
A couple of years ago, I was looking for a shower solution that would allow me to have a cleaner look to my shower. I wanted to eliminate my shampoo bottles. I opted to purchase a wall-mounted soap dispenser!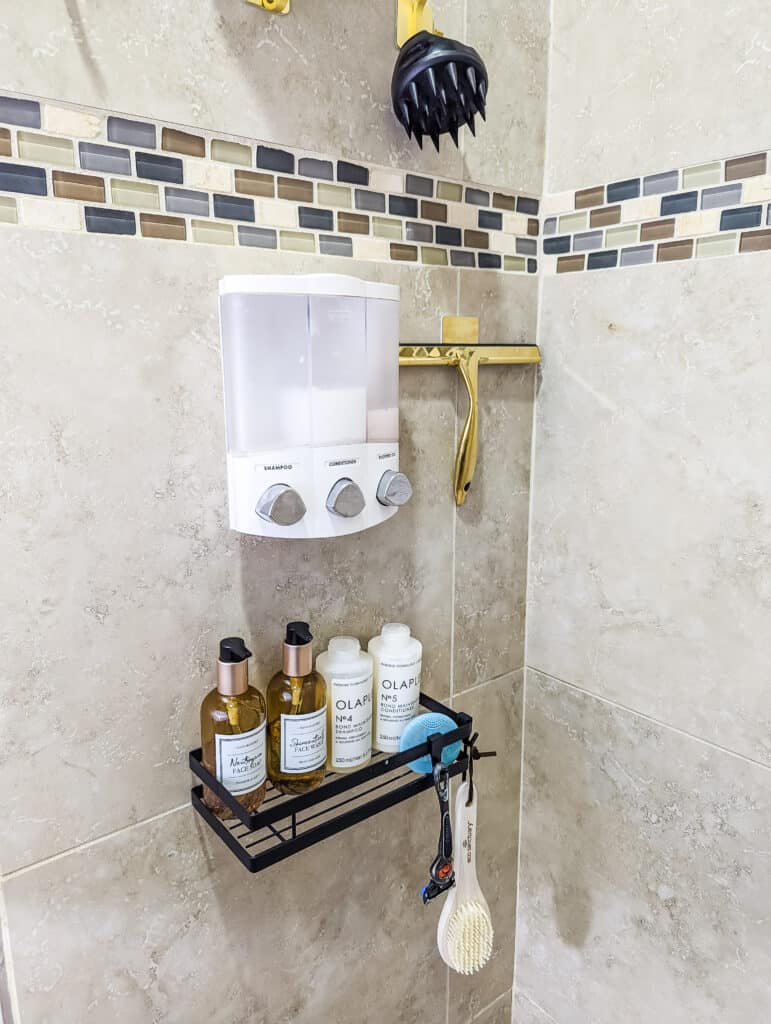 This was the best decision I ever made. Not only does it look sleek and tidy, but it also allows me to have a more organized shower space. If you are looking for a great way to organize your shower, I highly recommend investing in a wall-mounted soap dispenser!
I wanted to purchase one that looked nicer for the purpose of this post (so it would match my shelf basket) but many of them have really poor reviews and I wasn't willing to risk recommending a bad shower organizer to you. I've been using these ones for about 2 years and have since purchased them for every bathroom in my house and I'm obsessed!

Shower Shelf Basket
There are some toiletries that simply can't be put into another container. Shower organizers that create shelves are an automatic win in my book. This allows you to organize your shower while maximizing space.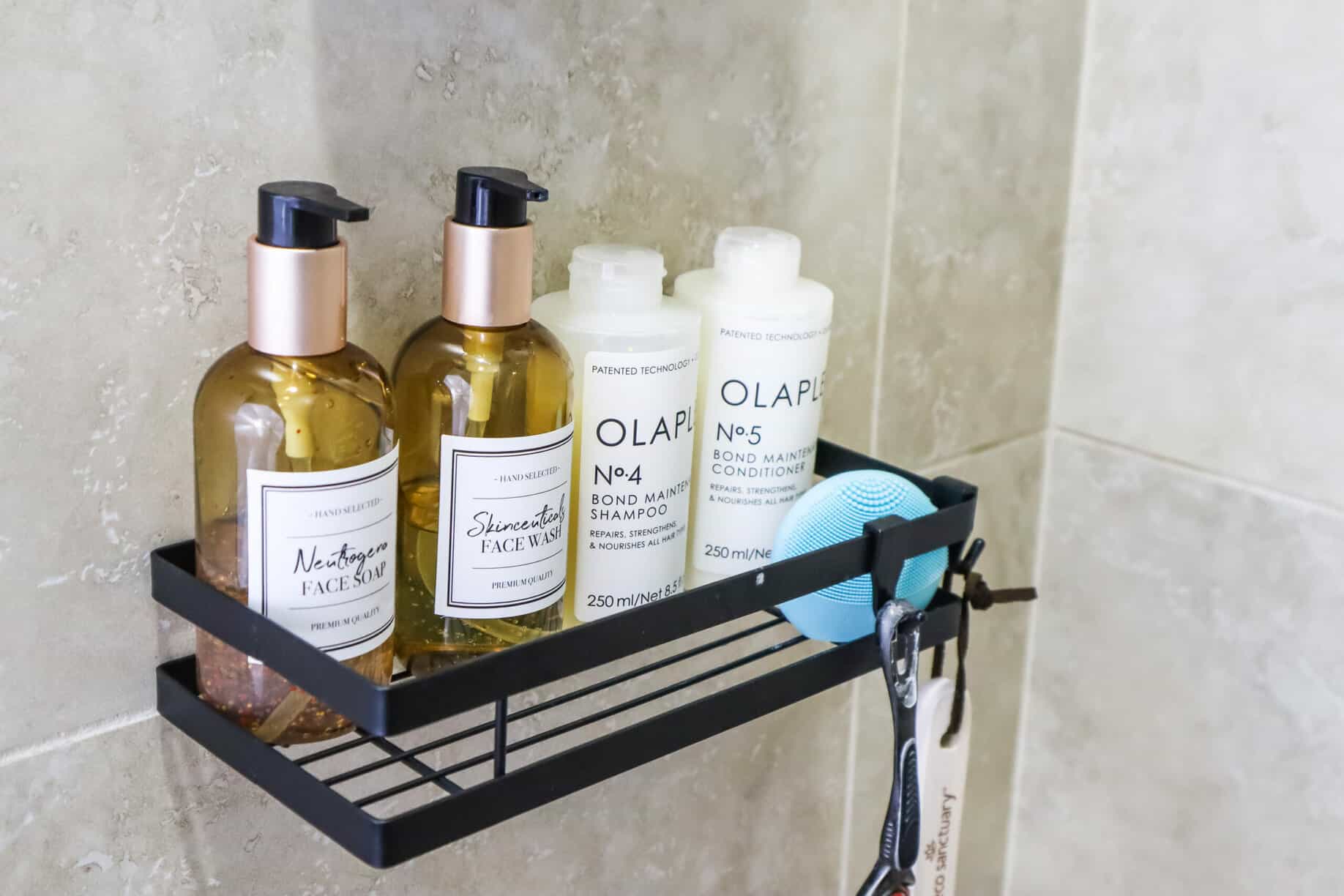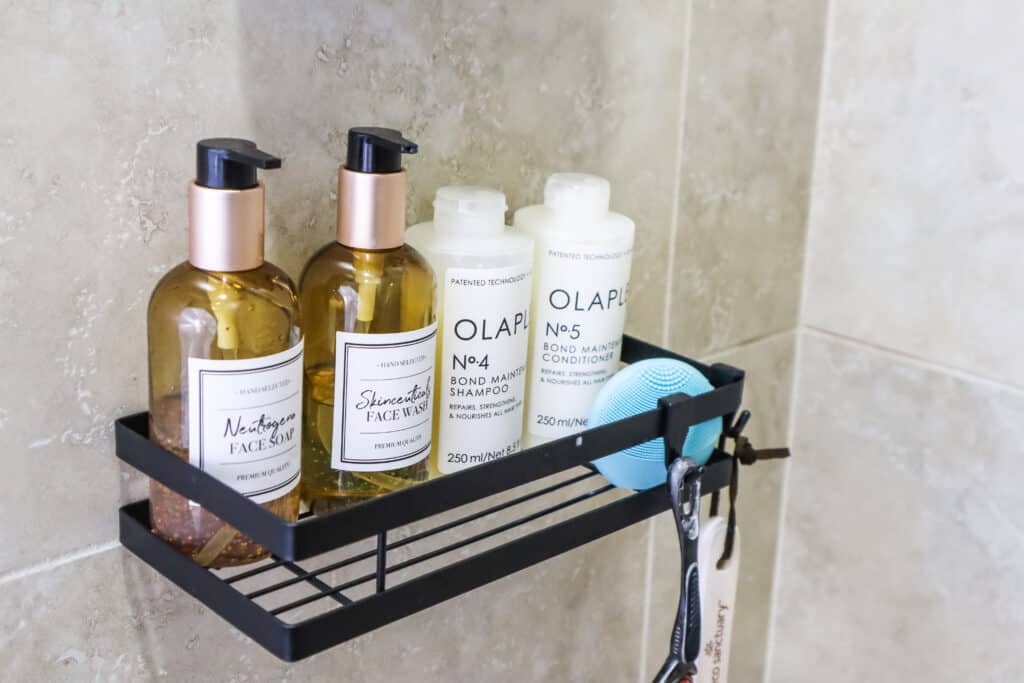 I use this to store things like face wash, my vibrating face cleanser, and shaving cream. I also hang our razor and pumice stone here.

Shower Caddies that Hang from the Showerhead
If you don't have a lot of space in your shower or if you're just looking for something simple, then this is the product for you. This caddy hangs from your shower head and has enough room to store all of your essentials.
This is an especially great option if you are renting and you have a strict landlord. This takes seconds to install and won't damage your shower walls.

Corner Standing Shower Caddy
If you have a bit more space in your shower, then this is a great option for you. This caddy fits perfectly into the corner of your shower and provides plenty of storage for all of your products.
These are great if you need a lot of shelves!
Adhesive Hooks
If you want a really cheap and easy way to organize your shower, then adhesive hooks are the way to go. You can stick these anywhere in your shower and they provide the perfect place to hang loofahs, washcloths, a razor, or anything else you might need.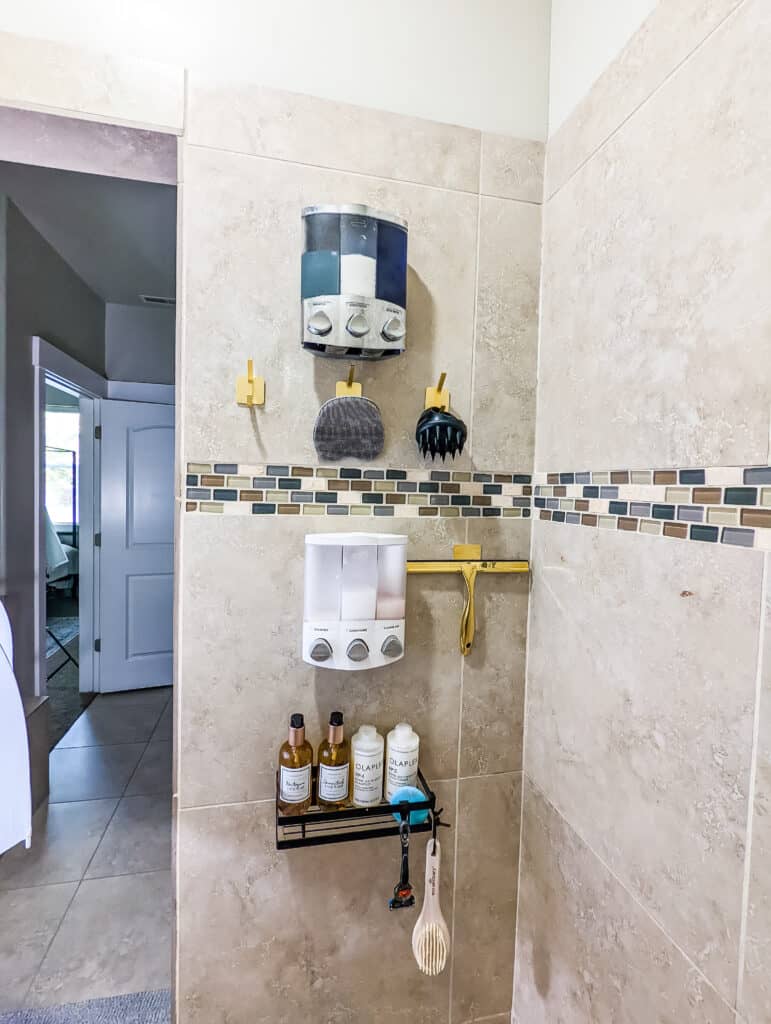 What is the best Shower Caddy?
The best shower caddy is the one that works best for you and your space. There are a lot of different options on the market, so it's important to find one that fits your needs. If you have a small shower, then you might want to consider a hanging caddy. If you have more space, then you can choose a freestanding option.
It's important to analyze the number of products that you have in your bathroom and determine what types of organizers you will need. It may be something as simple as a shower caddy or something a little more involved like a soap dispenser. Either way, any type of shower organizer is sure to help add more storage to your shower and help you maximize the storage space you have, no matter the size of your bathroom.