How to Organize Mugs: 9 Ways to Store Your Mug Collection
Mugs can be a challenge to organize. They are bulky and the handles make them practically impossible to stack. Plus, most are glass, which makes them breakable. But don't worry – we have some great tips for how to organize mugs!
By using hooks, shelf risers, custom mug shelves, or making your own coffee cart, there are lots of ways you can show off your mugs and keep them safe and organized.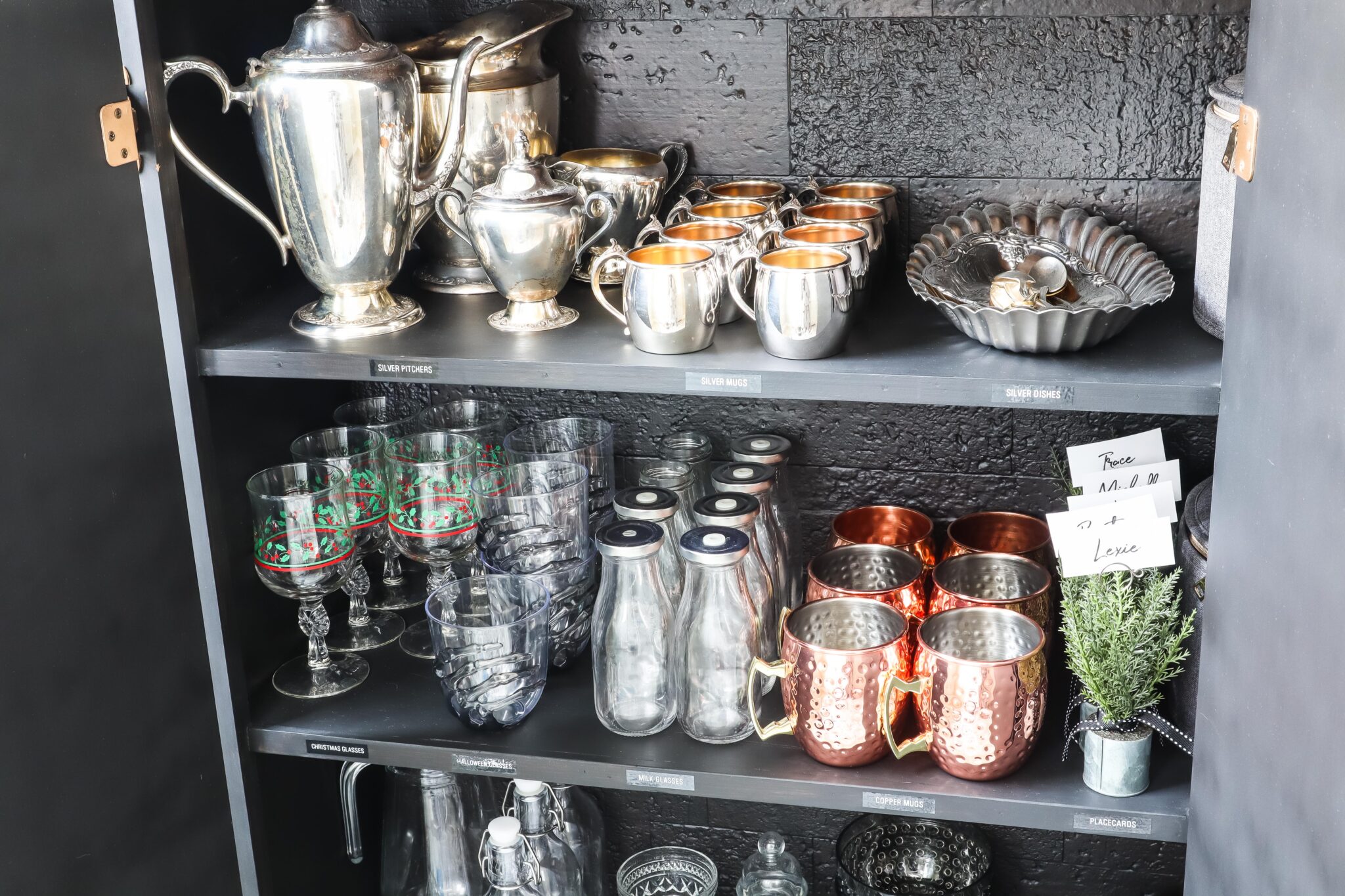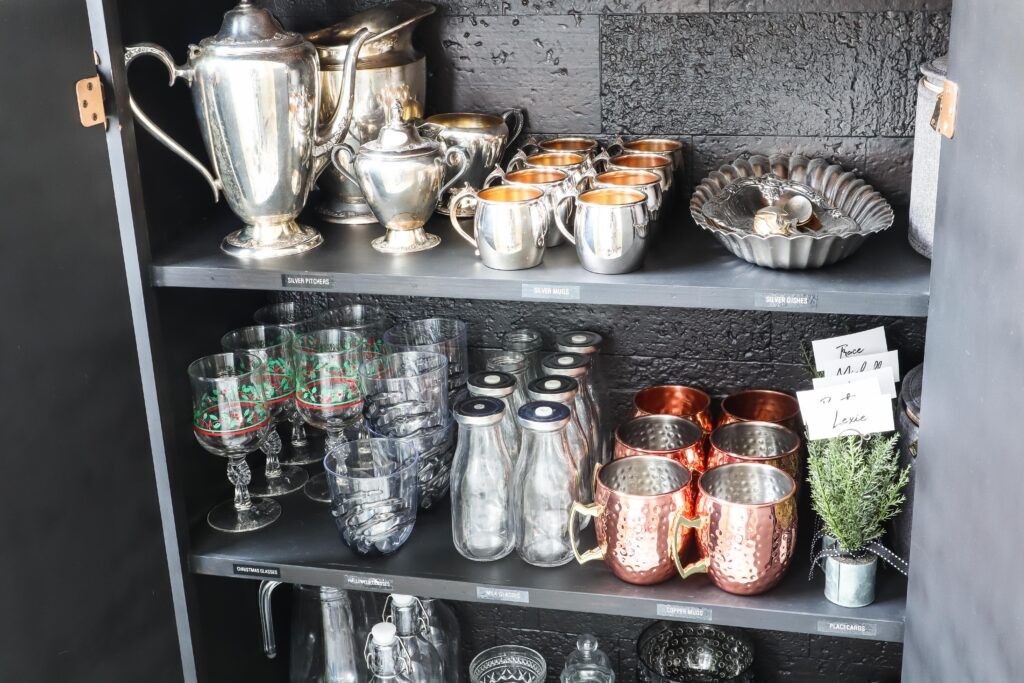 How to Organize Mugs
If you have a large mug collection, you might have struggled with finding enough cabinet space to store your favorite mugs without worrying about them breaking.
Here are our favorite ways to show off and organize all your mugs. One of these storage ideas should be the perfect solution for your house!
1. Display Mugs on Your Kitchen Wall
One of the best ways to organize your collection of mugs is to use any wall space in your kitchen. We have a few storage ideas when it comes to using the wall. Really, the options are endless.
Mug Storage Holder
One option for displaying mugs on your wall is by using a hanging mug rack. These racks come in all colors, shapes, and sizes, and it's an easy and beautiful way to show off your mug storage. It's functional and beautiful!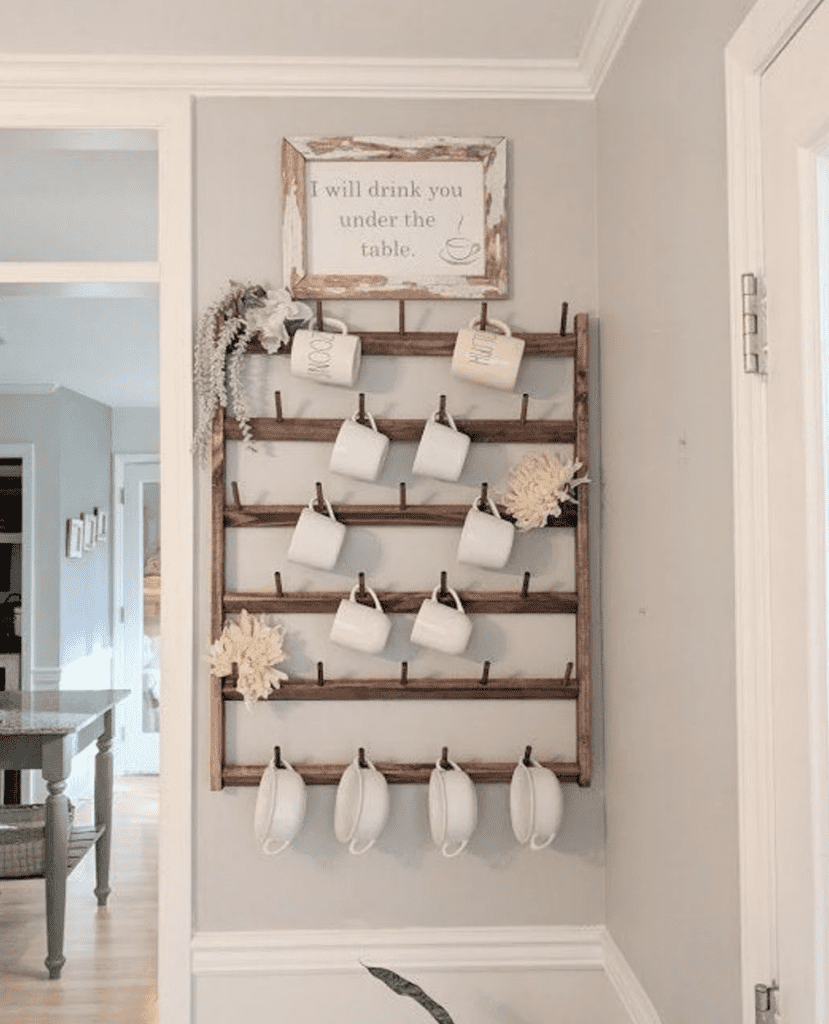 Check local stores or online for a hanging mug rack that will fit on your wall and style.
Pegboard Mug Holder
You can create a mug holder with a pegboard by attaching the pegboard to the wall and then attaching hooks. This is a great storage idea if you want to be able to see all your mugs at once and easily grab one when you need it.
Honestly, you could execute this idea in a lot of ways. I've seen people hang a nice piece of wood on the wall with nails sticking out that they use to hang their mugs. Making your own mug-hanging board is easy!
Use Rods and Hooks
Another way to organize your mug storage is to hang rods on the wall and add hooks. Just make sure the hooks you use can hold the weight of your mugs. This is a similar idea to the pegboard, but it's a little bit more polished looking.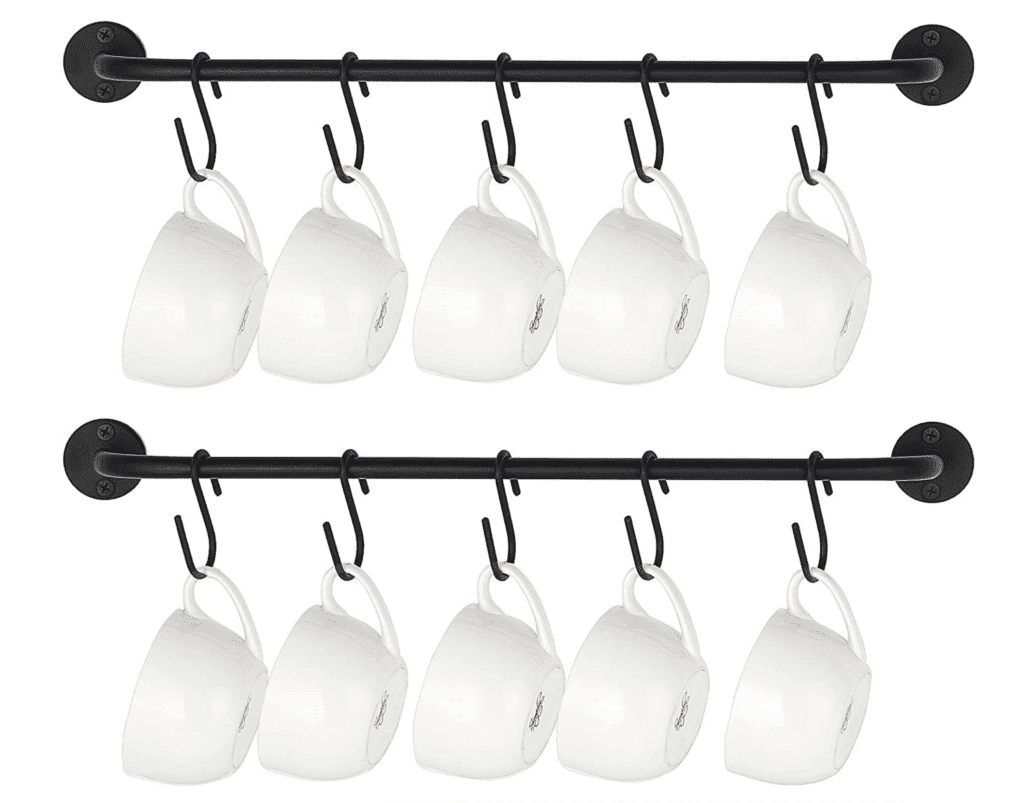 This is a great way to organize and store your mugs while it acts as home decor at the same time!

2. Use Hooks in Your Kitchen Cabinet to Hang Mugs
If you're not using the bottom of the shelves in your kitchen cabinets yet, what are you waiting for? It's time to take full advantage of that unused part of your kitchen cabinets!
One simple way to store all the mugs in your coffee mug cabinet is by installing hooks (or a dowel that you add S-hooks to) on the bottom of your cabinet shelves.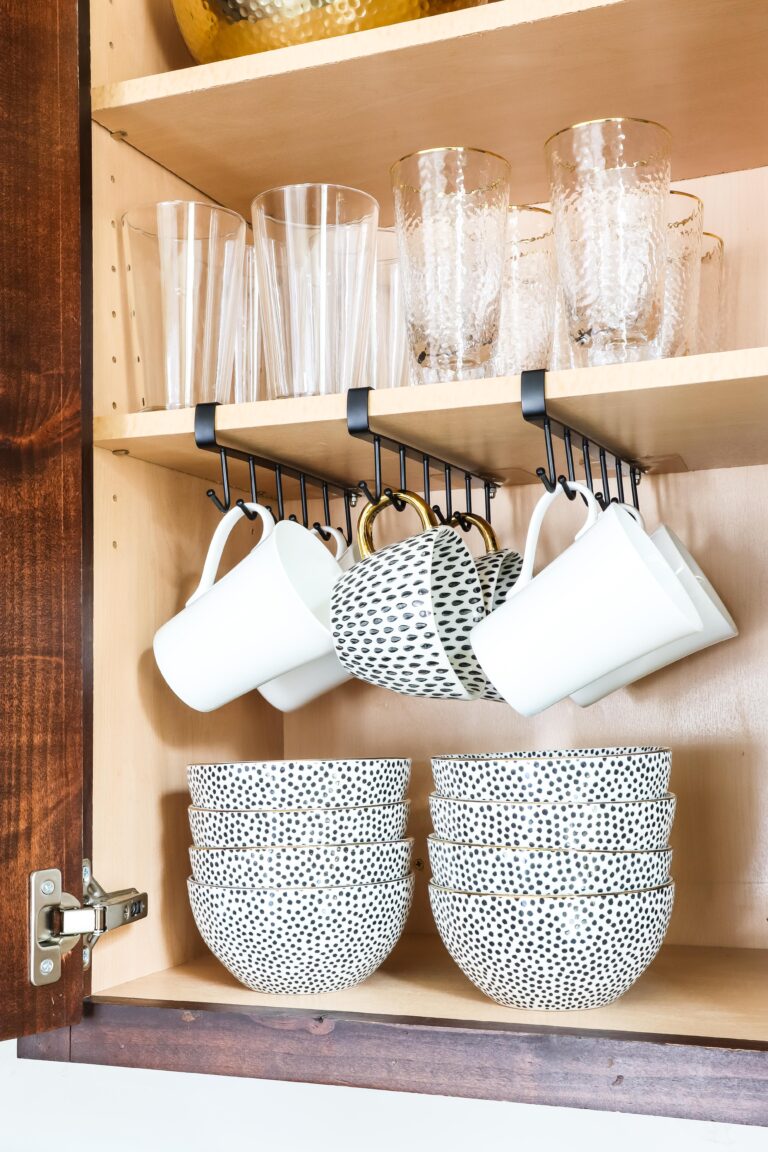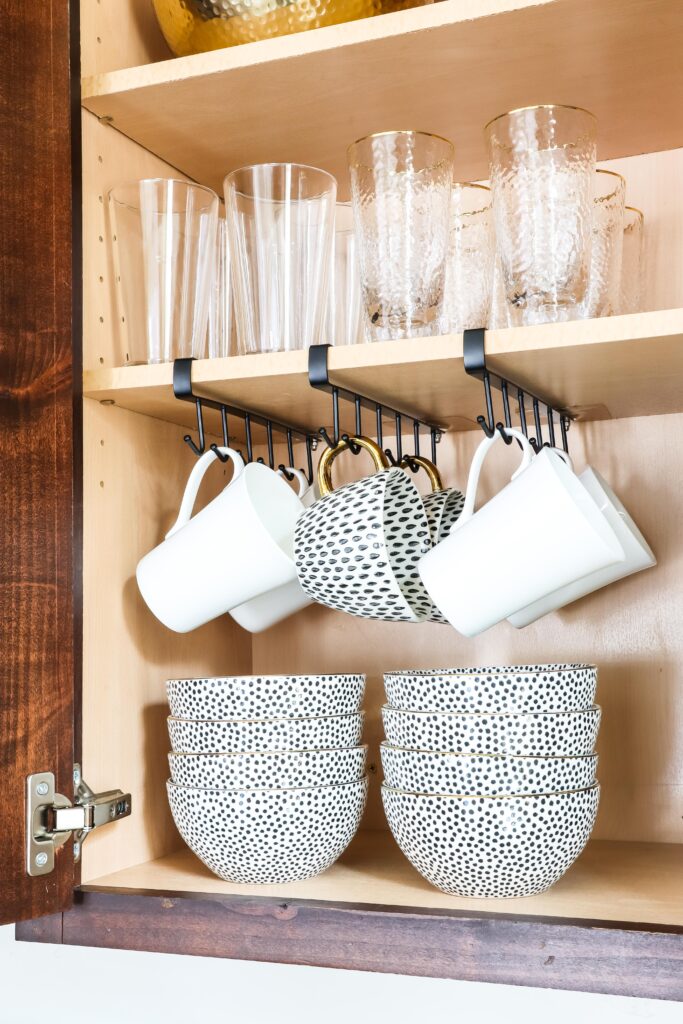 Once you install your hooks, you can use those hooks to hang all your mugs. This is a great way to take advantage of all that space in the back of your cabinets and it's a really easy way to grab a mug when you need one. If you want to get really fancy, you can use different hooks for different kinds of mugs (coffee mugs, tea cups, etc.).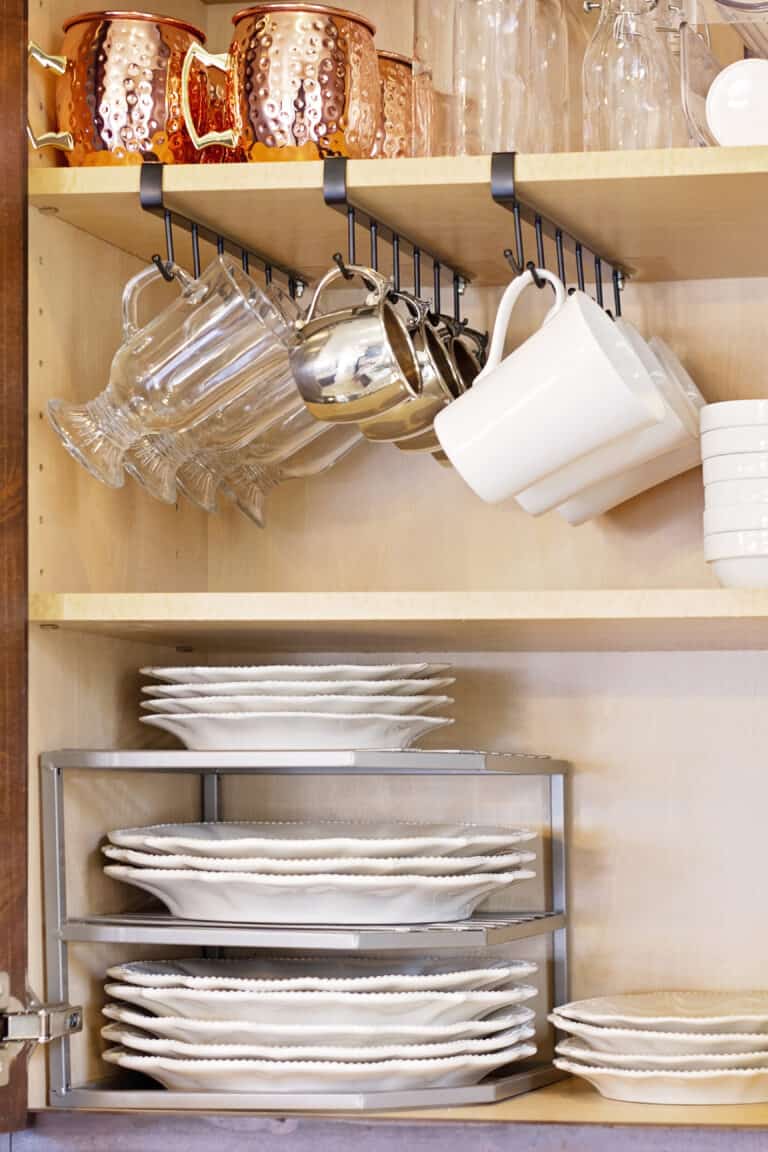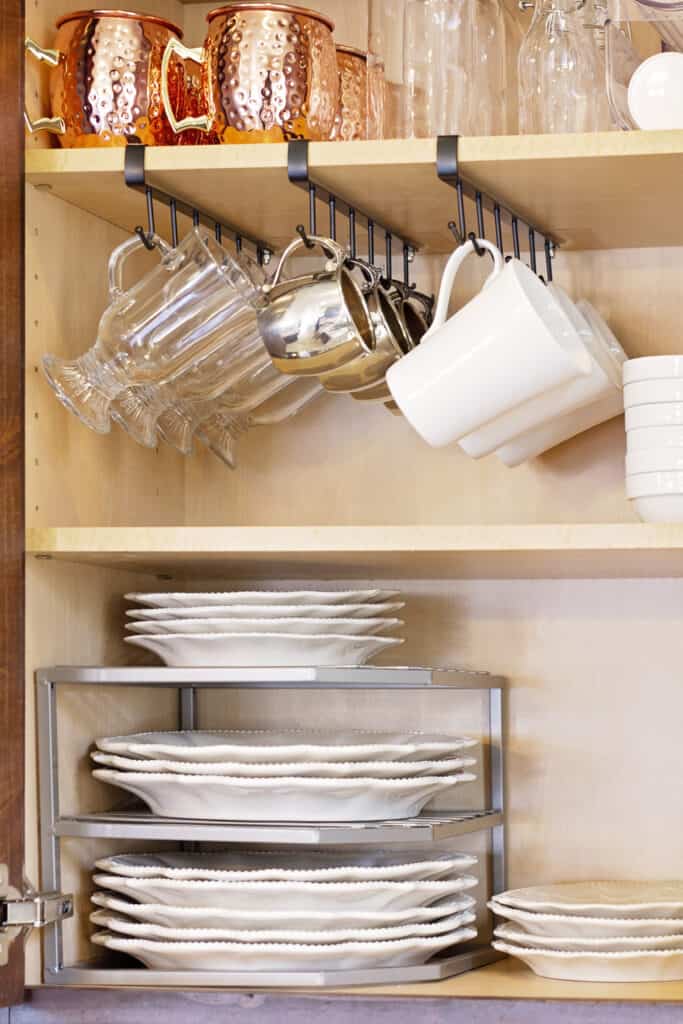 Or add pegs beneath your cabinets!
If you have enough room beneath your kitchen cabinet, you can hang pegs (just hang a pegboard on the wall beneath your kitchen cabinet) to store mugs on your wall.
This idea makes sense if you have a collection you'd like people to see. So if you want to show off your collection of mugs, then this will work better for you than hanging your mugs inside your cabinet.

3. Add Shelf Risers to Your Shelves
If you don't want to store mugs on S-hooks hanging from the bottom of your shelves (or you're unable to add hooks to your cabinet for one reason or another), you can still use that vertical space on the shelves in your cabinets.
By adding shelf risers to your shelves, you can create more space to store things. This way, you don't need to stack your mugs, but you're still using all the space in your cabinet. Plus, it's a great way to show off your mug collection and make it easy to grab the one you want.
There are all sorts of different shelf risers available, so you can find ones that fit your style and needs. You can also DIY shelf risers if you're feeling crafty!
4. Make a Coffee Station
Another place to organize mugs is on a coffee station (or tea station, hot chocolate station – whatever you prefer drinking).
If part of your morning routine is a warm beverage, making a small coffee station or coffee bar for your mugs will help your mug storage while making it easier in the morning.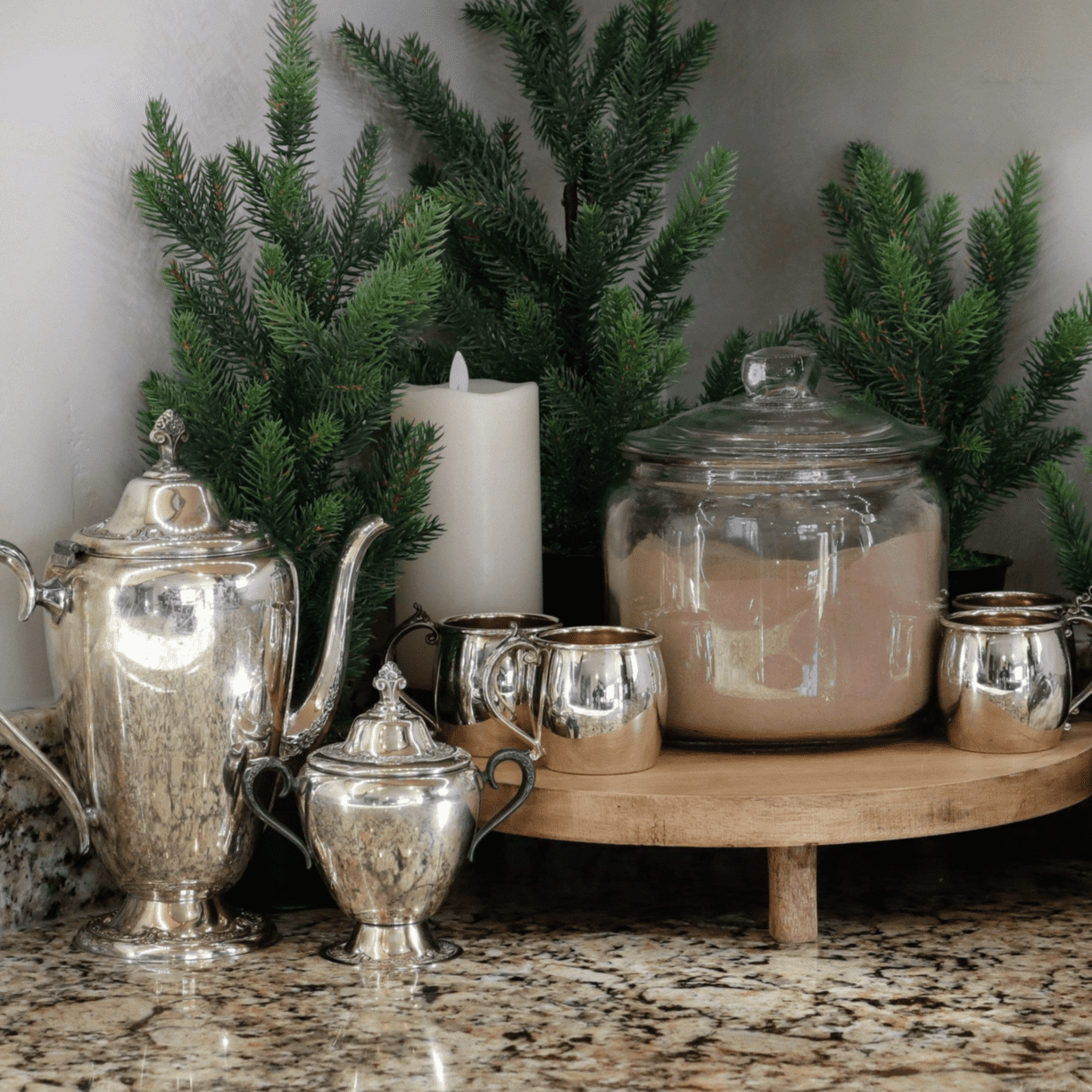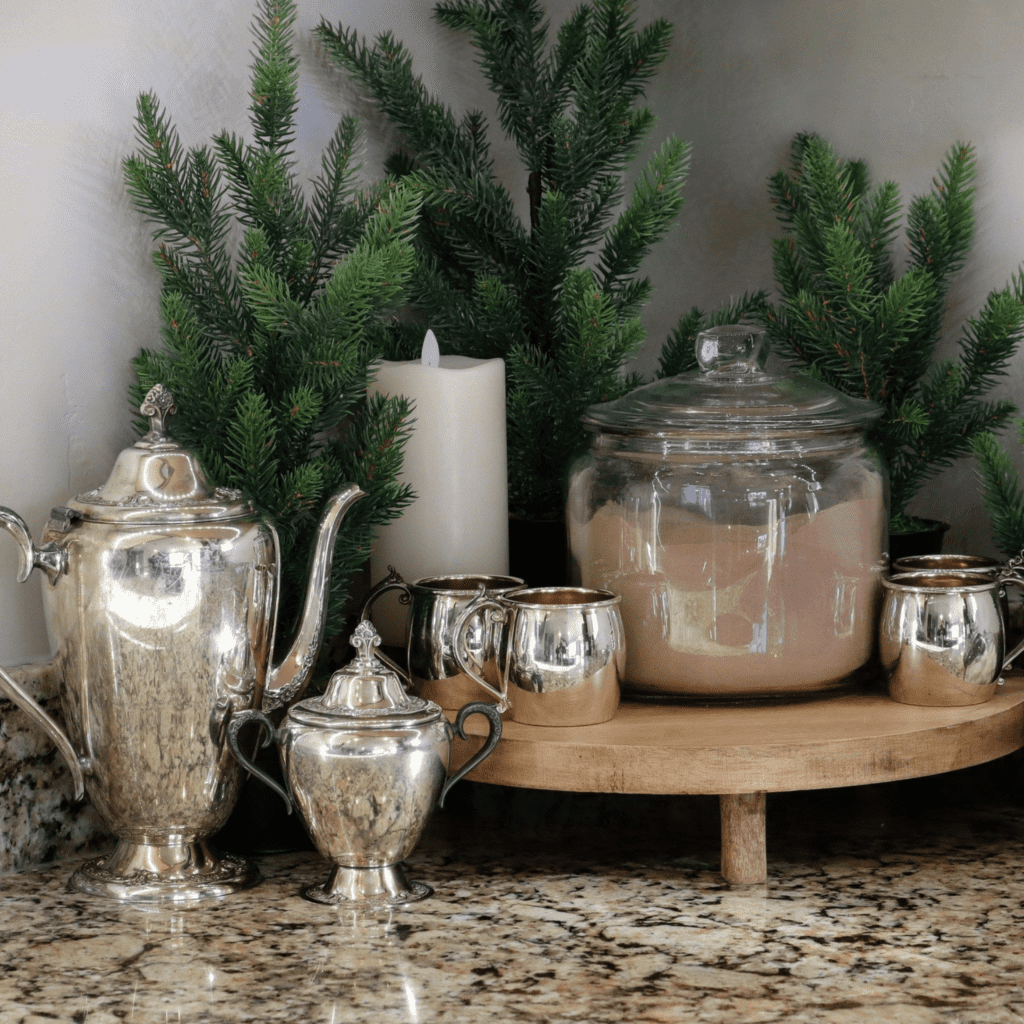 If you don't have a coffee bar area in your home, get a little cart and add your coffee mugs, a coffee maker, a wire basket with tea bags and coffee supplies, and other tea or coffee essentials.
This is a great way to store and organize your collection of mugs in a cute way while also making your morning pick-me-up easy and fast.
Better than Hot Cocoa? Absolutely!
Perk Energy
I am completely and utterly obsessed with Perk Energy. I drink it for sure EVERY day and the flavors are beyond incredible! My personal faves are the Peach Crisp Cake, Eggnog, and Caramel Apple Pie A' la mode. I love how it's actually healthy for you! It contains collagen, BCAA's, and other awesome ingredients like grape seed extract! Use the code MichelleHansen for 15% off your order!
5. Get Cubby Shelves
Another way to organize your mugs is with cubby shelves. You can use these as decorative mug storage in your kitchen or dining room.
Get a few sets of cubby shelves and arrange them how you want. Then start adding in your mugs. You can even add some greenery or other decorations to really make the space look beautiful.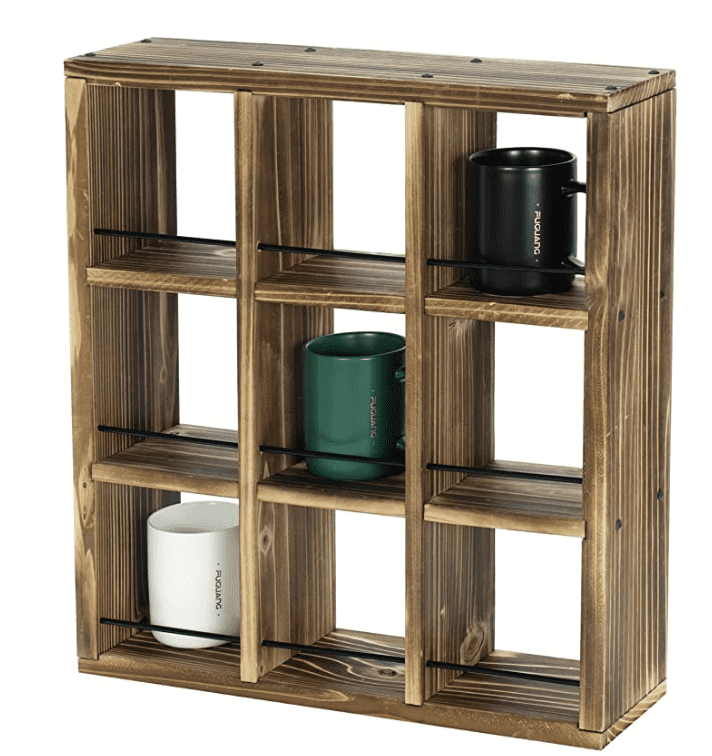 With cubby shelves, it's easy to create organized and easily accessible mug storage. Just keep in mind that if you have small children, they'll be able to easily grab your mugs as well, so this storage idea works better if you don't have children or if they're old enough to realize your mugs are breakable.
6. Show Off Your Favorite Mugs
Do you have a few mugs that you love more than others? Maybe you have some special mugs that you want to display, but you don't care to have all your old mugs out for all to see.
If that's the case, you can do a combination of the storage ideas we've already covered. You can choose the ways to organize your extra mugs while displaying your favorite mug or two. (Or three… or four… it's fine, we aren't judging.)
Install Floating Shelves
One great idea is to store and display any special mugs you have on a floating shelf.
Hang a floating shelf on your kitchen wall and style it with a few of your prettiest mugs. You can create an adorable mug display this way!
If you have themed mugs, this can also be a great way to decorate your house for the holidays. Like if you have any holiday mugs, you can break out those Christmas or Halloween mugs around the corresponding holidays. It's a great way to make your house a bit more festive while using your collection of mugs.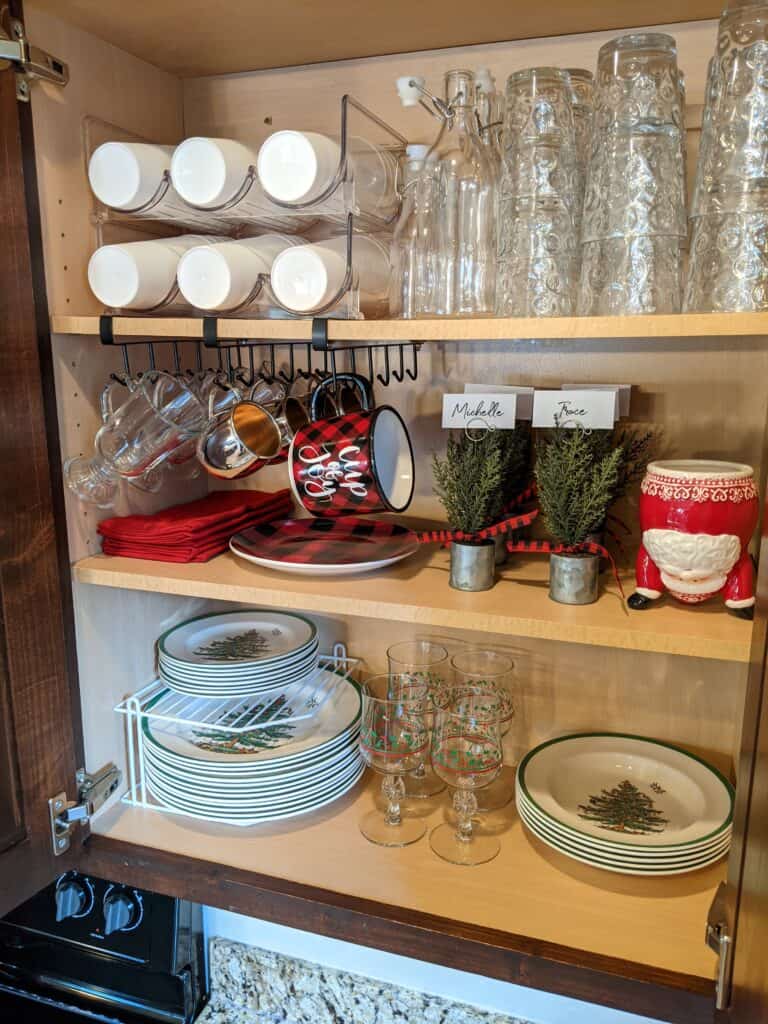 Also, if you have lots of mugs in your collection that you want to display but you don't want to overwhelm your kitchen with a million mugs, you can just switch out the mugs on display with some from your mug storage every few weeks or months.

7. Storing Mugs in a Cabinet by Stacking Them
Sometimes you don't even need a fancy storage solution to organize your mugs! This is especially simple if your mugs come with small plates to place underneath the mugs. One of the simplest (and most beautiful) ways I've seen to store mugs is by Nikki!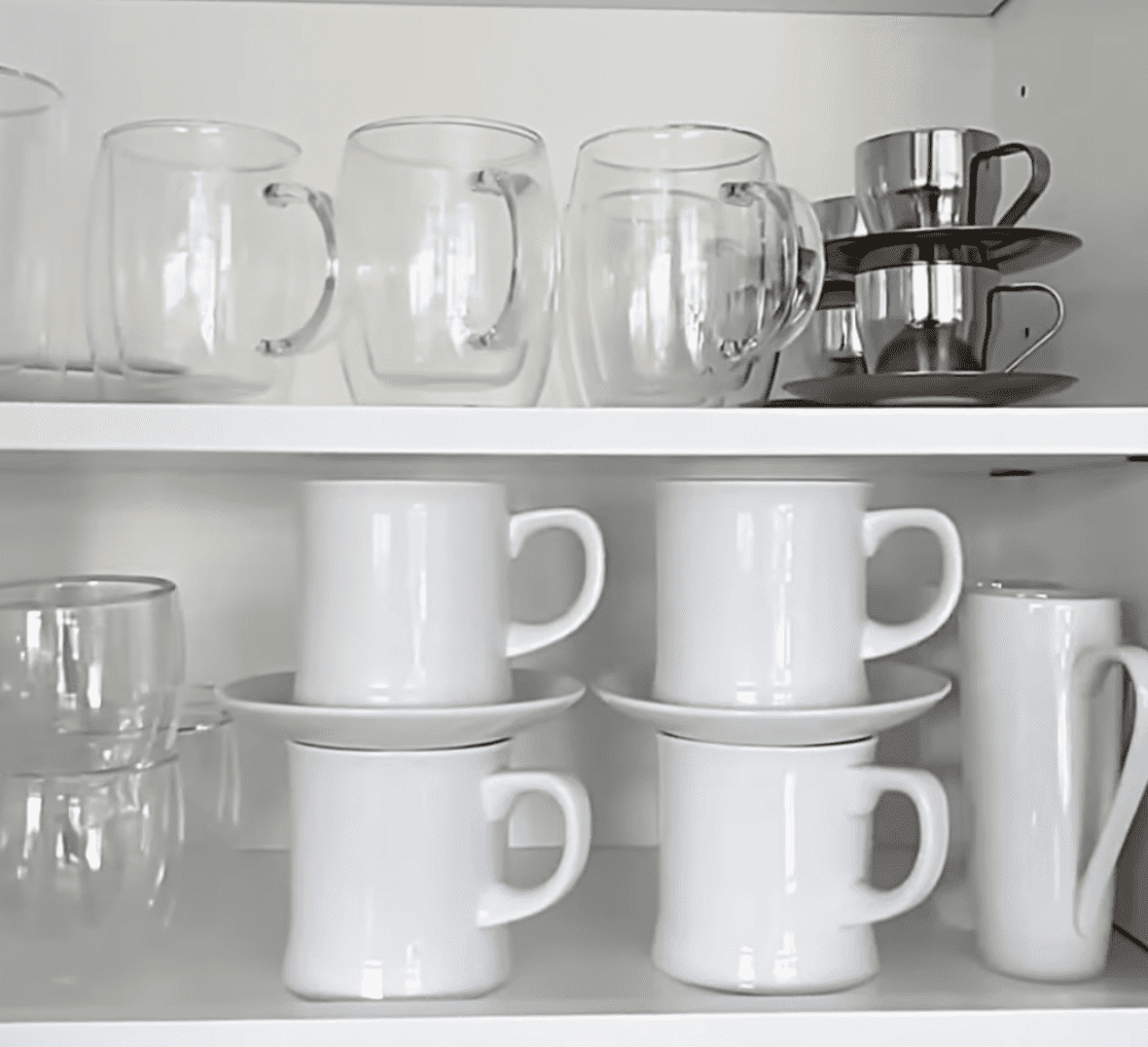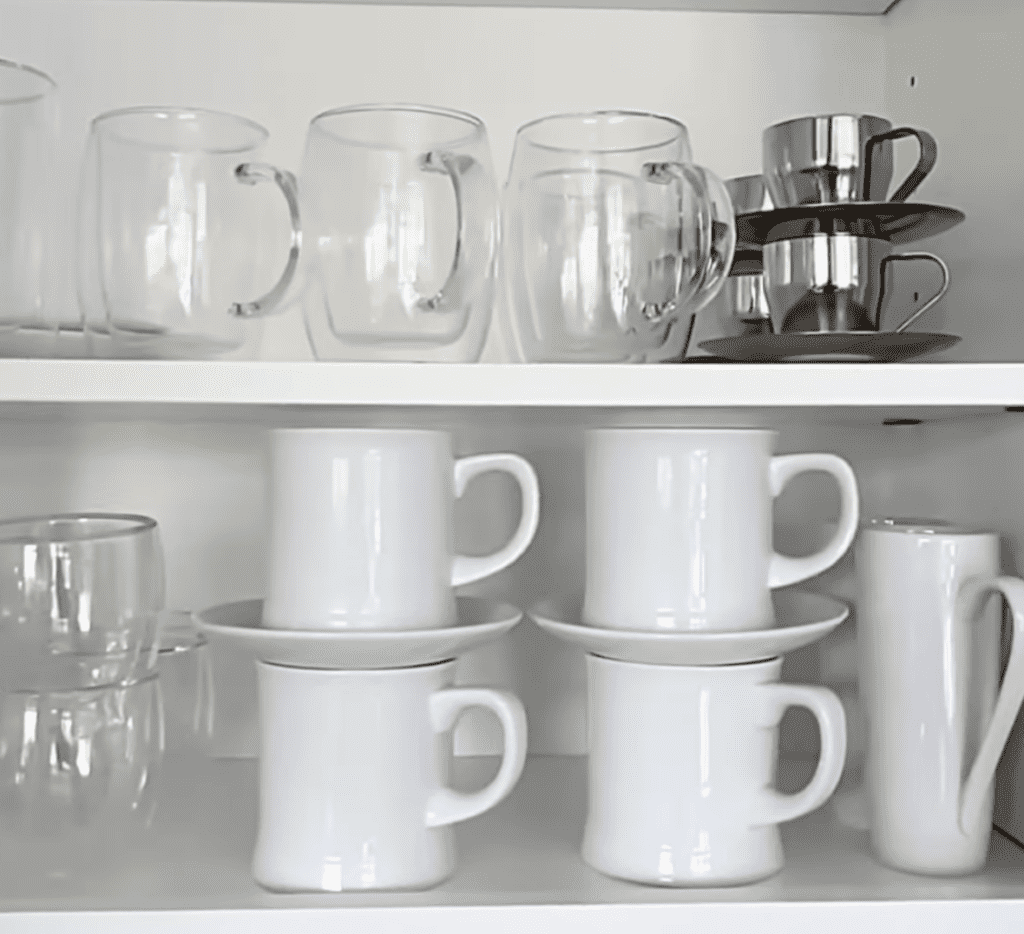 8. Using a Traditional Mug Tree to Store Mugs on the Counter
If you aren't opposed to keeping your mugs out on your kitchen counter, then a traditional mug tree may be a great solution for you!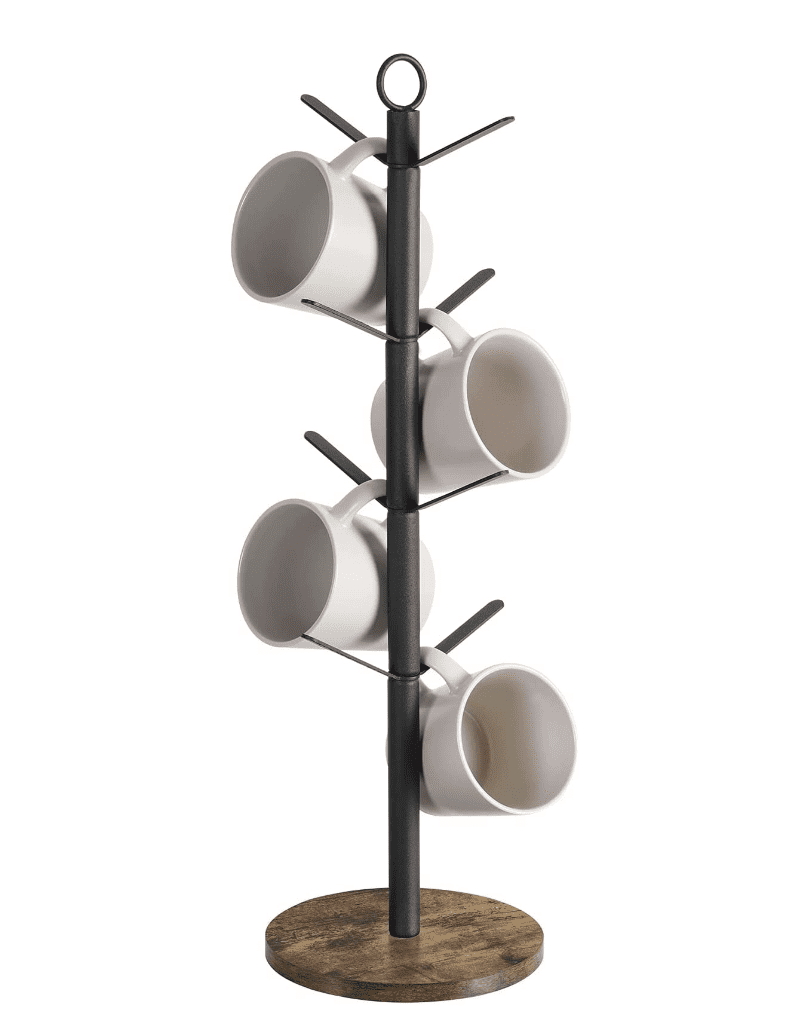 9. Organizing and Storing Seasonal or Special Occasion Mugs
You may have mugs that you only use at certain times of the year, or for special occasions. Heirloom dishes such as china, or even holiday mugs need to be stored away safely so they stay clean and in one piece.
Organizing your mugs in a mug storage box is one of my favorite ways to keep my most special mugs safe until I'm ready to pull them out for a special occasion.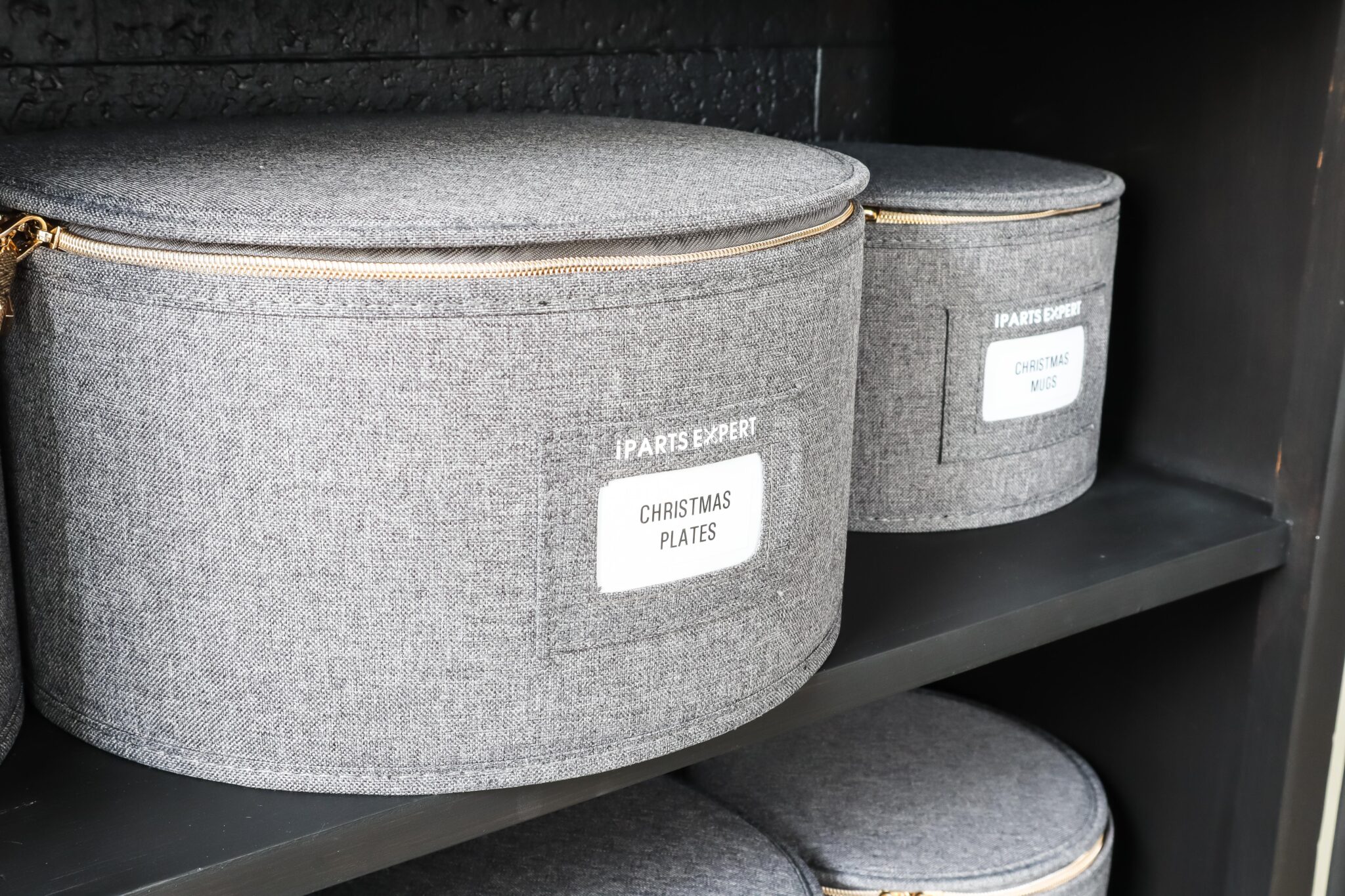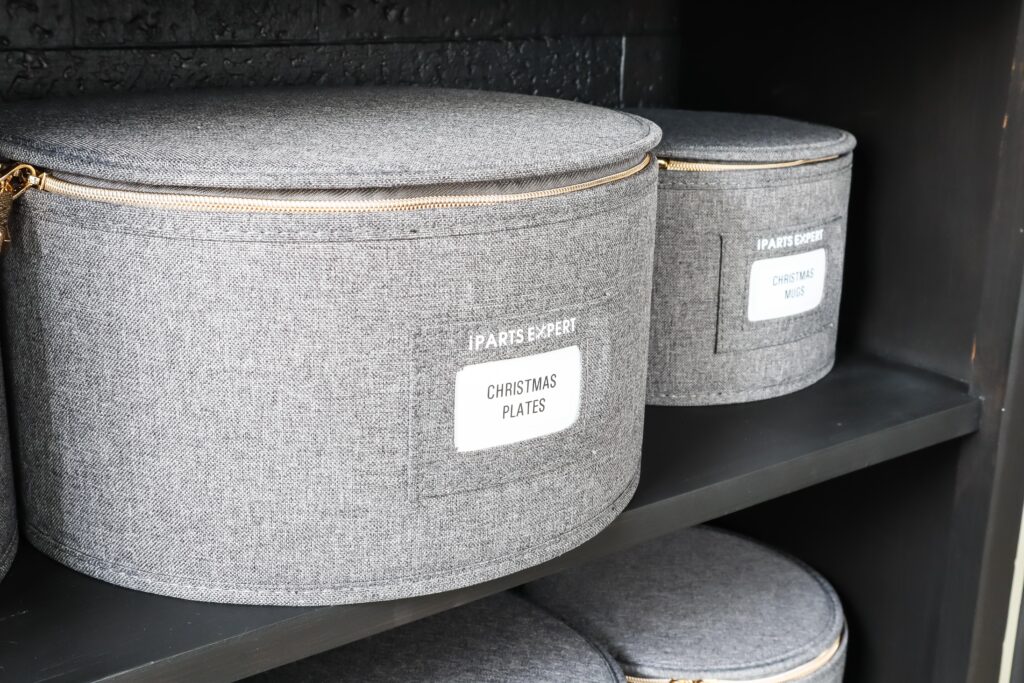 I have some Spode Christmas Tree dishes and mugs from my Great Grandma that are really special to me. I want to store them safely and carefully to preserve her memory now that she's gone.
Storage Options for Your Mug Collection
These storage ideas for your mug storage will help you keep your mugs organized, safe, and easy to access.
If you have the space on your wall, displaying your mug storage can be a great way to add to the coziness and decor of your home. And if you prefer hiding your mugs in the cabinet, there are several storage ideas that you can use as well.
Your mug storage no longer needs to be a beautiful mess! And maybe while you're organizing your mug storage, you'll find you have the space for even more mugs.
You can never have too many mugs, right?