How to Maximize Space in Your Pantry with Shelving
For most people, the pantry is one of the busiest places in the home. It's where you store all of your food and pantry items, so it's important to make sure it's organized.
One of the best ways to do that is by using shelving. Shelving can help you maximize space in your pantry, no matter how big or small it is.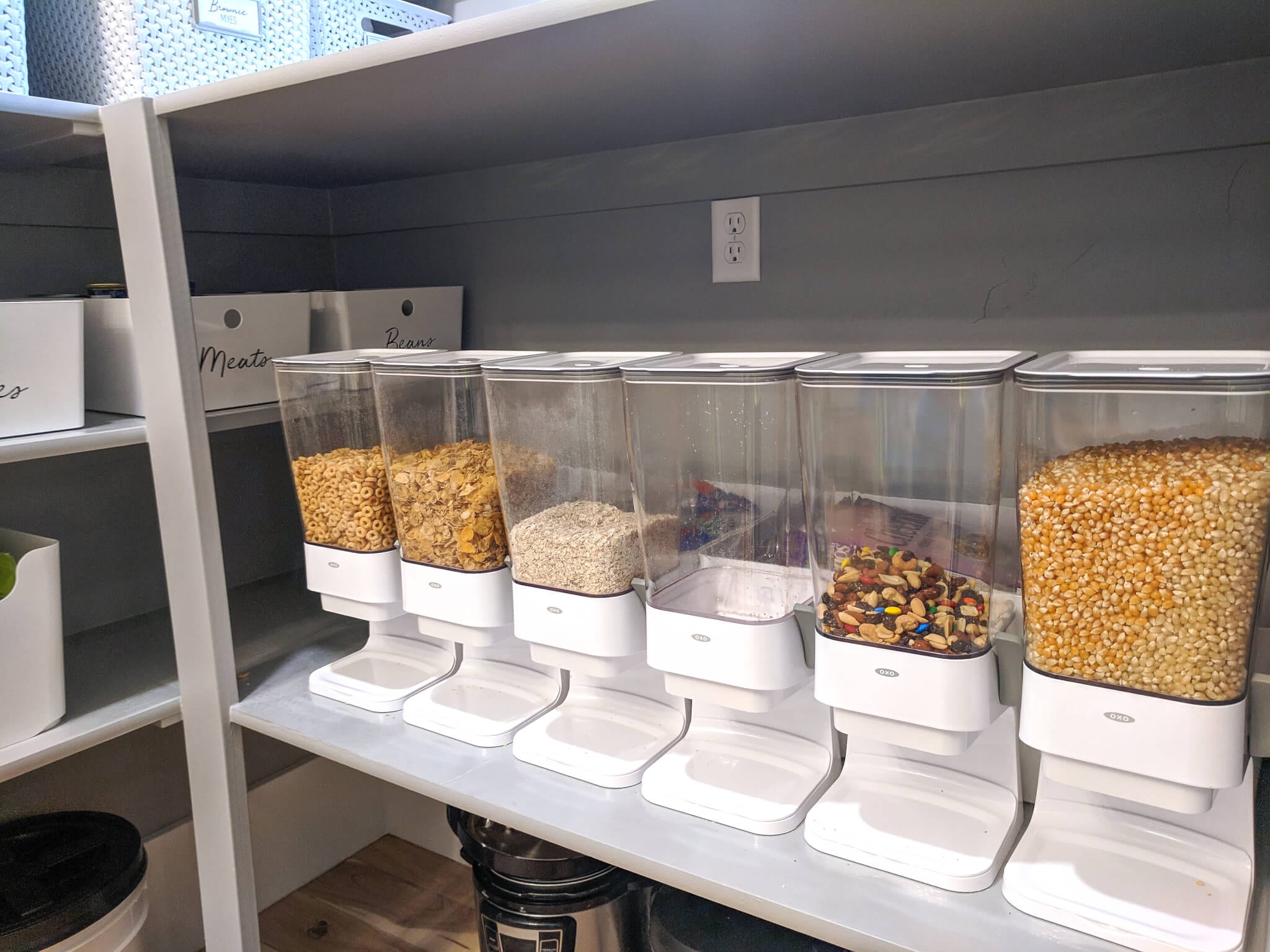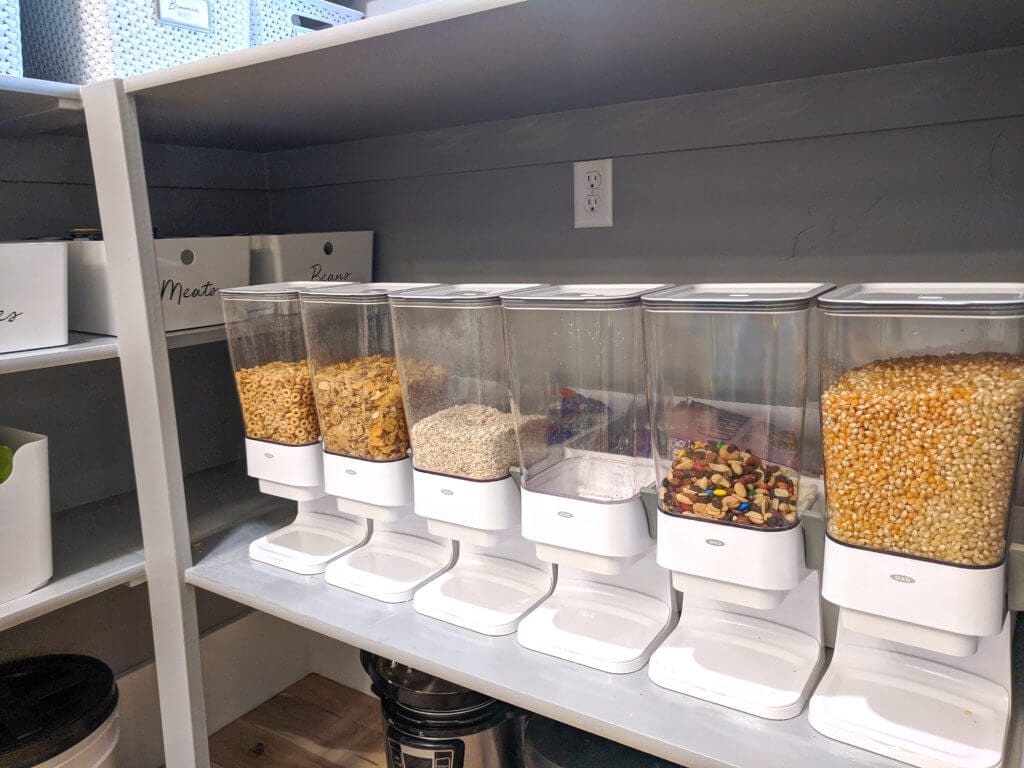 In this post, we will give you some pantry shelving ideas to help you decide how to use your pantry shelving to its fullest while keeping things organized and maximizing space.

Pantry Shelving Ideas for Pantry Organization
Pantries are a super important space in your home. Because you use your pantry to store food, you and your family are probably in there every single day. That makes it important to keep it organized so you can find just what you need in your food storage.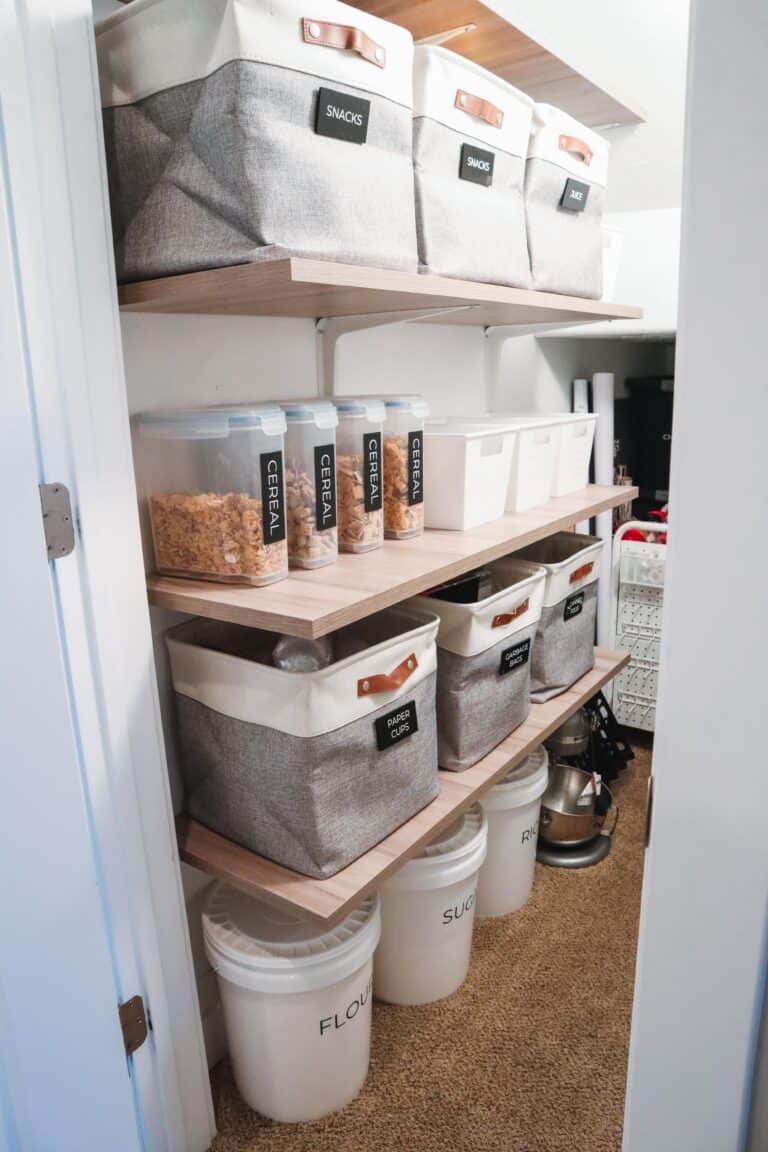 There are lots of ways to keep the storage area in your pantry organized, but one easy way is by having proper pantry shelving to store all of your pantry items. No matter how big or small your pantry is, there are shelving solutions out there to help you maximize space and keep things tidy.
Pantry Organization Faves
Here are some of my very favorite pantry organization solutions that you'll love:
Pantry Shelving Ideas to Maximize Space
Use corner shelving.
One good way to maximize space is through corner pantry shelving. A few corner pantry shelving ideas include using wire shelves, wooden shelves, or even glass shelves. This is a great way to make use of all the space in your pantry and get those items off the floor.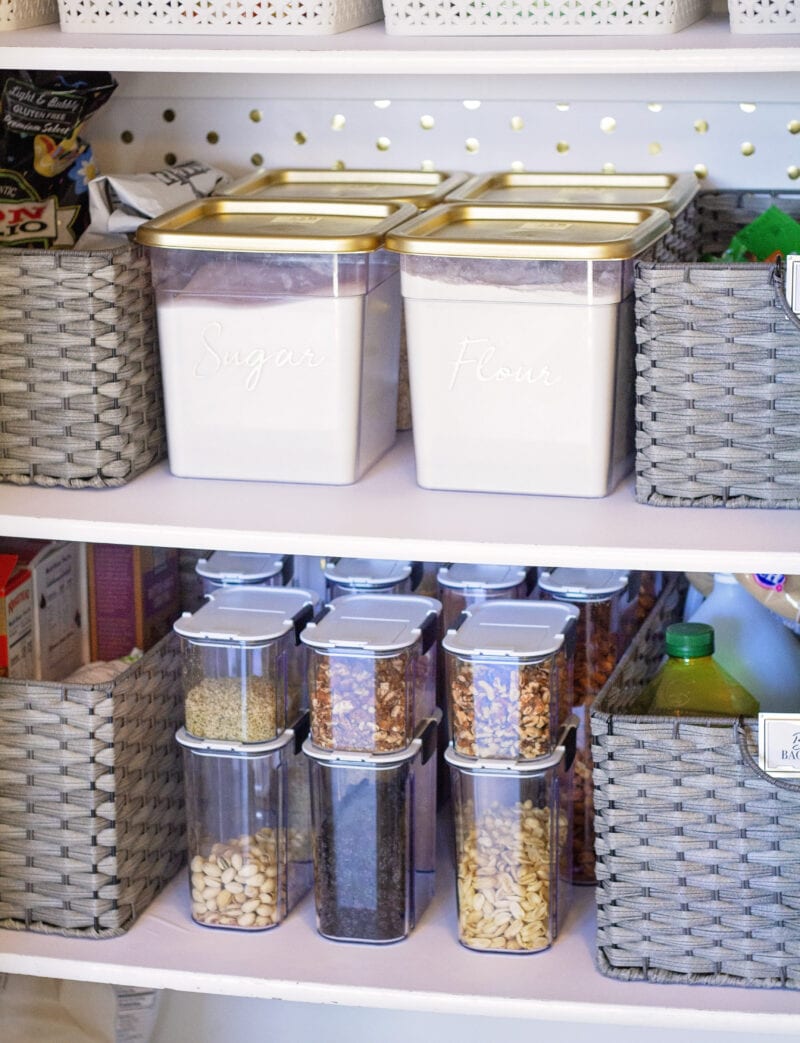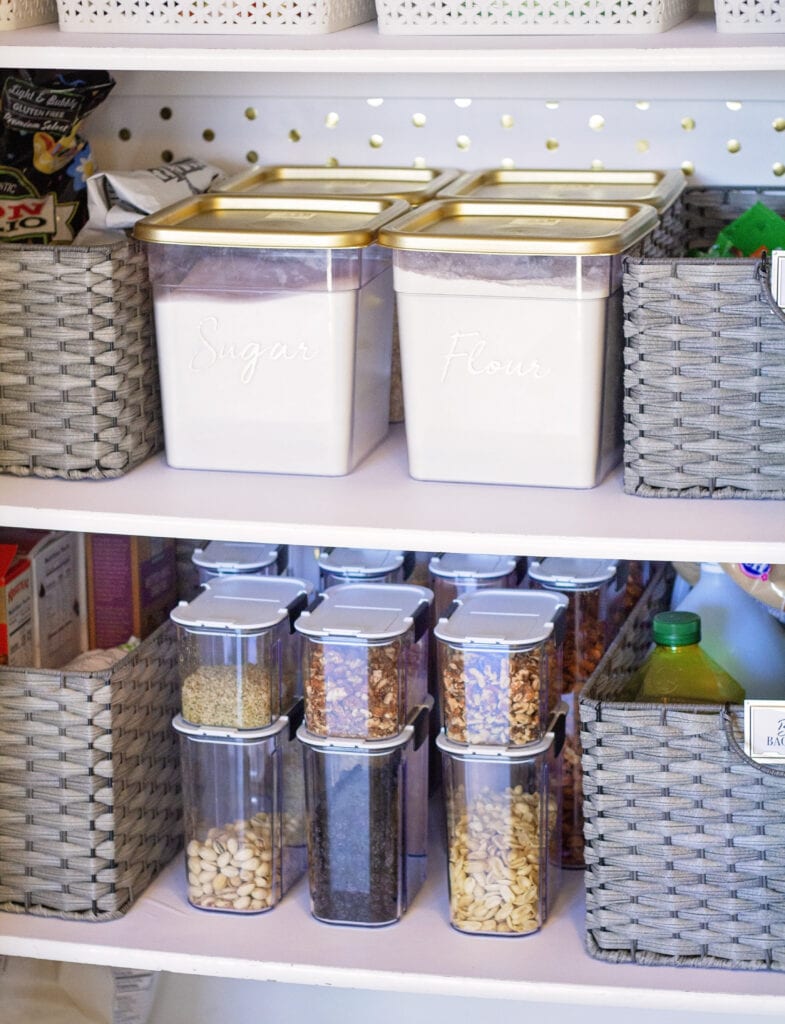 Find floating shelves or custom pantry shelving to bring your corner pantry shelving ideas to life and make use of that odd space.
Hang things on the walls.
Another good pantry shelving idea is to use wall space. This is a great way to reduce wasted space. You can invest in some wall-mounted baskets or install extra storage shelves.
Wall pantry shelving ideas can help you make use of every square inch in your pantry. Use hanging racks like a wire rack that can fit in small pantry areas. You can also install hooks to hang brooms, utensils, reusable shopping bags, and other items.
Installing a hook to hold your broom in the narrow space behind your door is a great way to maximize the little space you can find in your kitchen pantry.

Use under-shelf baskets.
Another great way to give yourself more storage space is to use under-shelf baskets. These are great for holding things like spices, snacks, or other small items.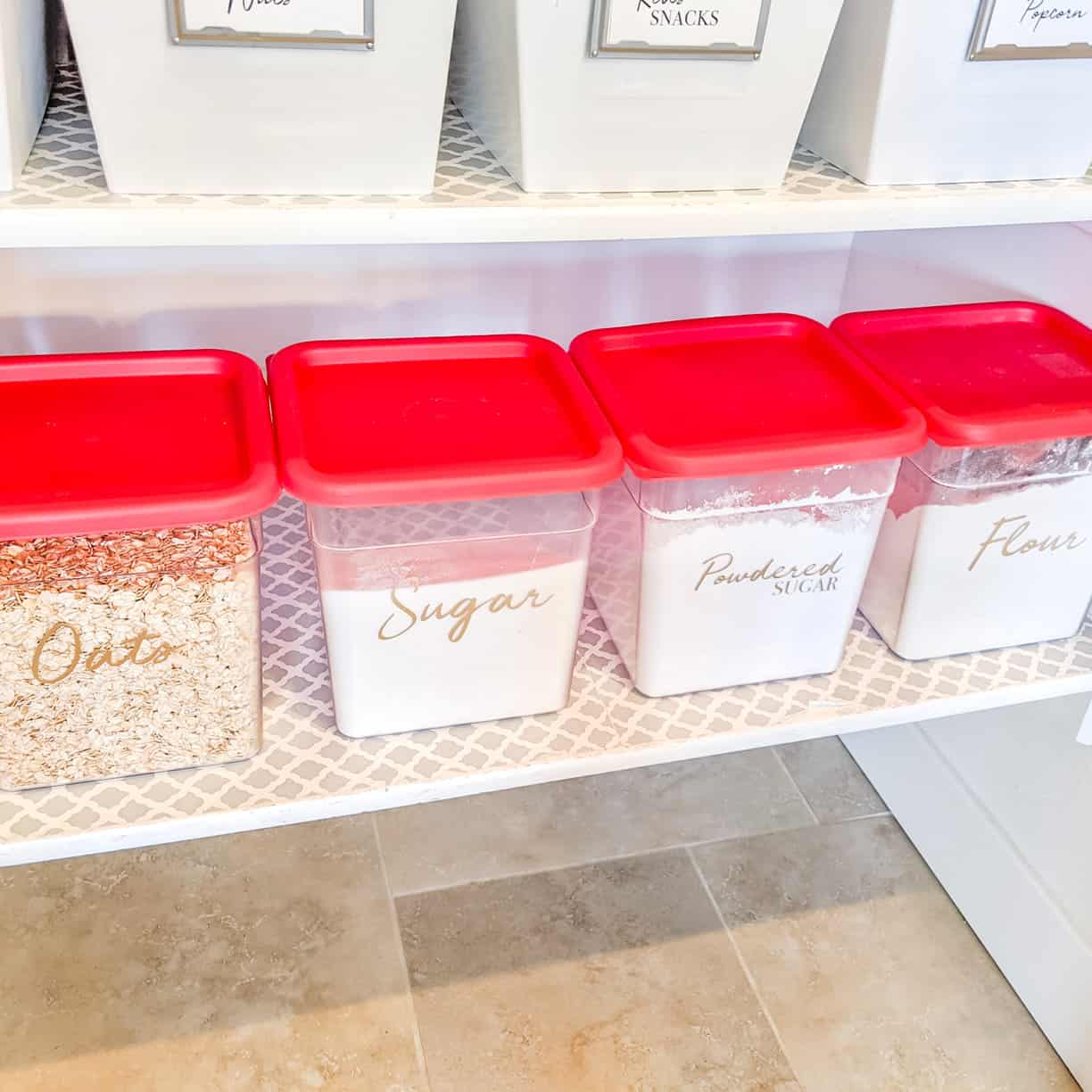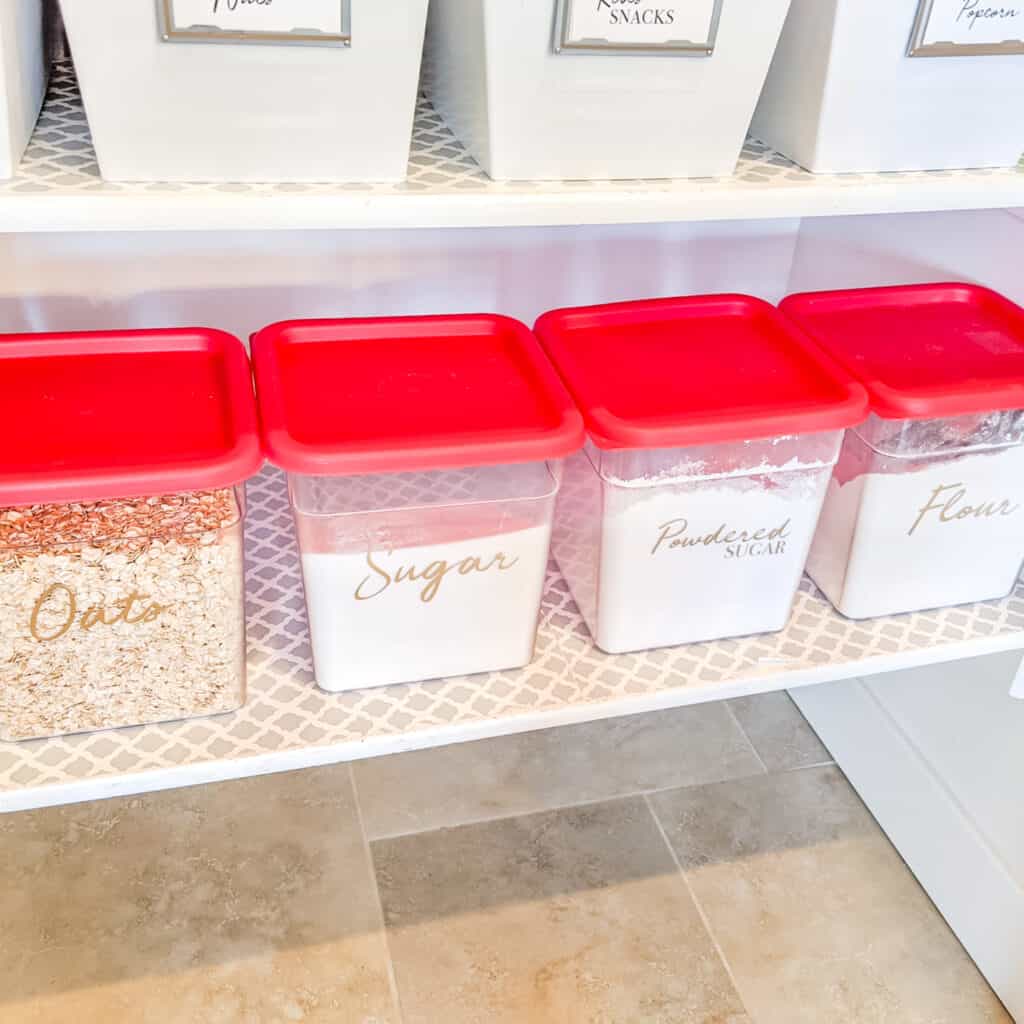 You can find these baskets at most home goods stores or online.
Invest in some clear storage containers.
Clear storage containers are a great way to see what you have and keep things organized. They come in all different shapes and sizes.

Large Pantry Shelving Ideas
If you have a large walk-in pantry with a lot of open shelves, it might seem easy to create the perfect pantry. However, even with a lot of space in your pantry, it's easy to get disorganized. Even with a lot of pantry shelves, pantry organization can be a challenge.
Convert a deep pantry into wraparound shelving.
If you have deep shelves in your pantry that make it hard to grab certain items or force you to stack lots of things in front of each other, consider converting that space into wraparound shelves instead.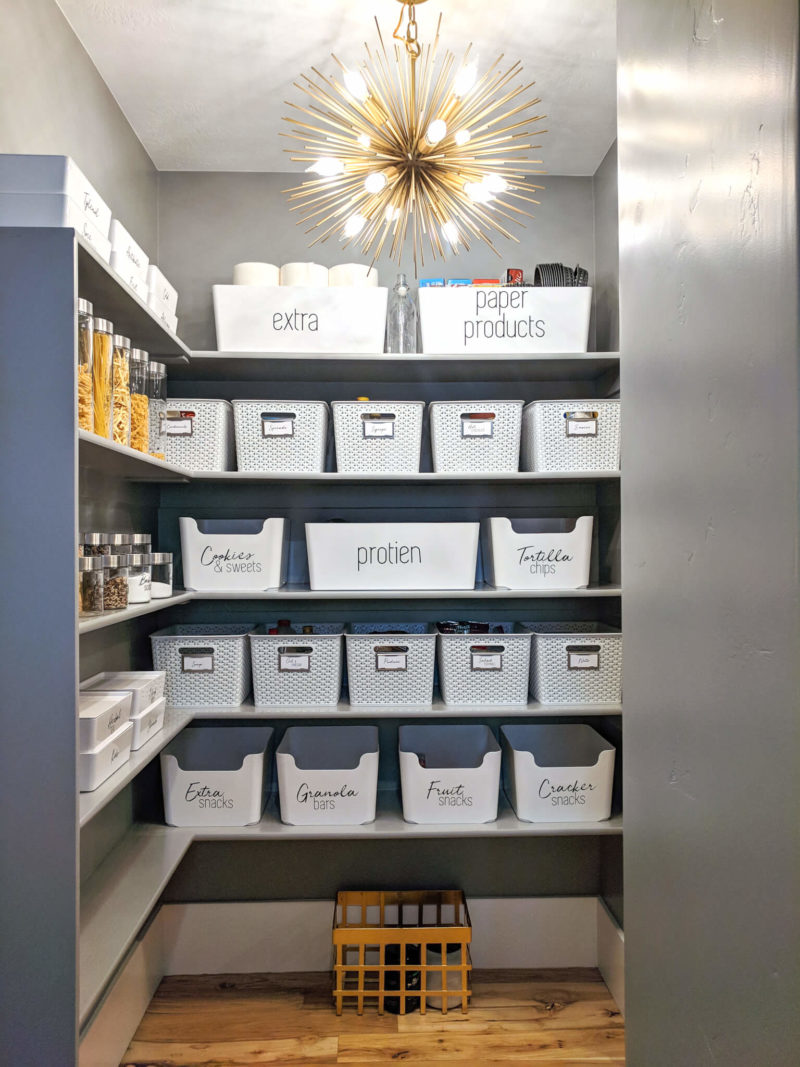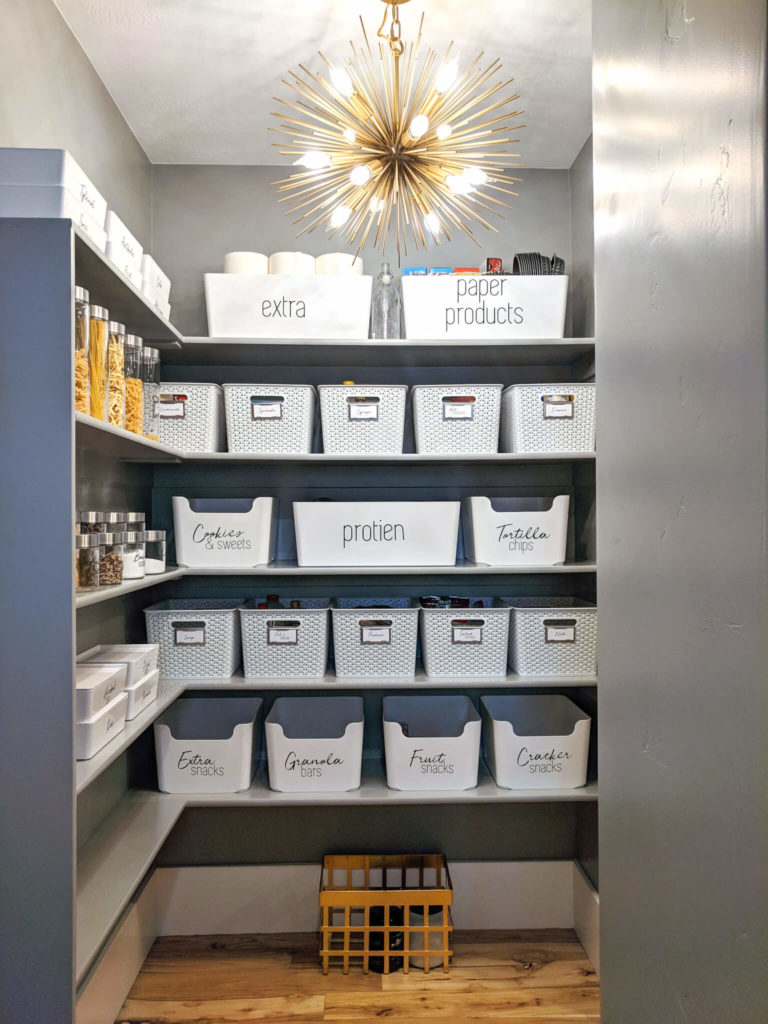 Wraparound shelves can help your deep pantry feel more open and make it easier to grab what you need. It will help reduce the visual clutter on your open shelving.
Use plastic bins to group items.
If you have a lot of space on your kitchen pantry shelves, using storage containers to group items can help you stay organized. Choose bins that will fit on your shelves and I like to stay consistent with the type of storage containers I use, just to give my pantry a nice uniform look.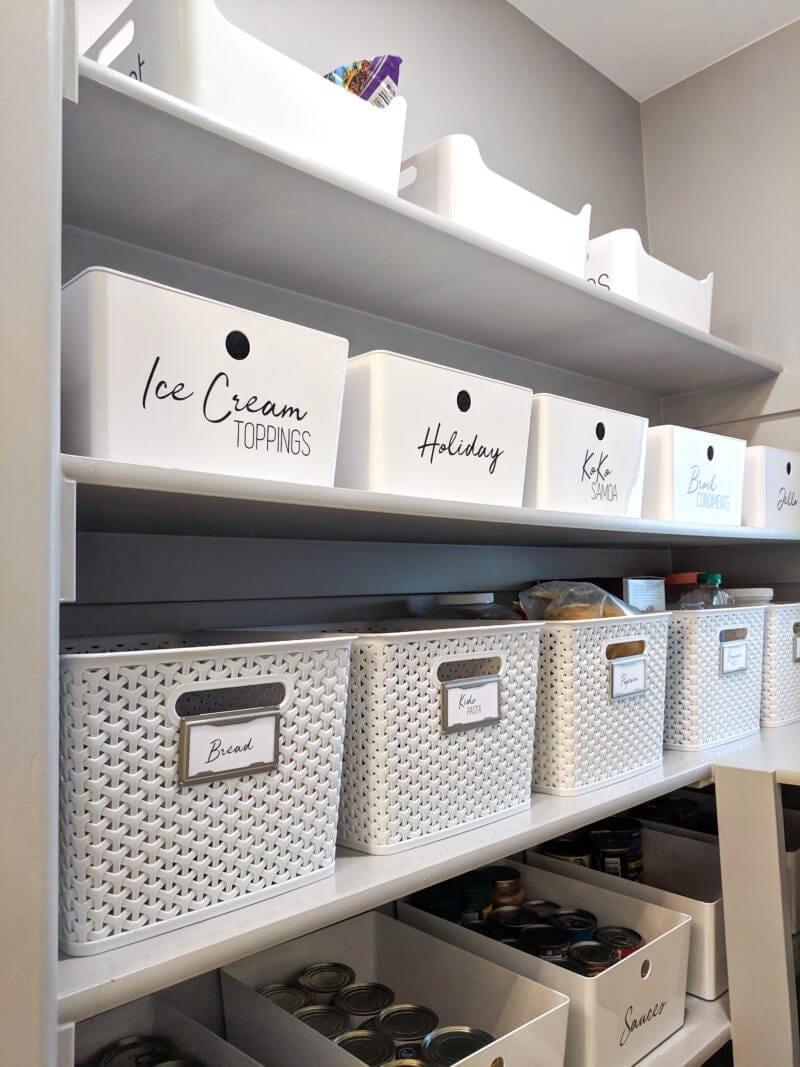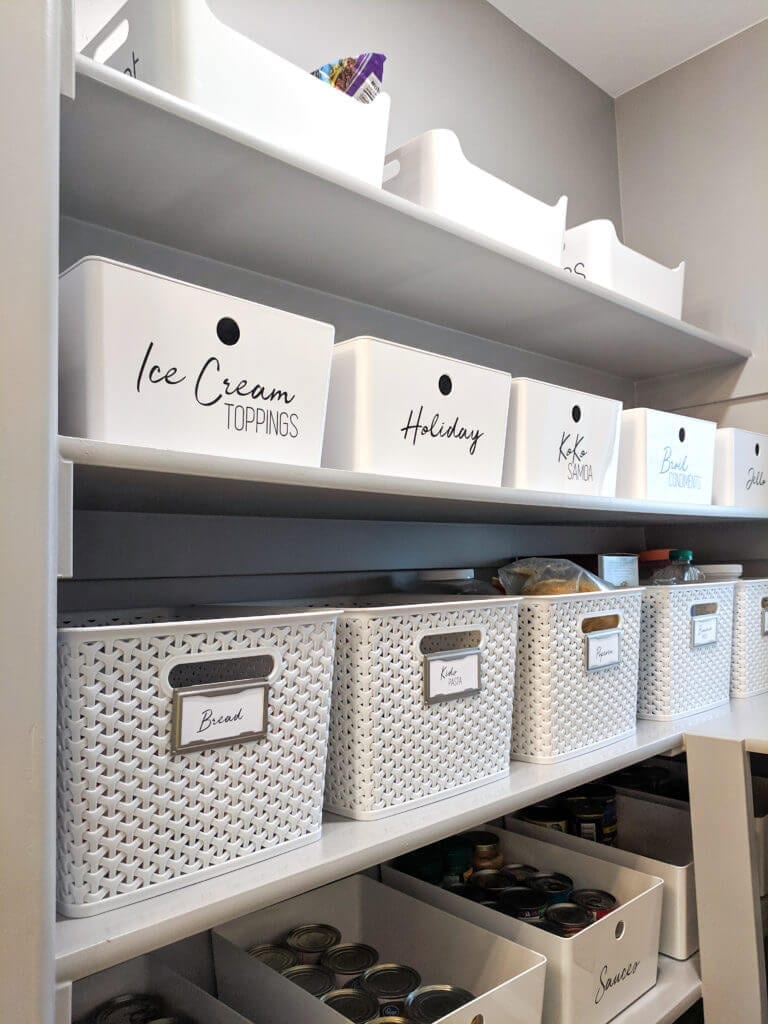 You can use clear plastic bins to store pantry staples like flour, sugar, and pasta. Label the bins so you always know what's inside. You can also use baskets to group smaller items or items that you use together often.
Add baskets to your open pantry.
If you have a large, open pantry storage area, use baskets on the shelves to keep things organized. Baskets are great for grouping items together and they make it easy to grab what you need without having to search through everything. For example, you could have a basket for baking supplies or a basket for snacks.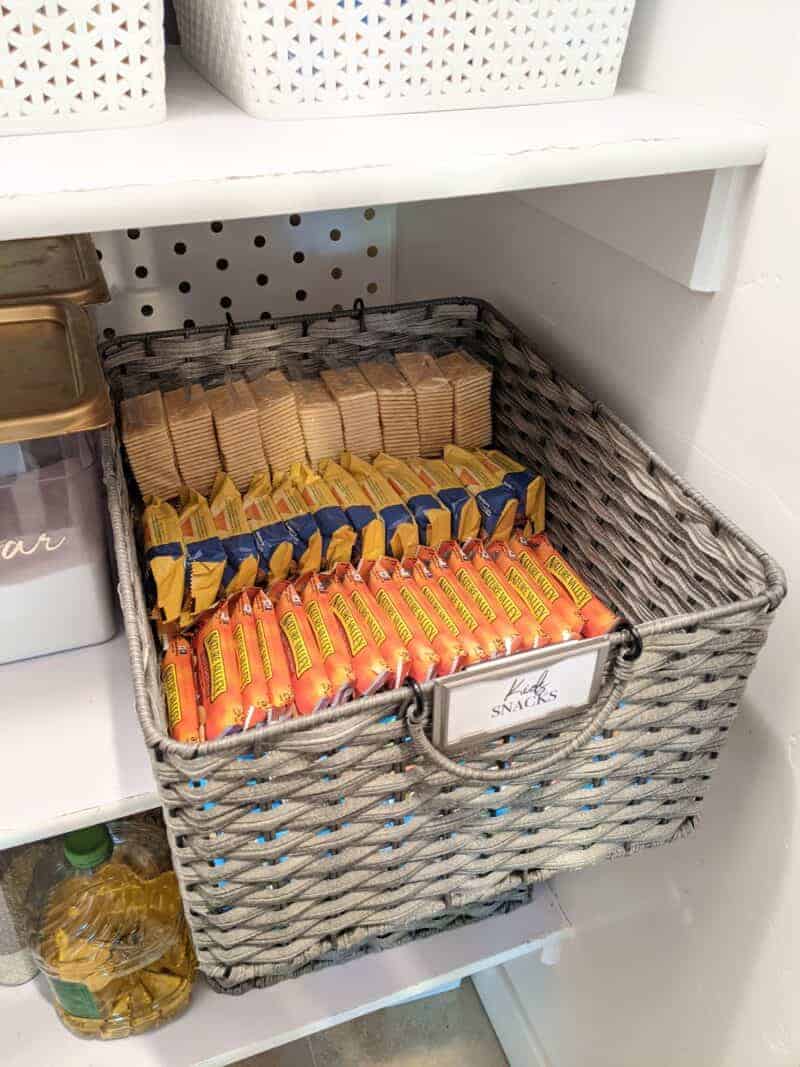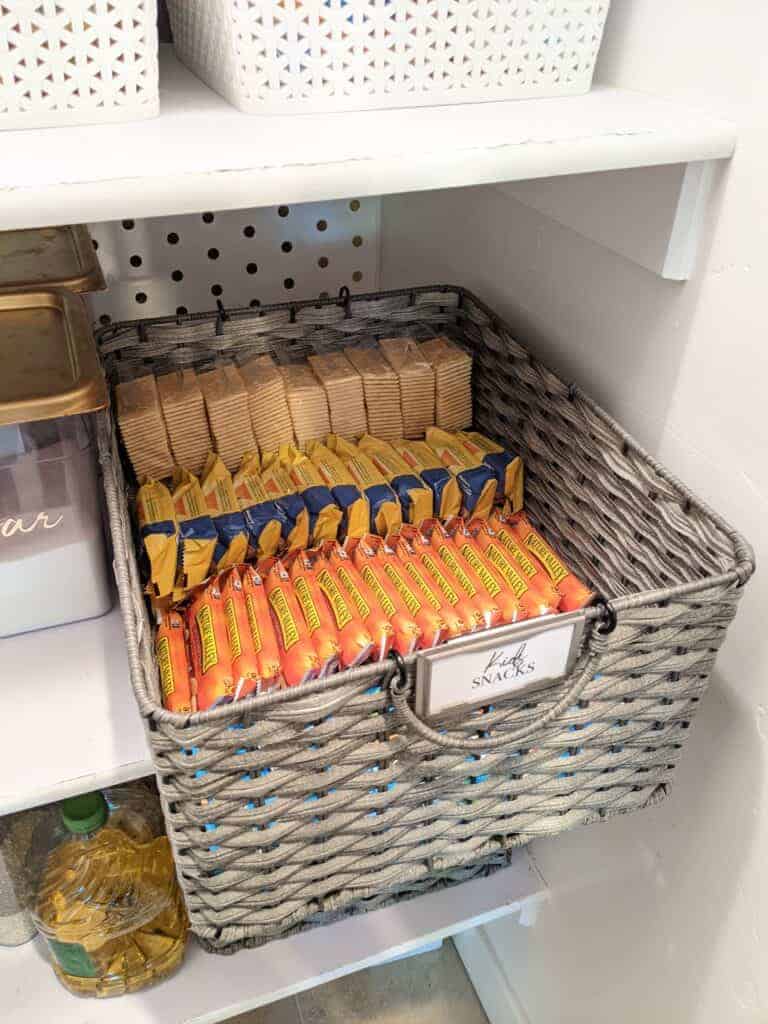 Baskets are also great for storing food items like onions and potatoes that don't need to be in the fridge. They won't be rolling around on your shelves but will stay contained in the labeled baskets.
Baskets also help your pantry look more put together. If your open pantry is in a high-traffic area of your home, a great way to keep your shelf space looking nice is to keep things in pretty baskets.
It's more appealing to the eye to have sleek baskets on display instead of seeing a myriad of random food products, cereal boxes, and canned goods.

Small Pantry Shelving Ideas
Depending on the size of your kitchen pantry, you may have a difficult time finding adequate storage space. You may not have much pantry space and pantry shelves might be few and far between. That's okay! We have kitchen pantry ideas even for the smallest pantries.
You may need to get creative with your shelving, but here are some small pantry shelving ideas to help you make the most of your space.
Use wire shelves.
If you have a small pantry, consider using wire shelving. Wire shelves are great because they allow air circulation and light to reach all areas of the pantry.
This is especially important if you're using a coat closet conversion or something that doesn't get a lot of light. It will help your pantry look larger than it actually is and it will feel a lot more open and airy.
Add shelf risers to shallow shelves.
Shelf risers can be great space savers for a shallow pantry. If you have a shallow pantry that has a decent shelf height, you can use a wire rack or shelf rises to add another layer for storage in your organized pantry.
This shelving idea can help you save space and still be able to see all of your pantry items.
Use your kitchen pantry door for storage.
If you have a small pantry, remember that these shelving ideas don't need to only apply to your actual pantry storage area. You can also find storage space on the back of your pantry or cabinet doors.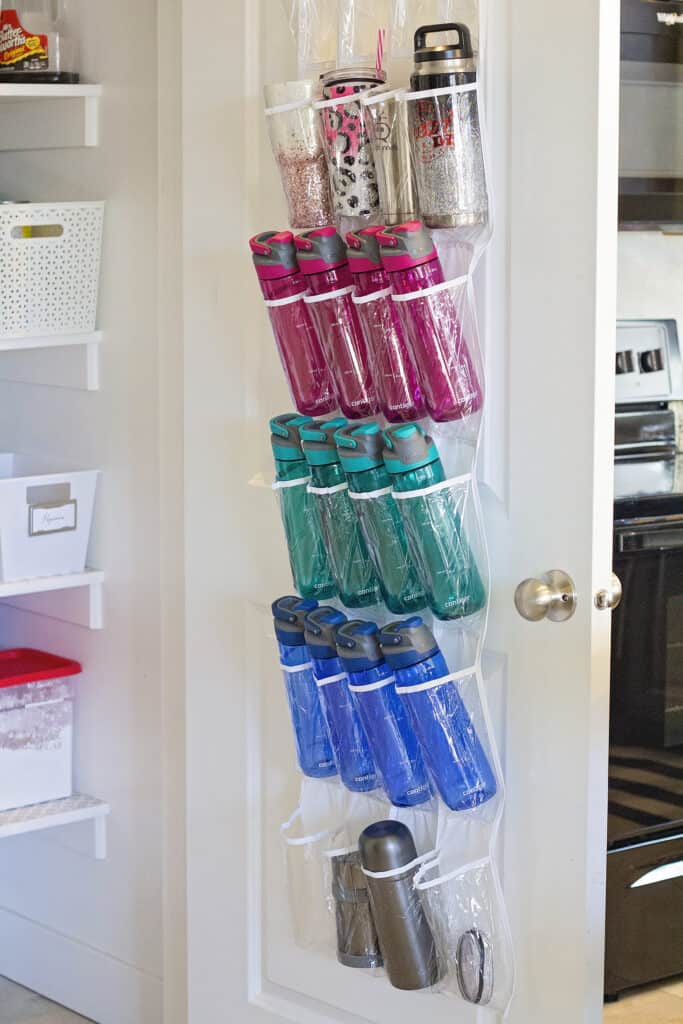 Use the closet pantry doors to store things like spices, canned goods, or other pantry items that you use often that can fit in narrow spaces. This will help keep your pantry feeling more open and airy while still being functional.
Install floor-to-ceiling shelves.
You might think having large shelves might overpower a small space, but adding floor-to-ceiling pantry shelves can actually make your pantry feel bigger. Plus, you'll have plenty of space to store all of your pantry essentials.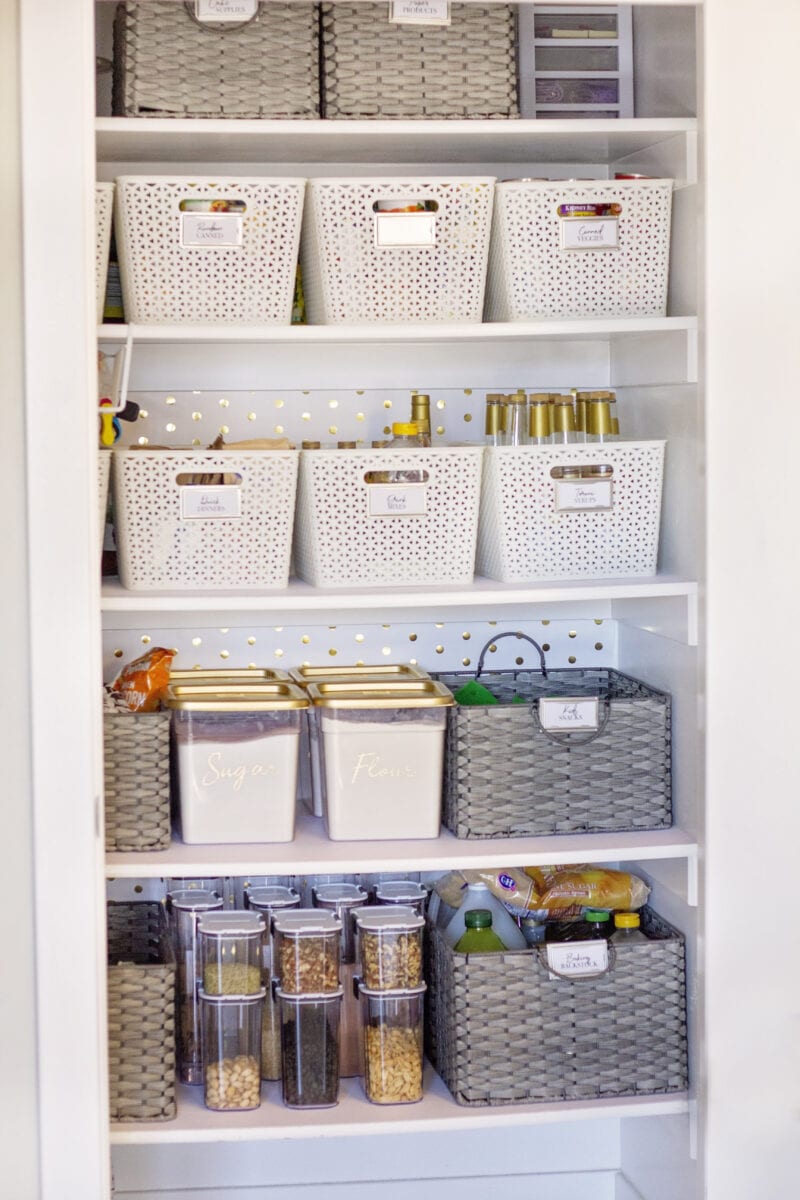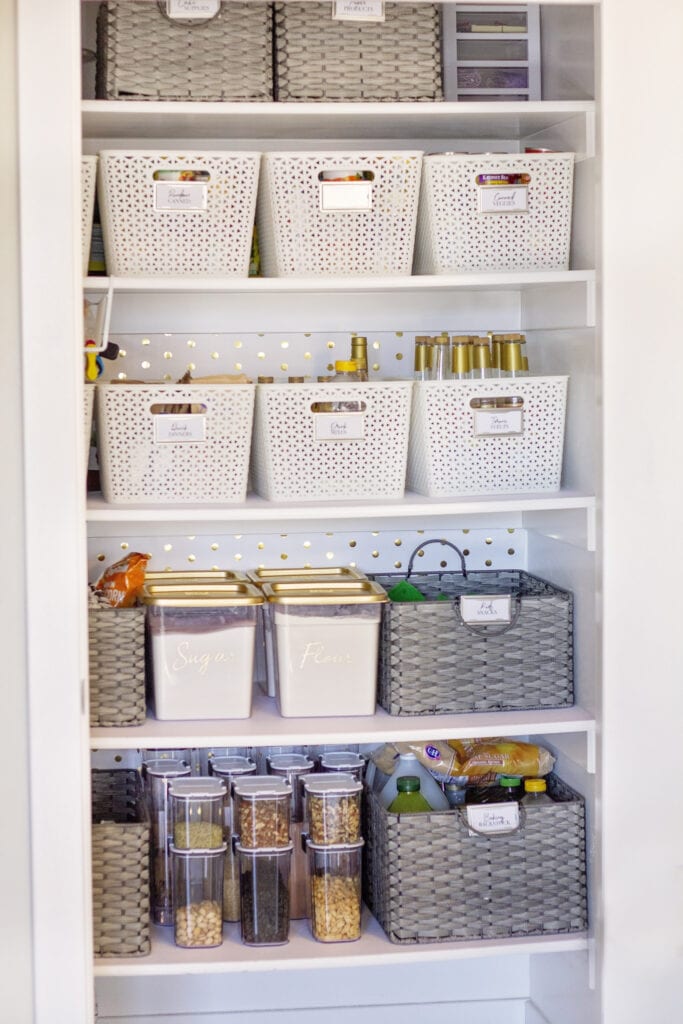 If you have the ceiling height for it, adding floor-to-ceiling shelves is a great way to maximize space in your pantry. You can even add a rolling ladder for easy access to those items stored on the top shelf! All of those extra shelves also ensure that you won't be taking up any floor space with kitchen essentials.
One last tip…
If you don't have a lot of storage space in your pantry, I would recommend that you try not to overstock too much on food. If you have a massive walk-in pantry with all the pantry shelving in the world, then go right ahead! Pantry overstock is super convenient!
But if you have a coat closet pantry with a limited amount of pantry shelves, then you might want to try and keep your pantry stockpile a little more manageable for shallow pantries. That way, you won't have to deal with expired food as often and you'll be less likely to let food items go bad.
Pantry Shelving Ideas for Any Pantry Design
Pantry organization is almost essential to a comfortable, efficient home. If you don't have an organized pantry, it can make cooking and even just finding things to eat a lot more difficult.
But having an organized kitchen pantry doesn't have to be complicated. While getting custom pantry shelving can be a great way to utilize pantry storage space and make your pantry design perfect, a customized pantry is not a necessity. There are still a lot of ways to organize your pantry shelves and make the most of your pantry space without breaking the bank!
One of the easiest ways to achieve pantry perfection is by ensuring you have enough shelving. I've tried to provide good ideas from small pantry shelving ideas to walk-in pantry shelving ideas. Hopefully, these pantry shelving ideas have helped you get a better idea of how to maximize space in your pantry using shelving!
Remember, no matter how big or small your pantry is – whether it's a closet pantry or a walk-in pantry – there are ways to maximize space with shelving. By using these pantry shelving ideas, you can keep your pantry organized and functional, making meal prep and cooking a breeze.
Do you have any favorite pantry shelving ideas? Share them with us in the comments below! Happy organizing!