How to Organize Your Purse and Keep it That Way!
Purses are such an essential item, but somehow, with a blink of an eye, they turn into an endless pit and we can't find a single thing we are looking for. Just receipts and my kids' snotty tissues. #realmomlife But what if I told you that there was a way to end all of the digging around in your purse so that you could actually find what you need in only a second or two?! Sounds incredible, right? In this post, I will show you how to organize your purse and keep it organized!
Purses are such an essential item, but somehow, with a blink of an eye, they turn into an endless pit and we can't find a single thing we are looking for. Just receipts and my kids' snotty tissues. #realmomlife But what if I told you that there was a way to end all of the digging around in your purse so that you could actually find what you need in only a second or two?! Sounds incredible, right? In this post, I will show you how to organize your purse and keep it organized!
Are you looking for even more ideas to keep you organized while you are on the go? Check out my post about my In A Pikle Organizer for life's little emergencies! Also my post about Keeping your Toiletry Bag Organized while you travel.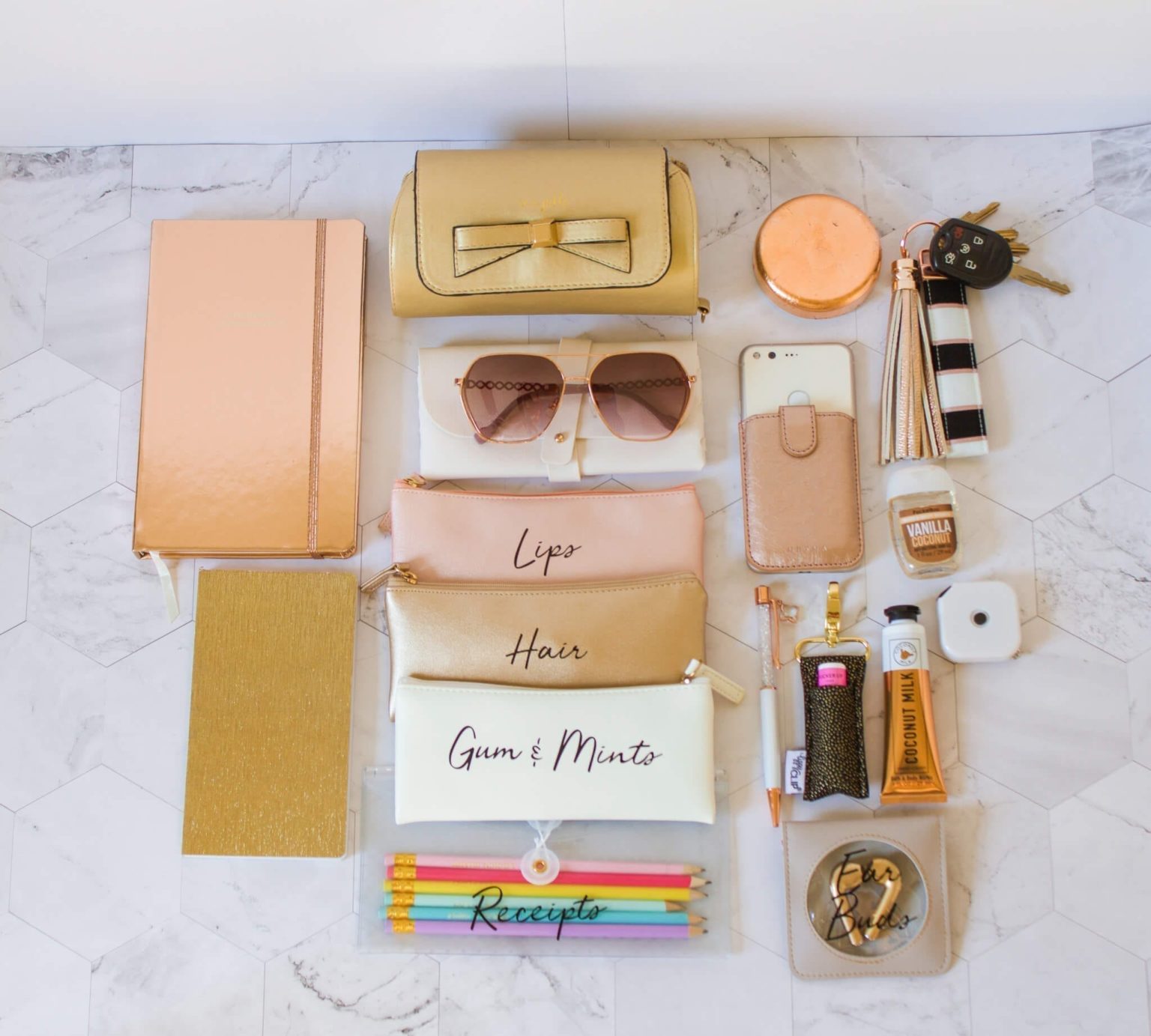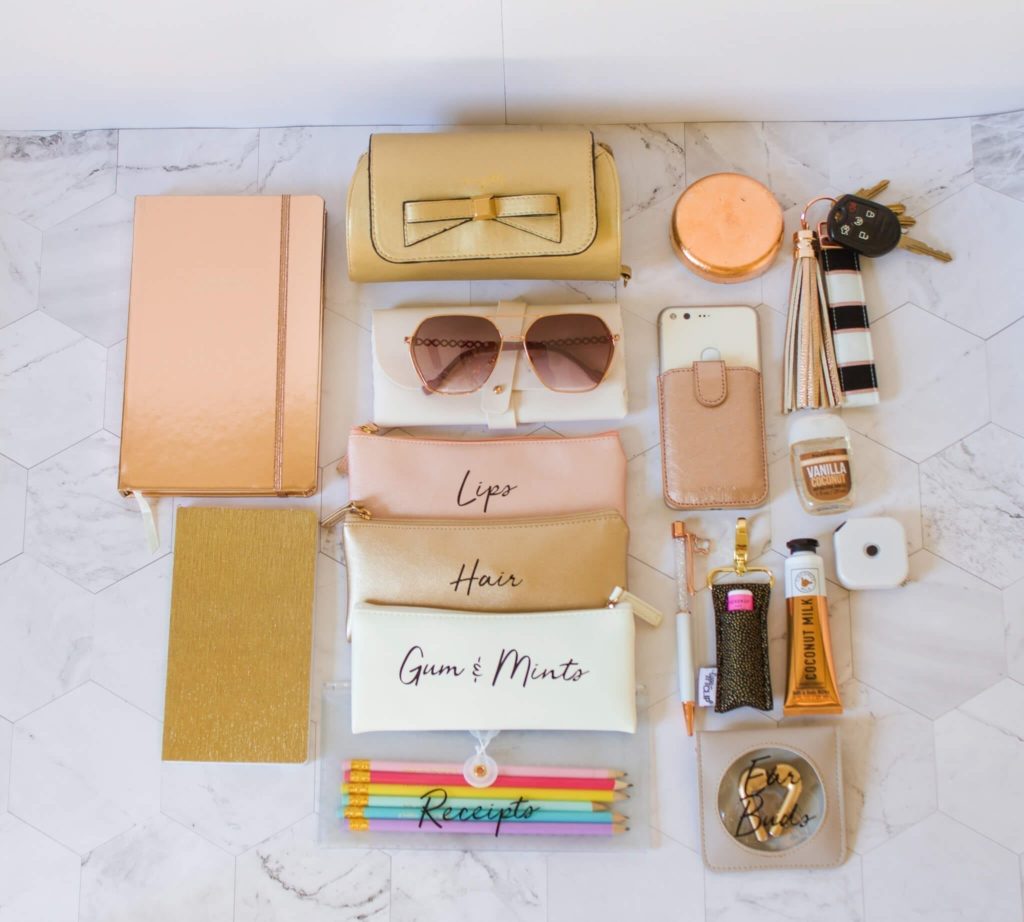 The idea behind organizing your purse the way that I am about to suggest is to give everything a home. If everything has a home, then you know exactly where to reach when you are trying to find something! But purses aren't like closets. In a purse, things move around! So you need to find a solution that will allow for that but still keep things nice and tidy.
Organization and Beauty Mixed
I talk about this all of the time but organization can be more than just creating systems that enable us to be more efficient with our time. Organization is also about creating beauty! So while not everyone feels the need to have everything in their purse coordinate, it's something that can really make a difference in making it beautiful to look at, as well as being organized.
HOW CAN I ORGANIZE MY PURSE?
One of the best ways to keep your handbag organized is to compartmentalize things using zipper pouches. You can use zipper pouches that you have lying around the house, buy some from the dollar store, or you could even buy some with this specific purpose in mind! I chose to buy some nice faux leather pouches that would match everything else in my purse.
I wanted to buy the faux leather ones because I know that they'll wipe clean and I can easily sanitize them with disinfecting wipes if I need to. Fabric or canvas ones won't last as long because they get dirty quickly and most likely won't wash completely clean.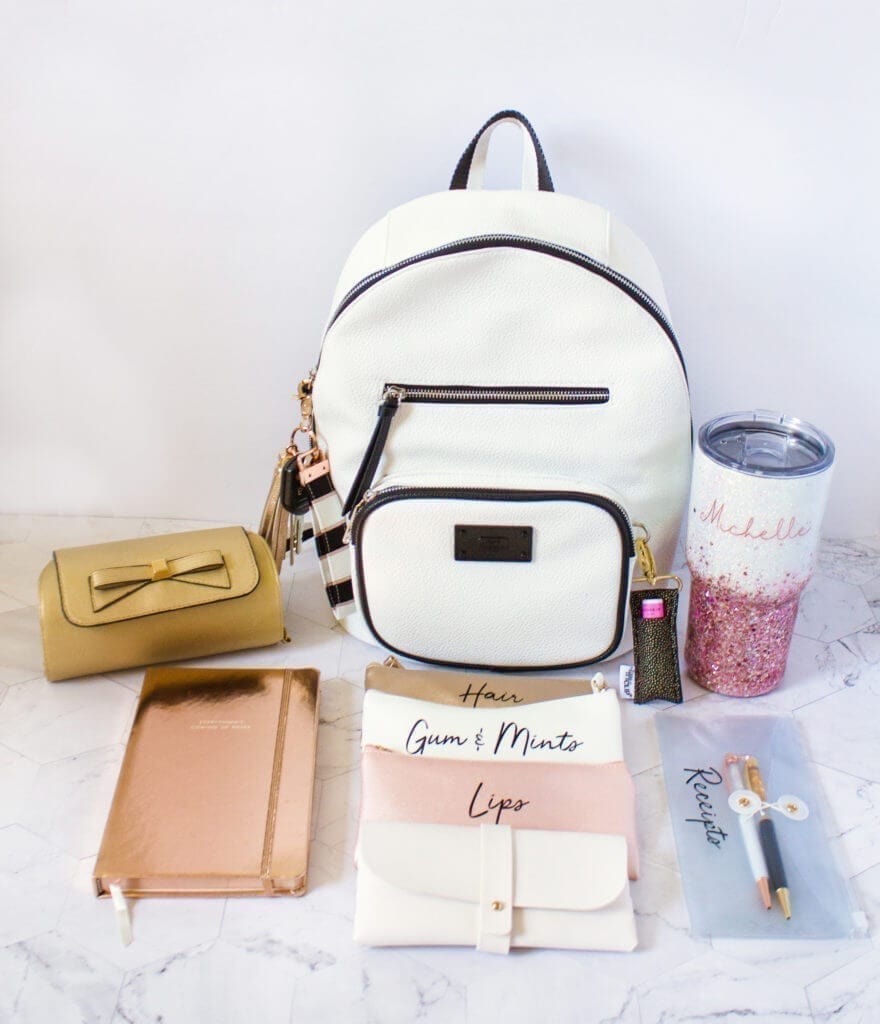 Below, I have listed 7 steps to help you organize your purse and create a system that will last so that you can stop wasting time shuffling through your purse trying to find your favorite chapstick or your keys in your handbag.

6 STEPS TO PURSE ORGANIZATION
If you're anything like me, your purse is constantly a hot mess. But it doesn't have to be that way! Follow these seven simple steps to purse organization and you'll never have to dig through your bag for your keys or phone again.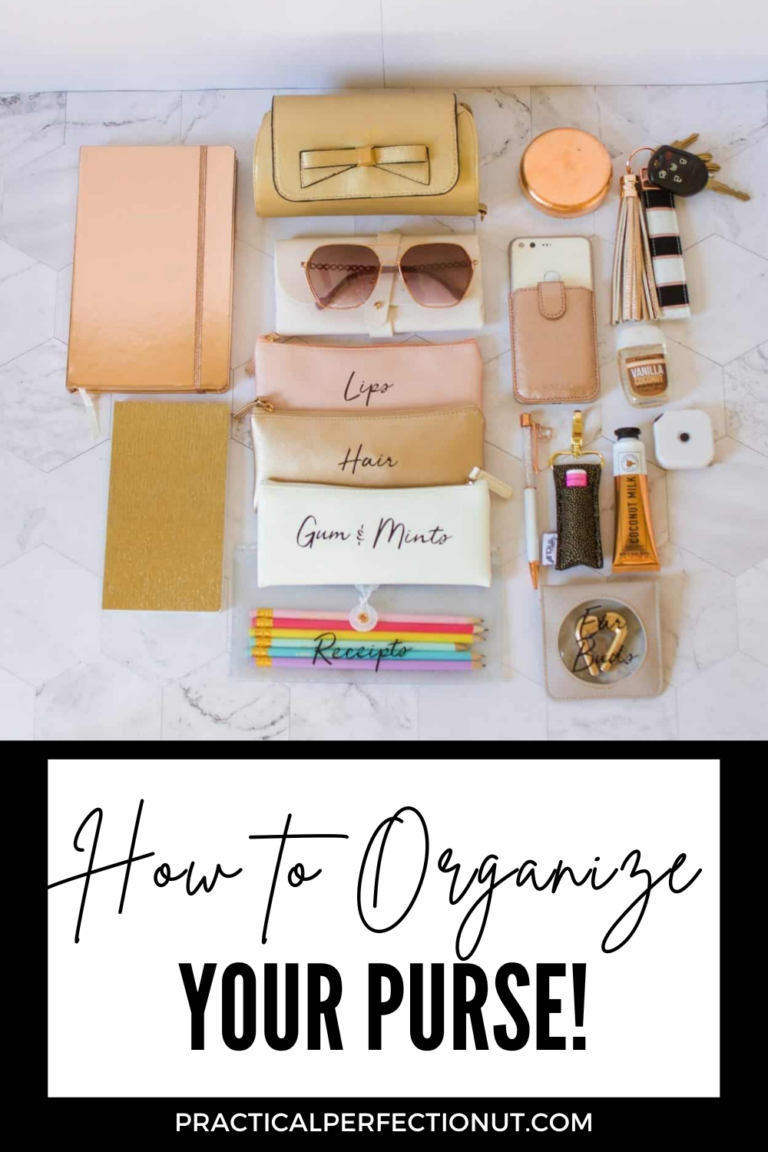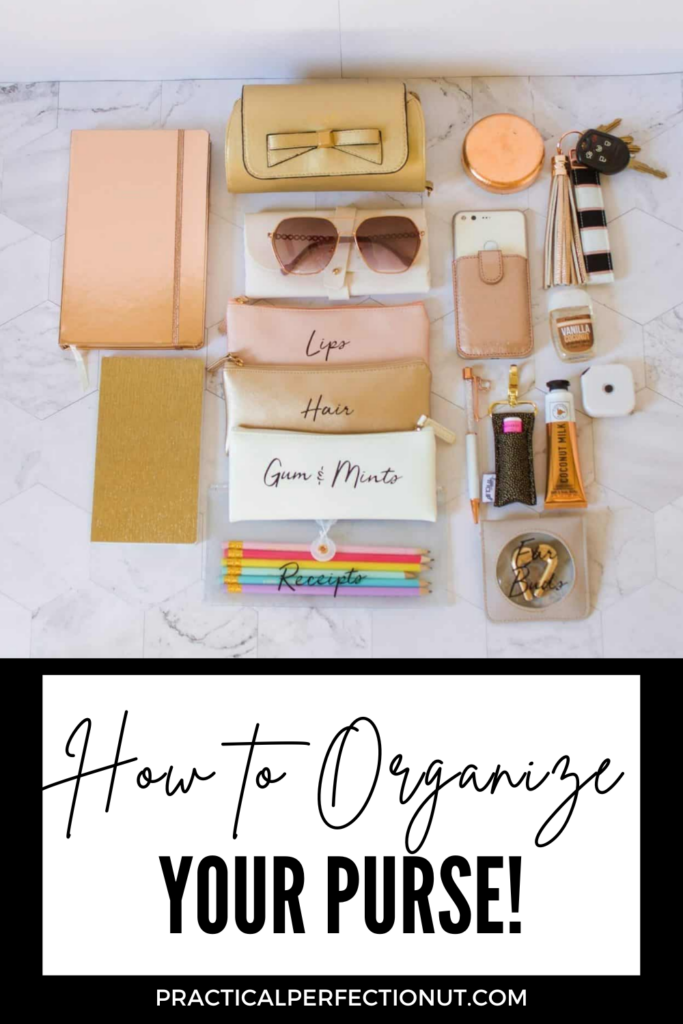 STEP 1: PULL EVERYTHING OUT OF YOUR BACKPACK OR PURSE.
All of it. This will allow you to wipe down your purse and give it a nice clean slate for organizing. Starting at square one will help you clear your mind about how you previously set things up and to think out of the box.
STEP 2: SORT THINGS INTO PILES OF LIKE-ITEMS
Sort all of the items in your purse into categories, such as chapsticks, gum, mints, receipts, etc. This helps you to visualize how many items you have of each type of thing and what size of containers you'll need moving forward to keep things organized.
STEP 3: DECIDE WHAT THINGS YOU WANT TO KEEP IN YOUR PURSE.
I always have trash in my purse so now would be a great time to purge the trash, as well as items that have mysteriously made their way into your purse that don't belong there. Set things aside that don't belong in your purse and put them away later.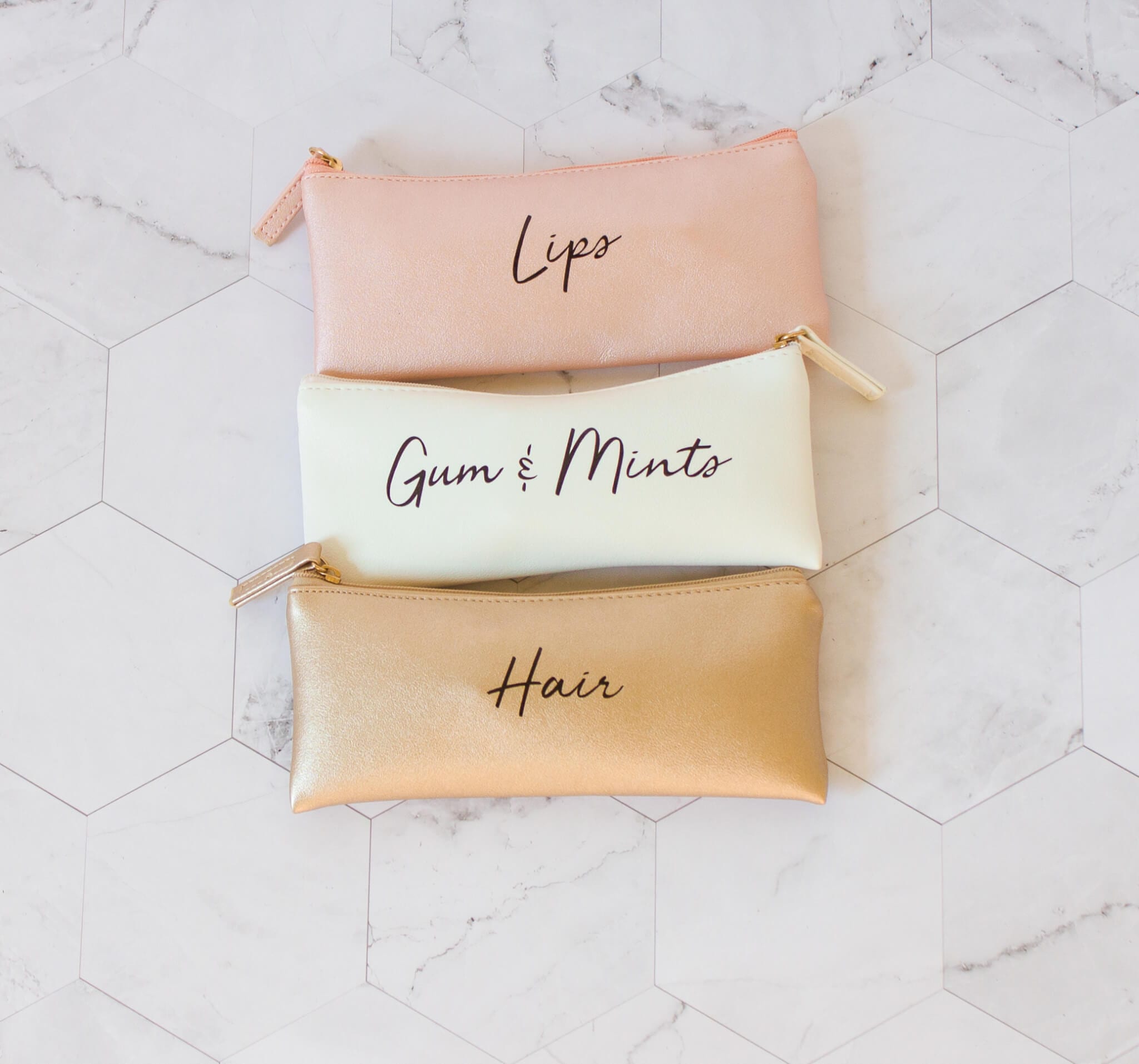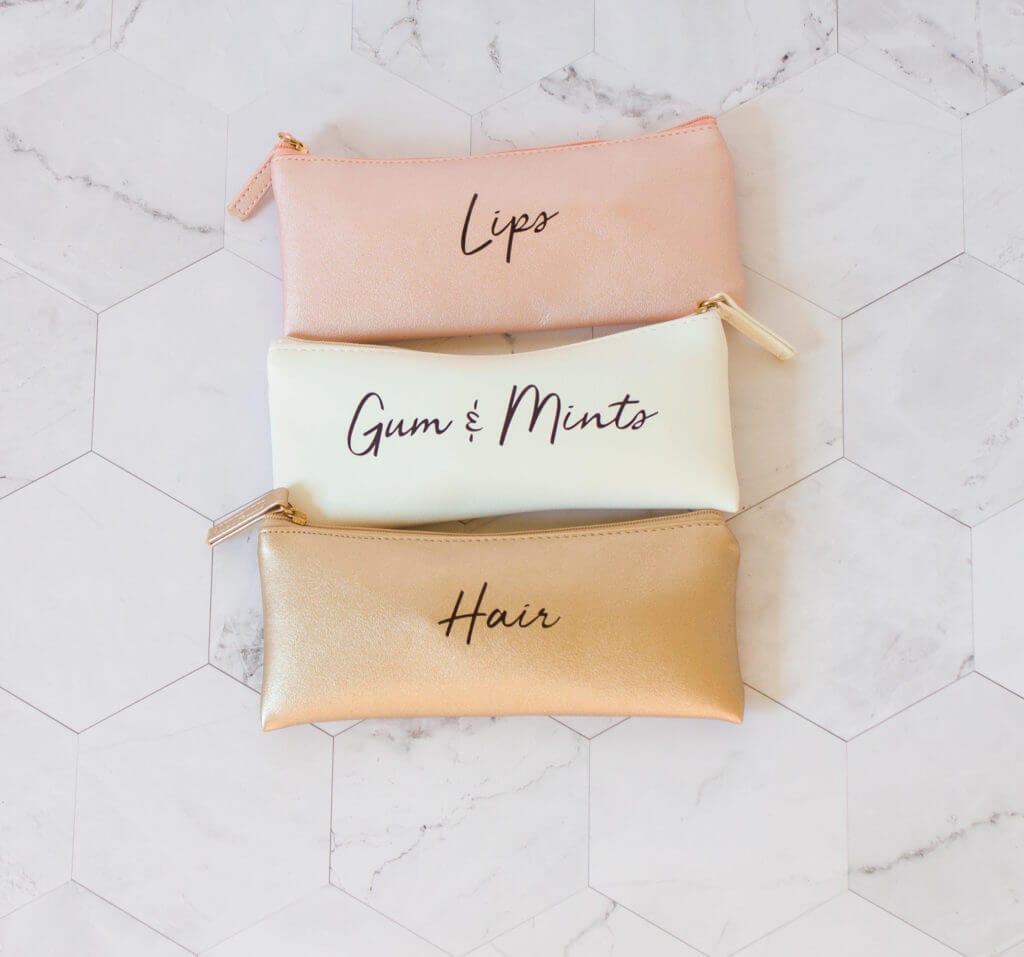 STEP 4: PUT LIKE-ITEMS INTO SMALL POUCHES
This will help you contain things as well as make things easily recognizable as to what goes in what pouch. I recommend not having all of the pouches the same color so that it is easier to tell what is in each pouch. For example, I put my lipstick in the pink zipper pouch (because my lipstick is usually some shade of red – easy to remember). I put all of my hair items such as my brush in the tan pouch (the same coloring as hair – easy to remember). Figure out some sort of system that allows you to easily remember what is in each pouch.
You can choose different color combinations that match your handbag or choose pieces that are neutral to match any handbag. This is one of my best tips for organizing purses.
If you are into designer bags, then it would be fun to add some designer totes or zipper pouches so everything coordinates.
It can also be helpful to have different sizes to accommodate different-sized items. I recommend having three sizes of pouches that are good quality and that keep their shape.

STEP 5: LABEL YOUR POUCHES
I used my Silhouette cutting machine and cut out the labels in permanent vinyl and adhered them to my pouches. Update: The vinyl didn't stay on for as long as I'd like but it was great while it lasted! This would be the advantage of canvas or fabric pouches over the faux leather ones that I chose. I could have used heat transfer vinyl and ironed the labels on and they wouldn't come off.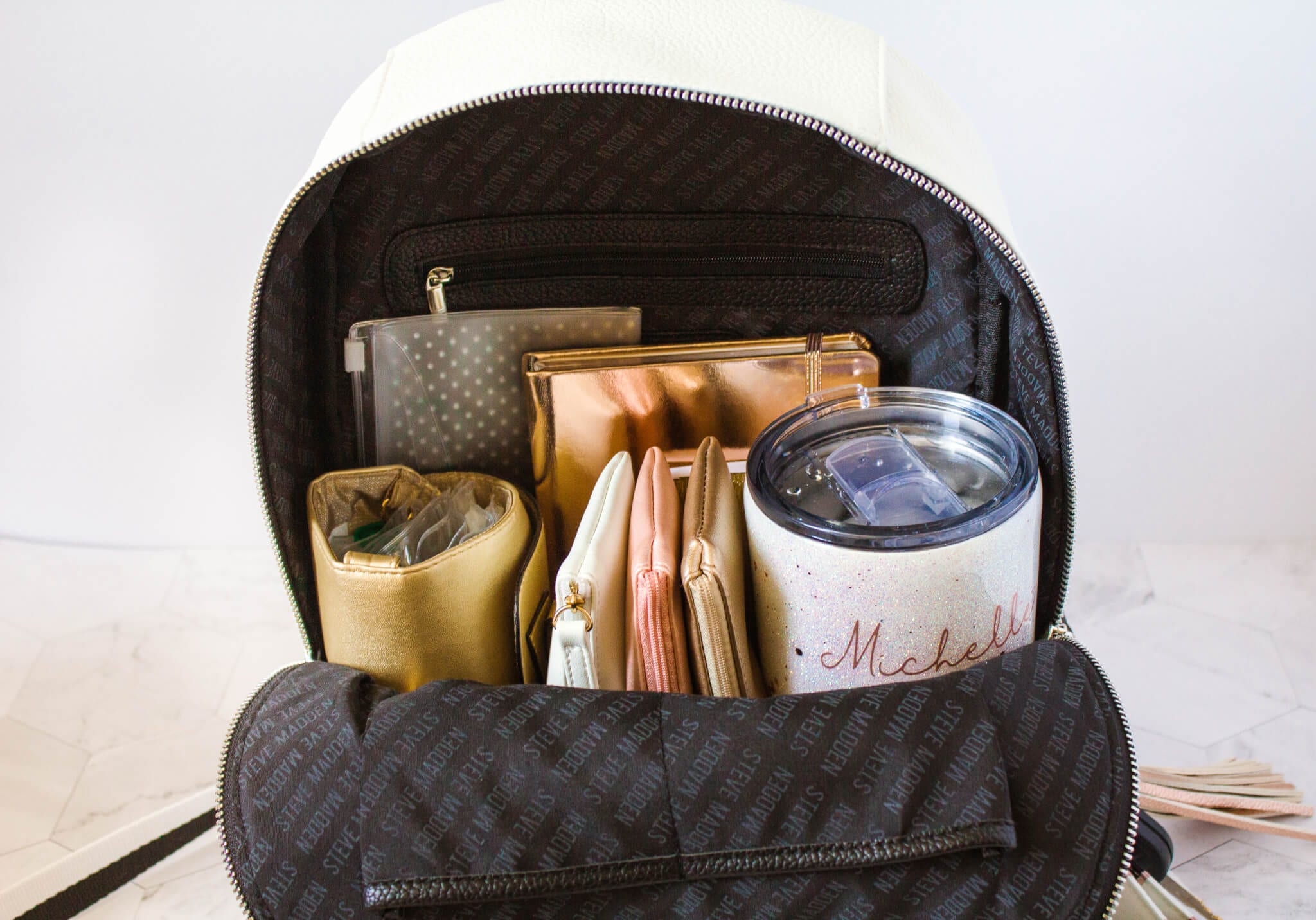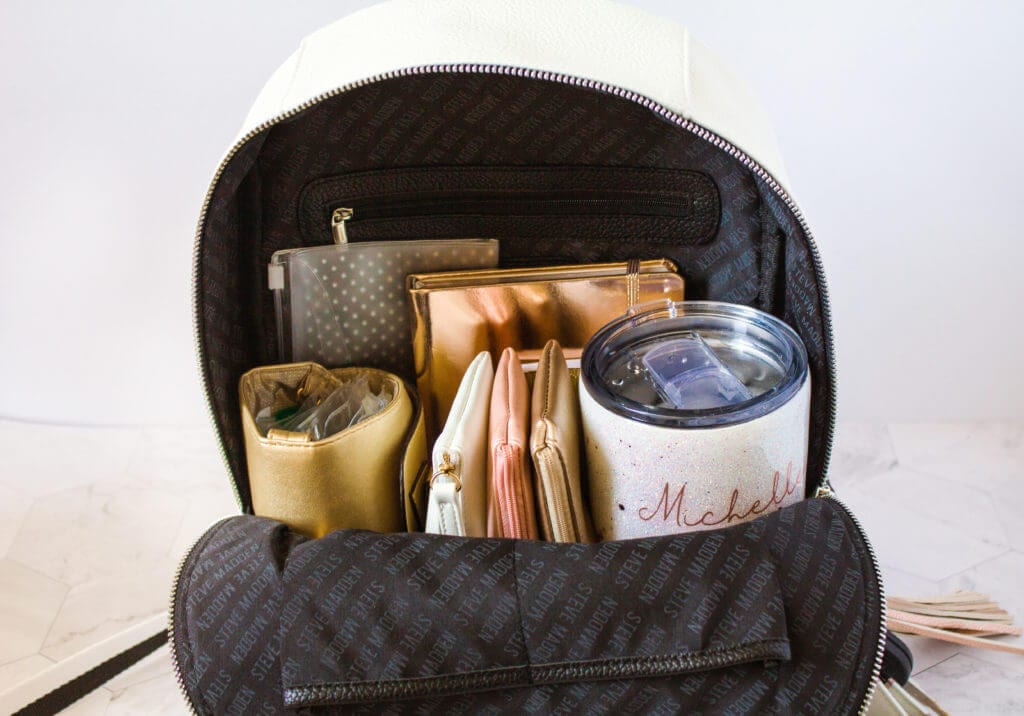 STEP 6: MAKE THE MOST USED ITEMS ACCESSIBLE
Decide what items you use the most, and put those in the most accessible pockets. You can choose to organize your pouches vertically if you have a tall purse or put them horizontally if you have a shorter purse.
Viola! Sit back and admire your handiwork. The good news is that you have created a system instead of just throwing stuff in there haphazardly, so it will be easier to maintain. You will still need to occasionally go through things and make sure to throw out old receipts and trash, but generally, this system works pretty great and you're going to love it!
ANOTHER OPTION: PURSE ORGANIZER INSERT
If you don't want to spend a lot of time organizing your purse, you can always buy a purse organizer insert. These are great because they have compartments and pockets for everything, so you can just put them in your purse and go!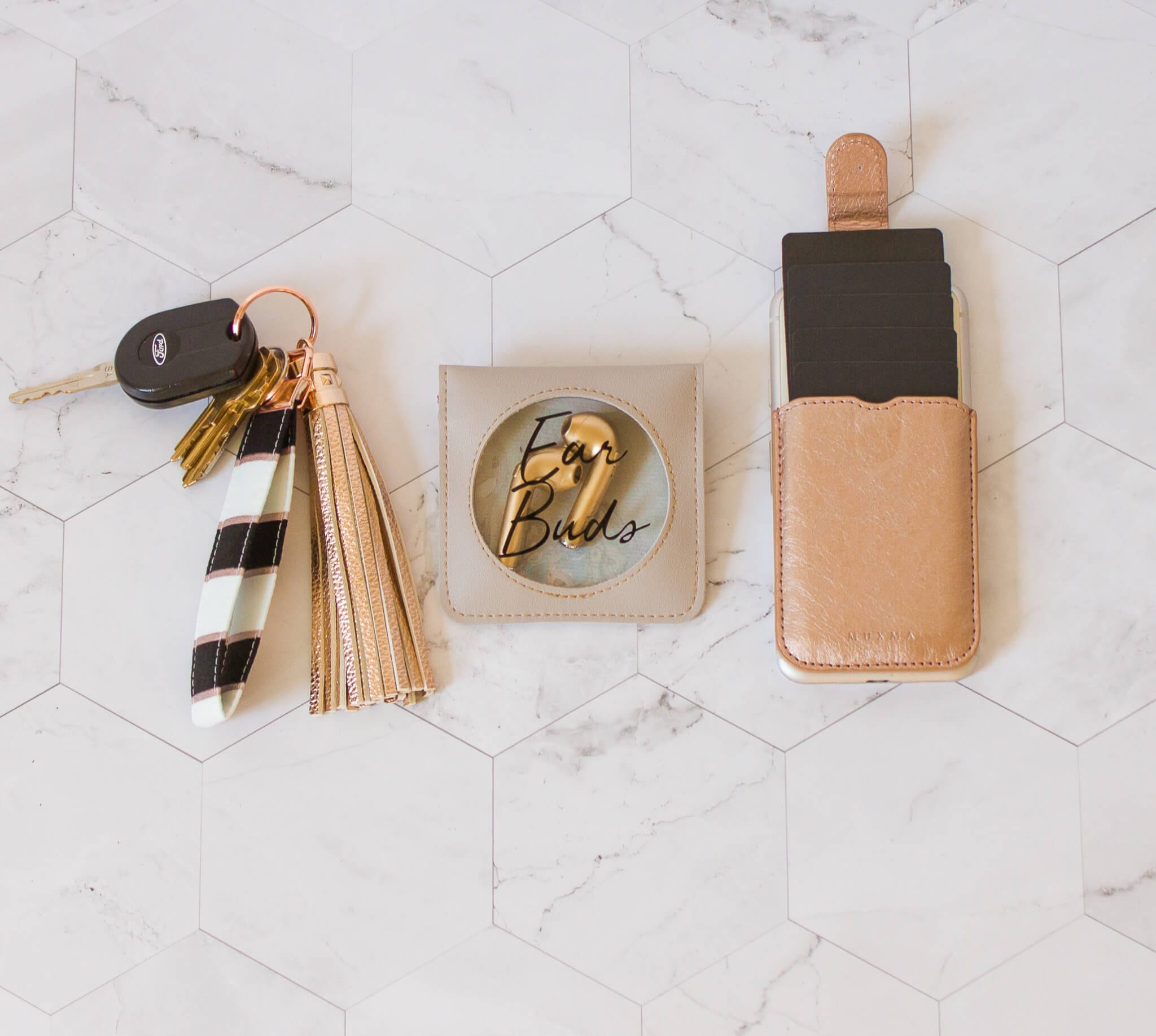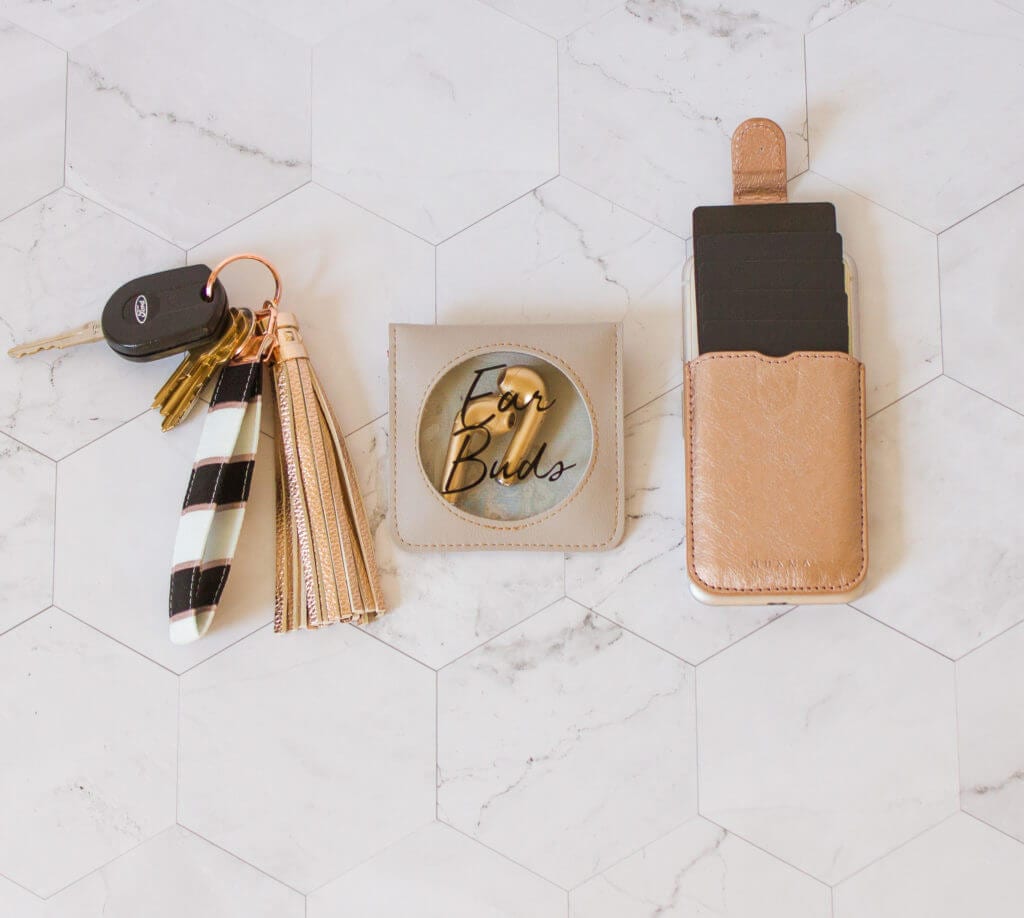 A purse organizer insert is a great option if you are frequently changing out your purses but you don't want to take the time to organize your purse every time. This organizer insert is simple to drop in and out of each purse so you know exactly where everything is. They are generally lightweight and are made out of a felt material and they have tons of pockets and plenty of room to store all of your things.
Because the insert is made out of a felt material, they are generally somewhat stiff and not only give your purse some shape. They also keep all of your essentials organized such as pens, sanitizer, lipstick, loyalty cards, and more! They fit most handbags and have lots of interior pockets.
It's a really great solution for a quick, simple purse organizer.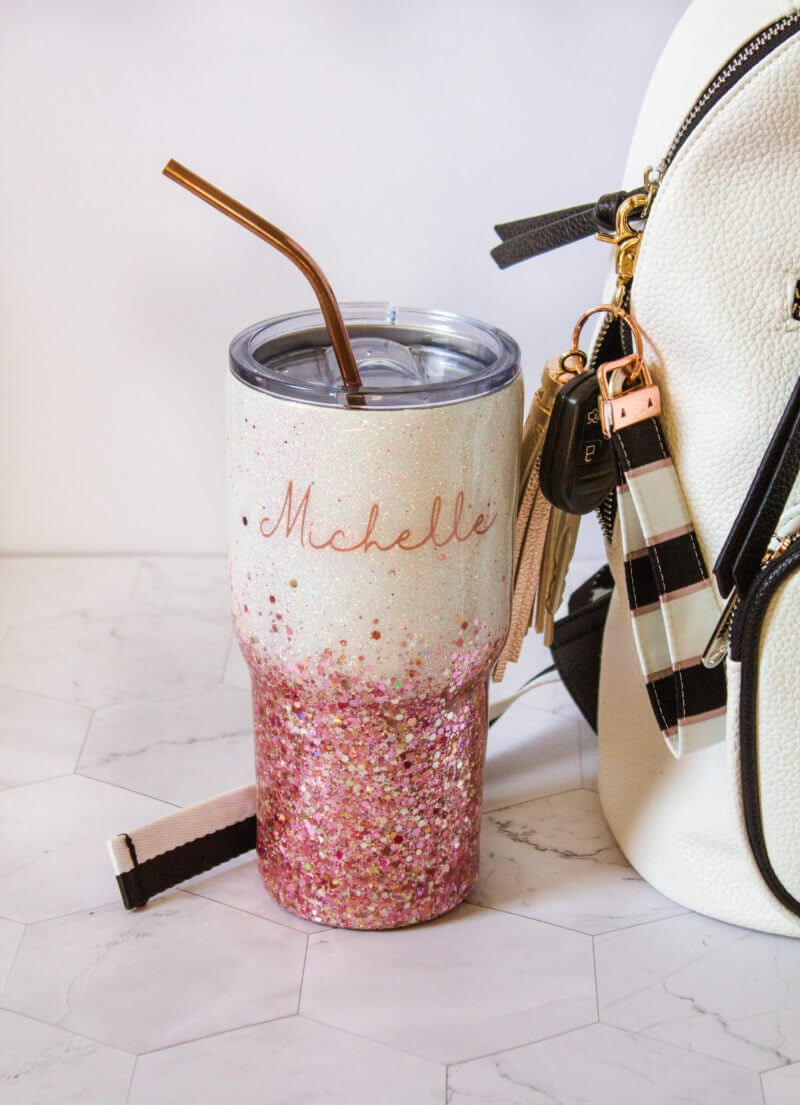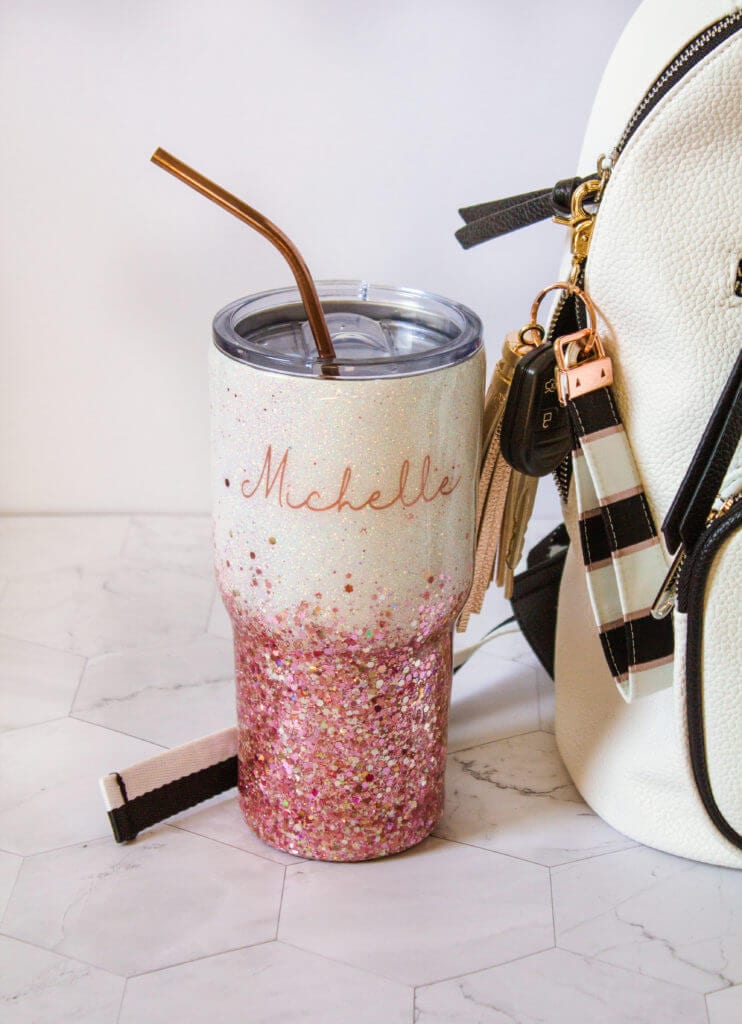 SHOP SMALL
I have teamed up with some pretty incredible Etsy sellers to bring you some beautiful products that you just have to have! Shopping small is so important to me and I just love to showcase the handiwork of real, actual people. Not just the big box stores. So I am featuring 3 incredible sellers whose stores I truly hope you will check out – they have the best stuff!
My first feature is Sam with SMB Creations. Sam creates high-end glitter tumblers that are just to die for! As I have learned more about the process of making these tumblers I have learned what a work of art they really are! She made my rose-gold glitter tumbler in my photos! And you better believe that it goes with me everywhere! Here is the link to my own Rose-Gold Glitter Tumbler.
Second up is Ashley with A. Marie Quilt Co. She is the one who designed my incredible black/white/rose-gold striped key fob! This one is more than just beauty to me because I hate having a hard time finding my keys so I always have to have some sort of keychain or key fob on my keys. So this is not only completely darling but it makes my life easier! Her sewing quality is top-notch and you won't be disappointed.
My 3rd feature is Amy with Lippy Clip! Her chapstick keychains are such great quality and I absolutely love using mine! It makes keeping track of my chapstick so easy! She has so many different patterns and that makes it so difficult to choose! Here is the link for my Black and Gold Lippy Clip.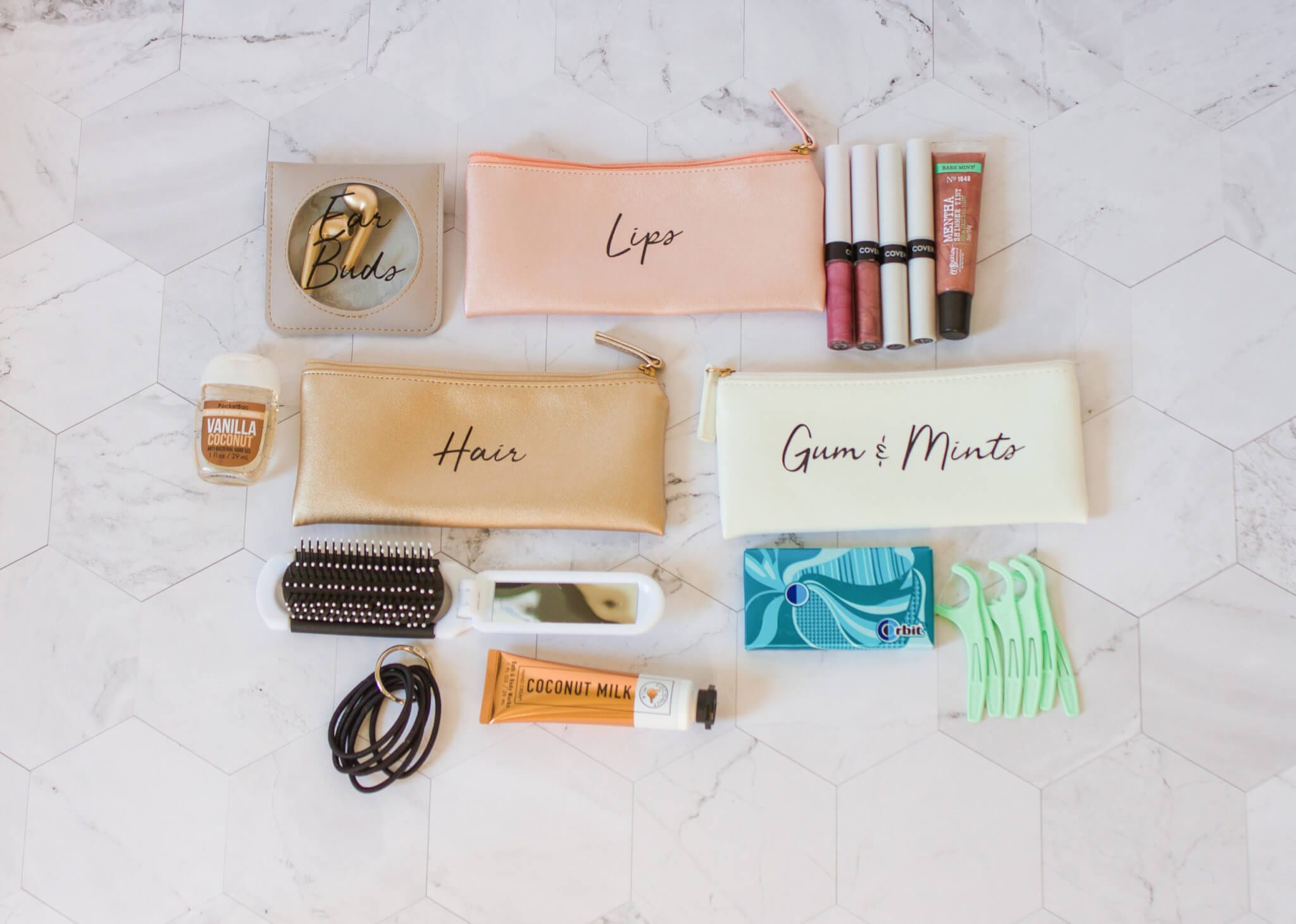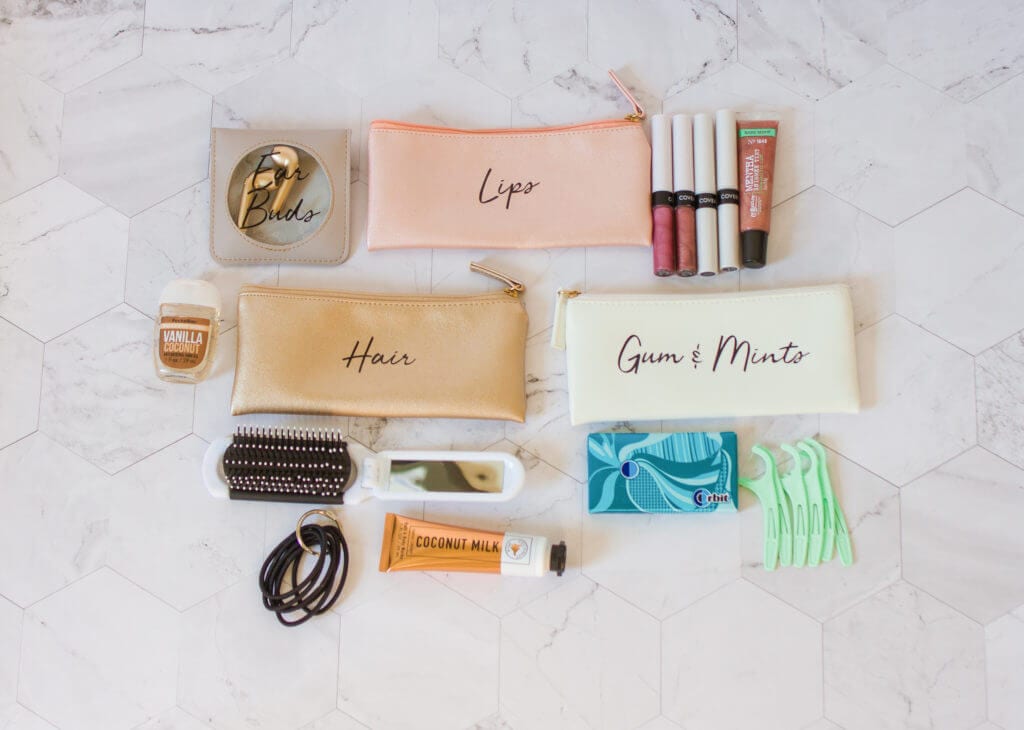 WHAT'S IN MY PURSE
I have compiled a list of my must-have purse accessories. I love being prepared and organized. Below are the links to the unique products that you see in my photos. Obviously, general items do not have links to them because I figure that you can just find them at any grocery store.
Lipgloss
Chapstick
Lipstick
Gum
Mints
Flossers
Mini Travel Brush
Bobby Pins
Elastics
Hand Sanitizer
Hand Lotion
Expandable Wallet for the back of my phone
Notebook (have this Kate Spade one, but I got mine from TJ Maxx)
Pouch for my Receipts
Tape Measure
Sunglasses
Insulated Glitter Tumbler
Container for Coins (I used an old mint container and put Rose-gold leafing on it)
Lippy Clip Keychain for quick access to Chapstick
HOW TO ORGANIZE MULTIPLE PURSES
If you're like most women, one purse just isn't going to cut it. There are way too many cute tote bags, handbags and backpacks in the world to have just one. That's why many women are looking for solutions to organize their many purses. Luckily, there are some great purse organizers out there to keep your purses organized!
Some purse organizers hang in your closet, while some of them organize purses on a shelf. And if you have several backpacks you are trying to store, you can easily hang them on a hanger in a closet.
I hope that you have been inspired in some way to organize and beautify your purse. Do it today and see what a difference it can make in your life! Create a system that will allow you to easily maintain your organized purse and make your life easier. Happy organizing!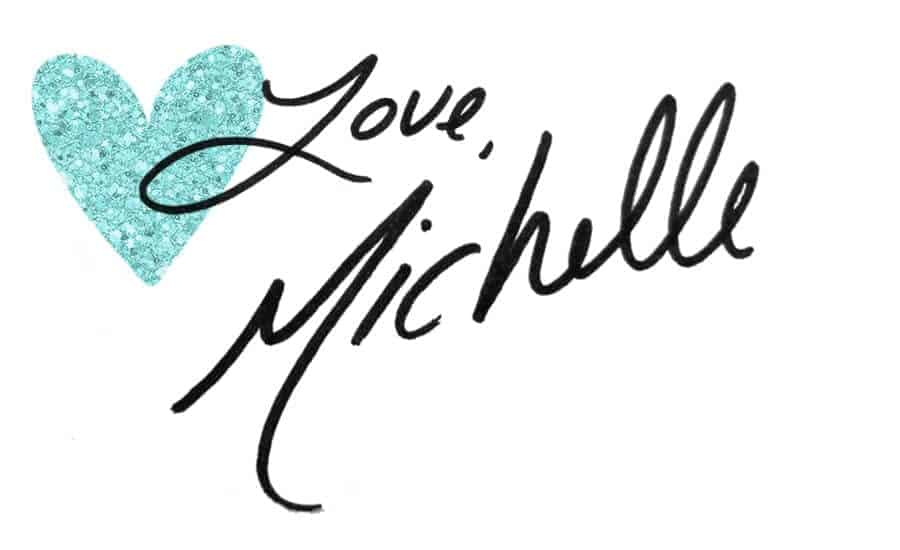 Shop this Post: