Creating your very own organized gift wrap station will not only save you time, but it can also save you money! Read this comprehensive guide on how to create your very own gift wrap station that will fit your own budget and needs.
*This post may contain affiliate links, which means I may receive a small commission, at no cost to you, if you make a purchase through a link!*
Need more ideas? Check out Have a Stress-Free Christmas + Free Christmas Planner Printables
Why You Should Have a Gift Wrap Station
You may be wondering if it's really necessary to have a designated gift wrapping station. But I feel like this is one of the many areas where you can set yourself up for success and ultimately it will help you save a lot of time in your life. Often times, when we are frantically trying to wrap a birthday gift they are at the last minute. Or even wrapping presents on Christmas Eve!
The last thing you want to do is run around the house trying to locate the last few inches of tape that you have because your last roll just ran out.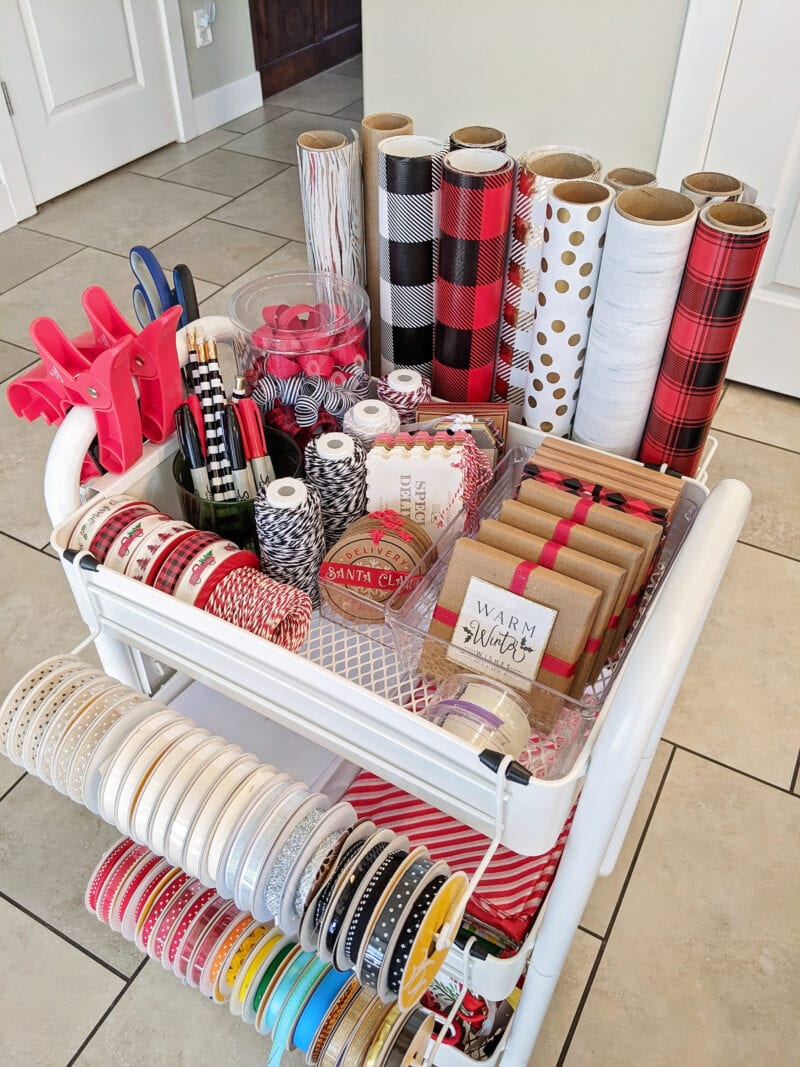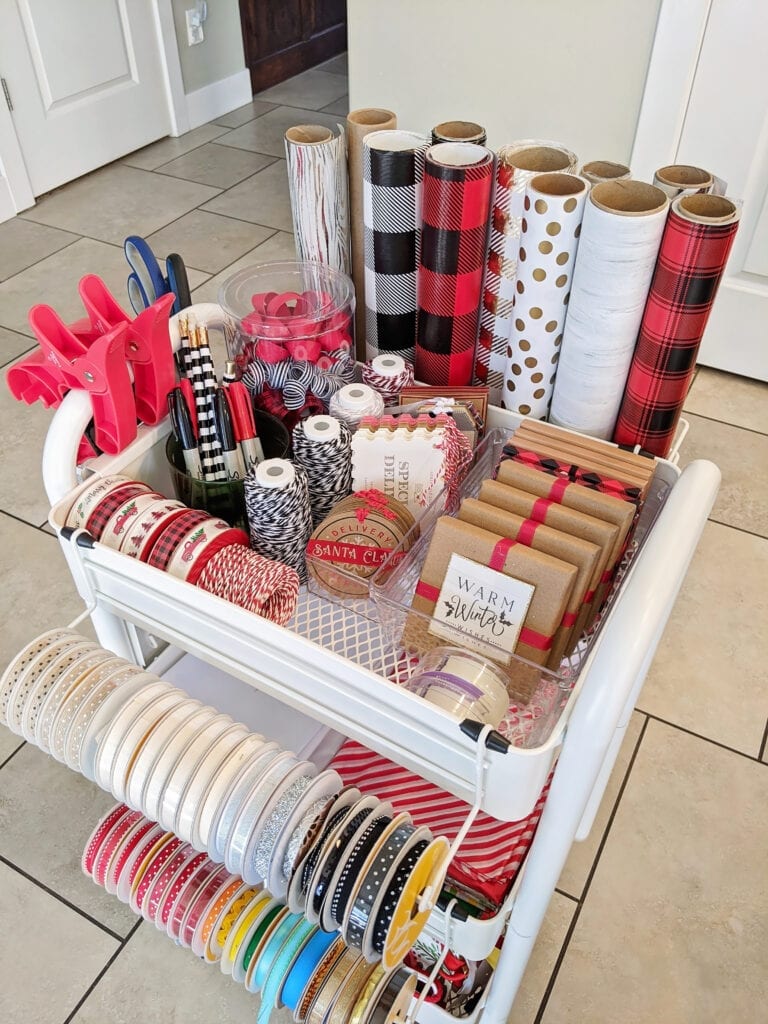 Creating a gift wrapping station doesn't have to be fancy or expensive but it can go a long way in saving your sanity in those last-minute moments. There are so many variations of a gift-wrapping station that you could create. Some people have the ability to have an entire section in their built-in cabinetry designated to gift wrap. Others only have enough space to put all of their gift wrap in a bin underneath their bed.
And both of those are absolutely okay! It doesn't have to be picture-perfect.
The idea behind it is that you just need to create a system that will help you efficiently wrap gifts so you aren't wasting time trying to find the items that you need to wrap gifts.
Deciding What Space You'll Need
When deciding what kind of gift wrap station you want to create, it's important to consider two different things:
You need to consider how much space you have.
You need to consider how much you love wrapping presents.
If you are the type of person that hates wrapping presents then maybe the best option for you would be a big box under your bed that you can just pull out a gift bag and some tissue paper and throw a present together.
But if you are the type, like my mom, who thoroughly enjoys creating beautifully wrapped gifts, then creating a fancier gift wrapping station might be your solution!
I do not have the space nor do I want to take up an entire section of my office dedicated to gift wrap.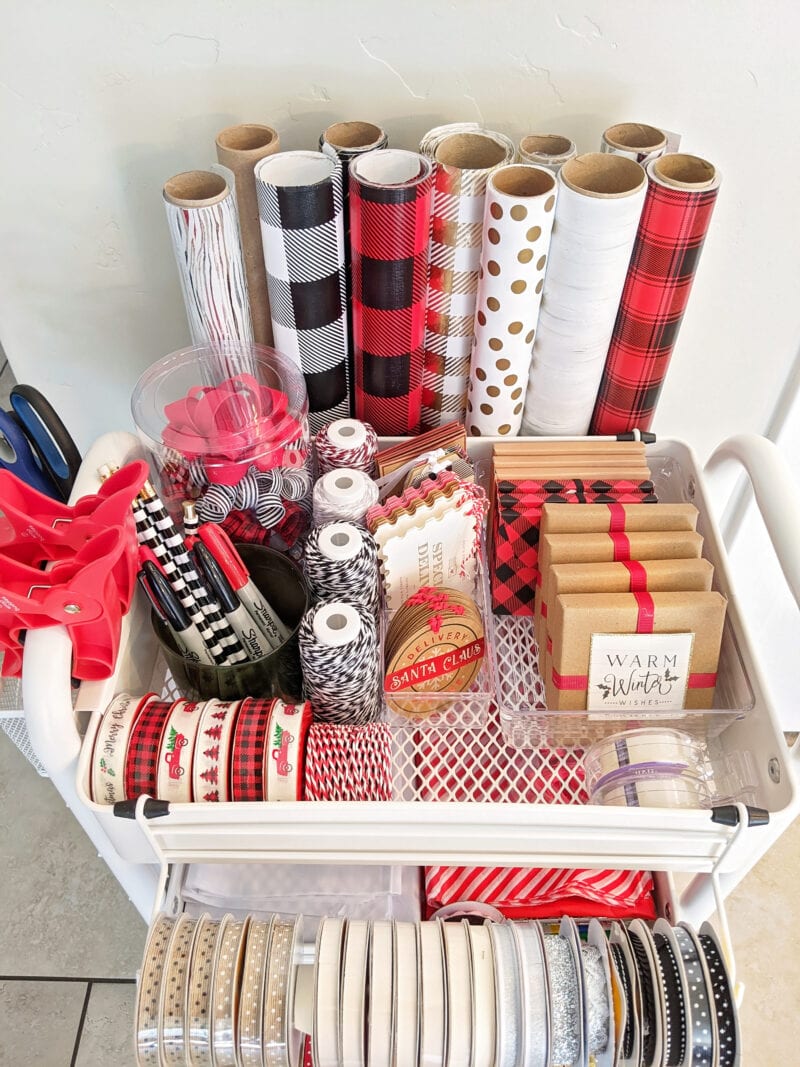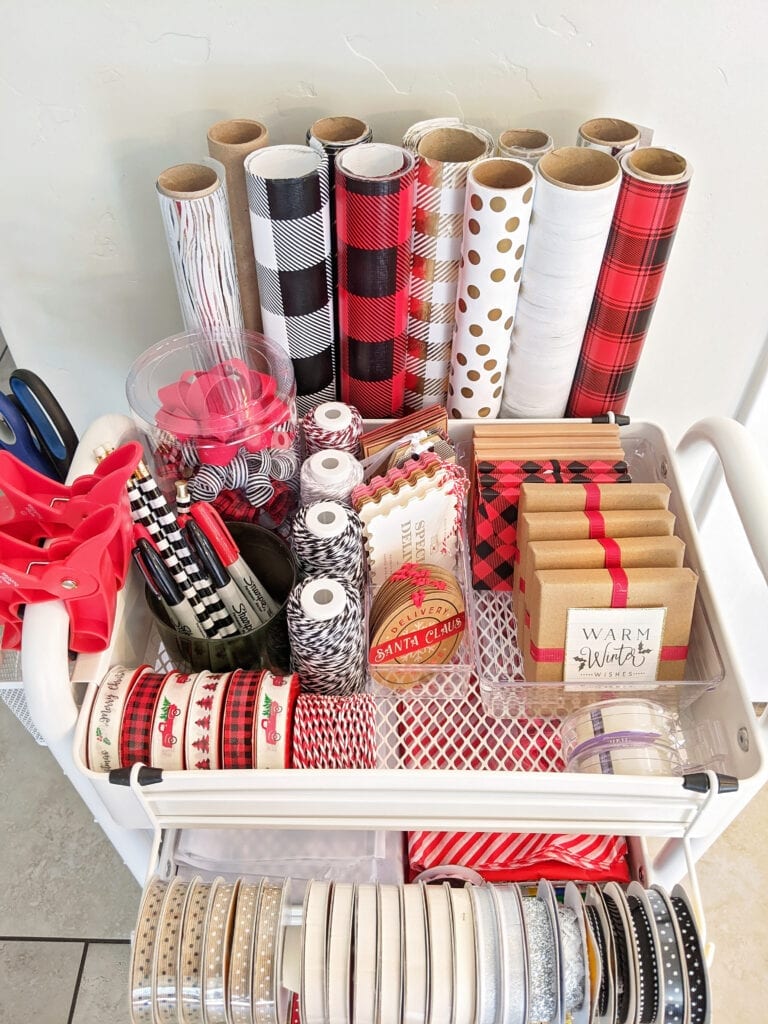 So I created a gift wrapping cart that works just perfectly for me. I keep the cart in a small closet underneath my stairs. It's super convenient because I can just pull out the cart and I have all of my gift wrap supplies there and ready to go.
Here are some pretty great gift wrap stations that you can use a a base for creating and customizing your own.

Decide on a Convenient Place to Store Gift Wrap
There are so many different ways that you can store your gift wrap. Here are a few of my favorite ideas:
Store everything in a box under your bed
Gift wrapping cart that you can roll around your house to wherever you need
You can install a system that hangs over a closet door
Build a Hidden Gift Wrap Box for under your bed (see photo below)
Dedicate a section of your office or craft room to gift wrap
Store wrapping paper vertically in a bin inside of a spare closet
Build a wall system that holds all of your wrapping paper rolls
Purchase a gift wrap storage system that hangs up inside of a closet
Use a pegboard system that helps organize all of your gift wrap accessories
Get creative with how you use the space that you have in creating a system that will work for you and your family. I also like to make sure that it isn't so organized and complex that my kids couldn't get into it and wrap a gift themselves. They love to wrap presents, especially my daughter, and as long as she knows how to put everything away where it goes, I'm fine with that!
Clean Out Existing Gift Wrap
My first tip is to go through your existing gift wrap and declutter the things that you already have. When I went through this process, I found several rolls of wrapping paper that had a few mere inches of wrapping paper but it was taking up a ton of room at my station.
Some of them were not worth keeping in some of them were. But the idea behind it is to get rid of gift wrap that you no longer like or that is too damaged and wrinkled that you wouldn't be willing to gift it to someone else.
Just because you get rid of it doesn't mean that you automatically throw it away. Just put it in your donation pile or offer it up to a neighbor if it's not too damaged.
As you go through your existing gift wrap, this will give you a good idea of the remaining items that you need to get. Most likely you're almost out of tape, or your scissors are dull, or all of your tissue paper is wrinkled beyond recognition. Take note of all the things that you are low on and stock up on these gift wrapping supplies.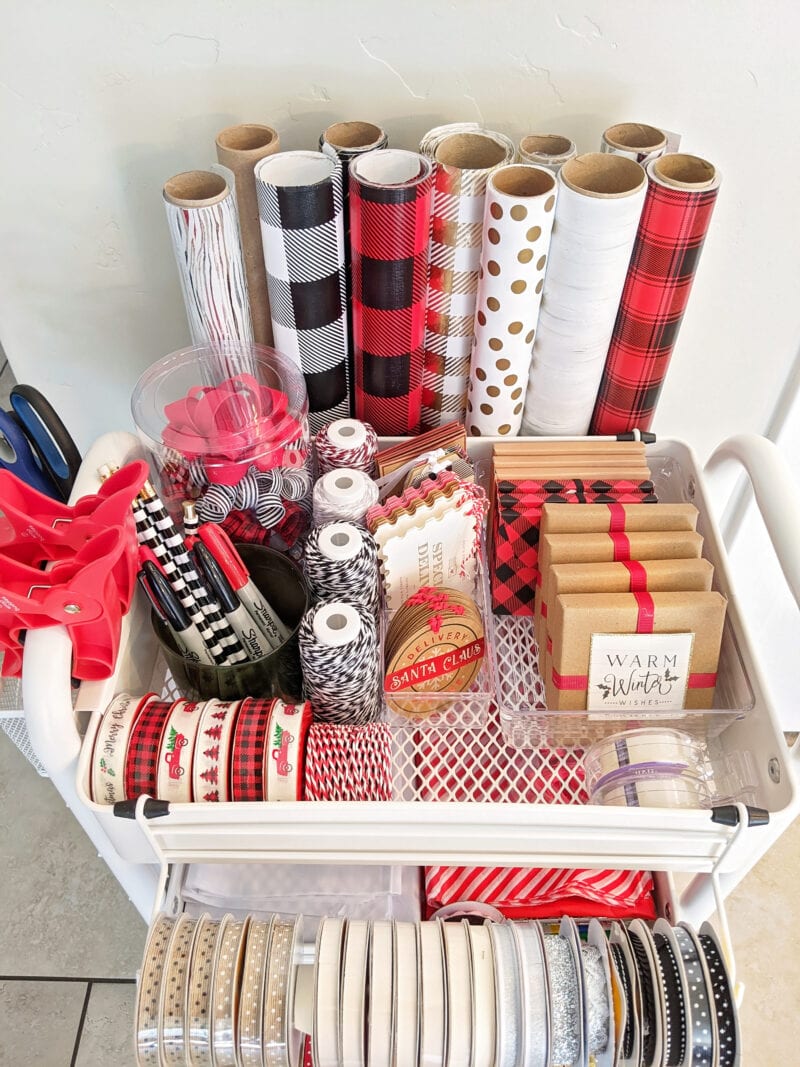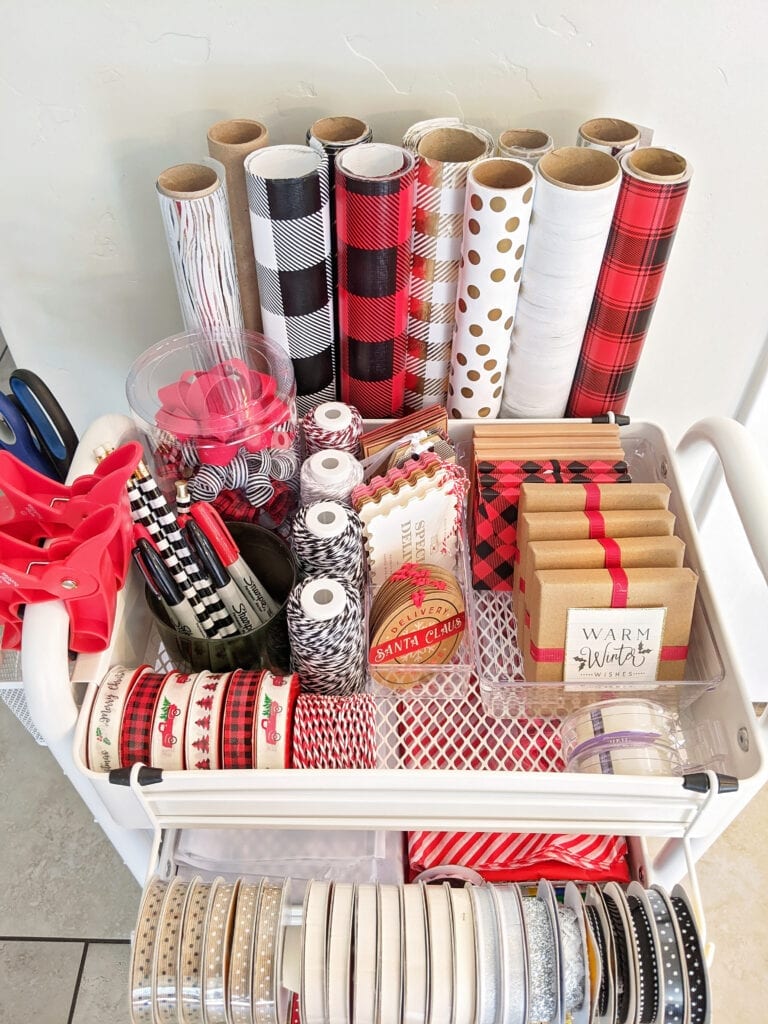 Stock up on Gift Wrap Supplies
The main idea behind the gift wrapping station is to be fully prepared even for last-minute gifts that you are preparing for somebody. There have been several years that we have sat down to wrap a few last-minute gifts on Christmas Eve only to realize that we were completely out of tape. It's the worst!
It doesn't mean that you need to go out and buy an excess of gift wrap supplies but just have enough supplies so that you will be prepared. And it's not like you're buying supplies that you wouldn't have needed to buy anyway, you're just thinking ahead.
Wrapping Paper
Gift Boxes
Tape
Sharp scissors (nobody likes wrapping presents with dull scissors)
Gift Bags for various holidays and in various sizes
White Tissue Paper
Colored Tissue Paper
String or Baker's Twine (my favorite)
Ribbon
Gift Tags
Sharpie Marker
Pen or Pencil to write on the Gift Tags
Gift Card Boxes
Pillow Boxes
Consider Buying Coordinating Gift Wrap
When you are creating your gift wrap station, consider how your gift wrap elements coordinate together. Purchasing gift wrap that can coordinate with several different elements of your gift wrap supplies will really go a long way with saving you a lot of money.
Sometimes I have bought things randomly at the store that I thought was a really cute way to wrap a gift only to realize when I got home that I had nothing else that would match with it. It was a total waste of money for me.
Another great tip is to stick with neutrals with a lot of your gift wrap supplies.
For example, you may want to change up your wrapping paper every year but you could also keep lots of neutral ribbons, strings, and gift tags on hand so that no matter what paper you choose to buy, it will always coordinate and match.

Must-Have Gift Wrap Gadgets
I am not at all sponsored by these companies but these are just genuinely genius gift wrap gadgets the really go a long way to speed up the process of wrapping gifts.
My very favorite gift wrapping gadget is called Wrap Buddies. These completely solve the problem of your wrapping paper roll rolling up nonstop when you're trying to wrap a gift. And even better than that is that the tape is contained in the wrap buddy itself so you will never need two hands to get a piece of tape again!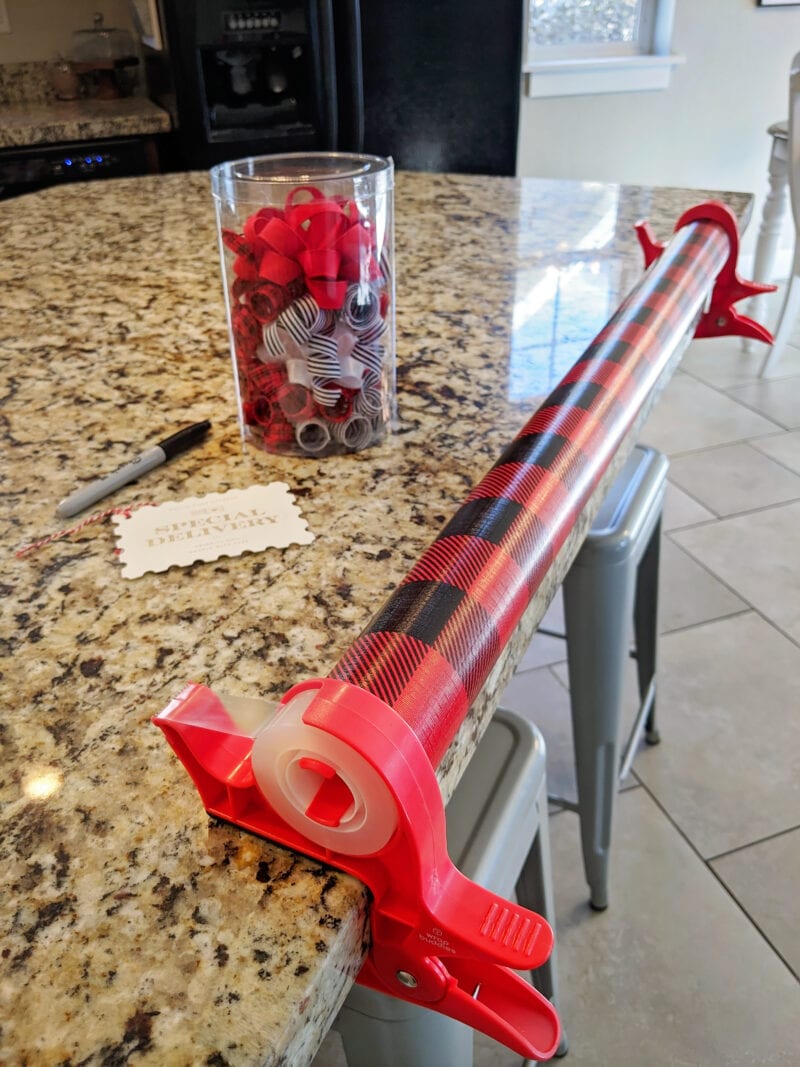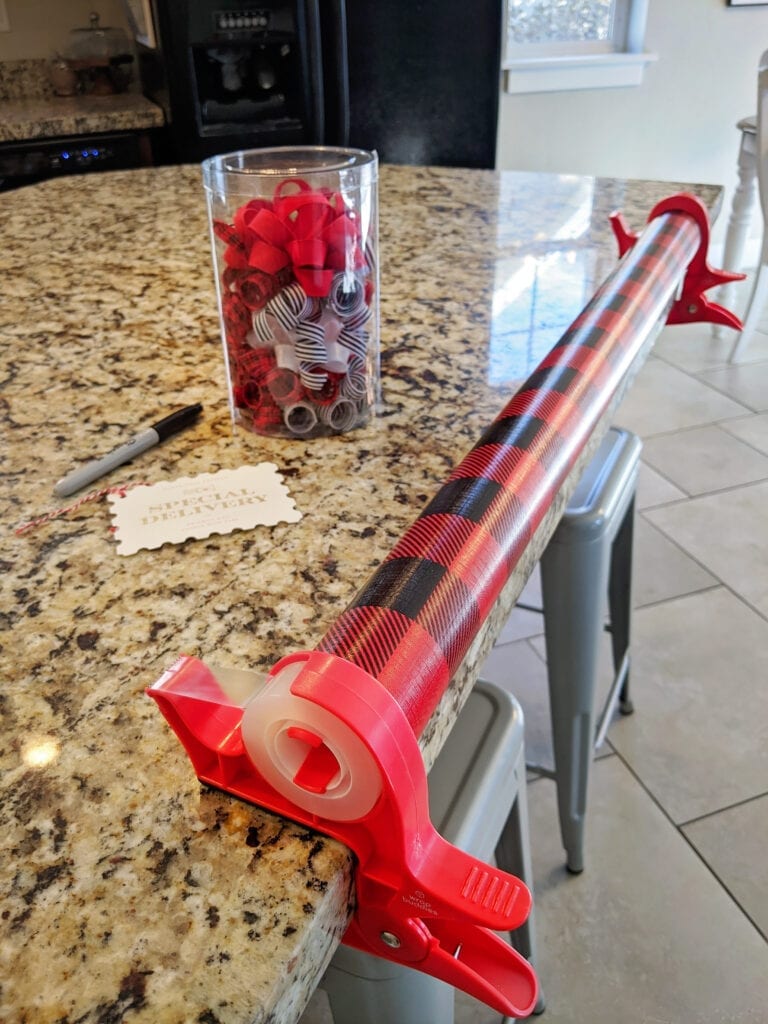 Another genius gift wrapping gadget is called Wrap Master. This completely takes the place of needing scissors and you'll be blown away at how easy it is to cut wrapping paper with this thing.
The Little Elf is another genius paper cutter but what I love about this one is that you can also put it around your wrapping paper rolls to keep them from coming unrolled.
If you have space in your house to put your gift wrap on display, I really love this Wrapping Paper Organizer that holds 10 rolls of wrapping paper!

Arrange Gift Wrap by Color and Size
Another important element of organizing is to organize your gift wrap by color and size. This will really help you to easily locate exactly what you're looking for in those last-minute situations.
If you are looking for a small gift bag that you are frantically searching between all of the medium and large gift bags for a small one, you've wasted time. If you organize your gift bags according to size, then it's easy for you to find the exact size that you need at that moment.
It's also very helpful to organize things according to color. If you are wrapping a Christmas present, it's much easier to find that black gift tag that you were looking for that coordinates with your buffalo check wrapping paper if everything is organized according to color.
Again, it's just a very small time saver but when all those very small incremental moments are added up, it really does make a huge difference in your life.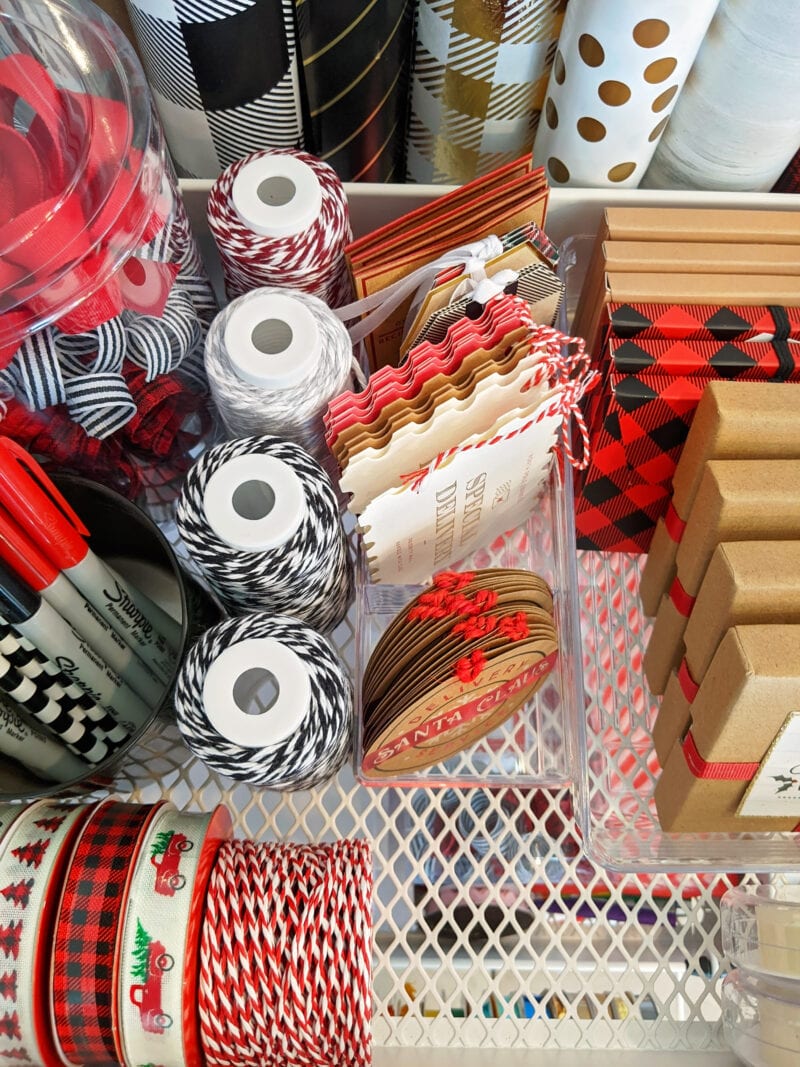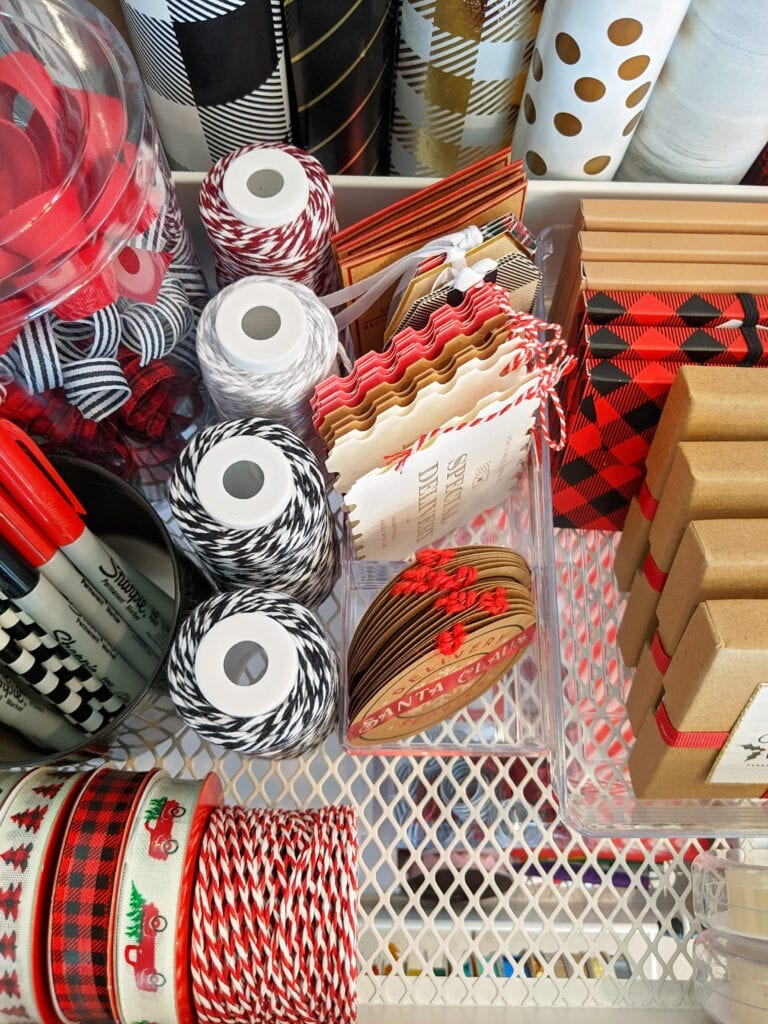 Compartmentalize Gift Wrap Accessories
Another important step to creating a gift wrapping station is to organize things by type. That might seem pretty intuitive but even those really small things such as gift tags, ribbons, and tape can get lost in your gift station.
Taking small acrylic containers from the dollar store to help organize your gift wrap supplies will really help things stay looking neat and tidy. I did that on the very top shelf of my gift wrapping cart and it really goes a long way to help things stay looking nice. I always know where things are and it's very easy for me to find what I need.
If you have extra drawers that you are using in you built in cabinets you can use various other items to keep things organized such as:
Expandable Bamboo Drawer Dividers
Clear Acrylic Organizers
Small Bead Organizers for Gift Tags

Other Great Gift Wrap Station Ideas
There are so many incredible gift wrapping stations, carts, and boxes all over the internet. There are tons of incredible people with lots of great ideas and inspiration. I have compiled a few of my very favorite gift wrapping stations for you so that you can gain some inspiration as well!
You can click on the links to get more details about the image in the photo.
I hope you have been inspired by the things you have read and the things you have seen. Creating a one-stop wrapping station not only makes you feel good, but it will save you tons of time an money in the long run. Happy organizing, friends!