How to Organize Your Master Closet for Maximum Space and Style
Do you ever feel like your closet is a mess and you can't find anything to wear? Like it's crammed full of clothing and it's hard to find anything? You're not alone. A lot of people feel that way, especially when their closets are cluttered. You probably don't even know what color all your clothes are because they're hidden under a layer of dust.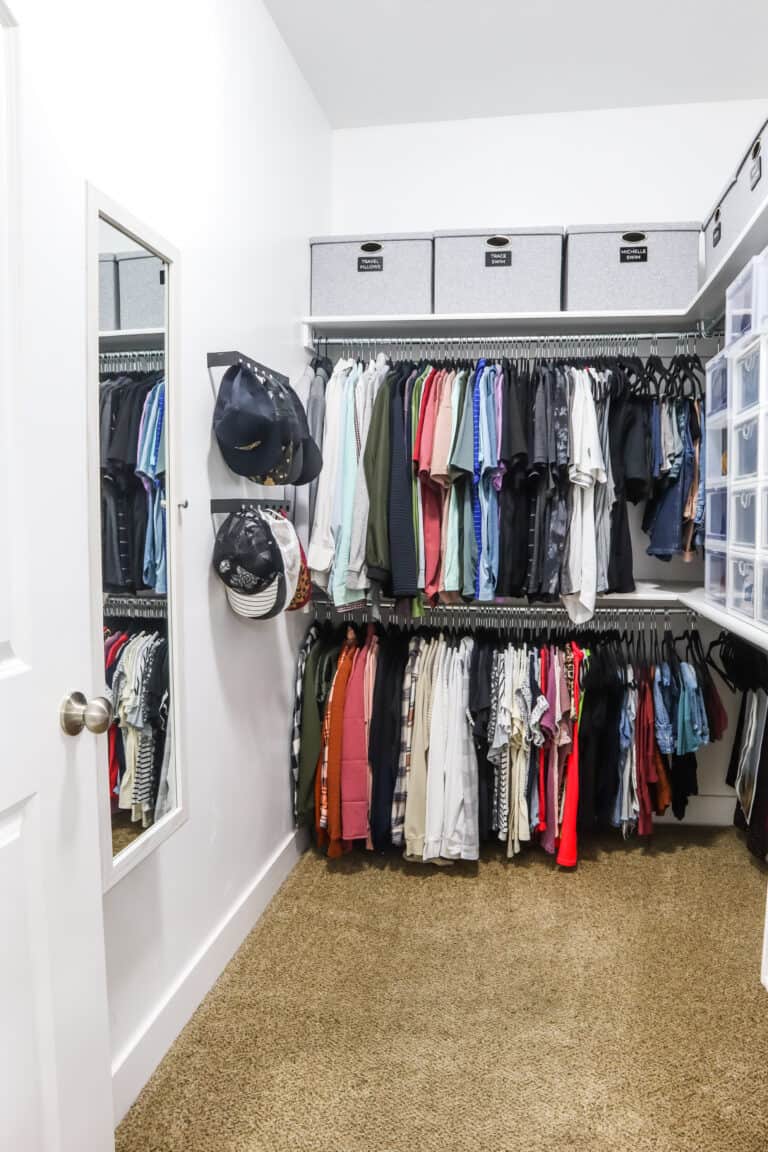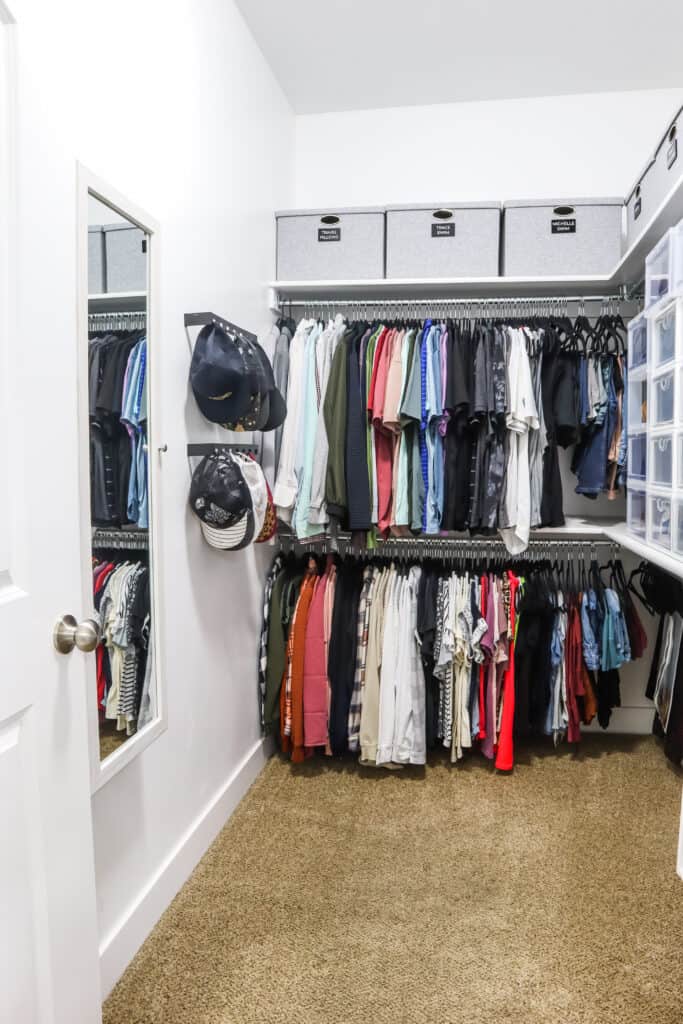 Well, no more! In this post, we're going to teach you how to organize your master closet for maximum space and style. By following our tips, you'll be able to easily find what you're looking for and have a beautiful closet that makes getting dressed feel like a luxury!
How to Organize the Master Closet
The master closet is an important part of your home. It is a place where you keep your wardrobe, shoes, and other items. But if your closet space is cluttered, it can be difficult to find the exact pair of pants or shoes you need.
Here are some of my favorite master closet organization ideas to help you maximize your closet storage space and create an organized and tidy master closet.
First things first… decluttering!
Decluttering is always an important step in organizing, and that's certainly the case when it comes to your wardrobe!
Before you can have an organized master closet, you need to go through your wardrobe and get rid of any clothing, shoes, and accessories that you no longer wear. This can be a difficult process, but it's important to let go of items that you don't use anymore.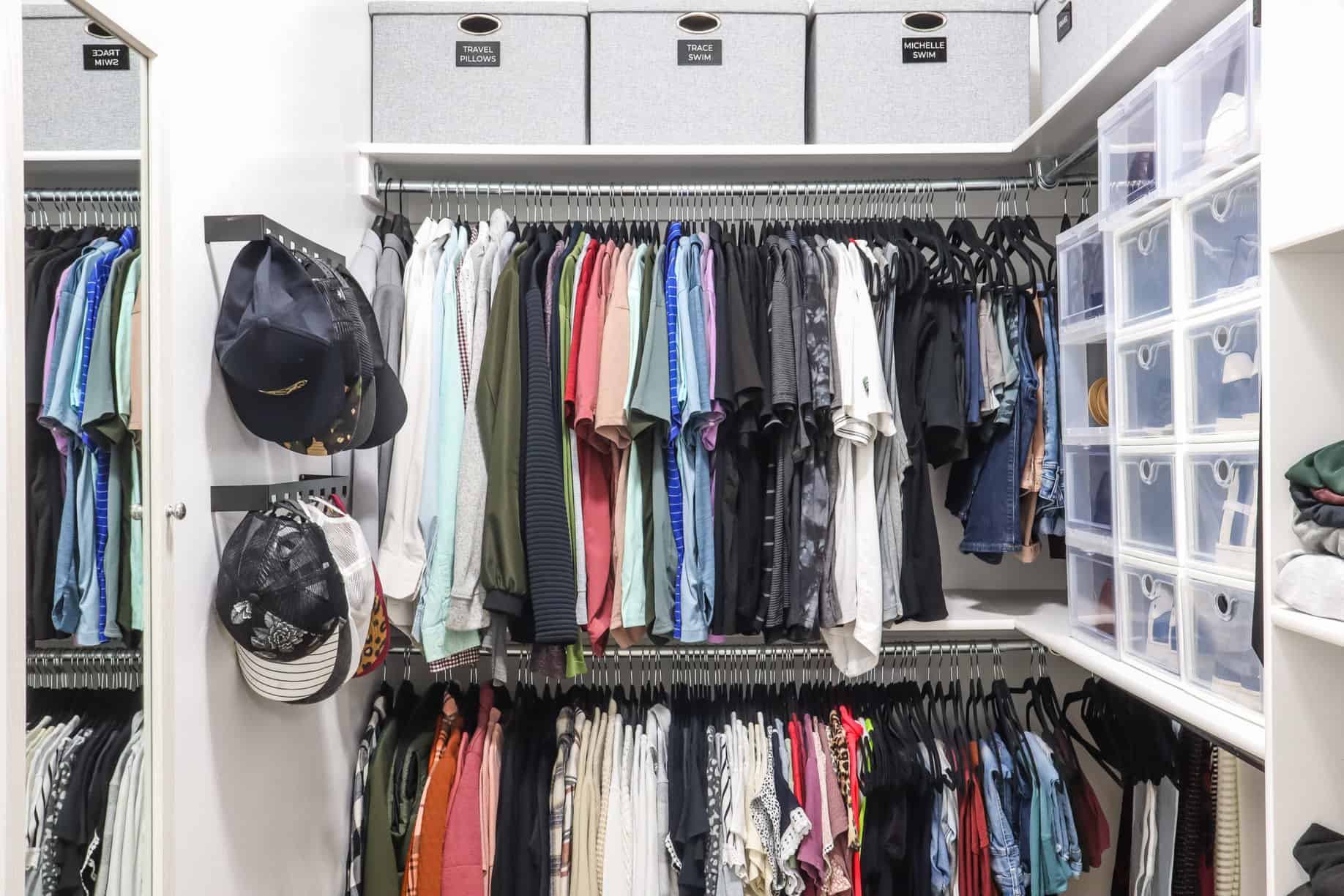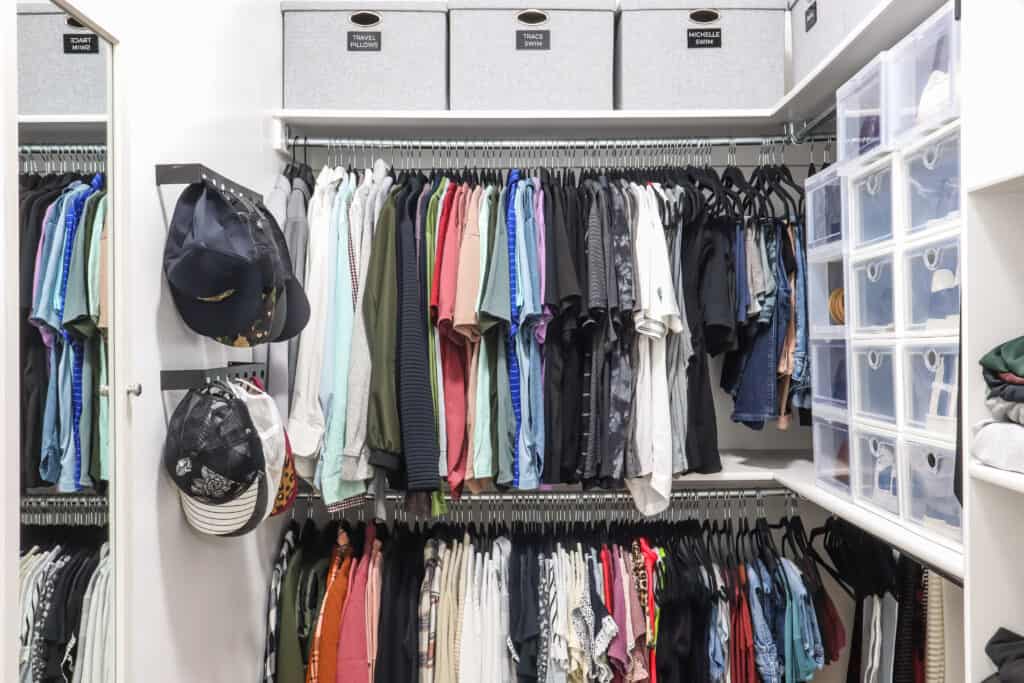 Sometimes we hold on to clothes that no longer fit, expecting that we will need them again. But I'd suggest decluttering those as well and donating them to a local thrift store. Looking through your closet and seeing so many clothes that no longer fit is not good for your mind or your closet's storage capacity.
Take your time with this step! Try things on, see if you still like them, or can alter them to make them work for you. This doesn't have to all get done in one hour! It's okay to go slow.
Once you've decluttered your wardrobe and shoe collection, it's time to start organizing!

Decide How to Use Your Space
After decluttering, it's time to decide how to use your closet space. Consider the space you have in your closet. Do you have a tiny closet? A walk-in closet? Does your closet have custom built-ins or open shelving? Do you have a lot of hanging space? Do you have a closet door that you can use to store shoes or hang other accessories?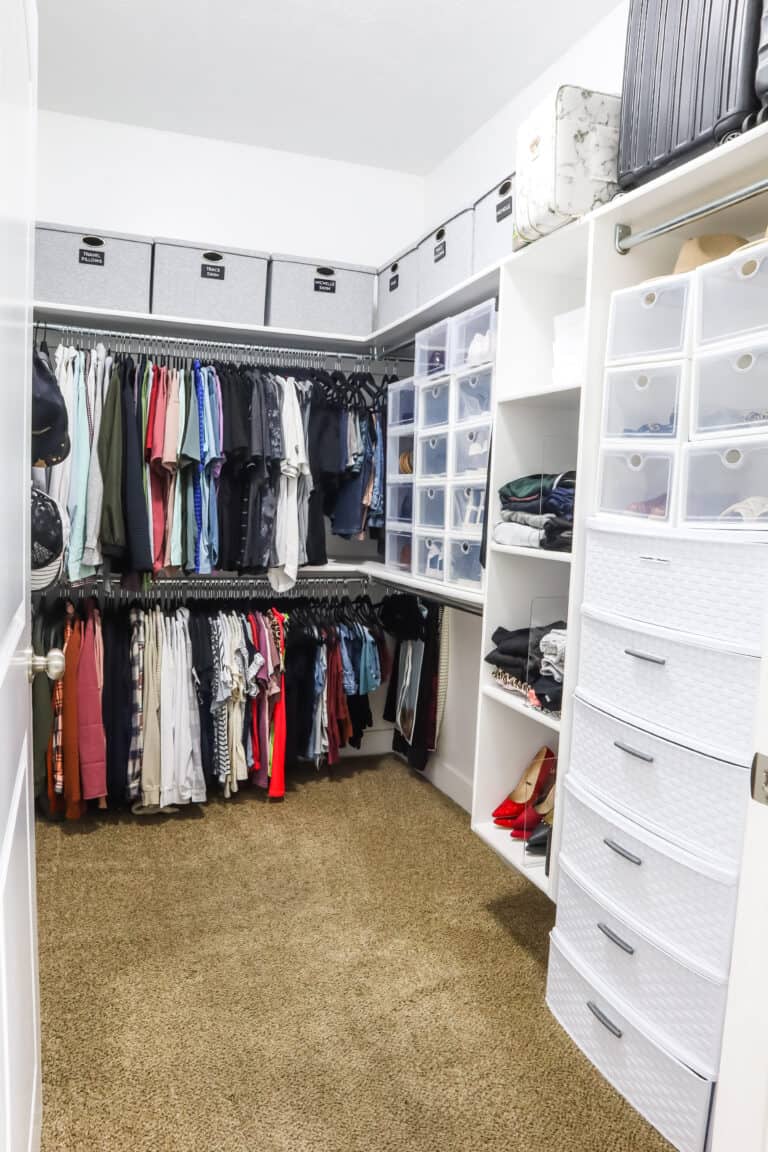 If you haven't done this before, really take stock of your closet and figure out how much space you really have. Are you sharing your closet with someone else? Consider how many clothes they have as well. Measure your closet or shelves if necessary and see how much space you have to use.
If you have a lot of hanging space, then you can hang most of your clothes, including pants. If you have a lot of open shelves, you can fold up most of your tops and bottoms and only hang long dresses.
The design of the master closets will kind of determine how you implement some of these master closet organization ideas, so make sure you're aware of what will work for your closet or what you can change to stay organized!

Hanging Clothes
Taking advantage of any space to hang clothing in your master closet is important. This is especially the case if you have a lot of clothing. You want to make sure that your hanging clothes are taking up as little space as possible so that you can move around easily and have room for other things.
One way to do this is by using slim hangers. I love velvet hangers like these because they are slim and the velvet helps keep clothes from slipping off. I hate when my clothes slip off onto the floor!
You can also use hangers that are the same color as your closet so they blend in and don't look cluttered.
You can also use space-saving hangers to hang multiple items on one hanger. This is great for things like skirts, pants, or even scarves. If you don't have a lot of space to hang your wardrobe in your closet, then using vertical or space-saving hangers is a great way to save storage space.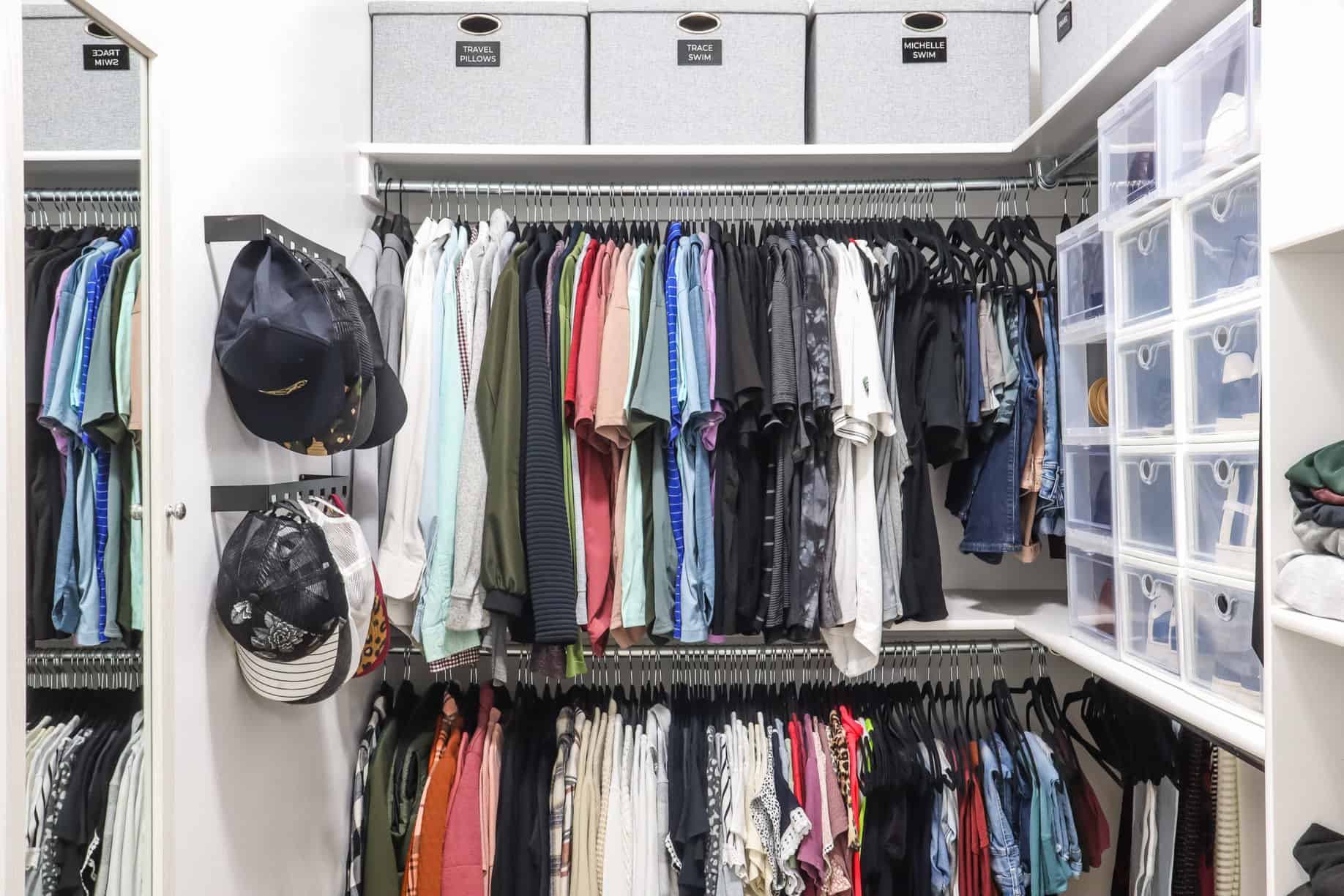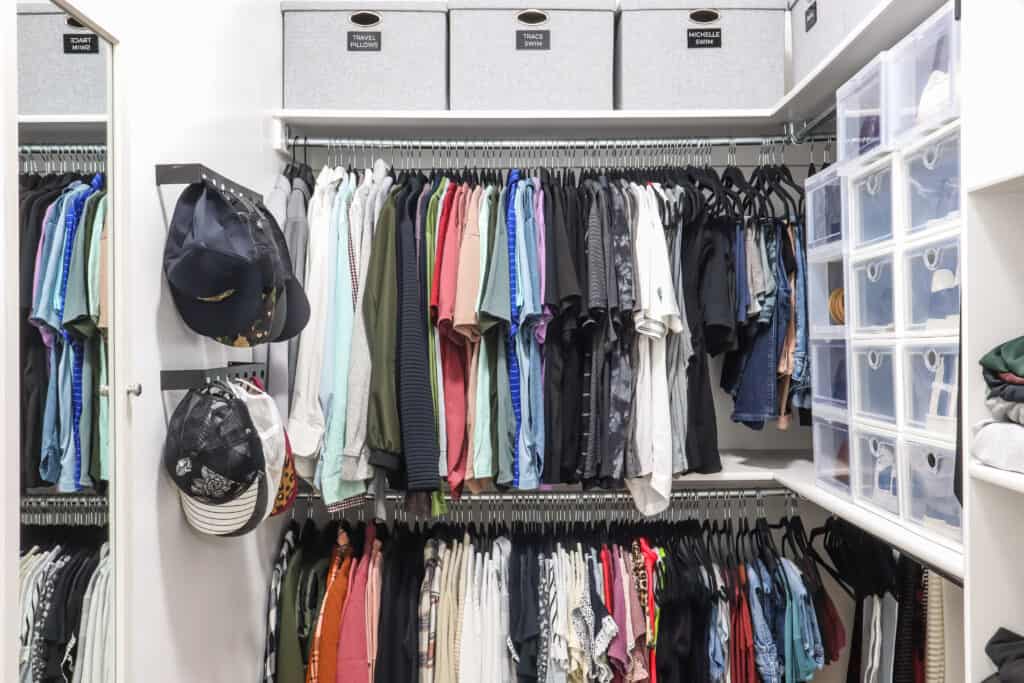 Organizing by Color
When it comes to organizing the clothing hanging in your closet, there are a few ways to do it. You can store your wardrobe based on the type of clothing or the season you'd wear them in.
You can also store them based on color, like a rainbow. This is a great way to see all of the clothes you have at once, and it also makes picking out an outfit much easier. If you want to get really organized, then you can group your clothing by color and then by type or season within the color section.
Or do the opposite! Have a bunch of mini rainbows in your closet because you've organized them by type and then color within each category. That's fun too!

Folded Clothes
If you have a lot of shelves in your closet, then I'd suggest utilizing those by folding clothes instead of hanging them. Reserve your hanging space for items like long coats or dresses and fold your other clothing. This will help to keep your closet looking neat and tidy.
Pick a shelf and make it your pants or bottoms shelf. Use another shelf for tee shirts and foldable tops. Use another shelf for sweaters, etc. But utilizing the built-in shelves in your closet, you're leaving room for hanging only the clothing that will wrinkle.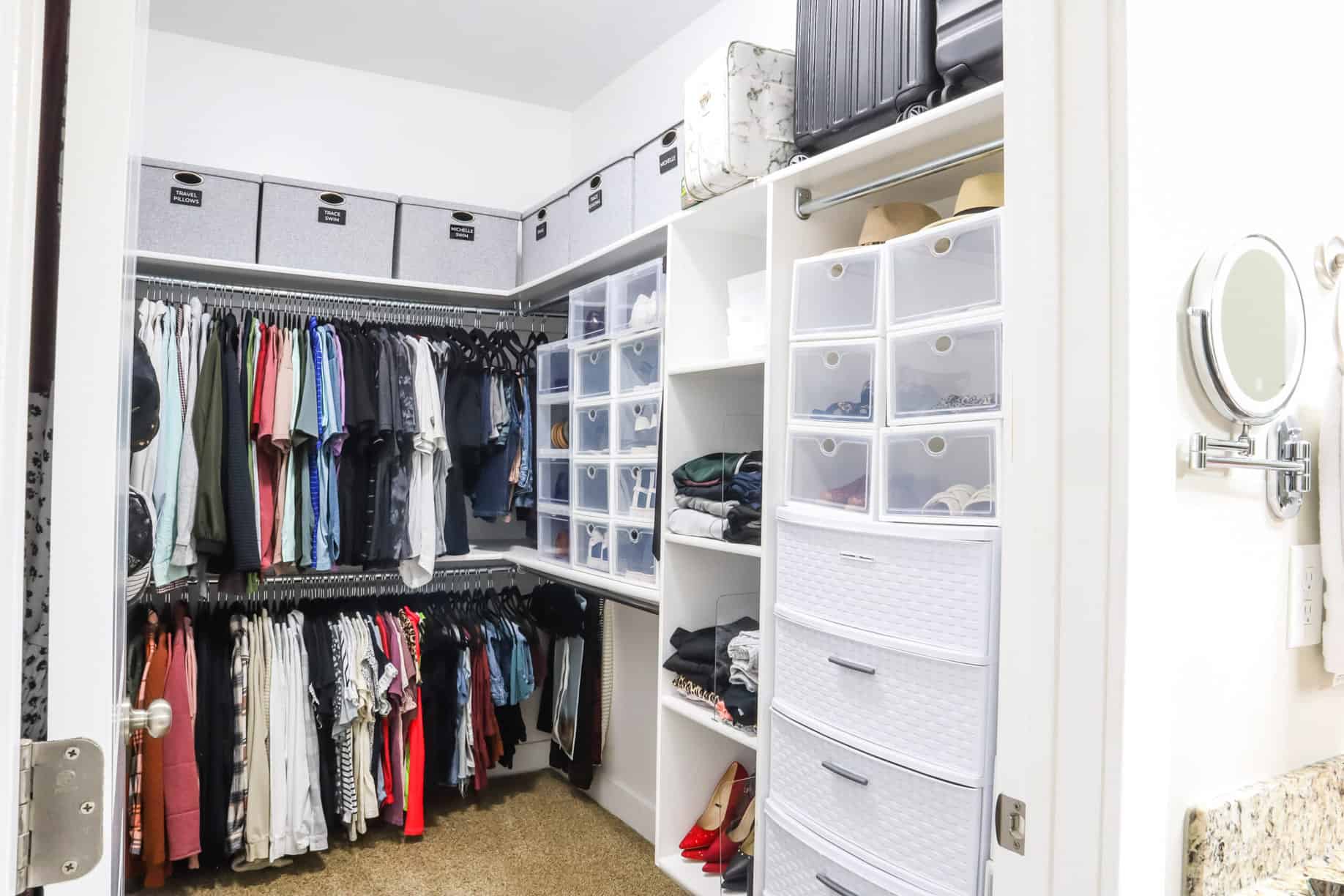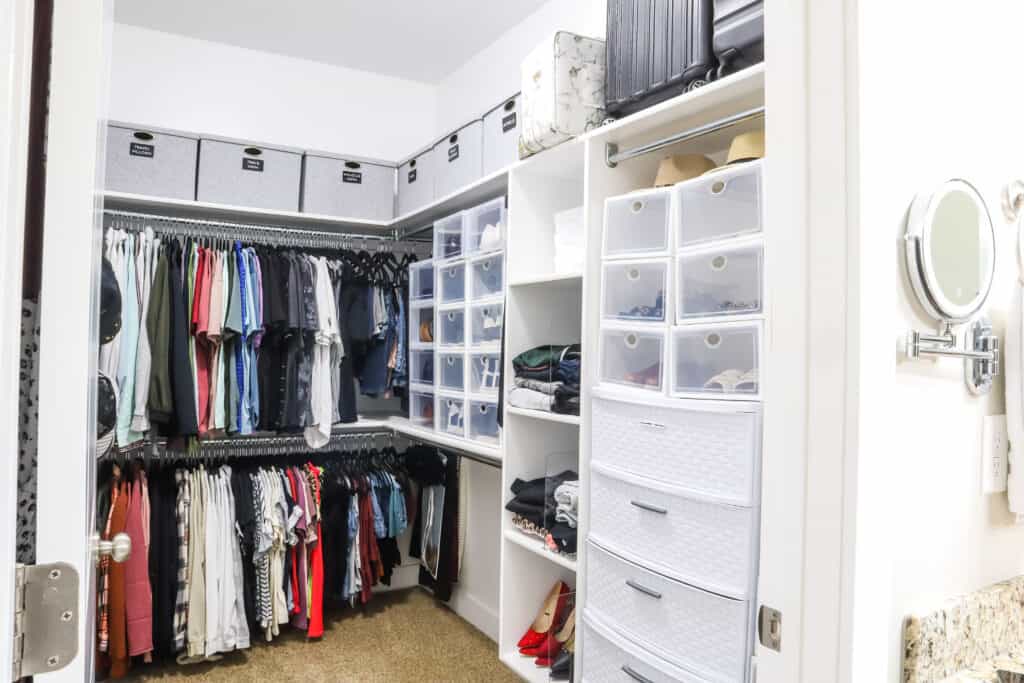 If you don't have shelving in your master closet but want to use shelving as one of your storage solutions, use the vertical space in your closet and install floating or wire shelving. You can add it to the top, above the hanging rod, or even on the walls behind the rods and store shoe boxes and accessories on those shelves. Use the walls for storage when possible!
Use a Dresser
This is the same for dressers! If you don't have a walk-in closet and use a dresser, remember that more clothing than not can be folded up and stored in drawers.
If you have a great closet space, you can add your dresser to your walk-in closet, but if you don't have the space for that extra storage in your closet, then keep it in the room instead.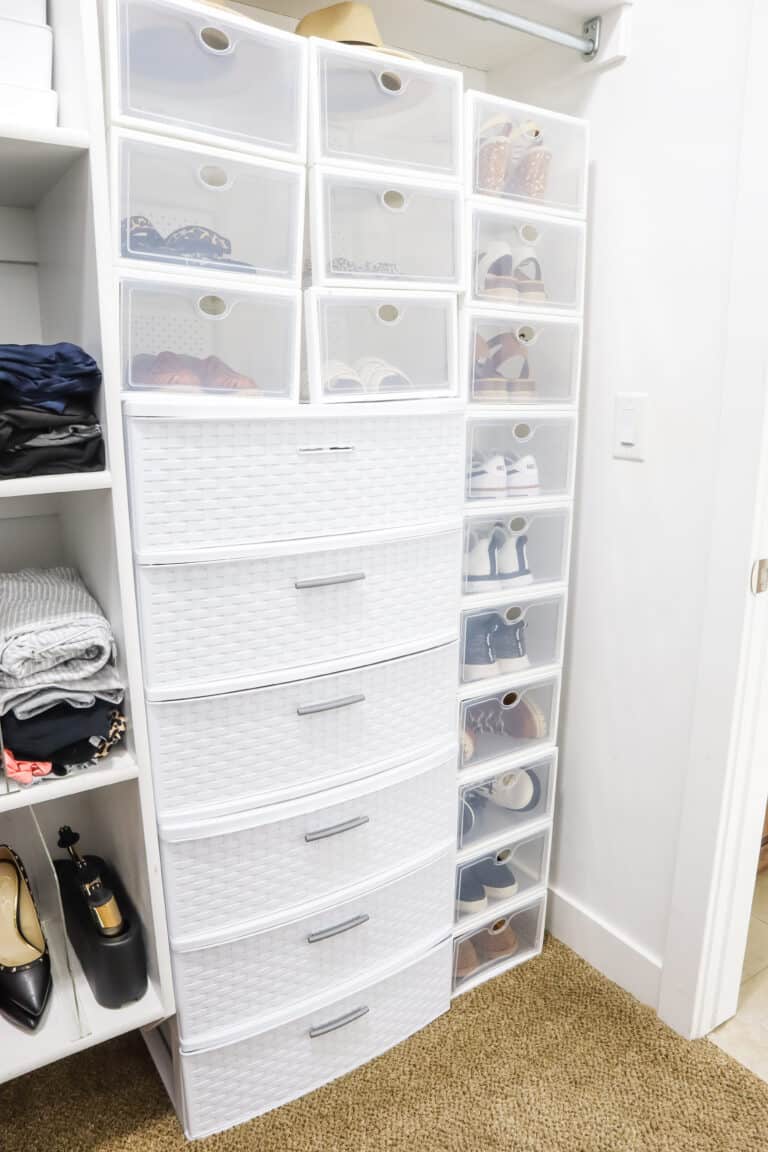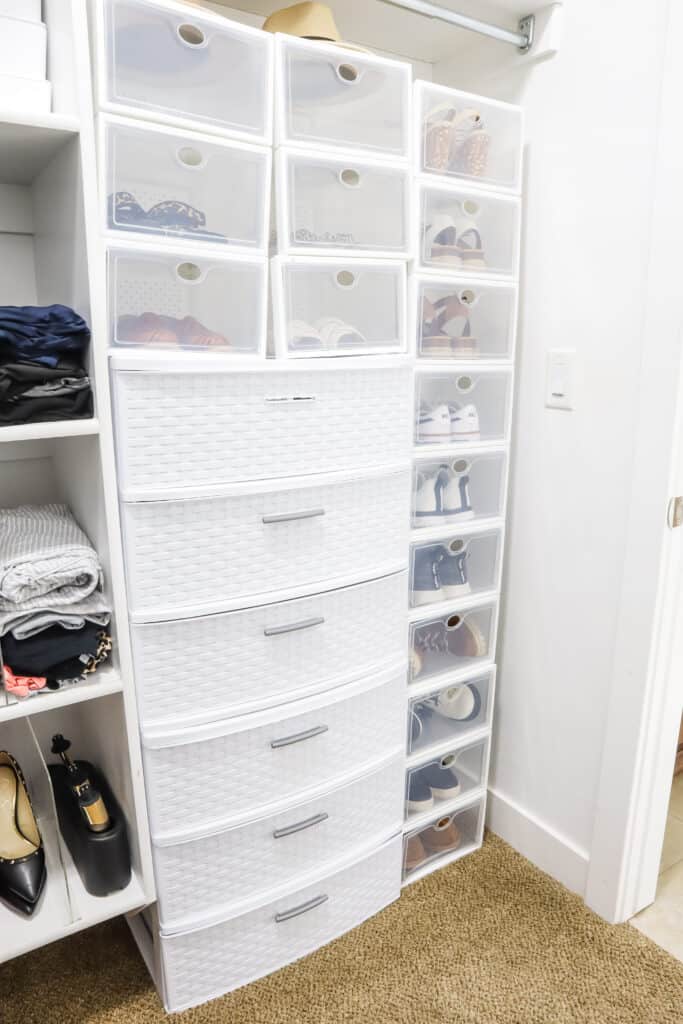 Organizing the drawers by clothing type will make it easy to find what you need. You can also add organizing cubes or drawer organizers for the drawers that hold smaller items like socks and underwear.
Organizing Shoes
Shoes can take up a ton of closet space because they are so bulky, so it's important to find a way to organize those shoes in your master closet.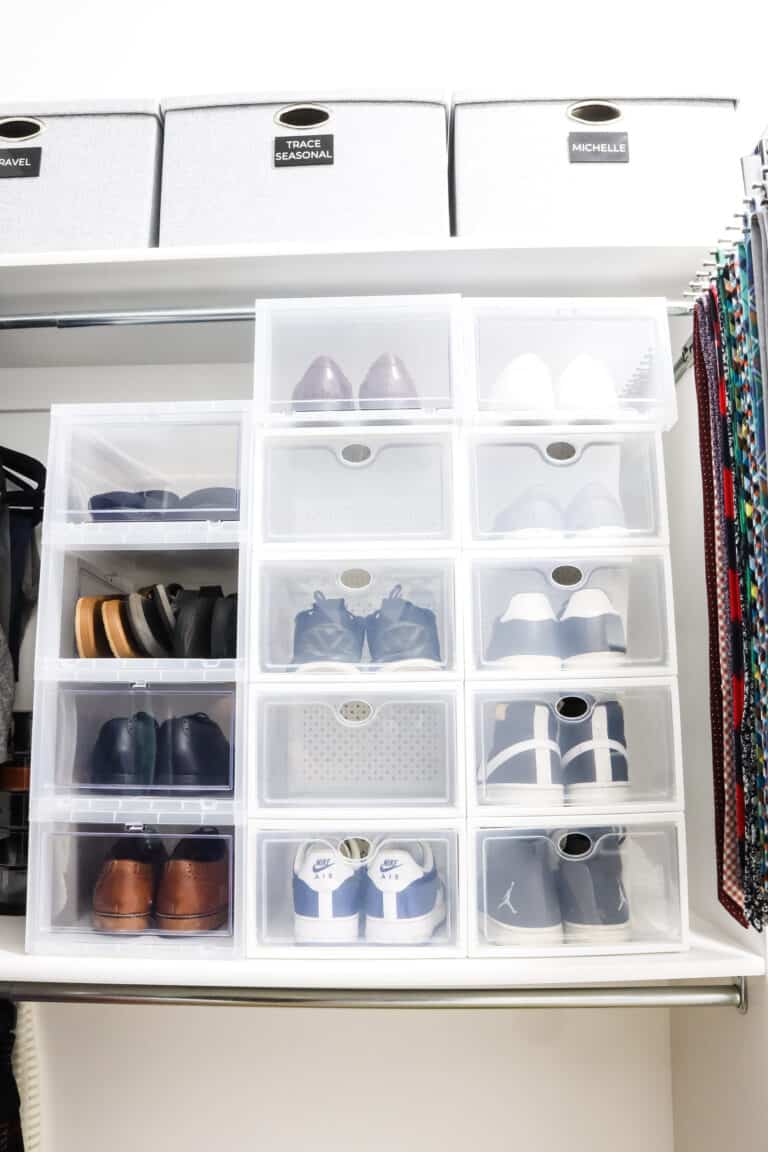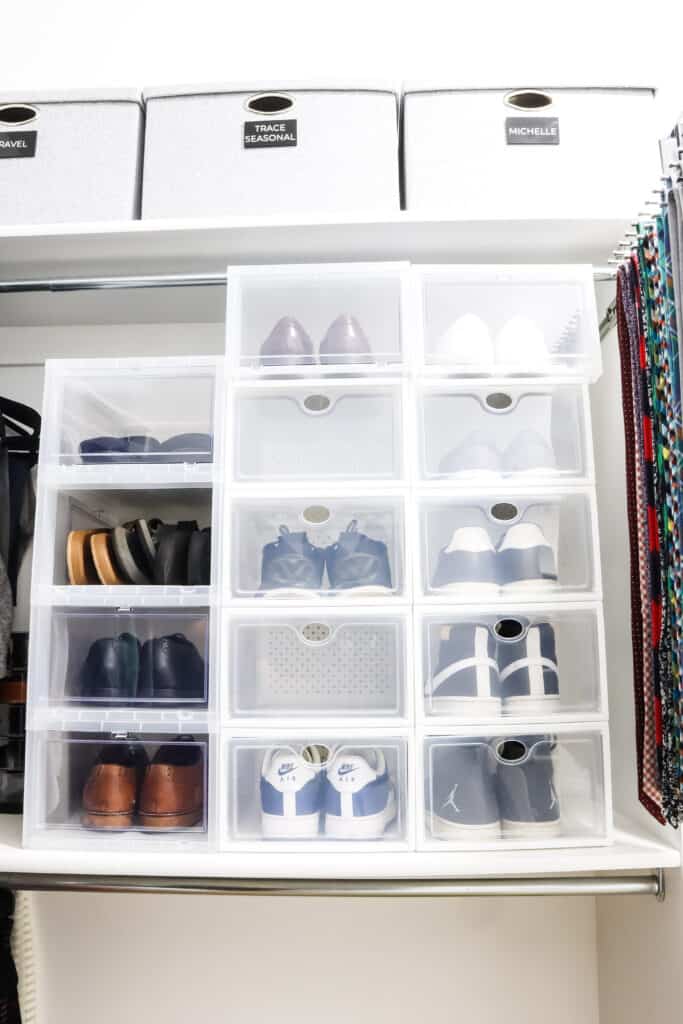 One way to organize your shoes is to use stackable boxes like this one. If you have the space for organizing systems like this in your master closet, I highly recommend it! A stackable decorative container like this one makes it easy to see your shoes. It's even pretty enough to go in your room if you don't have room for it in the closet!
Another way to organize your shoe storage is to store them in hanging storage containers. Use the wall or door for vertical storage!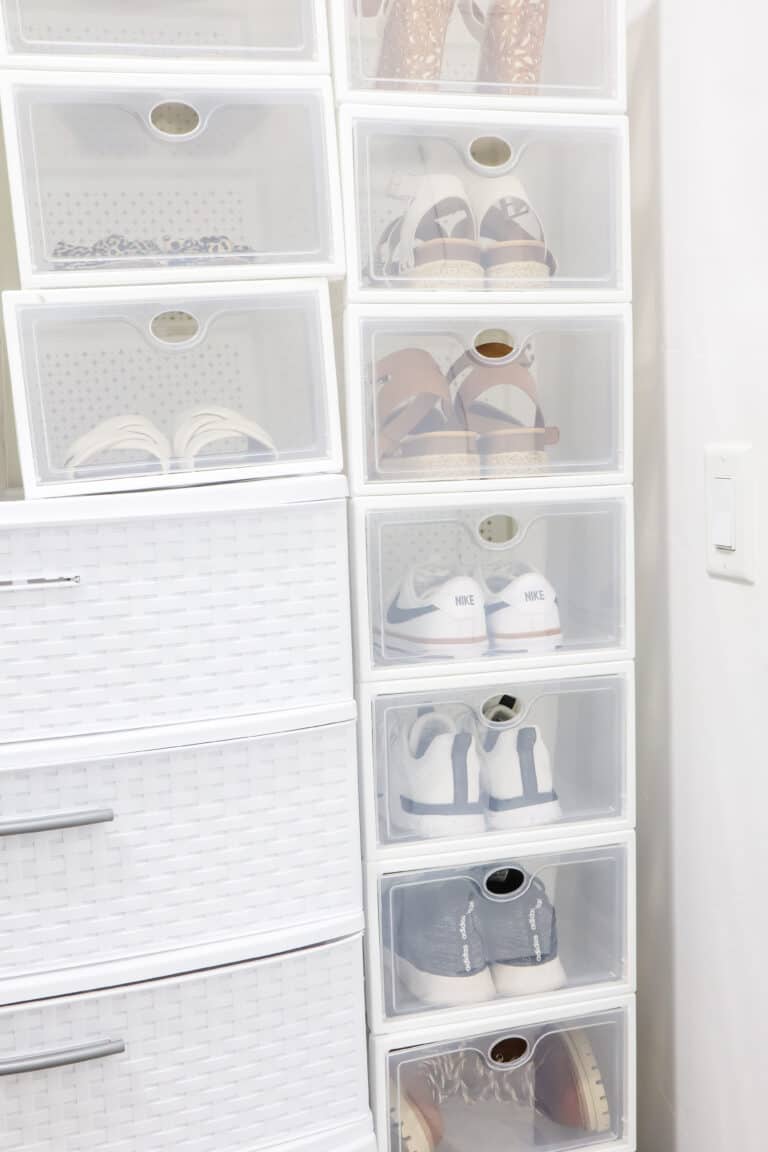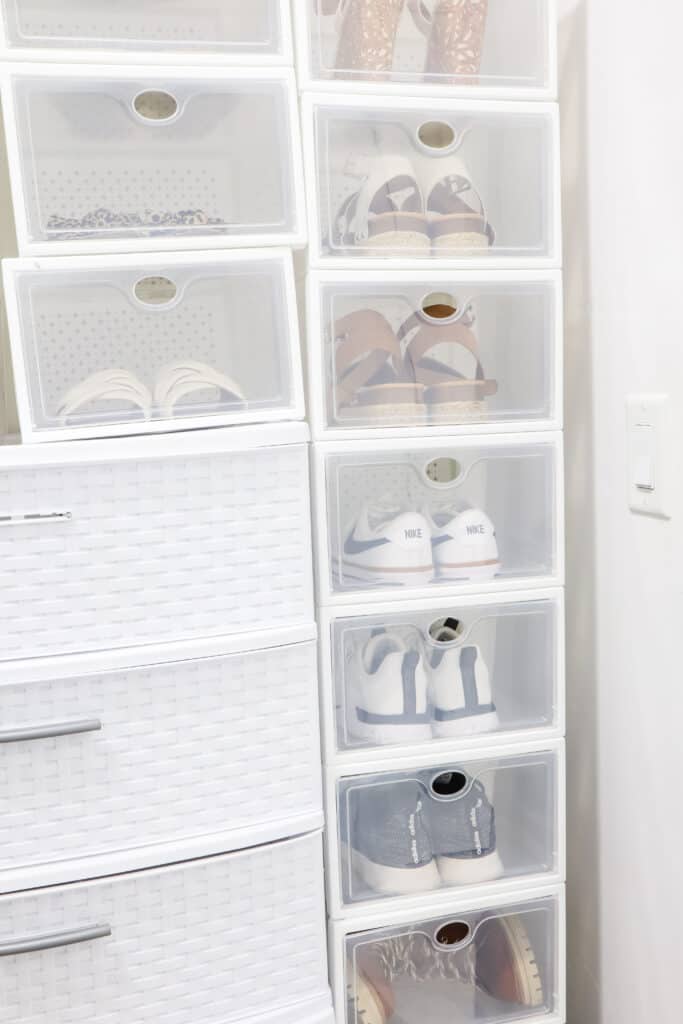 Organizing Accessories
Hanging accessories is a great solution to accessory organization! I love this hat rail! It saves a lot of room and keeps hats (a pretty hard-to-organize accessory) accessible and out of the way.
You can also get a jewelry cabinet like this one if you have a lot of jewelry. This can be in your master bedroom rather than in the closet because it's so pretty! It hangs on the wall and looks like a mirror but opens up to reveal your jewelry collection. I love it!
Organize by Season
One way that I like to organize my closet is by season. This helps me to know what I have and where it is when I need it. Plus, it's really helpful come spring/summer or fall/winter when you need a completely different wardrobe. Sure, you can keep your rain boots out all year, but there are certain times of the year when you'll need easy access to that rain gear.
Likewise, you don't want to be rifling through a million sweaters for that sundress when it's the middle of a hot summer. If you have a top shelf in your closet (or under your bed or in another area in your room or house for storage) I love putting my season clothes in a container and storing them away when it's not that season.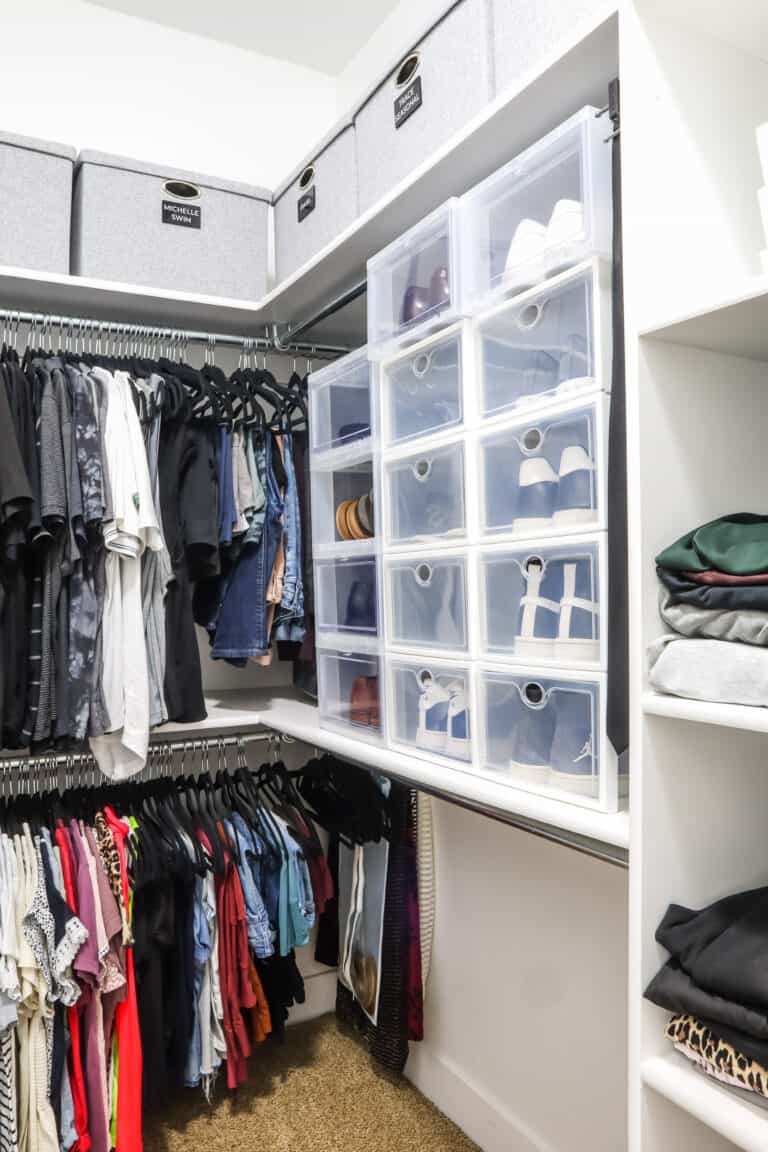 Only keep the season clothes from the season you are currently in inside your closet if possible. This will help you keep your clothing more organized and make it easier to find what you're looking for.
Master Closet Organization
I hope these master closet organization ideas have helped not only as storage solutions but also as a way to make your master closet feel a little bit more luxurious.
Whether you have small walk-in closets, great big closets, or you don't have a walk-in closet at all, you can find ways to make the closet in your primary bedroom a beautiful space.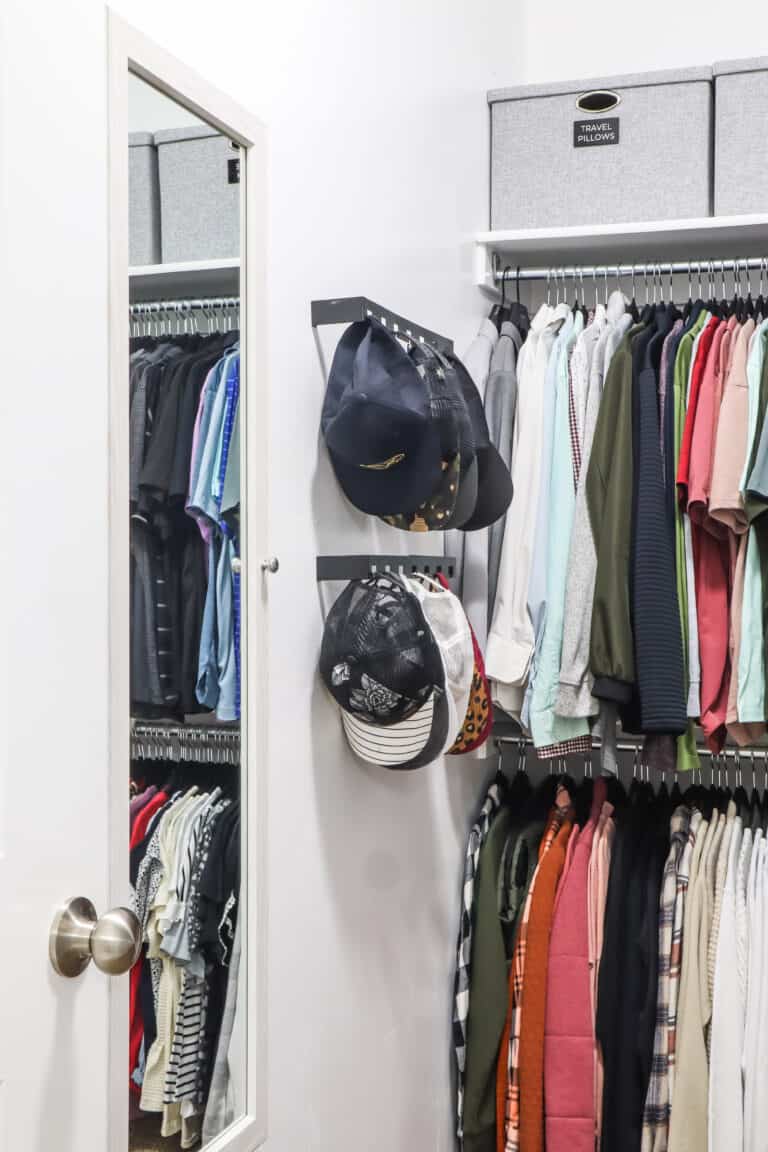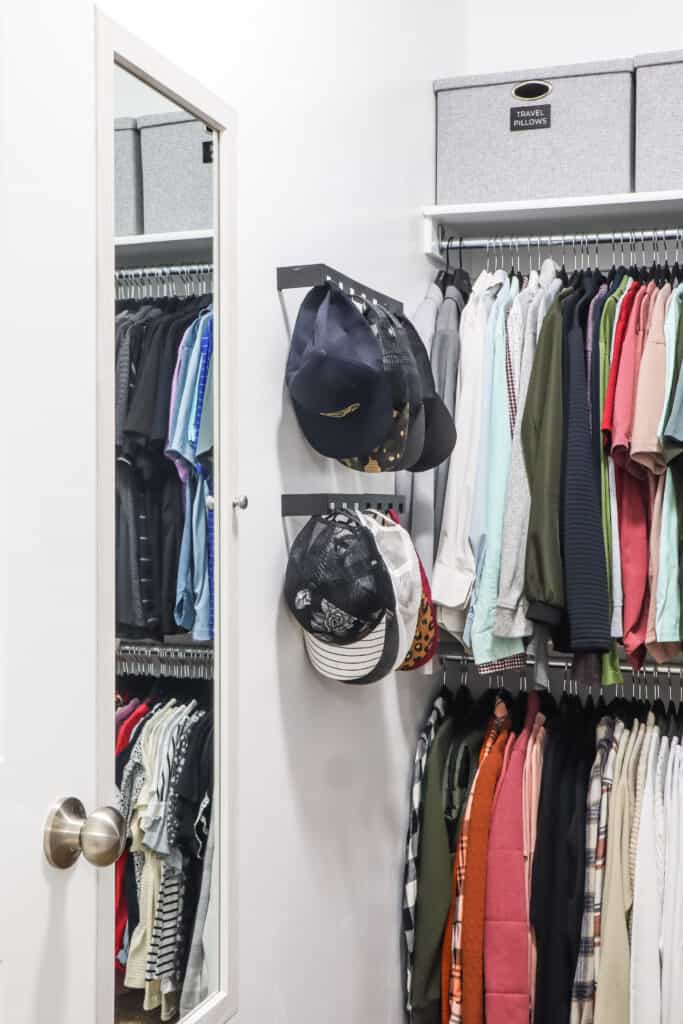 One last suggestion is to use a rollable clothes hamper like this one. It'll make it super easy to wheel it out of your closet and through the house to your laundry room when you need to do the wash. Then you don't have to haul a heavy basket of clothing through the house.
Happy organizing!
When you focus on the small things in your walk-in closet, like the storage or the space on the door or keeping the floor organized, it will help you feel like every square inch of your closet is organized.
Keep those floors tidy and hang things back up right after you wash them! Store away clothing that is out of season to save space in your closet. Use products that can make your closet pretty and efficient.
Remember, you don't need to have a custom closet to make your closet beautiful, functional, and organized!