10 Essential Elements for a Cozy Teen Hangout Room
As your kids grow older and start becoming more independent, it's important to give them a space where they can hang out with their friends and relax. A cozy teen hangout room is the perfect solution!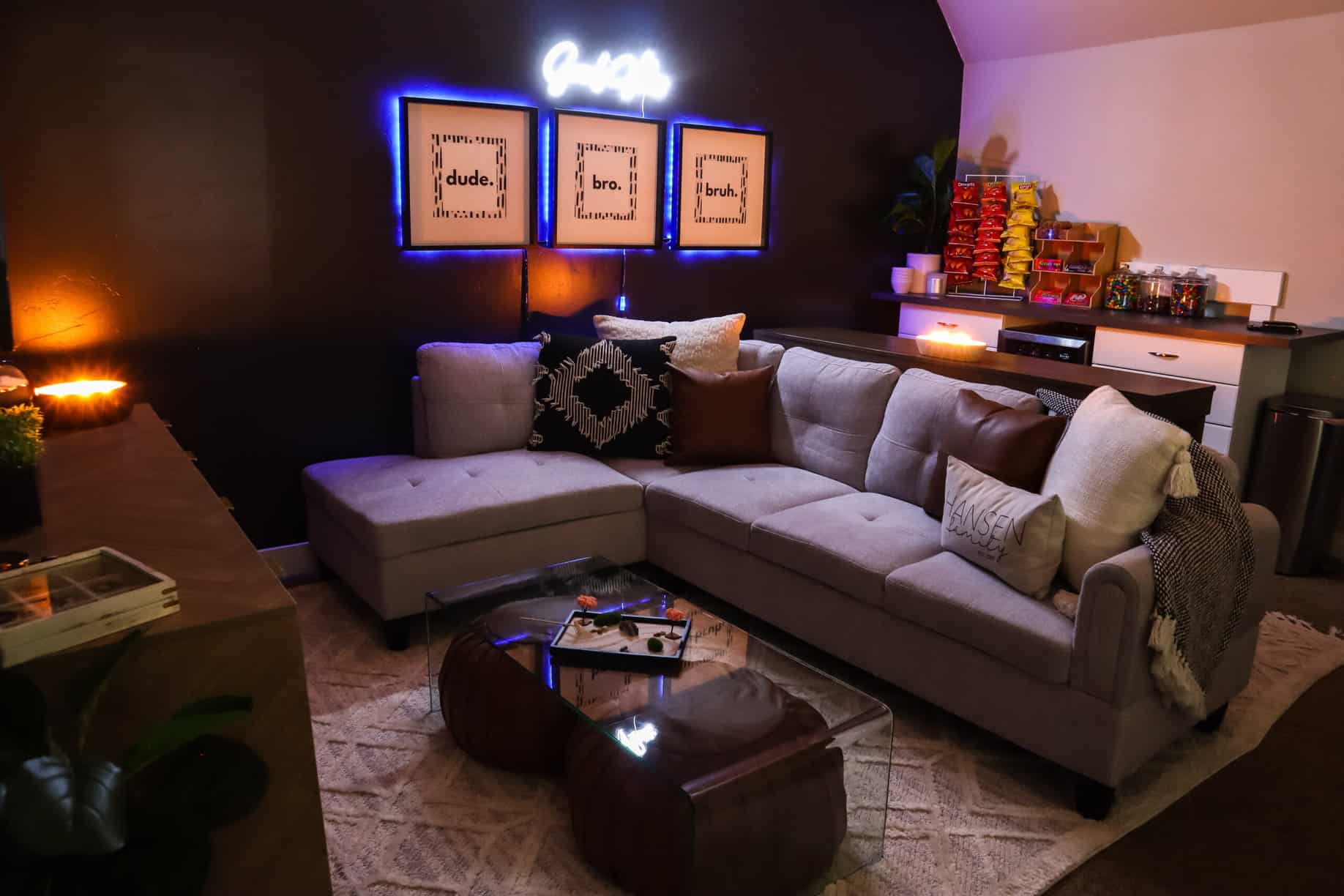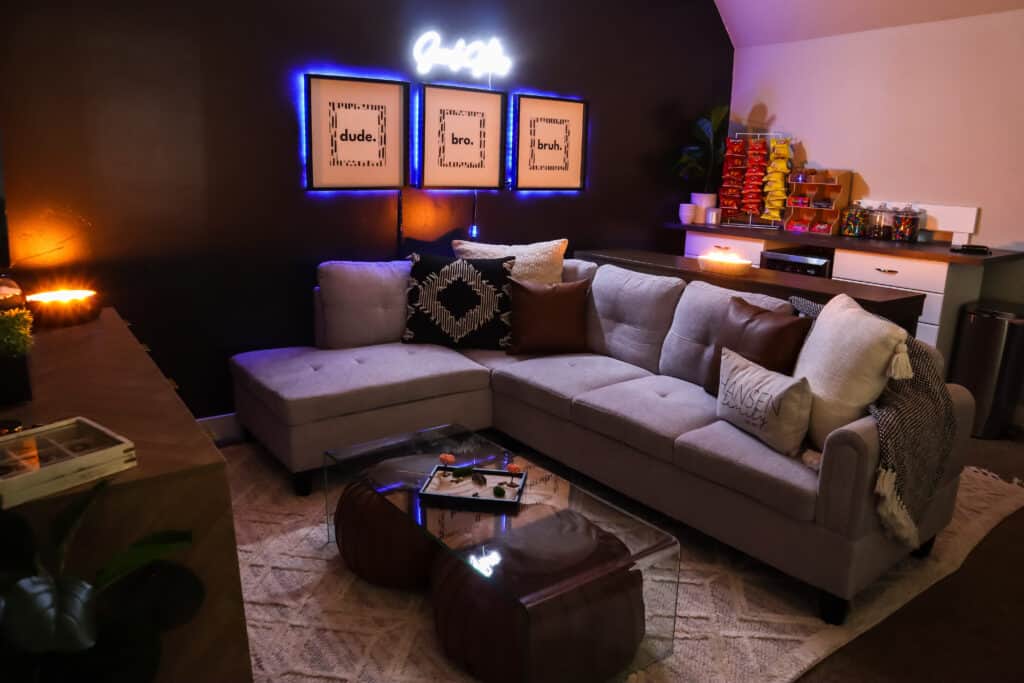 In this post, we will give you some ideas on how to create this space for your teenager. We will also discuss some essential elements that every hangout room should have.
So, whether your teenager wants a place to study, hang out with friends, or just relax, we've got some great tips for you. If you're looking for ways to make your teen feel more at home, keep reading!
Products Used in this post:
Teen Hangout Room Ideas
If you have a teenager, you know that a perfect hangout space where they can have friends over or be alone is a big part of them feeling more independent. If you have a teen in your family and they have their own room, creating a teen hangout room for them is an amazing way to let your teens have space as they discover who they are and who they want to be.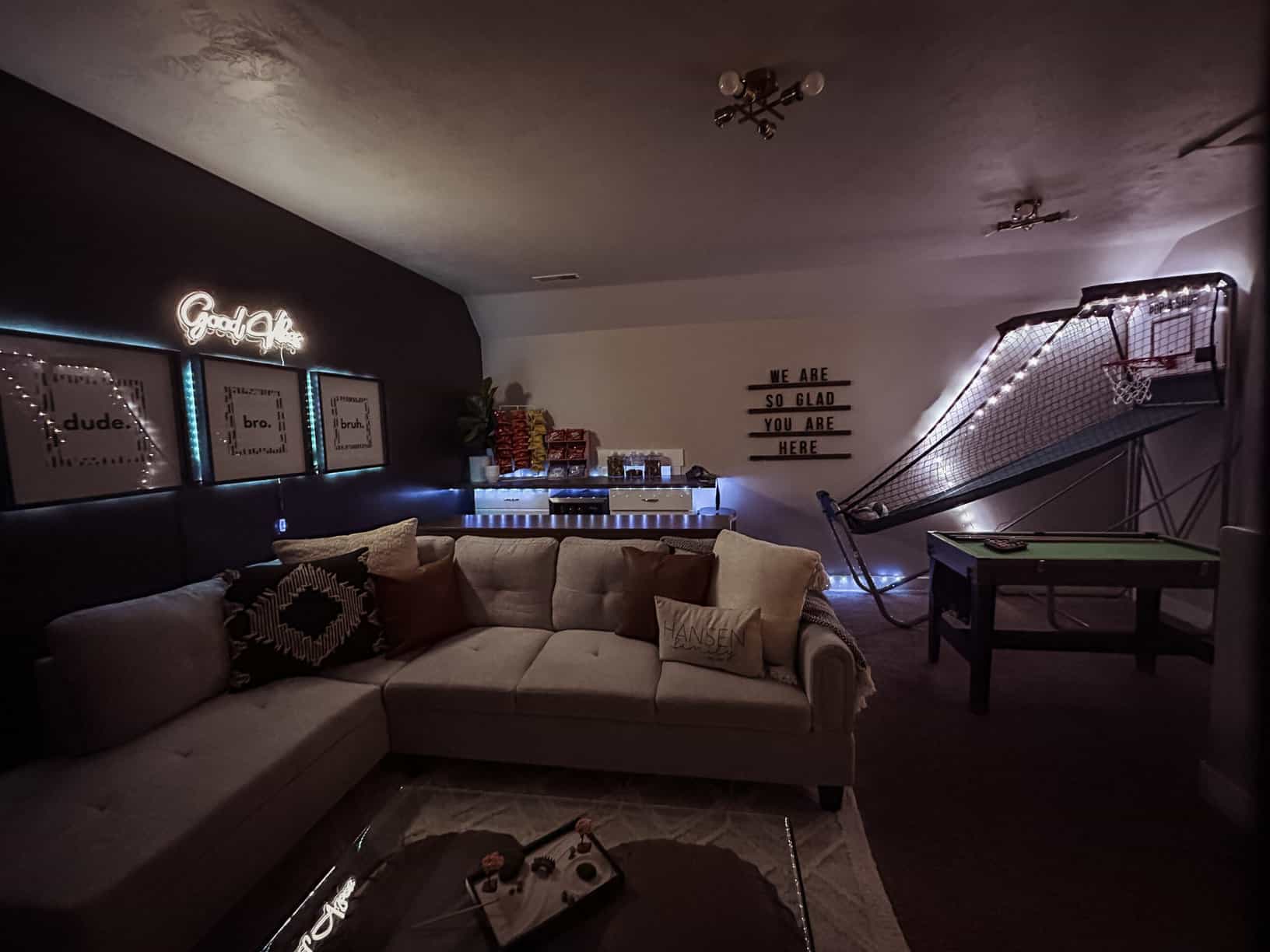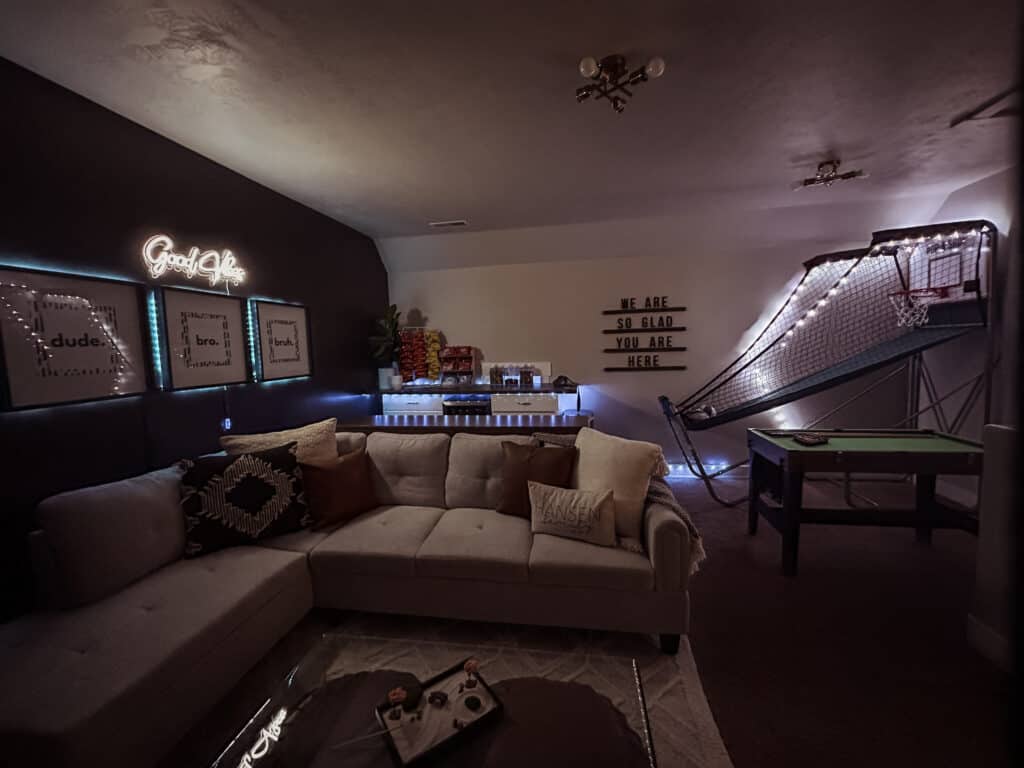 In our other post about creating a teen hangout room, we provided a lot of basic teenage hangout room ideas. Like what kind of seating you can get for your teen's friends, making sure they have a great sleeping space, and other ideas of fun elements to include (like games, snacks, drinks, a TV, etc.).
Of course, a lot of the furniture and amenities included in your teen's room will depend on how much space there is and what your budget is for your teen hangout room. Honestly, a bed and a couple of fun hanging chairs still work as long as you let your teen explore their personal style while they help you decorate.
But, if you want to create the ultimate cozy room for your teens, here are some essential items you should include in their hangout room.
Essential Elements in a Teen Hangout Room
When it comes to teen hangout room ideas, the most important thing is to make sure their bedroom is comfortable. Lounging and hanging out can't really happen if there's no couch or comfy seating.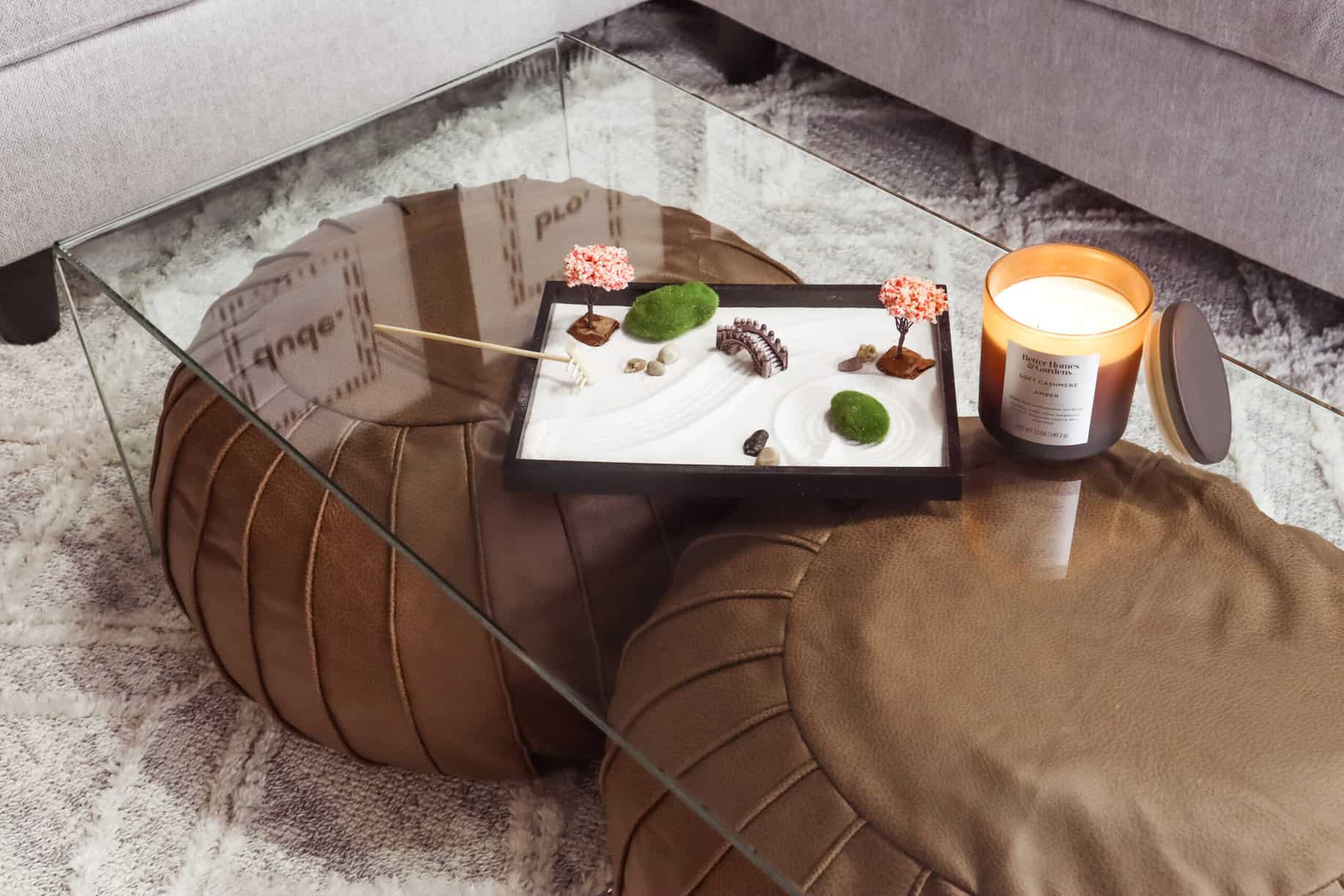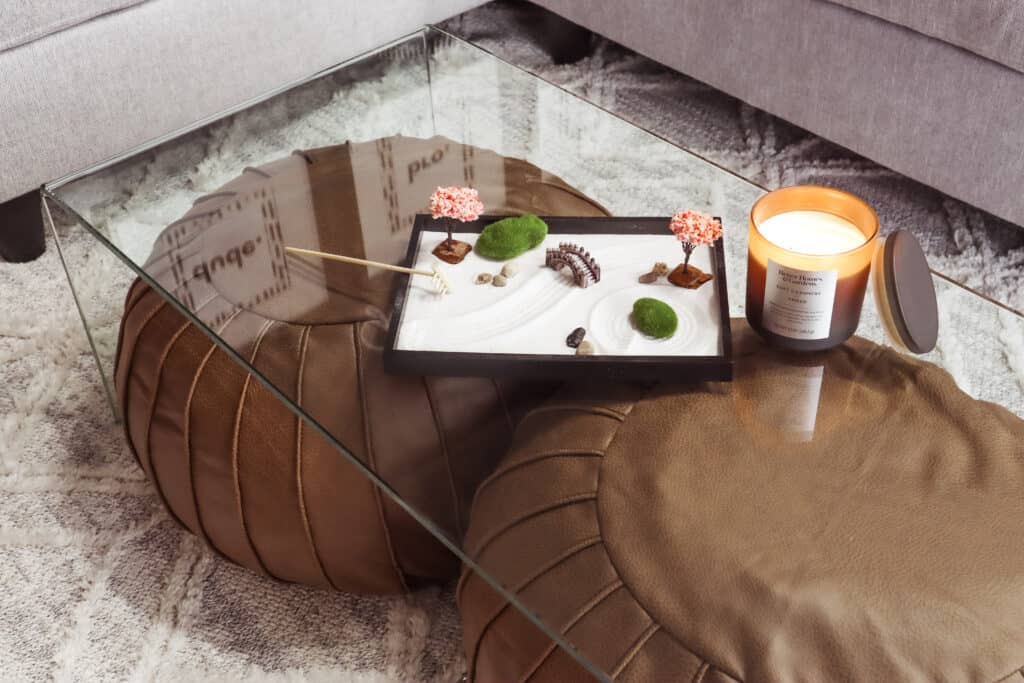 If you don't have room for a full couch or any big chairs, you could also get something like this faux leather pouf. Poufs are a great way to provide extra seating in style without taking up too much space. Plus, they are really comfy and fun!
You can also get some bean bags. They take up less space than a couch or other furniture while giving a place to lounge while your teen and their friends watch movies, TV, or play games.
Tips for Parents
Seeing your kids grow up can be hard. Your teen might feel like they are practically an adult now while you still see them as a kid. That can make it difficult to really let them have their own space and experience a bit of independence. But, to really create the best teen hangout room for your teen, it's best to step back and let them have a bit of freedom.
Here are some tips for the adults as you let your teen have a bit more freedom and creative control in their bedroom.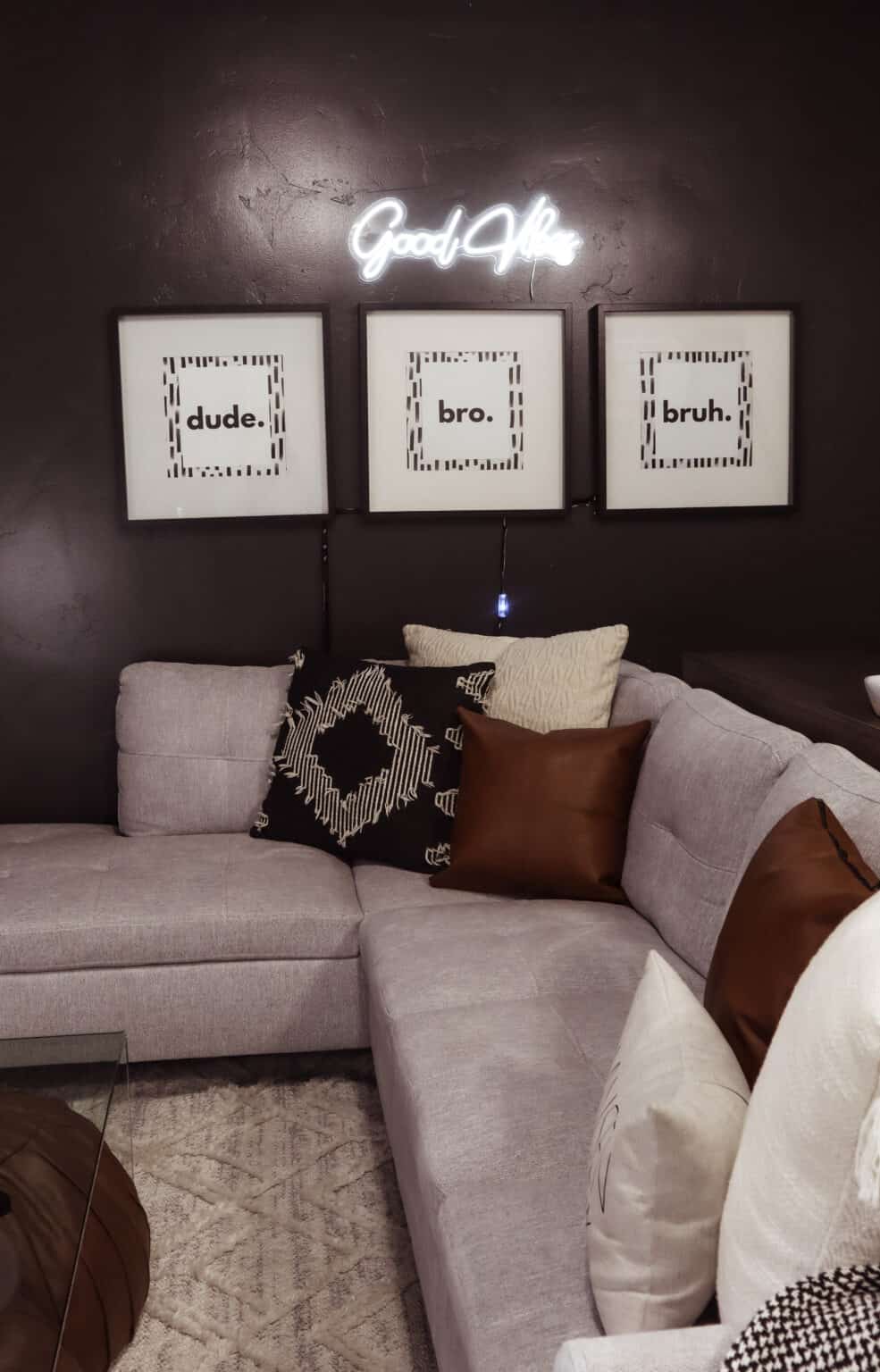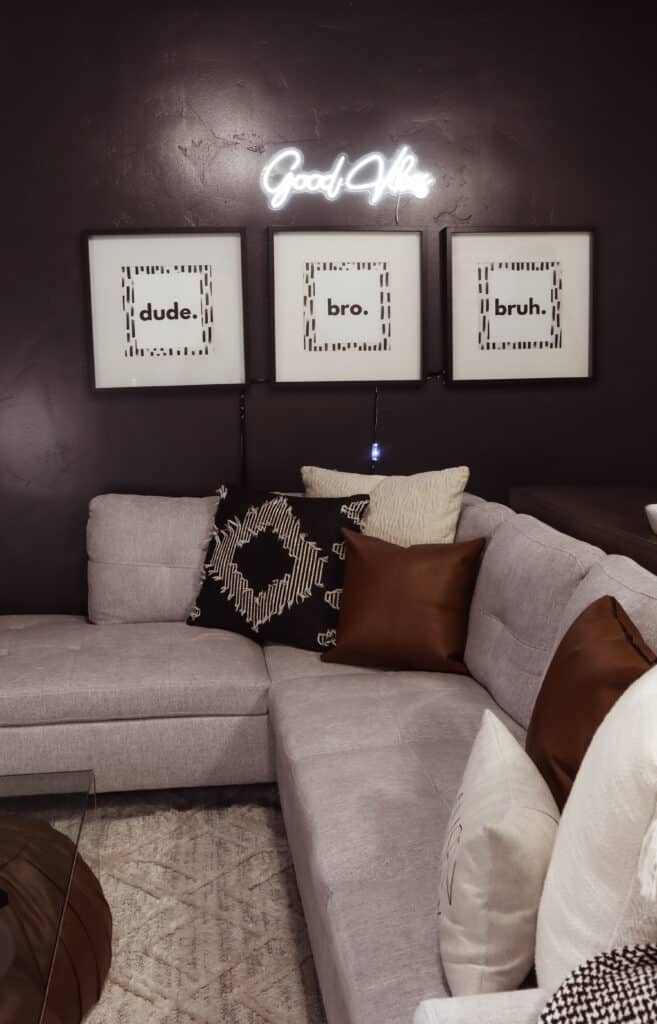 Don't be too strict.
Don't have rules that are too strict. Occasionally, things will naturally get broken, but it's important that teens feel comfortable being there. So don't try to enforce too many rules that will make your teen or their friends too stressed about making a mess. If something breaks, make sure they know they will need to help replace it or clean up the mess, but that accidents do happen in life and that's okay!
Let them have space.
You might be thinking, well sure, I'm giving them space with their teen hangout room. But that's not what we mean here.
Sure, they have their fun teen hangout room, but just because they have their own room doesn't mean they always have the space to just be themselves. So let them have that in their room. Don't hover over them or continually check up on what they are doing.
As long as they are getting their school work and chores done, let them have the independence to hang out in the room and find their own hobbies and passions.
Try to go easy on the noise levels, especially when your teen has guests over. Of course, you should teach them to be considerate of neighbors and family members, but let them have fun while they are hanging out and playing games or watching movies!
Help them find stylish ways to stay organized.
Part of growing up is finding ways to stay organized. In your teen's room, let them pick out their own organizational systems that reflect their style and interests. This can include colorful bins, shelves, or anything else they would like to use in order to help keep things neat and tidy.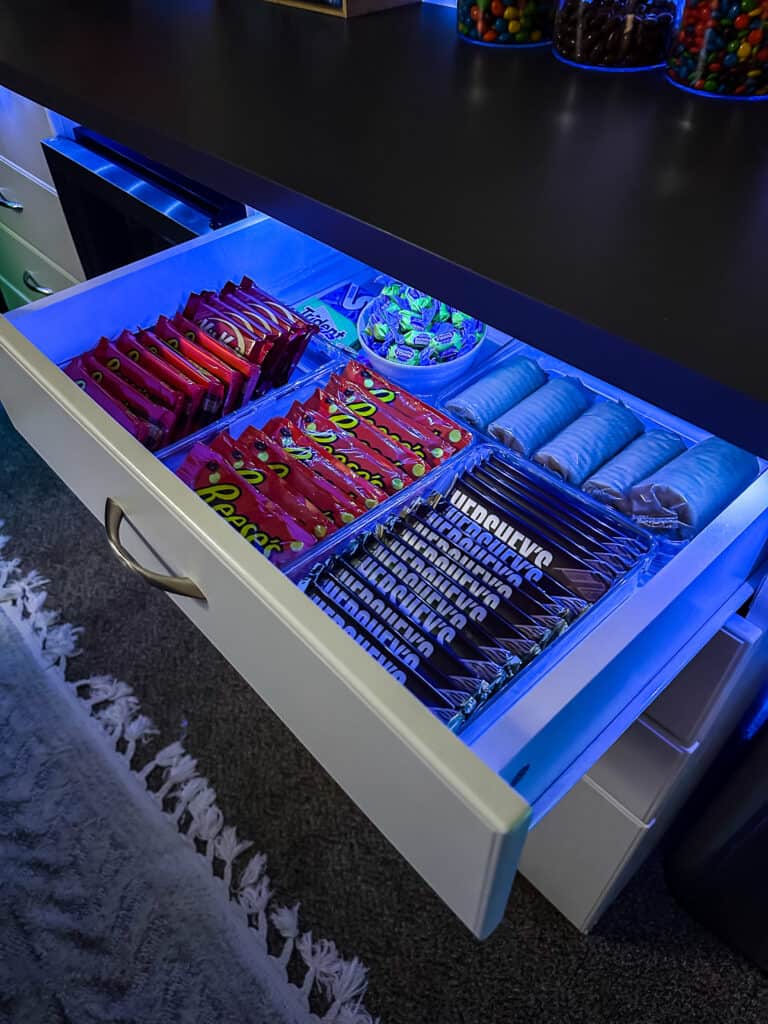 You can get small clear containers like these ones and help them learn how to keep things organized, or you can give them free rein to devise their own system.
Make sure to provide some guidance on using technology safely.
Teens use technology as part of their everyday lives, so it's important to know how to navigate the internet safely. Chances are you've been teaching them how to do this since they were kids, but just in case, make sure they know some basic expectations and guidelines and then trust them to follow them!
Add decor that will help their self-esteem.
Being a teen is hard. If you can remember back to that time in your life, you probably remember having some self-esteem issues and trying to figure out who you are in this world. So let the decorations in your teen's room help give them inspiration and good feelings. Add messages on the wall telling teens they are welcome and loved.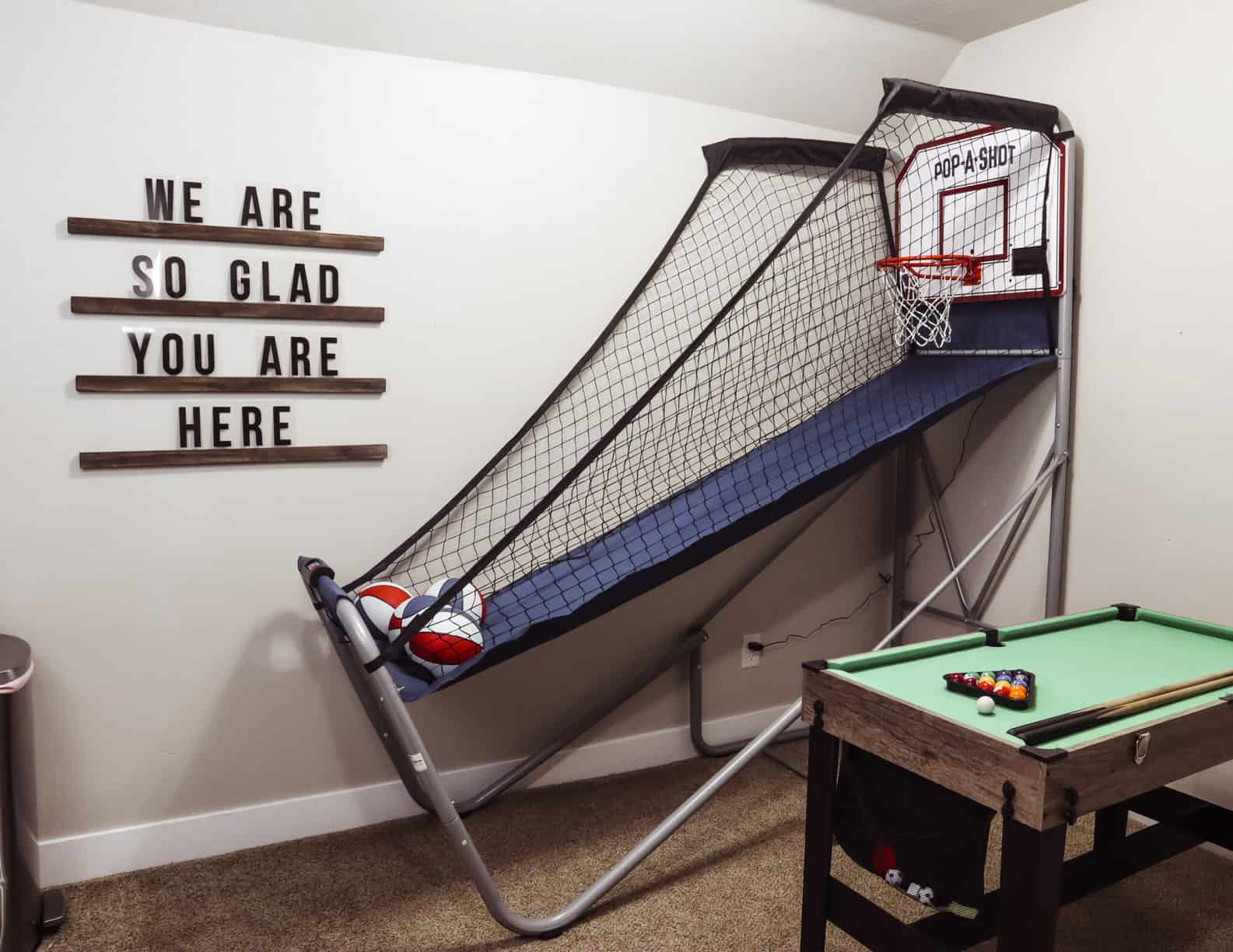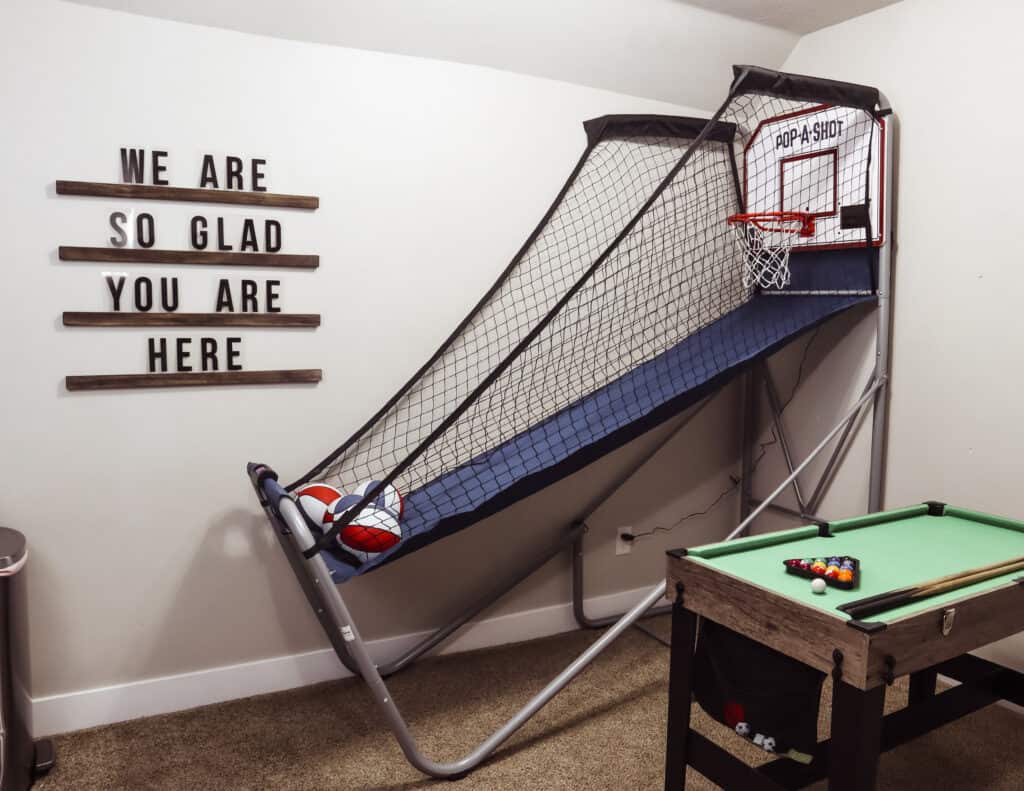 Also, it's a good idea to let your teen decorate their room in their own style. Don't be afraid to let them paint the walls or put up cool pictures and decor items. If they want to paint a mural, then let them!
You can also give them a budget and let them follow their inspiration as they pick out things to put in their hangout room that they love.
It's okay if their food and snacks aren't super healthy.
We all know teenagers are hungry all the time. That's why one of the best things to add to a teen hangout room is food. Like, TONS of food… even if it's unhealthy.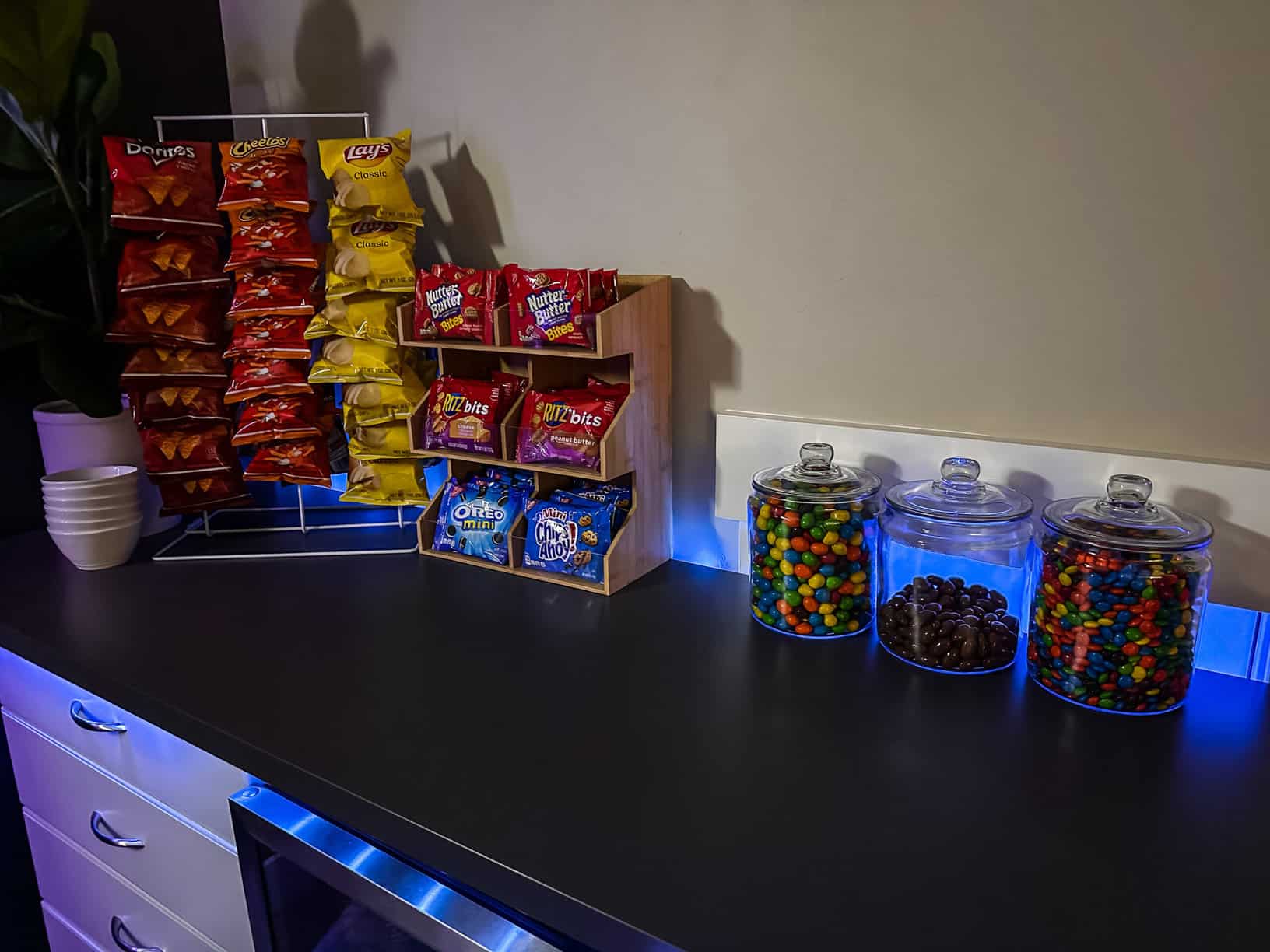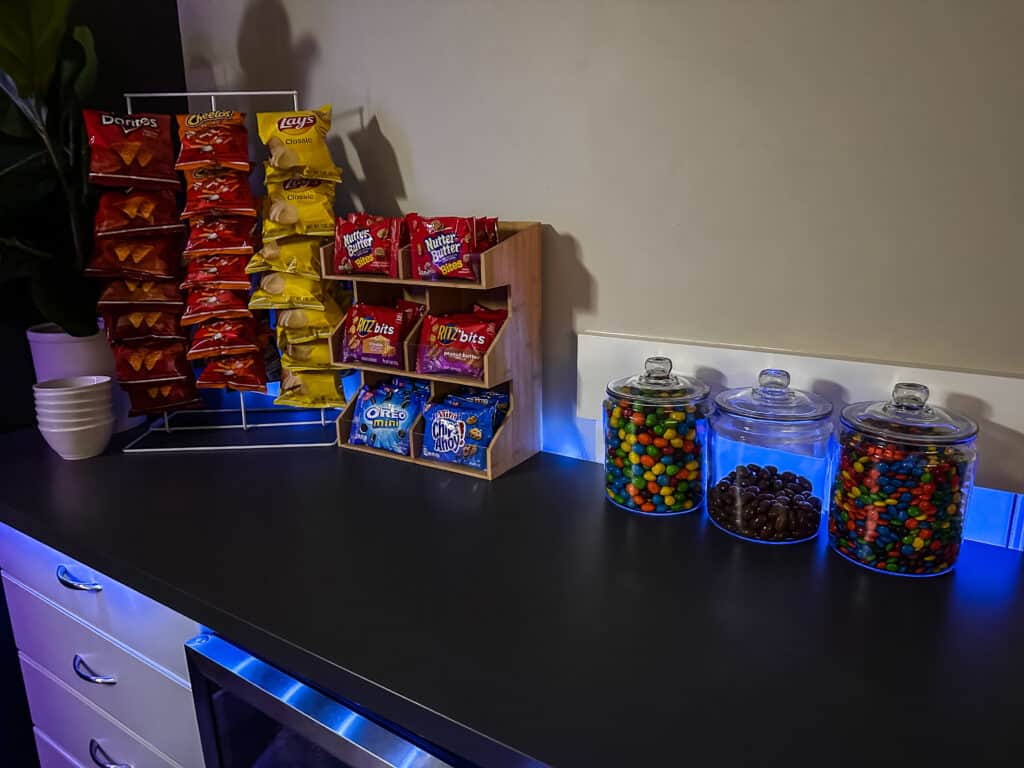 Having a healthy, balanced diet is important, but don't get too stressed about your teenager eating candy or chips sometimes. Shop for food and snacks they love and let them experience the sugary side of that balance!
Provide some fun games to play.
Having things to do in a teen hangout room is important! Sure, lounging on comfy furniture just to talk might work for some teenagers, but that might not be your teen's personality. They might prefer other games and activities.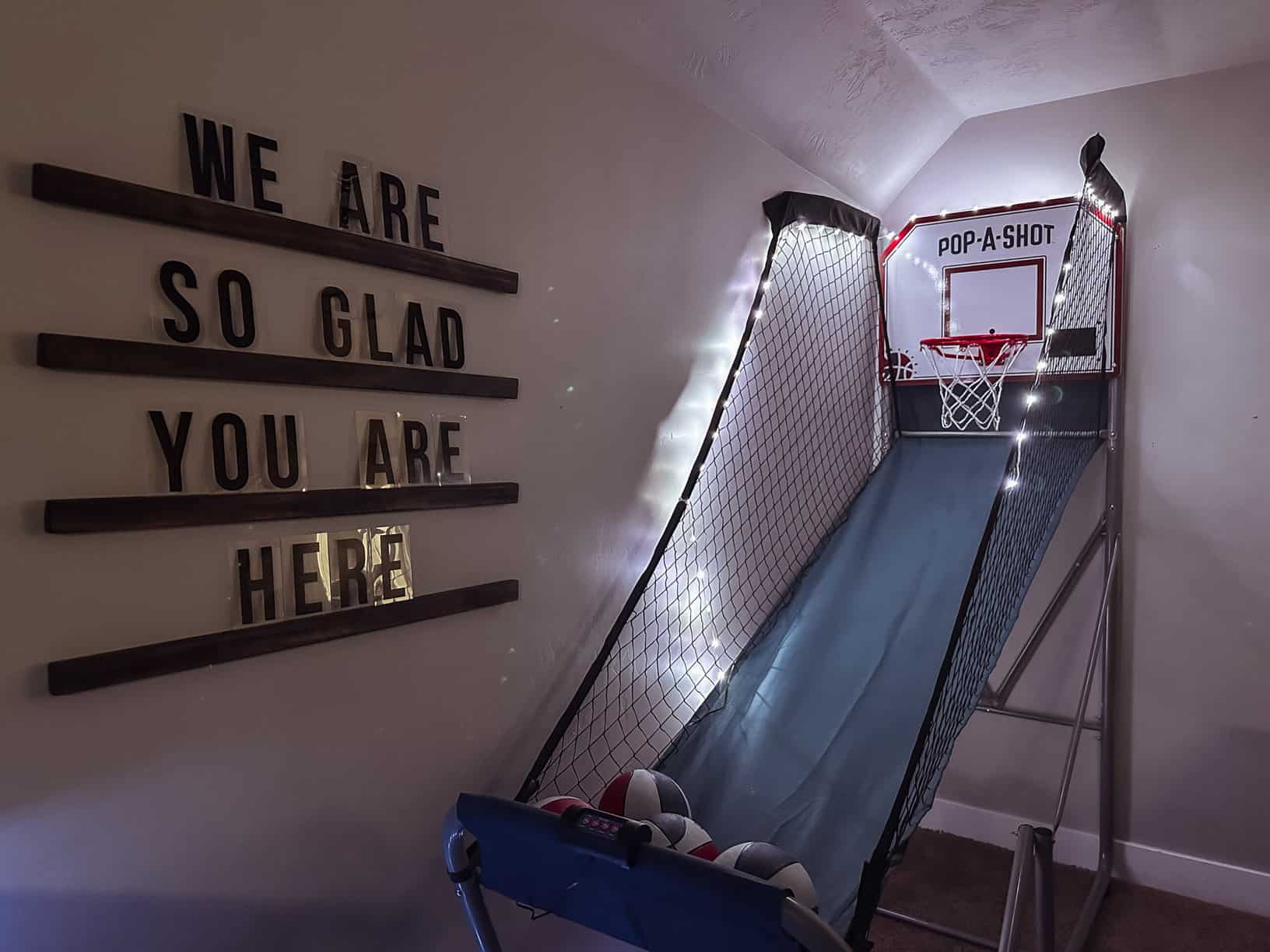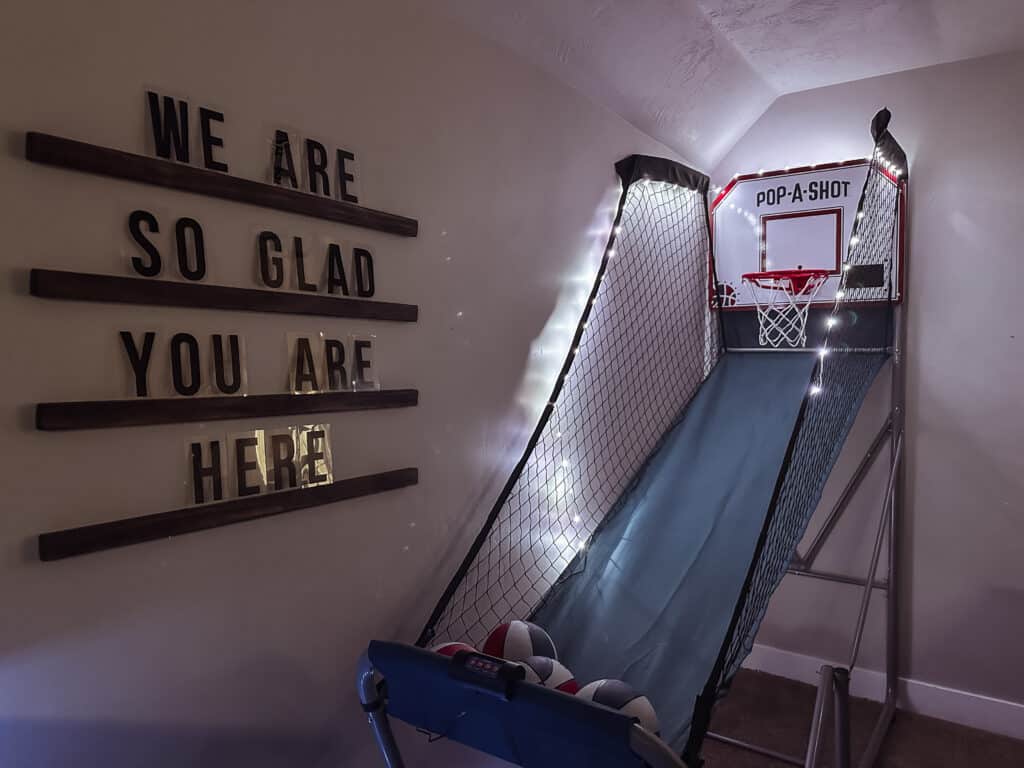 This Pop-a-Shot basketball hoop and 3-in-1 game table are really great for teenagers! The basketball hoop and table only really work if you have a lot of space, like in a basement room, but we hope this gives you some ideas for other fun things to add to their room if you need something a little smaller.
Create a Teen Hangout Room for Your Teen
One of the most important things to keep in mind when it comes to teen room ideas is to make sure you're keeping your teen in mind as you make their room.
Don't put decor on the wall that you would like, make sure it's something they like and enjoy. If you can, let them be the designer in this project. Think about their personality and interests as you shop for or make things for their room.
You don't have to get new furniture like a big sofa or game table. You can totally work with what you have and still create an amazing teen hangout room for your teenager!