15 of The Best Organizing Products For A Quick Win
Do you ever get overwhelmed with the thought of organizing your house and just want some quick wins?  Well, look no further than these awesome Amazon products that will have you organized in minutes.  These are the best organizing products on Amazon that I use and love myself!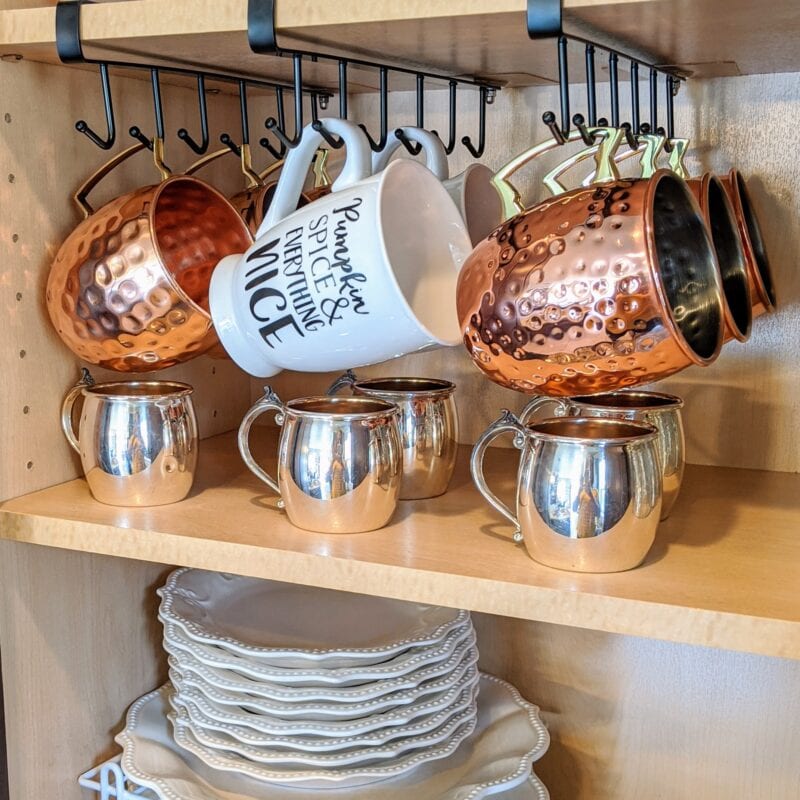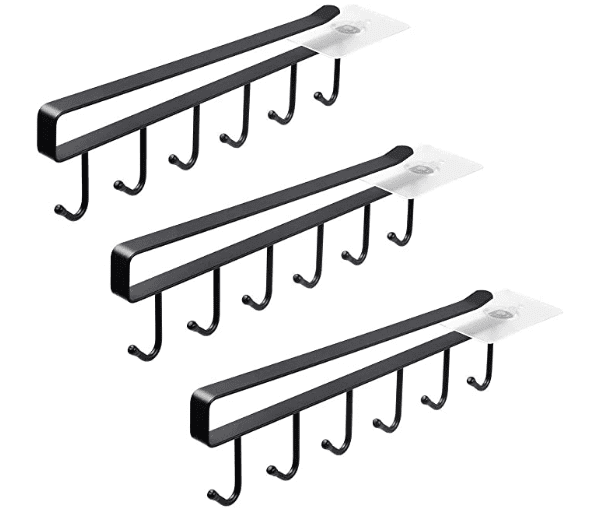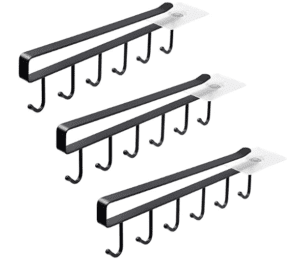 1.  ||  Under Cabinet Mug Holder
I have a slight obsession with mugs and they were always a disaster.  These mug racks have been a game-changer!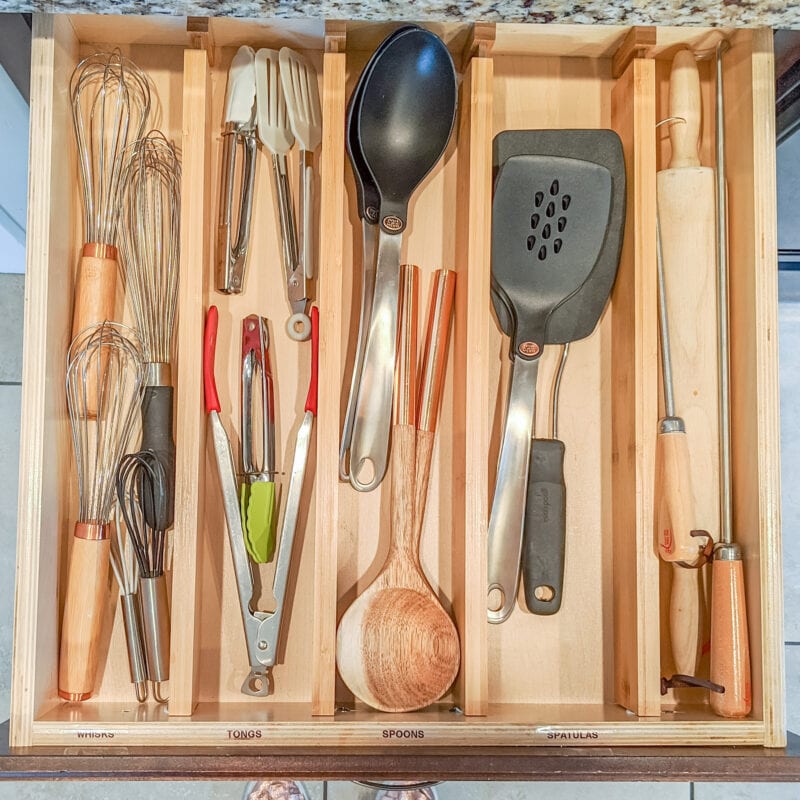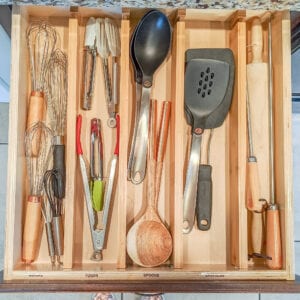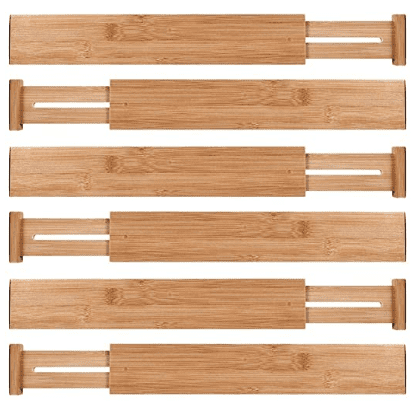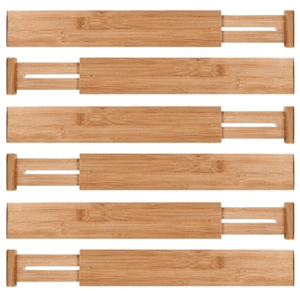 2.  ||  Expandable Drawer Organizers
My home doesn't have custom cabinetry, but with these drawer dividers, it sure feels like I do!  I even label each section so my kids know where things go.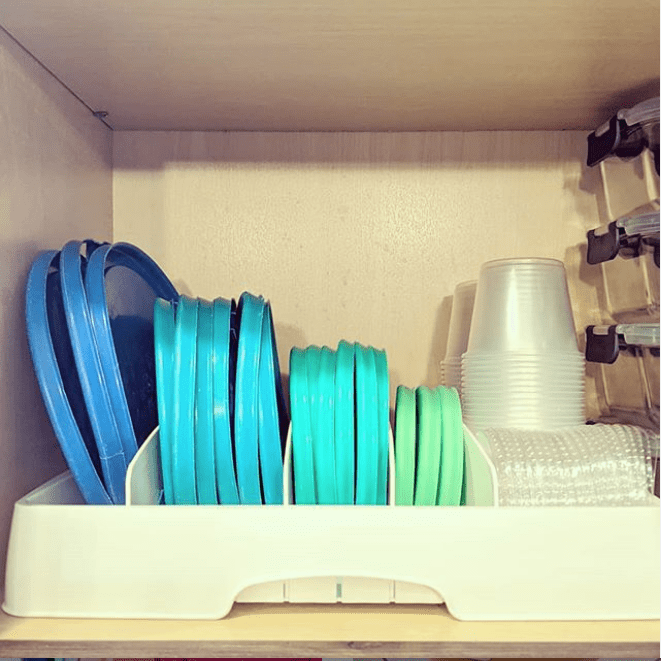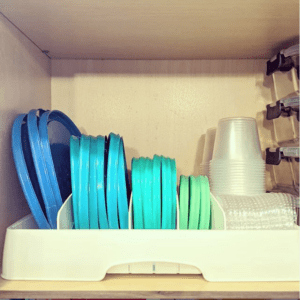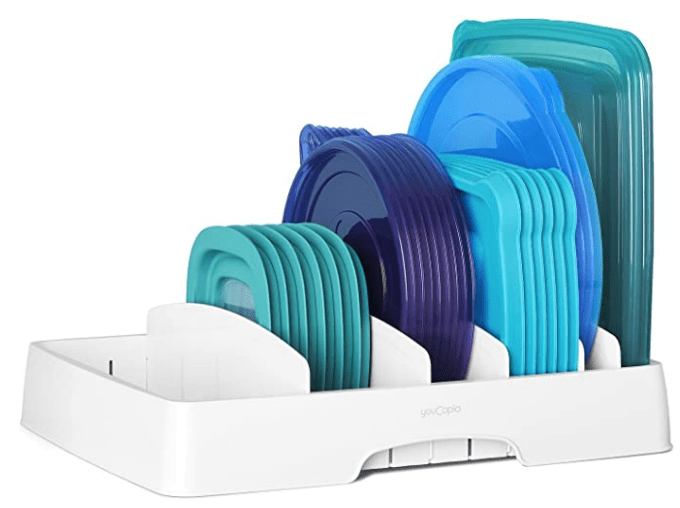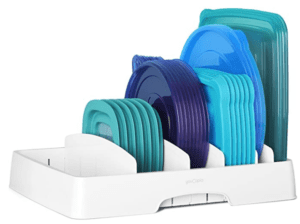 3. ||  Food Storage Lid Organizer
Food storage container lids are one of my annoyances in life.  Not anymore!  If you were to look in my cupboard right now, it would look this orderly.  This lid organizer has saved me so much time looking for the right sized lids.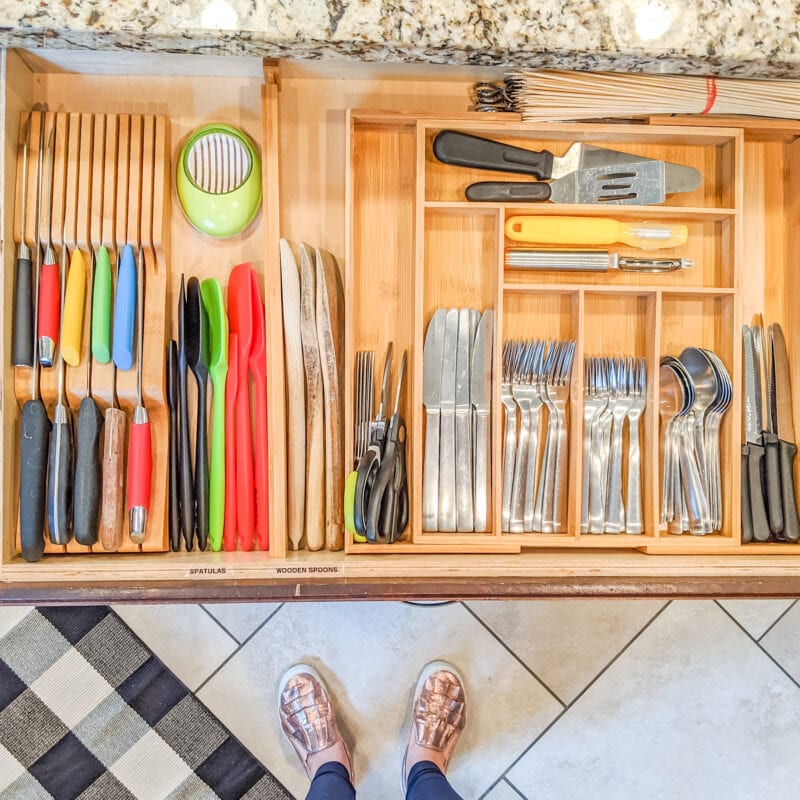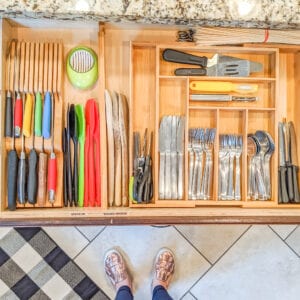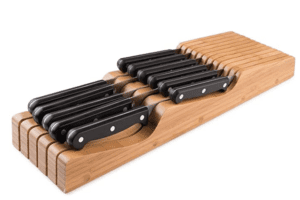 This is such a great way to keep knives safely tucked away so that nobody hurts themselves while also keeping your knives off of the counter.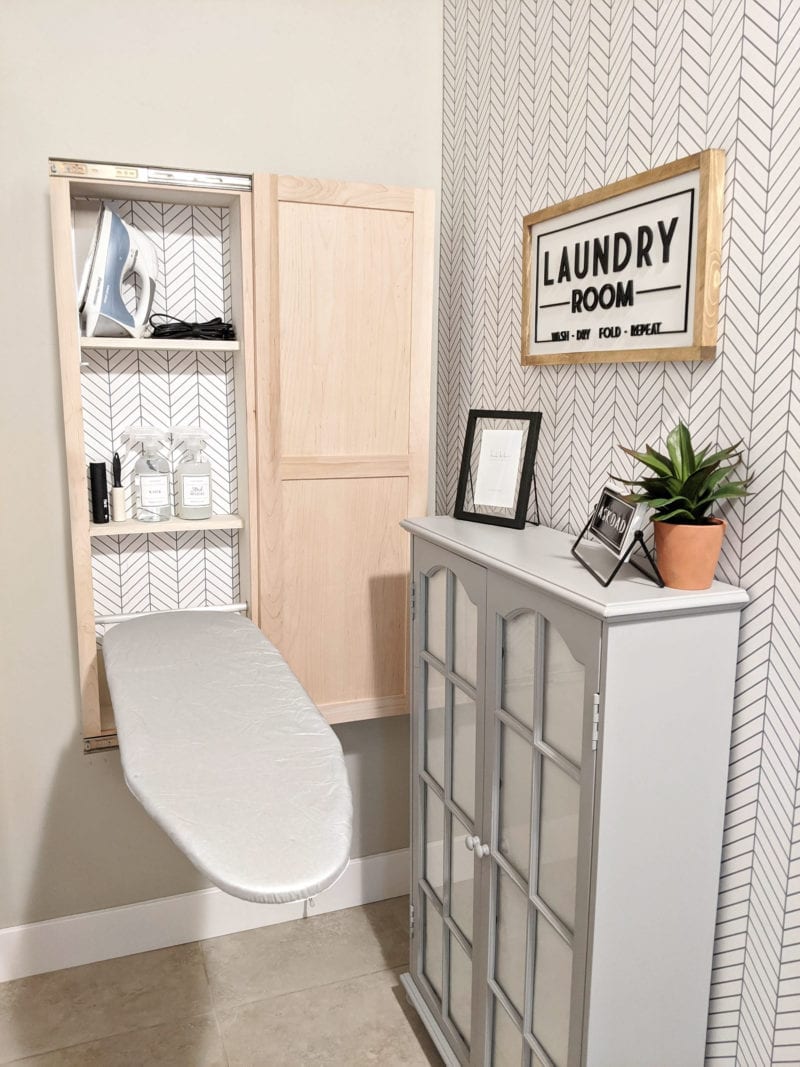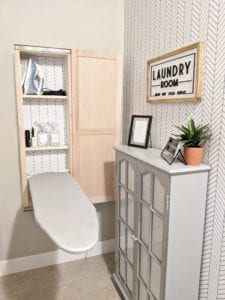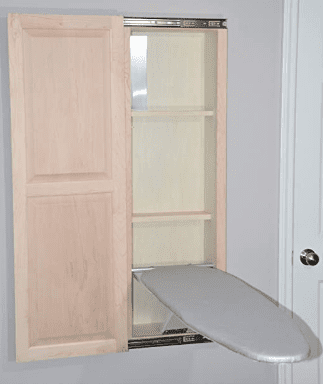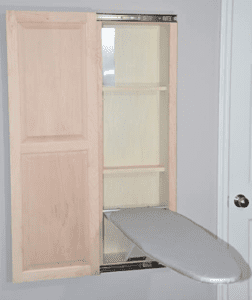 5. ||  Slide-Away Ironing Board
I used to HATE ironing because it was so annoying to get out the ironing board and I never knew where to put it.  This ironing board is my favorite!  I love how all of my ironing board supplies are house in the cabinet itself!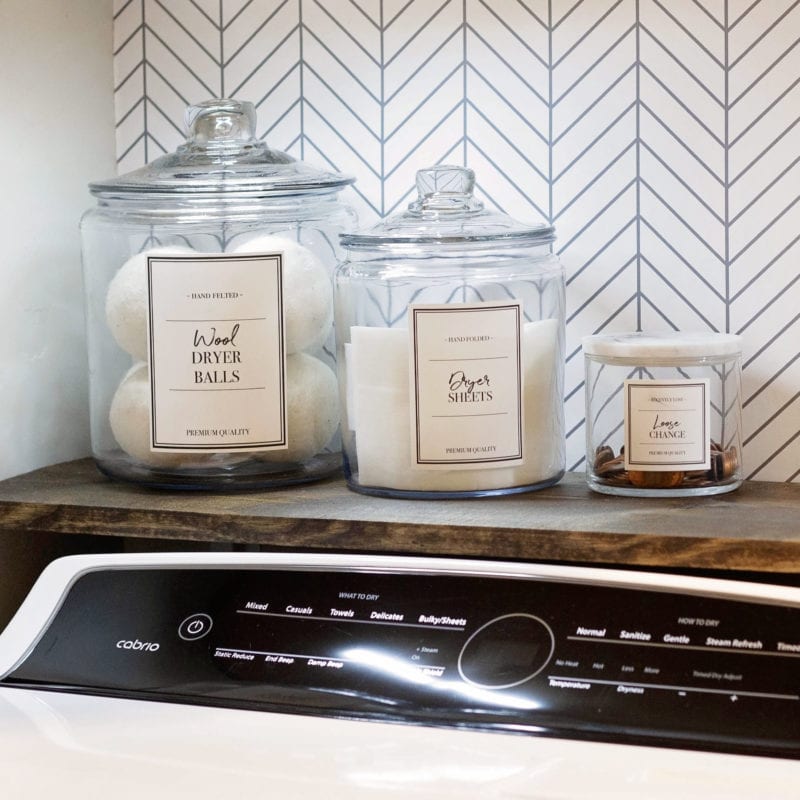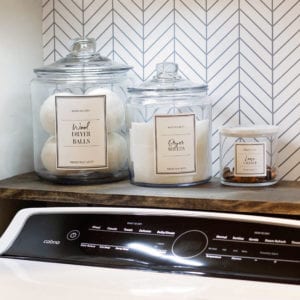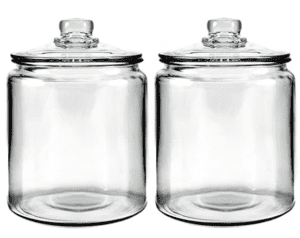 6. ||  Anchor Hocking Glass Jars
I love how these jars combine beauty and utility beautifully.  I have both the 1 gallon and the half-gallon jars.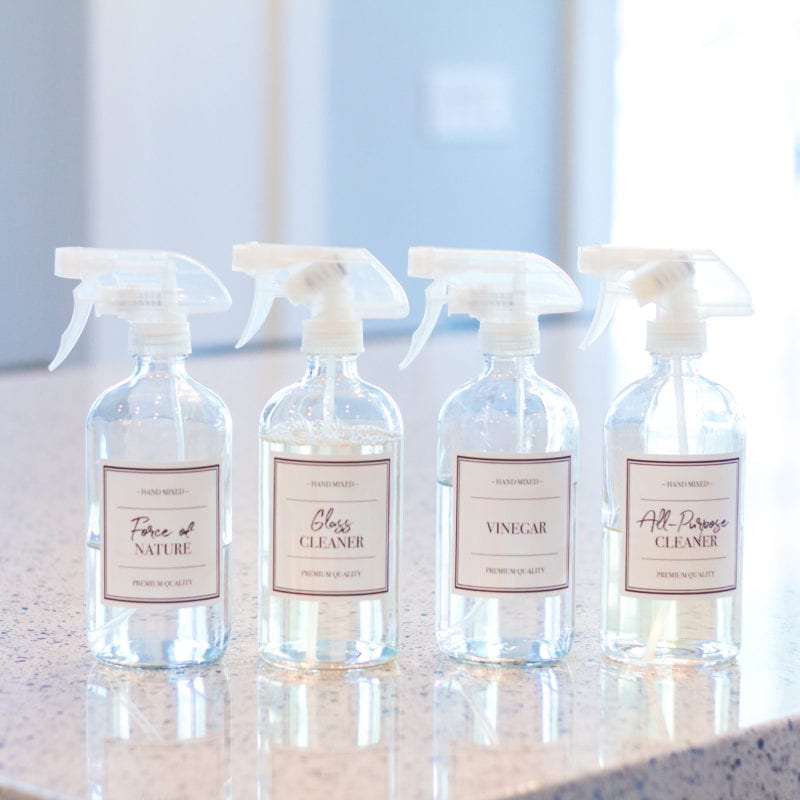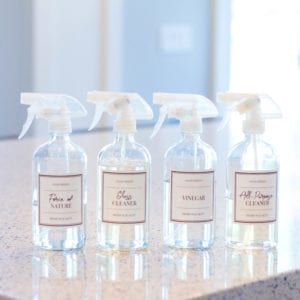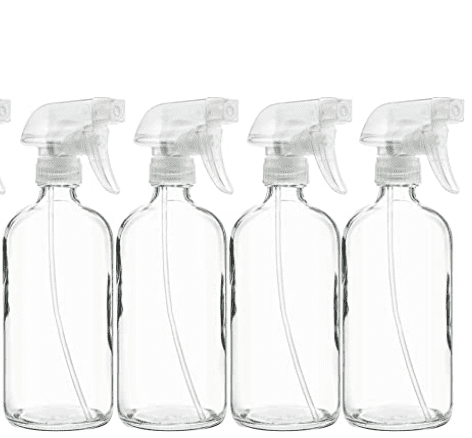 There is something about pretty labels and glass jars that makes me so happy inside.  I just love these glass spray bottles!  I buy my cleaners from Force of Nature and Grove Collaborative so they work perfectly for this!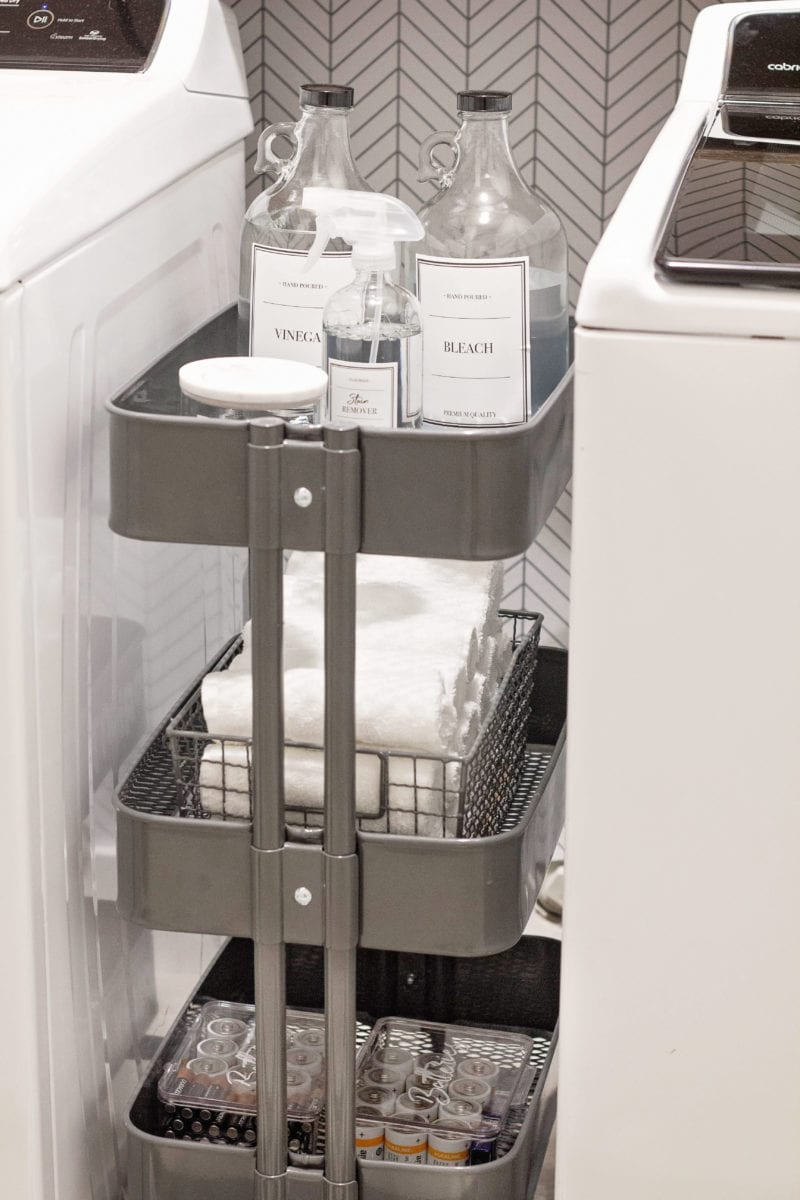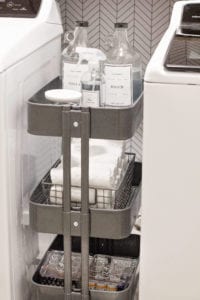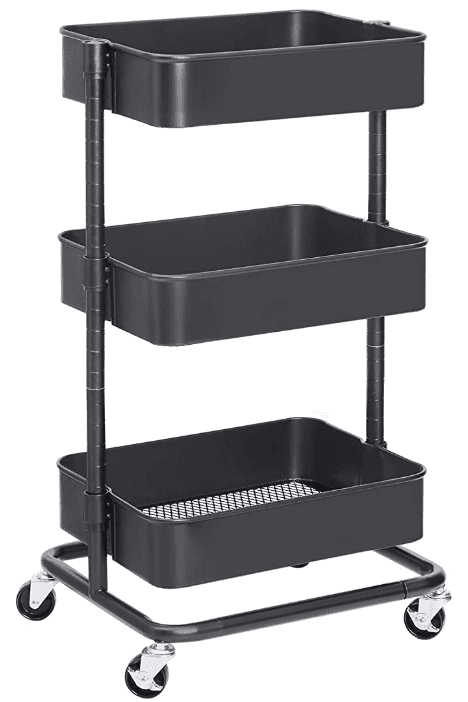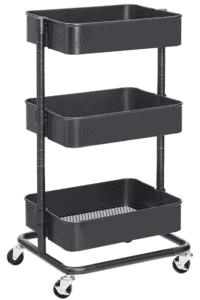 8. ||  Three-Tier Cart – Many Colors!
I have extensively utilized this versatile cart for various purposes, which might surprise you. It has served as a laundry cart, a kids' art supply organizer, a tool for lesson planning, and more. Currently, it finds its place in our laundry room, where it stores cleaning supplies and laundry essentials.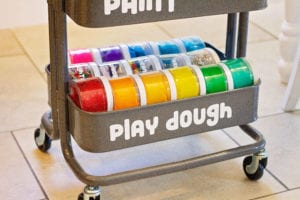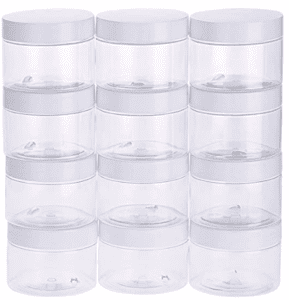 9. ||  Cylinder Storage Containers
These cylindrical containers offer a wide range of applications! I frequently use them for children's figurines, playdough, beads, and various craft supplies. They also prove invaluable for travel, toddler snacks, paperclips, washi tape, and countless other purposes.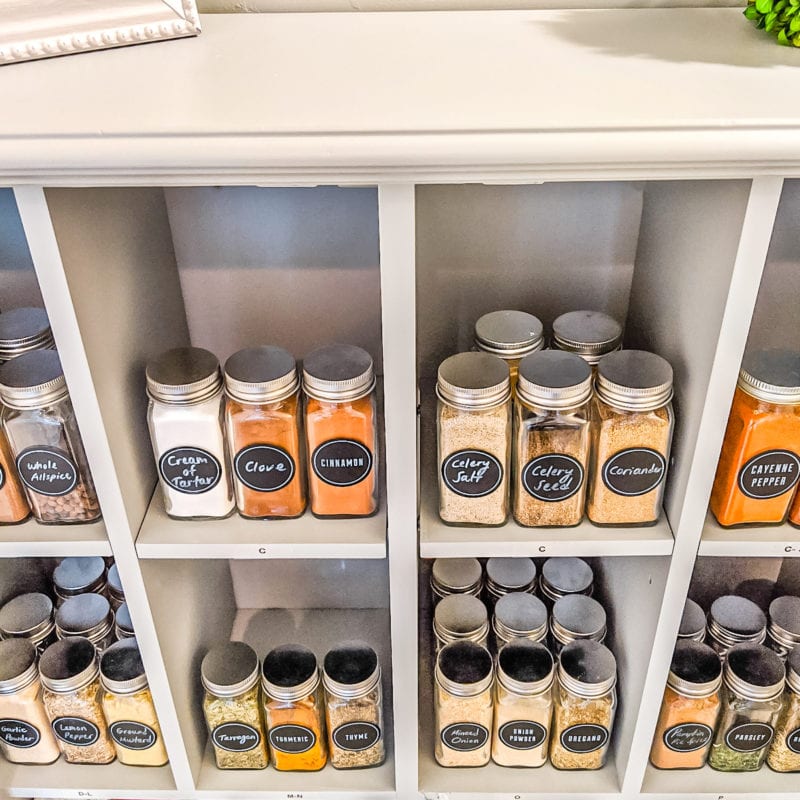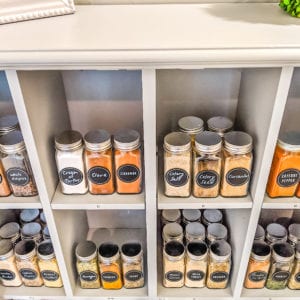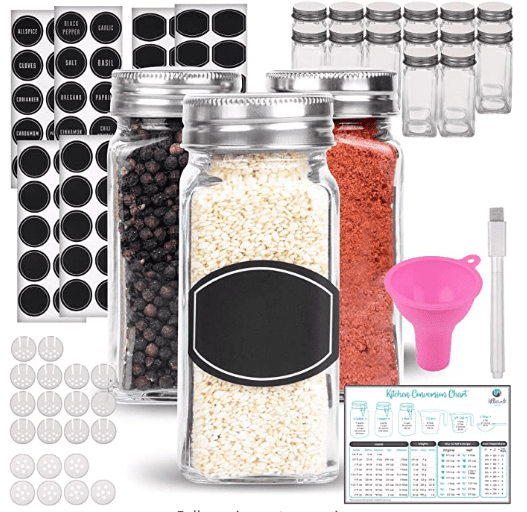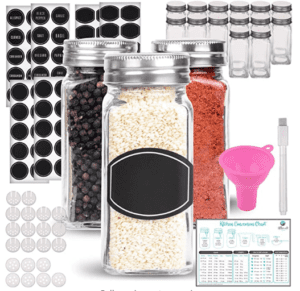 I've recently noticed that I possess a substantial collection of spices. It's quite extensive. What has been bothering me is the diverse array of shapes and sizes in which these spice jars come. Therefore, I decided to seek a more standardized appearance. These spice jars turned out to be precisely what I needed, and they perfectly matched my expectations.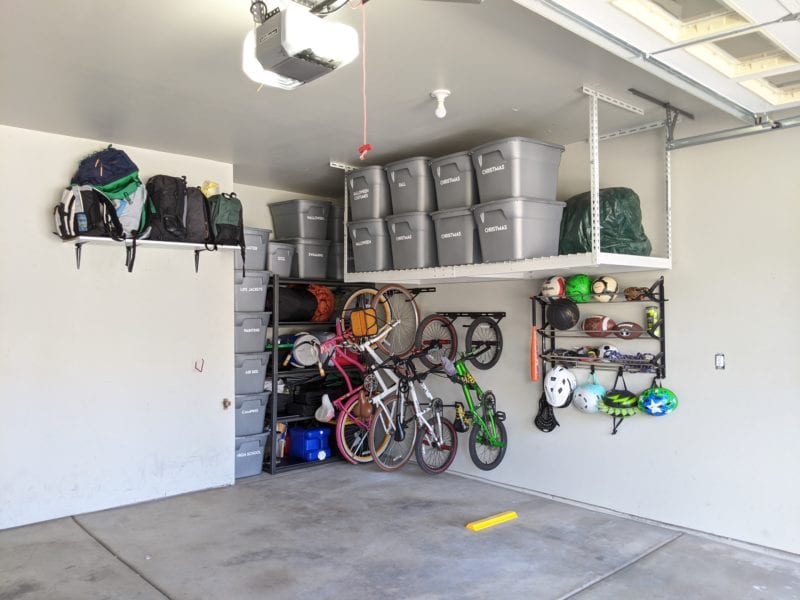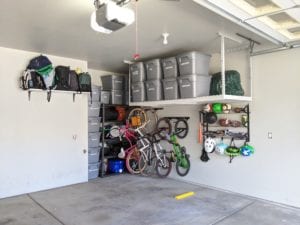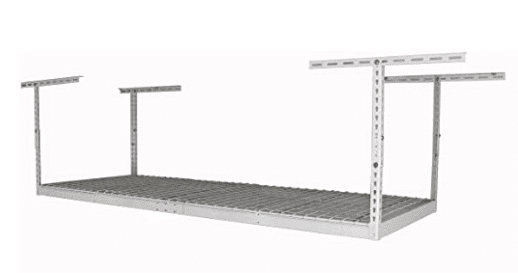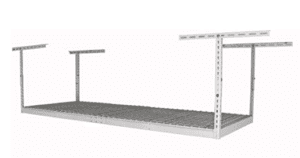 While it may require some time to assemble, the results are truly worthwhile. This shelving unit provides instant storage solutions, effectively utilizing space that would otherwise go unused. Our garage is exceptionally compact, and this shelf has proven invaluable in creating ample storage space for our holiday decorations. I've installed similar shelves in various homes, and I'm consistently impressed with their functionality and utility.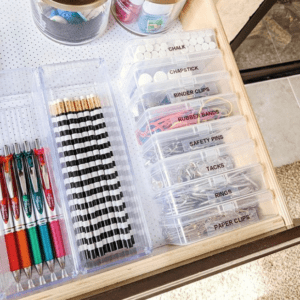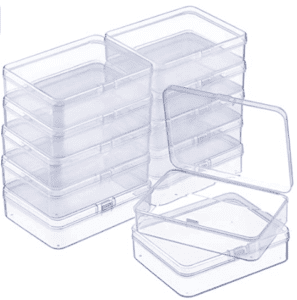 These storage boxes are originally designed for beads, but I find them incredibly versatile for various uses throughout my home. They are perfect for organizing office supplies, neatly arranging charging cords, and even keeping bathroom essentials like flossers, q-tips, and lipstick in order.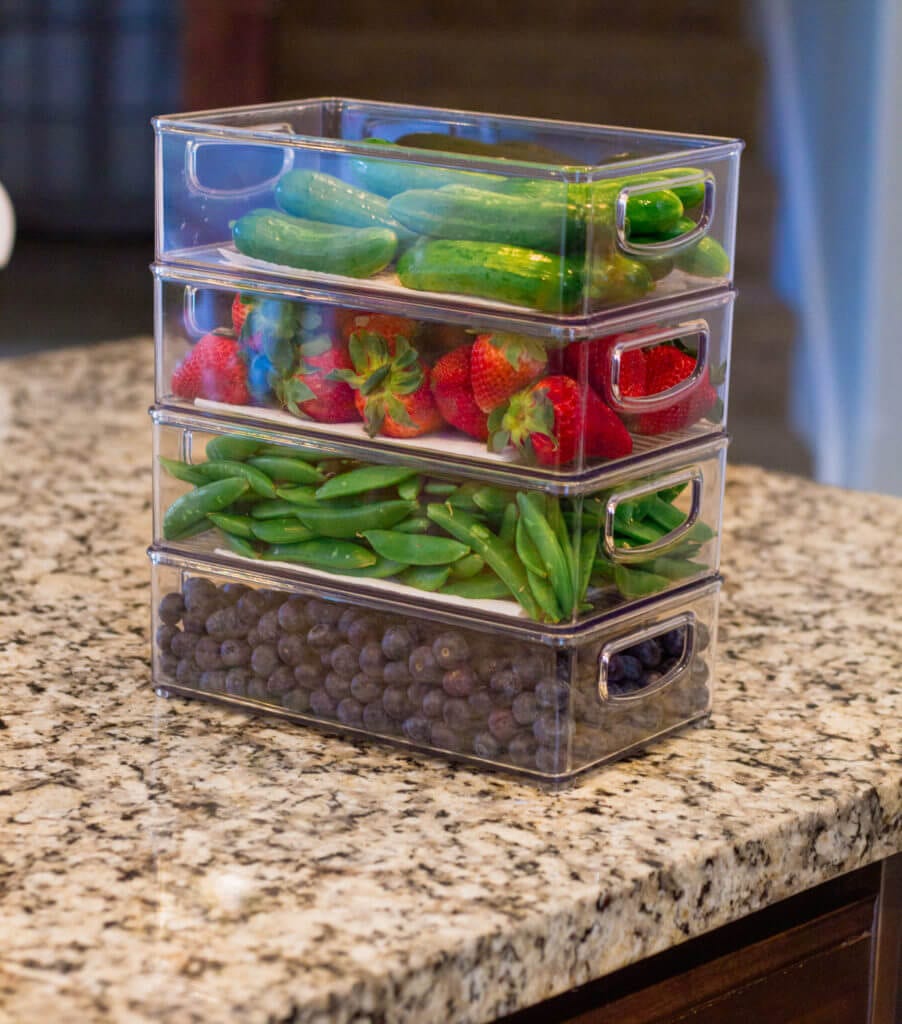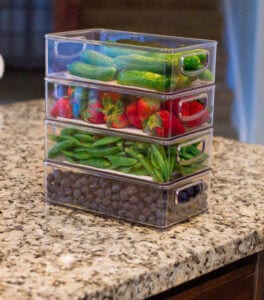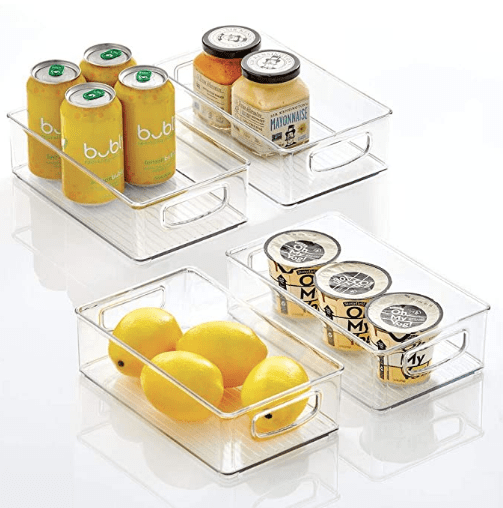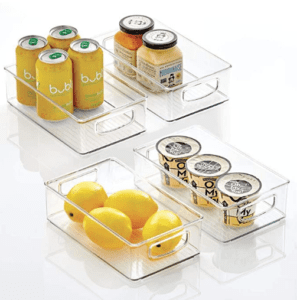 13. ||  Stackable Clear Fridge Organizers
These are my very favorite organizers that I use to keep my fridge organized.  I almost always put fruits and veggies in mine but they could easily be used for things like string cheese, sliced cheese, lunch meat, or kids snacks.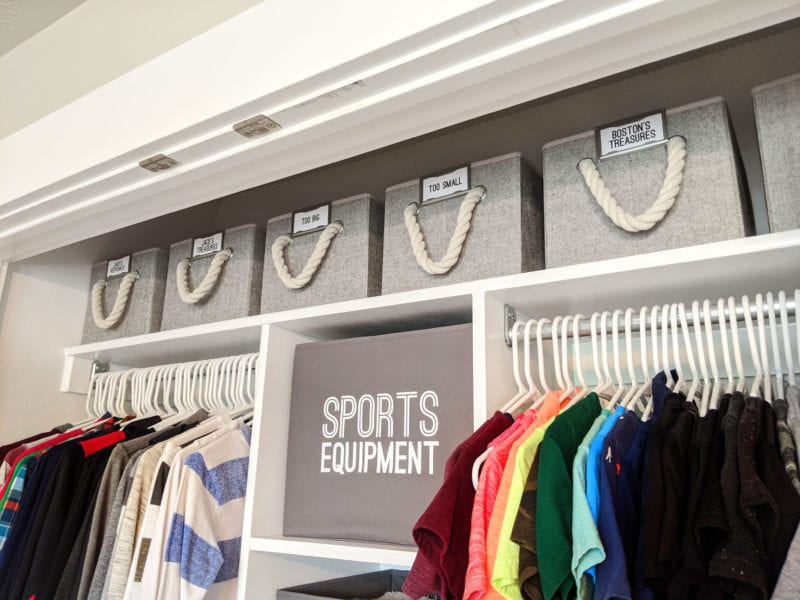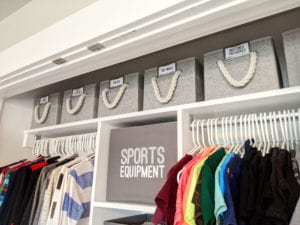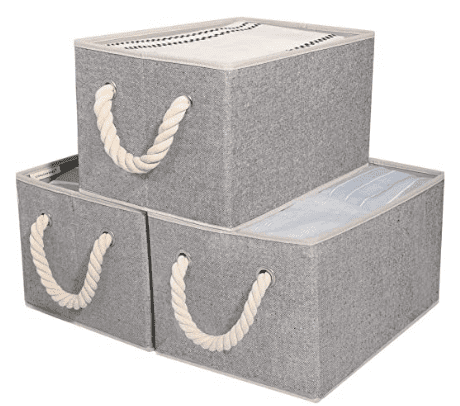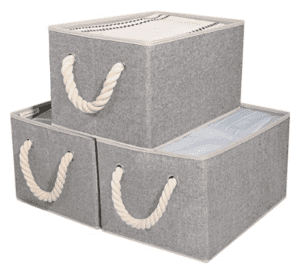 14. ||  Stylish Gray Fabric Storage Bins
These create a nice clean look at the top of your closets but they are also great for storing tons of extra things.  I use them to store my boy's keepsakes, clothes that are too big or too small, etc.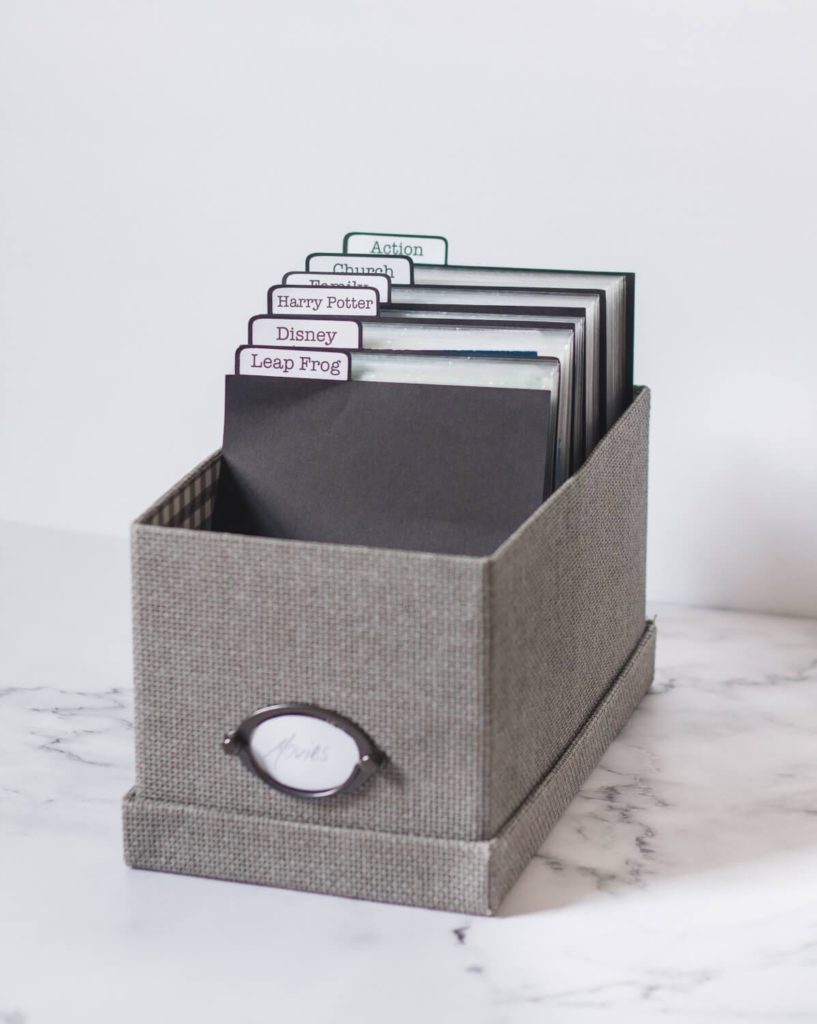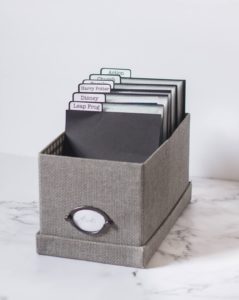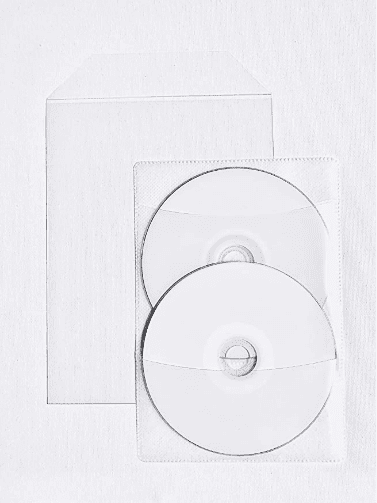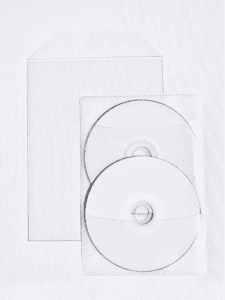 15. ||  DVD & Video Game Sleeves
Reduce your DVD storage needs by up to 80%! Simply remove the DVD cover and place it in the front of the DVD sleeve, then store your DVDs or video games in the back. You'll experience a sense of liberation as you declutter your space and eliminate those bulky DVD cases!
I hope this post has given you some great ideas for some quick organizing projects that you can do that make a huge impact in your home.  It's easy to become overwhelmed with feeling like we need to do it all (believe me, I do this constantly) but sometimes all it takes is a problem solving product to get us on our way.  These can make such a huge difference for a small time investment.  I hope you have enjoyed this post about some of the best organizing products that you can find on Amazon!