23 Awesome Tips for Traveling with kids on an Airplane
Everyone knows that traveling with kids on an airplane can be a nerve-wracking experience. Especially if you've got younger kids. There seems to always be some grumpy lady two aisles up that is making sure to turn around and scowl at you when your kid makes any noise. Air travel with kids doesn't have to be scary.
Need more ideas? Check out: 12 AMAZING ROAD TRIP ESSENTIALS TO KEEP YOUR CAR ORGANIZED and HOW TO ORGANIZE YOUR PURSE AND KEEP IT THAT WAY and Snack and Go: Everything You Need To Know About The New Snackle Box Craze
Taking a little extra time beforehand to prepare really goes a long way to making your flight smooth sailing.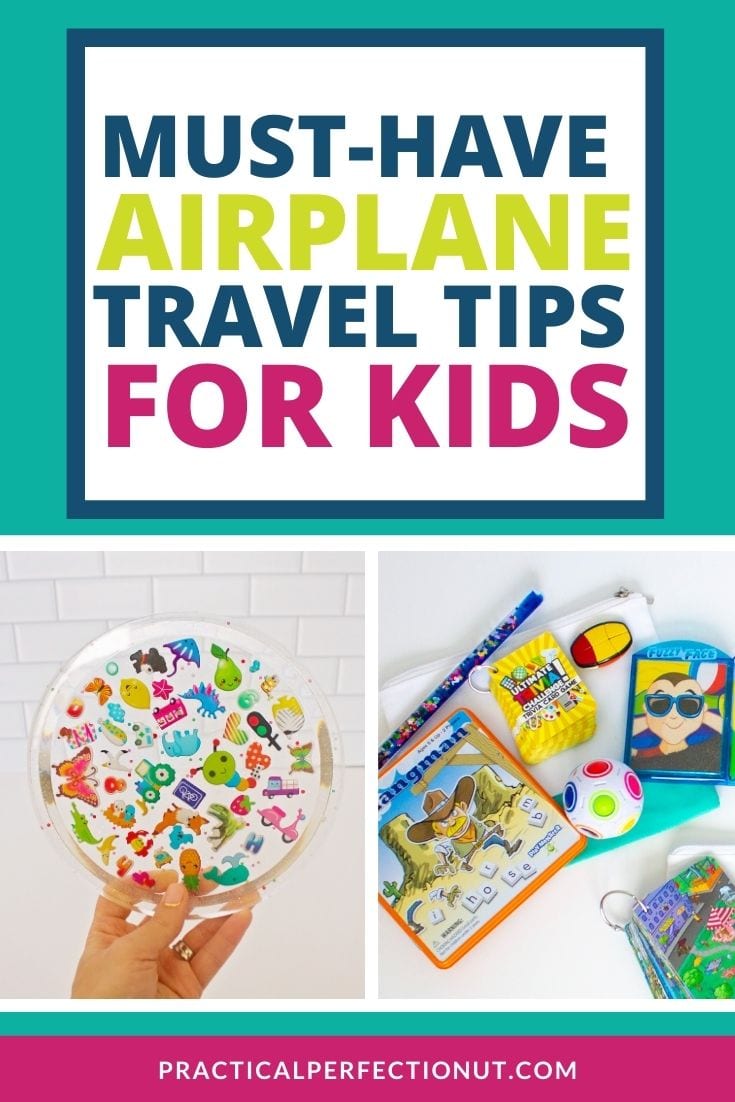 Prepare Ahead and Make a List
I suggest a couple of weeks before your vacation to make a list of things that you would like to include as activities for your kids to do on the trip. Be very specific when you make your list so that you don't forget anything.
The great thing about starting a couple of weeks ahead of time is that you can be thinking about it and every time you think of something new you can easily add it to the list. Otherwise, you will be left to the very last minute running around the house hoping that you brought everything.
Just be careful not to bring too much. Bring enough that you will be able to entertain your kids on the flight but not too much. I have definitely been guilty of overpacking.
Packing Lists:

Screens Are Okay
I don't know about you but I really try to limit the amount of screens that my kids have access to throughout the day. I don't want them turning into screen zombies! But give yourself some grace when it comes to traveling on a plane and it's completely fine if your kids spend more hours than you would normally allow on a screen.
This is survival mode people! Screens will really help the flight to go fast for your kids and you will be able to enjoy the peace and quiet.
Use Guided Access on iPads
If you have a fairly newer iPad, you definitely need to look into something called guided access. Guided access is a feature where you as the parent can lock the iPad on any app that you choose so that your kids are not jumping around from app to app.
If you want to designate a certain time period on the plane for them to listen to an audiobook or play a particular game, you open up the game and enter guided access typically by holding down the home button for 3 seconds. But you have to enable guided access in your settings first.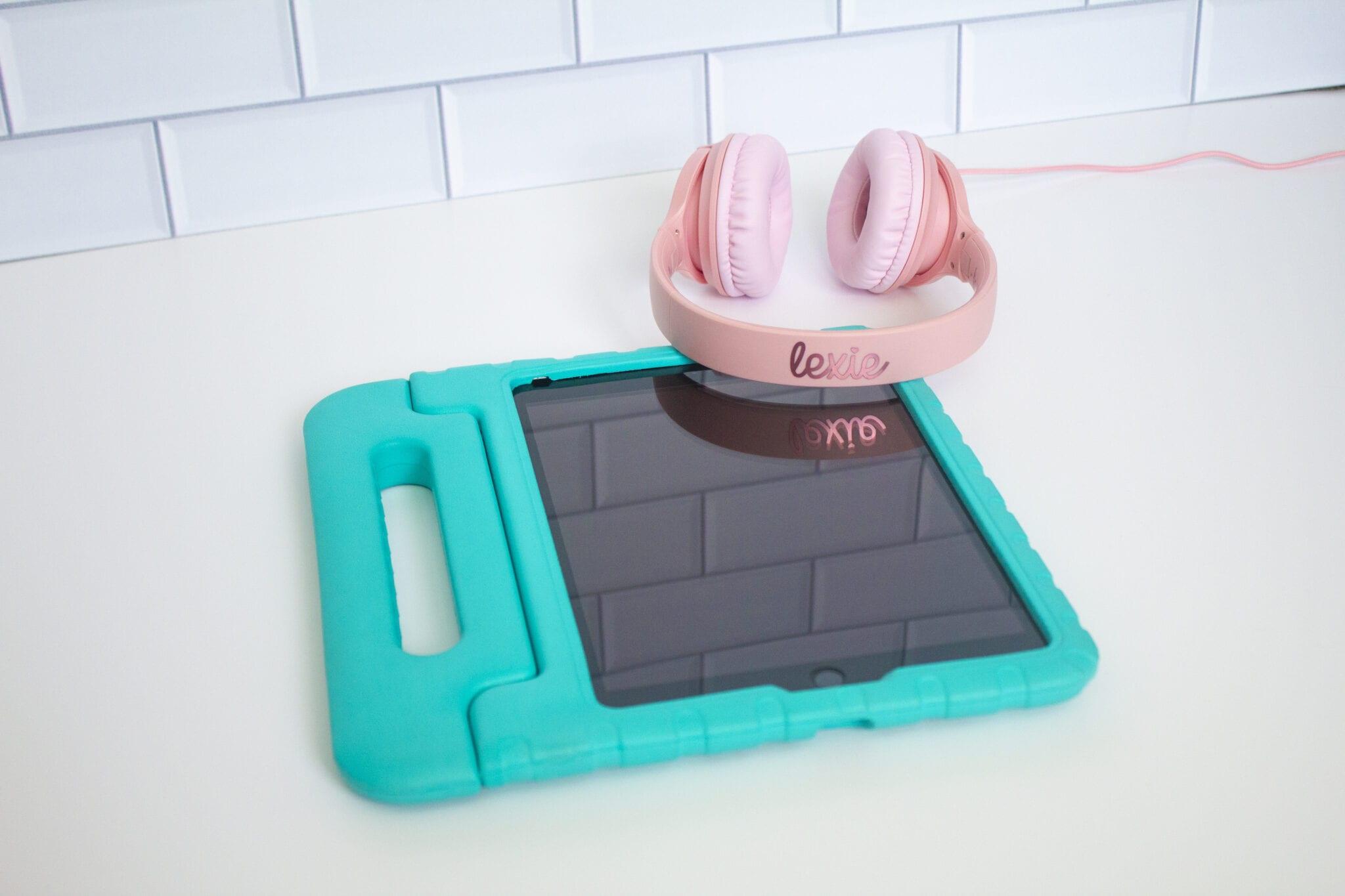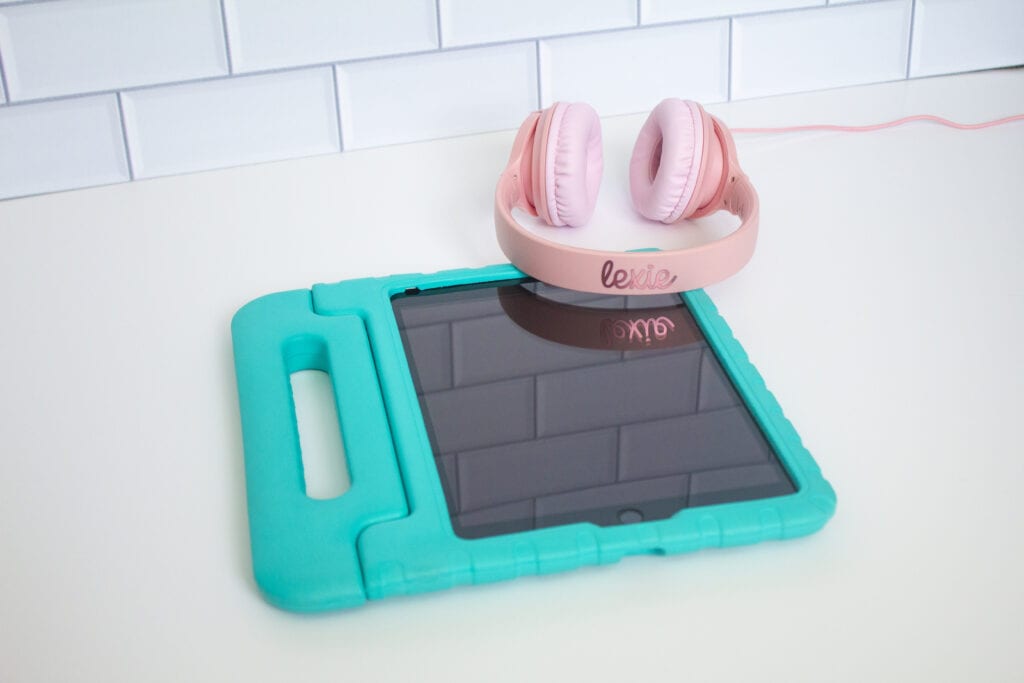 I really love this feature because my kids often check out library books with the Libby app and I don't want them sneaking on to play games when I think that they are reading.
Devices I Recommend:

Pack Each Kid a Backpack
My next suggestion would be to pack each kid their own backpack. It will be so much easier for each child to have access to their own activities and snacks. You won't have to worry about trading things around mid-flight unless if they are bored with the activities that you gave them and you are on a long flight.
I also recommend purchasing a separate travel backpack for your kids so you don't have to worry about emptying their school backpacks before the trip. I even go so far as to keep most of their activities in these backpacks at all times. This really goes a long way to occupy your kids if they are able to play with new toys that they don't play with often.
Backpack Ideas:

My kids and I made an activity out of these backpacks and they helped me choose what patches they wanted to go on their backpacks. They each chose their own theme or color scheme and we had fun decorating their backpacks so we could keep them separate from each other. I'll link some patches below from Amazon but we got a bunch of our patches from AliExpress. They are MUCH cheaper but they take 1-2 months to arrive.
Patch Ideas:

Wear Comfy Clothes
My next piece of advice is to make sure everyone is wearing comfy clothes. Nobody wants to be wearing uncomfortable clothes while trying to ride in an airplane for 6 hours. Make your kids as comfortable as possible so if they want to take a nap they will hopefully be able to sleep better and they will be more comfortable on the flight.
I also recommend at least bringing a jacket. Flights can often get cold so this will help everyone to stay comfortable and warm.
Bring Mess-Free Snacks
There are a million different options for road trip snacks that you could include in your kid's travel backpacks but traveling with kids on an airplane can be tricky. And a part of that is making sure that you make things as easy on yourself as possible.
Bringing a giant bag of Cheerios might be your normal snack time routine but when your kids spill those Cheerios all over the ground, it's near impossible to pick them up without bothering the people in front of you! Let alone trying to bend down and reach them all.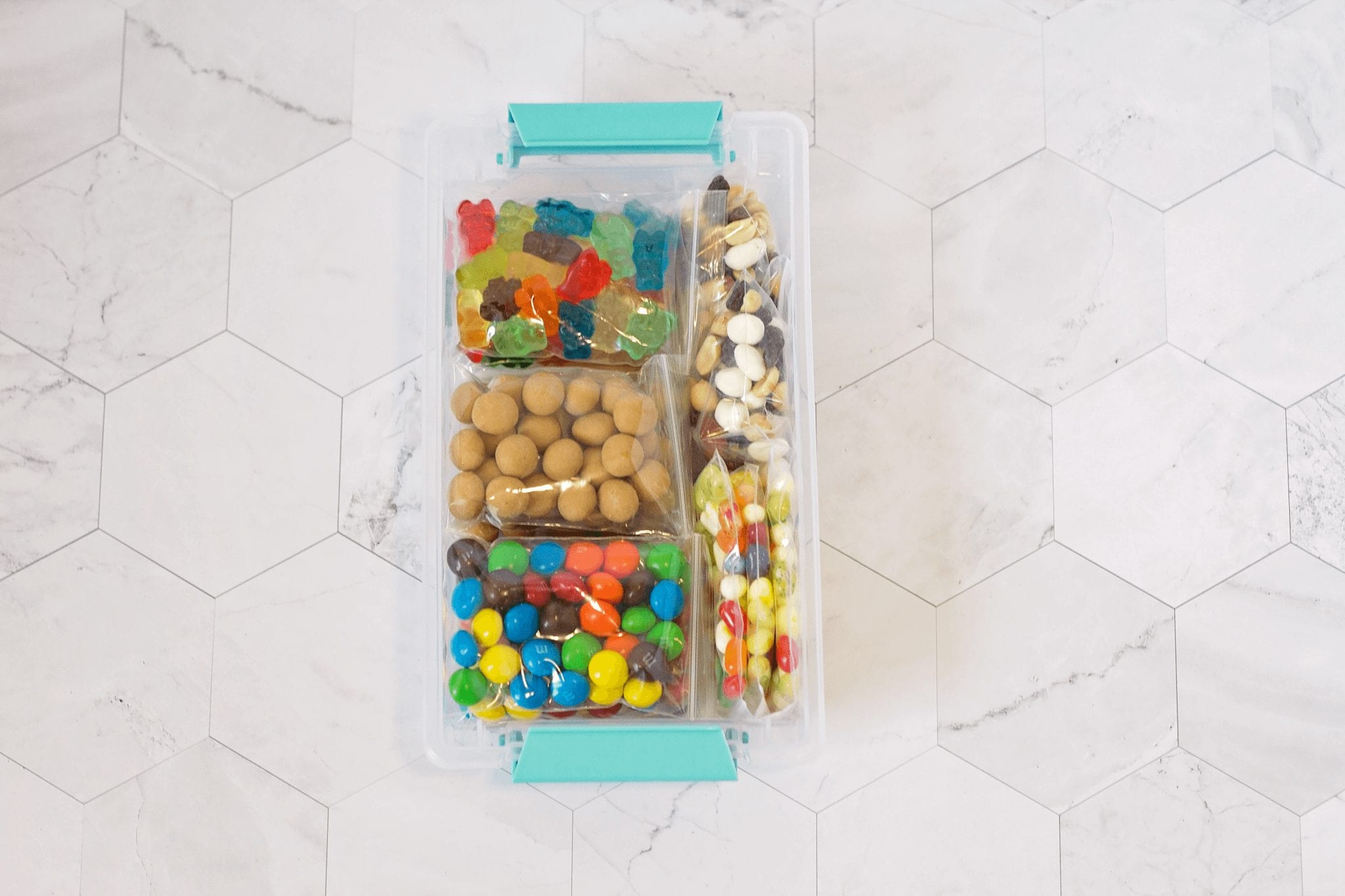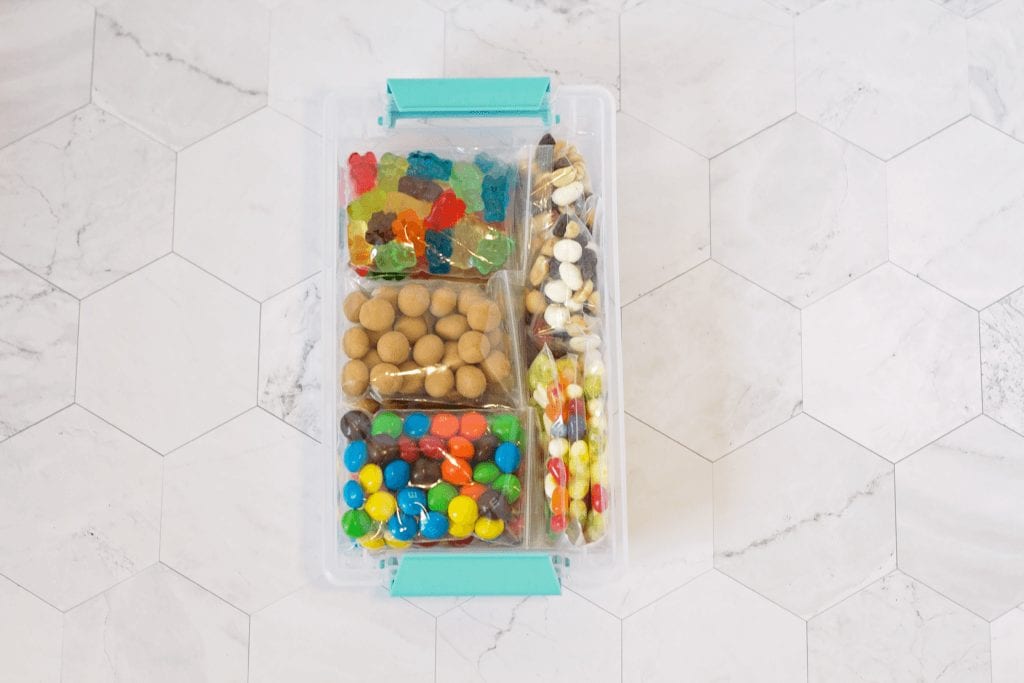 So try and pick snacks that will be super easy to pick up and crumb-free as possible. Some possible snack ideas include:
Rice Krispy Treats
Fruit Leather
Granola Bars
Dried Mangos
Beef Jerky
Fruit Snacks
Teddy Grahams
Bring Snack Bags That Can Be Thrown Away
We all want to do our part and saving the planet but traveling with kids on an airplane is one of those situations when I choose to go with disposable Ziploc bags. Sometimes it's just not convenient to keep and wash dirty silicone bags. I love to prepackage my kid's snacks in sandwich size Ziploc baggies.
If there are even smaller snacks then it's convenient to buy them little mini bags. If you don't want to buy mini bags, then you can actually create smaller Ziploc bags by heating a knife over an open flame and pressing it onto your Ziploc bag. This melts the ziploc bag down the center and creates a seal. Check out this video to see how!
Bring Everyone a Drink
Because it's very tricky to get kids to the bathroom on an airplane, take this piece of advice with a grain of salt. But it is really helpful to have a separate drink for all members of the family for when they need it at a moment's notice. Just be careful that your kids aren't drinking too much that they will need to go to the bathroom too many times on the flight.
Awesome Travel Water Bottles:

Bring Activities Without Lots of Pieces
Because it can be really difficult to reach down and grab dropped pieces, I really recommend bringing activities that don't involve a lot of pieces. There are tons of activities that you can bring for your kids that don't involve a ton of pieces. Or if they do have pieces then make sure that they aren't too tiny. There are lots of different games that you can also purchase that are magnetic that will help you to keep the mess off the floor.
Magnetic Games
Magnetic games and activities are a great way to keep the mess to a minimum. I love how all of these types of activities are easily stored in The container that it comes in and you don't constantly have pieces falling all over the place.
Here are our favorite magnetic games and activities:

Use Pouches to Stay Organized
One of the best ways to stay organized while traveling with kids on an airplane is to use pouches to organize their activities. You can use something as simple as a pencil case, or pouches from the dollar store. I purchased these black pouches from Walmart in the office supply section. They were only a dollar but they go a long way for creating an organized system that will help keep my kid's travel backpacks organized. This will also help you be able to regulate how fast they're going through their activities.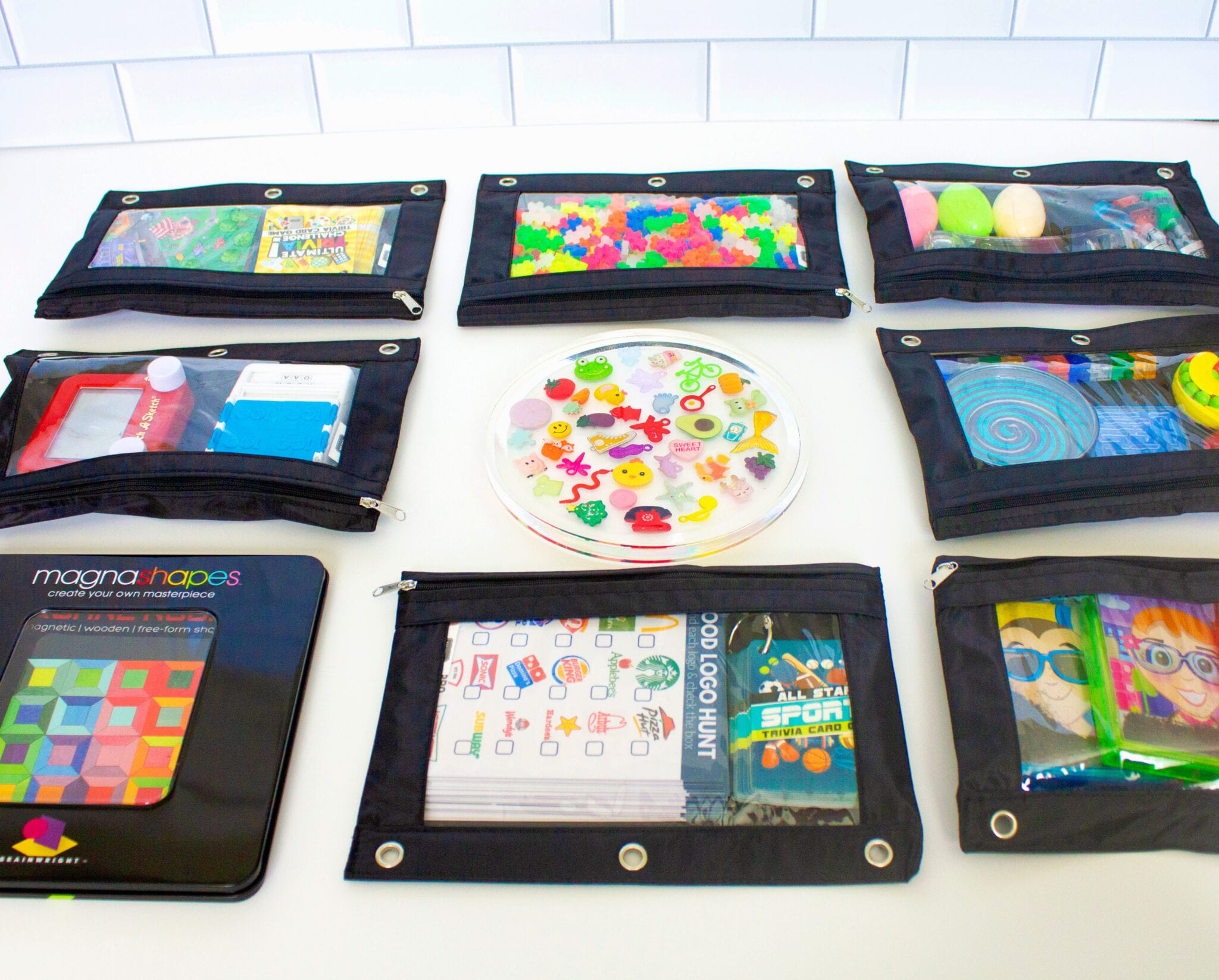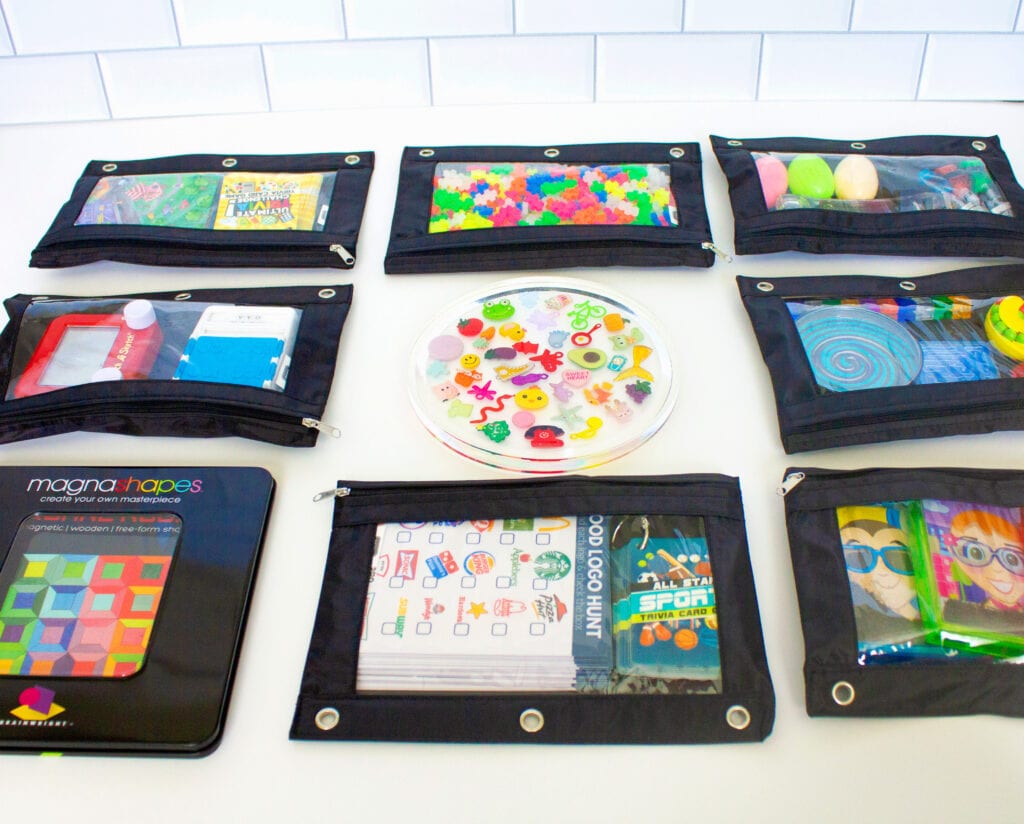 It's much easier to just pull out one pouch at a time than having to sift through the entire backpack to find what you need and having everything get mixed up. I have used a million different kinds of pouches and I definitely have my favorites. I will link to them below. You can't go wrong with any of these!
You can also use small containers to contain things like figurines.

Puzzles
There are tons of different puzzles out there that do not involve the traditional puzzle-shaped pieces. My kids, especially my middle son really loves puzzles that he can sit and try and figure out. I personally don't have enough brainpower to sit and do puzzles for very long, I get really bored! But if you do have a kid that loves to do puzzles and loves to concentrate and try and figure things out then there are tons of different options out there for really great travel puzzles.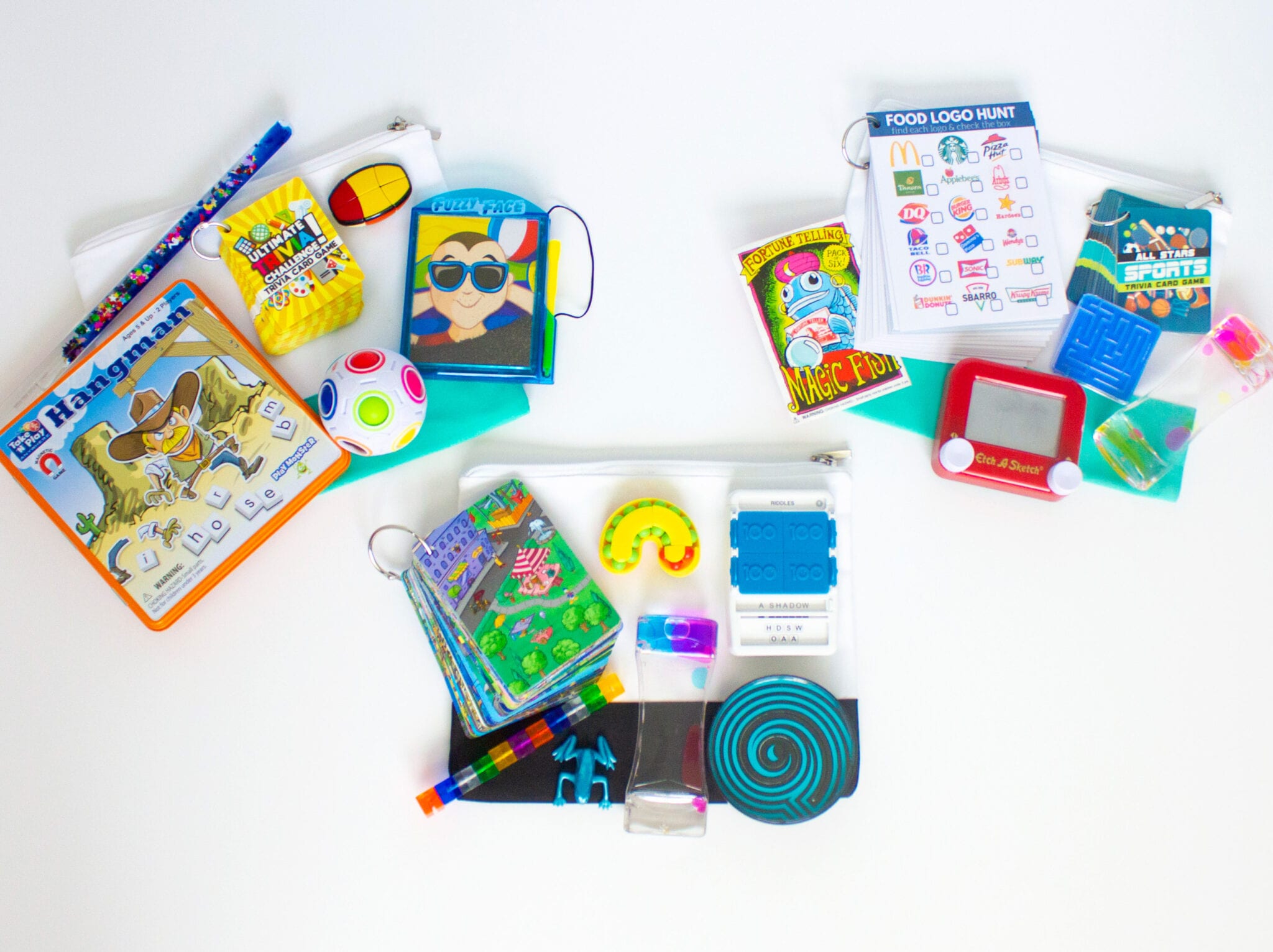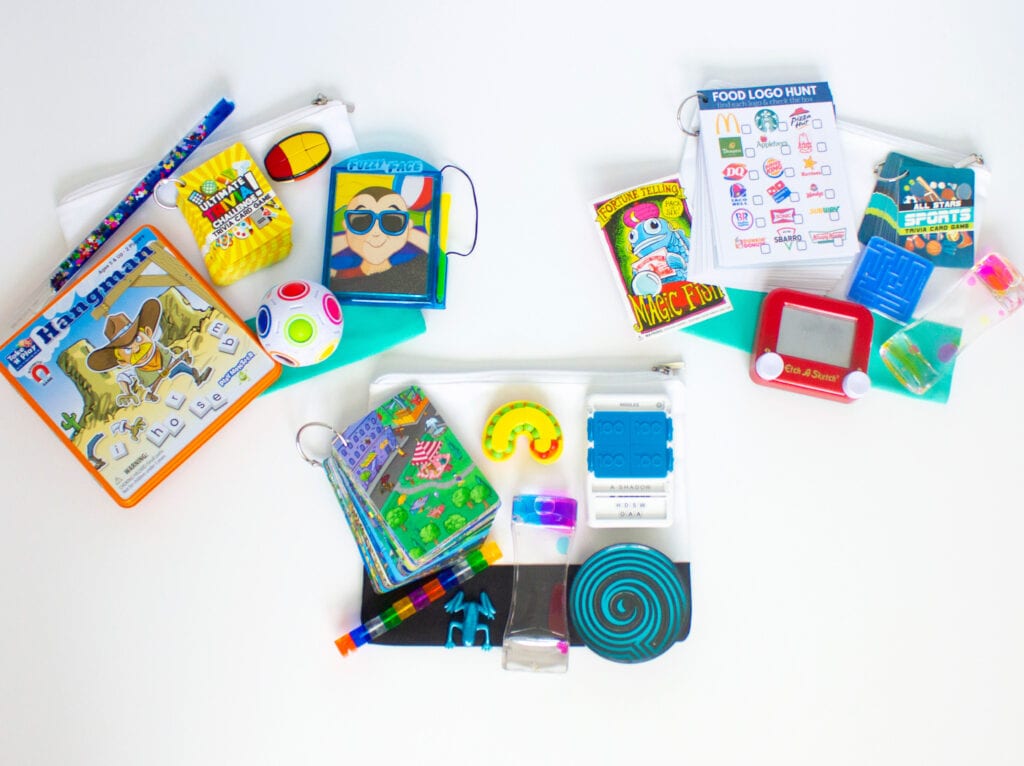 Most of them are typically just one piece so they don't involve tons of pieces like a typical puzzle would. This is a really great way to keep kids occupied for a period of time. It also keeps them quiet!
Favorite Travel Puzzles:

Books
This may be a no-brainer but bringing a book or two on a flight can really help to pass the time. In the past, we used to make a trip to the library before we would go on any sort of road trip. But I found that we sometimes lose the books and then I would have to buy the library new books. So we don't do that in our home anymore but we always make sure to bring a book of some sort.
We also discovered the Libby app a couple of years ago and my kids love to check out ebooks and read books on the iPad. This is one of those scenarios when the guided reading really comes in handy. You can designate a portion of your flight to reading time!
Of course, traditional books are always a great option. My favorite way to purchase books at a discounted price is to go to the local thrift store or even buy books from your kid's school book order form.
I-Spy Games
I spy games are a little bit like puzzles in that they really take a lot of concentrating effort for kids to find the items that they are looking for. One of my very favorite I-Spy activities are these jars from Find It Games.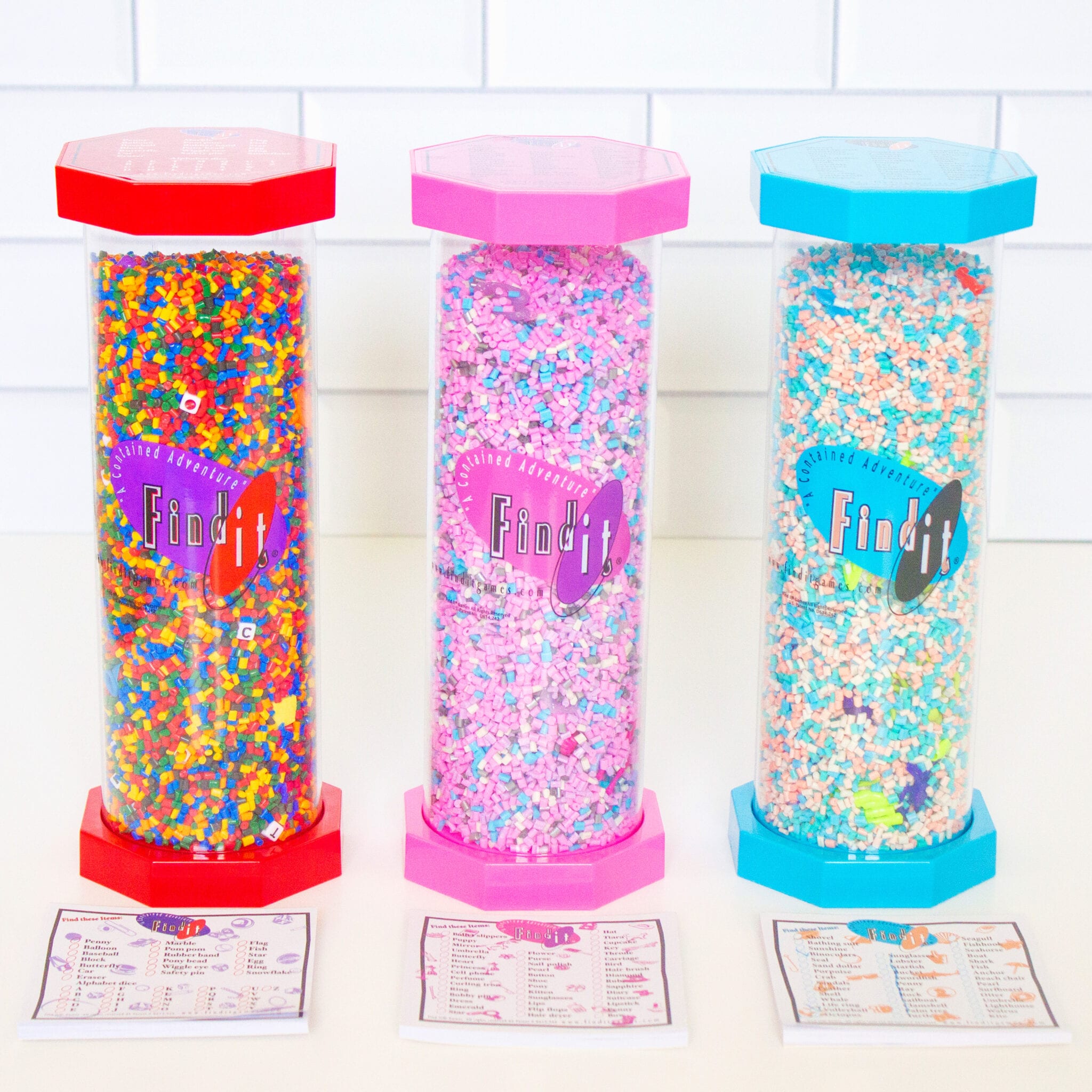 We have several varieties of the game and my kids really love to concentrate and try and find the items in the I spy jar. It comes with a pad of paper so that you can mark off the ones that you've found. But if you don't want to bring the pad of paper, they also list the items at the top of the I spy jar which I think is genius.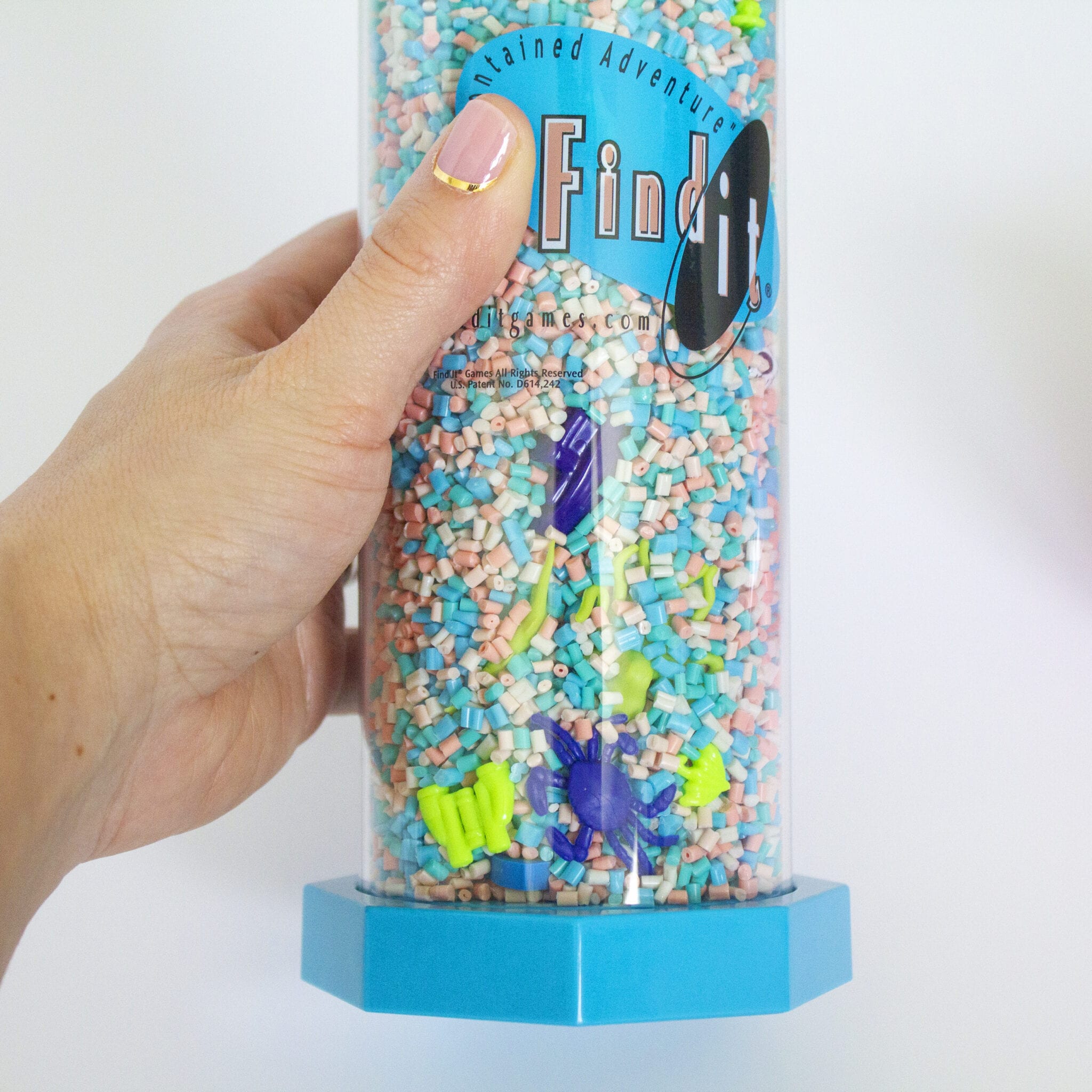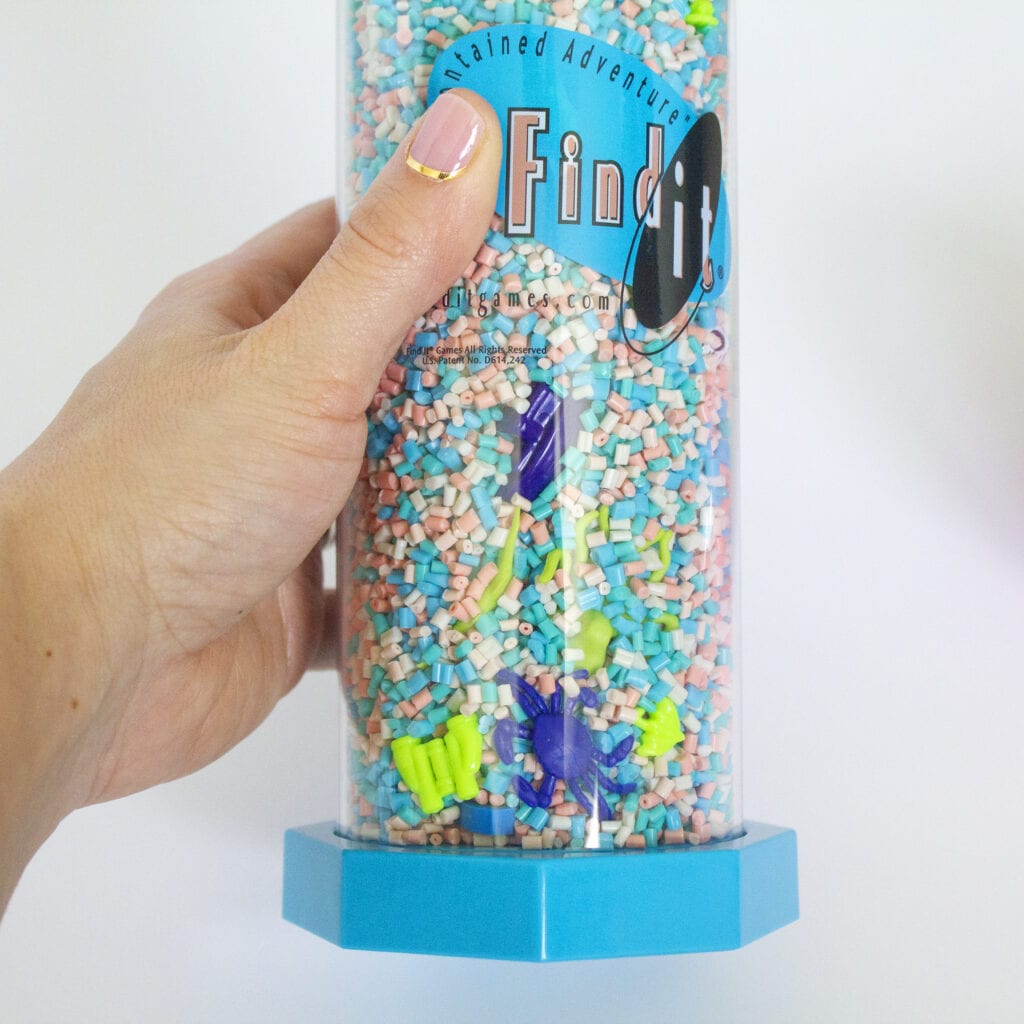 If you have younger kids, I really recommend using these I-Spy Circles. They are a very beginner version of I-Spy games but kids of all ages genuinely enjoy looking at them and seeing all that there is to see. These truly are mess-free activities that your kids will LOVE!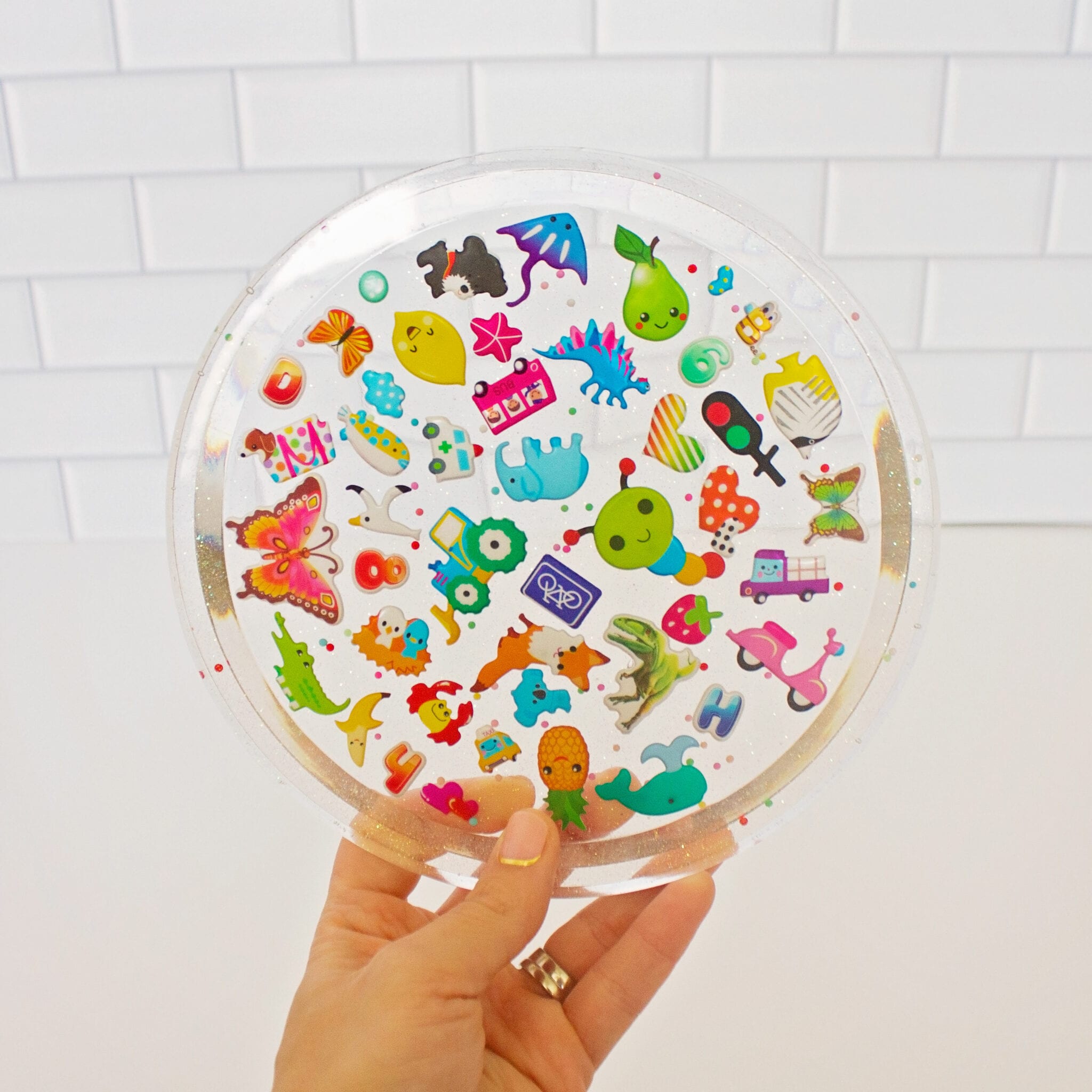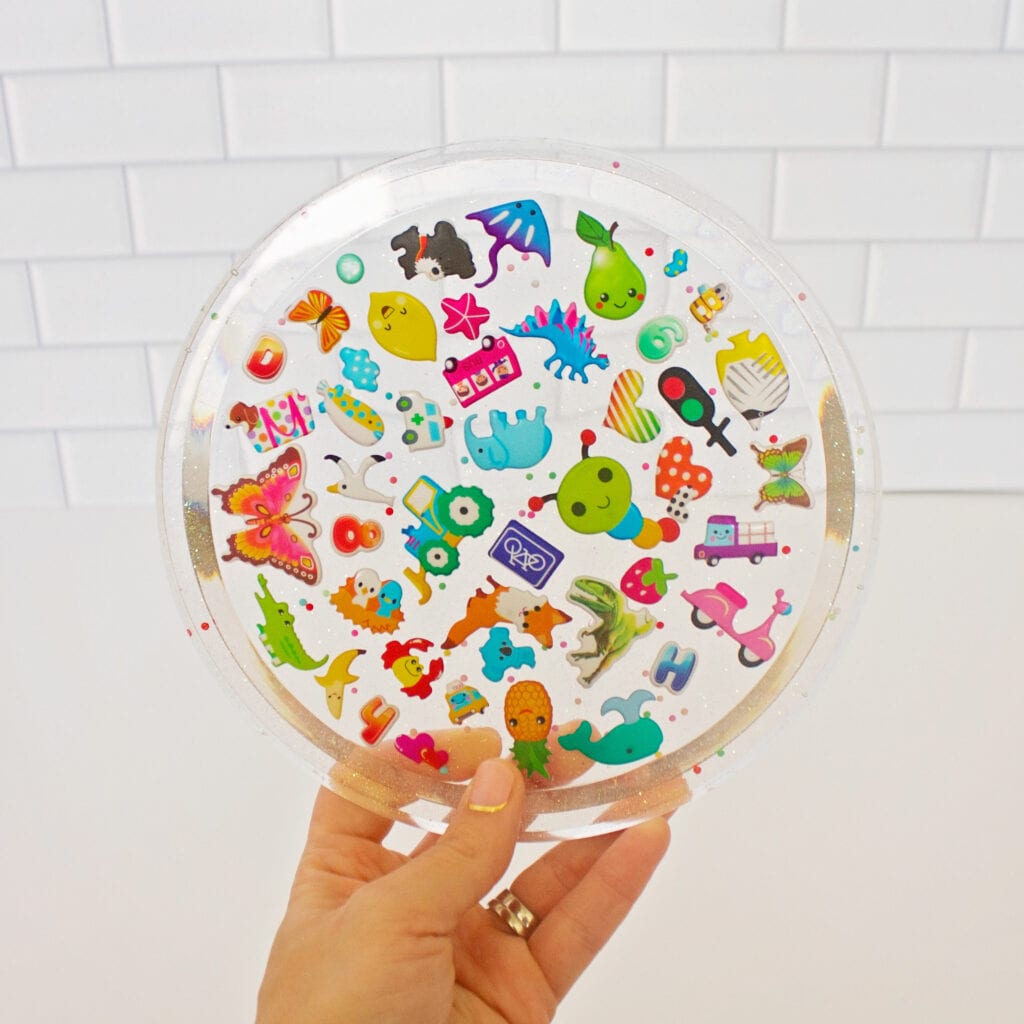 I Spy Games:

Figurines
I'm not sure if you have kids that really enjoy figurines but figurines are an excellent toy for traveling with kids on an airplane. They are generally not too messy and depending on how many you bring they are really easy to contain and clean up.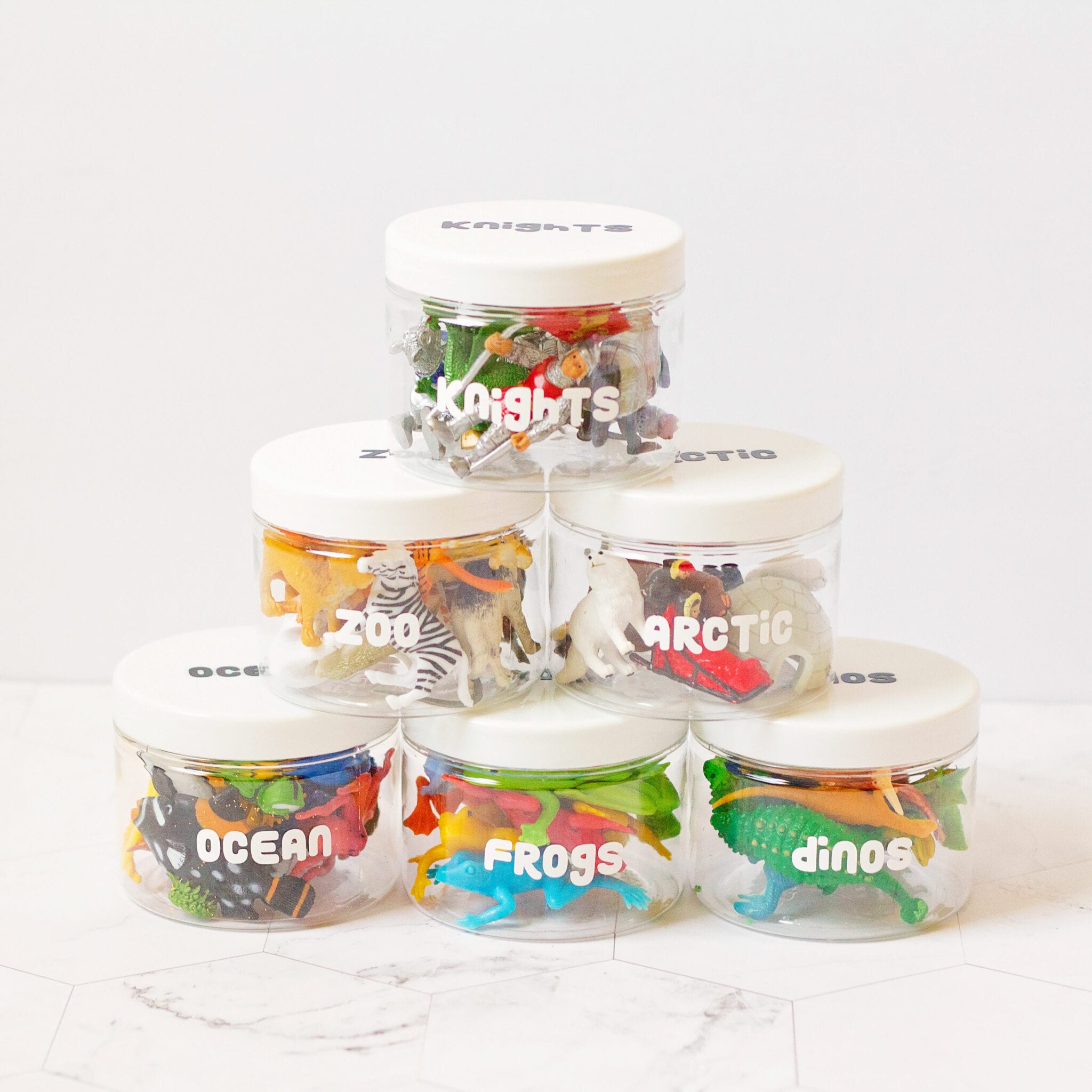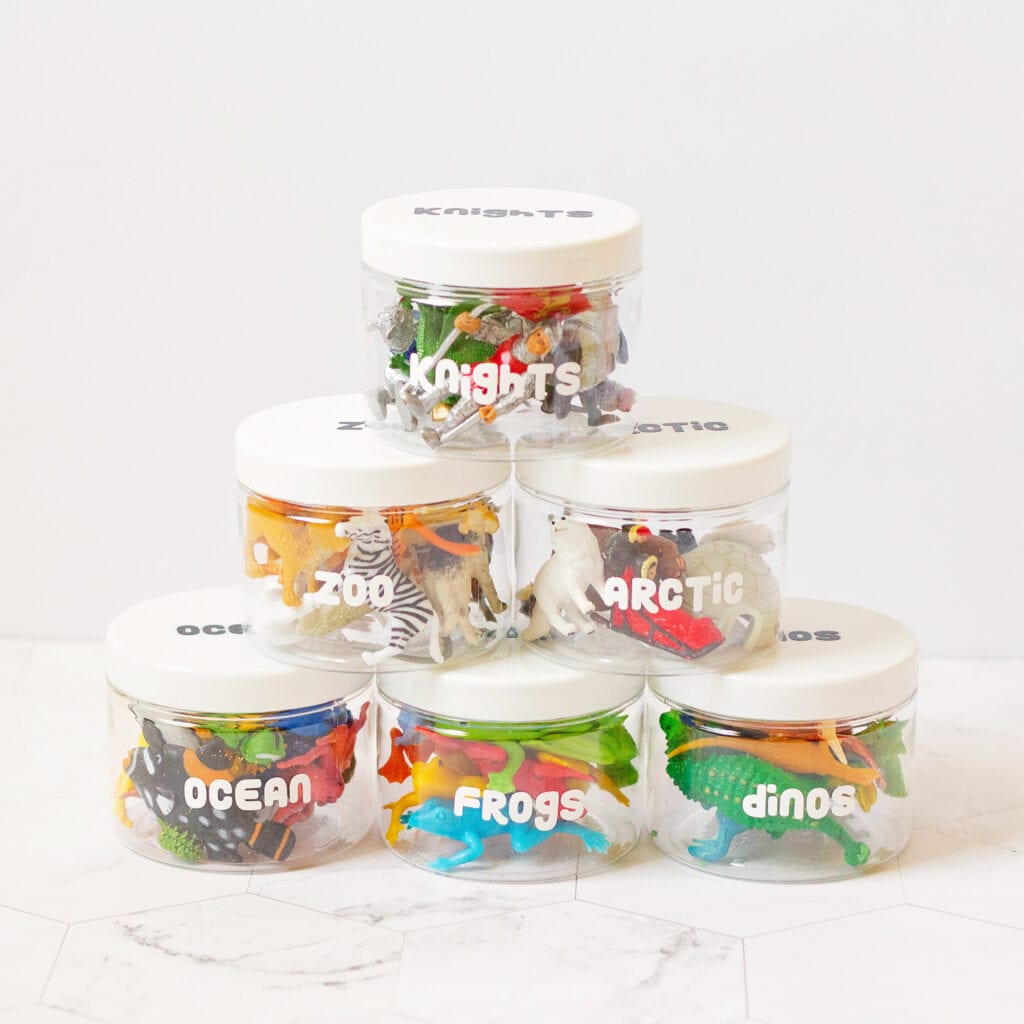 When my daughter was little she was completely and utterly obsessed with Disney princess figurines. It was so fun to watch her imagination blossom through those figurines.
There are a million different types of figurines and I'm sure you can find some that your kids will enjoy. They have dinosaur figurines space figurines, you name it!
Figurine Ideas:

Use a Colored Pencil Roll
If you have a creative child who loves to color, I really recommend bringing colored pencils in a colored pencil roll. This is a really convenient way to keep colored pencils stored and it prevents them from all falling onto the ground.
Colored pencils can also be really noisy and obnoxious for fellow airplane passengers so using a colored pencil roll really helps to keep the mess and the noise down which are both a win in my book!
Origami
Another great quiet time activity that you may not have thought of before is origami! If your kids are old enough, origami can be a really great thing for them to do that will keep their concentration as well as keep them quiet. If they have never done origami before, make sure to buy some sort of kit that is very beginner and easy to do.
I've made the mistake of purchasing something too difficult for my kids and because it was too overwhelming for them to learn they stopped and didn't have any interest in trying anymore.
So I've learned that it's better to start out a new skill or hobby at the base level so that they can get a feel for what it actually is.

Sticker Books
I remember loving sticker books when I was a little girl. For some reason they're so much fun! They're definitely a classic tried and true quiet time activity that would be perfect for traveling with kids on an airplane.
One product that we have used before that we really love is mosaic sticker books. They are really fun because they give the kids a chance to form a beautiful picture at the end but it's a little bit like a puzzle because they need to fit the pieces in the correct places.
This is obviously an activity that is more for older kids but either way sticker books are a big hit for all ages!

Podcasts
This year we have discovered podcasts for our kids. It used to sound like torture to me because I imagined all those really irritating kids songs that my kids play over and over on our Google. But I was pleasantly surprised and I'm happy to report that we definitely found some family-oriented podcasts that even I myself enjoy listening to.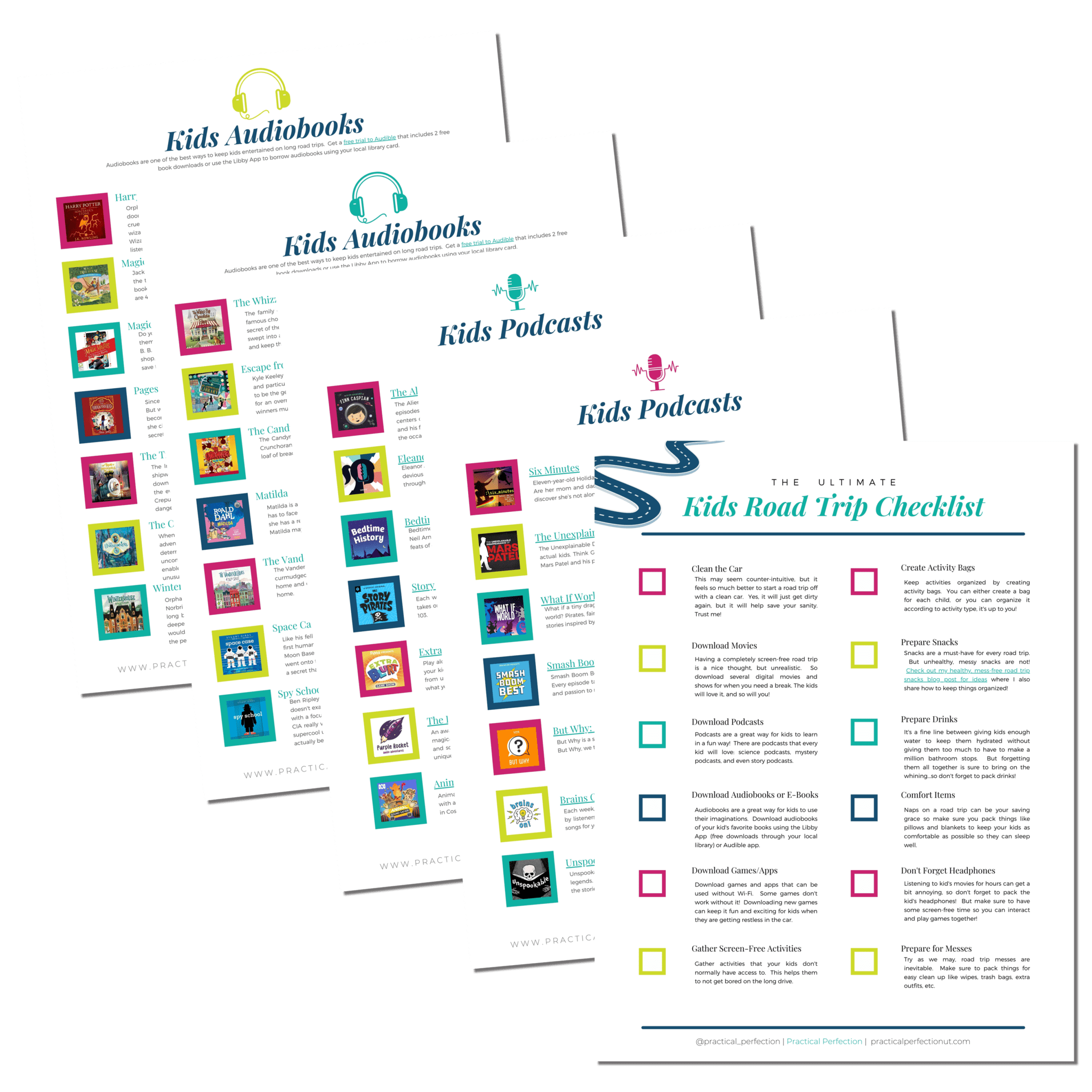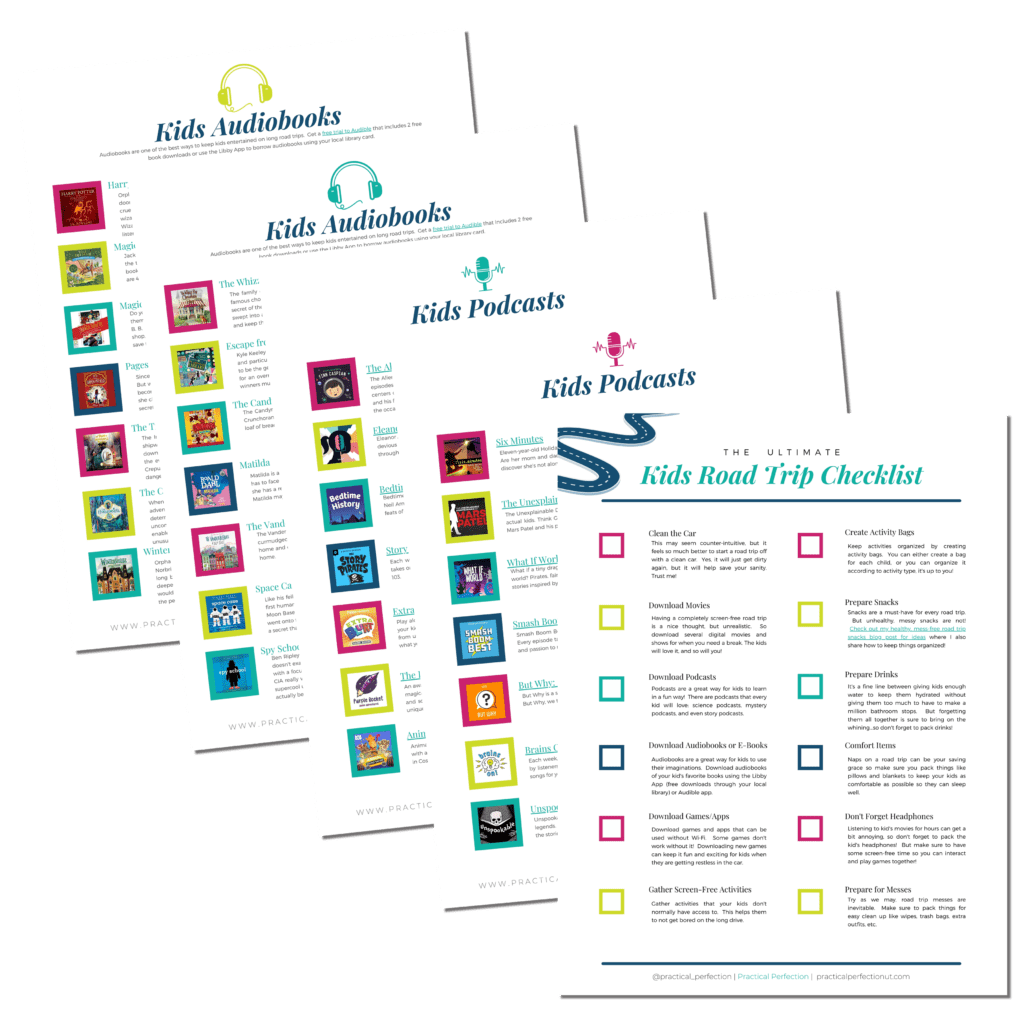 They have awesome sound effects and really bring you into the story. I have even made a big list of all of our family's favorite podcasts or some of the more popular family-oriented podcasts even if we haven't listened to some of them yet.
I will leave a list of our favorites here but you can get the complete list on my printable download file by entering your email below and signing up for my newsletter.
Audiobooks
An alternative to podcasts is audiobooks. Audiobooks are gaining in popularity and it's not just adults that can enjoy audiobooks!
I have a hard time paying a big price tag for my kids to listen to audiobooks so we downloaded the Libby app for our kids on their devices. Now they can use their local library card and listen to audiobooks for free!
The disadvantage to doing it this way is that oftentimes you have to wait for the audiobooks to become available just like you would at the library. But to me, it's worth saving the money and my kids don't seem to mind too much.
Trivia Games on a Ring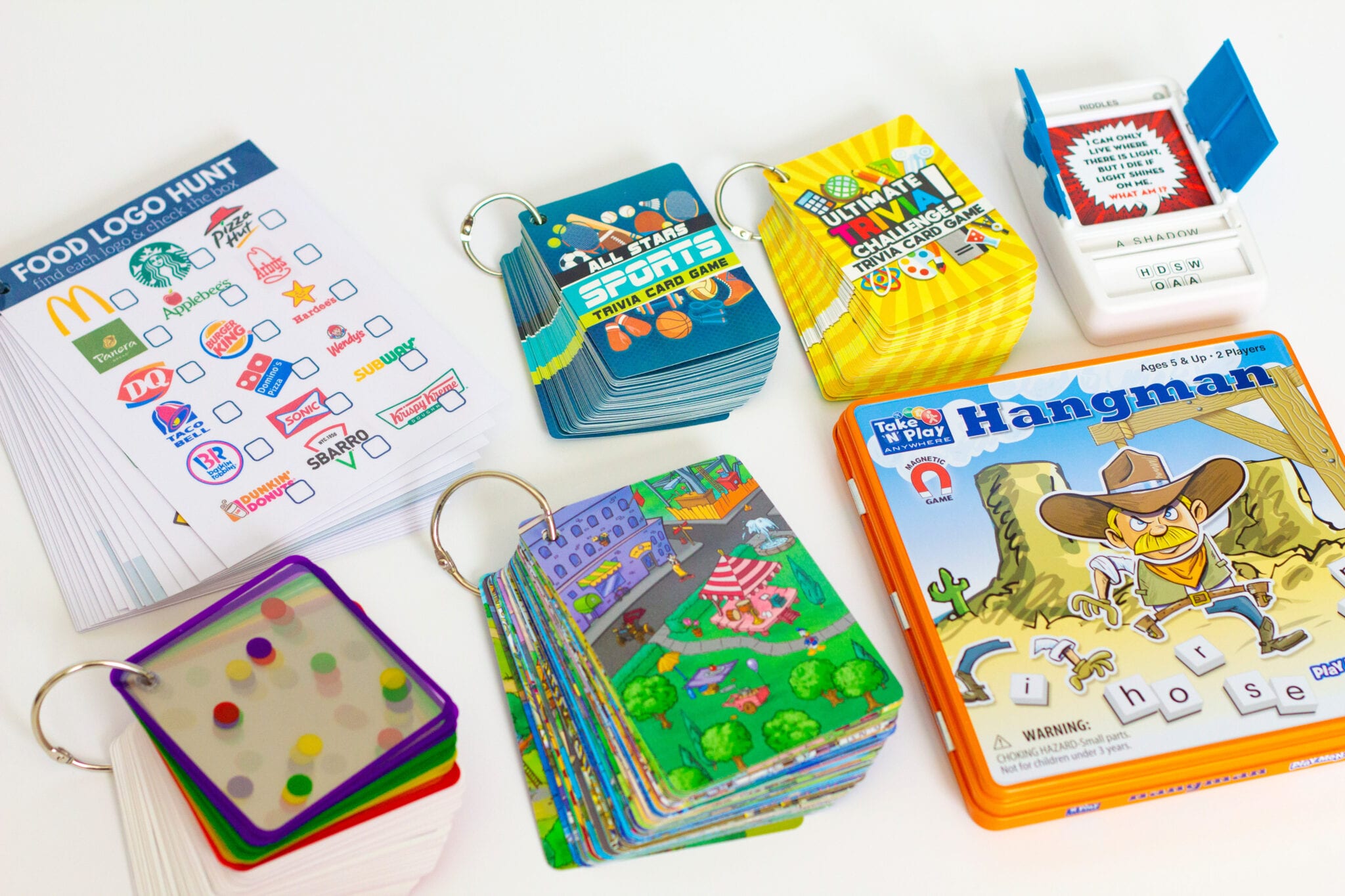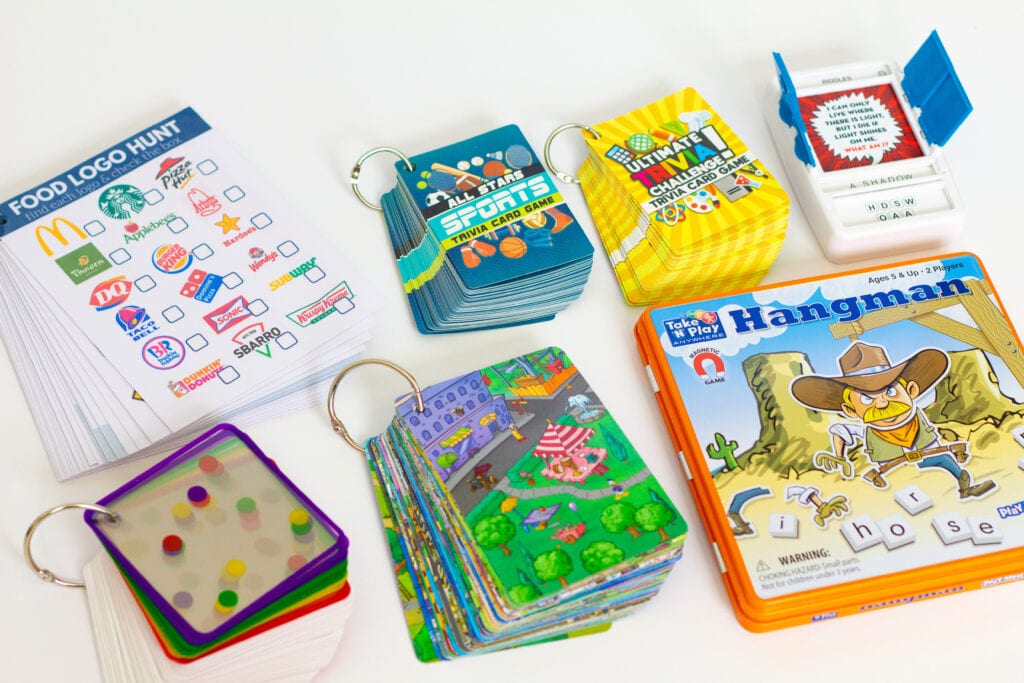 There are lots of various travel games that you can purchase but the problem with traveling card games is that they can often become a big mess if the cards get dropped on the floor.
One of the best things that I've done is to put a hole punch in the corner of all of the cards and put a metal binder ring through the hole to keep it all together.
Remember when you used to study for your college classes and you made flashcards for yourself? Just like that. This is a great way to keep things simple and together so that things can stay as mess-free as possible.
Bring a Travel Pillow
A must-have essential item when traveling with kids on the plane is a travel pillow or travel blanket. This is especially helpful if you are traveling on a long flight.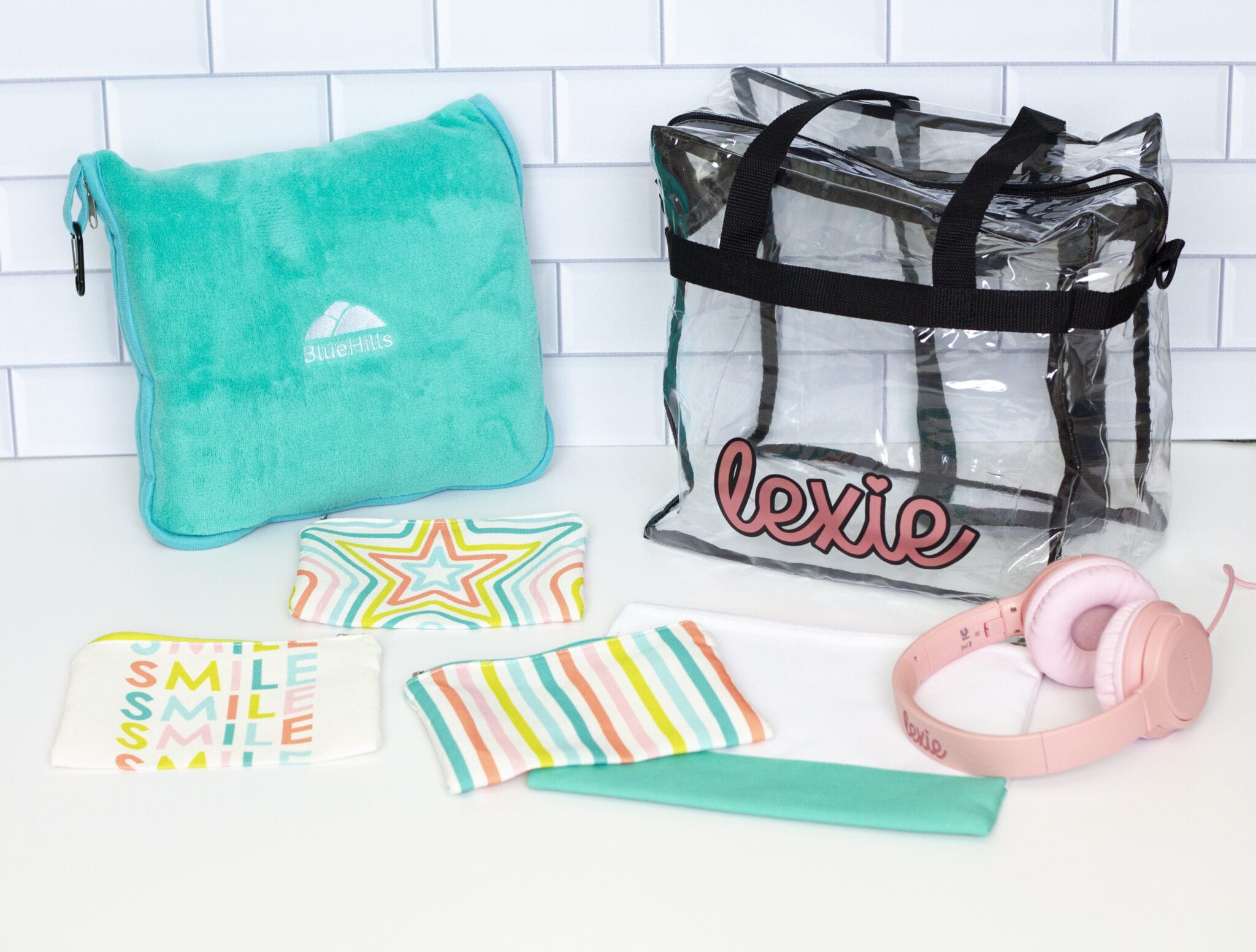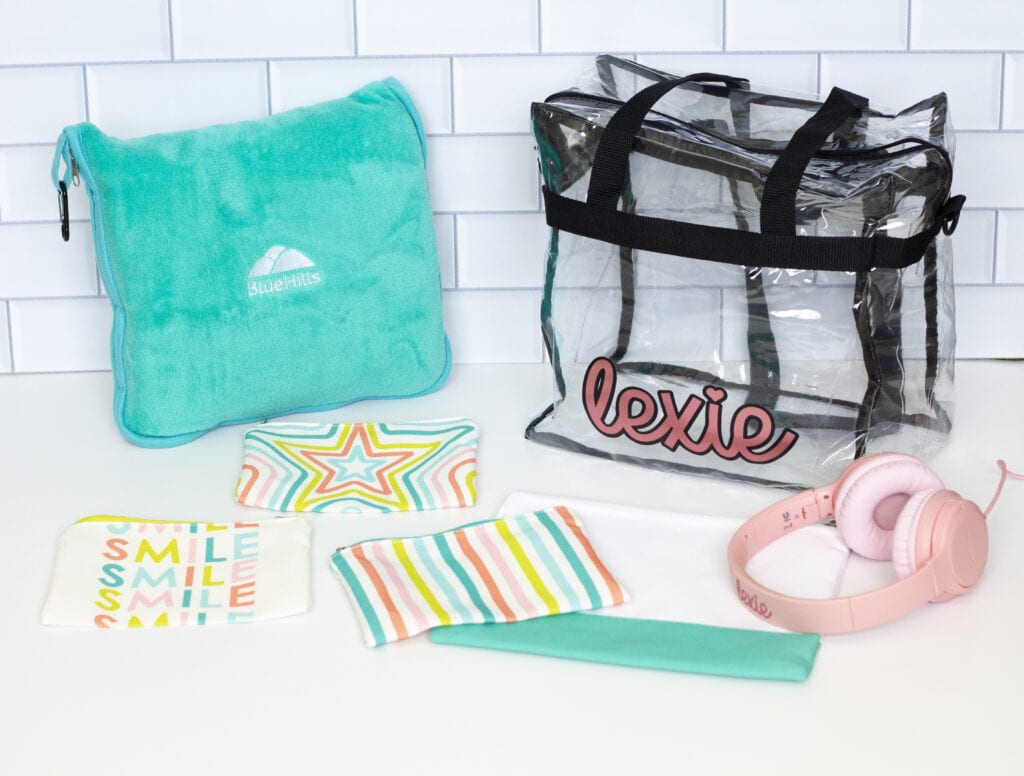 Bringing a regular size pillow is just too bulky and out of the question for me and my family. So travel pillows that are actually comfortable are a must-have! These are the ones that we have and we love them! They actually unzip and turn into a travel blanket if you choose. The disadvantage is that you can't use both at the same time but that's never bothered me.

Have Special Airplane Toys
I mentioned this tip a little bit earlier but I wanted to talk about it a little bit more. One of the best things that you can do when preparing for a flight with kids is to pack activities and things that your kids have never done before.
Of course, there is an importance in bringing things that you know that they already love but there is something about bringing new activities and toys that your kids have never seen that really captures their attention.
Investing a few extra dollars in some new things to occupy their time can really go a long way in making your flight smooth and peaceful.