58 Unique Screen-Free Road Trip Activities for Kids
Going on a Family Road Trip can be so much fun! And although movies in the car can help pass the time, I hate my kids to be watching a screen for hours on end. So I try to bring some activities for my kids that will entertain them between movie sessions. These road trip activities for kids that I've collected for you are as mess-free as possible! Don't forget to scroll down to download a free Kids Road Trip Prep Checklist!
Need more ideas? Check out our Best Road Trip Snacks that are Mess-Free for Kids and 9 Simple Car Organization Hacks Anyone Can Do!
One of my major qualifications on if an activity can be brought into the car is how many pieces it comes with. There are so many great ideas online but I have seen ideas from other bloggers like Legos, Slime, and Play-Doh! Say what?! That's just a disaster waiting to happen if you ask me! Those items are just not allowed in my car.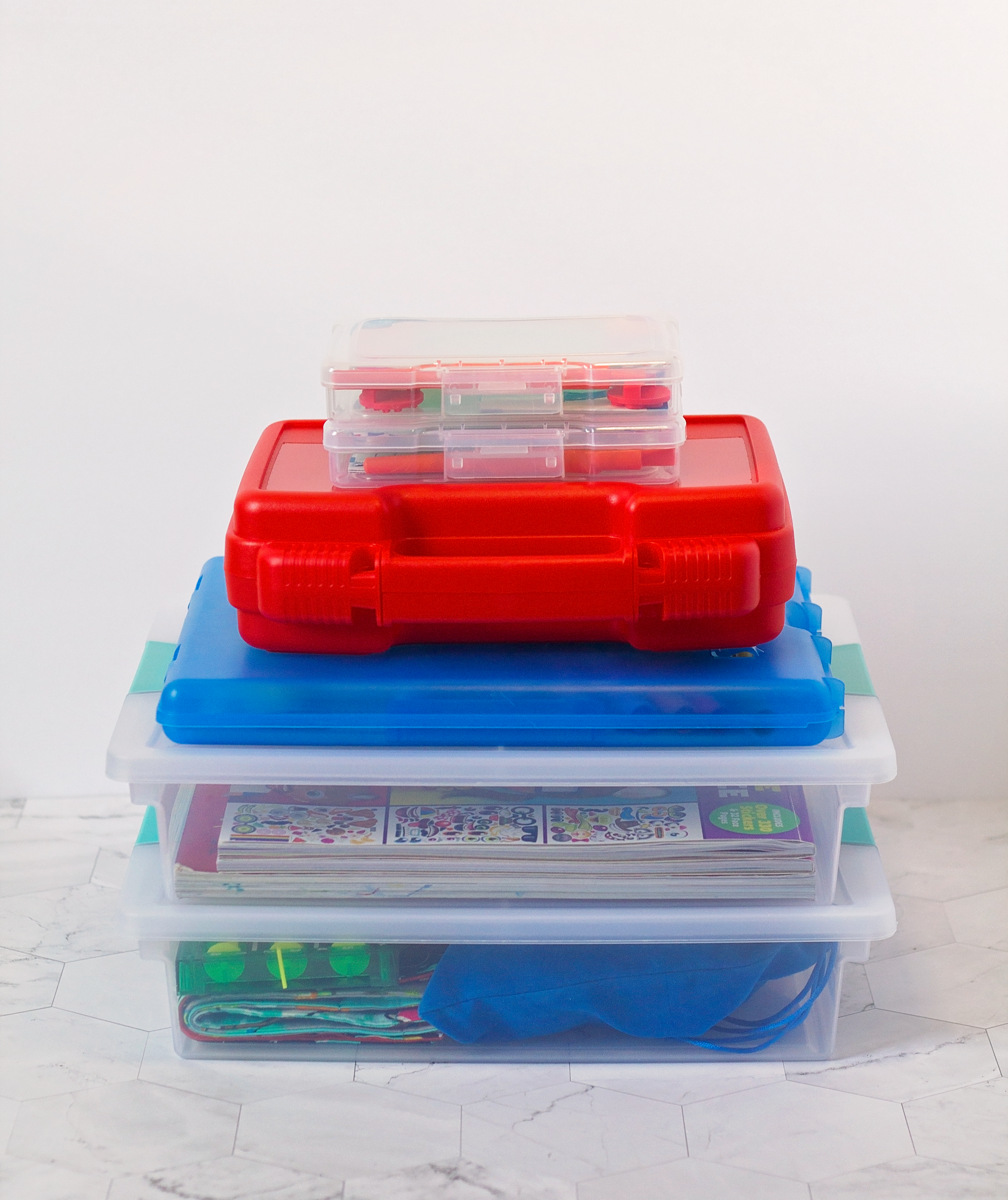 One of the very best tips I can give you is to prepare activities that the kids are only allowed to play with on road trips. Otherwise, they aren't very exciting to play with and they lose their luster significantly faster.
I have a specific part of my closet that houses all of our road trip activities and my kids know that when we are heading on a trip, all they have to do is grab the tote and they're ready to go! No more running all around the house for games and activities.
The only things that I have to gather are the iPads, headphones and electronics.
Prepare for Your Road Trip
The key to having a successful road trip is being prepared. Preparing for a vacation can be overwhelming and throwing in long travel times just adds to the stress of your preparation. Preparing snacks, drinks, media, activities, etc. gets overwhelming really fast! You can download my free checklist below where I have all of the things you need to do to get ready for your next road trip as well as, podcast and audiobook suggestions, and even a road trip countdown printable!
Road Trip Puzzles, Games and Fidget Toys
My kids loved all of these fidget toys and they really captured their attention for quite some time. I was semi-expecting them to ask for the TV after playing with them for only a few minutes but they played with toys longer than they watched movies. That's a huge success in my book!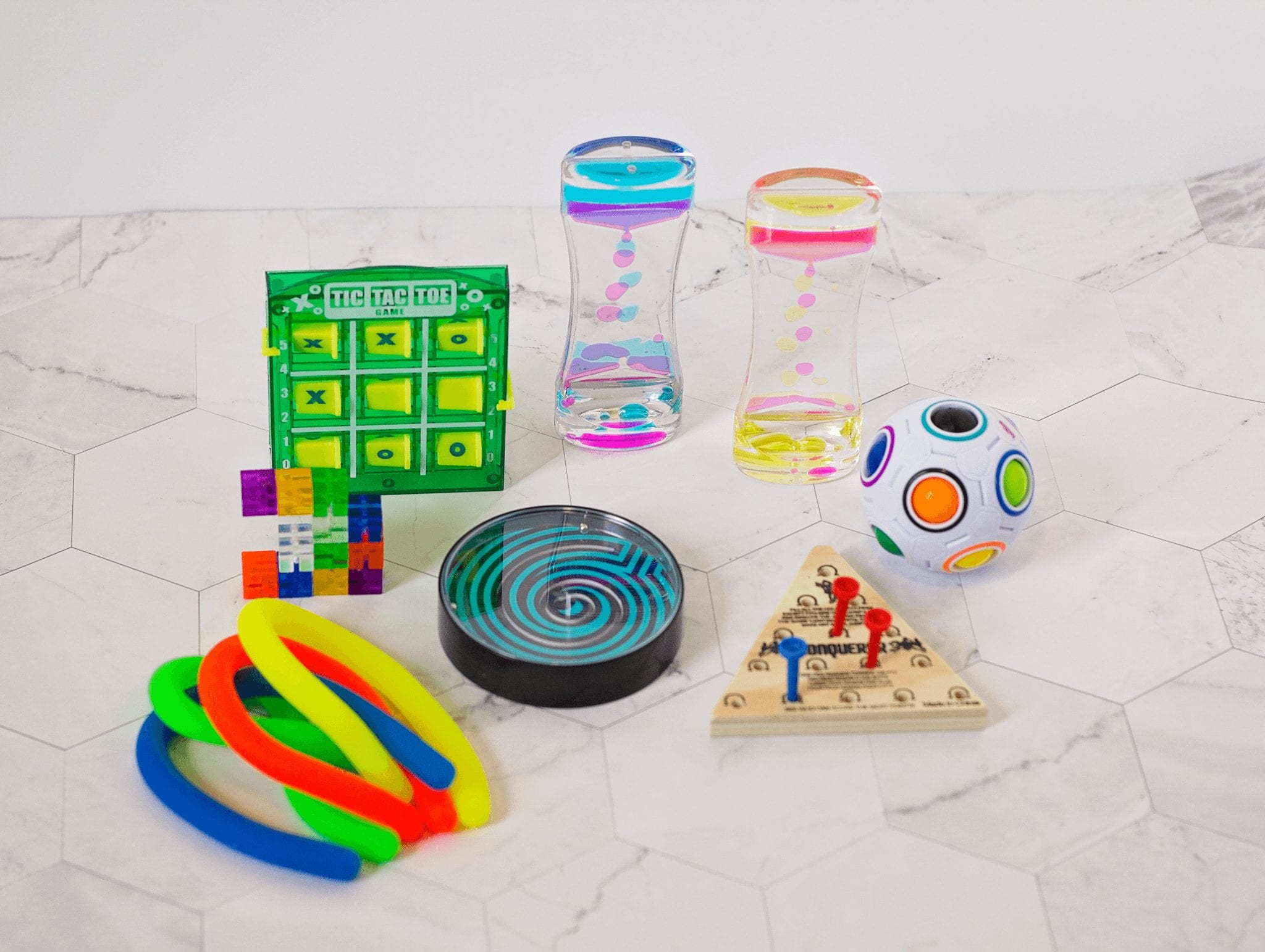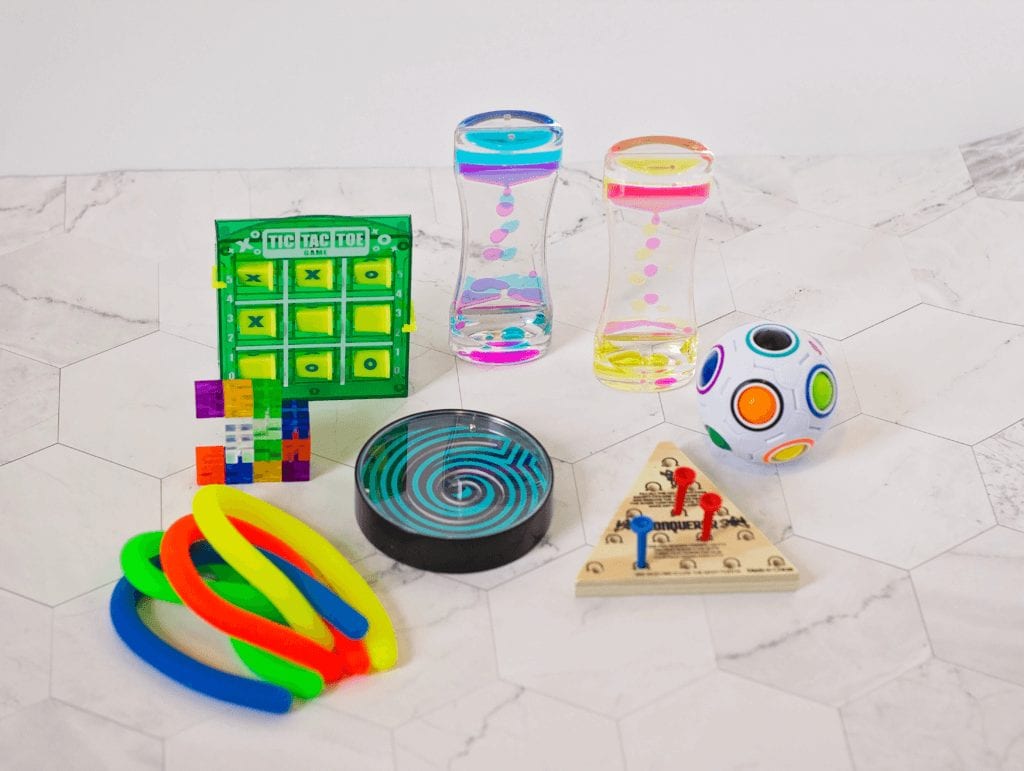 Puzzles
Puzzles are a great kid's road trip activity because they allow kids to use their minds instead of just letting their minds turn to mush watching 15 straight hours of movies. In my experience, when I let my kids watch too much TV, they are grumpy, disrespectful to others (and myself), and constantly fight with their siblings.

Games
Games are also a great road trip activity for kids because it allows the kids (and parents!) to play together and make memories in the car, not just at your destination. You can play things like hangman, do a license plate search, or even play ABC I-Spy! My favorite thing I have for my kids is this awesome Road Trip Game pack. I was blown away by the quality and the quantity of games…the best part is that they don't require additional supplies!

Fidget Toys
Do you have kids who get antsy on long drives? I hate long drives myself so I don't blame them. I'd be willing to admit that my kids are better travelers than myself. But sometimes fidget toys can be a great outlet for them when the drive is getting long and you need to drive 'just a bit more'.

Mess-Free Coloring Activities
My next set of activities is more geared around coloring. Art and drawing activities are a great kids road trip activity, especially if you have kids that love arts and crafts. However, with arts and crafts also comes big messes!
Art supplies coming out our ears! That's why I've gathered some of our very favorite mess-free road trip coloring activities.
Colored Pencil Roll
I only bring colored pencils in the car because I don't want melted crayons all over my car in the summer. So I bought this incredible colored pencil roll that is excellent at keeping all of the colored pencils neatly organized and keeps them all off of the floor.
I can't find the exact link to the colored pencil roll that I have exactly but here is a really similar one on Amazon. I love how budget-friendly it is! It rolls up nicely and stores well. That way I don't have to worry about gathering art supplies every time we go on a road trip.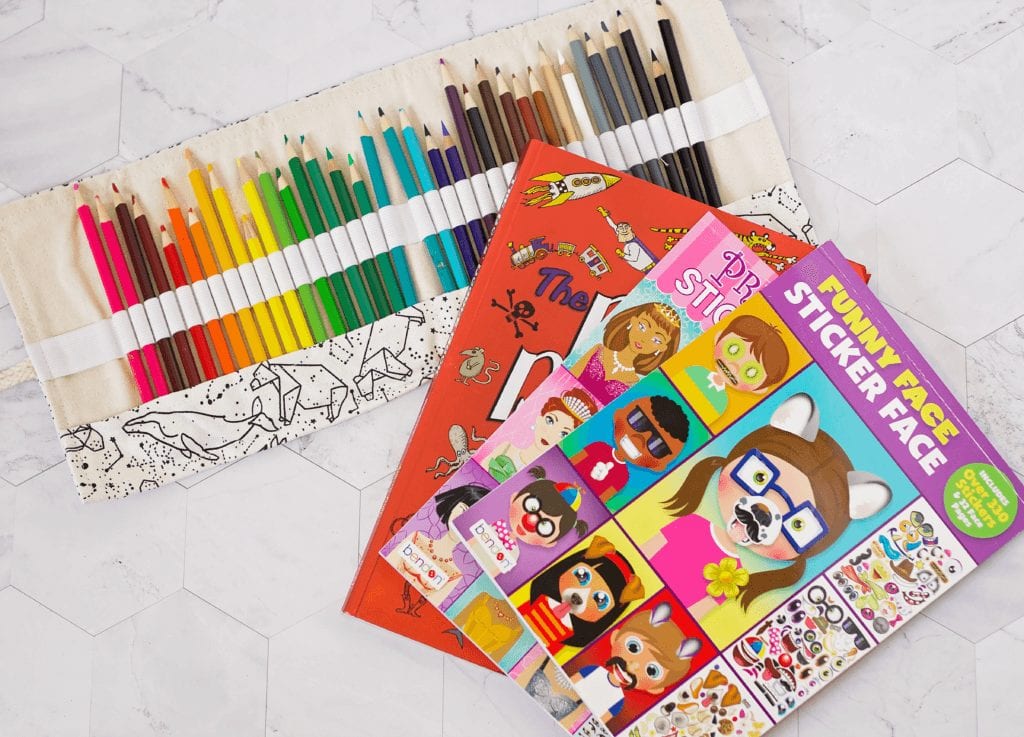 Crayola Color Wonder
Crayola Color Wonder is such a genius concept…especially if you have really little kids that tend to color all over everything (either by accident or on purpose!). It comes with special markers that only color on the Color Wonder paper…and nothing else! I bought the set that comes with the convenient travel case that carries all of the paper and the markers inside. Super convenient, super organized.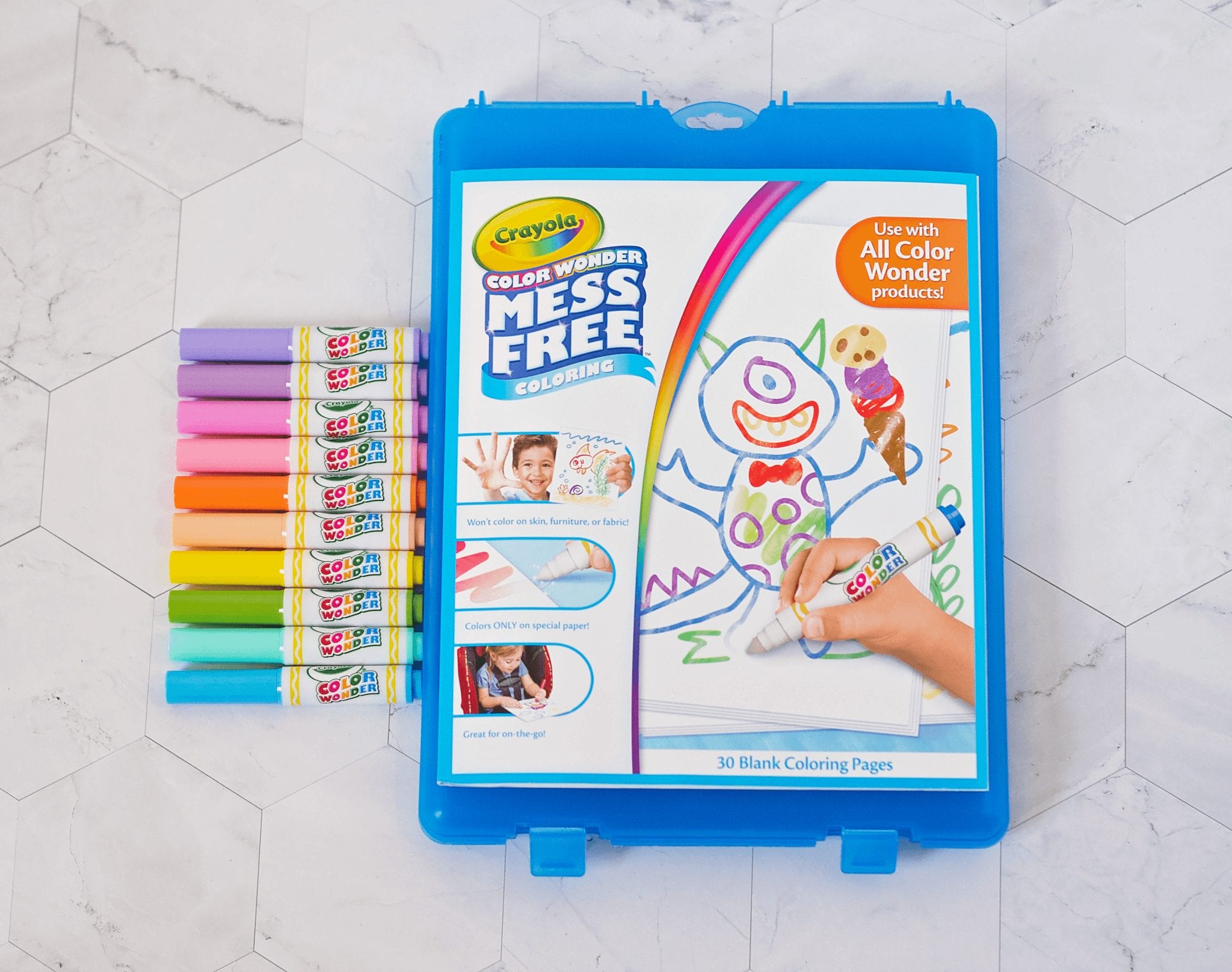 Other Kids Road Trip Art Activities

Boogie Boards
I don't know if you have heard of Boogie Boards or not, but they are pretty awesome! They are great for drawing or writing notes. They don't require any paper and can be reused a million times over.
I bought this set of travel-sized Boogie Boards at Costco a few months ago. The only product that I could find that was close to it online was at Barnes and Noble here.
I feel like the travel case is a MUST because if they are hit too hard on the screen, they can break. But if you don't feel like you need one with a case, you can get one on Amazon here.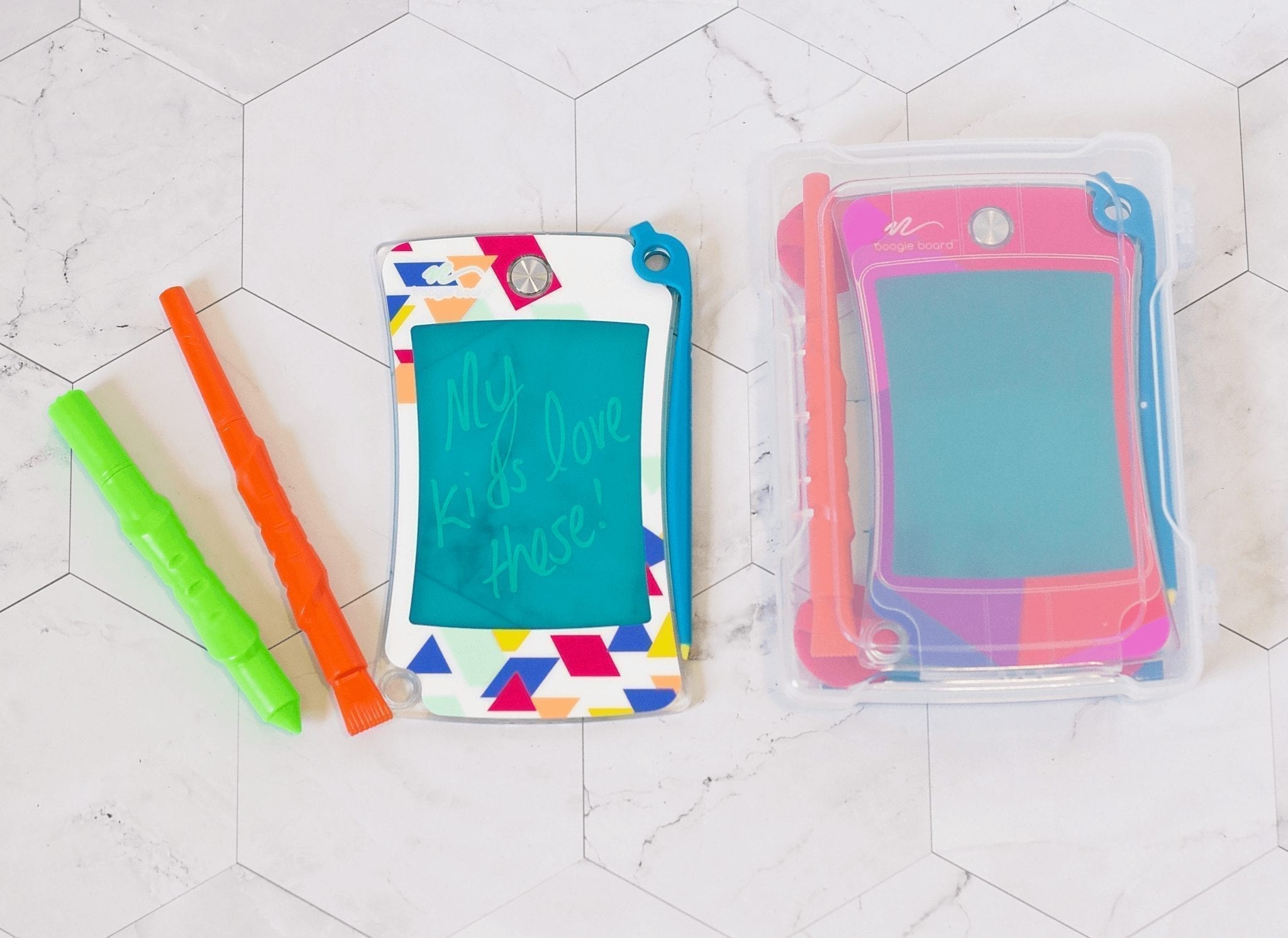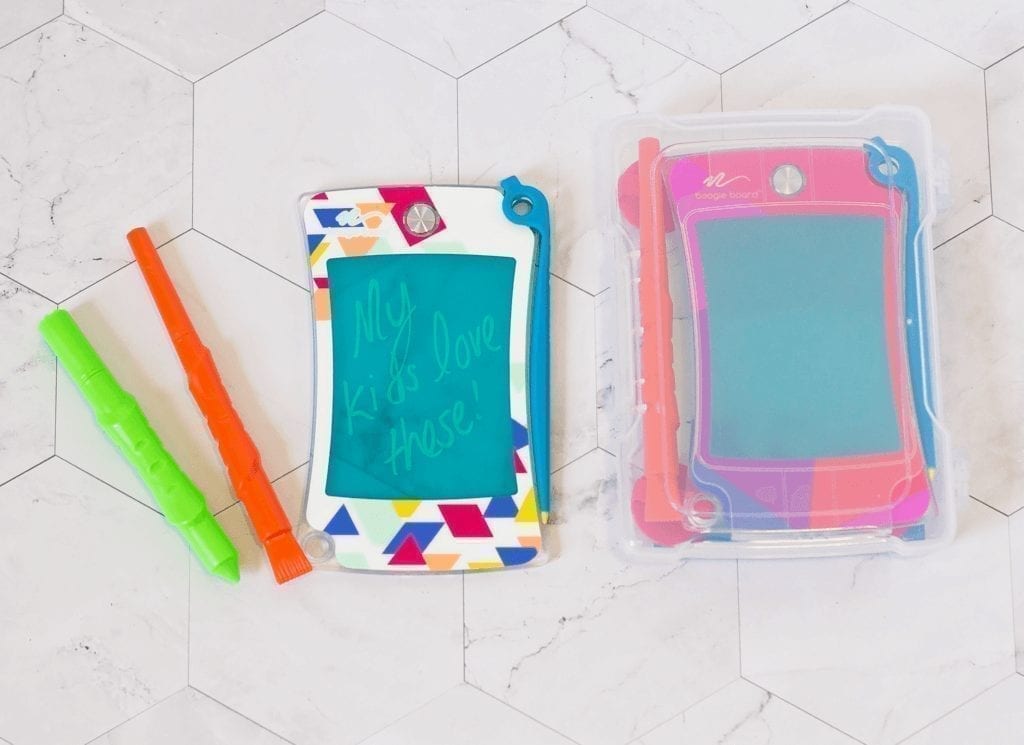 Creative Activities
Wikki Stix are one of my very favorites in all of this list of activities. Basically, these are wax-covered strings that bend, mold and stick into any shape you want!
You can make colorful glasses out of them, you can shape them into pictures, or you can make bracelets! My kids had tons of fun with these! I definately recommend Wikki Stix for your next road trip.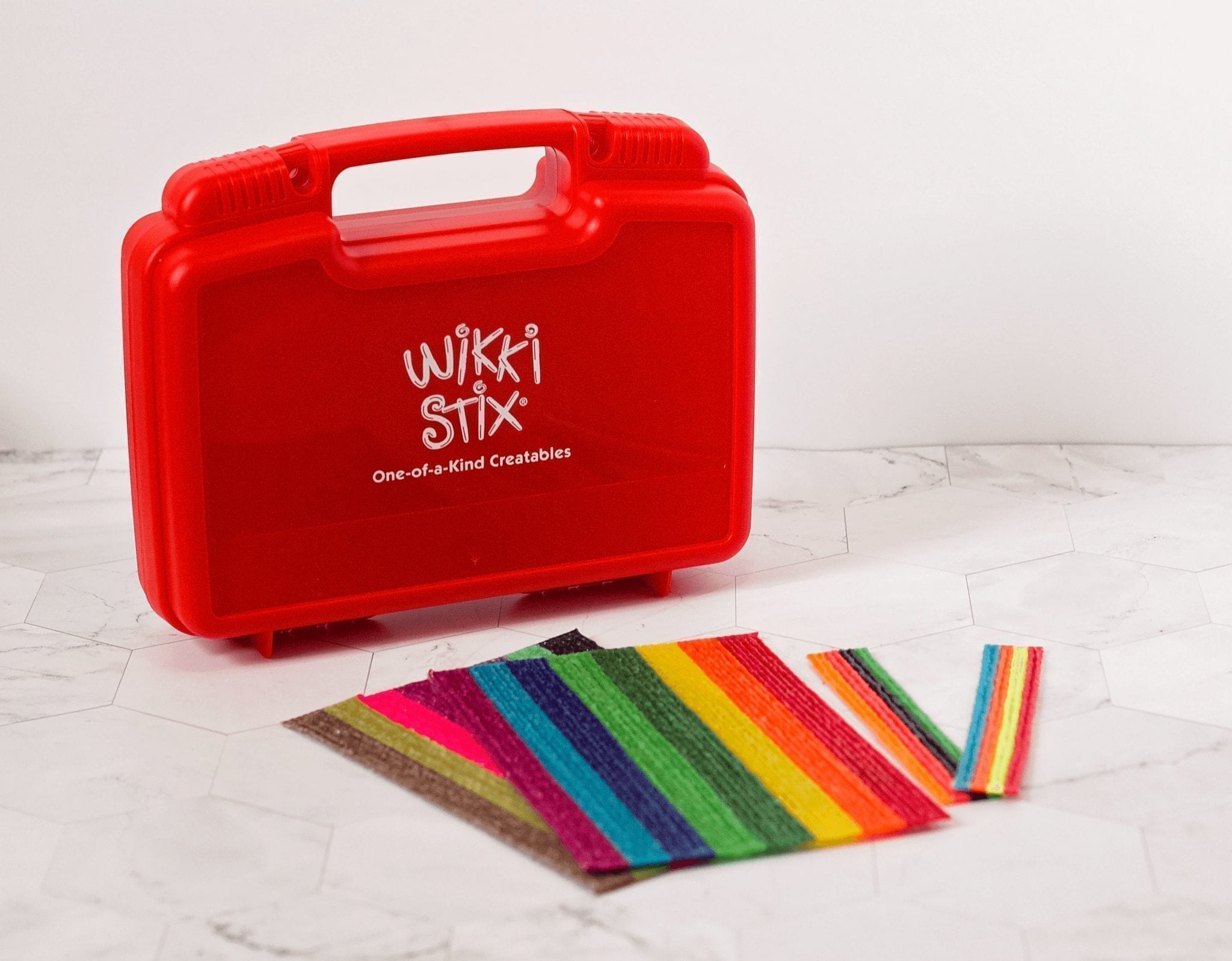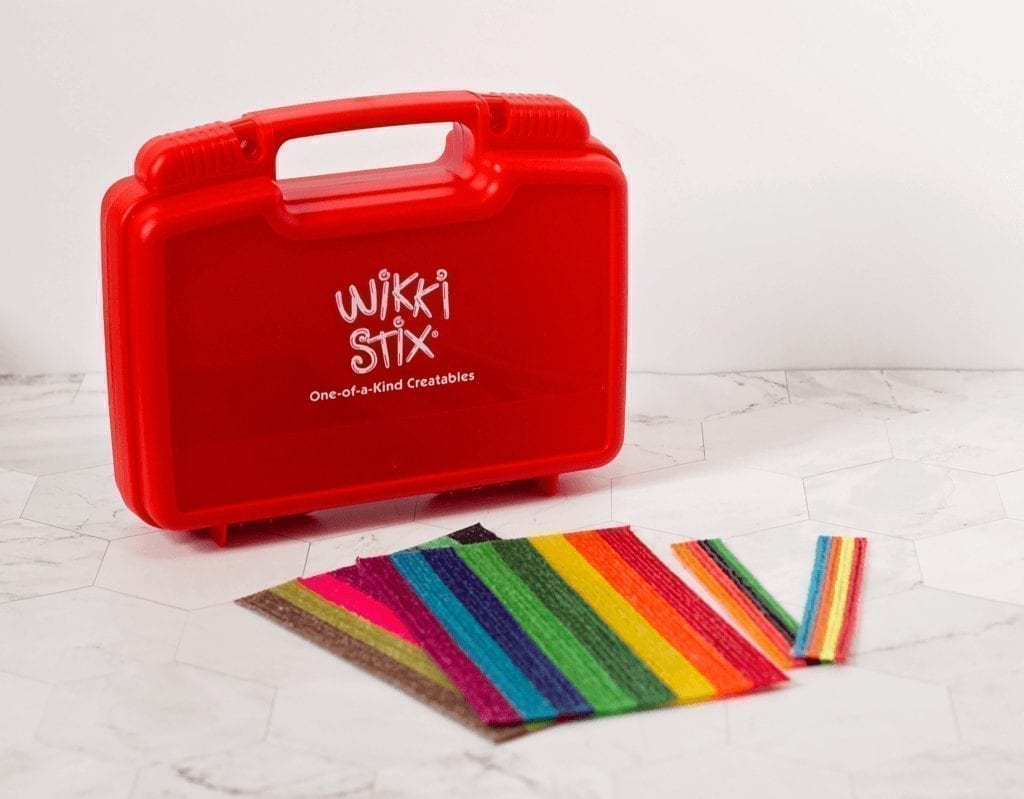 Quiet Activities
Quiet activities are a parent's best friend, especially on a long road trip with kids. This allows you to have some peace-and-quiet time and keeps your kid
Marble Mazes
I don't remember where I saw this idea (most likely Pinterest) but these are called "Marble Mazes". I am not much of a sewer so I enlisted the help of my awesome neighbor, Jaici, to help me make some of these!
These marble mazes are basically marbles sewn into the fabric layers and the kids have to move the marble around the maze to find their way to the center. I LOVE these because they are 100% mess-free and 100% noise-free! Check out Jaici's Etsy Shop to see her awesome Marble Mazes! She was also generous enough to offer my readers a 25% off code. Use PRACTICAL25 at checkout to get your discount!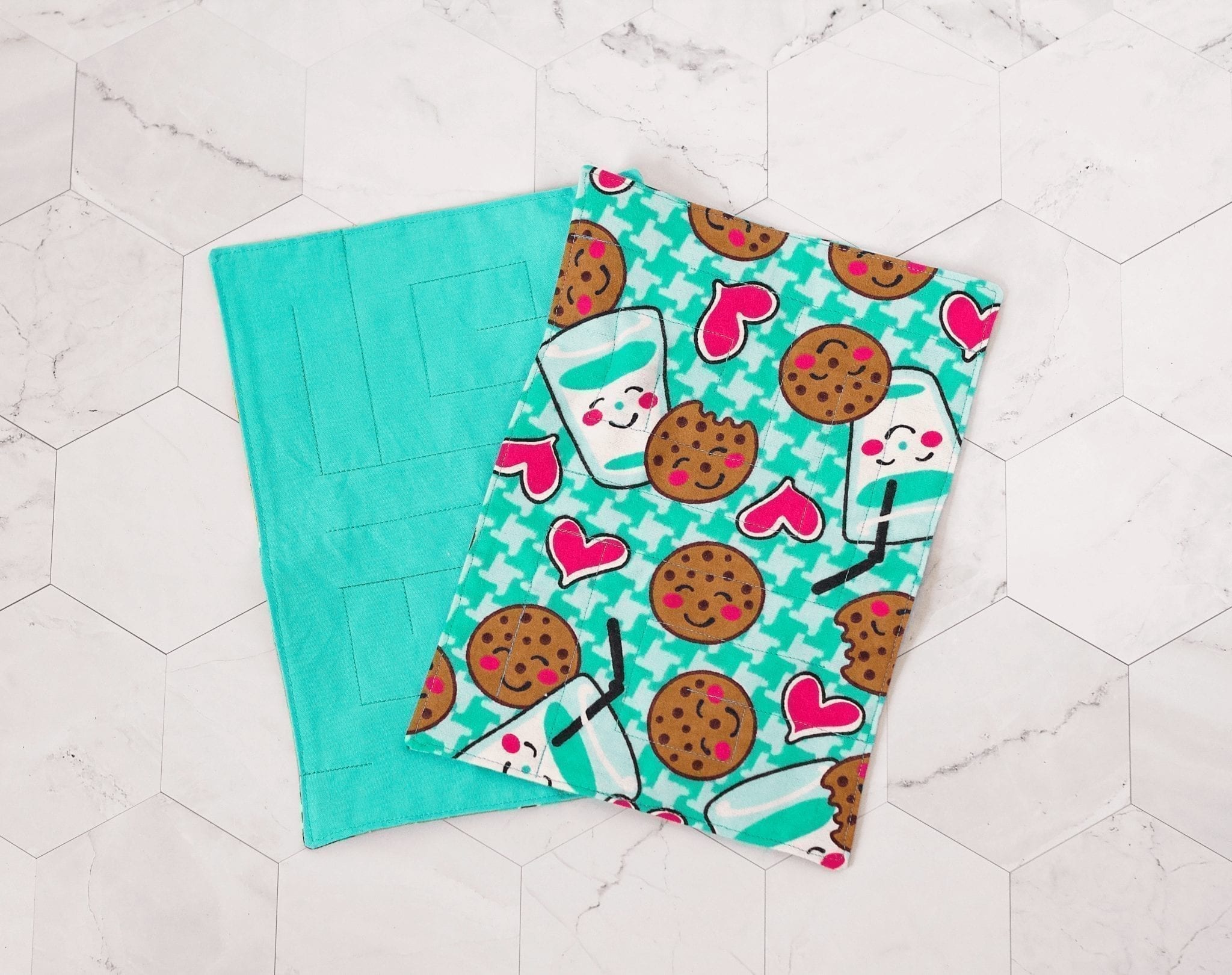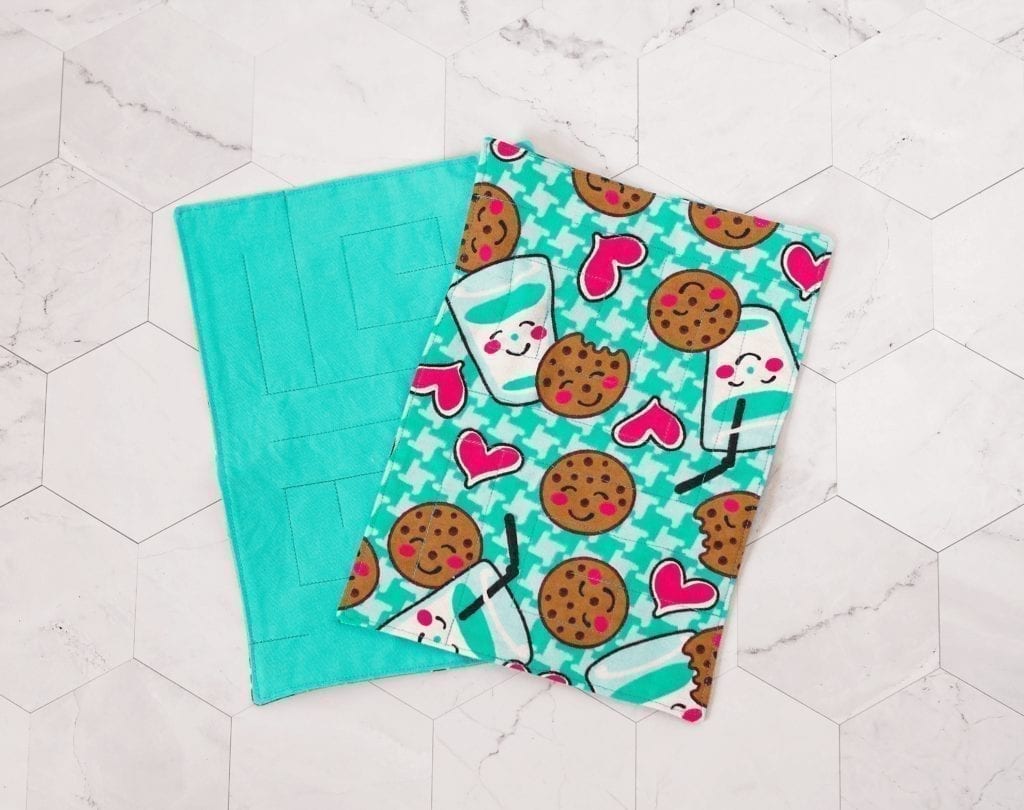 I-Spy Bags
I have always been a fan of I-spy bags and they are a classic quiet-time activity. I decided that I wanted to make some of my own because I wanted to decide on my own theme.
I used this tutorial here and I found it to be super helpful! I found my fabric and themed buttons at Joanns. Of course, if sewing isn't your thing or if you are just too busy, you could always just buy one here!
And if I am being completely candid, they were pretty expensive to make so it might be even cheaper to just buy one!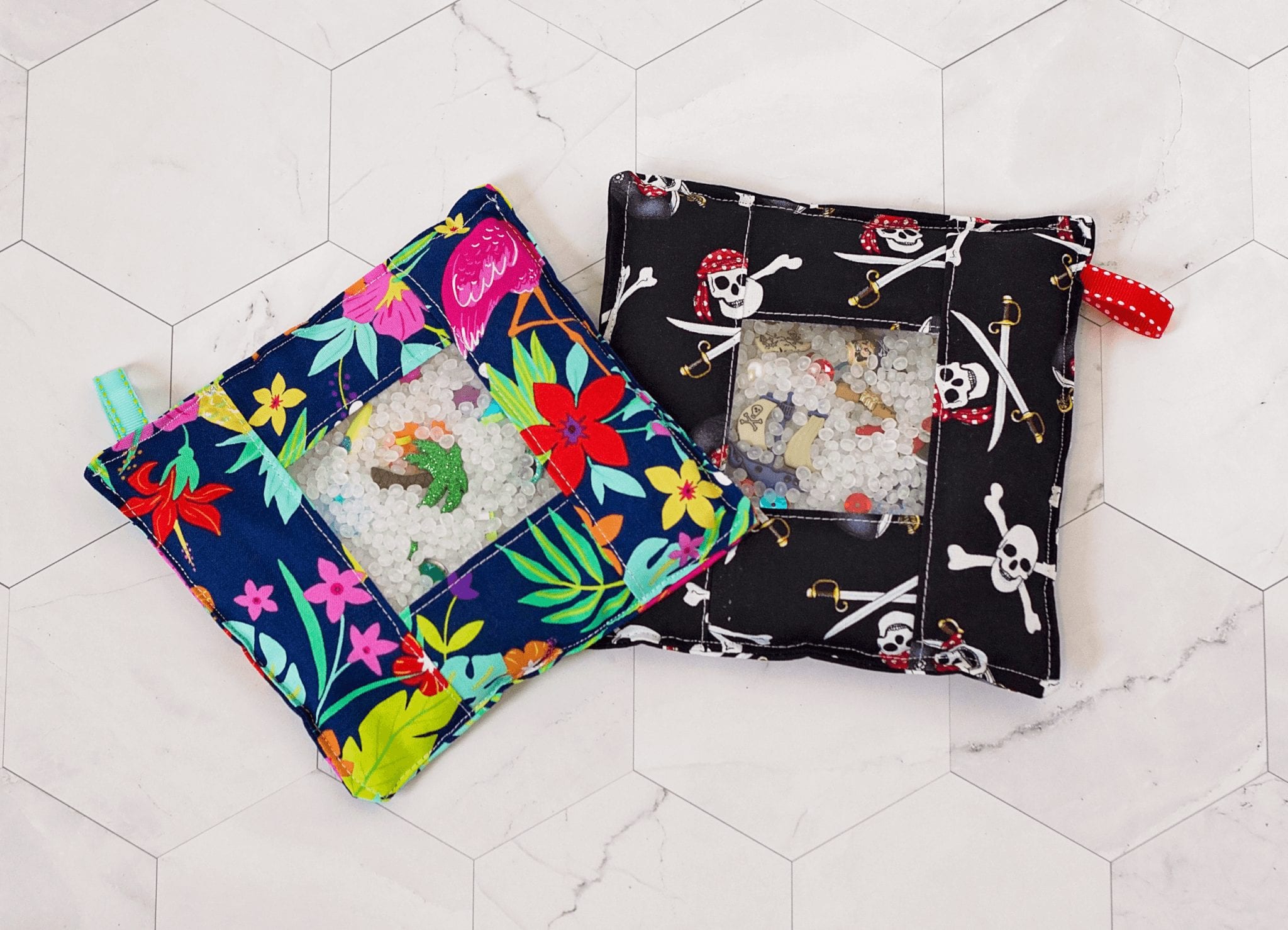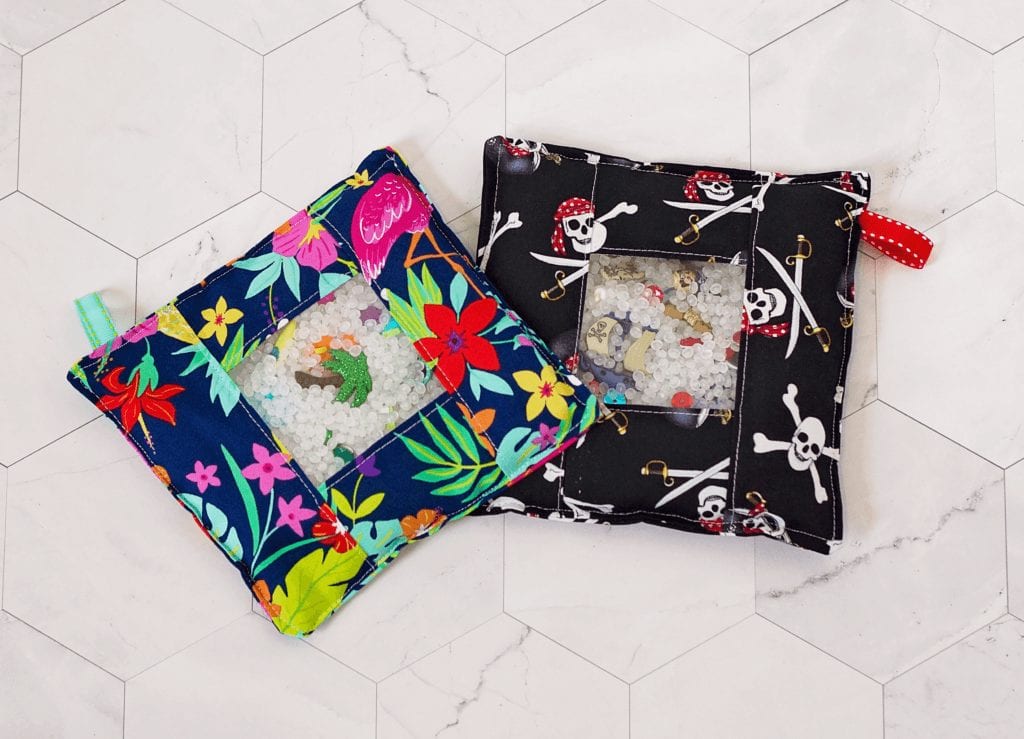 Printable Quiet Activities for the Car
One of the easiest (and most budget-friendly) quiet time activities to give your kids are the printable kind. I searched high and low to find a good quality printable file that my kids would love to use in the car. I wanted all of the graphics to be good quality and not patch-work looking. I found this awesome set and it was everything I was looking for and more. I couldn't believe how many pages and games she included.
I didn't want to go to all the effort in printing these files just to have them falling all over the floor of the car. I want them to last for years to come!
I decided that I wanted to print the pages on white cardstock and then laminate them so they would be thick and sturdy. I also did a hole-punch in the top corner of each page and put them on a ring to keep everything together.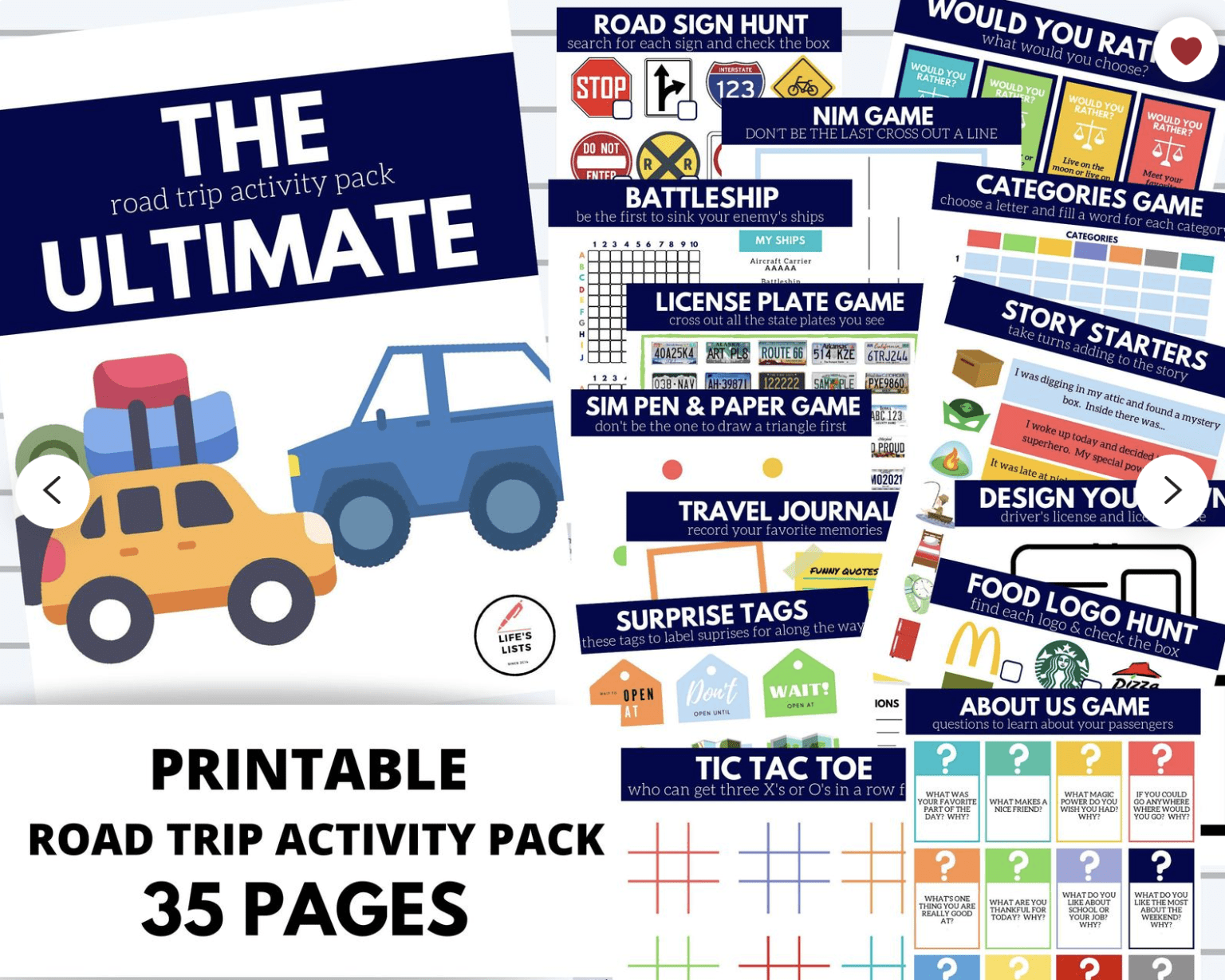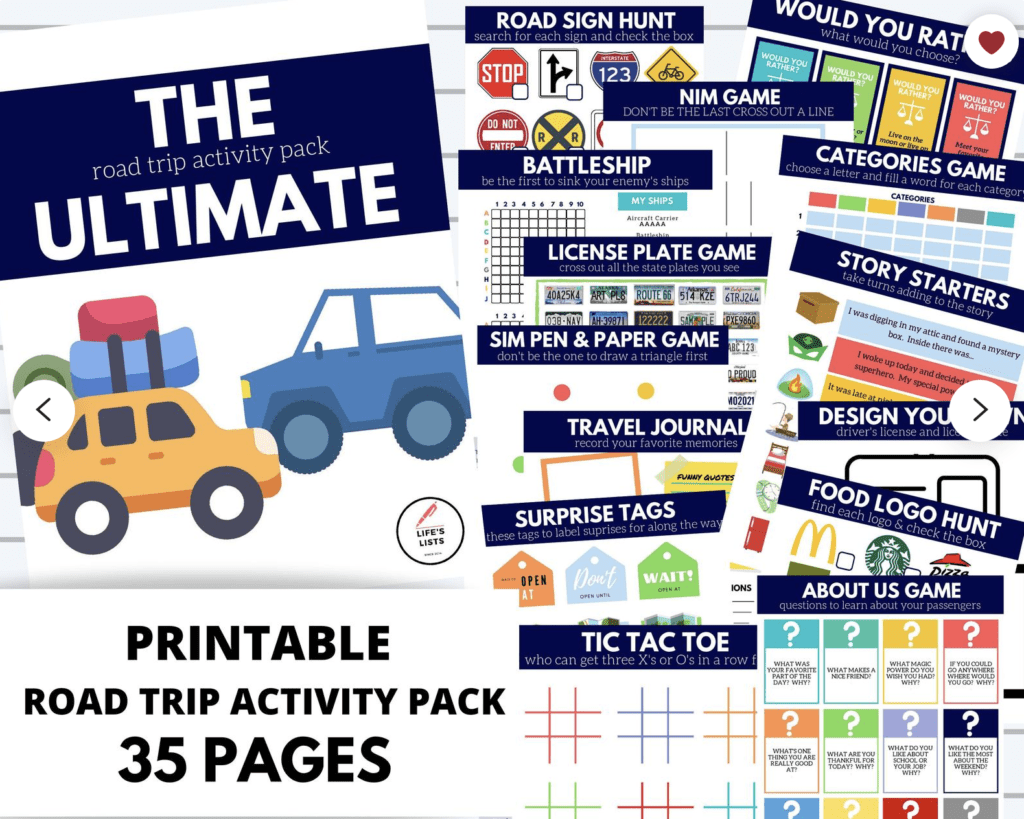 Road Trip Activity: E-Books
My daughter recently discovered e-books on her iPad and she loves it! Sometimes it's a pain to remember to run to the library before a road trip and we've even had to pay to replace books that were ruined or damaged on road trips (please tell me I'm not the only one whose kids throw everything on the ground then walk all over it). So the better option is to download e-books!
Great Places to download kids E-books
If you download audiobooks or e-books from Libby, you also need to plan ahead of your road trip to download the things you want to read or listen to.
Road Trip Activity: Audiobooks
Did you know that you can get audiobooks for free through your local library?! It's amazing! Similar to Audible, The Libby App allows you to use your local library account info to download e-reader books and audiobooks. While this option is completely free, the downfall to using this app versus the Audible app is that things aren't usually as on-demand.
There are usually many options of e-books and audiobooks, if you have a particular title in mind, you may have to wait for it to become available. Just like you would need to place a hold on a library book and wait for your turn in the queue, the Libby app works the same way.
Want to try Audible but not sure if it's for you? Use my link below to sign up for a free trial…cancel anytime no questions asked! (pink button)
Road Trip Activity: Podcasts
Another great road trip activity for kids are podcasts! Believe it or not, podcasts aren't just for adults! There are tons of awesome podcasts that are made just for kids and families. This is a great road trip activity because kids aren't watching a movie, they are using their imaginations, and it doesn't make a mess in the car!
The downfall about podcasts is that you usually have to think ahead and download the podcasts before you leave, unless you have iPads, tablets or devices that have hot spot wifi (or if you have unlimited data!).
Here are some of the most popular podcasts for kids that they're sure to love! Download a few different kinds and figure out which ones your family likes best. Afterall, you've got hours to kill, right?!
Road Trip Media Essentials
One of the best investments you can make for your road trip is a pair of comfortable headphones for each child. This really helps to keep the noise level down in the car and it's great to give parents time to talk without interruption.
There are several features to look for when selecting headphones:
Comfortability (comfortable ear pads)
Size (make sure they are made for kids so they don't keep falling off)
Ports to connect several headphones if kids are watching the same movie at the same time
Good luck on your road trip and I hope you and your family have an incredible time making memories together!. Get inspired by our best road trip snacks guide.