The Best Laundry Room Storage and Organization Ideas
Do you hate laundry? Most people do! Having a cluttered laundry room really limits your ability to do laundry efficiently. And if you're anything like me you want to get laundry done as fast as possible! I am going to share with you my very favorite laundry room storage ideas to help you get organized so you can love your laundry room!
Need more Laundry ideas? Check out my other posts: How to Decorate a Laundry Room and How to Teach Kids to do Laundry or The BEST Laundry Hacks
Laundry rooms come in all shapes and sizes. You may only have a small laundry closet while others might have a large room just for laundry. Either way, keeping it organized will really help you not only do laundry faster but to love the space that you are in while you are there.
List of Laundry Room Storage Ideas
Here is a list of my suggested supplies for laundry room storage and organization. Of course, you can adjust these things to your needs and tastes, but these are my favorites.
Laundry Supply Storage
When I started redesigning my laundry room, I decided that I wanted to get rid of the ugly laundry product packaging as much as I could. Some people think it's too much effort to change things over into another container but it literally only takes moments and it makes the most incredible difference in the look of your laundry room. Instead of it being just laundry supplies, it turns it into decor! I am so obsessed about how it turned out and I just LOVE IT!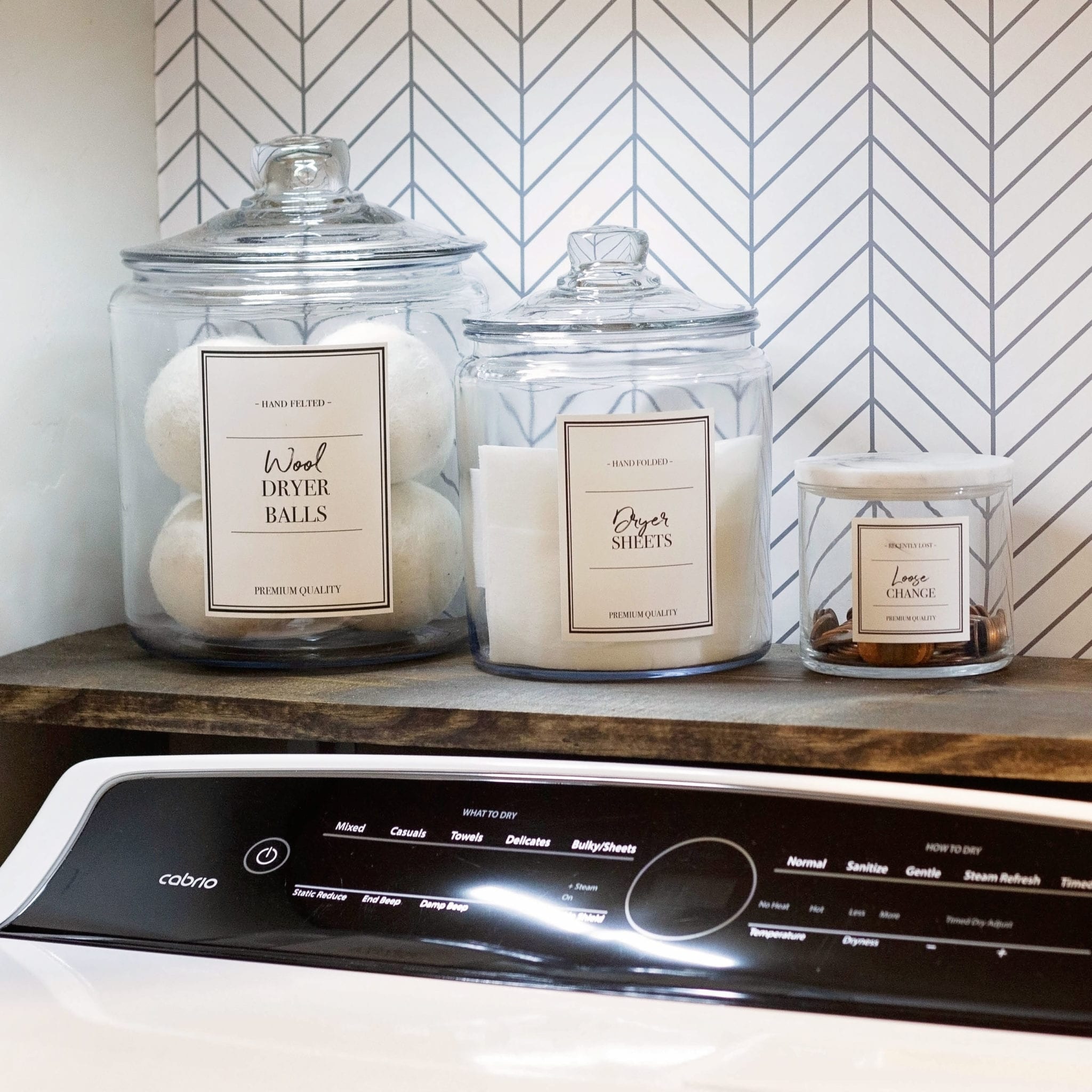 I have a small jar where I put loose change that I find in the wash. The jar that I used is just a repurposed Bath and Body Works Candle jar with a marble lid. It fit perfectly into my project and I was so happy to find a way to reuse it.
I put the supplies that I use for the dryer on a shelf that's right by the dryer. And I put the laundry supplies right by the washer. So both things are easily accessible for the situation that I would need them for.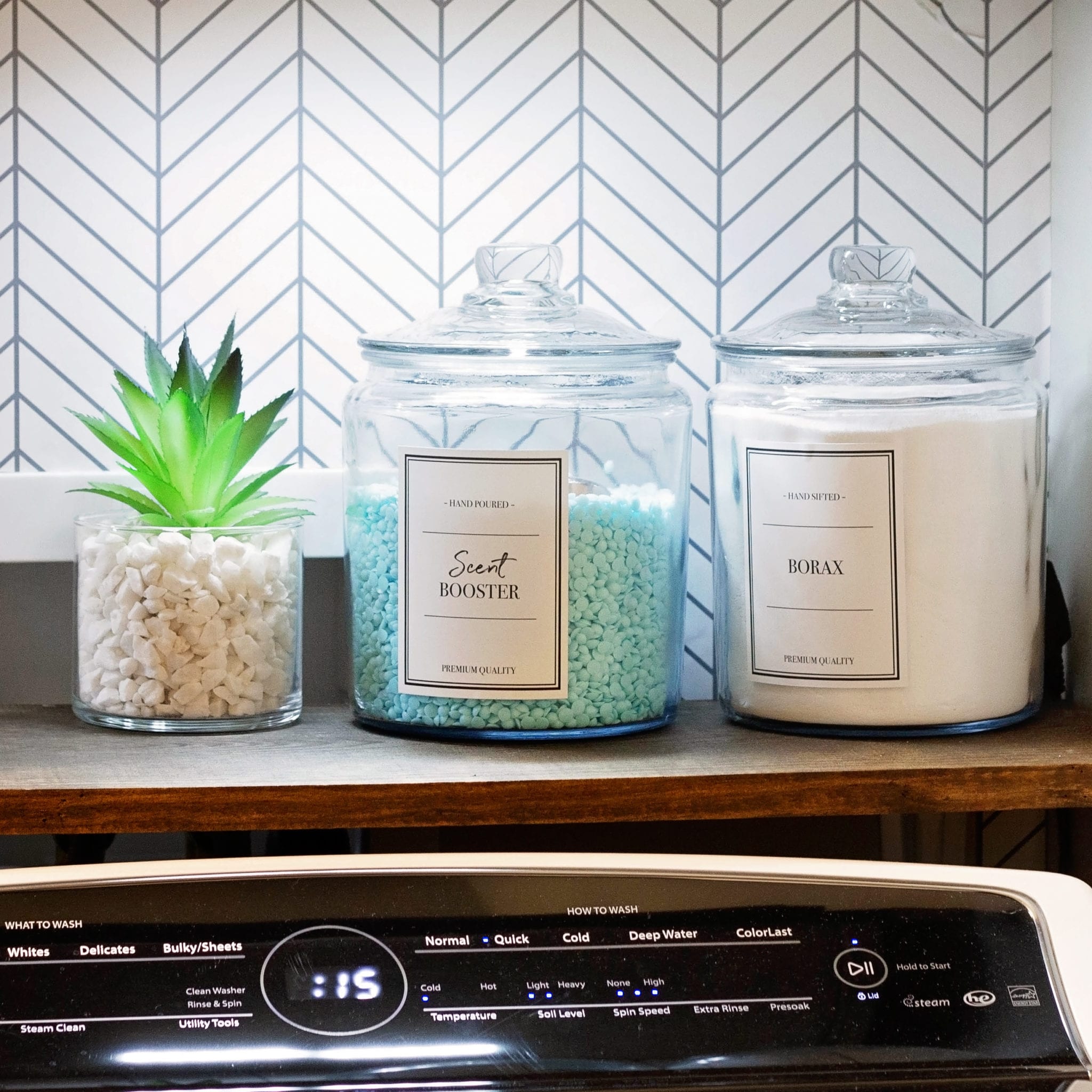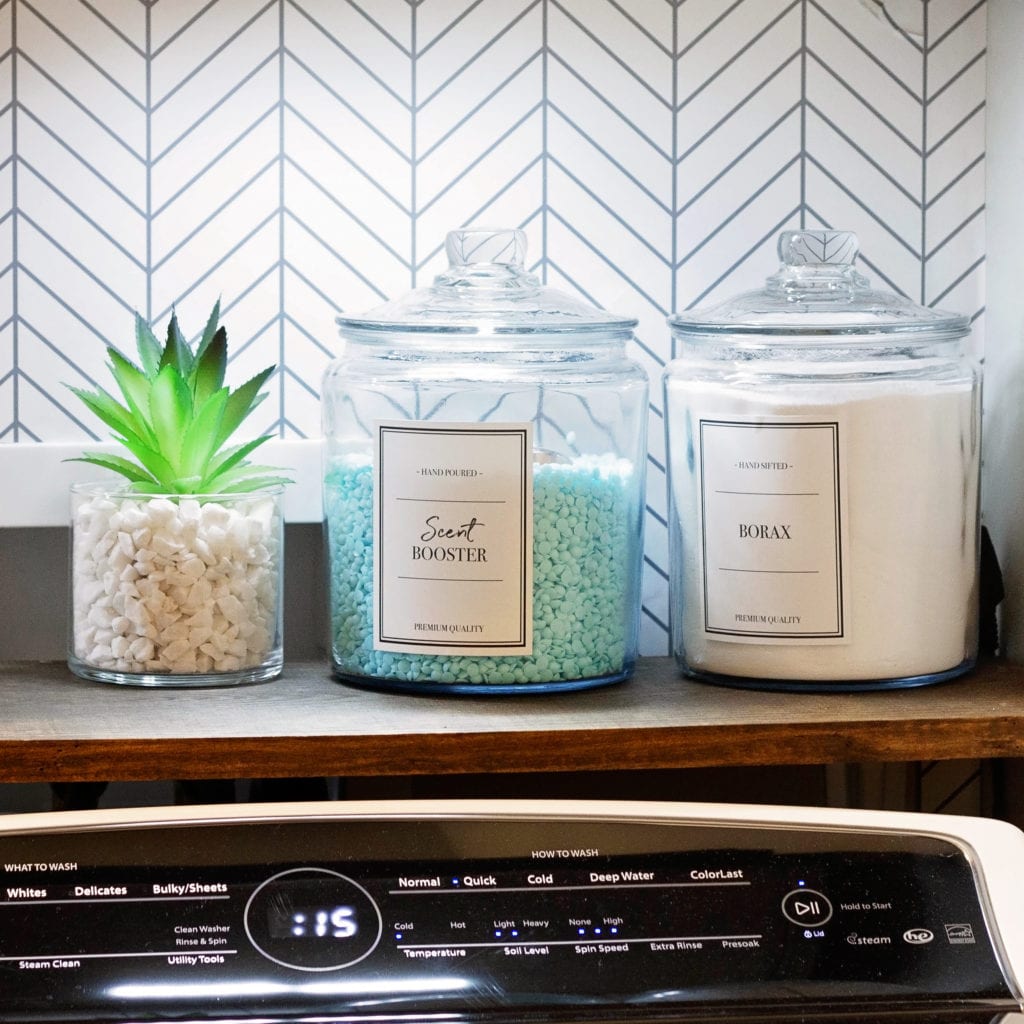 Cleaning Caddy
So my very first tip is to declutter your laundry room and get rid of the things that don't directly pertain to laundry. Of course, if you have a large laundry room, things like cleaning supplies and extra paper towels can be stored here as well.
I have some cabinetry in my laundry room so I use mine for cleaning supplies, laundry supplies, ironing supplies, toilet paper, paper towels and even some cleaning tools (like my steamer).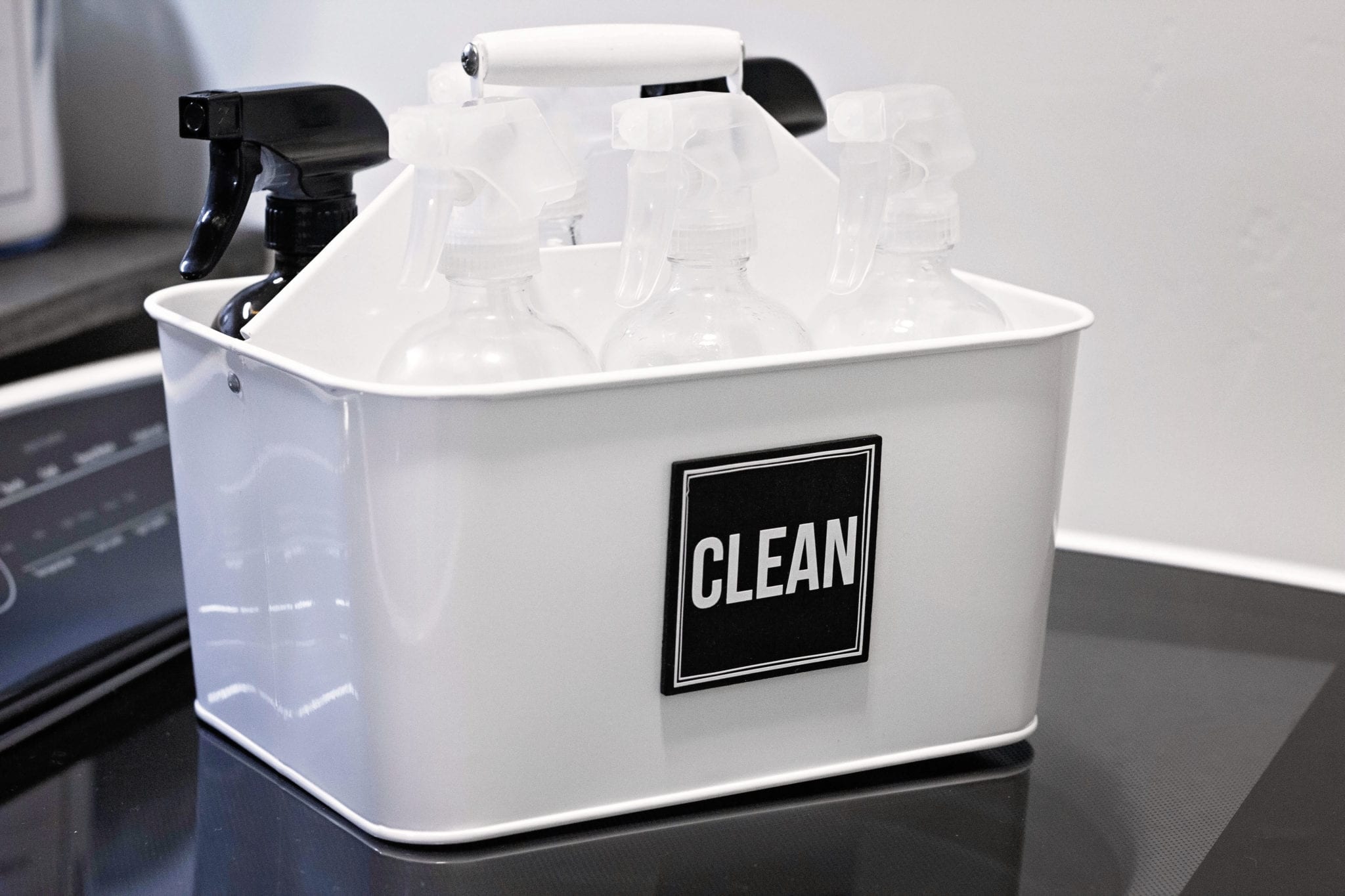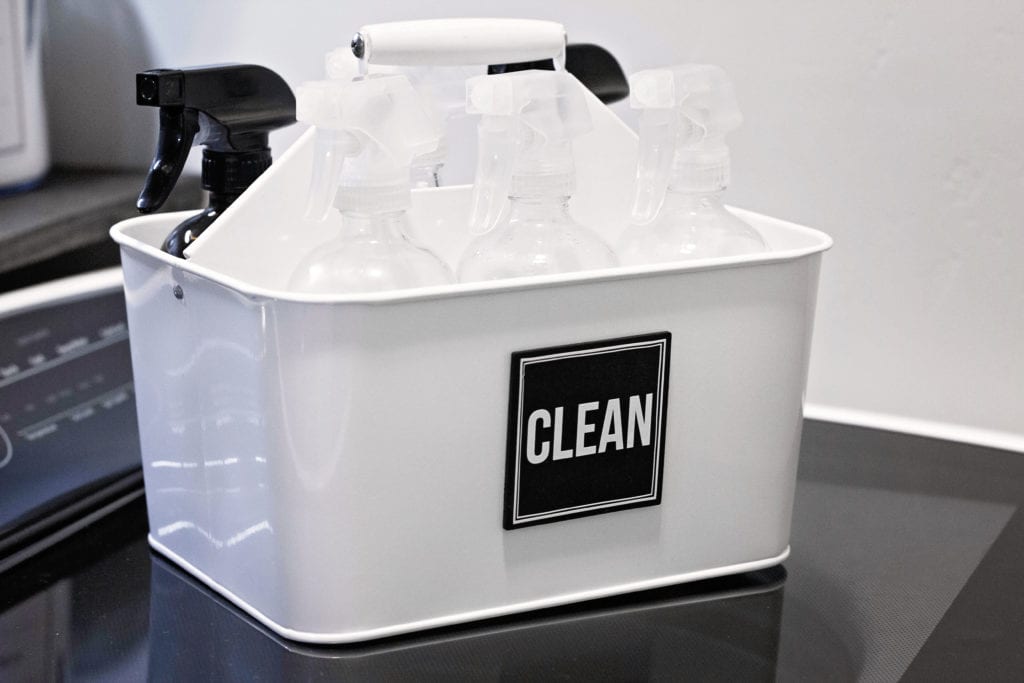 Because I store all of my cleaning supplies in my laundry room, I created a cleaning caddy where I can keep all of my cleaning stuff. That way, when I am cleaning bathrooms around the house, all I have to do is to get some rags and my caddy. You can also check out my other post with more details on how to create your own cleaning caddy(plus printable labels).
Laundry Supply Storage Ideas
This isn't necessary, but if you are wanting to create a cohesive, high-end look in your laundry room, I highly recommend these 1/2 gallon glass jars to store things like scent booster, borax, and dryer sheets. I use these 1-gallon glass jars for my wool dryer balls.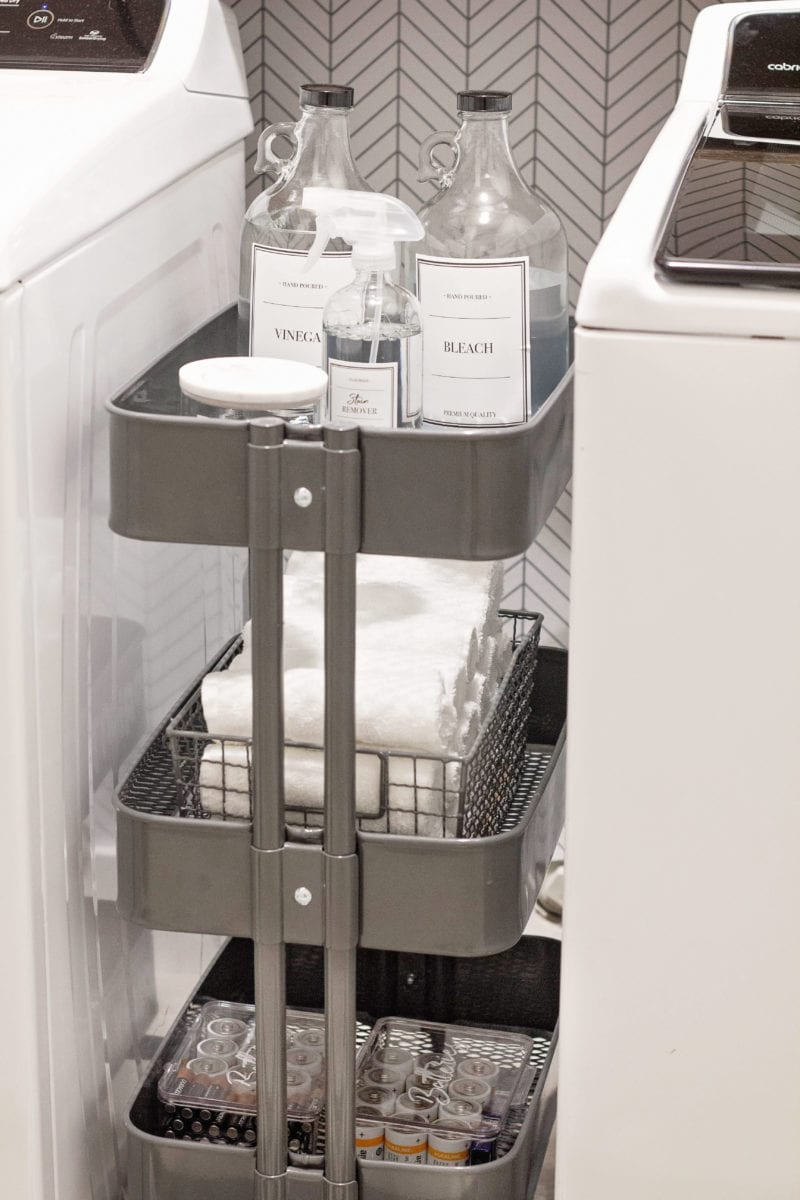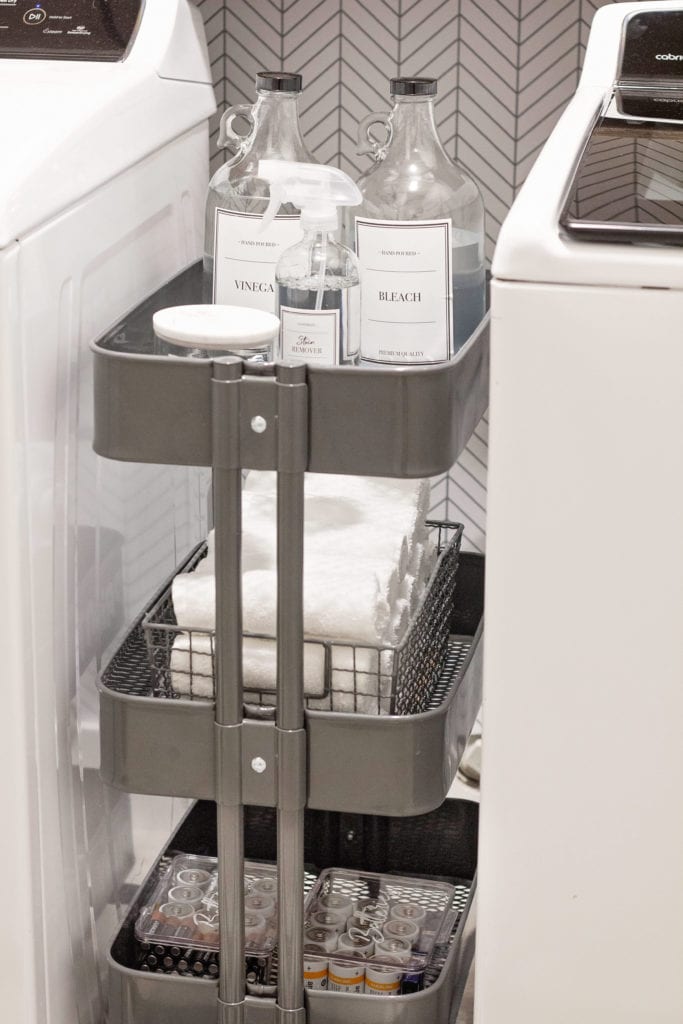 When creating these labels for my glass jars, I found that it was really helpful to use waterproof sticker paper for the labels so if they accidentally get wet or splashed on, the label isn't ruined.
I even went the extra mile and bought these glass jugs to pour my bleach, and vinegar into. I love how this just finishes off the look of the room and everything looks so nice and professional. It only takes a few seconds of your time to transfer everything over and you get to enjoy the benefits for weeks to come!
Dirty Rags
I have found that if I don't let my cleaning rags and dish rags thoroughly dry out, they get super stinky and smell like mildew. So I have a basket in my laundry room that is specifically there just for cleaning rags. I hang them out to dry over the side of the bin and once they are dry, I throw them inside the bin until washing day.
Note: I also make sure to change out my kitchen dish rag every single morning!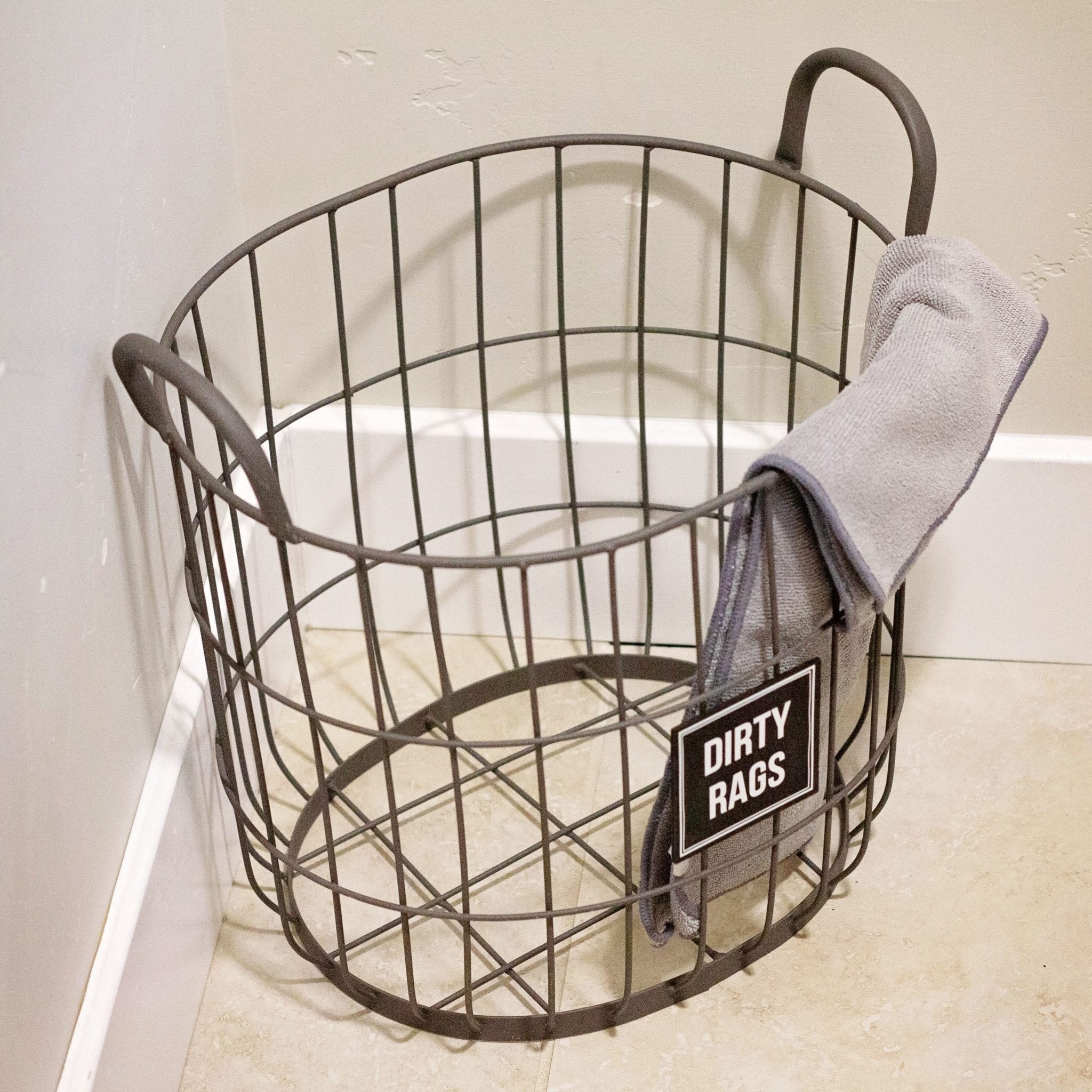 Lint Bin
I also find it super helpful to have a garbage can or lint bin to throw in all the random trash that somehow accumulates in the laundry room. It's much easier to remember to empty the lint bin if you have a specific place for it to go.
My lint bin is actually magnetic and clings to the side of my dryer. You can adjust how high or low it is and that it doesn't take up any floor space. I don't typically stick it to the front of my washer like in the photo, but I wanted to show you how cute it is! I used my Silhouette machine to cut out the label with some black vinyl.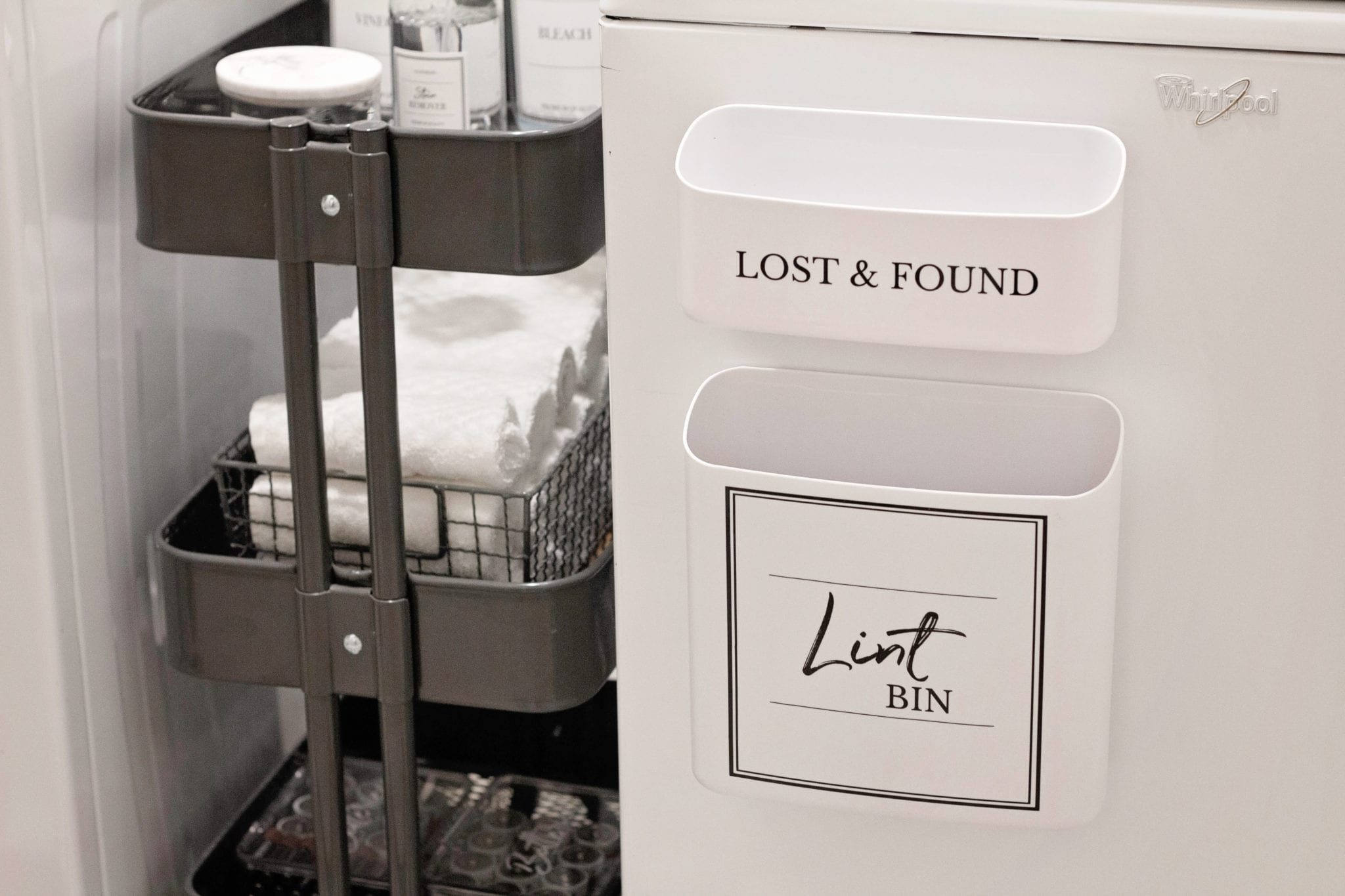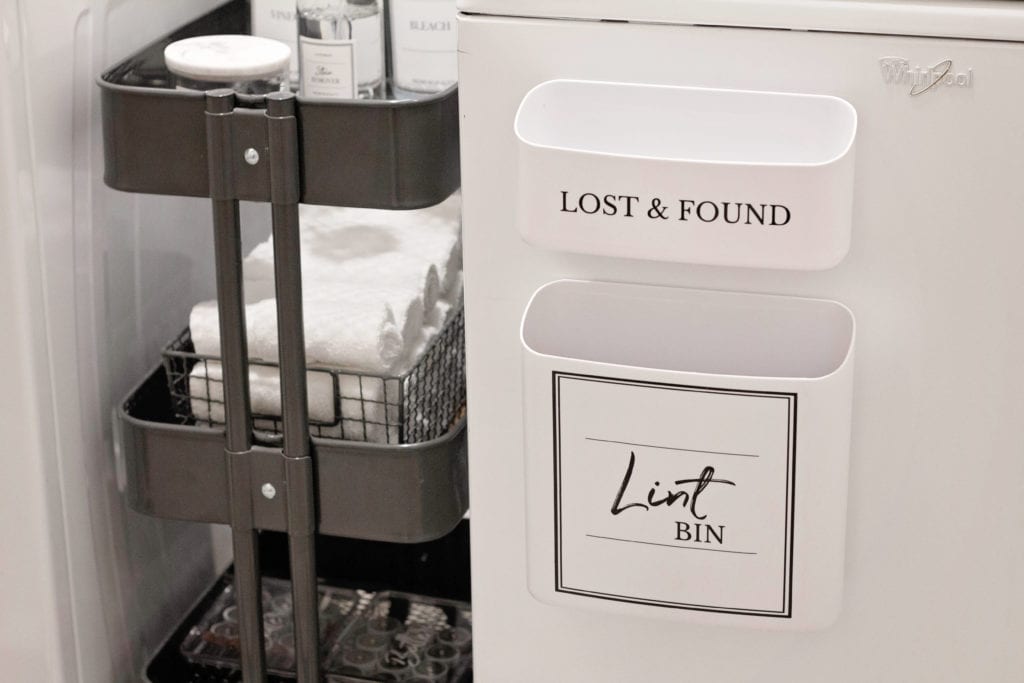 Lost and Found
I also have this awesome container that came with my lint bin except for a little bit smaller. This is where I put those random toys or money that I find that come out in the laundry. Having a place for these small things to go help my laundry room stay looking nicer and I know where to go if someone claims to have lost something that was in their pocket!
Ironing Station
I really don't love ironing but some shirts simply have to be ironed! I used to have a rickety old ironing board that would about cut my finger off every time I opened it up. So I opted for this awesome wall mounted ironing board.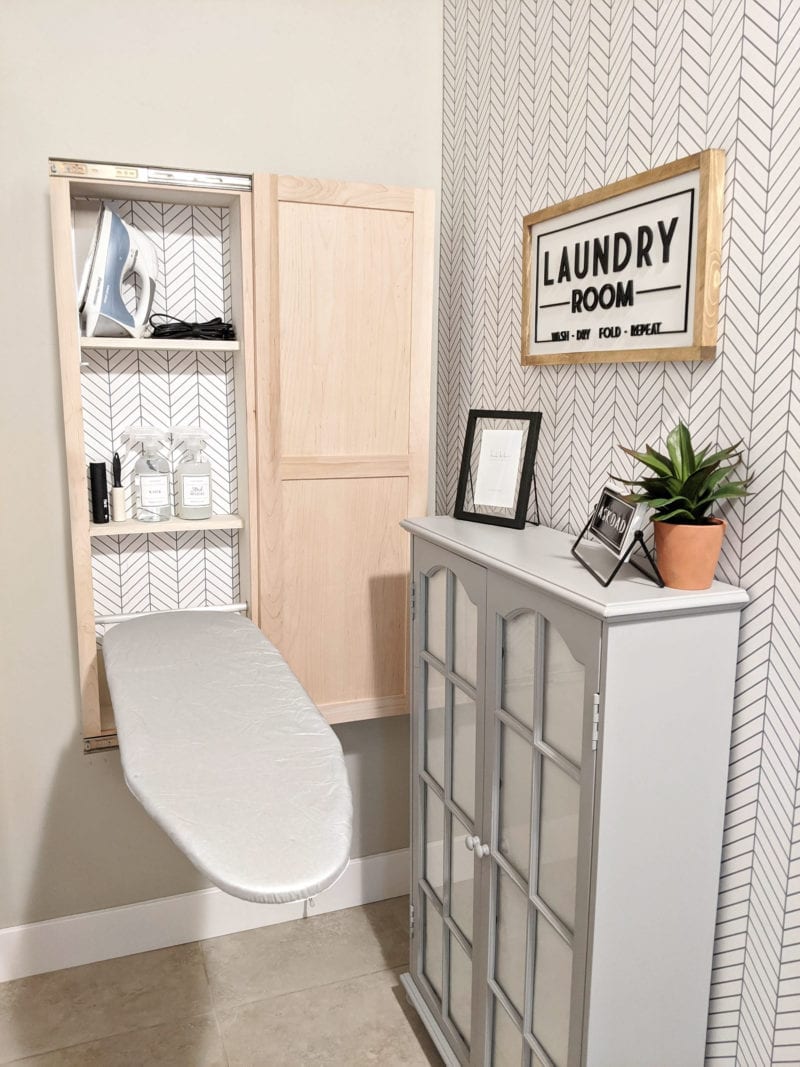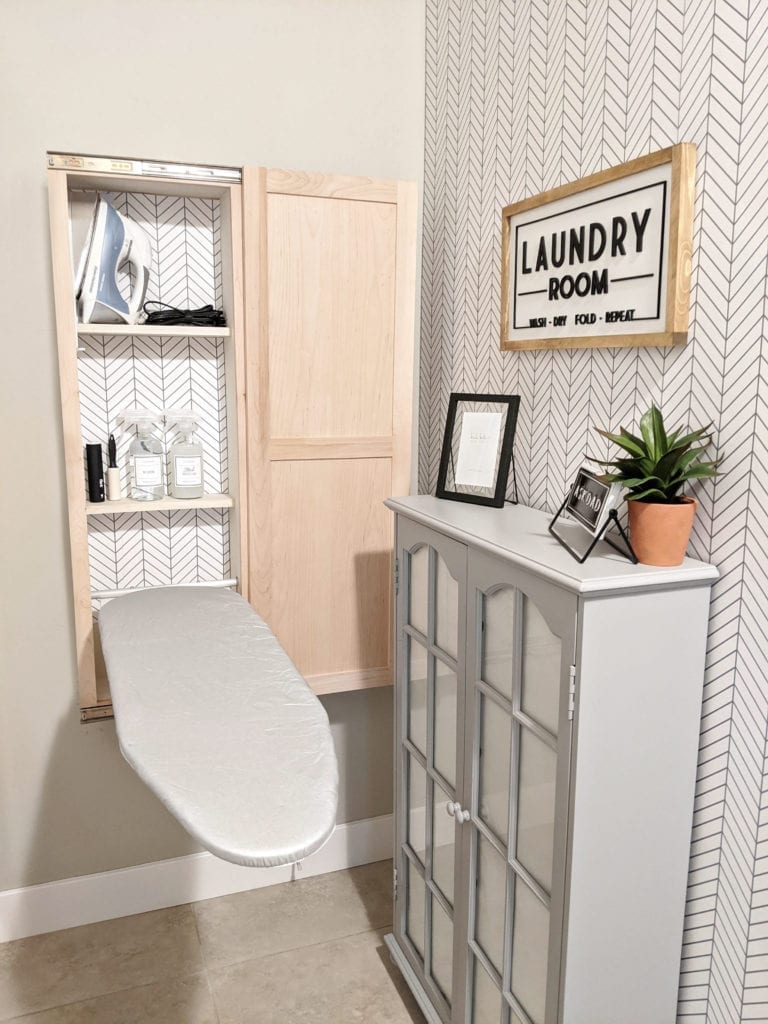 I can't even tell you how much I love it because I can easily hide all of my ironing supplies inside the cupboard and I don't have to go all around the laundry room looking for the ironing supplies that I need. The door slides open and the ironing board simply folds down! It is such a game-changer!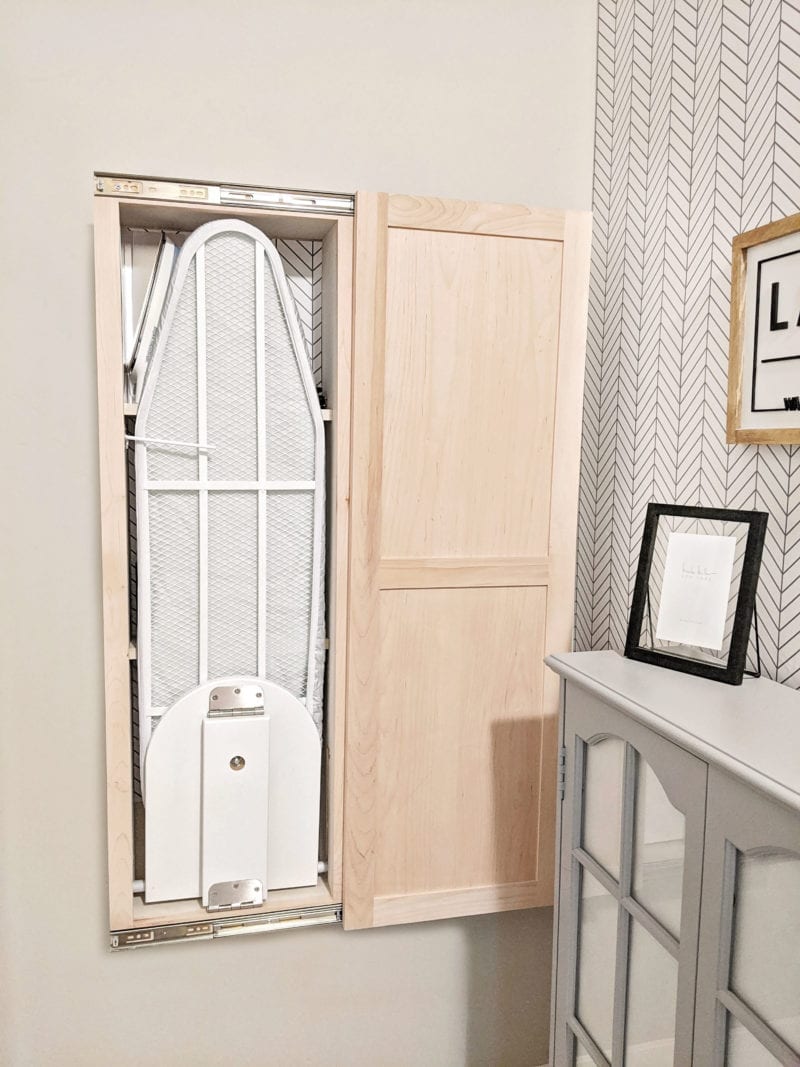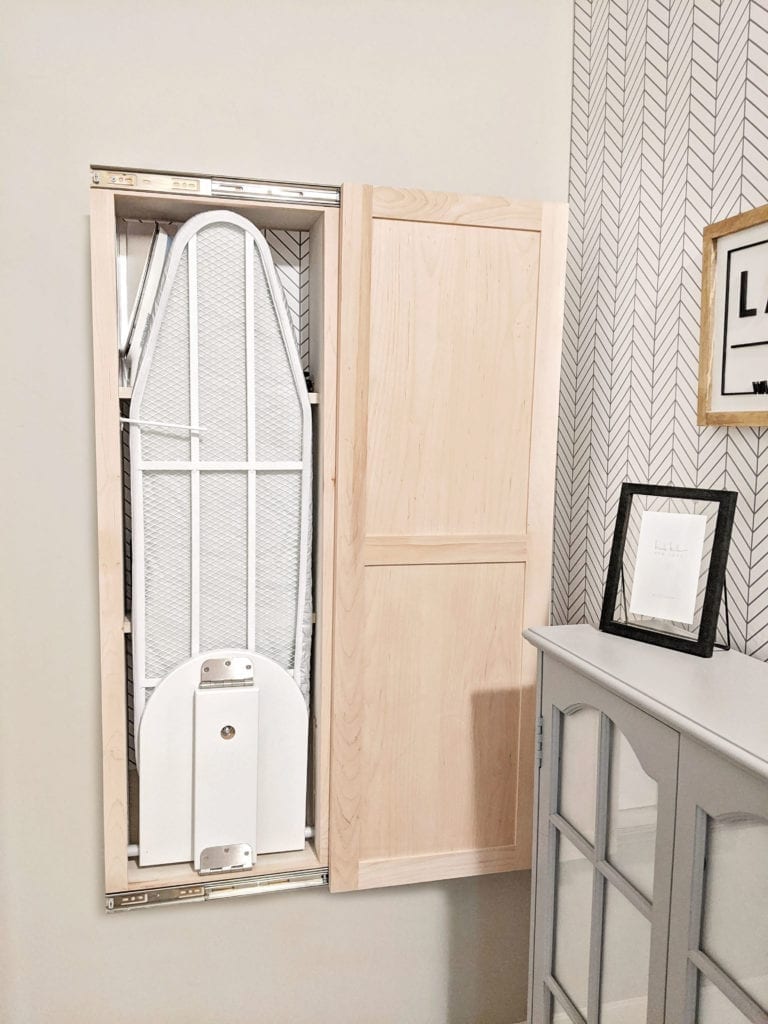 I also decided to take my ironing board to the next level and I used extra wallpaper from my wall and put it in at the back of my ironing board. It really added that finishing touch I was looking for and it didn't cost any extra money. And it only took about 10 minutes!
I also love that my Slide-Away Ironing board has a metal plate to protect the boards from a hot iron. And I can't even tell you how much I love the fact that this fits all of my ironing supplies.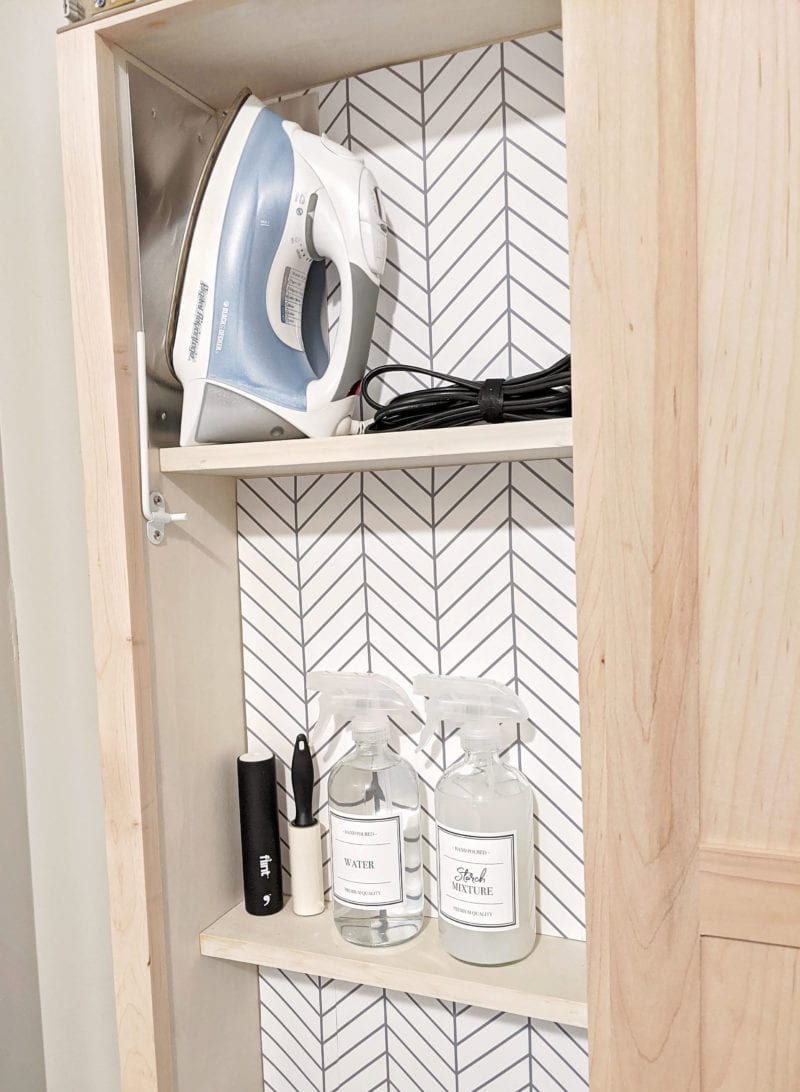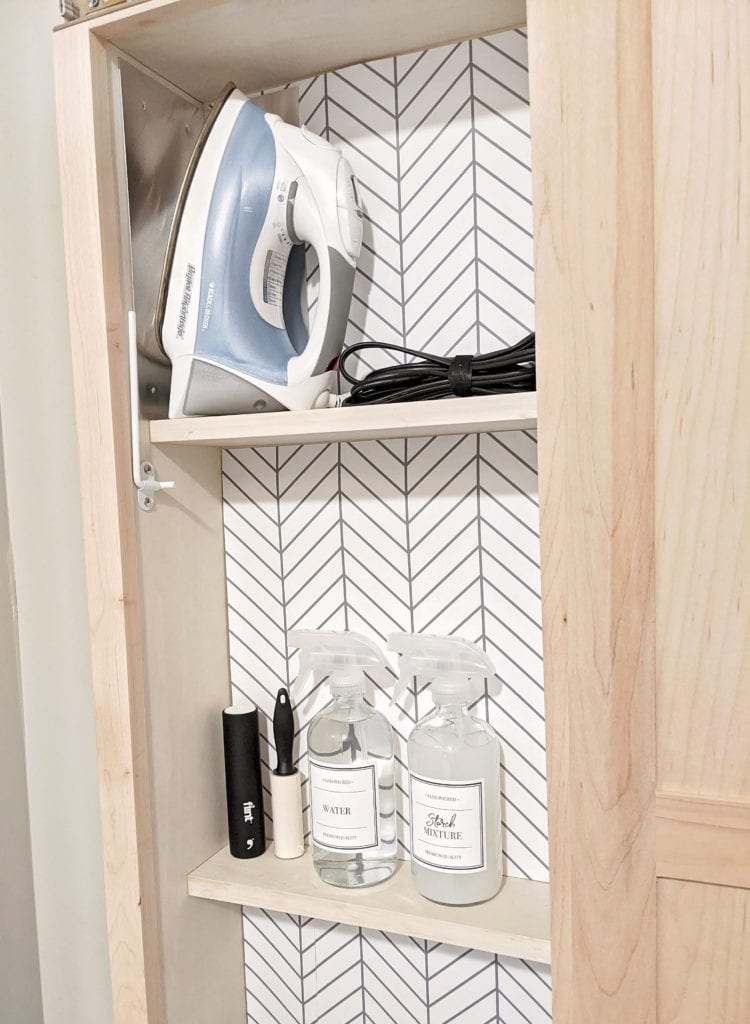 Laundry Cart
In my laundry room, I was searching for a way to better use the space in between my washer and dryer. I already had this incredible Ikea Raskog cart I just knew that it would be perfect for the space between my washer and dryer. I really wanted my supplies to be accessible but beautiful at the same time.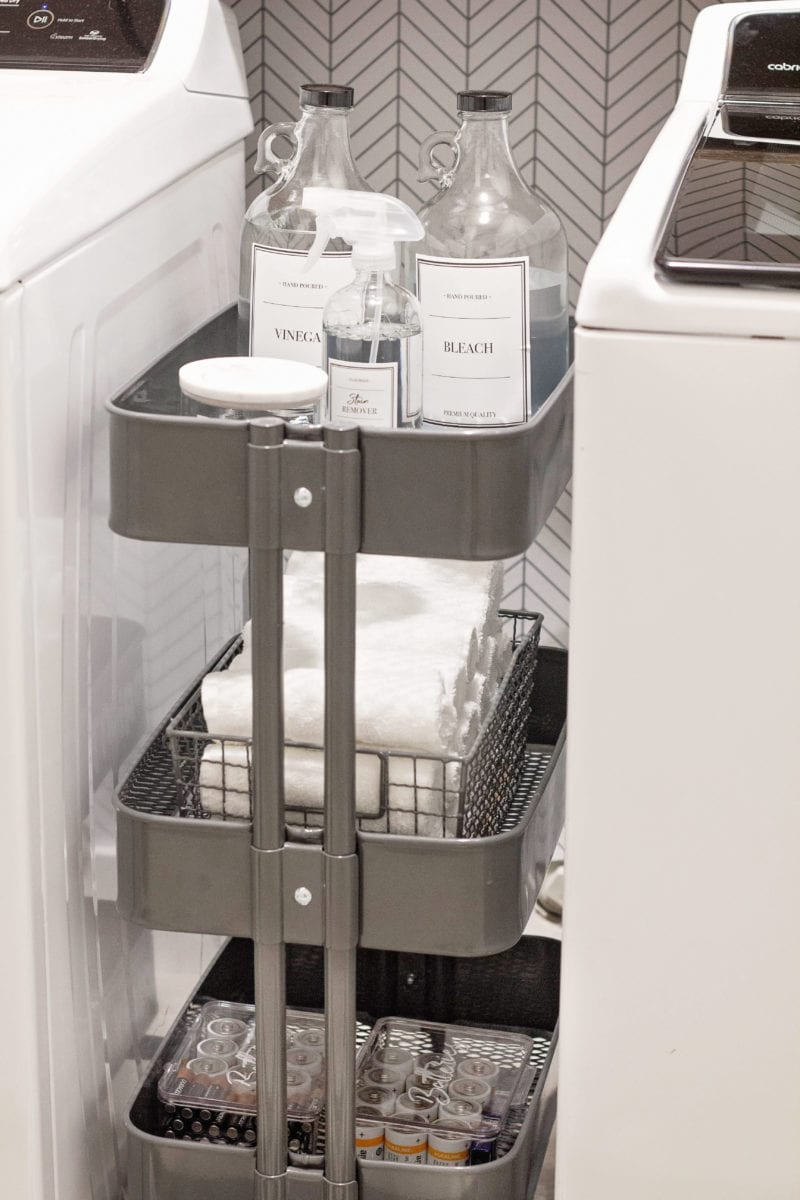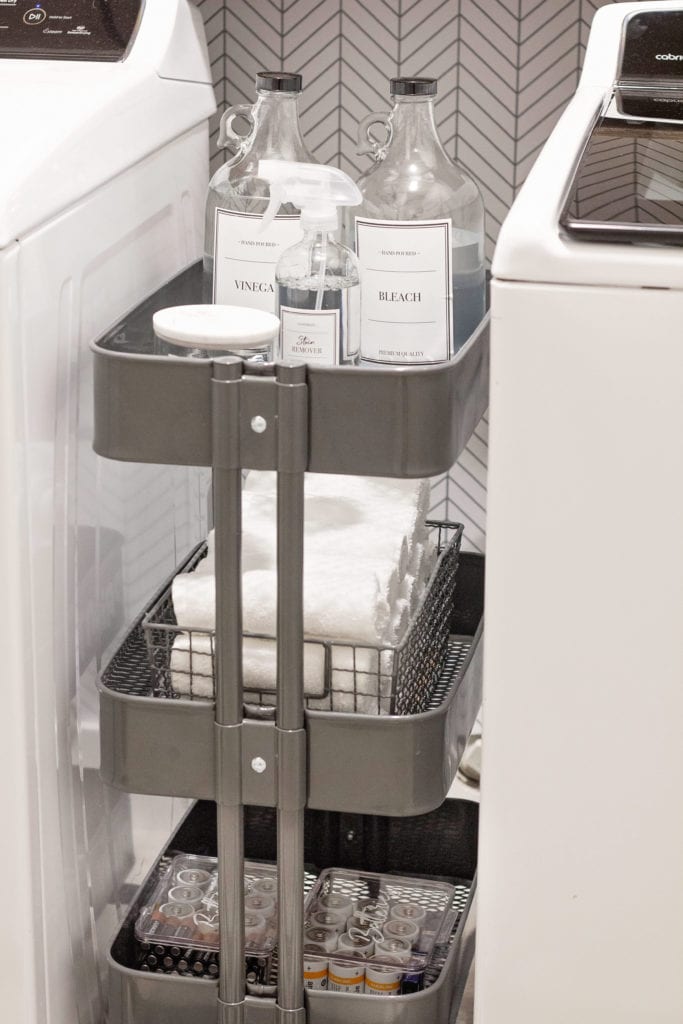 In my cart, I have white washcloths that I sometimes use as rags. Each one is rolled up and then I put them in a cute wire basket. On the bottom shelf of my laundry cart, I am storing my batteries! It's a random place to store batteries but it was a great spot for it.
Laundry Cabinet Storage
The very last part of this project is the cabinets. I also keep all of my cleaning supplies, toilet paper and paper towels in my laundry room so I needed to get all of that organized as well. I chose to stick with the white plastic bins that I already had and love. My cabinets aren't deep enough to fit the white wicker ones the other direction, but they aren't so I opted to rotate the bins and store them sideways.
The smaller bins are actually from Dollar Tree and I use them all over my house. But I was trying to get this cupboard to have a cohesive high-end look. So I chose to do that through the labels that I used. I wanted to tie in the black and white theme so I took these 3×3 wooden squares and painted them black with acrylic paint. When they were dry, I stuck on these white vinyl labels that I cut out using my Silhouette machine. When I was finished putting on the labels, I adhered the wooden squares to the plastic bins using velcro dots! It was a tedious labeling job but I LOVE LOVE LOVE how they turned out!
I hope that I've given you some inspirational ideas for you to use in your own laundry room. And remember, organization isn't always just about being organized. It's about bringing beauty into your space and loving it!