How to Decorate A Laundry Room
Laundry rooms are one of those rooms that often get left in the dust when it comes to decorating. But we spend a lot of time in the laundry room and it's just as important to love how your laundry room looks as any other room!
Laundry rooms can be fun and colorful spaces, and there are a lot of ways to add personality to your laundry room without spending a lot of money. The beautiful thing is that if you choose your laundry room doubles as other spaces more than just a room to do laundry in. If you have a large laundry room, you can use it as a linen closet, a flower arranging room, a cleaning closet, or even a mudroom!
Here are my top tips on how to decorate a laundry room.
Need more Laundry ideas? Check out my other posts: The BEST Laundry Hacks and How to Teach Kids to do Laundry or Laundry Room Storage and Organization Ideas
Should I decorate my Laundry Room?
The short answer is, YES! Decorating your laundry room can make doing laundry a lot more enjoyable. It can also help to organize and tidy up the space. Previous to my laundry room refresh, I hated going into my laundry room. It was boring, dark, and ugly. After I put some thought into creating a beautiful, useful space, that's on-trend… it's made a huge difference in how much I enjoy doing laundry.
What can I put on my Laundry Room Walls?
Add Wallpaper for a Bold Laundry Room
I know that wallpaper gets a really bad rap for being difficult to remove but there are so many options out there now and wallpaper is so much better than it used to be! If you are going to decorate with wallpaper, pick an accent wall that is one of your main focal points.
Oftentimes if you wallpaper too big of a wall, that can really make things too busy and overwhelming. That's the reason I chose a really simple wallpaper with clean colors for my laundry room. If you've never checked out Livettes Wallpaper, you'll be blown away! They have regular wallpaper as well as peel and stick wallpaper for renters! And her patterns are just gorgeous. Wallpaper can be a bit of an investment but it really does take decorating to the next level.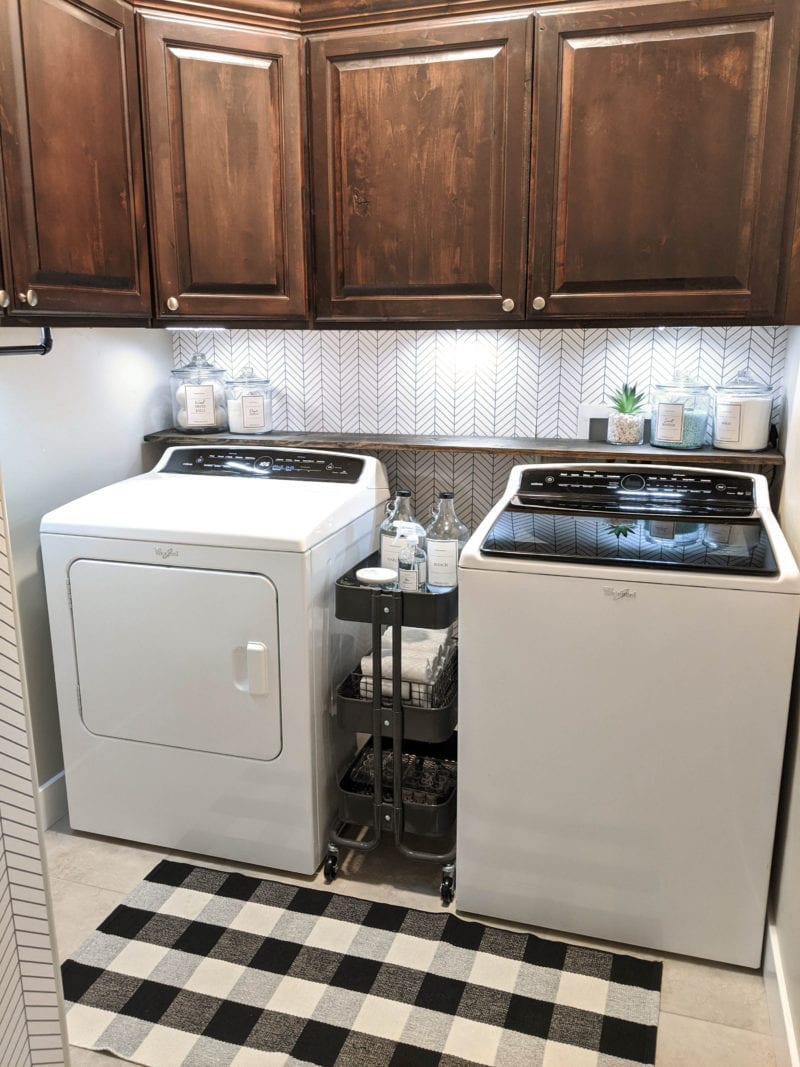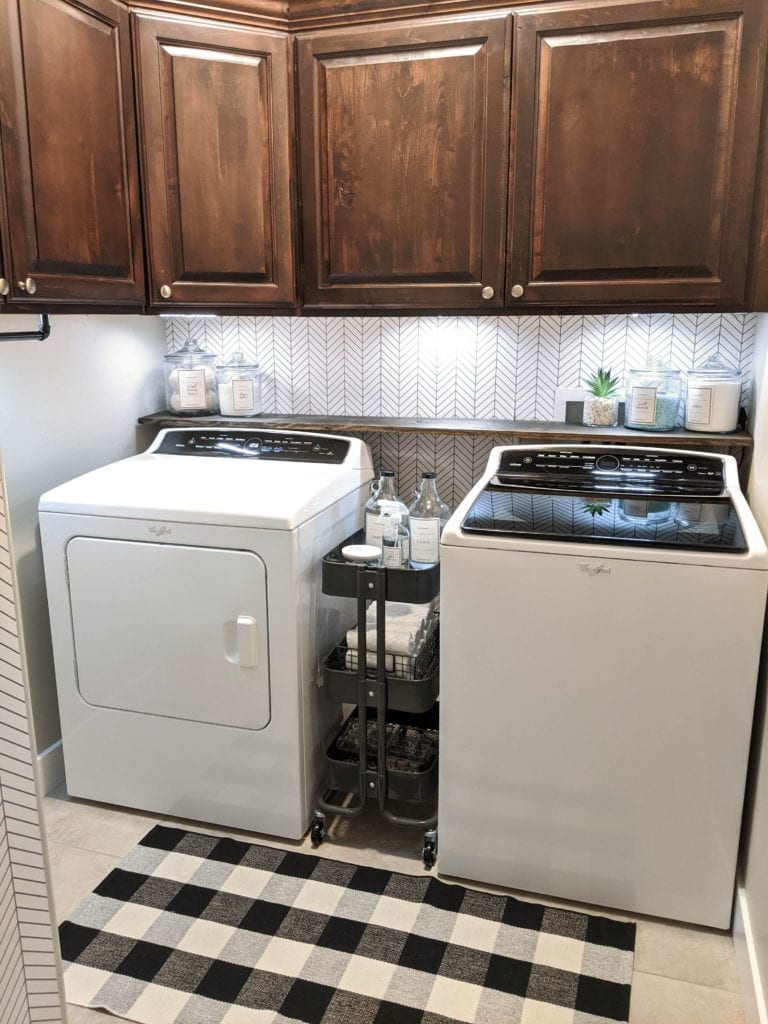 Open Shelving to the Wall Adds space you otherwise didn't have
Thankfully I have a lot of cabinets in my laundry room. But I was still looking for a way to add more functional storage for my laundry supplies so I didn't have to open the cupboards 50 times a week when I was doing laundry. I decided to add some extra storage space above my washer and dryer and it was SUPER easy and only cost me about $15.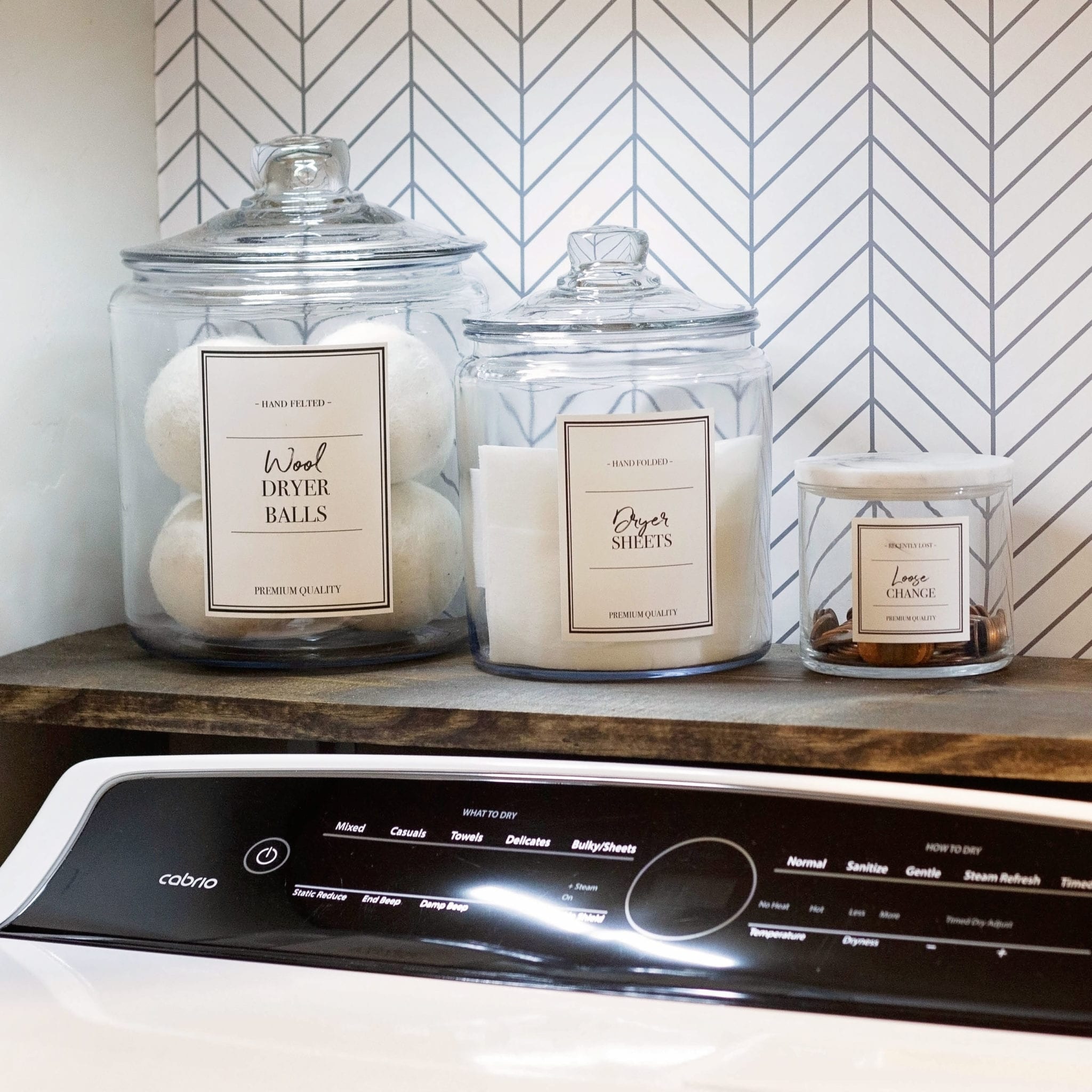 I went to my local hardware store and picked out a simple 1×10 inch board and cut it to the size of my room. Then I stained it, let it dry and mounted it using simple shelf brackets. I didn't want to be able to see the brackets so I conveniently put them behind the washer and dryer so they are hidden. The shelf gives tons of extra storage space and I feel like it really is one of those situations where form meets function.
If you have a stacked washer, dryer situation in your home, I would definitely recommend adding a shelf like this! It's really easy and can be done in about an hour. You won't be able to do it in the same format as a washer and dryer that don't stack, but you can still find a way to add counter space by using open shelving.
One of the best things about having a small laundry room is that you can add extra storage without taking up too much space.
Wall Art that Makes Sense
The walls in my laundry room are really awkward and the shape of my laundry room is really awkward too. So I really didn't have much space for wall art but I really wanted to find something that I loved to put on the main wall that you see as you walk into the laundry room.
Wooden laser-cut signs are so popular right now so when I found this laundry room sign from The Handmade Sign Company I fell in love! I really added a super cute decorative touch to my laundry room and it's great quality! She even gave me a 15% off code for all of my readers: PRACTICAL15 which is good for anything in her store! Go check her stuff out, I know you'll find something that you love!
Adding some beautiful wall art makes laundry day much more pleasant and really elevates your laundry room design. My laundry room sign and wallpaper took my laundry space from a plain boring room to a stunning laundry room.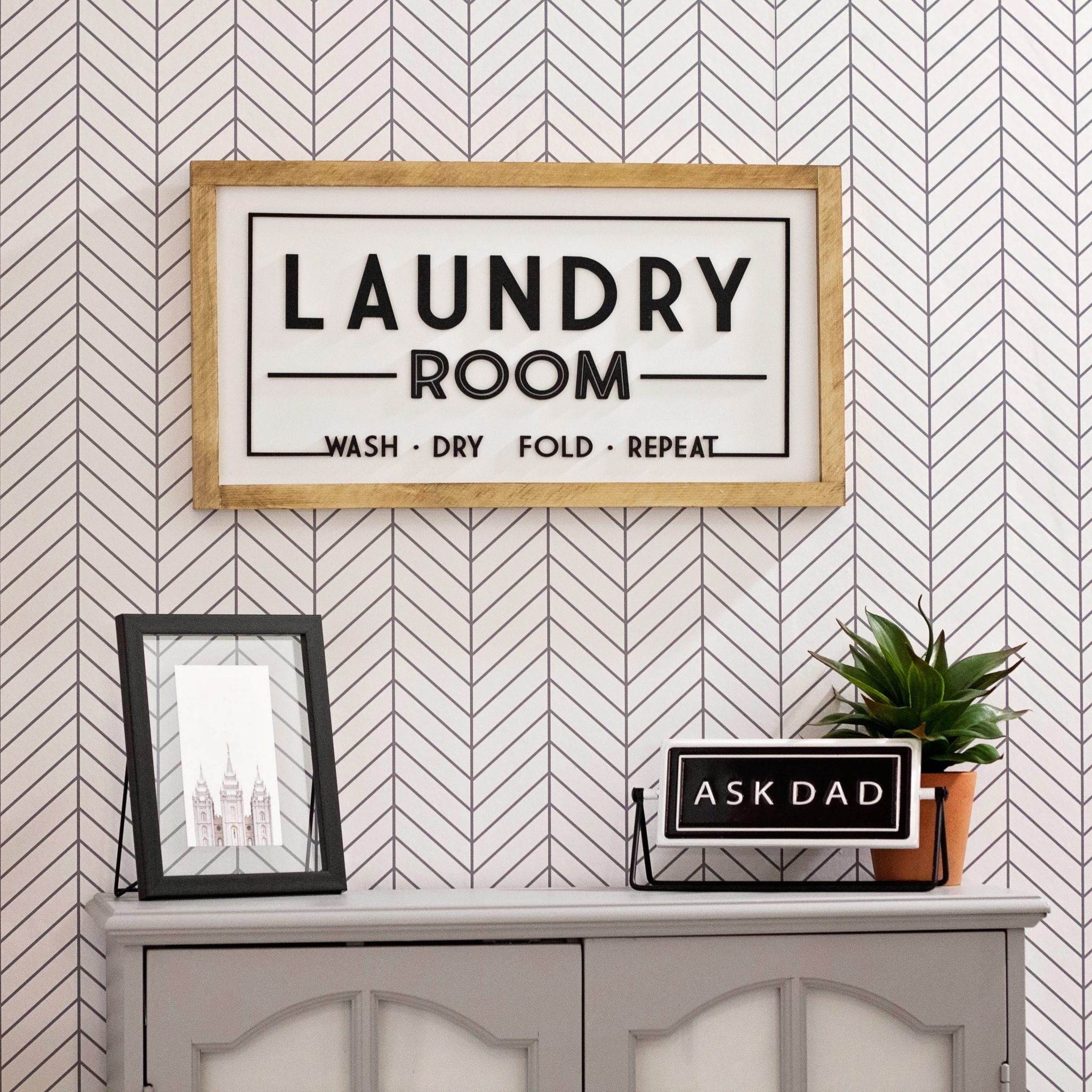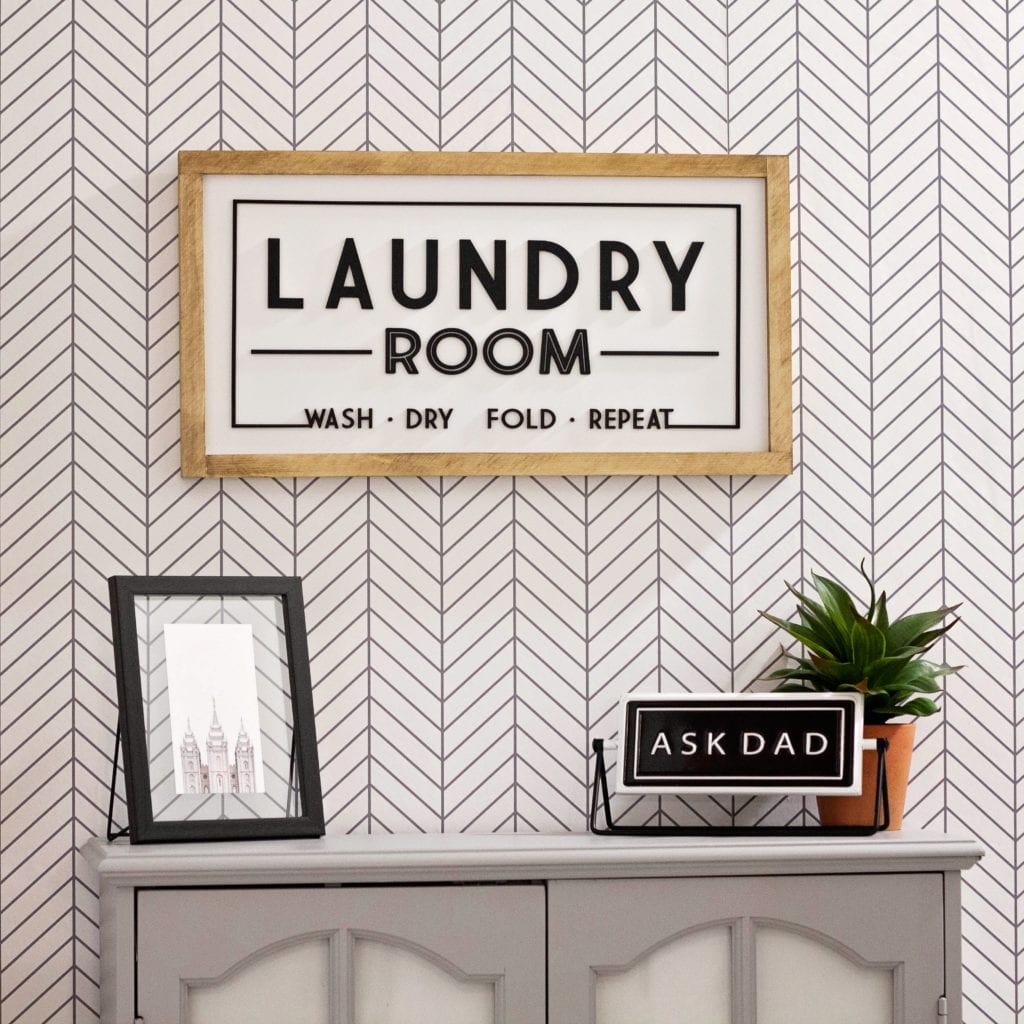 Paint the walls a cheerful color.
Paint is one of the easiest and cheapest ways to brighten up any room. A light blue, green, or yellow would be a great choice for a laundry room. Adding some color to the wall of your laundry space can take it from a utility room to a statement room!
If you are going for a modern farmhouse look, you may want to stick with white walls that make your laundry room feel clean and crisp. A white laundry room can also make your laundry space feel larger. Then you can decorate the laundry room using other elements such as plants, wall art, signs, and decor.

How to Decorate a Laundry Room
There are several ways that you can make your laundry room functional and beautiful at the same time! Because heaven knows, there's enough going on in the laundry room that we don't have room for extra decorations. It's just too much! Here is the following list of different ways that you can add style and personality to your laundry room so that you actually enjoy being there when you have to be. I also go into more detail about each design element later in my post that will help you decorate a laundry room.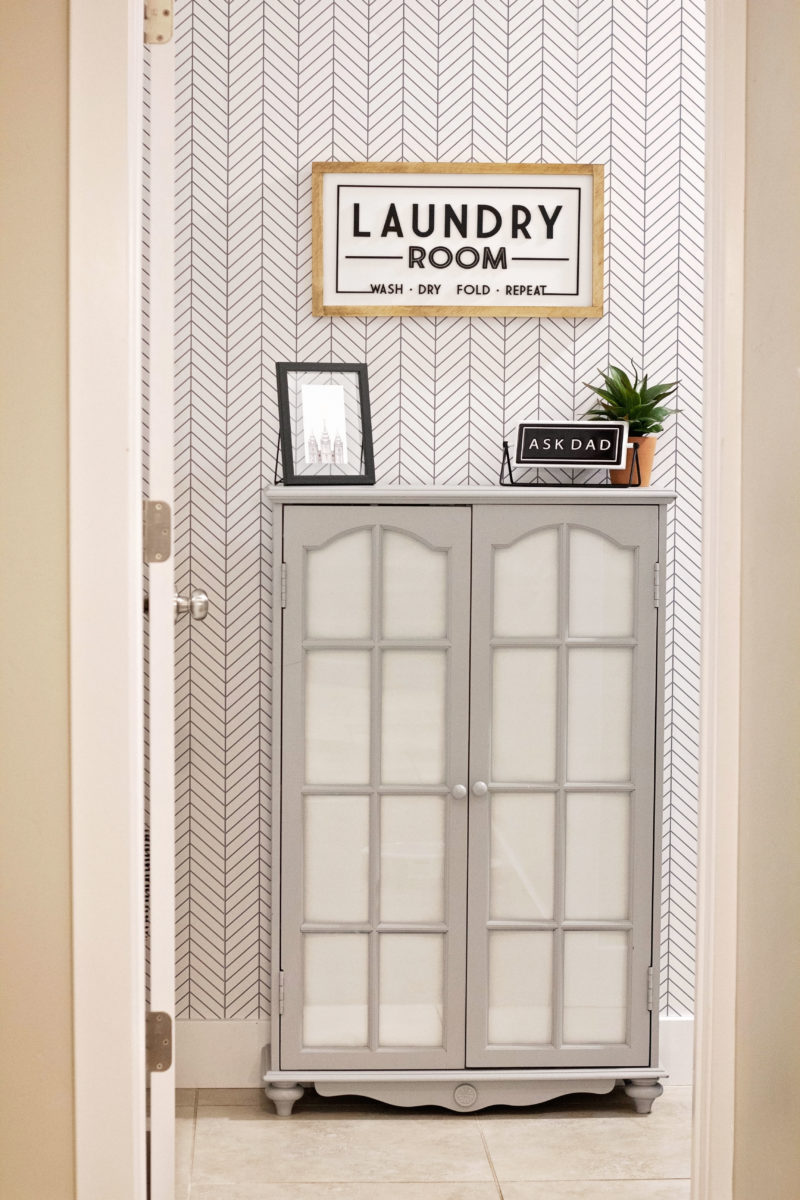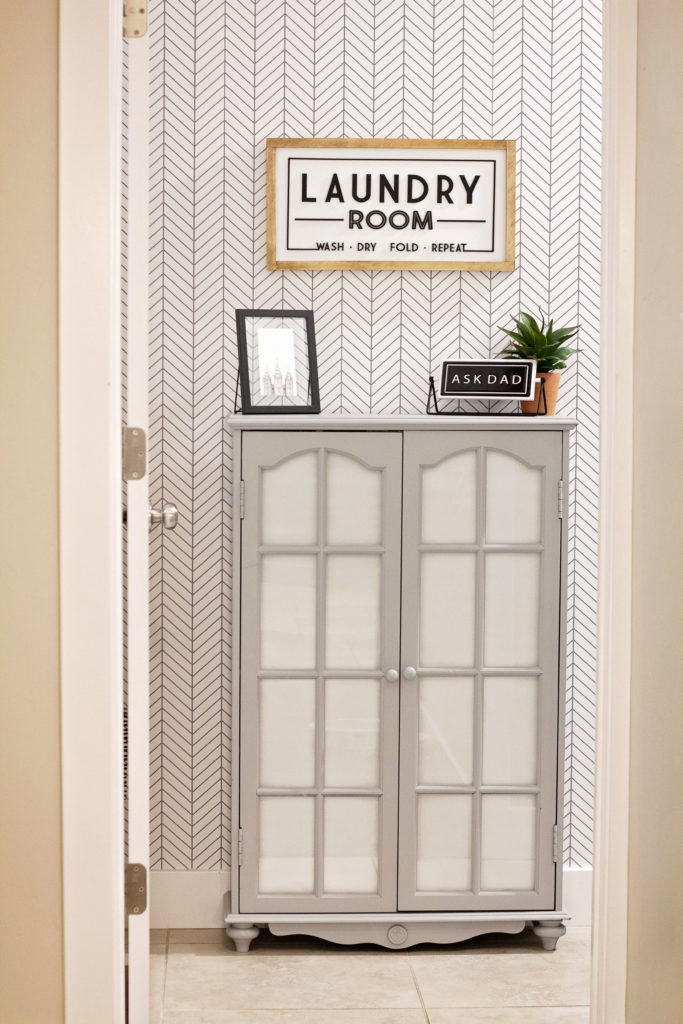 under-cabinet lighting
open shelving
glass jars (display your laundry supplies and dryer sheets)
add plants
add wall hooks
stylish cleaning supplies
drying racks
utility sink
storage baskets to add style and give it function
laundry sign
laundry baskets
Lighting
If you don't have natural light in your laundry room, be sure to add some good lighting. Under-cabinet lighting is perfect for a laundry room because it can help you see what you're doing.
You can also replace builder-grade lighting with a beautiful chandelier or lighting fixture that will elevate the look of your laundry room.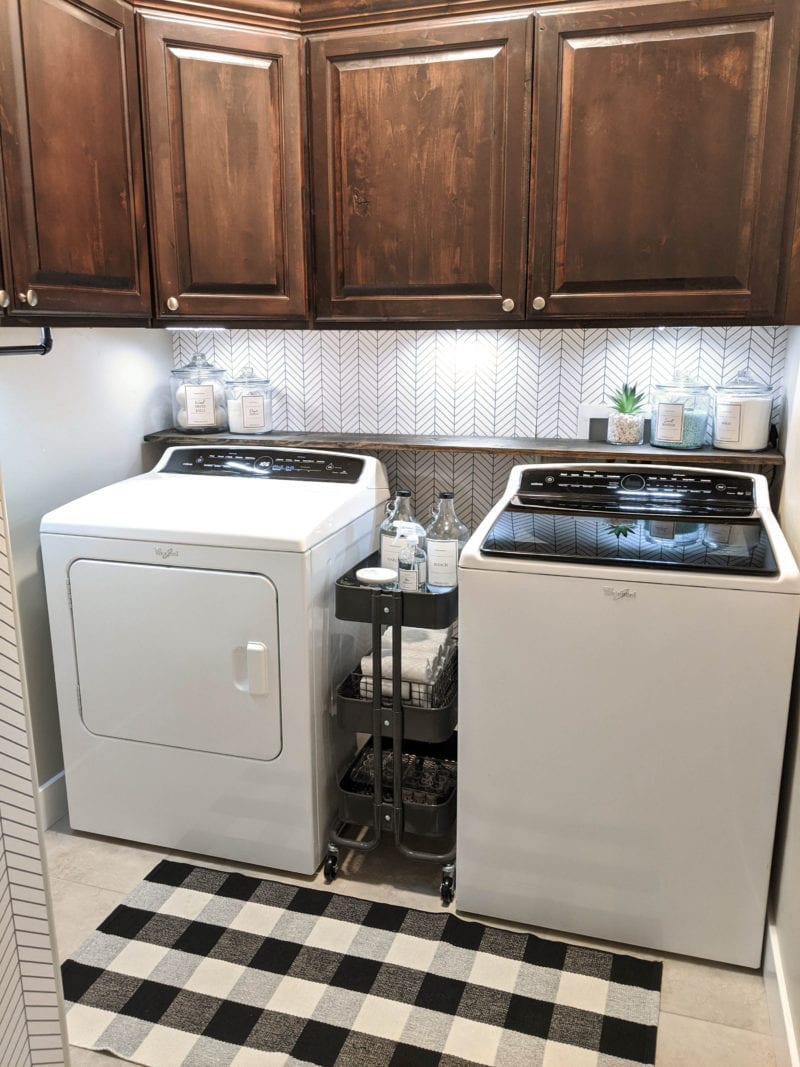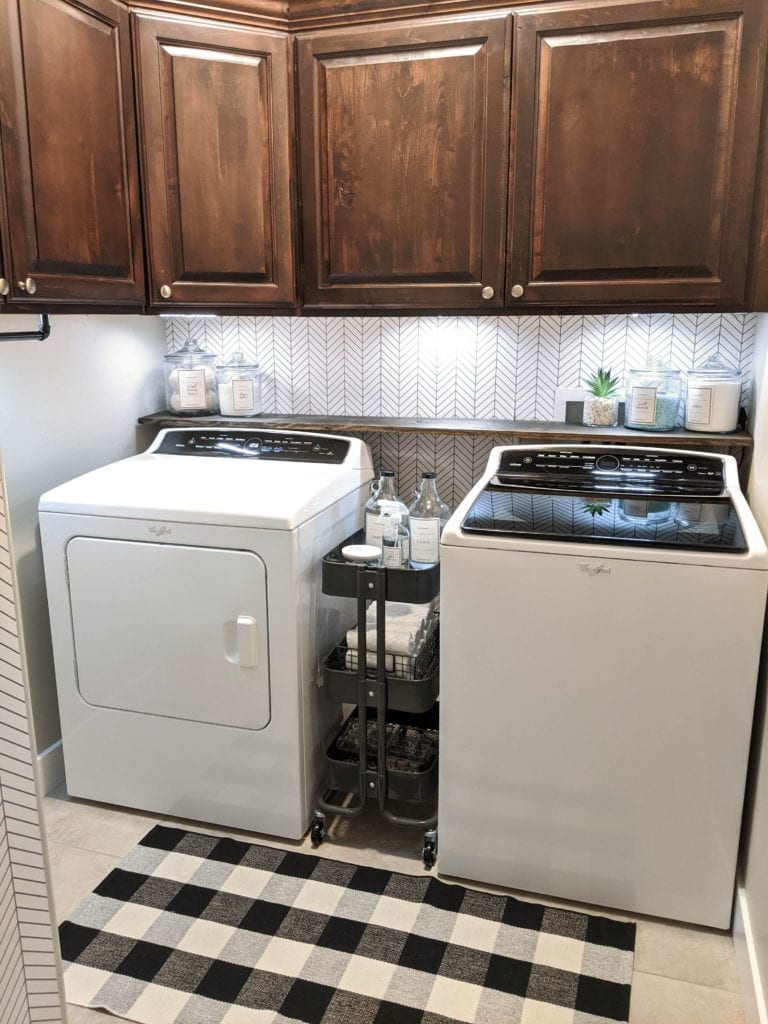 Before I redid my laundry room, it was a pretty dim space. I had only one light source and so the room is pretty dark. We are currently renting our home so there wasn't much that I could do as far as a new light fixture goes, but I did find these awesome under cabinet lights that I fell in love with. I love them because they are motion-sensing lights so if I walk into the laundry room they turn on automatically. It really adds a nice touch to the laundry room and makes things feel extra fresh and bright.
Laundry Cart for Storage
A laundry cart is a great way to combine form and function. Neatly folded bright white cleaning rags or towels look great if you have limites space and are looking for a way to store your laundry supplies. This is one of my very favorite laundry room ideas I've ever implemented!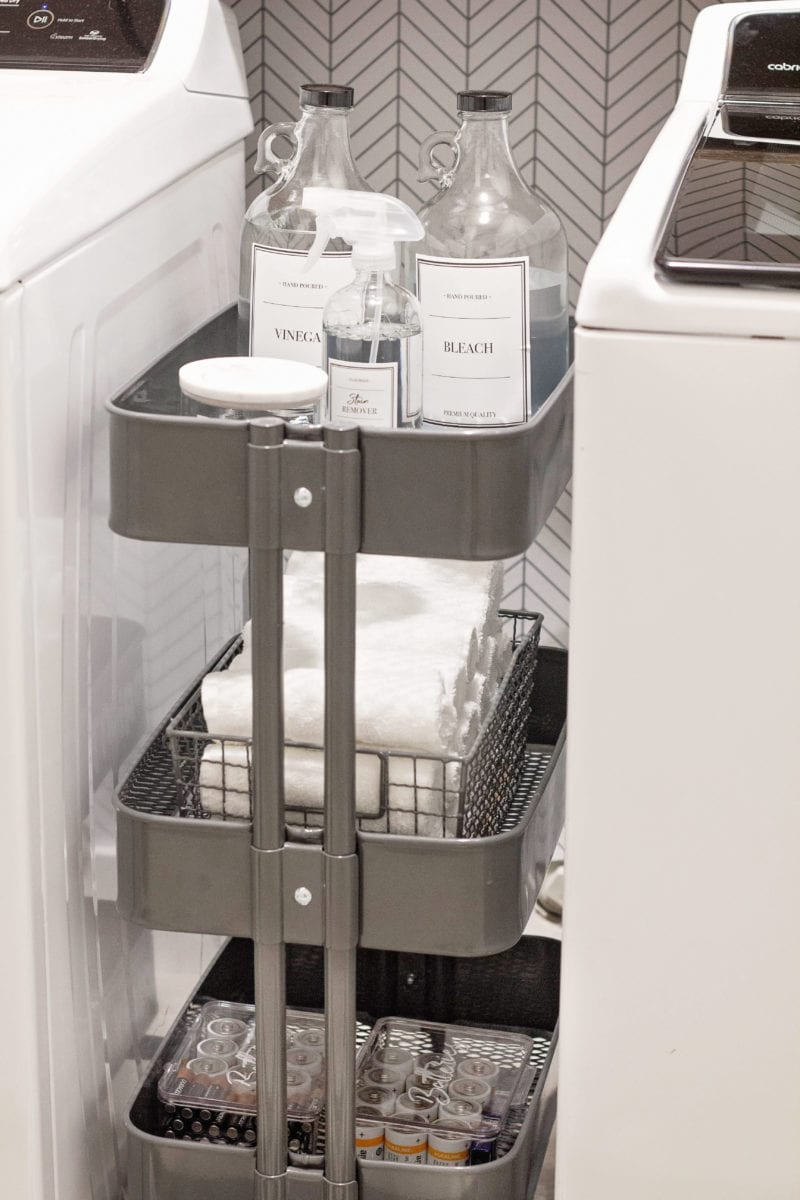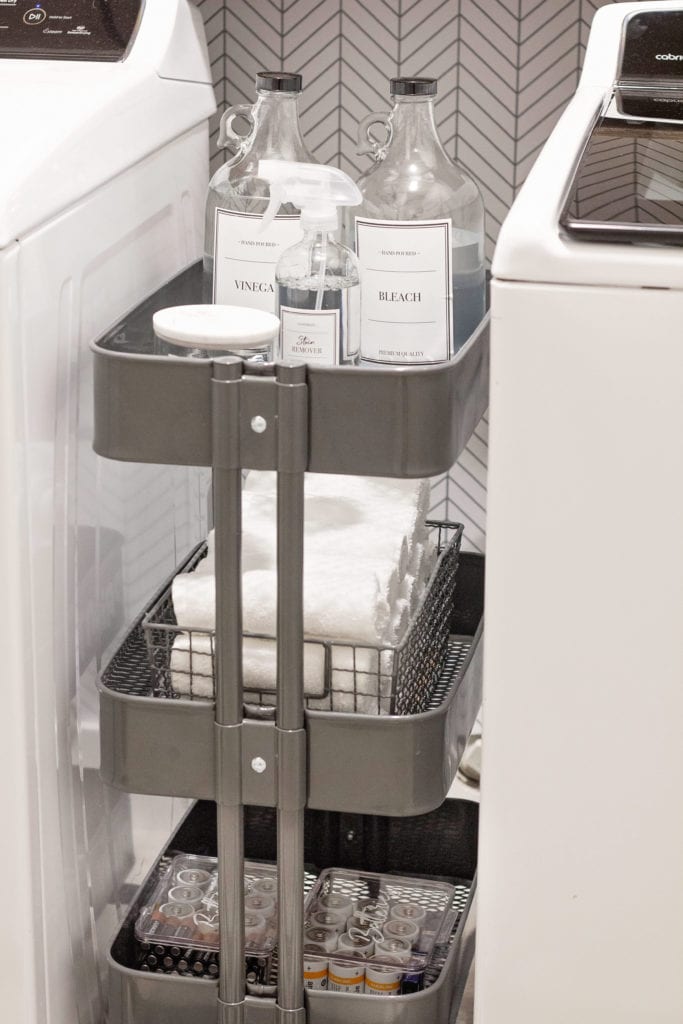 Like this post? Pin it for later!
My laundry room had an extra 16 inches between my washer and dryer that I was awkwardly using before this makeover. So I wanted to make better use of the space so I decided to bring in my metal cart to create a laundry cart! I love that it can roll in and out when I need it to and it makes all of my other supplies really accessible. I no longer have to reach up into the cabinets to get my bleach, vinegar, or stain remover.
Because I was also looking for a new way to store my batteries, I bought these simple acrylic cases and the batteries stack really nice inside. It's kind of a random place to store batteries but it seemed to fit in my mind.

Glass Jars are Stylish and Functional Design Ideas
This is my very favorite way to decorate a laundry room while also creating beauty. I hate the look of product packaging so I am always looking for ways to hide them or move my products into different bins. And that's exactly what I did here! The have multiple purposes and still bring style to the laundry room.
Glass Jars also help bring a clean, airy feel into your laundry room and they can also give you ample counter space that you otherwise wouldn't have had.
These beautiful glass jars are just what I needed for all of my laundry supplies. They double as a decoration as well as making my life easier! Sometimes I hear people complain that they would never take the time to transfer things over to a different container. But it literally only takes 5 minutes and the aesthetic value is way worth it to me! You can also check out my Laundry Room Storage and Organization post where I go into more detail about these.
Beautiful labels for your Laundry Essentials
Of course, being an organizer I always want to label everything! And my laundry room was no exception! This is one of my favorite laundry room ideas that everyone can do!
One important element to decorating a laundry room is to add beauty through your labeling. I use two different types of labels for my laundry room. I created these white labels for my glass jars that can be found in my store.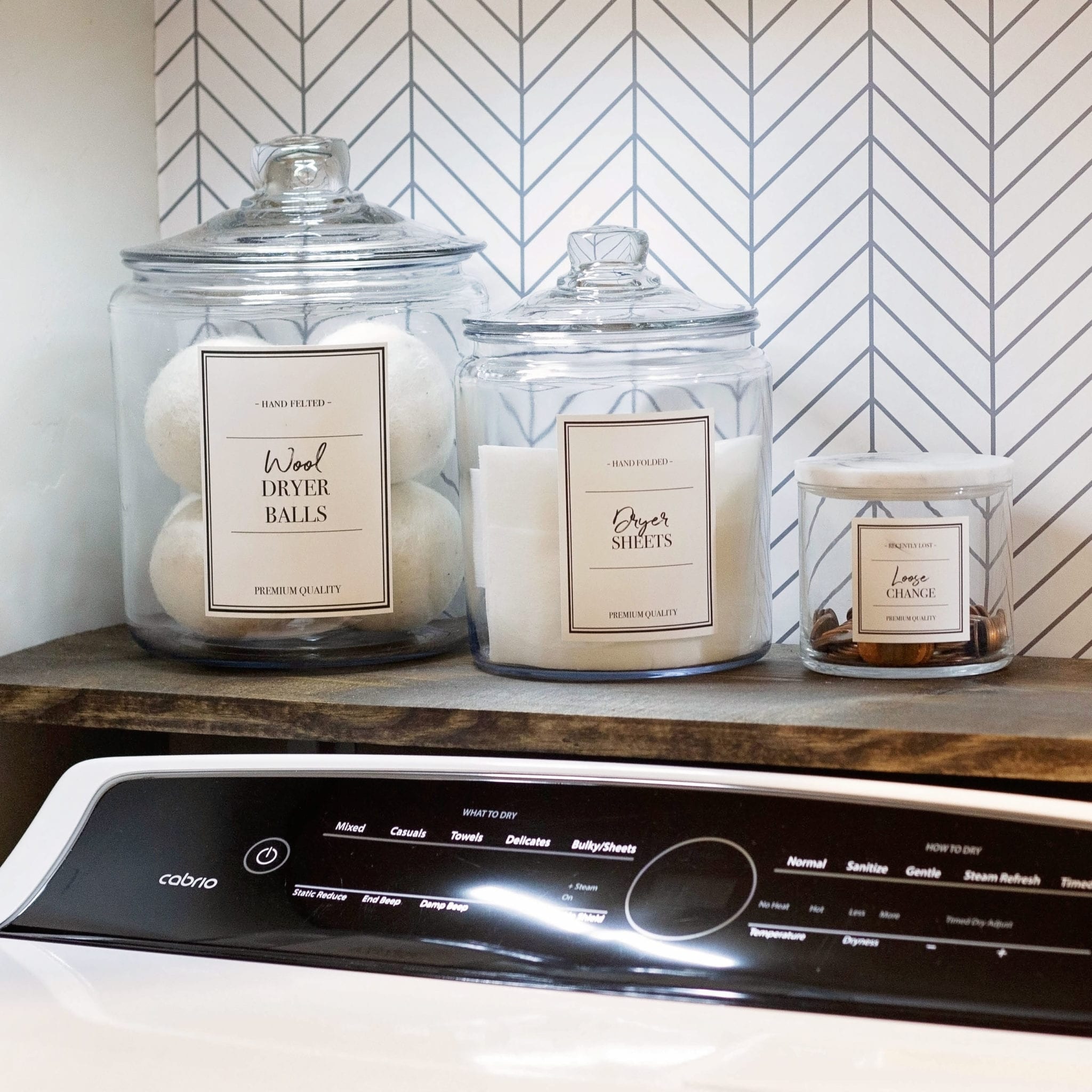 Another way that I labeled in my laundry room was these wooden squares. I bought the squares on Amazon here, painted them black with acrylic paint, and then used my Silhouette Machine to cut out the vinyl labels that went on top of the wood. I adhered the wood to the bins with velcro dots. They were really simple to make but the vinyl was a little bit tedious. But I am over-the-moon happy with how cute they turned out, so it was well worth it.
The black and white scheme is one of my favorite laundry room ideas that I've done.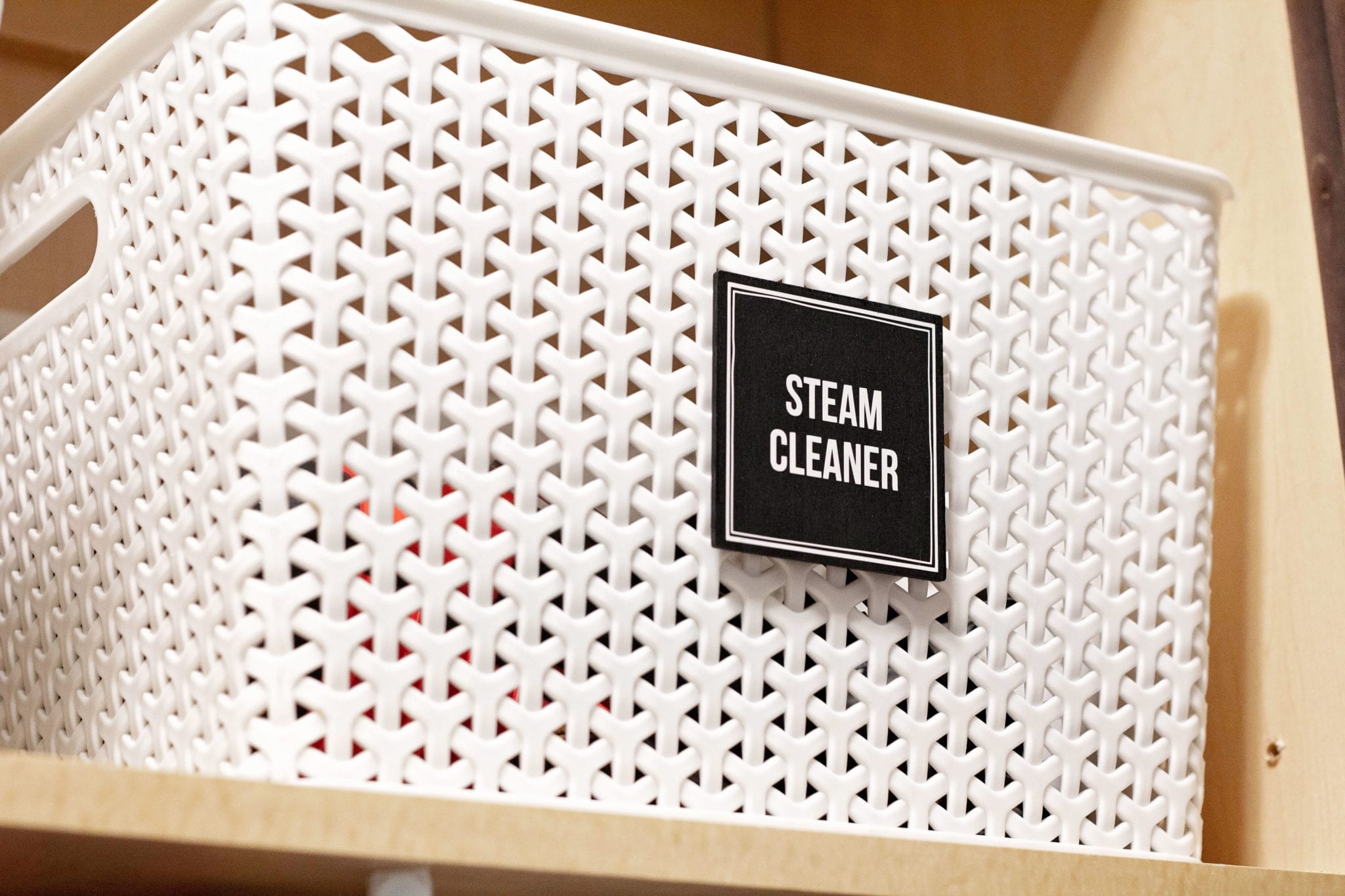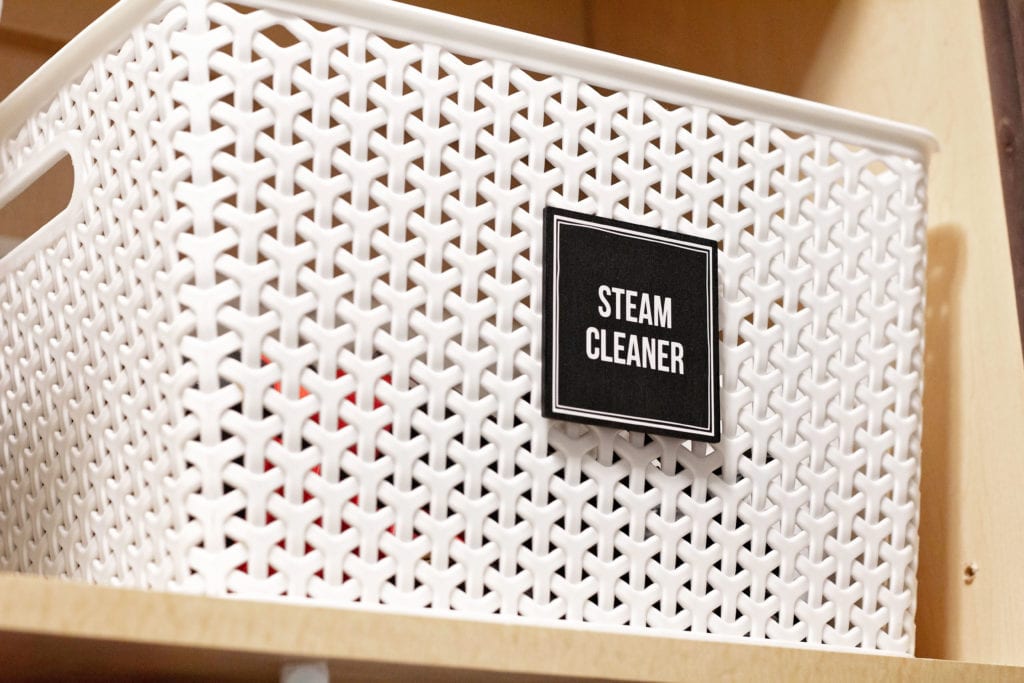 Rugs can Breath New Life into your Laundry Room
Adding a rug to a laundry room can really bring in a lot of style. If you're looking to create a bold laundry room for a small price, you can easily achieve that look with a rug (if you pick a budget rug!).
I already had this buffalo check rug that goes really well in this black and white laundry room. Because my laundry room is awkward and small as I mentioned before, I could only fit a small rug that goes in front of my washer and dryer. But it adds the perfect amount of style. I don't think I would choose anything larger even if I had a bigger laundry room because I didn't want the space to get too busy.
Add an Ironing Station to your Laundry Room
I don't know about you, but ironing is definitely not my favorite chore. But I really wanted to create a functional space where I could easily pull down my ironing board and keep all of my ironing supplies in one spot.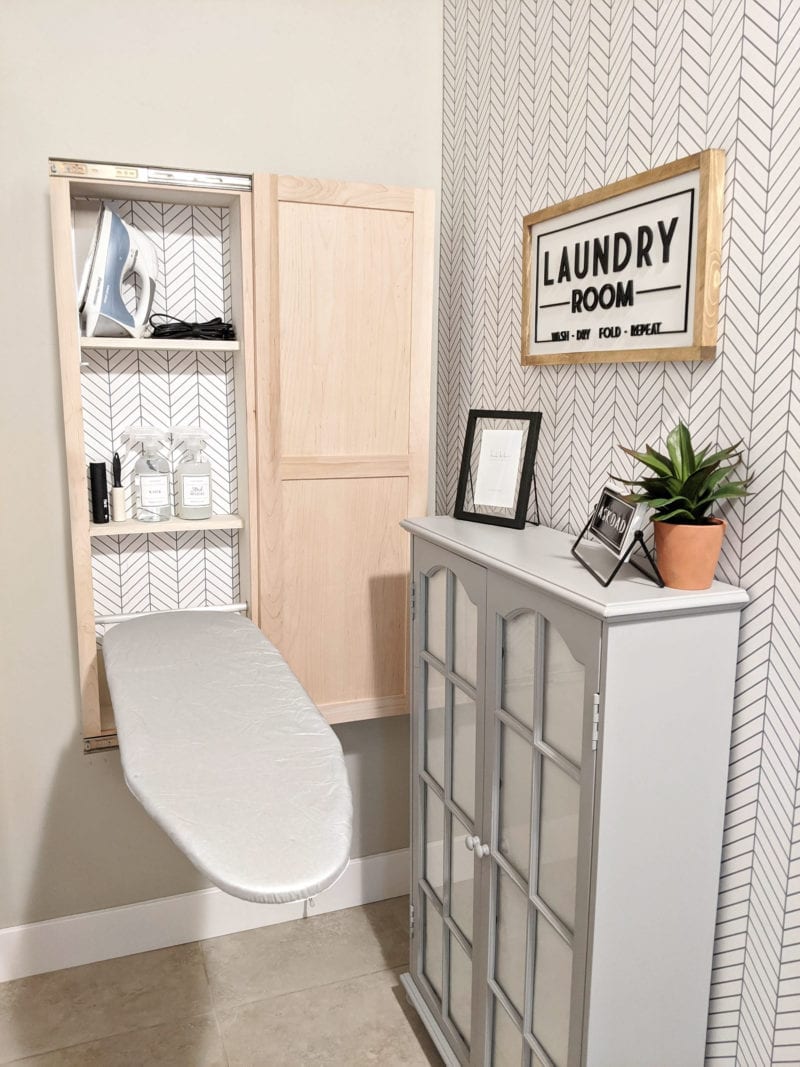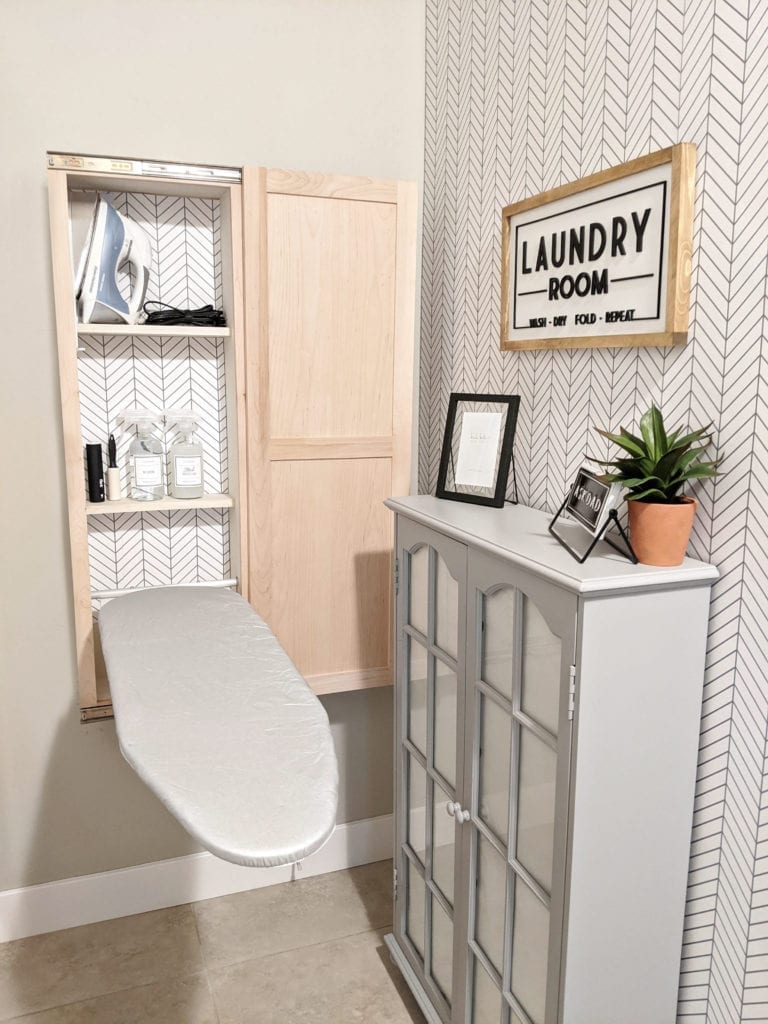 I found exactly what I was looking for when I found this fold out ironing board cabinet! Because it has a couple of shelves, I can clear out even more space in my laundry room cabinets for other things. Plus I don't have to wander around the laundry room to get my laundry supplies when I need them.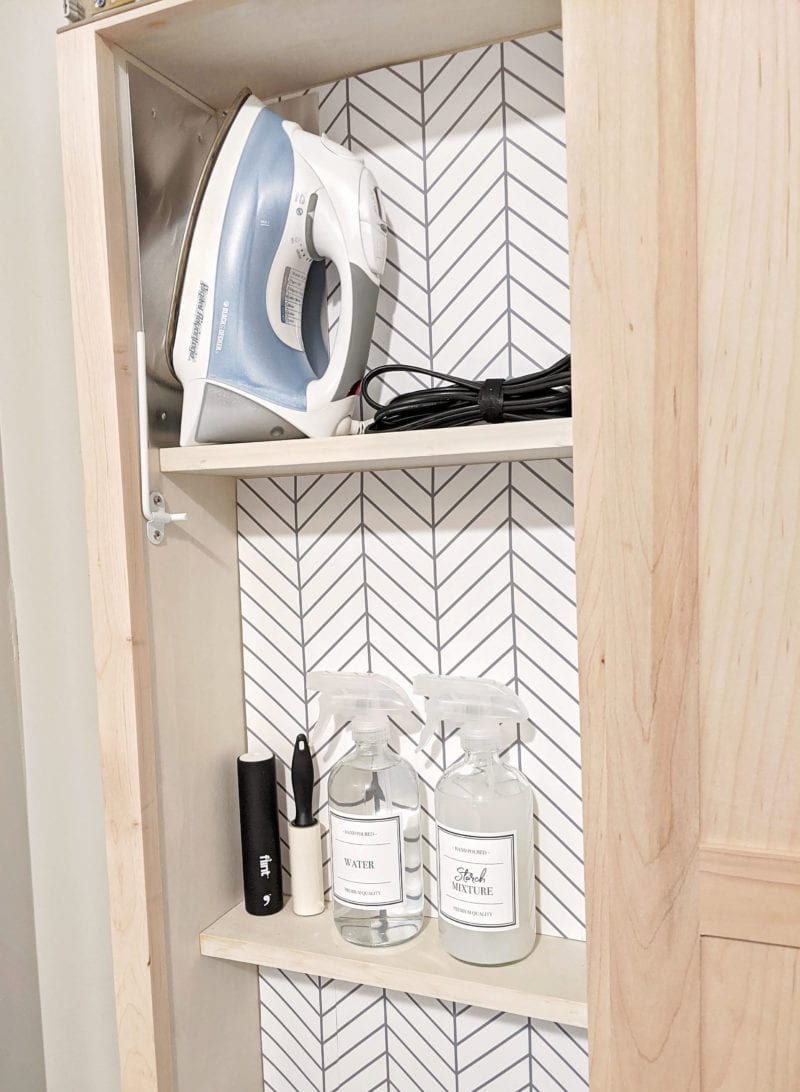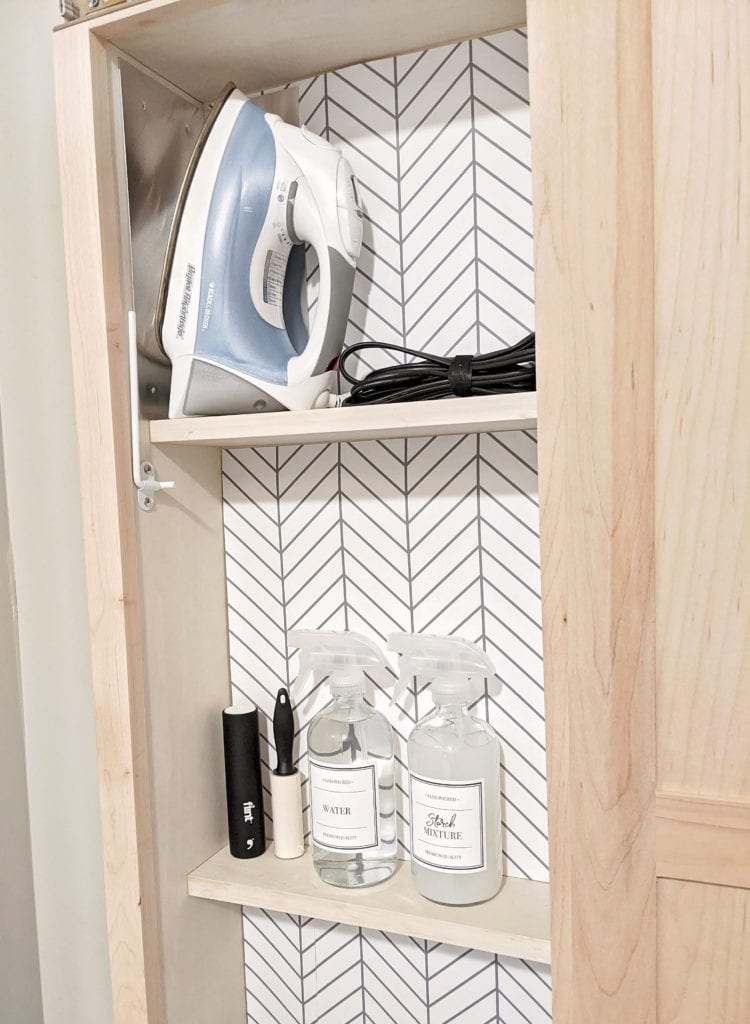 The ironing that I had before was my mom's ironing board from when she got married. So to say that it was old and rickety wasn't an understatement. I even accidentally cut up my hand the last time I used it! So I really love this fold down ironing board And I love how I can easily close everything up and slide the door closed.
Wall hooks are great if you have limited space
Creating your dream home is something that takes a lot of time and effort. But we don't always have the amout of space we desire in every room. So if you have limited space in your laundry room, wall hooks are a great option to help you get organized.
You can use wall hooks to hang your ironing board, your clean clothes, dirty cleaning rags that need to dry, and even a drying rack for your clothes. This will free up space on the floor so that you can more easily move around in your laundry room. And it will also help you keep everything organized.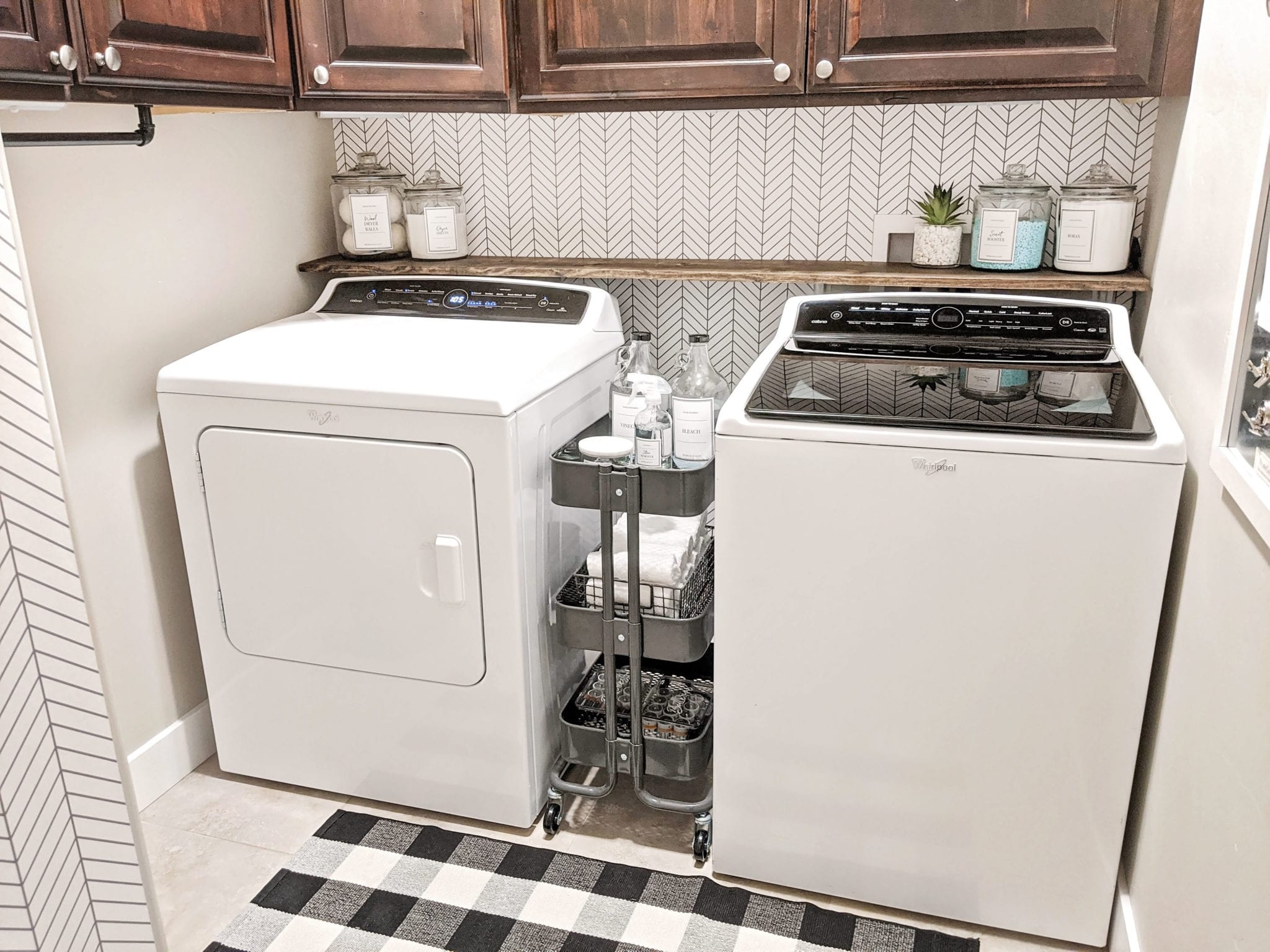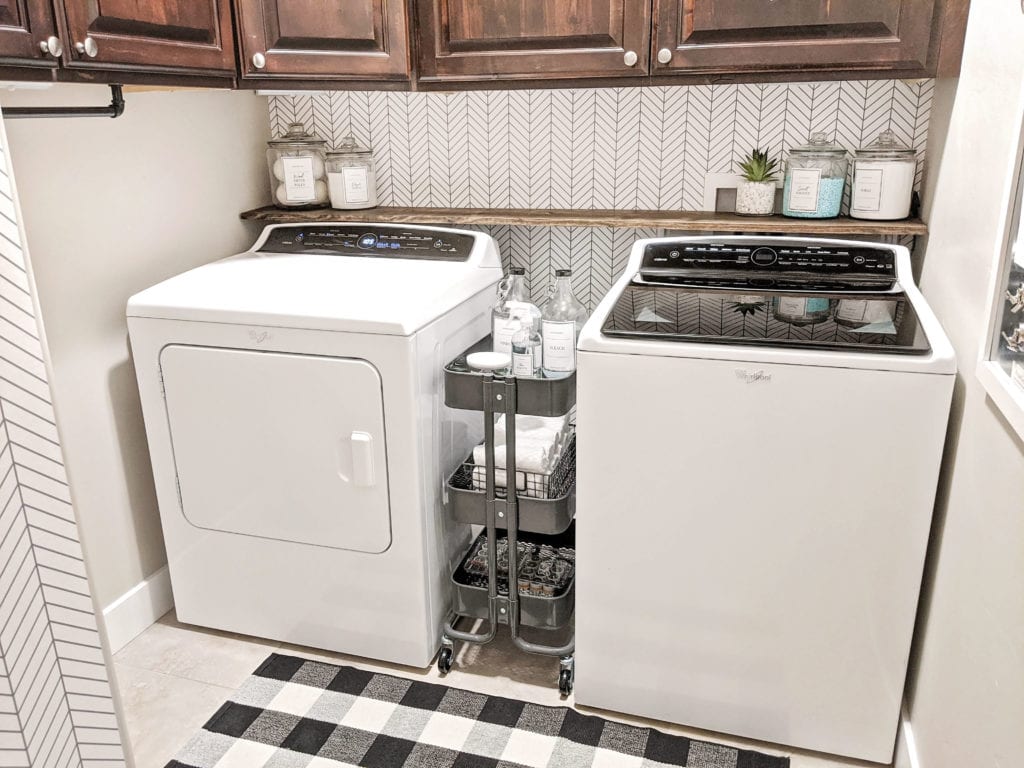 Wall Hooks and Bars are Great for a Small Laundry Room
If you were looking to add a little bit of extra functionality to your laundry room, I highly suggest adding some hooks or bars to the walls or under your cabinet. My laundry room did not have a place to hang clothes as I was pulling them out of the dryer so I decided to add a clothes rod underneath my cabinet. I can't even believe how much of a difference it makes as I am doing my laundry.
As far as function goes, I think this is one of my very favorite changes that I made. Hooks can also help you in different ways when it comes to adding function to your laundry room. It's also helpful to have somewhere to hang out wet clothes so that they can dry without getting stinky.
Stylish Laundry Baskets Elevate Laundry Room decor
Laundry room decor doesn't have to be boring. In fact, you can add a lot of style and personality to this utilitarian space with the right accessories. One of my favorite ways to do this is by using stylish baskets.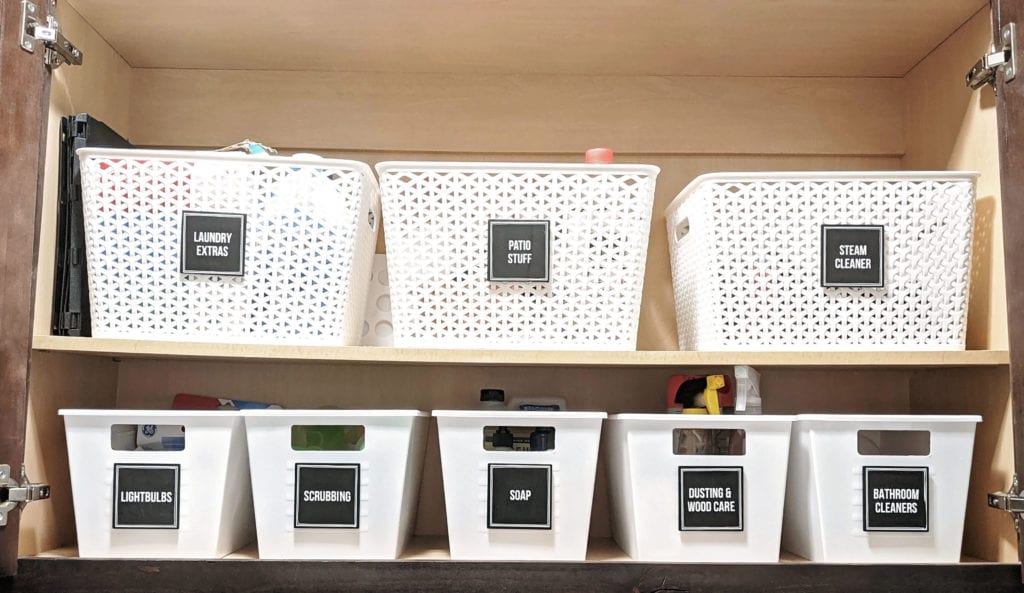 There are all sorts of different types of laundry baskets out there, so you can find one that perfectly matches your style. You can find baskets to match your farmhouse laundry room, traditional laundry room, or your eclectic laundry room. Even if the baskets are hidden in the upper cabinets, it still feels really great to open up your cupboards and love the easy access to your laundry supplies while still giving extra space to your laundry room.

Add a Farmhouse sink
If you are into doing renovations, adding a utility sink can be a great option for adding more functionality to your laundry room. If you have a big laundry room, you could even add a farmhouse sink to complete the modern farmhouse look that you are going for. The white cabinets look beautiful in a farmhouse laundry room too! It's the perfect mix of modern and country charm.
If you have a smaller space, then adding a sink may not be the best option for you. Assess your laundry room and how much space you have and determine how often you would use a laundry room sink to determine if it would work for you. A small laundry room may not have more benefits than disadvantages for a sink.
Greenery isn't optional
If you ever look back at a space that you are decorating and fill like something is missing, I would be willing to bet that 90% of the time it is greenery! Or something special about adding plants, fake or real, to a decorated space that is almost always the finishing touch that I was looking for. So when in doubt, add plants!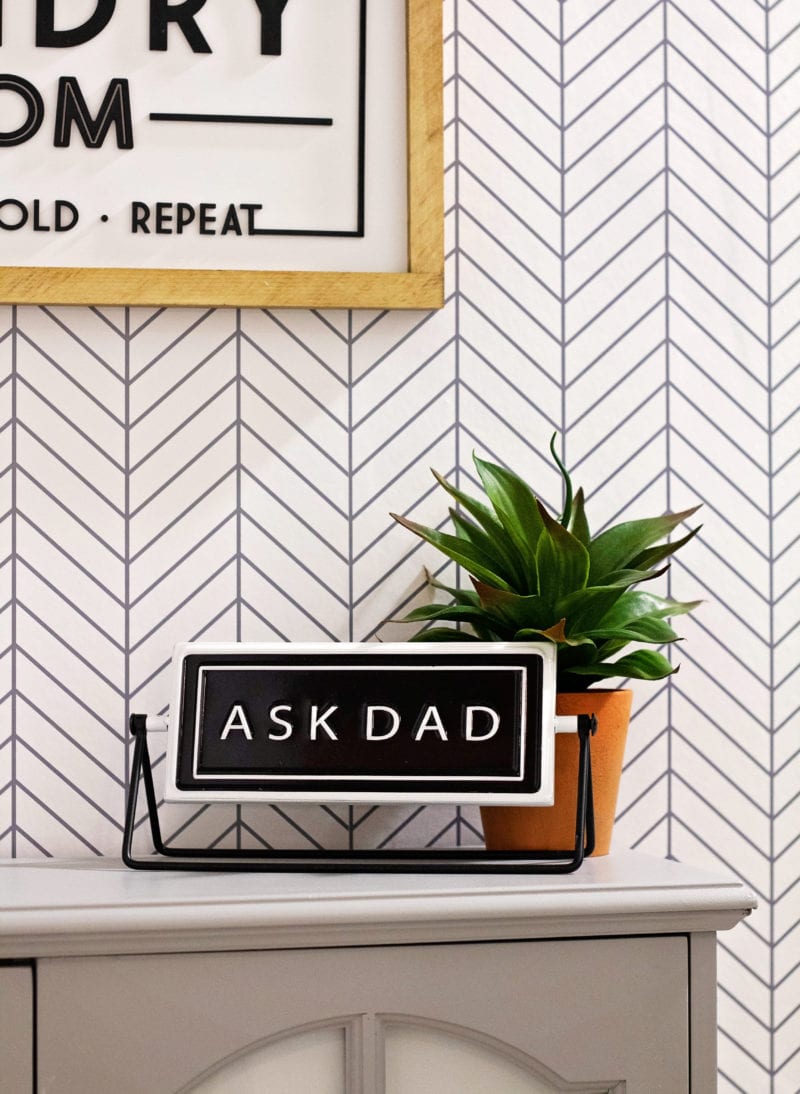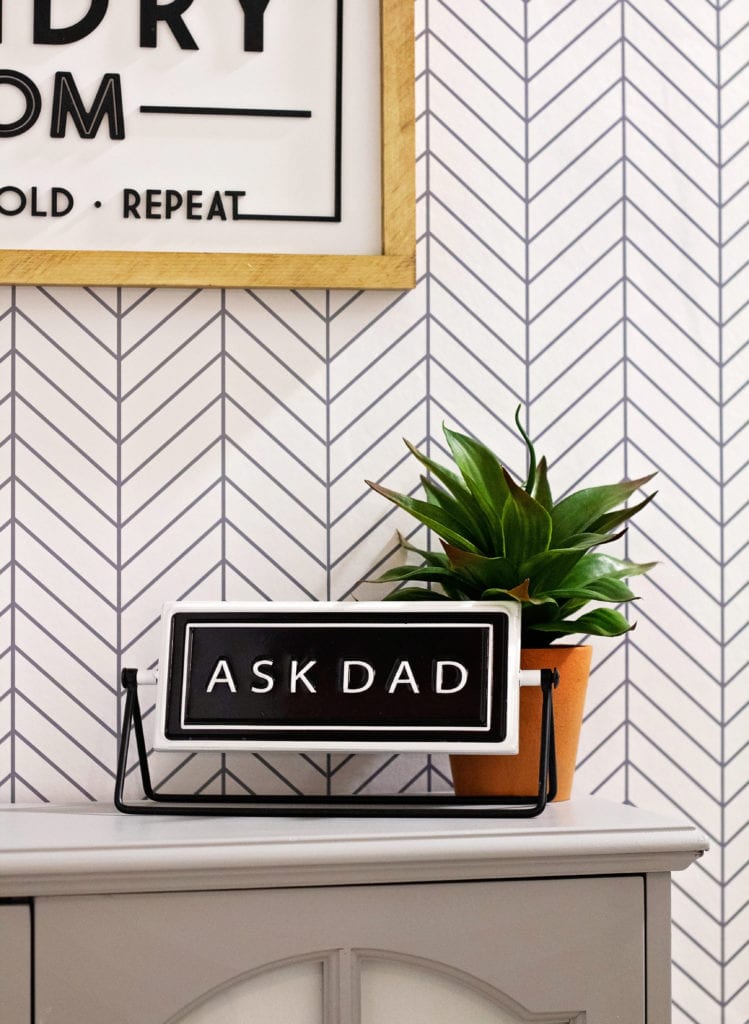 I hope that this blog post was helpful to you in teaching you how to decorate a laundry room. There are so many possibilities out there and it really is possible to combine function and beauty to make your laundry room a place that you love to be!