Everything you Need to Know to Host an amazing Bethlehem Dinner
Do you want to create a family tradition this Christmas that is centered around Jesus Christ and his mission here on earth? If so, consider having a Bethlehem Dinner. This is a great way to learn more about the true meaning of Christmas and have some fun with your family!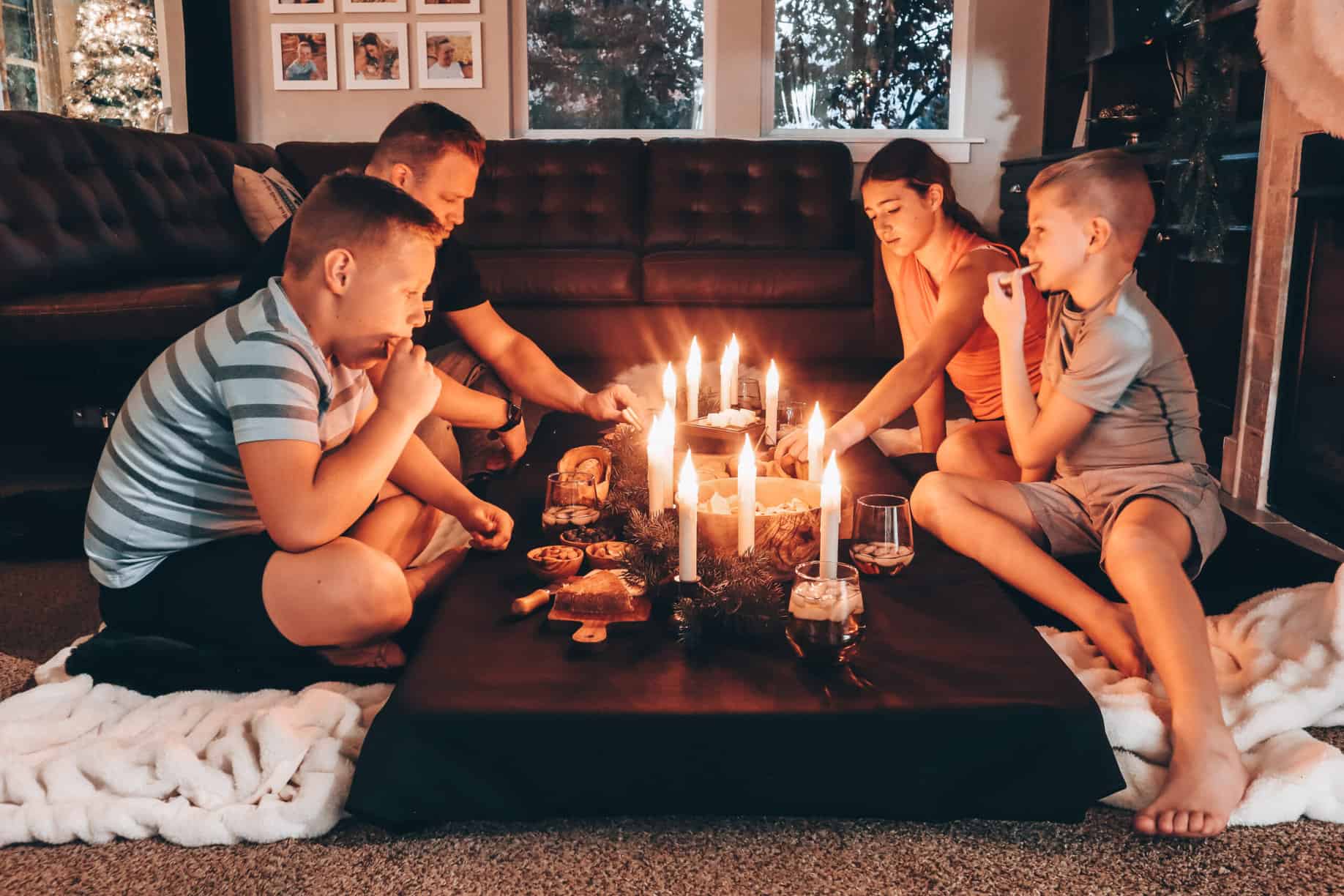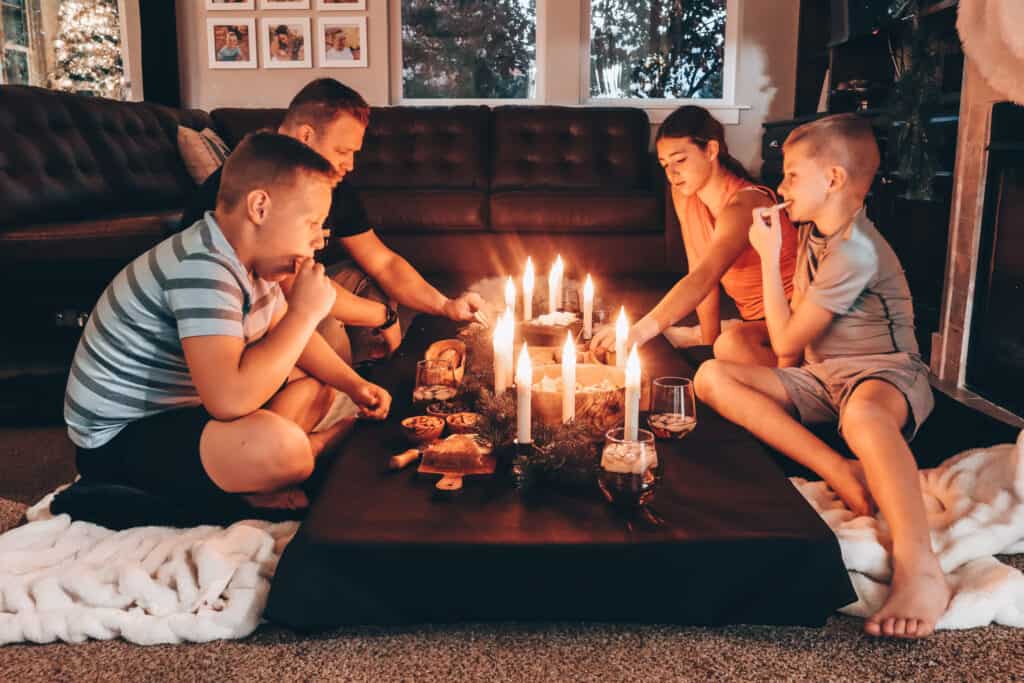 It's easy to set up a simple dinner table that would be similar to the ones that were used during Jesus Christ's time. All you need is a folding table, some cushions or blankets to sit on, and of course, food! We will provide you with a list of foods that were common during Jesus Christ's time. We hope you enjoy this fun tradition!
What is a Bethlehem Dinner?
A new favorite Christmas tradition in my house is having a Bethlehem Dinner. If you've never heard of it before, it's also known as Shepherd's Dinner or a Jerusalem Dinner and it's a great way to bring the true meaning of Christmas into your family celebrations.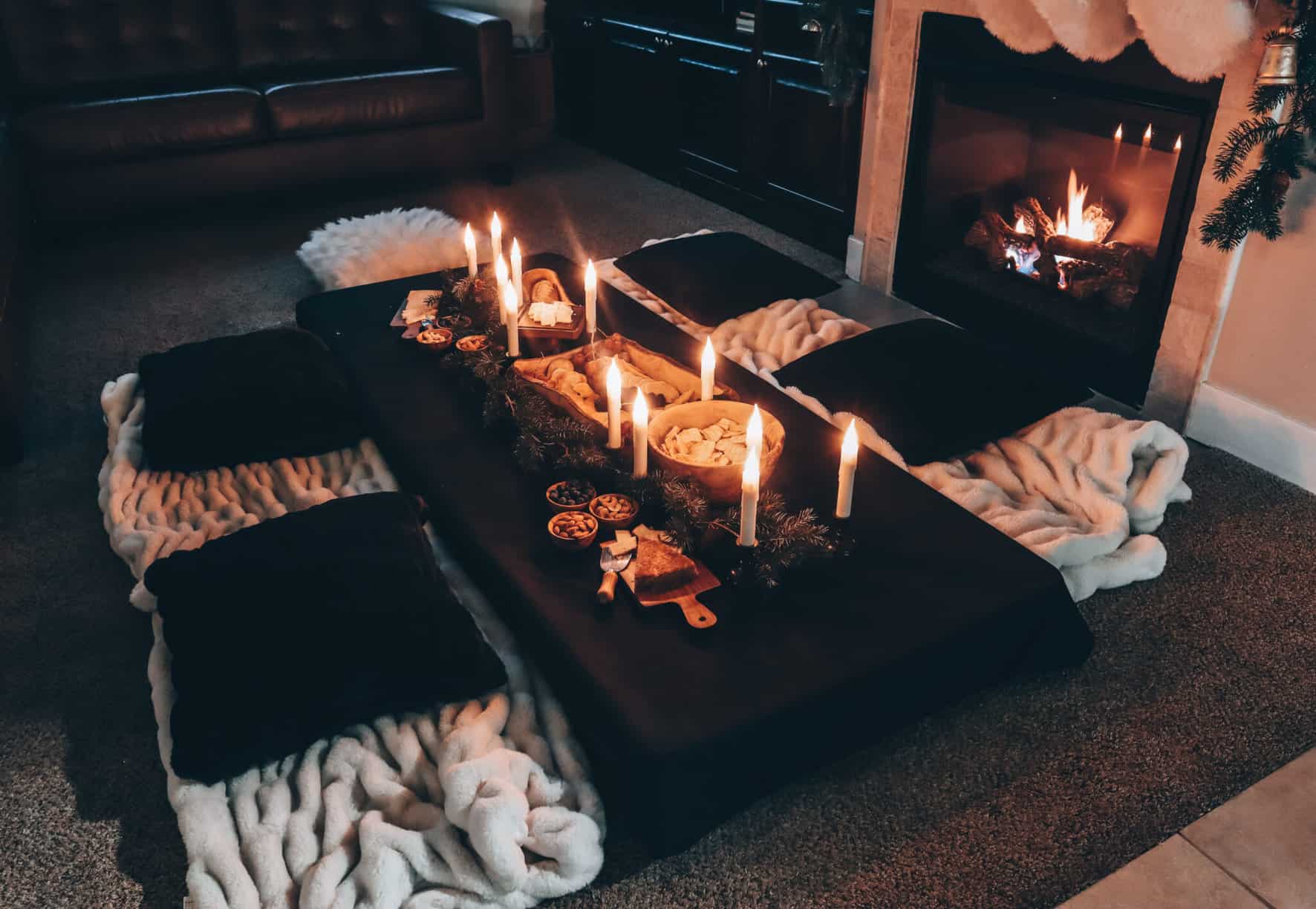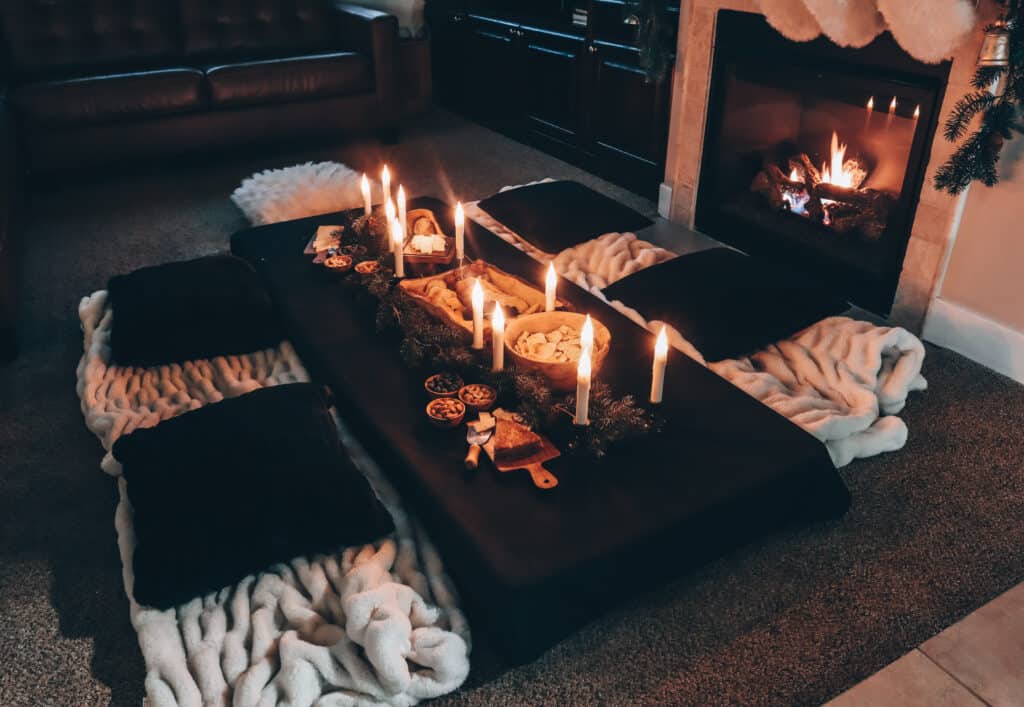 This type of dinner is meant to imitate the kind of meals that were eaten during Jesus Christ's time and it's an amazing experience for everyone involved! It doesn't need to be elaborate; in fact, it should be as simple as you can make it. It's a great way to commemorate Christmas with more than just presents.
Many people incorporate this tradition into their Christmas Eve routine but I prefer to have it ahead of time. It's just whatever your preference is! Some people even have this tradition around Easter instead of Christmas Eve.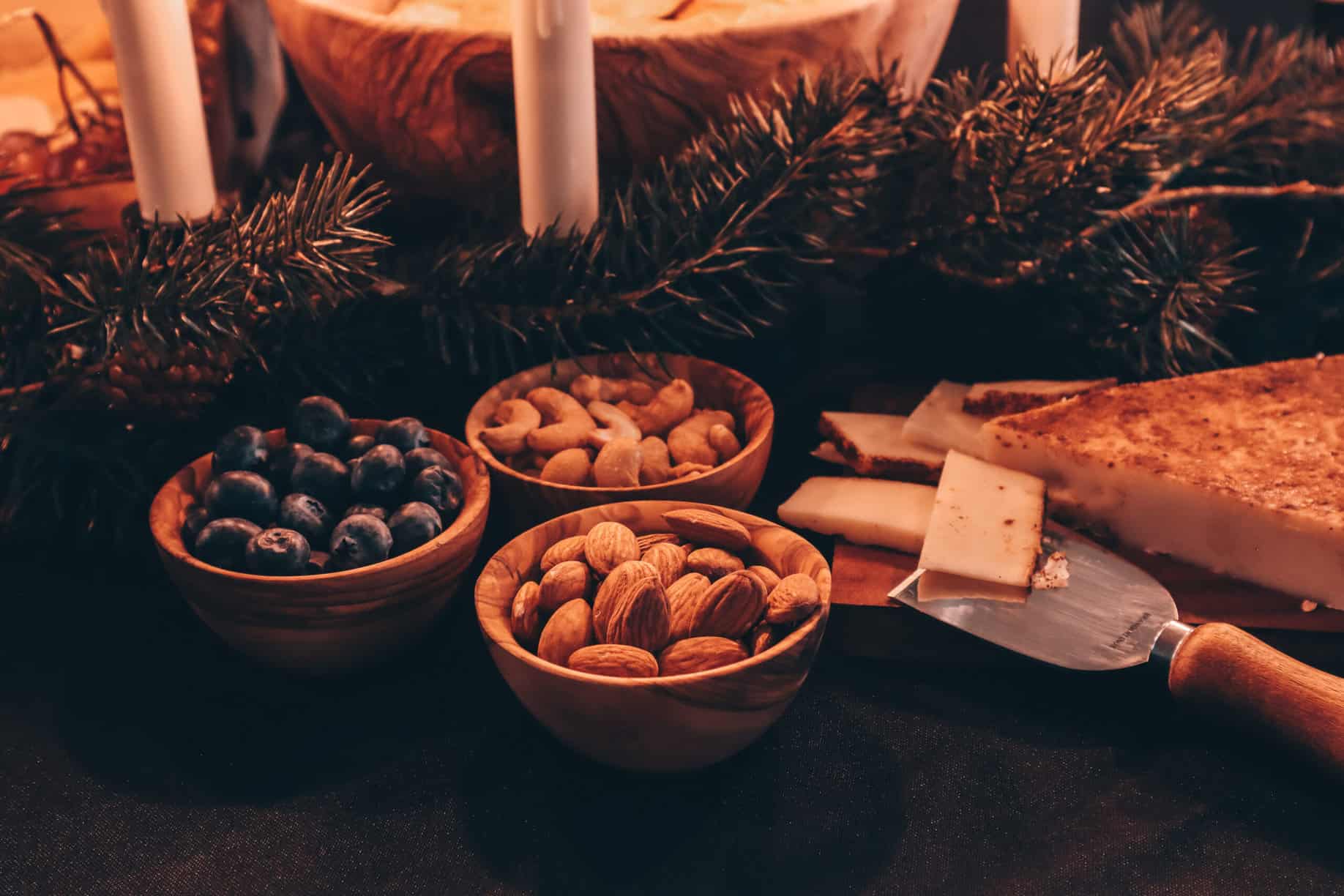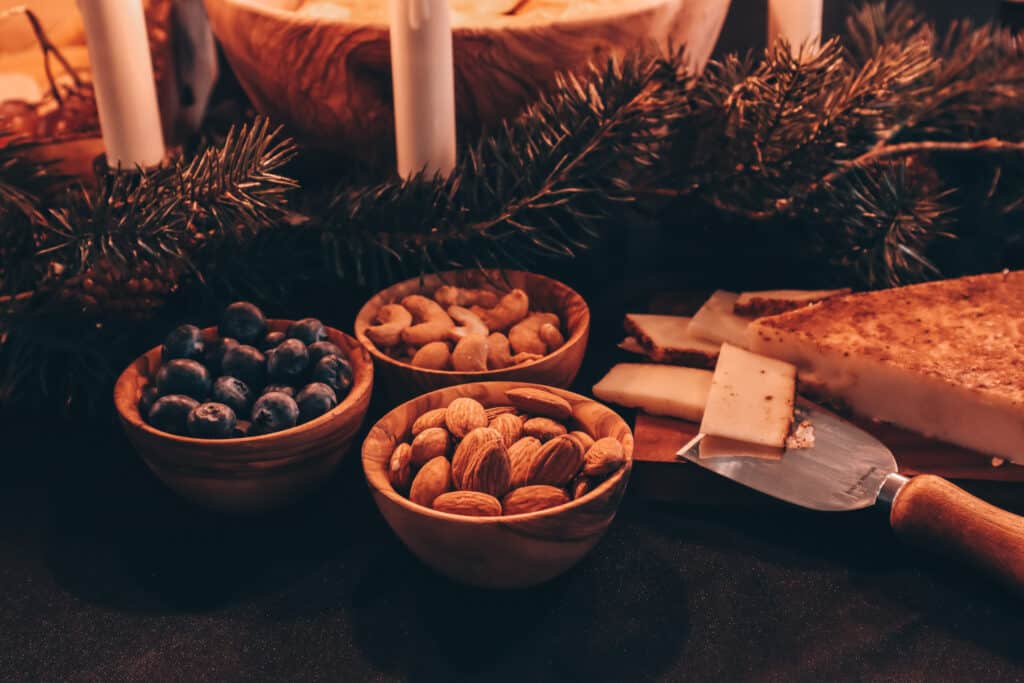 What is typical Bethlehem food?
For a Bethlehem Dinner, you'll want to prepare a simple meal. Shepherds didn't have a lot of ingredients in Jesus' time, so focus on things like nuts, dried fruit, and figs, just like in biblical times.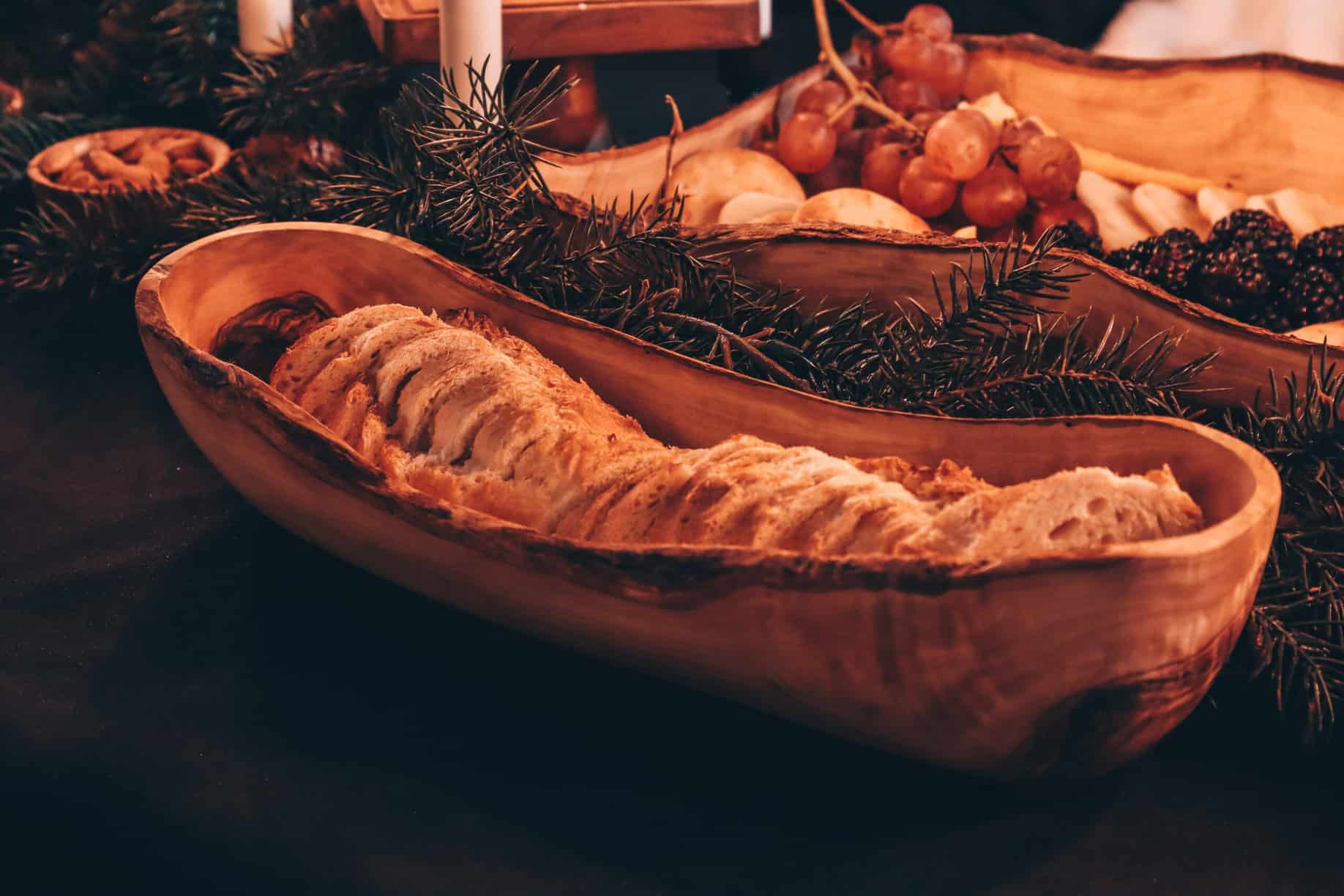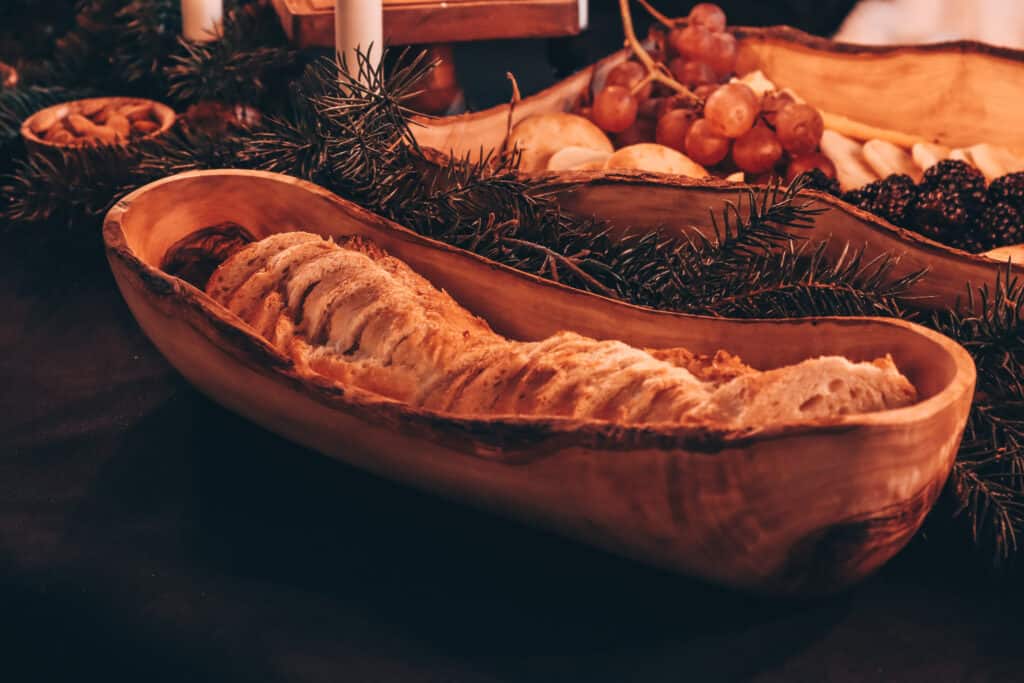 You can also include some kind of unleavened bread, pita bread, naan, or something that would have been similar to what the shepherds ate during that era.
Hummus is another popular dish for this type of dinner and can easily be eaten with bread and vegetables. You can also serve some cheese, olives, grapes, and crackers.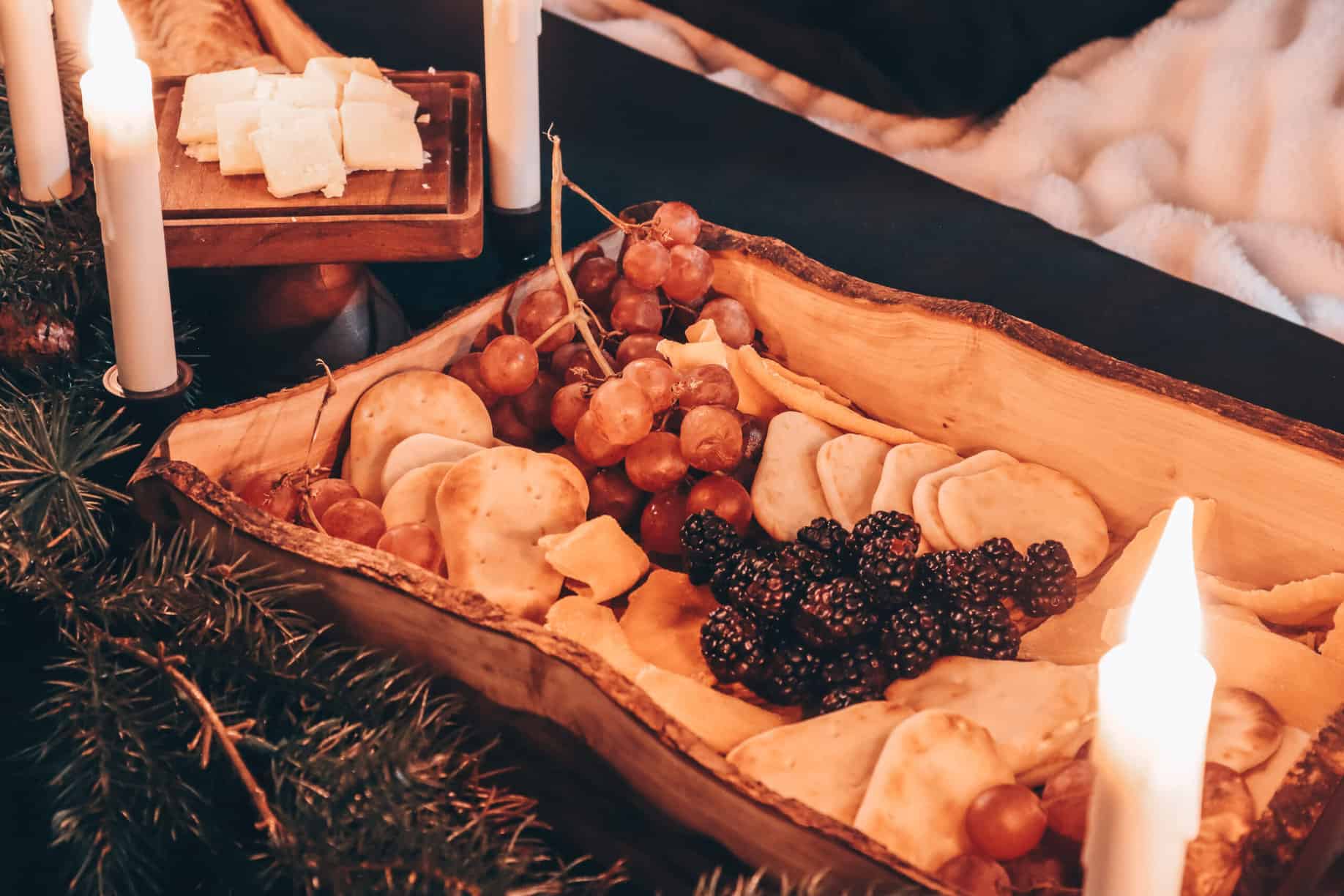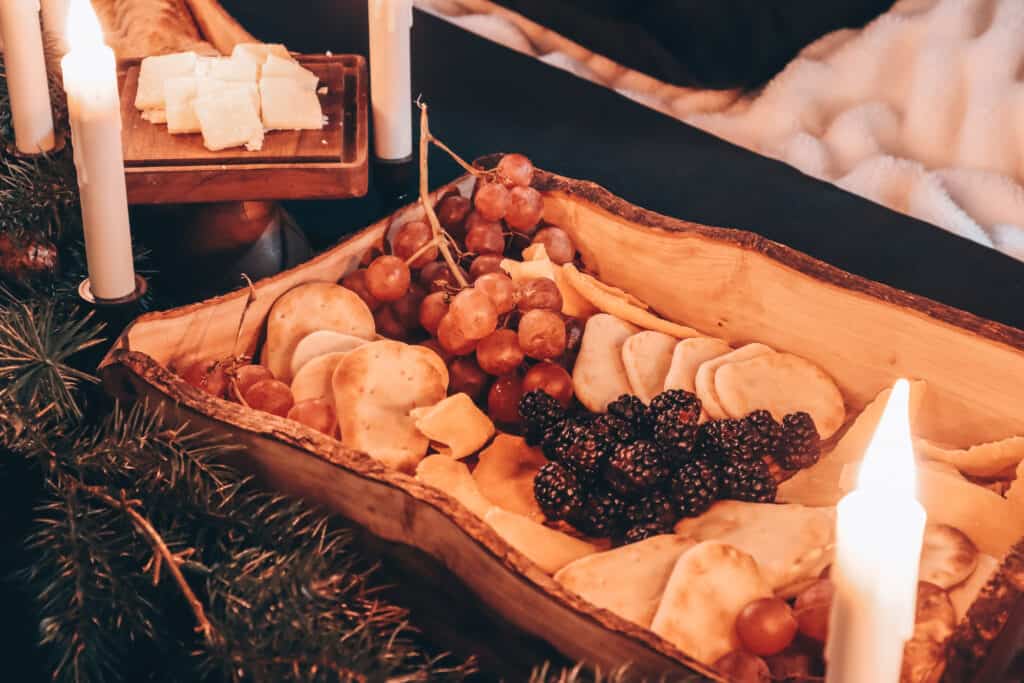 I've got some more menu ideas later on, but just keep in mind that what you eat that night will be simple, just like a shepherd's meal at that time.
Here is a list of food ideas for your Bethlehem:
Dates
Dried Fruit
Honey
Grapes
Nuts
Unleavened Bread (we use Naan Bread from Costco)
Flat Bread
Olives
Olive Oil
Fish
Grape Juice (in place of wine)
Cheese (you can use goat cheese, gruyere, cheddar, anything your family will eat)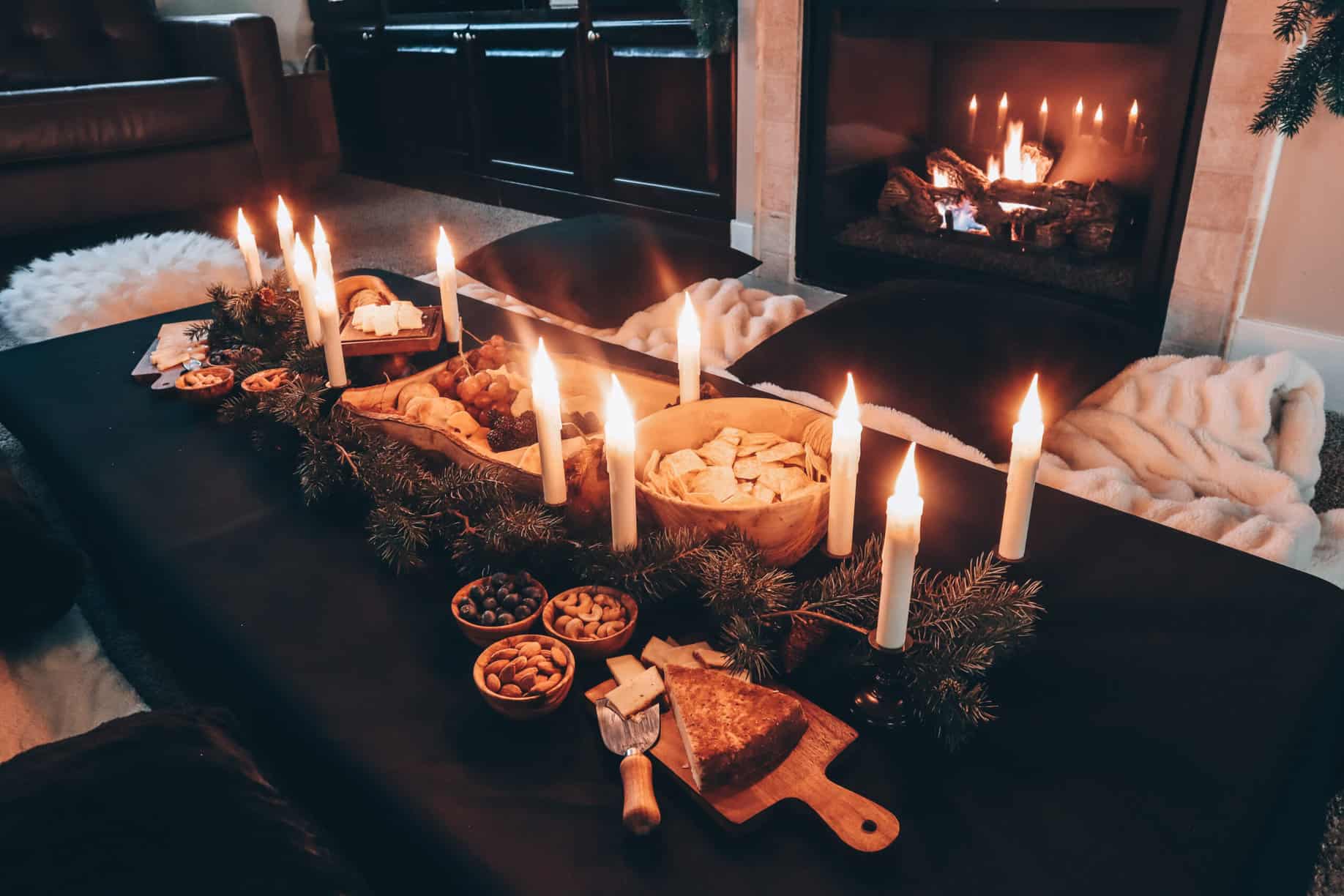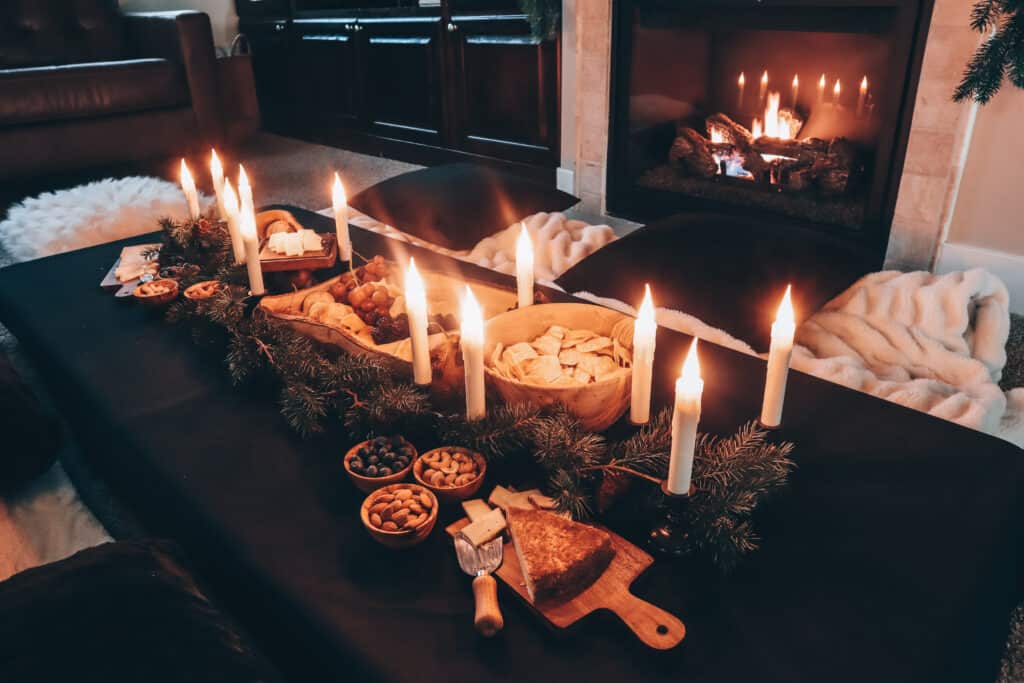 How to Prepare Your Kids for the Bethlehem Meal
Before the dinner, you should make sure your kids really understand what this shepherd's night is really about. Sure, your children will remember it regardless of if they understand the true meaning, but it's a good idea to go over the true meaning with your kids beforehand if you can.
You can start doing this a few weeks in advance or just the day of – whatever works for you. One way I like to talk to my family about the Christmas story and why we are eating like shepherds in Bethlehem for a night is by reading them books. Sometimes when you read aloud through a book makes it easier for them to understand.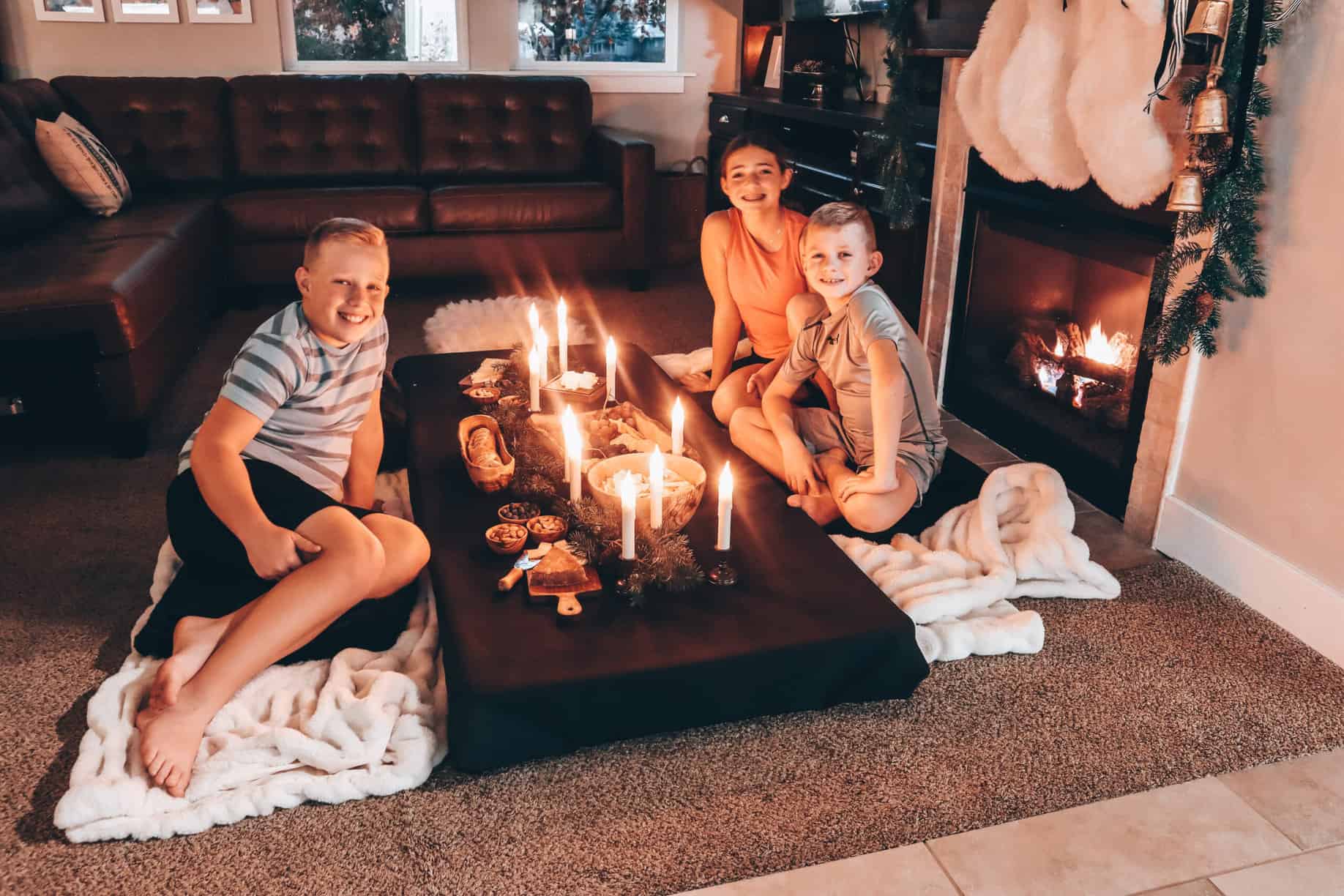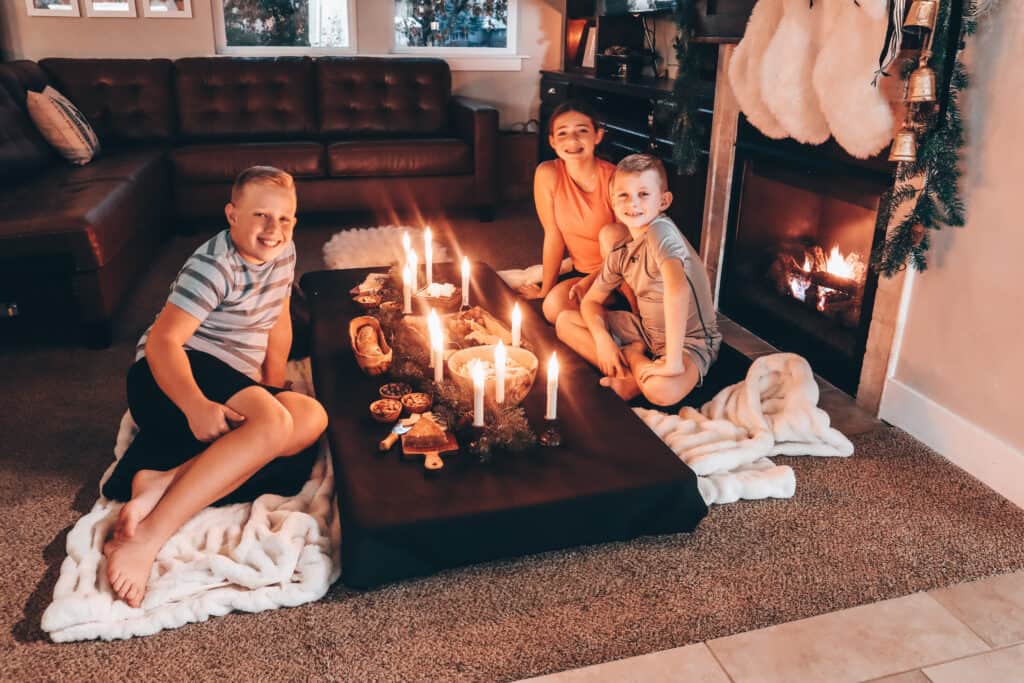 Here are some books I like that are about Christ's birth, and what the Christmas holiday is all about:
Nativity Books You'll Love

Bethlehem Dinner Set Up and Decorations
Your Bethlehem Dinner won't have an elaborate meal planned, so you may want to set the mood more with your dinner setup and decorations. Of course, you don't need to spend a long time setting up or decorating for one meal, but it can make it a really memorable and special night for your family if you put a little bit of time and planning into it.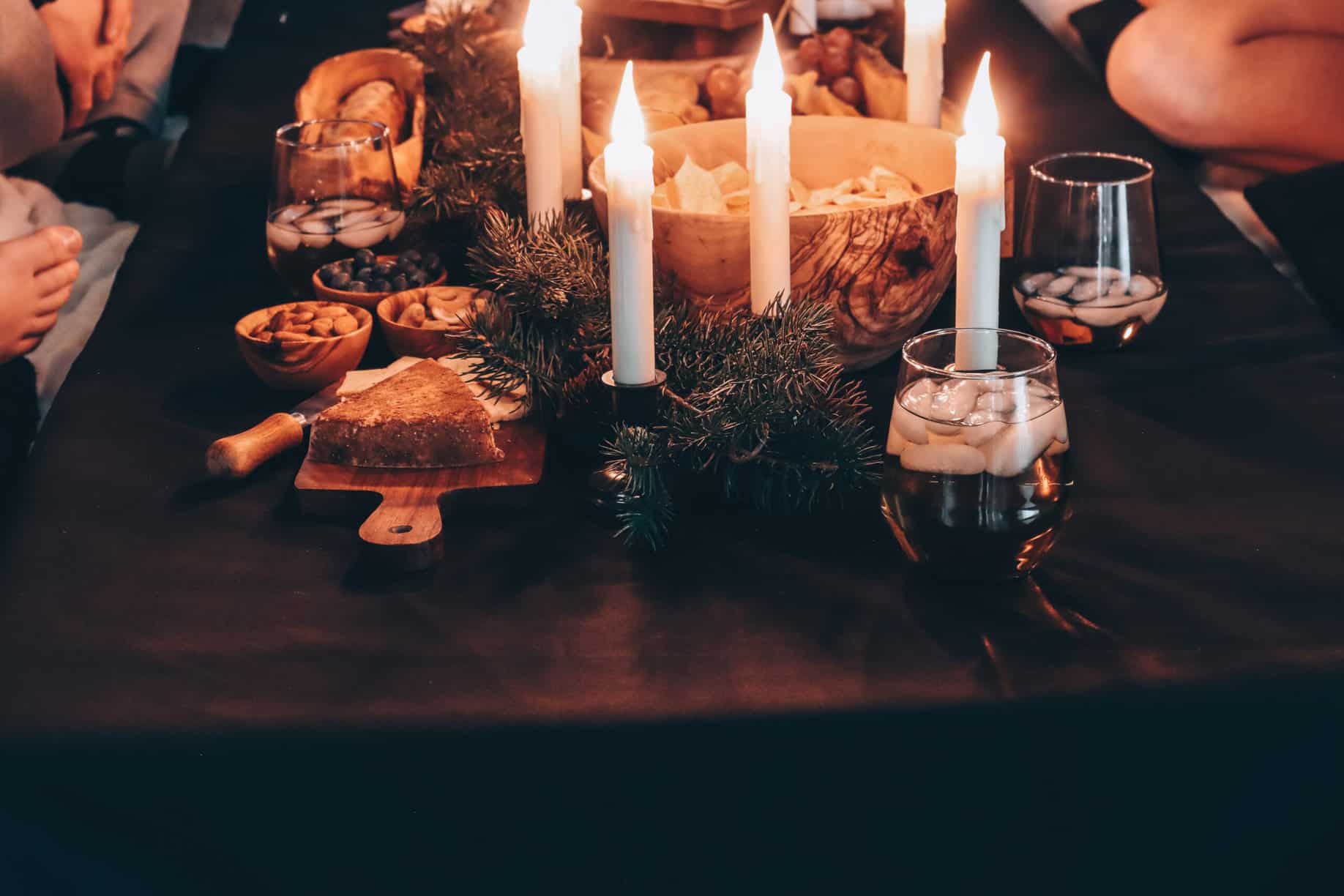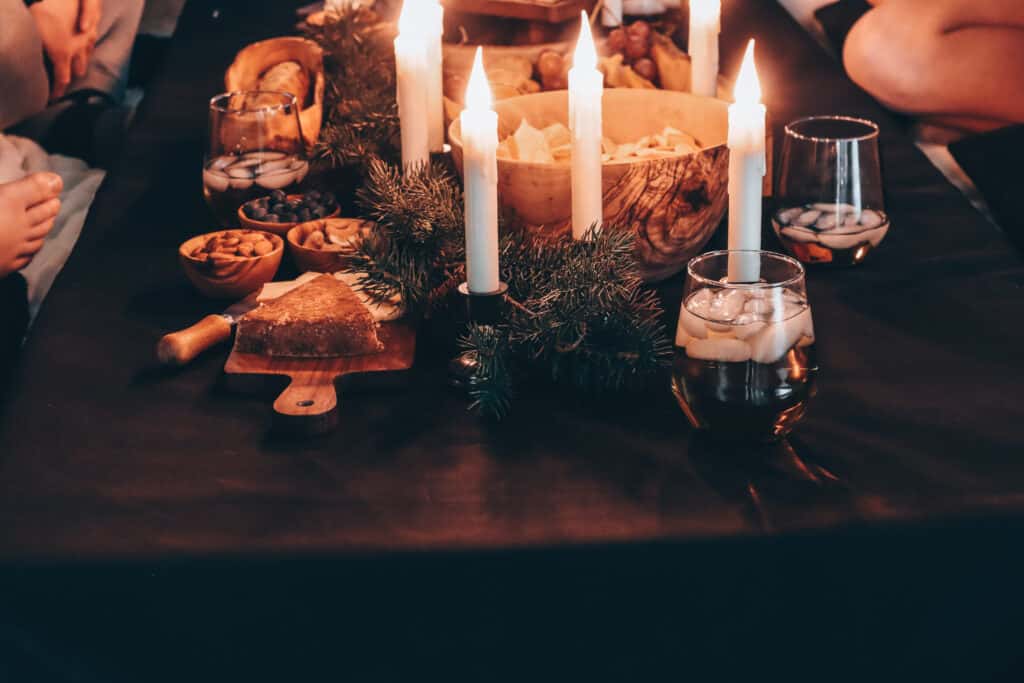 You don't necessarily have to be super authentic with your dishware and decorations, just set up your dinner in a way that can bring the atmosphere you want.
Set up a Low Coffee Table
It's fun to sit and eat on the floor for a change, so find a way to set up a table that is low to the floor so you can eat similar to the shepherds in Jesus Christ's day.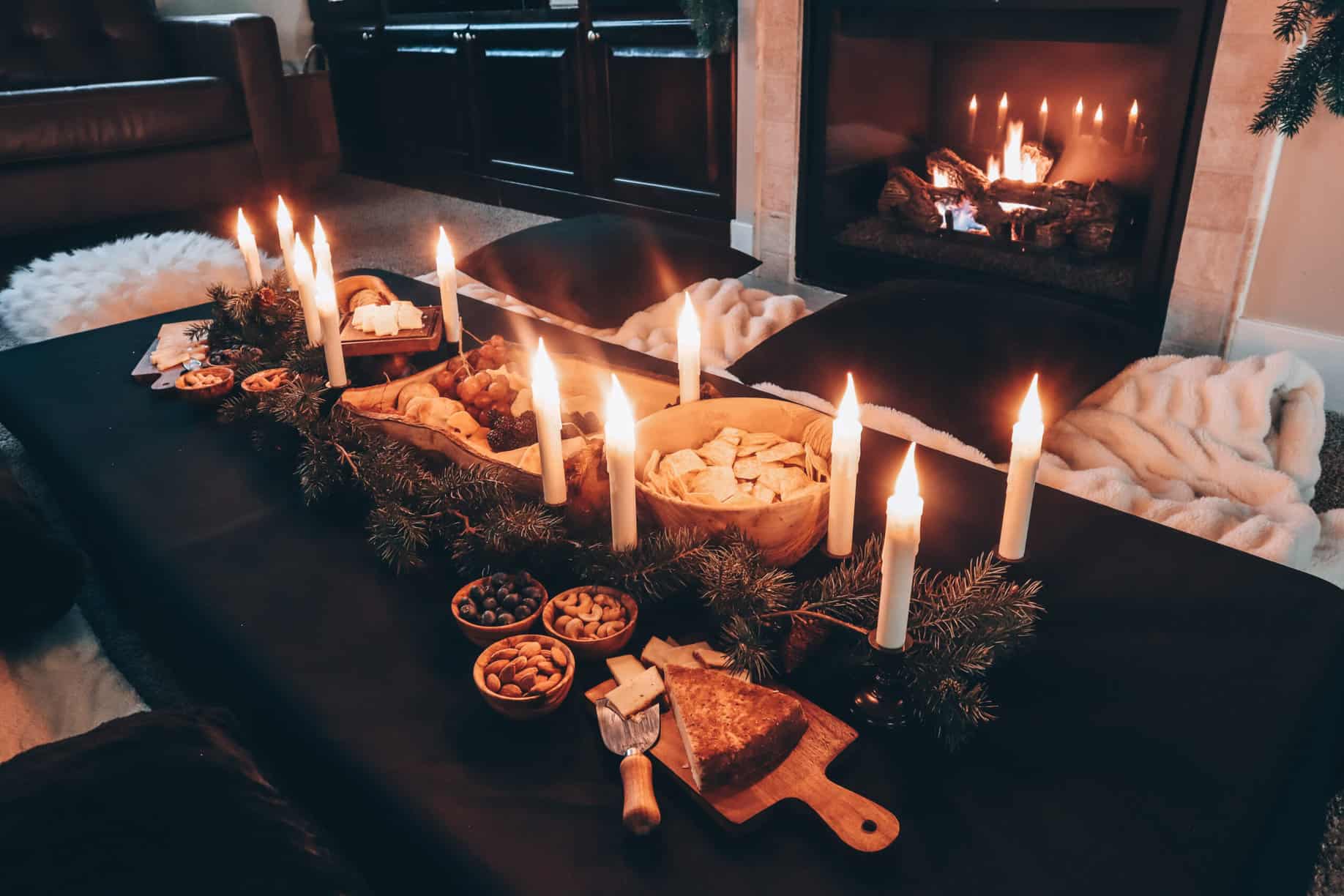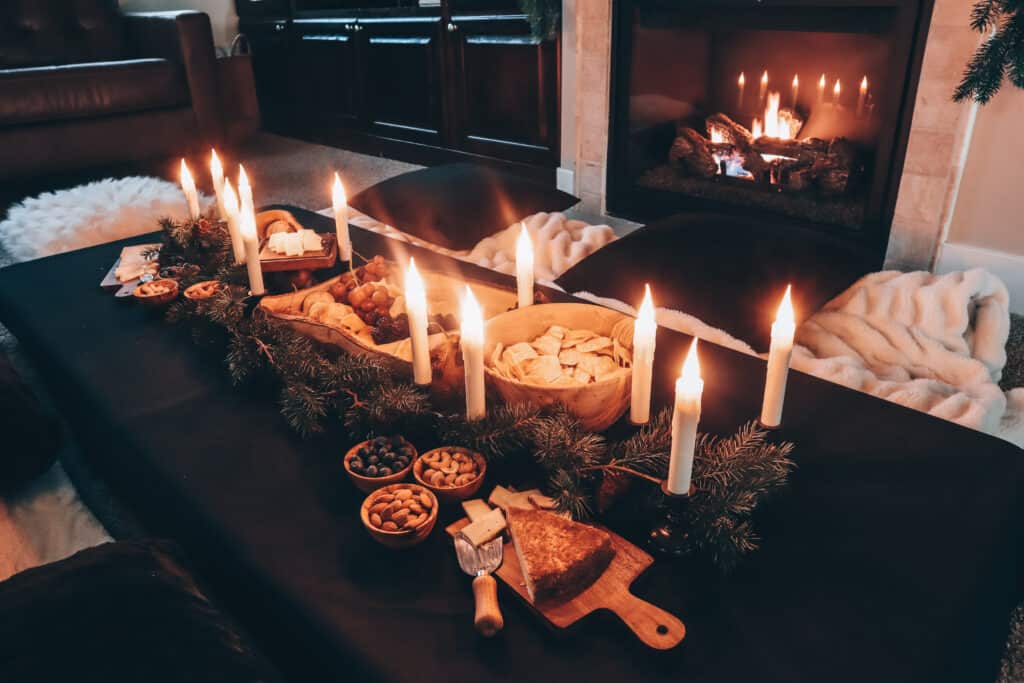 You can use a folding table and put some cans underneath it to give it a little bit of height, or you could even use some folding trays all lined up.
Create a Cozy Atmosphere
I like setting up fake candles like these because eating by candlelight is a fun way to set the mood and pretend you are living in a time long ago. Your children will definitely remember a meal eaten by candlelight! (Depending on how many candles you get and how much light they give off, you might need to have a few lamps to give yourselves enough light to see your food!)
If you want to get really authentic, you can use oil lamps in place of battery-powered candles for your Bethlehem Dinner.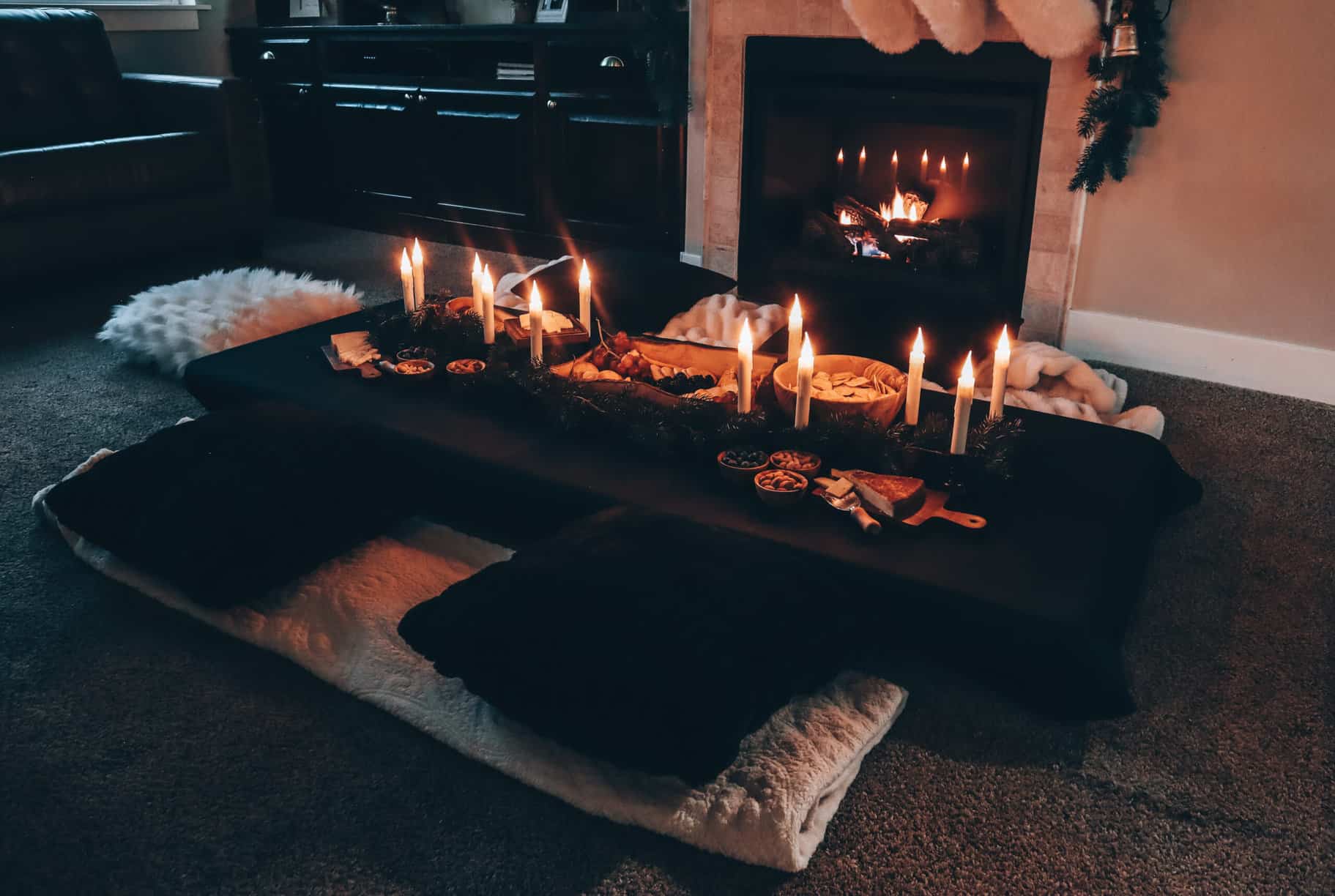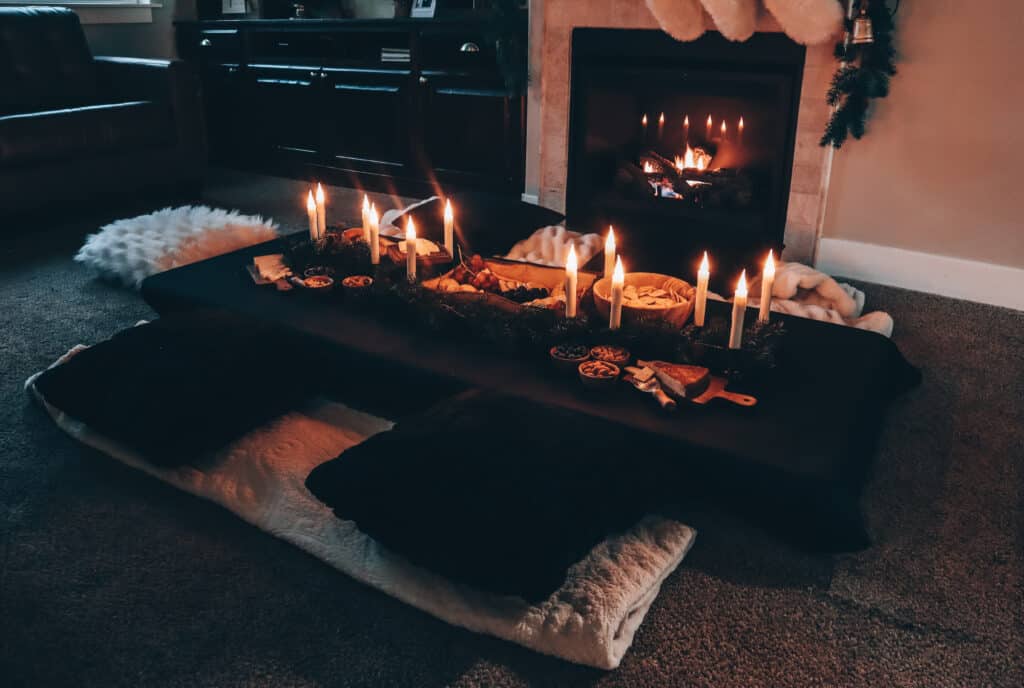 Set out comfy blankets or cushions for everyone to sit on. They didn't have luxurious blankets as we do nowadays but its a unique way to make the atmosphere comfy and cozy. Everyone loves to snuggle up with comfy blankets during the Christmas season!
Dishware for Your Bethlehem Meal
I don't know if shepherds used wood dishware in ancient Bethlehem, but I feel like olive wood dishware really helps it feel like shepherd's night. So if you want to buy new dishes to really set the tone for the dinner, here are some pieces that I love:
My Fave Olive Wood Dishes

Bethlehem Dinner Menu Ideas
To properly celebrate your Shepherd's Dinner, you need food! I went over a few ideas of things to eat earlier, but here are some good options. You can also check out this post, which gives some other menu ideas!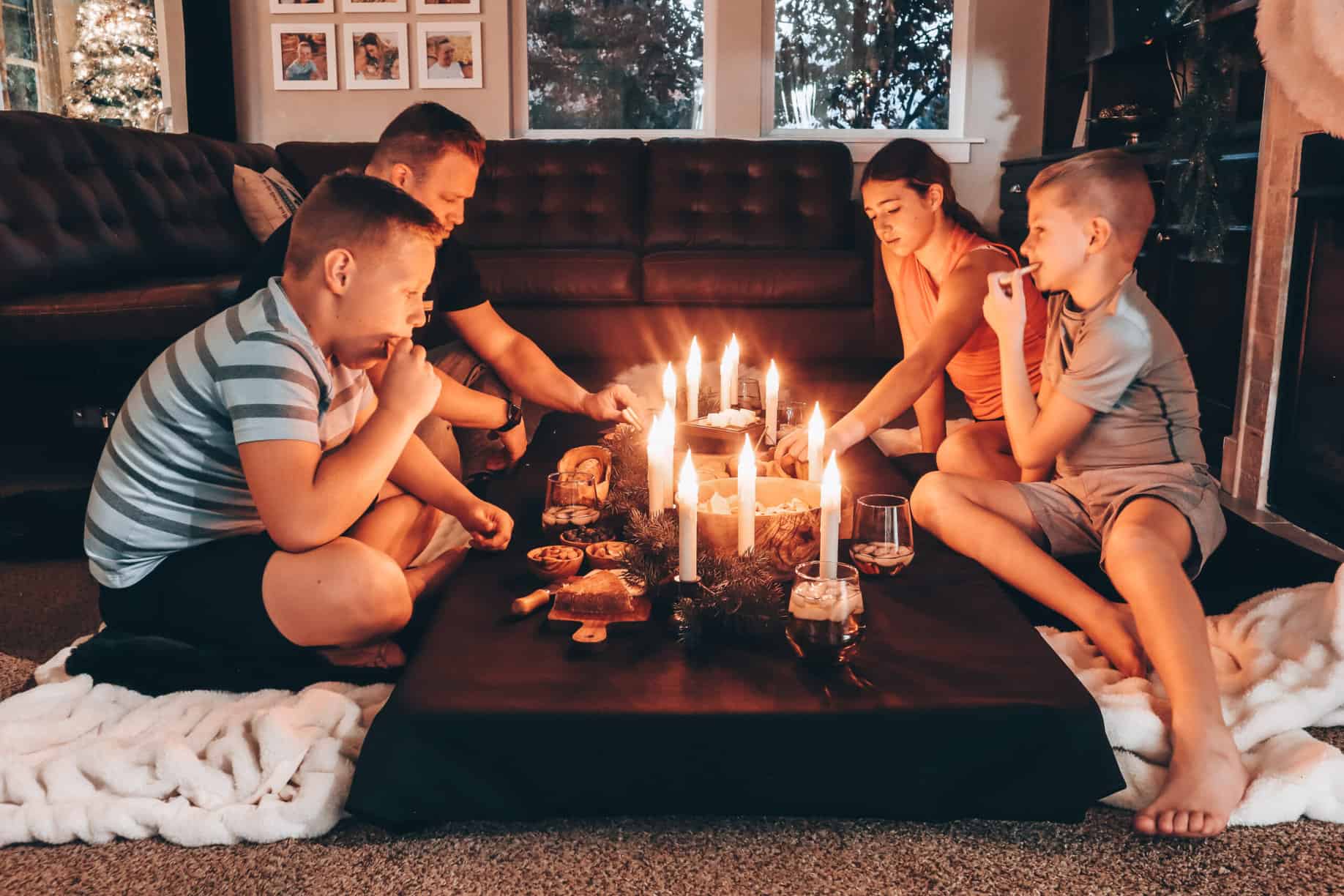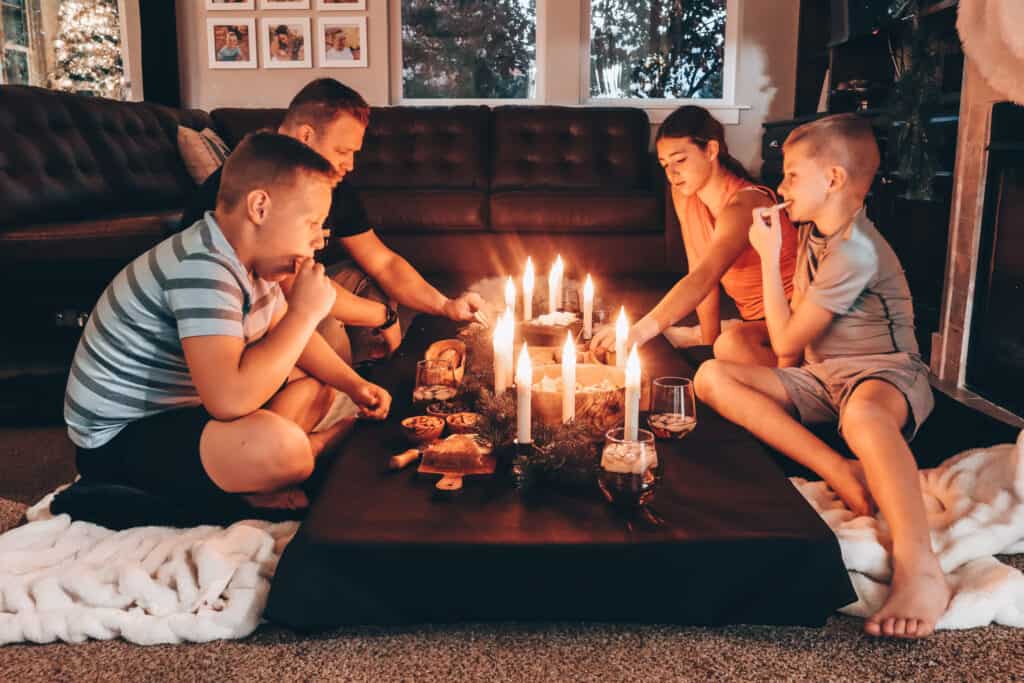 Food Ideas
Remember that you're trying to eat what shepherds ate at the time, or at least a simple meal like they'd have been more likely to eat.
It does make it a bit easier to prepare than most other Christmas dinners since you don't even really need a recipe. Just find simple foods that your family will like and will be filling enough for dinner.
You can make a charcuterie board, or something like that, with cheese, nuts, crackers, olives, grapes, other fruits and veggies, and some simple meats (like lunch meat).
You could also serve a salad and some bread. If December is cold where you live, it can be nice to prepare a simple soup or broth as well so you have something warm.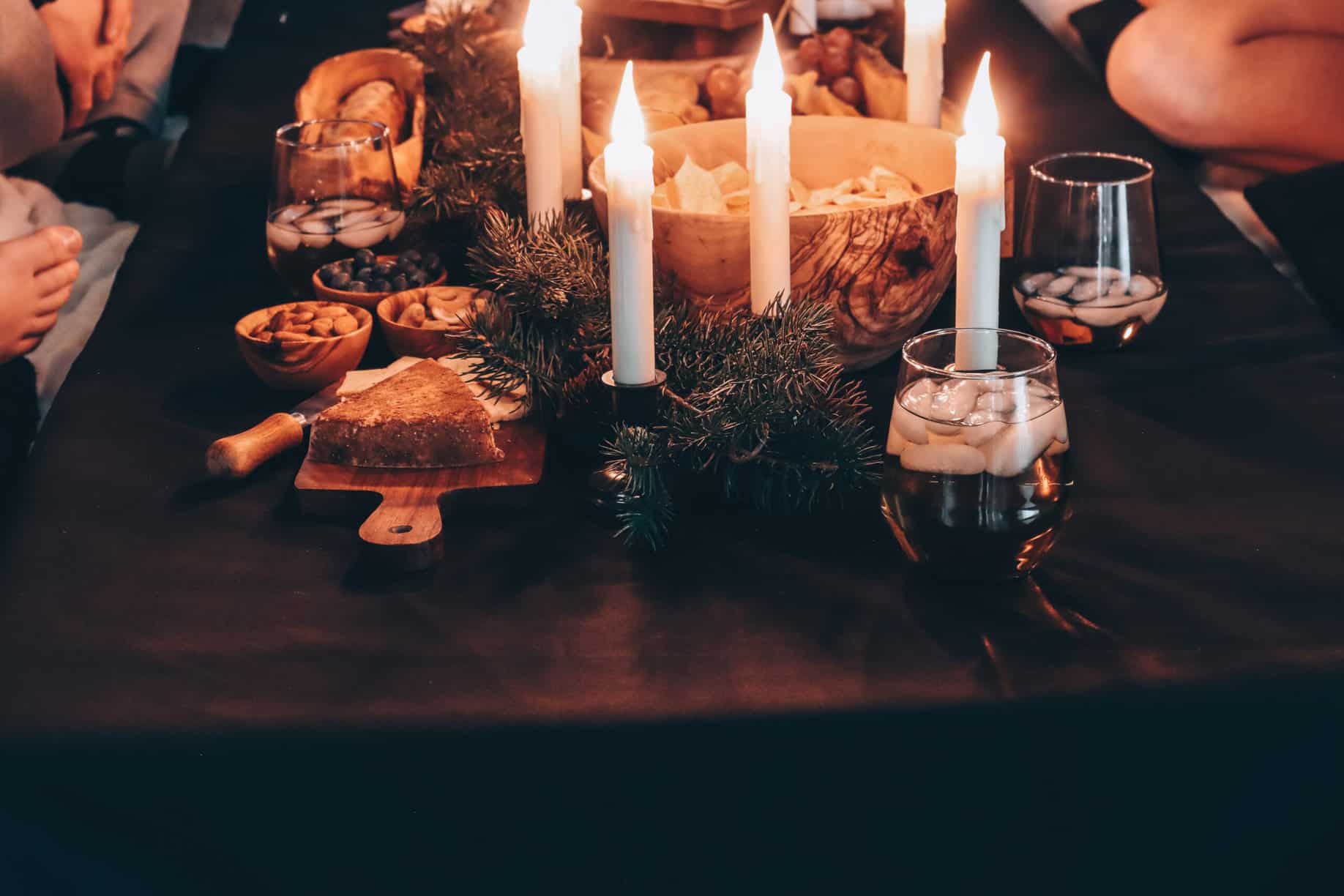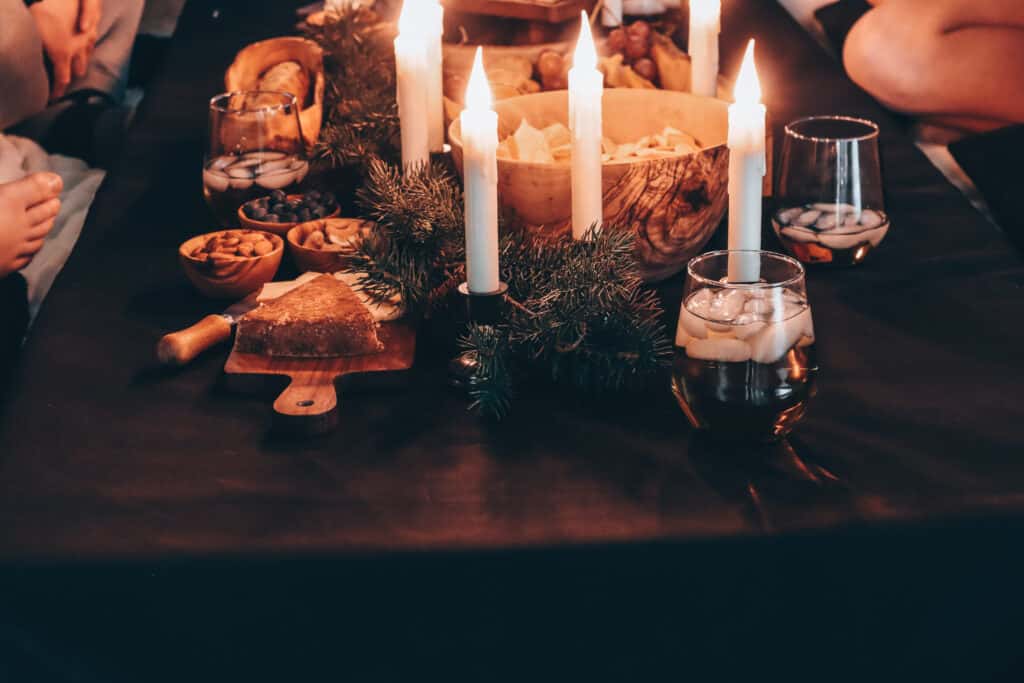 For Drinks
Planning drinks for your dinner is pretty easy! You can just serve water, but you can also have some other options.
This mint lime lemonade is really delicious! It's a nice fresh taste your whole family will love (and friends if you've invited guests). You can also serve something like grape juice or another juice your kids will like. If you want something warm, you can make herbal tea!
Activity Ideas for a Christ-Centered Night
If you want to add on some activities to really celebrate Jesus and his life and service that evening, you can do a few things!
Read Luke 2 in the Bible or another children's book about the Savior (you can use any of the options I mentioned earlier or choose a different one). You could also watch a video about Jesus and his life.
You could also do a nativity-themed craft like painting pictures or making a construction paper project. You could even act out the biblical account of the nativity while reading Luke 2.
Another great way to get into the spirit of Christmas time is to do service for neighbors or a family member. Visit an elderly family member or friend, volunteer at a food bank, or donate winter coats, food, or your time. There are lots of great ways to serve others, especially during Christmas.
Nativity Activities You'll Love

Celebrate Christmas a Different Way This Year
Hopefully, you've got an idea or two from this post that will help you create a wonderful Jerusalem Dinner this year. It's a family-favorite tradition for sure. You can also invite neighbors or other families to join you for the meal.
You can hold the meal on Christmas Eve or another night throughout the month of December – anytime works as it simply serves as a reminder of Jesus.
I hope you enjoy your Jerusalem Dinner and have a very merry Christmas!