5 Lego Storage Ideas That Your Kids Will Love
If you clicked on this post, you're either one of the crazy people like me who wants to implement a Lego organization system or you're wondering who in the world would take the time to organize their kids' Lego bricks.
About a month ago, I redid my boys' play area and purposefully left off the section of the playroom that has all the Legos because the Legos deserve a post all on their own. 😉
If you have a child that is a Lego enthusiast, I'm sure you've tried to think of ways to organize Lego sets. No one likes looking at an entire room covered in Lego pieces, especially when you accidentally step on one that's been left out on the floor!
So here is how to organize Legos, along with my favorite Lego storage ideas that I have implemented in my own home.
*This post may contain affiliate links, which means I may receive a small commission, at no cost to you, if you make a purchase through a link!*
Want to see the rest of my Playroom Organization and Playroom Decor Ideas? Check them out here!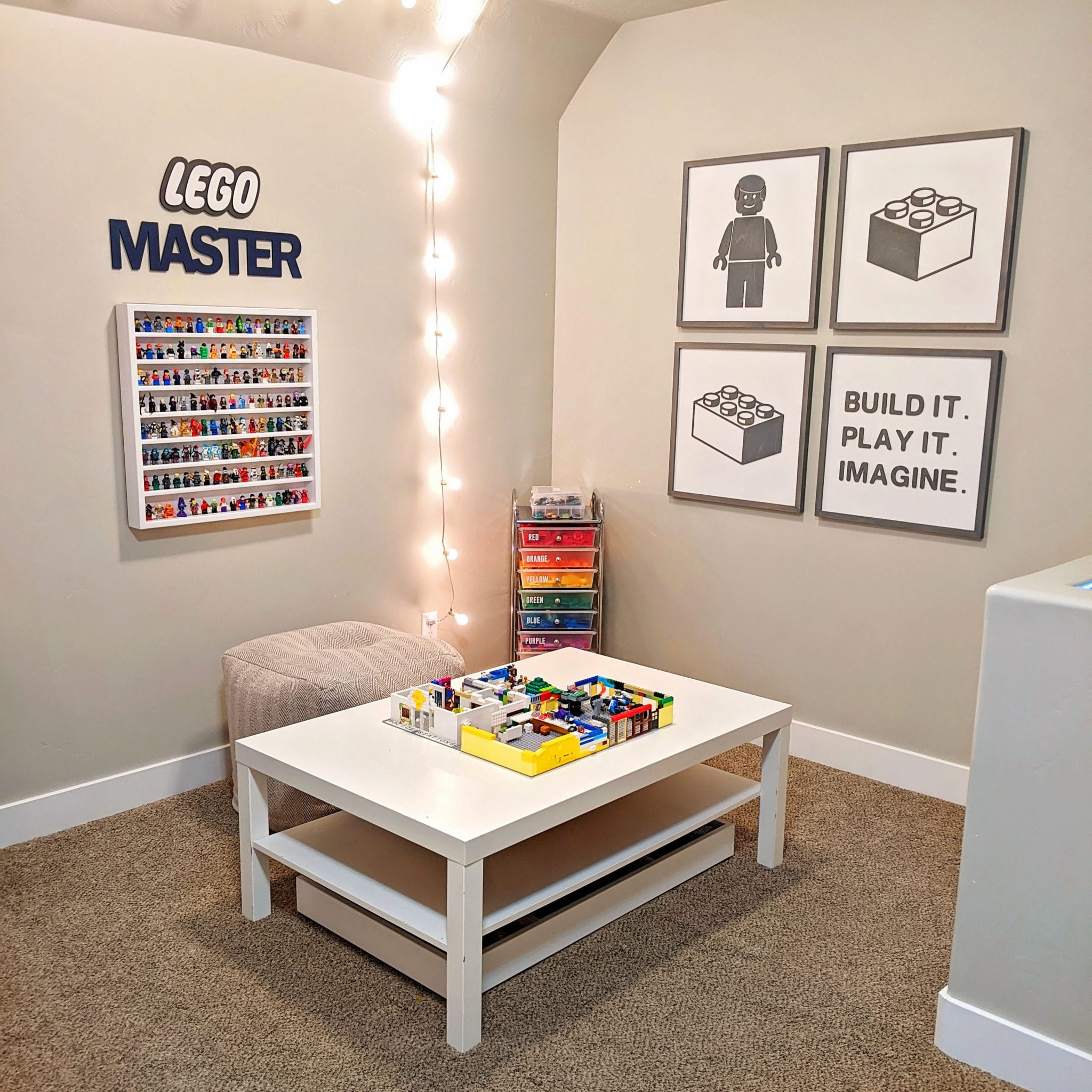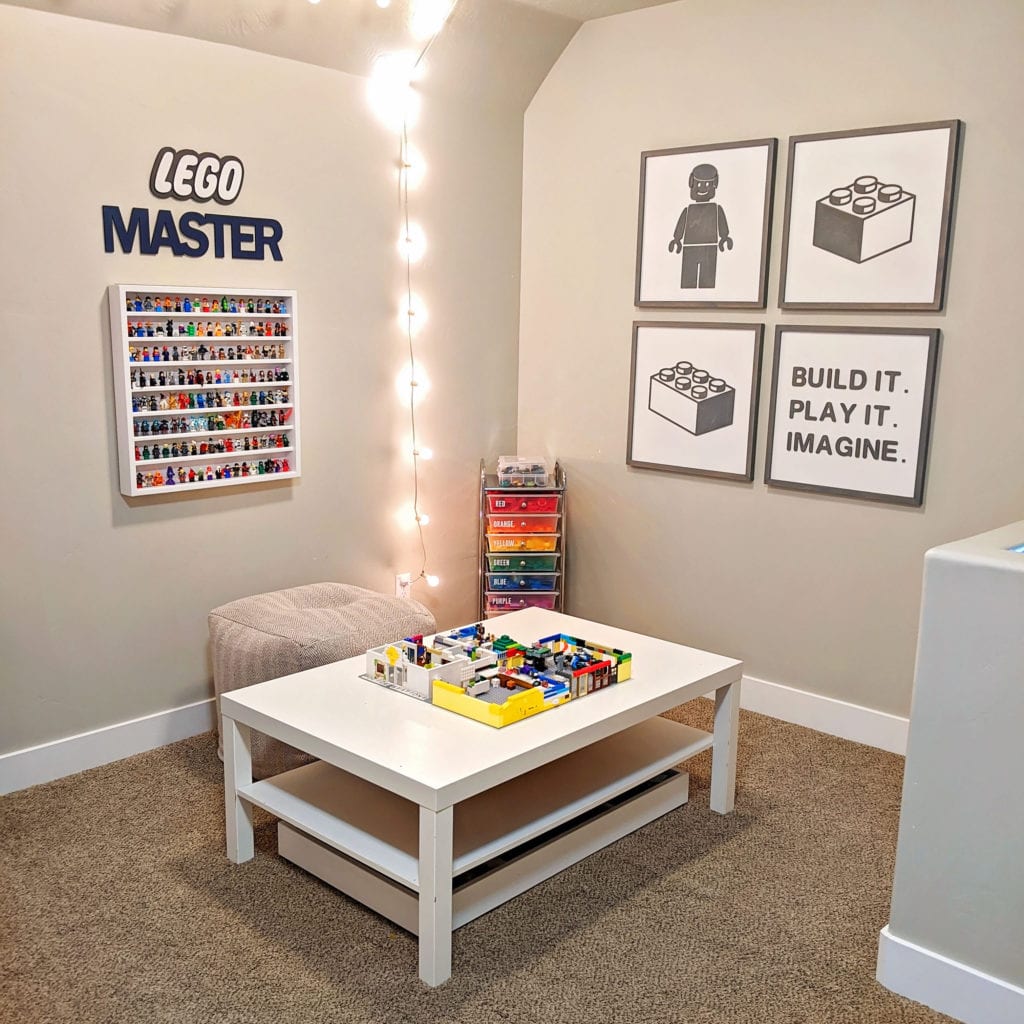 Why Organize Your Legos?
First of all, I wanted to address why in the world somebody might want to organize Lego bricks. I mean, it's not like it's easy to organize or store Lego sets… there are hundreds of thousands of pieces!
I'm sure there are many reasons that some people choose to organize their Legos that vary on the scale of crazy. But I have two main reasons why we organize the Lego pieces at our house.
The first reason we organize our Legos is that it looks nice. Organization in any room in the home helps make you feel calm and happy because everything is in its proper place. And looking at color-coded organized Legos does that for me… it makes me feel much better knowing all the bricks are put away in storage bins.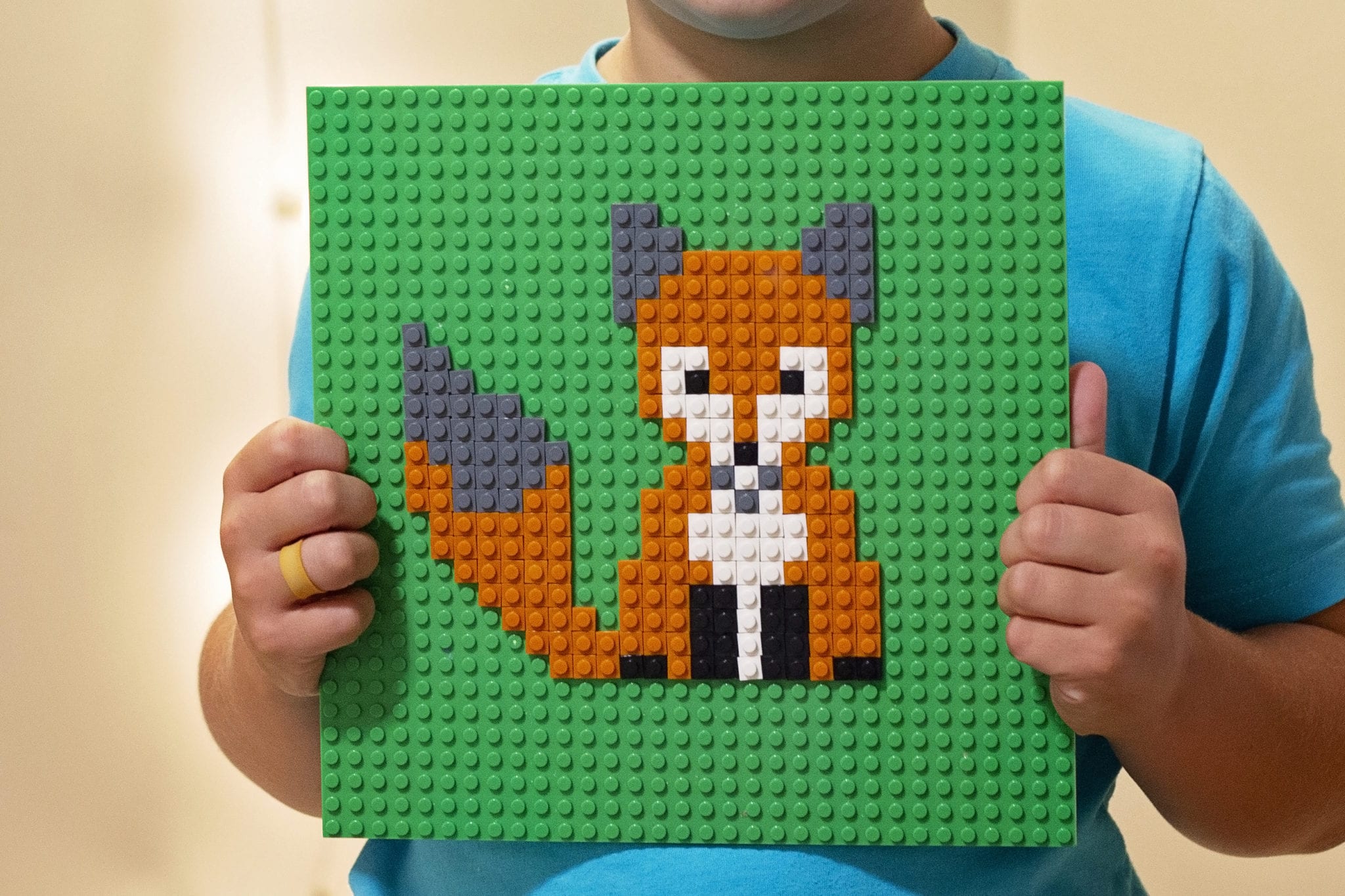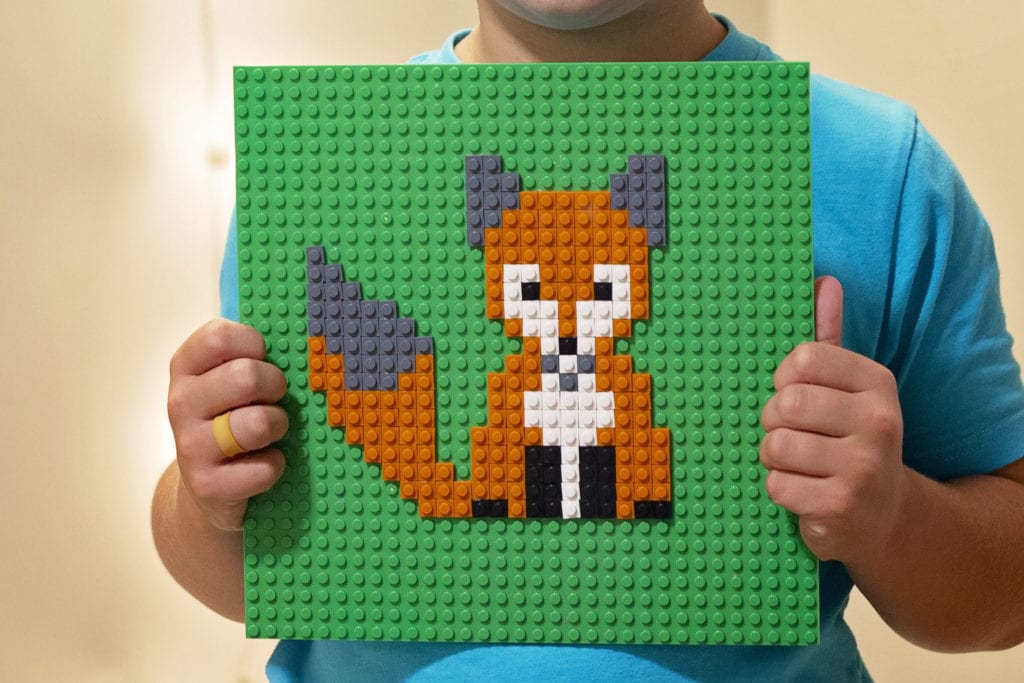 But the main reason why I organize our Lego bricks is that my kids love it! They love being able to find the tiny pieces that they need faster and it's so much more fun to build that way.
One thing that I also wanted to mention was that I don't sit and organize my kids' Legos for hours upon hours. I definitely do help out, but they are big helpers when it comes to keeping the Legos organized. And we do it often so that it isn't so bad when it needs to be done.
If you're putting off organizing and storing Lego pieces, don't worry! It might take a little while the first time, but include your kids in the process so they know where everything goes when they are cleaning up.
A Place to Build
If you have Lego fanatics at your house like I do at mine, having a Lego section of your house can be a dream come true for your kids! Or for you!
I grew up playing Legos with my family. I still have this vivid memory of the sunshine coming through the window on a Sunday afternoon building a new Lego set with my brothers and my dad. I want to recreate those memories for my kids.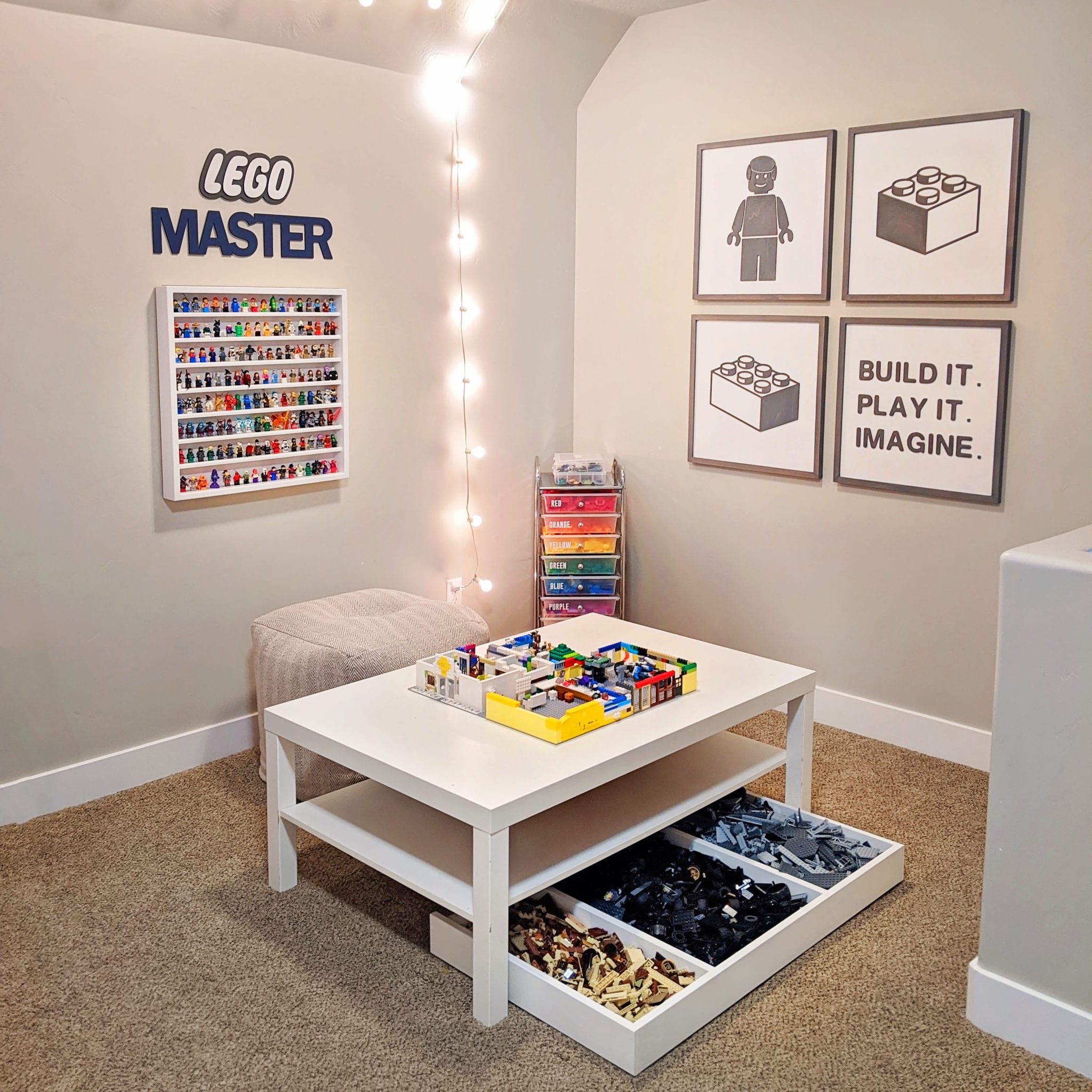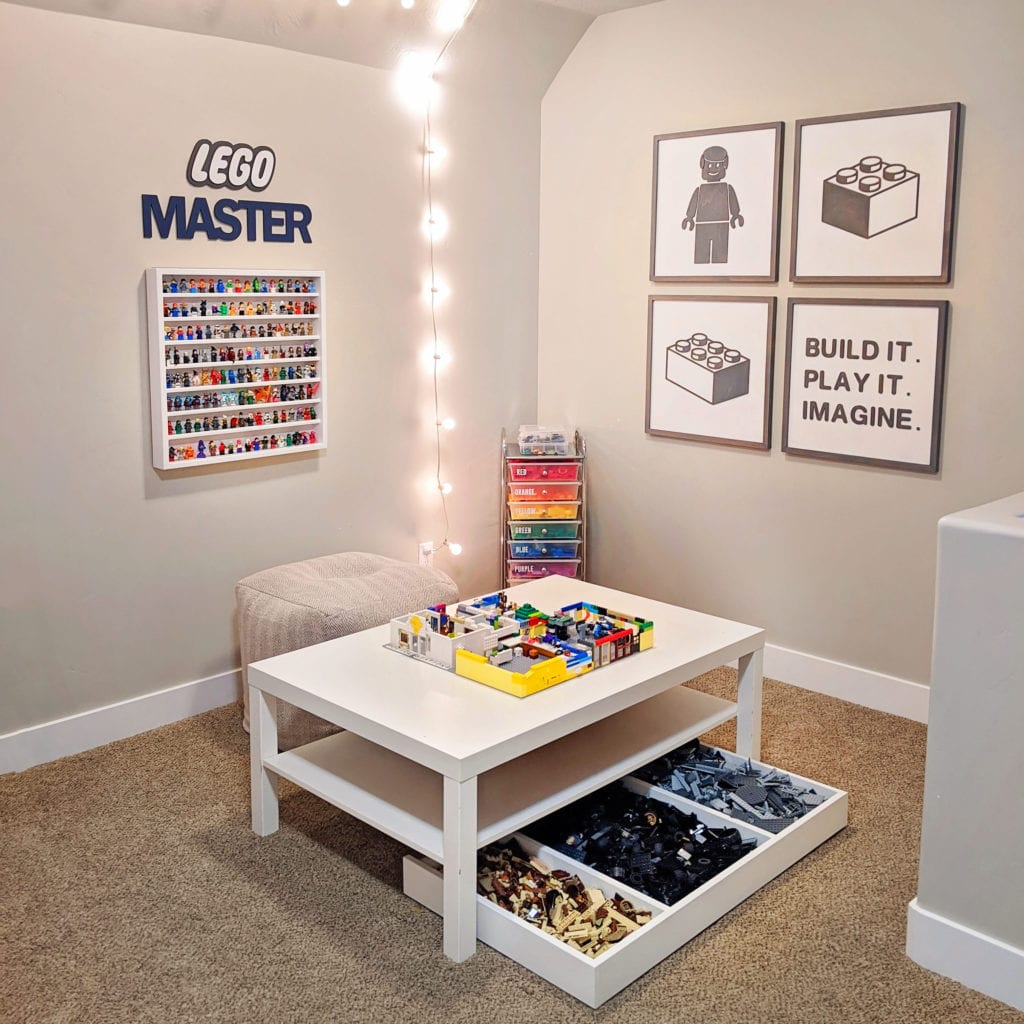 Having a specific area set aside will really help keep Lego bricks from infiltrating all parts of your house.
We bought this IKEA Lack Table for our boys to use when they were building Legos years and years ago. It is probably our most used piece of furniture in the whole house! It also helps to keep Legos off the ground. But there are no guarantees for that. 😂
I found these awesome Peel-and-Stick Lego baseplates that have an adhesive backing so I stick them onto the Lego table and the boys always have somewhere to build. They're super awesome if you want to check them out here.
They also love their Pixel Bricks (it's just like the mosaic art that you see at Lego Land!) CreativeQT was so nice enough to offer a 15% discount for my readers on their website (code: PRACTICALPERFECTION)
If you don't want to get a brand new table to organize Lego pieces, you can use a coffee table you already have and use clear plastic bins or storage containers that can slide out underneath like drawers. There are lots of creative ways you can store your Lego parts, so look at what you have or the space you have in your home for a good storage solution.
Minifigure Display Case
Over the years, my boys have collected so many Lego minifigures! The trouble is that they can't ever find the ones that they want because they're always buried in a bin somewhere. Or they have an arm missing or something!
So when I saw this Lego minifigure display case on Etsy I knew this was a perfect solution!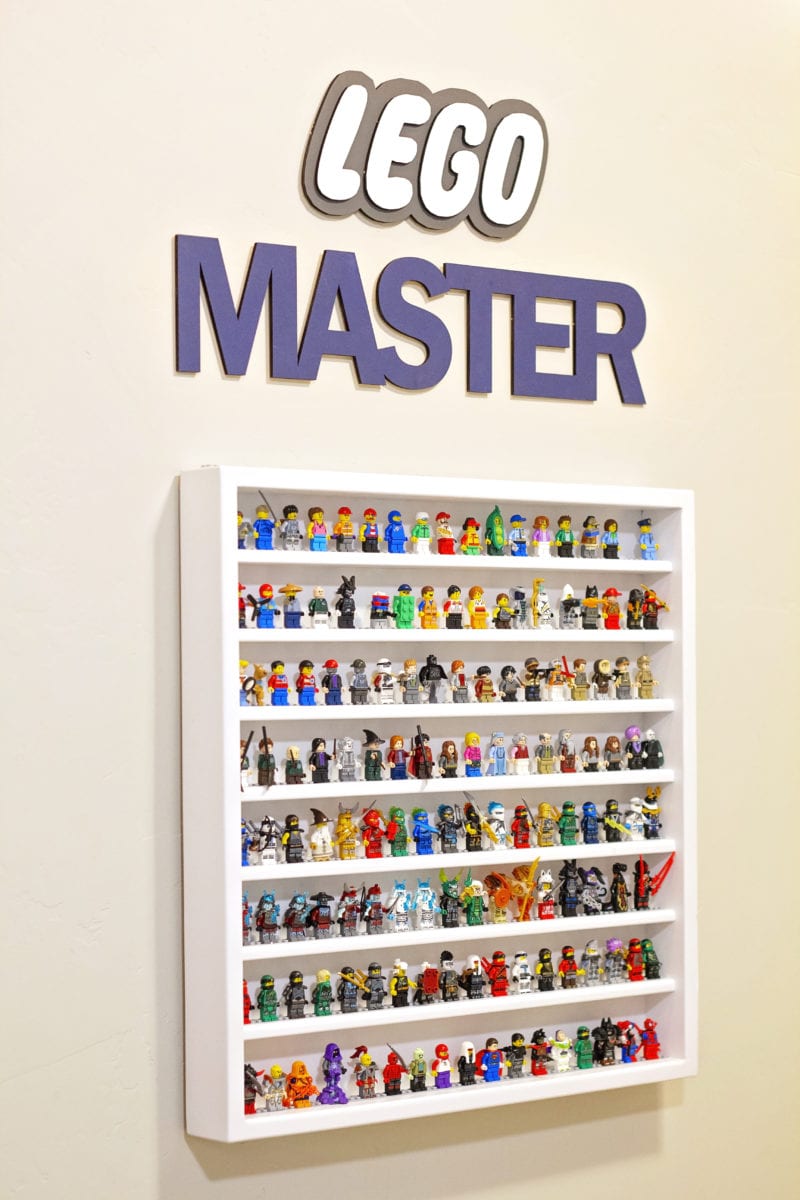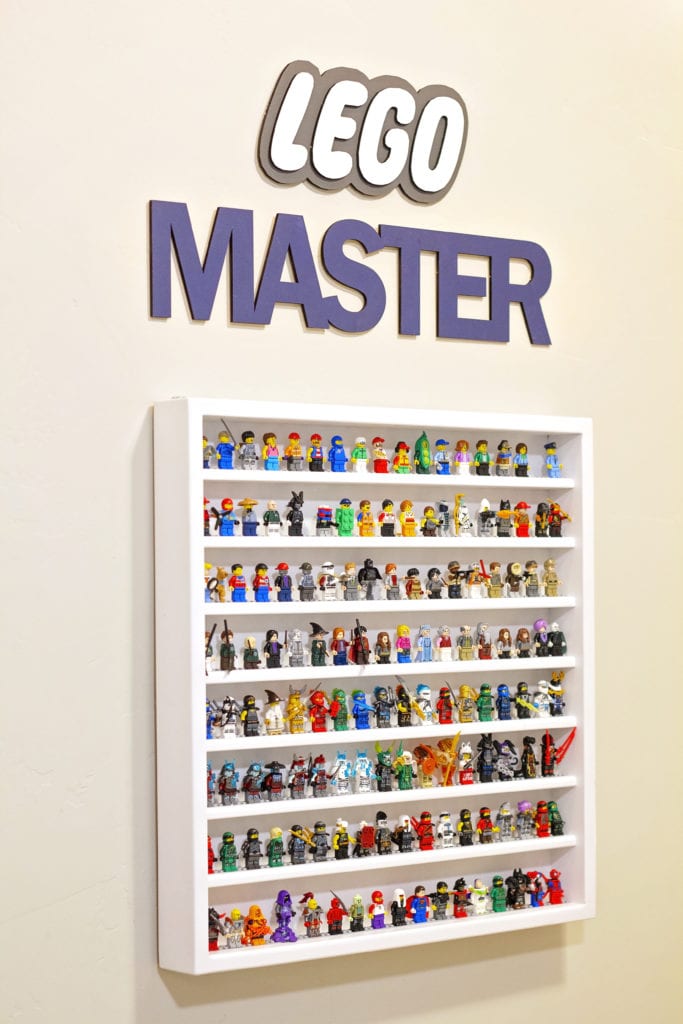 My boys love seeing all of their minifigures on display and it's so much easier for them to keep track of all of them.
The quality and craftsmanship of this Lego display case are excellent! The best part is that it has a Lego inlay on the shelf so that the Lego Minifigures literally click into the shelf so they don't fall over if someone bumps the shelf. This is by far one of my boys' favorite Lego storage ideas.
I also really like the shelf underneath where the boys can store their Lego sets or creations that they aren't currently working on.
This is a great way to utilize wall space for more storage. I think we often forget that Lego characters can also act as decorations, but it's a really fun way to show off your kids' creations while saving on storage space.
Lego Drawers
This is the part that gets people thinking that I'm a crazy person. Color coding the Legos!
Like I mentioned above, we really do love having our Lego bricks organized because it is so much easier to build things and to find the pieces that you need. I bought this eight-drawer cart a few years ago.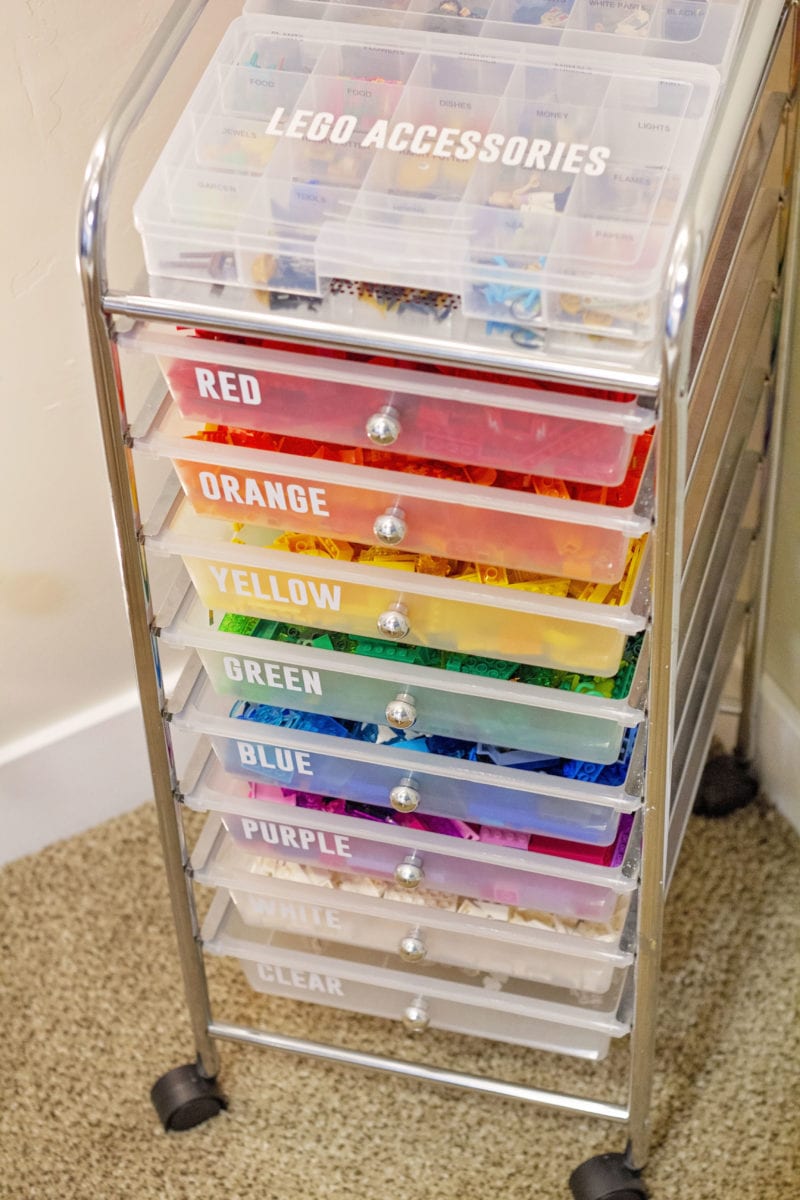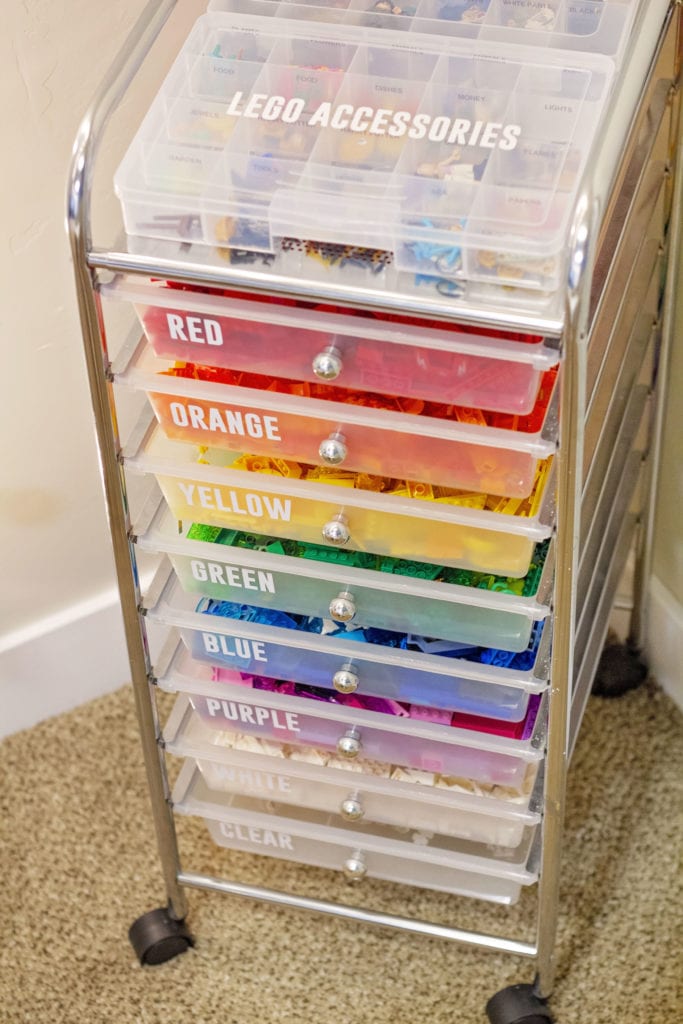 Just recently I used my Silhouette machine to put white labels to match the color of the Lego on the outside of each drawer. It looked good before but the labels really put the finishing touch on and I just love how it turned out!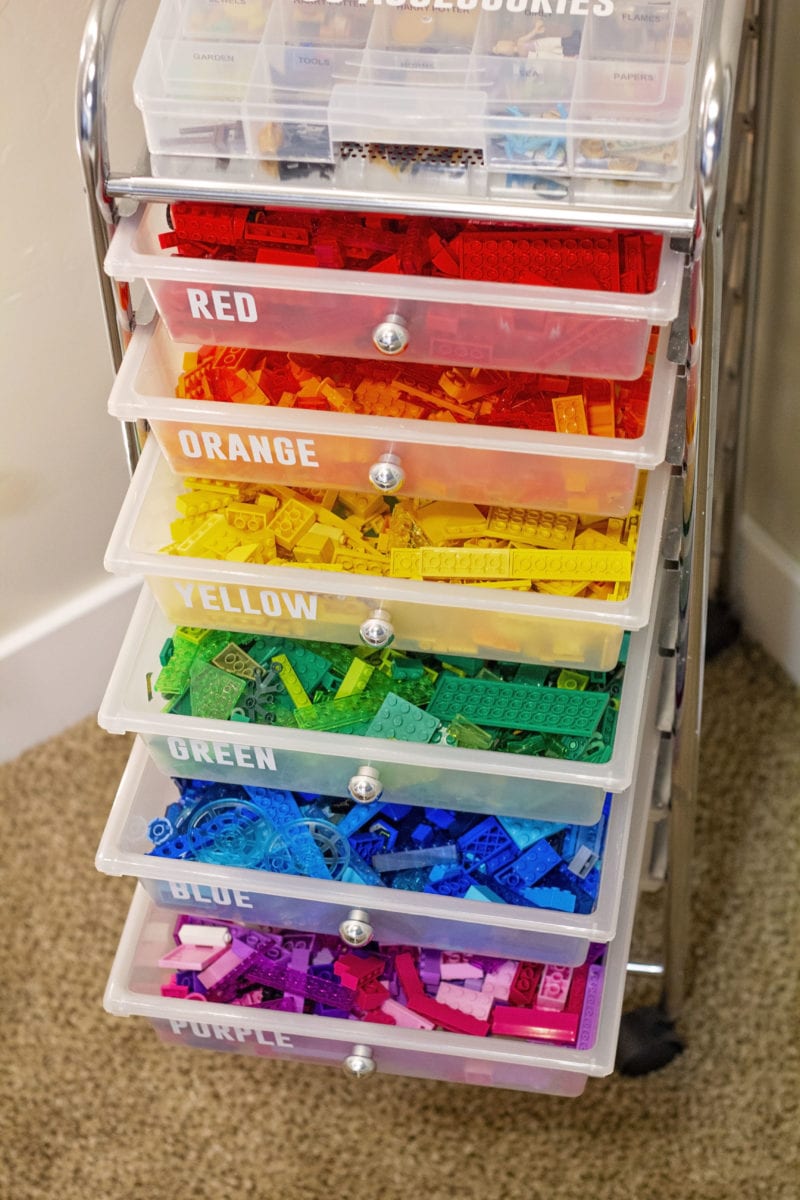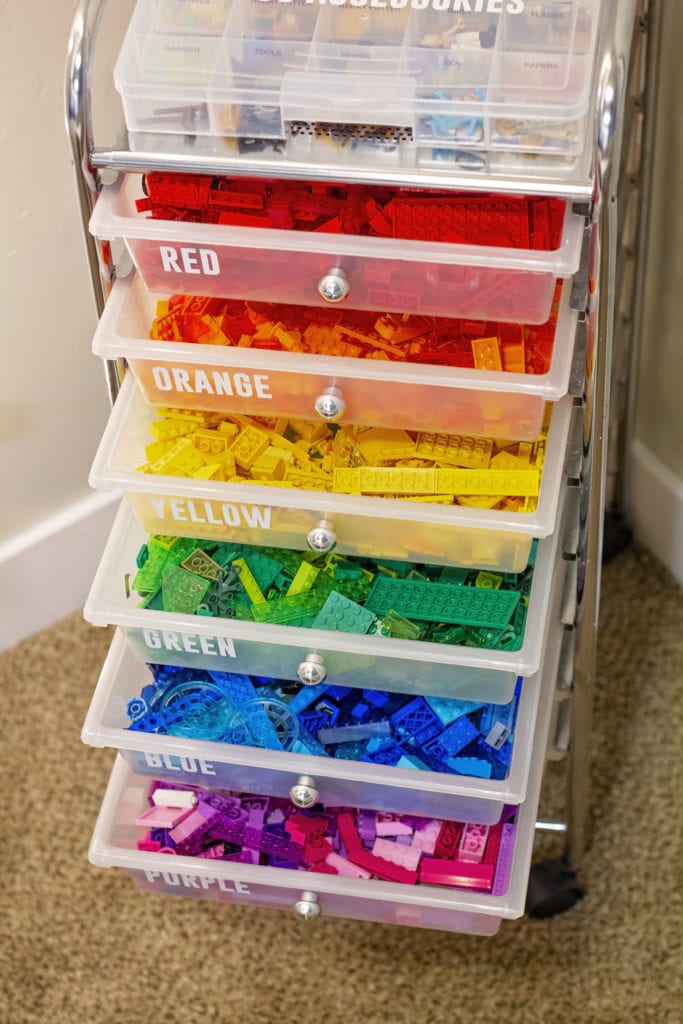 If you are looking for a cart with bigger drawers (and more drawers!) then check out this drawer unit here on Amazon.
Separating by color is a great way to store Lego bricks because it makes it easier for the kids to find the color they need, and it looks really nice and organized as well!
Lego Storage Boxes
It seems like the Lego accessories are always hiding in the deepest parts of the Lego bins and my kids can never find the best Lego pieces! This is one of my favorite Lego storage ideas because it helps keep track of all of the fun pieces that they love to play with.
So I decided to create 2 separate Lego accessory containers to help them keep better track of the fun stuff. You can buy these containers at any craft store in the bead section, or you can get them on Amazon here. I also used my simple label maker to label each compartment.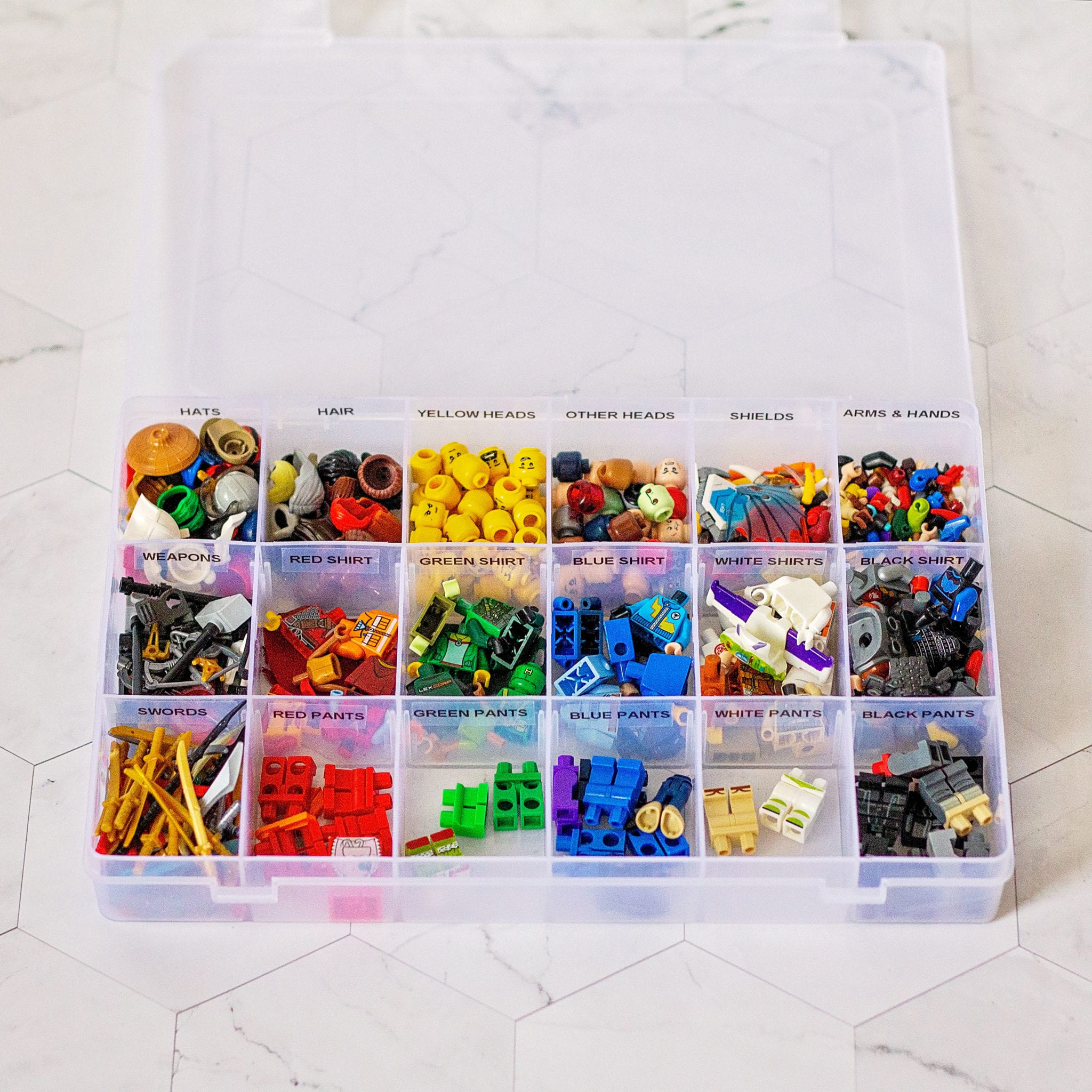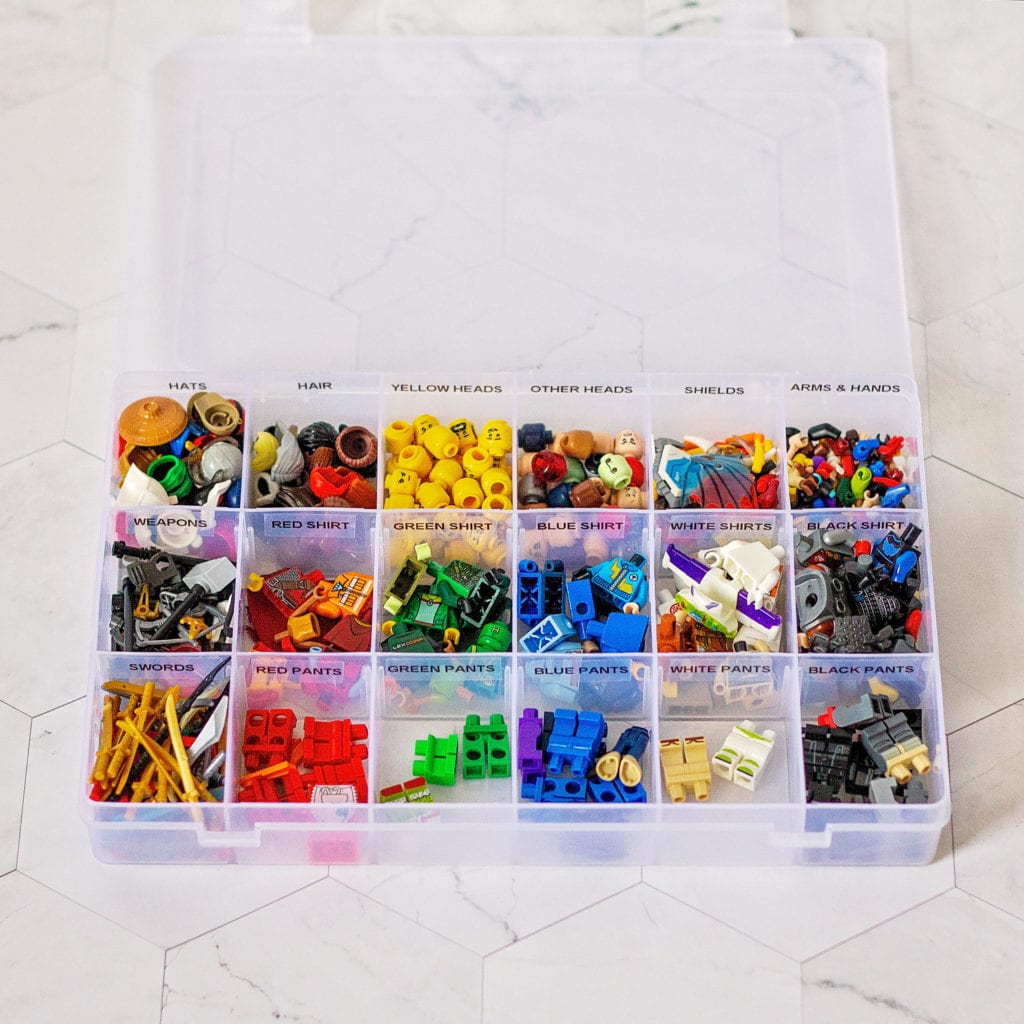 One of the small plastic storage bins holds all of the body parts that you need to make up a Lego minifigure. And then I took it a step further (since there were so many!) and tried to organize them according to color as best as I could.
I had no idea how many Ninjago swords we had until I did this! Crazy!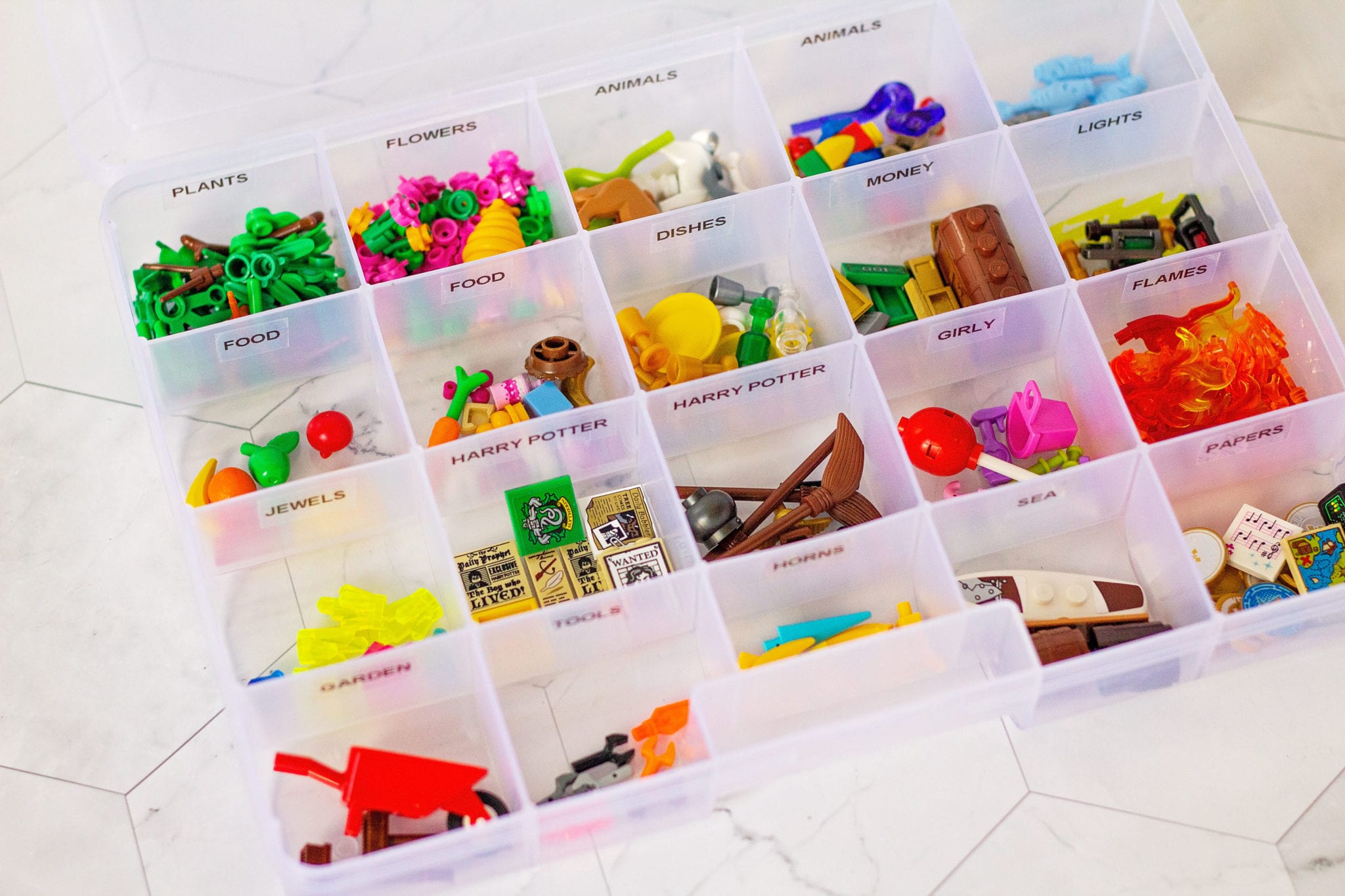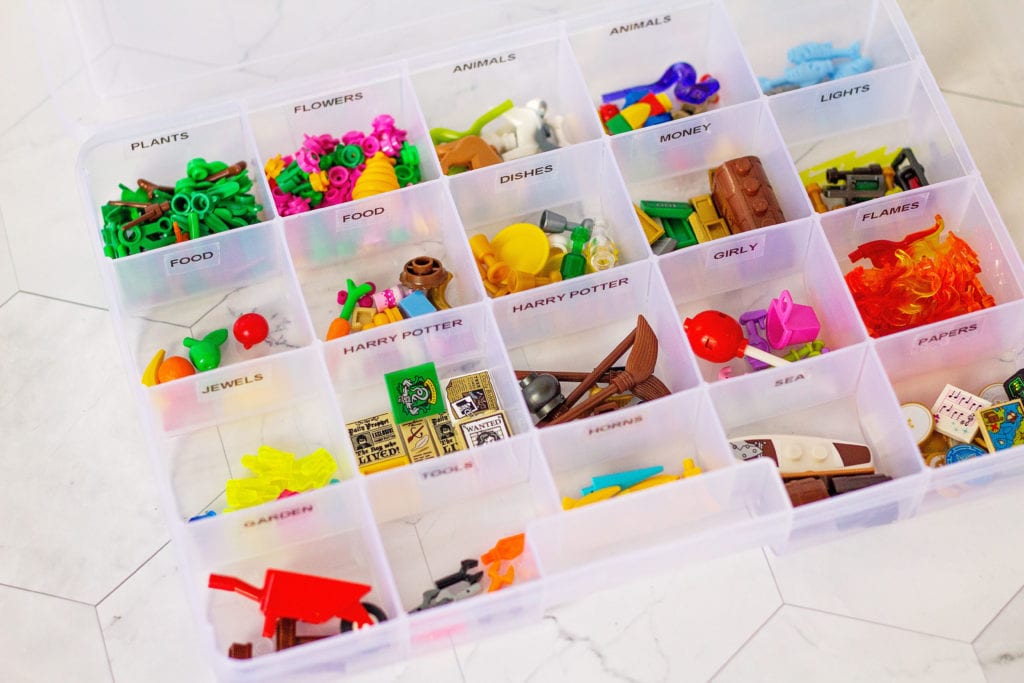 The second container holds all of the other random special pieces that the kids love to play with. I have a section for money, food, animals, flames, plants, flowers, dishes, and I even have a section for the Harry Potter-themed items!
Lego Pull Out Drawer
As my boys' Lego collection has increased over the years (that's all they ask for for Christmas and birthdays) it became clear that the black, brown, and gray Legos weren't going to fit in the small drawers anymore. They were overflowing and you could hardly sift around in the drawers without everything spilling over.
So I looked for a Lego storage idea that wouldn't take up much extra room in the playroom.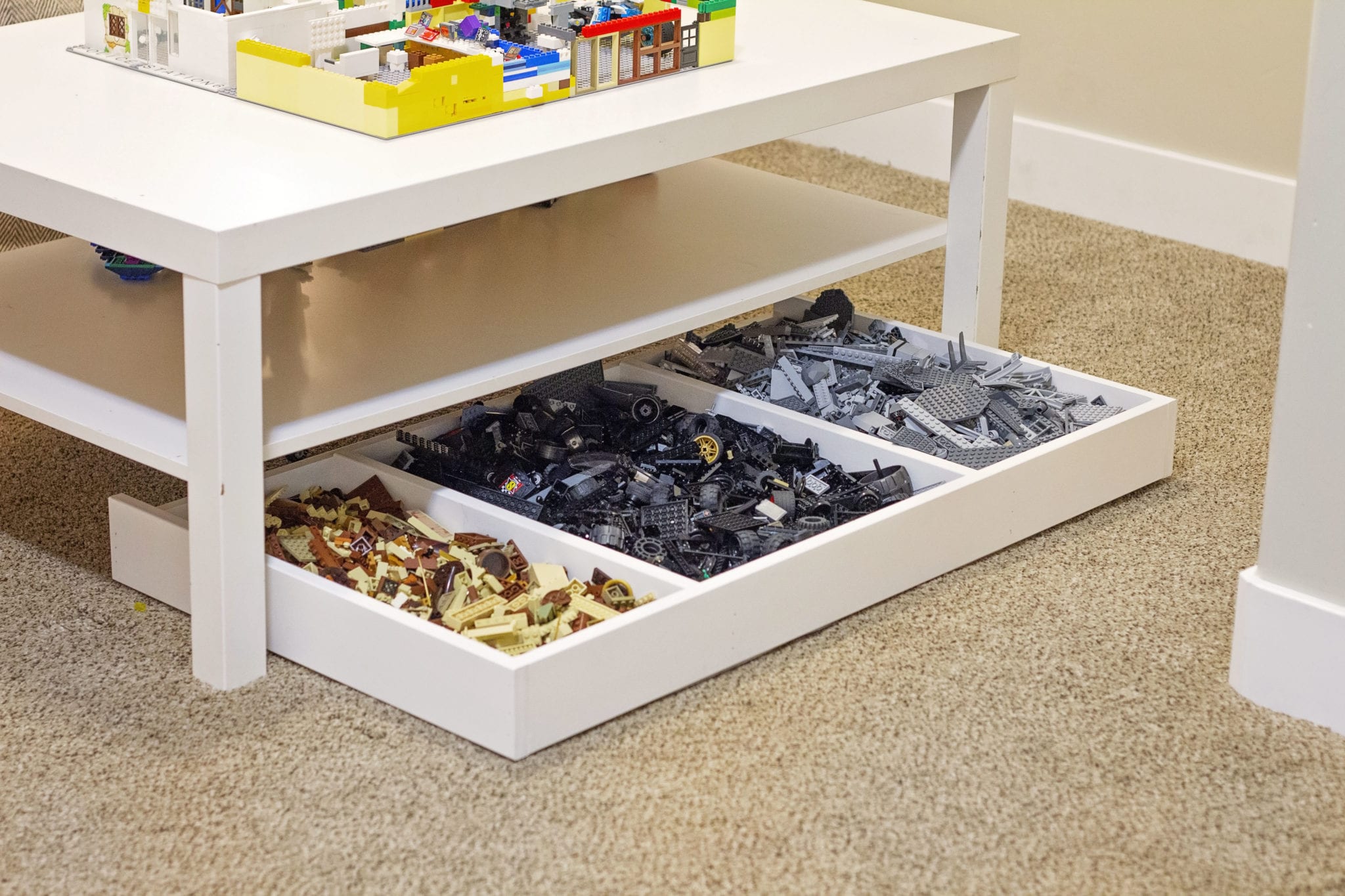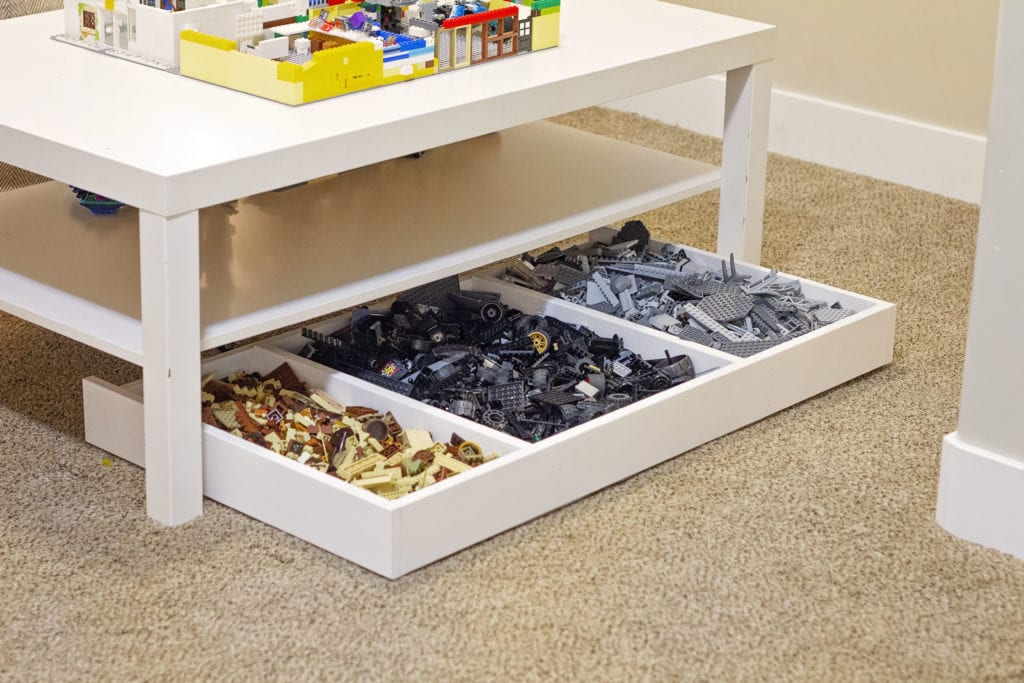 So I decided that it was time to build a simple Lego organizer that could easily pull in and out from under the Lego table when they needed it. We've used it for a few weeks now and it's worked incredibly well!
If you have hard flooring you could also consider putting casters on the bottom of your plastic bins or drawers. I used this tutorial as a guide for creating our Lego Storage Box.
Decorate it!
I really wanted to have a Lego section of the playroom that both I and the boys would love. I wanted to give them easy access to their Lego pieces while storing them in a way that would still match the style of the playroom.
I found these really classy Lego signs from The Handmade Sign Company that are just perfect for the playroom! I'm super impressed with the quality and my boys were freaking out when they saw them! The creator was also really nice and included a 15% discount for all of my readers using the code: PRACTICAL15.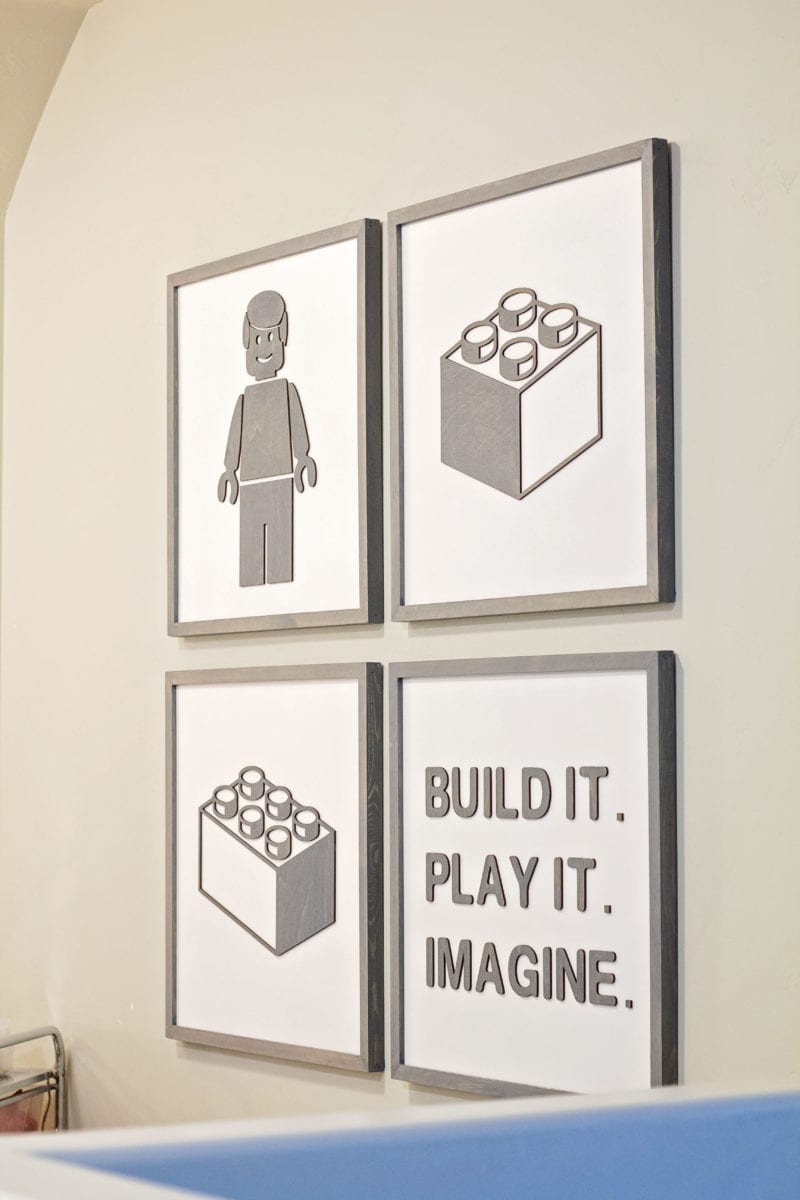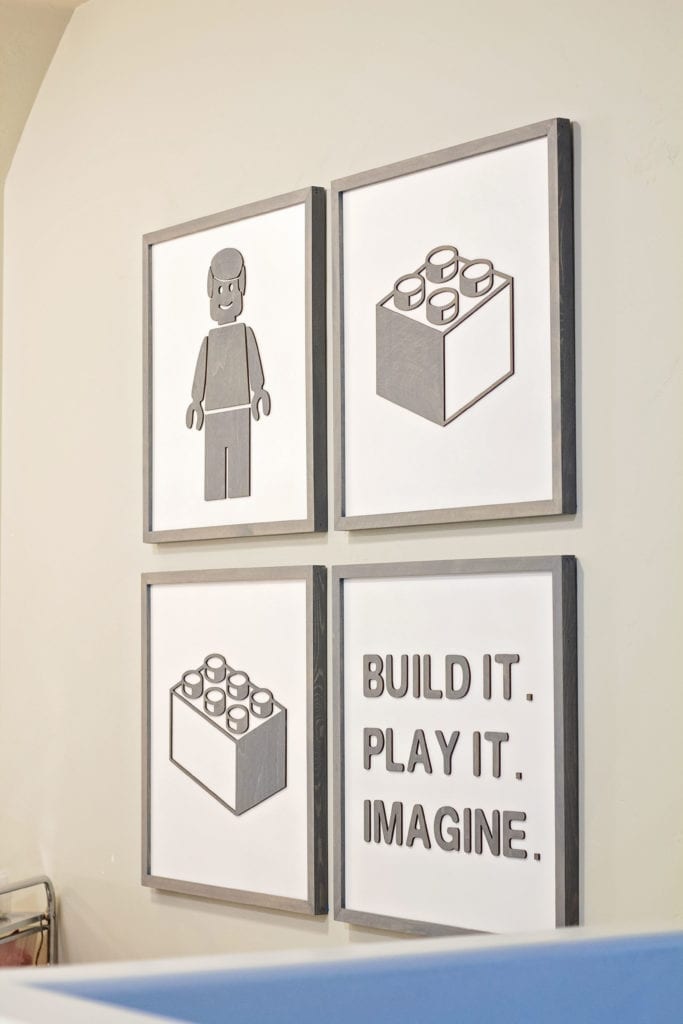 I wanted a place for my boys to be able to sit while they were building up next to their table. So I got themthis really comfy poufthat they just love sitting on. It makes it much easier for them to build at the table. It's the perfect height and its great quality. Building on the ground only lasts for so long!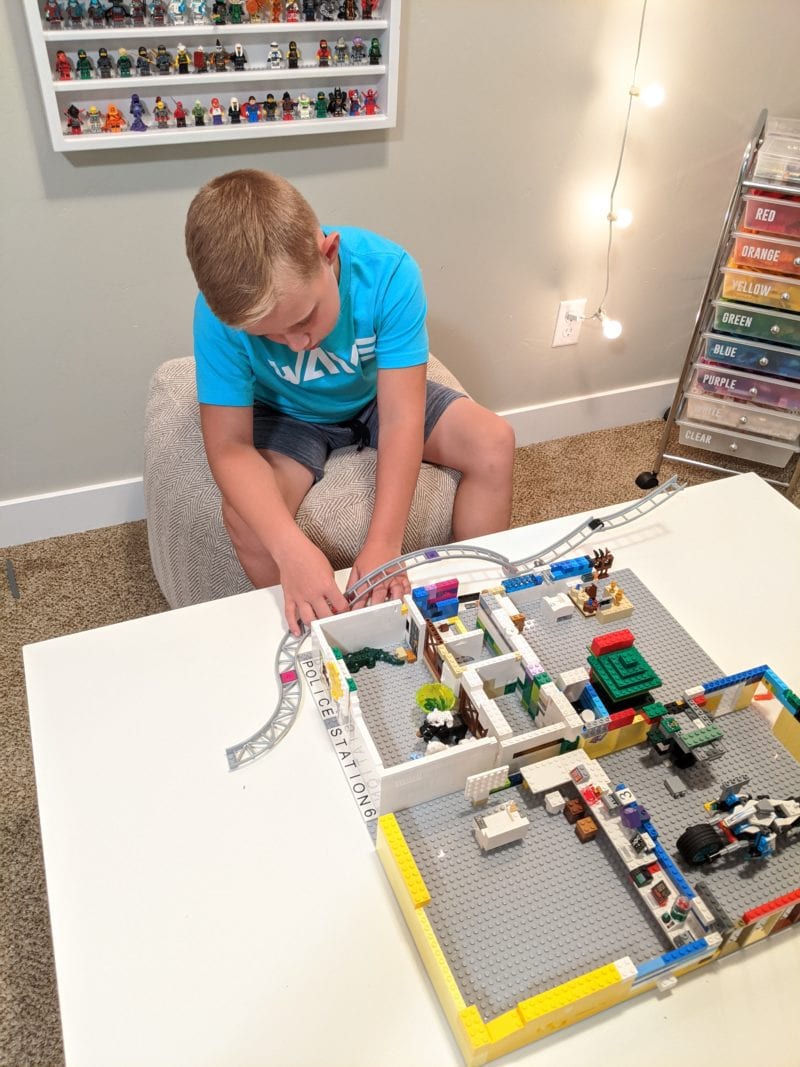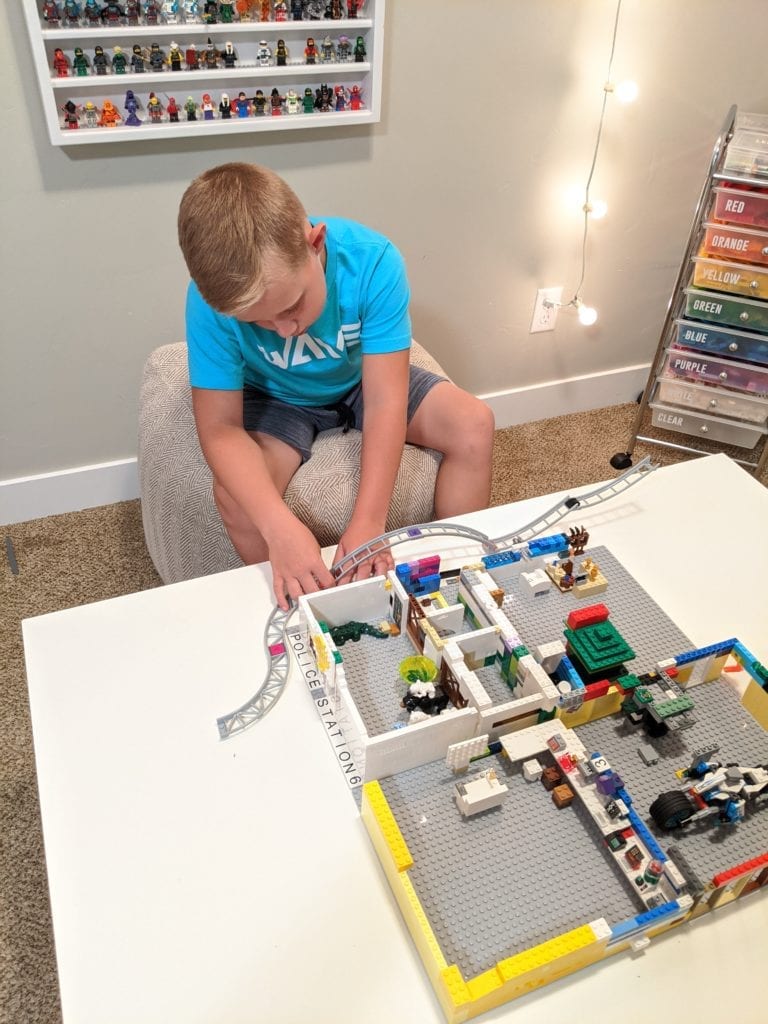 Since this Lego area is a continuation of our playroom, the globe lights still hang over the Lego area. It gives the room the most enchanting feeling that makes everyone want to play!
They even spray-painted a Lego brick gold. If you've seen the show, you know what I'm talking about.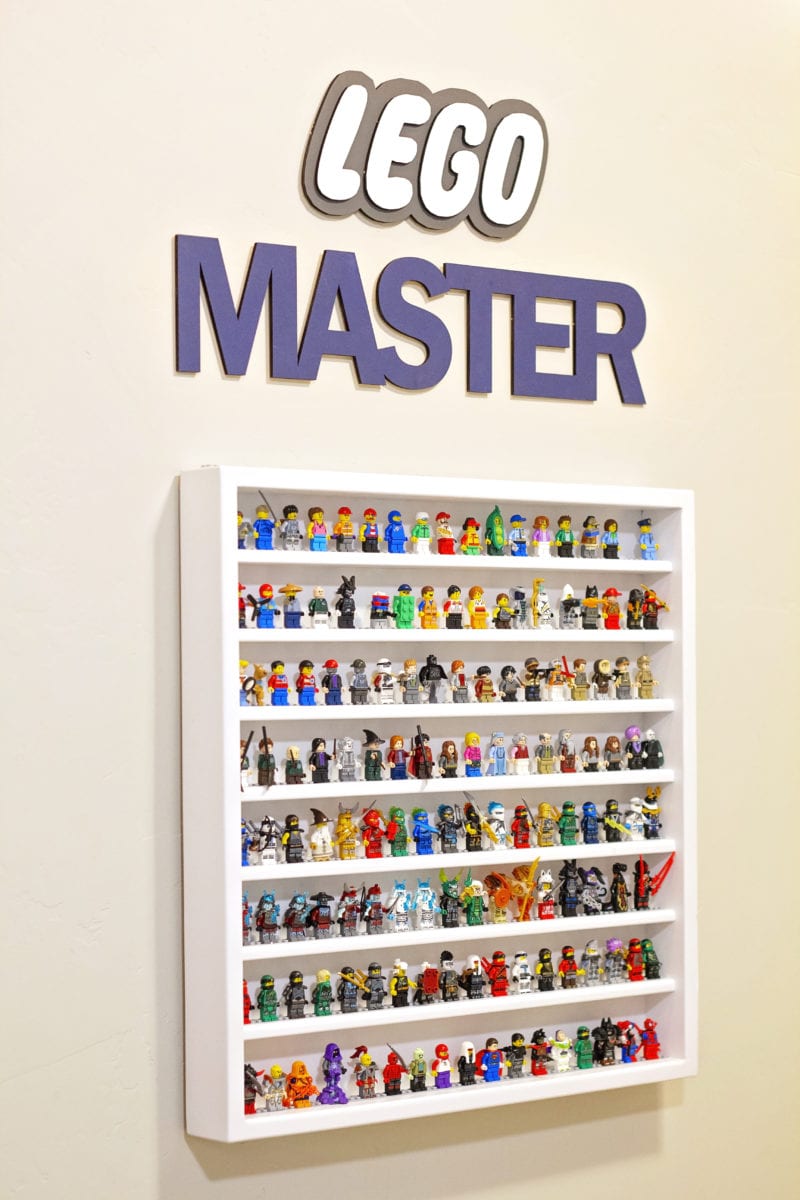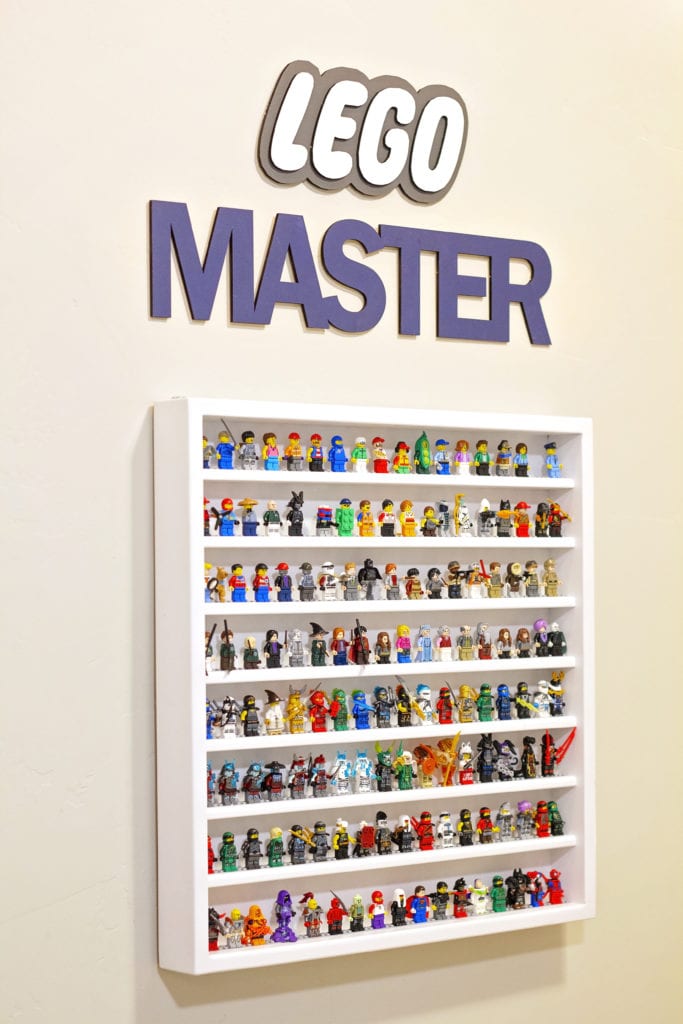 There are a lot of ways to organize Lego pieces and create a Lego area in your home, and I love the way it turned out in mine!
I hope that you have been able to get some great ideas for Lego storage and organization that will help you tame the Lego brick beast. Because let's be honest, Legos can be a beast.
But, in my opinion, the pros far outweigh the cons.