Do your kids fight with each other? My kids do, and I hate it. Two years ago my husband and I wanted to create a 'Family Game Night'. Once a week, we spend 30-60 minutes together as a family doing something fun…in hopes that my kids would start getting along better! But lots of games take up lots of space. I searched for a way to organize them that would help condense space but didn't find much. Here I show you my best card and board game storage hacks that will save you tons of space!
Need more ideas? Check these out: 5 Lego Storage Ideas Your Kids Will Love and Step by Step Playroom Organization
Benefits of Family Game Night
Each Christmas my husband and usually have a focused theme for each Christmas and this particular year it was gifting my kids games so that we could start a weekly family game night. It has been a huge success for our family! I often find my kids voluntarily playing games with each other!
Games are a great way to teach good sportsmanship to kids. There is a huge difference in my kids' ability to be happy for others who win from when we started, to now. This is a great life skill! It also helps their cognitive reasoning skills and teaches them strategy skills.
The downside to having so many games is that they can take up so much space! Have you ever noticed how much empty space every game box has?! I'll teach you my trick to how I decreased my game storage space by 50%!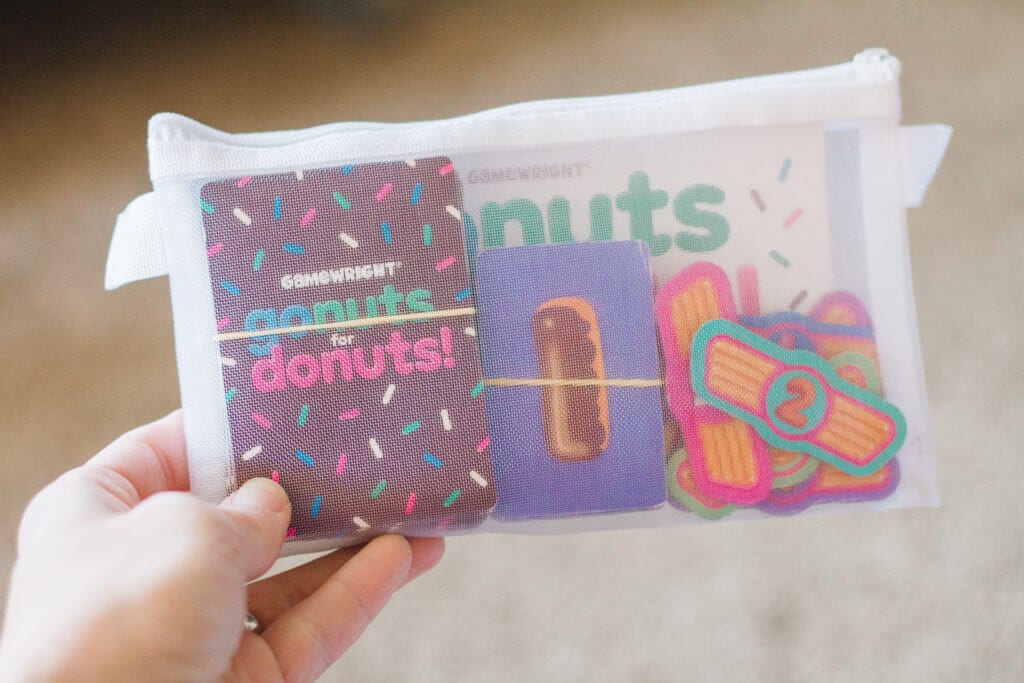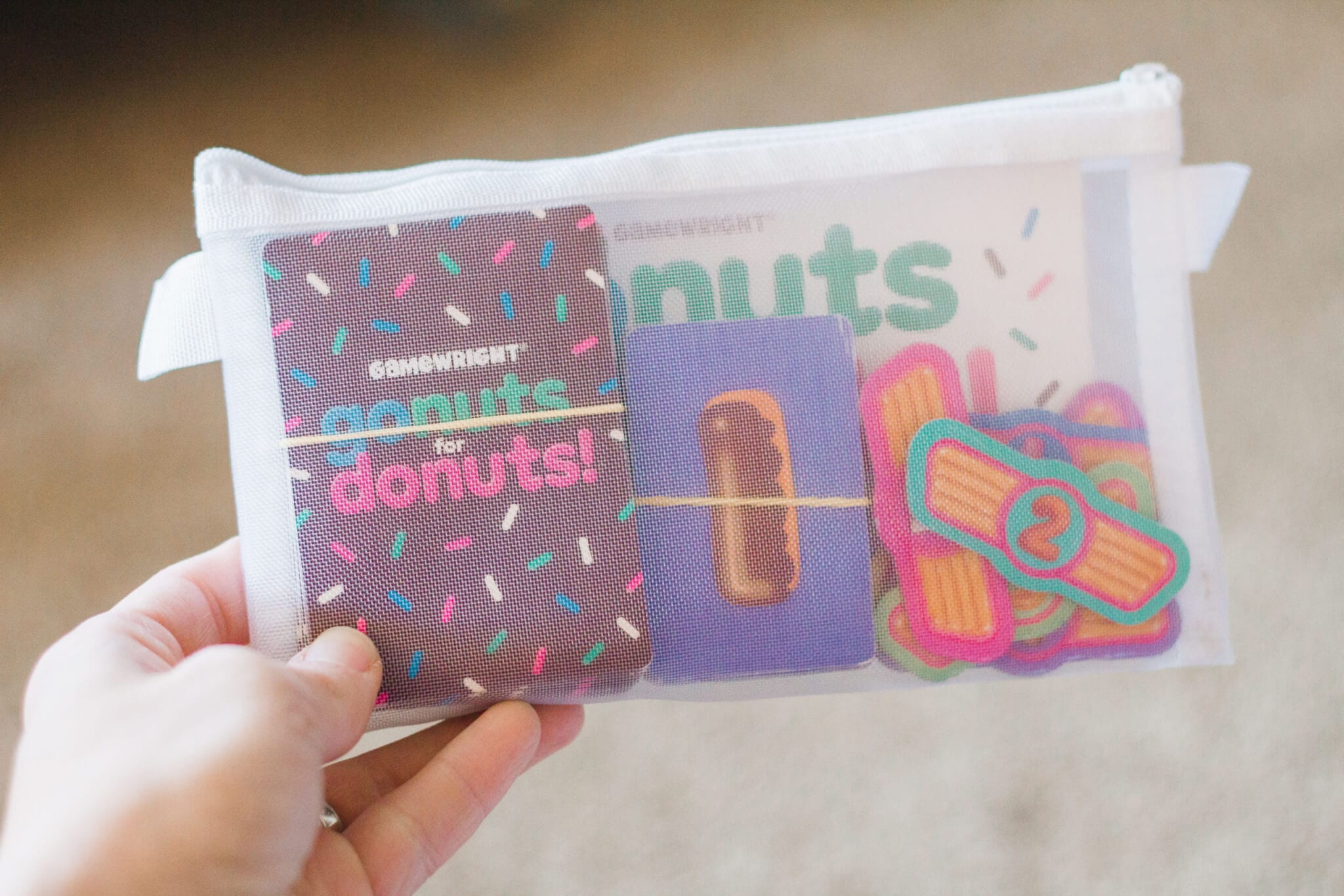 Card Game Storage Fail
Because of our game night, we have an obscene number of games. One thing that I have discovered about us though, is that we love card games the most! They are much easier to just 'pick up and play' versus a board game with a million pieces. Because my kids love to play card games the most, I started seeing some wear and tear on the card boxes. Despite my efforts of taping the box with packing tape when it was new, the boxes were still tearing.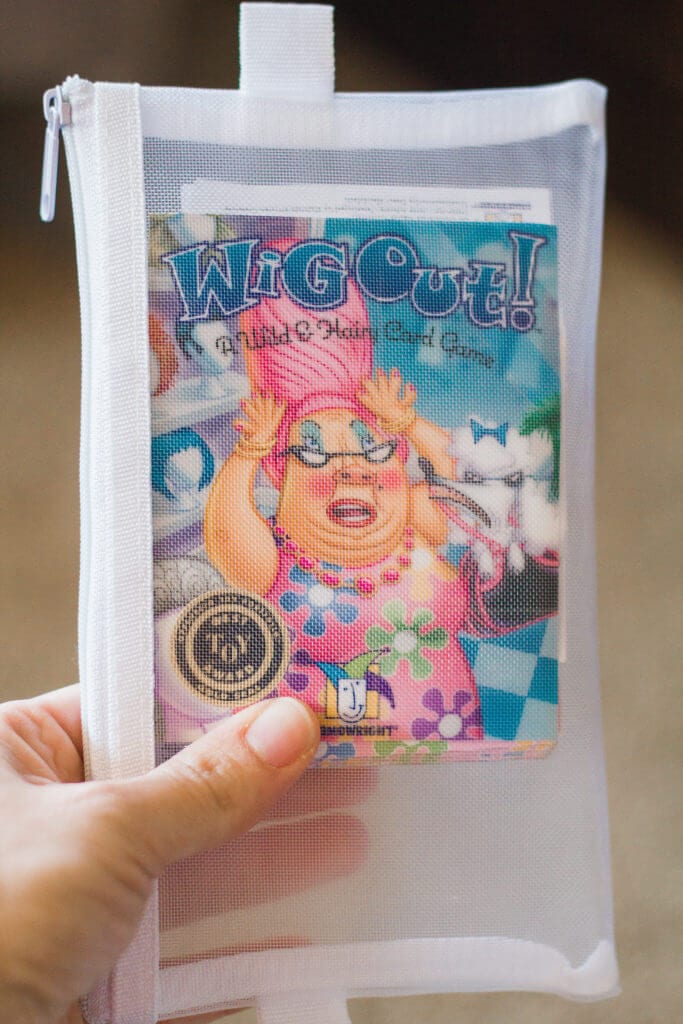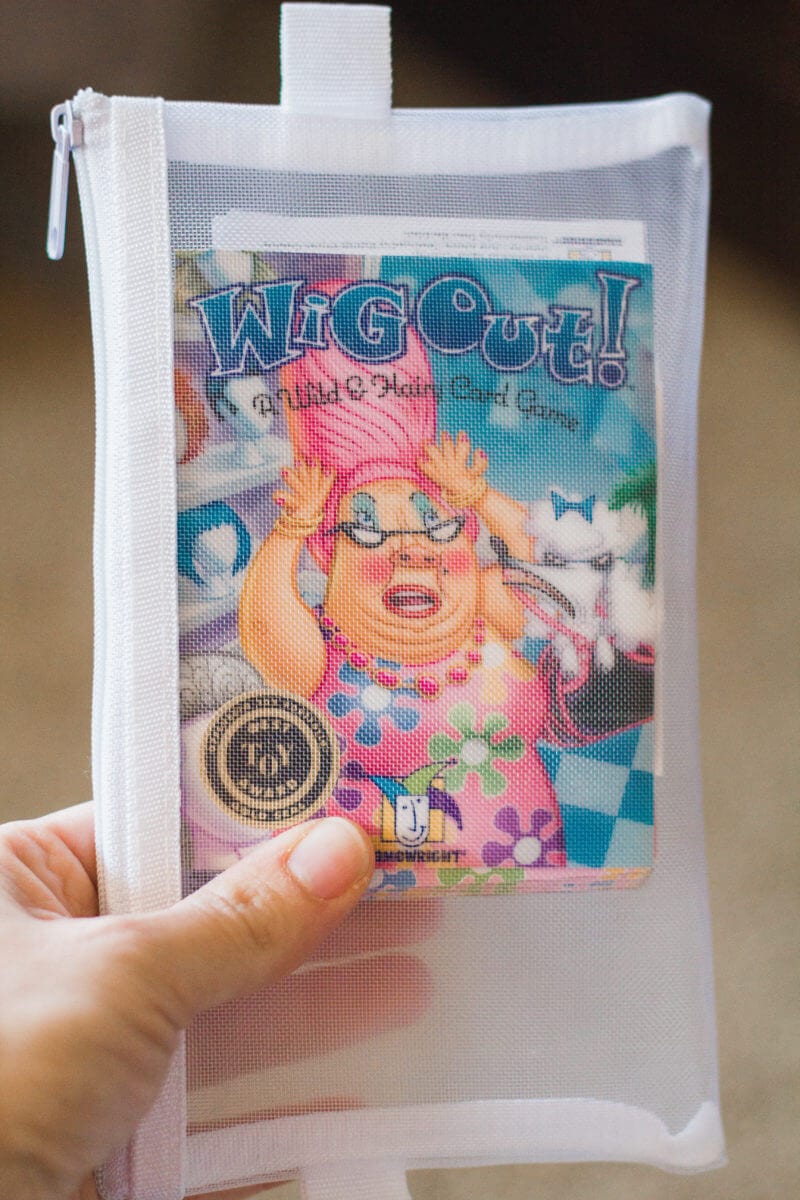 Card Game Storage Solution
I wanted to find a solution to display the cards in a cute way (because I love the illustrations on the box) but still keep them in good condition. And as always, I love uniformity so whatever the solution was, I had to buy a bunch of them. I found these amazing Mesh Zipper Pouches that are great quality and will last our family for years. The amount of space that these babies save me is well worth the cost, and they are actually even cheaper than if you were to buy them at the dollar store!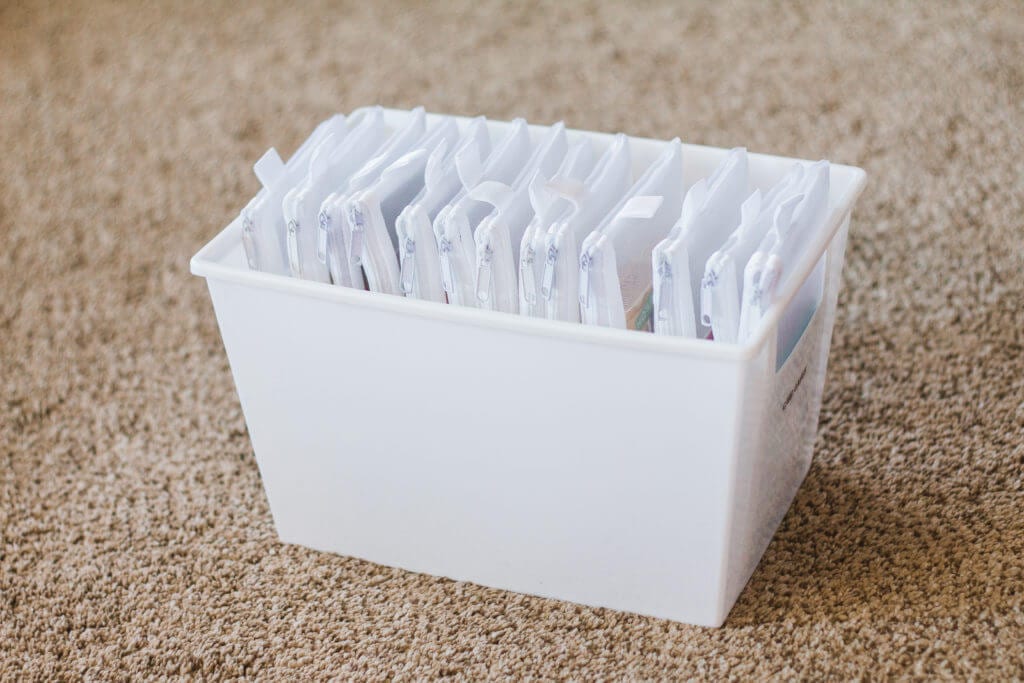 Card Game Storage
To organize the card games, I pulled all of the cards out of their original boxes and kept the instructions. I wrapped the decks of cards with a rubber band so they would stay together. Then I proceeded to cut the front of the card box off of the remainder of the box. I did this because I still wanted the cover of the game to be seen through the mesh zipper pouch.
For the thinner boxes, I just used scissors but for the thicker boxes, I used an Xacto knife and a ruler. Because the boxes are a thicker material, it will help the cards remain nice through the years while they are all in the pouch together.
After I got all of my pouches filled with my card games, I put them in these awesome white Locker bins from Dollar Tree!
Another thing that I just love about these mesh pouches is the ribbon loops that are on the ends. This would be a great way to keep all of your card games together if you are going on a vacation! I just bought these metal rings and looped them through the ribbon loops.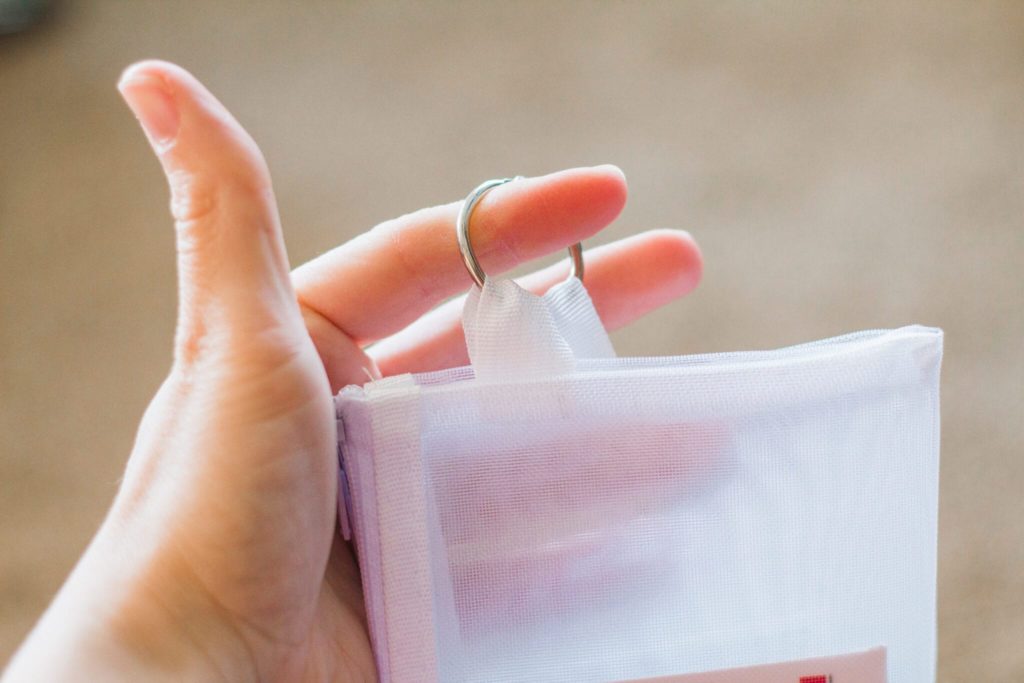 I was actually able to get rid of an entire organizing bin full of games. Not because I got rid of games, but because I got rid of the bulky boxes! And it looks super nice and uniform!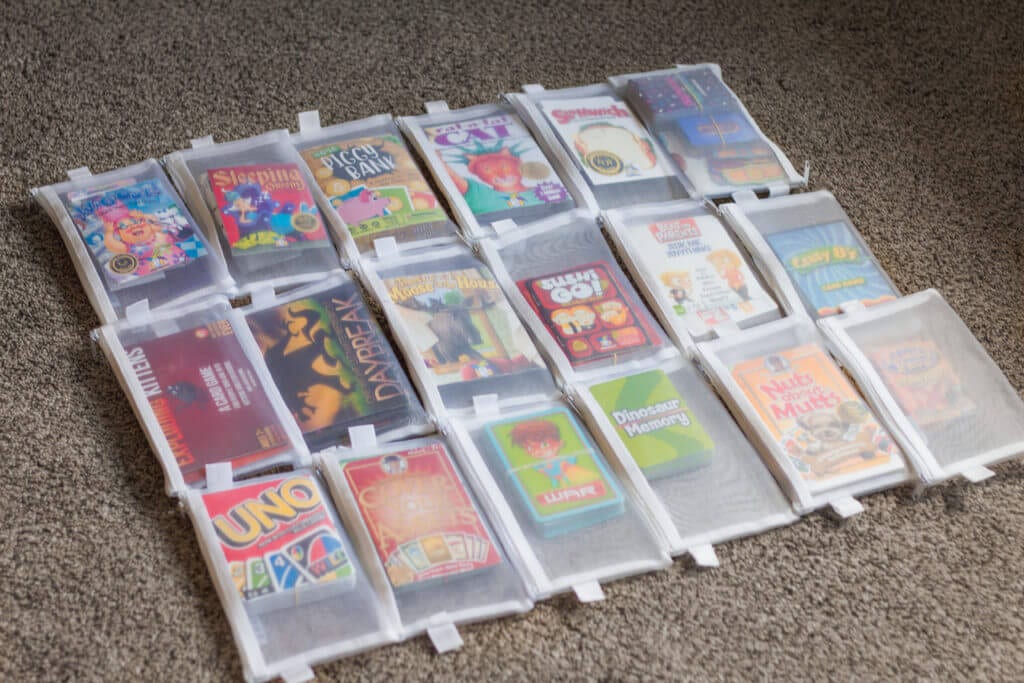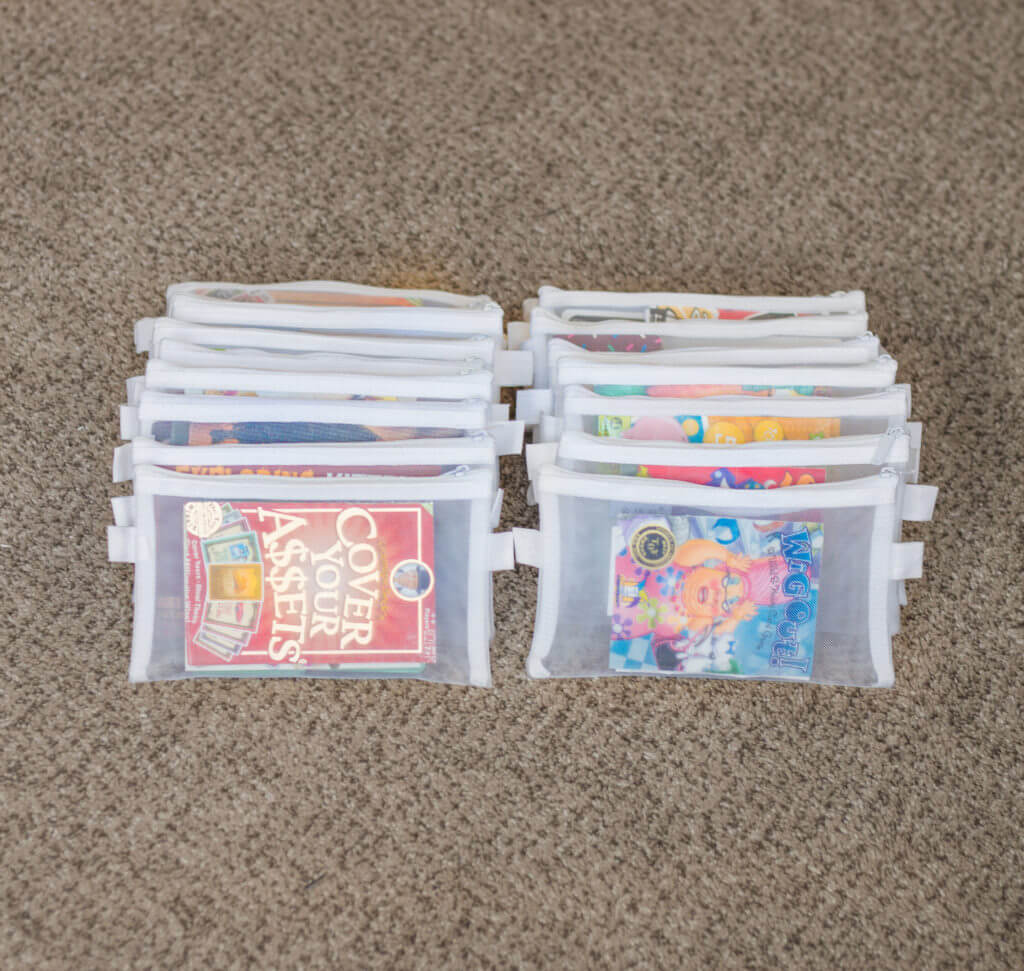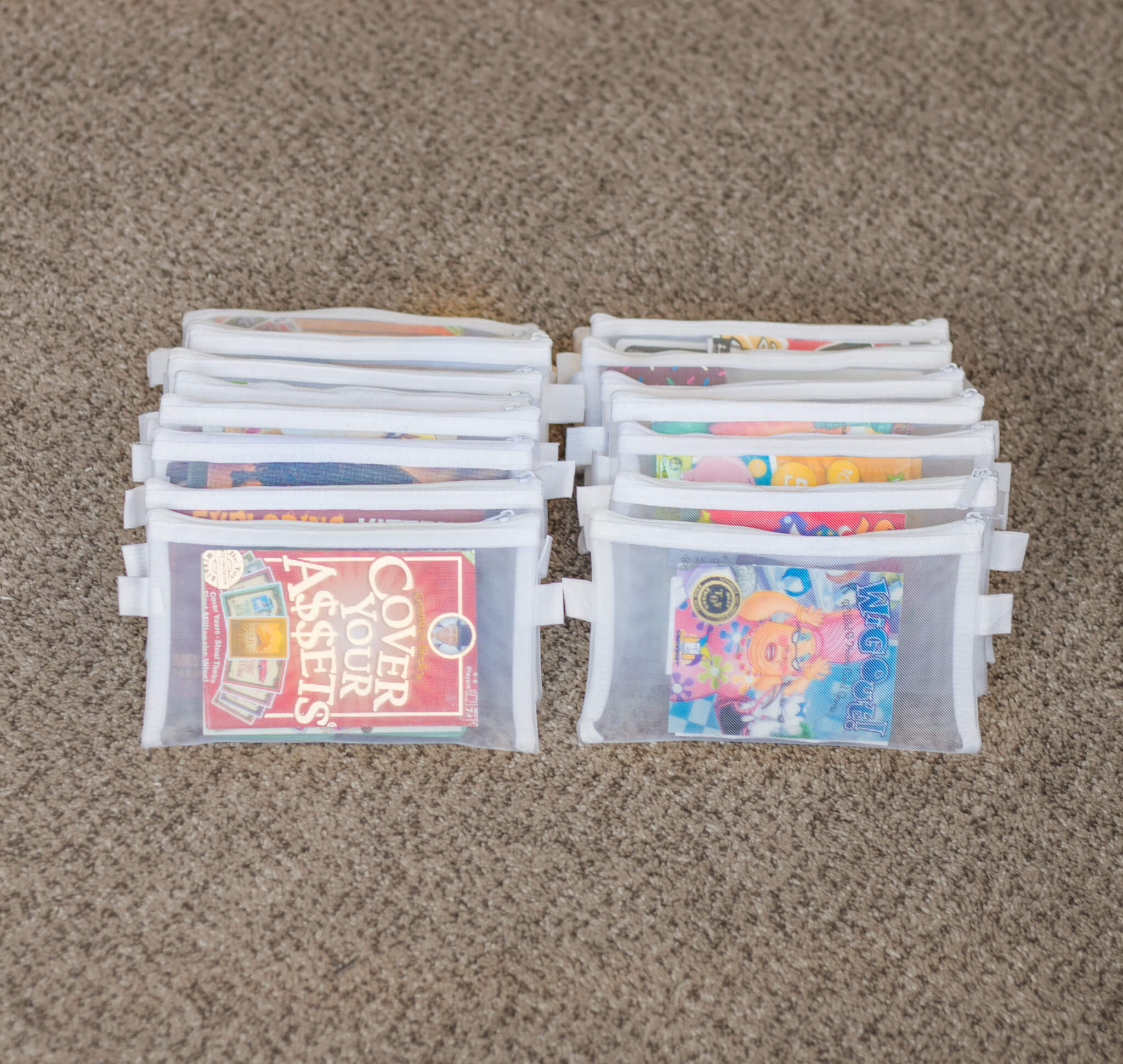 These pouches are also great for keeping loose items together such as dice, timers or game pieces.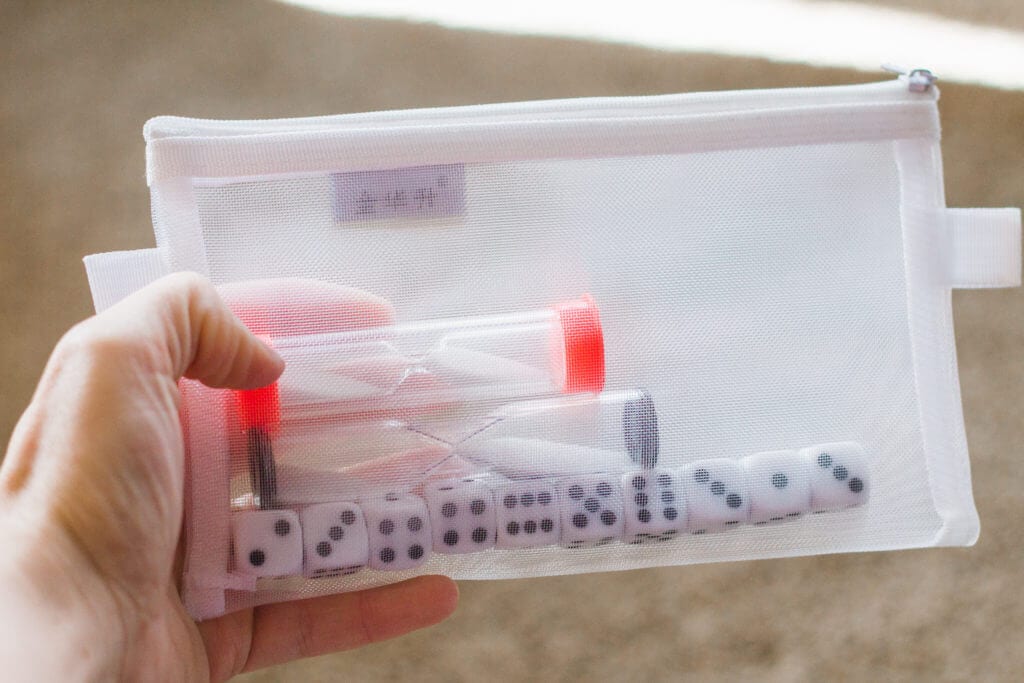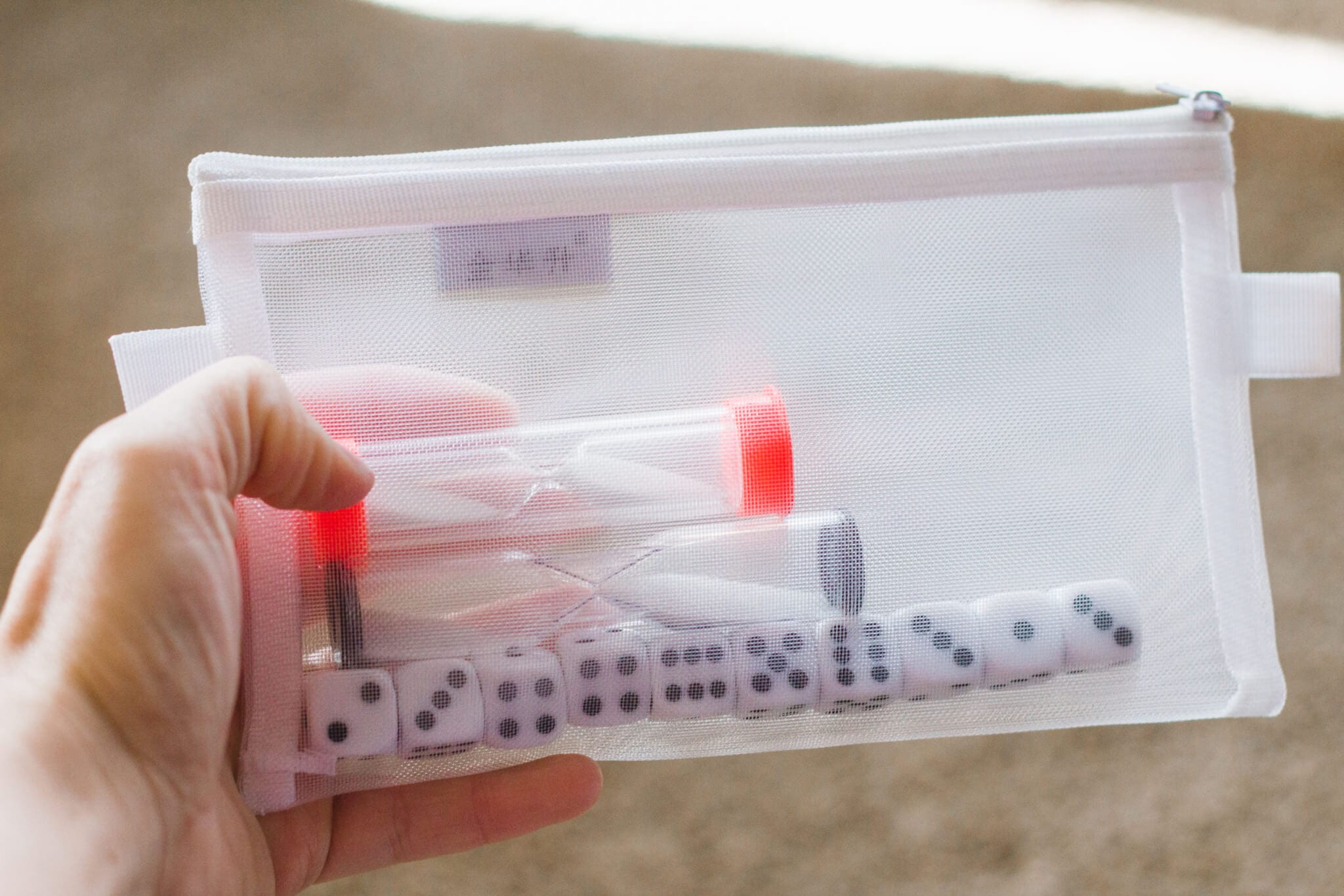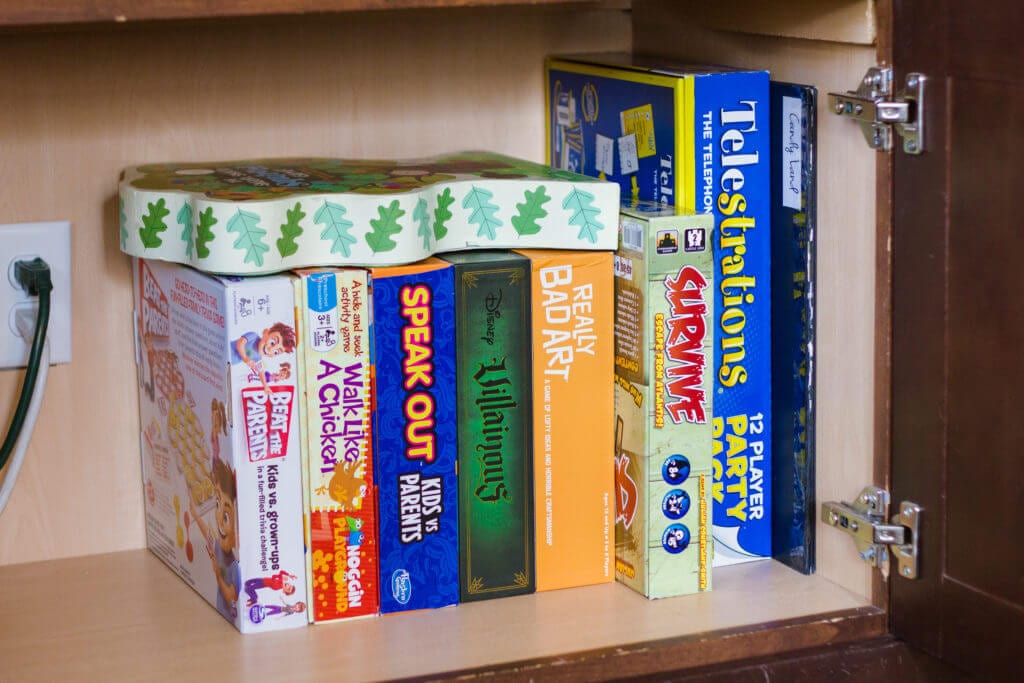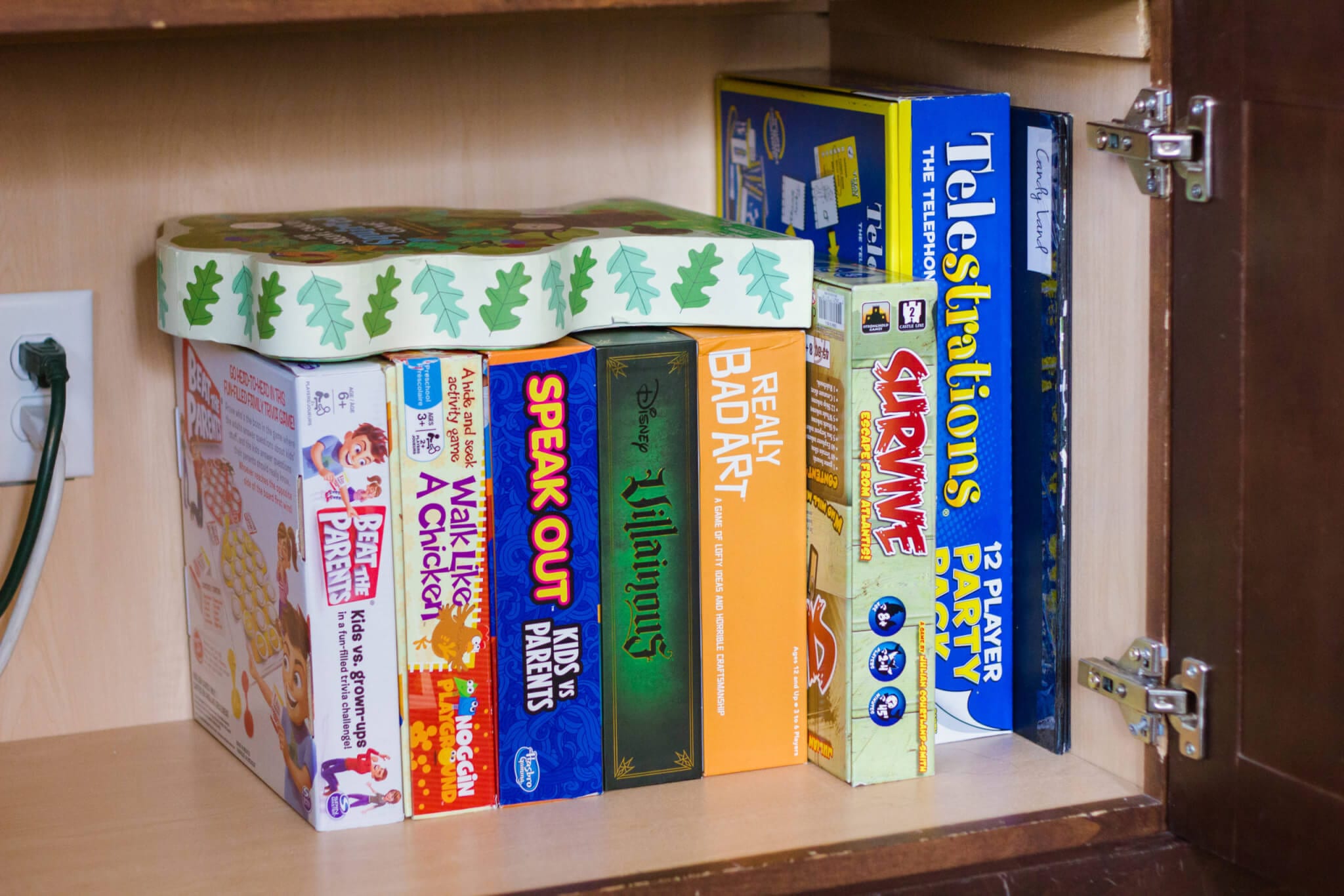 Saving Space with Board Games
Board game storage is a tricky problem that a lot of people have! One trick that I learned a few years ago to consolidate space is to take everything out of the game boxes and throw the box away. That's right – throw it away! Unless it is a game that has a million pieces, most likely it is taking up twice as much space as necessary.
I leave some of my games in their boxes depending on how many pieces the games have, and how much wasted space the box is taking up. In one of my cupboards, I have my game boards that are still in their boxes. In another cupboard, I have sorted them as follows.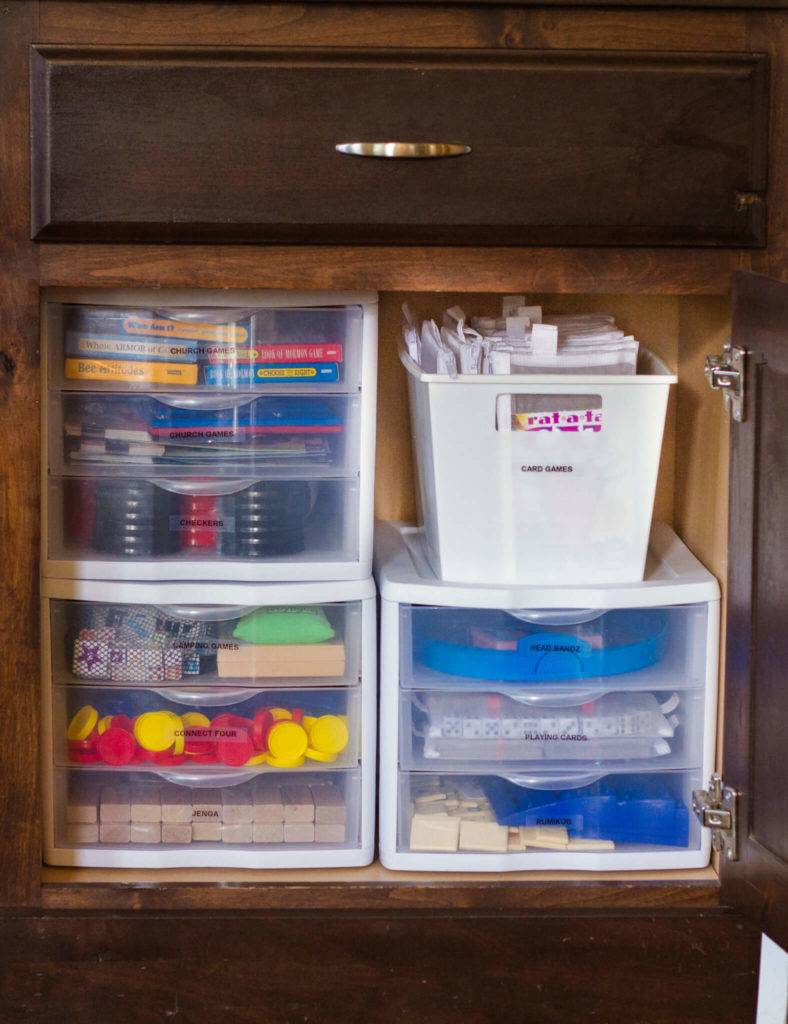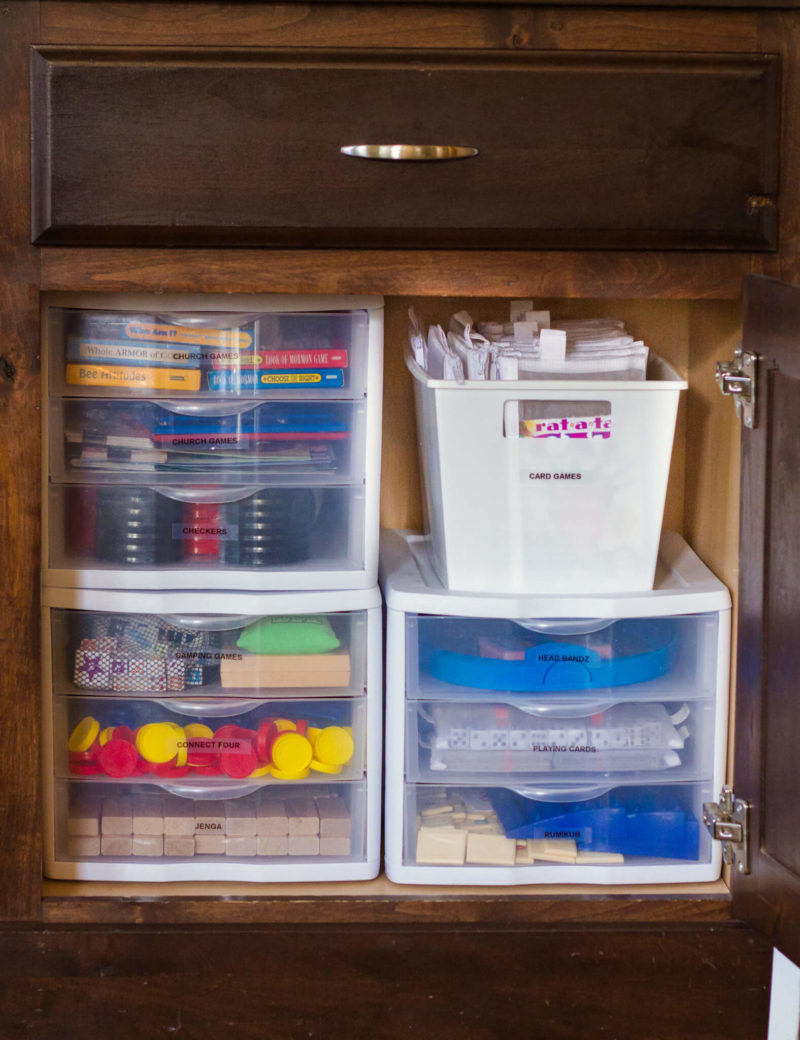 Board Game Storage Solution
I bought these drawer sets a few years ago hoping to make our games more accessible, more organized and more visually appealing. I really love the uniformity of these drawers and it is super easy to take the entire drawer out of the unit when you are ready to play a particular game. Using these drawers for board game storage maximizes the space in the cupboard and it makes much better use of your space!
Just slide it out an take it to the kitchen table, or wherever you are playing your games. I also used my label maker with clear tape to clearly mark what was in each drawer.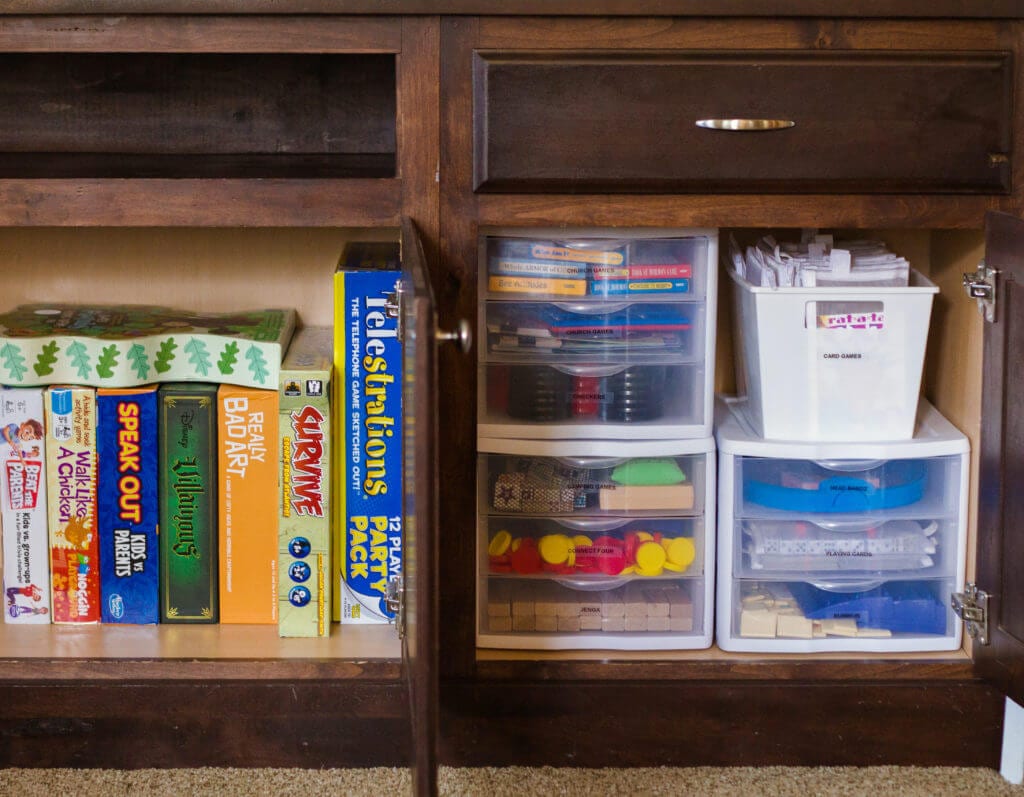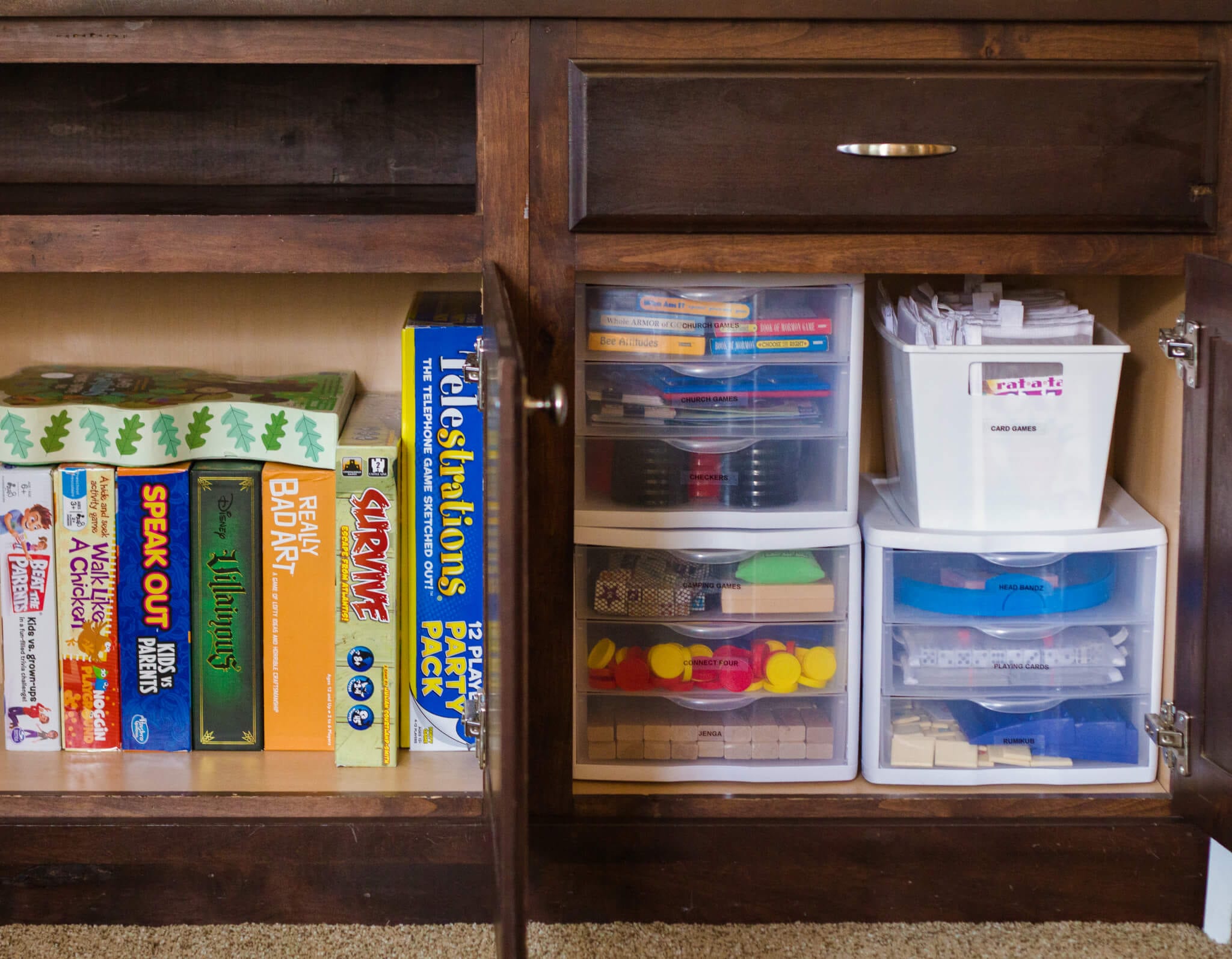 When I was finished, my games looked neat and orderly and there was no question as to where each game went. This also makes it easier to teach your kids to put them away because each game as a home to go to! My kids aren't always perfect at putting things back where they go. But they are so much better at it when things are clearly labeled.
The white bin in the upper right (in the photo above) is where I store all of my card games. Before I organized my card games, they used to fill up TWO of these white bins.
I do keep SOME of my board game boxes if it has a lot of pieces. But I would say that I was able to get rid of about 90% of our game boxes. Hooray! I hope that this post has been helpful in giving you some inspiration on how to organize your board games and card games!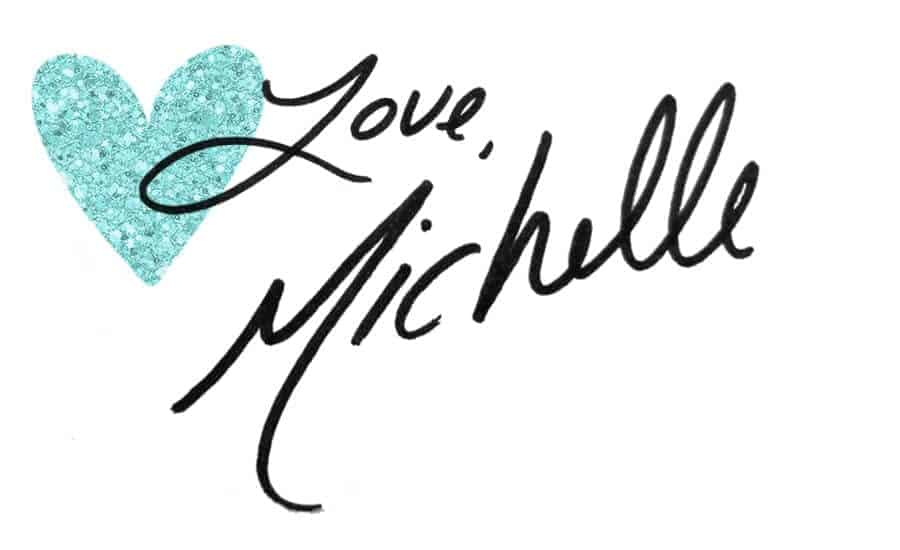 Shop this Post