How to Organize Camera Gear and other Camera Essentials
A DSLR camera is an investment, and it's important to keep your equipment safe and in good condition. As a beginner, you may not know what accessories are necessary for your camera or how to organize them so that they don't get lost. This post will teach you all about the essential items needed after purchasing a DSLR camera, which can help you make sure your expensive gear stays in good condition!
Why are camera accessories important?
Camera accessories are important because they can protect your expensive camera equipment. Without them, you could end up damaging your lens with specks of dirt or dropping a fragile piece of hardware on the ground and cracking it to pieces! A good idea for beginners is always to have some sort of bag around in case something falls out like this happens so that nothing gets lost. The type of gear depends on what kind of photography you're shooting as well. For now, let's take a look at how to organize these things properly!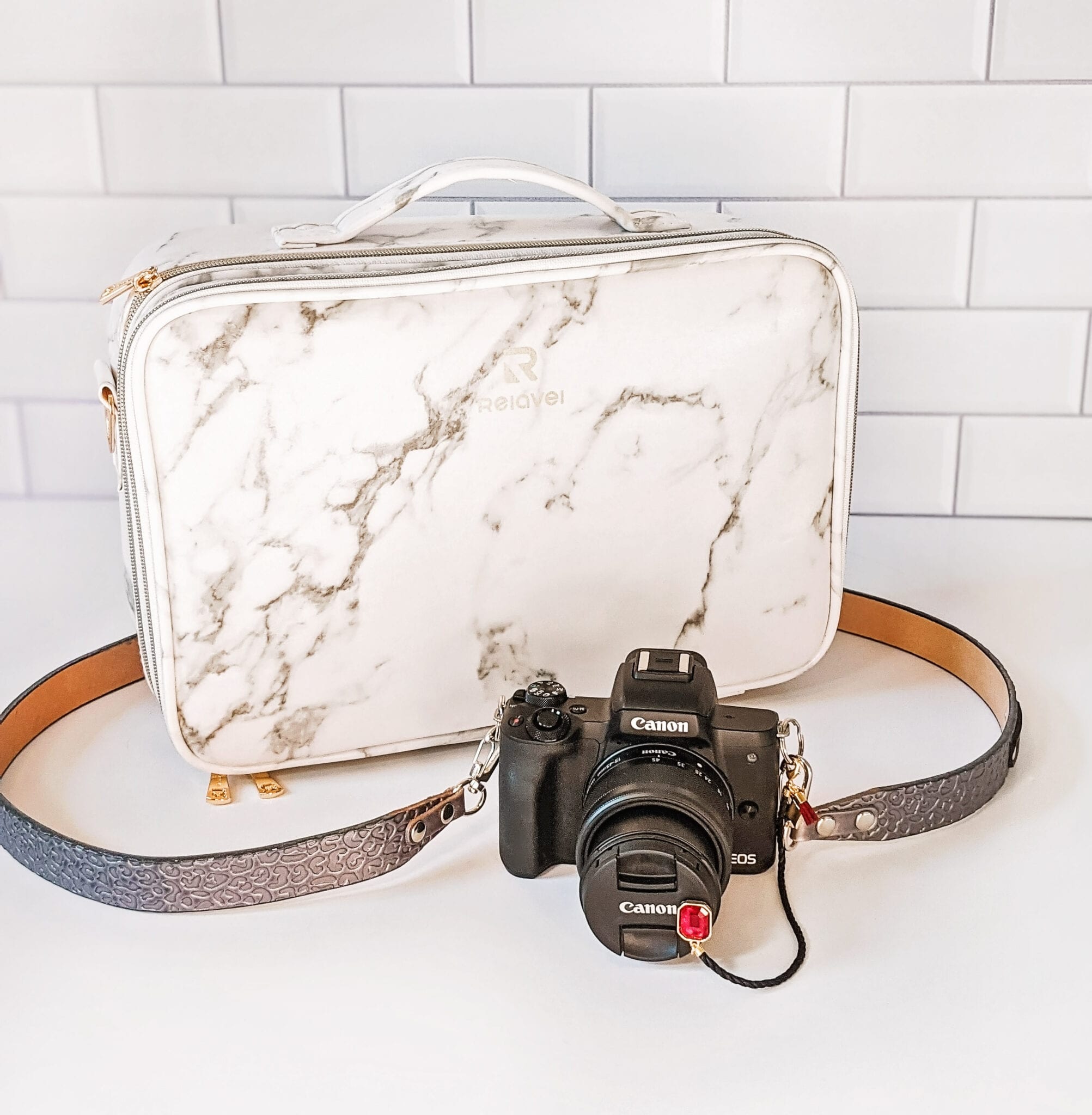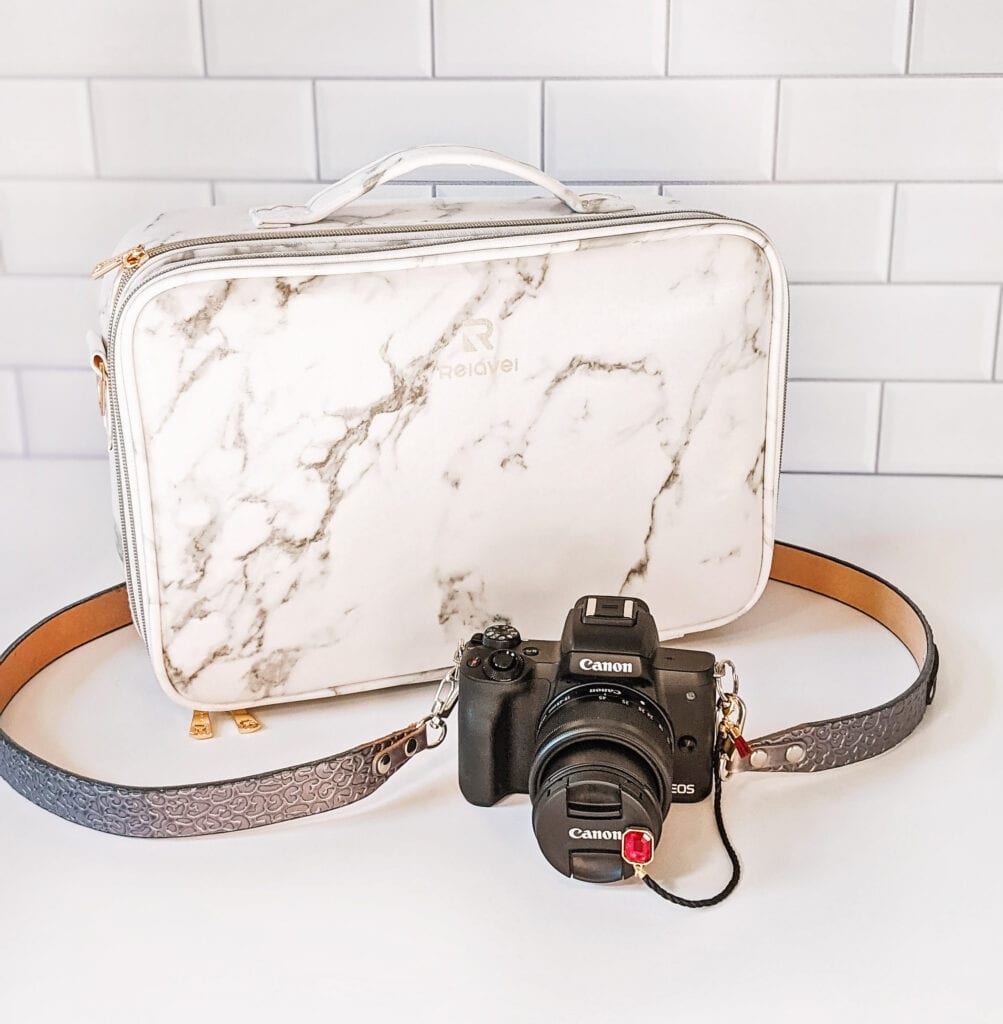 Many people purchase their first DSLR camera without realizing all the items needed afterward; this article will give an overview of what those items might be and how they can help you become an incredible photographer. The two most important pieces of gear are a camera and lens, which we'll address shortly. But before that, let's start off with the basics.
How to Organize your Camera Gear
The first step in organizing your DSLR gear is deciding how much storage space you need or want. This will depend on the amount of camera gear that your camera came with as well as any extras that you plan on buying.
Because there can be so many accessories that come with your camera (not to mention other items you'll inevitably purchase) it can get overwhelming to keep track of all of your camera gear. That's why it's important to have a camera bag or backpack that has adjustable compartments so your items can stay secure and safe.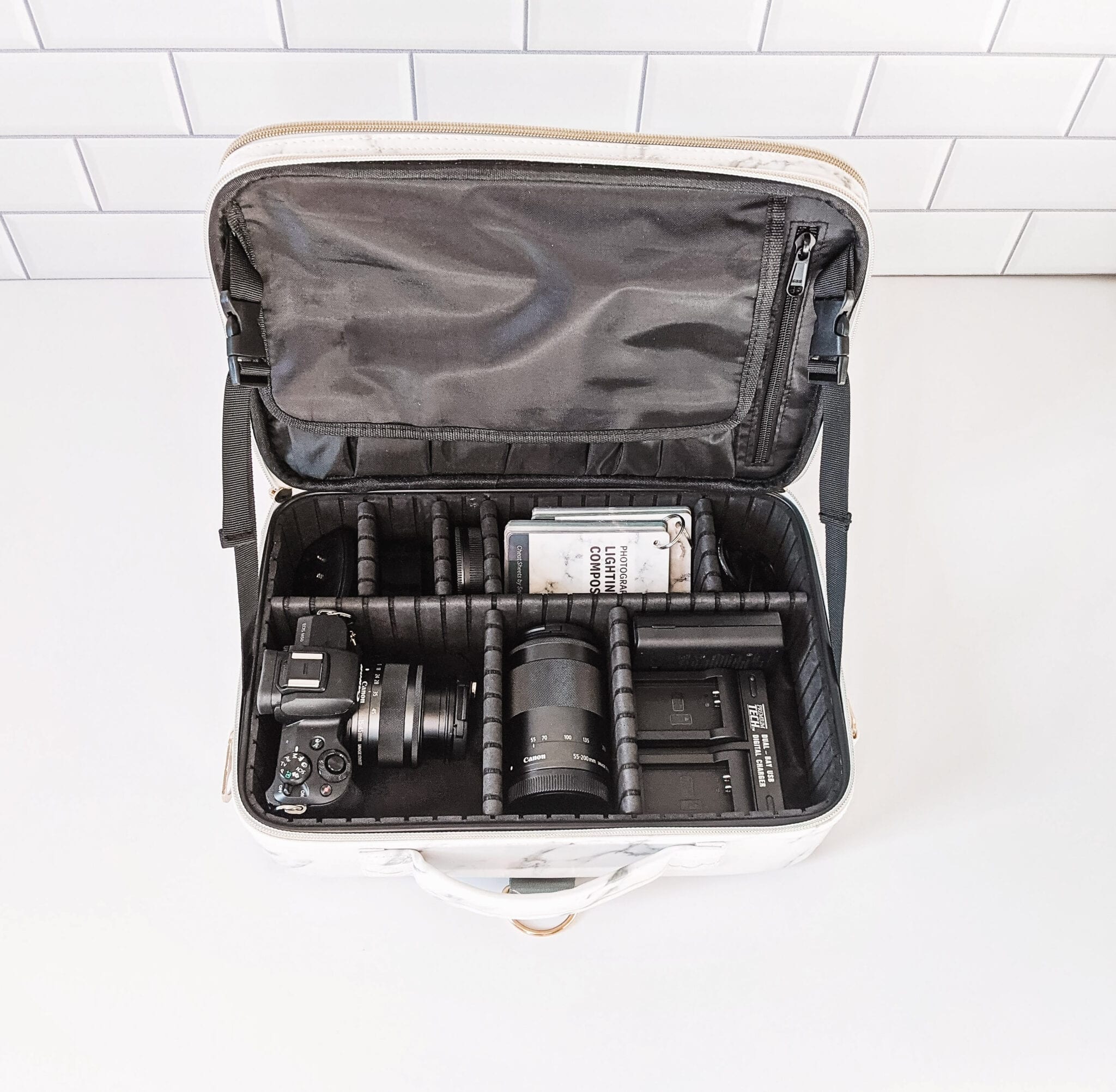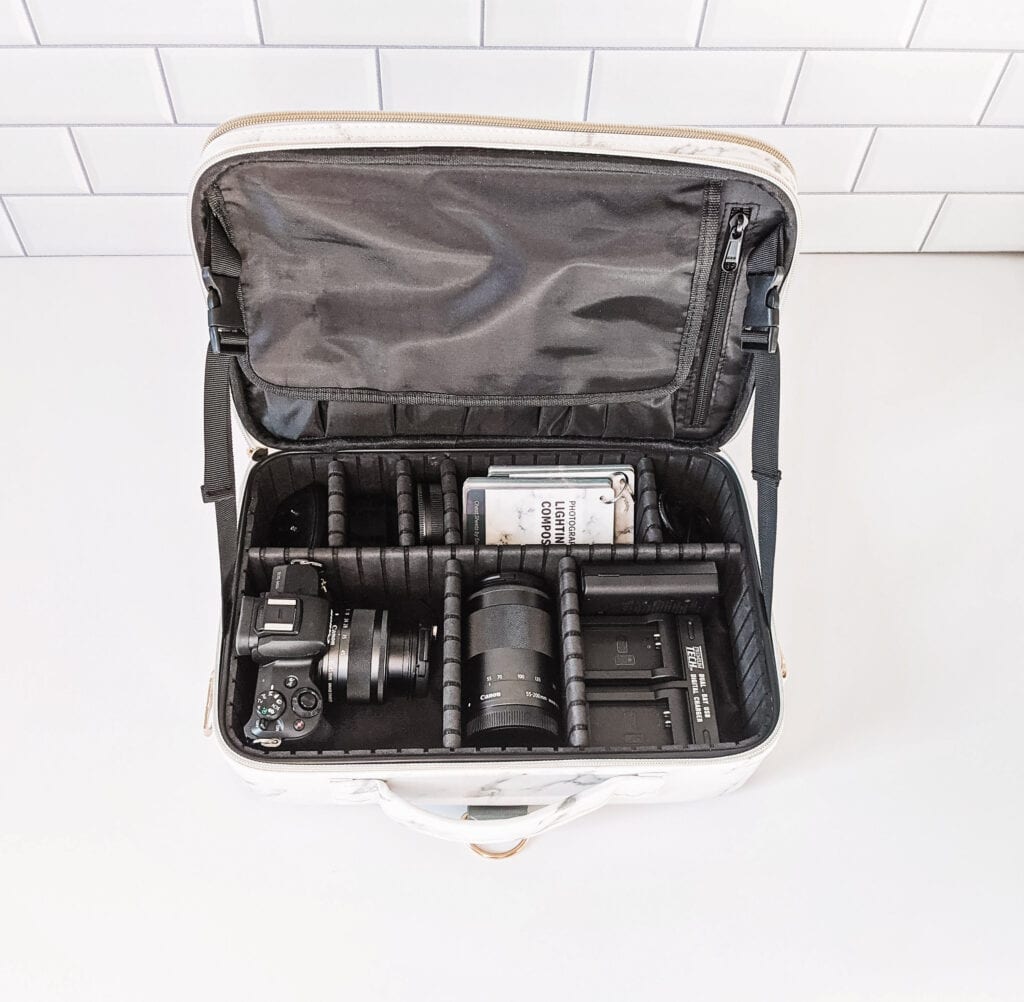 Thankfully, there are camera bags that can hold all of your items. The most important thing you're going to want in a bag is one big pocket–or "camera insert"–to store your DSLR and lens inside so they don't take up too much room or get damaged by other equipment. You'll also need at least two small pockets on either side for accessories like extra memory cards, batteries, an external flash, etc., but these aren't nearly as important because it's best just to keep them right beside the camera.
Use the adjustable sections in your camera bag, create customized compartments for each individual camera accessory so that the gear won't knock into each other and damage one another. This will also be your best friend when it comes to keeping everything organized and exactly where you need it when you need it. No more wasting time looking all around a basic backpack to find exactly what you're looking for.
The camera bag that I've chosen is actually a makeup storage case! I love how everything fits in the case perfectly and how I have the ability to adjust all of the compartments to fit my needs exactly.
Shop my favorite Camera Bags:

You'll Need a Camera Strap
Going without a camera strap isn't really an option. A camera strap is necessary to help prevent drops and keep your hands free for other tasks.
A camera strap also helps with the weight distribution of the camera so it's less likely to get worn out or damaged. There are a few different types: there is an around-the-neck style, which might be best for you if you're looking for something quick and easy; chest straps could be better if you plan on hiking or doing any kind of physical activity while still taking pictures; then we have wrist straps that go around one's wrist. Wrist straps are best for when you're walking around and still want to keep your hands free.
Choosing which type of camera strap is all about personal preference and it may take some time for you to decide what style is best for you.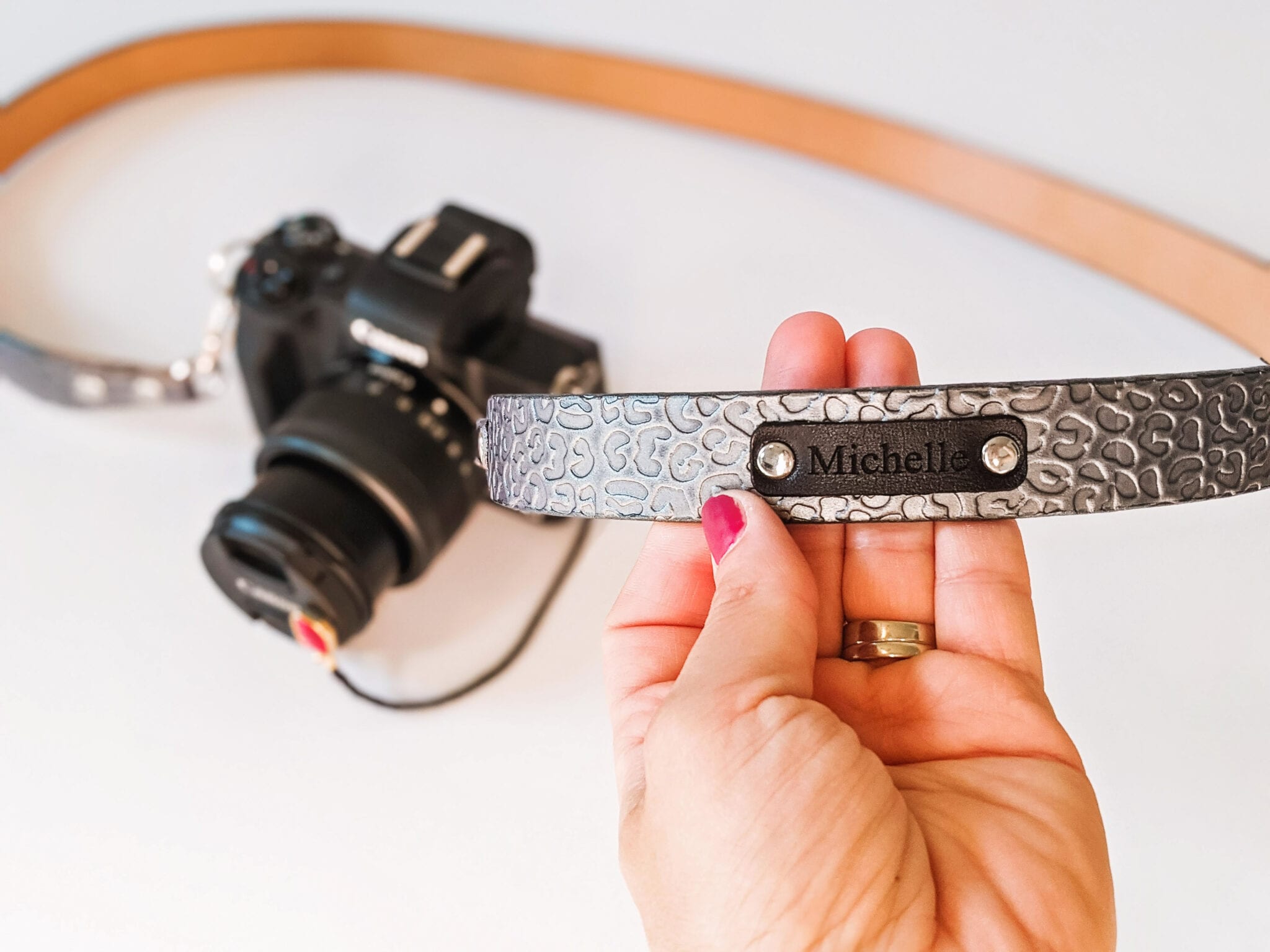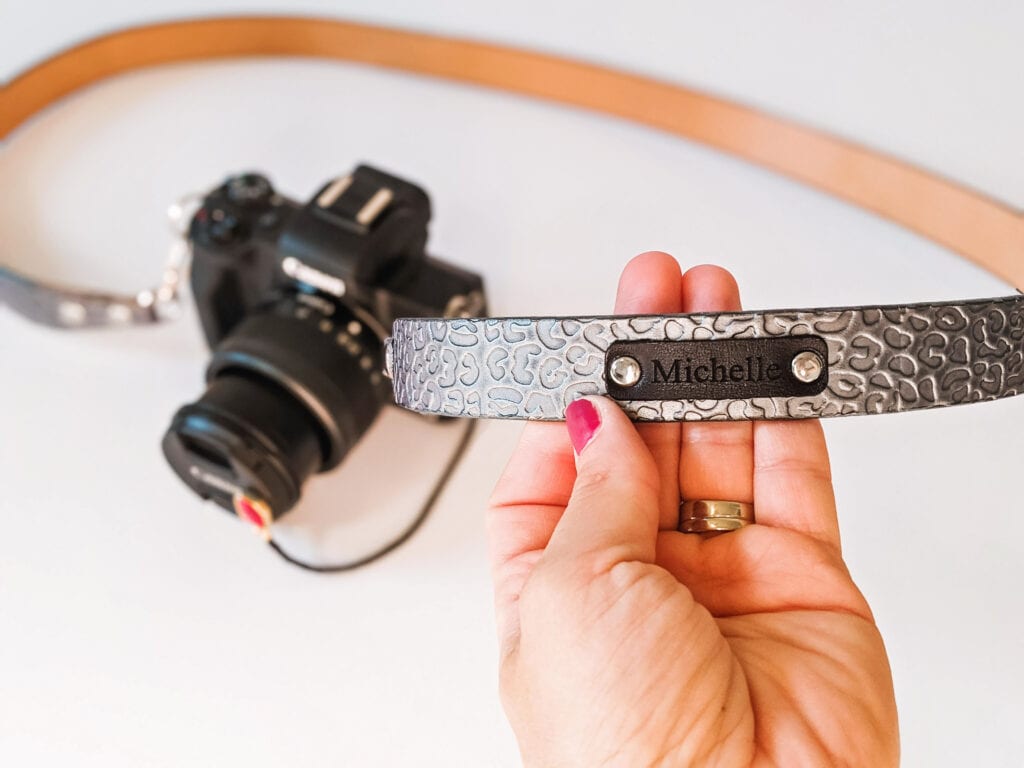 There are a lot of different camera straps on the market, and it might be tempting to just pick one at random, but it's important to choose a camera strap that's really good quality. Choosing a cheap camera strap puts your camera at risk of being damaged if the strap is faulty.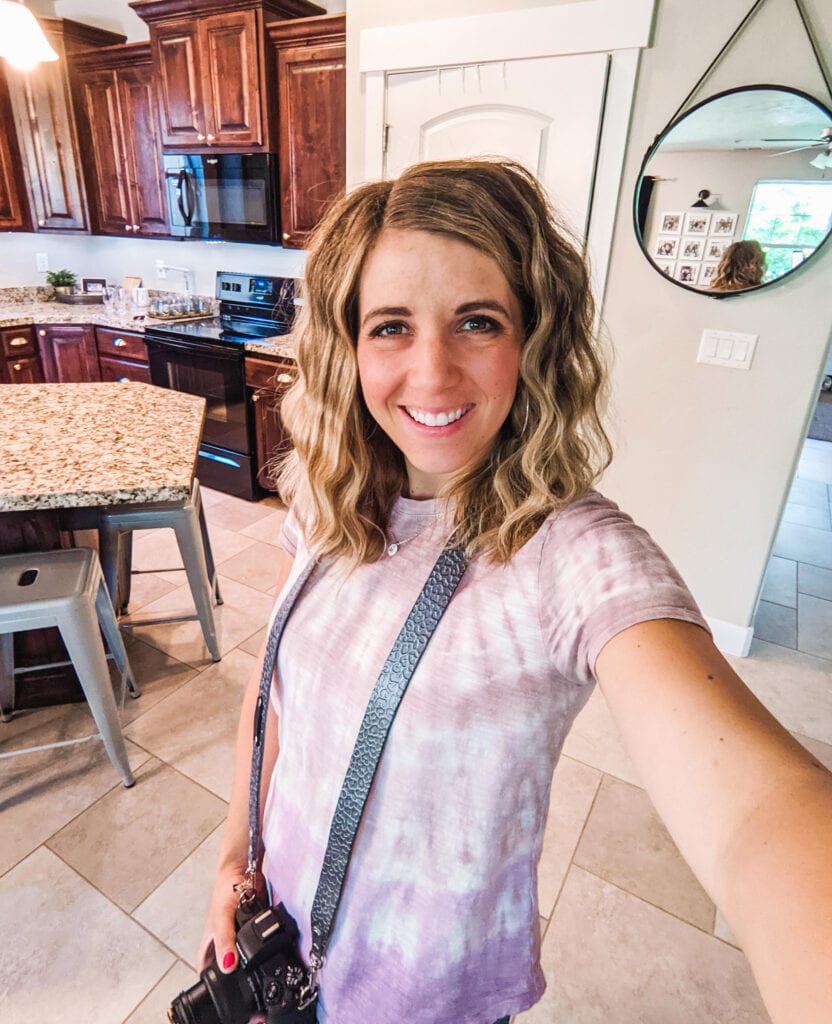 The camera strap that I own is made of leather so I know that I'm not at risk of thread coming unstitched and I don't worry about my camera strap letting me down by dropping my camera. I love that I was able to customize it with any color of leather I wanted along with an embossed pattern of my choice. And who doesn't love their name engraved on their things!? It was like a match made in heaven for me. A small price to pay for a true piece of art that will help protect my investment.
Shop my favorite Camera Straps:

You can't go without a Camera Bag or Backpack
This is essential to carry your DSLR equipment in a specialized camera bag or backpack. Anytime you travel to or from a shoot location, you're going to want a place where you can keep ALL of your camera gear in one place. Nothing is worse than showing up for a shoot or going on a vacation only to realize that you've forgotten something.
There are a lot of different camera bags and backpacks on the market, but as with all other accessories for your DSLR equipment, you want to make sure that this too is good quality. I recommend buying an actual camera bag made specifically for cameras rather than something generic like a backpack just so it's guaranteed to be safe from wear and tear.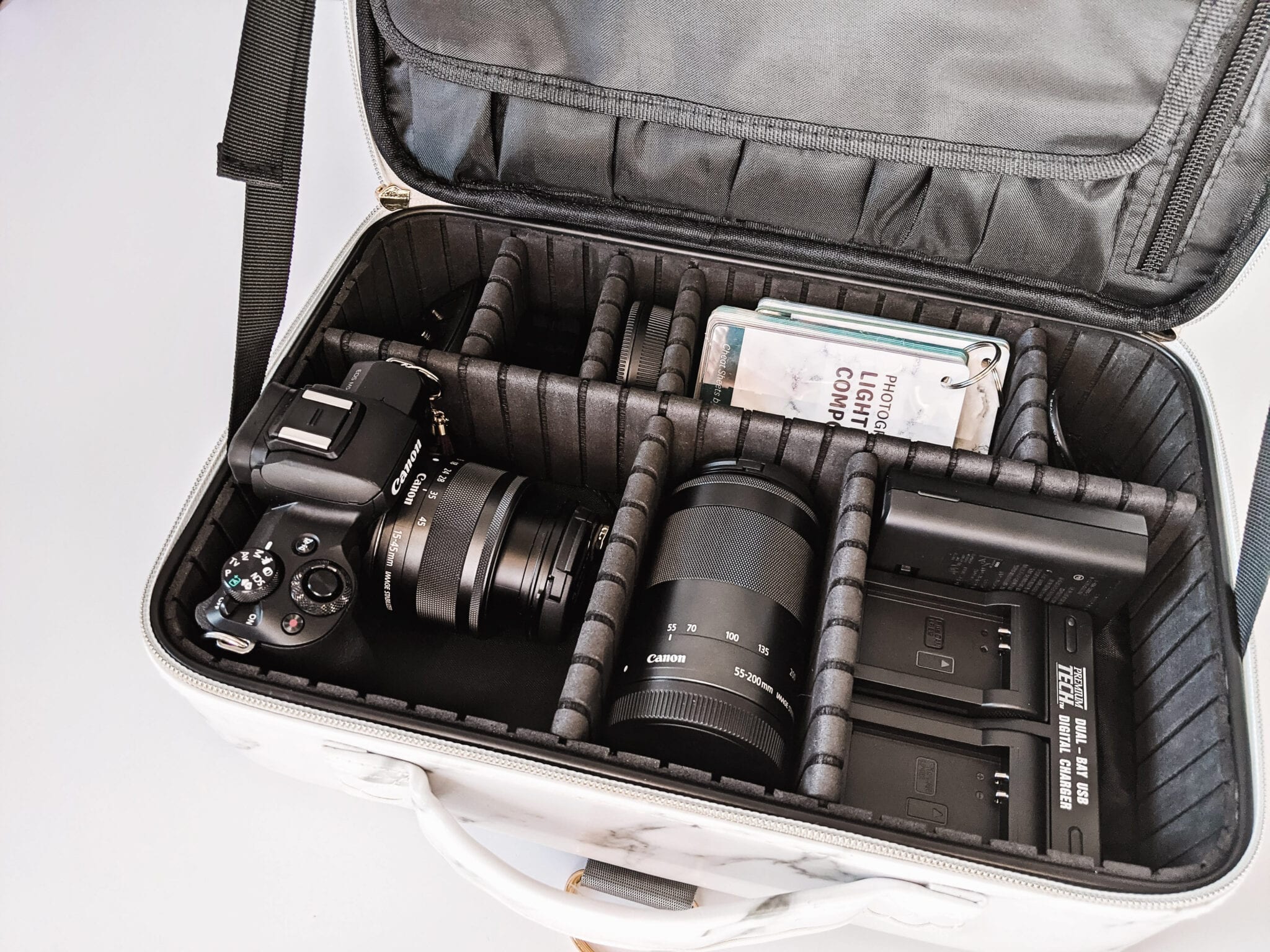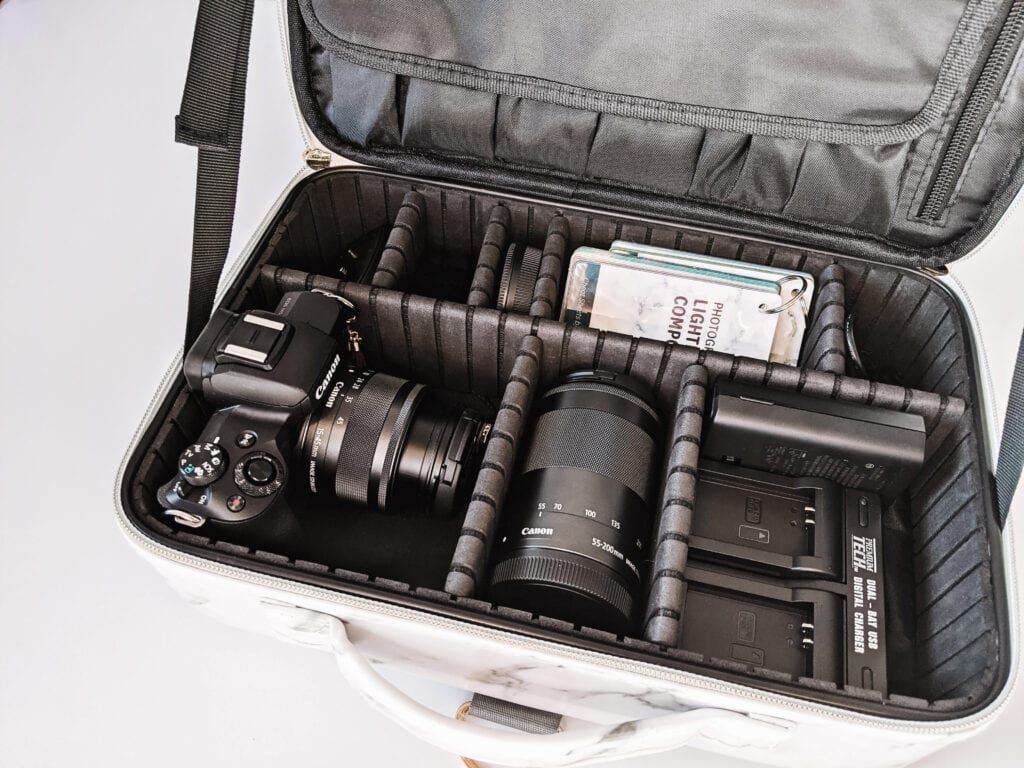 It's not smart to spend a lot of money on a DSLR camera only to buy a cheap backpack and have it damaged just because you didn't want to spend an extra few dollars.
Shop other awesome Camera Bags:

Digital Photography Guide Book for Beginners
Because it can get overwhelming to own a new DSLR camera, I highly recommend purchasing a Photography course or book. This will help you understand the basics and give you a place to start. Sure you can always just leave your camera on auto, but if you really want your photos to get to the next level, you'll need to learn the basics of photography.
A basic course or book will take you step by step on how to use the different settings on your camera as well as how to use lighting to create stunning images that you'll be proud of. Some other things that you will learn from a digital photography book are how to shoot in manual mode, how to create a solid workflow for the different kinds of photos you might take, as well as some basic editing tips.
There are so many photography books out there that it can be hard to know which one is right for you and your camera. So I've compiled this list of my favorite digital photography guidebooks below:
Shop Great Photography Books:

Photography Cheat Sheets
After you learn some of the photography basics from your new book, it can be hard to remember the tips when you're actually taking pictures. That's why it's extremely handy to have some photography cheat sheets to keep handy so you can reference their tips at a moment's notice without having to carry around an entire book around with you.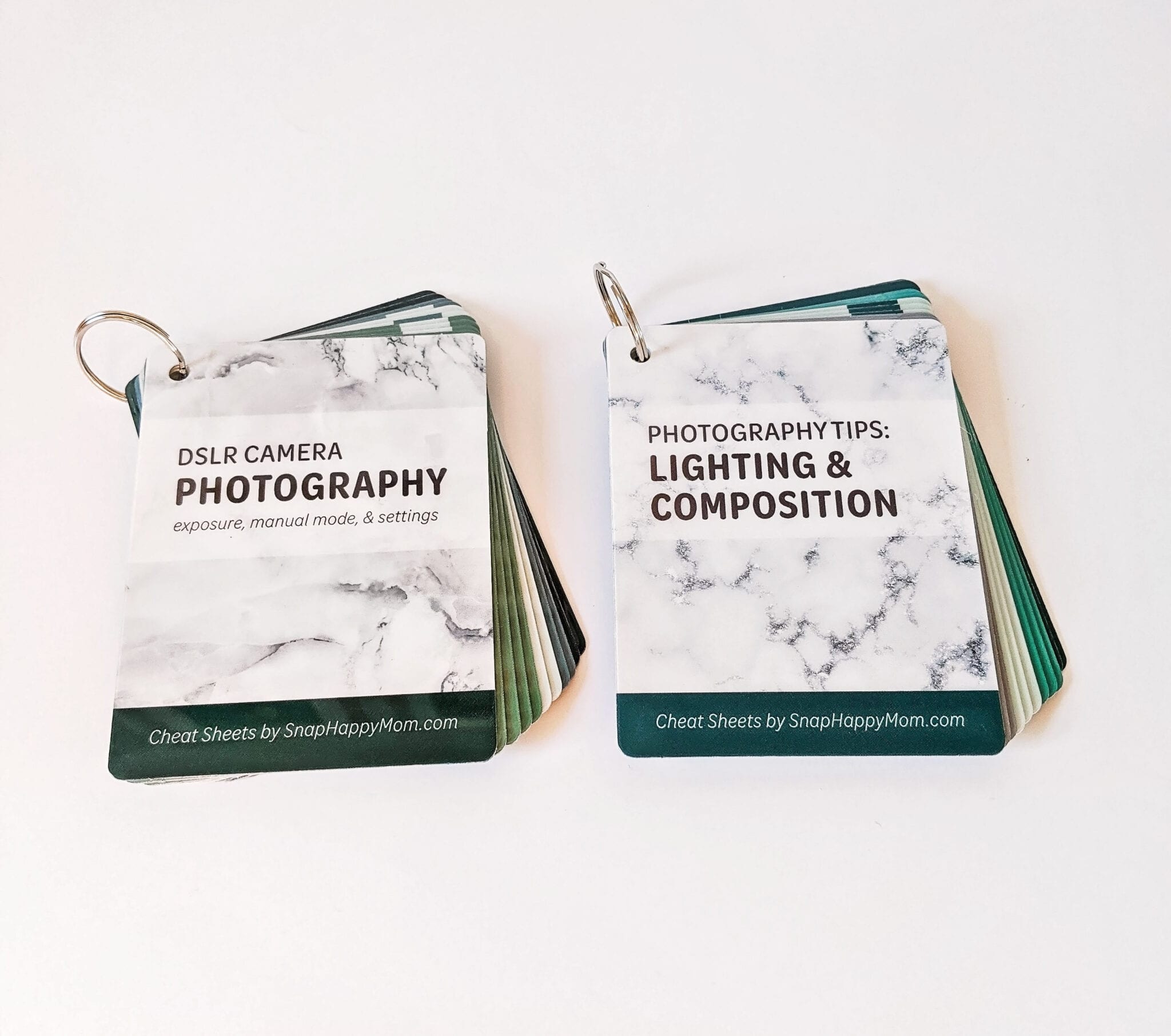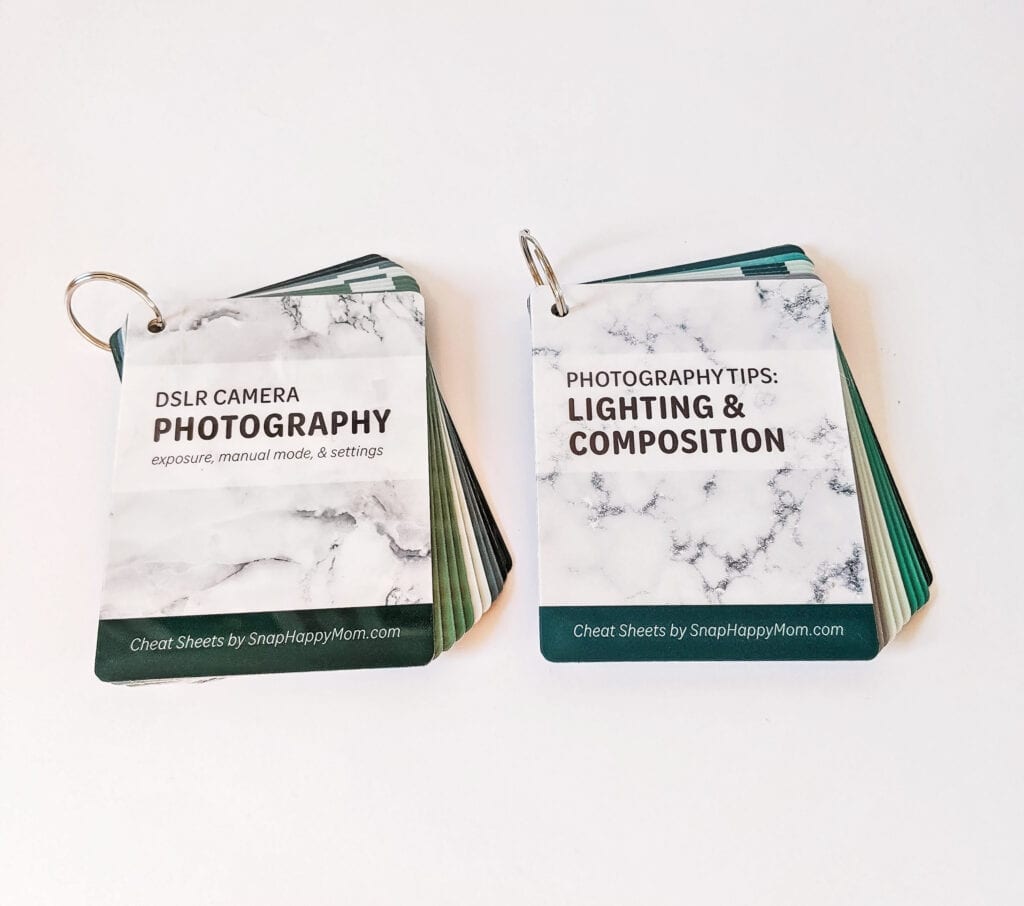 There are so many cheat sheets to choose from but my favorites are these two below. I love how they are laminated, well-constructed cards that you can easily pack away in your camera bag or even attach the clip to the outside of your bag. They are the epitome of convenience!
You can get 10% off these awesome cheat sheets using the code: PERFECTION10

Extra Memory Cards are a must-have item that you'll never regret purchasing
These cards go inside the camera and hold all the pictures taken as long as it has enough space on it. Memory cards come in different sizes depending on how high the quality of your photos is if you are recording video or just still photos, and how much storage you need. A good idea for beginners is to buy a couple of memory cards because it's always better to be prepared and have enough space on your card than run out of space and be caught in a bind.
There are different sizes available to suit any budget with prices ranging from $30-1200+. For beginners, it would be best to buy at least 128GB worth of storage depending on how often you plan on taking photos or videos. You may even consider buying two cards instead of just one in case something happens
Shop Memory Card Holders:

Extra Batteries are also a must-have item for DSLR cameras
Some people like to take their camera with them everywhere they go, and others prefer to keep it at home. A battery is important because if your batteries die while you're out shooting without any way of charging the battery or replacing it then guess what? You're not going to be able to take pictures anymore! Extra batteries come in handy when on vacation trips so that you can keep taking photos even after one dies. The only time extra batteries don't help is if both get drained before you remember which ones need fresh charges and actually do charge them.
If you are on vacation or if you are using your camera heavily, always remember to charge your batteries each night before you go to bed. That way you'll have freshly charged batteries for your travel.
Battery Charger
Cameras typically come equipped with a battery charger in the box, but you may want to consider having an extra one. It's also good to have a charger for your car so that you can charge on the go. It's a good idea to keep a charger in your camera backpack as well as have a charger at home.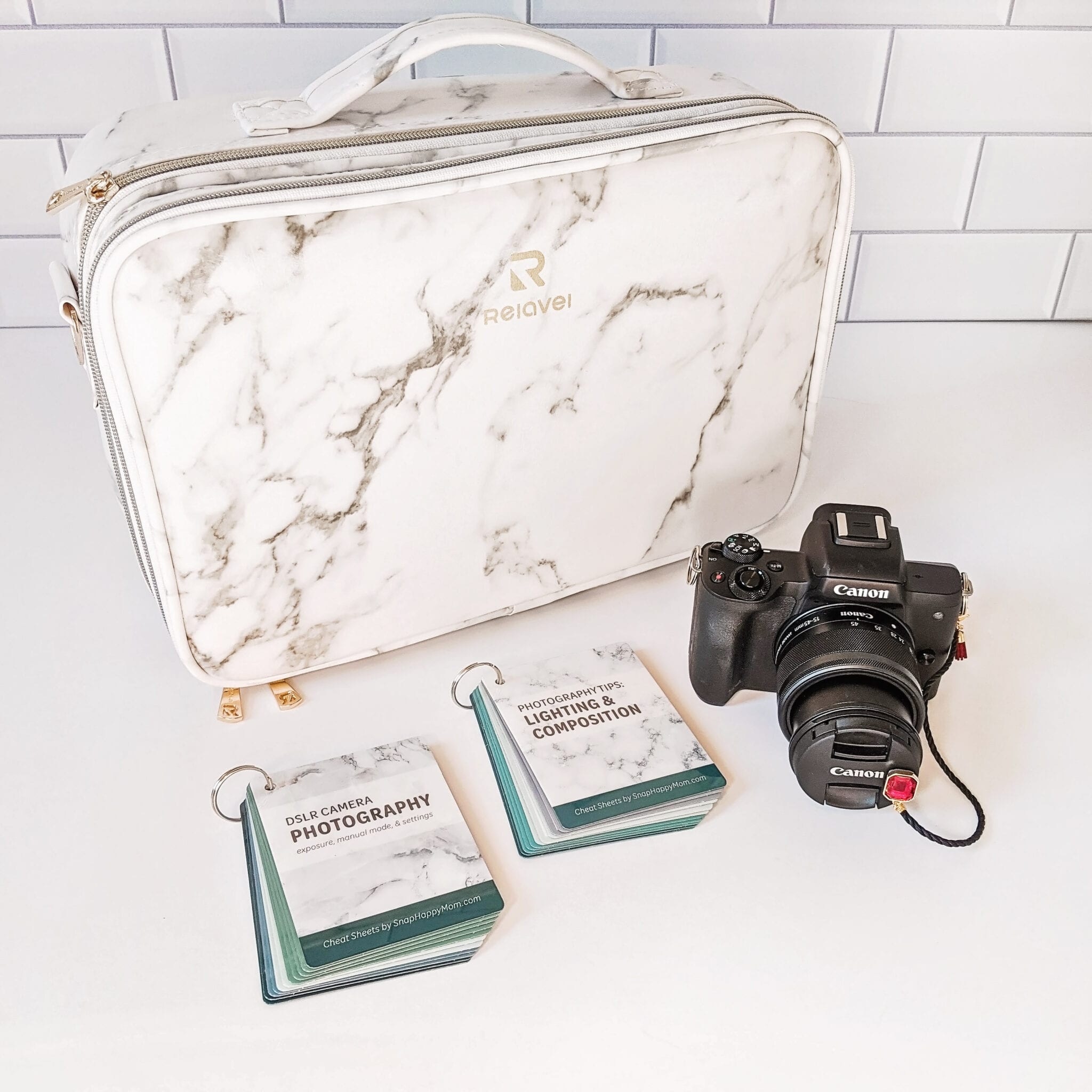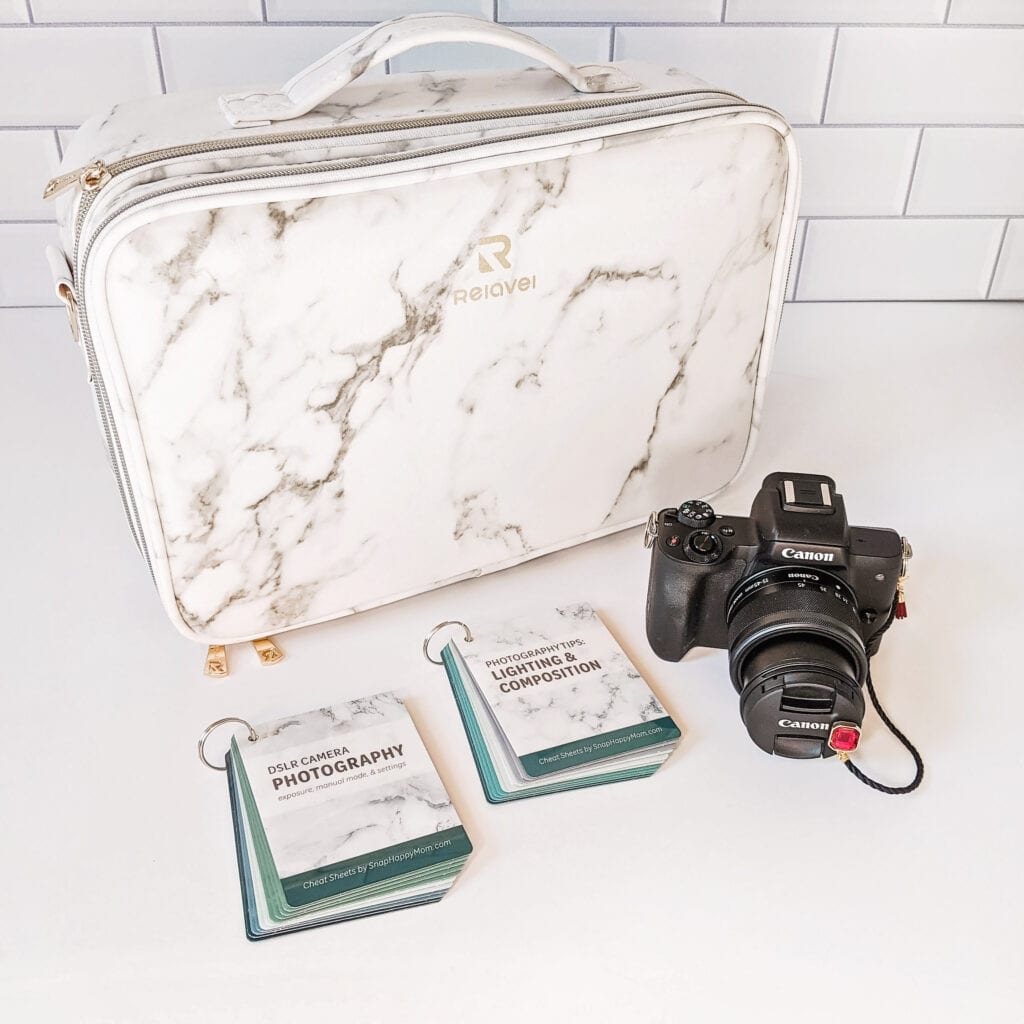 Power Bank
If you know that you are going to be in an area where you can't charge your batteries (such as on an exotic vacation to the Sahara or camping in a remote area) you may want to consider purchasing a power bank that can charge your camera batteries.
A power bank is a portable charger that can charge your phone, tablet, or camera batteries when you're not near an outlet. They are especially useful for long trips in remote areas where it may be difficult to find a place to charge camera batteries. You should make sure the power bank has enough capacity to fully recharge your DSLR's batteries. Make sure the power bank outlet can match up to your battery charger unit.
It's also important to remember that you need to charge the power bank before your leave for your vacation so that it has all the power that it needs to charge your batteries.
Shop AC Outlet Power Banks:

Get a Lens Cap Pouch or Holder to help Organize
You'll be surprised at how annoying it can get to constantly be searching for your lens cap. It's easy to misplace it and then not be able to find it when you need to replace it.
Lens caps protect your lens from dust, dirt, rain, snow, or anything else that might damage the surface of the glass so a pouch is an essential item for any DSLR owner to keep the lens cap clean.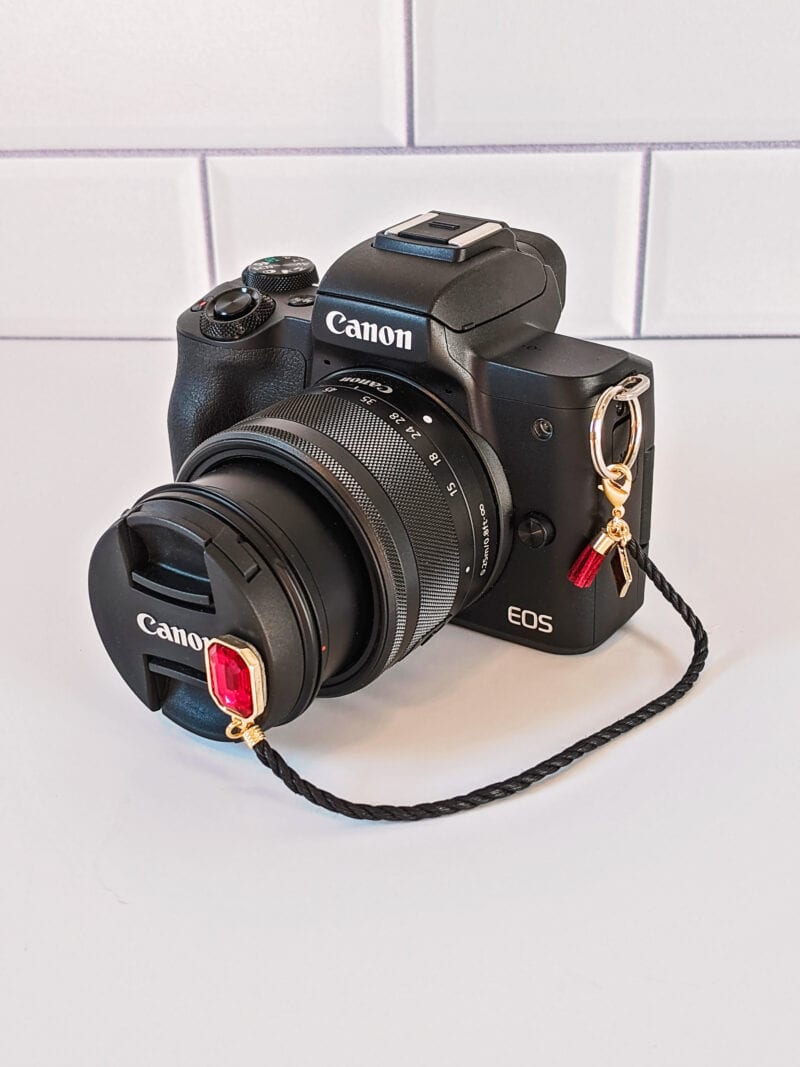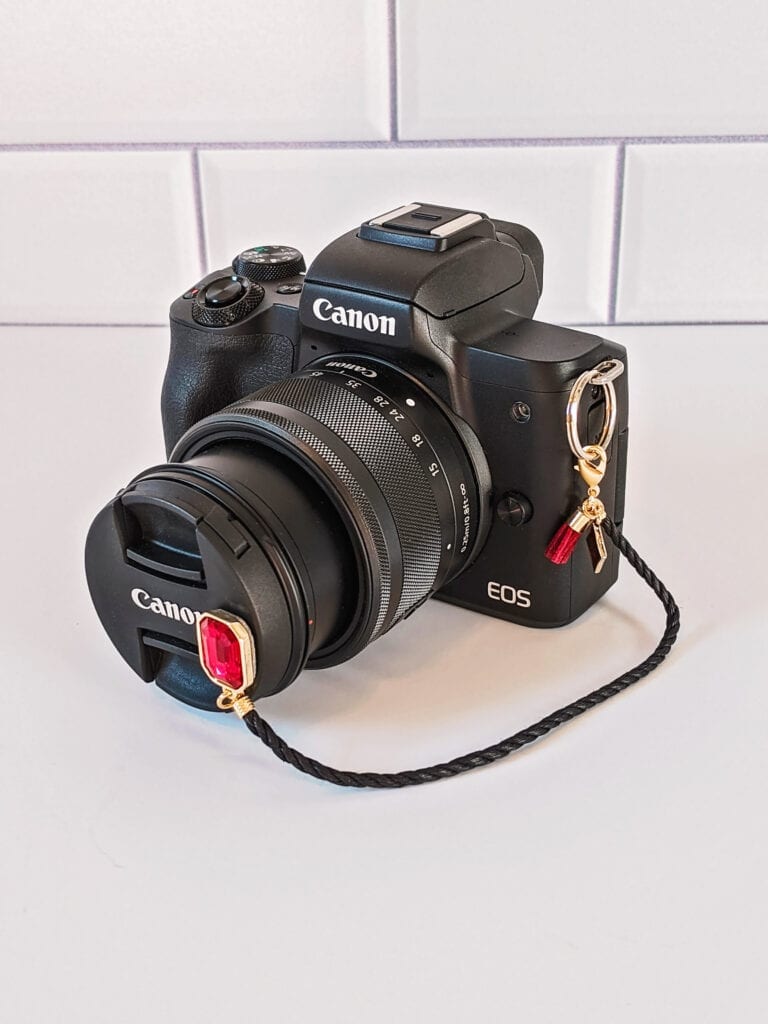 If you don't want a lens cap pouch, you can also get a lens cap 'leash'. This is essentially a small string that attaches to your camera and your lens cap. This way, as soon as you take it off your camera, the lens cap is still attached to the camera.
If you're not looking for a pouch or leash and are just looking for an easy place to store your lenses when they're not in use, then just put it in your pocket or in your camera backpack. These come with dividers so that each individual lens has its own space inside the bag.
Shop Camera Lens Pouches/Leashes:

Camera Tripods are great for low light
Few camera accessories are as versatile and necessary as a tripod. There are many situations where a tripod may come in handy. If you are traveling and don't want to carry your camera with you all day, a tripod can help by keeping it off the ground. You can also use one as an impromptu rain cover or just set up
A tripod allows you to create a time-lapse video without having to touch the camera! Tripods come in many sizes so make sure to get one that will fit both your needs and space limitations. Because DSLR cameras can be heavy, make sure to buy a tripod that can handle the weight of your camera.
The majority of tripods are made with metal or carbon fiber frames for durability and longevity which is important if you take good care of it! If you're looking at buying used equipment, then investing in quality over cost might be worth it down the line when something breaks on your old new purchase.
Remote Shutter Release
There will be situations where you are attempting to take a photo in a low-light situation but you can't seem to hold the camera still enough to get a clear photo. That's where a tripod and remote shutter release come in handy.
The remote shutter release is a small device that attaches to your camera and lets you trigger the shutter from another place. This way, if you are sitting in a chair with your camera on the floor or something like that, then this will work out well for you because now you can get those low-light shots without bumping the camera or the tripod.
Prime Lens – Your next purchase
Most DSLR camera kits come with a standard lens, but one of the first lenses that you should purchase is a prime lens. A prime lens is a lens that has one focal length. This is a great option if you are looking for a good quality, less expensive camera lens to add to your collection. Because a prime lens has fewer glass elements, it is much lighter and smaller than a standard lens.
This makes the prime lens ideal for those who are looking to take their camera on vacation or even hiking with them. The disadvantage to a prime lens is that it only has one focal length, so you will have to move closer or farther away from your subject in order to change the perspective of your image.
You've invested a lot of money in your camera gear, so it's important to protect that investment. One way you can do this is by storing and organizing your equipment properly. The best tip we have for how to organize your camera gear? Invest in the right bag or case! There are plenty of different types out there with all sorts of features – from padded compartments to rolling wheels -so find one that suits you best. Happy organizing!