Never Forget Your Password Again: Free Password Management Templates
It's no secret that passwords are a pain. We have too many of them, and it seems like every website requires something different. Not to mention, the rules for creating strong passwords keep changing. How are we supposed to keep track of all this information?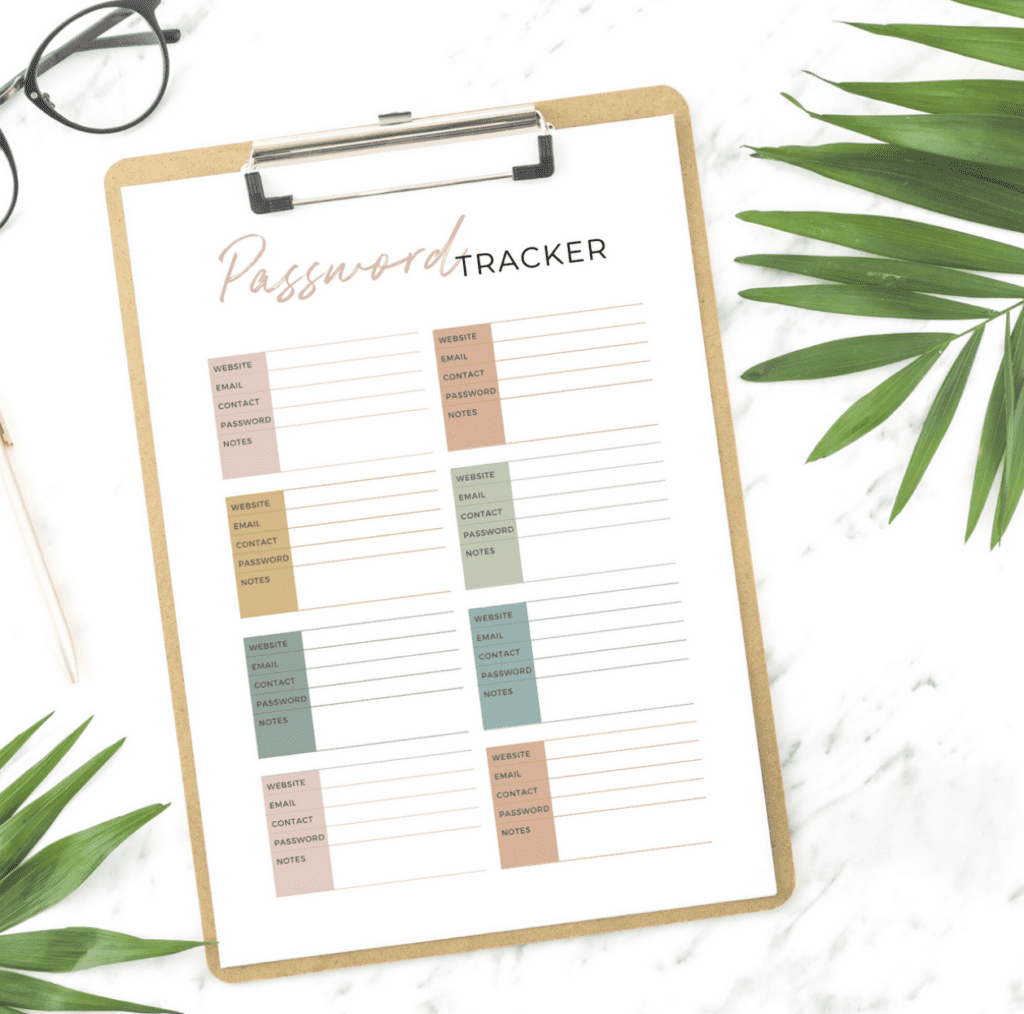 But passwords are obviously important. You don't want to make your password too simple because then your account is easily compromised. But when you're making different, difficult passwords for each website, it can be easy to forget them. This can cause a lot of problems, especially if you need to access an account urgently.
That's why password management is so important. Password management templates can really help! In this blog post, we will provide several free templates for password management that you can use to keep your passwords organized and easy to access. We will also discuss the importance of password management and how these templates can help you stay organized and safe!

Why should I use a password manager?
A password manager, password log, or password keeper, whatever you'd like to call it, is extremely important to help you keep track of all your passwords. With all of the accounts and websites you need passwords for, it's impossible to remember them all – and that's where a password manager comes in.
Password managers are tools designed to store your passwords and login information securely so that no one else can access or view them. Password managers also allow you to create complex passwords for each account, which helps keep your accounts secure from attacks or getting hacked.
Now, you might be wondering if a password keeper really keeps passwords safe. Well, most password managers use strong encryption to store your passwords, so it's not possible for someone else to view them. And that's if you're using a password keeper online.
However, there are other options that we will discuss in this post in case you're worried about an online password keeper. A password keeper printable is a great alternative!
How to Make Safe Passwords
Before we jump into the different options for storing passwords with password managers, let's talk about some good tips for creating new passwords.
When you sign up for an account, you're going to need a password. Some websites or companies have different requirements for their password, but most involve some variation of capital letters, lowercase letters, numbers, and special characters.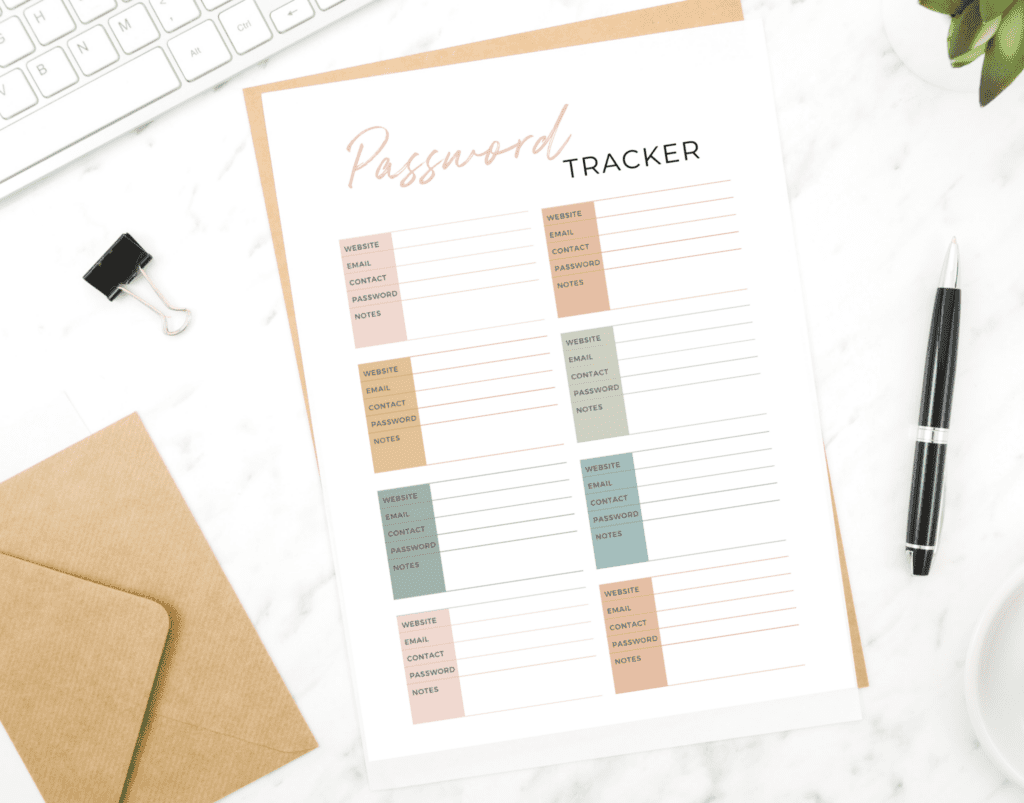 Knowing this, you might be tempted to use the same password for every site. However, using different passwords is an important way to keep your accounts safe. It's much harder for someone to guess or use one of your passwords when they're all different. So you should be trying to find a new strong password for each website to truly keep your personal information secure.
You could also use a password generator, which creates random passwords that are difficult to guess and remember. This can really prevent your accounts from getting hacked. The downside to this is that it can be hard to remember these passwords without writing them down. But don't worry! That's where a password keeper or password log comes into play!

Different Types of Password Managers
There are a lot of different ways to keep track of the passwords and usernames for all your accounts. Here are a few of the more common methods.
Online Password Log
This is the type of password keeper or manager that most people use. Using Google Keychain or a similar service, one can store their passwords online in an encrypted database. This makes it easy to access them from any device and even share passwords with others!
This type of password log is still pretty safe but in case you're worried about hackers getting into your accounts, you may want to consider using a different type of password keeper.
Desktop Password Manager
A desktop password manager is an application that stores your password list on the user's computer. It encrypts them and keeps them secure so they can't be accessed by unauthorized users. This type of password keeper also often includes features like auto-filling web forms and generating strong passwords.
Password Tracker Apps
There are several password tracker apps you can use on your phone or tablet to store and manage your passwords. These apps usually sync with cloud-based services so you can access them from multiple devices. They often allow you to set up secure backups, use two-factor authentication, and generate random passwords for added security.

Cloud Password Manager
Cloud password managers are similar to desktop password managers but they store the passwords on a cloud service rather than the user's computer. This makes it easy to access them from any device and they're also usually more secure than desktop keepers since there's an additional layer of encryption. It's similar to Google Keychain and other services.
Keeping a Password Log Spreadsheet
If you want an offline way to store all your passwords but still want to store them on your computer, you can make an Excel spreadsheet containing your username and password for different accounts.
Spreadsheets can be the perfect tool for some people, such as those who have a few passwords and don't need any extra features. However, you will need to make sure the spreadsheet is stored securely on your computer and isn't available for anyone else to find. Make sure you remember to save any updates as well if you change any password.
Writing Them Down on Printable Password Logs
This is a more traditional way of keeping track of every username and password. It involves writing them down in a physical log, notebook, or printable password logs that are only accessible by you.
Of course, you might be worried about having such sensitive information lying around your house. However, there are a few things you can do to ensure that the log remains secure.
The first is to find a safe place to store the printable password log or notebook and make sure it's out of sight from anyone who might come over or have access to your home. The second is to be aware of anyone snooping around or trying to access the notebook without your permission.
You should also make sure that no one else knows where you keep it but make sure it's easily accessible so you can grab it when you need it!
Always Selecting "Forgot Password"
This isn't really a "password log," but I'm sure we've all been here before. You make some complicated passwords that only you can remember… until you don't. Then you choose a new, different password.
I don't recommend this method because it's a hassle to have to change your password every time you're trying to enter your login information. It does happen to the best of us, but it's definitely not an efficient method to rely on.
Free Printable Editable Password Template
One of my favorite forms of a password tracker is using a password template. Using printable password templates can be a secure and safe way to keep track of all your passwords. Plus, they're easy to customize.
There are lots of free templates available online that you can edit, add fields to, or even create new ones. I'm providing my own free printable password trackers in this post! With a free printable password organizer, you can edit it with your own information and make it as detailed or simple as you'd like.
The link to download instantly is below! A free printable password organizer will make it easy for you to keep track of your password list. I have tons of other free printables that you'll love, too!
Organize and Save Your Username and Password Information
Using password list templates or a password tracker is a great way to stay organized. You can quickly locate the passwords you need and keep them in one secure location. It also saves time from having to reset your passwords as they are already stored in a safe place on your computer or mobile device.
Keep your personal username and password data close by so you can easily find them when needed.
What's your favorite way to store and organize your passwords? Let me know!