Manage Your Time and Get Things Done: The Benefits of a Monthly To-Do List
How many times have you said to yourself "I'll do it tomorrow?" How often has that "tomorrow" turned into a week, month, or even year? It's easy to lose track of time, especially when there are many things on our plates. That's why creating a monthly to-do list is so important!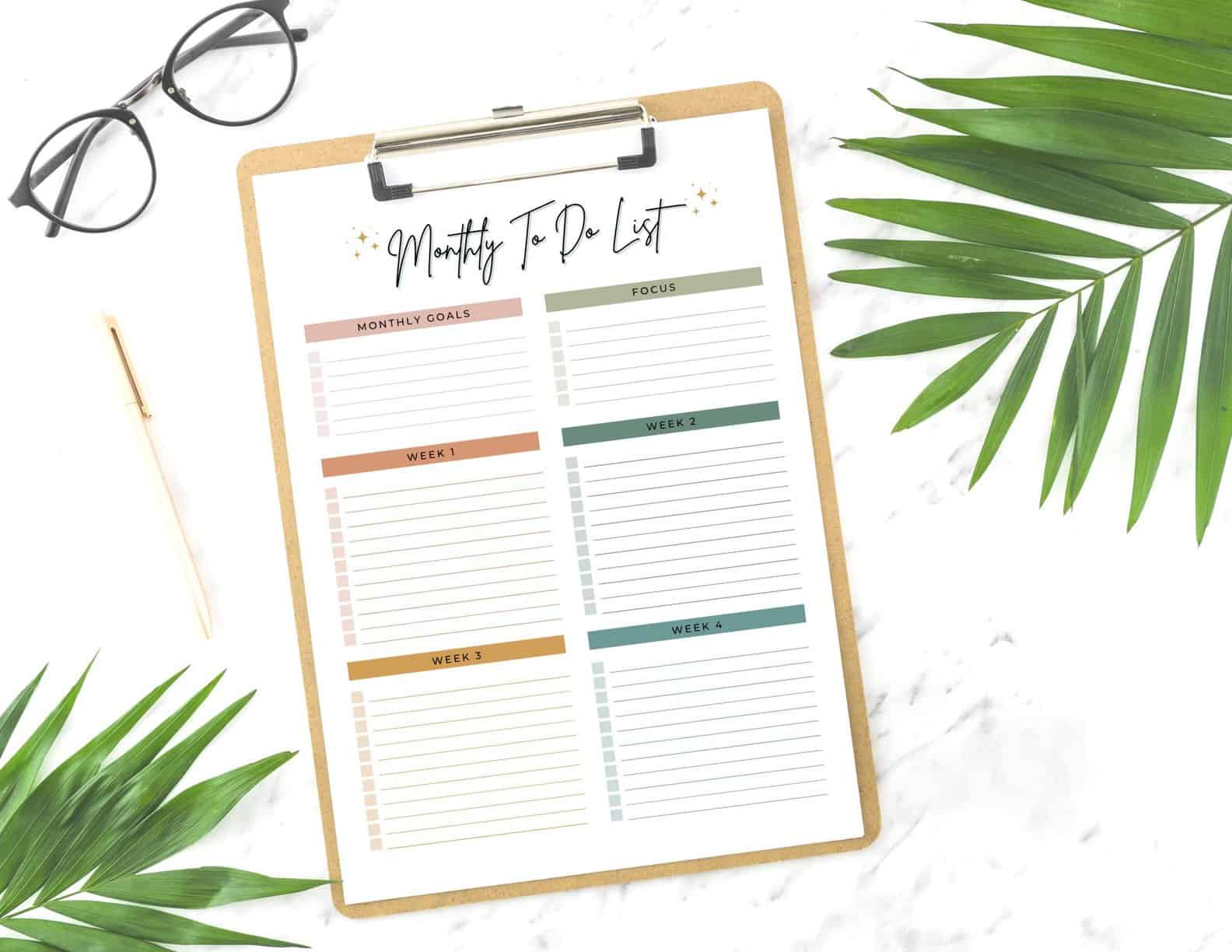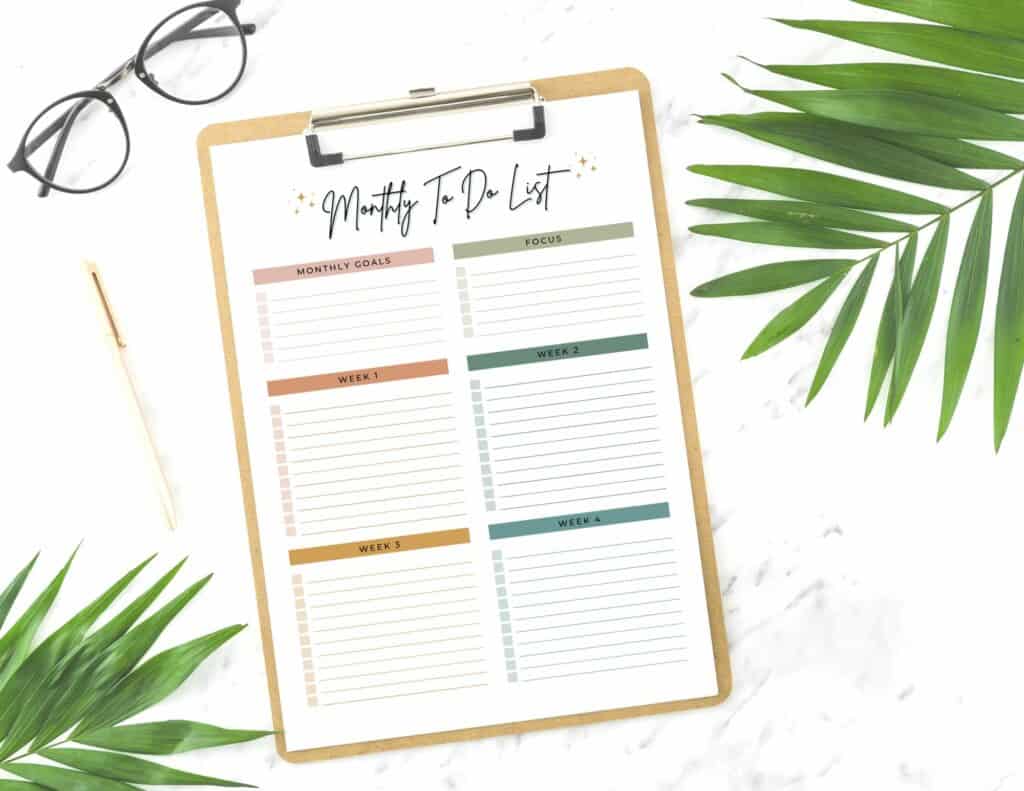 By writing down everything you need to do in advance, you can better manage your time and actually get things done. It will help break down your goals and tasks into manageable chunks that you can complete over the course of the month. Not only will this help you stay focused, but it will also give you a sense of accomplishment each time you check something off your list!
This blog post will discuss the benefits of creating a monthly to-do list and how to get started! Don't forget to sign up for my newsletter to gain access to my Free Resource Library to download these free monthly to do lists!
Why a Monthly To-Do List Is Important
Creating a monthly list is a really great way to stay organized. How many of us make a list of things to do in the morning and then forget about it by the afternoon? It's easy to get distracted by other tasks or just lose sight of our goals.
That's why having a monthly list is so important – it keeps you focused on your priorities for the month, ensuring that nothing slips through the cracks.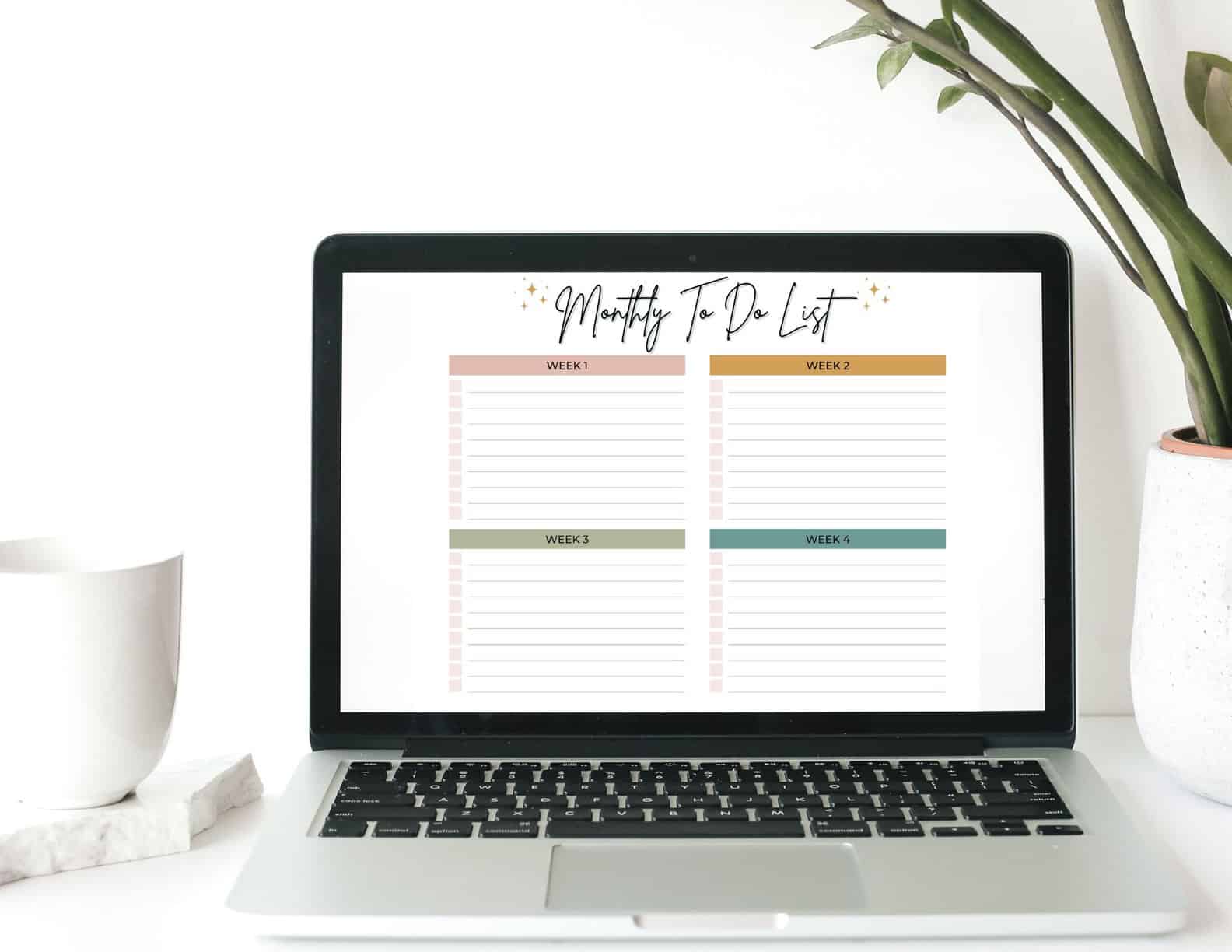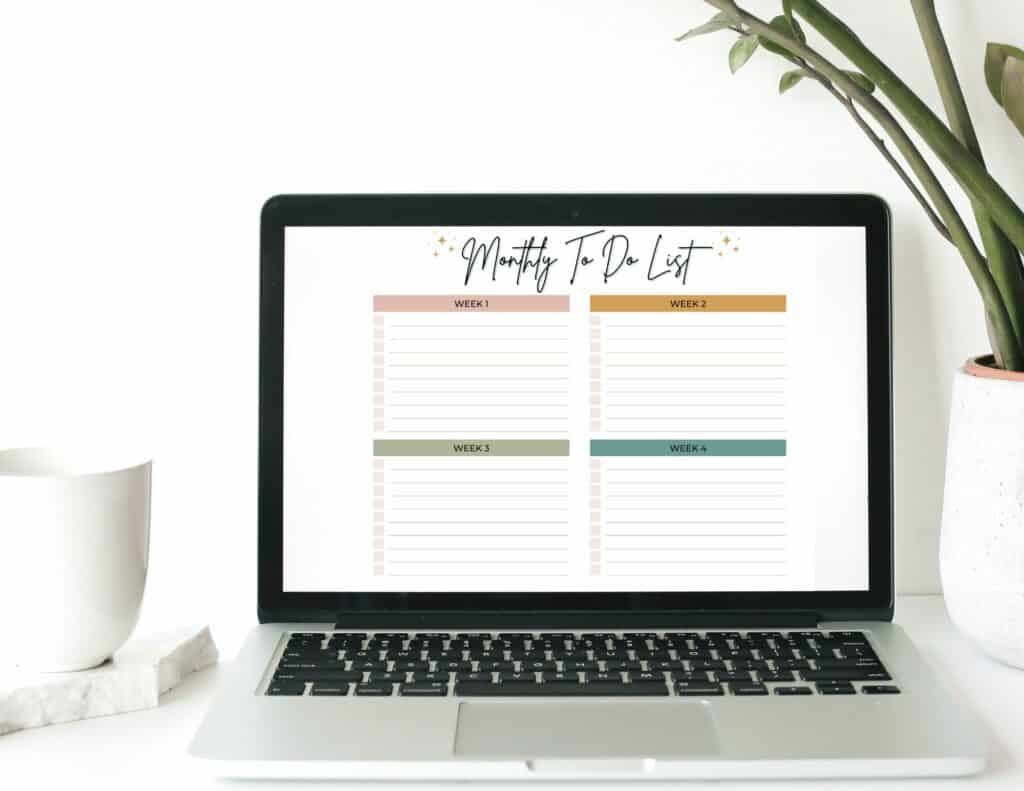 Plus, it can help you organize and accomplish annual goals! If you set goals at the beginning of each year but struggle to complete them throughout the year, monthly lists can help you organize those goals in a manageable way.
Creating a to-do list for each month will help you with planning, getting chores done, and keeping on top of events for your family. Let's cover how you can create a monthly to-do list.

What to Include on Your Monthly List
When it comes to to-do lists, especially monthly lists that will be covering around 30 days, it's a good idea to keep your list as concise and organized as possible. If you have too many tasks listed, it can be overwhelming and then you end up getting nothing done! That's what we are trying to avoid.
Your monthly list could include any of the following:
Monthly Chores
One great way to keep your house clean is to organize monthly chores and tasks on your to-do list. For example, you could add "clean the bathrooms" or "wash sheets and comforters" to your list.
Write down all of the tasks you need to get done for the month and then you can schedule them on different days throughout the month so you aren't left with hours of cleaning on one day.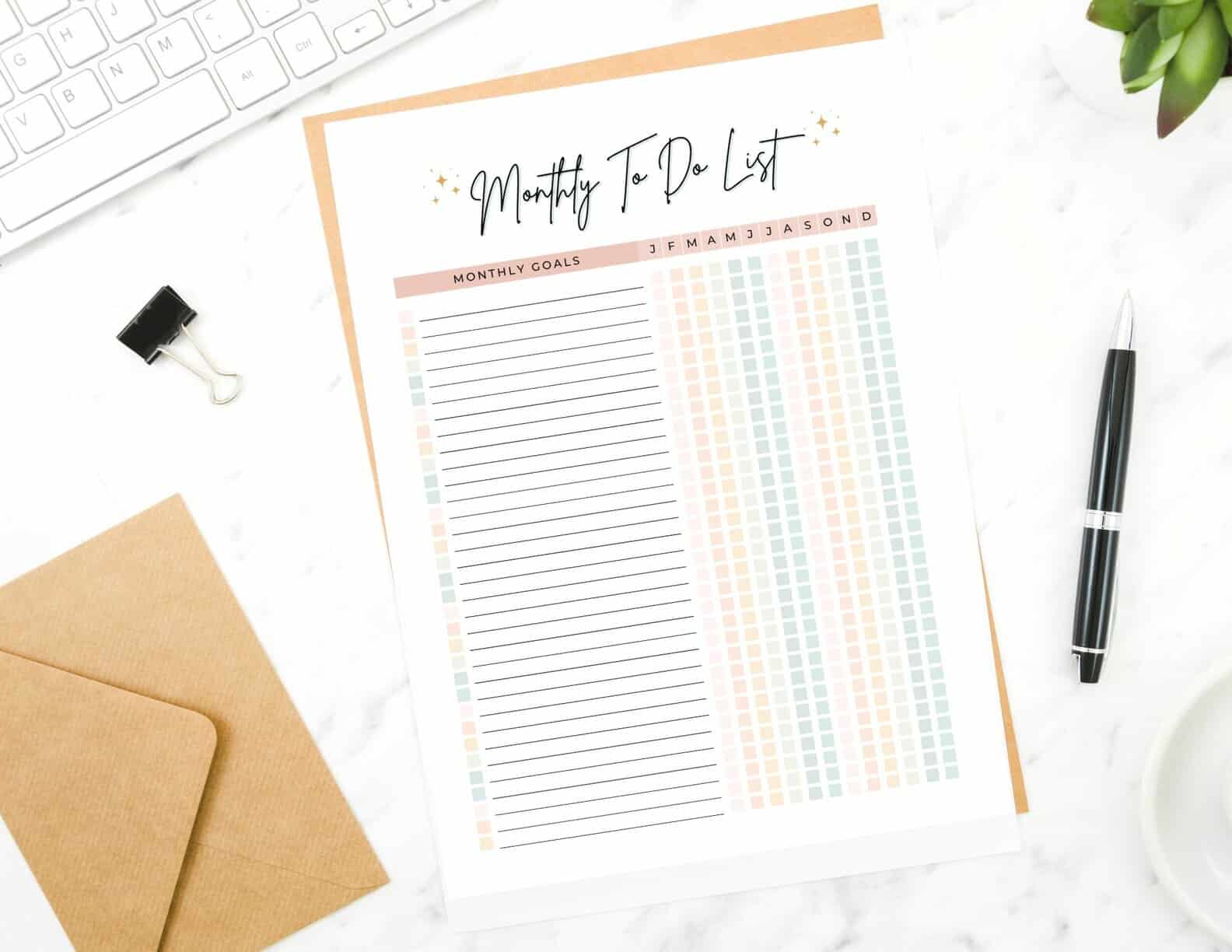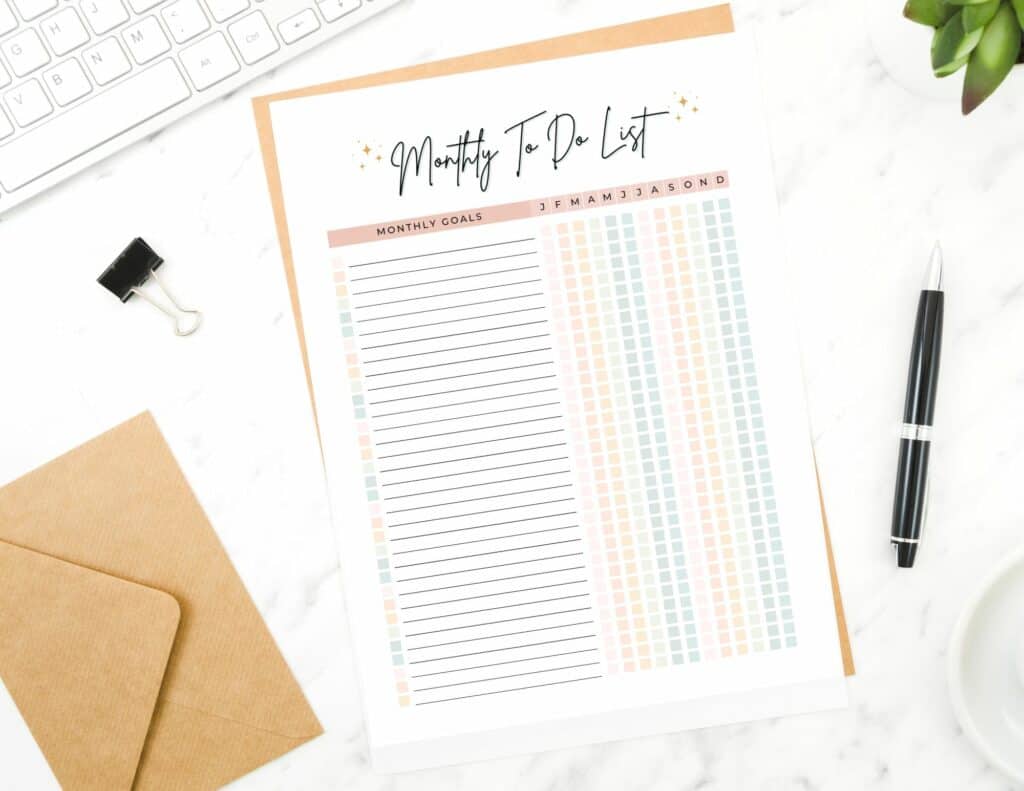 Financial Goals
It's important to stay on top of monthly financial goals, such as paying bills on time or transferring money into savings accounts. Put these types of tasks onto your list so you don't forget any bills.
Shopping Lists
Create a list of items you need to buy so you don't forget anything when shopping. This can help prevent impulse buys and save you money in the long run. You don't have to put this list on your to-do list, but it can be great to include if you often find yourself buying unnecessary items.
Consider tasks you need to accomplish and people you need to buy for when creating your shopping list. Here are a few different kinds of shopping lists you could potentially create:
Home improvement projects and supplies needed
Menu items for a party or holiday gathering
Gifts, food and decorations to buy for a birthday party
Cleaning supplies you are running low on
Home and garden supplies you need for the upcoming warm seasons
Upcoming Holidays
Stay organized for upcoming holidays by including everything you need to buy, do, decorate, or attend on your to-do lists each month. This can help you stay ahead of the game and make sure you don't miss any important events. Here are some important dates to plan for:
Friend and family birthdays
Birthday parties you need to buy gifts for
Mother's Day or Father's Day
Christmas, Halloween, 4th of July, etc.
Graduation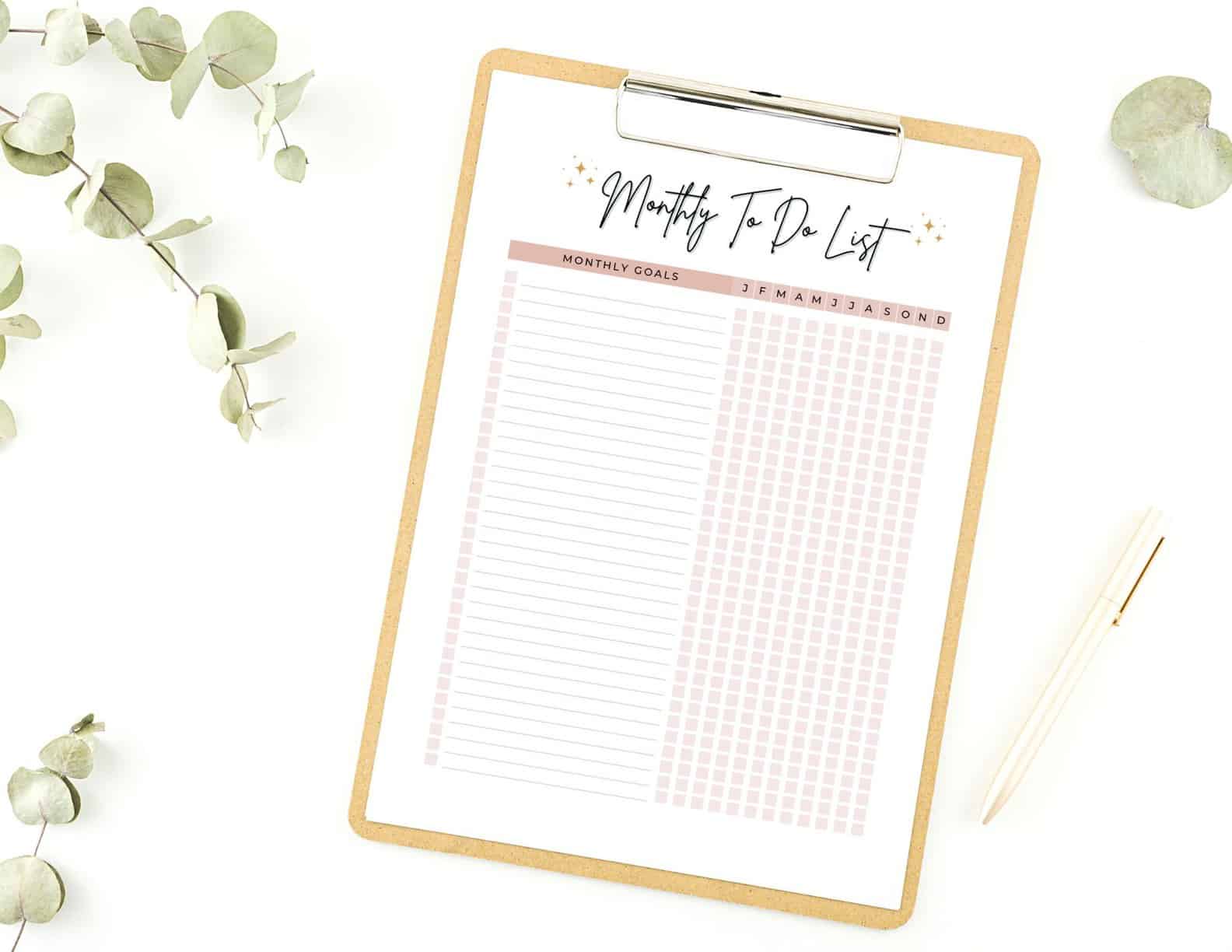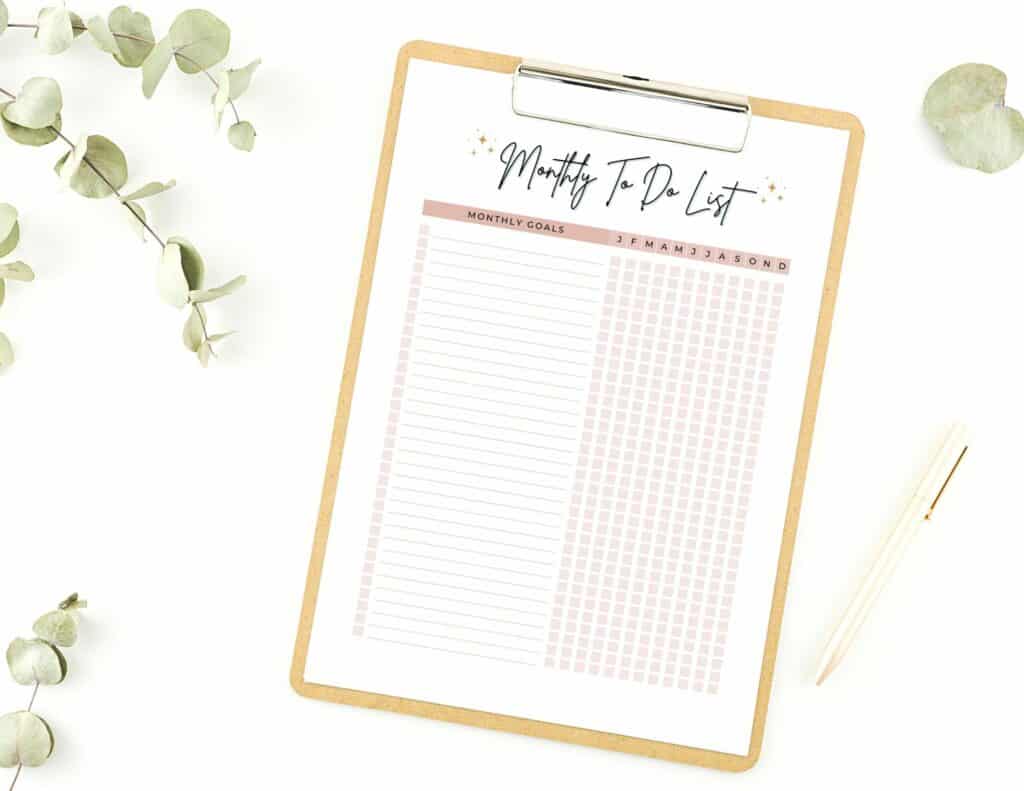 Home Projects
If you have any home projects you've been wanting to finish, you can add to-do items for them to your list as well. This can help you stay motivated and organized when tackling those big projects so you don't forget any of the steps or materials needed.
Breaking it down by month will also make it more manageable. You can focus on one renovation or DIY project at a time! Here are a few ideas of home projects that need to be done seasonally:
Change out furnace filters
Yearly furnace maintenance
Clean out the gutters
Deep clean the front porch and patio
Deep clean the garage
Inspect home for damage
Deep clean cars, inside and out
Spray for outdoor bugs and pests

Self-Care and Fun Ideas
Make sure your to-do list isn't all work and no play. Make time for yourself by scheduling regular breaks or activities that will help reduce stress, like watching a movie or going on a walk. By putting these items on your to-do list, you're more likely to actually do them!
Include time for yourself when you're working on time management! Here are some ideas of things you can include in your monthly list to make sure you're also taking care of yourself.
Massage
Manicure or pedicure
Hair appointments
Health exams
Dentist appointments
Time to read or go on a hike
Time for meditation
Yoga
Time at the gym
Kids and Family Tasks and Events
If you have an upcoming family outing, such as a picnic in the park or a day at the zoo, make sure to include it on your to-do lists so that you don't forget and miss out.
If you have kids, look at their schedules too! Make sure to include any things they have going on at school or with friends. This will help you stay organized and keep on top of all the activities and responsibilities in your family's life.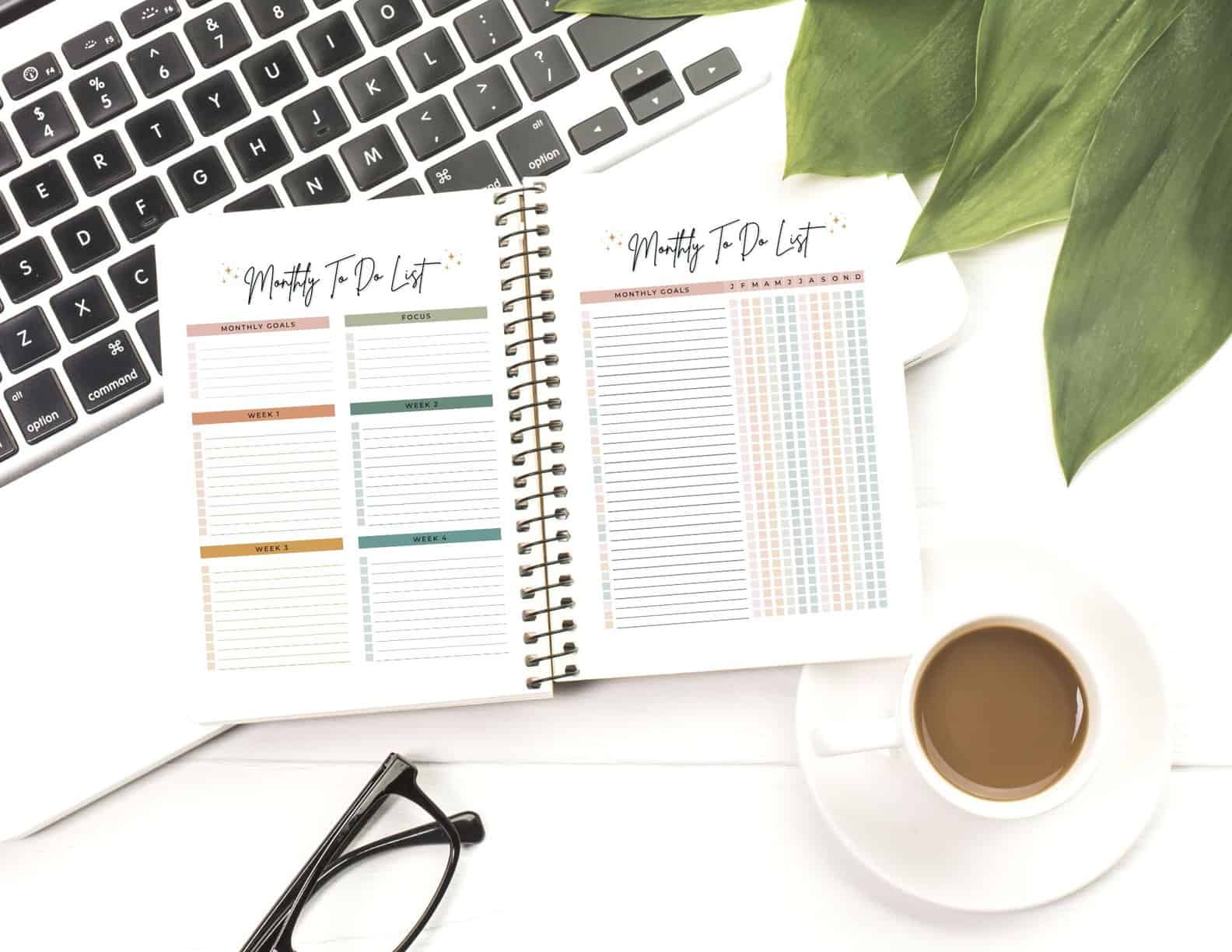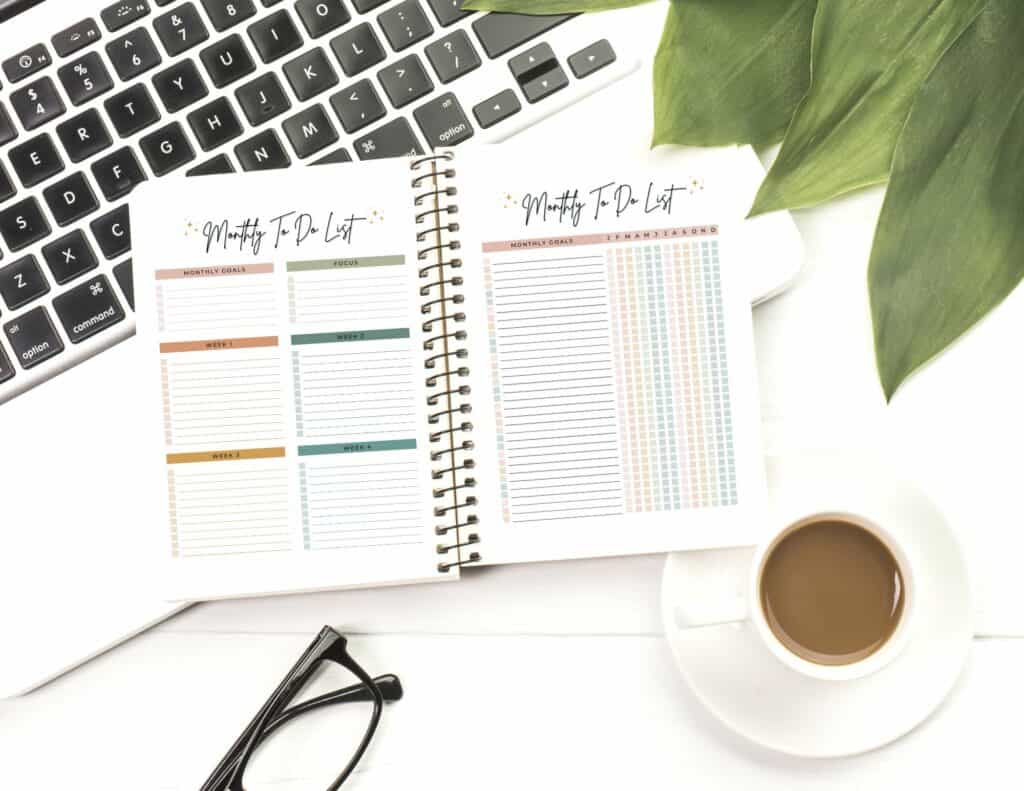 If you and your spouse don't go on dates too often, add that to your to-do lists and calendar! Scheduling dates well in advance help keep them a priority in your life! Here are some fun ideas of things you can do to strengthen relationships with your family:
Weekly game night
Going out to get a treat after dinner
Participating in family sports such as pickleball
One-on-one date nights with your kids
Monthly life skills to teach your kids
Family vacations
Family movie night (an outdoor movie night is also really fun in the summer)
Old-fashioned game night
Family competition
Family meeting to see what can be improved
Supporting each other at extracurricular activities
Here are some other ideas of things you can include when planning your monthly to-do list:
Monthly Goals
Plan for monthly birthdays
Anniversaries
Dance Recitals or performances
Graduation or other advancements
Teacher Appreciation
Weekly dates with your spouse
Financial Goals
Shopping Lists
Upcoming Holidays (and tasks that go along with that)
Home projects (and different steps needed to accomplish them)
Self-Care Ideas
Fun activities to do with friends and family
Books to read
Movies to Watch
Places to go
Spiritual development goals
Physical development goals
Health exams or dentist appointments
Family goals or things you want to teach your kids this month
Seasonal tasks to upkeep the house
How to Create a Monthly To-Do List
Now that we've covered some of the things you could put on your to-do lists each month, it's time to narrow down exactly what you should put on yours. Monthly lists are going to be different for each person, so you will need to pick and choose what items to include on yours!
First, you need to decide on the most important things in your schedule. You can do a bit of a brain dump and figure out what you need to get done each month. This can include errands, appointments, tasks related to work or school, and more.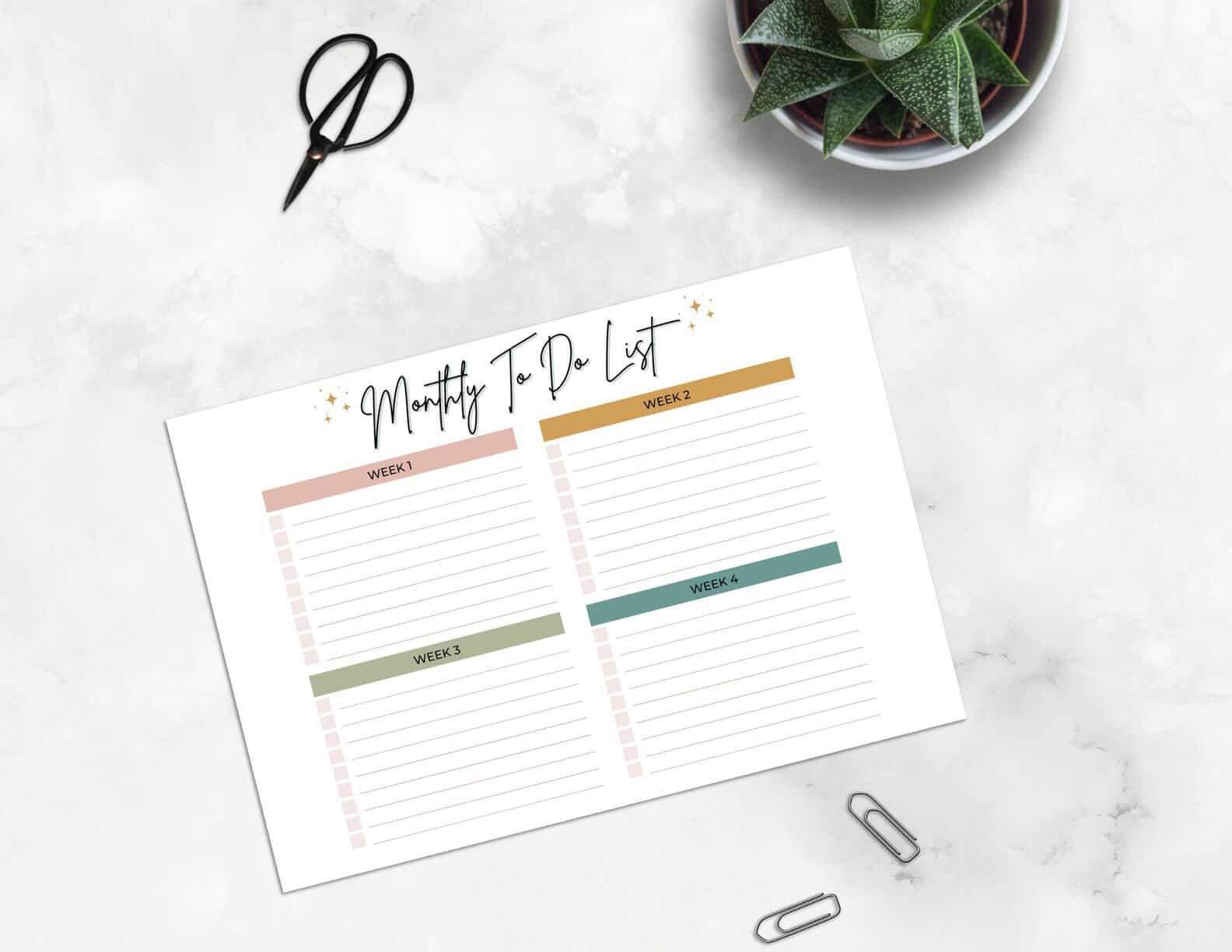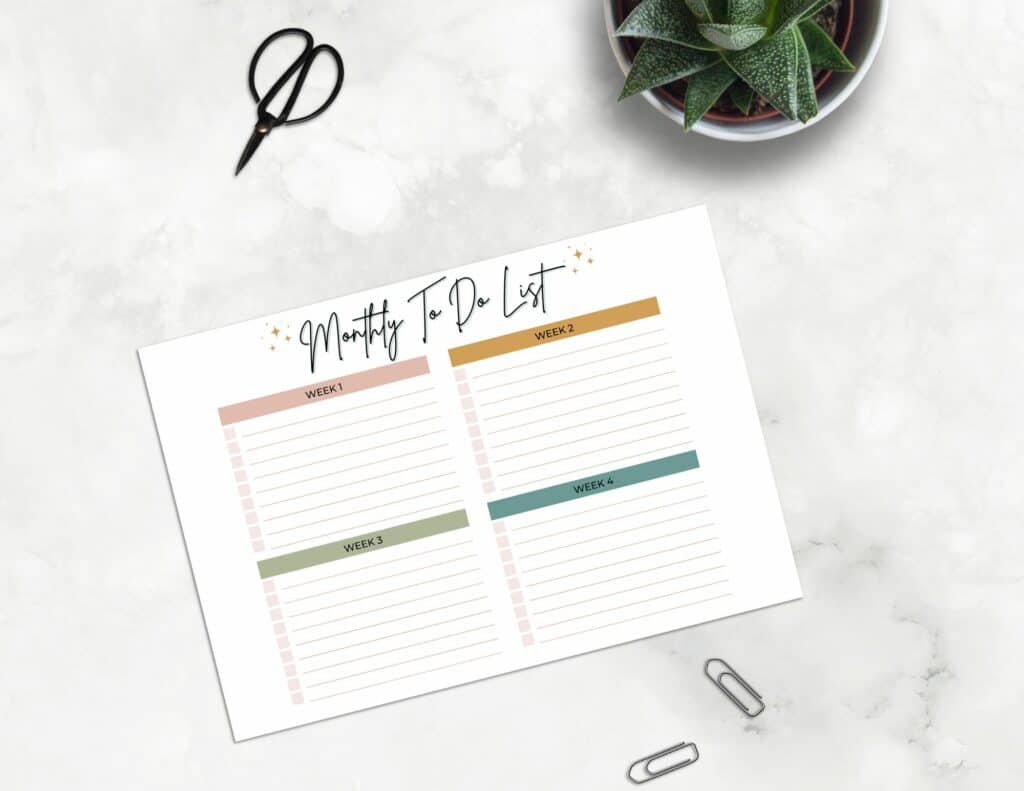 It's important to prioritize the tasks that you need to get done in order of importance so you don't forget anything!
Next, set a timeline for yourself for when these things need to be completed. Organize your list so you can get everything done on time!
One of my favorite tips when creating to-do lists is to keep the same categories for each month and just change the tasks within those categories. That way you aren't starting from scratch every month! You're just spending a little bit of time at the start of each month to get everything organized.
Free Printable Monthly To-Do List
You can create to-do lists in a lot of ways. You can write down what you need to do on your calendar, in a planner, or download a to-do list app.
You can also use a to-do list template! I've created a template for a free printable monthly to-do list that you can download and personalize with your own life events, goals, chores, and other top priorities. Having a template makes it easier to fill out when all you have to do is print out a copy or type up your list!
However you decide to create your to-do list, using a monthly list will help you stay organized and redirect your focus to the most important tasks, projects, and goals for each month.
Happy planning!