How To Create A Halloween Beverage Bar
Halloween is ties with Christmas as my favorite holiday so naturally I make an extra effort to make sure things are extra festive. But sometimes it can be overwhelming to know where to start. This blog post will help you create your very own halloween beverage bar so that you can make your guests feel welcome during the month of October!
Need more ideas? Check out these posts: How to Style a Fall Beverage Bar Everyone Will Love or The Ultimate Fall Cleaning Checklist to Get You Ready For Winter!
Pick a Theme For Your Halloween Beverage Bar
The first step to creating your very own Halloween beverage bar is to pick a theme. There are so many different themes that you can use for Halloween beverage bar. You could choose to do skulls, pumpkins, farmhouse Halloween decor, or even go with a glam theme!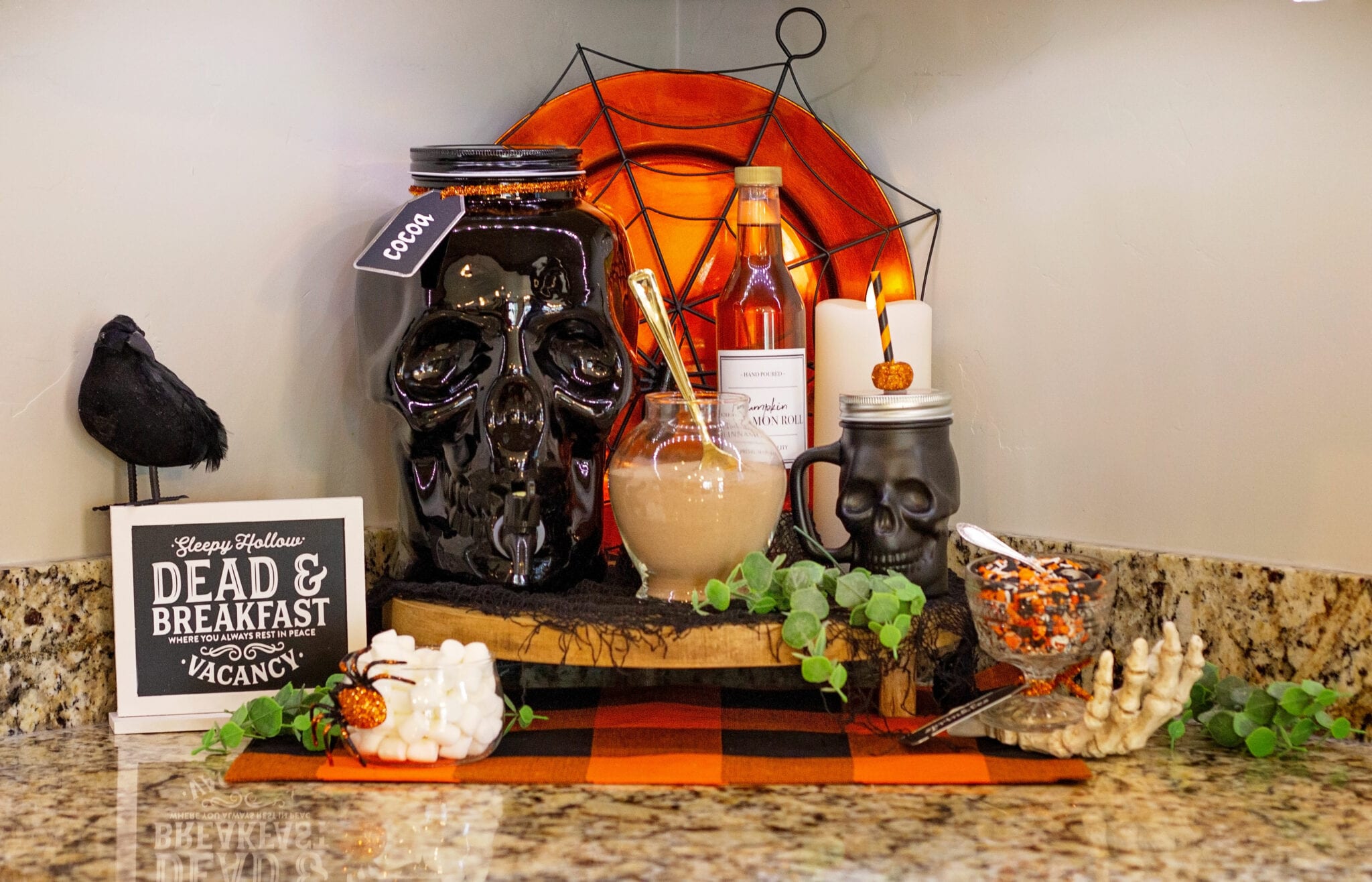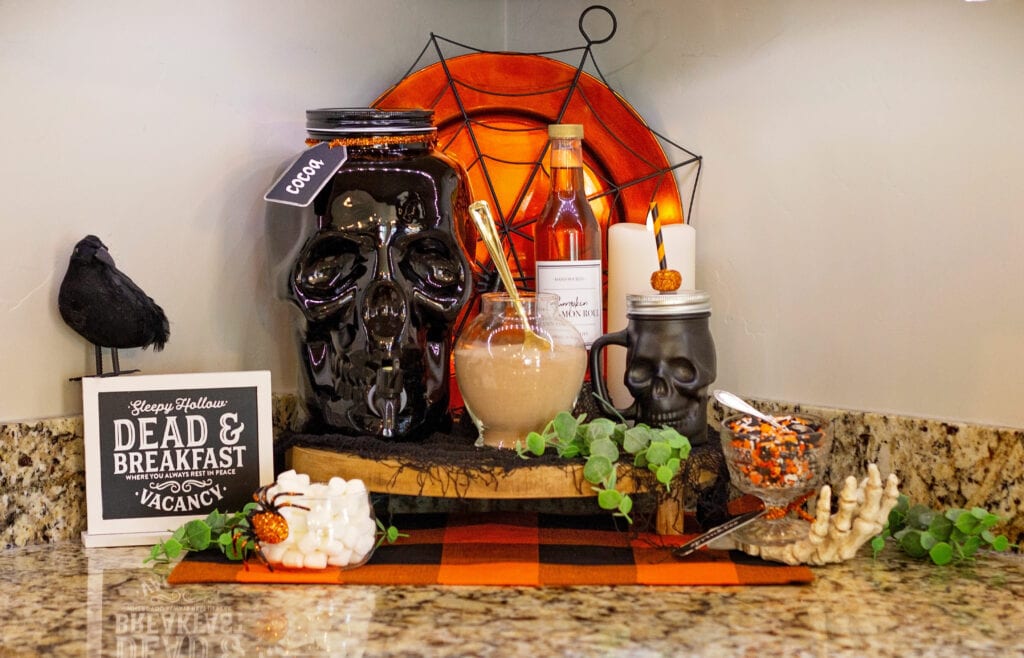 Either way, the goal is to create a place where your guests can create their own seasonal drinks to help them feel more welcome at your home. I really love skulls and black and orange gingham patterns so I used my favorite black and orange placemat as a base. Then I gathered some items that went with my theme that really brought in the Halloween spirit!

Decide What You'll Be Serving
After you decide what your theme is going to be, the next step that you need to take is to decide what you are going to serve. Is this beverage bar going to be something that you only put up for a particular party? Or is it something that you want to leave up all October long?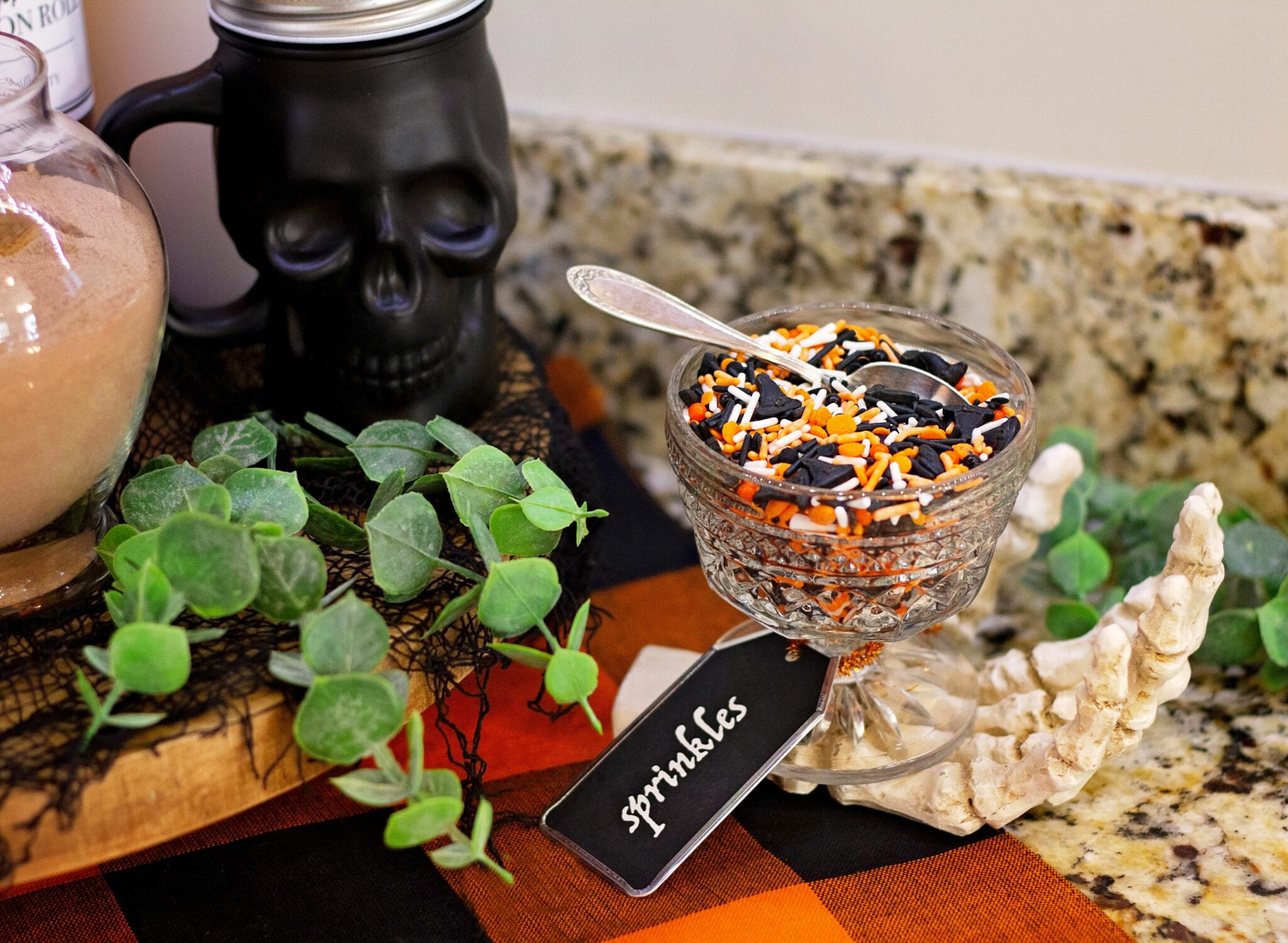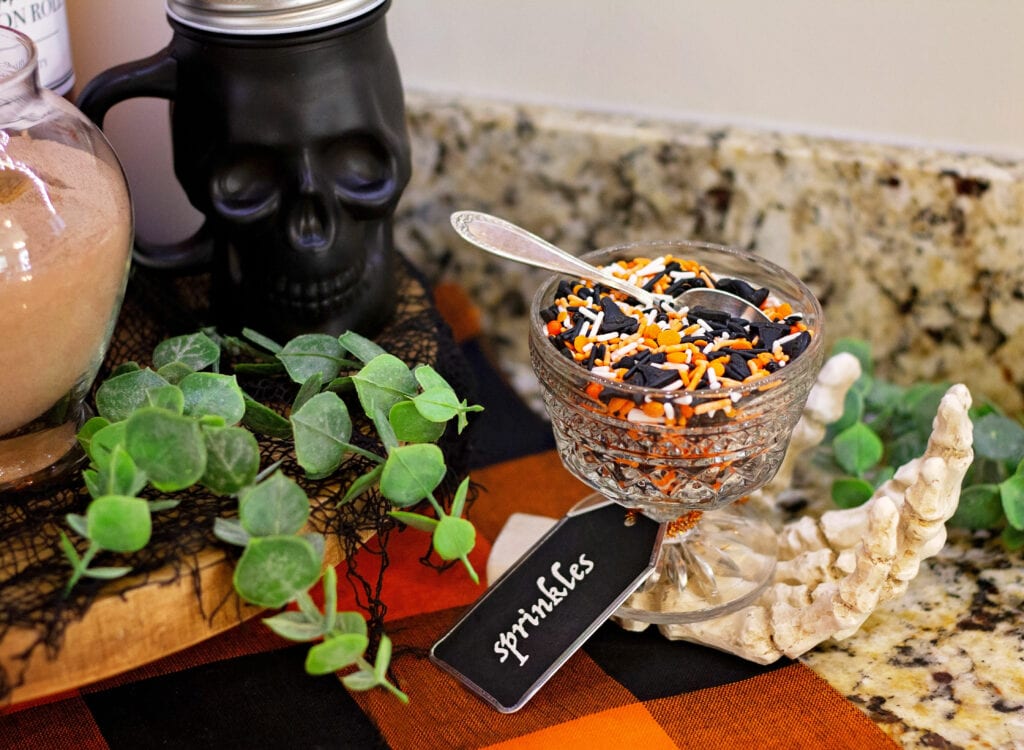 If it's something that you want to leave up all month long, then it's best to put things out that will still keep well all month long. For example, putting my hot chocolate into a jar keeps the hot chocolate easily accessible for my guests while also using it as a part of the decor. And because it's a non-perishable item, I can keep it out all month long.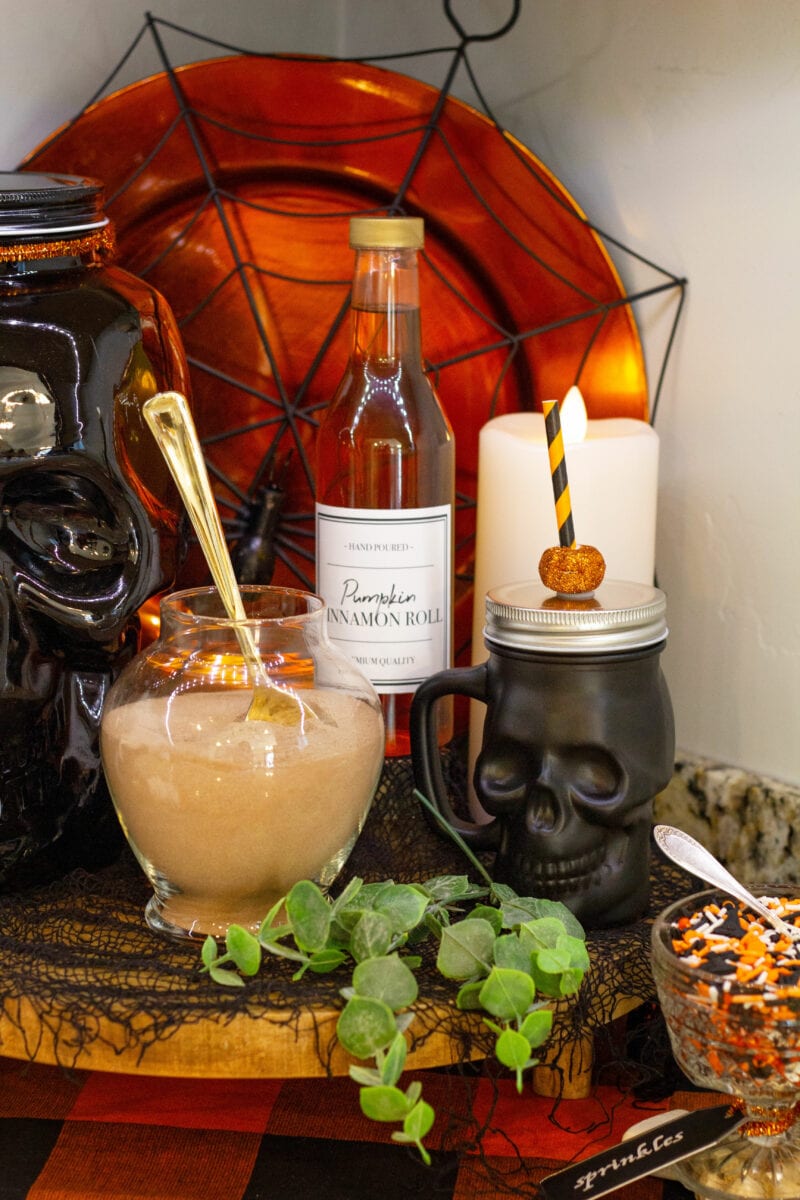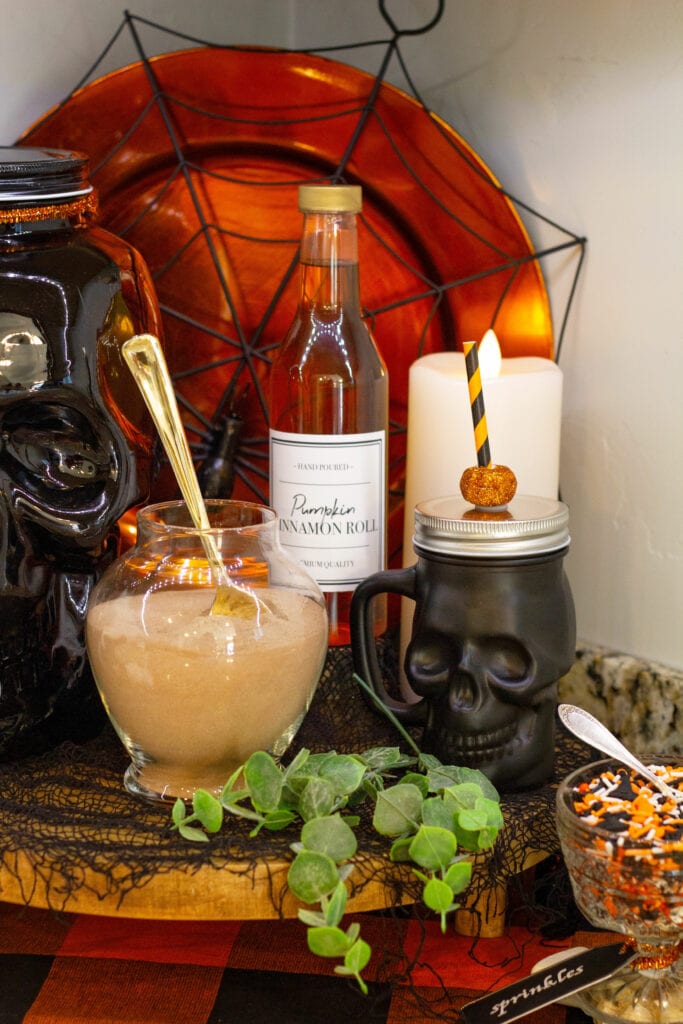 The same goes for things such as sprinkles, marshmallows, and other non-perishable drink additions that you choose to add.
If you want to do something like hot apple cider for a party, then add a decorative drink dispenser. I got my skull drink dispenser and skull mugs from My Gift.
Work From The Ground Up
When putting together your styled Halloween beverage bar, after you have decided on your theme and what you will serve, the next step is to go from the ground up. Decide if you are going to display your beverage bar on a charcuterie board, a tray, or even something as simple as a beverage cart.
After you have the base figured out, all you need to do is work your way up. Start by layering different elements such as dyed black gauze to give it more of a creepy feel. Or use something completely different!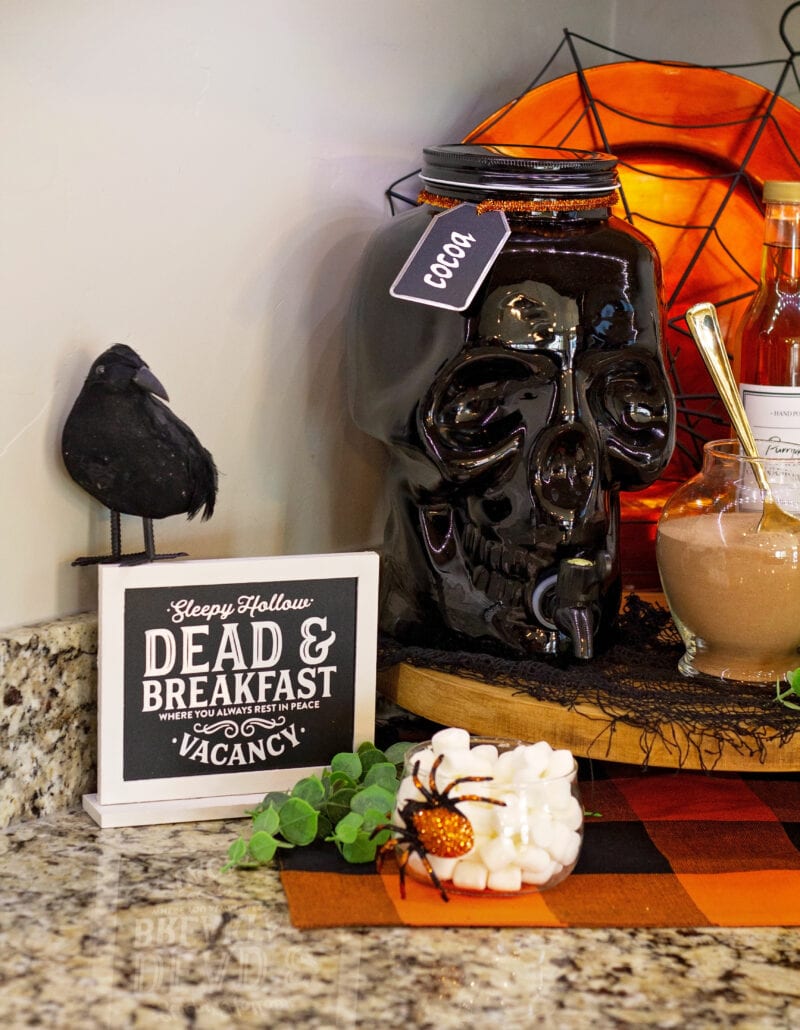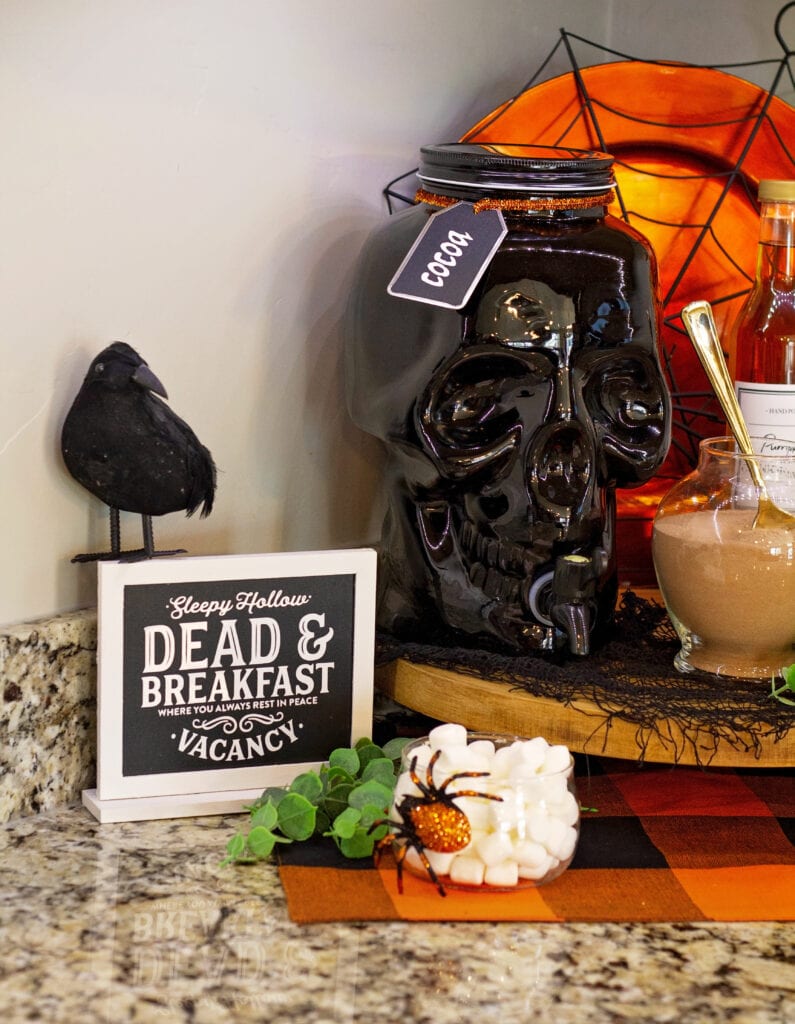 Then you can start adding the fun things such as mugs, glass containers with ingredients inside, or a Halloween themed beverage dispenser like in my photo. After you have figured out the placement of all of your items, you can choose whether or not you would like to add small fillers such as eucalyptus picks or fake fall leaves. The sky is the limit!

Add Spooky Elements to Your Halloween Beverage Bar
Because I chose to do a skull theme for my Halloween beverage bar, I picked out these skull Halloween mugs that fit perfectly! I also added cute orange and black striped straws to my mugs. I bought these mini glitter pumpkins at Dollar tree and drilled a hole down the center of them so that I could put my straw through them. It adds a really fun touch to the look of the cups.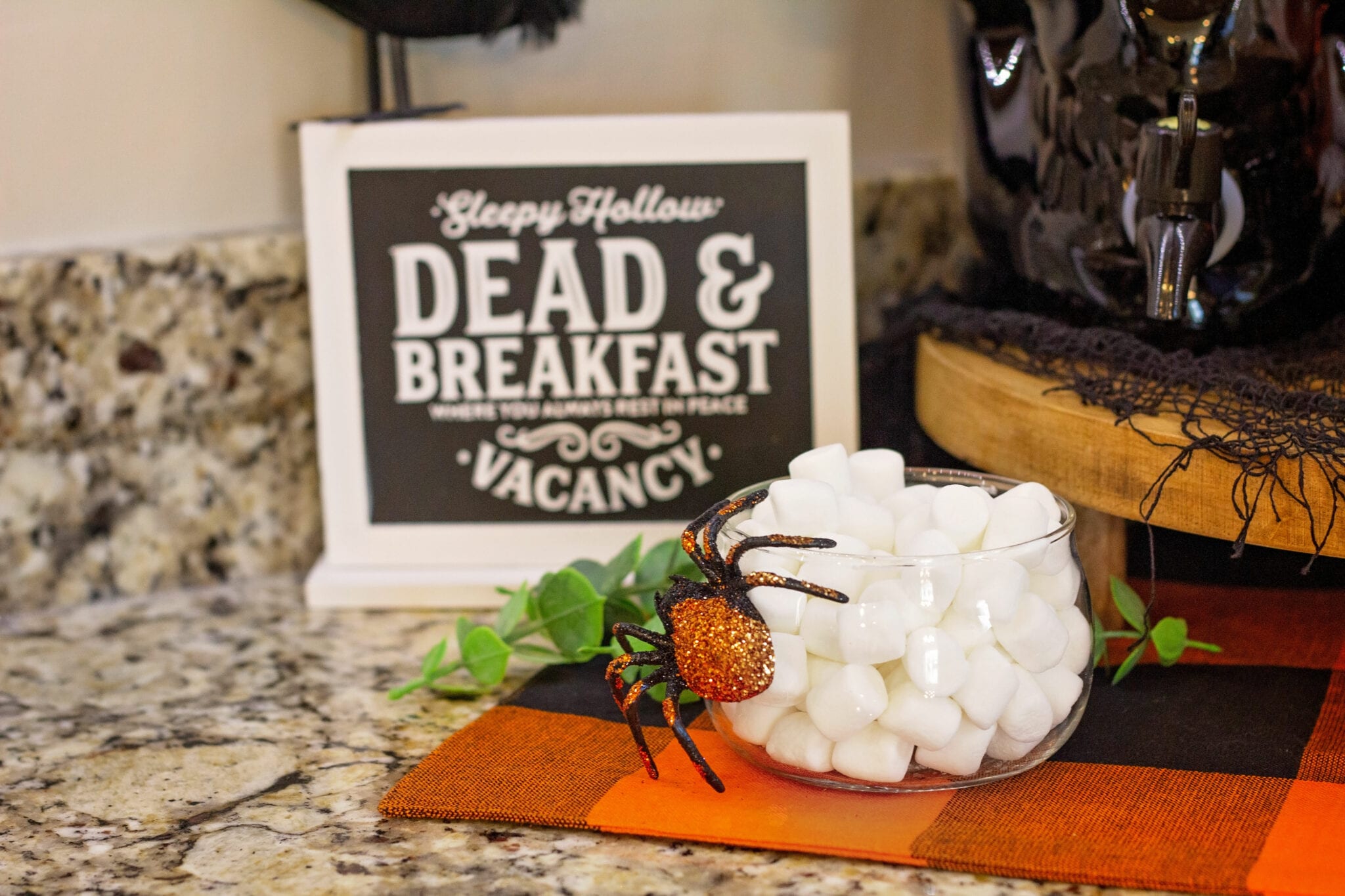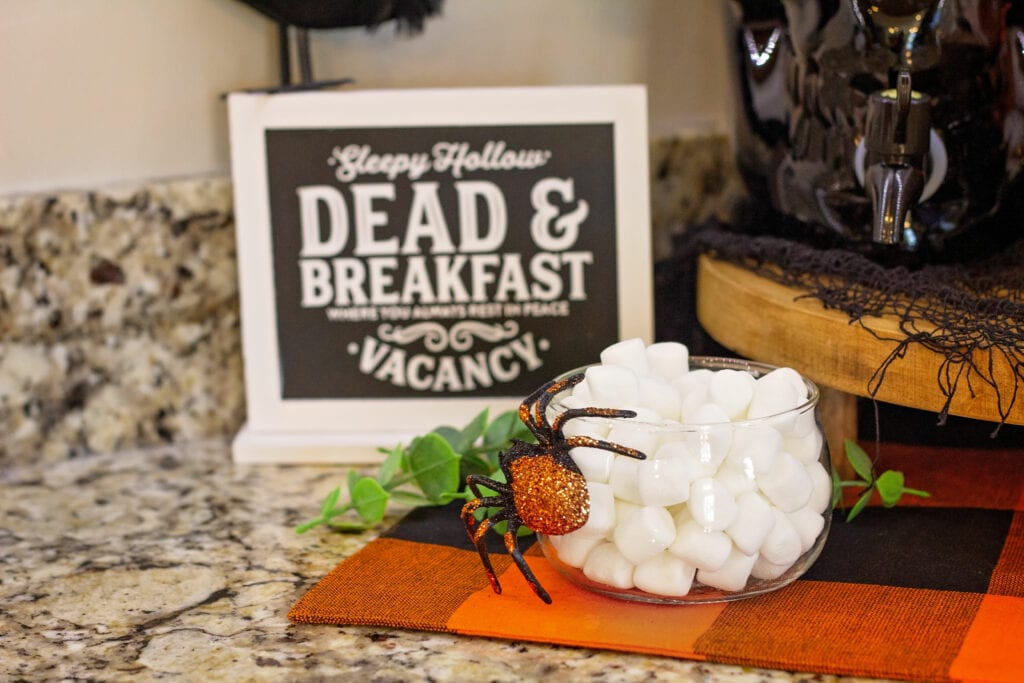 You will also notice that I added a crow and a glitter spider that I got from the Dollar Tree. It's those extra small touches that really make or break your beverage bar. I also bought this vintage dessert container from my local thrift store to put the sprinkles in!
Add Labels to Your Beverage Bar
I really like to add labels when I am decorating or organizing. Most of the time when we label something it has a purpose for letting everyone know what it is. But sometimes it's purely for decoration! Obviously, everyone can look at my jar of sprinkles and they know that they are sprinkles. But adding the extra cute label takes your decor to the next level and really can set you apart!
If you are looking for labels for your coffee syrup labels such as the Skinny Girl Syrups or Torani Syrups, you can check out the labels in my shop. It comes with labels for 50 different varieties of syrups! They are perfect for Italian sodas, coffee, hot chocolate, etc.