How to Stay Warm in Winter: 40+ Ways to Fight Off the Cold
As we are in the dead of winter, it might be hard to stay warm. Luckily, there are a lot of little things you can do to stay warm in the winter!
Whether you're braving the cold weather outside or snuggling up indoors, here are some tips to help you stay warm this winter! From dressing in layers to drinking warm beverages, these simple tips will help keep you comfortable all season long. So bundle up and enjoy the chilly months ahead!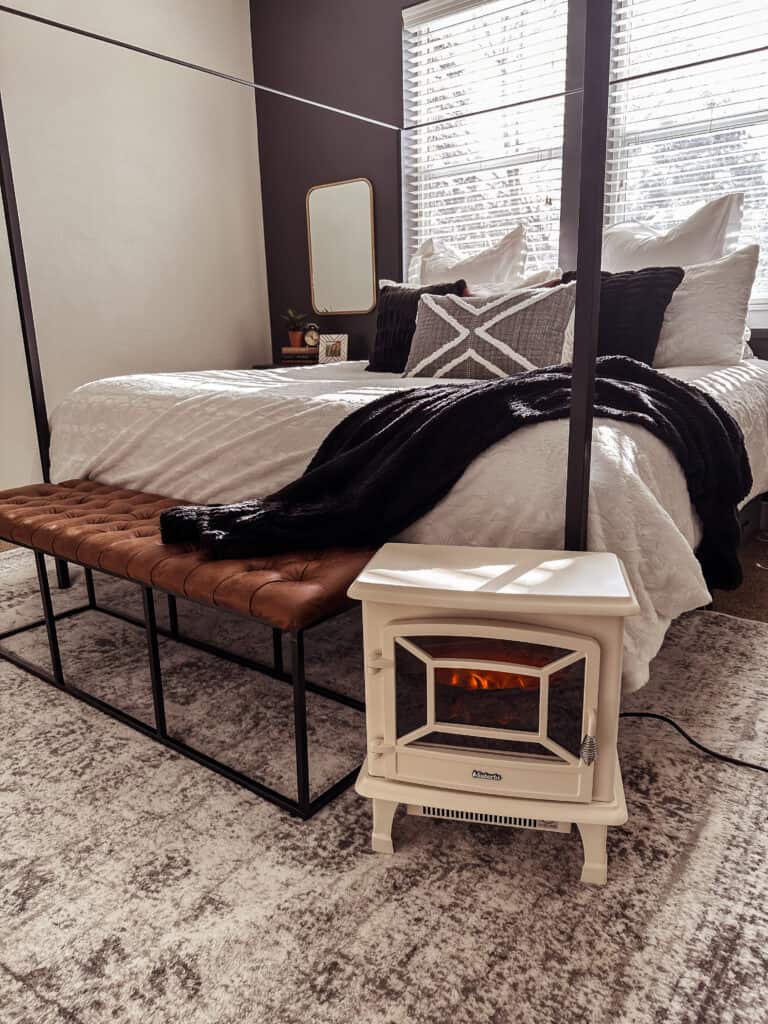 How to Stay Warm in Winter
To really fight off the cold, you'll need to make sure you're keeping warm throughout your house and when you go outside. So I've included some tips and tricks on how to keep warm no matter where you are. There are a lot of little ways you can stay warm in winter, so hopefully, these can help carry you through the winter season
Stay Warm with Clothing
When the weather gets cold, layering your clothing is a smart way to stay warm. Start with a warm base layer of long underwear and then add layers: perhaps a thick sweater, warm coat, and accessories such as hats, scarves, and warm socks. Investing in warm underlayers for your feet and hands is essential too.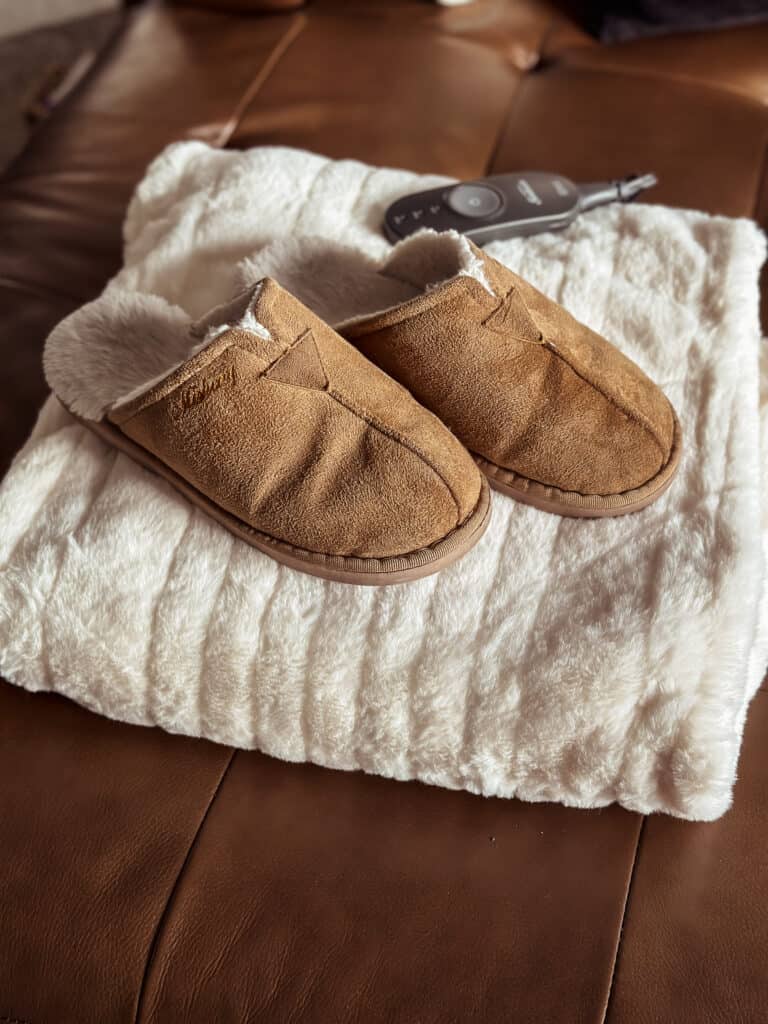 This way you can be sure that when the temperature drops, you'll be ready by adding or removing layers as needed to adjust to mother nature's plans!
Wear warm layers.
Invest in some warm socks and slippers.
Invest in thick sweaters and durable coats for a toasty outer layer.
If possible, wear boots or toasty shoes when you go outside. You want to make sure you are keeping your feet warm in the cold air!
Wear slippers or thick socks in your house.
Get heated insoles for your shoes and wear them in your boots when you go outside.

Stay Warm in Your Bedroom
I don't know about you, but I always want to feel warmer in my bedroom than anywhere else. You don't want to be shivering as you're sleeping because that won't give you a good night's rest! Here are ways to keep your bed nice and cozy.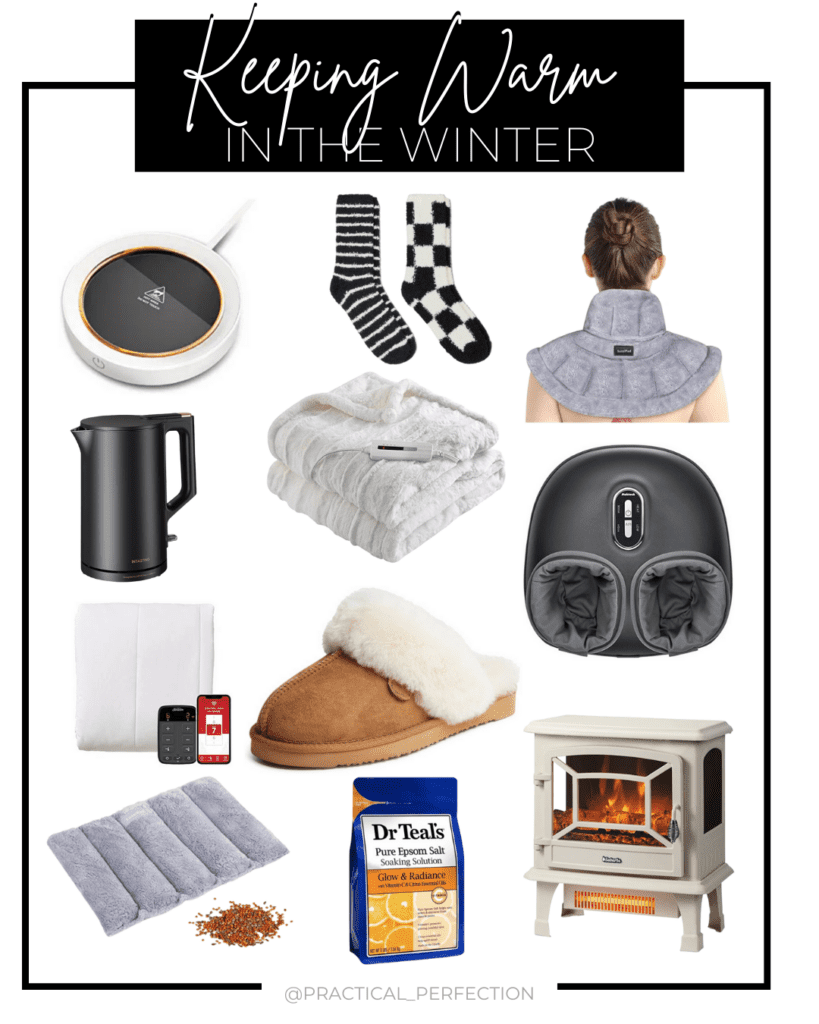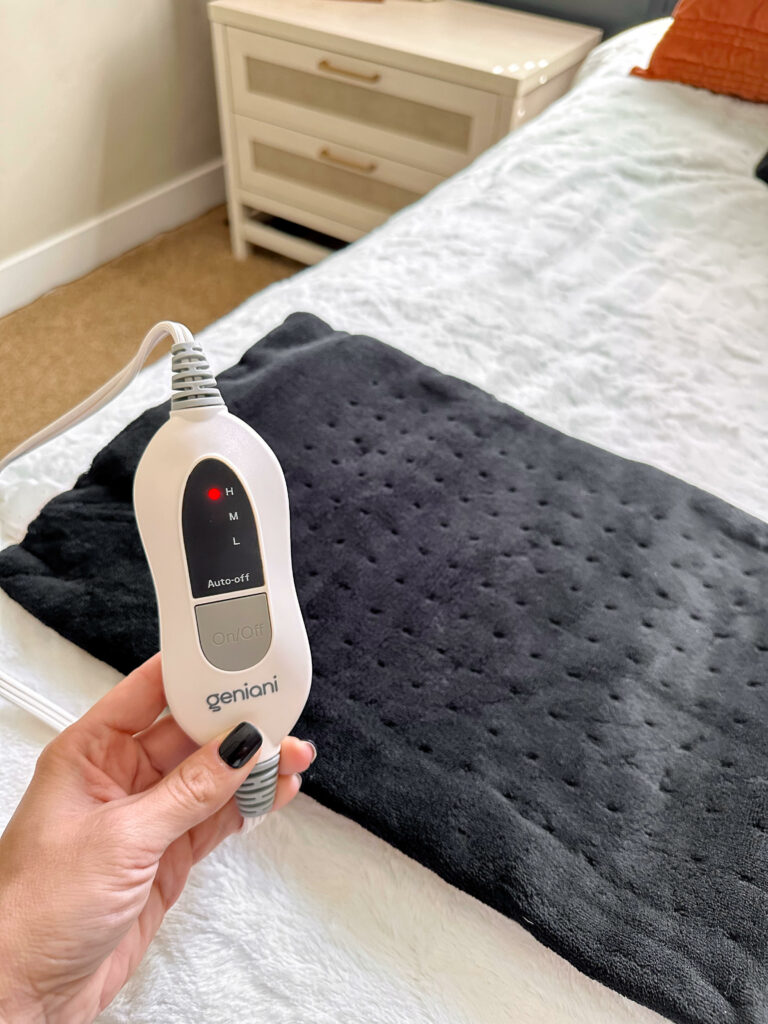 Get a heated electric blanket or heating pad.
Warmies are great for kids! They are adorable and cozy to cuddle.
Use flannel sheets on your bed (I like these ones). They really help retain body heat and keep you cozy as you sleep.
Use a heated mattress pad.
Place a hot water bottle under your blanket about 10 minutes before you go to bed to generate heat in your bed.
Wear flannel pajamas.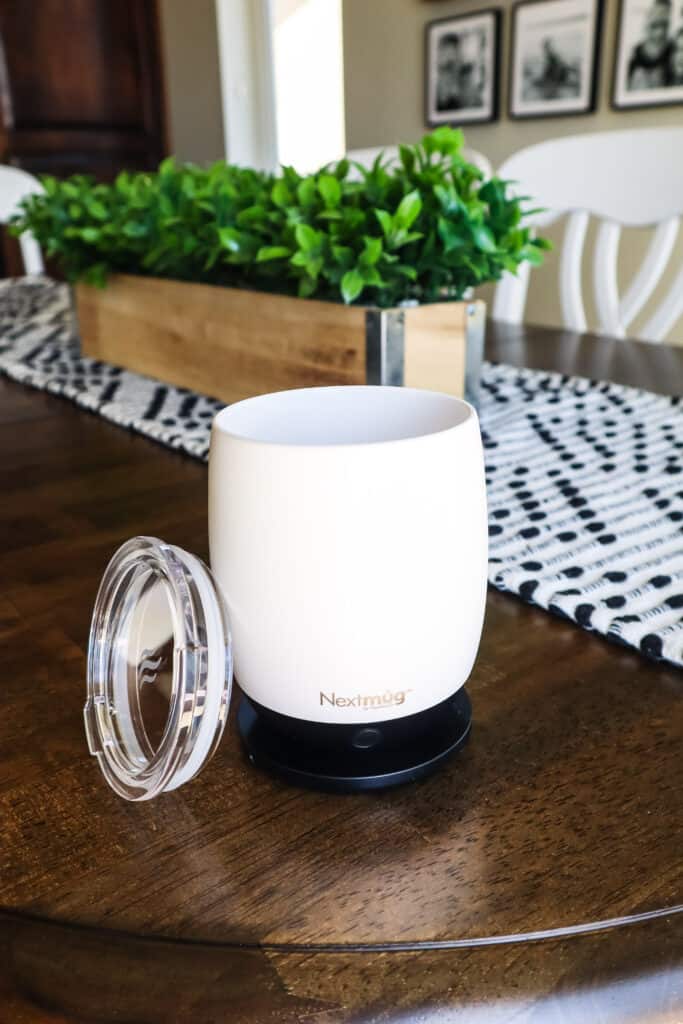 Stay Warm Throughout the House
Here are some tips for the whole house!
Close off any unused rooms in your house to conserve heat.
Make sure your windows are properly sealed and insulated with something like this.
Take a hot bath or a hot shower.
Get a heated foot massager – it feels nice and acts as foot warmers.
You can get a microwavable heating pad or you can make one yourself using this tutorial.
This cordless neck and shoulder heating pad can both provide relief to your body and keep you warm in winter.
Insulate windows with this clear film. It works amazingly well – we've used it for years.
Invest in a BedJet. It's a little pricey but it can act as a hot water bottle by warming your bed in the winter and also blowing cold air in your bed in the summer!
Leave the oven open after cooking to heat the house.
Invest in a space heater for extra warmth in your living area.

Stay Warm in the Office
I feel like offices are always freezing cold, even in the summer, so in the winter, it's even worse. Here are a few ways to stay warm in your office.
Get an electric heating pad for your chair.
You can also get a heated desk pad.
Get heated fingerless gloves
Take brisk walks during your bathroom breaks to keep your body moving. You will feel chilly when you sit for long periods of time.
Always have a hot cup of your favorite beverage at your desk.
Again, this is my favorite temperature-controlled mug (I'm obsessed!)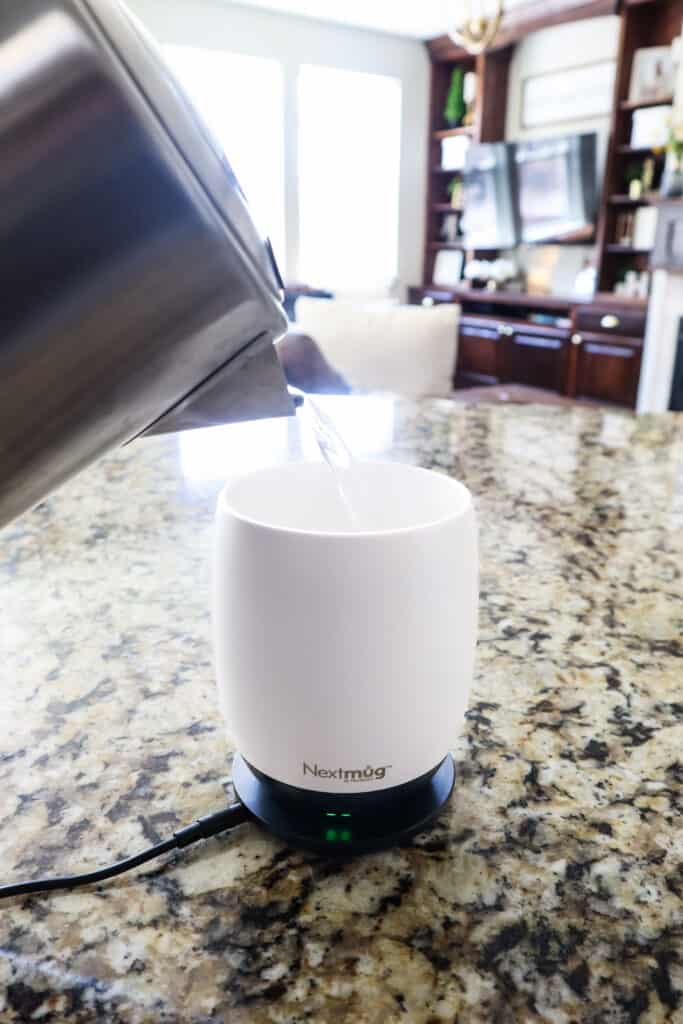 Stay Warm with Food
There is nothing more soothing than hot drinks and hot soup on a cold winter day. Whenever the temperature drops outside, hot beverages are the perfect way to warm up and relax.
If you find that your coffee or tea often gets cold before you can finish it, you might be interested in using a mug warmer. With this handy device, your hot drinks will stay hot for as long as you need them to.
Eating hot food like soup is another excellent way to cozy up during those chilly days too!
Drink warm beverages throughout the day, like tea, hot cocoa, coffee, or Perk Energy.
Use a mug warmer to keep your drinks warm.
Eat hot soup.
Bake a lot of your food so the oven can make your house warm.
Use the oven and stove to cook most of your meals if possible.
If your dining room is chilly, even if you're eating hot food, you might still be shivering. You can get heating pads for the chairs around the dining table so you can really feel warm as you're eating.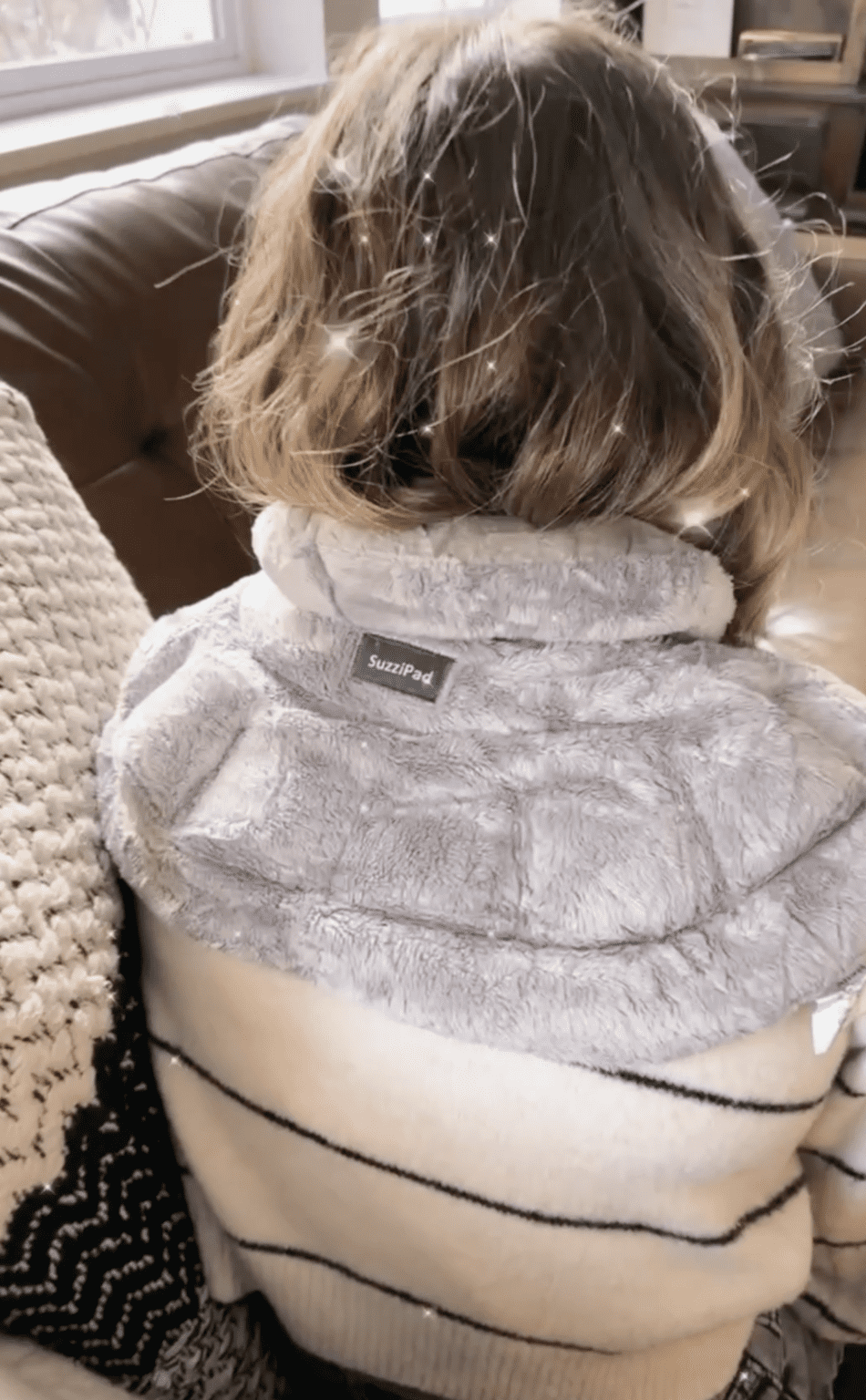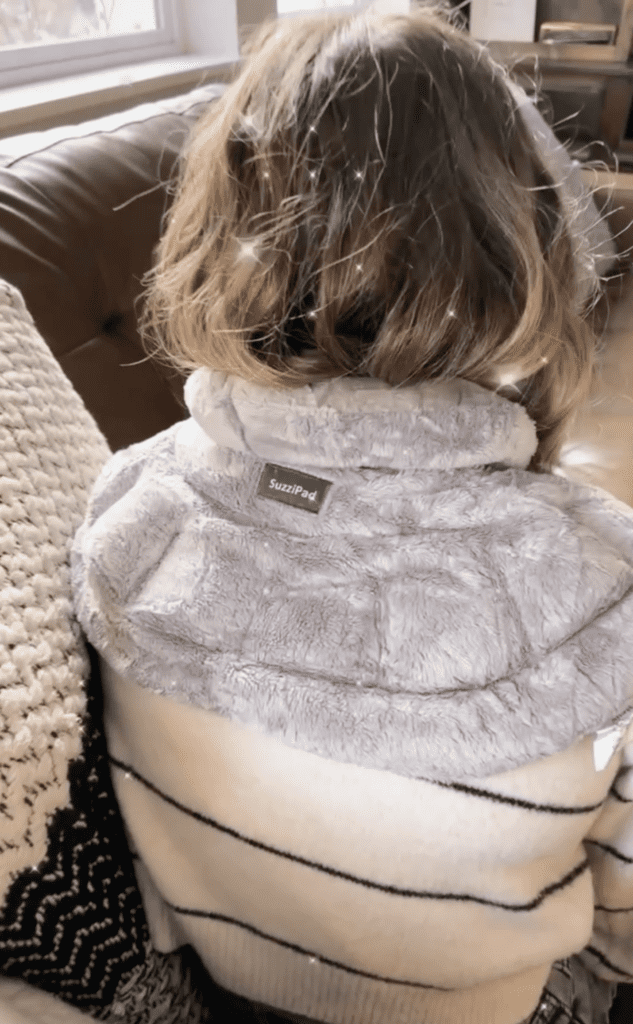 Stay Warm in Your Car
You don't want to be nice and toasty in your house and then go outside to a freezing car! Here are a few ways to bring some heat to your car.
Insulate the garage so your car is kept a bit warmer.
Get a heated car blanket like this one for any cold passengers.
Have wool blankets ready to bring in your car during snowy weather.
If you don't have heated seats, you can get a heated seat cushion for your car.
Bring an insulated mug with hot chocolate, hot water, or another hot drink.
Stay Warm Outside
Here are ways to stay warm in the cold wind and freezing temps!
Stay active and take a brisk walk or just keep your body moving in some way.
Pack snacks if you'll be outside for a while – eating snacks with lots of fat and calories will give your body fuel in the cold.
Stay hydrated! You don't always feel as thirsty in the winter, but getting dehydrated can make you feel cold. Drink hot liquids.
Have spare socks, gloves, or hats on hand. When your clothes, especially the clothes covering your hands, feet, and head, get wet, it'll really make you chilly. So if you're out in the snow, bring a few spare items to change into so you can get out of wet clothes.
Keep hand warmers in your coat pockets to keep your hands warm in extreme cold.
Always stand in the sunshine and avoid shadows when possible.

Keep yourselves warm!
Keeping yourself toasty during winter months can help you save money on your heating bill or energy bills while still being comfortable. Blankets, thick sweaters, and comfy slippers can help keep the body warm. If necessary, invest in a space heater to give your room an extra boost of warmth. Remember to wear layers!
A lot of these ideas to help you stay warm in winter are fairly inexpensive, like having boiling water ready for warm drinks, using a heating pad, having hot water bottles in your bed, and doing light exercise to increase your body heat or body temperature. Even just keeping your oven door open for a little while after you use it will help you stay warm in winter. Do what you can to stay warmer in the cold air.
A winter wonderland can be beautiful but it can also be dangerous. So when you go out, make sure that you're prepared for the cold weather. Bring extra layers of clothing, and make sure to stay warm no matter what! With a little bit of planning and preparation, winter can be a wonderful time of the year.
Staying warm is the best way to enjoy these cold days. Even if you're using your heating system, there are always little ways to retain heat in your home even better, and lower that energy bill. Happy wintering!