How To Style a Fall Beverage Bar Everyone Will Love
There's something special about having a beverage bar in your home. It brings an element of hospitality and comfortability with it. It's a great way to make guests, friends, and family, feel more at home at your house. I even have my syrup labels (a set of 50!) available for purchase in my shop! There are a million different ways to style a beverage bar. They have many different names depending on their intent, but here are some of my best tips to style your very own beverage bar that everyone is going to love!
Need more ideas? Check these out: 9 Ways to Make Your House Feel Like Home or 14 Genius Ways to Store Blankets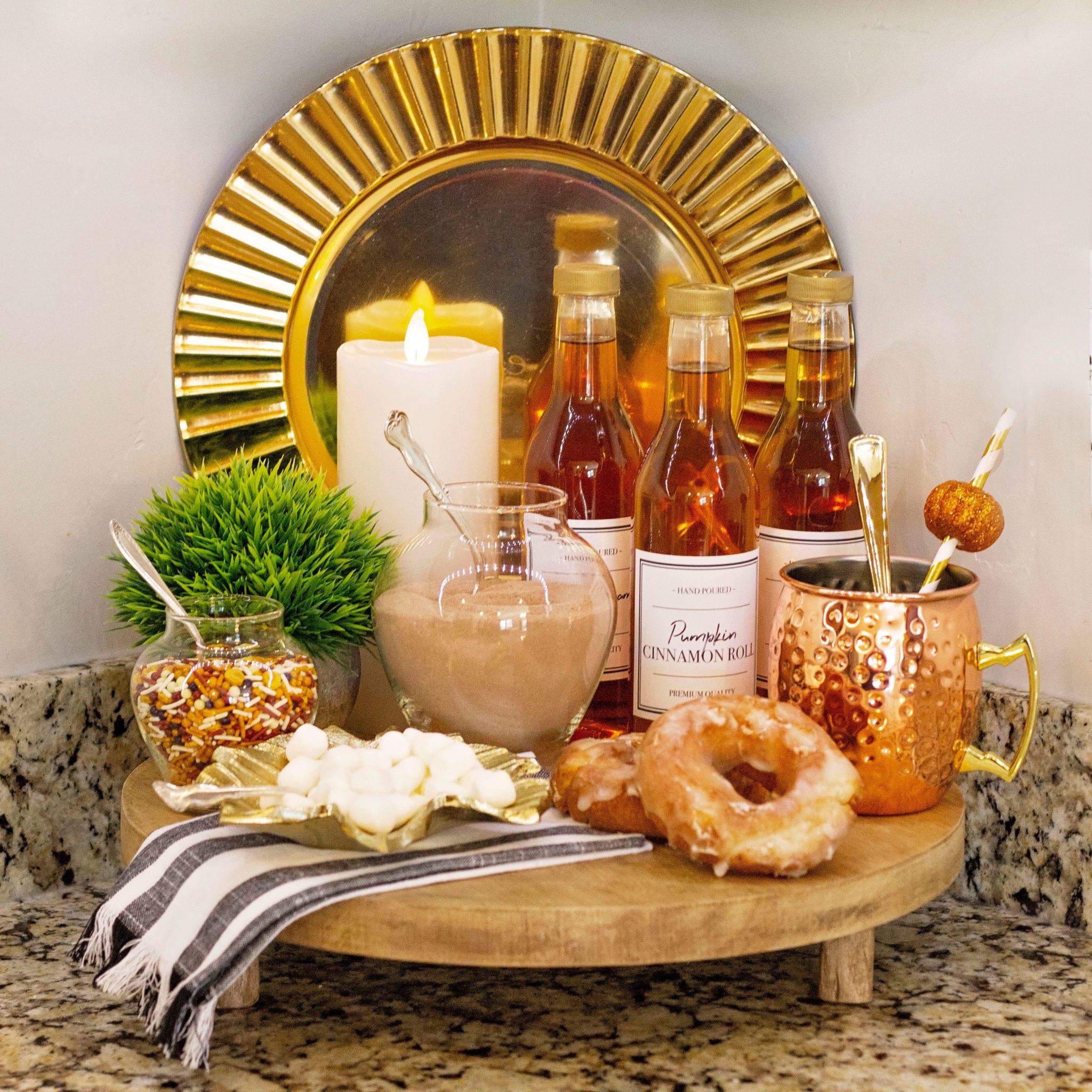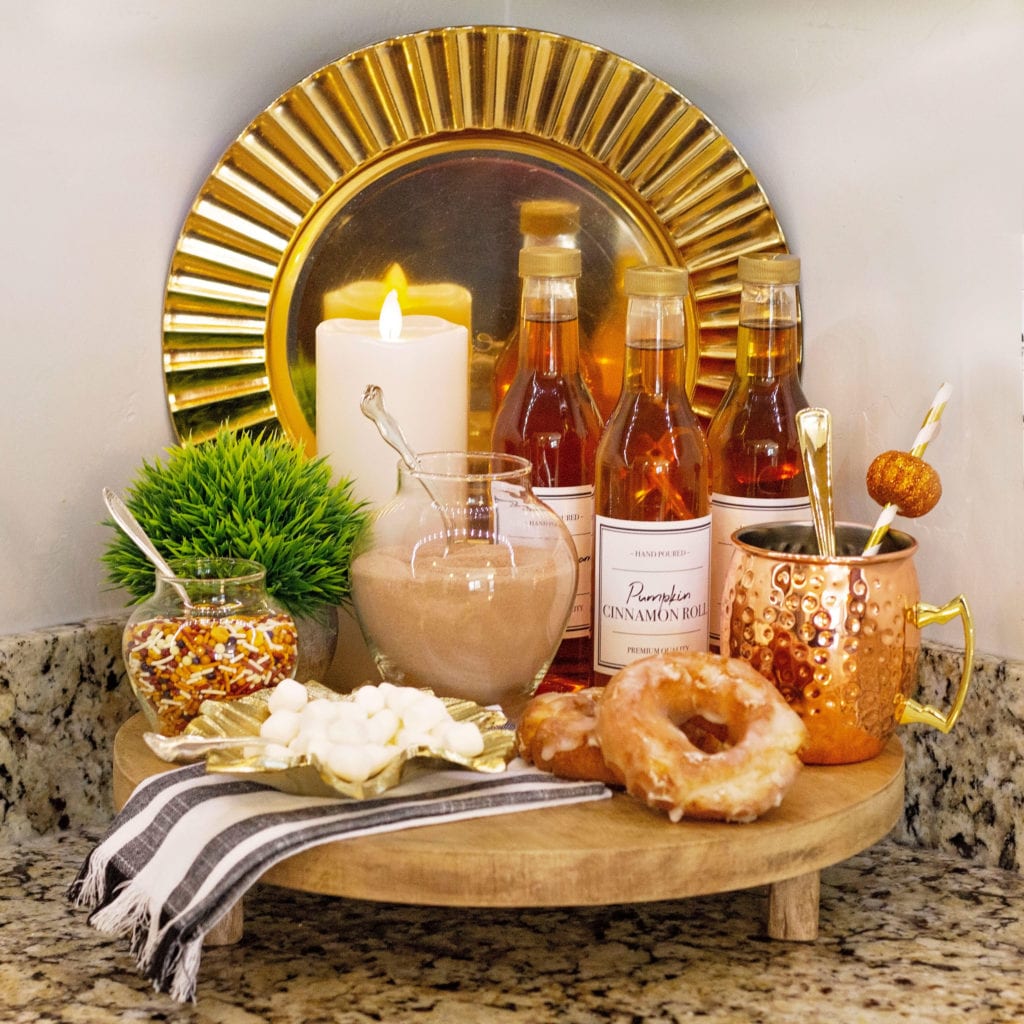 Depending on what you choose to do with your beverage bar you can do anything from a hot chocolate bar, apple cider bar, coffee bar, or even an alcoholic bar. But because I don't drink coffee, tea, or alcohol, my example that I use is going to be a hot chocolate bar.
Start With The Base
It's important first and foremost to decide where you are going to put your beverage bar. Are you going to put it on your kitchen counter? Or use a bar cart? Or do you have a nice piece of furniture such as a buffet where you are going to put yours? Any of these places will work just great! Make sure that you put it in a place where people can easily access it and help themselves.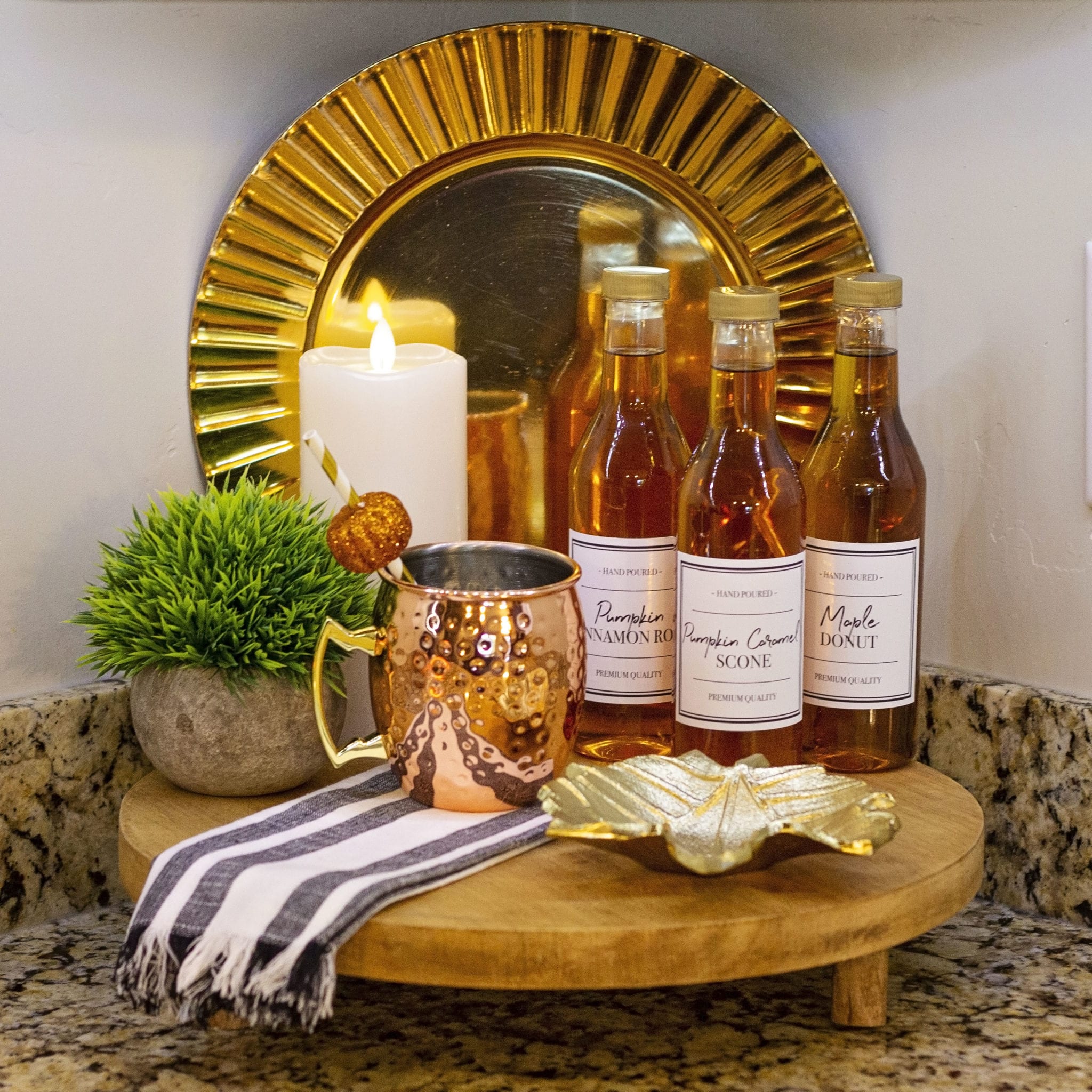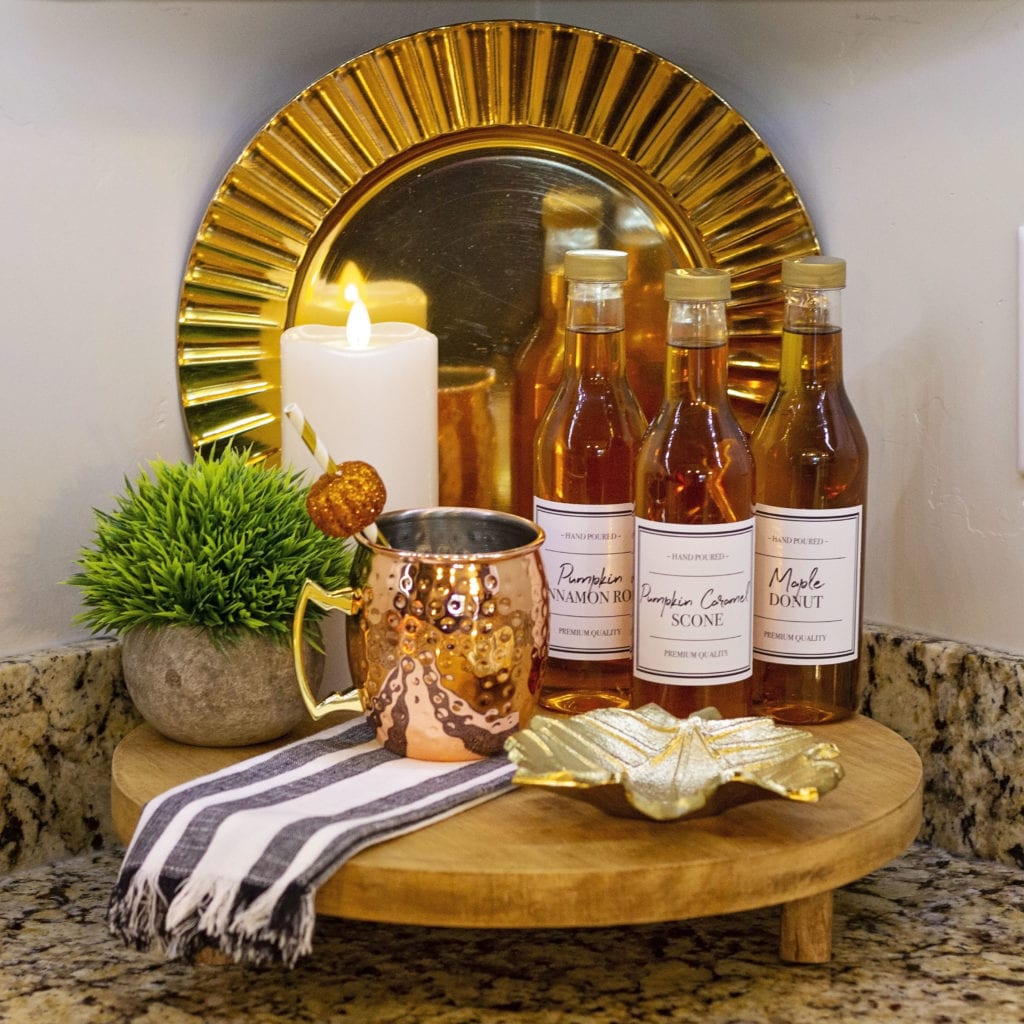 The size of the space that you choose will determine what you are able to store there so keep that in mind as you choose a spot. If you want to do an extravagant coffee bar then a smaller area maybe wouldn't be enough space to put in all the elements that you want. So make a list of all the things that are important to you to include and decide how much space you're going to need.
Because I was going to put my beverage bar on my kitchen counter I chose to use a simple charcuterie board for my base. It makes it look more like a statement piece and it keeps all of your ingredients in one place instead of gradually taking up more of your counter space.
Pick a Beverage Bar Theme
After you have decided where you are going to put your beverage bar, the next step is to decide on a theme. If you are doing it for a particular season, then that makes it a bit easier to decide on a theme for your beverage bar.
As you can see, this post is all about how to style a fall beverage bar but the concepts can be applied for any and every season. I am a huge pumpkin fan so when I found these pumpkin-flavored syrups at TJ Maxx I just knew that was the direction that I wanted to go for my beverage bar.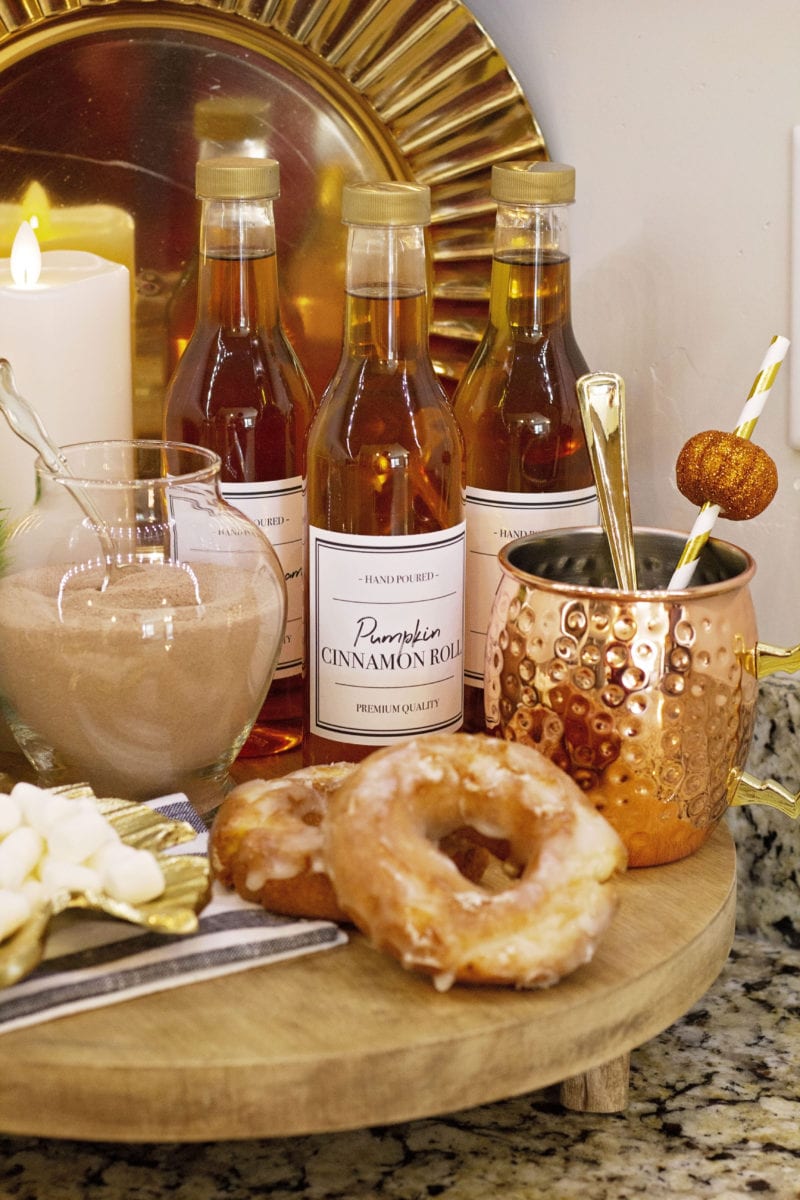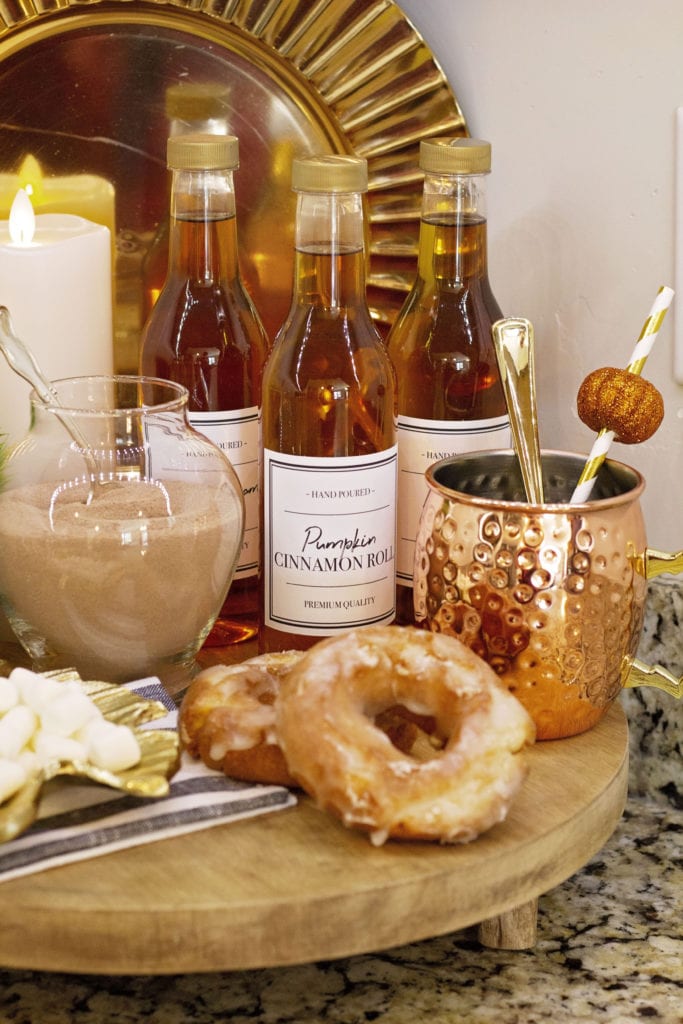 I love the warm color tones of fall so I wanted to make sure to incorporate those into my beverage bar so that it matched the rest of my fall decor. For this beverage bar, I chose to go with gold, copper, and orange.
Backdrop
The next step is to decide if you are going to do a backdrop. If you are doing a beverage bar for a party then this might be one of those times that you want to add a backdrop to your beverage bar to add an extra party flair.
Something as simple as taping wrapping paper to the wall can give a huge boost to the aesthetic of the look that you are going for. You don't have to buy an expensive backdrop to make it cute!
Because I am just doing mine on my kitchen counter, I'm doing a simple backdrop that is just a gold plate charger from Dollar tree! You could do something fun like a chalkboard, or even the seasonal decoration or sign. Or you don't have to do anything at all!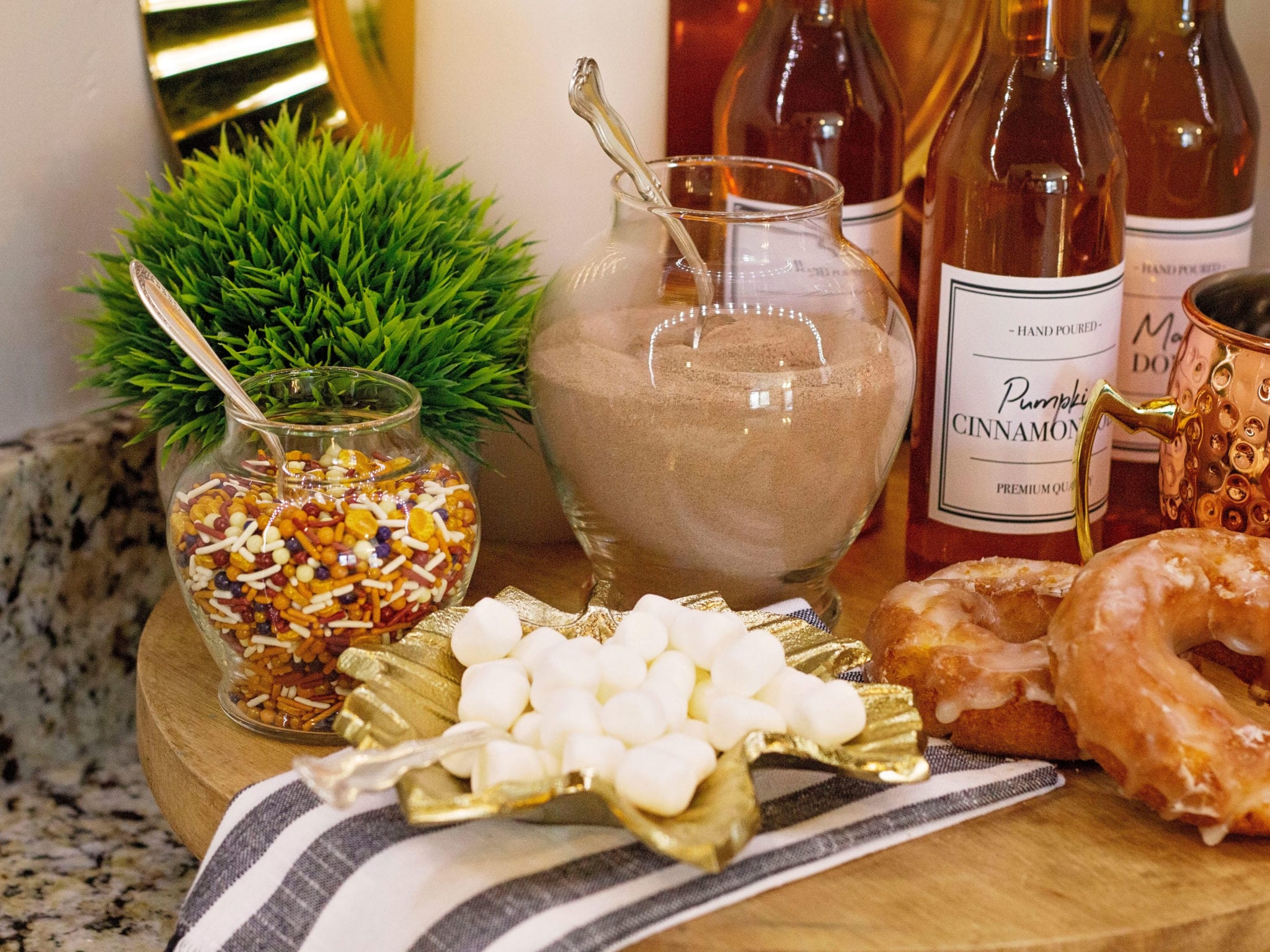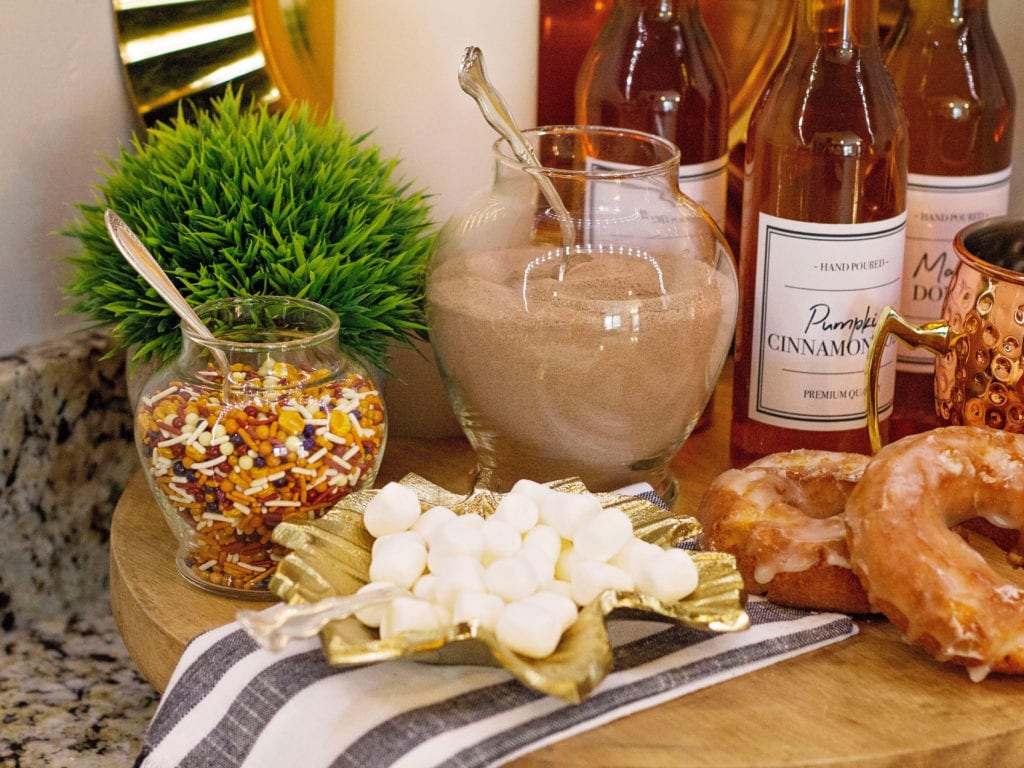 Decide What You'll Be Serving at Your Beverage Bar
One of the most important steps is to decide what you will be serving at your beverage bar. Are you doing it for a seasonal hot chocolate bar? Or do you want to create a coffee bar that you can use year-round? Either way, this is an important design aspect and influence the style of your beverage bar.
You'll also need to decide how you will be heating your water if you are going to do a coffee, tea or hot chocolate bar. Having an electric kettle is a great idea! If you have kids come to your house often, then consider having an electric tea kettle with temperature control so you can warm up your water to a temperature that will be safe for kids. I have this electric kettle.
Serving-ware
The next step is to decide what you will be serving your drinks in. If you will be doing hot drinks, then obviously mugs or insulated cups will be the way to go.
Another important thing to think about is how many dishes you want to wash. Do you want people to take some hot chocolate for on-the-go? Or is it something that everyone can drink while they are visiting and then you can just wash the dishes afterward. This will help you determine what types of cups you should have.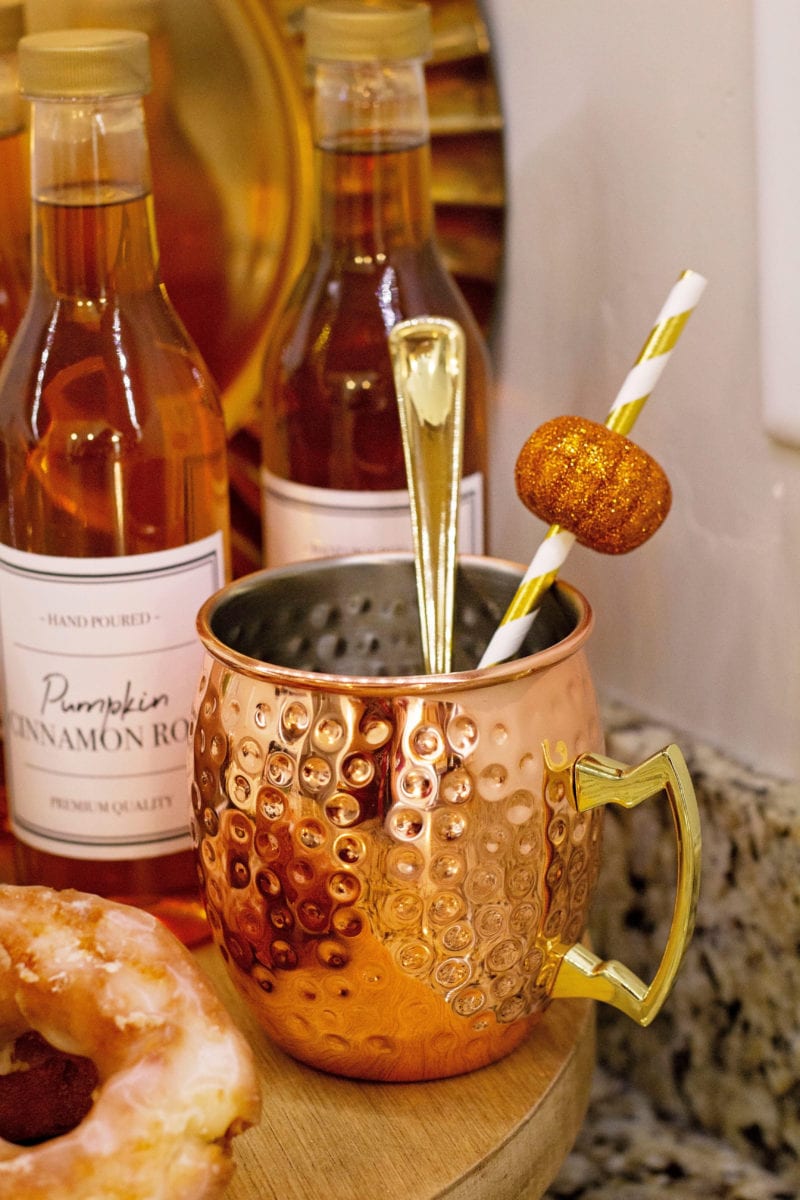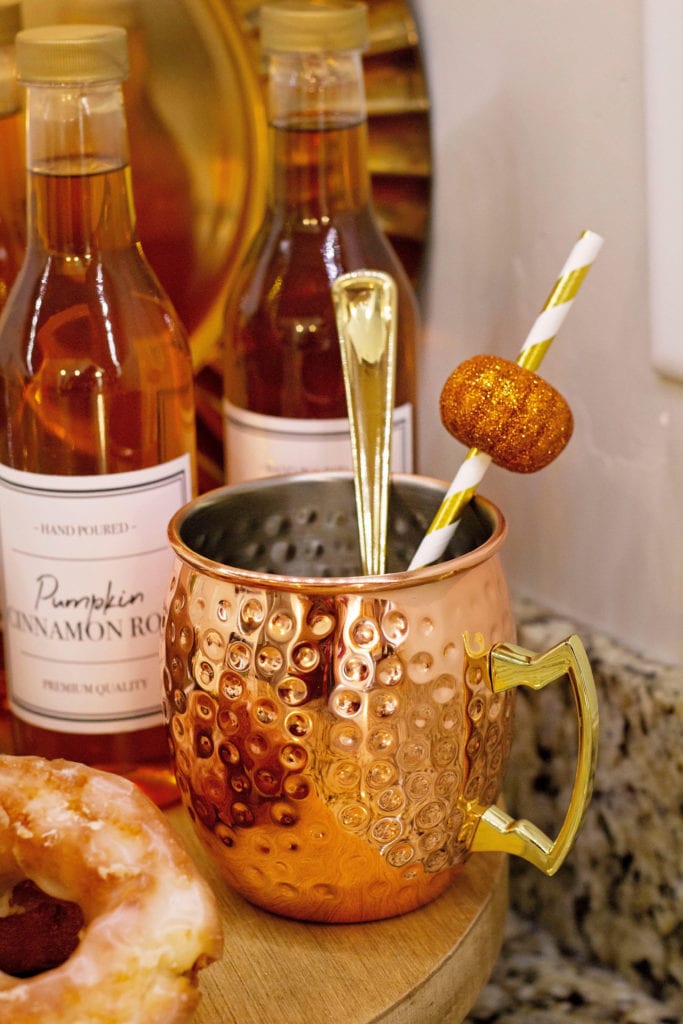 Here are some other Beverage Bar serving ware items you should consider using:
Cups/Mugs/Glassware
Straws
Stirrers
Serving Spoons for Mix-ins
Napkins
Ice Bucket for Cold Drinks
Decide on the Extras
Now that you have decided what you are going to be serving at your beverage bar, try and think outside of the box for things that people might want to add to their drink. Because I am doing a hot chocolate bar, I added some extras to my beverage bar such as marshmallows, cinnamon, chocolate chips, and sometimes I put out creamer when I know people are coming.
Of course, include your favorite add-ins but also take into consideration the things that other people might enjoy in their drink. In my opinion, one of the goals of a beverage bar is to make others feel at home, and taking into consideration their favorites as well as yours will do just that!
Label Your Extra Toppings
Labels are an extra step that is definitely not a requirement but can sometimes really go a long way for adding to the aesthetic aspect of your beverage bar. Labeling your syrups, add-ins, and drink bases make it seem a lot more elegant.
Obviously there are some things that you don't want to decant and label such as alcohol, but for the most part, I really enjoy finding new containers and labeling the ingredients to add that extra touch. Most of the time it really doesn't have anything to do with people not knowing what it is. It's more for looks!
If you are interested in the syrup labels here in my photos, I am selling them in my shop! The best part about the labels is that they come with FIFTY different syrup label flavors. So you can use them for your Coffee Bar, Italian Soda Bar, Christmas Hot Chocolate Bar, you name it! Because they are a digital file, you can download them once and print them again and again!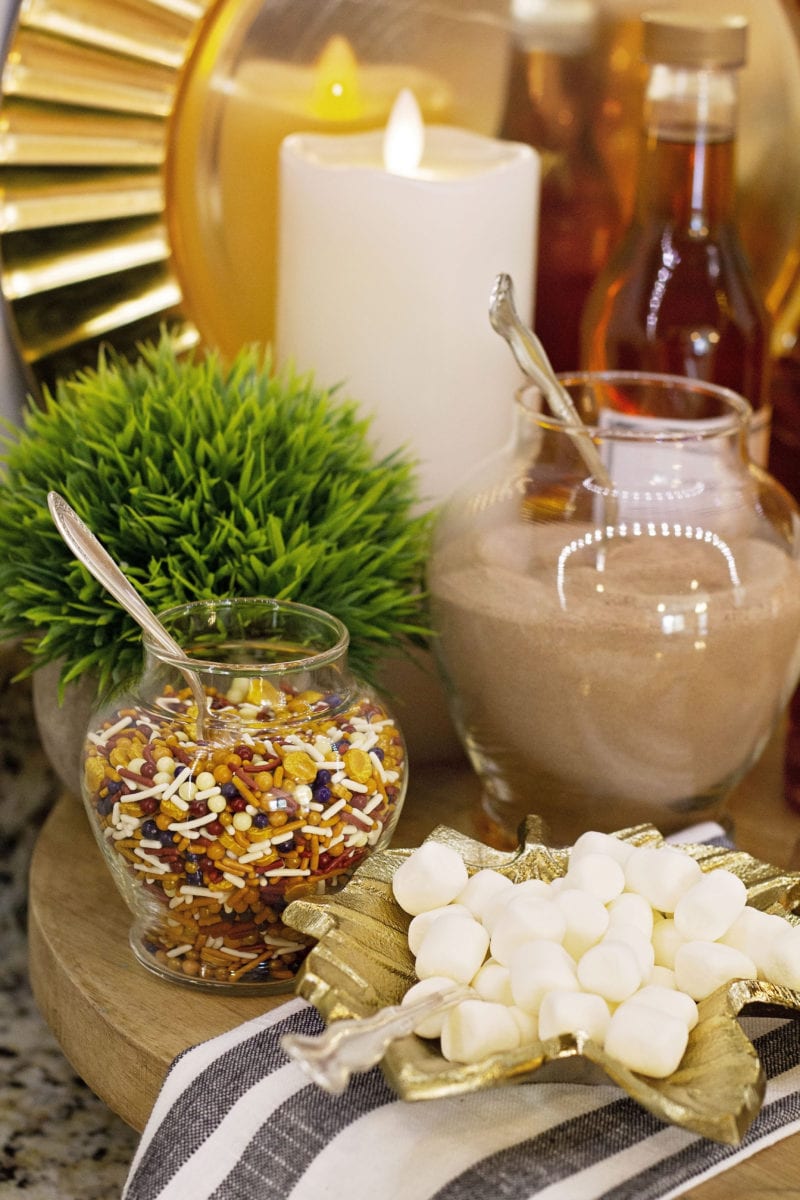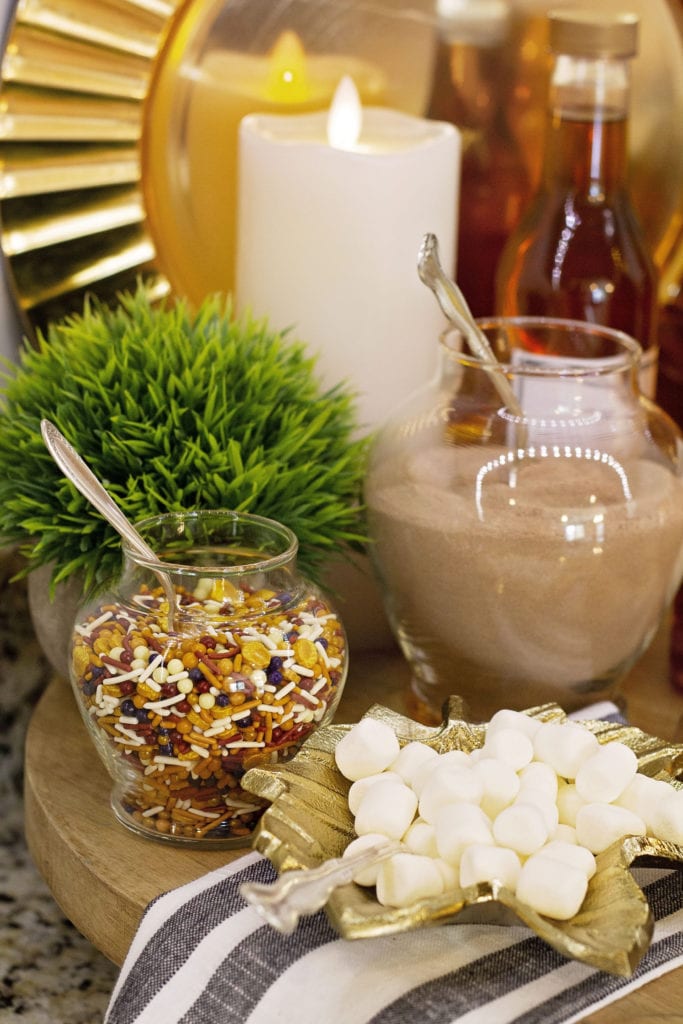 Add Some Greenery
My last tip is to add some type of greenery or floral. You would be surprised how incomplete of average bar can look without any type of greenery. If you are doing a hot chocolate bar for Christmas, consider putting a garland at the very back of your beverage bar. Or you can do something simple as buying some floral pics at Dollar tree, cutting up the floral pic into smaller sections, and adding it in different places on your beverage bar. It really adds a homie touch!
I hope this article has been helpful to you on how to create your own beverage bar to make others feel more welcome at your home! And If it's something that you are creating just for yourself, then really make it something that you love! Happy drinking!