How To Style a Fall Beverage Bar Everyone Will Love
There's something special about having a beverage bar in your home. It brings an element of hospitality and comfortability with it. It's a great way to make guests, friends, and family, feel more at home at your house. I even have my syrup labels (a set of 50!) available for purchase in my shop! There are a million different ways to style a beverage bar. They have many different names depending on their intent, but here are some of my best tips to style your very own beverage bar that everyone is going to love!
Need more ideas? Check these out: 9 Ways to Make Your House Feel Like Home or 14 Genius Ways to Store Blankets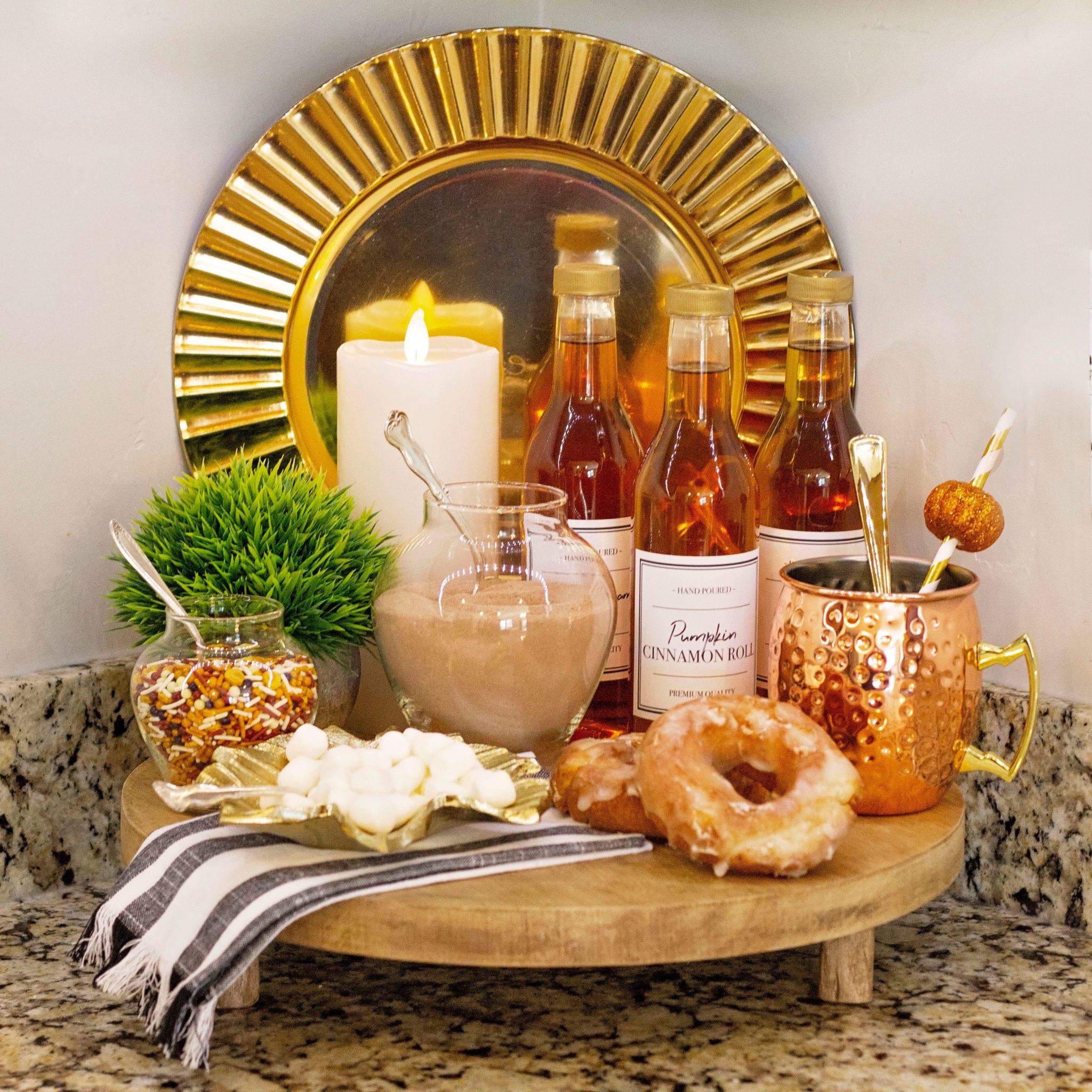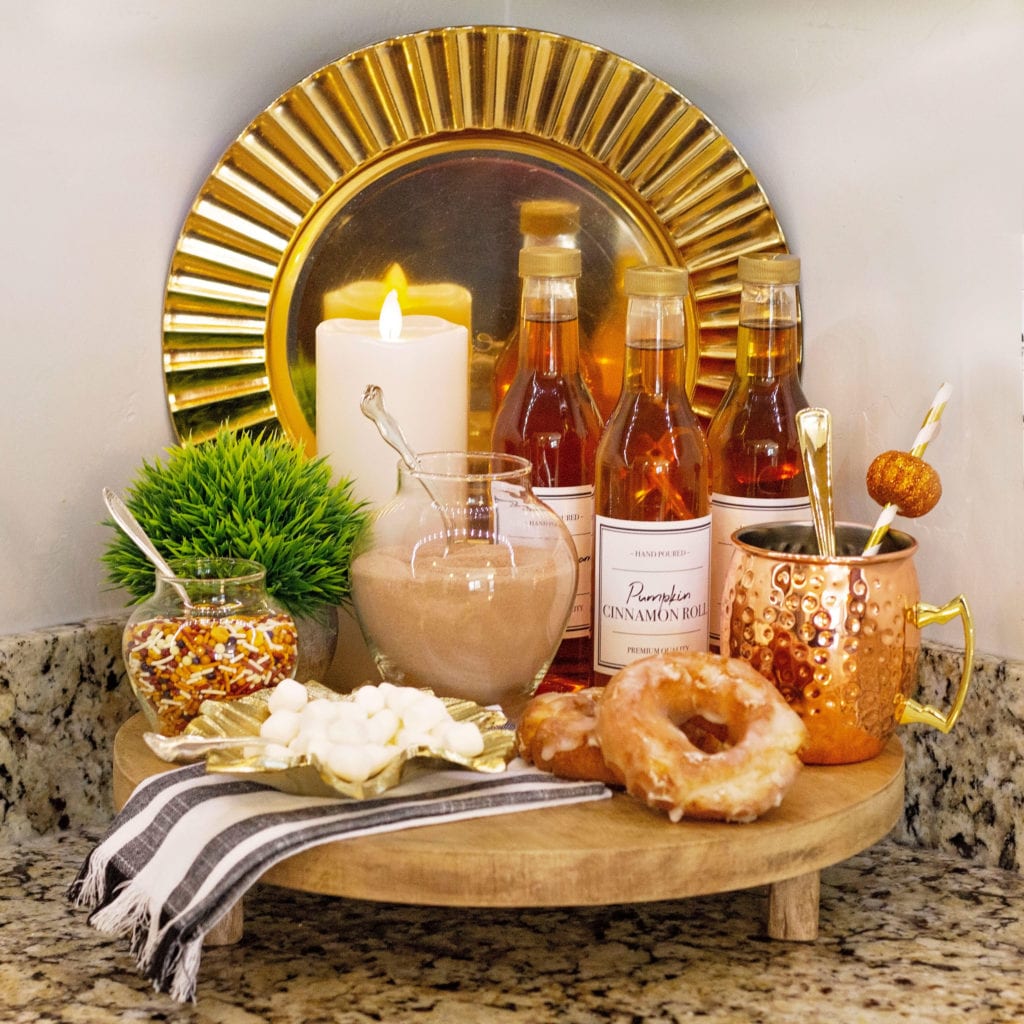 Depending on what you choose to do with your beverage bar you can do anything from a hot chocolate bar, apple cider bar, coffee bar, or even an alcoholic bar. But because I don't drink coffee, tea, or alcohol, my example that I use is going to be a hot chocolate bar.
Start With The Base
Identifying the ideal location for your beverage bar is a crucial first step. You have multiple options, such as placing it on the kitchen counter, using a bar cart, or allocating a dedicated piece of furniture like a buffet.
Ensure the chosen spot is accessible, allowing guests to easily serve themselves. An optimal location combines convenience and visibility.
The size of your designated space influences what you can store. For those desiring a lavish coffee bar, a spacious area is essential to accommodate all elements. Evaluate your space and inventory needs by listing the essential items you plan to include.
In my case, the kitchen counter was the selected spot for the beverage bar. A charcuterie board served as the base, offering a consolidated space for ingredients and adding a touch of elegance.
Pick a Beverage Bar Theme
After deciding on the perfect spot for your beverage bar, selecting a theme becomes the next essential step. This process is often simpler when aligned with a particular season, guiding the theme selection seamlessly.
In this instance, we're exploring the styling of a fall-themed beverage bar. However, it's worth noting that these principles are versatile, adaptable to every season. My personal affection for pumpkins inspired a fall theme, accentuated by the discovery of pumpkin-flavored syrups during a shopping trip at TJ Maxx.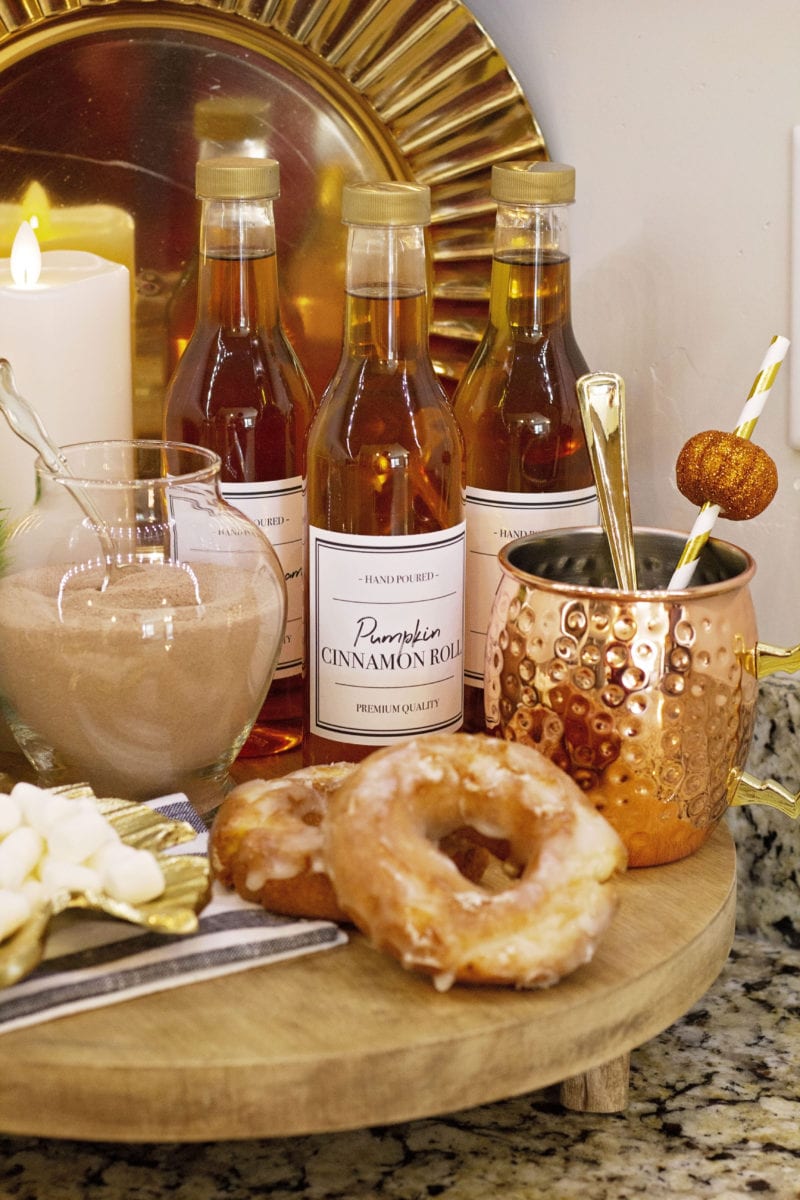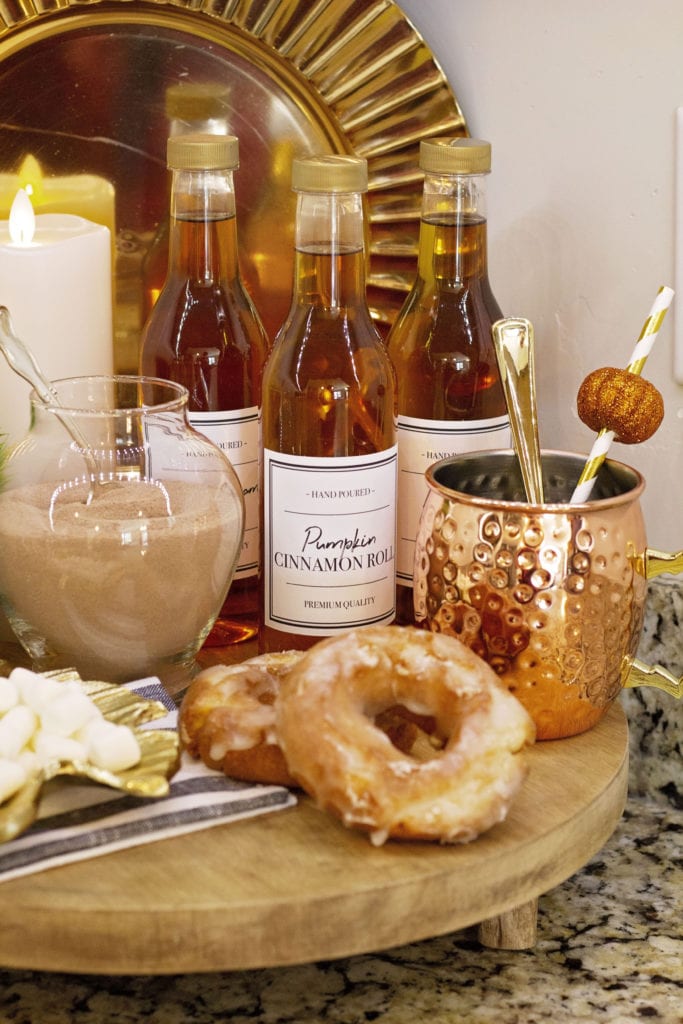 Fall is synonymous with warm, cozy color tones. To create a harmonious aesthetic, I intentionally incorporated gold, copper, and orange hues into the beverage bar design, ensuring it complements the overall fall decor seamlessly.
Backdrop
The next step is to decide if you are going to do a backdrop. If you are doing a beverage bar for a party then this might be one of those times that you want to add a backdrop to your beverage bar to add an extra party flair.
Something as simple as taping wrapping paper to the wall can give a huge boost to the aesthetic of the look that you are going for. You don't have to buy an expensive backdrop to make it cute!
Because I am just doing mine on my kitchen counter, I'm doing a simple backdrop that is just a gold plate charger from Dollar tree! You could do something fun like a chalkboard, or even the seasonal decoration or sign. Or you don't have to do anything at all!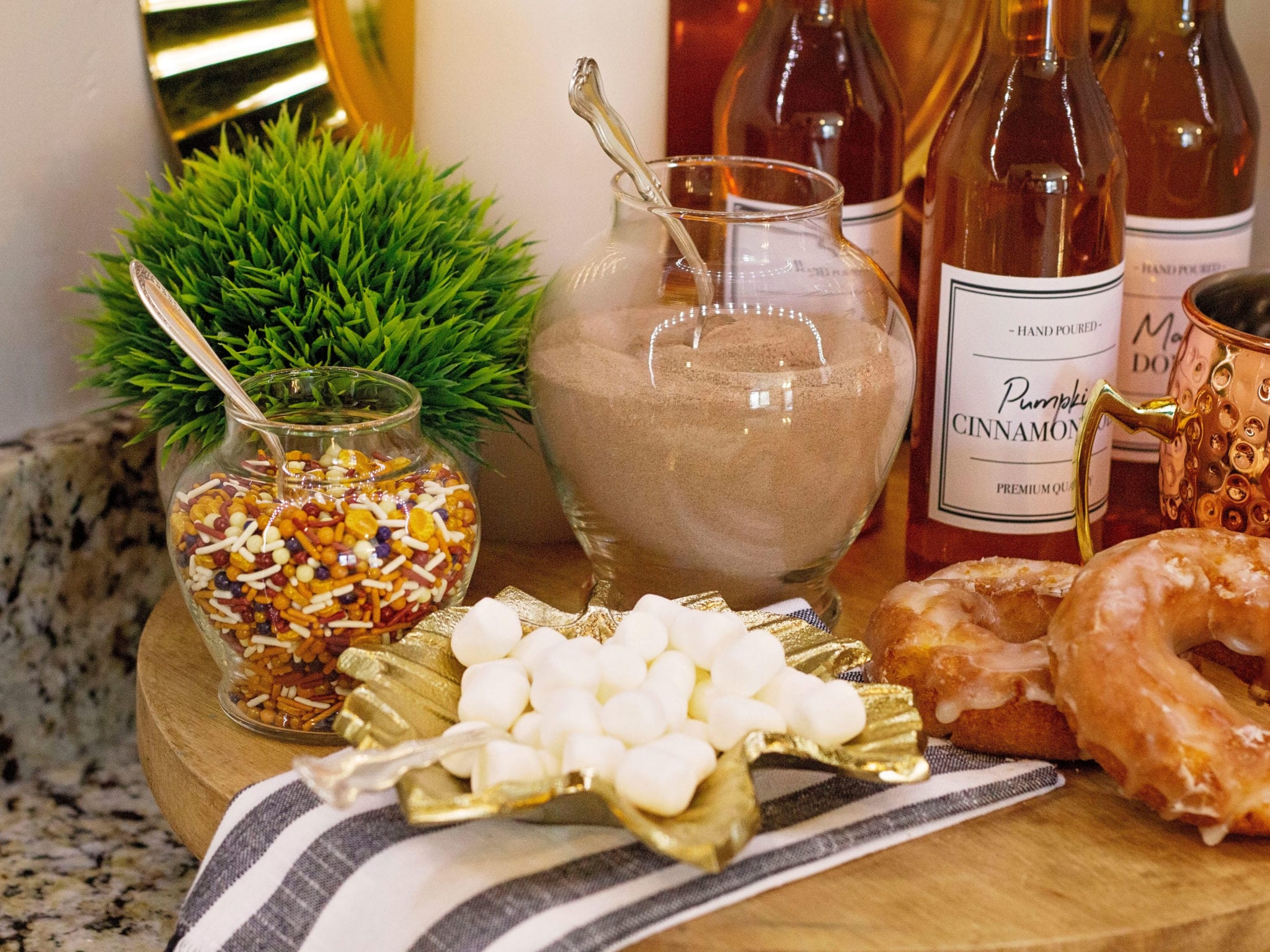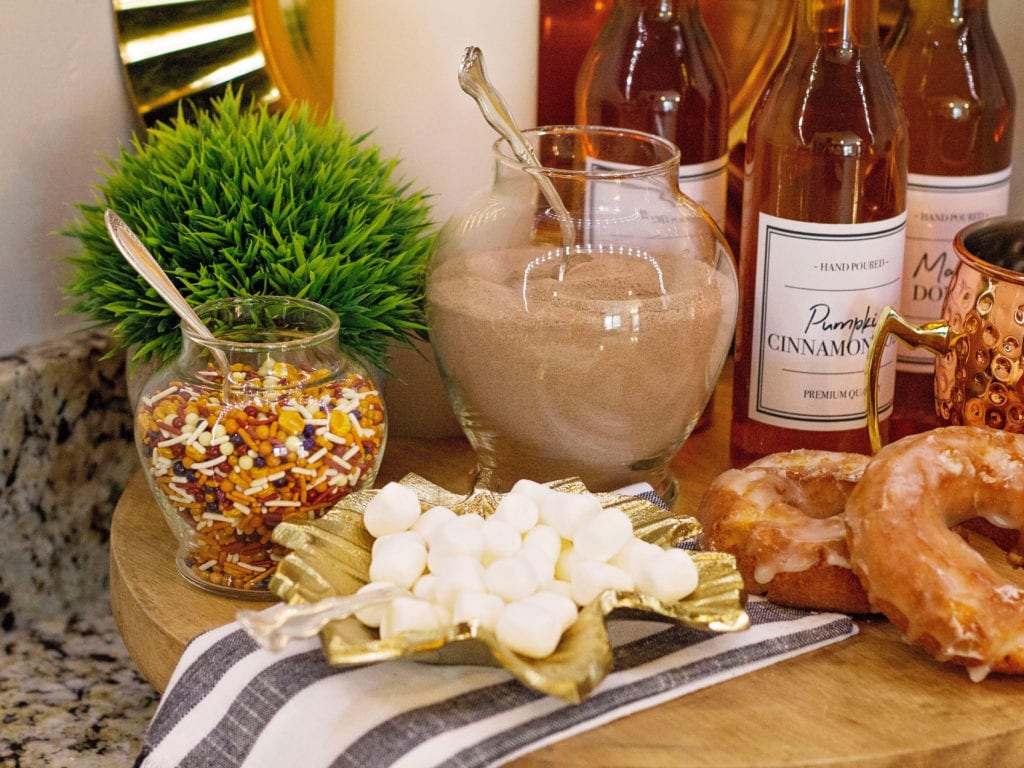 Decide What You'll Be Serving at Your Beverage Bar
Deciding on the offerings at your beverage bar is a crucial step. It entails considering whether you aim to set up a seasonal hot chocolate bar or a year-round coffee bar. The choice influences the bar's design and style.
Evaluate if your preference is a hot chocolate bar tailored for the colder seasons or a versatile coffee bar operational throughout the year. This decision is pivotal, impacting both the aesthetic and functional elements of your beverage station.
Another consideration is the method for heating water, especially for coffee, tea, or hot chocolate preparations. Electric kettles are highly recommended for their efficiency and convenience.
For households frequented by children, opting for an electric tea kettle with temperature control is advisable. It ensures water is heated to a child-safe temperature, promoting safety alongside convenience.
I personally use a specific electric kettle model, affirming its effectiveness in catering to diverse needs, ensuring both safety and efficiency.
Serving-ware
The next step is to decide what you will be serving your drinks in. If you will be doing hot drinks, then obviously mugs or insulated cups will be the way to go.
Another important thing to think about is how many dishes you want to wash. Do you want people to take some hot chocolate for on-the-go? Or is it something that everyone can drink while they are visiting and then you can just wash the dishes afterward. This will help you determine what types of cups you should have.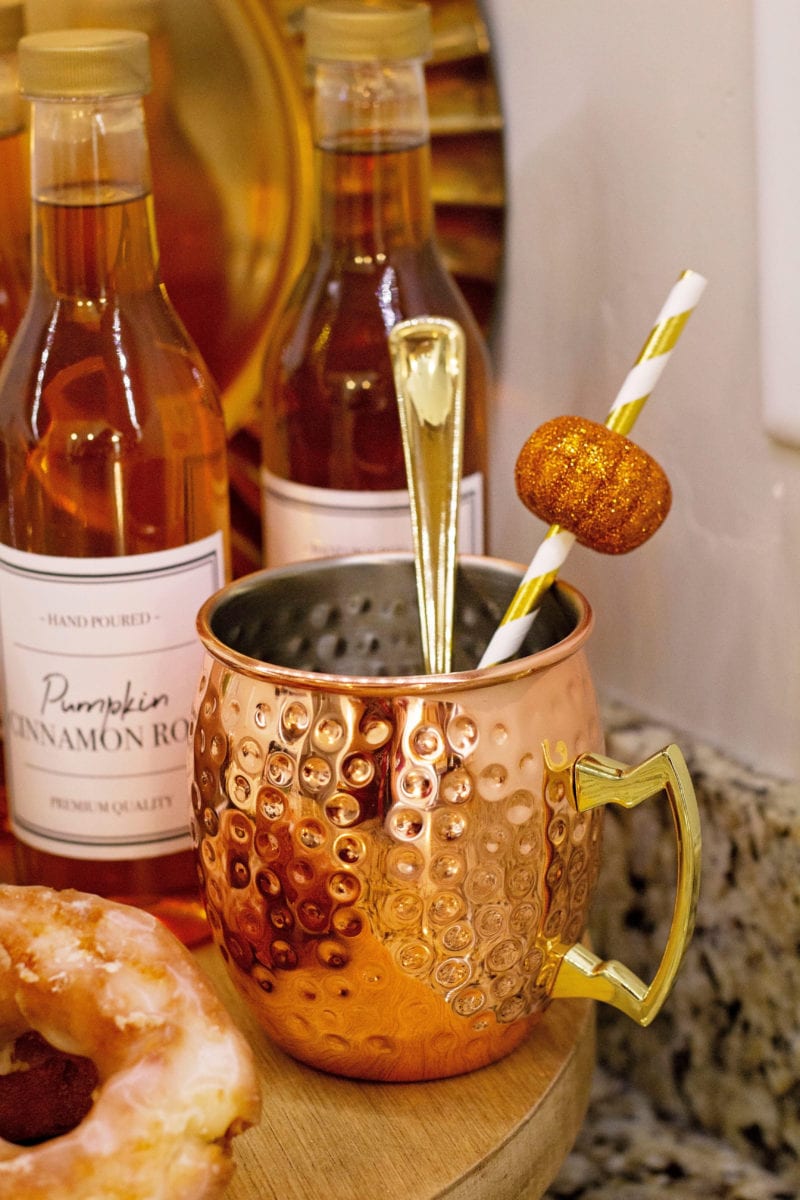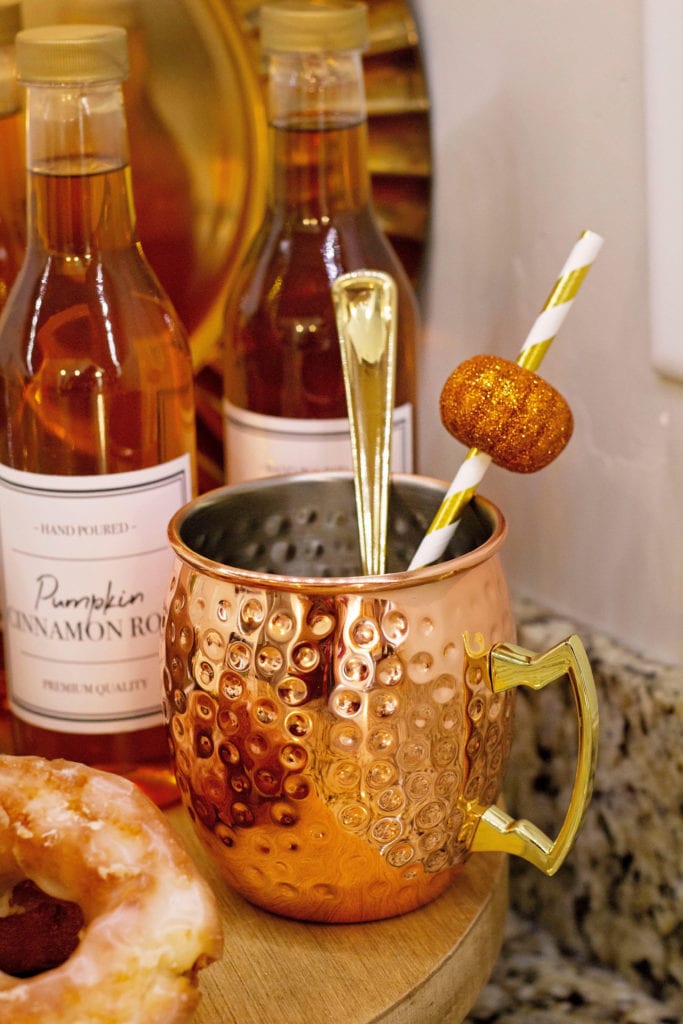 Here are some other Beverage Bar serving ware items you should consider using:
Cups/Mugs/Glassware
Straws
Stirrers
Serving Spoons for Mix-ins
Napkins
Ice Bucket for Cold Drinks
Decide on the Extras
Now that you have decided what you are going to be serving at your beverage bar, try and think outside of the box for things that people might want to add to their drink. Because I am doing a hot chocolate bar, I added some extras to my beverage bar such as marshmallows, cinnamon, chocolate chips, and sometimes I put out creamer when I know people are coming.
Of course, include your favorite add-ins but also take into consideration the things that other people might enjoy in their drink. In my opinion, one of the goals of a beverage bar is to make others feel at home, and taking into consideration their favorites as well as yours will do just that!
Label Your Extra Toppings
Labels, though not mandatory, can elevate the visual appeal of your beverage bar. They offer an organized and refined look when used on syrups, add-ins, and drink bases.
It's not just about identifying contents; it's about aesthetics. Each label, carefully attached to various containers, adds an element of elegance. It's a visual enhancement that I find delightful, though it's understood that not every item, like alcohol, is suitable for this.
Interested in the visually appealing syrup labels featured in my photos? They're available in my shop! One of the highlights is the inclusion of fifty different syrup label flavors, offering versatility for various occasions.
Whether you're setting up a Coffee Bar, Italian Soda Bar, or Christmas Hot Chocolate Bar, these labels are adaptable. As a digital file, they offer the convenience of multiple prints, ensuring you have the perfect label for every occasion.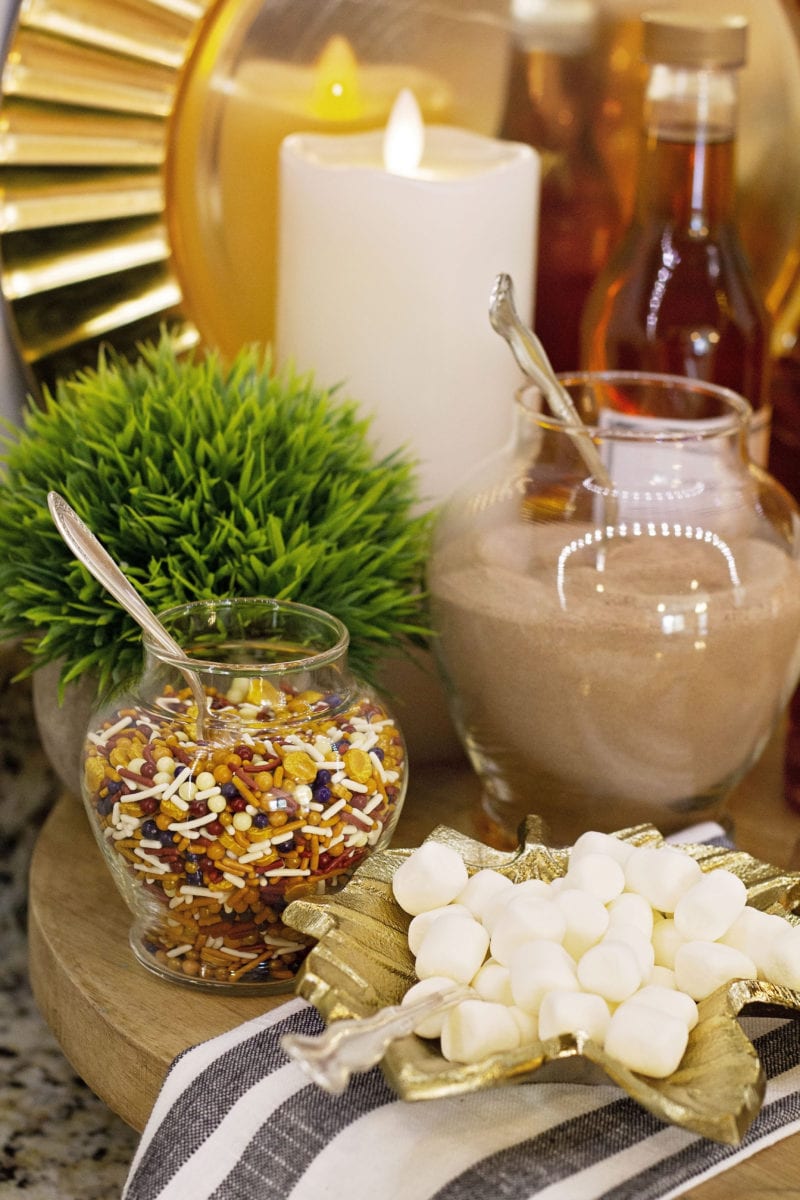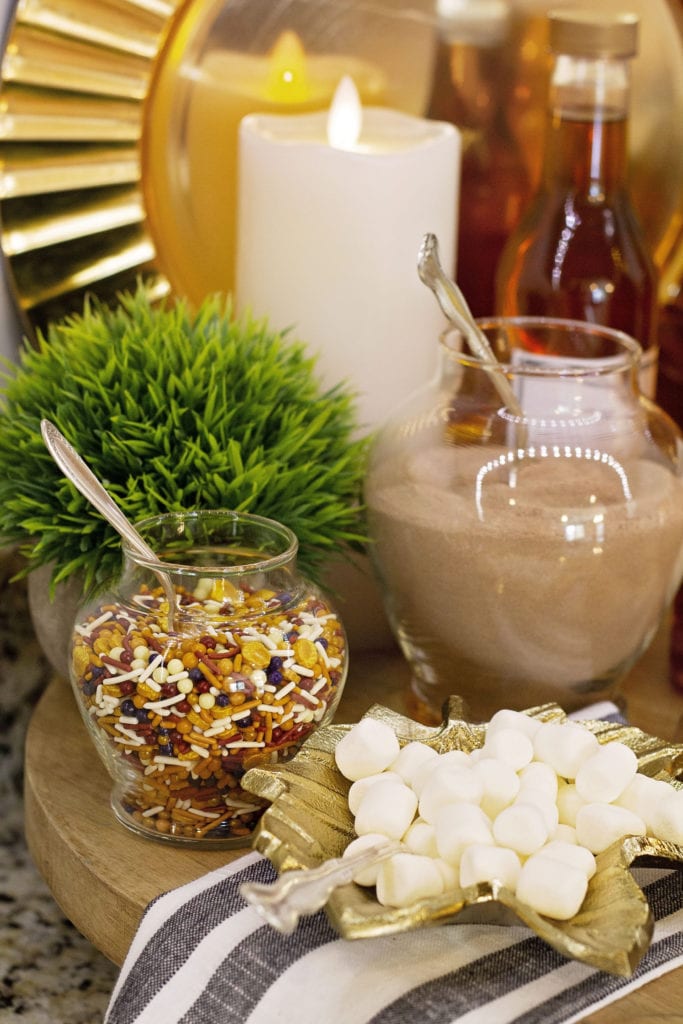 Add Some Greenery
My last tip is to add some type of greenery or floral. You would be surprised how incomplete of average bar can look without any type of greenery. If you are doing a hot chocolate bar for Christmas, consider putting a garland at the very back of your beverage bar. Or you can do something simple as buying some floral pics at Dollar tree, cutting up the floral pic into smaller sections, and adding it in different places on your beverage bar. It really adds a homie touch!
I hope this article has been helpful to you on how to create your own beverage bar to make others feel more welcome at your home! And If it's something that you are creating just for yourself, then really make it something that you love! Happy drinking!