16 Things You Need to Declutter Before Christmas
The holidays are coming and with them come many new things: new guests, new decorations, new gifts, and sometimes even new stress. Before the holiday season gets too crazy, take some time to declutter your home. This will make it easier for you to relax and enjoy the holidays.
This post will help you figure out what to get rid of so your home is less cluttered and more organized for the holidays. We'll give you tips on how to declutter different areas of your house so you can feel in control this Christmas. From your living room to your kitchen to the attic, we'll go through everything that needs decluttering before Christmas comes!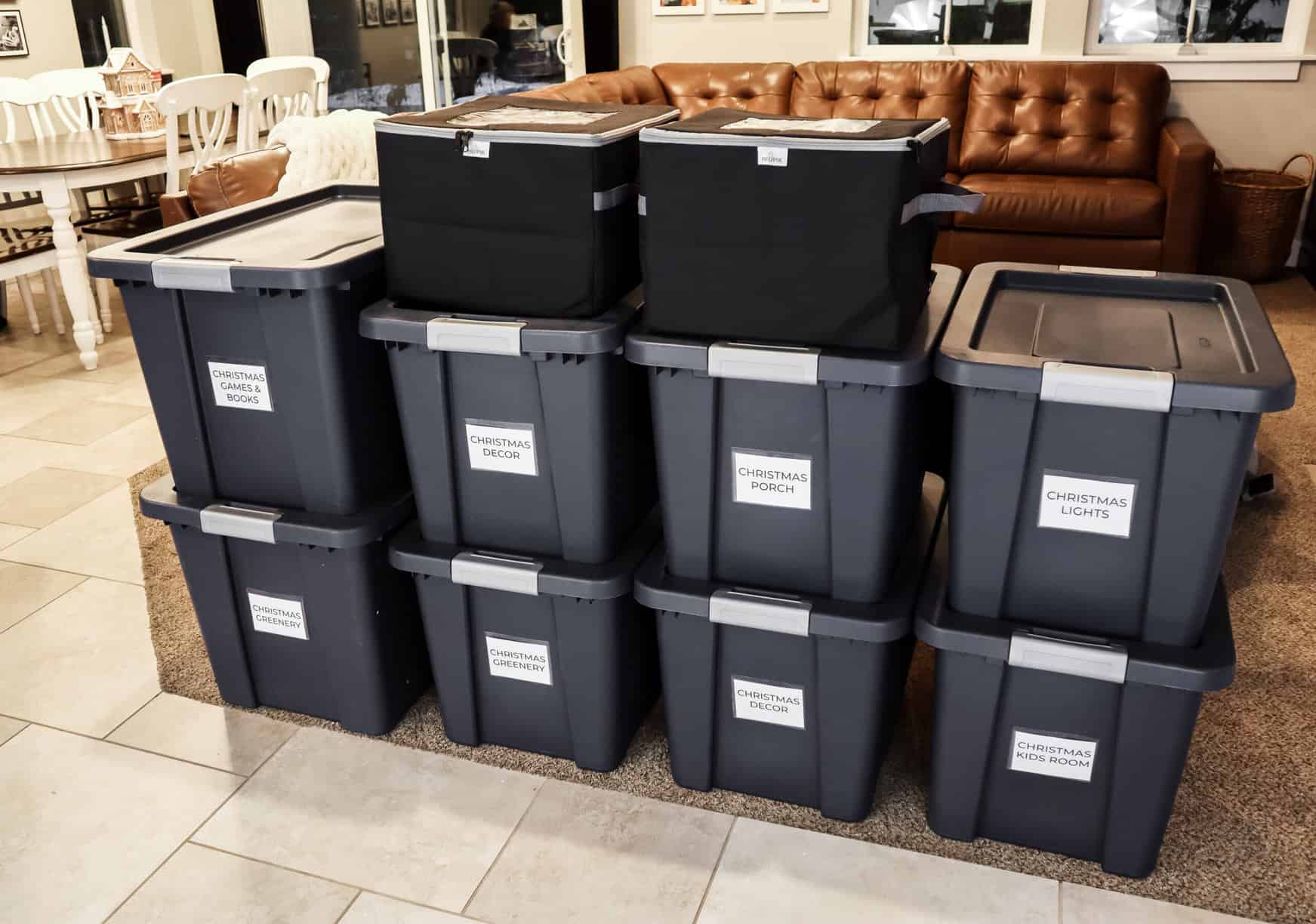 16 Things to Declutter Before Christmas
As the holiday season approaches, I'm sure you're thinking about all the stuff you need to get done. As you think about the Christmas gifts you need to buy, the Christmas tree you need to decorate, and all of the holiday cooking you'll need to do, considering extra stuff like decluttering is probably the furthest thing from your mind.
But doing a pre-Christmas declutter is a great idea because it will make your life so much easier when the holiday craziness is in full swing. Christmas clutter is real, and you'll definitely feel it when you see your Christmas decorations everywhere and as you begin to gift wrap new toys when your kids' old toys are in just the other room.
Your home will be more presentable if you have last-minute guests and you'll feel more relaxed and in control if your space is decluttered and organized.
So where do you start? Over the next few weeks, take these points one day at a time so you're ready to full enjoy the festive period when it comes.
Here are 16 things you need to declutter before Christmas!
1. Your Kitchen and Pantry
One of the first places to declutter before Christmas is your kitchen and dining area. With all of the cooking and eating you'll be doing over these cold winter months, you'll want to make sure your kitchen is clean and organized.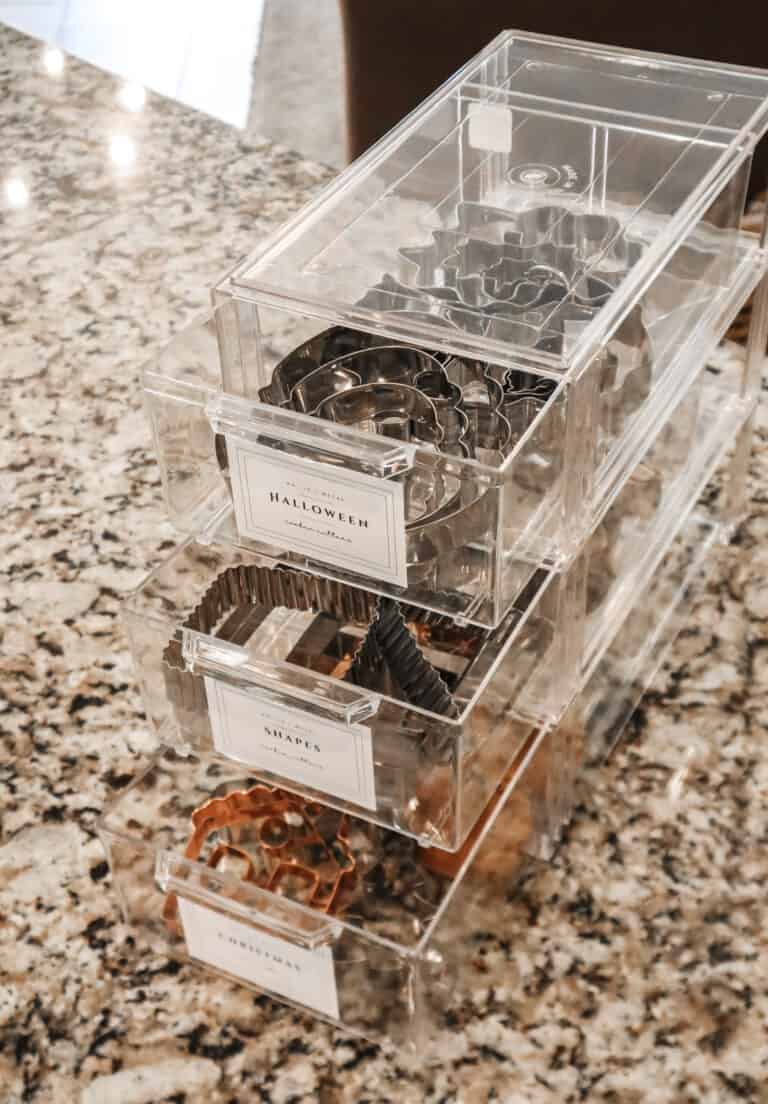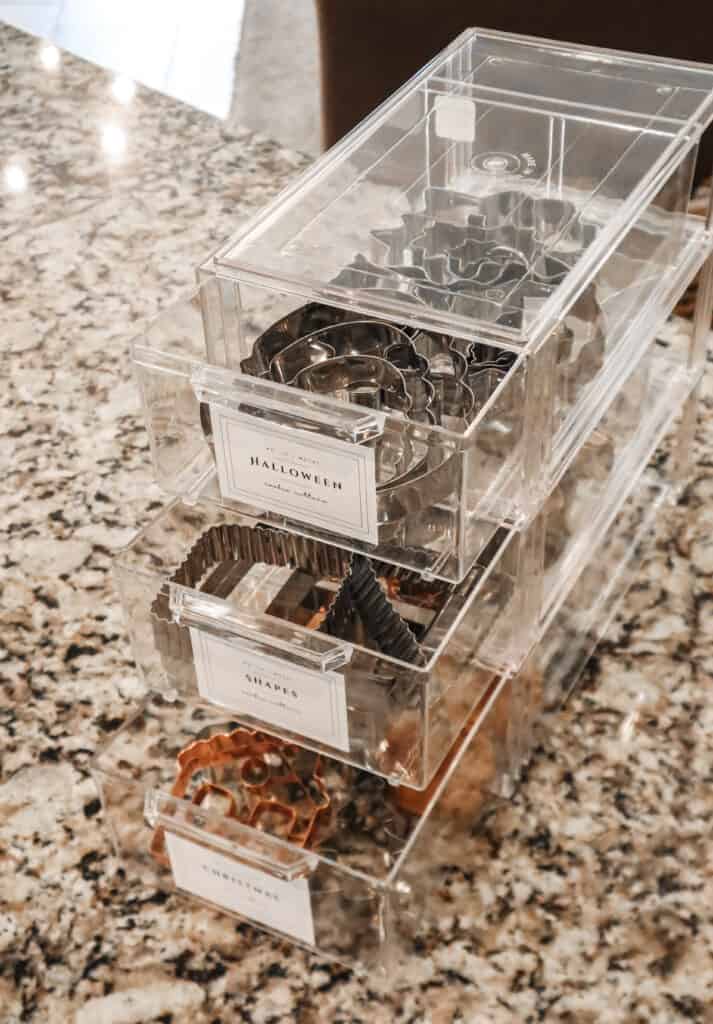 Start by going through your pantry and getting rid of any expired food. Go through your refrigerator and freezer while you're at it. If you have any extra food that isn't expired but you won't be using for the holidays, consider donating them to food banks if you can. If you don't know of any food banks or homeless shelters nearby, your local grocery store might be able to point you in the right direction for extra canned goods you may have.
Next, declutter your countertops and surfaces by putting away any appliances or gadgets that you won't be using. This will give you more space to prep for holiday meals. Go through serving dishes and pots and pans to find anything that no longer works or is broken and unusable. If you haven't already tossed it, do that before the holiday season gets in full swing!
SHOP CHRISTMAS ORGANIZERS

2. Your Beauty Products
Another space to declutter before Christmas is your bathroom! Go through all of your beauty products, from makeup to hair care to skincare. Toss anything that is old, expired items, or products that you no longer use. This will make getting ready for holiday parties much easier and faster.
Admittedly, this one can be tough. We are often attached to our beauty products, even if we don't use them, but decluttering them will make your bathroom feel more organized and put together. Plus, it's always nice to start the new year with a fresh beauty routine!
3. Christmas Decorations
This one will be a bit more simple than the others because you can do it while you're decorating for Christmas!
As you go through your holiday decor to decorate, consider if you still like that item and want to use it to decorate your house for Christmas. After all, tastes change, so the holiday decor you and your family used to love might not be your style anymore.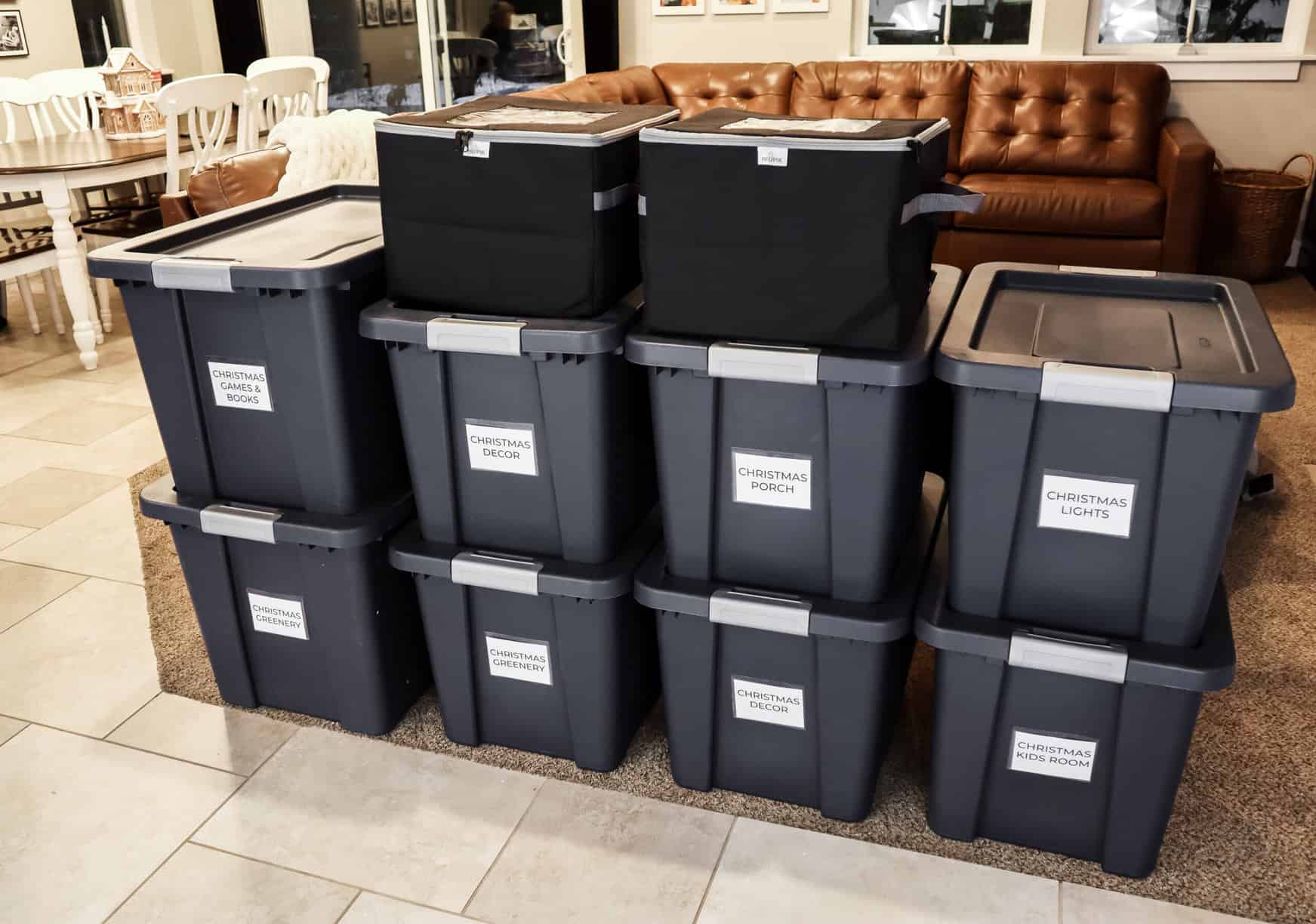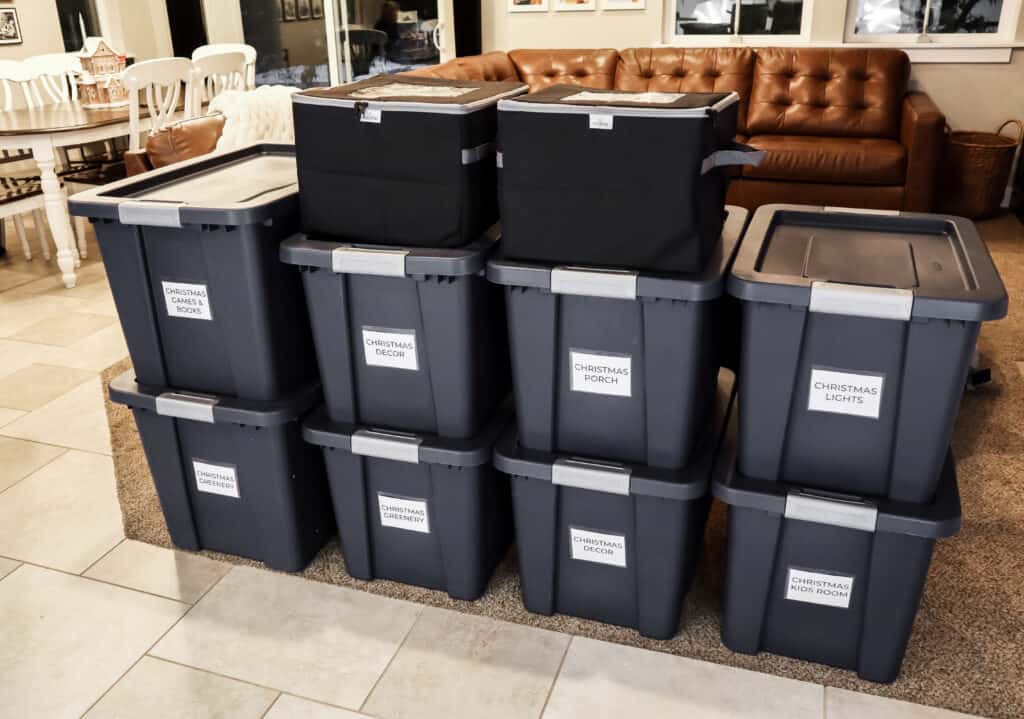 For example, you might have holiday decorations that were geared toward your kids when they were younger, but now they're teenagers or adults. You might not want to use those decorations anymore because you have new holiday decor that better reflects your current taste.
The same goes for any other holiday decor you have. If you don't love it and it doesn't reflect your current taste, get rid of it! This will help you quickly declutter your decorations for the holidays. You can gift them to your kids or family members that might have a sentimental attachment to them, otherwise, donate them if they are in good condition and throw them out if they are not.
4. Kid Toys
One space that is super important to declutter before Christmas is your kids toys. If you have young kids, they probably got a lot of new toys for their birthday or over the past year that they don't play with anymore. This is the perfect time to go through their toys and get rid of anything that they no longer play with.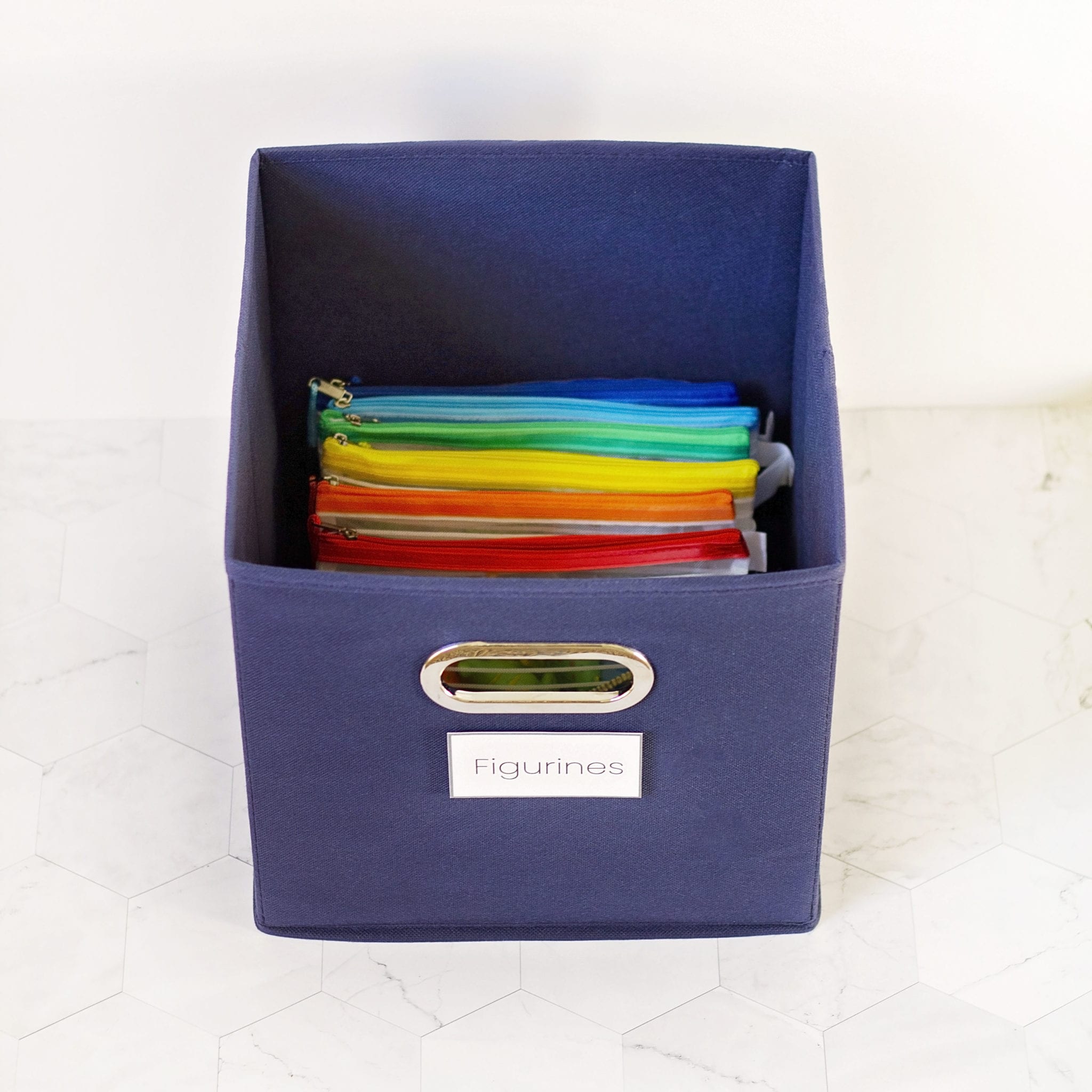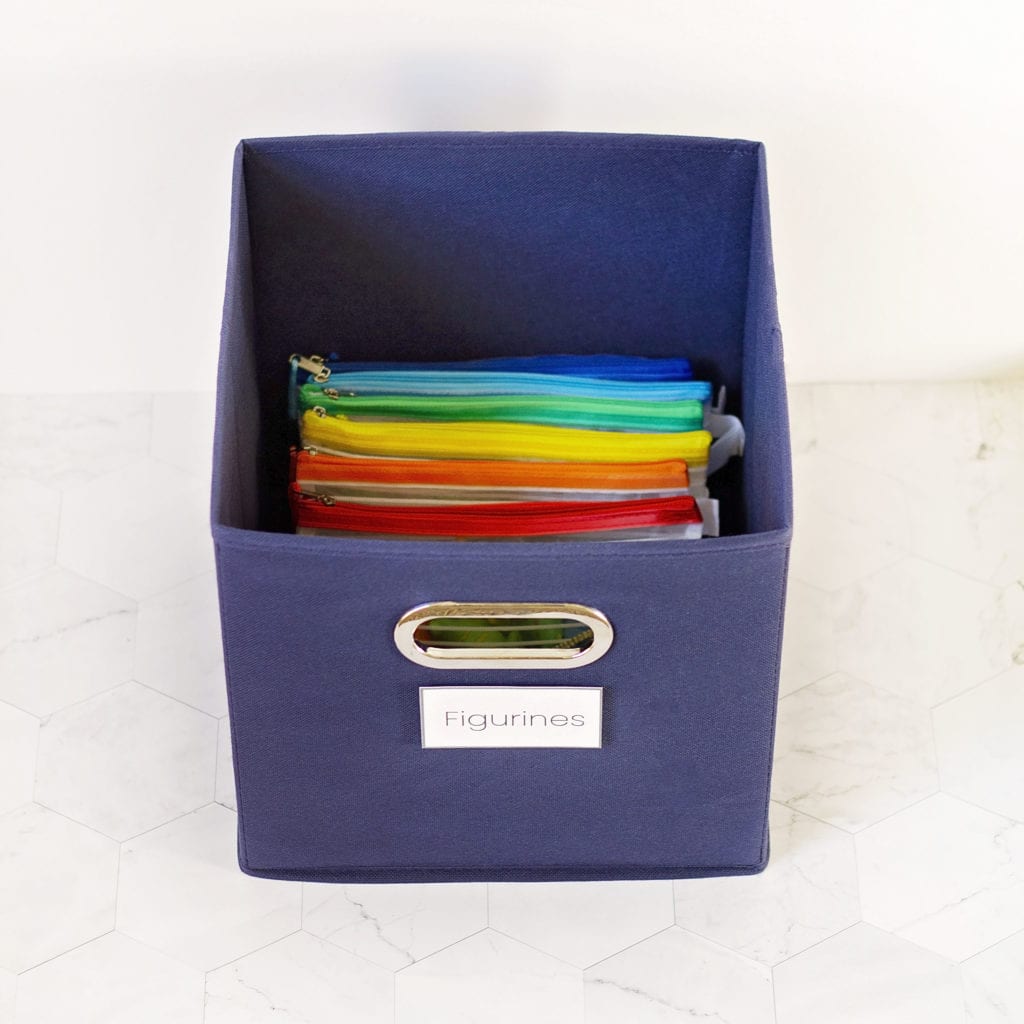 You can donate these toys to a local charity shop or children's hospital for other kids to enjoy. If they are broken or missing pieces, you can just throw them out.
Making space for new Christmas gifts will be a lot easier if you declutter your kids' toys ahead of time! If you do it before you do your Christmas shopping, it will also help you narrow down the stuff you want to give them because you will see what gets used and what doesn't!
SHOP CHRISTMAS ORGANIZERS

5. The Junk Drawer
You know that drawer (or several drawers) you have in your house with take-out menus, loyalty cards, rubber bands, and all your excess twist ties? Yeah, it's time to declutter that space.
Toss anything that is outdated, broken, or you just don't need. You'll be surprised at how much easier it will be to find things when you need them!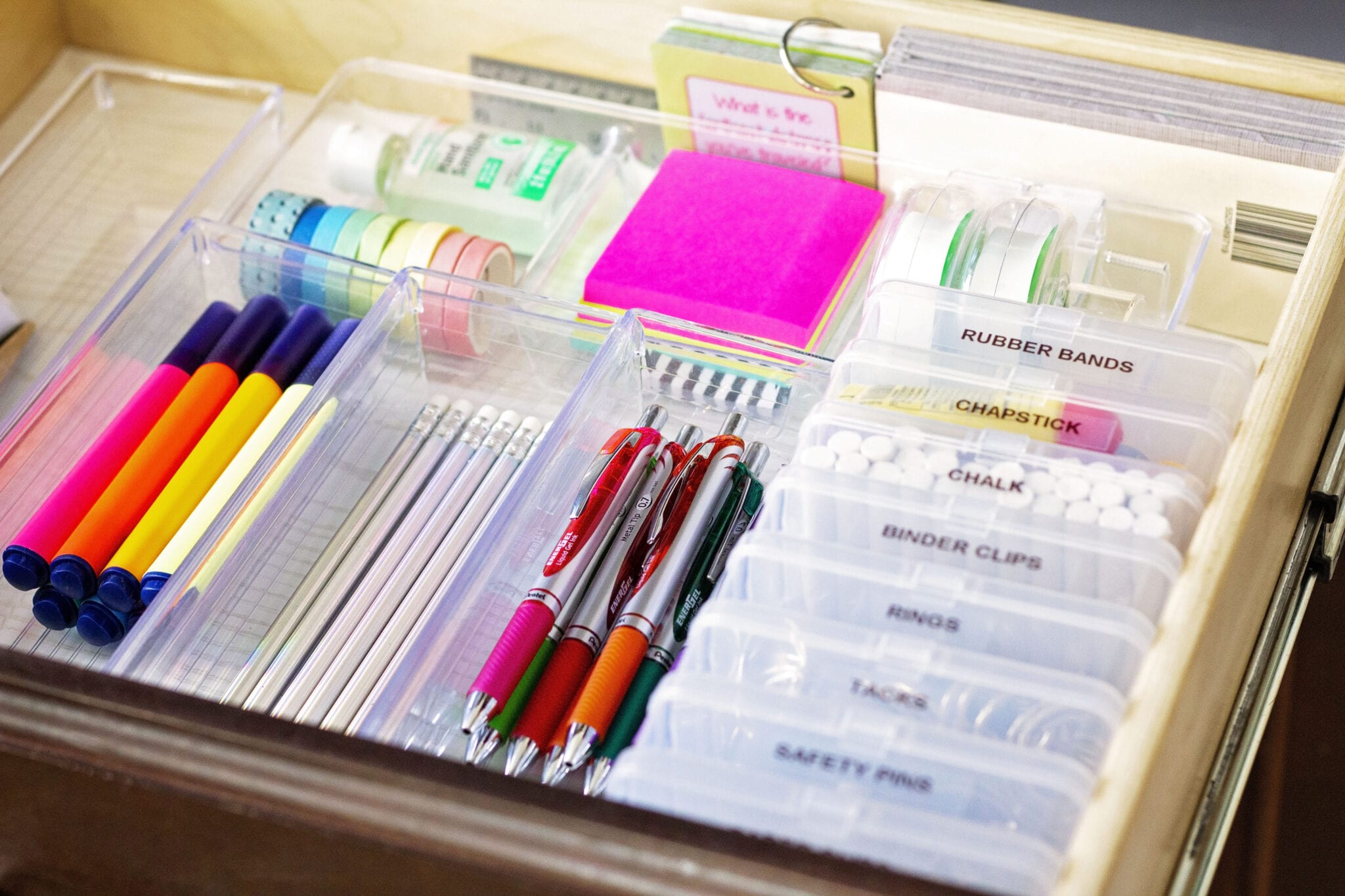 The chances of guests going through your junk drawer are pretty slim, but it's nice to declutter those catch-all spaces periodically throughout the year. It will help your house feel so much more organized!
Also, even if they aren't in your junk drawer, this is the perfect time for decluttering old planners, unused manuals, phone books, and anything else that is just taking up space. You can either shred them or recycle them.
6. Fitness Equipment
Decluttering your fitness or sporting equipment before Christmas can also help make room for any new gear you may receive as gifts. It can be tough to let go of things, especially if you have sentimental attachment to them. But if you know you're never going to use that old pair of rollerblades or that dusty set of golf clubs, it's time to say goodbye.
Donate equipment in good condition to a thrift store, shelters, youth sporting programs, or anyone else you think might use it! It's better to have less stuff that you actually use than a million things in your garage that you don't ever touch!
7. Cleaning Supplies
Did you know cleaning supplies can expire? Well, they can! Include cleaning products in your pre-Christmas declutter so you know all the sprays and wipes that you'll be using to clean for the holidays are still good. Check the labels and toss anything that is outdated. This will help you keep your home clean and bacteria-free!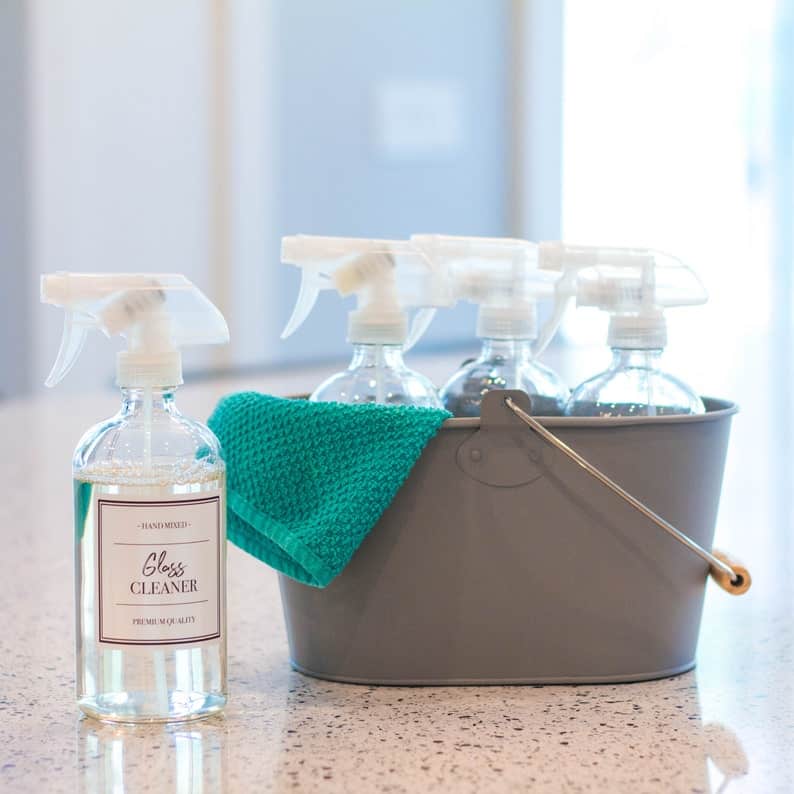 Also, one quick note: cleaning products can also be dangerous if they are not stored properly. Keep all of them out of reach of children and pets. Store them in a cool, dry place away from any heat sources!
8. Your Closet
If you're like most people, your closet is crammed full of clothes you never wear. This holiday season, take the time to declutter your clothing. If you have clothes that you don't wear, why are they taking up space in your closet? Get rid of them! This includes clothes that don't fit, clothes you don't like anymore, or stuff that has torn or stained and you haven't parted with yet.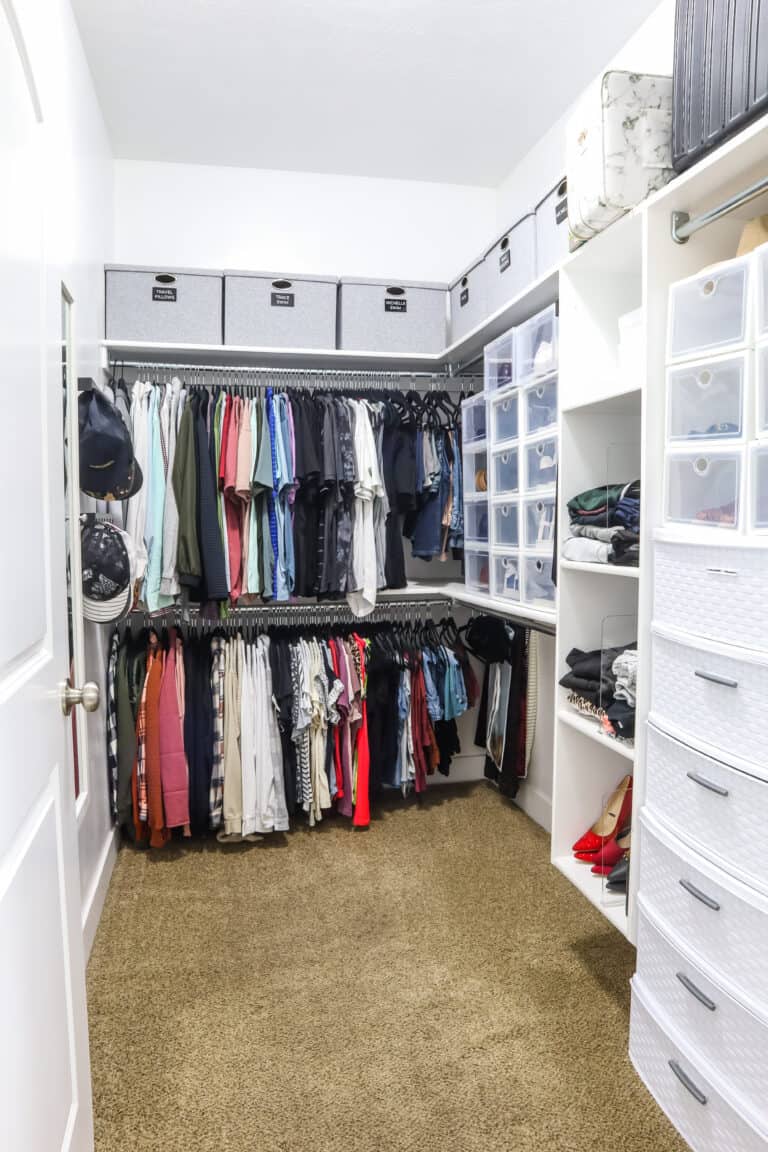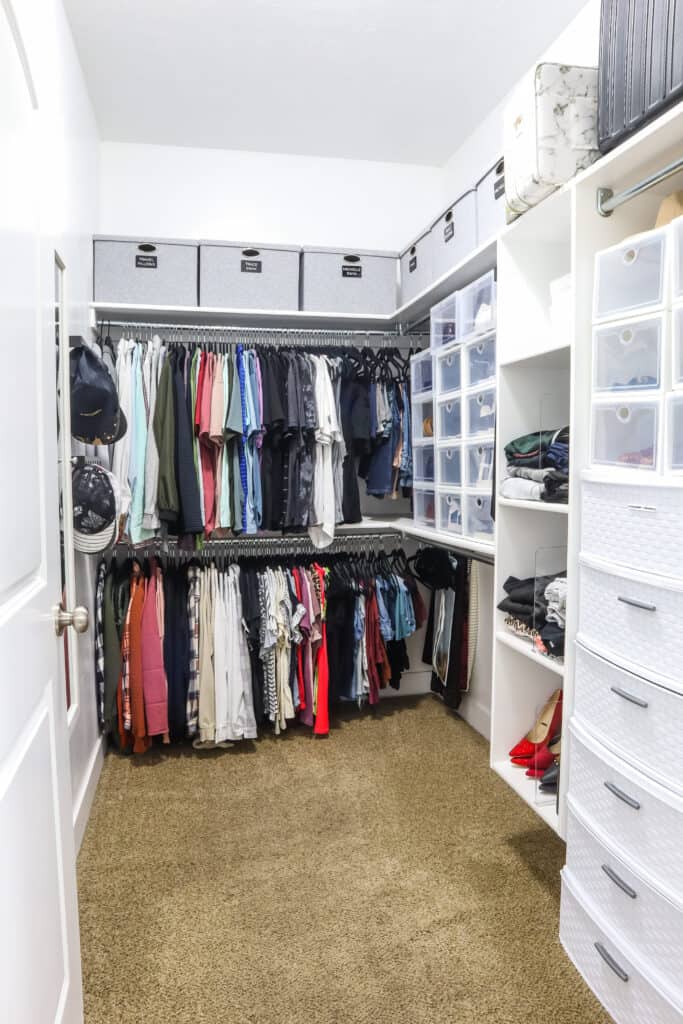 Donate as much as you can and free up that space in your closet! Go through the clothes for your whole family while you're at it. Throw out single socks and those jeans that have seen better days.
Also, check your seasonal clothing as your kids may have grown more than you expected over the year and those coats might not fit as you expected!
9. The Guest Bedroom
The guest space is probably a given for your pre-Christmas declutter, especially if you're having guests coming for the holidays, but it's worth mentioning.
You want to make sure there's a place for your guests to sleep comfortably, and that means getting rid of anything that might be in the way. You want to get rid of anything in the actual guest bedroom that doesn't need to be there or make space for them in another room if you don't have a designated guest room.
Make sure there is a clutter-free space they can use with clean linens and towels.
10. Crafting Supplies
The last thing you need to make sure to declutter before Christmas is another catch-all space. This includes any crafting supplies (go through your unfinished craft projects and decide if you're really going to finish them), your wrapping paper station, and party supplies.
If you're not using it and it's just taking up space, get rid of it. You want to make sure you have a designated spot for everything so you're not hunting through the house for things last minute. This will also help you stay organized and sane during one of the busiest times of the year!
11. Old Gift Wrapping Supplies
The holidays are by far the busiest time of year for most people. Family gatherings, decorating the house, cooking large meals and then there's also the task of wrapping presents.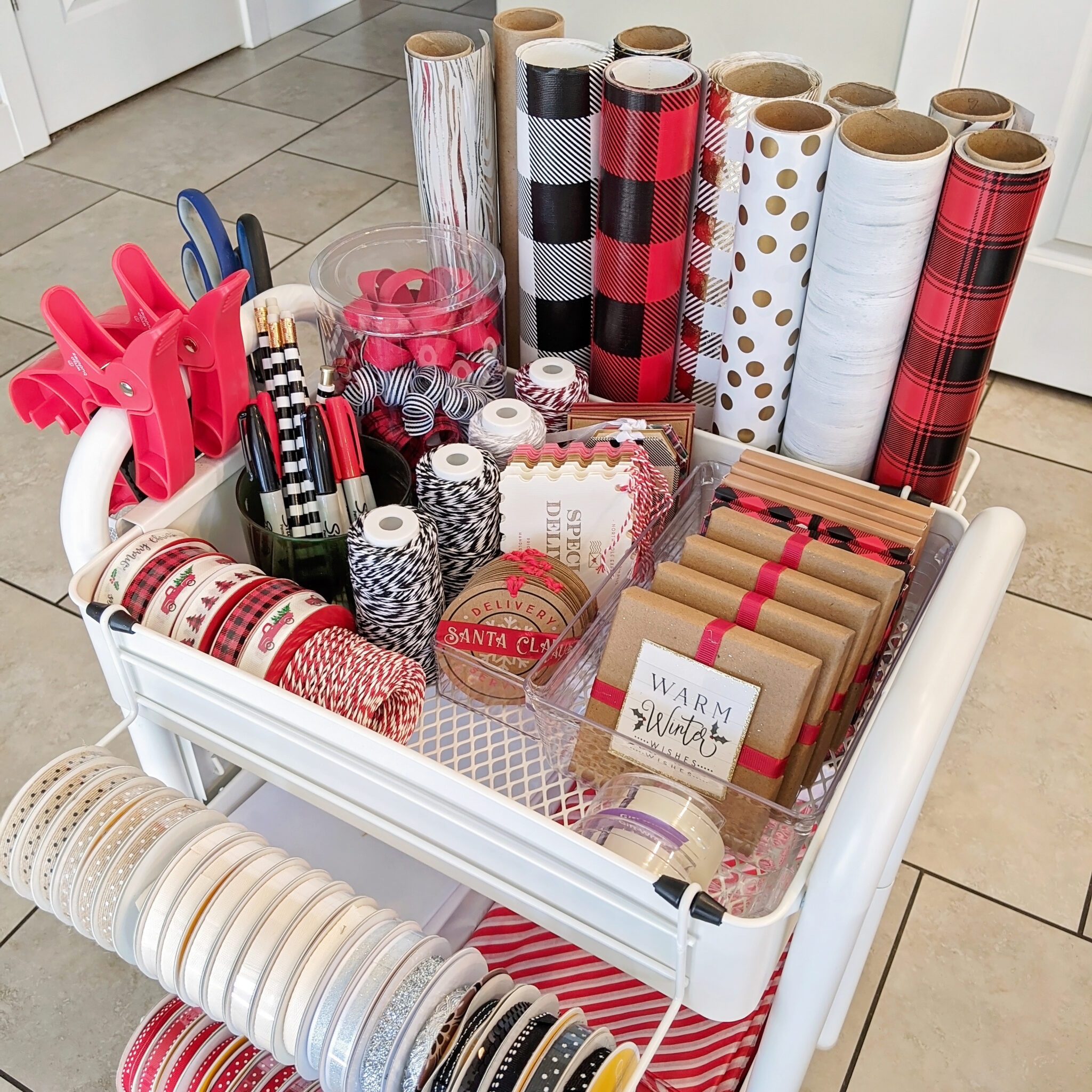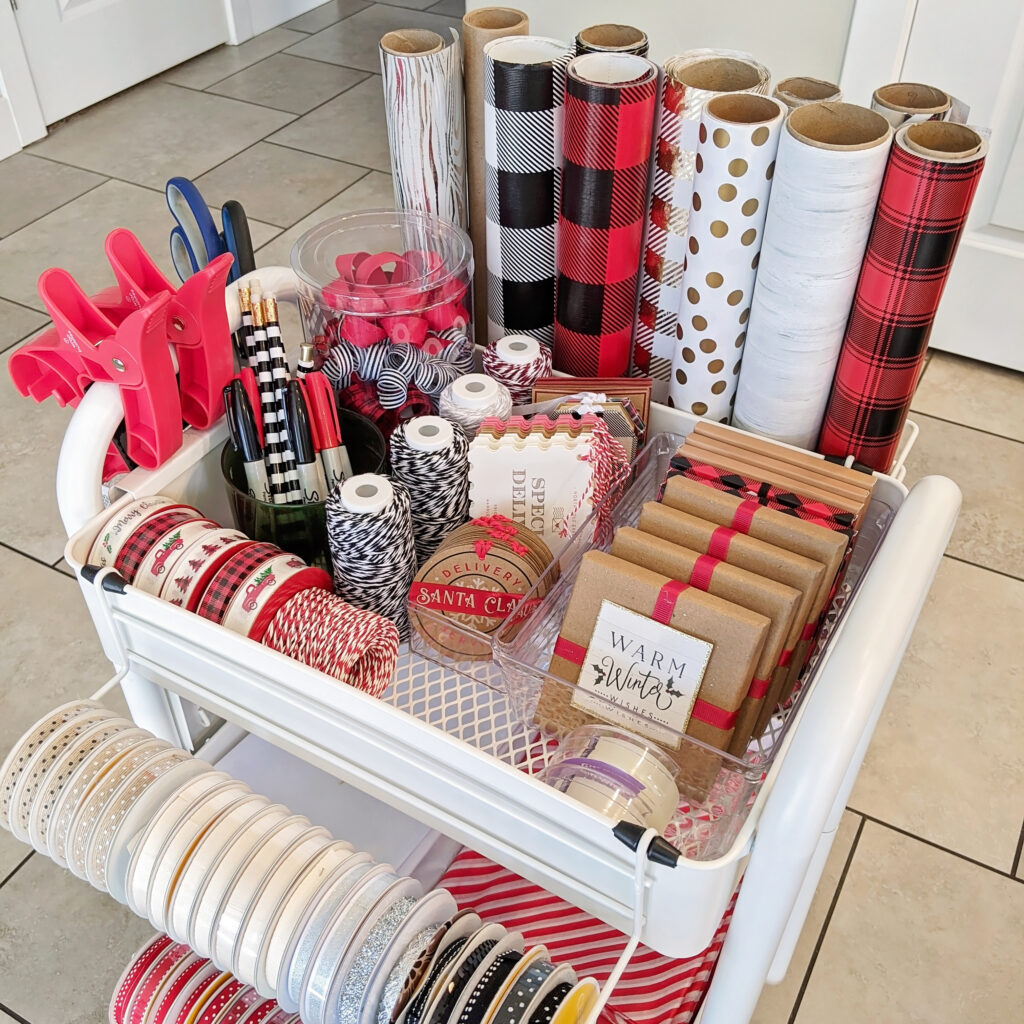 If you're like me, you probably have a stockpile of old gift-wrapping supplies that you've accumulated over the years. Take some time to go through it all and get rid of anything that is damaged or you no longer use. This will declutter your space and make it easier to find what you need when you're wrapping presents.
SHOP CHRISTMAS ORGANIZERS

12. Entertaining Items
Christmas time is a time of gathering family and friends together and much entertaining. That's why it's important to declutter your entertaining items before the holiday season. Go through your plates, cups, silverware, and serving dishes and get rid of anything that is chipped, cracked or you no longer use. This will make it easier when you're setting the table and preparing for holiday meals.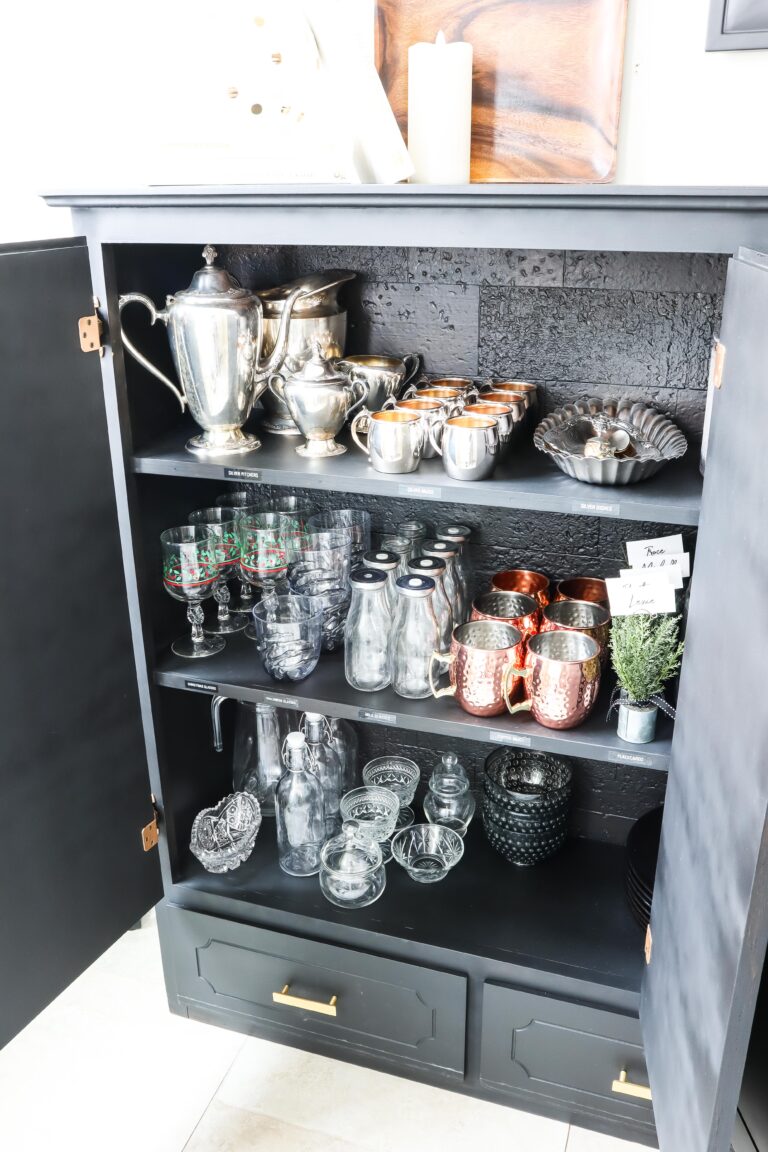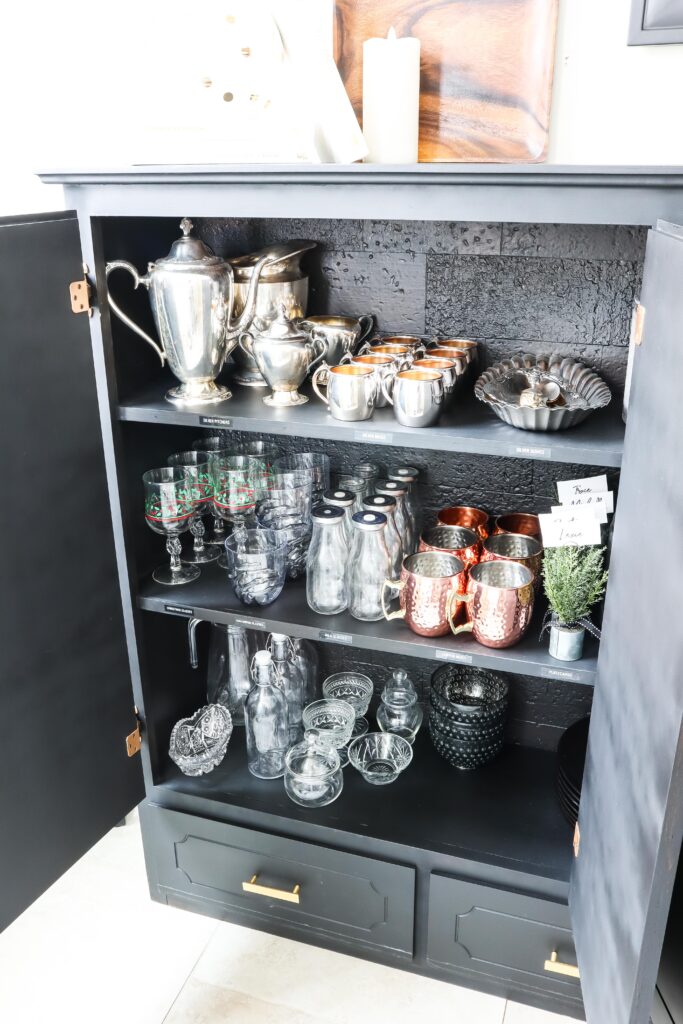 13. Old Books
Many people receive books as Christmas gifts, which is why it's a good idea to declutter your old books before the holiday season. Go through your shelves and get rid of any books that you haven't read in a while or that you know you'll never read. This will make room for the new books you'll receive and declutter your space.
14. Entryway and Coat Closet
If you live somewhere where it's cold it can be especially important to declutter the entryway and the coat closet, if you have one. With so many people coming and going during the holidays, it can be difficult to keep these areas clean and organized.
Take some time before the holiday season to declutter these areas so that you can easily find what you're looking for when you need it. This will also help you know what winter items need to be purchased before everything sells out.
15. Clothes Your Kids Have Outgrown
Winter temps start creeping in during the holidays and you don't want to be caught without essential clothing items that fit your kids. Go through your kids' closets and drawers and get rid of clothes that they have outgrown.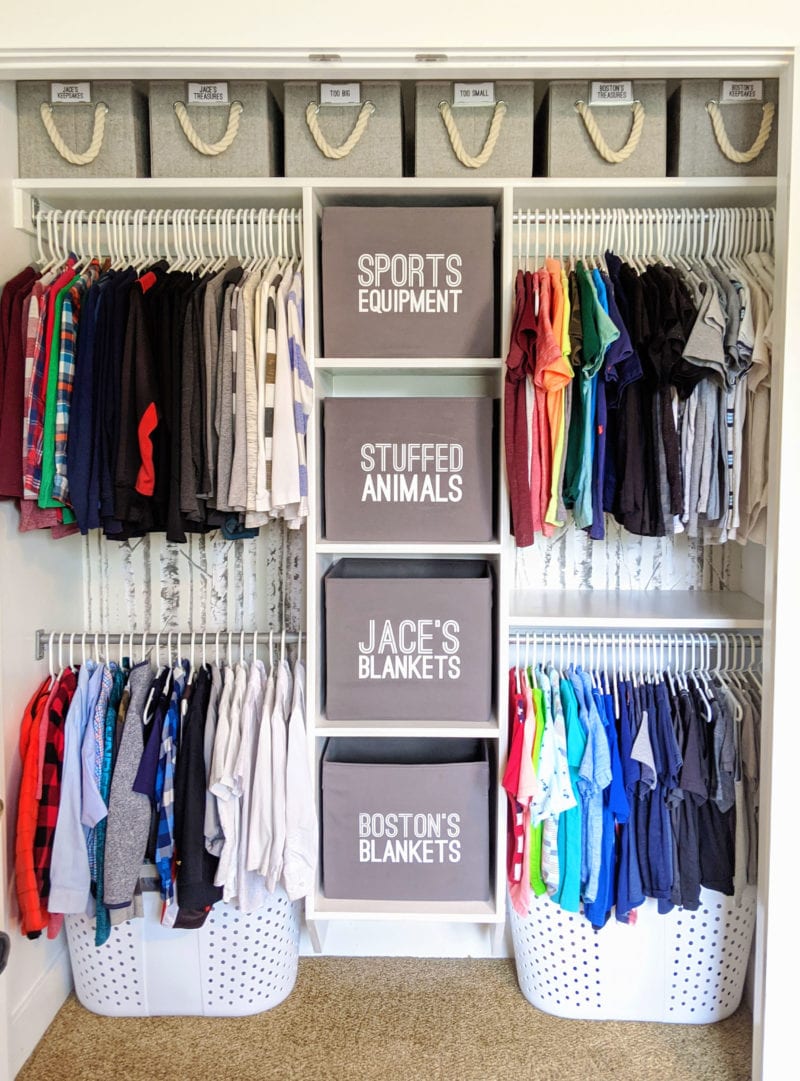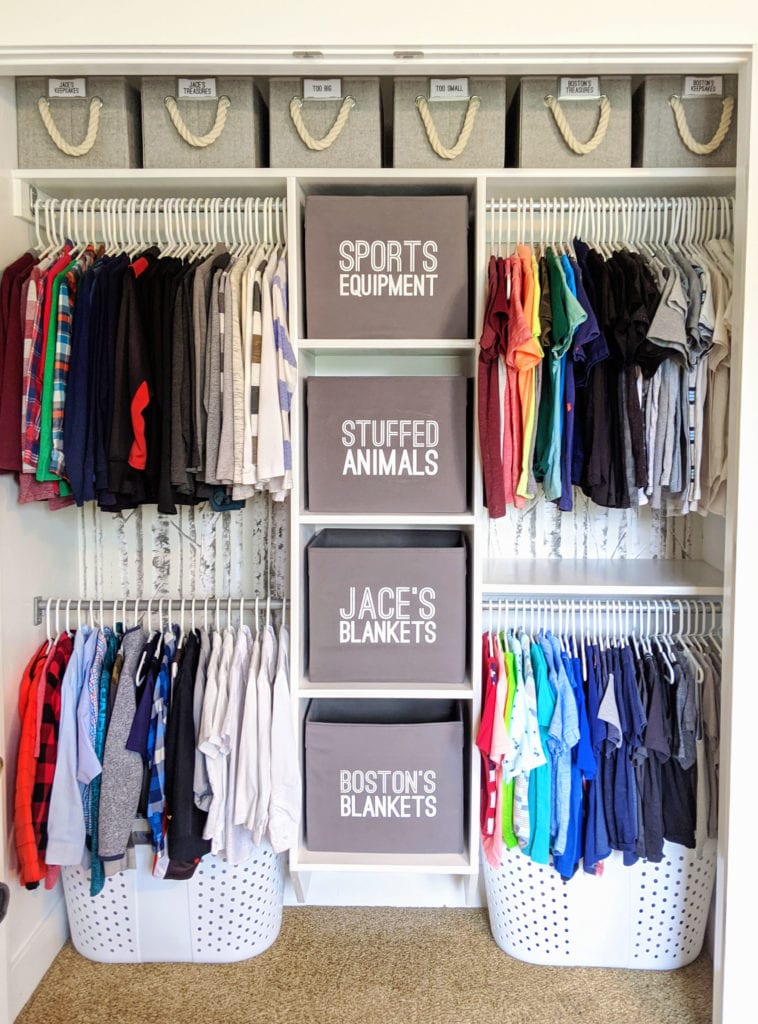 Donate these items to a local charity or consignment shop. You can also save them to hand down to younger siblings or cousins. If you don't have any younger siblings or cousins, consider donating them to a local children's shelter.
This decluttering task will not only make your life easier, but it will also help someone in need this holiday season.
16. Linens
Christmas is a time when many people have guests staying with them. Before your guests arrive, take some time to declutter old towels and sheets that are too worn to use. Toss anything that is stained, ripped, or otherwise in bad shape.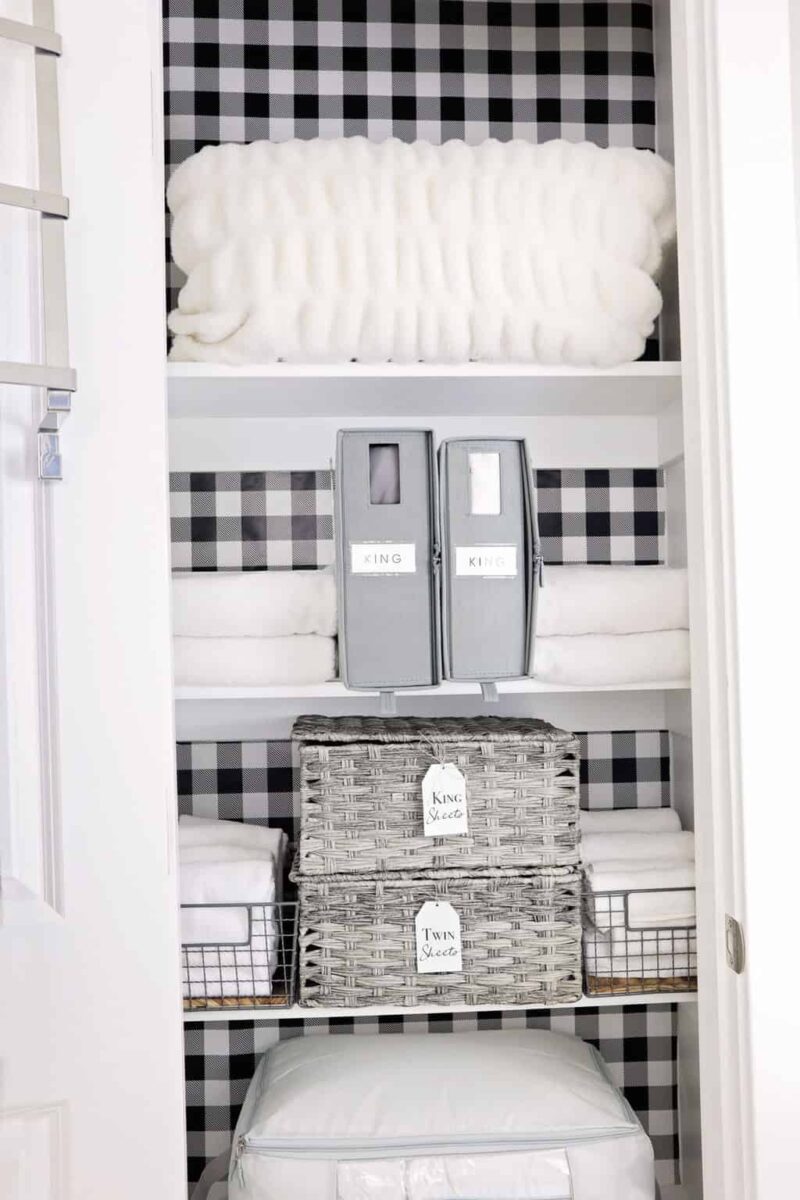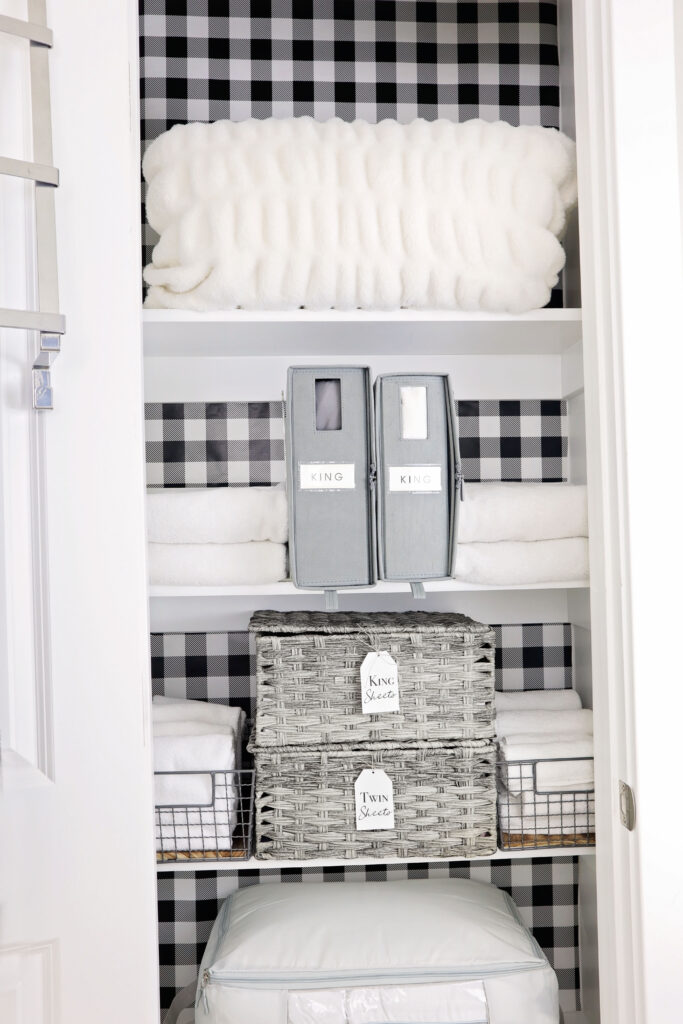 You can also declutter your bedding by getting rid of any old pillows that are no longer comfortable. Consider donating these items to a local animal shelter, as they can often use them for bedding material.
After you have decluttered your linens, wash everything that is remaining so that it is fresh and clean for your guests.
Decluttering before Christmas is a must!
Taking the time to declutter before Christmas will really help you feel more in control of your home this holiday season. You'll thank yourself later when you're not scrambling to find things and your house is already clean.
There are a lot more rooms and things to declutter that we didn't mention (like end tables, coffee tables, and surfaces in general), but we wanted to give you a starting point. Decluttering will help your home feel more spacious and put together. You'll be able to relax and actually enjoy your holiday guests!
So, set aside a weekend or two to declutter before Christmas. Trust me, it will be worth it when the holidays are in full swing! Enjoy decluttering and enjoy your holiday even more!