15 Must-Have Cleaning Tools That Make Your Life Easier
Cleaning stinks. Literally. And figuratively. But as we live our busy lives, our homes get dirty and stinky and messy. That's life! So why not make cleaning as easy and as quick as possible? I have compiled a list of 15 must-have cleaning tools that make your life easier.
Don't forget to scroll down and sign up to gain access to my FREE Resource Library where you'll have access to more than 50 pages of free printables!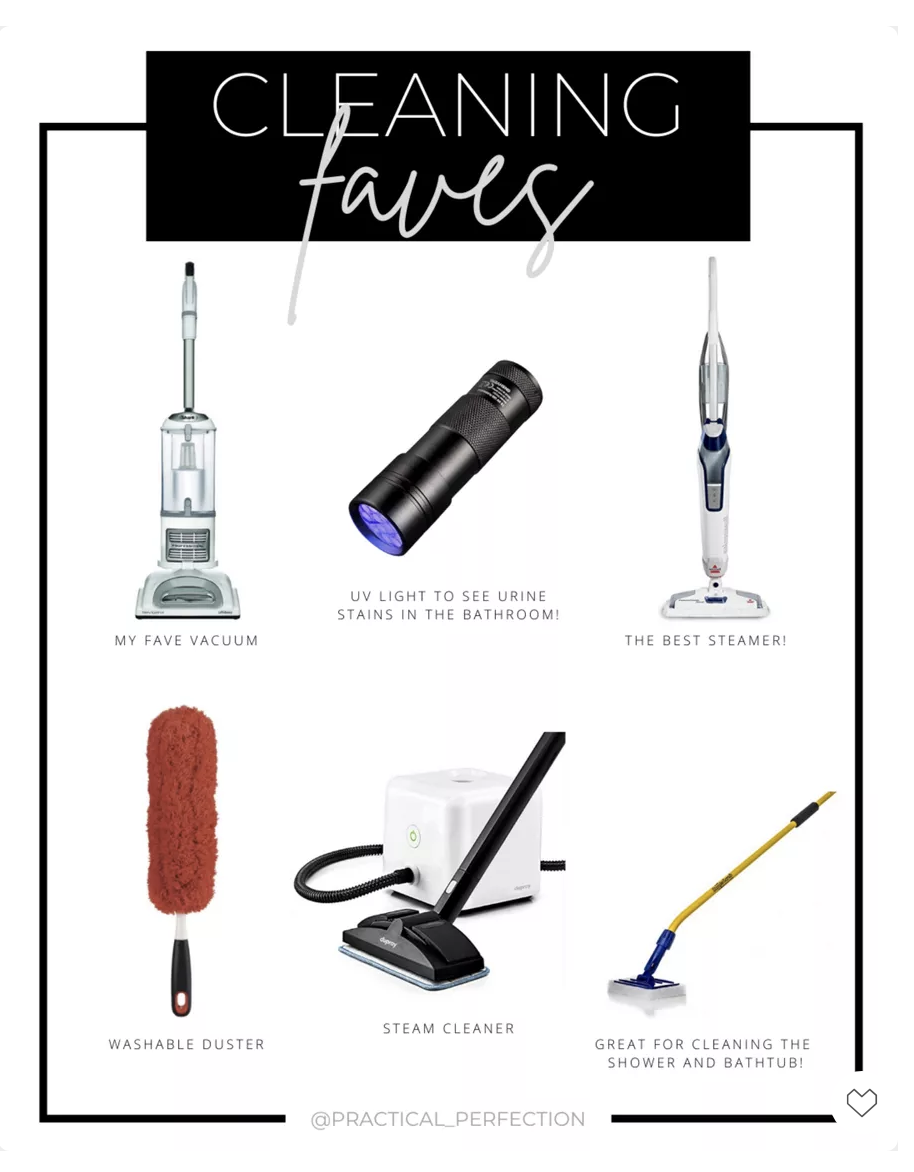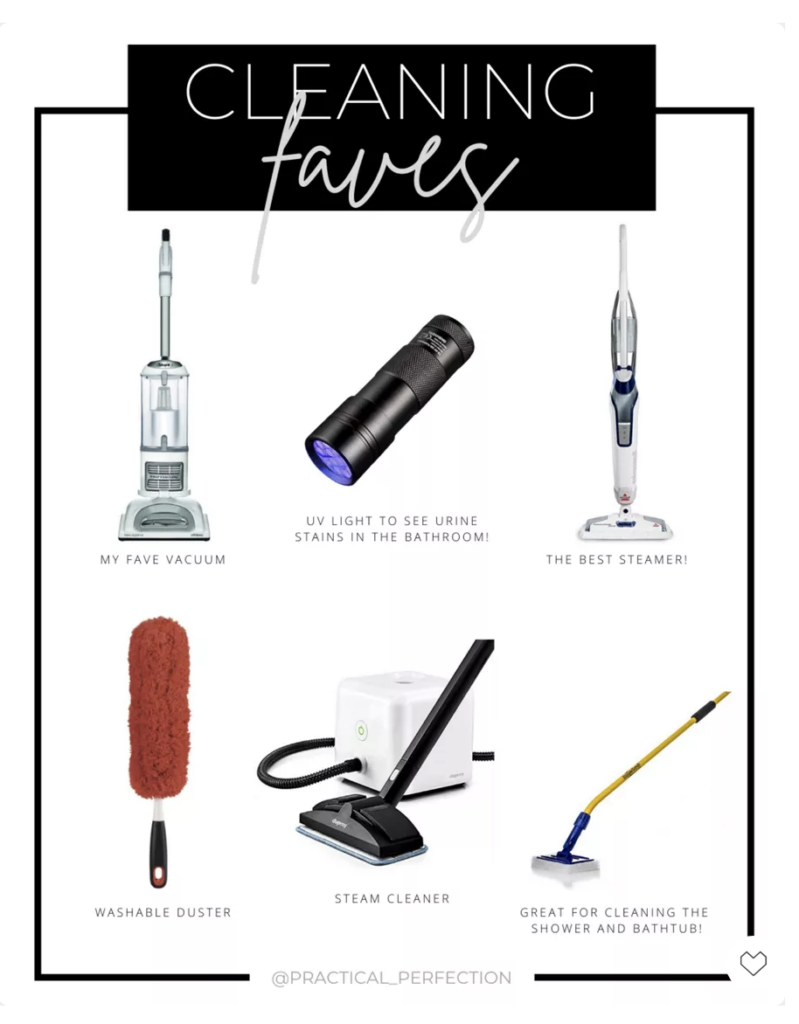 Luckily for us, in this day and age, there are TONS of tools available to us that help us accomplish those tasks SO MUCH FASTER so that we can get back to doing what's most important in life…spending time with family. And they will help you get the job done as quickly and as painless as possible.
Why Does my Opinion Matter?
I used to clean homes for many wealthy people when I was going to college. I was lucky enough to have a Mom that taught me how to clean well and a large part of who I am is due to that fact! She supplied me with a skill that has blessed my life in so many ways. Because I have cleaned for SO MANY PEOPLE (probably 40 homes) over the years, I have also had the opportunity to use hundreds of different types of cleaning products and tools. And for that reason, I am passionate about my favorites!
Most of the products listed below, I own. I don't recommend products that I don't absolutely love myself. But some of them are on my wishlist! But for the ones I don't own, I have listed the very top-most rated product in that category. I did all of the research for you! (Click the photo to be taken to the products on Amazon)
Wiping
I have tried Norwex cleaning cloths, E-cloth rags and everything in between. Because I am a frugal person, I put myself on a mission to find products that work just as well if not better than the expensive stuff. These Buff Cleaning Cloths are exactly that. They are a fraction of the cost of expensive brands and work even better. No, seriously. Remember all of the thousands of hours I have spent cleaning? I know what I'm talking about. I have owned these for 10 months and I am never turning back.
These green and blue rags are absolutely incredible at wiping interior windows and mirrors. You'll never have to buy glass cleaner again! Get the green rag damp and wipe the mirror, then dry the mirror with the blue one. "Wax on, wax off my San."
I use these Buff cloths (they come in different colors) for every possible situation. They are for general cleaning and I use them non-stop!
Dusting
I used to use Swiffer Dusters but I didn't like how I had to re-buy all the time. Dusting at my house is pretty simple and straightforward, so I only use a duster. But I made the mistake of not buying a microfiber one. This is the best-selling duster on Amazon. The best part? It's washable! So it's a one-time purchase. Think of all of the money you could save!
Mopping
Again, I always purchase products that are reusable. It saves me SO much money! For that reason, I don't use the Swiffer mop products. This mop below has a velcro pad that attaches to the mop. It is SUPER easy to use and when you are done mopping, just take off the mop pad and throw it in the washer. Viola!
This mop is hugely popular on Amazon. I have used it at a few client's homes and I actually love it! I was skeptical at first. The special bucket spins the mop super fast to get the majority of the water out. It's really fun to use and it works great!
This is steam mop is probably one of my all-time-can't-live-without tools. I use it ALL THE TIME. It makes mopping my floors so easy. And I love that it sanitizes my floors, especially during flu season. And do you want to know my secret? I actually 'mop' or 'sanitize' my countertops before I mop my floor! Genius idea, right? Plus, how can you deny over 10,000 awesome ratings?!
Vacuuming
I don't own this vacuum but I want it! This would be an awesome alternative to sweeping with a broom. I used to have one similar a few years ago but it broke somehow. This vacuum has over 2,000 reviews and is only about $30! Another thing I love about it is that the base can detach and it converts to a hand vacuum. Sweet! Two tools in one!
This exact vacuum has lasted me 6 years and I am pretty passionate about this one. I've used over 30 different types of vacuums in my day. This vacuum has the best suction I have seen and I have to continually empty the dirt up every 2 weeks. That's how I know it's working so well! This vacuum has over 10,000 amazing reviews and is an Amazon top-seller. So don't just take my word for it!
And if you are in the market for a Robot Vacuum, I was surprised to see that this vacuum has WAY better reviews than even the iRobot brand. This is one of my very best purchases from 2021!
Scrubbing
If you have a glass cooktop in your kitchen. This cleaner is a must-have. It doesn't scratch the glass but is great at getting the job done with cooked-on food. My husband without-fail overflows the pot every time he boils anything liquid, so I use this constantly!
I have owned a similar tool to this but I wish I owned this! (It's in my cart right now, in fact!) This Deep-Cleaning Brush Set would have a million different uses and you know that if it is made by the OXO Good Grips brand, it's gotta be awesome. A great asset to your cleaning arsenal for only $5.99. And it has over 2,500 reviews!
By far my favorite scrubbing sponges. I mostly use these for cleaning sinks and tubs. I love that it stays hard when you use cold water and if you want to soften it up, use hot water! And it won't scratch your surfaces! I also love how these DO NOT STINK after months of use like the standard Scotch Brite green and yellow scrubbing sponges.
Hard water stains in the toilet, anyone? I've got just what you need! This pumice stone is perfect for scrubbing off toilet bowl rings around the toilet.
Do you have a REALLY tough job that is going to require a lot of elbow grease (Think of your master shower soap scum)? Then you would LOVE this! These are called "Drill Brushes" that you insert into your power drill and it spins the scrubbing brush at a million miles an hour! Think of how much time and effort this is going to save you! I LOVE mine!
Some of you may be wondering, are all of these cleaning tools actually necessary? Well, not they aren't. But cleaning with the wrong tools is like a lumberjack with a dull ax. If you have the right tools, you can get the job done MUCH faster and get back to the things you really want to be doing!
Want more cleaning tips? Check out my post about the Golden Rules of Cleaning your Mom Never Taught You and my secret weapon that I use to wipe my walls 3x faster than doing it by hand