I will flat out admit that this post has absolutely nothing to do with organizing. But I am a firm believer that organizing is more than just creating order, it is creating beauty. So today, I am creating beauty….in my car. I feel slightly sheepish with this post and feel a bit like a newly turned 16-year-old with a new car. BUT, even at 32 years old, I still enjoy decorating my car and making it my own without making it look tacky. Here are 25 ways to personalize your car that you're sure to love!
*This post may contain affiliate links, which means I may receive a small commission, at no cost to you, if you make a purchase through a link!*
UPDATE: I added some awesome ideas for how to decorate your car for the holidays down at the bottom of the post…check it out!
Need more ideas? Check these out: 9 Simple Car Organization Tips Anyone Can Do and 11 Easy Steps to Create Beautiful Faux Leather Keychains
10 Ideas to Personalize Your Car
Here are several ways you can Personalize your Car to make it cute. I don't do all of these in my car, but these should give you some great ideas. Here are my favorite ways to personalize your car:
Car Coasters (glitter ones are my fave!)
Glitter Tumbler (again with the glitter)
Air Freshener
Headrest Collars
Keychains
Car Mats
Rear View Mirror Decorations
Seatbelt Covers
Steering Wheel Covers
License Plate Covers
There are tons of other ideas out there on the internet but some of them just go to far for my personal taste. I am going for cute and not tacky. Adding stuffed animals to my car is just a bit to young for me, I guess! PLUS, my kids add enough junk to the car that I really try to limit the amount of things that I bring into my car. Just cute things that I love!
Car Coasters
I was browsing Etsy a while ago and discovered car coasters. And not just car coasters…GLITTER CAR COASTERS! I instantly fell in love and knew that these would be the perfect touch to add to my car. They are made of sturdy epoxy and are perfect for any car. There are SO many varieties and possibilities with glitter car coasters that your mind will be blown!
If you are looking for an excellent seller with excellent service, Jackie is your gal. She sells the widest variety of colors in car coasters that I've seen and she really is just a gem. Go check out her Glitter Coasters in her shop, I know you'll love them! She is also offering 10% off for all of my readers (use code PRACTICAL at checkout).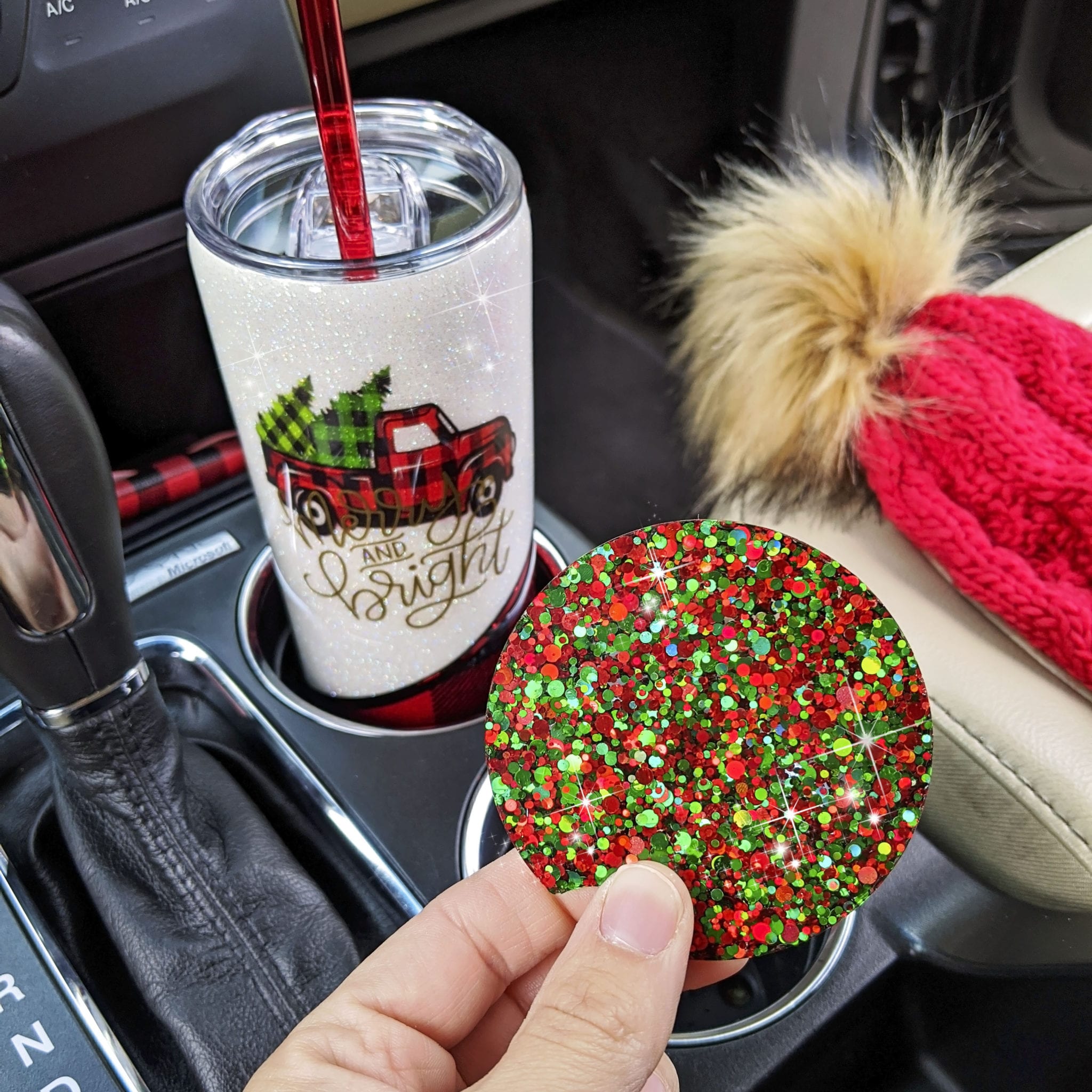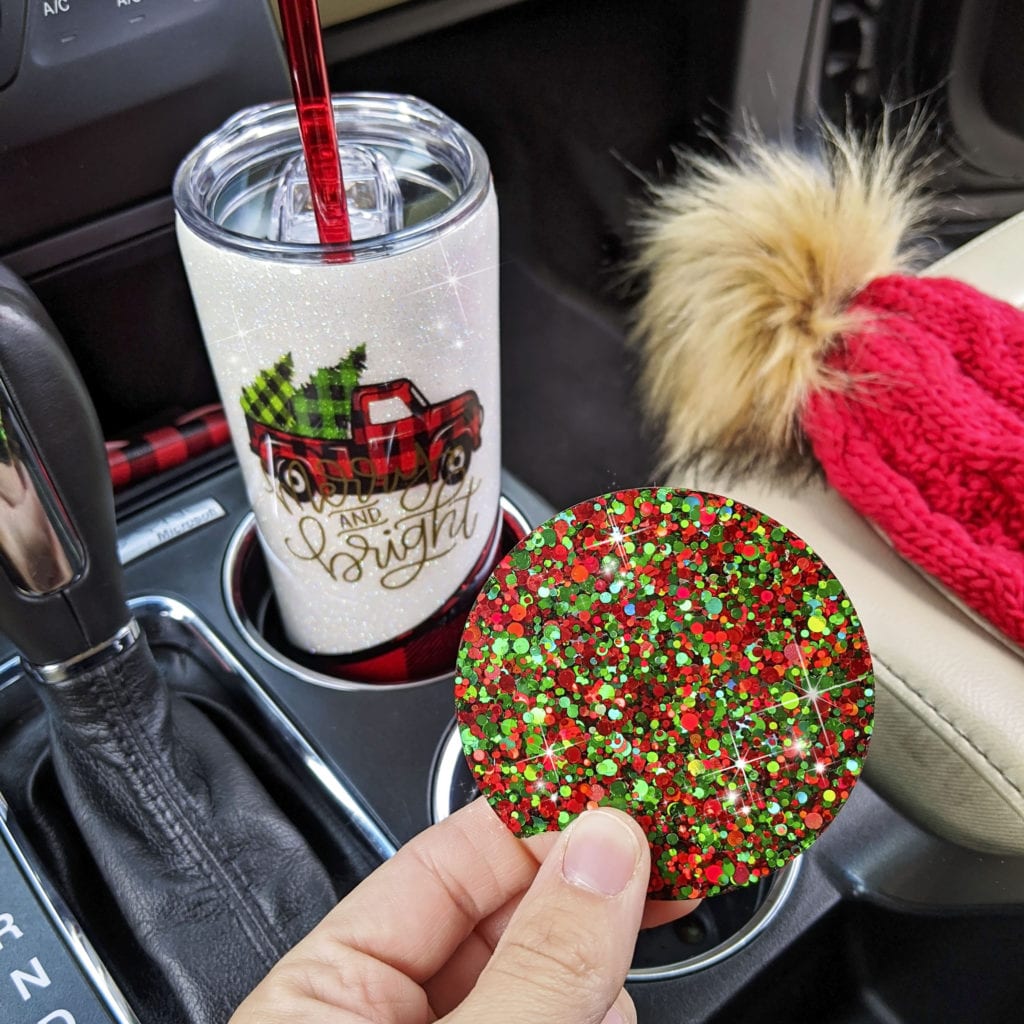 My 10 year old daughter was so funny the other day when she said, "Did you know that Glitter is proven to release serotonin into your body and that's why it makes you so happy?!" Well girl, I have no ideas if that's true or not, but glitter makes me happy…so I'll take it!
Glitter Tumbler
Now onto my very favorite part of this post – my glitter tumbler! This hot new trend of Glitter Tumblers is one of my favorite trends in a LONG TIME! I am literally obsessed with them! I found a particular store called Sparkle Shimma that I have used a couple of times and I have been so happy with not only the tumblers themselves but her customer service! She made my Pink Leopard Glitter tumbler for me.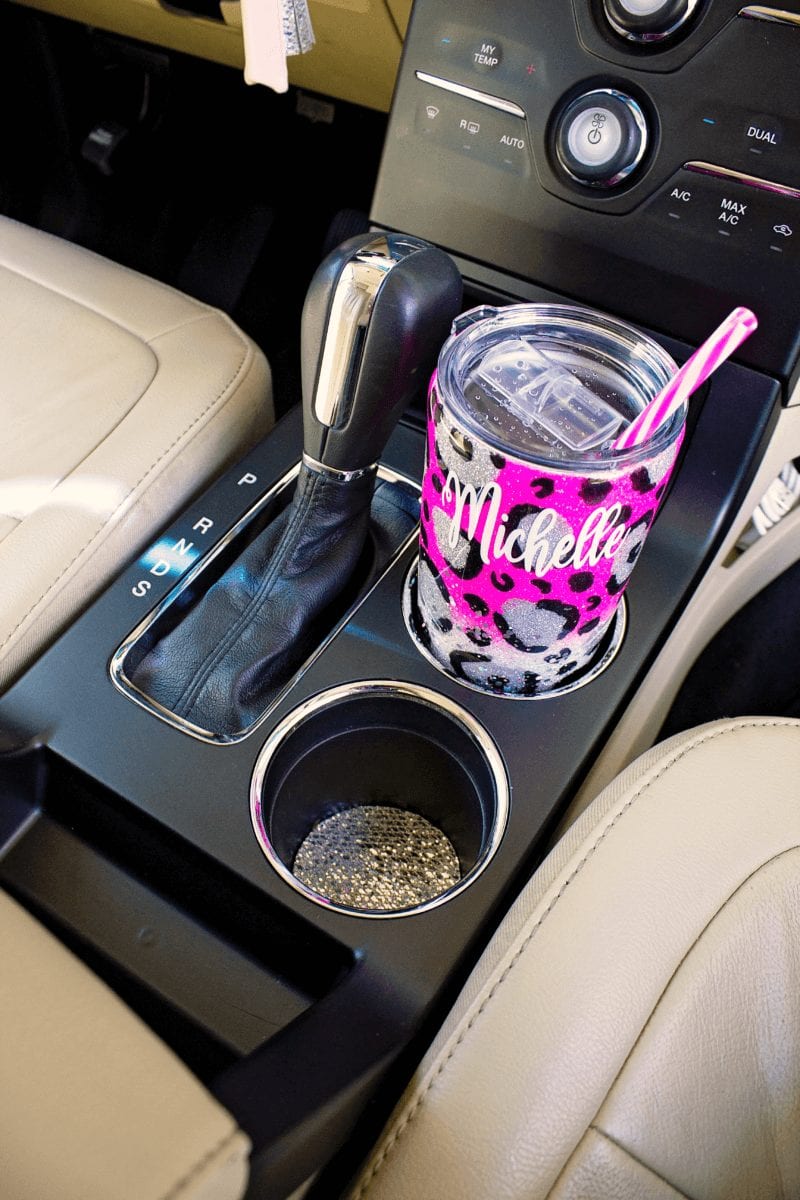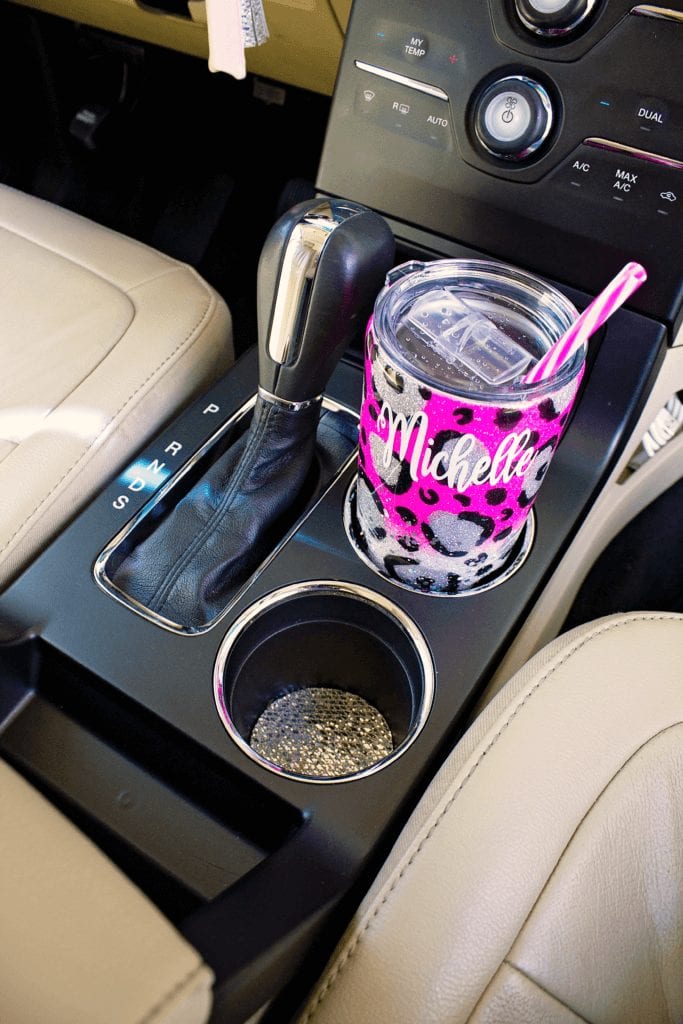 This car accessory isn't something that necessary stays in the car but it definitely wouldn't hurt to have a few of them! I have a personal obsession with custom glitter tumblers. (Remember that glitter = serotonin = happiness?!) I like to match them to the theme of my car once in awhile and it really adds an extra fun look to your car accessories.
Here is a link to all of the Glitter Tumbler Sellers I have in this post:
After learning about the tedious process of making these cups I have truly come to appreciate what a true art this is! Of course, my cup has to match the decorations in my car! 🤓 It's the best way to personalize your car, in my opinion!
Car Phone Accessories
Car phone accessories are a staple when it comes to our cars. Heaven forbid we run out of battery on our phone! 😂 And I really hate to hold my phone while I am driving and following Google Maps toward my destination. So I bought and awesome phone holder that attaches to my car vents. I like that it's not a permanent solution like gluing something to your dashboard.
I purchased my phone holder at Target in their dollar spot but you can find tons of different options on Amazon, too. I used a faux leather glitter sheet that I found at Hobby Lobby to bling up my phone holder and to make myself a tassel keychain using this tutorial.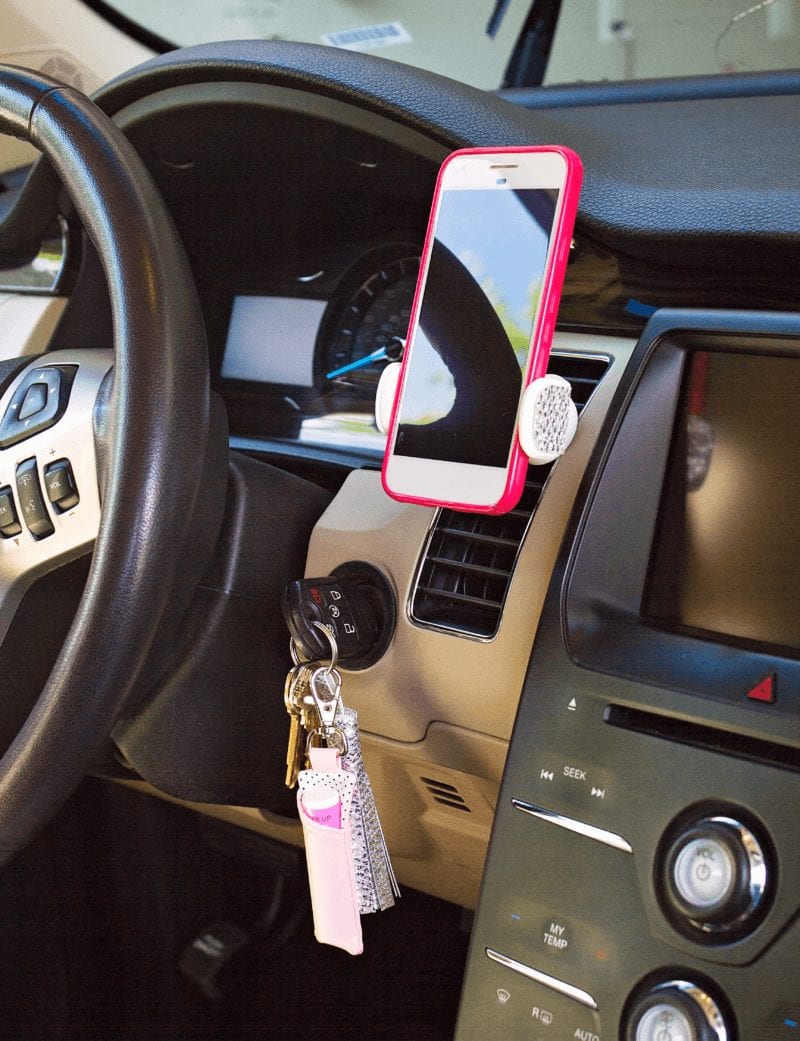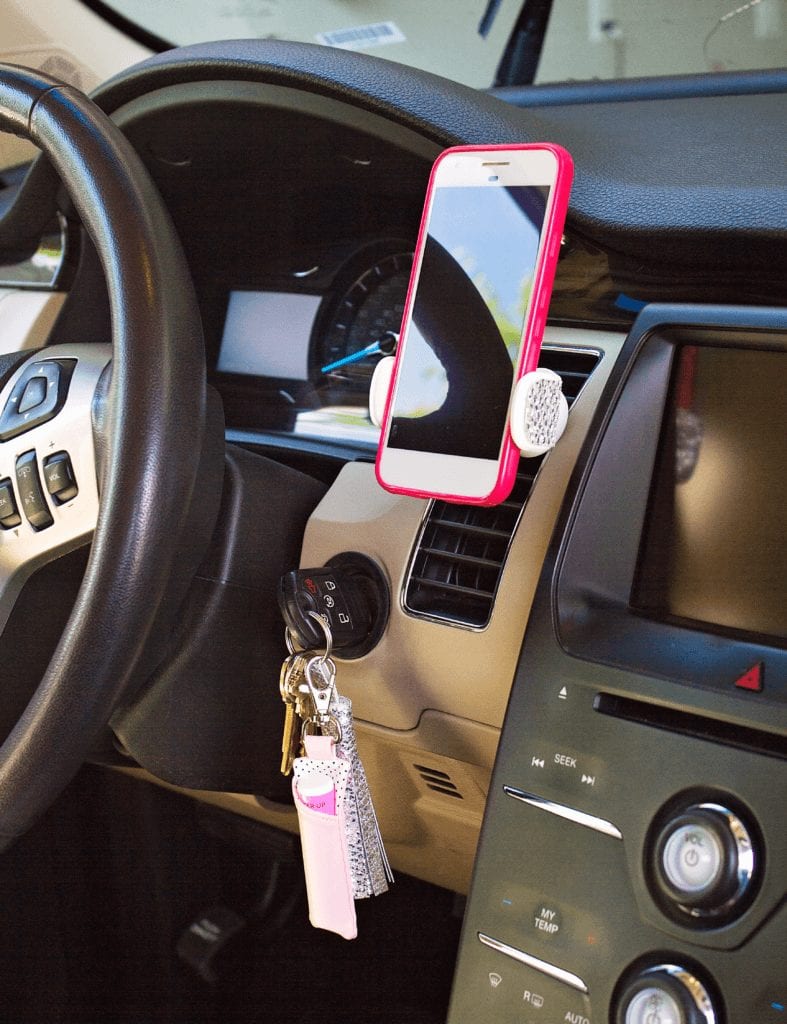 Keychain Accessories
There is this funny joke in my family where my husband absolutely hates bulky keychains…or keychains at all. And I absolutely love them! He hates carrying them around and how they bulk up his front pocket. So keychains aren't for everyone. 😂 But if you want to learn how to create your own Leather Keychains, check out my keychain tutorial.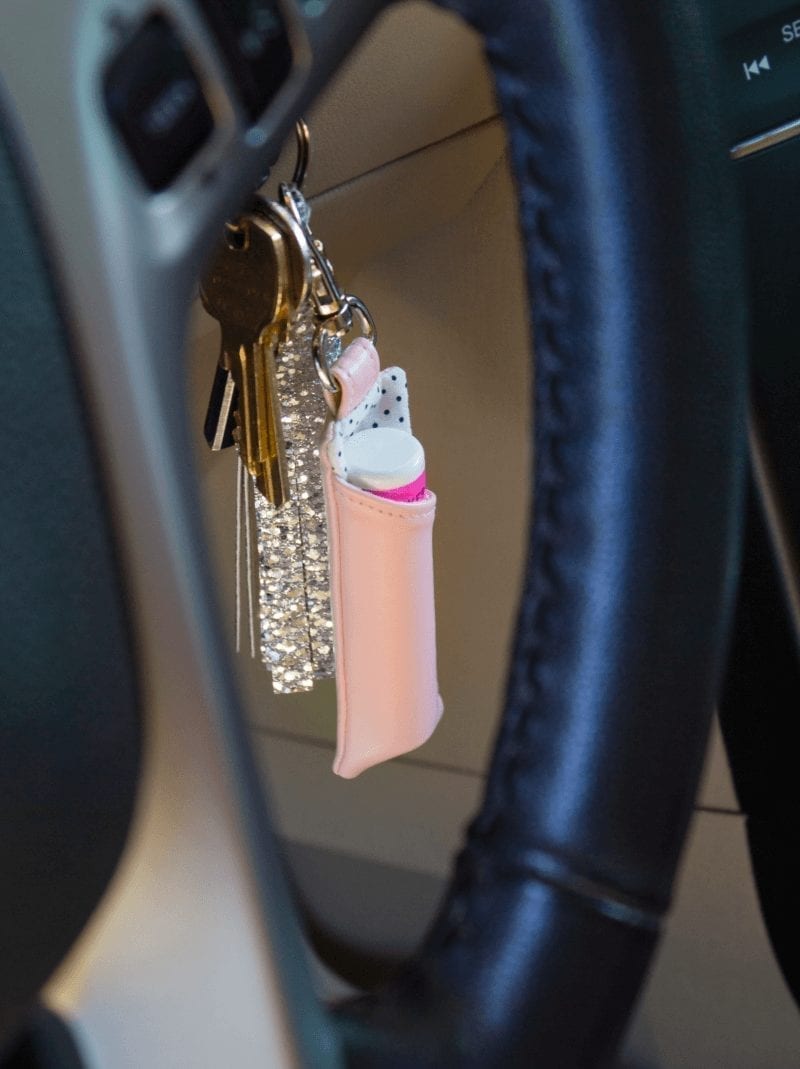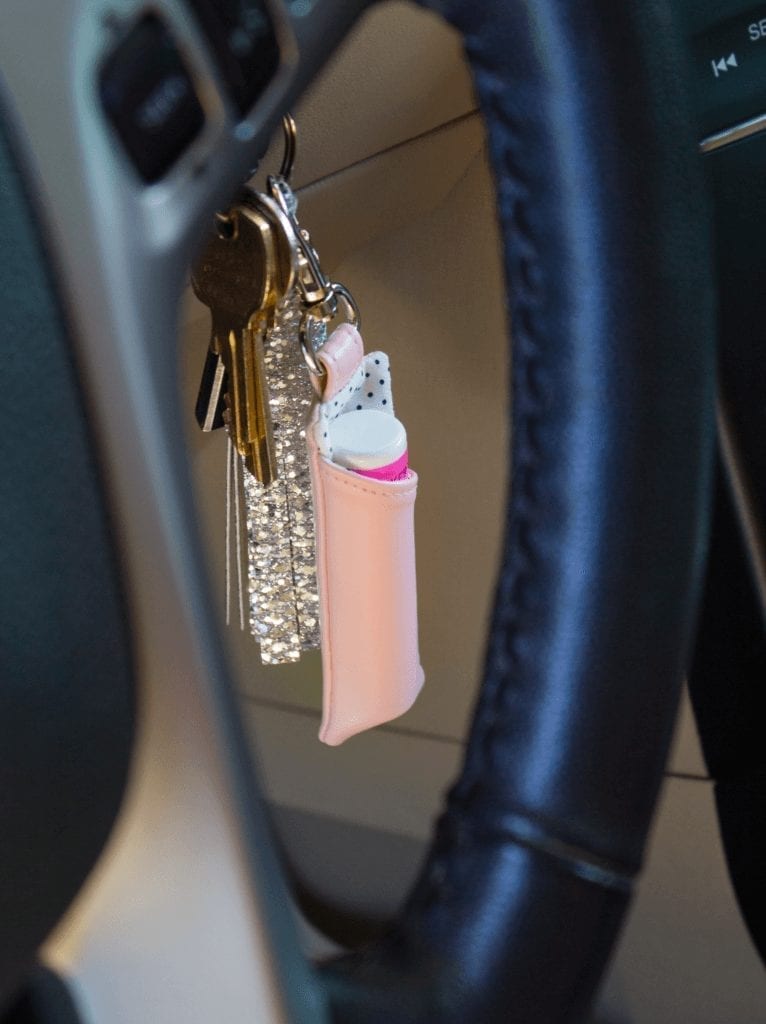 I have mentioned this in a previous post but one of my pet peeves is when I lose my chapstick! I found this awesome store on Etsy that has the best quality chapstick keychains! They are faux leather and she makes them herself! Now hopefully I will never lose my chapstick again!
Headrest Collars
Remember that I love all things shiny and so I was looking for products that I could use to bling up my car in any way! I found these super cute rhinestone headrest collars that are just perfect! I love them!
They are really easy to install. All you have to do is to push that little lever at the bottom of the headrest pole and pull out the headrest. Place the headrest collars onto the silver poles and replace the headrest until it clicks. Viola!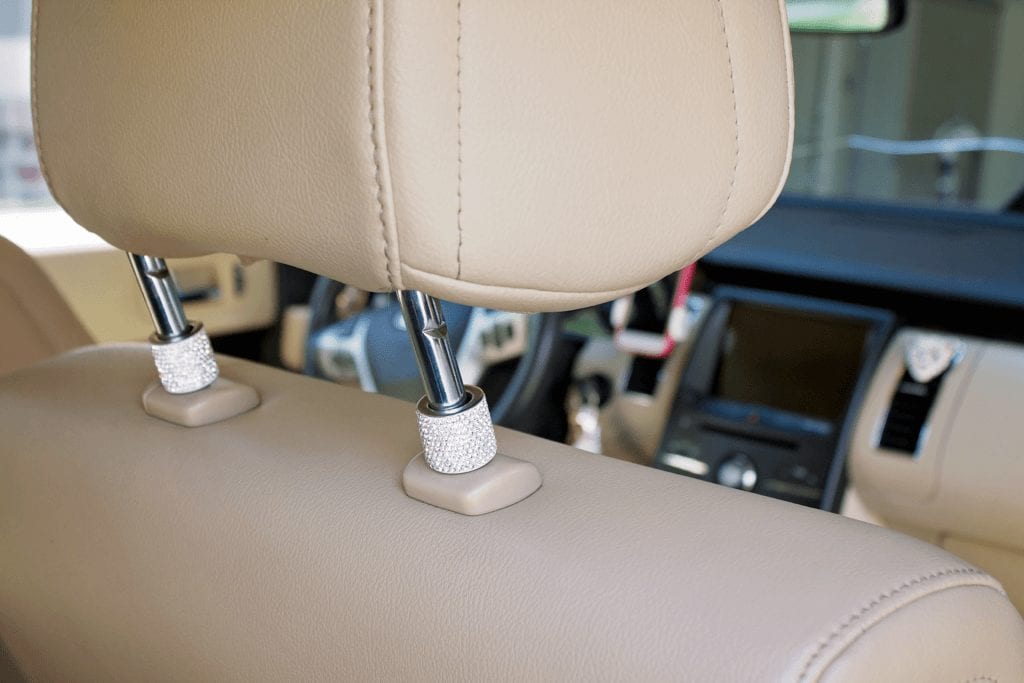 Air Freshener
You could have the cleanest car in the world but if it stinks like sweaty football players, it doesn't matter how clean it is. It won't feel clean! Smell is such an important element to enjoying being in your car. My very favorite car fresheners are the ones from Bath and Body Works! They always have such incredible scents and I even love their holiday car vent clips. These are such a fun way to personalize your car.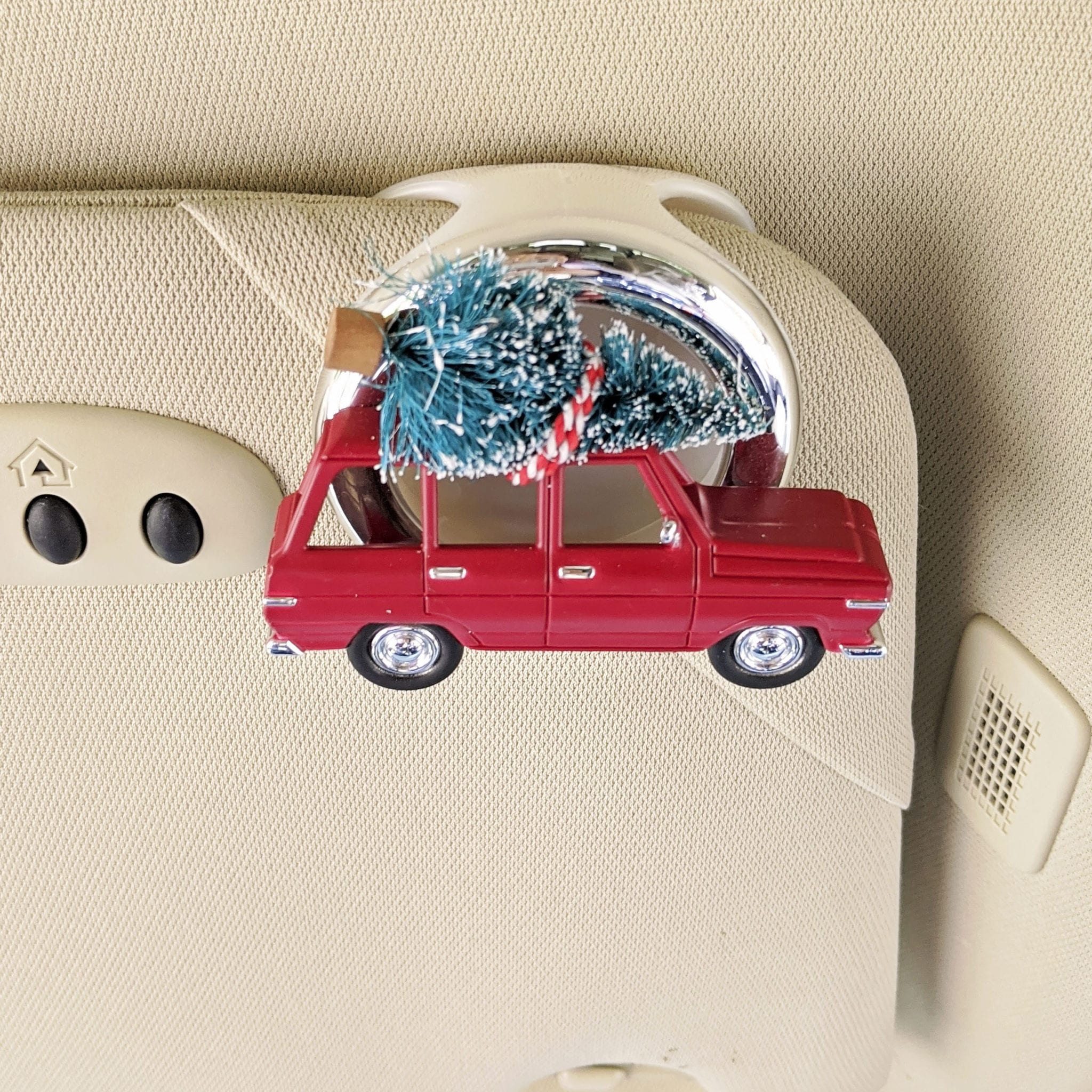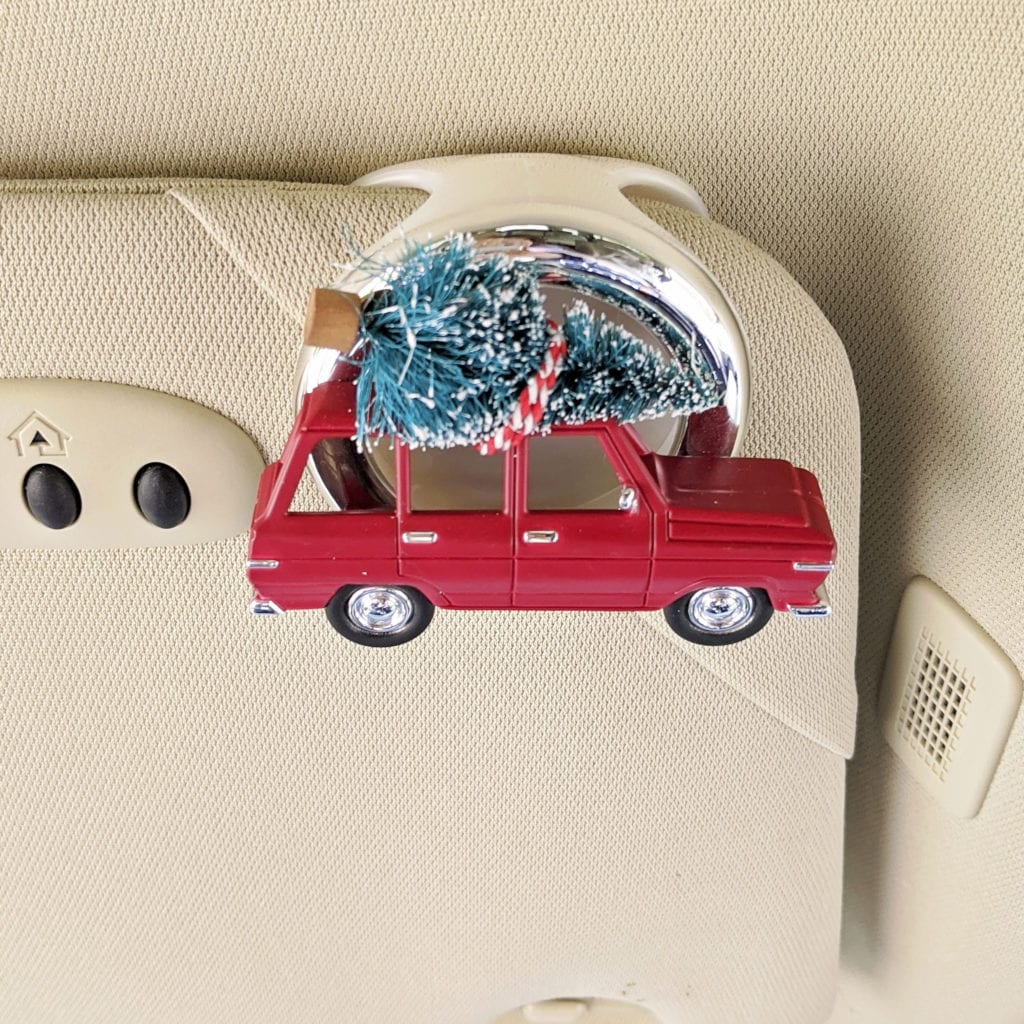 Because I love Leopard print, I just fell in love with this cute car freshener diffuser. And guess what?! It's covered in Rhinestones! It goes so well with my leopard glitter tumbler.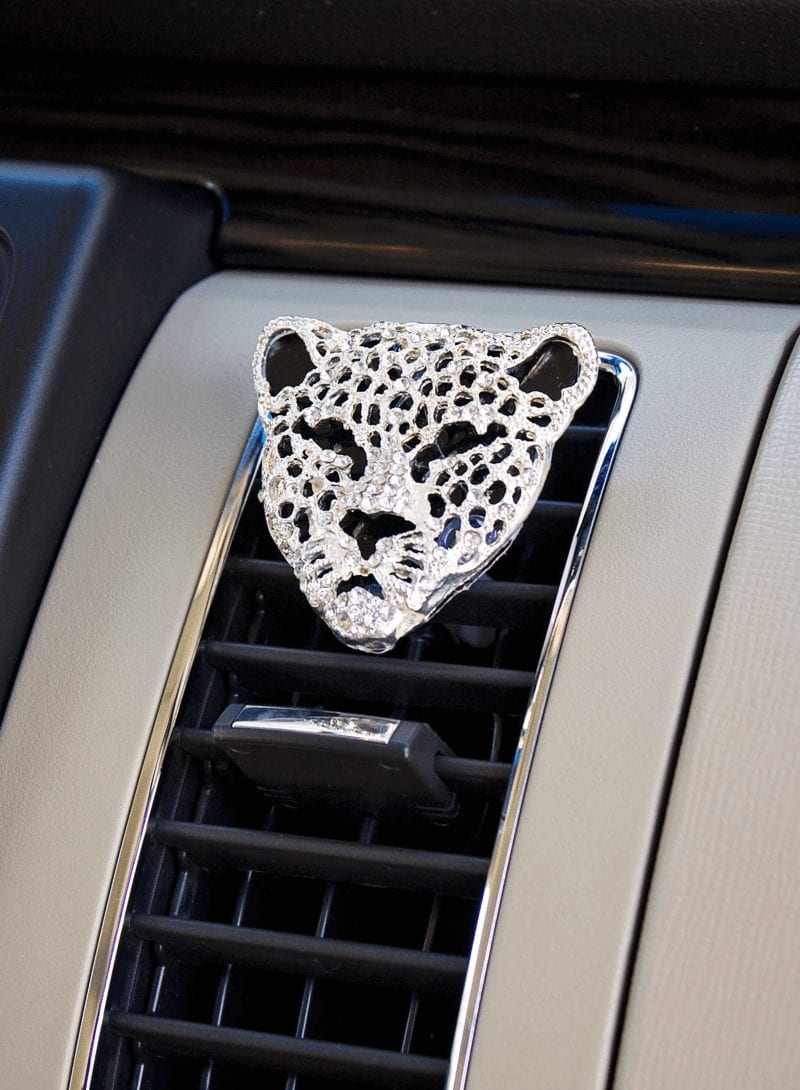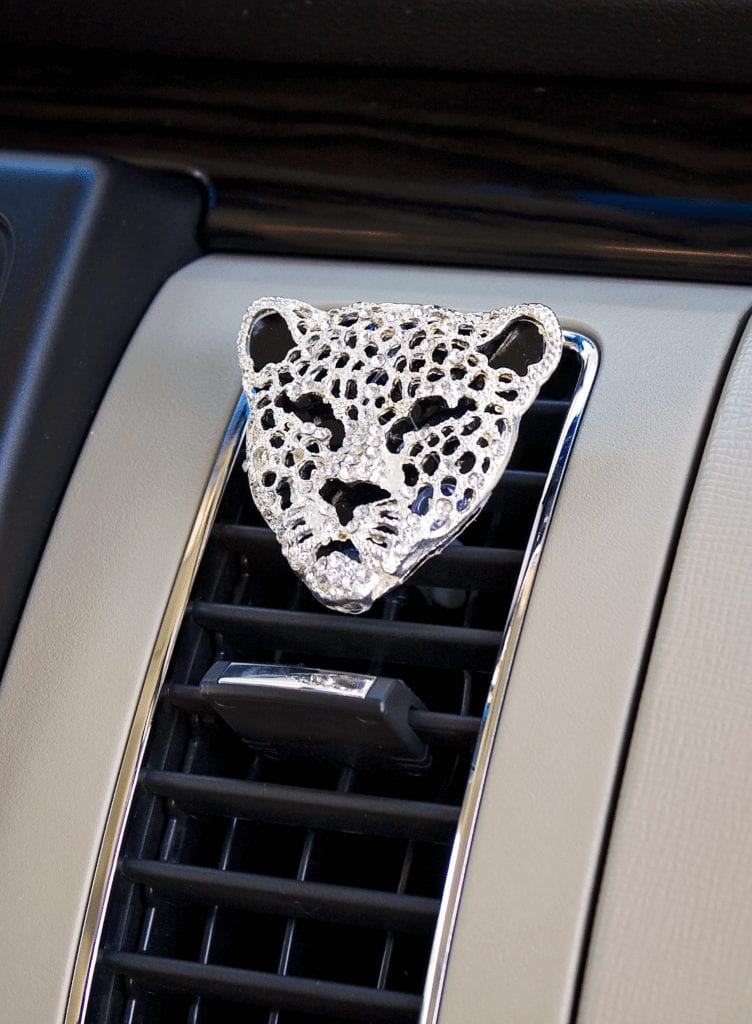 My Favorite Organization Tip
I am going to add in one organizational tip that I forgot to add to my Car Organization post. This one is great for keeping all of your car paperwork perfectly organized. That way, when you get pulled over by a cop you know right where your insurance and registration papers are! 😉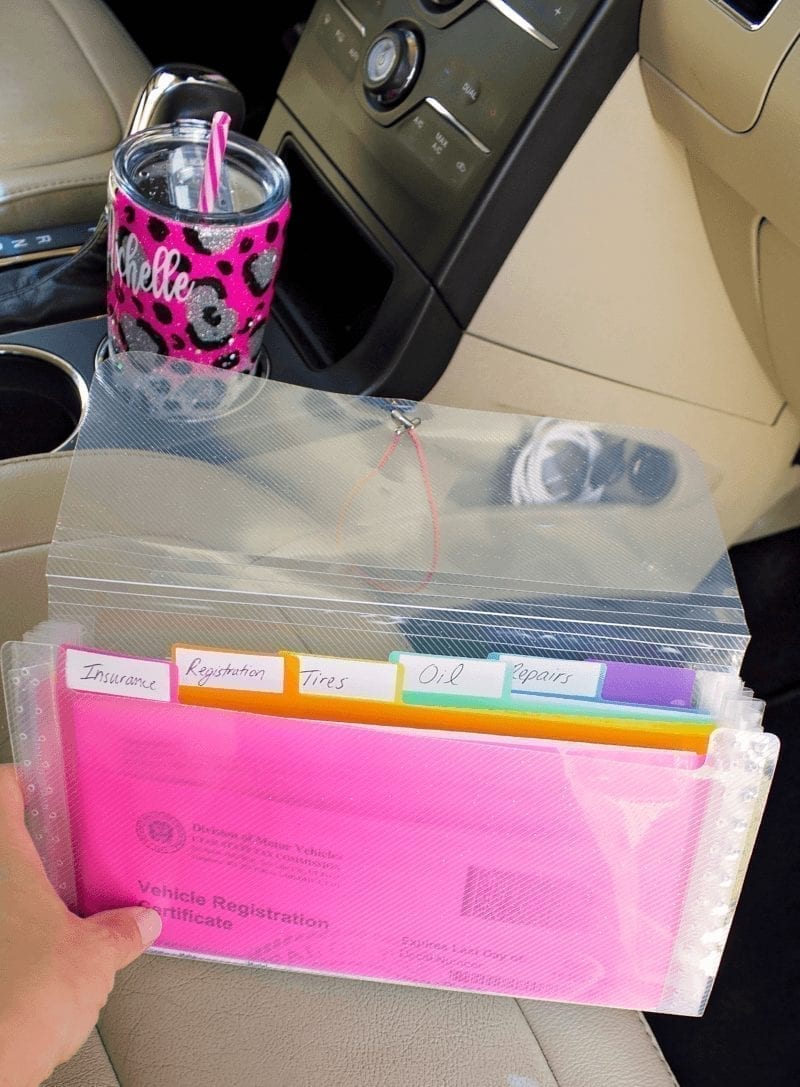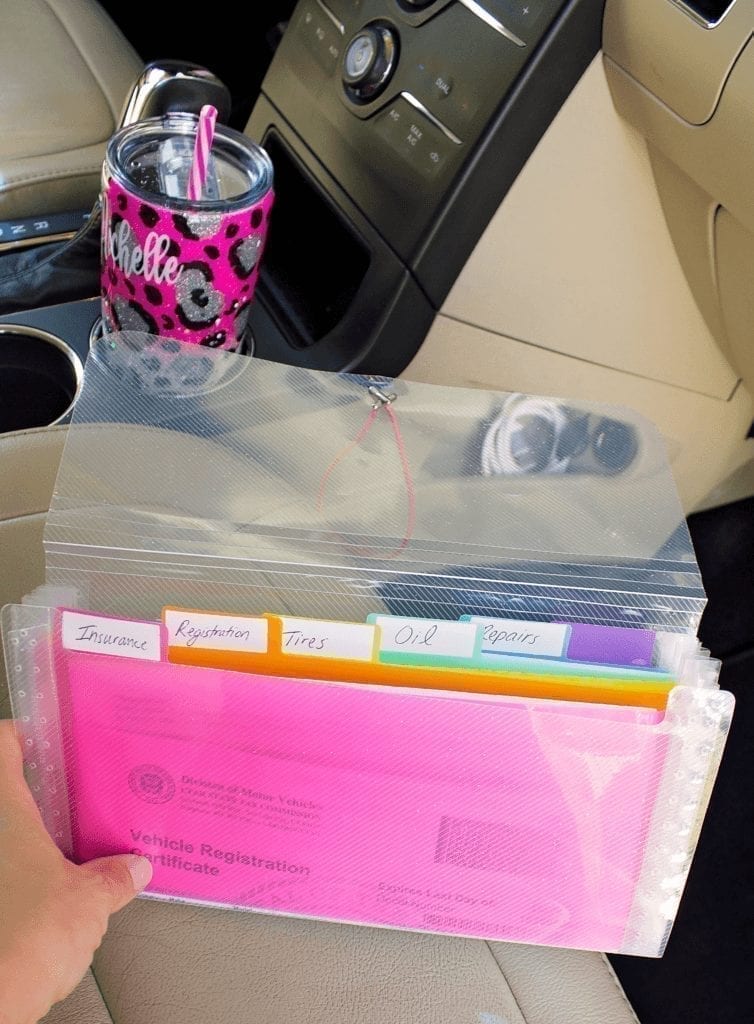 Decorating for the Holidays
This idea might seem ridiculous to some but I absolutely love holidays and seasons. My favorite holidays and seasons to decorate for is Fall, Halloween and Christmas. You may be thinking that decorating your car for a holiday is just a bit much. But IS IT!? Think about it…we decorate our homes, our phone wallpapers, our bathrooms, and sometimes even our bedrooms. And so many of us spend tons of time in the car. So why not 'deck the car'?!
So I have done just that. I didn't go crazy…I just added a few small touches to my car to make it seem a bit more festive for each of those holidays. And it makes me so happy inside! I love the looks that I get when people pull up next to me at the traffic light and see our full-size skeleton, Mr. Bones, in the passenger seat. It brings smiles to their faces…and mine, too!
Decorating Your Car for Fall
So like I mentioned before, I always try to go for cute and not tacky. So I'm quite selective in the things that I choose to decorate. They are just small touches, not an overwhelm of decorations.
Here are the things that I added to my car to decorate it for fall:
Leaf Glitter Car Coasters
Fall Keychains (tutorial here)
Fall Car Scents from Bath and Body Works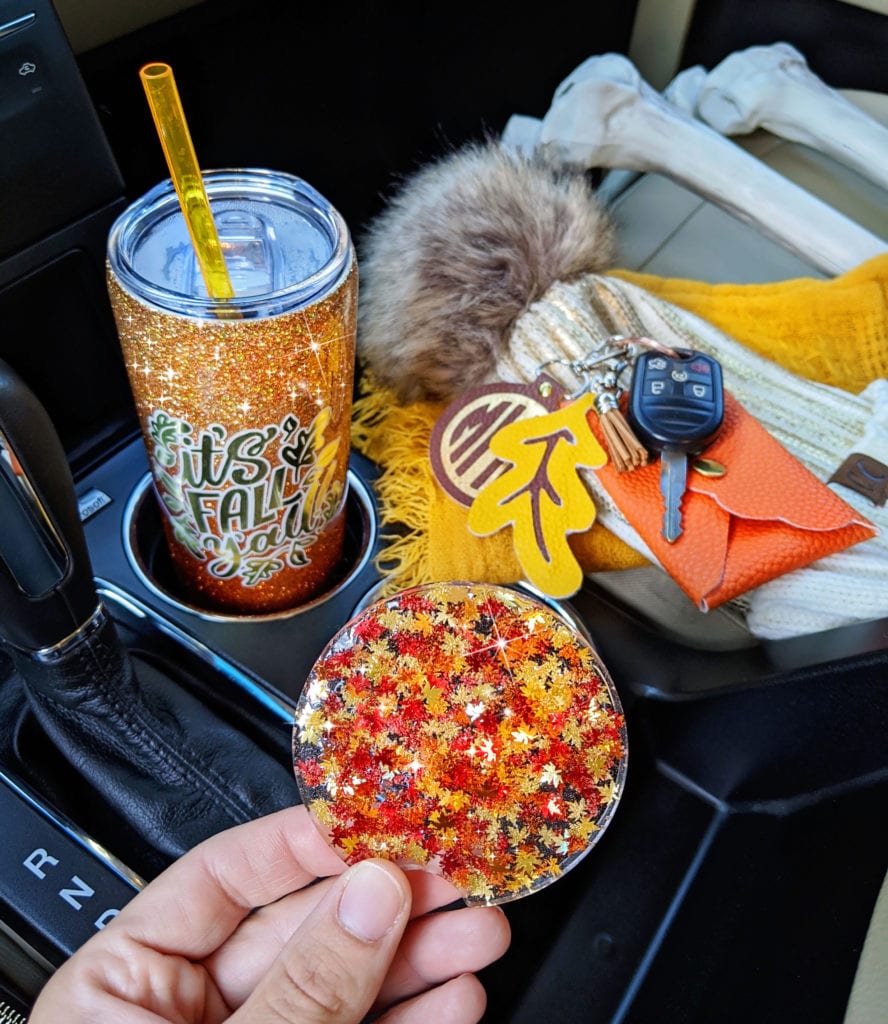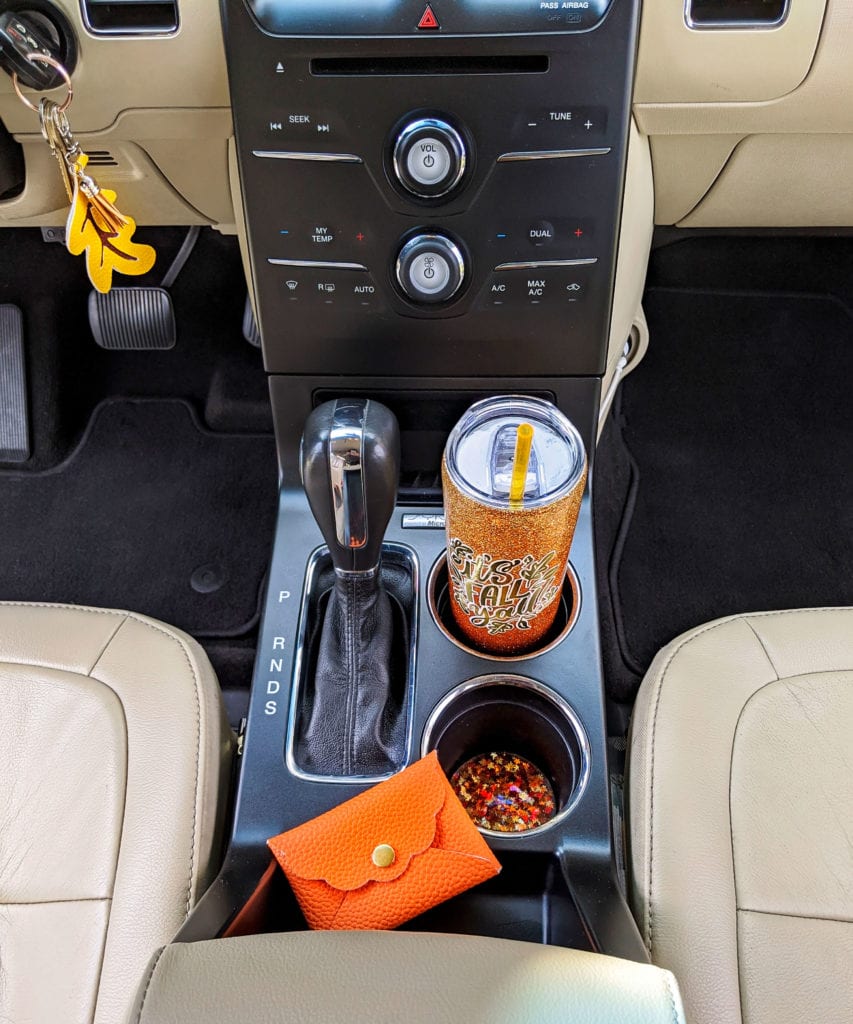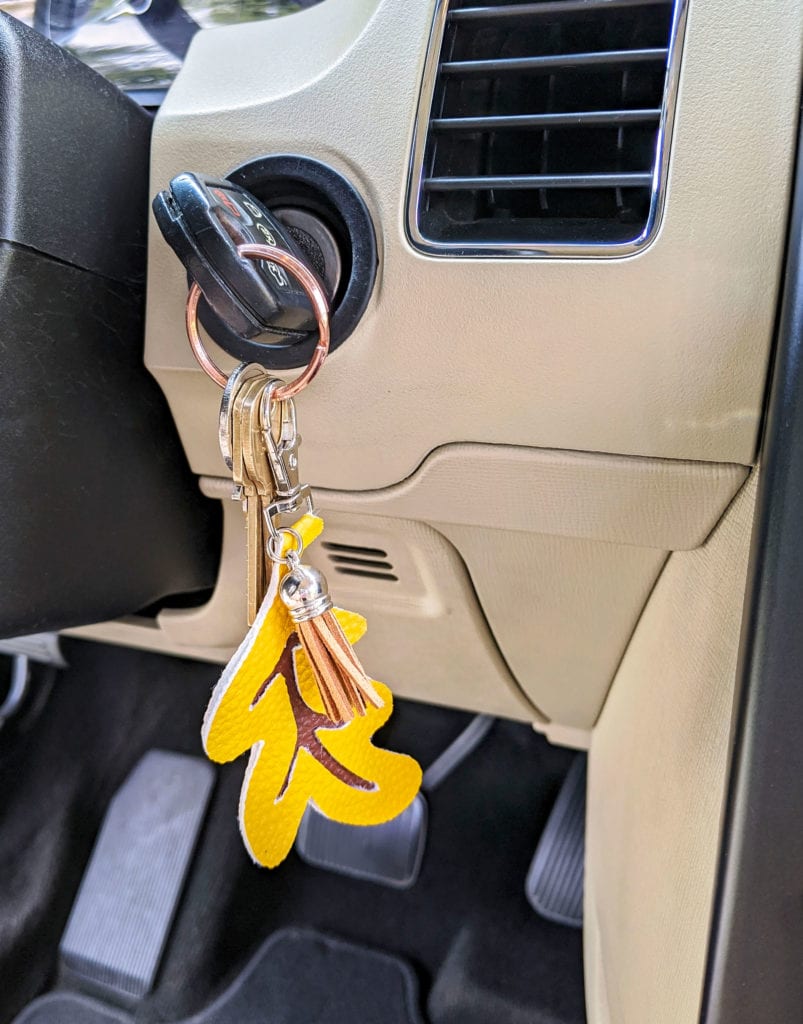 Decorating Your Car for Halloween
Like I said, my favorite thing is to see the reactions of random drivers as they see my full-sized skeleton in my passenger seat. They get quite a kick out of it!
Glitter Car Coasters
Halloween Keychains (tutorial here)
Fall Car Scents from Bath and Body Works
Gold Spray Painted Skeletons to hang from the rearview mirror (Dollar Tree)
Full-Sized Skeleton to put in the driver seat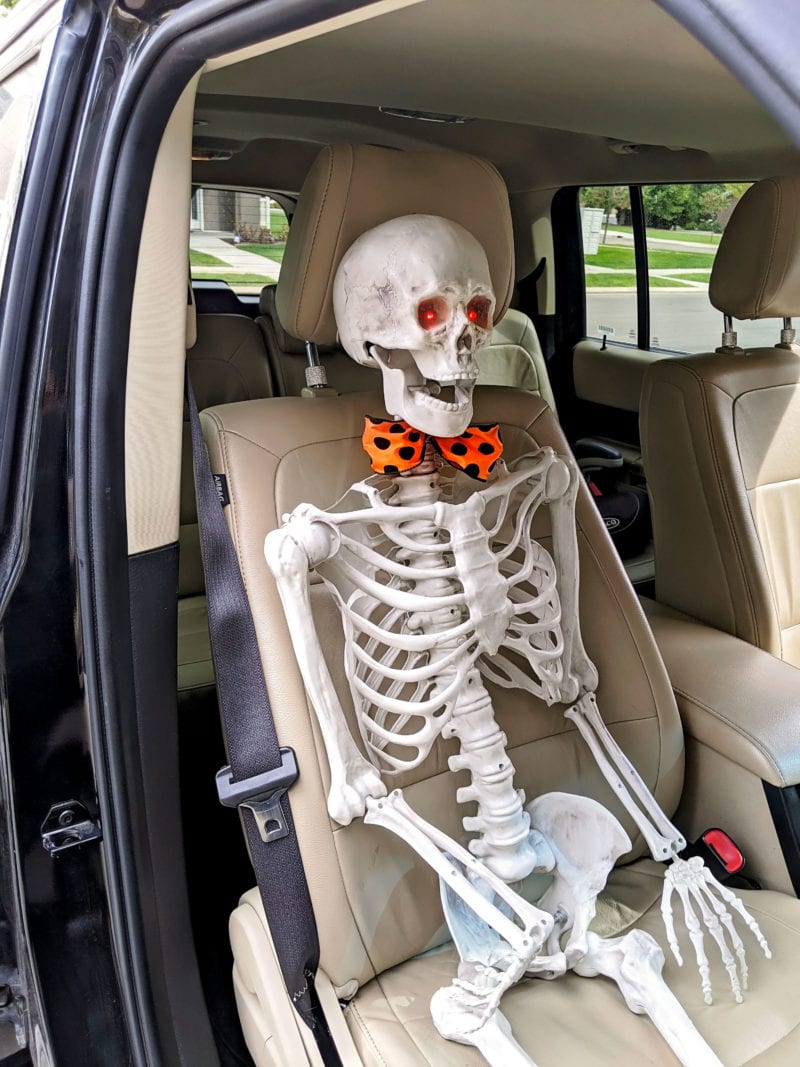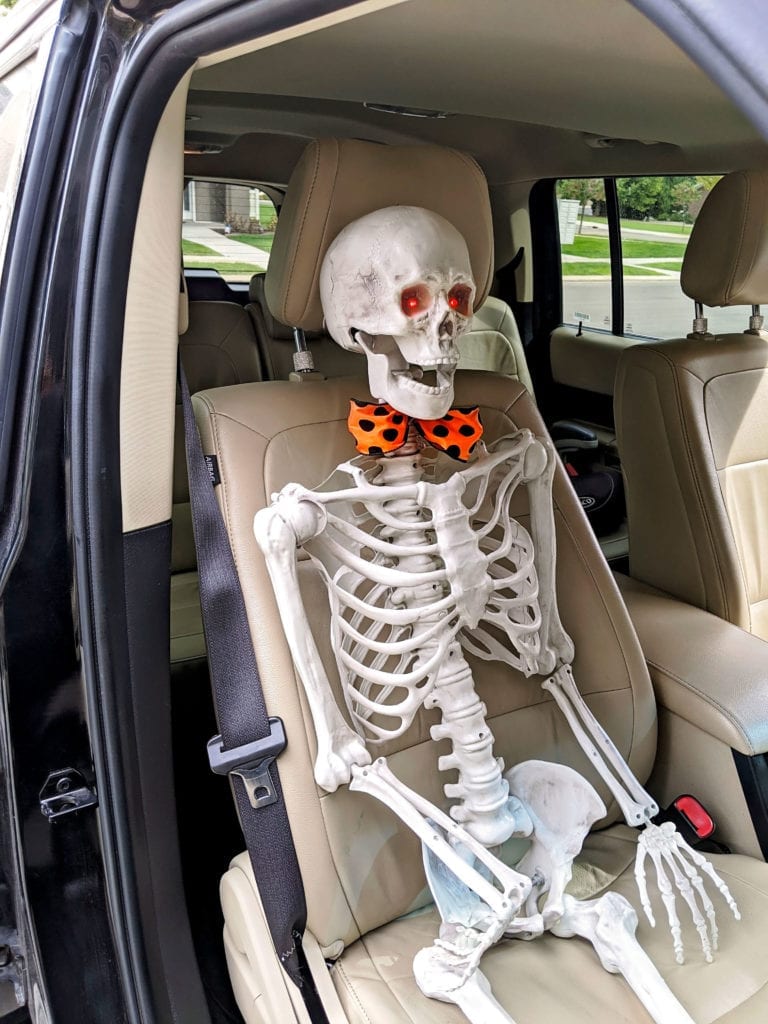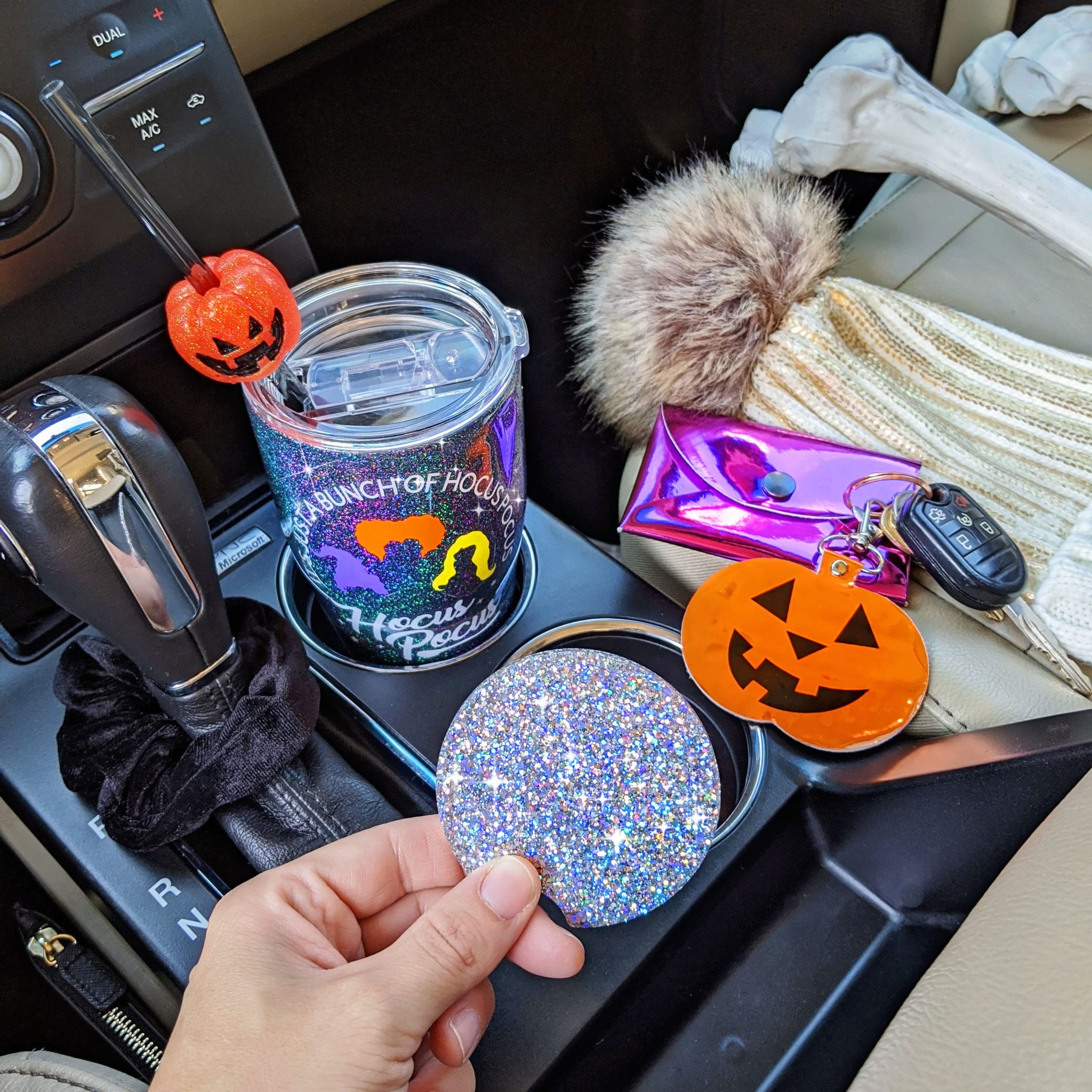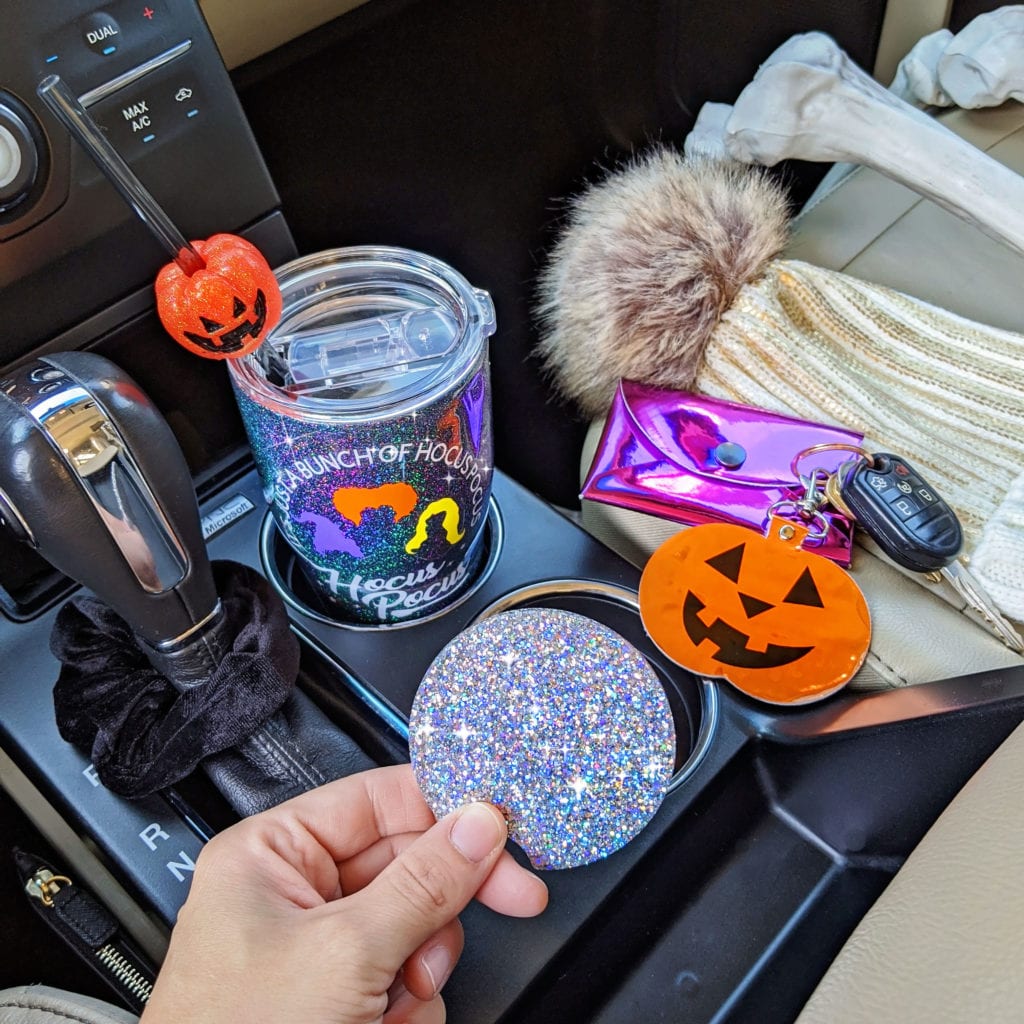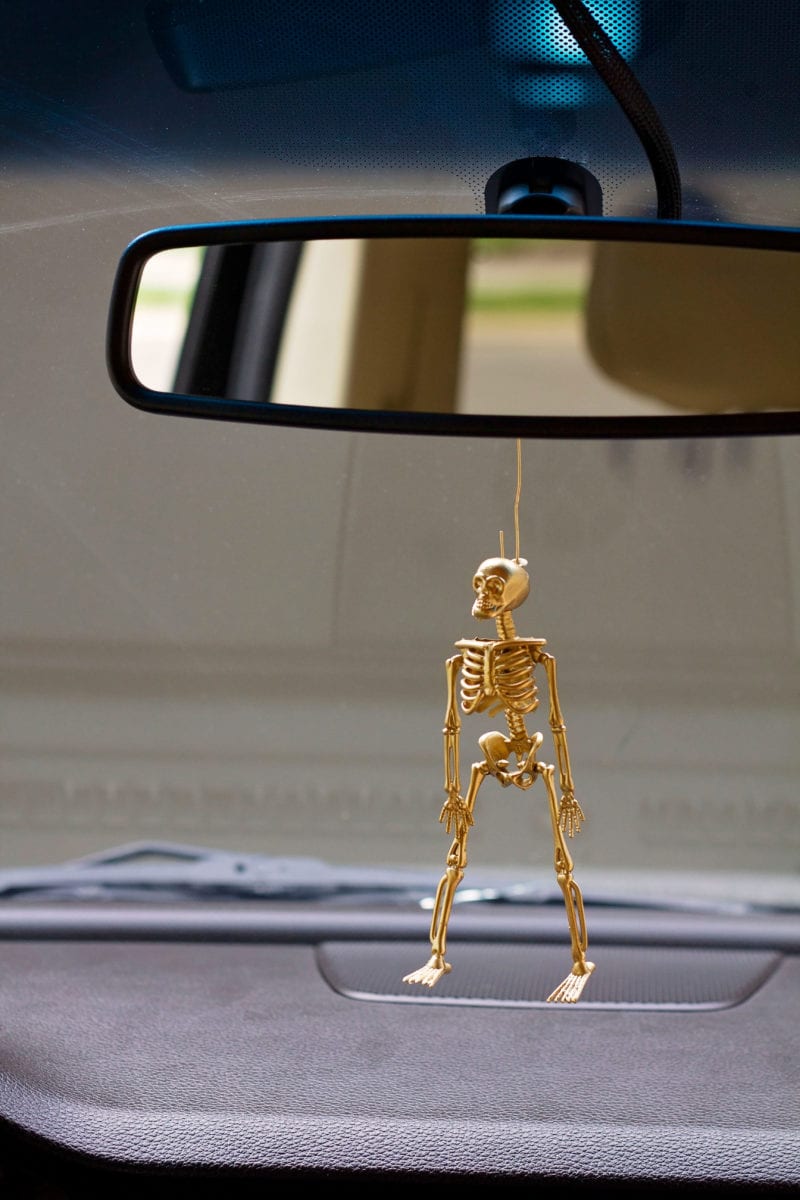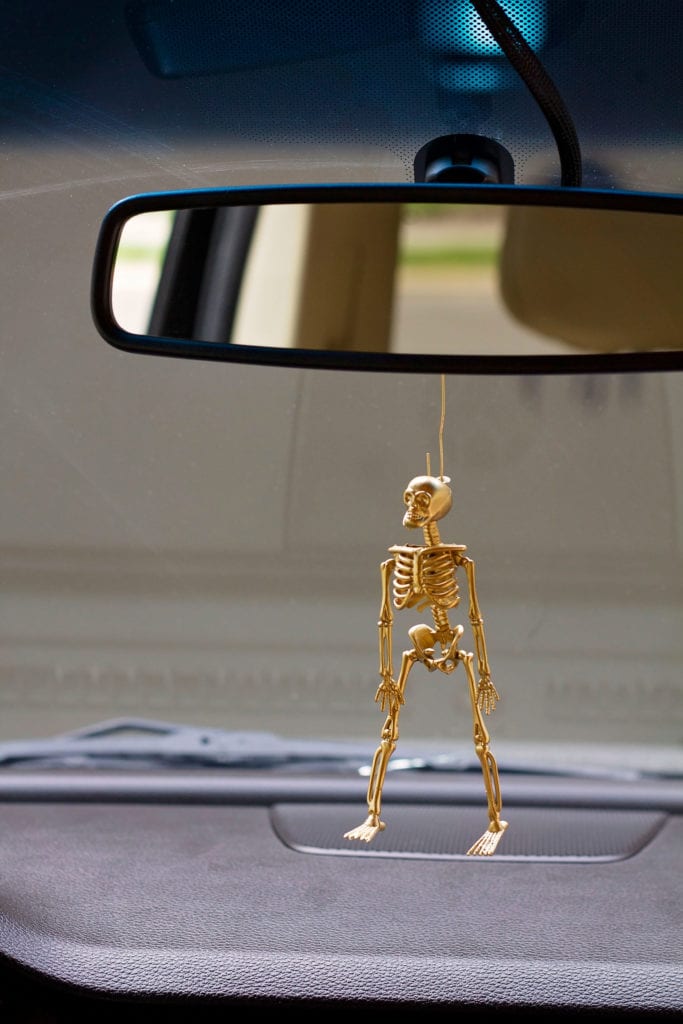 Decorating Your Car for Christmas
Red Glitter Car Coasters
Christmas Tree Ornament (from Hobby Lobby) to hang from rear-view mirror
Christmas Car Scent from Bath and Body Works
Christmas Car Clip (for scents) from Bath and Body Works
Christmas Keychains (tutorial here)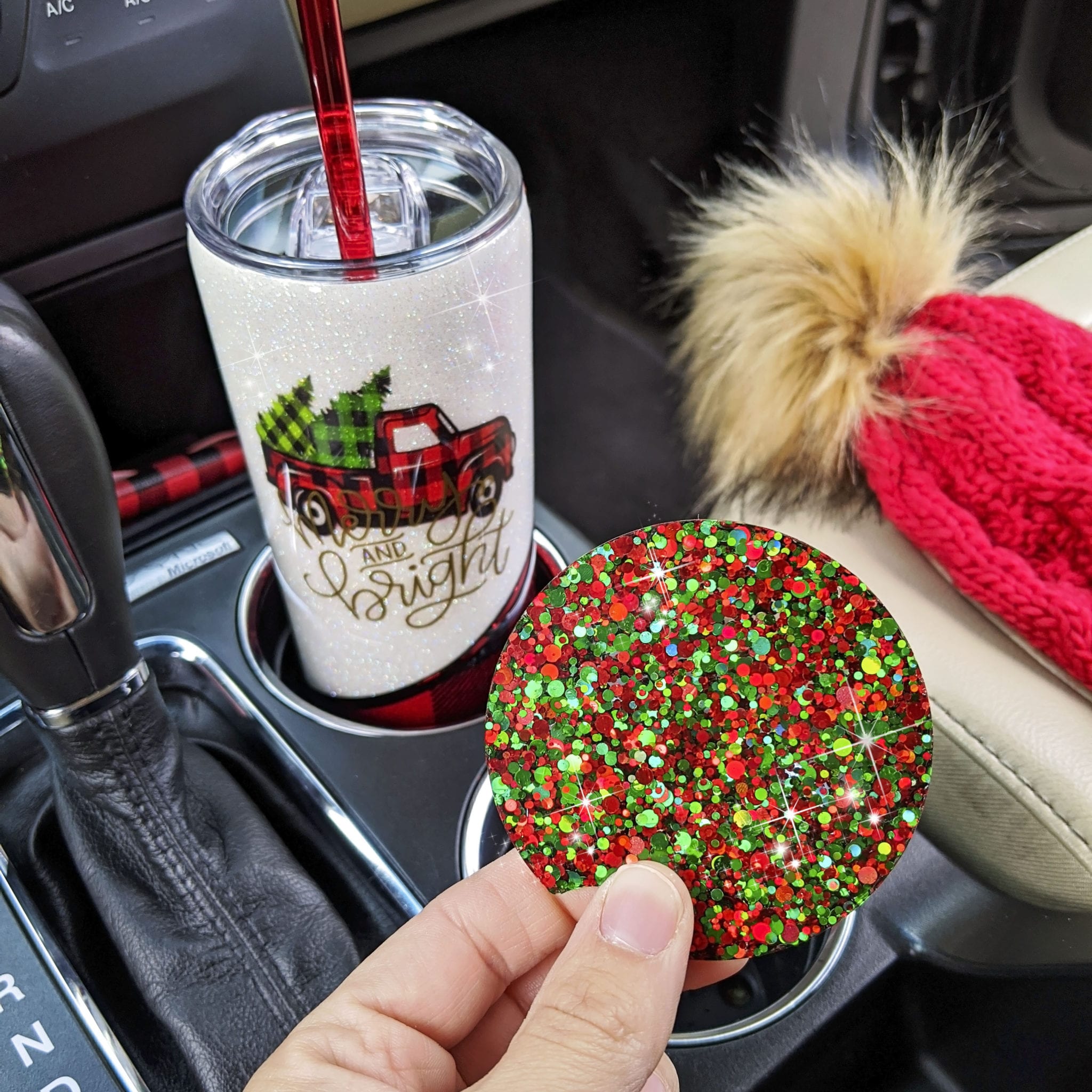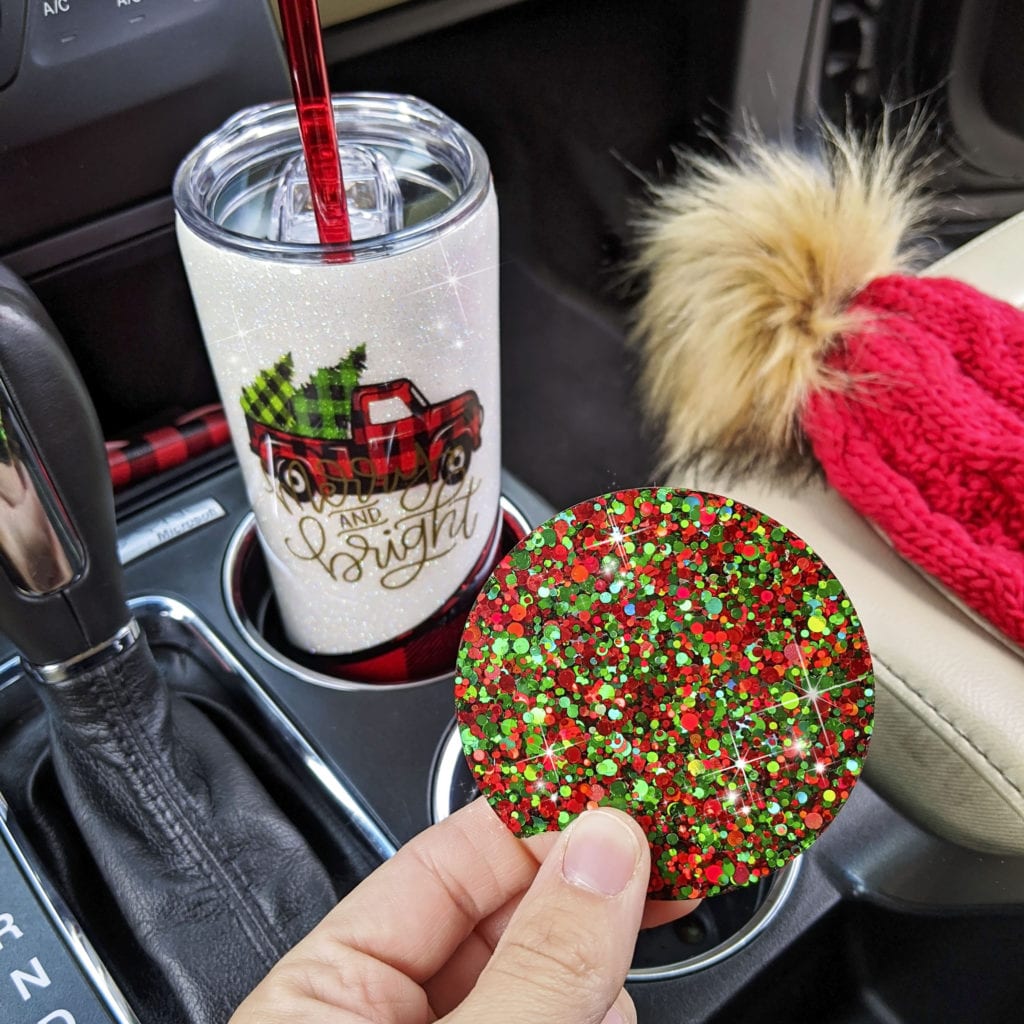 Well, I hope you have enjoyed this post and I appreciate you humoring my juvenile antics as I decorate my car and add a little bit of bling to my otherwise boring car interior.