4 Reasons You Need a Wall Mounted Vacuum
Do you often find yourself cleaning up crumbs and other small messes in your car? If so, you need a wall-mounted car vacuum.
Wall-mounted garage vacuums are the latest trend in car cleaning and for good reason! They are easy to use and can clean your car quickly and easily. In this post, we will discuss the benefits of having a wall-mounted garage vacuum.
The Benefits of a Wall-Mounted Garage Vacuum
Wall-mounted garage vacuums (sometimes also called a car vacuum) are exactly what they sound like… garage vacuums that can be mounted on the wall!
There are a few reasons why you might want a wall-mounted vacuum, so we are going to cover our favorite benefits of wall-mounted vacuums in this post.

Wall-mounted garage vacuums save space.
It's easy for a garage to get cluttered. At least, it is at our house. Garage floors are often full of tools, sporting equipment, and other random things. This means that a regular vacuum cleaner can quickly become buried in chaos.
Wall-mounted garage vacuums save space by hanging on the wall and freeing up floor space.
Chances are you have the wall space in your garage to add a wall mount. You might be able to find a wall-mounted garage vacuum that comes with a wall mount included, but often the wall mount is not included.
But don't worry! You can easily find a heavy-duty wall mount online or at a local home or hardware store. Once you get a wall mount, you can easily hang it on the wall. Wall-mounted vacuums come with a handle that you can easily hook over the wall mount, and you're all set!
If your garage walls are looking bare while your garage floor is filled, a wall-mounted garage vacuum will glean up that garage floor space and get your garage vacuum out of the way while keeping it close and accessible.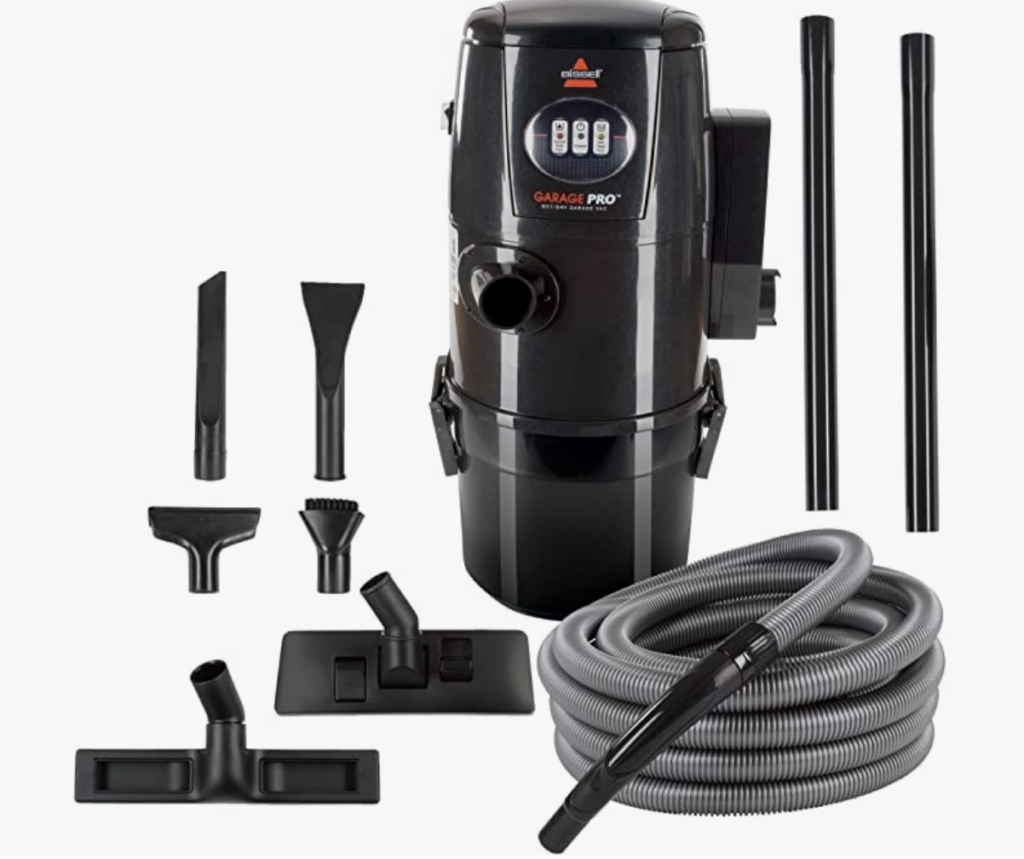 Wall-mounted garage vacuums are powerful.
Another great thing about a wall-mounted vacuum is that they are really powerful. A garage vacuum has to be able to move a lot of dirt and debris if it's going to be effective on messy garage floors or in a well-loved car.
Wall-mounted vacuums are more powerful than your standard handheld vacuum, so they can easily clean up your car and garage. They also have great filtration and big tanks or bags so you can vacuum your entire garage floor before worrying about it getting full. They have powerful suction to suck up all sorts of messes and debris.

Wall-mounted garage vacuums are easy to use.
Wall-mounted car vacuums are easy to use, all you have to do is plug them in and press the power switch. Most of the vacuums have a good power cord length so you don't have to worry about getting an extension cord just to plug in your vacuum if you have an outlet in your garage.
You can even find some vacuums that basically have a lifetime self-cleaning filter and a huge dirt tank so you don't have to clean the filter or tank with every use. Most come with HEPA filters or something similar.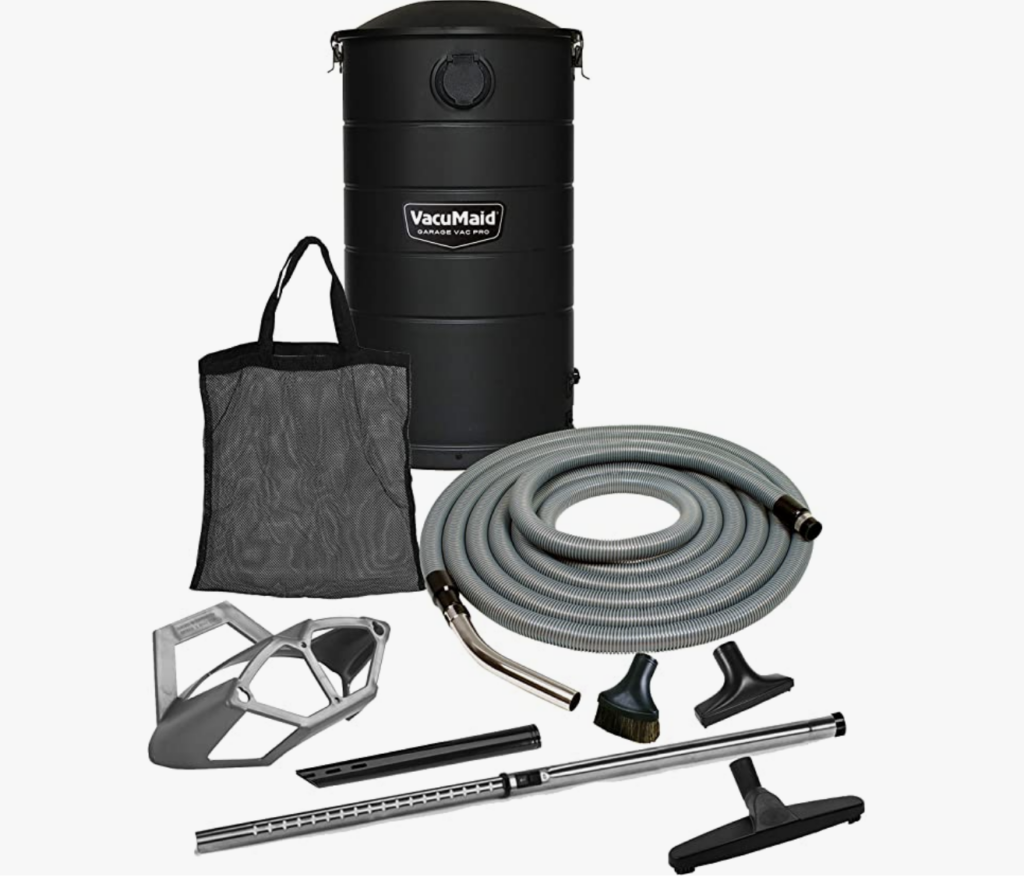 Wall-mounted garage vacuums will keep your car and garage clean.
Most wall-mounted car vacuums come with different attachments so you can reach all of the nooks and crannies in your garage as well as your car.
They usually come with things like extension wands, crevice tools, utility nozzles, an upholstery tool, and more. Some even come with exchangeable leaf blower attachments.
Do you have kids? With the provided crevice tools and powerful suction, you will definitely get all the dirt off your garage floor and your car. No more crumbs in your car! (Well, probably not NO more, after all your kids can make more messes… but you'll be able to easily clean them up.)
How do I choose the best garage vacuum?
With so many options, you might be worried when trying to find the best wall-mounted garage vacuum. There are lots of options, so you need to set your priorities when you're researching garage vacuums.

What to look for in the best wall-mounted garage vacuum
Here are some things you should keep in mind when considering your priorities on garage vacuums:
Power
How powerful does the vacuum need to be? Wall-mounted garage vacuums come in a variety of strengths and suction power, so you can find one that fits your needs. Just look at the motor power when you're buying a vacuum cleaner.
When considering suction power, think about what you'll be cleaning up most often. Do you have a lot of dry debris or dry messes? Or do you have a lot of wet debris and wet messes? Or both?
Attachments
Most garage vacuum models come with three or four cleaning attachments at least, and some come with even more. Consider what kind of attachments you want. Here are some options:
Crevice tool
Dusting brush
Utility nozzle
Extension wands
Tools with a blower function
Car nozzle
Upholstery Extraction Tool
Regardless of the attachments you get, like a specific crevice tool or dusting brush, you want a variety so you can get in all the tight spaces and corners.
Some also come with an accessory bag or storage bag for the attachments. You can just hang the accessory bag on the wall next to your garage vacuum. Or you can get a neat attachment organizer to mount on the wall.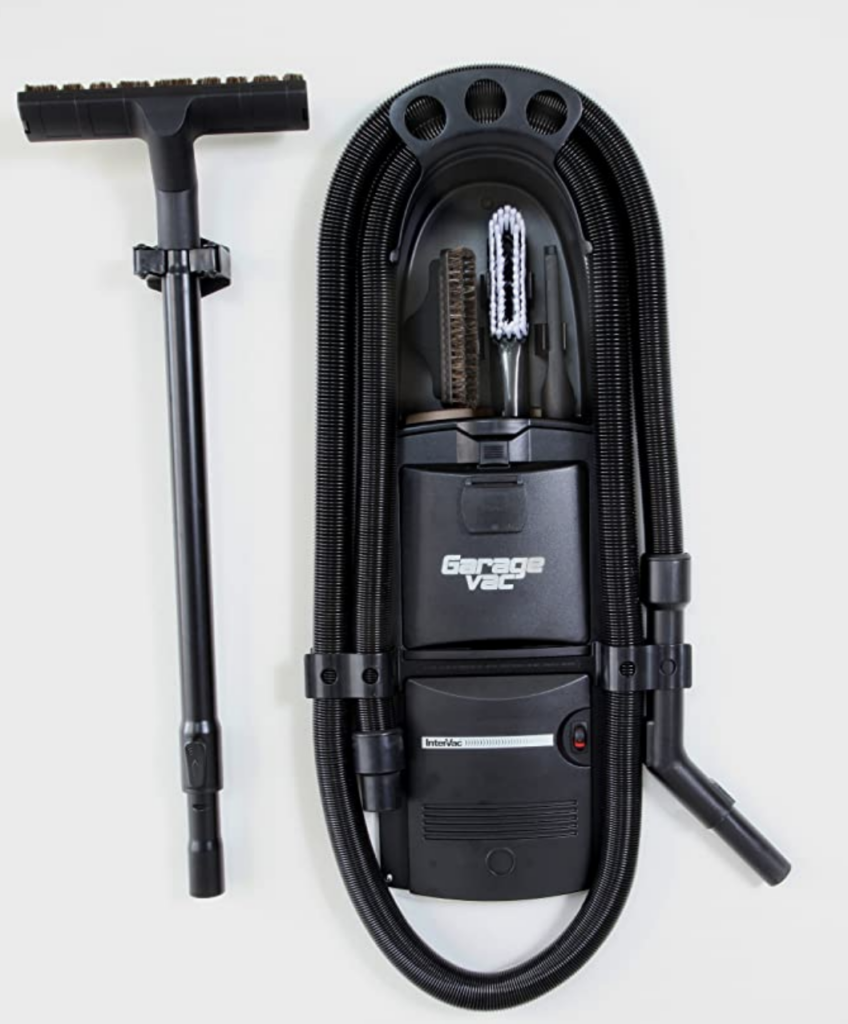 Hose Length
Check hose length when you're looking for a garage vacuum. If you have a big garage, you'll need a long hose. Though, I'd probably recommend looking for a long hose even if you don't have a big garage. It just makes things easier.
You'll also want a flexible hose so you can easily get anywhere in your entire garage, and I'd suggest getting (or adding separately) a crush-proof hose just in case someone accidentally drives over it.
Storage
Will you have enough room to store the vacuum when it's not in use? A wall-mounted garage vacuum often takes up less space than other garage vacuums but makes sure you have space on the wall to mount it. Just use a mounting bracket and screw it into a stud.

The Best Part of a Wall-Mounted Garage Vacuum
A wall-mounted garage vacuum is a great tool to have in your garage. Not only will it help keep your car clean, but it can also help you clean out your garage! Having proper maintenance of the messes in your garage will be so easy with a wall-mounted vacuum – whether you often have dry debris, dry messes, or wet ones!
Get a wall-mounted vacuum with great suction power, wet dry vacuum functions, a big dirt tank, good hose length, a blower function, and any tools you like.
Wall-mounted car vacuums are easy to use and come with a lot of different attachments to make sure you can reach every nook and cranny. You won't have to worry about leaves, dust, spills, or other dry debris on your bare floor.
I highly recommend getting a wall-mounted garage vacuum!
I was trying to decide between the Bissell Garage Pro and the Prolux Professional but I ended up going with the Prolux Wet Dry Vacuum because it had more features and attachments than the Bissell Garage Pro. I felt like I was getting more bang for my buck because it was several tools in one. I could blow out my dirty garage, vacuum out my car, wash the carpet in my car (and then suck up the water), plus more!
Surprising Features to Look For in a Garage Vacuum
When you start looking around for a garage vacuum for your house, you may notice that some wall mount garage vacuums do more than just suck up dirt. Some are a wet dry vacuum, some have a HEPA filter, some have a longer hose length than others, and others can invert and turn into a blower! So you can easily blow out your garage or dry your car after a home car wash.
So be sure to take those things into consideration when you are trying to decide what garage vacuum will be best for you. It would be silly to purchase a garage vacuum with a shorter house length when you have a 3-car garage. So make sure to take note of the hose length on each wall mount garage vacuum before you purchase. You could even measure the length of your garage for good measure to make sure the hose length is just perfect for you!
So while some wall mount garage vacuums seem a bit pricy, it's because they have more features than the other vacuums and often double as several different tools in one!