The Complete 30 Day Easy Spring Cleaning Checklist Freebie
Do you get overwhelmed just at the thought of deep cleaning your entire house? Do you struggle to know where to even start? You definitely aren't alone… most people do!
Spring cleaning can sometimes feel like sitting down to a hot dog eating contest and expecting yourself to eat 30 hot dogs in one sitting! Who wants to do that?! Not me.
So, to make spring cleaning more manageable, we are going to tackle one task a day. When you take spring cleaning (or any cleaning or organizing project) one step at a time, it makes it so much easier.
Just take it one day at a time and then, within 30 days, your home will be sparkling clean! That's exactly why I have created an easy 30-day easy spring cleaning checklist just for you!
If you are looking to streamline your cleaning even more, be sure to check out my other post, 15 Must-Have Cleaning Tools that Make Your Life Easier
Make sure to scroll down and sign up for my newsletter to receive your free Spring Cleaning Printable! It grants access to my entire FREE Resource Library with 50+ Free Printables!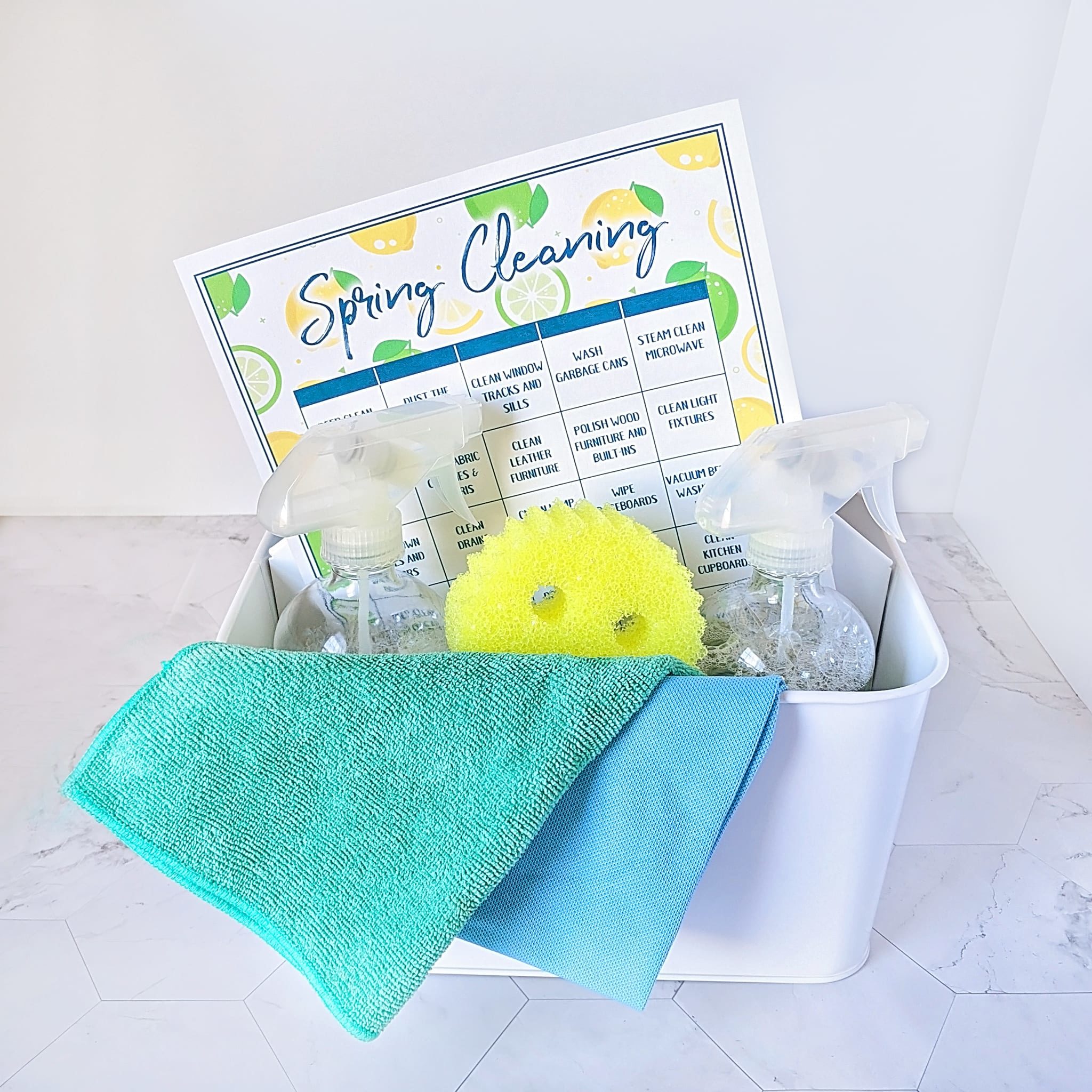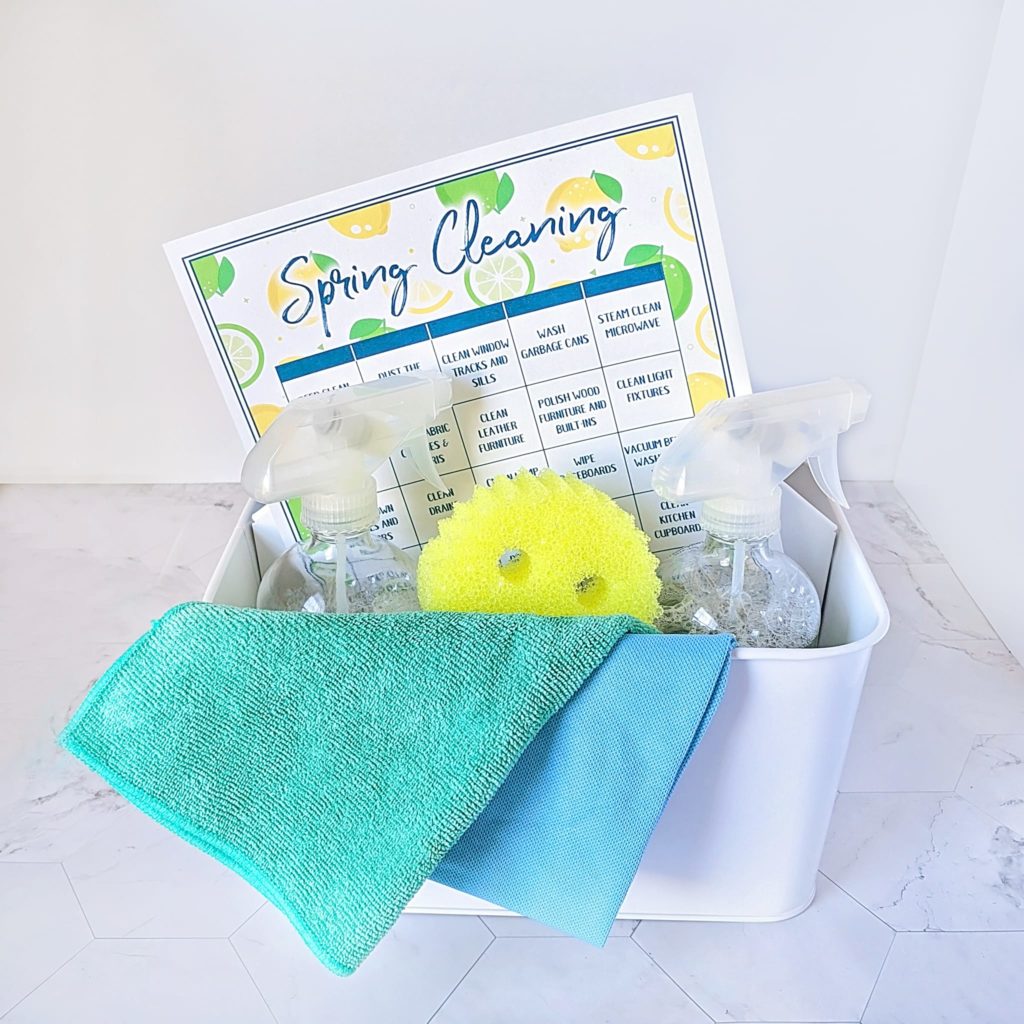 30 Day Easy Spring Cleaning Checklist Freebie
I was so excited to create this spring-inspired freebie for you! Like we talked about before, spring cleaning doesn't have to be super painful if you take it one small step or task at a time.
That's why I created this spring cleaning checklist for you so that you can take it one step at a time and hopefully not get overwhelmed.
The beautiful thing about cleaning and organizing is that it can get a bit addicting. It can be difficult to get started, but once you start you sometimes can't stop! Soon you'll feel like a professional cleaner or professional organizer!
The feeling of accomplishment is contagious and sometimes you will be excited to start the next task, even if you do multiple tasks in one day. And that's fantastic! This is a great way to stay productive, and it can be made even easier with the help of dumpster rental in Halifax PA. With dumpster rental services, it's easy to dispose of your waste, helping you to stay organized and remain productive during the day.
So don't feel like you need to stick to one task per day. If you have the motivation to continue… then by all means continue!
Why Do We Spring Clean?
Spring cleaning can be such an incredible feeling. And after spending 6 months indoors (I live in Utah), I am just dying to feel the fresh air and feel like that sense of newness that comes with springtime. I love creating that same feeling in my home, and not just in my yard. So deep cleaning my house is a must.
The day-to-day tasks that we do in our homes are great for keeping up with the everyday messes. But there are lots of things that don't get cleaned because we are trying to keep up with everyday life.
Making time for some of the deep cleanings will significantly boost your mood and help you feel accomplished.
Top 10 Reasons Spring Cleaning is a Must:
Gives you a sense of accomplishment
Boosts your mood
Helps you make time for cleaning you otherwise would ignore
Makes your home smell better
You are more comfortable welcoming guests and entertaining friends
Clutter affects your mental health
Spring cleaning increases productivity
Spring cleaning reduces stress
Spring cleaning can help you find lost items
Helps you love your home and causes a sense of gratitude
What things are missed during regular cleaning?
Even if there is thorough cleaning going on in your house every week, things can get missed. As I mentioned, deep cleaning doesn't usually happen on a day-to-day or weekly basis. And that's okay!
No one has time for really intense cleaning every week. But every so often, you'll want to do a really deep clean, and spring cleaning is perfect for that.
If you're thinking, "I deep clean my house all the time–surely I don't miss anything," you might be right. But here are a few things that are often overlooked and need to be cleaned every so often.
A lot of these items are on my spring cleaning checklist, but there are some other great cleaning tips you'll want to remember as well.
Spring Cleaning List
Walls and Windows
If you have young kids, you might clean crayon drawings off the walls pretty often, but sometimes walls get missed.
It's always a good idea to wipe walls and wash windows and window sills. Window sills can get dust and dirt, so taking a few minutes to remove dust and all the dirt from windows and sills can be a part of your weekly routine, but if it's not, you definitely want to do it for spring cleaning!
If you have any window treatments (like curtains), you need to clean those too. Vacuum curtains or launder curtains if they are easier to take down and are washer-safe. Dust and wipe down blinds and window screens. Clean window treatments for a bright, clean look in your rooms – especially if you remember to clean any window screens.
When you're cleaning the walls, don't forget the baseboards. That's the part of the wall that is often missed, so when you spring clean, get those baseboards. Just remember to wipe dry any walls or baseboards you clean to prevent any mold from growing.
Carpets and Floors
You might clean carpets often if you have pets (that pet hair is no joke, right?) but make sure you start your spring season with fresh floors.
If you have tile, clean the grout lines with a scrub brush or old toothbrush. Shampoo carpets to get your house smelling fresh.
Light Fixtures and Ceiling Fans
Don't forget to clean and dust light fixtures! Light fixtures often accumulate dust, and because they are so far above us (depending on how tall you are, I suppose), we often forget about them! So make sure you dust light fixtures and ceiling fans.
Clean and remove dust from lamp shades as well. You'll also want to clean light switches, though I recommend wiping those down on a regular basis since they are touched often and get dirty.
Bathrooms, Kitchen, Laundry Room
If you're not already doing it as you clean, make sure you clean shower curtains and use hot water to clean out any soap scum from your tub (I think we all want a clean tub).
Don't forget to clean out the laundry room as well. Use a vacuum cleaner crevice tool to get behind your washer and dryer. Use a distilled white vinegar cleaning solution to clean out your washer as well.
Clean cabinets and get rid of any expired food from your kitchen cabinets or pantry.
Bedrooms
If you have any bed skirts, make sure to get those off the bed and wash them to remove dust and freshen up your bedroom. And after a long winter, you'll definitely want to wash blankets before putting them away for the summer.
Clean out winter clothes from your dresser drawers and put them in a container to store until the following winter. This will help keep your closet and dresser more organized and less cramped when you add in your summer clothes.
Disinfect and clean plastic toys with soapy water.
How To Make Spring Cleaning Easy
So, now that we've just covered a bunch of cleaning tips of things you need to add to your spring cleaning list, you might be even more overwhelmed. But don't worry, it's not as bad as it sounds.
You might be asking, is it even possible to make spring cleaning easy? Well, a lot of spring cleaning tasks do involve a lot of elbow grease. But there are definitely some things that you can do to make your spring cleaning a lot less painful.
One of the best ways is to make sure you are using the best tools available. Check out my post 15 Must-Have Cleaning Tools That Make Your Life Easier as a good place to start. If you have the right cleaning supplies then following a spring cleaning list won't be too hard!
Another way to make spring cleaning easy is to do a bit of research. If you know that you will be cleaning the window tracks the following day, then get on Pinterest and look for a method that will make your life easier! Check out this post on how to easily clean your window tracks.
Take this concept and apply it to several things that you will be cleaning. Pinterest is filled with brilliant people who have come up with all sorts of cleaning hacks to make spring cleaning much faster and easier.
You can also get your family members involved for an easier time!
How to Enjoy Spring Cleaning
And is it even possible to enjoy Spring Cleaning? My answer is, absolutely! I have even written an entire post about How to Make Clean More Fun.
Spring is one of the most invigorating times to clean your home because you are able to open the windows and let in some fresh air. You'll be surprised at how incredible this feels after an entire winter indoors.
My favorite suggestion for making cleaning fun is creating a fun playlist that will really get you up and going. Maybe even take a few minutes to create a new playlist for yourself that you are excited about!
I also really love listening to audiobooks on Audible. I don't really make time to read much but this is such a fun way to get in a bit of reading. I especially love to listen to Harry Potter while I clean!
Another thing that helps me is turning on some sort of air freshener. Whether it's essential oils in a diffuser, (try lemon or orange oil!), lighting a candle, or turning on your wax warmer. The scent of your home goes a very long way in creating a home that you love.
Don't forget to sign up for my newsletter to get your 30-Day Easy Spring Cleaning checklist. To sign up, scroll up and fill out the form! Signing up for my newsletter gives you access to 50+ pages of free organizational printables in my free resource library!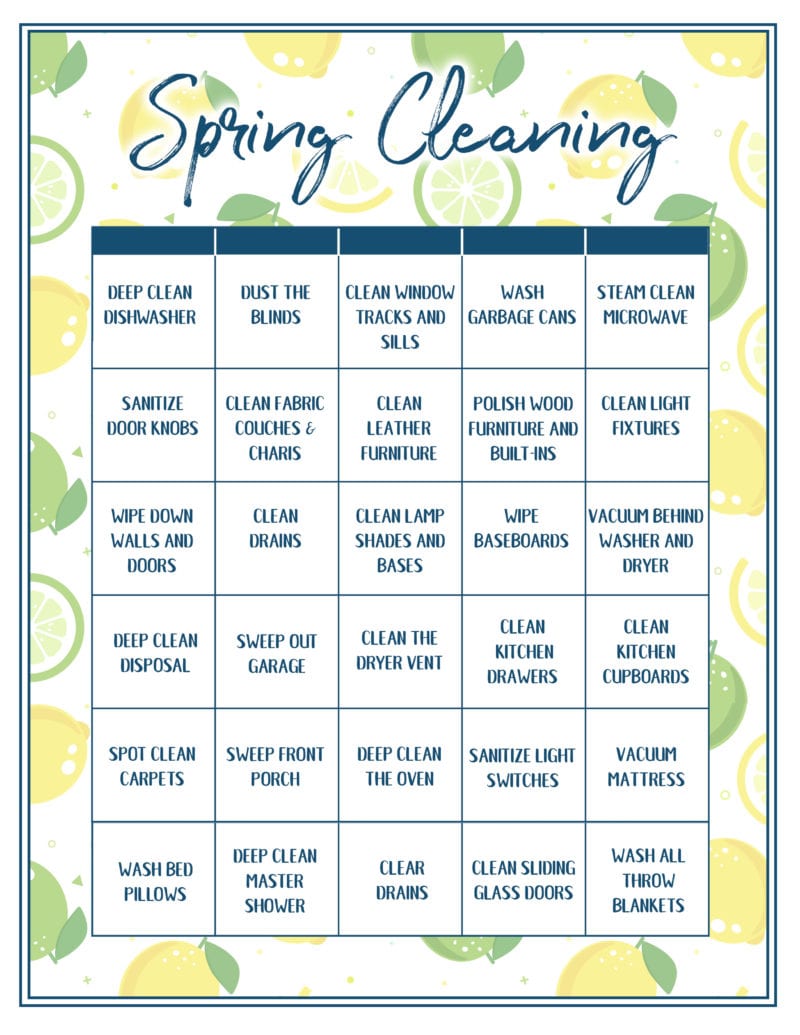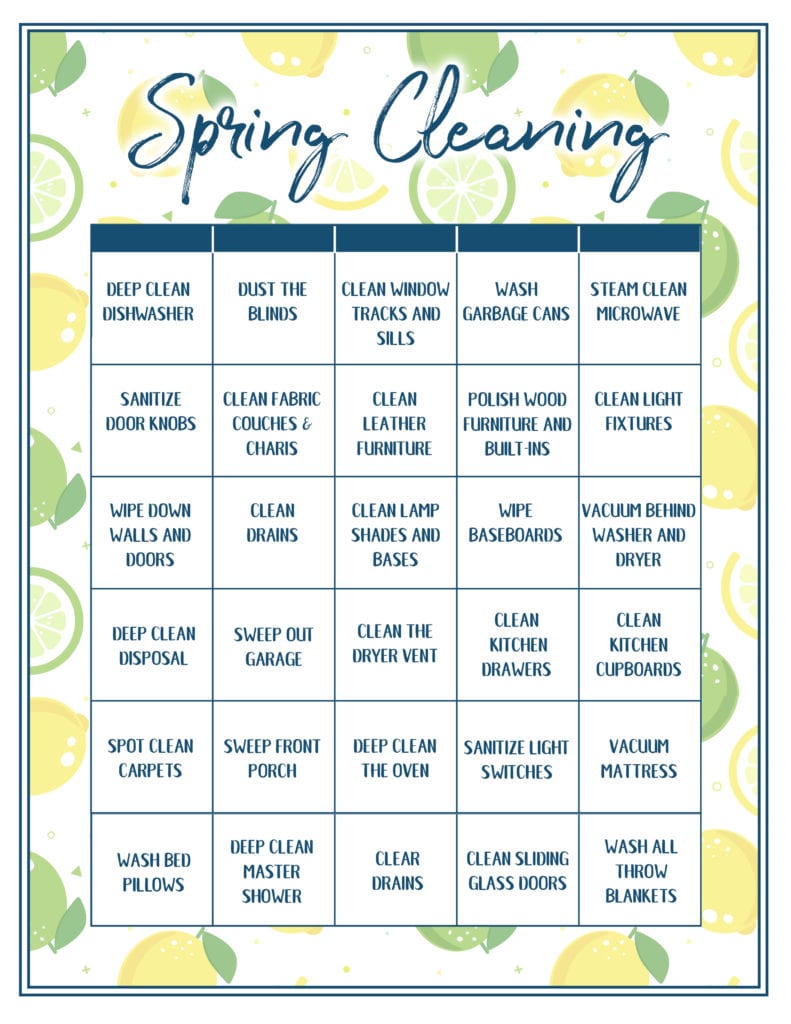 While spring cleaning can be overwhelming at times, remember to take it one task at a time. Take some time to research cleaning tips and hacks that will make each task faster and easier. And, most of all, find ways to enjoy it!
Enjoy the fresh air, enjoy the sense of accomplishment and, most of all, learn to love your home. I hope you find my spring cleaning checklist helpful as you clean throughout the month.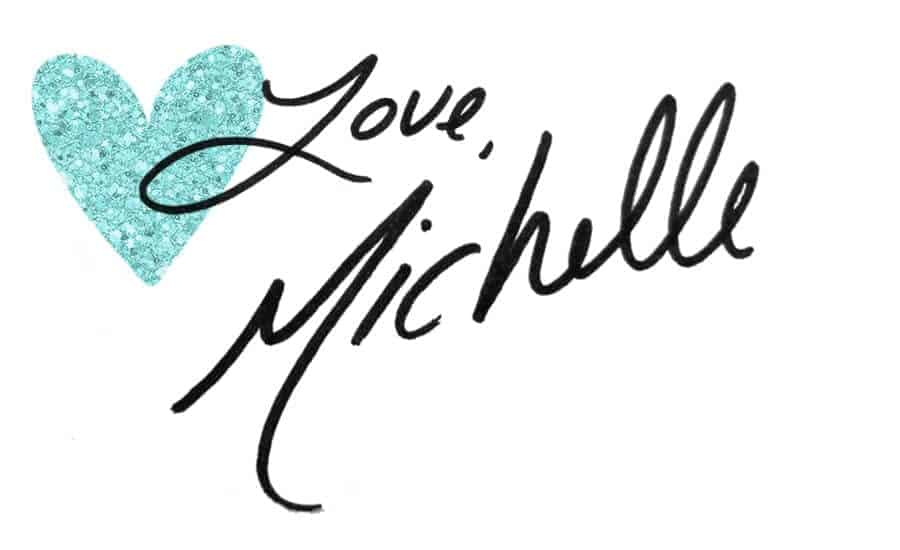 Sharing is caring! If you enjoyed this post, please share it with friends or pin it to Pinterest!