Phone safety for kids and teens: plus a free cell phone contract for teens
Do you cringe when your kids pick up their phones and text their friends non-stop? Are you worried about the content they share online or who they're talking to? It can be overwhelming as a parent, but no need to fear. We have created a fun way that parents can teach phone safety and phone etiquette to both kids and teens with this blog post!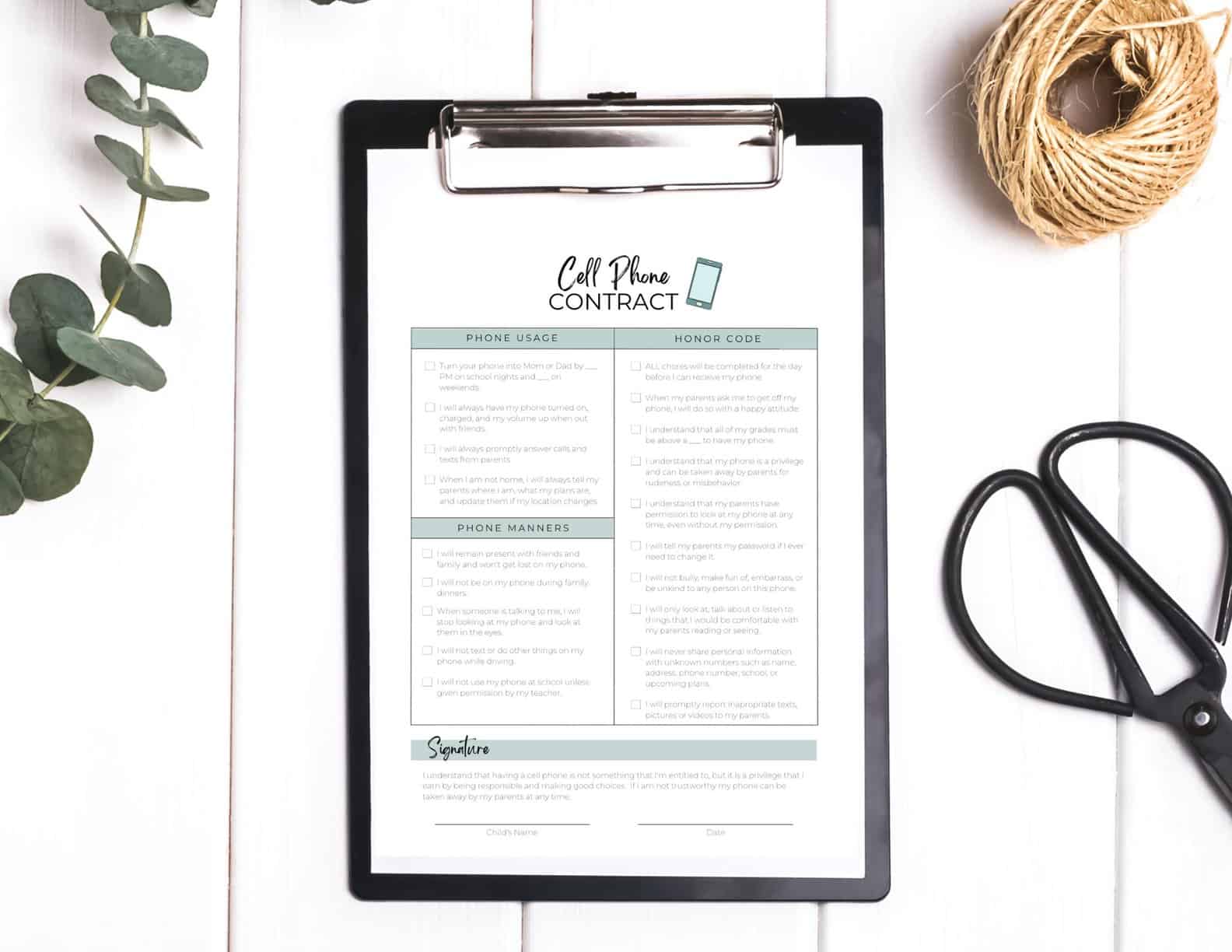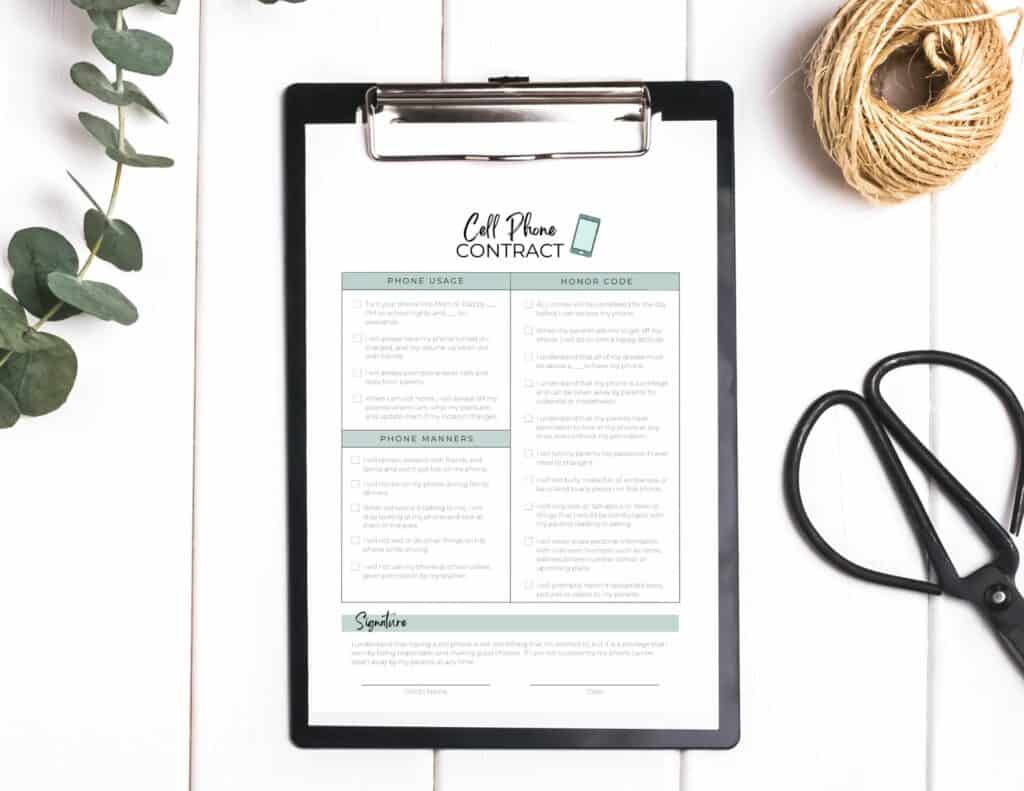 Not only will I provide tips on how to manage teen smartphone usage, but also included is a free cell phone contract for teens that helps outline expectations so everyone can stay safe online. So get ready to laugh, learn, and make managing digital device use in your home easier. Let's start teaching phone safety today!
Signs your child needs a "phone safety talk": common red flags
So your kid has finally hit that age where you think it's appropriate to give them a phone. Congratulations! But let's be real, we all know that little device has the potential to turn them into a zombie who won't look up from the screen.
So how do you know when it's time for that "phone safety talk"? Well, if you're smart, you'll have these talks before giving your child a cell phone. Create a cell phone contract that your child signs and agrees to your terms of usage. Remember, a little guidance now could save you a truckload of therapy bills later.
If you've never talked with your child about cell phone usage, dangers and etiquette, it's never too late to start!
Benefits of having a cell phone contract
Let's face it, families these days are practically attached to their smartphones. But when it comes to kids and phones, it's important to have some ground rules – otherwise, they'll be texting, snapping, and Instagramming all day long.
Trust me, you don't want to end up with a kid who sees the world through a screen instead of their own eyes. That's where a cell phone contract comes in! Not only will it help your kids learn how to use their devices responsibly, but it'll also set clear guidelines for your children or teens as to your expectations.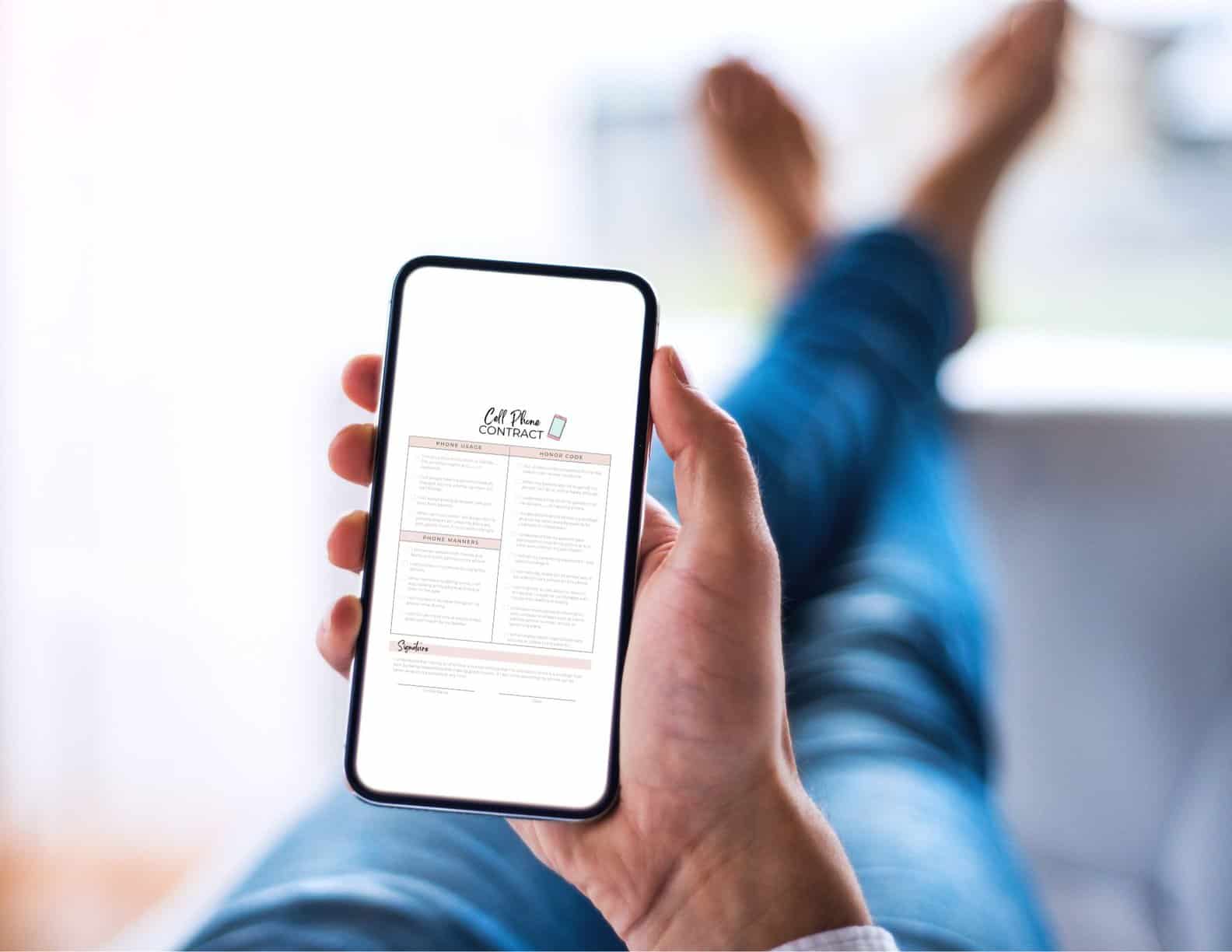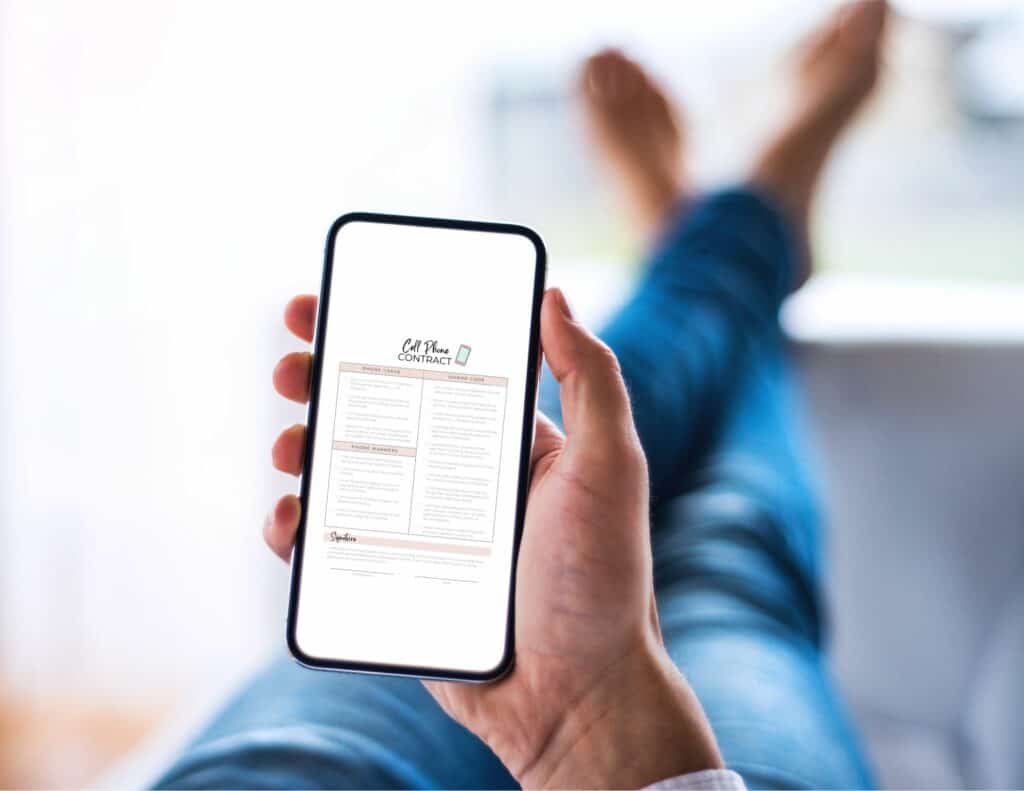 Make sure that your cell phone contract also outlines the consequences of not following the phone contract. Cell phone usage is not a right, but a privilege. One of the parent responsibilities is making sure that you follow through with consequences if the cell phone contract is not followed.
It is always better to start this conversation out of love. Make sure that your child or teen understands that you set limits because you want to protect them. Be frank with kids about the dangers of what can go on with a smart phone and how cell phone usage is dependent upon them following the cell phone contract.
Many teens feel awkward and embarrassed talking with their parents about phone safety and etiquette, so it's important to create an open dialogue between you and your teen. A cell phone contract is a great way to start that conversation.
At the end of the day, having a cell phone contract will help keep your kids safe online while also teaching them how to be polite members of society.
Phone etiquette for kids and teens
Let's be honest, kids these days have no idea about phone etiquette. They answer with "uh-huh" or "yeah" and then proceed to talk about their latest school drama. It's time for some real talk about phone manners.
Here are some basic cell phone etiquette items to discuss:
Do not use the cell phone during school
No texting while driving
No cell phones at the dinner table
Look up from your cell phone when someone is talking to you
Learn appropriate times to turn on the quiet settings of your phone
Don't call people on your cell phone before 9:00 AM or after 10:00 PM unless it's an emergency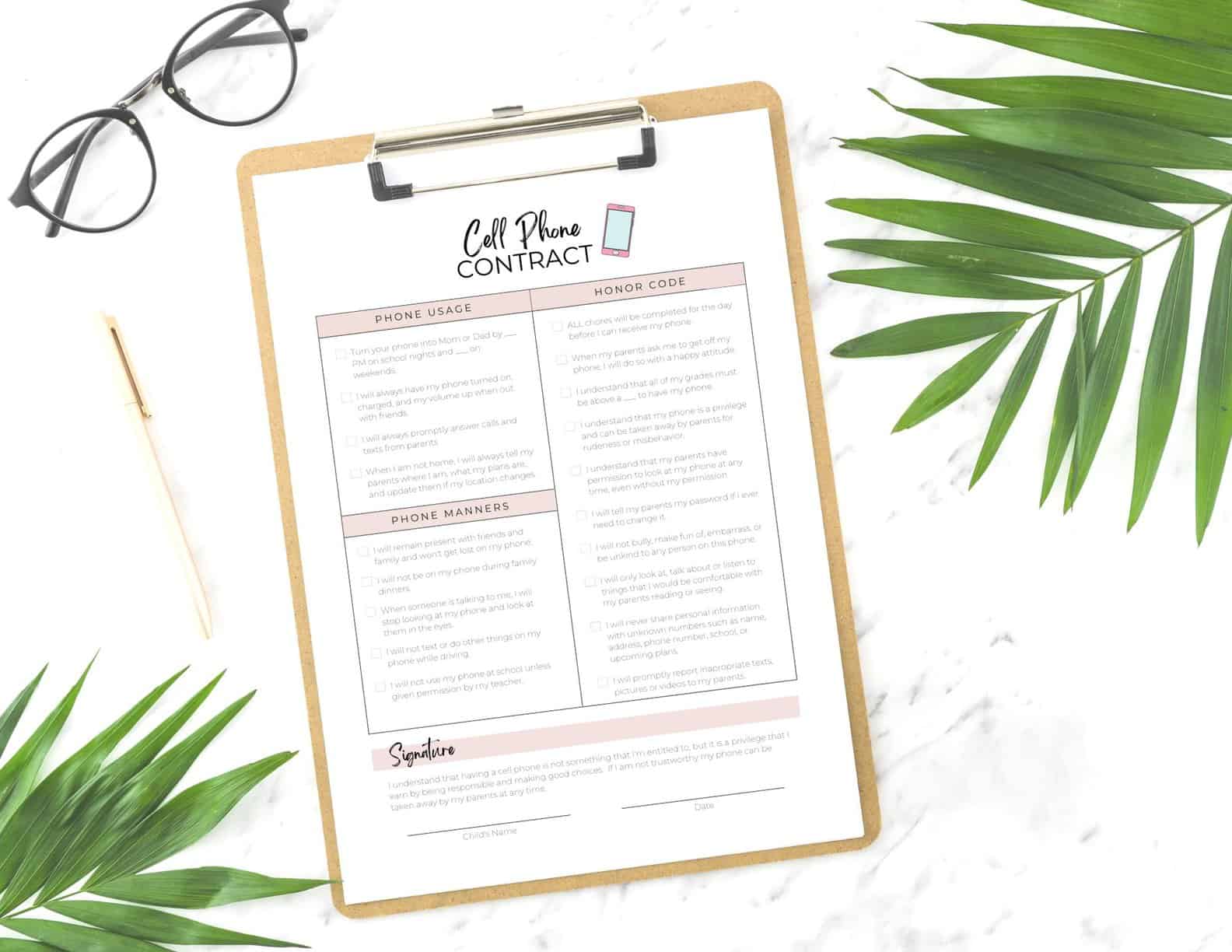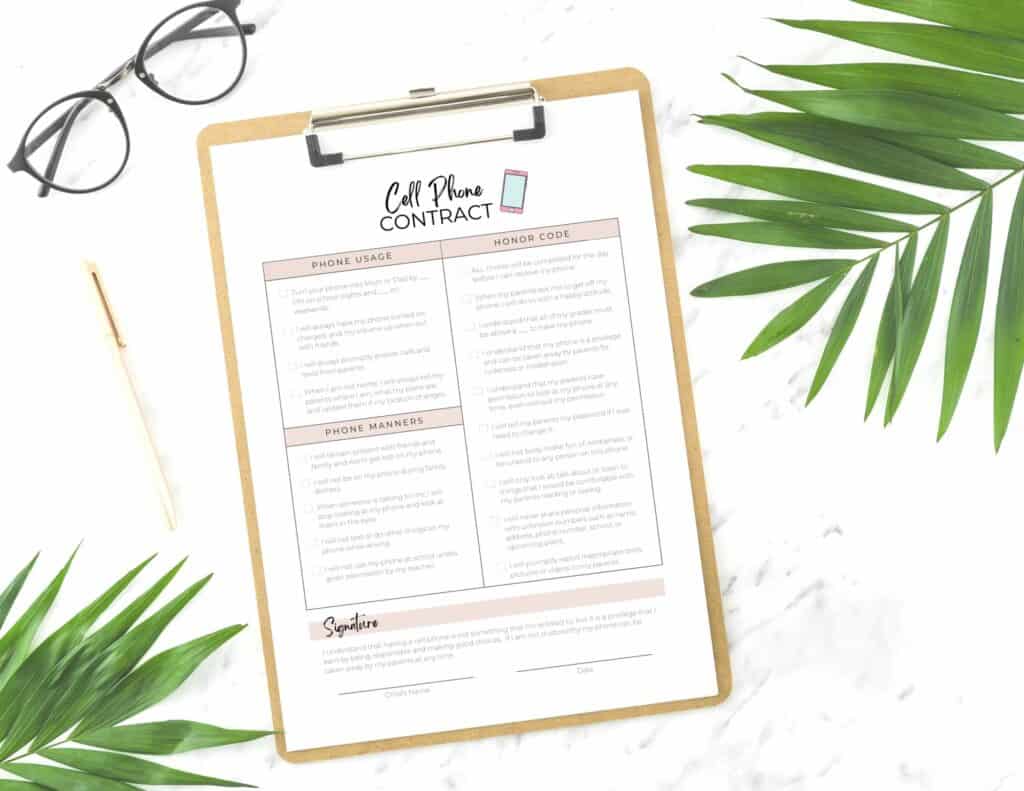 Tips on how to limit screen time for kids and teens
Ah, screen time – the bane of every parent's existence. Kids and teens these days are glued to their devices like they're a natural extension of their arms. But fear not, weary parents! There are ways to limit their screen usage without making them feel like they're being punished.
You could try cutting down on your own usage first (yes, I know it's hard), or introducing new activities that don't involve screens, like board games or indoor mini-golf (hey, it's a thing!). And if all else fails, you can always resort to good old-fashioned bribery. You want your phone back, kiddo? Sure thing, just read a book for 30 minutes. See? Easy peasy.
Expectation Ideas for a teen cell phone contract
Making a cell phone contract for your kids or teens can be tricky. You have to think of all the scenarios that could possibly arise with cell phone usage and then set expectations accordingly. Here are some ideas for expectation items that you could include in your teen cell phone contract:
No sharing personal information over texts, calls, or social media
No sending pictures or messages of a suggestive nature (also called Sexting, it's a thing)
No requesting pictures or messages of a suggestive nature
Guidelines on downloading apps without permission
No excess charges to the cell phone plan without parent's permission
Tell parents your phone's password if it ever changes
Cell phone ownership also includes taking care of the physical phone (some parents may even require the child to replace the broken phone)
Report things to parents such as online bullying, alarming messages, or embarrassing photos, or if they receive suspicious messages asking for personal information
Do not take embarrassing photos of others to send to friends
Respond promptly when parents are calling and texting you
Cell phones are not a right, but a privilege
Do not send threatening messages to peers
Alarming phone calls should always be reported to parents
Don't hide an alarming message, call, or situation that you think you might get in trouble for. They'll get in more trouble for not reporting a situation that could get worse.
Setting an expectation for certain grade levels to be maintained for teens and kids to have phone privileges
Turning cell phones in at night so teens and kids get a good night's rest.
You can also set guidelines in your cell phone contract that teens have to remain respectful to parents if they want to keep using their phone.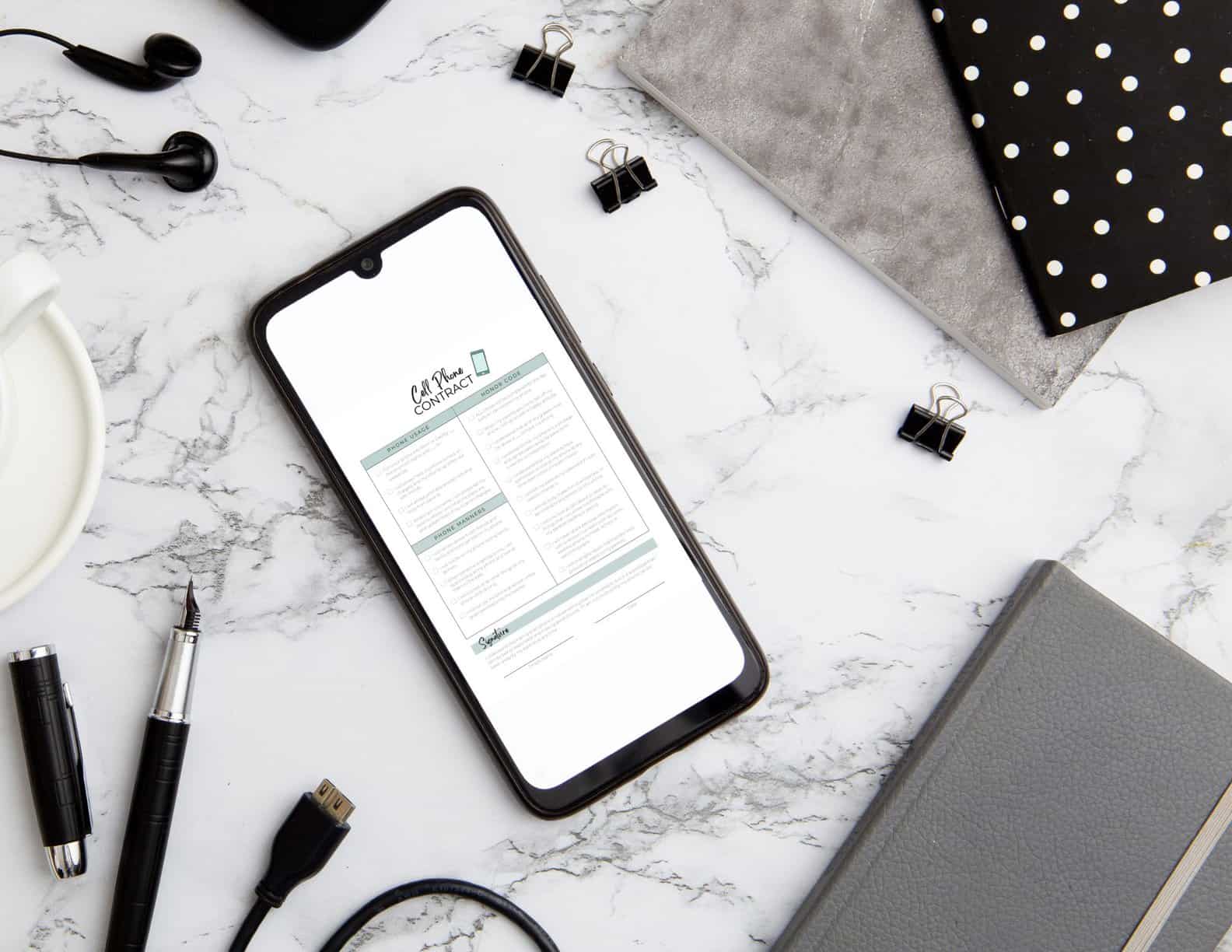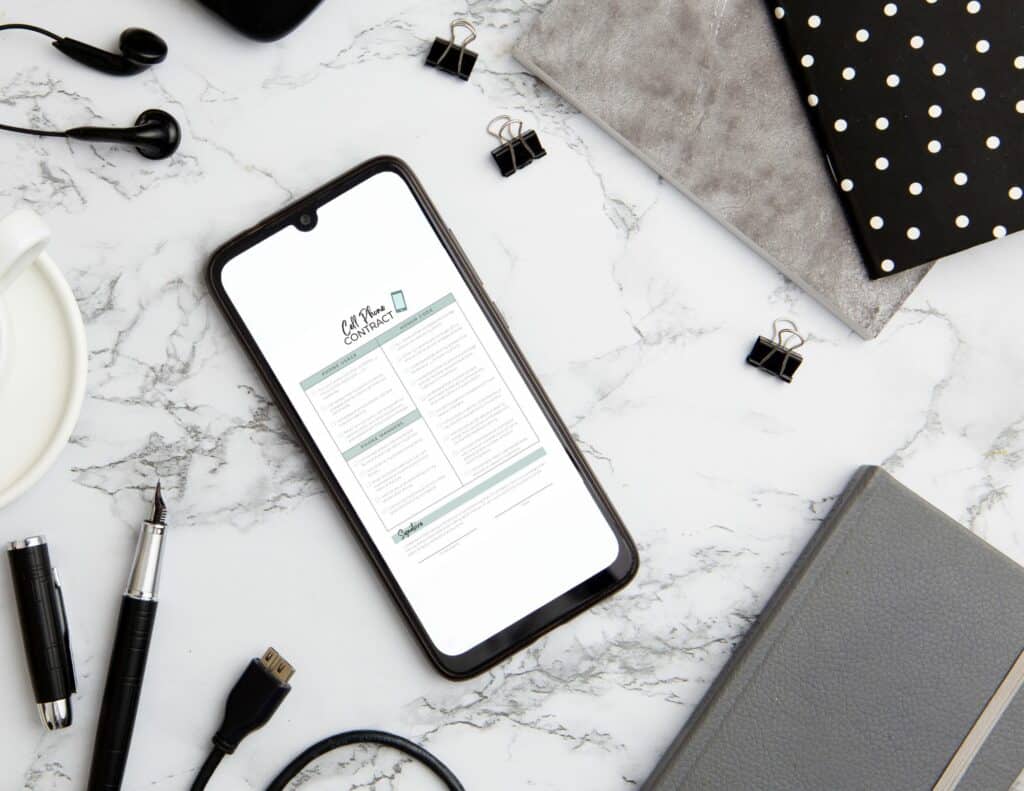 Free cell phone contract for teens that parents can download and use
Ah, the teen years. A time for selfies, memes, and of course, nonstop texting. But let's face it, as a parent, all that socializing can put a serious dent in your wallet. Luckily, I have a solution: our free cell phone contract for teens.
So simple, even your tech-challenged great aunt can download and use it (although, let's be real, she still won't be able to figure out Snapchat). With this contract, you can finally put a cap on your kid's texting addiction and keep some extra cash in your pocket. It's like winning the lottery, minus the scratch-off tickets.
Teaching kids phone safety and proper phone manners can be challenging, but it's also essential to fostering a healthy digital lifestyle. Having a family phone policy, setting boundaries, instilling etiquette and limiting your child's screen time are essential in creating a safe environment that encourages responsible technology usage.
Don't forget to download the free cell phone contract for teens, and when in doubt remember the 'Golden Rule' of teaching kids about technology: It doesn't matter what kind of phone you have, as long as you use it responsibly! With these tips and tricks, your kids will be tech-savvy and able to safely navigate the digital world.